Outfits with Striped Sweater. Stripes are one of those patterns that never go out of style. Be it a sweater, a t-shirt or even pants and scarves. When there are stripes involved, your outfit automatically looks better.
Also, who doesn't own a couple of striped sweaters? Be it, men or women, both will definitely have at least one striped sweater in their closet. The greatest thing about striped sweaters is that they are forever – they never go out of fashion. So, this winter pull out those striped sweaters and cardigans to put together some fantastic outfits. 
You can wear striped sweaters in multiple ways on various occasions. There are very easy to style, be it alone or when paired with coats. Also, they elevate your entire look by making you look fresh and energetic.  Depending on your personal taste and statement style, you can choose the colors, be it black and white, or multi-colored. Also, the best thing about striped sweaters is that they are readily available. You can find one for yourself in your local market or any online store.
What to Wear with Striped Cardigans
To help you out dress in multiple ways and look fresh each time, we have brought together 29 ways you can wear striped sweaters this fall and winter. So keep reading and stay tuned to find out some of the chicest and most fashionable ways you can style your very own striped sweater.
Here are some simple tips to help you make the most out of your striped sweaters and look as good as a fashion blogger:
Wear your striped sweaters with jeans and sneakers for a casual street style look.

Add some funky accessories to bring colors into the dull winter outfits.

Play around with the prints, patterns, and stripes for a cool daytime look.

Do keep accessories minimalistic when wearing striped sweaters during day time.

For the Fall season, wear striped sweaters with shorts or skirts; leather ones will be ideal if you're looking for party wear.

For winters, wear them underneath jackets and coats. Tuck them in from one side to make them look even better. 

When wearing a loud or rainbow-striped sweater, keep your pants basic.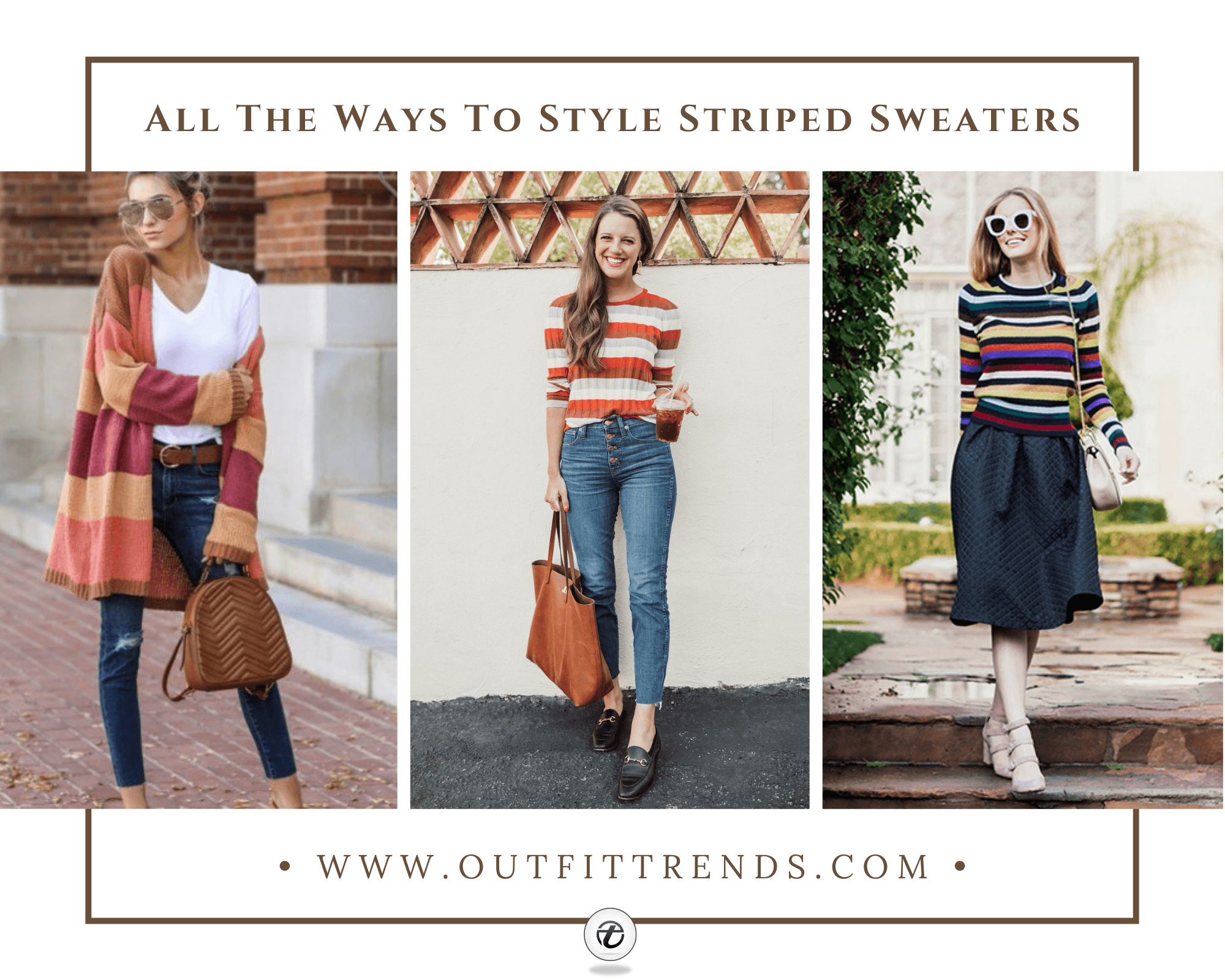 Now let's move on and see how these ideas look:
↓ 29 – How to Wear cardigan With Jeans
Many people do not feel comfortable wearing leggings with sweaters and cardigans. So, for these people, jeans are the best option. You need three pairs of jeans in your wardrobe; black, blue, and white as you can pair these colors with any sweater, irrespective of the sweater's colors.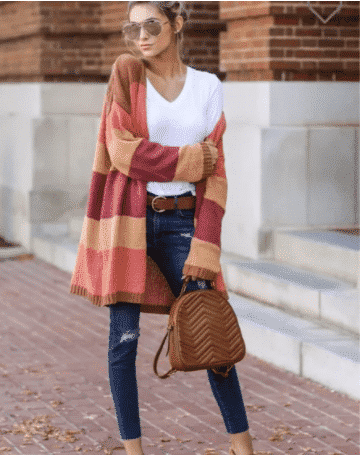 ↓ 28 – Cardigan Outfits For Summers
It is not necessary to wait for peak winters or fall to rock your cute striped cardigan. You can also wear them in summers when it is raining, or the weather is chilly. Pair them up with palazzo or cargo pants and accessories with dainty jewelry.
↓ 27 – Color Block Cardigan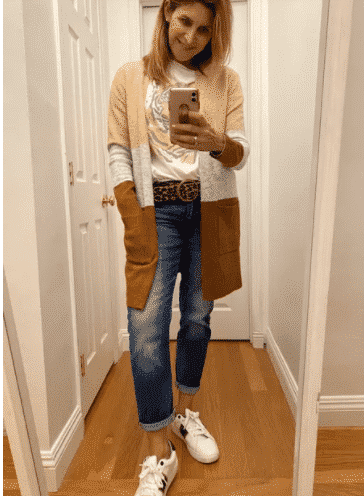 ↓ 26 – Vertical Striped Cardigan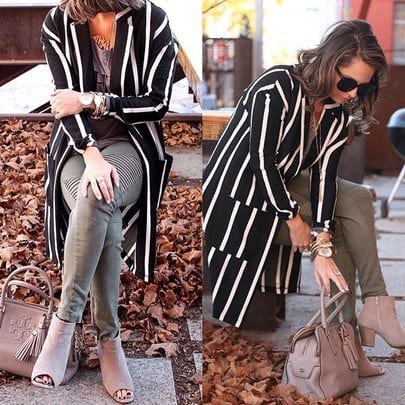 ↓ 25 –  Horizontal Striped Cardigan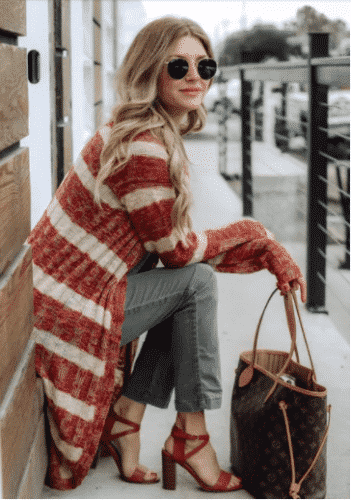 ↓ 24 – The Casual Outing Look
Want to go out with office colleagues? Or have to attend a casual lunch with friends? Well, here is an easy pick for the dress code, wear a denim top and skinny pants, and top it with a button-down striped sweater. Add a more feminine look to the attire, wear a statement necklace, and add accessories like a belt and wristwatch. For more everyday outfit ideas, check out these Casual Outfits for Women.

↓ 23 – Striped Cardigan Black and White
To carry a striped sweater for a casual everyday look, wear an elbow patch stripe sweater as a top with any pants that you are comfortable in. You can add a simple pendant and carry your hair in a top knot along with a black clutch to look effortlessly classy.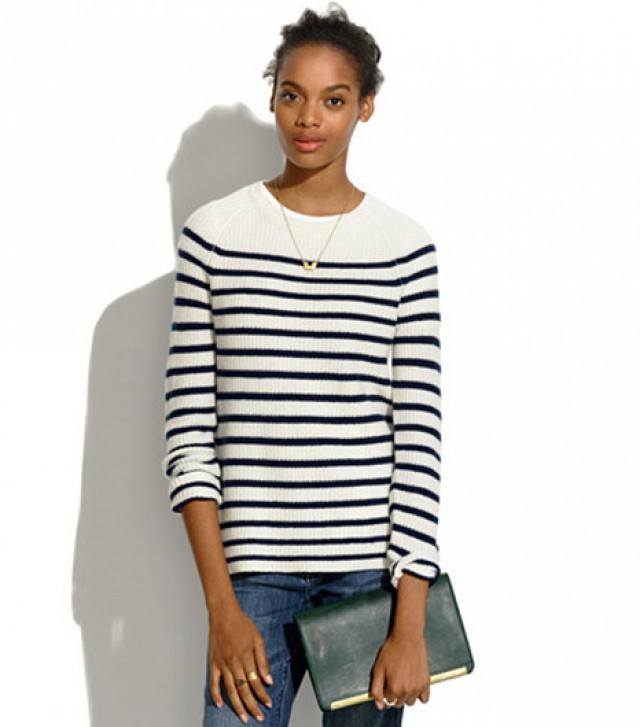 ↓ 22 – Experiment With Bold and Light Colors
You don't have to wear similar colors all the time; instead, you can experiment with your winter look. Wear a neutral color striped sweater and combine it with a red or any other bold color skirt and footwear. This is ideal for outings as it gives a very refreshing look to your persona.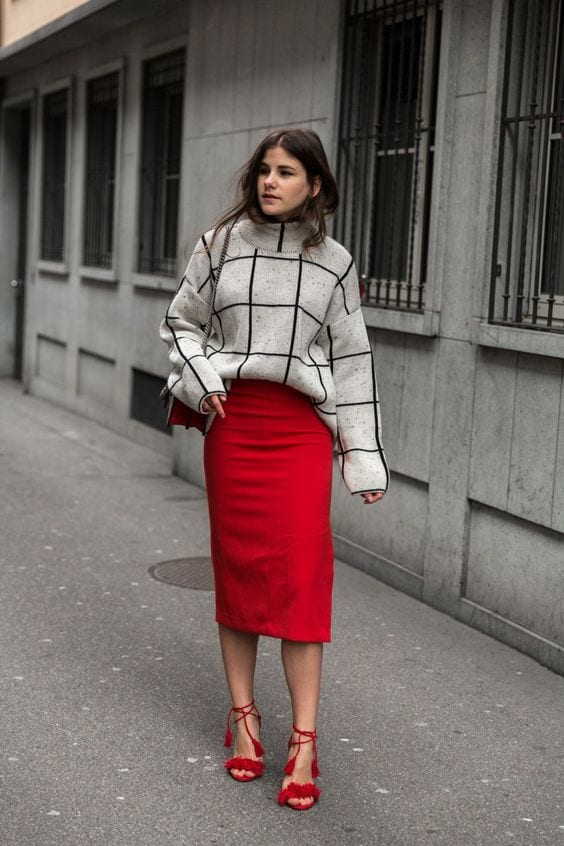 ↓ 21 – Fall Striped Cardigan
Many women complain that wearing sweaters over pants gives them a very casual and laid back look. Well, ladies, we have got the perfect solution to your worry. Just pair up your favorite striped sweater with a matching colored button skirt, and there you have the perfect feminine touch to your attire.
Via
↓ 20 – Footwear with Striped Sweater
One of the biggest challenges women face is deciding which footwear to opt for with sweater and winter dresses. Well, the most comfortable and most stylish way is to wear long boots with the outfit. The entire winter attire will look flawless. For styling ideas, check out these Cute Outfits to Wear with Boots.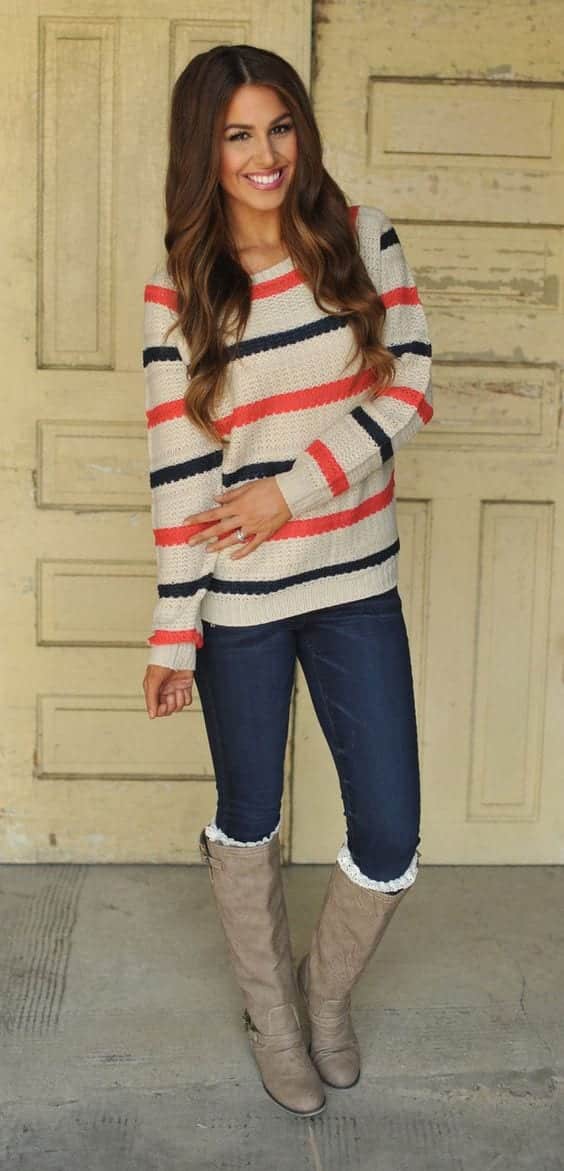 ↓ 19 – Opt for Fur Sweater
Instead of similar texture clothing, go for different textures and materials. Wear a fur striped sweater to look different than usual. This will keep you warm and give the best bold look which women usually desire even in their simple clothing. Love wearing fur? Check out these Fur Vest Outfits.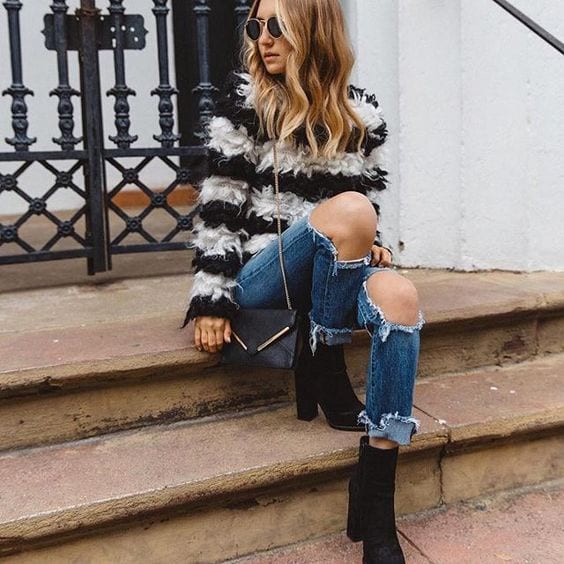 ↓ 18 – All Striped Up
A fun way to go about stripes is that you can dress in stripes from head to toe. Although it is a tricky look to pull off, it sometimes feels good to step out of your comfort zone, and experiment with the lines and prints. Wear a half sleeves striped sweater and combine it with a striped slit skirt. This outfit is perfect if you are running errands or hitting the streets for fun. You can wear either boots or sneakers depending upon where you are headed.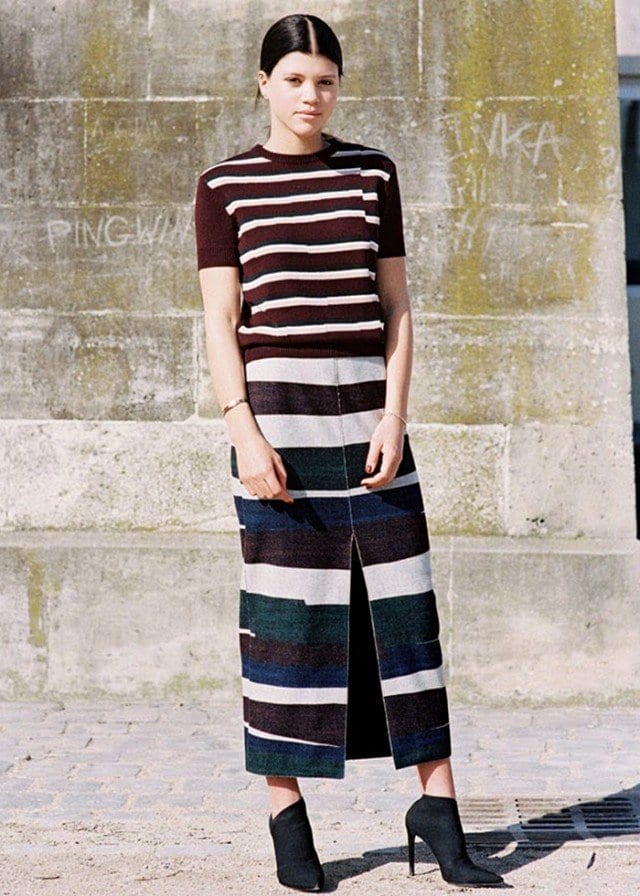 ↓ 17 – Colorful Striped Cardigan
Simple striped sweaters can be very monotonous and give you a similar look even if you style them quite often; that's why if you're going shopping, try to go for a multi-colored striped sweater. You can wear it over any colored dress or combine it with a skirt, ankle boots, and there you go, looking all radiant and stylish.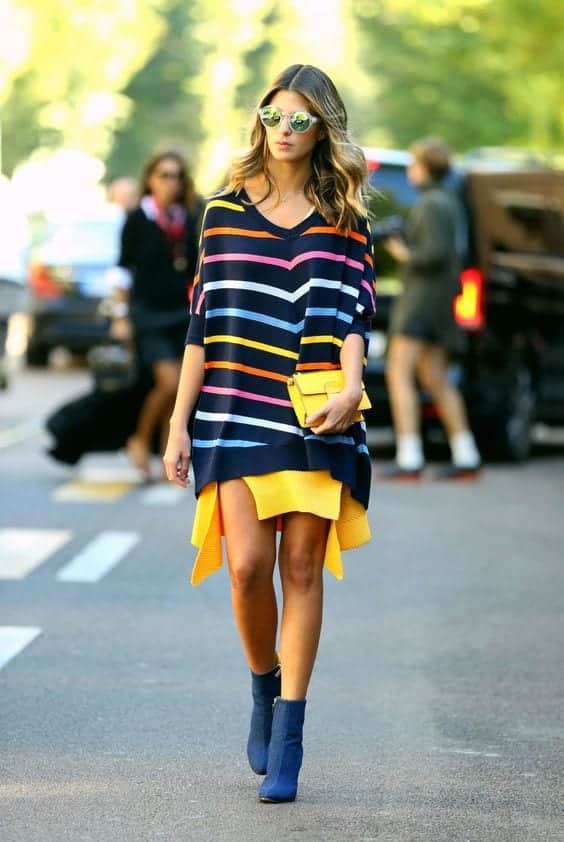 ↓ 16 – Hairstyle with Striped Sweater
Often managing hair with sweaters isn't as easy as it looks. So we have bought an easy way to look chic and stylish even when you're wearing sweaters. Wear a verticle striped sweater and pull your hair in a messy low bun. This gives a sweet romantic touch to the look. Here's our guide on wearing the Half Up Bun for Girls.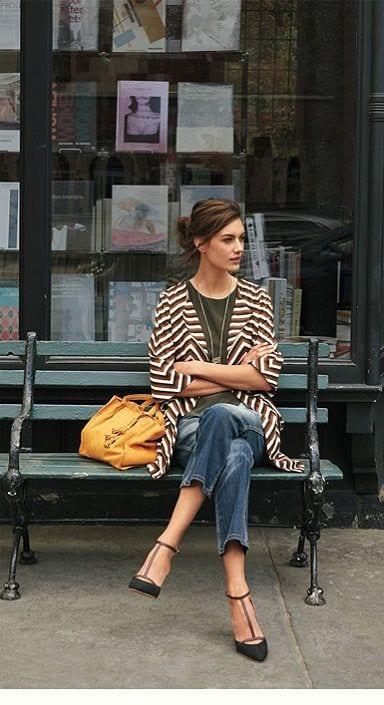 ↓ 15 – Opt for a High-Neck
Feeling very cold, but want your style on point? Well, wear a striped high-neck sweater and combine it with your favorite pair of ripped denim. Also, you can wear some statement rings to look elegantly styled.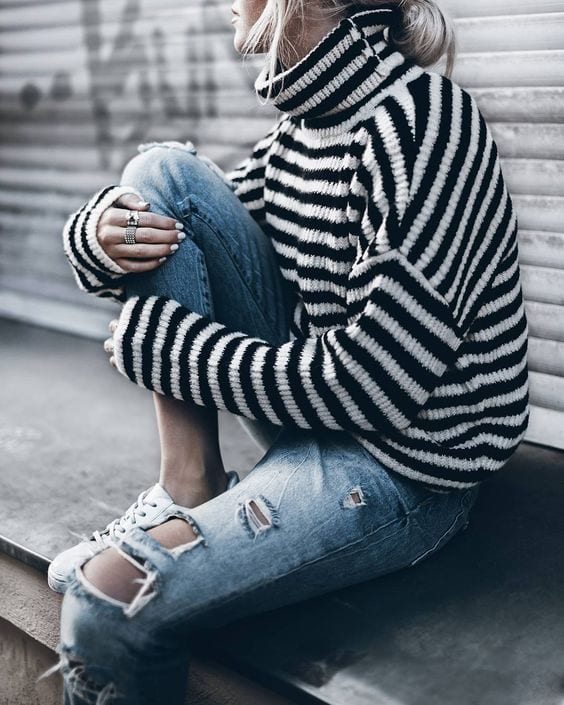 ↓ 14 – Step by Step Video Tutorial – New Ways to Style a Striped Sweater
↓ 13 – Add Some High-Waist Pants
Another fun way to go about your striped sweater is that you can wear it with high-waisted pants. You can tuck in the sweater. This look adds a lot of charm as well as gives you an intense look. High-waisted jeans and striped sweaters can never go wrong, and together, they are an excellent match. Complete the look by choosing from one of these Shoes To Wear With High Waisted Pants.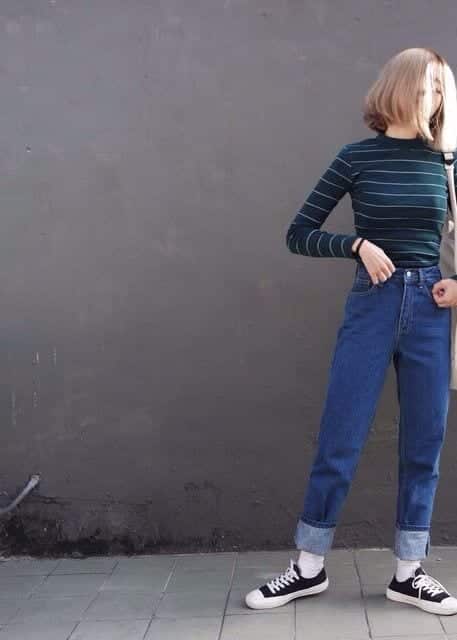 ↓ 12 – Striped Sweater for Plus Size Women
Women who are plus size can also wear a striped sweater in many ways. However, we think kimono style striped sweaters add the most charm. You can wear it over a simple one toned dress (preferably dark colors) to look elegant and stylish. This style works well for pregnant ladies too. Here are some great Kimono Outfit Ideas.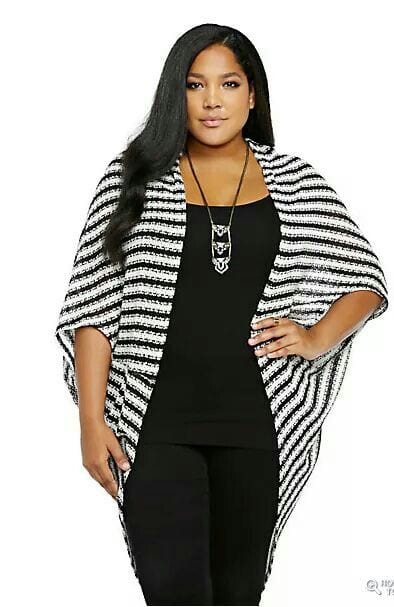 ↓ 11 – Navy Cardigan  and Multiple Layers in Winter
To add more warmth and style to your striped sweater, wear it with a denim skirt, and wear a leather trench coat over it. Adding multiple layers will make the outfit fun to wear and save you from the excruciating winter winds. You can wear lace boots to compliment the whole look.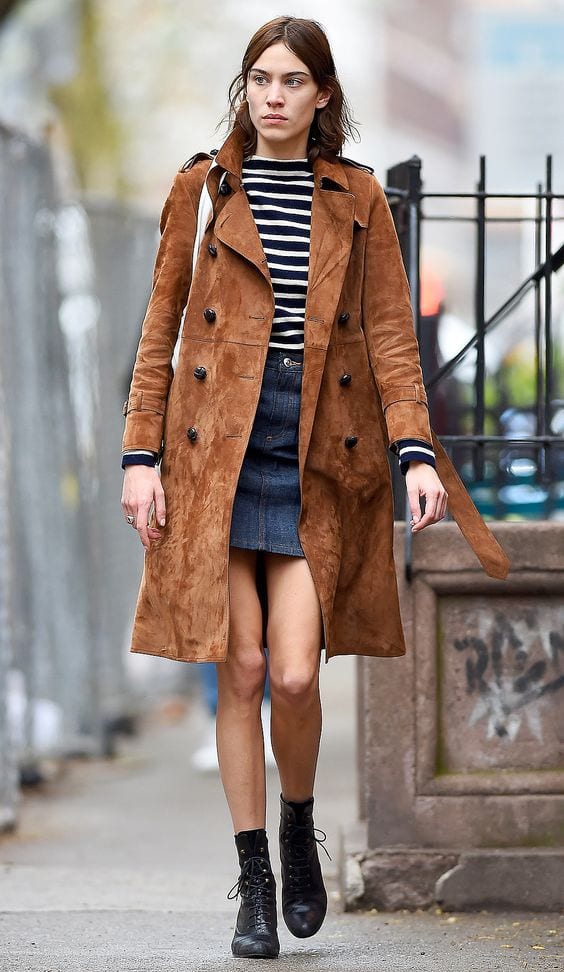 Via
↓ 10 – Lazy Day Look
Some days you are too lazy to put on a chic outfit and flaunt it around, well for such days, wear an over-sized striped sweater to make yourself cozy at home. (Trick: You can even borrow your brother/ husband's striped sweater). If you're a lazy girl at heart, then here are some more Lazy Day Outfits.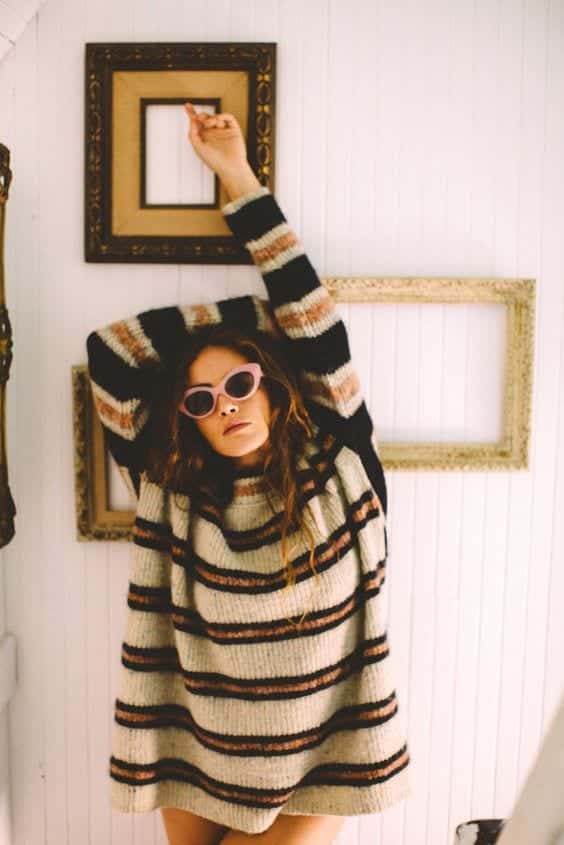 ↓ 9 – Leather it Up
We all agree that adding leather to the outfit makes it automatically hot and stylish. You can wear a leather skirt or leather pants with a black and white striped sweater. To make them look more pleasing, wear sneakers, and you are set to head out! Leather goes hand in hand with cute little handbags or shoulder bags.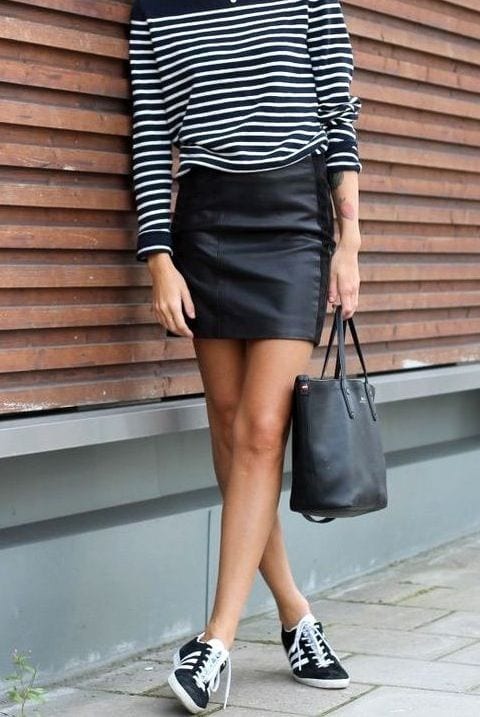 ↓ 8 – Steel Model Lily Aldridge's Look
Want a perfect airport look? Well, steal Lily's look as she has combined her textured striped sweater with skinny black pants and long boots! This look can be easily achieved with pieces of clothing lying around in your wardrobe.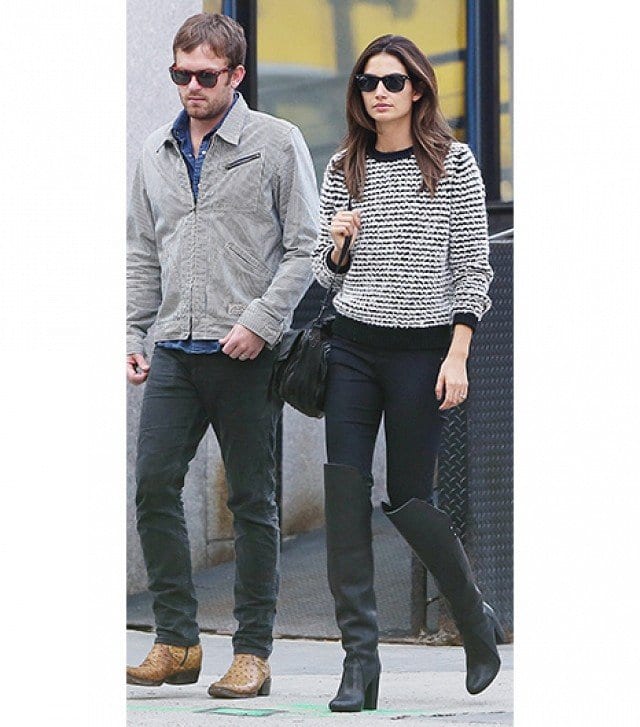 ↓ 7 – Less Stripey Sweater
Instead of wearing a heavy striped sweater, you can always wear a striped sweater with broad or lesser stripes and combine it with pants in one of the complimenting shade from the stripes. Easy and effortless look to flaunt wherever you go!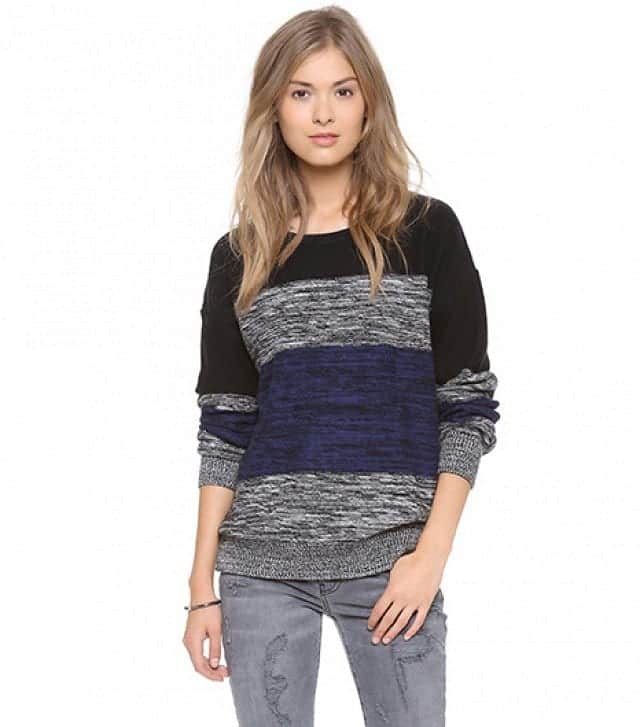 ↓ 6 – The Perfect Party Look
Want to wear your striped sweater to a party? Well, style it with wide-leg palazzo pants and wear some bold makeup to look more ravishing. You can even wear a lovely choker and some glittery pumps to add on to the look. This look goes best with your hair tied up in a bun and some hoops in your ears.  If you love wearing palazzo pants, then do check out these Modern ways to Wear Palazzo Pants with other Outfits.
↓ 5 – Go for Rainbow Stripes
Want a playful and jolly look? Well, wear a rainbow-striped sweater with denim pants. This is ideal for school/ college going girls. Not only is this look funky and youthful, but it also gives you a radiant vibe.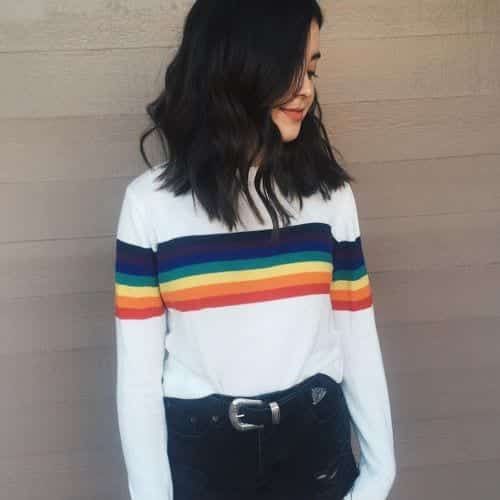 ↓ 4 – The Ideal School Look
Want to achieve the ideal school look? Wear a button-down shirt and wear your favorite striped sweater over it. This attire will never let you down! Here are some more Cute Outfits with Jeans for School for a Perfect Look.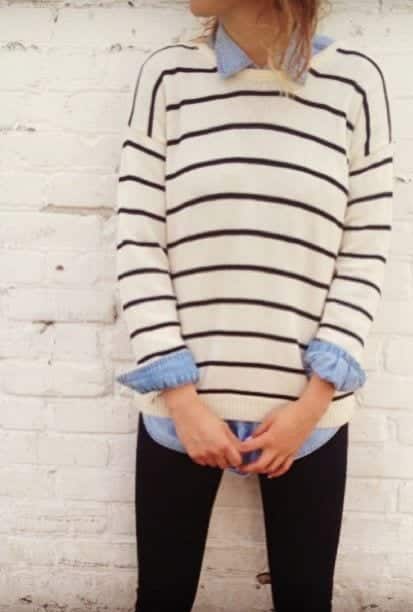 ↓ 3 – Keep it Simple
Some days you might want to go simple and rather wear soft colors, so go for a simple white or beige cashmere striped sweater, wear your hair in a low ponytail and you are good to go! This look is best for moms who do not get much time to get ready and want to look the best. It would also work for college students and people who are always on the go.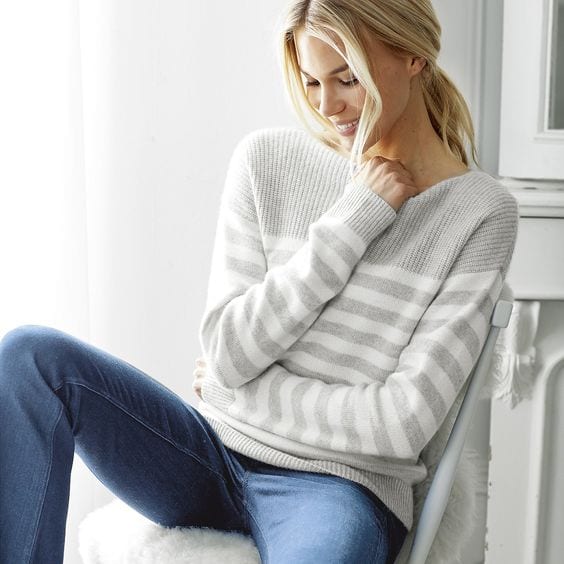 ↓ 2 – Striped Cardigan Long
Want to go out and party? An ideal way is to wear some bright colored striped sweater dress and wear your black sandals with it. This can give you a different look altogether! This look is also trendy at award functions and parties. Many celebrities have been seen rocking striped dresses, and nothing feels better than your favorite star following the same trend as you! 
Don't forget to check out this collection of our favorite Outfits with Striped Shirts.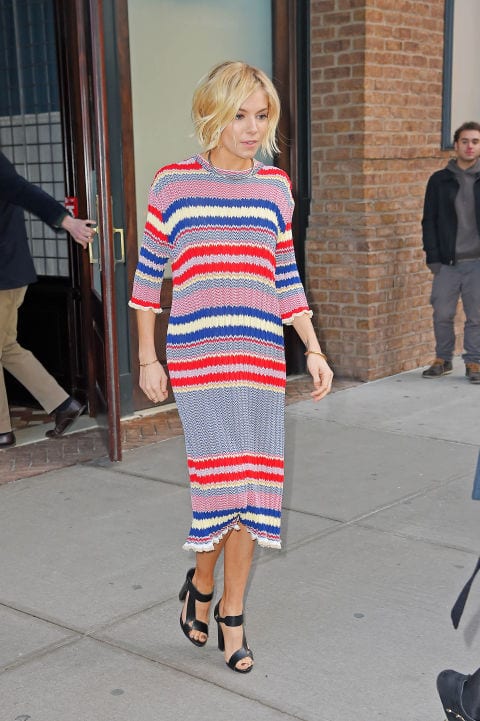 Via
↓ 1 – The Office Look
For all the working ladies, we don't want to disappoint you! You can wear your striped sweater with skinny pants and your favorite flat pumps. You can play with your hair, either keep them loose or tie them; it all depends on whatever your mood is like. Fashion should be about being comfortable with what you are wearing.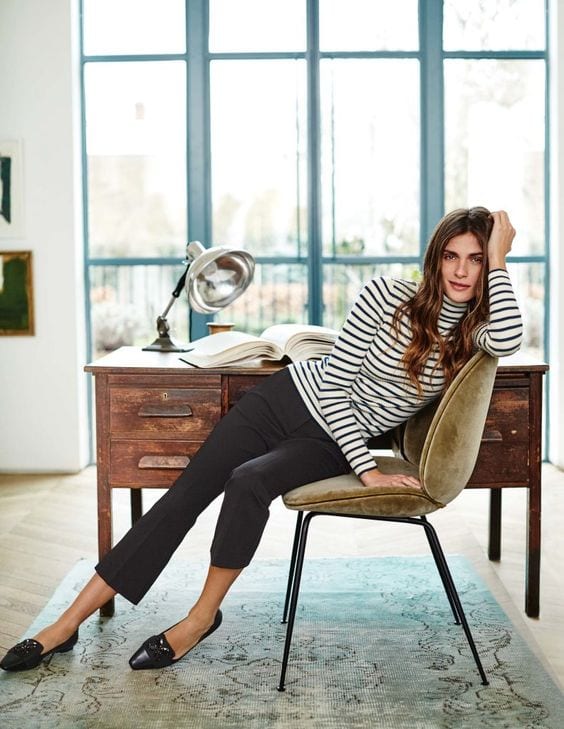 Here are the answers to some commonly asked questions people have when styling their striped sweaters and cardigans. 
Q.

How can I style my striped sweater for an office meeting?

A. As we said before, striped sweaters are very diverse when it comes to their use, and so you can come up with a great formal look with them as well. Wearing them with straight pants and a blazer will give you a formal look. Wear stilettos and a scarf around your neck to complete the look. 
Q.
How can I style my striped sweater in spring?
A. Spring is a season of colors and festivity. Everyone always wants to be on their A-game during this season, and so we have come up with the perfect spring outfit for you involving your striped sweater. Wearing it with a striped skirt and pointed-toe heeled pumps will give you a lovely and confident vibe. 
Q.
Are stripes in fashion nowadays?
A. Stripes can never go out of fashion. One of the reasons for this never-ending trend is that stripes complement every body type and are relatively popular among formal clothing people.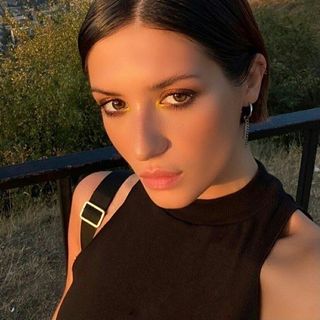 Avid reader and Fashionista. London Based freelance lifestyle editor