Cute Casual Dresses. What do you wear when you're in a hurry? Going out to visit friends? Getting errands done? Going shopping? Let's get one thing straight though; everyday life has no right to get in the way of you looking downright fabulous.
So what you need is cute and comfortable outfits; something that will make you look and feel great, all the while getting you through the struggles everyday life demands. You guessed it. We're talking about dresses. Not only are they comfortable; but they're feminine and cute as well as stylish. There are so many types of dresses to choose from as well: long, short, bohemian, laced, floral, printed, checkered, striped, denim, and more. Each one is cute in its own unique way. Don't miss out on the amazing celebrity style tips we've included at the end so you can see what celebs are choosing for casual wear this year.
How to Wear Casual Clothing?
Here are some quick tips for casual dressing.
You can make pretty much any dress casual… except for super lacy, sequin-covered, or velvet dresses. Those are just a little too dressy for casual wear!
Never underestimate accessories. You can add a long necklace and hat to a super casual tee-shirt dress and it will look like a million bucks.
Shoes are crucial for a stylish look. Dress up or dress down your outfit by your footwear (i.e. flip-flops versus heels, etc.)
Casual wear doesn't mean sloppy wear. Always check your clothing for stains, rips, or other flaws. Get rid of worn-out clothing and get a pill remover to do away with annoying pills.
Dresses are a type of clothing you can really have fun in expressing yourself and your personal style. If you're going for a more feminine look, best to pair your dress with pumps and leggings (preferably black or skin-colored). For the chic look, you can pair it off with jeans and sneakers. And the dresses with collars are best for the sophisticated look and would really stand out if paired with long boots or block heels.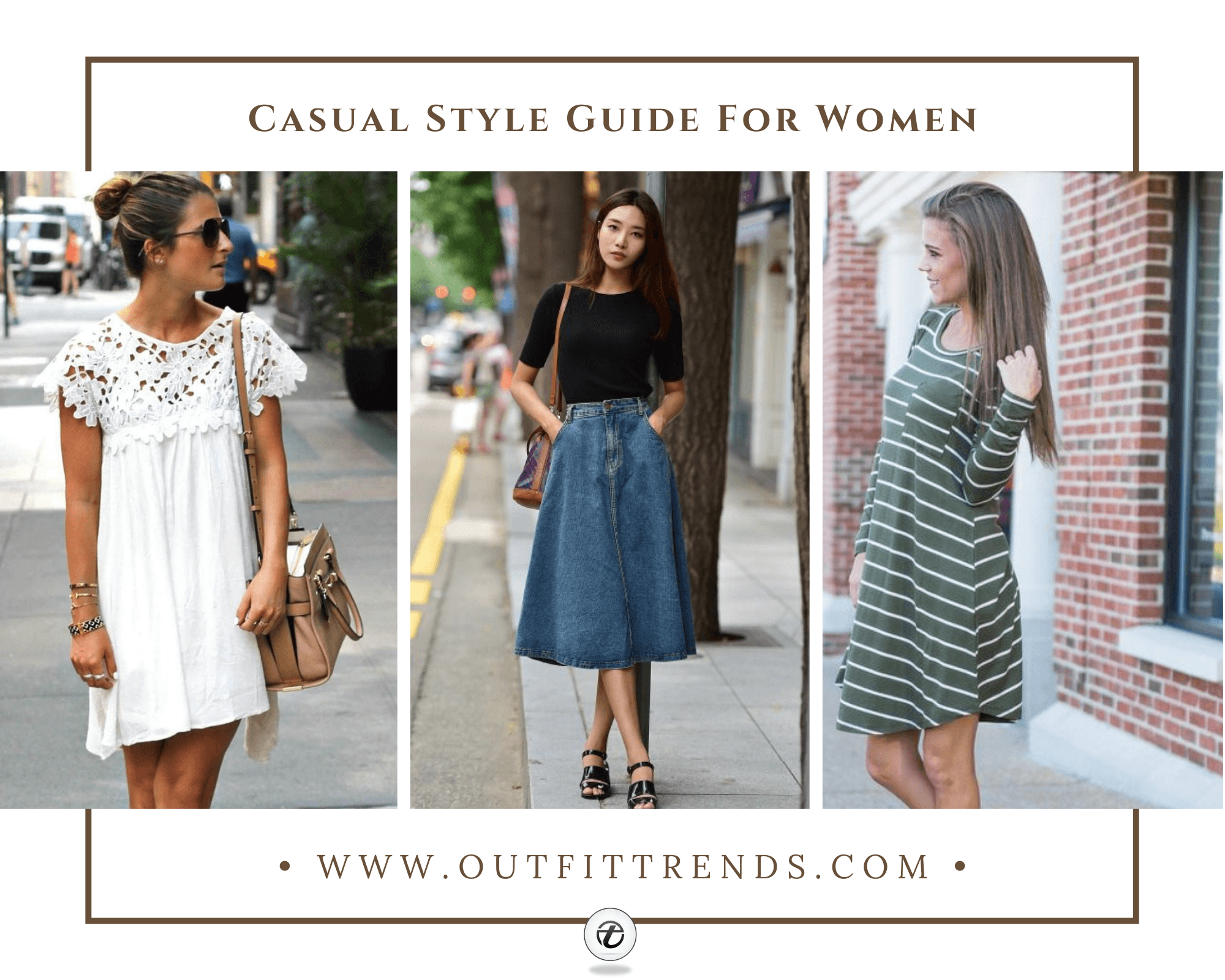 ↓ 26 – Plus Size Cute Outfit
Let's start off with an awesome ensemble: a boho maxi dress. This bad boy can be worn a hundred ways and they are just so fun to wear. Pair up with a cute wide-brimmed hat and some little white sneakers. Great for ladies of all shapes and sizes!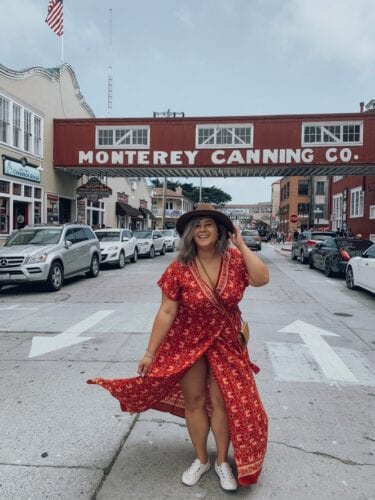 ↓ 25 – Perfect Relaxed Weekend Look
If you are anything like us, you will love this beautiful, laidback kimono style dress, perfect for relaxing weekends with family. Whether you are staying in or heading out for some long walks around the neighborhood or brunch with your bestie, this loose dress will have you feeling like a medieval lady of means! Here are some more Trending Weekend Outfits for Women.
↓ 24 – Floral Tunic for Summer Days
We love a tunic for casual wear! Get yourself a cute one like this and you'll have all the comfort of a nightgown with all the style of a bohemian goddess. This bright yellow embroidered floral dress is perfect for those hot days where you are running errands or going out for ice cream. Add a couple of cute pieces of jewelry and pair off the outfit with some fun sneakers. And voila, you're in business!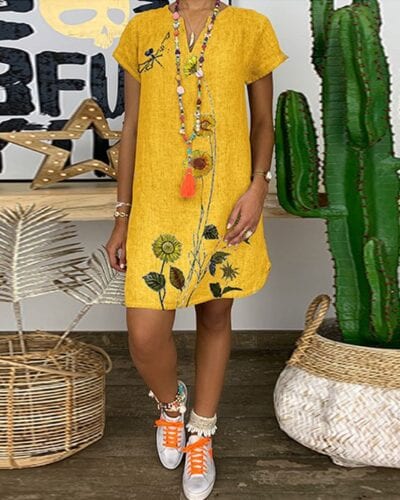 ↓ 23 – Casual Summer Party Outfit
A bright Yellow Halter Neckline Dress. A dress of this color emanates brightness and beauty and adds an impression of an admirable and bright personality behind it. Long necklaces suit incredibly well with dresses of this neckline.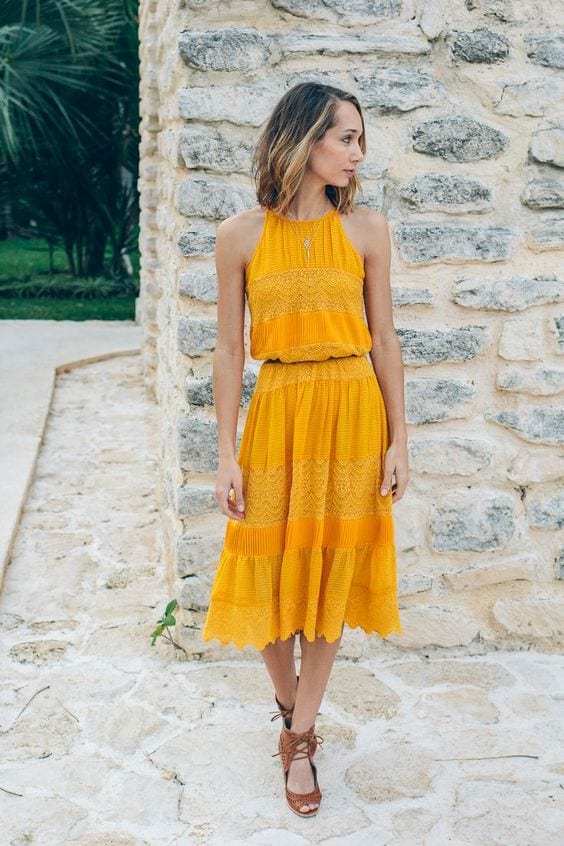 ↓ 22 – Casually Styled Shirt Dress for Fall
Striped, full-sleeved, round-necked with a front pocket. Almost like an ordinary sweatshirt, but with a twist… it's a dress! It would look great with jeans and sneakers, or with heeled boots as the picture shows. Here is how you can Wear a Shirt Dress in Different Ways.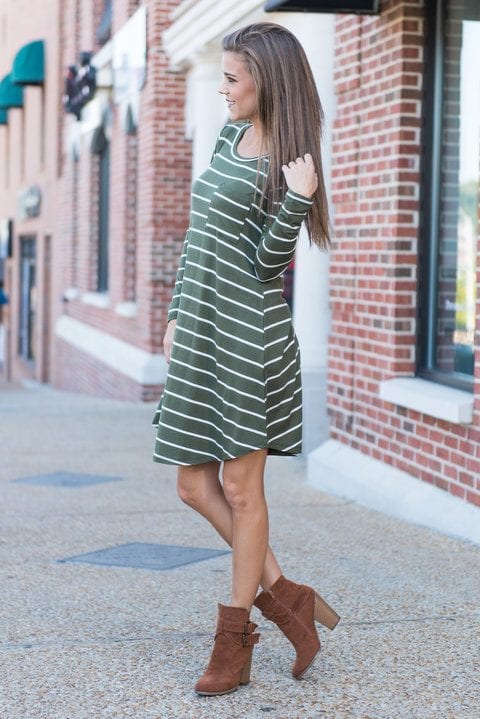 ↓ 21 – Summer White Dress with Lace
This is the kind of dress every girl probably has in her closet. You can contrast it with bright accessories (preferably black or red) and bright makeup. Or keep it simple and elegant with matching accessories and shoes. Lace is the most stylish casual look that one can go for and pairing it up with a top bun is always a great idea. Do have a look at 26 Beautiful Lace Dresses and Ideas how to Wear Them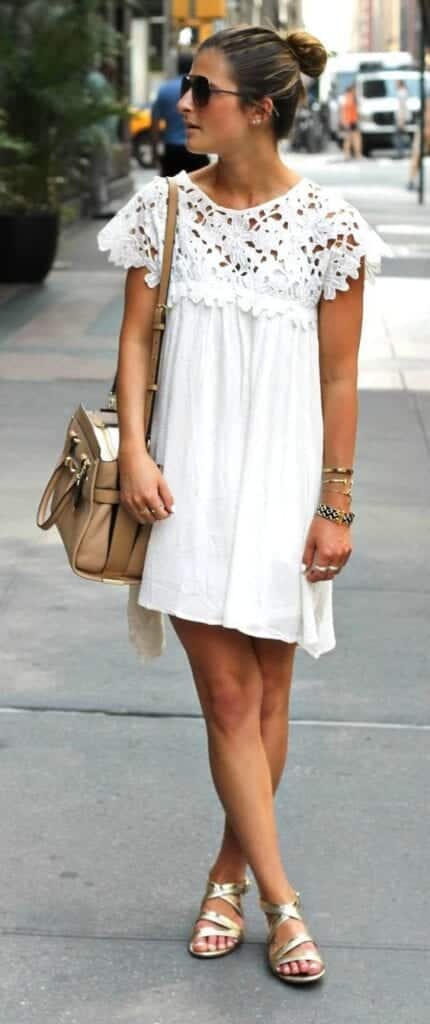 ↓ 20 – Best Casual Winter Accessories
A simple, woolen gray dress that's perfect for a casual look during the winter. The scarf and leggings not only keep you warm but add in making the whole look stand out. You can color coordinate the scarf and leggings in contrast to the gray as well (preferably dark colors such as black, maroon, deep blue, deep purple, etc).

↓ 19 – How to Wear a Modest Casual Dress
Here is a full-sleeved, traditional patterned dress for the modest woman. It can also be worn by Muslim women to pair with their hijab or scarf. Check out 20 Cute Tee Shirts for Girls: Modest Shirts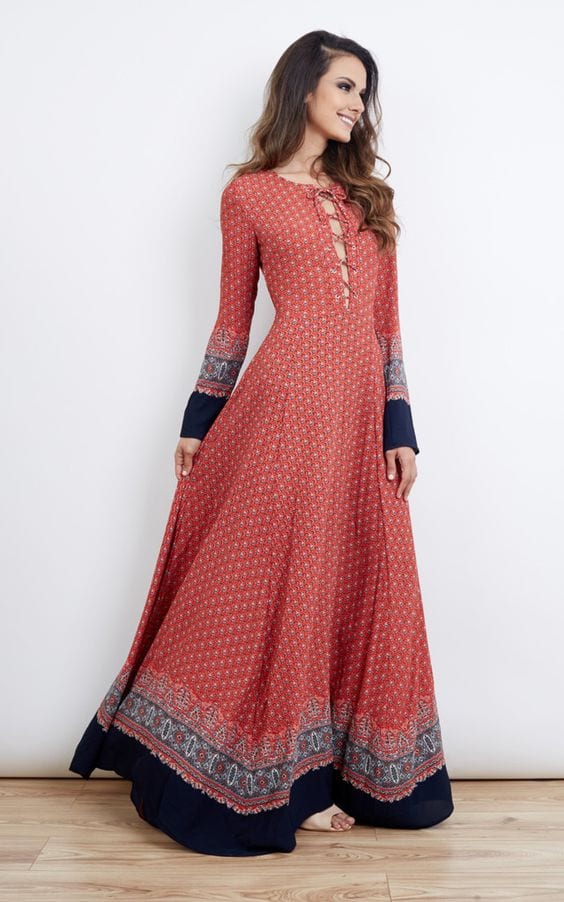 ↓ 18 – What to Wear for a Casual Lunch
This is a comfortable and easy-to-wear dress for days when you need to get out there and get things done. The collars, buttons, and simple patterned design add to the overall neatness and elegance of your look.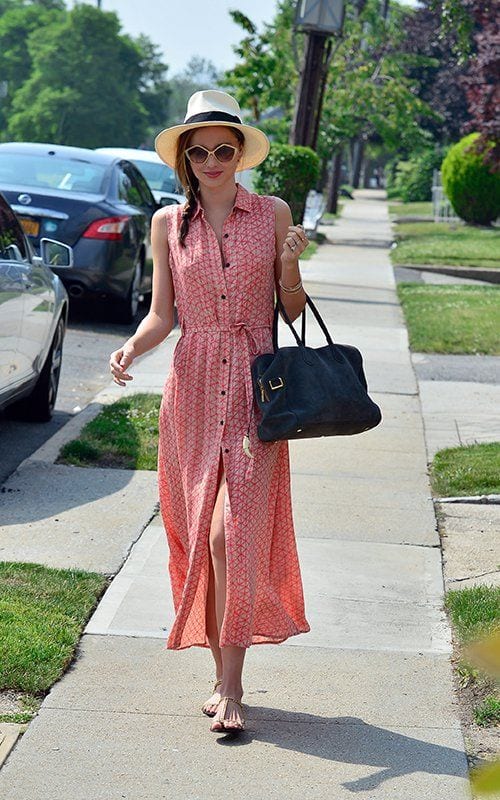 ↓ 17 – Casual Bohemian Dress
Casual doesn't and shouldn't mean dull or boring. Take this Bohemian dress for example: bright and full of color. Best for visiting friends or going out for some casual fun. Pair it off with some funky boots or sandals and you're good to go! Here are 12 Chic Style Bohemian Outfits Combinations for this Season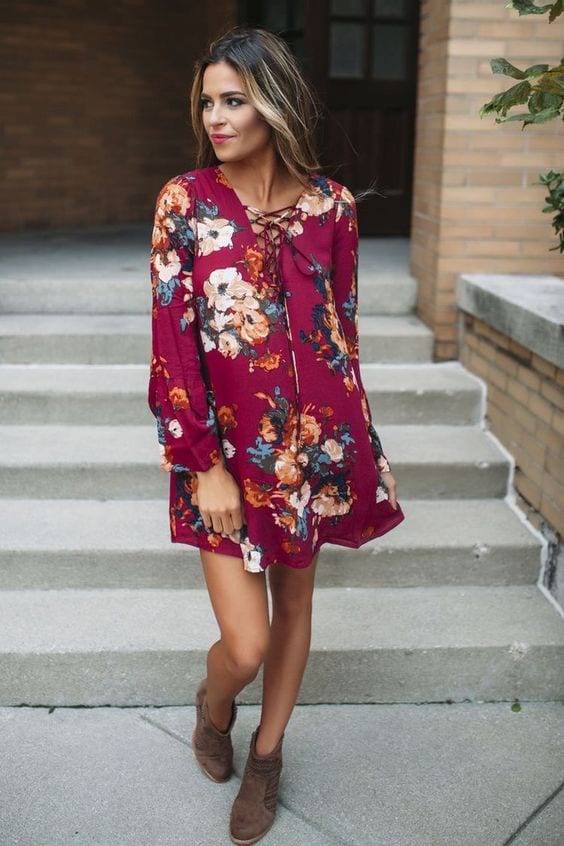 Via
↓ 16 – Patterned Dress for a Casual Night Out
Feel the freedom as your dress flows and flares with every step you take. The right dress to pick if comfort and leisure is your top priority. Here are more ideas and tips on What to Wear for Girls Night Out.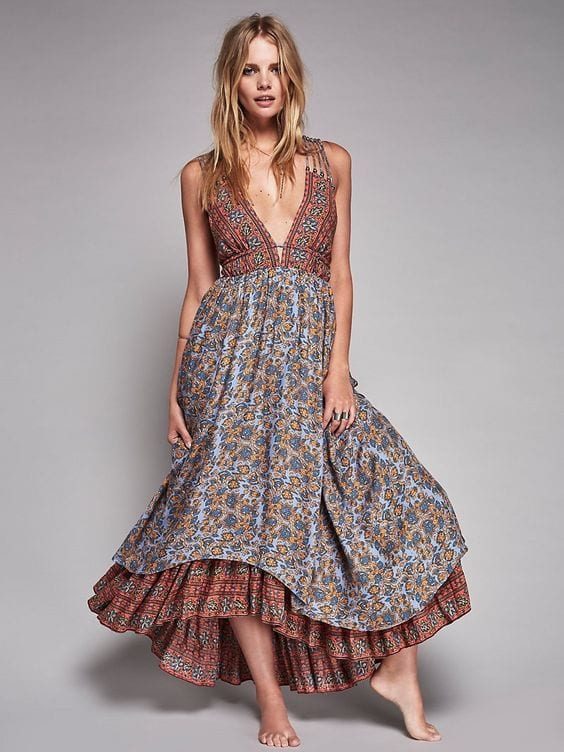 ↓ 15 – Casual Look for Travelling
The dress that will make you look effortlessly beautiful. All that's needed is a patterned maxi dress and a belt, and that's it!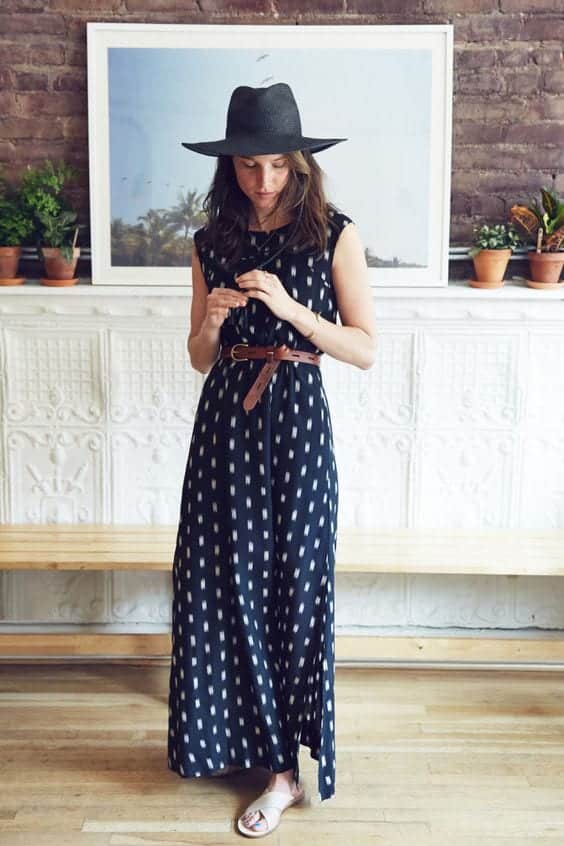 Step by Step Video Tutorial for 3 Minute Casual Bun Hairstyle
↓ 14 – Hot Casual Dress
With a shoulder-less dress like this, it's best to wear heavy bracelets and watches as your accessories. This look will give you a cute and pretty outfit in an easy few minutes.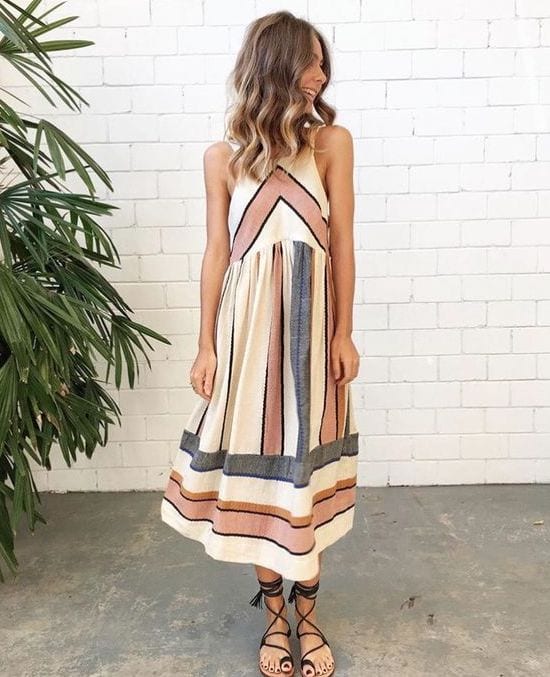 ↓ 13 – Spring Casual Wear for School/College
A simple white dress with bright embroidery turned into something funky with the right accessories. In this case: a heavy necklace and heavy bracelets, along with a funky bright bag. Here are some more Cute Spring Outfits for School Girls.
↓ 12 – Simple and Stylish Casual Wear
The contrast of black with peach-colored flowers makes this dress a unique blend of dark and light, giving it a sophisticated elegance. Would be best paired with peach-colored shoes and a handbag.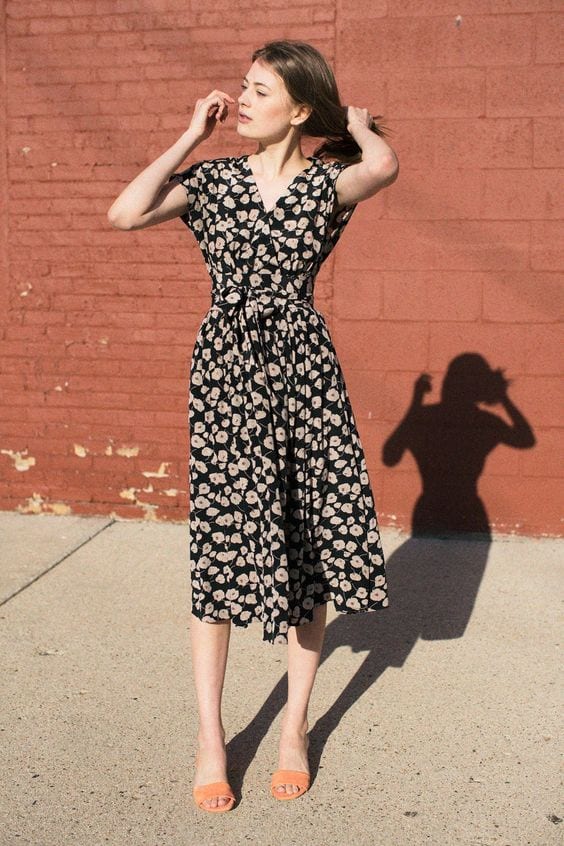 ↓ 11 – Casual Street Style
Bring back the '90s and out-style your modern friends with this sleeveless checkered dress. The best shoes to pair with it would be sandals, pumps, or block heels. It can also be worn during the winter with black leggings, a blazer, and long boots. Check out these 16 Popular Spring Street Style Outfits Ideas For Women. This is truly a timeless dress.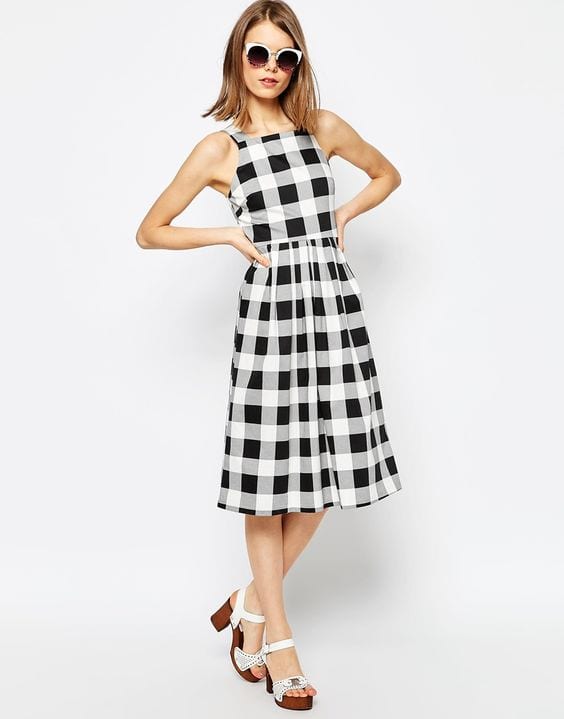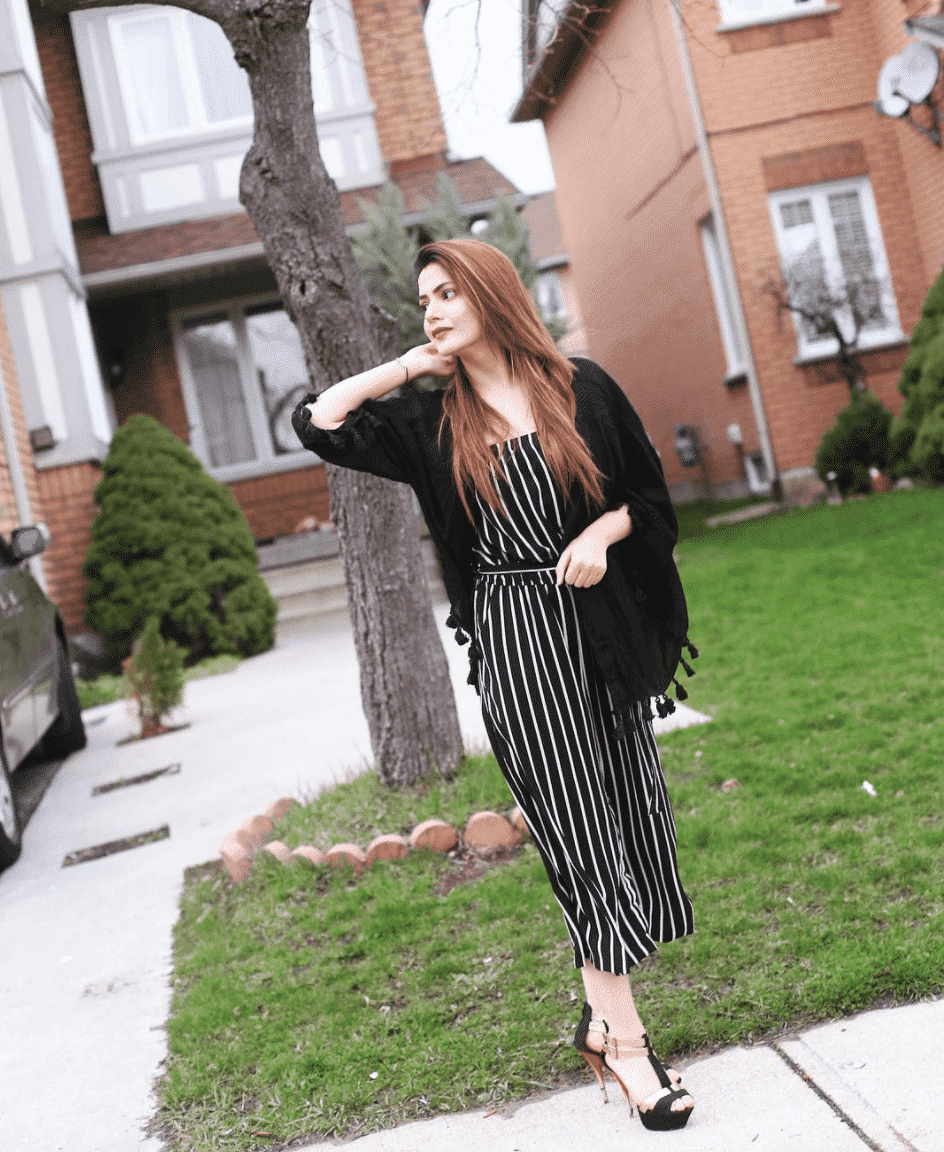 ↓ 10 – Casual Way to Wear a Skirt
Here is a '70s look given a more modern twist. Great to wear for a neat, chic look. You can wear a scarf (preferably plain, checkered, or striped) to add more to the look or wear a matching denim jacket. Here's an awesome guide on How to Wear Button-Front Skirts.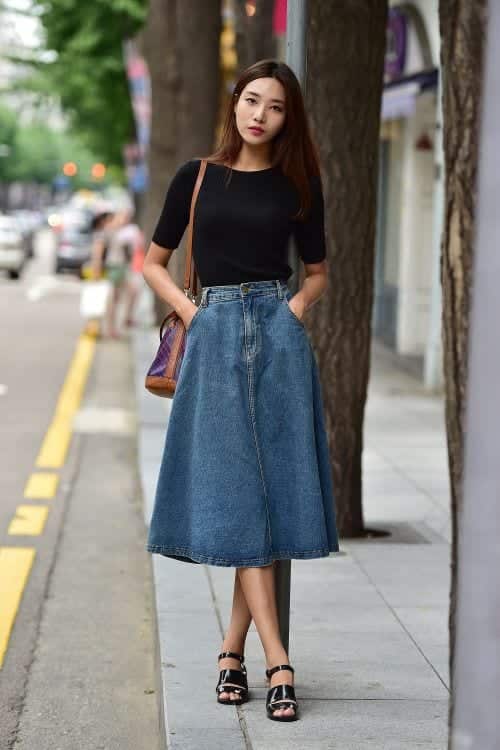 ↓ 9 Two Piece Floral Dress with Belt
Soft, beige colors for the soft personality. This would make a lovely church look or lunch date outfit.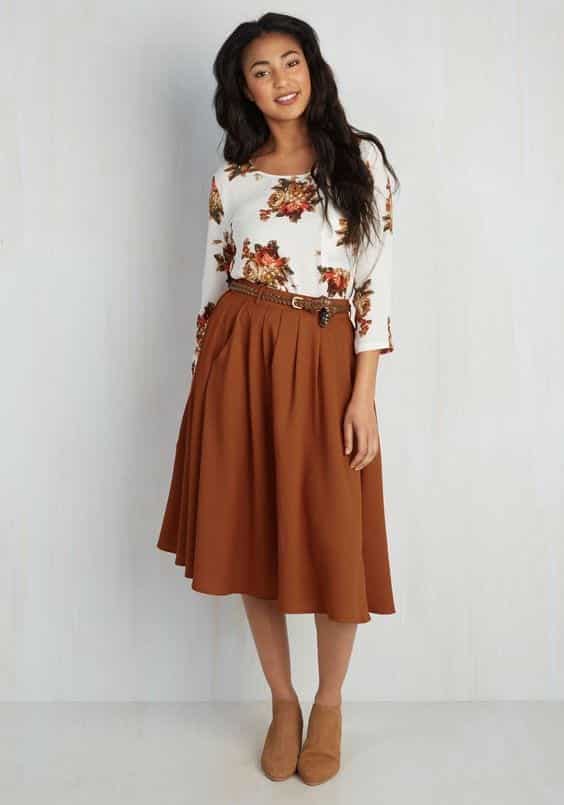 ↓ 8 – Casual Fall Look
Polka dots are the classic girly pattern. If you're going for the cute girly look, polka dots are what you need. Pair it with a bow belt and other bowed accessories (shoes, bracelets, hairpins, bag, etc). Add as many bows as you want, depending on how girly you are or want to look. Here are some more Cute Fall Outfits; 20 Latest Fall Fashion Ideas for Girls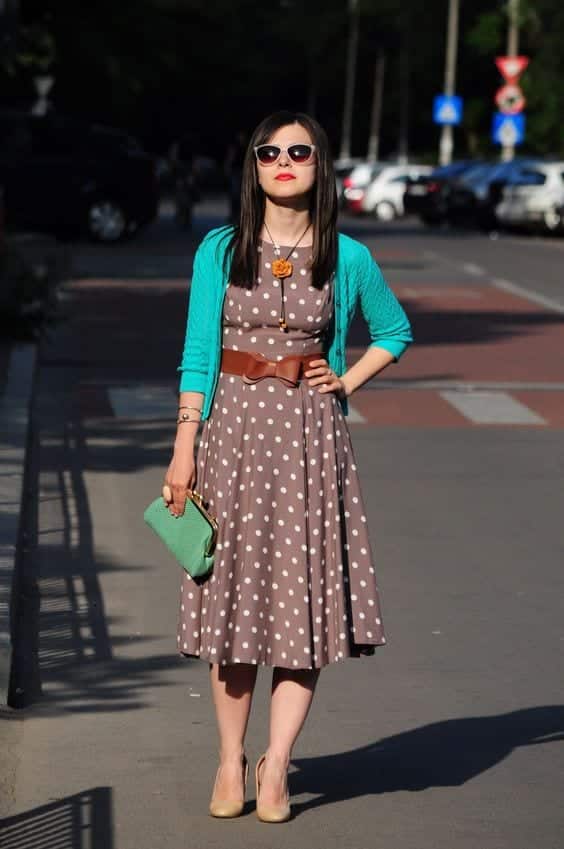 ↓ 7 – Casual Wedding Guest
Perfect to wear for a summer outing. A light, comfortable short dress that'll help you beat the summer heat, but also bright and colorful to embrace all the great things summer brings with it: the holidays, shopping, meet-ups with old friends, and everything in between.

↓ 6 – Casual Attire for Work
For the modest lady who's not up for the traditional dresses. Stylish, fashionable, and wearable on any occasion. It's been paired with long boots which adds more to the effect. Would also look great paired with a hijab as well. Here are 22 Elegant WorkWear Outfits Combinations for Women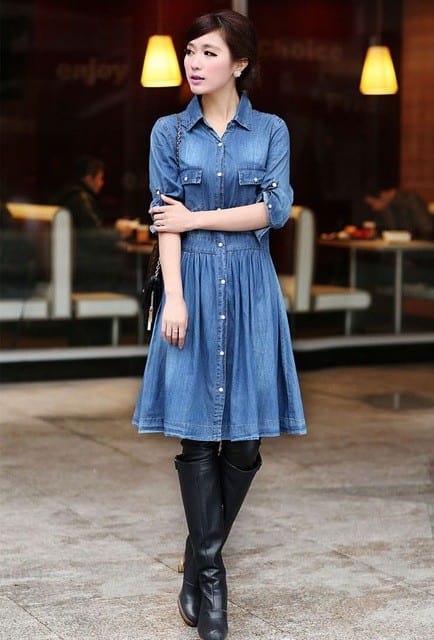 ↓ 5 – Best Pattern for Casual Wear
Simple polka dot dress for the old school girly look.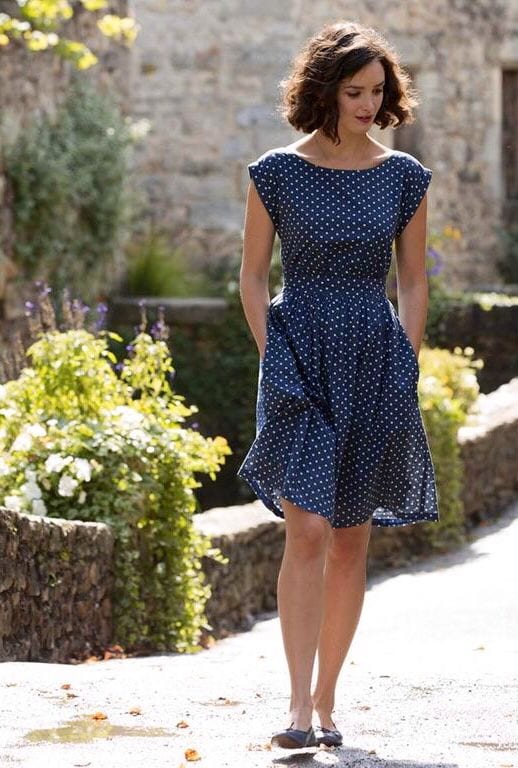 Via
↓ 4 – Full Sleeved Checkered Dress
For the cowgirl of the west! Here it's been paired with long leather boots, though it would look great with leather ankle boots as well. Check and plaid are always your ultimate best friends as they never go wrong, here are 18 Best Check Shirt Outfit Combinations for Girls in All Seasons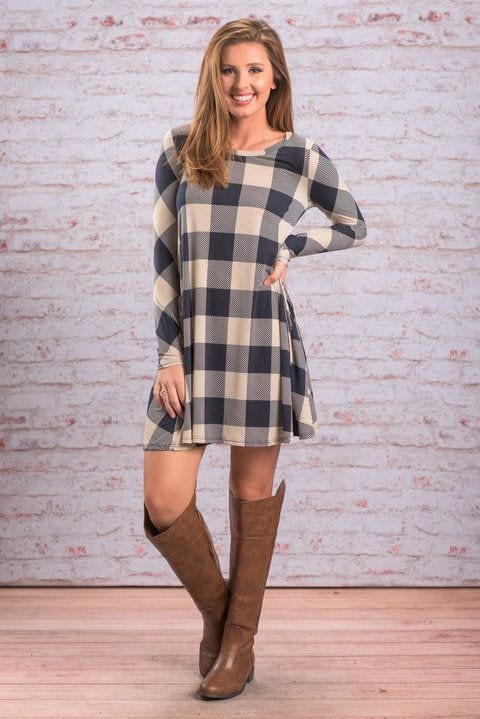 ↓ 3 – Blue Bohemian Dress with White Embroidery
Another great look for the summer to keep you cool in every way, literally and metaphorically. Would also look great with jeans and sneakers.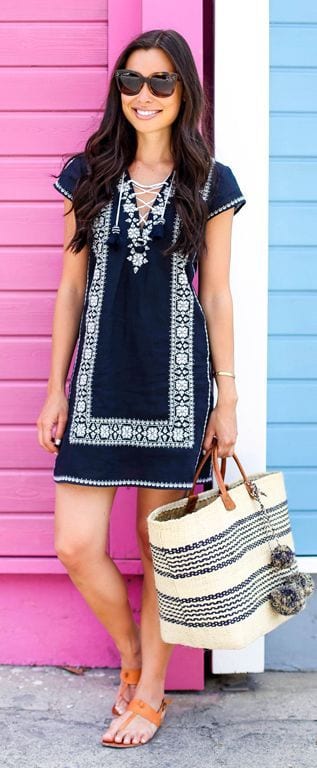 Via
↓ 2 – Black and White Zigzag Dress
Black and white are classic colors you can wear to any occasion. This zigzag patterned dress is the type you can wear to a casual as well as a formal event.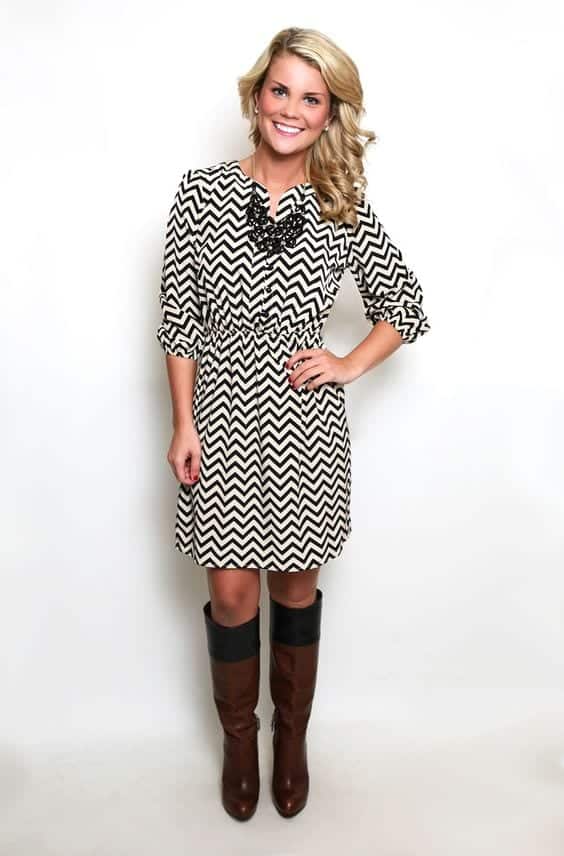 ↓ 1 – Long Floral Dress
Another great look for the modest, feminine woman. Best for comfort, leisure, and beauty.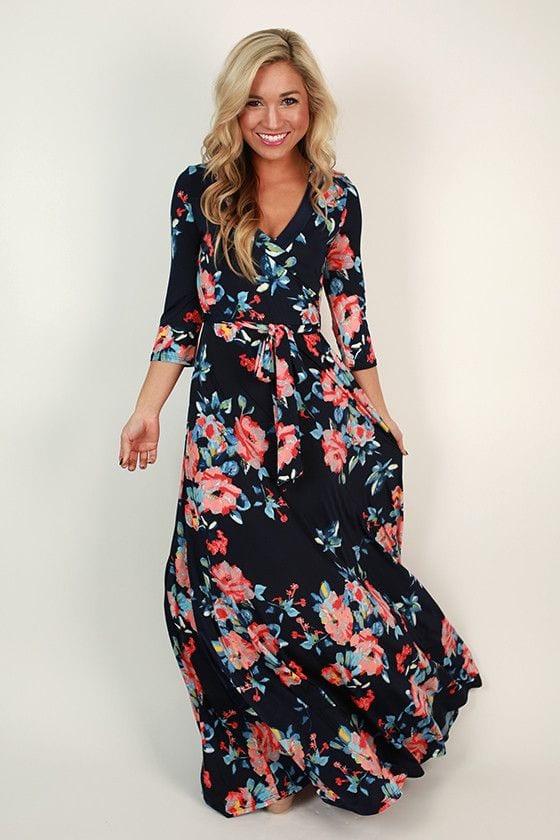 Celebrity Casual Style
Here are some of the latest and most stylish casual outfit of the hottest celebrities this year:
Starting off with the supermodel Bella Hadid, her casual outfit is just what any of us would want to wear for a lazy but comfy day.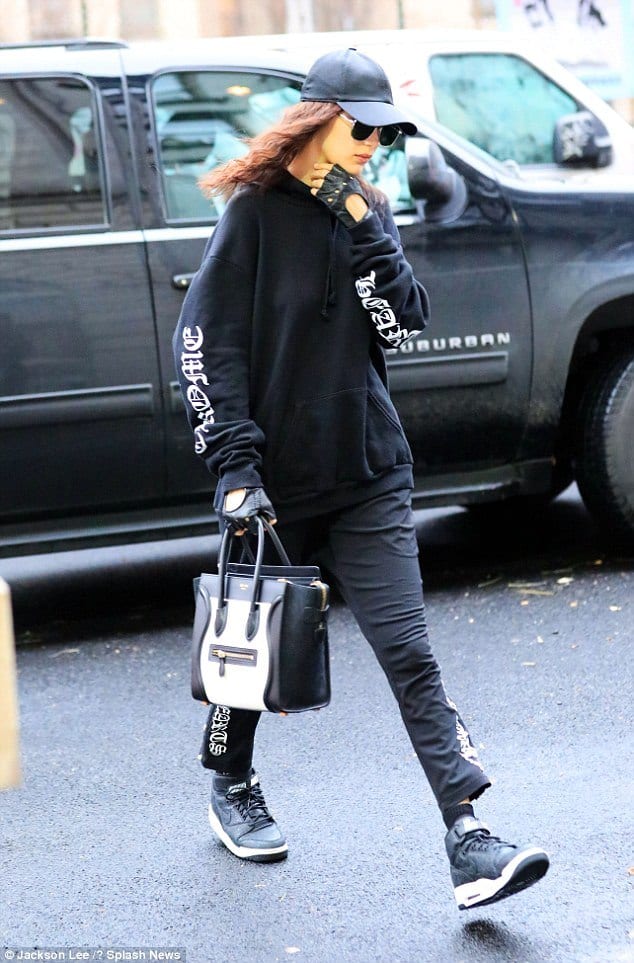 Via
Taylor Swift's casual outfit consists of skinny jeans with a casual check shirt and crossbody bag: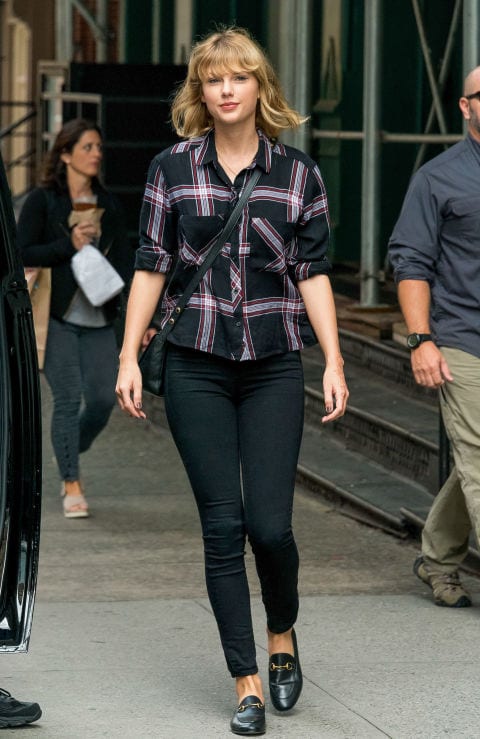 Kylie Jenner's wearing an oversized T-shirt with thigh-high boots, the best casual outfit for a dinner or party. But not a dinner party!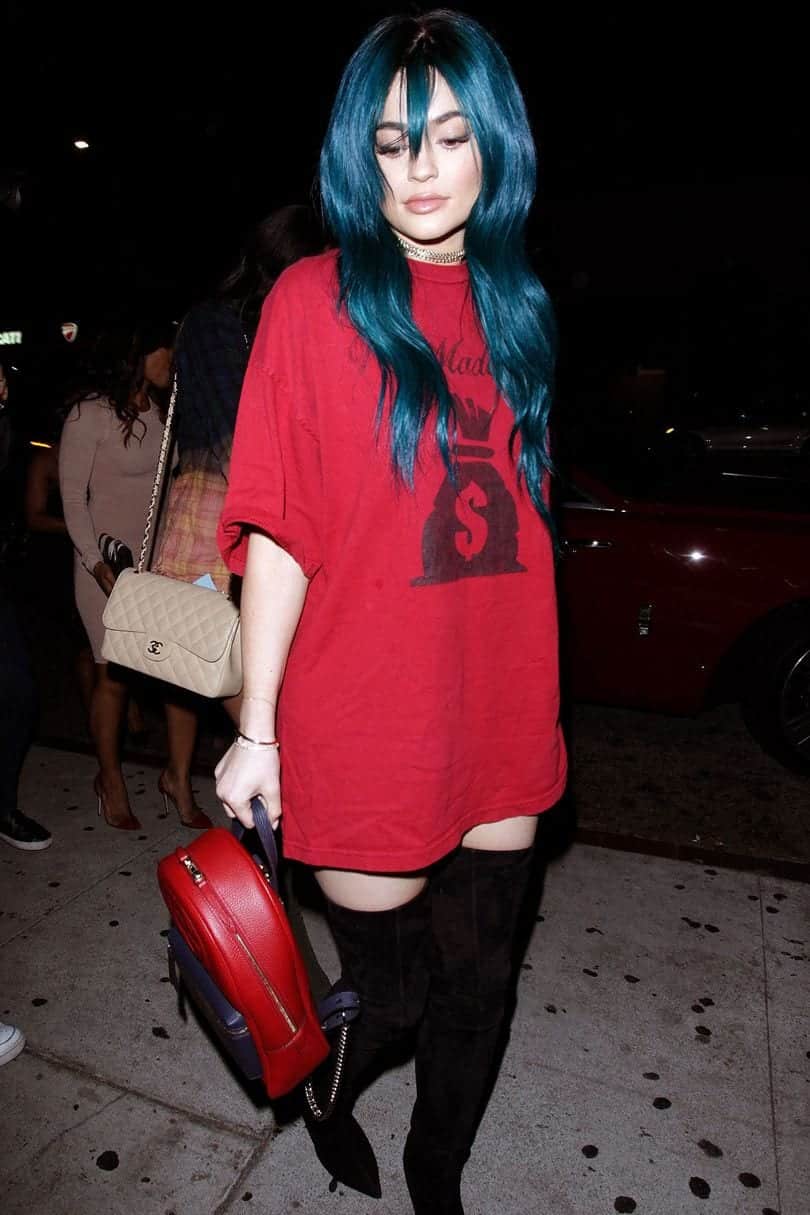 Last but not the least, we have the Modern Family star Ariel Winter, who's an inspiration for all curvy and plus size girls out there. For a casual day out running errands, she's wearing leggings with sneakers and a skin-tight hoodie.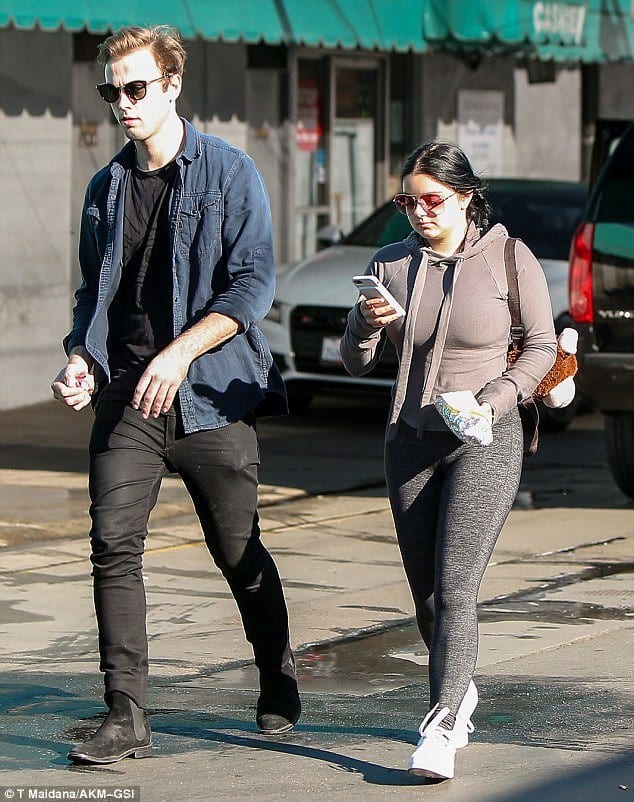 Frequently Asked Questions
Here are some frequently asked questions about casual outfits for women, check them out!
Q.

What is casual wear for a woman?
A. Casual wear is anything but formal, as the name no doubt implies. Casual wear can mean loungewear (clothes you wear to lounge around your house in, i.e. sweaters, soft pants, drawstring shorts, etc.) or a simple dress you wear to run errands (as shown in this article). It can also mean athleisure (leggings, hoodies, crop tops, etc.). But it doesn't just mean baggy sweatpants. A casual outfit can be date-appropriate when done right. Jeans and a tee-shirt are an example of casual wear.
Q.

How can I look stylish and casual?
A. In order to look stylish while wearing casual pieces, it's important to keep a few things in mind. Casual doesn't mean sloppy. Nor does it mean ill-fitting outfits that do nothing for you, your figure, or your goals. To design a casual but stylish outfit, you can keep your ensemble-making lowkey without sacrificing elegance or fashion. Go for comfort pieces like turtlenecks in the fall or summer dresses in the warmer months. Get yourself a cute patterned top to pair with your jeans instead of your typical graphic tee. Consider neutral colors – no matter how casual the piece, if worn in taupe, or beige, or cream, it instantly looks more stylish. Add a few accessories too! Even if it's a cute purse and post earrings, this will add that extra bit of stylishness.
Q.

How do you dress casual chic?
A. Casual chic is basically a blend of dressy articles of clothing with less-formal pieces. Think of a gorgeous coat with a pair of skinny jeans. Or a solid-colored shirt with some dressy slacks. To get that perfect blend, look for neutrals to incorporate into your ensemble. Build your outfit around a "statement piece," which could be a gorgeous jacket, a lace shirt, a stunning pair of earrings, etc. Always have your hair and makeup (if applicable) done nicely. Pay attention to little details like clean nails, clean clothes, and a great shade of lipstick.
Q.

How do you dress casually?
A. Some casual items are jeans, tee shirts, hoodies, jackets, tank tops, summer dresses, maxi dresses, flowy skirts, and some kinds of shirts. Stripping down a dressy look to the bare essentials will usually leave you with a great casual outfit. Don't overdo accessories and bypass fancy items like lacy tops or skirts, sequins, frills, etc. Have another glance through this article for specific examples!
And that's all for today! Let us know your favorite casual outfit in the comments below. Are you a dress and flats kind of girl? Or are you a leggings-and-tee gal all the way?