Girls Night Out Outfits. Nothing is more fun and relaxing than hanging out with your favorite girls after a stressful day at work. It's a great opportunity to unwind, destress, and get dressed up! But deciding what to wear can be a hassle and we all know what that feels like.
And because we are here to help at Outfit Trends, we have compiled a list of 20 outfits you can try for your next girl's night out, along with some tips and ideas to keep in mind as you are preparing. Keep reading to find out what items you should always have in your purse, what Selena Gomez wore on her girl's night out, and 20 gorgeous looks you will want to go try today!
Tips for Girl's Night Out
Let's get started with some simple tips to keep in mind when planning your girl's night out:
Plan your outfits in advance. There's nothing more stressful than trying to throw together a cute outfit when you are in a rush or trying to get out the door on time. Always have 2-3 go-to outfits in your wardrobe that you can turn to when that midday text arrives inviting you to a girl's night out.
Carry an Emergency Kit in your purse. An emergency kit looks different for every lady, but what it basically means is having a little kit or collection of items tucked in your purse that would come in handy in a pinch. Be prepared for any incident so that you can enjoy your girl's night out stress-free! See below for some ideas to pack your kit with.
Check the weather before heading out. Heading out on a warm evening and being unprepared for a sudden drop in temperature is no fun! Bring along an extra sweater or jacket if the night is going to get cooler.
Have fun with accessories. There is no easier way to jazz up an outfit than with some great accessories. Play around with some jewelry, a cute belt, scarves, or a statement purse.
Make sure your makeup is Picture Ready. If you and your friends love taking pictures to commemorate your GNO, then be prepared for it! Not every lady likes to wear makeup (and if you don't then skip this tip) but for those who do, make sure your makeup is A+. Keep the lighting of your destination in mind (a dark restaurant or an outdoor concert needs a different kind of makeup look than a brightly lit event) and check your makeup in a similarly lit situation before heading out. YouTube tutorials are great for finding the perfect makeup look.
Wear comfortable shoes if dancing. If you and the girls plan to hit the dance floor then make sure you are wearing shoes to accommodate it! It might mean skipping out on the stiletto heels but your feet will thank you later on.
An emergency kit does not mean a miniature First Aid kit (but if you are the type of gal who likes to be prepared for all eventualities, then by all means). It can just mean a couple of items tucked in a zip-bag or pouch or even a pocket in your purse. Keep it simple and only pack things you know would be helpful to you. Here are some examples of things you might consider tucking into your purse:
Pads or tampons (Better to be prepared than not! Your girlfriends will thank you as well.)
Painkillers (Feel a headache coming on? Having some PMS cramps? It pays to have these on hand.)
Extra cash (This will always come in handy whether you need to flag a taxi or cover a tip.)
Gum or breath mints (Because nobody wants to be stuck with bad breath!)
Hand sanitizer or wipes (Always good to have on hand.)
Safety pins (These are great if a zipper breaks on your dress or skirt!)
How to Dress for Girl's Night Out
Whether you are petite or plus-sized, going for a coffee/ dinner/drinks or clubbing, these outfits will inspire you to look your best your next time out with your gal pals!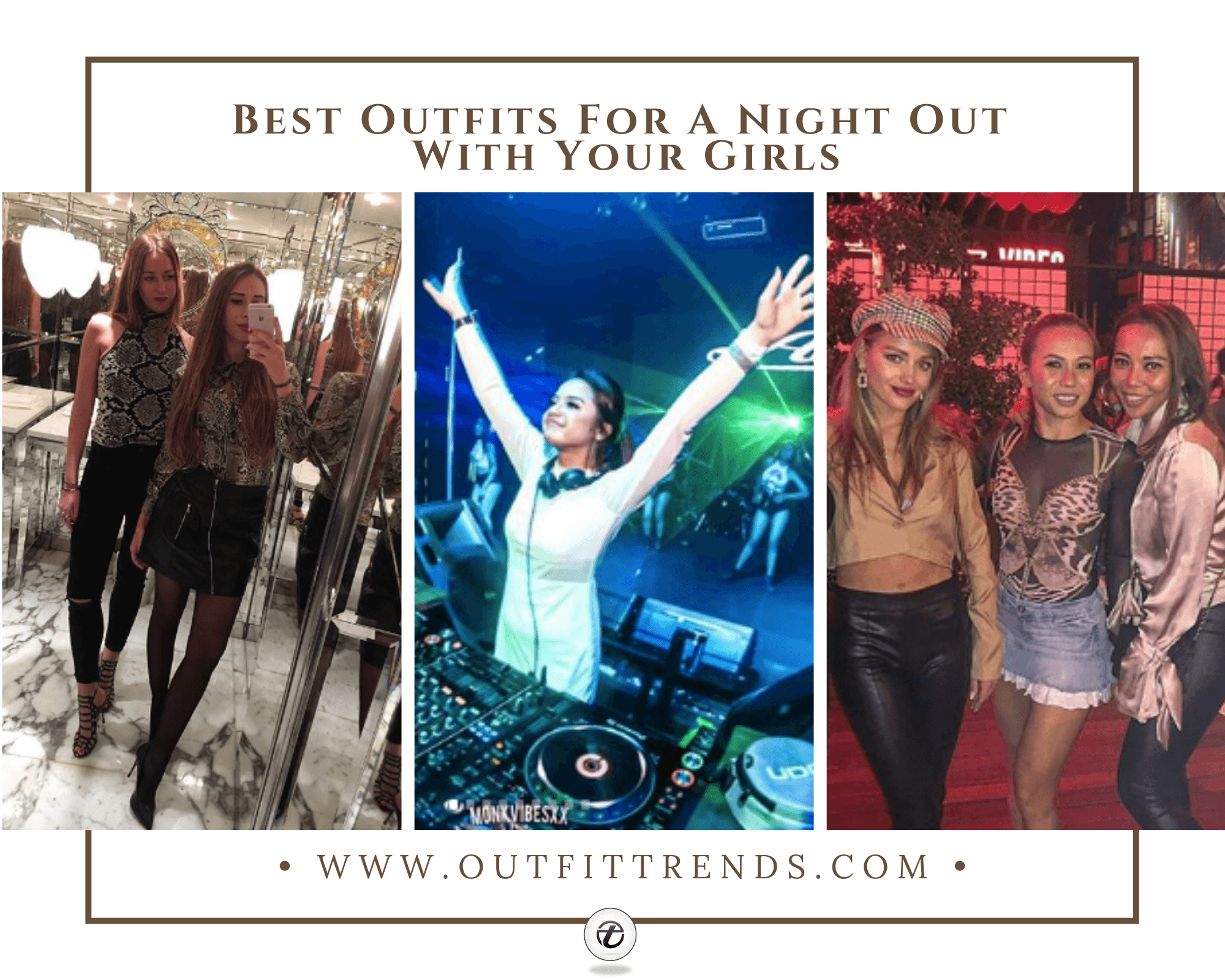 ↓ 20. Clubbing Outfit for Girl's Night Out
Not only is this a super gorgeous look, it's great as it also transitions well into fall! Simply add tights to this look or swap out the miniskirt for leather leggings if you think you won't be warm enough. A fun sequined top and classic black pumps look gorgeous when paired with long, loose waves and a leather skirt. Here are more ideas on Casual Outfits For Clubbing.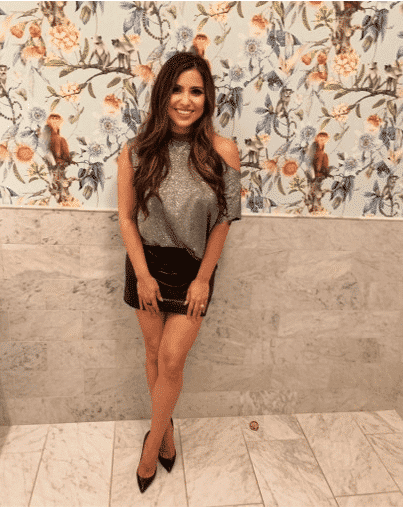 Love the look? Get it at the links below!
Christian Louboutin Pigalle Follies Leather Red Sole Pumps
↓ 19. What to Wear on a Girl's Night Out 101
We think this is the quintessential girl's night out outfit.
Why? Because it's fun, it's got red (who doesn't love a lady in red?), it's gorgeous, and it's a great way to show off a little skin while keeping it classy. We love the balance of the skinny jeans on the bottom and the laced up peekaboo camisole on top. Match your lipstick to your top and throw on a thin black belt to tuck your cami behind. Finish the look off with heels and curled hair.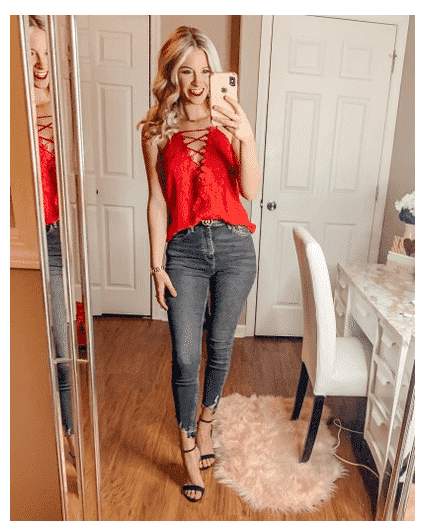 ↓ 18. Girly Casual Streetwear Look
Some girls love to show off as much skin as possible on their girl's night out; others like to keep it a little more low-key. If you are more of a low-key kind of girl, then this might be the look for you. With gorgeous heels and fun, heart-shaped sunglasses, you are still looking feminine and cute but you aren't sacrificing comfort in this camo-print sweatshirt and dark skinny jeans. Style your hair in beachy waves and accessorize with some pretty rings and earrings (we are partial to hoop earrings for this look).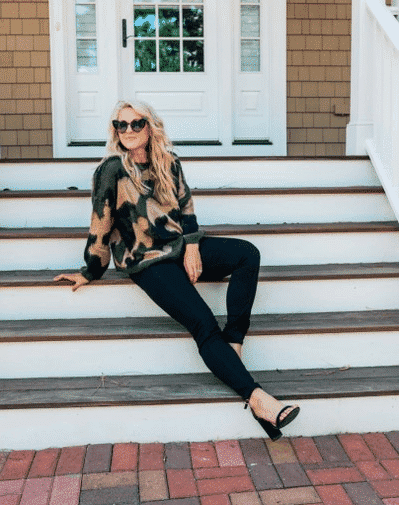 Love the look? Snag it for yourself here:
R13 Camo Cashmere Crewneck Sweater
SL 181 Lou Lou Hearts Sunglasses
Ema Pumps
↓ 17. Sequined Blazer for Dinner at Restaurant
What better look for a glitzy dinner at a restaurant? This little black dress is paired beautifully with a gold sequined jacket and a statement necklace. Tie your hair up in a low messy bun and finish your outfit off with some classic pumps. Check out these gorgeous Sequins Outfit Ideas.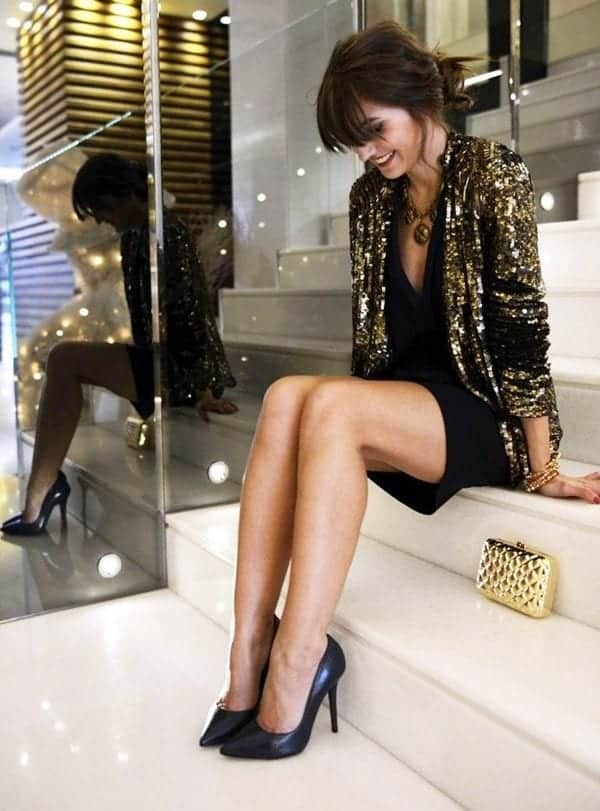 ↓ 16. Selena Gomez Girl's Night Out
Check out this stylish look of Selena Gomez's as she spends a Saturday night with her BFF. She's wearing black leather pants with a leopard print jacket and leather boots. Finish the look off with a bold red lip.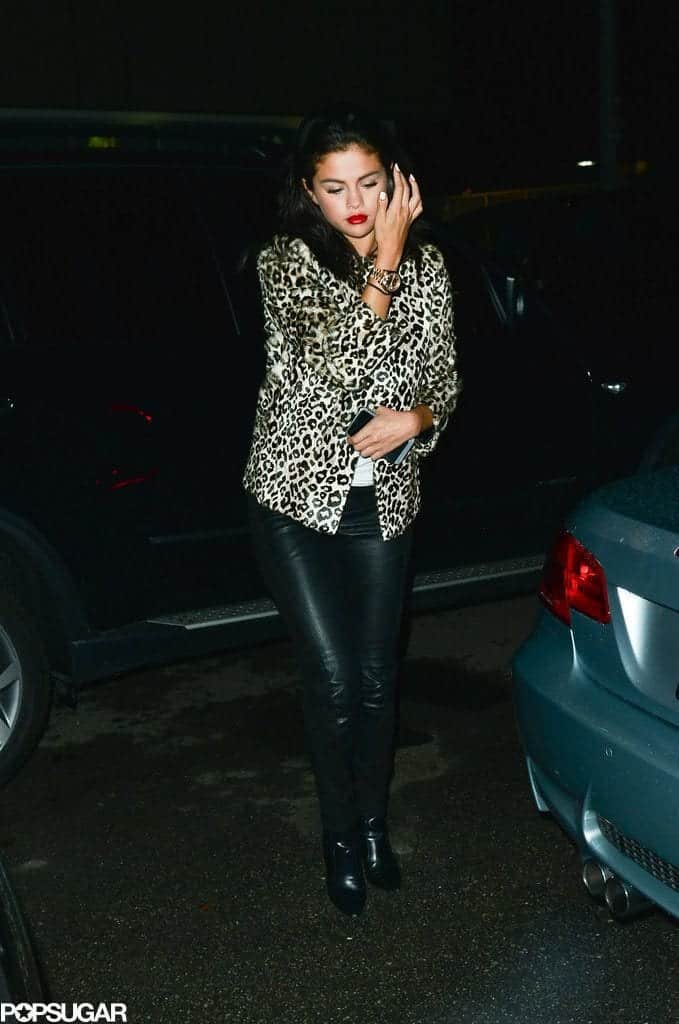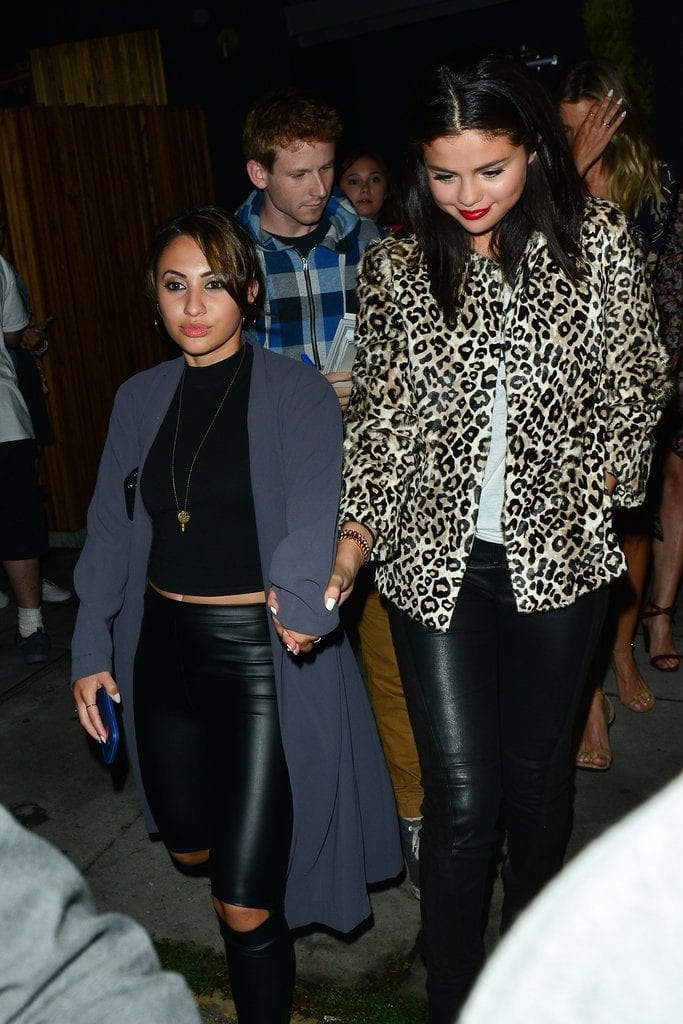 ↓ 15. Casual and Girly Ladies Night Outfit
Taylor Swift seems to be glowing in her white crop top and light blue skirt. This is such a chic and effortless look that you can throw together in just a few minutes. Add a nice, small but handy pink handbag along with a pink crochet sweater in case it gets cold.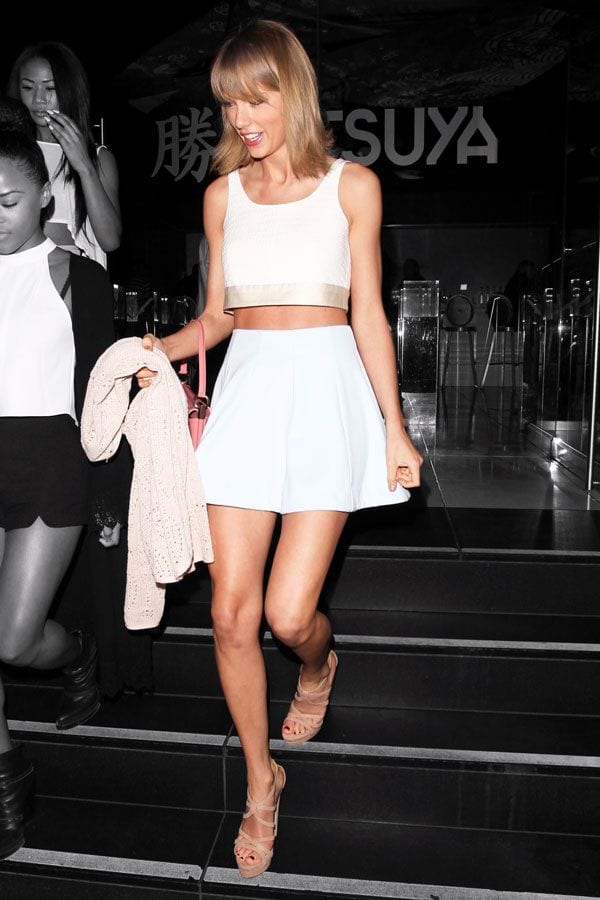 Check out a similar look as worn by Rihanna.
If you love a matching top and skirt outfit, have a look at these outfits to wear with pencil skirts for a chic look.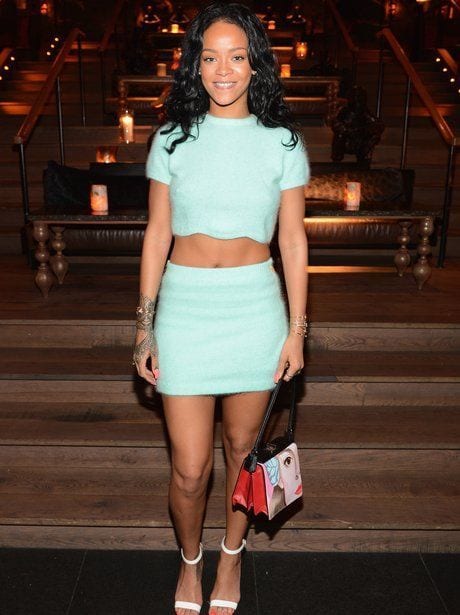 ↓ 14. Smart and Sexy Outfit
Once again Selena Gomez inspires us with a completely different look one night hanging out with her friends. A satiny black dress with white trim looks stellar paired with some super high heels. For makeup, go for a smokey eye look paired with a nude lip. Style your hair in long, loose waves to give it the signature Gomez flare. If you need some makeup tips for a similar look, check out 60 seconds quick eye makeup tutorial anyone can do easily.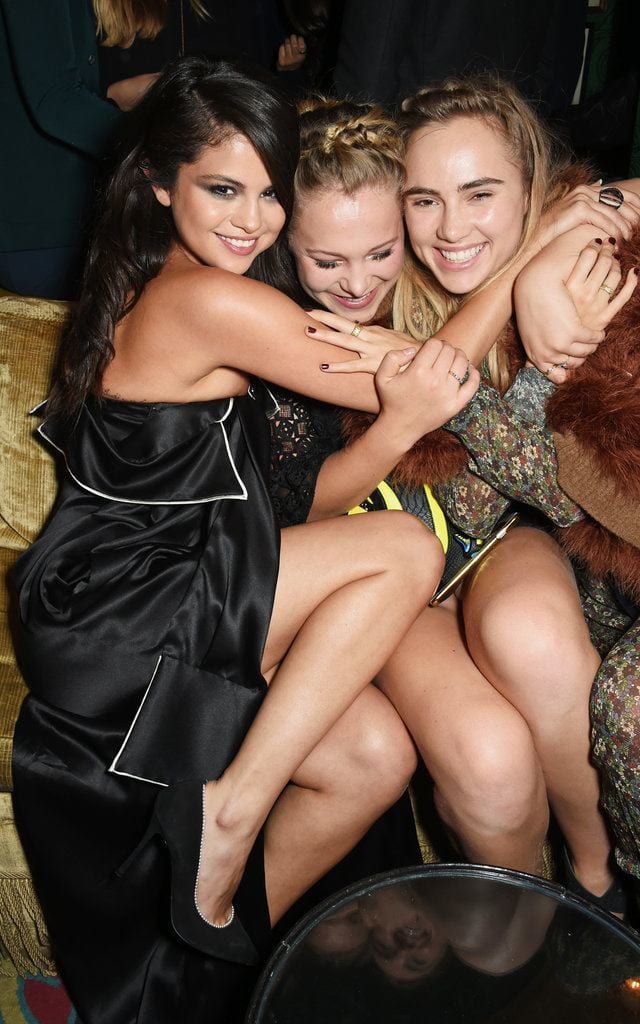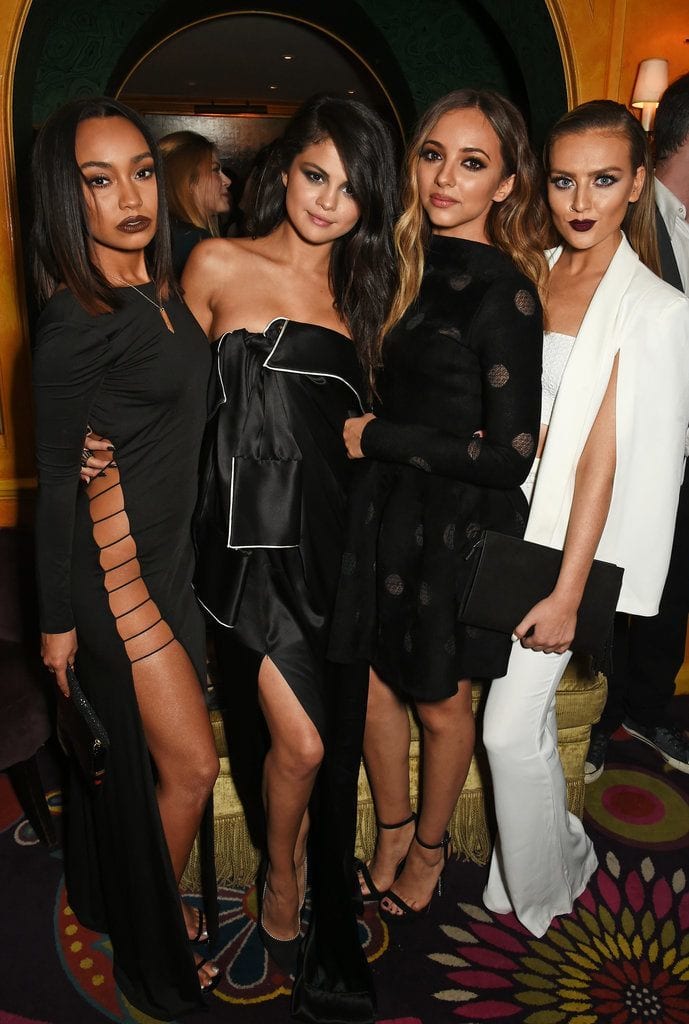 ↓ 13. Night Outfits for Curvy Girls
If you've got 'em, flaunt 'em! This is a great outfit for showing off your amazing curves. Pair a black fitted top (a bodysuit is a great way to ensure your top doesn't come loose while dancing or having fun) with a patterned sheer skirt, or opt for a little black dress with a high-waisted sheer skirt over top. Add a blazer and heels along with a dark lip.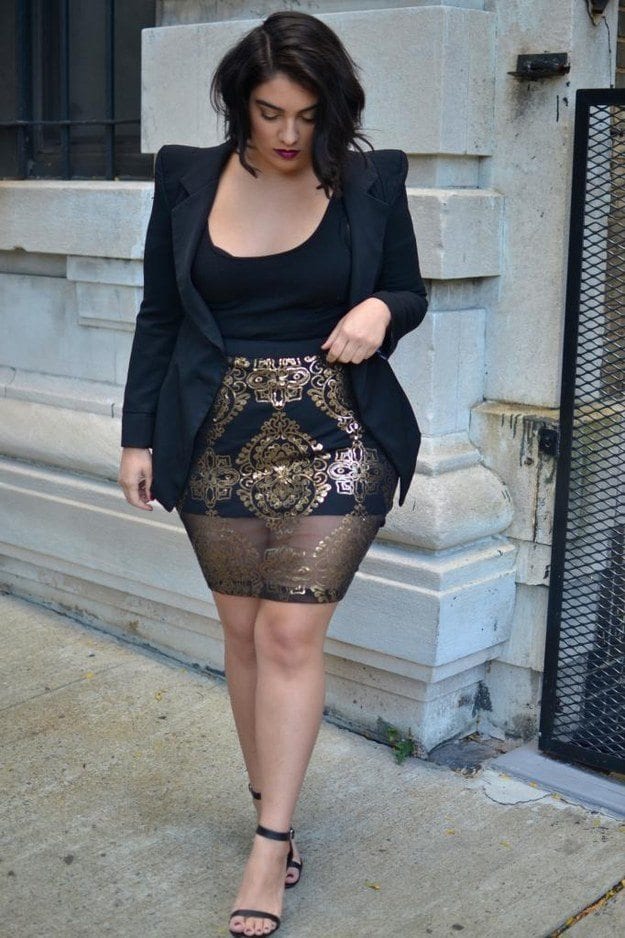 ↓ 12. Outfits for Mom's Night Out
No one needs a time out and a break more than mothers! Here's a fabulous hot mum look inspired by the gorgeous Sofia Vergara. Black surely is a favorite color of celebrities for their girl's night out and Sofia rocks her black dress with silver embellishments and that signature smile of hers. Once again, notice how amazing red lips look with a black dress.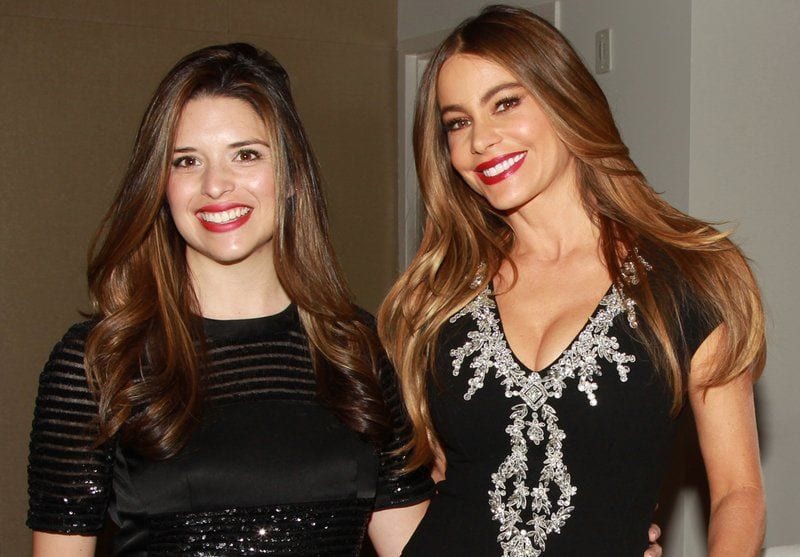 ↓ 11. Casual Mum Outfit
Sometimes even a Mom's Night Out doesn't warrant a totally uncomfortable skintight dress… If you are a mom and you like to keep it chic as well as casual, take a page from Kate Winslet's book. This is a great low-maintenance but still gorgeous ensemble you'll feel cute and comfy in. Skinny jeans, black top, and blazer, complemented by a light-colored scarf and ankle boots make up this great look.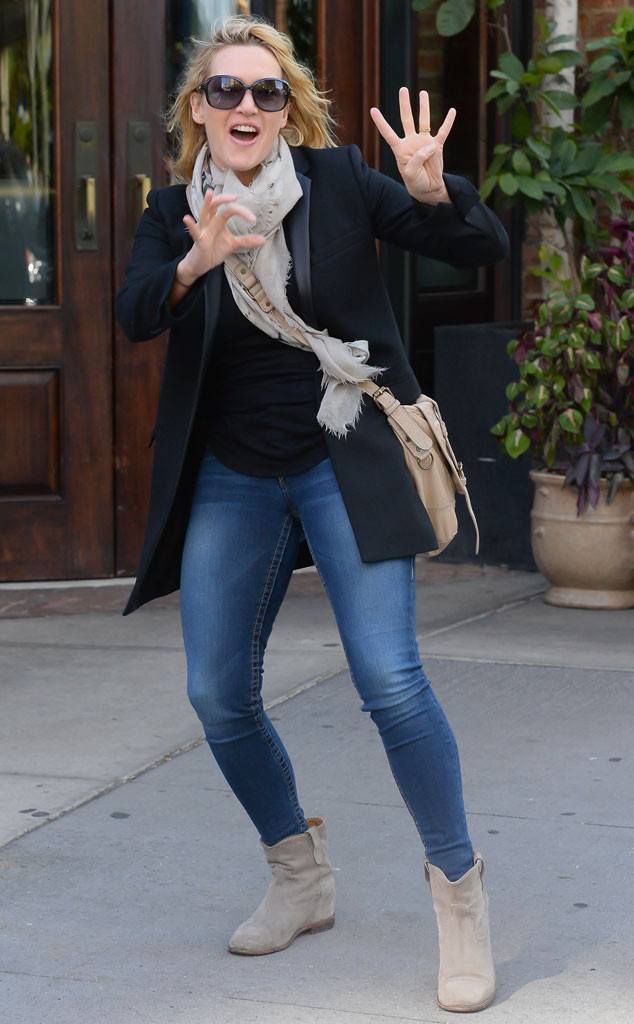 ↓ 10. Hot Outfits for Ladies Night in Summers
Kate Hudson looks ravishing along with her friends Nicole Richie and Gwyneth Paltrow. While Kate is wearing a gorgeous gown, the other two girls look equally amazing in their jumpsuits.
Fun Girl's Night Out idea: Get two of your gal pals in on the theme and pick one of these gorgeous celebrities to be your look inspiration tonight! (I'm partial to Kate Hudson's look myself.) Have fun dressing up like these three ladies for the evening!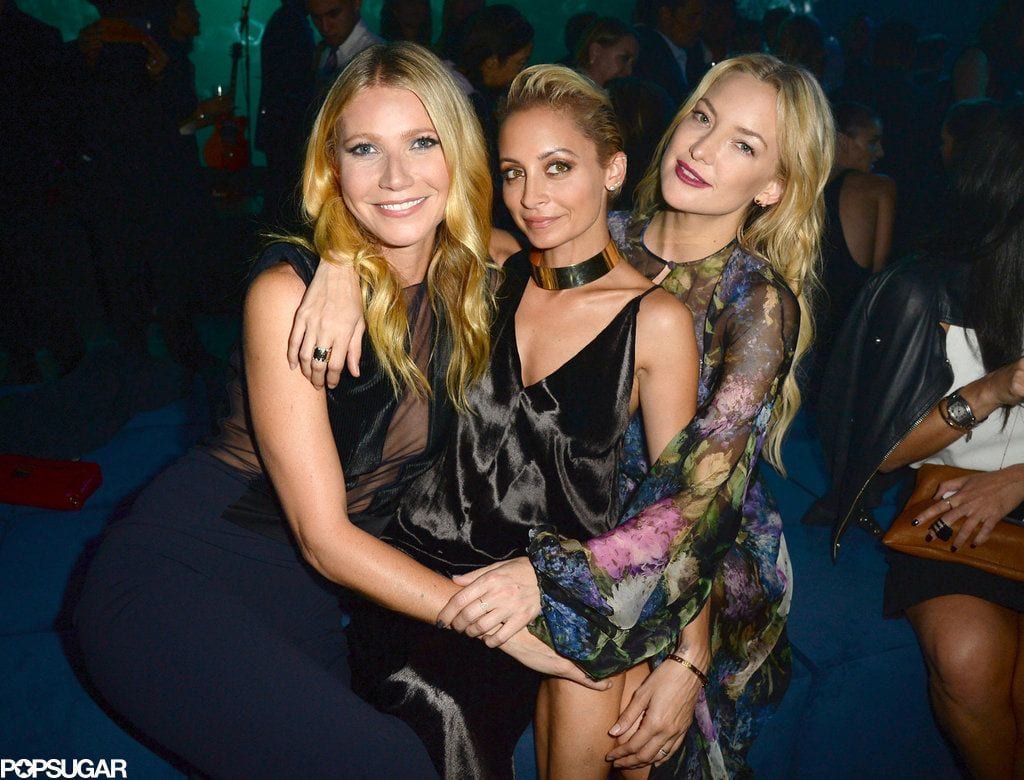 ↓ 9. What to Wear on Girl's Night Out in the Fall
Nina Dobrev is surely one of the cutest actresses in the industry. She has an amazing dressing and style so check her out in this picture of her on a fun night with her best friend. Nina is wearing a bright and multi-colored tunic with a well-fitted black blazer. Stylish, comfortable and sexy outfit for fall weather!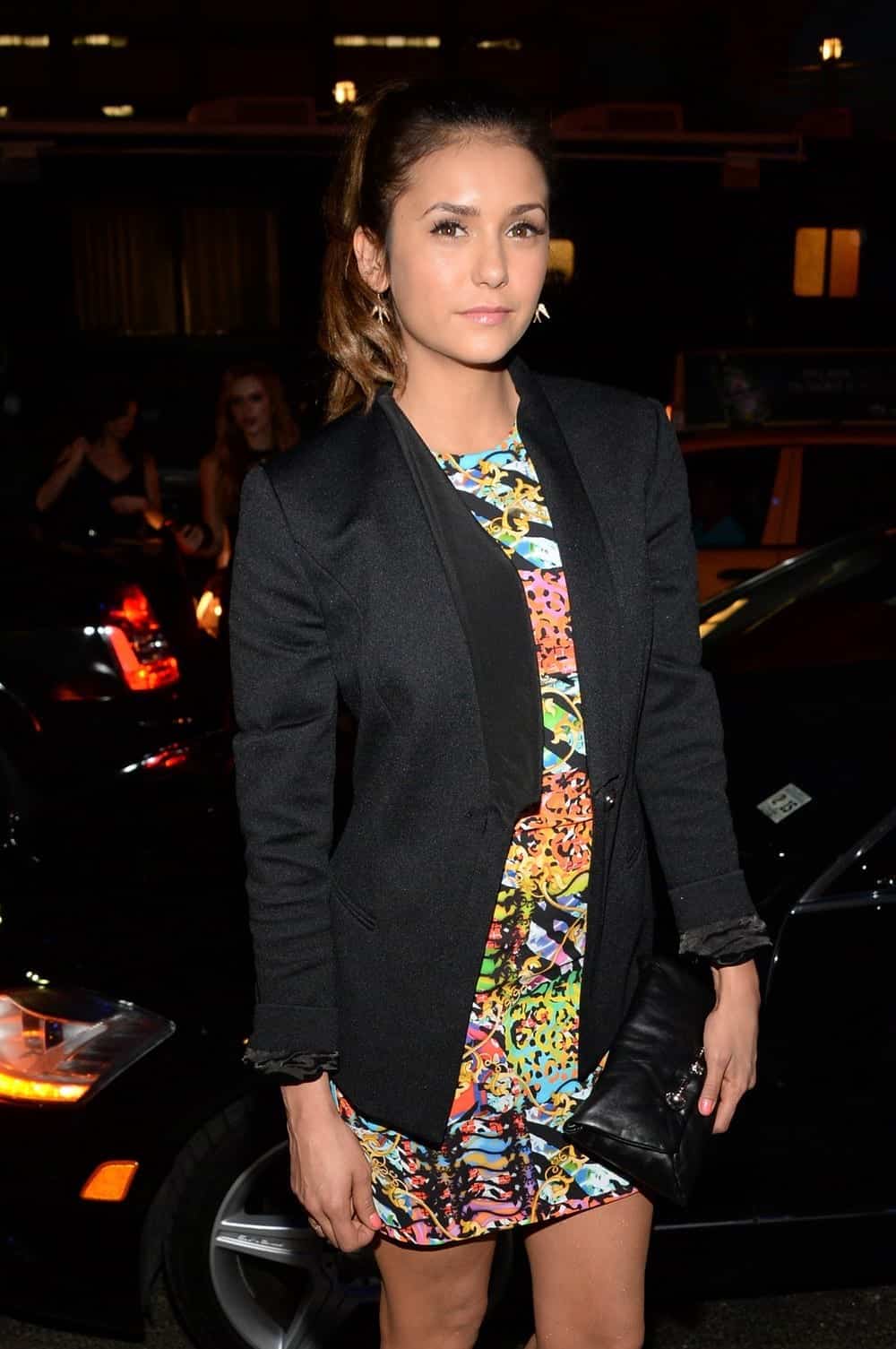 Source
↓ 8. Leather Jacket Outfit and Shoes for Night Out in Winter
Va-va-voom, ladies and gents. This gal is looking gorgeous!
Start with some high-waisted black skinny jeans. These will keep you feeling nice and slim. Pair with a leopard print top and black moto leather jacket. We love these low heels perfect dancing and this classy beige purse that ties the look together. Swap the heels for boots if it's too cold!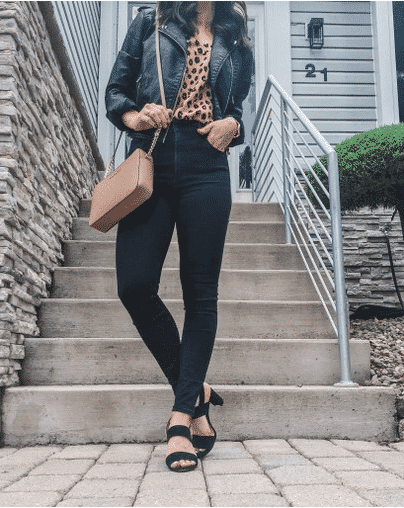 ↓ 7. Emma Watson Inspired Outfit
White is a classy color to wear for a nighttime gathering of friends. Adding a black suit jacket makes it look even better! Take a page from the lovely Emma's book and add comfy flats to this outfit to make it the perfect ensemble for a night on the dance floor.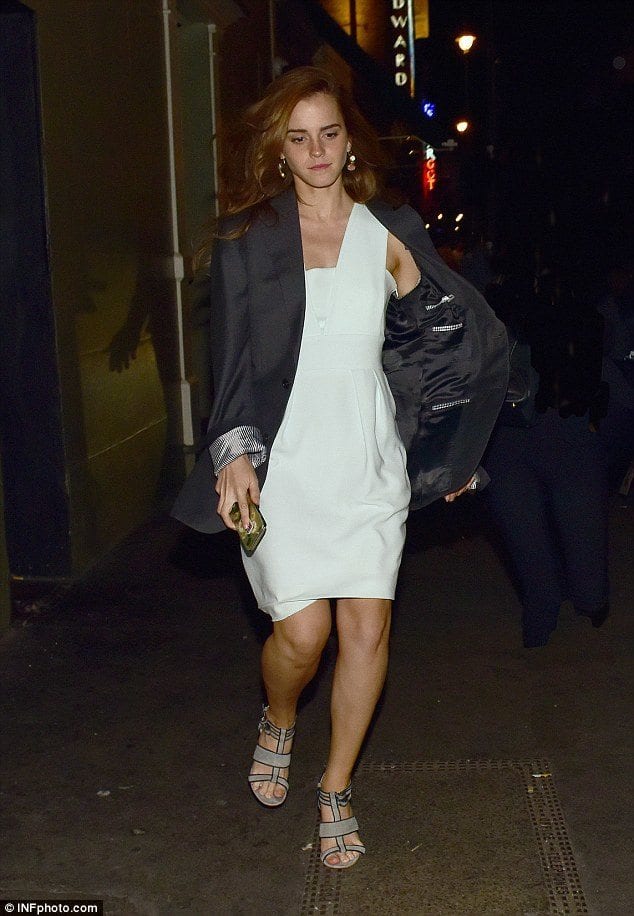 ↓ 6. Natural and Effortless Plus-Size Outfit
Here is a fabulous look for a plus-size gal! A cheetah-print top with three-quarter length sleeves will have you feeling gorgeous and confident. Pair with your favorite jeans. We love the matching orange purse and shoes.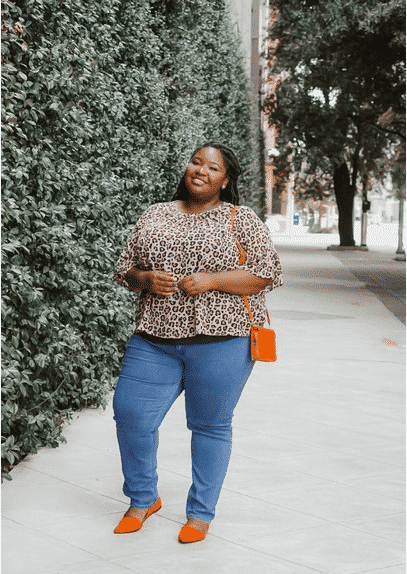 Love the look? Get it for under $100:
Plus-Size Animal Print Chiffon Flutter Sleeve Blouse $17.49
ASOS DESIGN Wide Fit Leisure high vamp slingback ballet flats in orange $20
Seven7 Tummyless Midrise Skinny Jeans $44.97
↓ 5. Plus-Size Fashion for Girl's Night Out
We love this plus-sized look for fall weather! The three main components of this outfit are a long-sleeved black thin sweater, a brown A-line corduroy skirt (belted), and knee-high black boots. After that, have fun with your hair and accessories!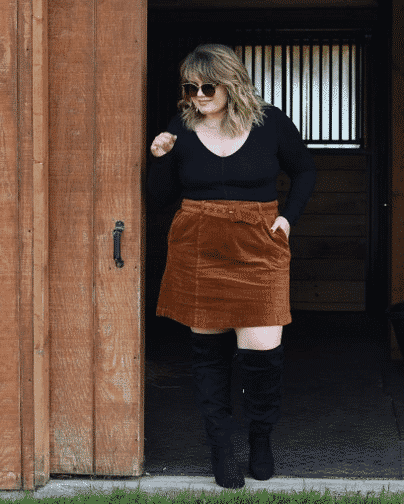 ↓ 4.What to Wear if You Are Petite
If you are a petite gal, then this just might be the look for you.
Start with your favorite pair of black skinnies or leggings and top off the look with a thin sweater or camisole. As you probably know, it is important when you are very petite not to overwhelm your figure. A brown leather moto jacket looks amazing as it is fitted. Finish it off with some black boots and sleek hair.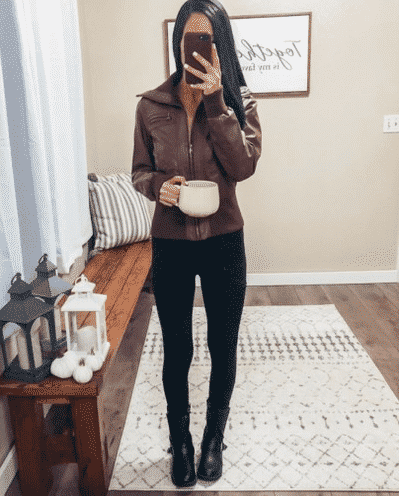 Next up are three very easy outfit ideas inspired by the above looks which you can try for your next girl's night out.
↓ 3. Printed Tunic, Black Hat and a Velvet Blazer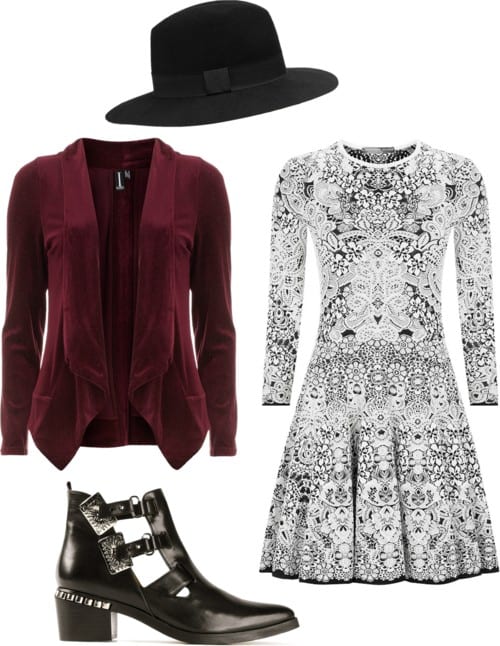 ↓ 2. White Maxi and a Fur Jacket
A bold look for a girl who just wants to have fun.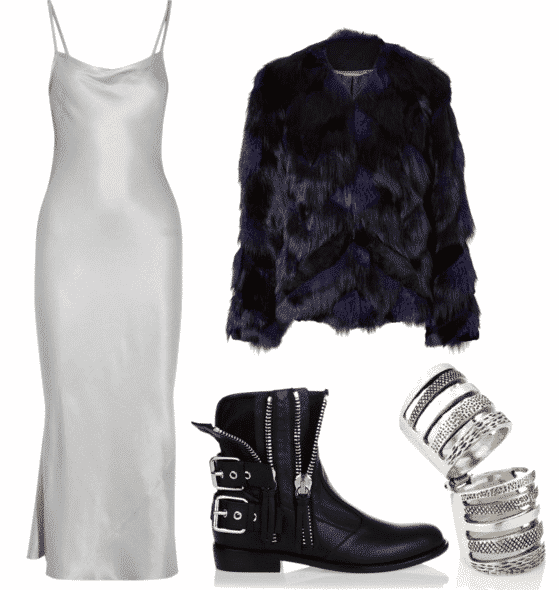 ↓ 1. Leather on Leather
Our last look is an eye-catching one. Have fun with a zebra-print purse, embellished heels, a leather jacket, and a gorgeous purple A-line skirt!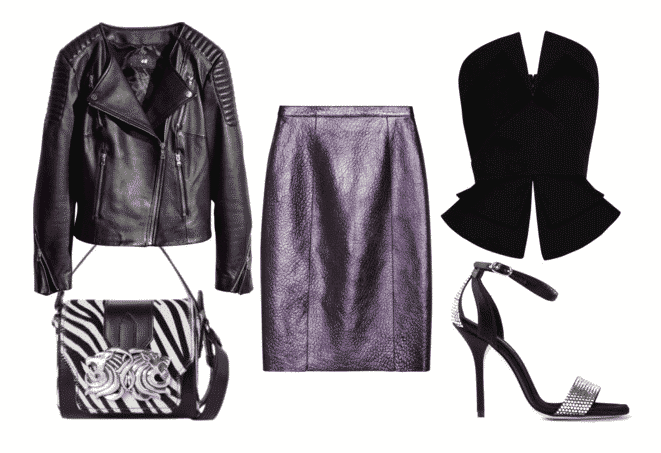 Did any of these looks stand out to you? Let us know in the comments below!