Girls Night Out Outfits. Nothing is more fun and relaxing than hanging out with your favorite girls. After a stressful day at work, having a girl's night out is helpful for any girl. But it can often get confusing to choose a good outfit for this.
It's important to look cute, sexy and casual so you are all set to have fun. So if you are also confused about the right outfit to wear when going out with your friends, have a look at our collection of beautiful dresses. And also have a look at the awesome dresses worn by our favorite celebrities for their much-needed ladies night out.
Ideas How to Dress up for Girl's Night Out
Stylish outfits that you can wear with your BFFs for any place. Whether you are going for a coffee, dinner, a drink, clubbing or anywhere else, these looks will help you look the best for your much-needed stime out with your BFF.
#17. Sequin Dresses
Sequin Dresses, matched with some matching shiny jewellery and messy hair look awesome on any night time get together. They look classy and casual at the same time.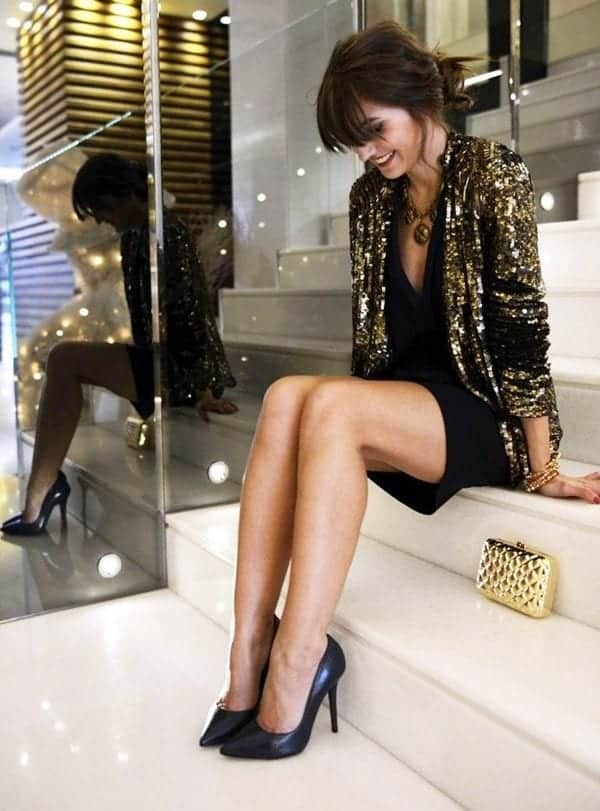 #16. Selena Gomez Girl's Night Out with Francia Rosa in Style
Check out this stylish look of Selena Gomez as she spends her Saturday night with her BFF. She's wearing black leather pants with a leopard print jacket. I love the red lip colour she's wearing.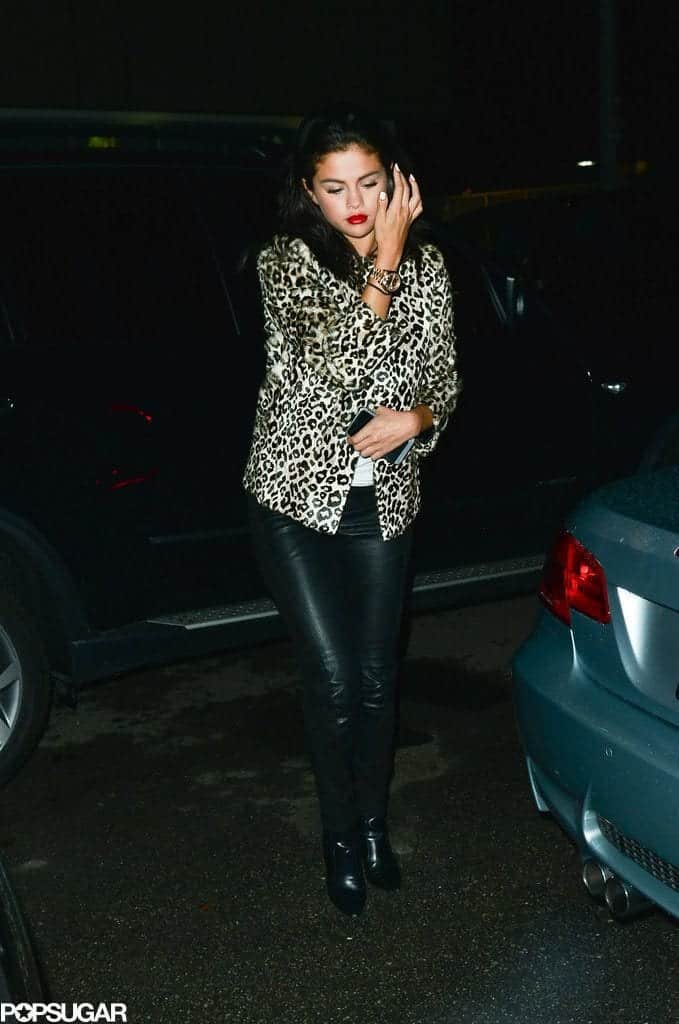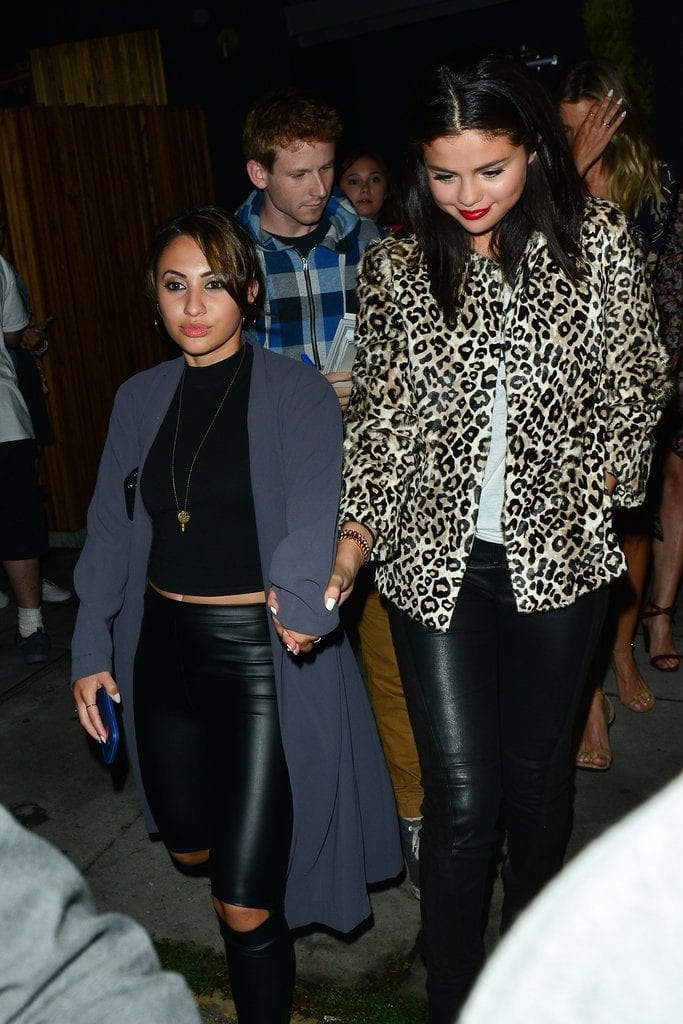 #15. Casual and Sporty Ladies Night Outfit
Taylor Swift seems to be glowing in her white crop top and light blue skirt. This is such a chic and effortless look that you can wear in a few minutes. She's also carrying a nice, small but handy pink handbag along with a pink crochet sweater in case it gets cold.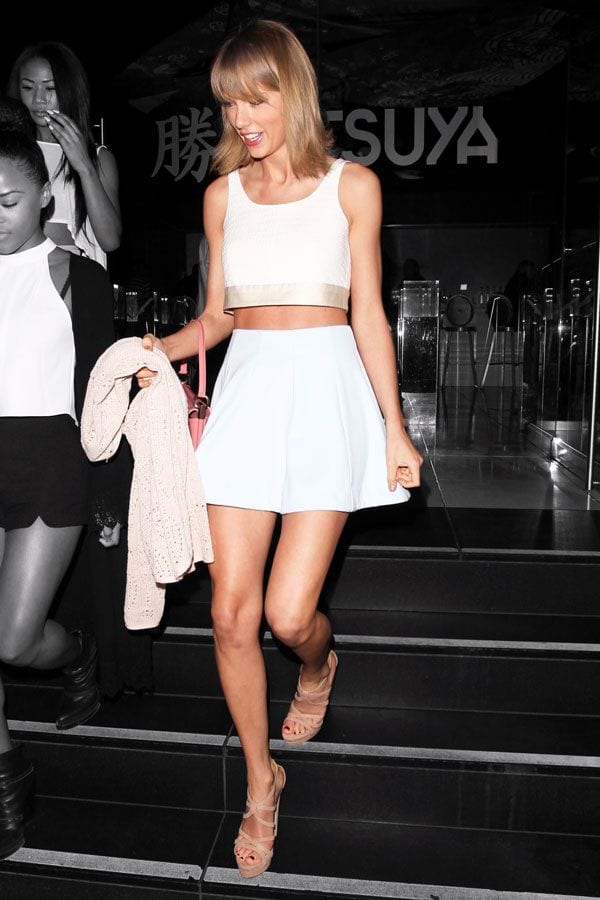 Check out a similar look by the gorgeous Rihanna. If this inspires you to wear a sexy and matching skirt outfit, have a look at these [Outfits to wear with pencil skirts for a chic look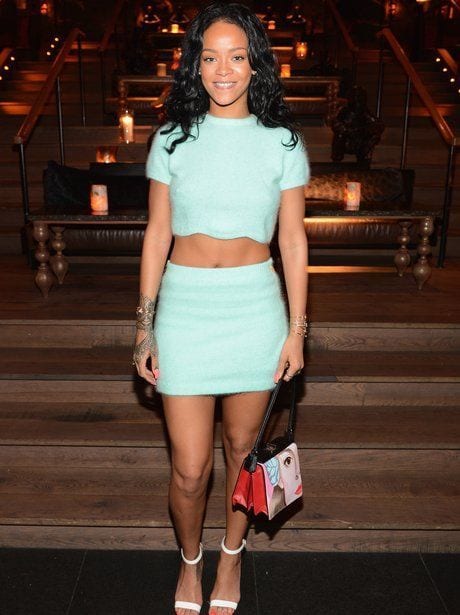 #14. Smart and Sexy Outfit
Once again we have Selena Gomez with a completely different and sexy look as she hangs out with her friends for dinner this year. She's wearing the sexiest black dress, enhancing her figure and making her look hot. I love her eye make-up, a nude look with smoky eyes that match the dress. If you need some make-up tips for a similar look, check out 60 seconds quick eye makeup tutorial anyone can do easily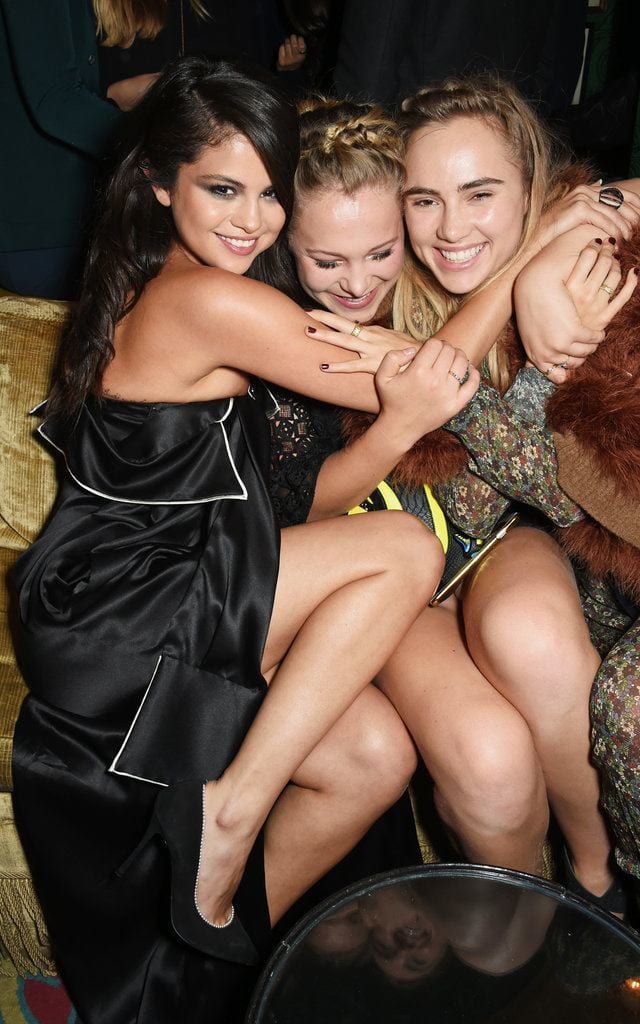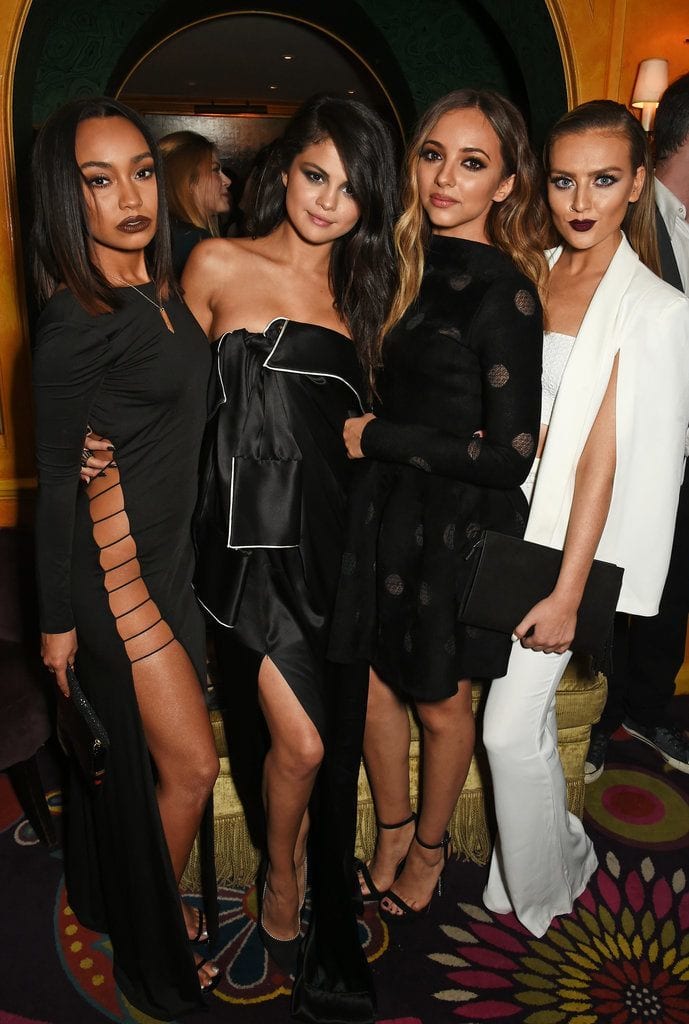 #13. Night Outfits for Plus Size Girls
A cute and sexy outfit especially for plus size girls. You can look amazing in a pencil skirt, with a matching top and a nicely tailored blazer.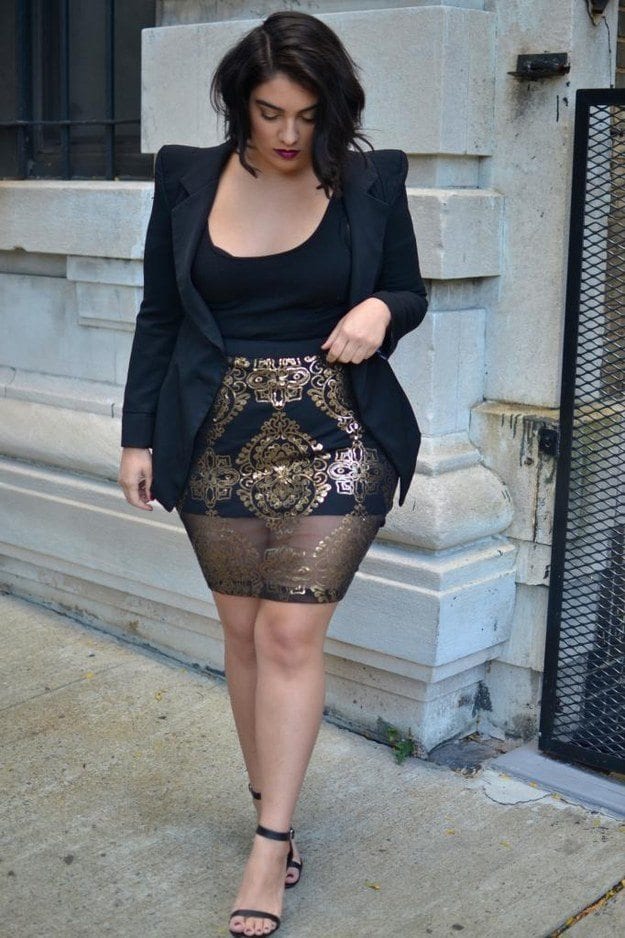 #12. Outfits for Mothers – No ones needs a time out, more than mothers. Here's a fabulous hot mum look inspired by the gorgeous Sofia Vergara. Black surely is a favourite colour of celebrities for their girl's night out and Sofia rocks her black dress with silver embellishments and that signature smile of hers. Once again, you can notice how amazing red lips look with a black dress.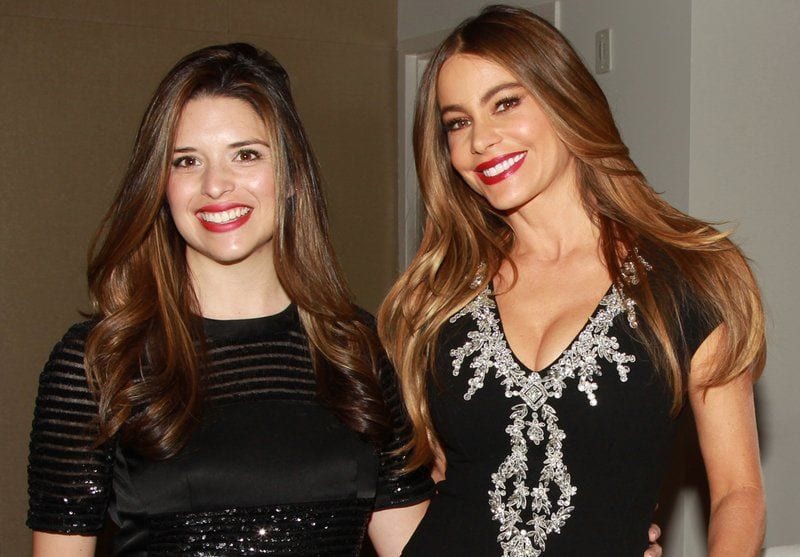 #11. Casual Outfit
Had a tiring day so don't feel like putting too much effort into your looks? Then how about this cool and casual look by Kate Winslet. Perfect low maintenance look for winters. Skinny Jeans, black top and blazer, complemented by a light coloured scarf and ankle boots.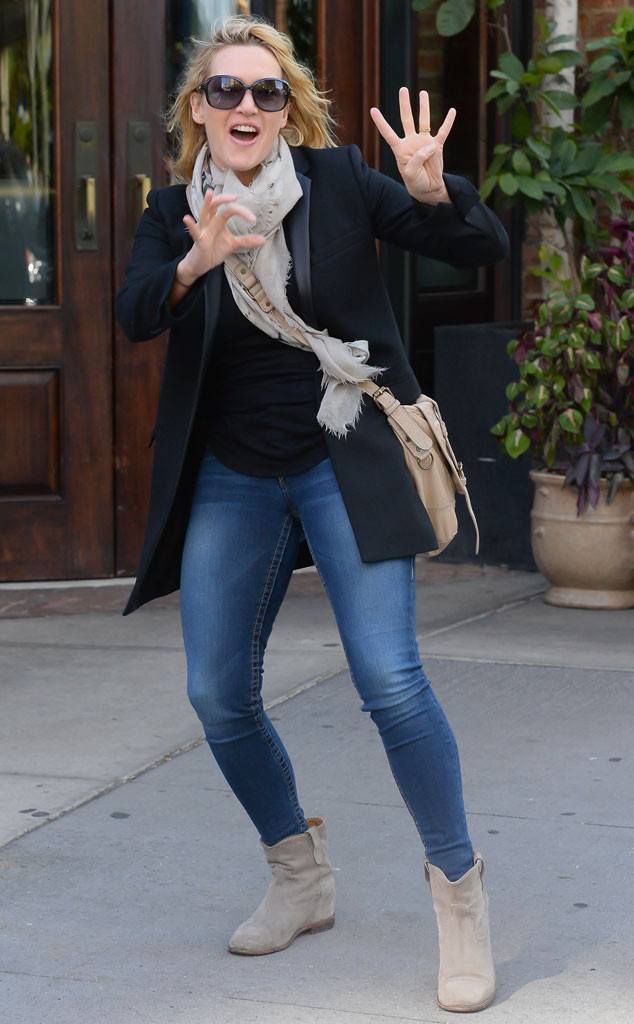 #10. Hot Outfits for Ladies Night in Summers
Kate Hudson looks ravishing along with her friends Nicole Richie and Gwyneth Paltrow. While Kate is wearing a gorgeous gown, the other two girls look equally hot in their jumpsuits.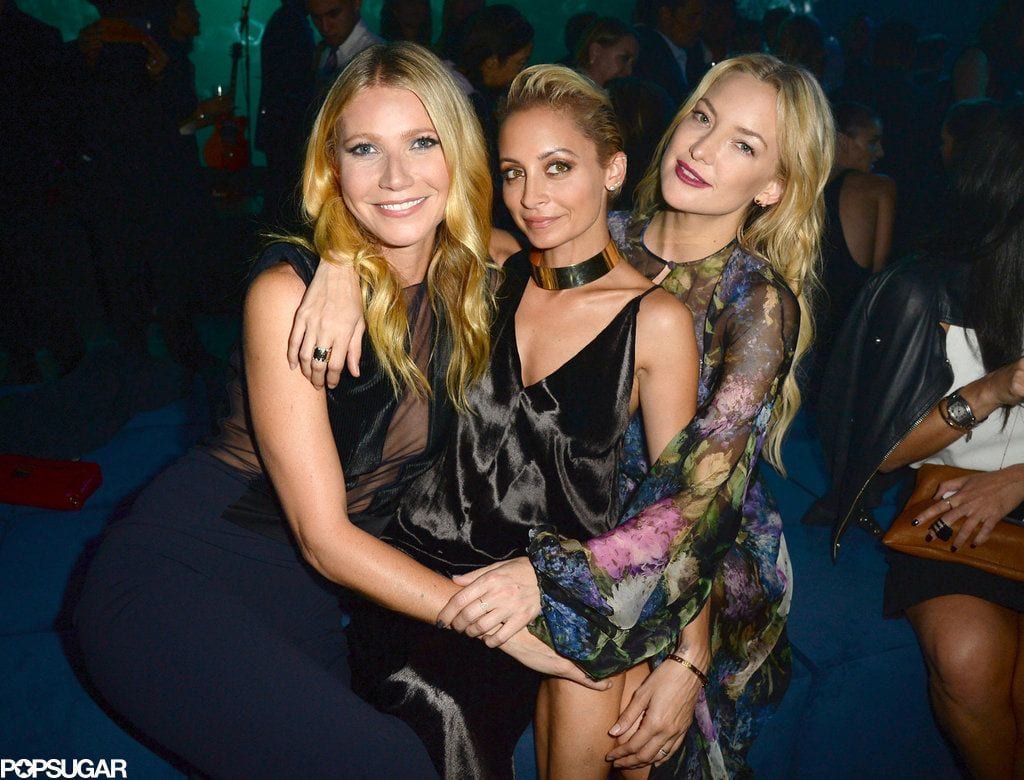 #9. Classy Outfit for Winters
Nina Dobrev is surely one of the cutest actresses in the industry. She has an amazing dressing and style so check out the images with a fun night with her best friend. Nina is wearing a bright and multi-coloured tunic, with a nicely fitted black blazer. Stylish, comfortable and sexy outfit for winters.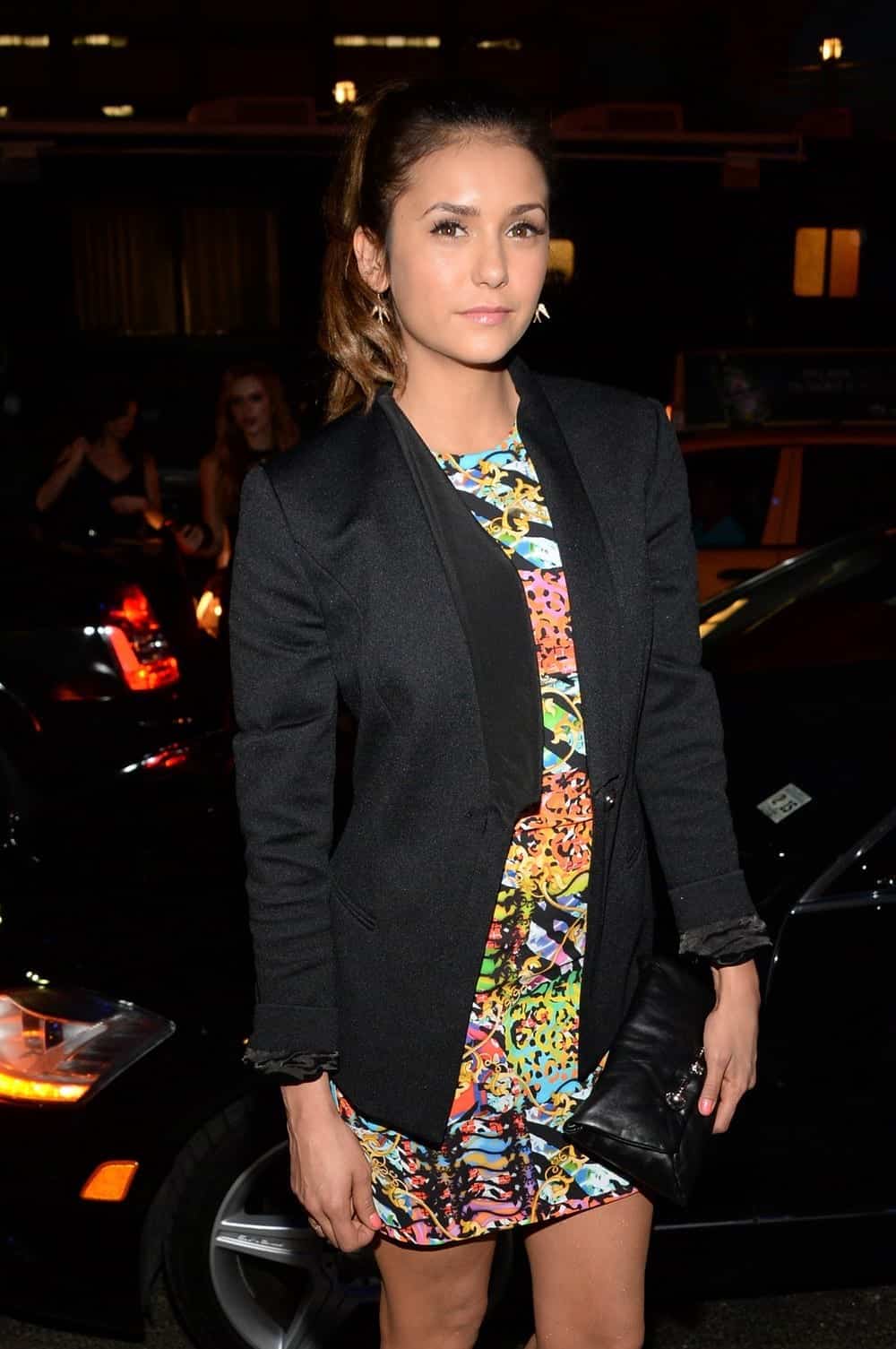 You can see that later on while having fun with her friend and posing for these cute pictures, she has taken off her blazer and her outfit gives such cute and fun vibes. Surely the perfect outfit for a girl's night out, the outfit shouts that you are all set to have some fun.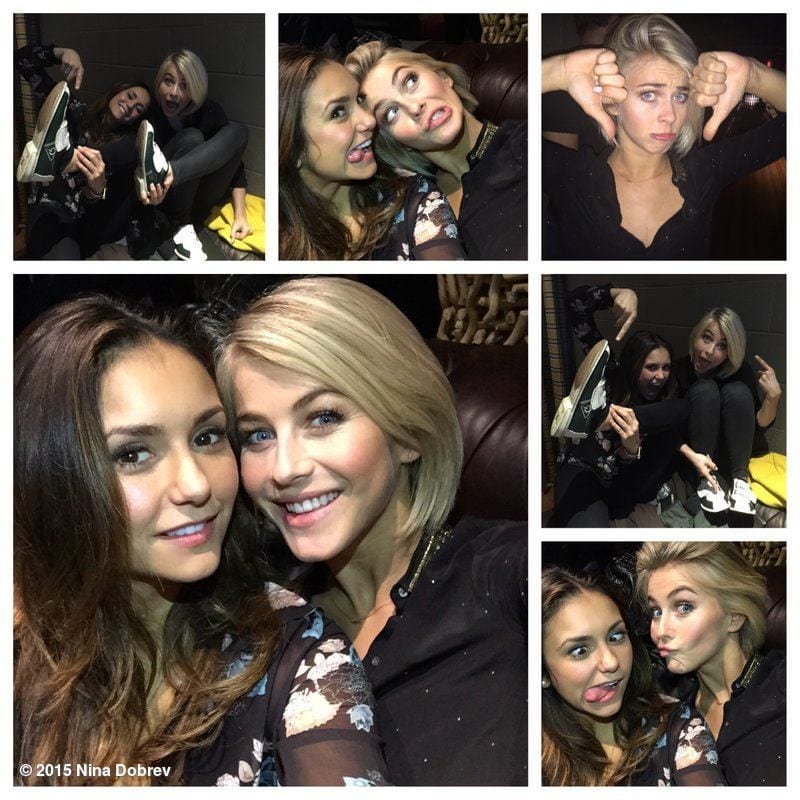 #8. Sexy Outfit and Shoes for Night Out in Winters
Here's a look inspired by Lindsay Lohan. She is looking adorable in a black hat and coat, underneath which you can spot a sequin top which brings some glamour to this dress. But the best part is the Givenchy shoes with open toes on which she has smartly put on a shiny plum colour nail polish. Overall, the look is surely a 10/10 for a night out with friends. The shoes will surely steal the night.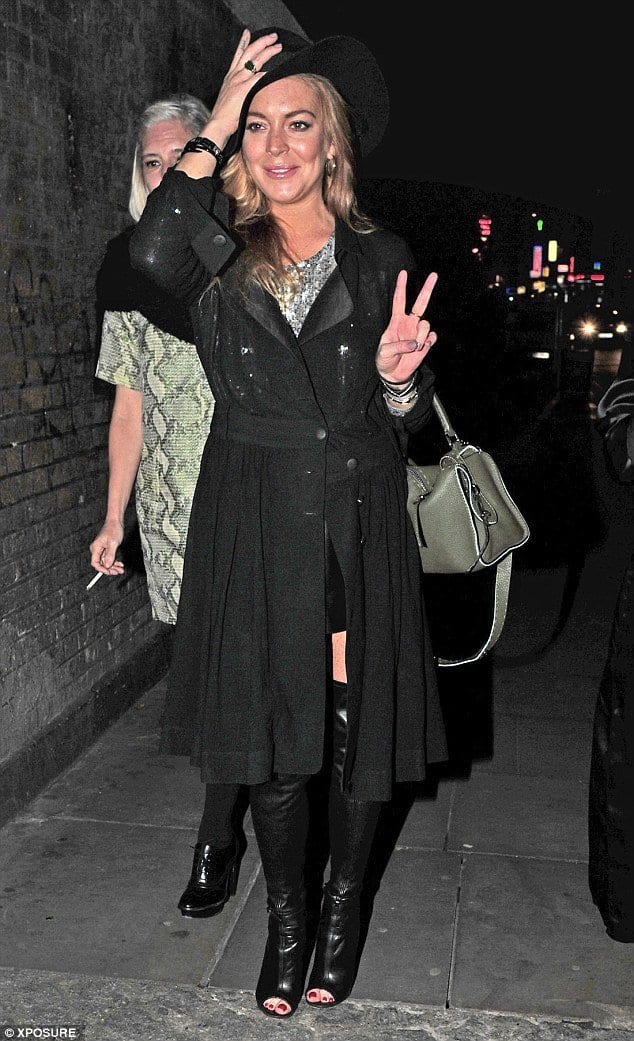 #7. Gorgeous White Outfit
White is a classy colour to wear for a nighttime gathering of friends and combining it with black makes it look super hot. So does Emma Watson in this gorgeous and stylish, well-fitted blazer and those cute earrings.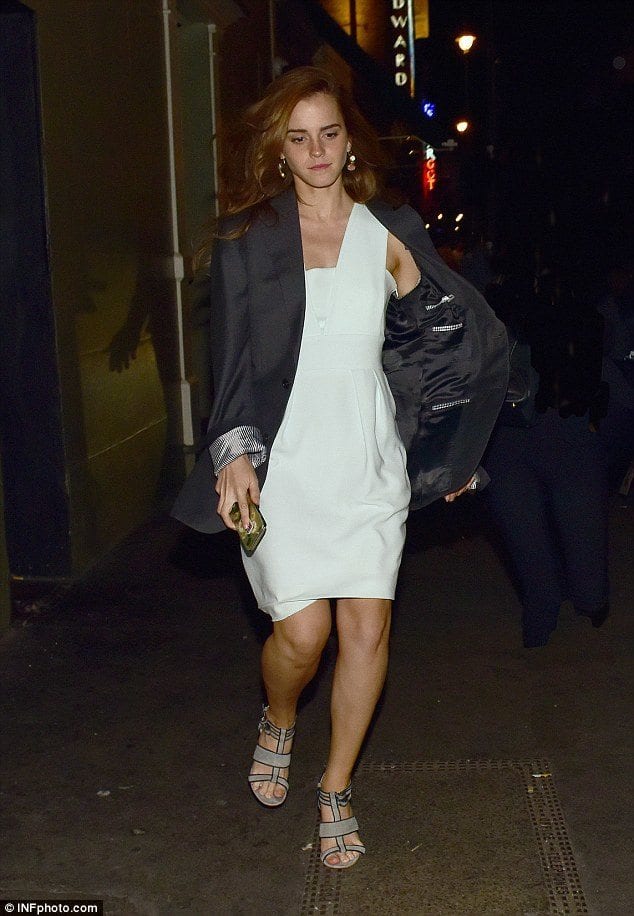 #6. Natural and Effortless Casual Outfits
Jennifer Lawrence has chosen a casual look as she hangs out with her best friend. The best part is probably her no make-up and natural look with just a dab of light pink gloss on the lips. Her messy blonde waves add to the cool but casual look. The look is worth a try.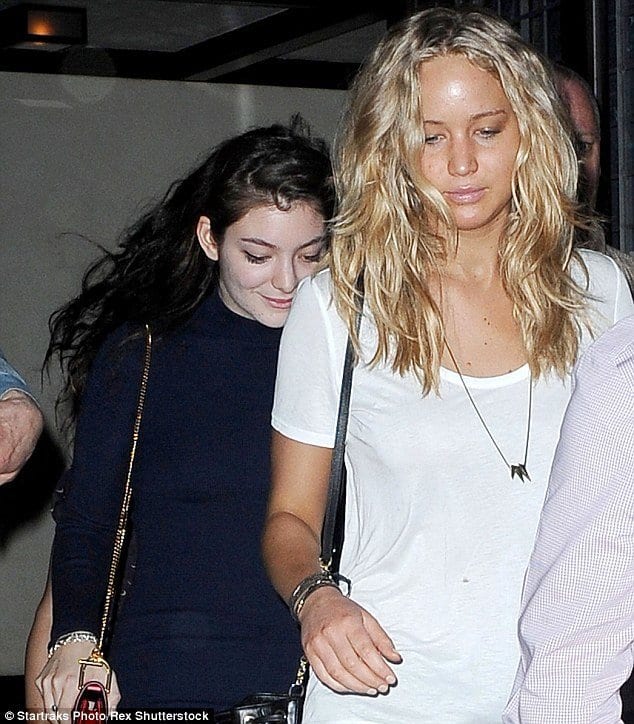 #5. Tom Boy Outfit
Get inspired by the tomboy Look of Ellen Page. Her Check shirt looks pretty attractive and if you feel like giving one a try, here are 18 best check short outfit combinations for girls in all seasons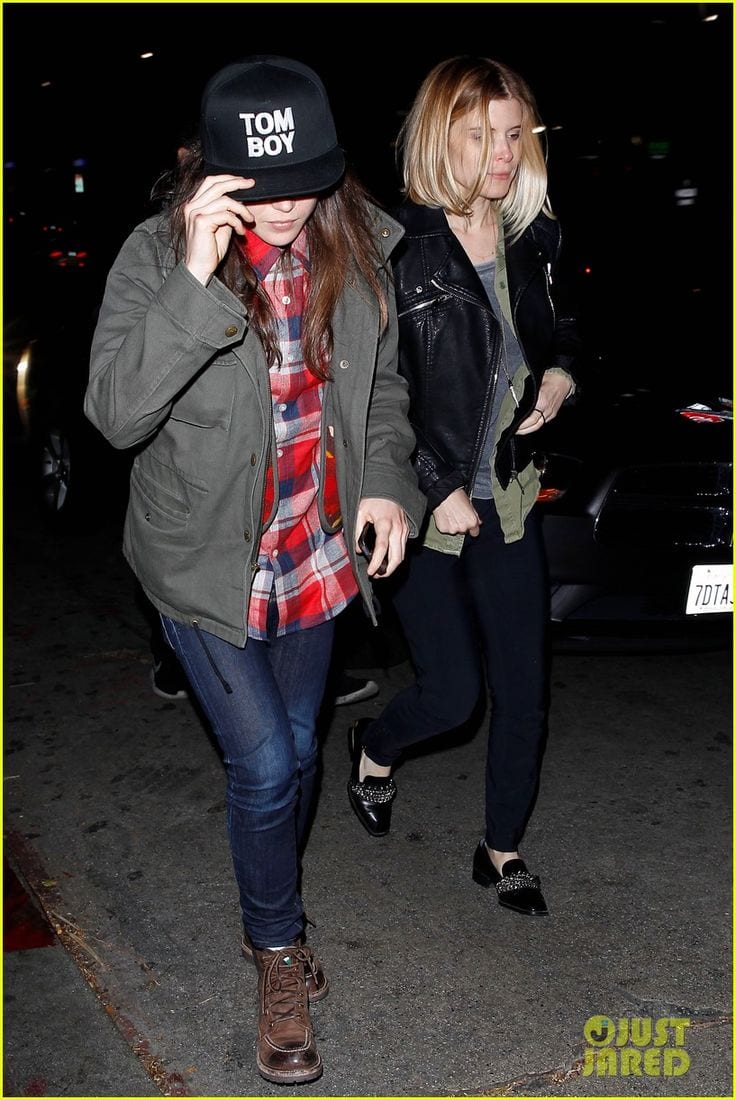 Source
#4. Cool and Casual Outfits
Demi Lovato and Miley Cyrus seem to be having lots of fun at their night out. Demi looks particularly sexy with the black tights and red lips. The striped shirt also looks great on her figure. The bags which both girls carry also add to the casual look.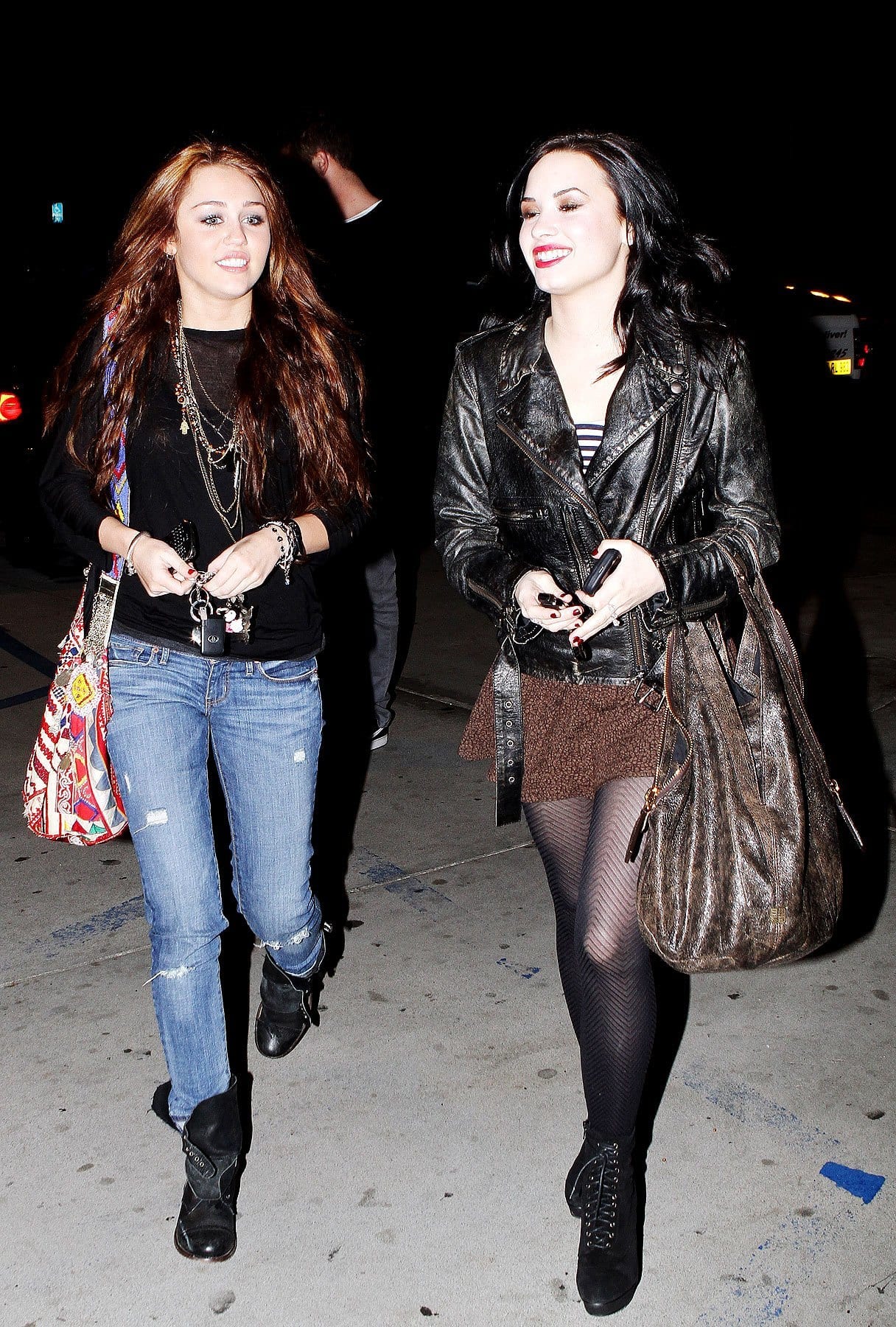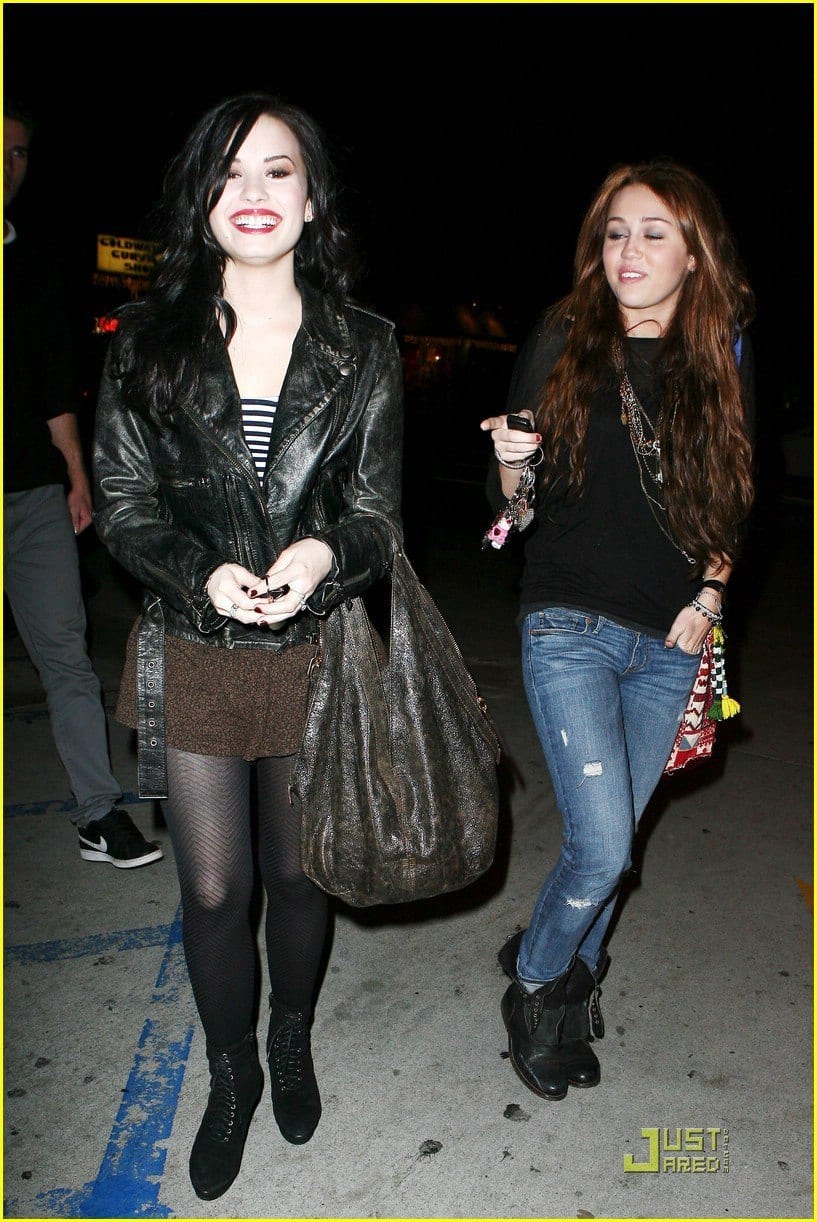 Now that you have seen what our celebrities like to wear for their night out, here are three more easy outfit ideas inspired by the above looks which you can try for your next girl's night out.
#3. Printed Tunic, Black Hat and a Velvet Blazer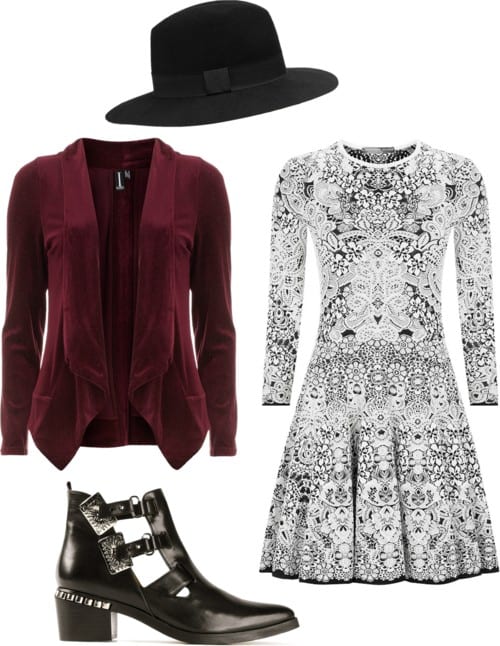 #2. White Maxi and a Fur Jacket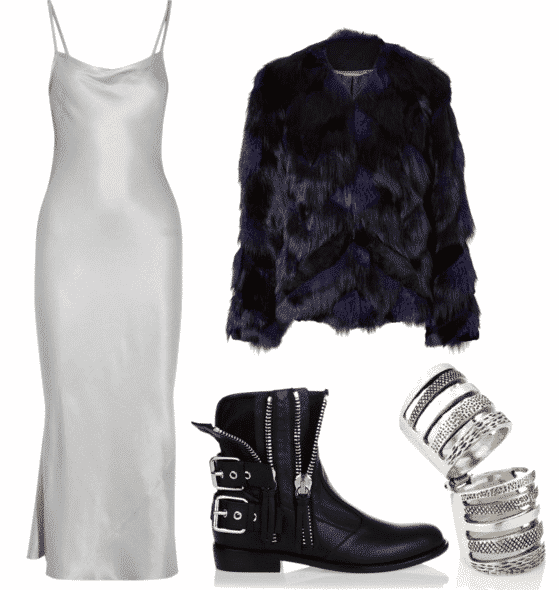 #1. Leather on Leather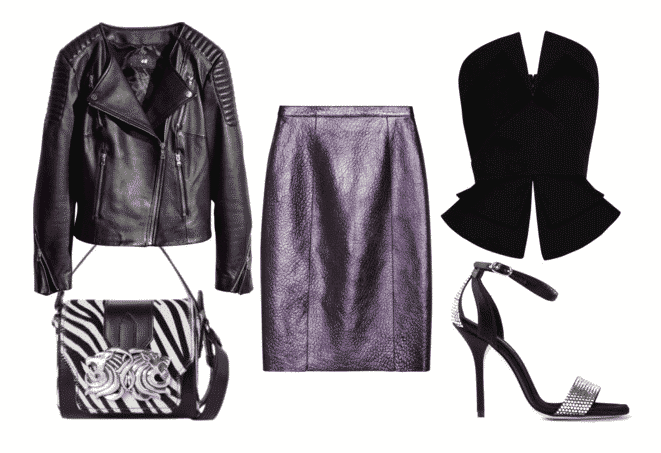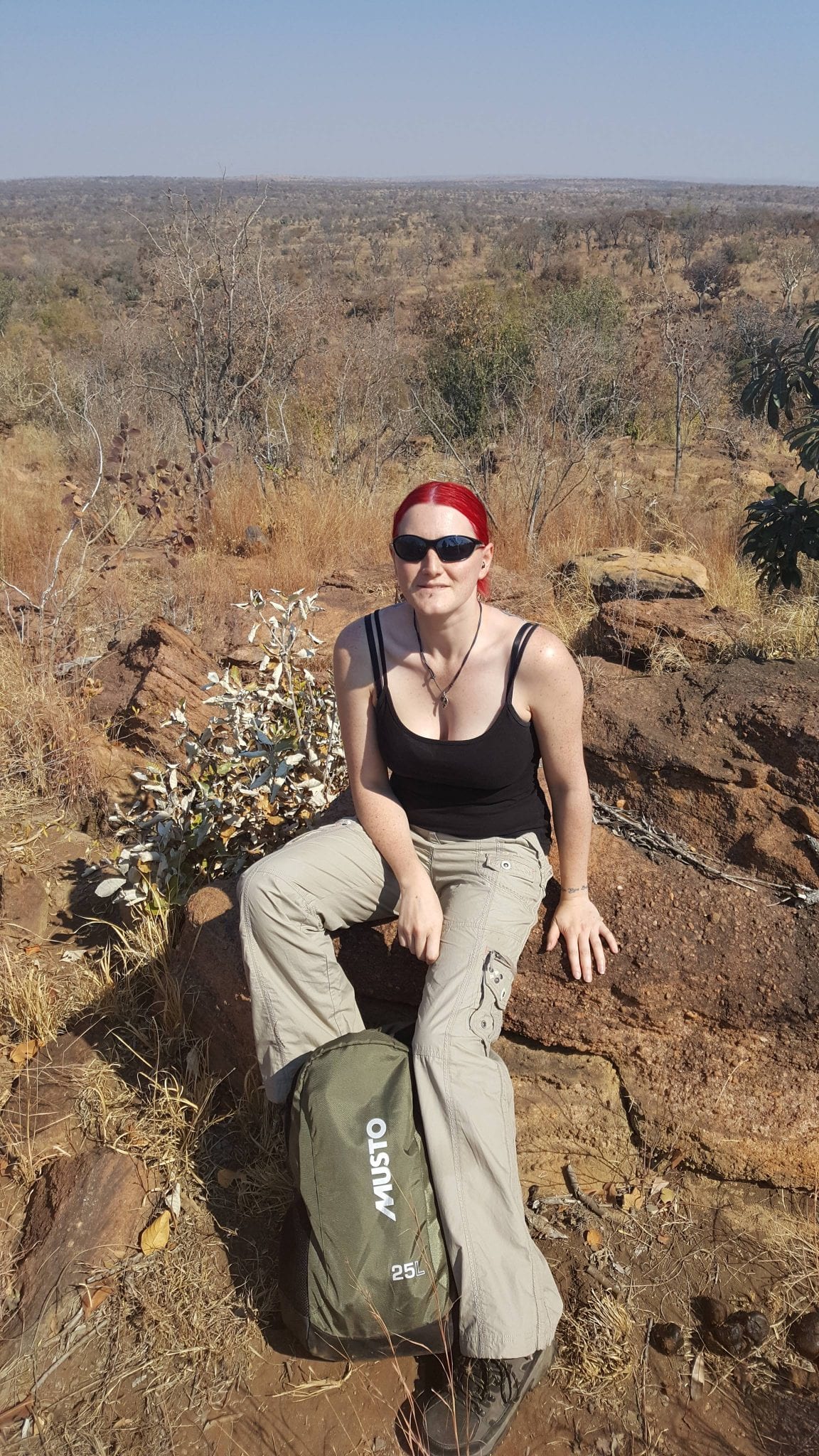 Caz, aka Vixen, has been freelance creative writing for several years. She has a lot of experience in different fields including high street fashion, tattooing art, and even the gothic and historical costumes. Caz has a Diploma in Fashion and Textiles and also a Bachelors Degree in Historical Costume and Corsetry. Her passion lies with gothic design, corsetry and any other styles considered to be taboo or unusual. Style-wise Caz has a love for Vivienne Westwood and her take on the punk era. Although Caz loves the weird and wonderful, she has a deep love for all fashion and allows this to show through her work.