Pencil skirt outfits – One of my favourite outfits is the pencil skirts and I feel there are just too many reasons for that to be mentioned here. But to talk of a few, it is a timeless outfit that can never ever go out of fashion. It can be worn in all seasons, at a casual occasion, a formal one or even to work. Thee are hardly any outfits which meet these characteristics but pencil skirts do. Today i shall bring some of the trending ideas how to wear pencil skirts ? Different outfits to wear with , and perfect shoes to wear with pencil skirts.
Outfits to Wear with Pencil Skirts
For pencil skirts that are high waisted or have a thick waistband, it is recommended that you wear it with a tucked in shirt. There are so many ways you can do this, you can use a blouse, a t-shirt or even a dress shirt. This creates a cute look and also makes you look thinner. However if you are underweight then its better to avoid this style.Wearing Pointed heels with such combination.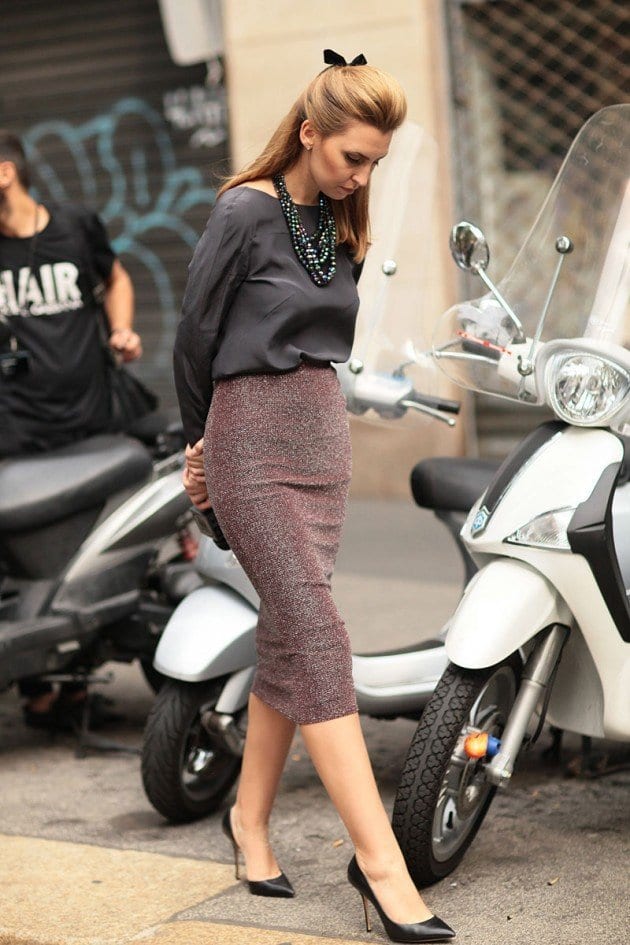 Source
Pencil Skirt With shirt tucked out
Wearing even the same shirt tucked out with a pencil skirt creates a completely different look for you. Check out this model who is actually wearing a man's shirt tucked out and yet looking spectacular.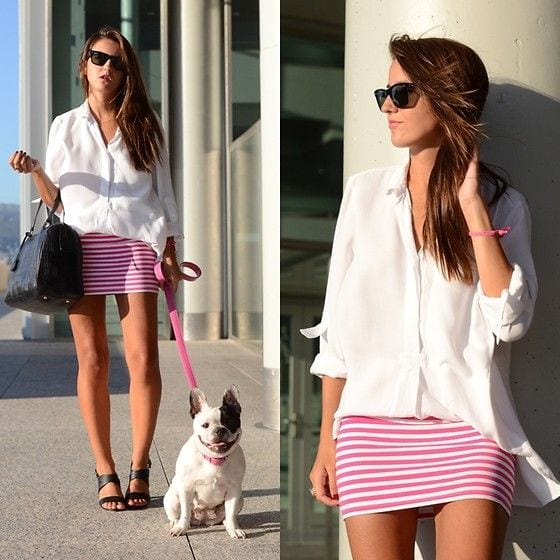 Pencil Skirt With a Long sleeve blouse and belt
Accessories tend to create a whole new look to your pencil skirts. So how about putting one of your belts to use with your favourite pencil skirt? You can wear it on the skirt or if you are going for a longer shirt length then go ahead and wear it on the shirt. They specially help define your figure if you are wearing a loose shirt.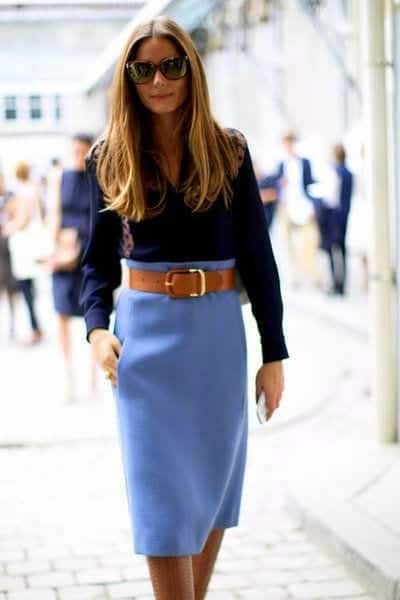 Source
Pencil Skirt With sweatshirt and sneakers
This look is for all the girls who love going funky or swaggy with skirts .So how to style pencil skirts for this look ?This is such a simple everyday look that you can use it when hanging out with your friends or going to the mall or a casual lunch/dinner and what not.An ideal spring look with Pencil Skirt.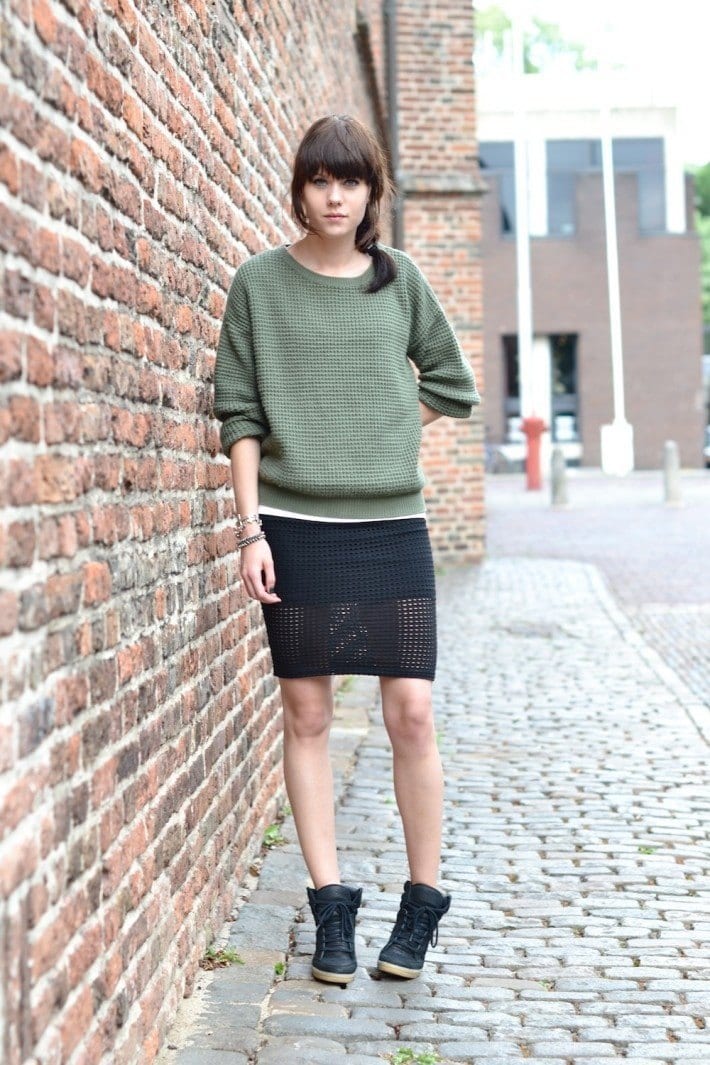 Source
With a chambray shirt
For those of you who do not know, chambray is a type of fabric often confused with denim though it is actually quite different. Usually available in blue and indigo, it is a light weight material, ideal for summers and helps take your denim skirts to a whole new level.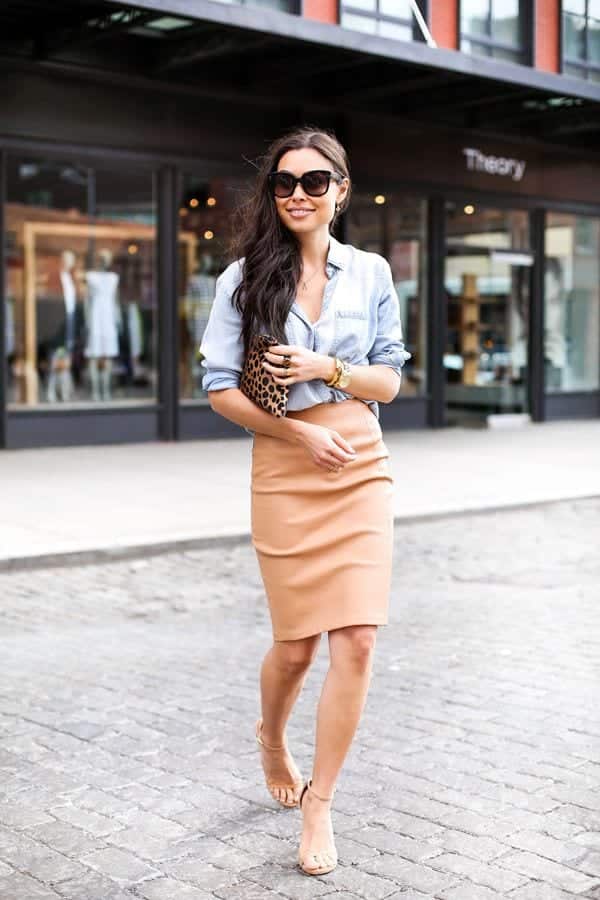 With a Midriff
One of the latest fashions of the years, when it comes to pencil skirts is to combine high wasted skirts with midriffs or crop tops. To spice things up add your favourite jewellery and a blazer with this look. It also works best when you feel like wearing stilletos.A perfect Summer Party outfit combination.

Source
Pencil Skirt With denim Jacket
The cool look that denim brings to an outfit needs no words I believe, as proven by this beauty wearing pencil skirt for a casual party.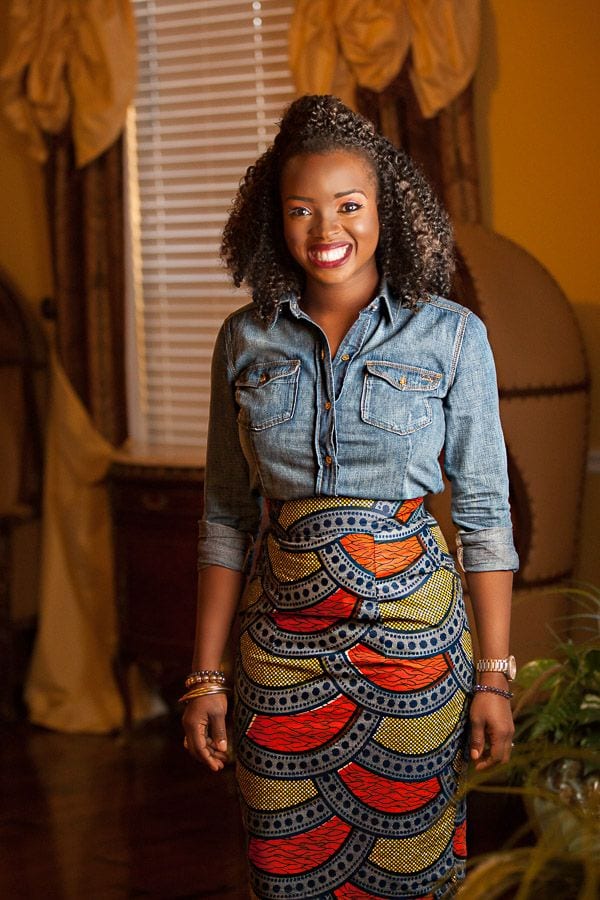 Pencil Skirt With a striped tee and blazer
Another casual and yet sophisticated look.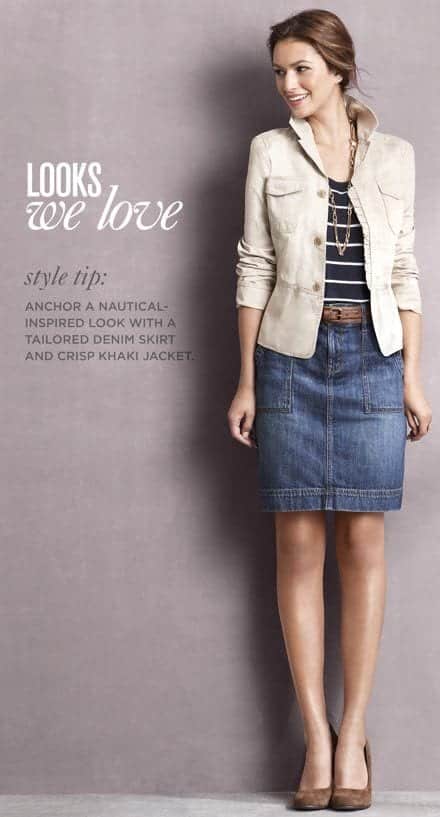 Pencil Skirt With a Long coat
Yes you can wear skirts in winters too .We already covered 30 ways to wear skirts in winter .With a coat over your shoulders you get a professional look. For your shoes, try pairing this outfit with pumps.An ideal street style look with Pencil Skirt in winters .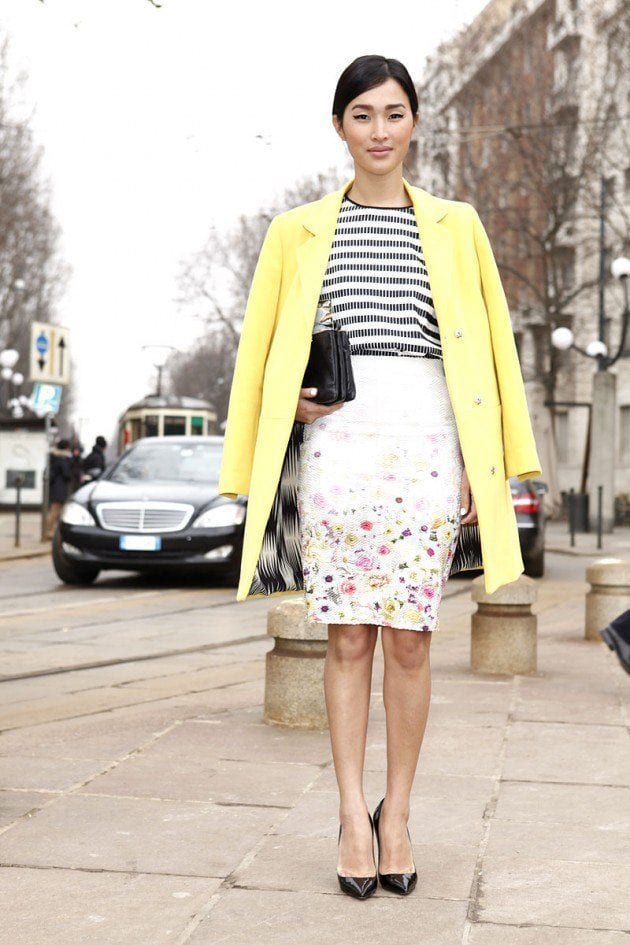 Source
With a scarf
A cheerful and everyday look for the winters that can be worn at any place and occasion.In the picture below you can see this lady elegantly wearing pencil skirt as work wear.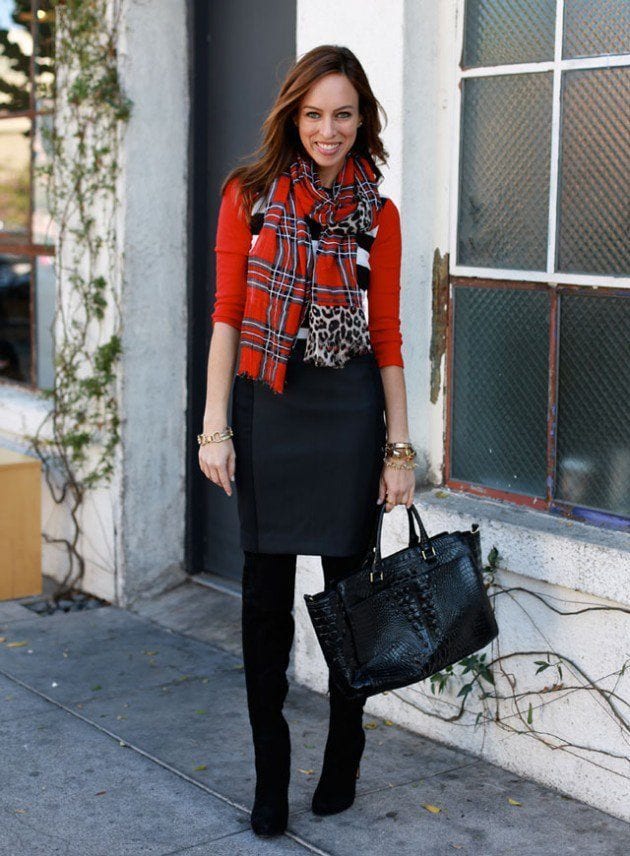 Source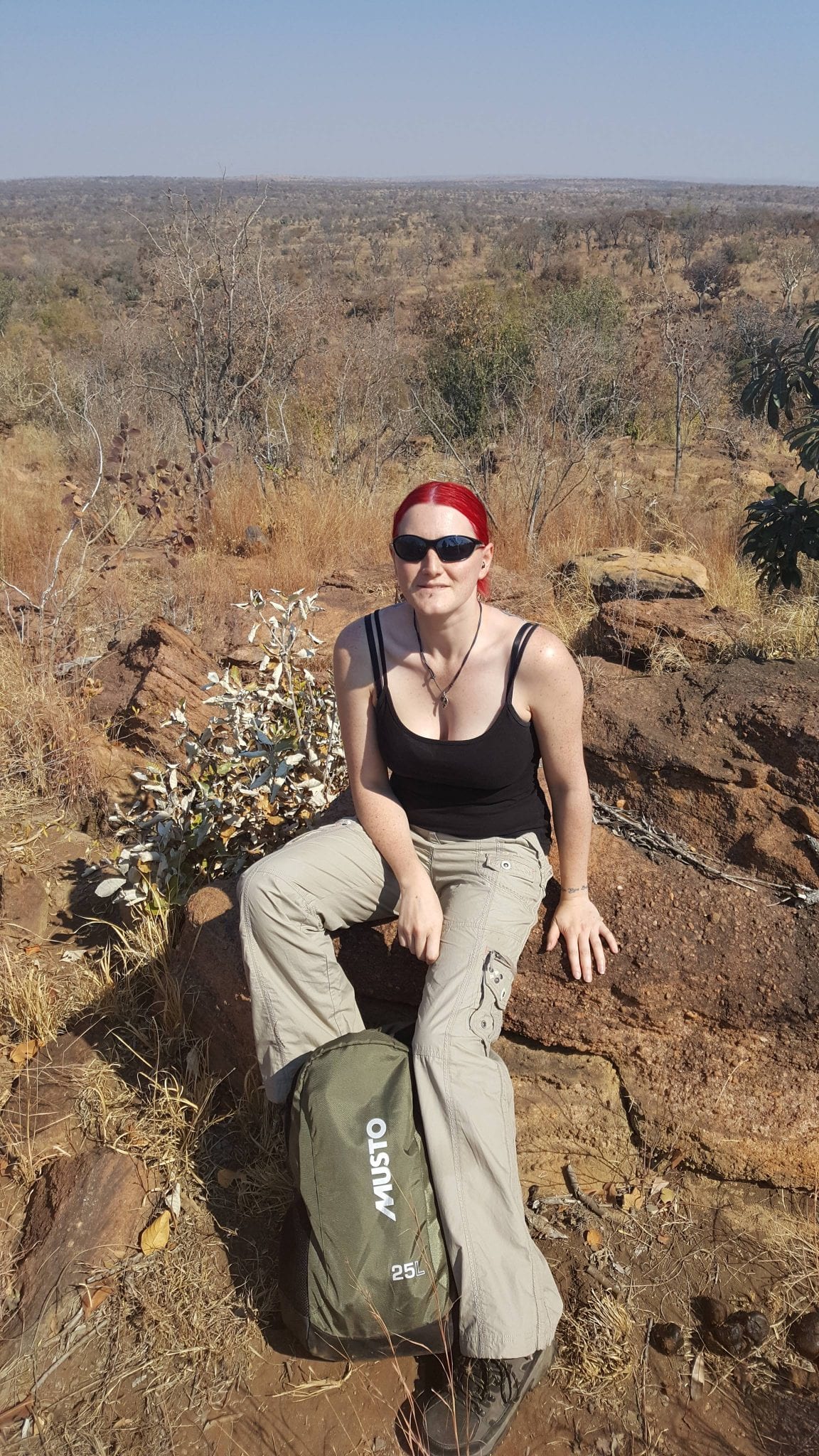 Caz, aka Vixen, has been freelance creative writing for several years. She has a lot of experience in different fields including high street fashion, tattooing art, and even the gothic and historical costumes. Caz has a Diploma in Fashion and Textiles and also a Bachelors Degree in Historical Costume and Corsetry. Her passion lies with gothic design, corsetry and any other styles considered to be taboo or unusual. Style-wise Caz has a love for Vivienne Westwood and her take on the punk era. Although Caz loves the weird and wonderful, she has a deep love for all fashion and allows this to show through her work.