Belts with skirts outfits: Skirts can be very fun to wear and make up a great look. But sometimes, you need to add a bit more glam and chic touch to them. The best way to do that is to accessorize! Belts are something that you can wear with anything and look great. It could be a dress, pants, shorts and especially skirts.
There are multiple ways in which you can style belts with skirts. Doesn't matter if it's a long skirt or a mini skirt, you can always look amazing in them. A simple skirt can look a bit dull so here are a few ways of how you can match a belt with a skirt and make a killer look!
How to Style Belts with Skirts?
There is no correct way to wrong way to wear belts. You just have to be confident with your look and you will always look great. Belts of any size, kind, or shape can be worn and experimented with. There are soooo many different types of belts these days, you won't get bored of them.
Have a few belts in your closet but have no idea how to style and wear them? We got you covered. Here are a few tips on how to style belts with skirts and some inspirations as well! Feel free to try any of these amazing looks.
Styling Tips
Whether the belt is chunky or thin, they are a great fashion accessory. If you are wearing a mini skirt, try wearing it with a thin belt and if you're wearing long skirts, try styling them with wider/chunkier ones. For some expert tips on such outfits, do check out these Cute Ways to Wear Mini skirts.
Mix and match different patterns and types of belts.
Get your hands on the Gucci GG belt! This investment will go a long way because that belt goes with every single outfit and is a classic.
Match your belt with your shoes. It gives a more formal and classy apperiance!
Don't forget to feel confident when you step out of the house so make sure your belt is comfortable and attached to your waist firmly.
↓ 27 – Black Leather Belt with Orange Skirt
Bright-colored skirts with floral tops make the perfect daytime outfit. By adding a chunky belt to the outfit, you can turn a casual outfit into a more formal and classy outfit. Here are some more of my favorite Orange Skirt Outfits.
↓ 26 – Zebra Belts with Skirts
Experiment with different prints and patterns, if you have any unique belts, don't be afraid to wear them. Mix the print with a matching top for a much cuter look. Try different prints with a solid-colored skirt so that the belt can be seen!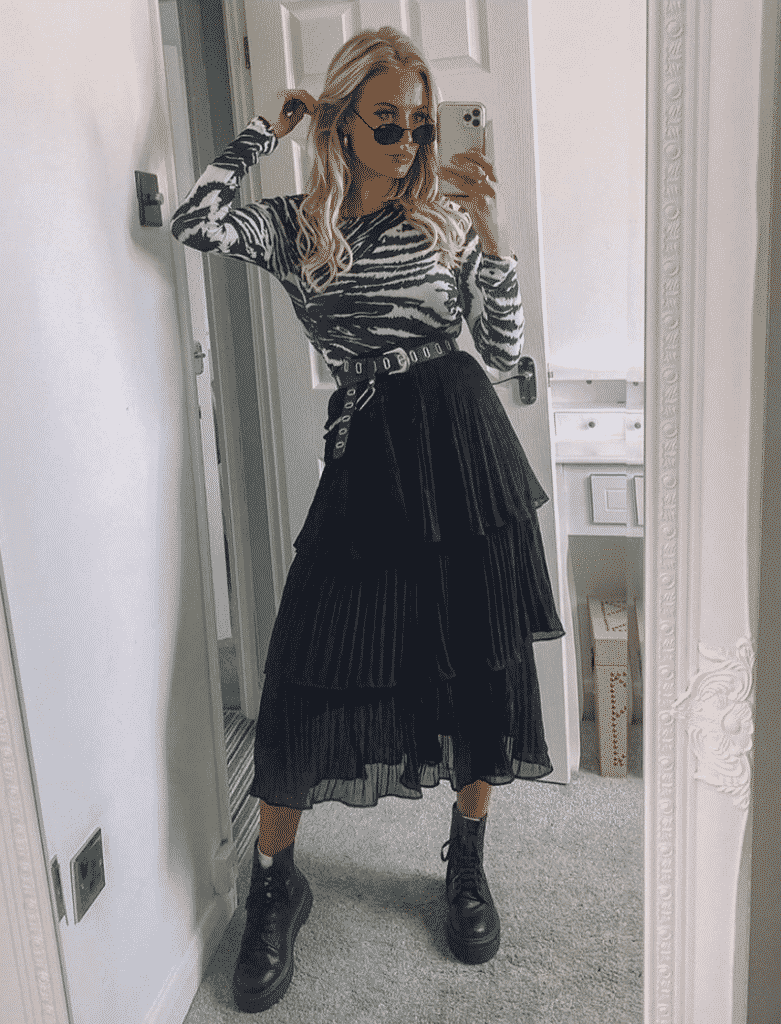 ↓ 25 – What Skirt to Wear with a Metallic Belt?
There are different types of belts out there, try out metallic/solid belts. They can be the perfect accessory and can make your outfit look chic! This golden-colored belt looks super cute with the baby pink skirt. Wear light colors to elevate the look and show off the belt.
↓ 24 – Matching with Daughter
Matching mother-and-daughter outfits always look super cute and everyone loves them. Try this outfit with your little girl and add in a belt to your look for a classier outfit.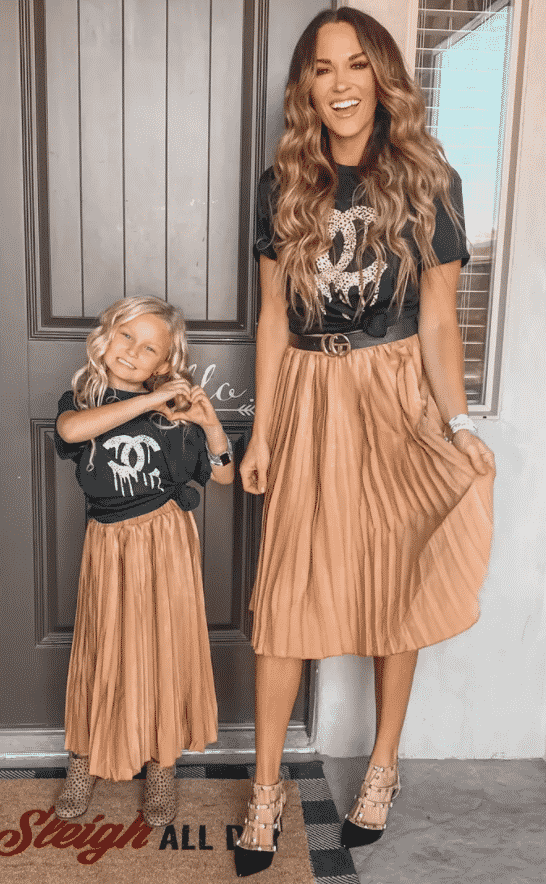 ↓ 23 – Leopard Skirts with Belts
This sexy look is perfect for you if you like wearing different prints and patterns. Go all-in with neutral shades and turn it into a look by matching it with a funky skirt. Top it off with the belt!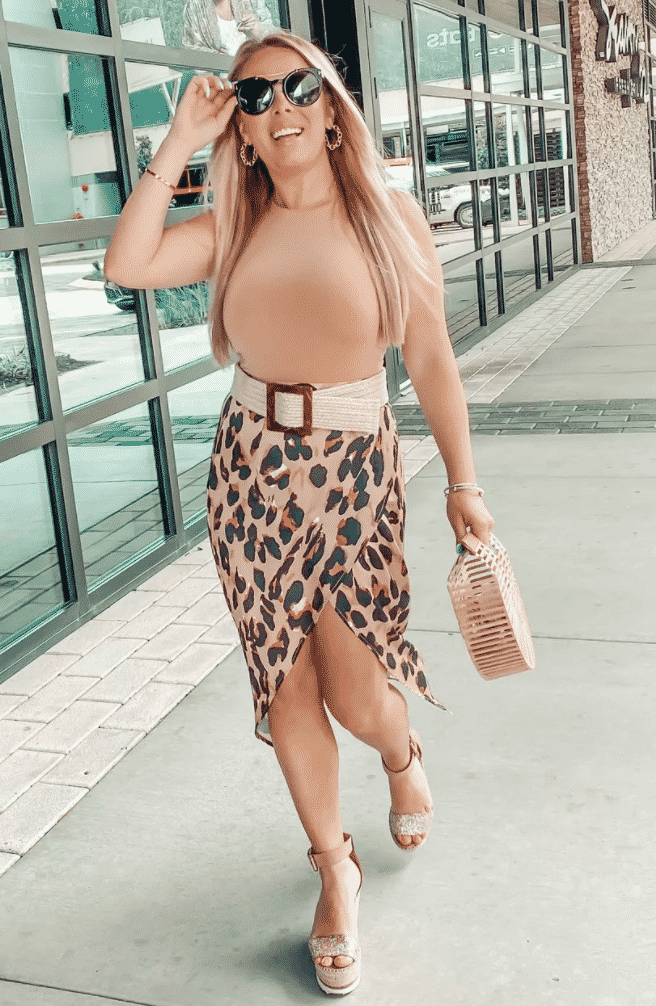 ↓ 22 – Leather Belts with Skirts
Leather belts look super hot so you should invest in a few, they are more prominent and can turn your look into a badass one. Pair leather belts with boots to make the look complete.
↓ 21 – Flower Girls
Some girly girl outfit inspos for your baby girl and you! These cute floral outfits match and can be a great look. Pair the cute pink skirt with a beige straw belt and this matching straw bag.
↓ 20 – Belted Skirt
This tan-colored belted skirt paired with a simple t-shirt is the perfect outfit for when you have a meeting to go to or for when you feel like getting a bit ready for work. The outfit looks both, professional and cute.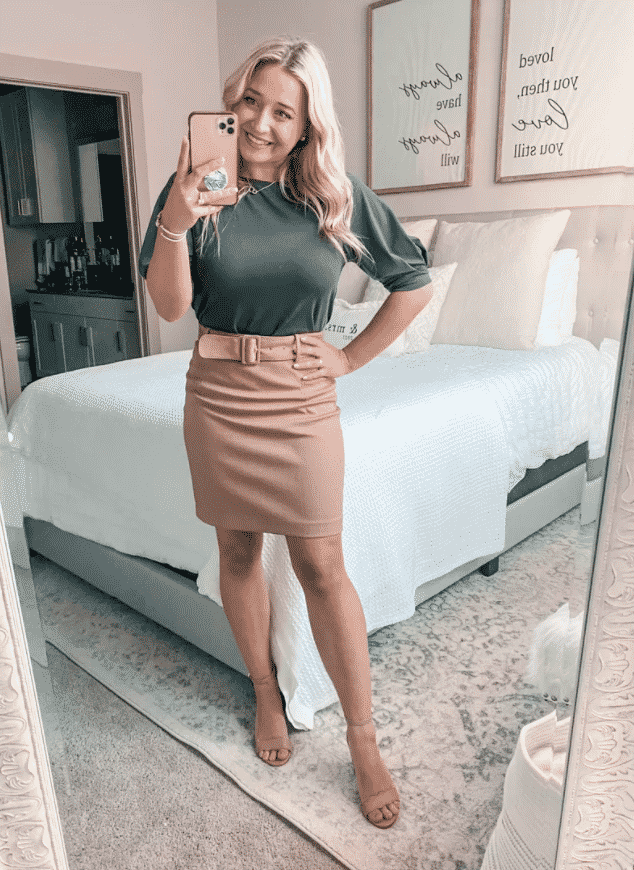 ↓ 19 – Leather belt with Long Skirt
This black leather belt paired with a long skirt and a matching leather jacket looks super edgy and cool for a girl's night out. To complete the whole look, pair the skirt with a leather jacket and your favorite pair of chunky boots.
↓ 18 – Baby Pink Belt with Matching Skirt
Have to go for a picnic with your friends but don't know what to wear? We got you, girl! Pair this baby pink belt with a matching skirt, throw on some sneakers and you're good to go! But don't forget to put on sunscreen and your sunglasses! If you're a fan of the matching outfit trend then do check out these Best Matching Sets to Wear & How to Style Them.
↓ 17 – Brown Leather Belt with a Flared Skirt
Flared skirts don't just look cute on all body types but they are super comfortable to wear and walk around in. Pair the flared skirt with this brown leather belt and a pair of wedges to go out on a lunch date or a walk around the park.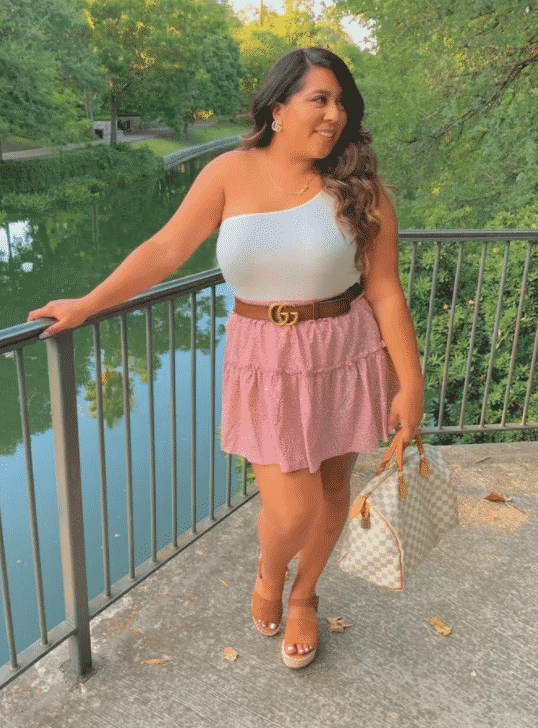 ↓ 16 – Black Belts with Skirts
If you have a simple outfit but want to spice it up because it's time to go out, wear a black belt with it and a pair of high heels. Feel how it transforms the whole look.
↓ 15 – Thin Leather Belt with Cheetah Print Flared Skirt
If you want to stand out in a crowd this cheetah print flared skirt should be your go-to. Pairing the skirt with a thin black chunky chain belt, a white high neck sweater, and matching black boots. This will definitely be your favorite outfit this winter.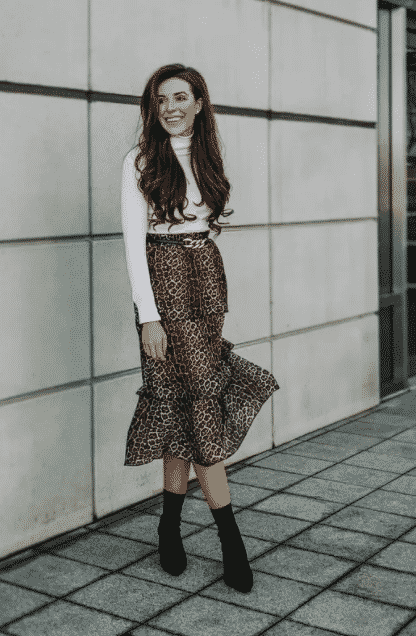 ↓ 14 – Thin Tan Belt with a Plaid Skirt
Plaid skirts will never go out of style or stop looking classy. Pair your plaid skirt with this thin tan belt and a button-down or a high neck to wear to the office or a job interview. You can accessorize the outfit with a headband and complete the look with a pair of knee-high boots
↓ 13 – Black Leather Belt with a Black Leather Skirt
A black leather skirt is a must-have for the winter season. The skirt paired with a black leather belt and a high neck is the perfect autumn and winter outfit. To make the outfit stand out pair it with a matching beret hat and a cute mini bag. Don't forget the stunning leather boots!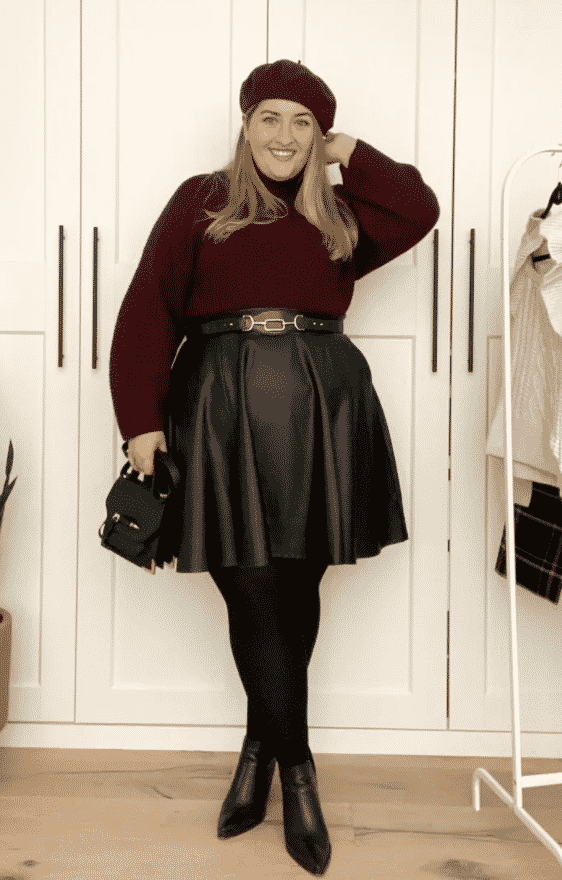 ↓ 12 – High Waisted White Belted Skirt
This high-waisted skirt paired with thigh-high suede boots is the perfect outfit for going out on a lunch date in the winter season. If you want to go for a more casual look, you can pair the skirt with a cardigan. This outfit can be transformed from a daytime to a nighttime look by ditching the cardigan and exchanging the boots with a pair of high heels.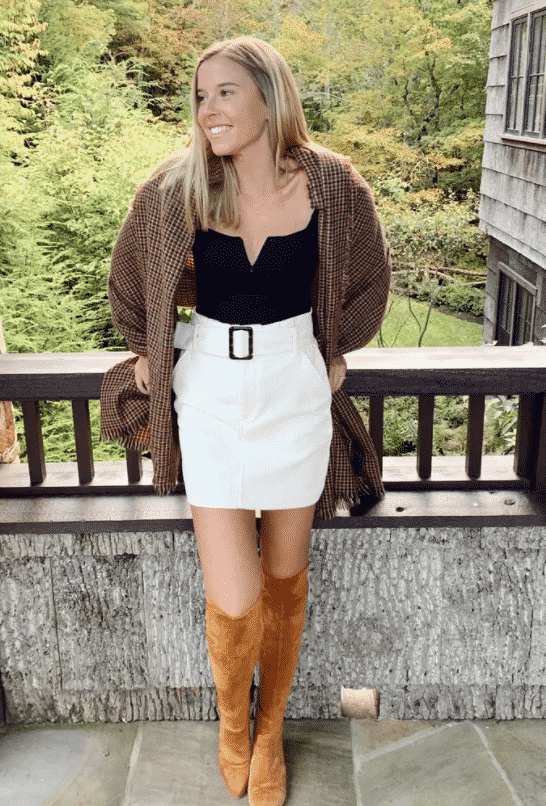 ↓ 11 – Tan Chunky Belt with a Floral Skirt
Floral skirts are something that you can wear in both the summer and winter. In the summer, you can pair your floral skirt with a tan chunky belt and a plain white tee, while in the winter you can pair the belt and the floral skirt with a denim jacket to give it a more fall and autumn vibe.
↓ 10 – Snakeskin Belt with High Waist Black Skirt
If you are going for a night out with friends and don't want to feel like dressing up, pair this black skirt with a snakeskin belt. Accessorize the outfit with a pair of heels and a cross-body bag and enjoy your night out!
↓ 9 – Straw Chunky Belt with a Long Plaid Skirt
This straw woven belt with a square buckle is a statement piece accessory. It is also a must-have because it can go perfectly with any skirt and looks gorgeous.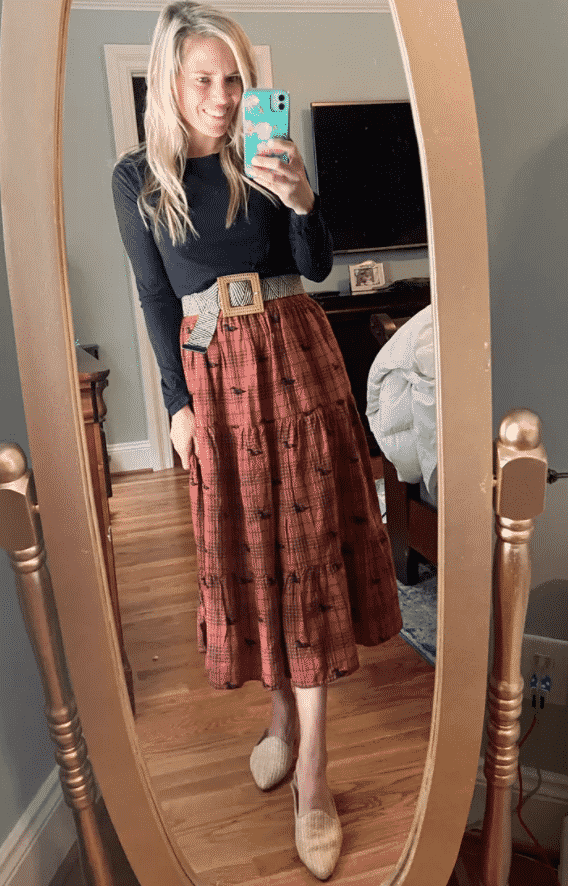 ↓ 8 – Layered Chain Belt with Button Skirt
This Chain belt paired with the button-up black skirt looks very high fashion when paired with high heels. These cute chain belts are so in fashion these days and are the perfect accessory for glam up your outfit.
↓ 7 – Black Leather Belt with Polka Dot Skirt
This polka dot skirt with the black belt helps you look super cute and is great if you're going for a simpler and more casual look.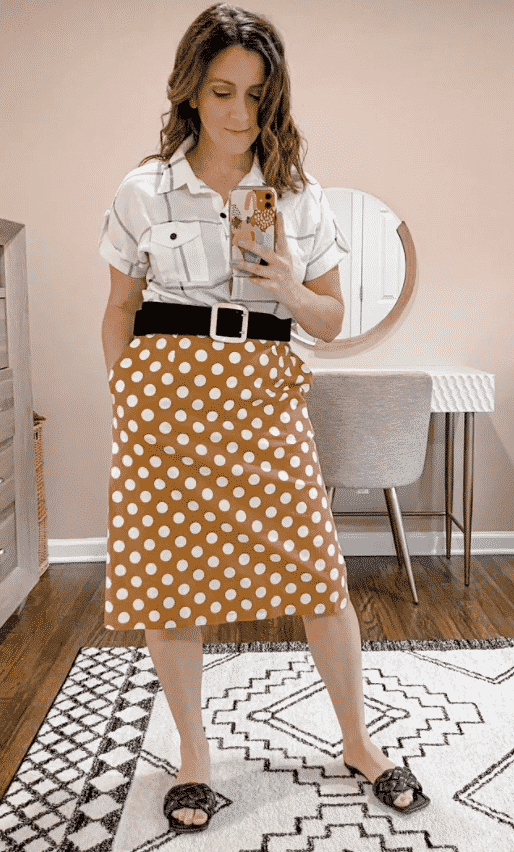 ↓ 6 – Chunky Chain Belt with a Mini Leather Skirt
This mini leather skirt paired with a high neck and the chunky chain belt is the perfect nighttime outfit. It not only looks sexy but also looks super chic and edgy. The leather skirt with matching leather boots and the bag look super sexy and is completing the look.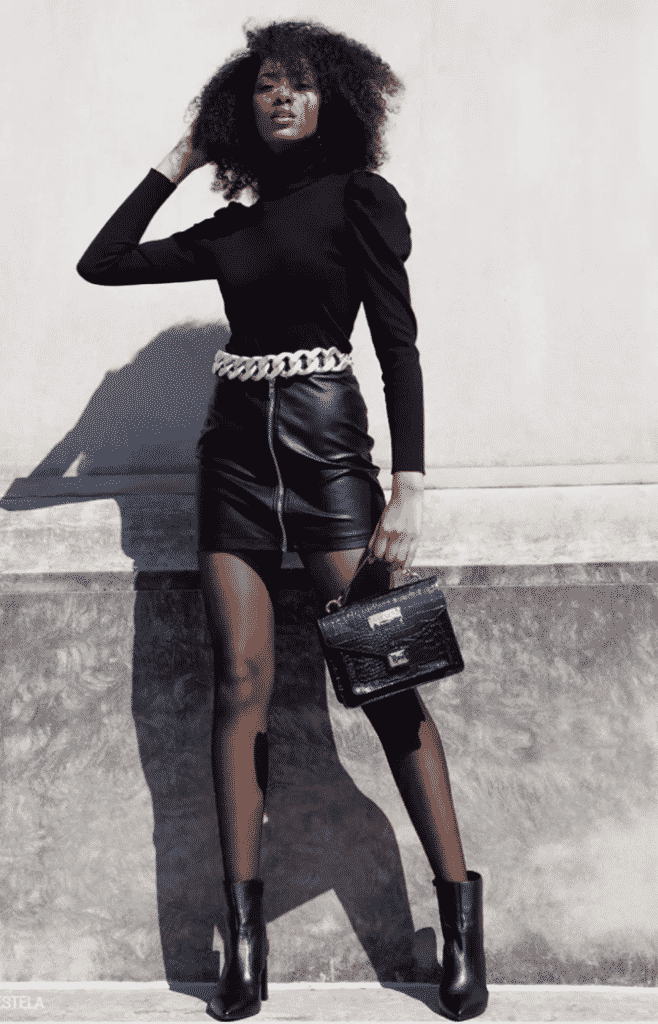 ↓ 5 – Black and White
This monochrome outfit does not only look super fashionable and chic but is also super comfortable to wear. This outfit should be your go-to for a lunch date with your friends or that someone special. Also, black and white are never out of style. We are loving this gorgeous LV belt!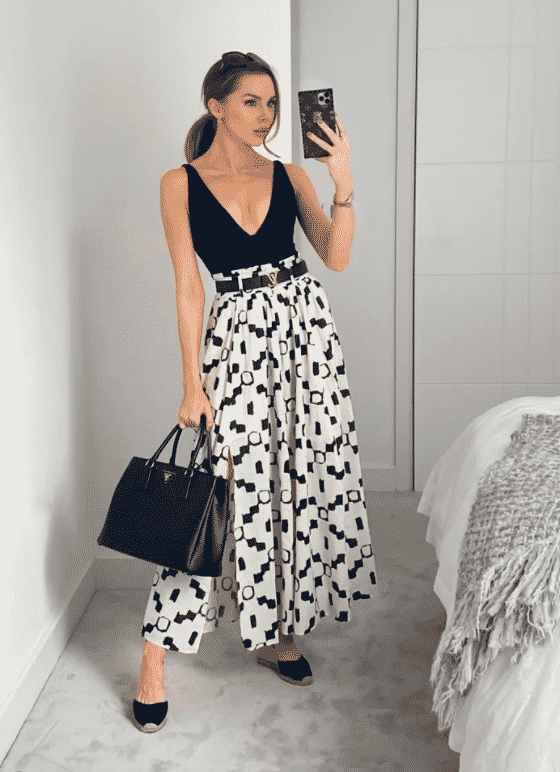 ↓ 4 – Belts with Mini Skirts
This is such a hot look, perfect for a night out with the girls or if you're out for a movie! This cute denim skirt looks perfect with the black belt. Also, a very simple look to recreate.
↓ 3 – Thin Belts with Skirts
This is such a light and cool outfit, perfect for a lunch or a brunch date! This baby pink skirt and light blue denim jacket are going so well with that cute belt! Thin belts that are just used as accessories look super cute and are a must-have. Also, if you're wearing a brown belt, pair it up with matching colored shoes like this. Looks even better!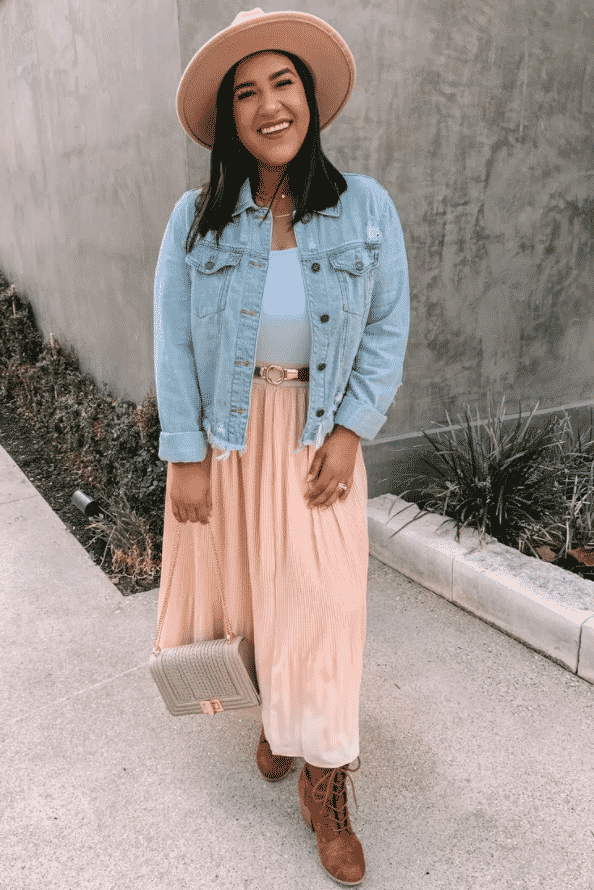 ↓ 2 – Belts with Pleated Skirts
Pleated skirts look amazing when you match them up with a belt. If you're a mommy-to-be, wearing a belt with a skirt will make you feel more comfortable and secure.
↓ 1 – Pearls! Belts with a Long Skirt
This is such an adorable belt, its buckle is made of pearls and goes so nicely with the whole outfit. The matching pearl bag is completing the look! This would be a perfect look for a brunch or a lunch party. It gives the perfect summer vibes
Frequently Asked Questions
Q. How to Wear a Belt with a Skirt without Loops
A. Try styling them with statement belts. They are usually a bit wider and one of the good things about a statement belt is that it is large enough and shaped with enough of an inward curve that it hugs your body in such a way as to stay in place without needing loops!
Q. What Belt to Wear with Pleated Skirts?
A. It is recommended to style plain leather belts with pleated skirts. Plain leather belts make the skirt look more classy and formal as opposed to metal chain belts. Pleated skirts already look formal and fancy when worn so keep the belt simple. Here are some more ideas on How to Wear Pleated Skirts.
Q. Can a Belt make a Dull Outfit look more Formal and Chic?
A. Yes! Have a really plain skirt? or need to go to a fancy dinner or lunch party but your outfit looks too plain? Easy solution. Pair it up with a fancy belt! Be creative and try out different patterns and materials of belts. Metal belts, straw belts, leather belts, printed belts, you have so many options.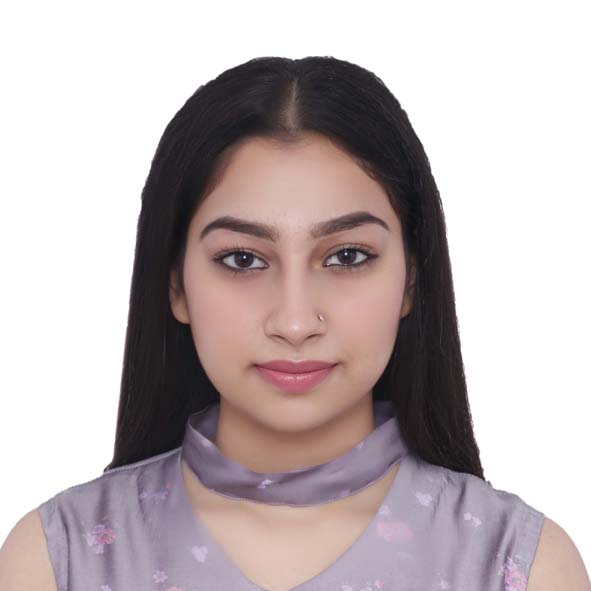 I'm an Islamabad based writer with a profound interest in fashion. I hope you have a good time reading through the articles I write for you.