Outfits with Hot Pink Skirts. If women were asked to tell which shade of pink they liked best, most of them would choose hot pink. And no wonder, they would. Hot pink is cute, as well as snazzy. Hot pink skirts make for very fabulous outfits, and when paired with the right color and worn in the right style, the look is simply magical.
Almost all women know how to rock this color. It's an innate sense they have when it comes to pink and the tones the color comes in. But if you are amongst the few, who don't know how to embrace a hot pink skirt in the best way possible, fret not, Here are ways you can don this skirt and never make a fashion fiasco.
What to Wear With a Hot Pink Skirt?
Whether you are planning to attend a prom, friend's birthday party, your sister's engagement, or just head to a club and party hard with your friends- a hot pink skirt should be your ultimate choice! This color looks great on every skin tone and can be worn with different colored blouses. Also, the footwear and accessories options that come with this color are endless. So, keep on reading to find out the best picks for yourself.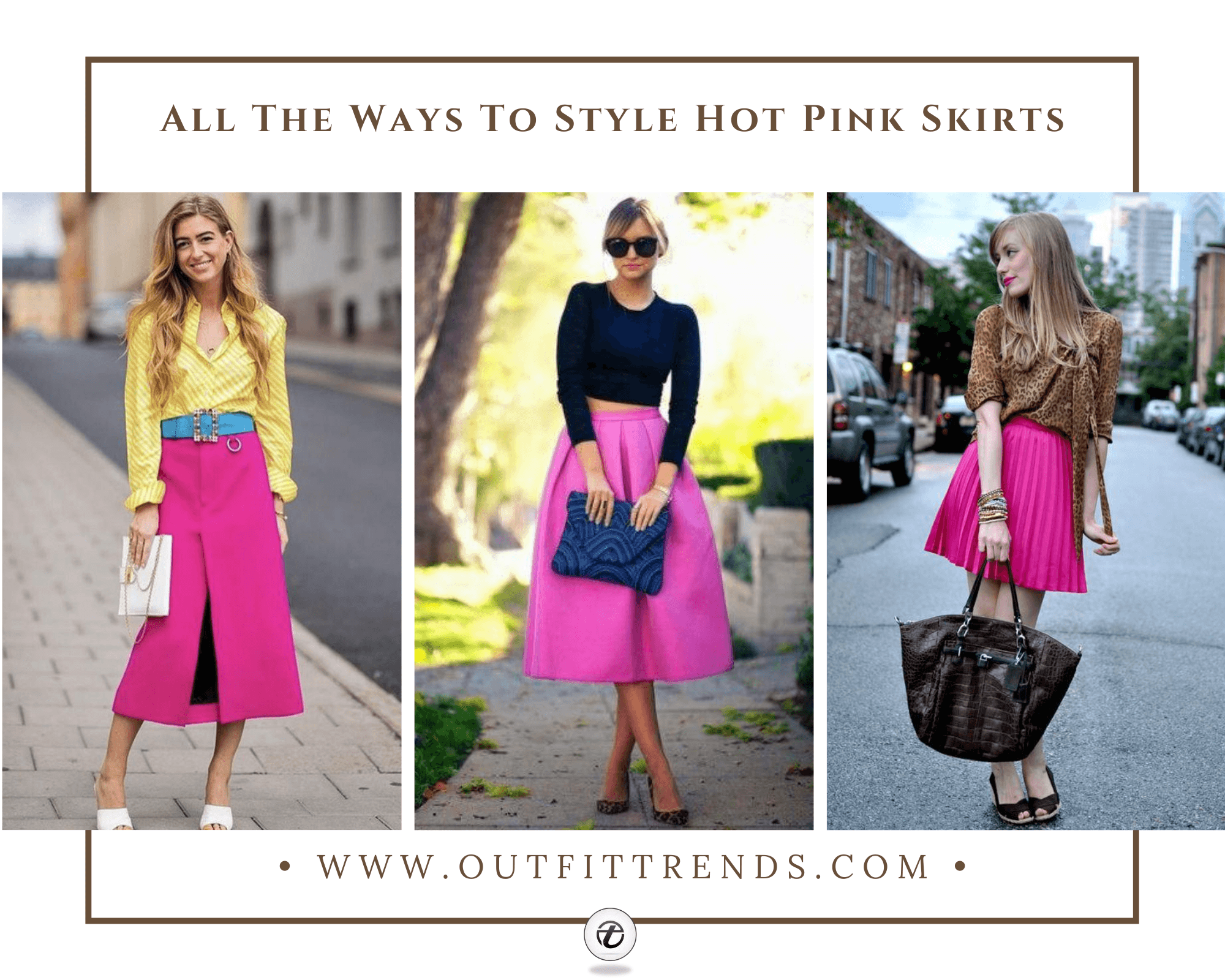 Here are the few rules for wearing hot pink skirts. Bear them in mind to never go wrong.
Hot pink skirts can be paired with many classy colors but for keeping the sophistication and funk in balance, don it on with lighter shades. When combined with colors that are too bright, the look isn't always as chic.
Black will always be the boss. When you aren't sure of which color you should pair with your hot pink skirt, go for black or white.
Hot pink is a color that screams sass and fun. Don't be conscious of wearing it.
Black leather or blue denim jacket is always a great choice to wear with it in the colder months.
Prefer wearing well-fitted tops with these skirts like halter neck tops, crop tops, or dress shirts.
Experiment with different types of skirts in this color. You won't regret it.
↓ 35 – Tulle and Net Skirt Set
Hot pink is one of the most eye-catching and thrilling colors that you can think of. Wear a tulle, net, and silk skirt, either in knee-length or full length, and make everyone fall head over heels for you. This outfit is ideal for all fancy occasions like engagements, proms, and birthday parties, etc. With this outfit, opt for high heels, minimal makeup, and minimal accessories. Straighten your hair and leave them open or go for a high ponytail to finish off your look in a cutesy manner.
↓ 34 – Pink Skirt With Blue Top
You must have seen people wearing a white, black, or matching top with skirts. But have you thought of trying color-coordinated outfits? Just like black goes with white, pink looks stunning with blue. This is a must-try color combination for you all!
via
↓ 33 – For Casual Lunch
Casual occasions, hangouts, dinners, and lunches in no way means that you have to go there in your loungewear or jeans and tees. Dressing up is always a good choice; it helps boost your self-confidence and elevates your mood as well. So, whenever you have the next casual lunch planned, wear a cute pink skirt and pair it up with a grey colored top. Accessorize your look with golden sandals, hoops, and a bag, of course! Got little to no time to wash your hair, or is it too hot to wear them open? Whatever the case is, a loose messy bun is your ultimate solution. Here are some more ideas on Outfits to wear with Top Knot Hairstyle to Compliment Style.
↓ 32 – Skirt and Top Set
Skirts and crop top sets are most wanted on formal occasions or party nights. Make sure you have one in hot pink color for such events. A pencil skirt with a crop, when worn with a short jacket, makes an ideal outfit for formal night. If you prefer wearing modest dresses, here are some Modest Crop Top Outfits.
via
↓ 31 – All Pink Outfit Idea
↓ 30 – With High Slit
Unveil your inner diva and boast your style by wearing a hot pink maxi skirt with a white shirt and a denim jacket. For a more graceful look, you can go for a maxi skirt that has a slit and pair it with a rose pink cropped top. You are bound to impress all those around! Here are some more amazing Maxi Skirt Outfits to give you different styling ideas.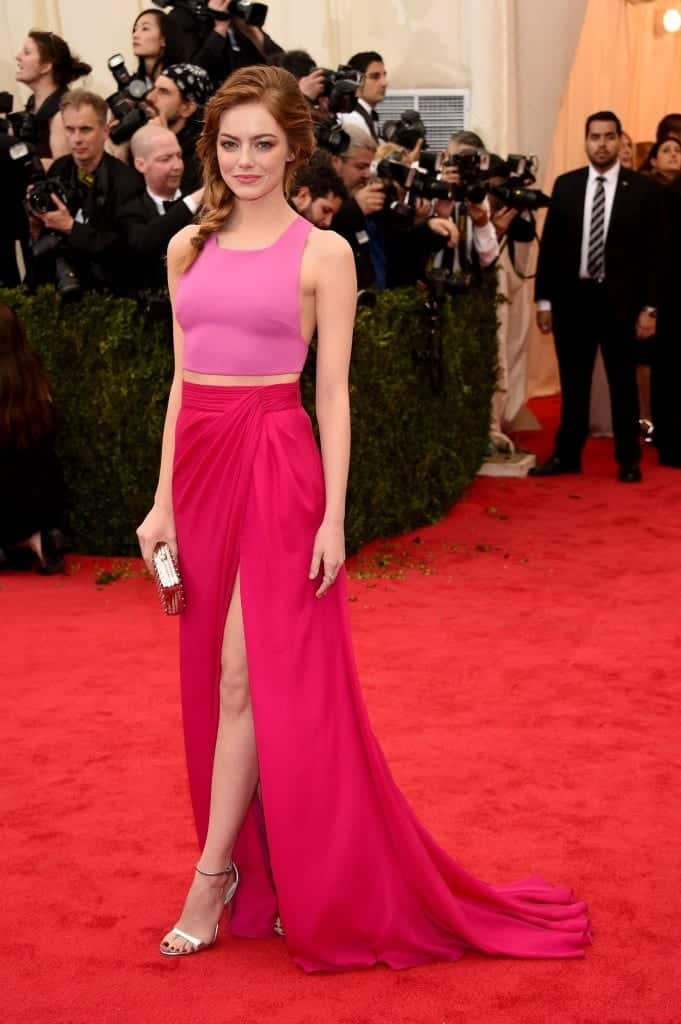 ↓ 29 – Midi Skirt with Floral Spring Top
For the ultimate classy look, don a hot pink midi skirt with a noodle-straps top. Or you can wear a printed shirt with your plain midi skirt. Hot pink midi skirts make for the trendiest travel outfits. Planning a trip to Europe? Don't forget to pack one such gear! Here are more ideas on What To Wear With Midi Skirts.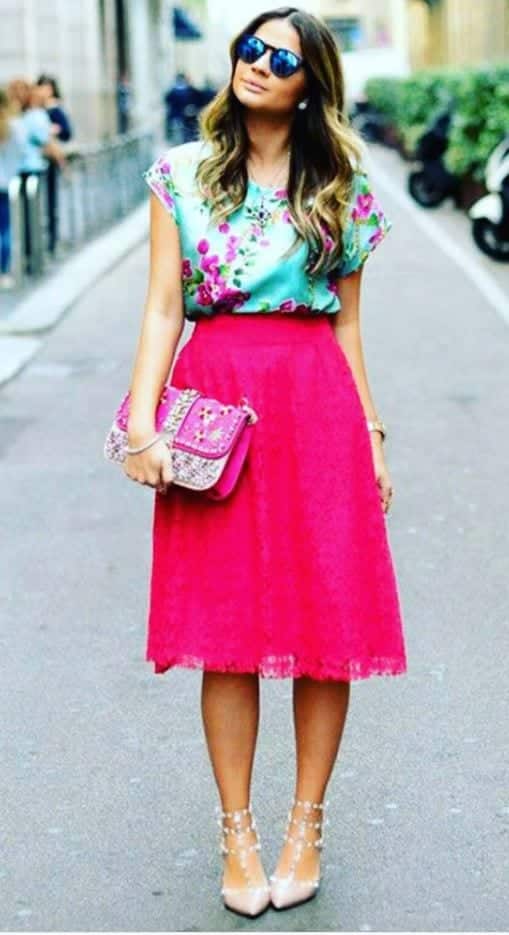 ↓ 28 – Chiffon Skirt with White Top
Chiffon is a flowy, light material, and when this fabric is stitched into a hot pink skirt and worn with a white strapless or lace top, the look is mesmerizing! A white shirt like this is a must-have for girls because you can create hundreds of different looks with it, for some spectacular examples, here are 18 Ways To Wear White Shirts For Girls.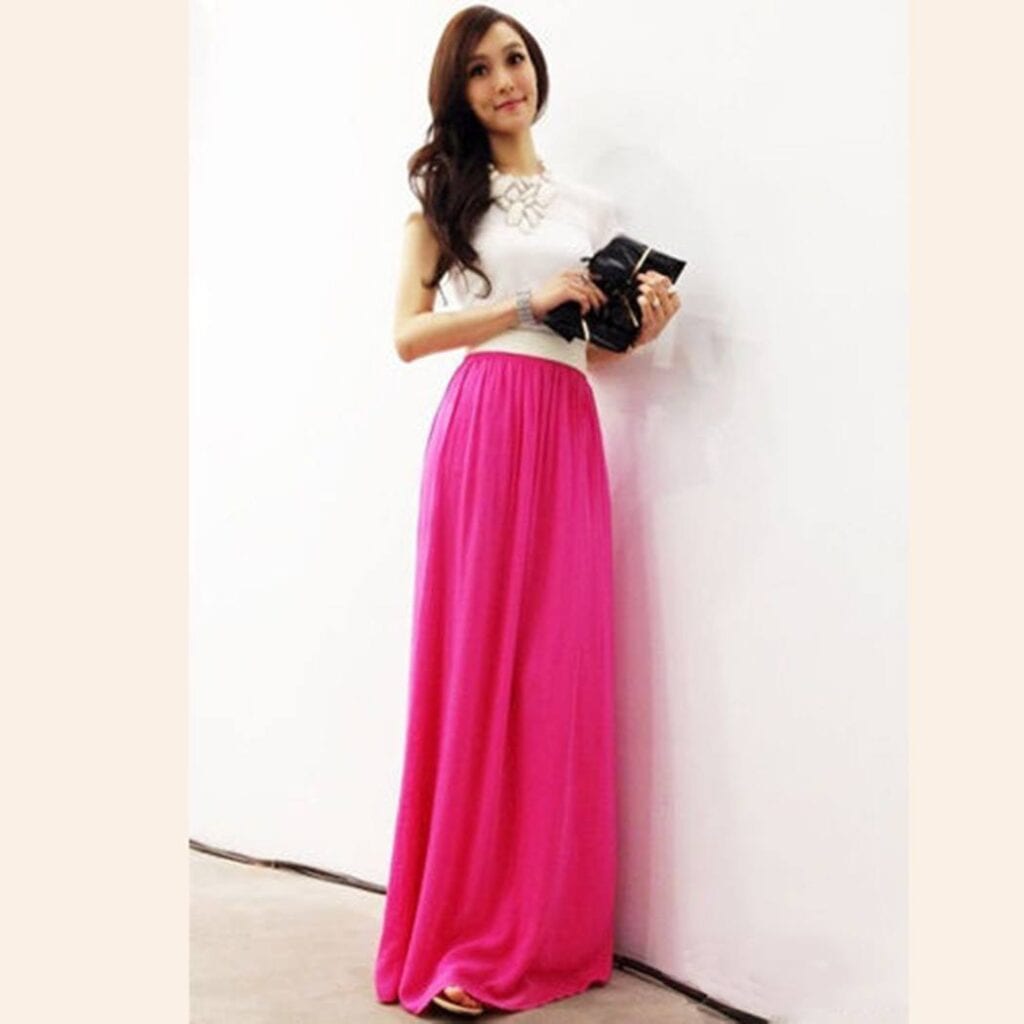 ↓ 27 – Pink Mini Skirt Outfit
Fashionistas know that there's no other color that makes mini-skirts look as fancy as hot pink. Pair with a black top and throw on a leather jacket for an adorable and chic look.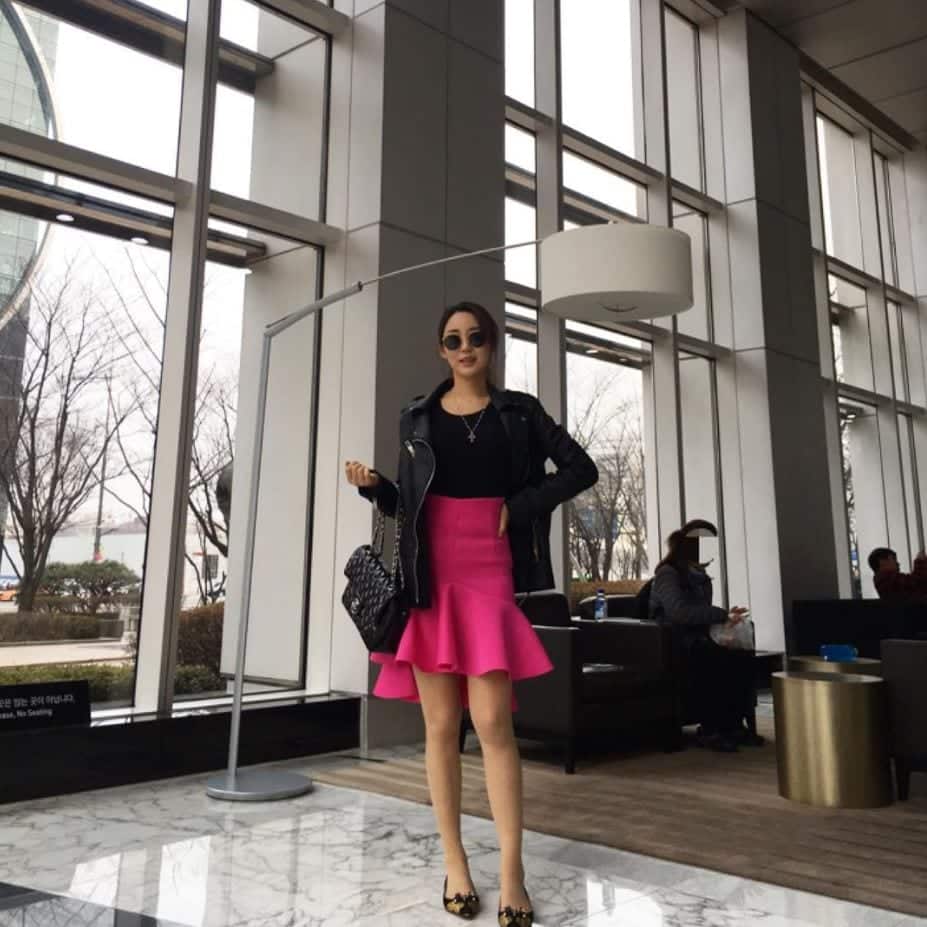 ↓ 26 – Long Pleated Skirt With Classy Top
Breeze through the day wearing an adorable girly outfit like a long skirt. Don, it with a striped black and white tee or with a glittering blacktop and look like a princess! Pleats and ruffles are surely the trends of the years so check out these Ideas on How to Wear Pleated Skirts.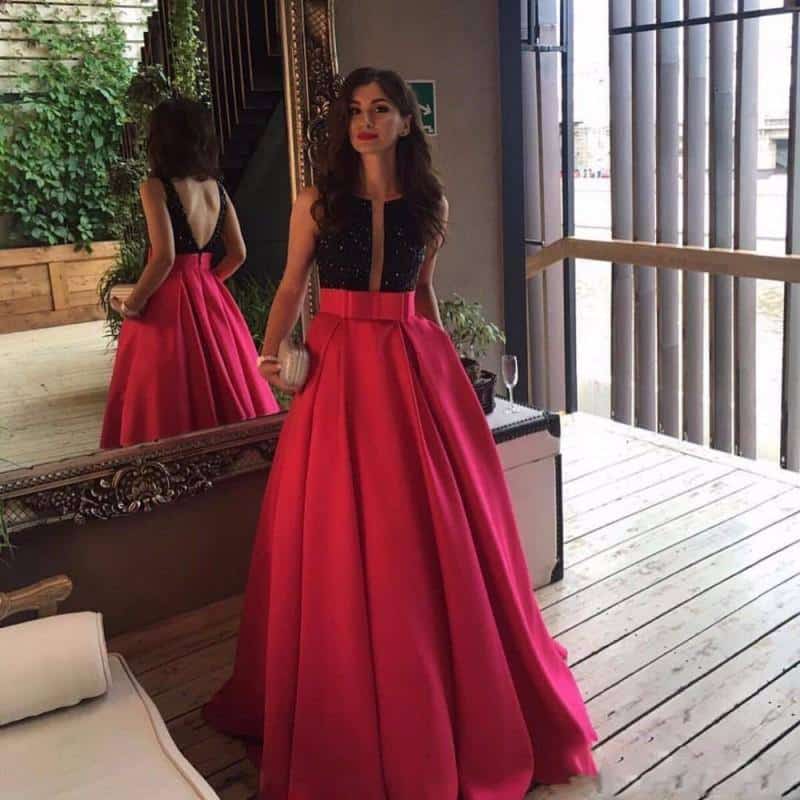 ↓ 25 – Plaid Skirt
Flannel skirts are as stylish as they are funky. In plaid design, the look is even more pretty.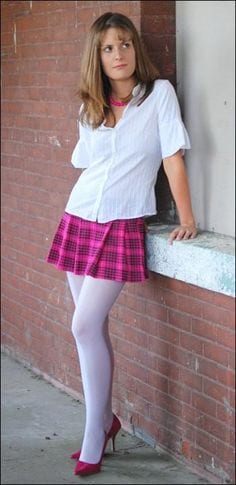 ↓ 24 – Pink Pencil Skirt Outfit
If you are going for an elegant yet hot look, go for a hot pink pencil skirt. With a long-sleeved top of a light hue, the hot pink skirt looks the most graceful. Here are some chic Outfits with Pencil Skirts.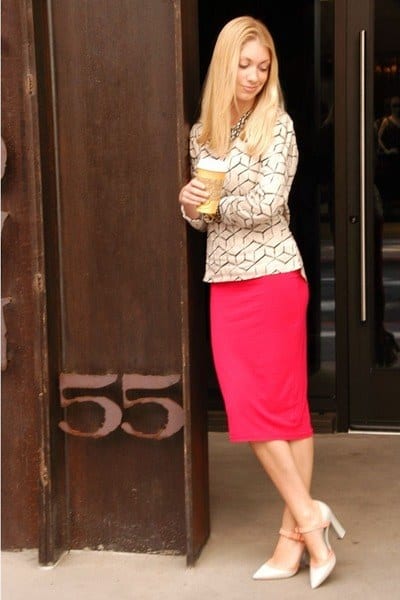 ↓ 23 – Skater Skirt Outfit
For the cool girl look, wear the skater skirt with boots or sneakers.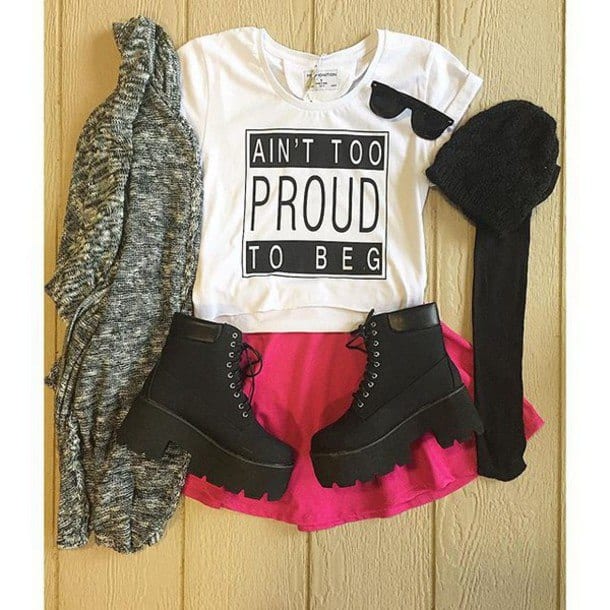 ↓ 22 – Knee Length Skirt With Shearling Coat
Don a hot pink knee-length skirt for a modest yet fab look. Here are some more Cute Outfits To Wear With Midi Skirts.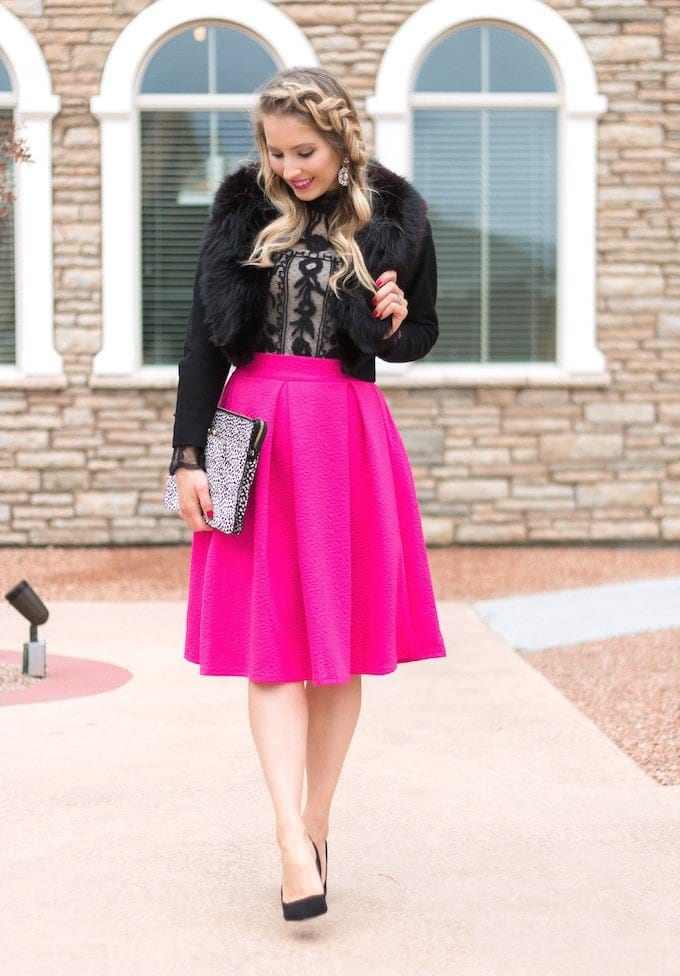 Via
↓ 21 – High Waisted Skirt
A hot pink high-waisted skirt would make for a lovely outfit paired with the classical color, white.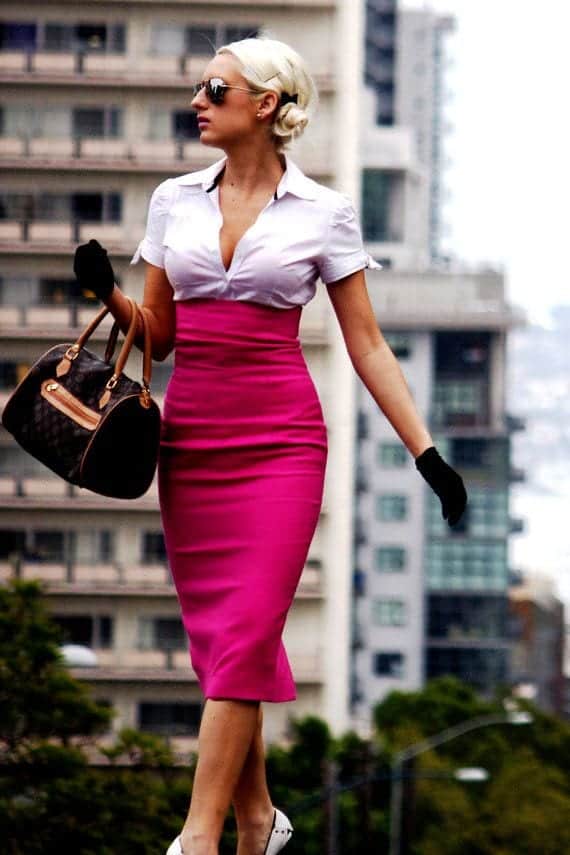 ↓ 20 – Prom Style
Admittedly, tulle skirts are challenging to pull off. If you don't do them justice, they end up making you look funny. If you are aiming for a glamorous look, pair your pink tulle skirt with a blacktop. Throw on some pretty accessories to jazz up the look. You should also check out this exclusive guide on How to Wear Tulle Skirts?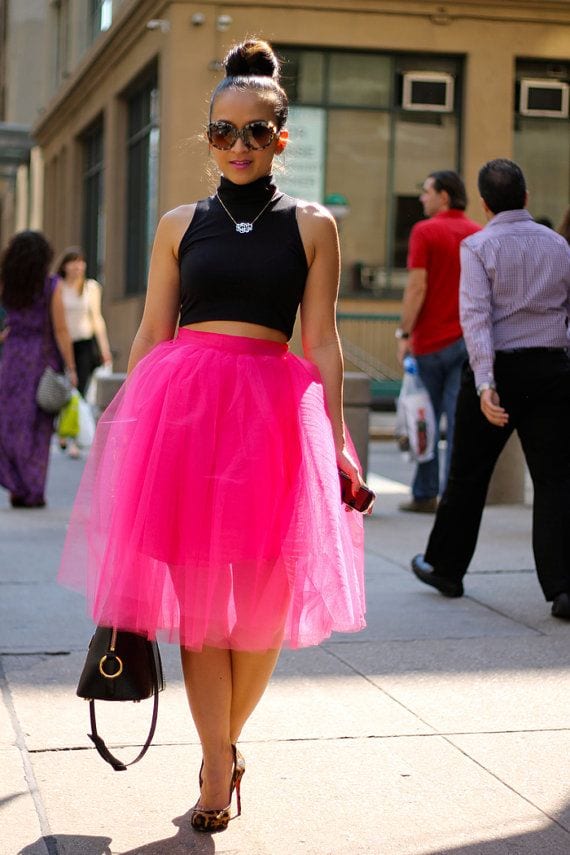 ↓ 19 –  A-Line Skirt With Long Coat
Creatively wear your A-line skirt. Don't fear to experiment; otherwise, you'll never look unique!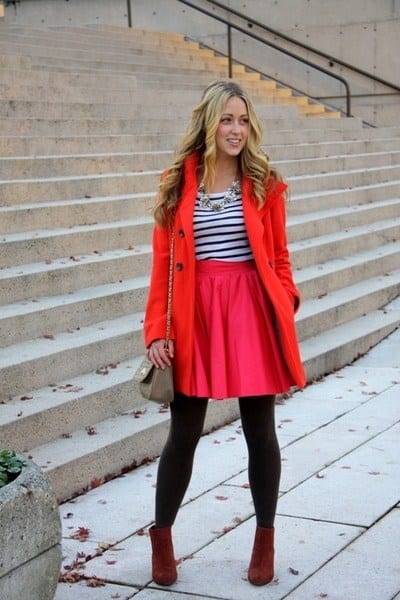 ↓ 18 – Street Style Goals
For a fashionable look, wear a hot leather skirt! Leather skirts are the best choice for girls looking for a chic sporty look, if you're one of those then here are some of the best Leather Skirt Outfit Ideas for you.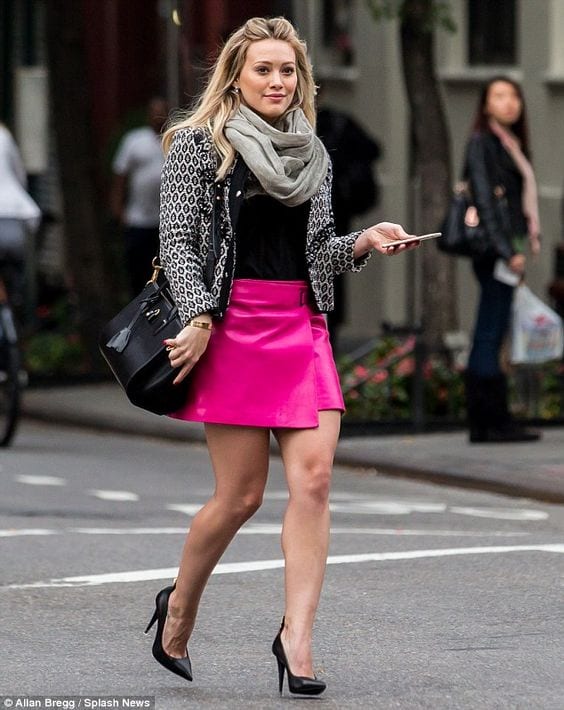 ↓ 17 – Winter Style
No season should be able to stop a woman from wearing pink. Don a  pink wool skirt in winters. Try the look with confidence. Here's our complete guide on How To Wear Skirts in Winter.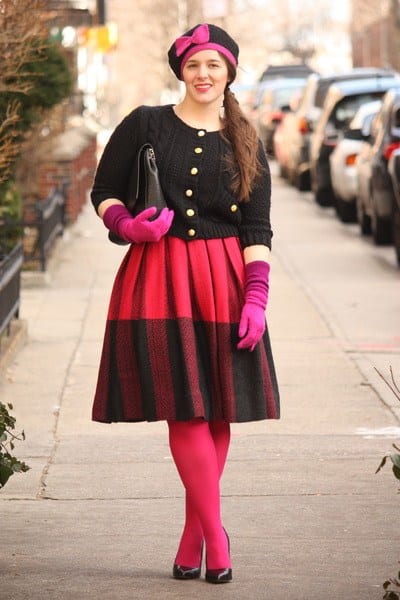 ↓ 16 – Lace Skirt Outfit
Lace is not just in vogue, but it's also utterly beautiful. If you are aiming for maximum glam, wear your cute pink lace skirt with a fitted white top. Here are some more fabulous Outfits with Lace Shorts.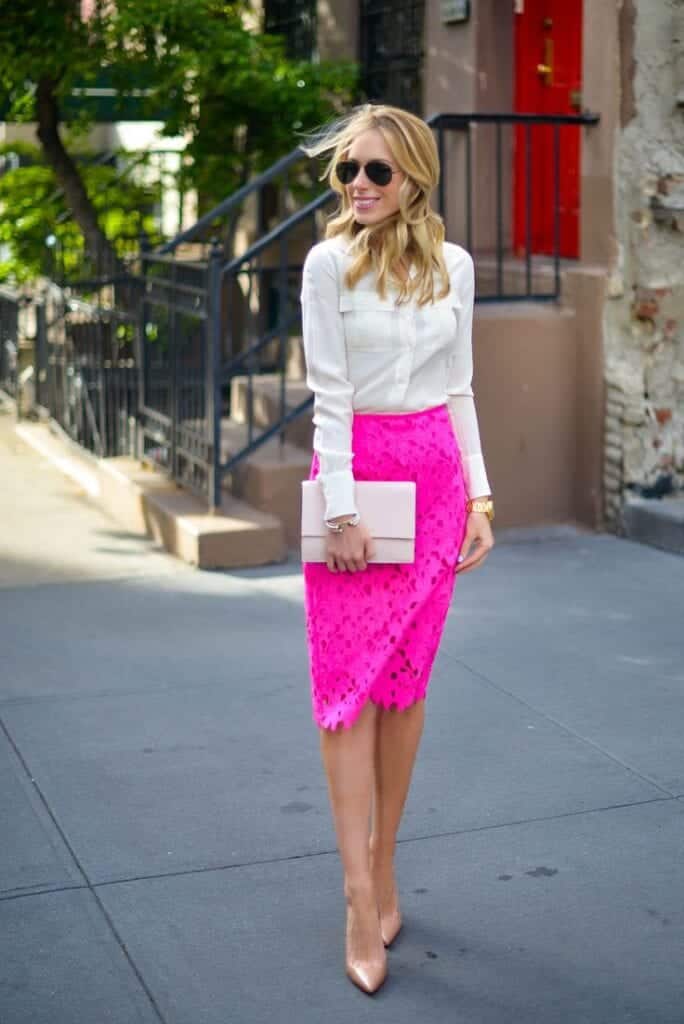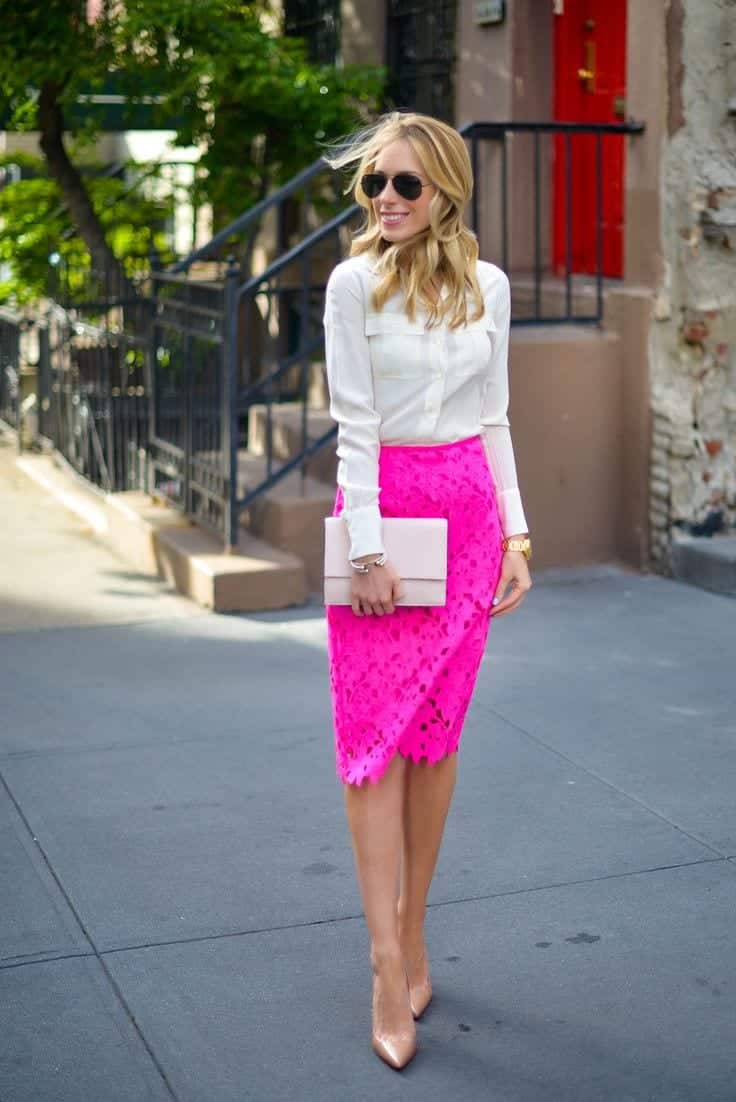 ↓ 15 – Pinterest Inspired Outfit
Pinterest has always inspired people, especially young girls, to come forward with cute and aesthetically pleasing outfits. If you are one of those people who always try to recreate those outfits, then here is a simple yet classy one for you to try out. Wear a sassy pink leather skirt along with a white top and finish your look with an offwhite colored hat, clutch, and classy stilettos. Enjoy your day!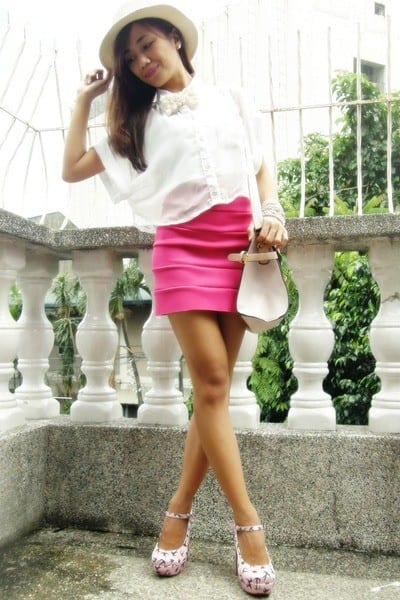 ↓ 14 – High Low Skirt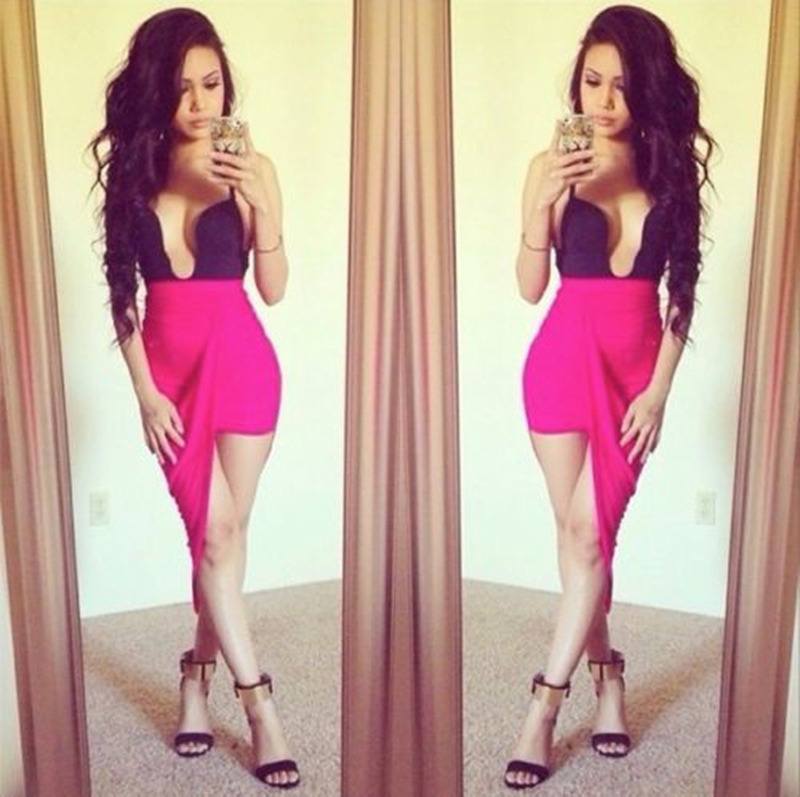 ↓ 13 – Pink Neon Skirt With Striped Top and Leather Jacket
This is an ideal look for all girls who love to look cute yet classy! Wear a pink pleated skirt and pair it up with a black and white striped top. It's the perfect outfit for summers, but if it is winter, you should wear a leather jacket or shearling coat over it to finish off your look. You can wear this outfit for various occasions and is an excellent pick for your first date as well. Here are some ideas on how to style Leather Jackets.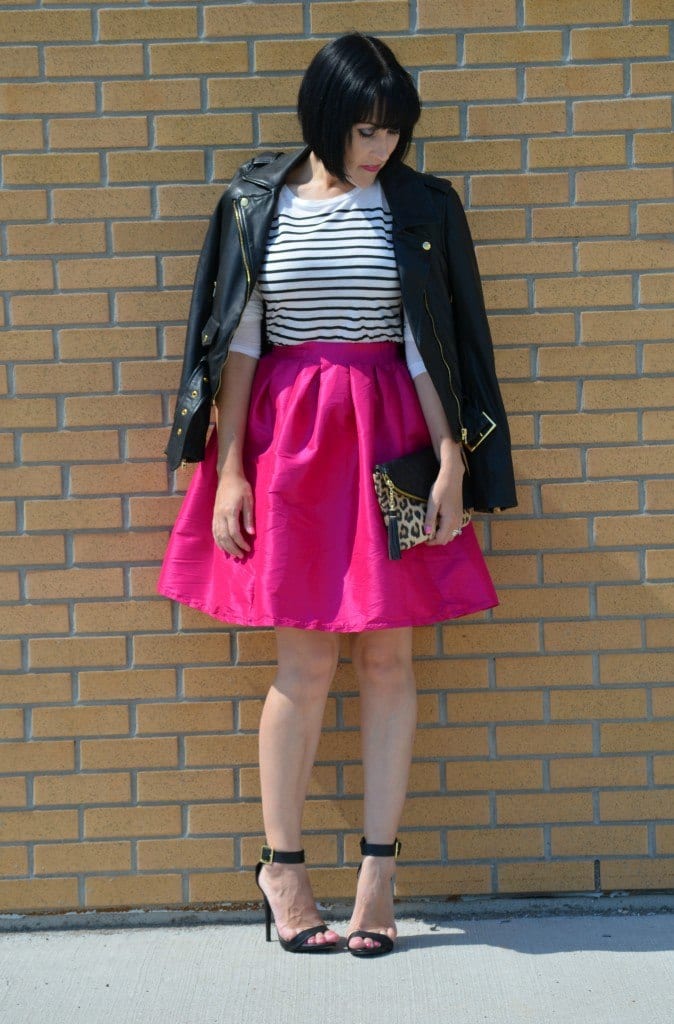 ↓ 12 – With White Polka Dot Top
Polka dots look great on girls of all ages and sizes, so you can just not miss these 17 Best Polka Dot Outfits for the season.
↓ 11 – For Holiday Mood
Many outfits can be styled with these skirts. The color goes best with black, white, and blue. But there is a lot of scope of it when it comes to pairing it with other colors. Hot pink skirts look modish with dress shirts and high-neck tops. An off-shoulder off-white shirt would complement a hot pink skirt ideally. You can also throw on a denim jacket or a leather one for a neat yet girly look. Blazers can be worn as well. Keep the footwear in contrast to a spiffy look. After all, your attire more or less defines you.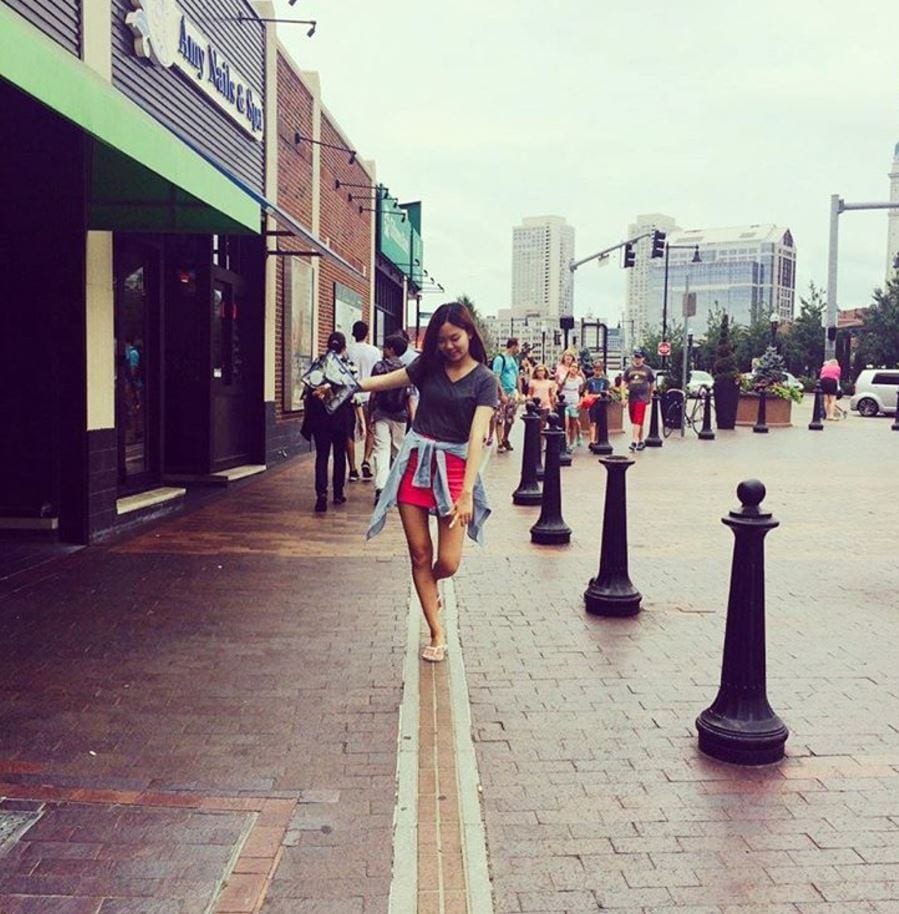 ↓ 10 – What Color Shirt Goes with Pink Skirt
If you're trying this look in winters, then you can add on a pink blazer for a comfortable but hot look, to inspire you, here are some Outfits with Pale Pink Blazers.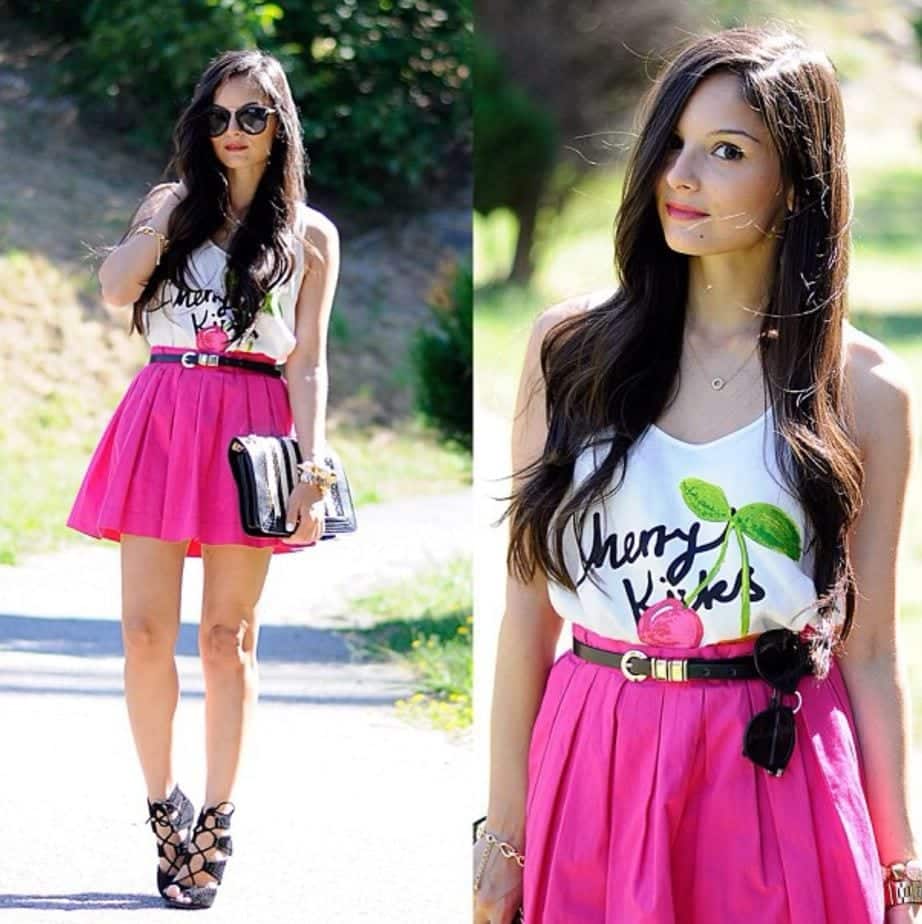 ↓ 9 – Short Skirt Outfit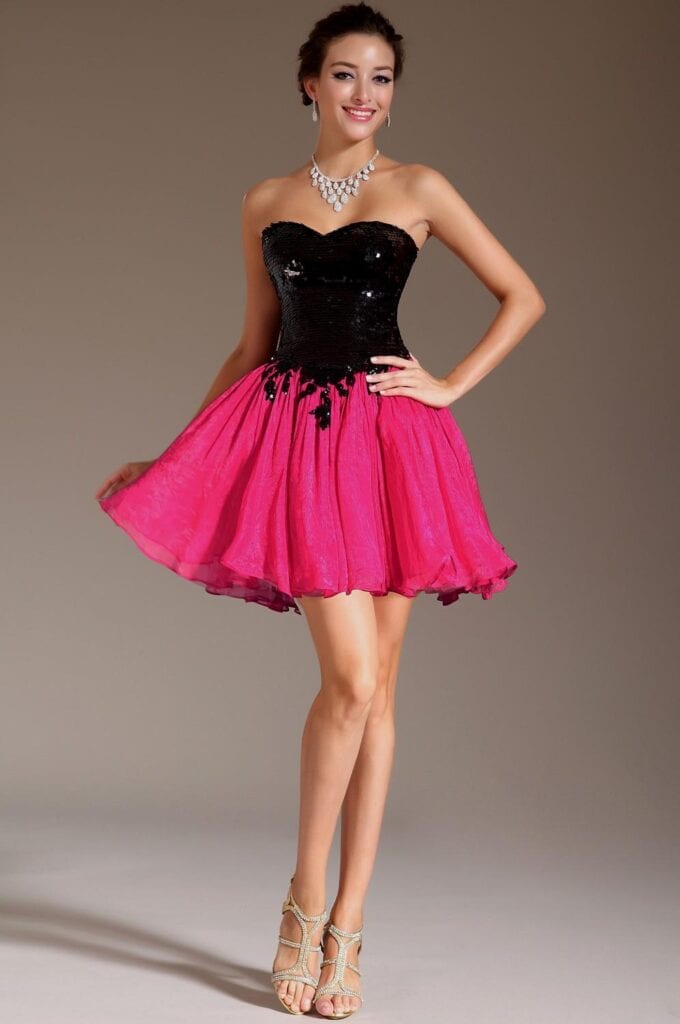 ↓ 8 – With White Sheer Top and belt
Are you looking forward to creating an utterly classy and sassy look? If yes, then look no further. Because here is the perfect inspiration outfit for you. Wear a sleeveless white top with a pink skirt. Add a slim belt to your skirt to accentuate your waistline. Wear your hair in a neat bun, add pearl studs, slip into your favorite striped sandals, and don't forget to get your clutch. You look no less than a diva!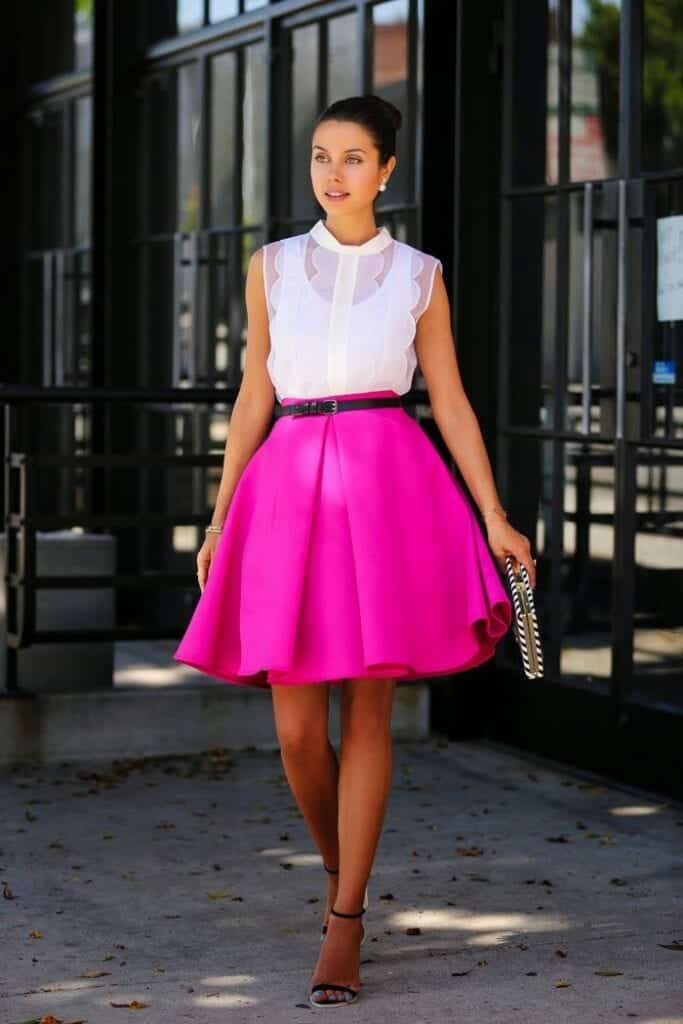 ↓ 7 – Hot Pink Tulle Skirt with Cute Top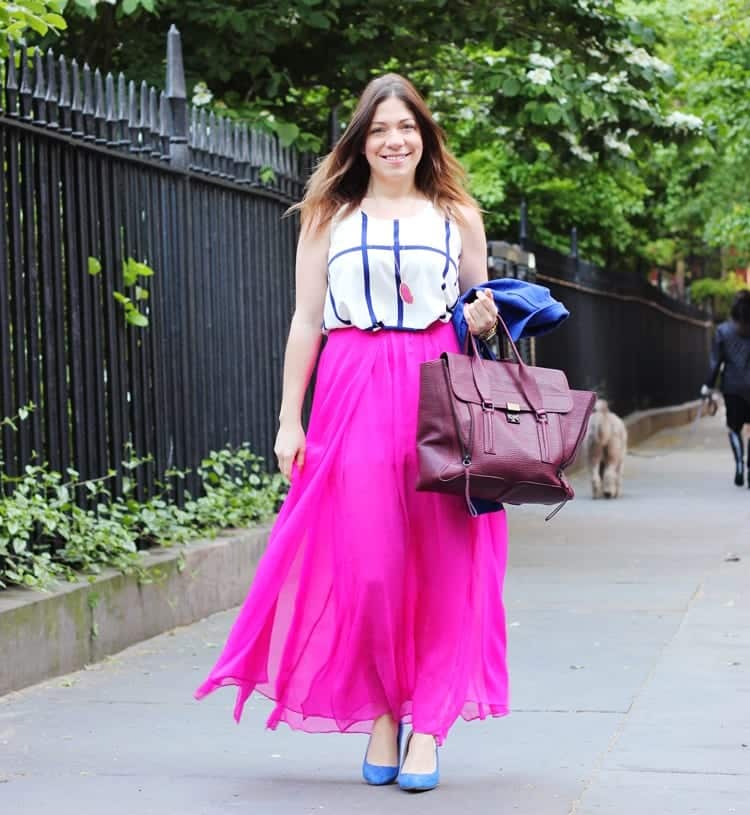 Via
↓ 6 – With Black Leggings and White Top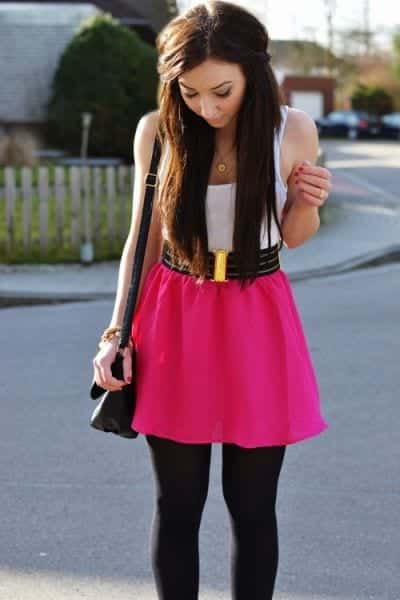 ↓ 5 – Pink Suit- Skirt For Boss Lady Look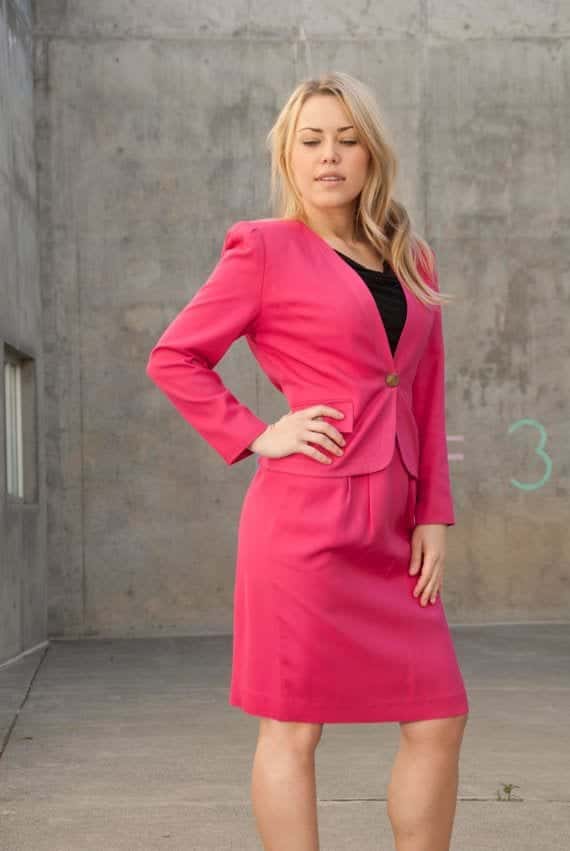 ↓ 4 – Hot Pink Skirt with Crop Top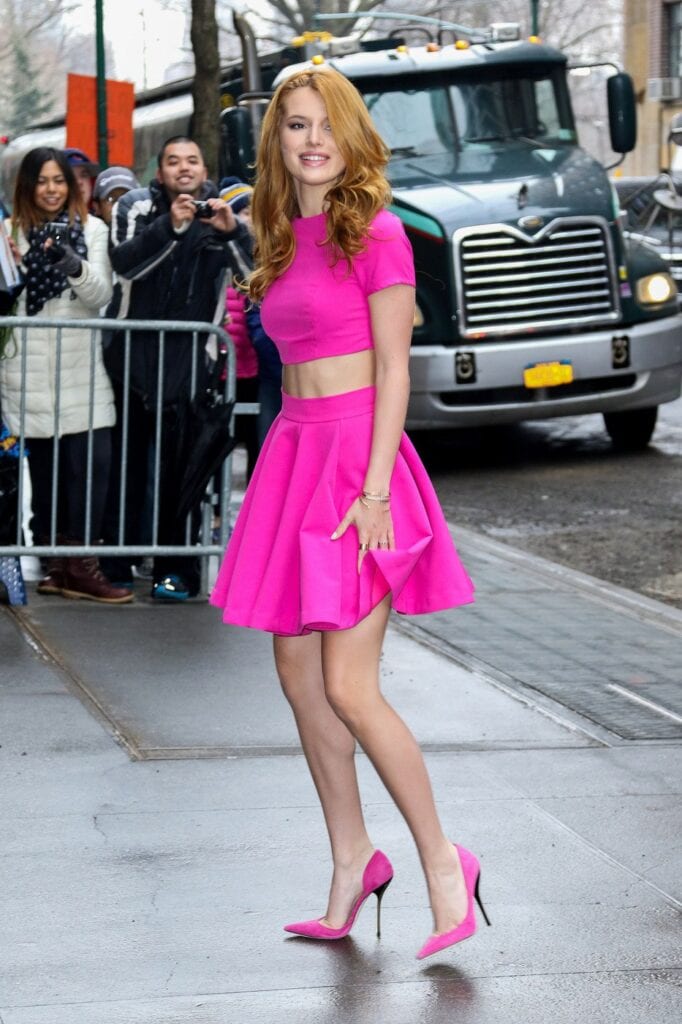 Via
↓ 3 – With Multicolored Top and White Blazer for Work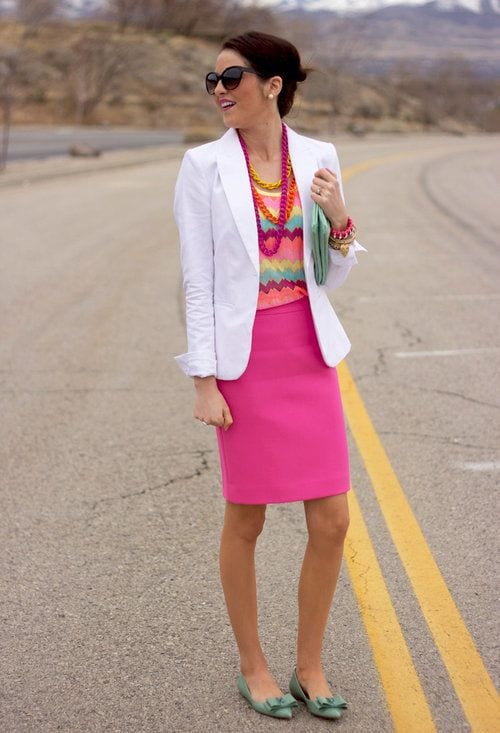 ↓ 2 – With Denim Jacket for Casual Look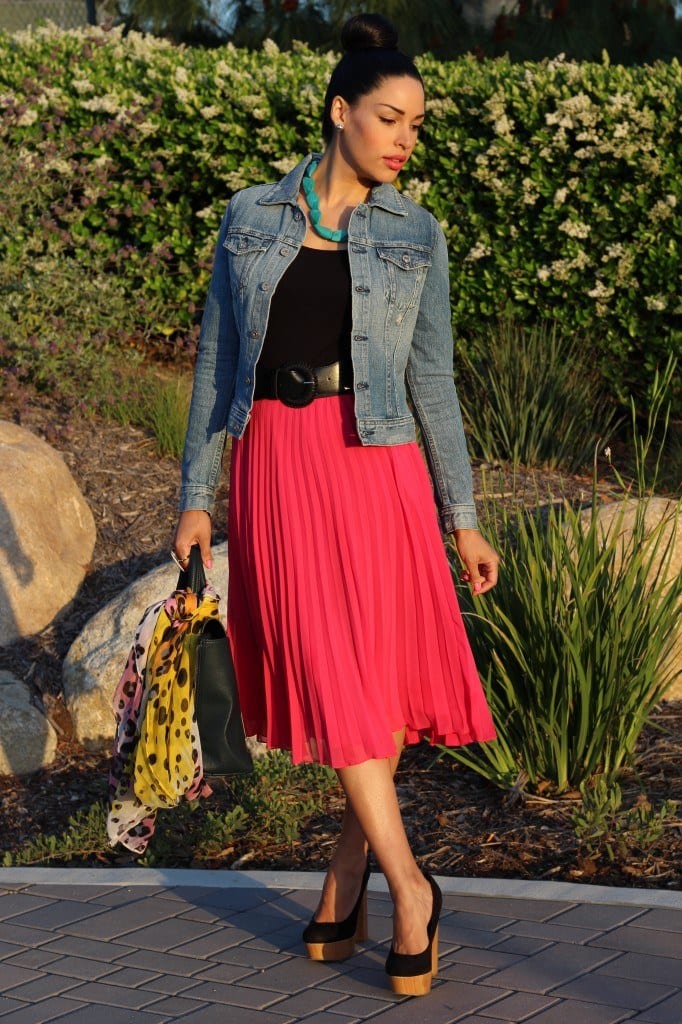 ↓ 1 – With Black Statement Top For Party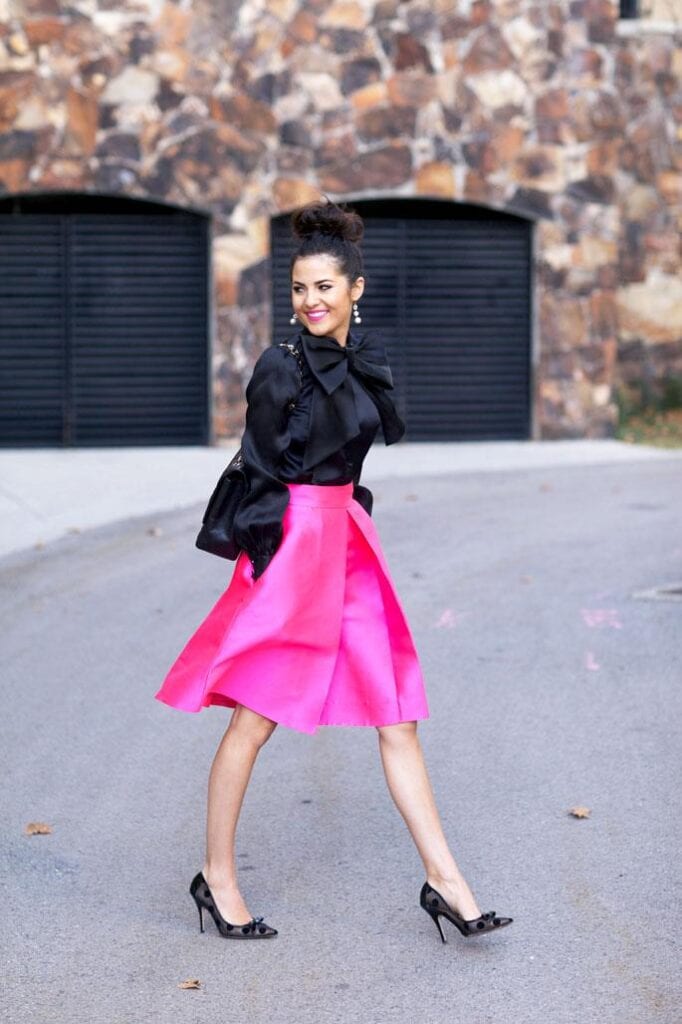 Frequently Asked Questions
Here are some of the most asked questions about hot pink skirts. We have tried to answer all your queries in detail after thorough research and asking fashion influencers.
Q.

What top looks best with a skirt?
A. Properly fitted tops should always be your first pick whenever it comes to what top to wear with a skirt. Prefer wearing tees or plain tops for casual occasions and statement tops or dress shirts for formal occasions. Leather jackets and matching blazers look great with them as well when worn with a plain blouse.
Q.

What color goes best with hot pink skirts?
A. Hot pink is a very vibrant color itself, so you need to opt for colors that will aid in diminishing the intensity of this color. Hence white and nude shades look the best. On the other hand, black also looks exceptionally classy with it. Refrain from wearing shades like orange, green, yellow, etc.
Q.

What looks ideal with a pinkish-pale skirt?
A. A white halter neck crop top would look adorable with a pinkish-pale skirt. It will create a lovely girl vibe for you. It is a mesmerizing choice for teenage girls as well as those who like to keep their look lowkey and decent.
Q.

What is the best style in these skirts?
A. Almost all the skirt types are flattering in their own way, and each one is designed for different body shapes. For girls who are skinny, pencil, skirts and mini skirts are great choices. On the other hand, flowy and pleated skirts look alluring on curvy women.
Q.

How to style a hot pink skirt in winter?
A. For styling it in winters, wear black leggings underneath it along with boots and pair them up with a white cropped sweater and a black leather jacket. You can also add a muffler if it is too cold.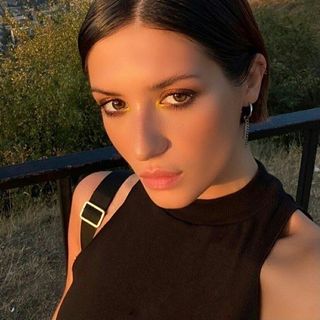 Avid reader and Fashionista. London Based freelance lifestyle editor