Modest crop top outfits: If there were an epitome of chic fashion, crop tops would be it. Rad, chic, trendy and it definitely goes with everything. For all the crop top lovers out there, we have something exciting for you in-store today. Crop tops are generally associated with summers when the sun is shining, it is humid outside, and you need clothing items that are more chic and rad because this is the time to bring out the Kate Spade in you.
While there are a variety of cuts and types of crop tops to choose from, the lose and flowy ones are better for the warmer days as well as for modesty. But, crop tops can be styled for winters too, or spring, for that matter.
How To Wear Crop Tops Modestly
While we've already done a very detailed post on 25 Cute Ways to Wear Crop Tops This Season, today it's all about modest fashion. Down below, we are going to list down several ways to style your crop top modestly. Because we understand that for all the modest fashion lovers and hijabis, it sometimes gets challenging to choose from a range of clothing items that will adequately cover their body and look trendy as well. The same is with crop tops, but don't you worry, we have all the answers to all your crop top queries. And for non-hijabis who do not want to show skin while wearing a crop top we have got you covered too – quite literally there, scroll down and see for yourself lovelies.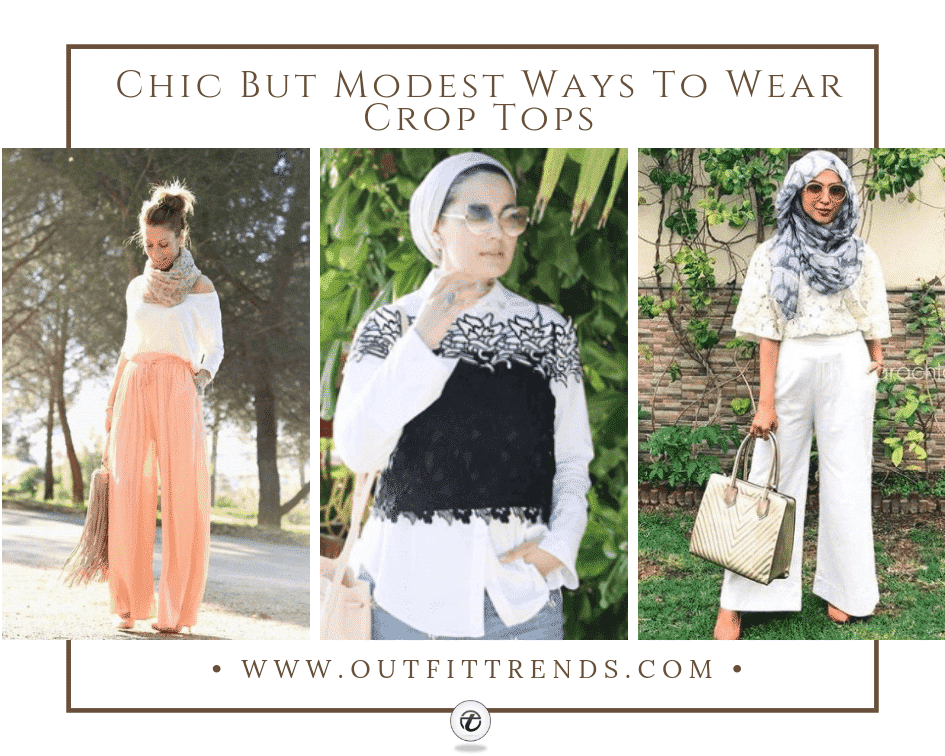 But before we get into the collection, here are some tips for how to style our crop top modestly:
Go high-waisted for the bottoms, as it will provide you more coverage.
Crop tops can be the most versatile clothing item with a little layering, so don't be afraid to experiment.
If layering over is not your thing, you can always layer under a crop top and get the job done.
Overalls can work perfectly fine over crop tops as well.
Low ponytails or messy buns are a good substitute hairstyle for summer to wear with crop tops.
So now that that's done, let's get to the crop top attire ideas which you all have been surfing the internet for.
↓ 16 – Wearing Cropped Sweaters For Fall
Here's a cute Fall outfit with a cropped sweater layered over a tunic, leggings and a hat.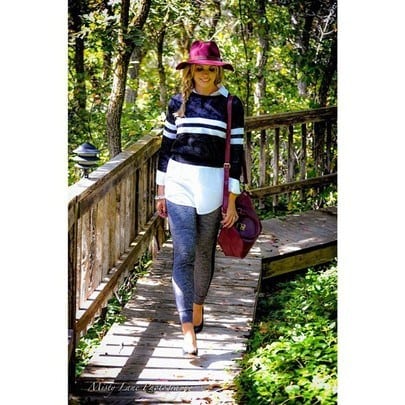 ↓ 15 – Wedding Ready
Crop tops with long maxi skirts look great as wedding guest outfits.
For a more ethnic look, you can also opt for a fancy lehnga instead of a skirt, perfect for desi weddings.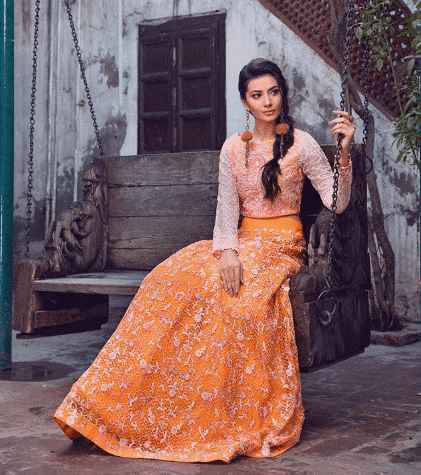 ↓ 14 – Wear It With a Kimono
Aren't kimonos the best layering item ever made? They're available in such fun prints and colors these days, and you can quickly turn any outfit into a modest one by wearing a kimono. If you like this look, you'll love these 20 Ways To Dress Up With Kimono Outfits.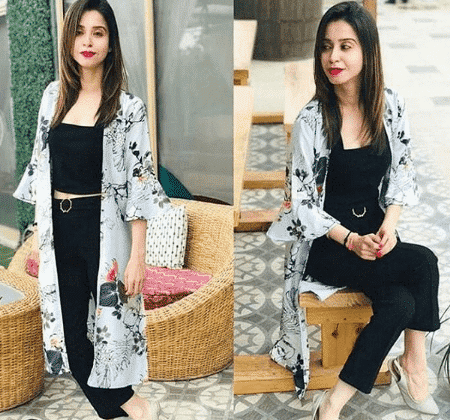 ↓ 13 – With A Flowy High Waisted Skirt
As already mentioned, one of the best ways to style crop top modestly is going high-waisted. Because we understand your love for crop tops, but we also know that you can't all go to school or work flaunting your waist. So the best option is to go high-waisted with the bottoms, up to the length which will meet your crop top length halfway. A flowy, floral high-waisted skirt, like the one shown in the picture here, would be the best option to wear with a crop top and make it look work-appropriate. Yes, you can wear crop tops to work, events, meetings, or to class; it is not something that is restricted for parties and concerts for teenagers. You should just know how to style it properly, one of which is going high-waisted. This high-waisted skirt is a very flattering cut suited just below the knotted crop top. You can even wear an undershirt beneath the crop top to make sure your skin is not revealed when you lift your arms. Or, if you have a curvy figure which shy's you away from wearing crop tops, this knotted-in front crop top can help as well.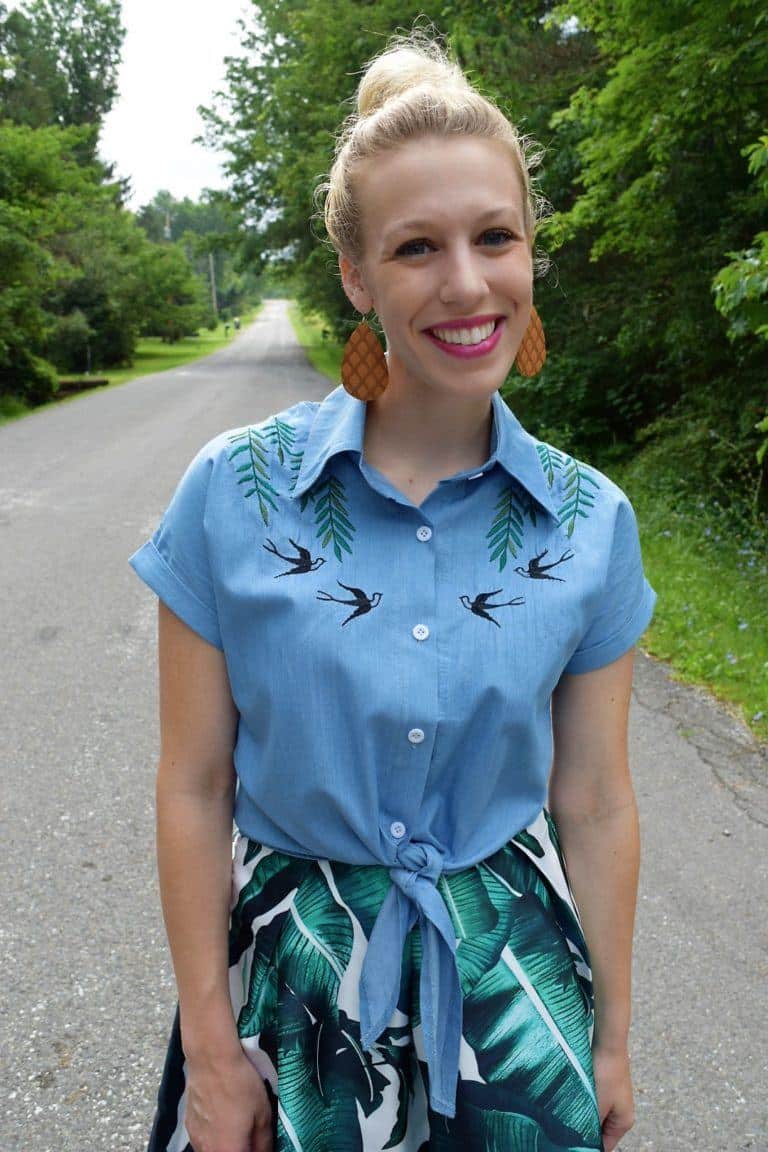 ↓ – 12 – With High Waisted Jeans
Summers are already here but the summer body is not? Don't you worry, we have got a perfect cover for hiding all the Nutella and McDonald's beneath that shirt. I know how frustrating it can get when looking for summer clothes that will cover your body modestly while you don't have to worry about all the junk you have stuffed yourself with over the winter. The answer is high-waisted jeans! Yes, high-waisted jeans will cover your tummy all the way up to the short body crop top, and you won't have to feel conscious about any of your choices. Crop tops cannot be skipped this season, as they are everywhere. Throw on high-waisted jeans, and you can enjoy a crop top without worrying about your midriff. This flowy, perfectly summer appropriated cute top is from forever 21, and the high-waisted lower is from Charlotte Russe. Find the right match of your crop top and cute high-waisted jeans and the world is yours to conquer, ladies. For all the people wondering how to wear crop tops without showing your stomach, here is the idea of how to.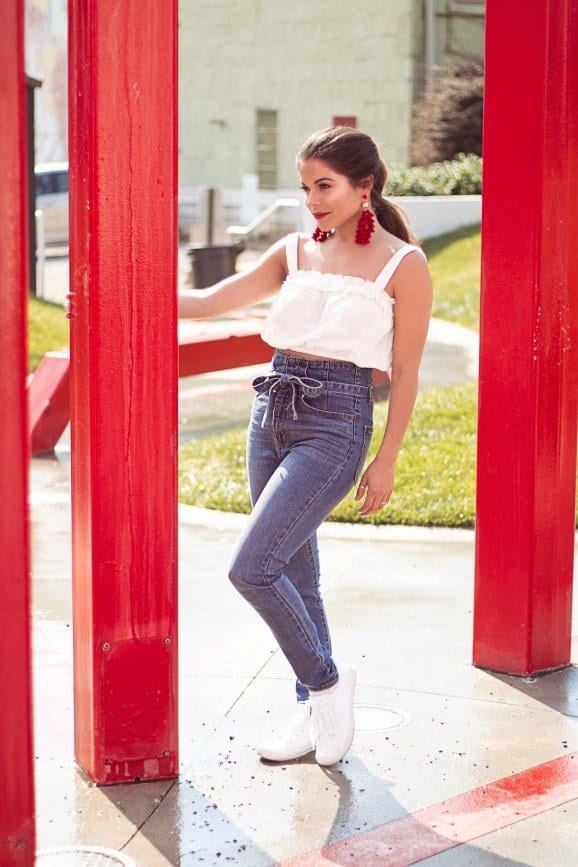 Via
↓ – 11 – With Harem Pants
How to wear a crop top to make it look classy, you ask? Here is an idea for you. For a day at the office or a meeting, you can pair your crop top with harem pants, and it will definitely make a trendy outfit. As harem pants are all you can see on the racks these days as soon as you get into a store, our luck they look the best with crop tops. This look with a white loose crop top and harem pants are work-appropriate with some cute heels and a rad hand clutch; you are good to go. This crop top is comparatively a longer one which looks best either tucked in a little or only from the front.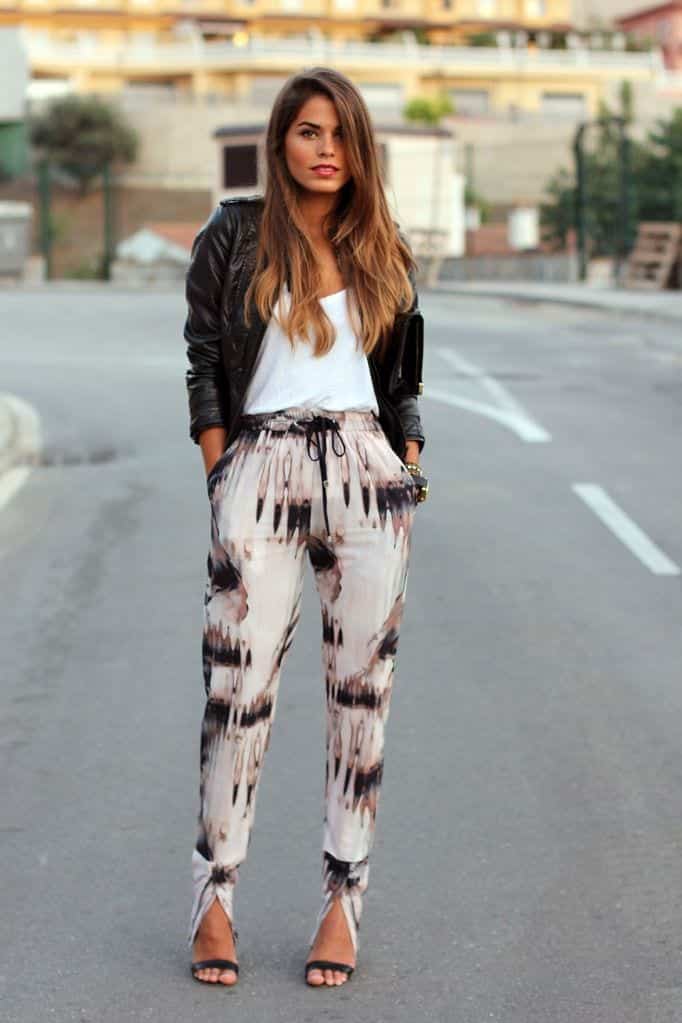 Via
↓ – 10 – With Wide-leg Pants
Another way to use the crop top to make a decent outfit is to pair it with straight, may be folded on the bottom pants. Straight pants, harem pants, palazzo, wide-leg pants, jeans or mom jeans and other clothing items from the same family are a perfect fit for an office look. This look right here is a black and white contrasting attire with white wide-leg pants and a black sleeveless, high neck crop top which looks easy to carry, wear, find in your wardrobe and ultra-simple but yet modest and office appropriate. Pair them with pure white flats, and it is a full match. Wide-leg pants and crop tops are made for each other; I like to believe. And if you enjoy wearing them as much as we do, don't miss out this post on How to Wear White Wide Leg Pants.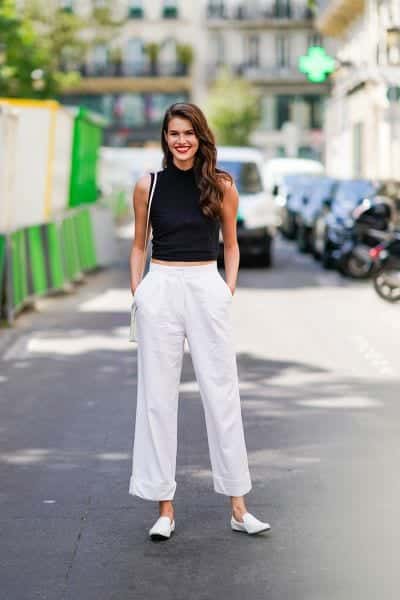 Via
↓ – 09 – With Straight Pants
Another addition to the classy look-book would be the famous and ever loved straight pants. High-waisted straight pants, I believe, is such a versatile clothing item it can go with anything, a T-shirt, crop tops, fancy silk tops or a flowy elegant top. Pair these black straight pants with a simple, long-sleeved top and maybe a statement necklace to add some character to the entire outfit, and you are office ready, wonder women. You can not go more covered and trendy than this, I believe. It is a perfect modest yet stylish outfit for the office. Crop tops are clothing items that can be played around with anything, for any occasion.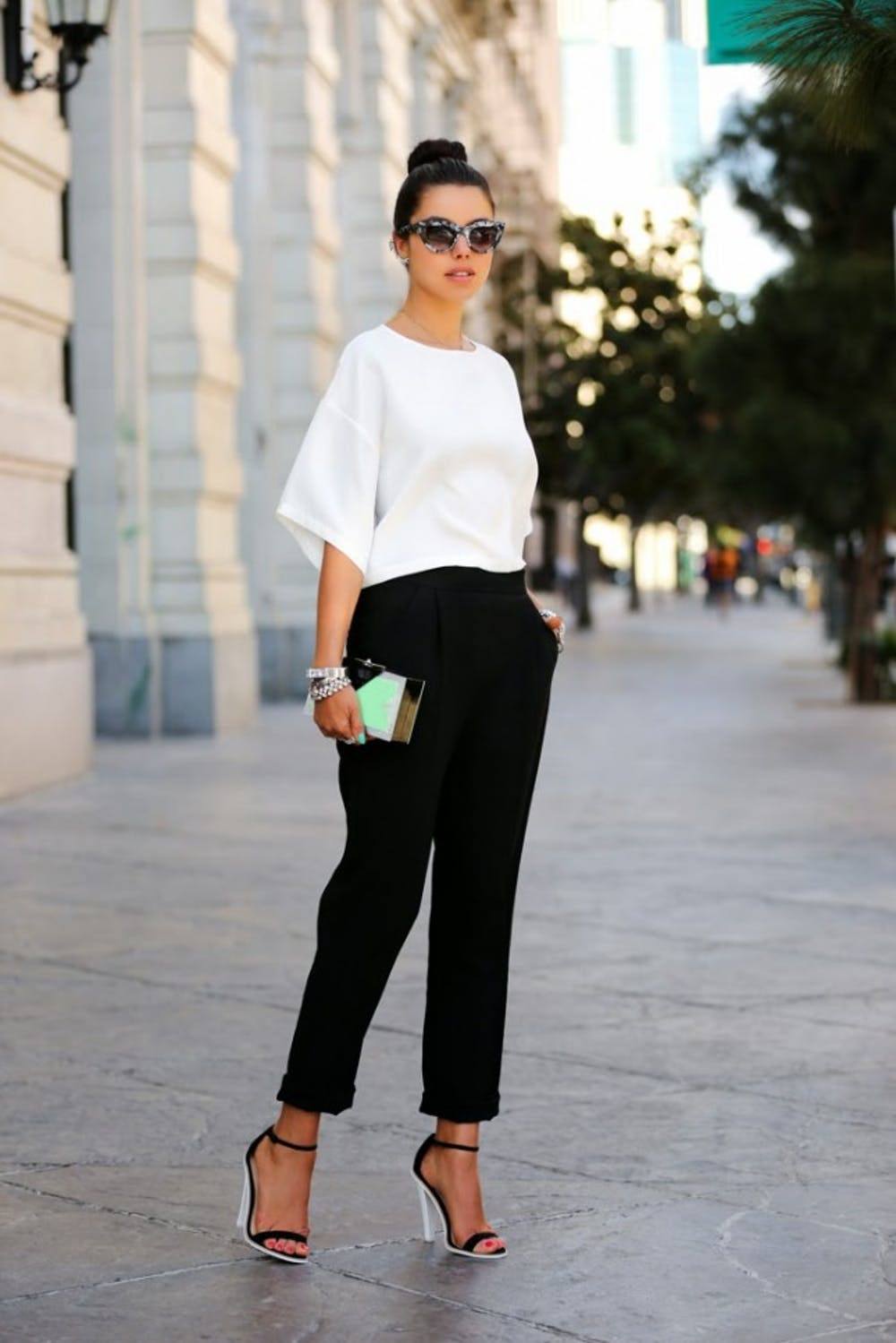 ↓ 08 -With Bell Bottom Pants
How do we not talk about bell bottom when we are talking about the 90's fashion coming back? There isn't a way we don't. As the 90's fashion is gradually coming back to style, with mom jeans, bell bottoms, and straight pants, it is almost necessary to contribute your style to this great cause, because who hated the 90's? Nothing vibes the 90's more than bell bottoms. For an elegant brunch with your work colleagues or your friends or a meeting, nothing better than pairing your high waisted bell bottoms with a simple black crop top like shown in this attire picture. We would suggest you choose a bold colour for your lowers when you are pairing them with white or black crop tops. Add some hoops to the look, a statement neck piece, and you are good to go.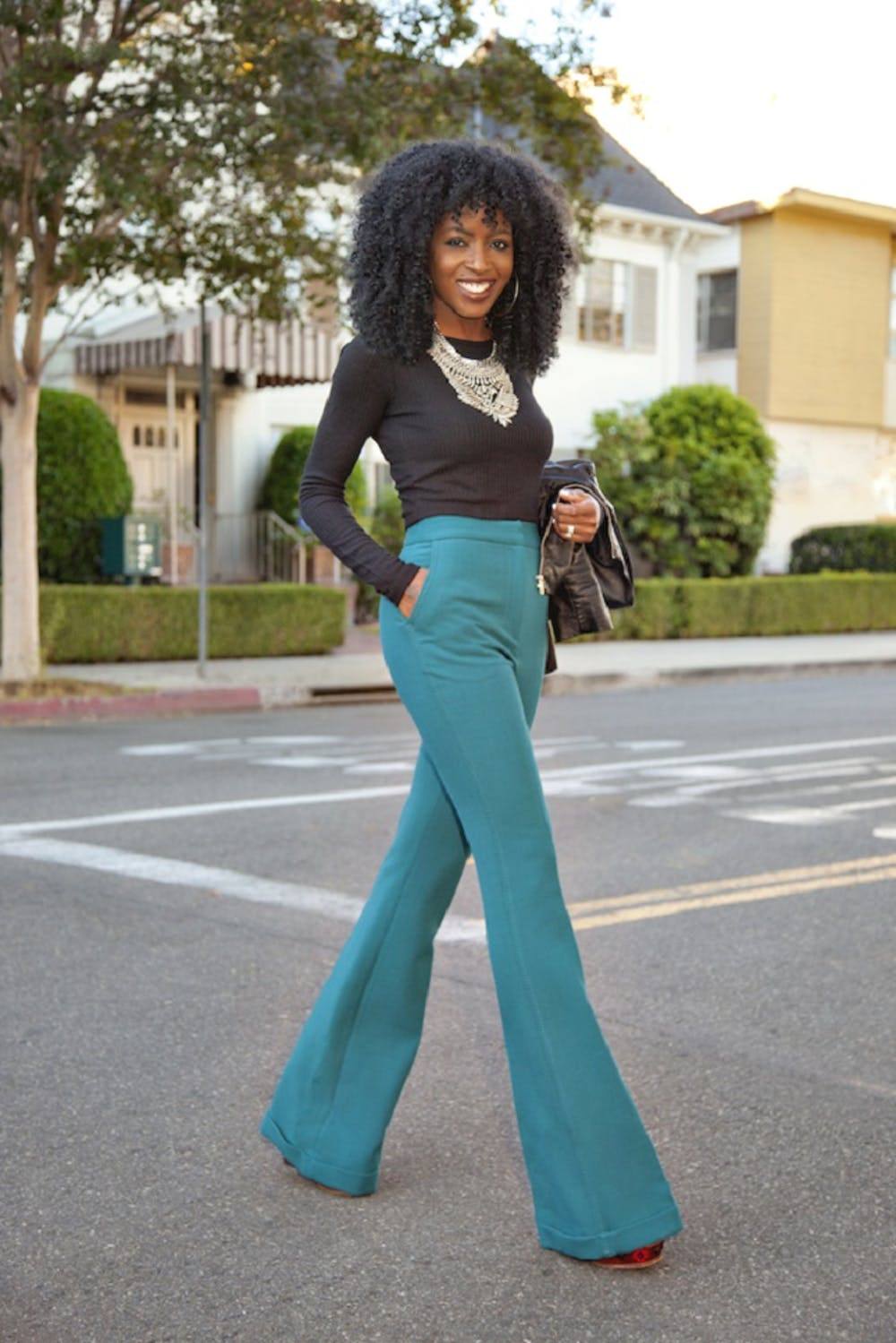 ↓ 07 – With Palazzos For A Comfortable Look
If you are looking for a crop top outfit which is in the circles of modesty, is trendy, looks chic and road style fashion but one which you can wear to office or school both, then this is the outfit for you. Crop tops and palazzos are a love story better than Miley Cyrus and Liam Hemsworth, and we love it the same. Either it is a two-piece crop top and palazzo suit or a plain crop top paired with a plain palazzo, it looks the best either way and has been seen worn by celebrities, models, girls at Coachella and basically everyone. This outfit in the picture can be worn to the office, to class or on a day when you have to rush to lunch with your girls right after office or class, wear your hair down, put on a little lipstick and you are lunch ready. High waisted palazzos are better to wear with crop tops as they cover the upper abdomen part adequately and shows no tummy. A printed scarf around the neck will make up for the best modest crop top outfit. Here are some more awesome Ways to Wear Palazzo Pants with other Outfits.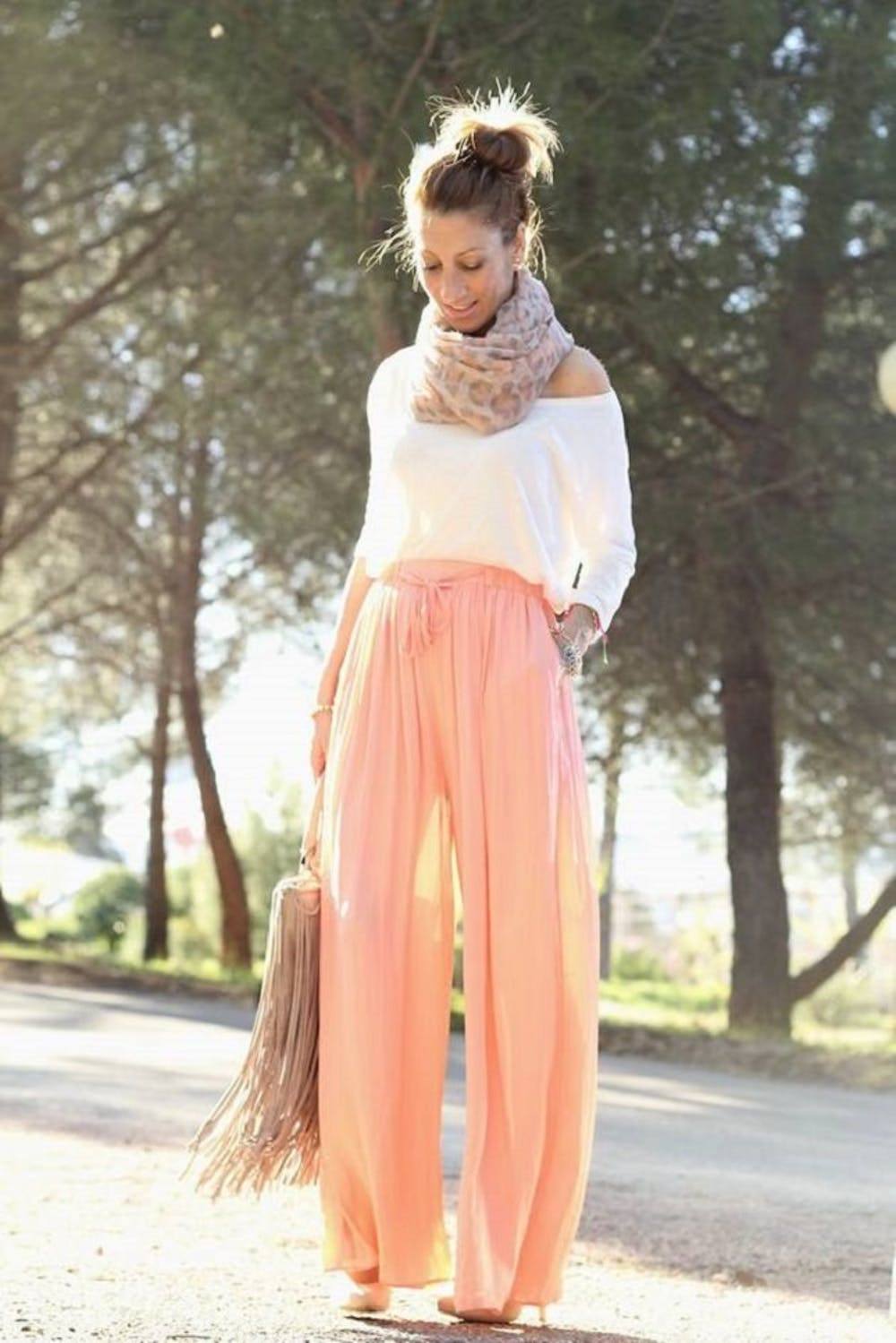 ↓ 06 – Work-Appropriate
How about trying something different this year and wearing a crop top (instead of a shirt or blouse) with your two-piece suit!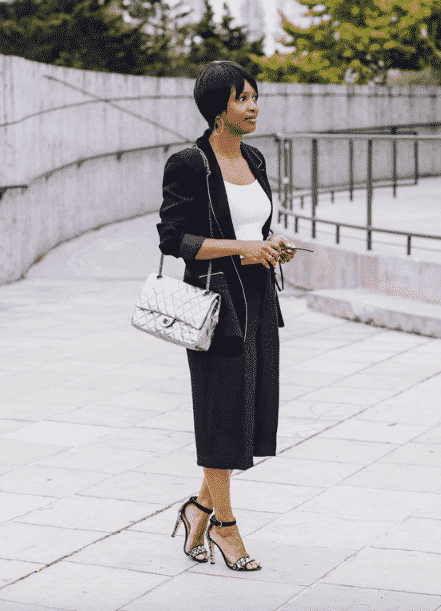 ↓ 05 – Wear Crop Tops With Class In Your 40s
Want to fit in the crop top trend but feel like you are too old for it? Don't worry; you are never too old for any fashion! You just have to turn the style your way, and you can wear the crop tops and look classy even in your 40s. The key is to choose crop tops which are longer and cover your upper abdomen or wear high waisted bottoms, which always saves the day with crop tops. You can wear full belly covering crop tops with straight jeans, straight pants, wide-legged trousers or mom jeans and make the trend look your age. You don't have to worry about losing weight and bringing back the abs in your 40s as you can always turn the fashion your way. Our favorite over 40 fashion blogger, Samantha, has done a fascinating post on wearing crop tops in your 40s and we highly recommend that you check it out. And for more ideas on outfits, here's our earlier post on 20 Dressing Styles for 40 Plus Women.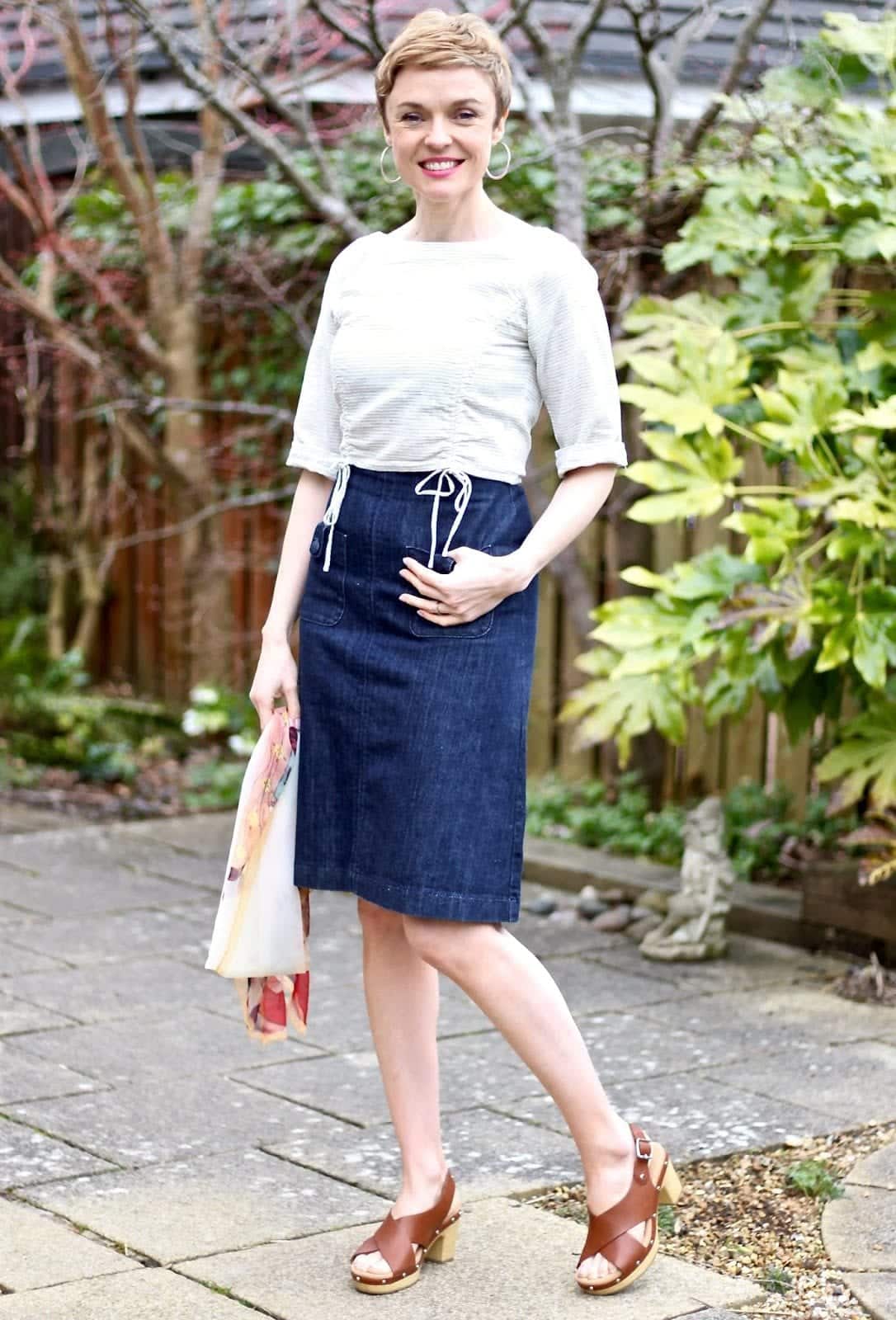 ↓ 04 – Wearing Crop Tops In Your Teens & The Twenties
The best age group that can carry the 90s crop top trend with ease are the people of the 20s age group. When showing skin too much or not isn't much of a deal, and they can fit into any new trend with ease. The best way to pair a crop top in your teenage years is with a high-waisted skin fitted jeans like shown in this attire picture; being a teenager myself this style is my favourite. A crop top over high waisted skin fitted jeans and some high boots and a side bag; this is all you need for a day at work or going to class in cold days. The high waisted jeans cover up to the crop top, as mentioned already, which is perfect for girls who want to keep their modesty in check. A lot of influencers and celebrities have been seen wearing the crop sweaters and crop tops lately.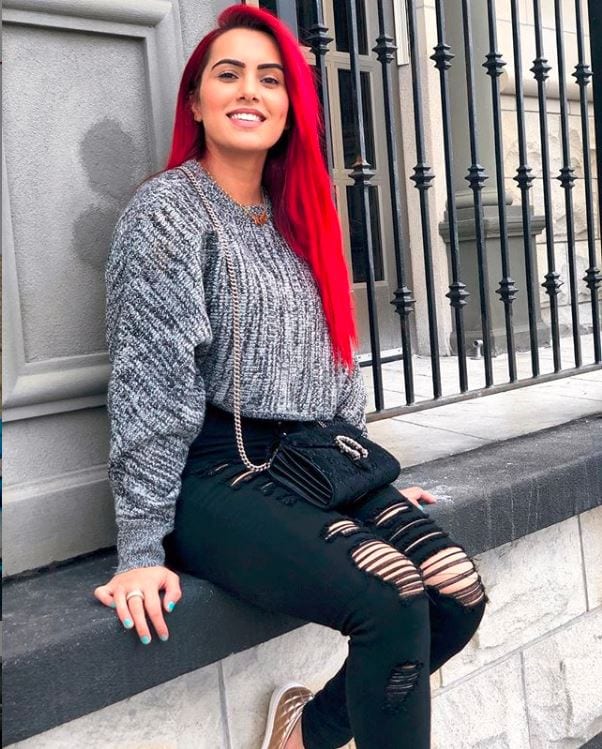 The Canadian fashion diva Laiba Zaid or else known as Bodmon Zaid loves flaunting in crop tops modestly. You can follow her account for more inspiration.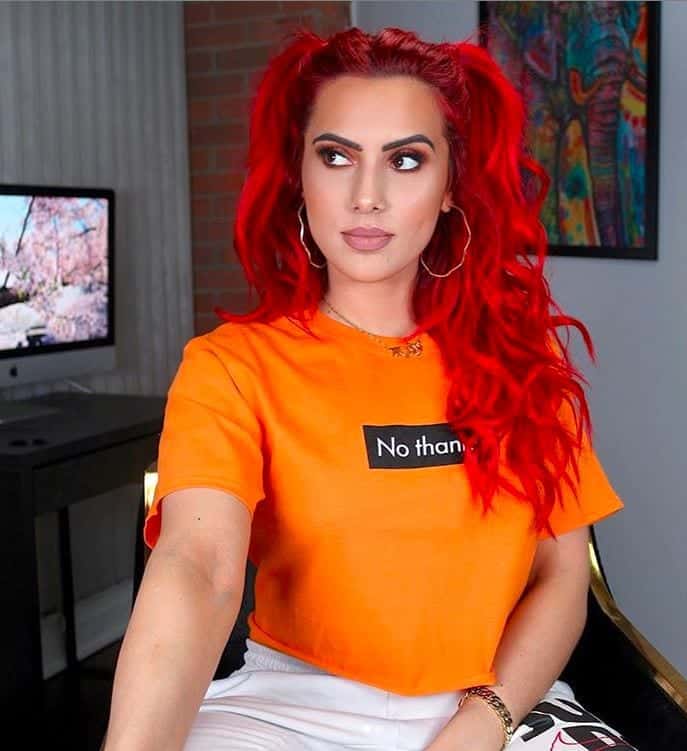 ↓ 03 – Wear Crop Tops Modestly With Hijab
Yes, you can even wear crop tops with hijab, that's how versatile this clothing item can get. You can pair straight trousers with a simple white crop top, throw over a scarf around your neck or wear a turban style hijab, the options are endless. The best fit for a day at the office or to class, perfectly trendy and modest. We're sharing below some of our favorite crop top outfits with hijab: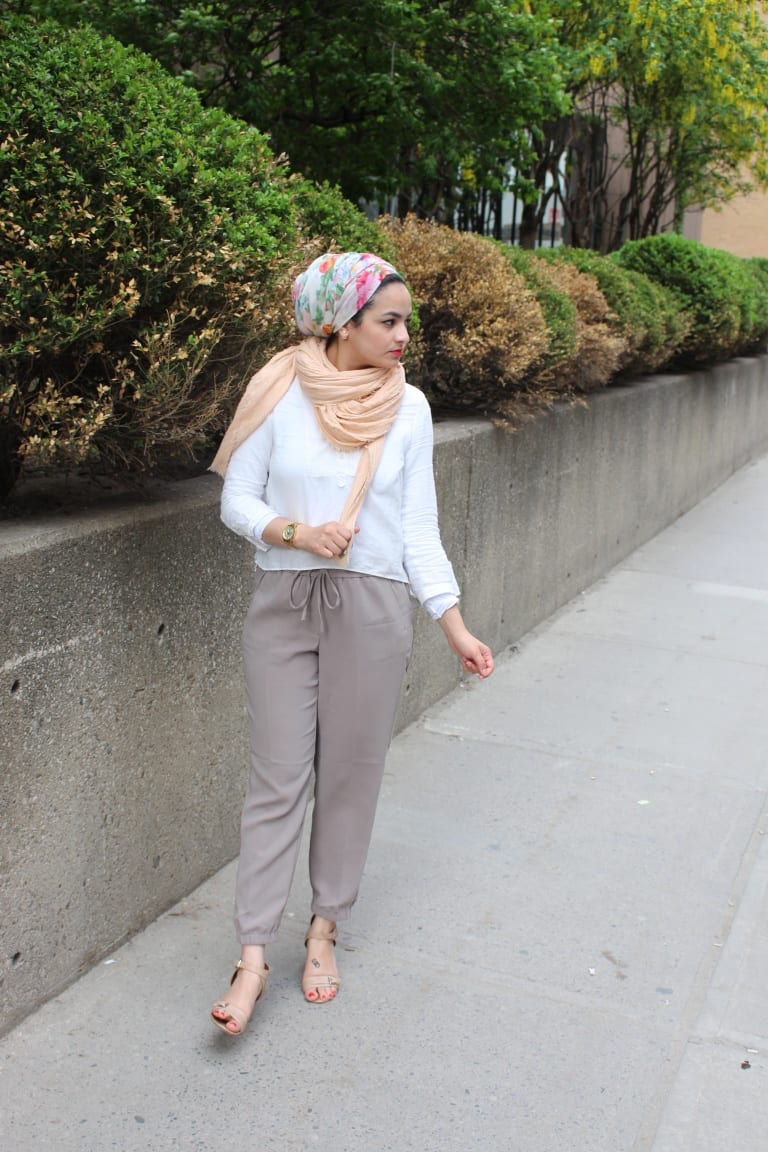 Chic & Sporty:

Travel Attire:
Work Outfit: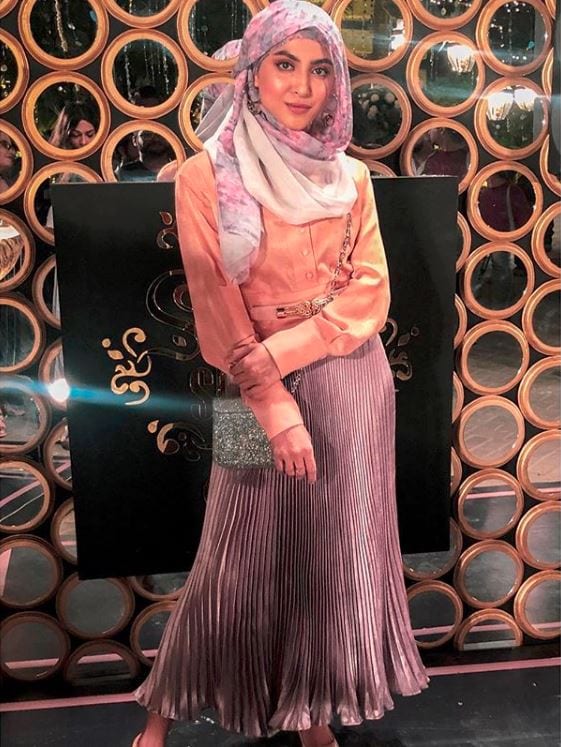 ↓ 02 – Layering Under Your Crop Tops
Like a strappy crop top at the store and can't wear it because of modesty? Try layering under it! Throw the crop top over a white button down blouse, and you are ready with the ramp style fashion for every day. If you need some layering tips, check out 27 Ways to Layer Your Clothes like Pro.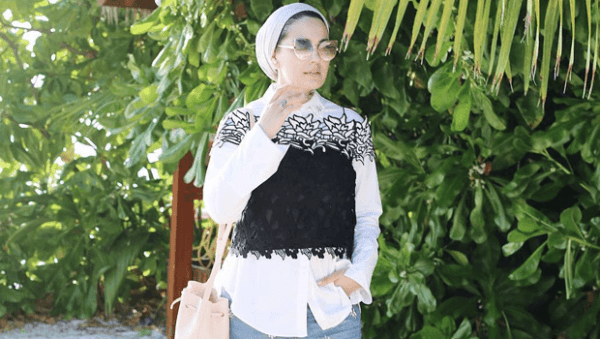 A lot of people have been seeking answers to what to wear under a crop top and what works fine with it, so here is a style for all of you who have no answers to what works best under a crop top. Camisole, T-shirts, tank tops or fitted white button-down blouses would work just fine under a crop top to cover the skin entirely.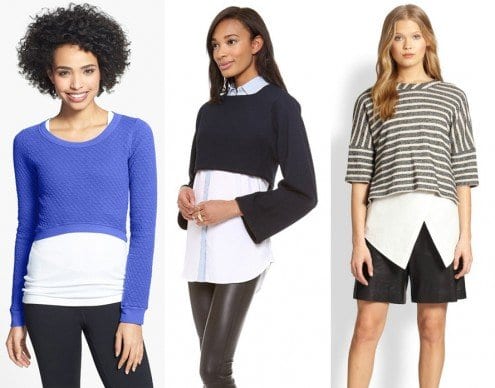 Another fresh option is to wear any long dress under the crop top; this works particularly well for lace crop tops: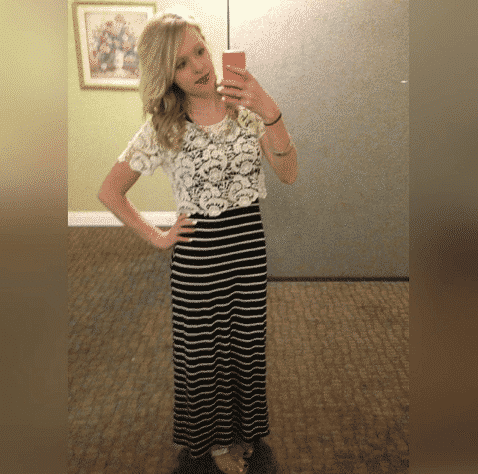 ↓ 01 – Layering Over Your Crop Top
The chicest and trendiest way to wear a crop top is to pair it with denim overalls and red heels to add some colour to the outfit like shown in this outfit picture right here. You can wear a tank top under the crop top so that the side skin under the overalls, beneath the crop top.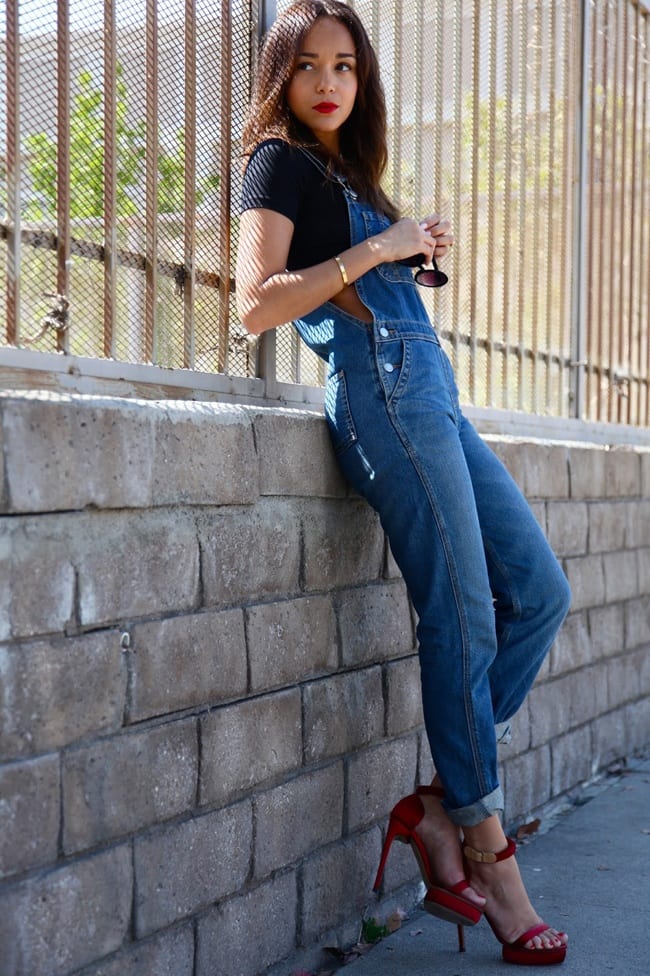 Instead of overalls, you can also wear a jumpsuit over your crop tops, a great way to wear your jumpsuits modestly too without feeling bulky with layering.