Outfits with Lace shorts- Lace outfits are a prevalent trend for the summer season. You can wear these shorts for any occasion and easily create different styles with the same lace shorts. From formal to casual, street style to a funky look, they look amazing in all.
From the following pictures, you can get a lot of ideas and tips on how to wear lace shorts? How to match lace shorts with other outfits to get a chic look? How to get street style look with lace shorts and many more questions which are in your mind and which you've been sending to us for some time. And if you've been reluctant on trying them or if you find them too revealing, we'll also be sharing some modest ways to wear lace shorts.
How To Wear Lace Shorts?
In our last post, we've already talked about Cute Lace-up Dresses That are Trending These Days but today it's all about shorts. The idea of lace shorts has always been a chic one. It gives a very delicate and stylish look. You can easily pair it up with a nice shirt or a jacket to pull off a casual daytime look. There are several ways to wear the gorgeous lace shorts. In winters you could wear the lace shorts over the legging and tights. A perfect pair of booties is must wear with shorts for both Fall and Winter.
In this post, you will see some fashionable lace short ideas to wear with stylish outfits. So, keep reading. But first, some tips:
Black lace shorts with a white plain shirt would look alluring on anyone. Black is itself a lovely color, and you can wear it anywhere, whether to a formal date or a hangout with friends.
For a bold look, try out a leather jacket over your lace shorts.
Lace is usually for warm weather but if it's slightly cold and you still want to wear them, then wear stockings underneath them. It is going to be a fabulous idea.
Dark shorts and light tops make the perfect duo for summer evenings.
White lace shorts go well with any colored top, making you look refreshed.
Add one statement jewelry piece to your outfit for an edgy look.
Heels are best with lace shorts. If your outfit is plain then printed Footwear will be the best choice.
A high ponytail and peachy makeup will suit the lace shorts outfit the best.
Having a look at the picture will give you a fair approach to look chic in lace shorts. By the end, we're sure you'll feel ready to buy some new lace shorts and transform your wardrobe, style, and appearance.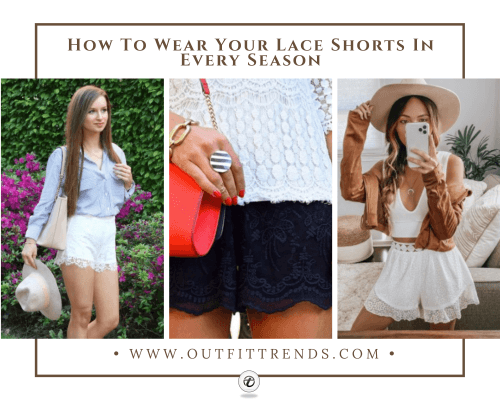 ↓ 20 – For Casual And Sporty Look
As we have already told you lace shirts are for every occasion, you only need to know how to pair them to create the perfect combination. For an extremely causal day go with these lace border stretchable shorts and throw over your favorite oversized goody. Love Sunday chillings, don't you? But what if you want a different look for later on? No need to change! Put on sneakers and a cap. All set! If you're into sporty looks, you wouldn't want to miss our viral post on Cute Sporty Style Outfits for School That Every Girl Must Try.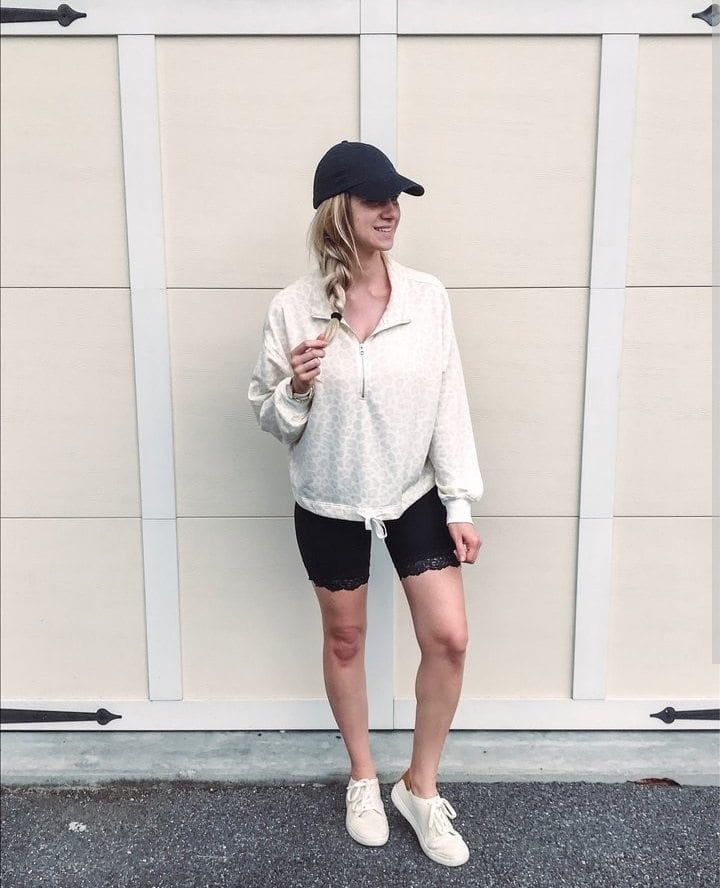 ↓ 19 – How To Wear White Lace Shorts
The white refreshing lace skirts take our breaths away even in the scorching sun. White shorts can be paired with any solid colored top. But when we think of mixing and blending, we all think of black and white. So here you are, get yourself these alluring white crochet lace shirts along with black V neck tunic. The red lip color and turquoise earrings polish off the look so thrillingly.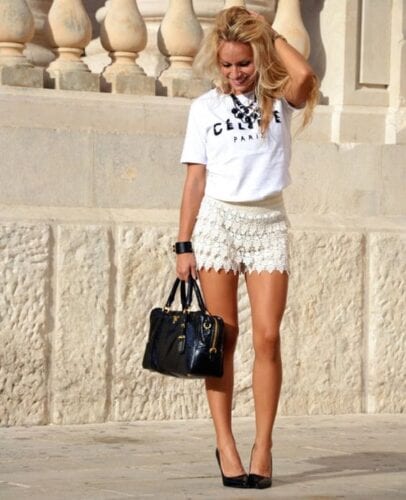 White and maroon is another phenomenon combination that you can wear. The high ponytail and sunglasses make the entire look astounding.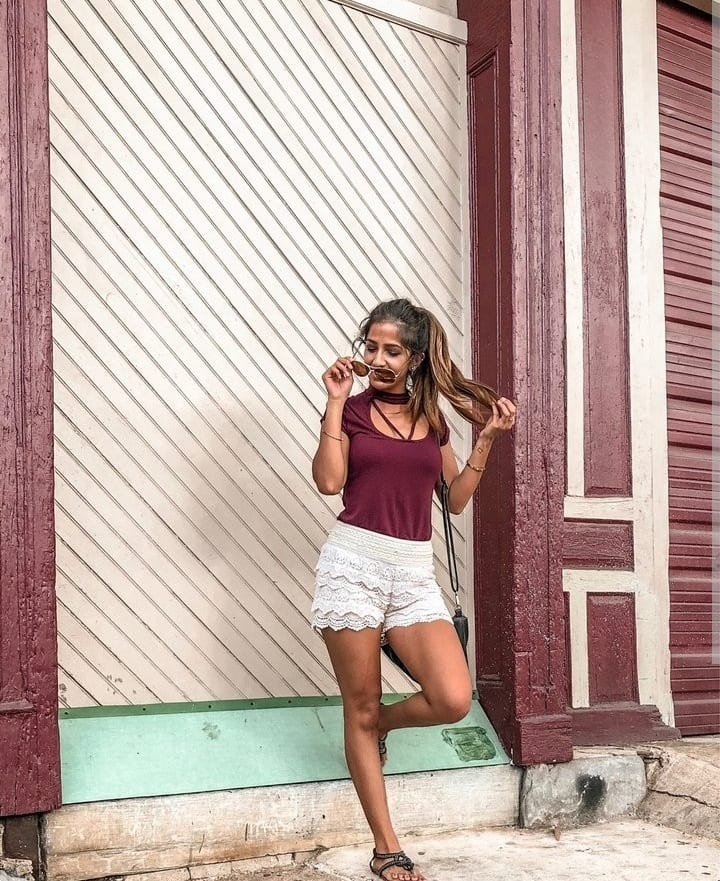 From all the fantastic combinations I bet you will love this blue and white. This combination is so energizing and pleasing to the eyes. It is going to help you beat the summer heat as well. Don't forget to put on colorful earrings.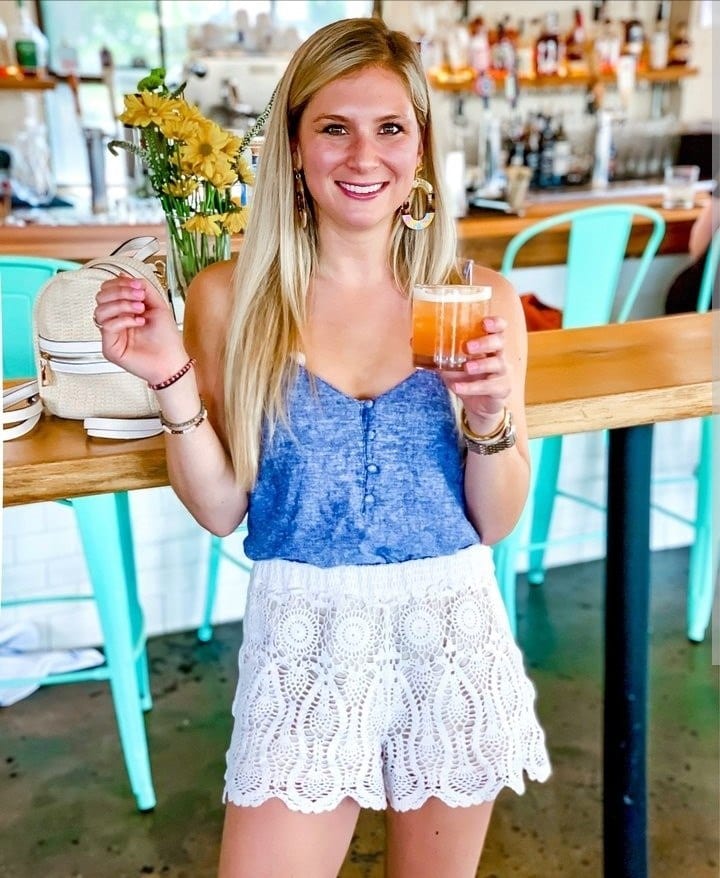 Here's another black and white look that you can easily recreate:

↓ 18 – Vibrant Look
Ladies, you all need to check out this astonishing yellow lace dress. Whether you are planning to head to the beach, enjoying your vacations or a pool party, it's ideal for everything. Don't forget to put on your hat and shades to give off vibrant and delightful vibes.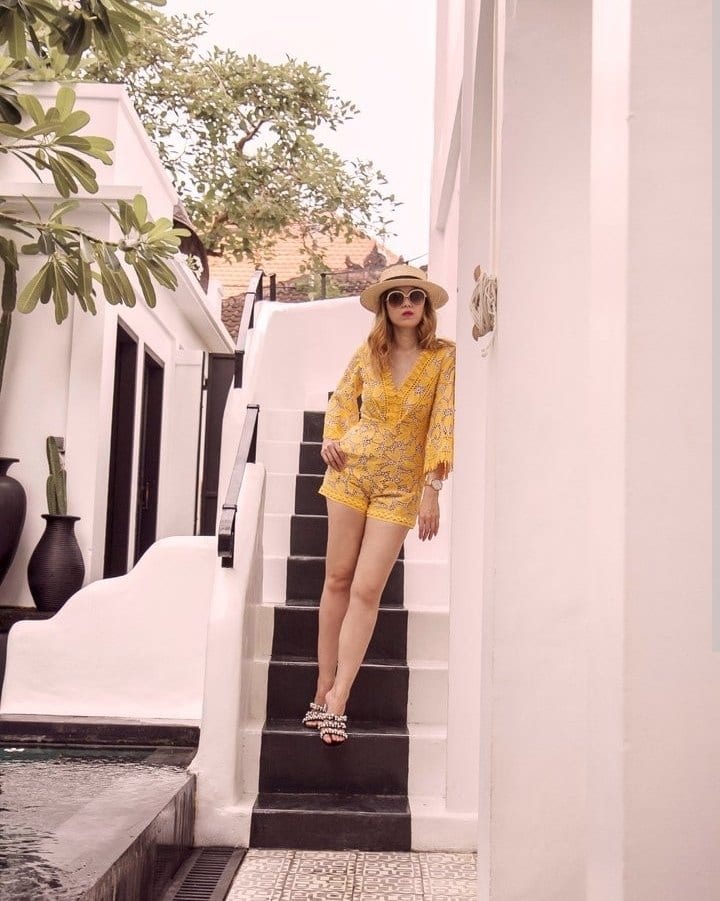 ↓ 17 – Lace Short Outfits For Mommies
Whether you are a mommy of little kids or pregnant – whatever phase of life you are in, you must dress well because I believe dressing well makes one happy. Mommies, add this sophisticated and chic look comprising of pink striped ruffle off shoulder top along with elastic waist lace shorts to your wardrobe. Striped beaded sandals along with this look will make you comfortable and in fashion all day. If you want to add something more, then add some big hoop or cross style earrings like the ones shown here.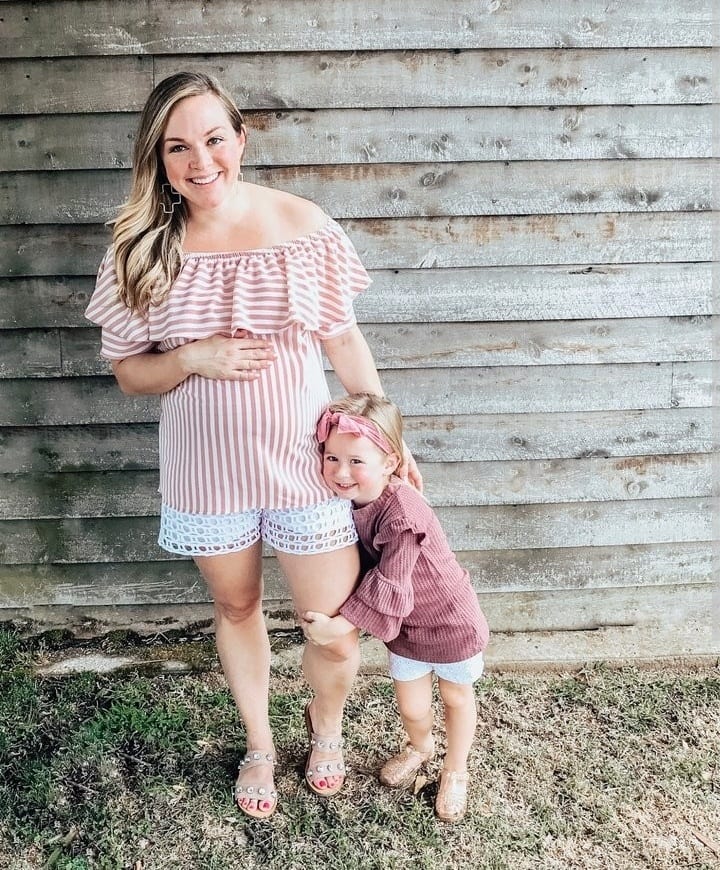 ↓ 16 – Aesthetic Outfit
The aesthetic is everyone's darling. Everyone is posing to look appreciative. We think this edgy outfit can help you more to get the perfect shot. So, don't wait anymore and shop this Guns and Roses black tee and the snappy super down ava lace-up shorts. And oh wait, don't neglect the black wide-brim hat.
Buy similar items below
If Hat's What It Takes Wide Brim Hat $20.00
↓ 15 – Summer Chillings In Lace Shorts
In summers, when the weather is warm, you can wear lace shorts with cute shirts, crop tops, long shirts, etc. There is no need to wear leggings in summers. Try on various colors of shorts with plain shorts. A tank top with lace shorts will look charming on you. Denim jackets with shorts have always been trending, and the idea of wearing denim jackets with lace shorts has also been loved by everyone lately.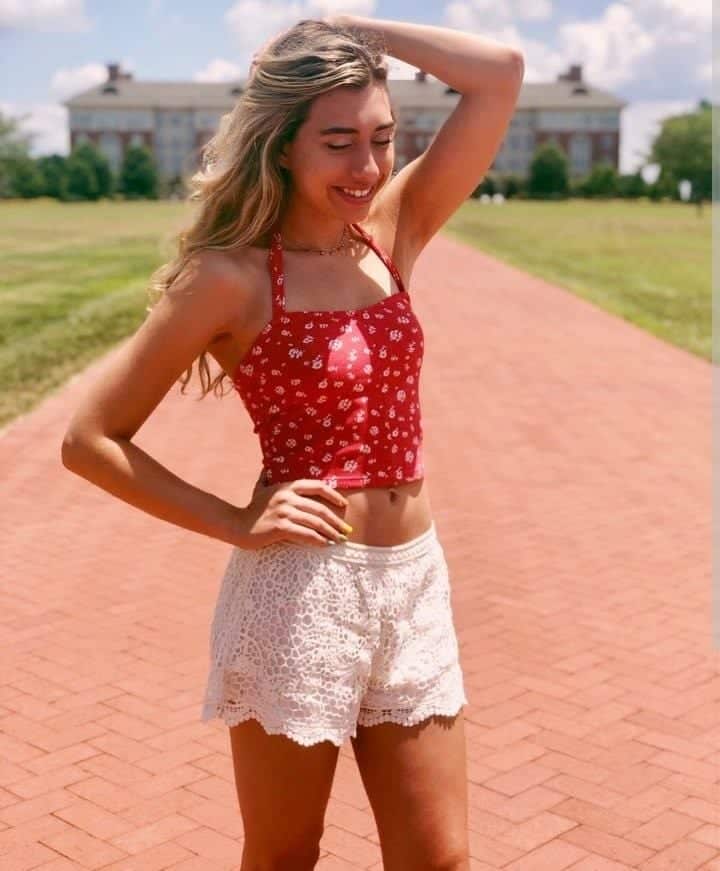 Buy a similar dress below
sparkies Women's Casual Elastic Waist Drawstring Lace Hem Beach Shorts Hot Solid Pants 10$
↓ 14 – How Celebrities Wear Lace Shorts
A lot of celebrities have also tried this style, and it is not surprising that they have loved it. You can wear a gorgeous fancy belt with shorts to enhance the look. For formal events, shorts with legging would look ideal. A cute bag could be carried to give a sweet took to the appearance.  A statement necklace over the shirt is a great option. For the more fashionable outfit, an over-sized jacket can upgrade the look.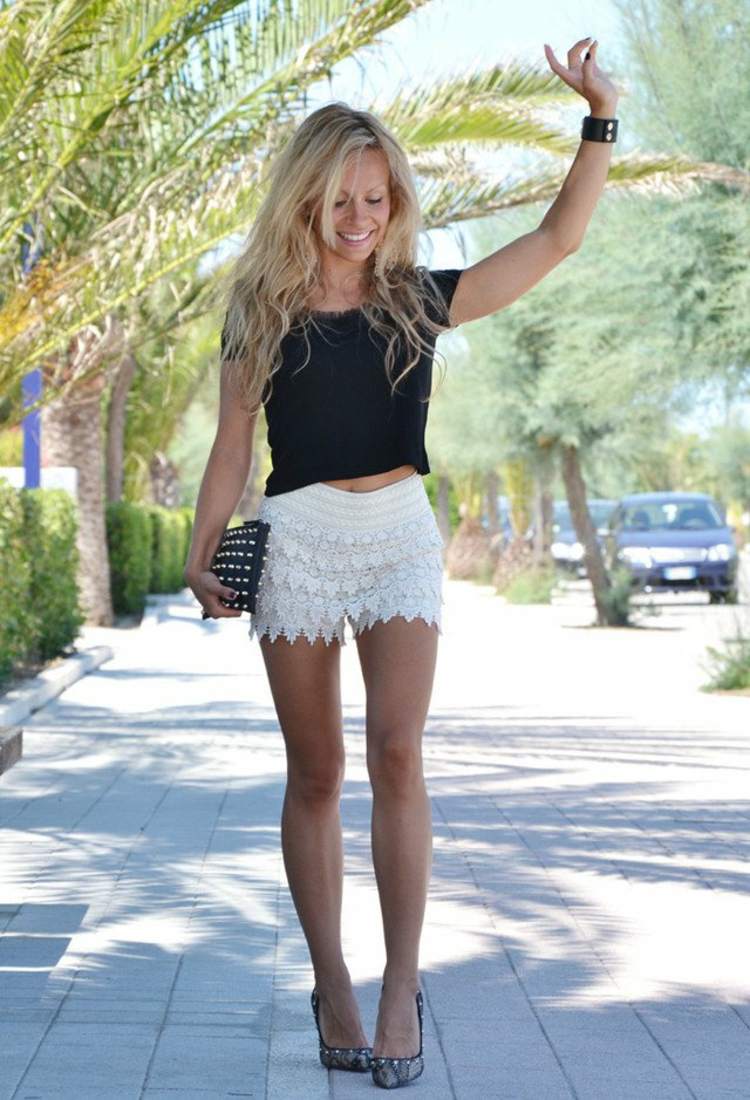 ↓ 13 – Teen Girls Style
This outfit idea for lace shorts is perfect for teen girls. It can be worn to college or high school or if you are going to a party with your friends. For this outfit idea all, you will need to wear white lace shorts and pair it with loose sleeves tee in any dark color. For shoes, you can wear sandals which are matching the color or in a contrasting color. If you want to take a few steps ahead, you can go a make a messy bun with this outfit look.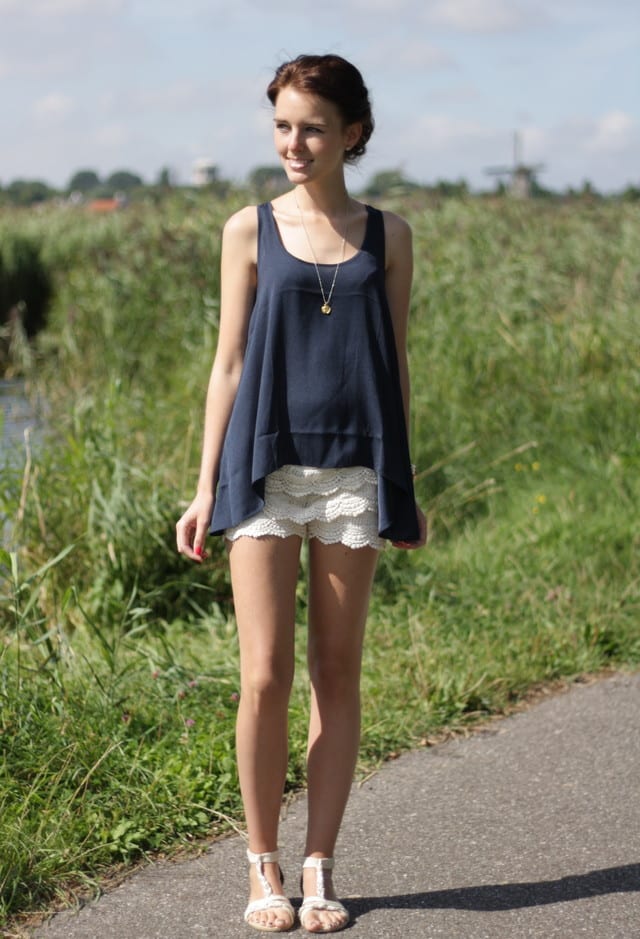 ↓ 12 – Lace Skirt With Tights
If it is winters or even fall and you may feel cold if you go out bare legs then this next idea is perfect for you to execute. All you need to wear is net or jet black leggings or tights underneath your lace shorts and pair them with a black tank top tucked insides. For accessories, you can wear a cowboy hat in black with a messenger bag. Here are some more awesome Outfits with Black Tights.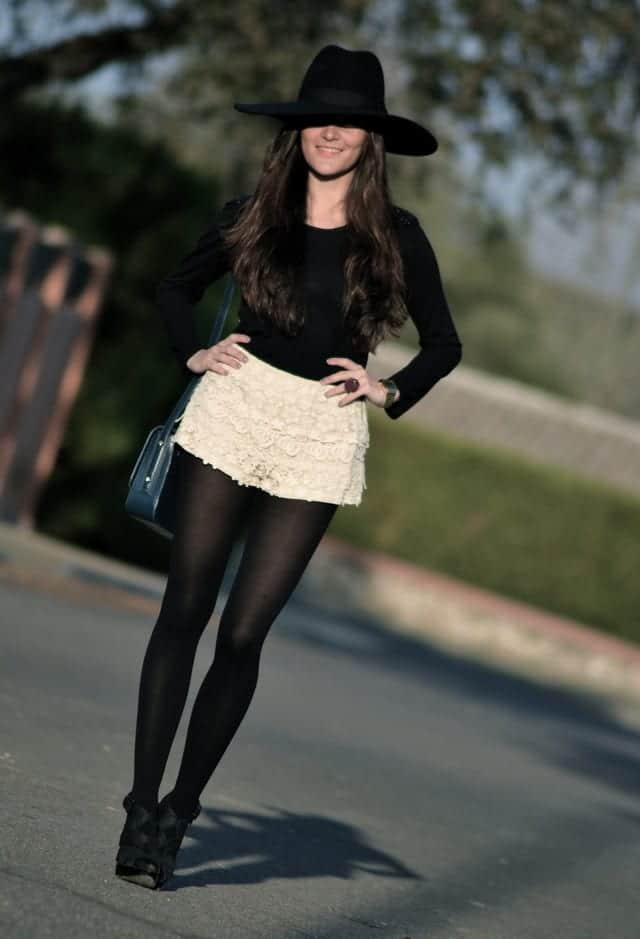 ↓ 11 – Denim With Lace Shorts
Denim jackets make such a perfect combo with lace skirts or shorts. This combo is ideal for work because it is very comfortable and easy to wear in the morning when you are getting late. For this outfit idea, you need to wear white lace shorts and pair it with a denim top. You can either tuck the denim top inside of let it hang loose. For shoes and other accessories, you can wear them in nude or in striking red color to bring everything together as one.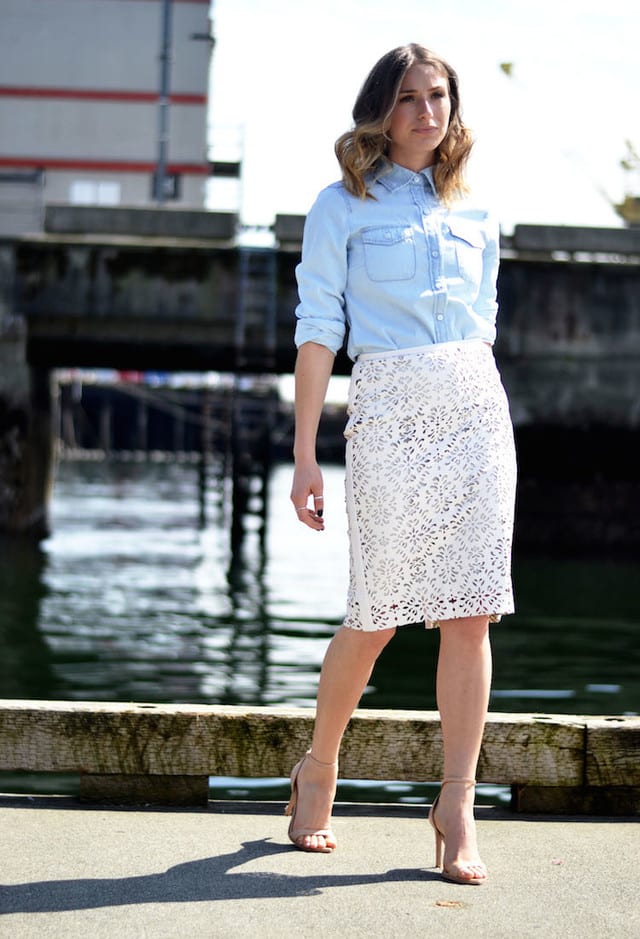 ↓ 10 – Street Style
For this style, you will need a yellow neon tee. You can also wear it in any other bright neon color. And wear it with lace shorts. You can also tuck the shirt inside the lace shorts for more spice. For accessories and shoes, nude color is your best friend.
↓ 9 – Workwear Combination
Who says you can not wear lace shorts to work? Well, you totally can wear them to work if you wear them the right way. For the combo that is perfect to be worn to work, you will need to wear black lace shorts or a skirt with black net leggings. Pair them up with a black shirt tucked into the shorts and wear a white formal jacket on top of the shirt. For shoes, you can wear black high heels or even pumps will work too.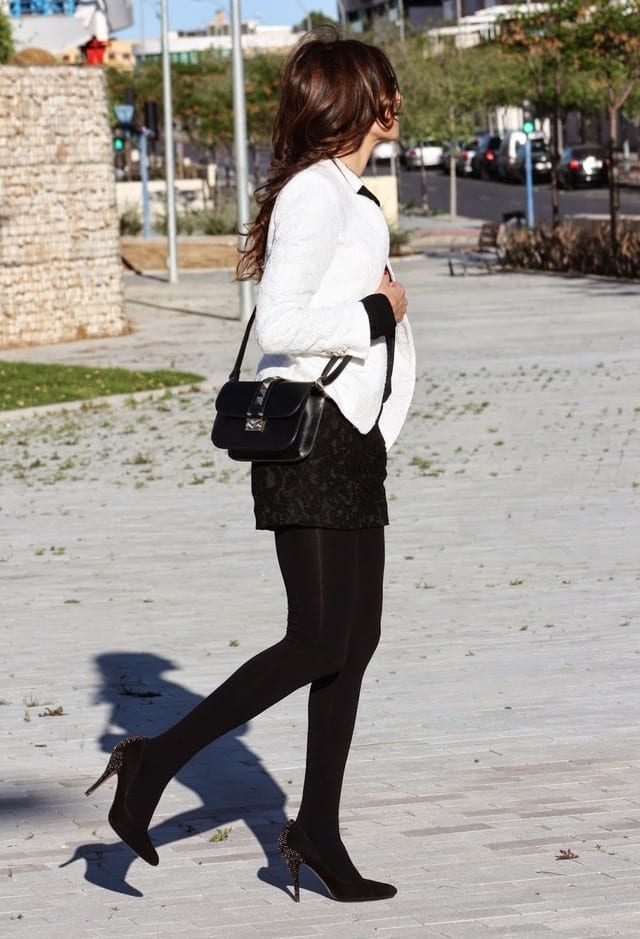 ↓ 8 – Spring Wear
Here it is. The bold, edgy and trendy look. The printed lace shorts can be a turning point in your life. Fits the dressed to kill definition amazingly. With such shorts go bold and edgy by pairing them up with leather jackets. A messy ponytail and sunglasses will add more class to your look.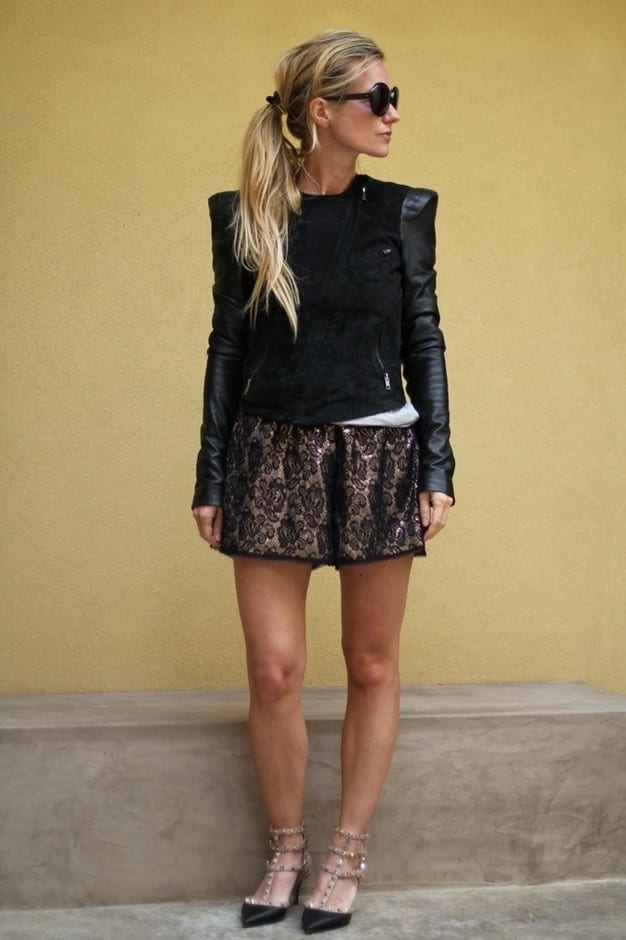 ↓ 7 – What To Wear With Lace Shorts In Winters?
You don't have to stop wearing your favorite lace shorts even when it's cold. Wear your feminine lace shirts with a black top and throw over a soft cardigan. As it's cold, so stockings underneath are a must. Make your look a little striking and snappy by wearing shearling boots. Here are more ideas on How to Wear Shorts in Winter.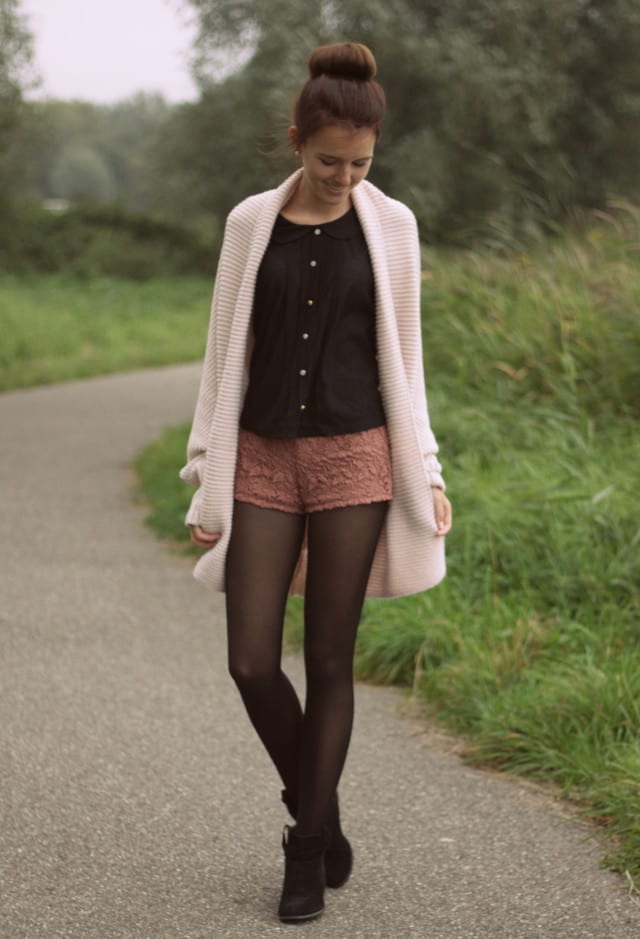 A denim top with white lace skirt beguiling boots is perfect for back to school or teenagers. Go beyond chic with a flirty ponytail and edgy accessories. Rock your outfit girls.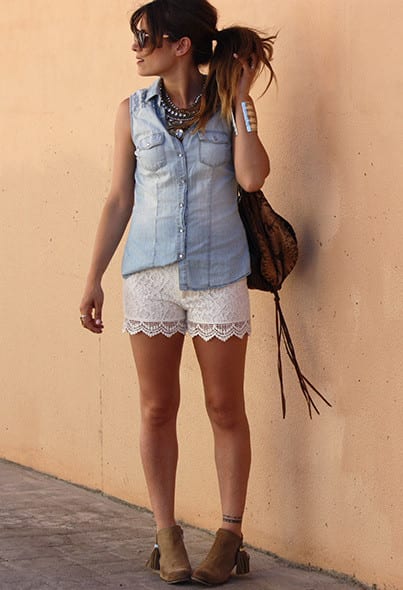 ↓ 6 – For Short Height Girls
If you are short, then you can easily rock your shorts. They will make your legs appear longer. Here we have gathered a few looks for you, have a quick look.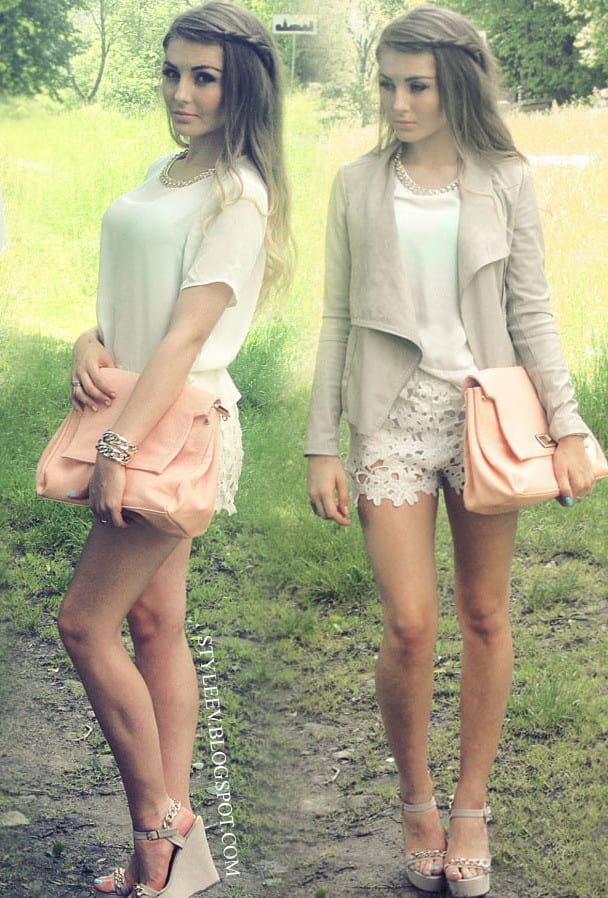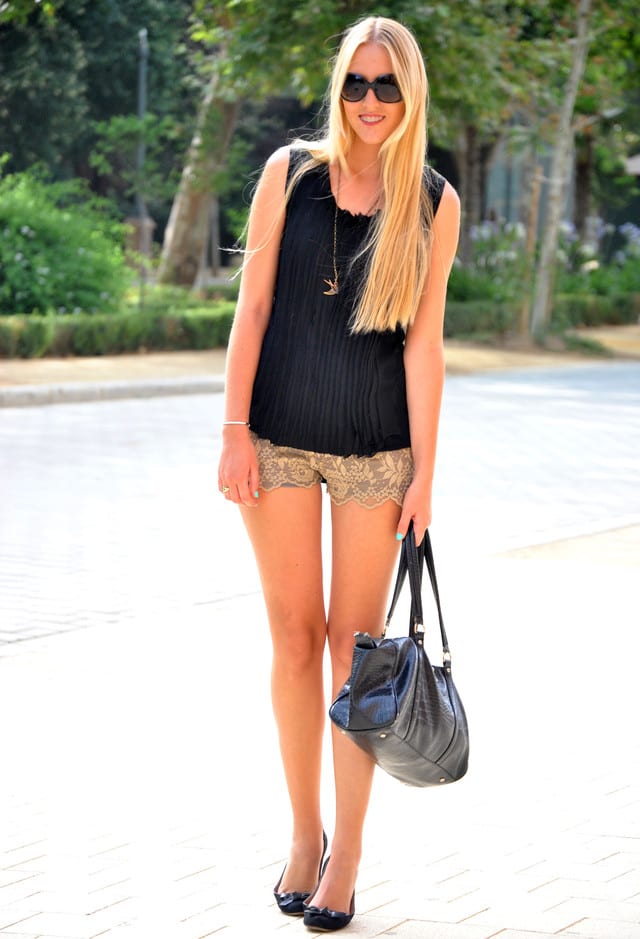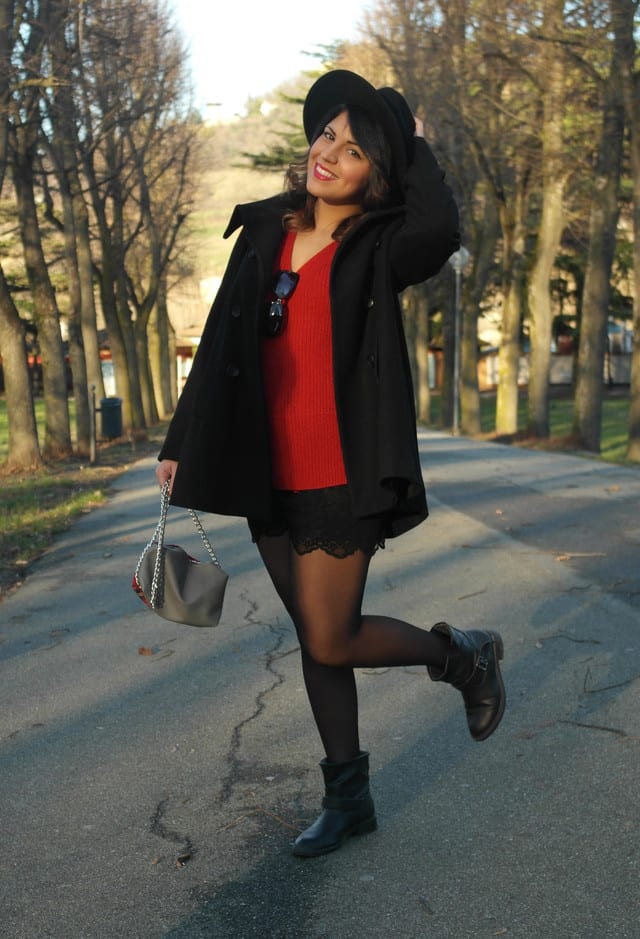 ↓ 5 – Gladiator Heels with Lace Shorts
Lace is a warm-weather staple, and summers are the best time to wear it in various ways. Be is casual or formal. Here is a more than a casual outfit for you to try out. A white top with black lace border shirts alone is tremendous but mesmerizing enough. For that, you need to put on a button-down denim shirt and leave the buttons open. Sleek center partition, natural makeup gladiator heels, and a stylish necklace. Finish off the look, making you look gripping and compelling.

↓ 4 – Office Wear Style
This next formal lace short outfit idea is perfect if you want to look chic to the office and formal meetings. All you need to wear is black lace shorts paired up with a nude-colored formal silk shirt. You can also tuck the shirt inside if you want to. Go for silver metallic shoes and chunky black bracelets.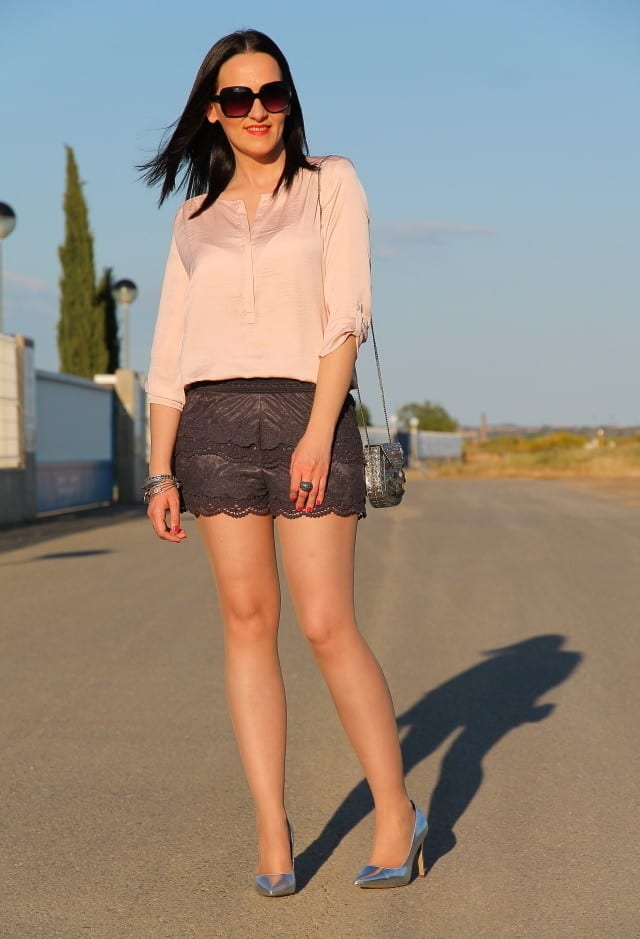 ↓ 3 – Pink Outfit Combination
In love with these refreshing colors and light fabric.

↓ 2 – Beach Style
Have an easy-breezy holiday at the beach in your lace skirt and lose top. The thin red belt adds a pop of color to this all-white gear.

This look is very colorful, which is why this outfit idea is perfect for spring to get together. For this look, you need to wear white lace shorts with a cool printed blue and pink colored tee. For accessories wear anything as long as it is in golden color.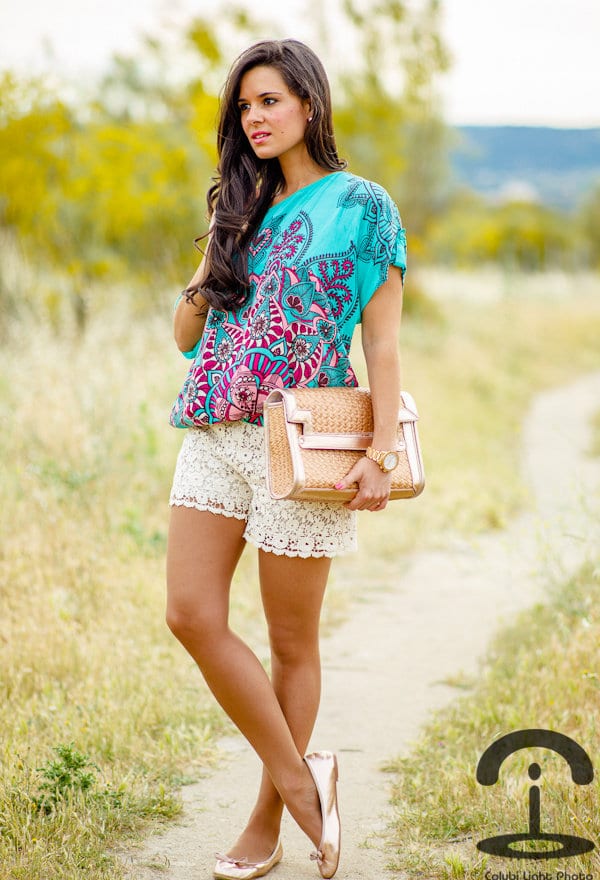 ↓ 1 – Sporty Look
Lace shorts are not just classy and cute. They are incredibly fashion-forward and edgy. Perfect to create a sporty look and even the girl boss one.

↓ Lace Short OOTD
Here we have two best trappings for you to give you some more ideas so that you can decide better about what type of lace short outfits you love.