How to Wear Skirts with Sweaters. One of the best things about fall is sweater weather. From long, cozy, oversized sweaters to slim-fitting cashmere, getting to retire our cutoff shorts and crop tops for some soft, comfy goodness is always a plus in my book. But styling the same few sweaters over and over can get boring. Enter: the sweater-skirt combo.
Wearing a sweater with a skirt is one of my favorite looks ever. It's elegant without trying too hard and it has an old-fashioned feel to it that makes me feel positively vintage. There are so many ways to wear a sweater with a skirt so, in today's article, we'll look at 23 of them.
Stylish Ways To Wear Skirts with Sweaters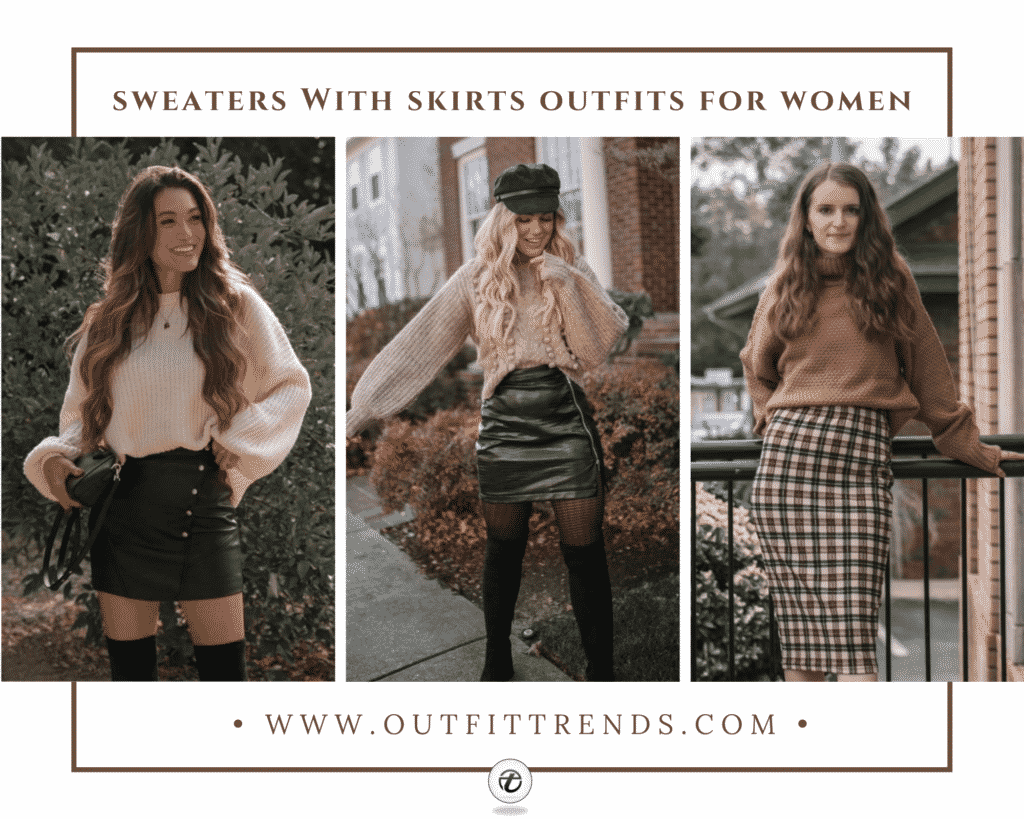 We've already talked about skirt outfits in a number of our posts but since you wanted an exclusive one on sweaters with skirts, so here we are. Now, there are plenty of ways to wear sweaters with skirts (and they are definitely not all vintage-looking!). From chic sweaters paired with short, skater-style skirts to ruffled sweaters with midi-length skirts, you can wear this fabulous combo not only for fall and winter but sometimes even for spring! There are so many ways to style this particular pairing so keep your eyes peeled for the look you prefer, and start thinking of ways you can adapt the look to meet your own personal sense of style.
Sweater and Skirt Outfits for Women
As with any and all styles, there are definitely some do's and don'ts to keep in mind, as well as tips to ensure that you are rocking the sweater and skirt combo with the ultimate je ne sais quoi. Here are a few.
Nine times out of ten, the best way to style a sweater with a skirt is by tucking the sweater in. Whether that's just the front part or if it's the whole sweater, tucking your top in is a fantastic way to avoid looking frumpy, boxy, or weighed down with material.
If wearing a long skirt or midi skirt, try and opt for one that is high-waist. This will elongate your body (especially if you are tucking your sweater in) and will help you follow the rule of thirds. Here are some Midi Skirt Outfits for your inspiration.
The rule of thirds is popular in fashion and originally comes from architecture and basically means that you should try to visually break up your appearance in thirds. You can do this with colors, various clothing pieces, and other tricks. The top of your head to your natural waist is one third, and from your natural waist down to your feet is two thirds. A sweater/skirt outfit is the perfect time to follow this rule.
If you are opting for a longer skirt, try wearing a heeled shoe. This will give length to your body to avoid looking stocky.
If you are wearing a shorter skirt, knee-high or over-the-knee boots are a fantastic choice.
Avoid thick, shapeless skirts paired with thick, shapeless sweaters. A low-waist skirt with a shapeless sweater is the quickest way to look boxy and square. Your goal should be to enhance or create a natural silhouette with your sweaters with skirts outfit, and the best way to do that is to highlight your waist, avoid overly bulky materials (unless the top or the bottom is slim-fitting) and tuck in your top. You can also use a belt to cinch the waist, and use long necklaces to visually elongate your appearance.
And now, without further ado, let's look at some outfits.
↓ 23 – Sweater and Long Skirt Outfit
Let's kick things off with this minimalistic, very chic look of white turtleneck sweater and zebra print skirt. This outfit is great for a day out spend with friends, a lunch date, or grabbing brunch with your girlfriends. Notice the top is slim-fitting and tucked into the high-waist, midi skirt. The sleek black ankle boots are the perfect finishing touch.
↓ 22 – Sweater and Skirt Combo
This sweater and long skirt outfit would be lovely for a fall wedding, a wintry bridal shower, or a very dressy date. The juxtaposition of the fuzzy sweater and the tiered skirt is especially feminine. Notice that the front is tucked in, which keeps the layering from feeling too bulky or overdone. The contrast in the materials is another element that works really well.
↓ 21 – Faux Leather Skirt with Balloon Sleeve Sweater
Here's one way you can take a simple pairing of sweaters and skirts and elevate it to a higher level. Opt for a crewneck sweater with detailing and a fun sleeve (these balloons sleeves are to die for) and pair it with a faux leather ruffled skirt. You can pair this outfit with some nude heels or booties to tie the look together. This outfit is great for a party! Here are some of my favorite ways to Leather Skirt Outfits.
↓ 20 – Pleated Sweater and Skirt Matching Set
If you are not sure where to start when it comes to rocking a sweater/skirt combo, why not try a matching set? This one-and-done look requires zero brain power (great for those dealing with decision fatigue!), only some cute shoes, and maybe an accessory or two. From workwear to maternity wear, a set like this is super versatile and will always come in handy.
↓ 19 – Fashion Over 50
Here's another take on the matching set concept, one that I might prefer just a little more due to the neutral tones of this outfit. Great for women of all ages, this chic, understated look can be worn all winter long with little adjustments. Add some open-toe booties and some stacked bracelets and you've got yourself a great go-to outfit for a cold day. Swap the booties for proper boots and add a coat if it's really chilly!
↓ 18 – Sweater and Skirt Outfit Aesthetic
I love the aesthetic of this look. It's chic and stylish, and those neutral tones are beautiful. Go for a chunky knit sweater and tuck it into a faux leather skirt in your choice of neutral. Add a coordinating purse and opt for boots or heels to finish off this ensemble.
↓ 17 – What to Wear to Work in the Fall
We are so accustomed to seeing traditional autumnal colors when the fall season rolls around that sometimes, it's easy to forget there are other colors available! I love the lack of traditionalism with these colors, which are guaranteed to brighten up any day. This would be a great outfit to wear to work, especially on a gray, gloomy Monday.
↓ 16 – Accessories to Wear with a Sweater and Skirt Outfit
While your choice of accessories will vary according to any number of factors, here are a couple of options you can keep in mind. A pretty hairpiece or scarf is one option (this beaded hairband is fabulous) as well as a crossbody designer bag. You can also experiment with jewelry, different styles of shoes, and even your eyeglasses.
↓ 15 – Ruffles on Ruffles
If you love bold pieces and style options, you'll love trying this look. From the layered ruffles on the cream sweater to the ruffled, lemon yellow skirt, this outfit knows exactly what it's trying to achieve and we are here for it. Finish off the look with some bold red lipstick, wire-rimmed sunglasses, and a chain-strap purse.
↓ 14 – Sleek and Chic Outfit for Date
Here's a gorgeous outfit you can try wearing next time you have a date! If you aren't looking for a chunky sweater outfit, this slim-fitting cashmere top might be just the thing for you. Pair it with an animal print miniskirt and some ankle-strap heels. For accessories, simple jewelry and a cute mini-purse finish off the ensemble.
↓ 13 – How to Wear Chunky Sweaters with Skirts
Do you want to know how to style a mini skirt and oversized sweater? Well, here's one way! What I love about this combo is that it balances itself out. The chunky, almost too-big sweater is tucked into a well-fitting skirt which is the perfect way to create symmetry and get a little of the best of both worlds. Some slouch-style boots perfectly round it off!
↓ 12 – Skirt and Oversized Sweater Aesthetic
Here's another way to style an oversized sweater. Personally, I adore this look. A pencil skirt is super feminine and looks fantastic paired with an oversized sweater. The colors are just to die for. You can wear little booties with this look in a coordinating neutral color.
↓ 11 – Oversized Cardigan and Skirt Outfit
If you are looking for that perfect "grandma" aesthetic, look no further! This absolutely gorgeous outfit utilizes an oversized, button-front cardigan as a top, paired with a pleated, leopard print skirt. The colors here are truly fabulous. You could go for a sweet ballet slipper, some nude heels, or a pair of booties.
↓ 10 – Sweater and Skirt Outfit for Plus Size
One of the reasons I love the sweater with skirt aesthetic is that it looks fabulous on virtually every body type, shape, and size. Here's a great example of that. Using various shades of brown with a deep blue color is truly stunning, so take note if you attempt this outfit yourself! Some other elements to pay attention to is the tucked front and the length of the skirt.
↓ 9 – Party Look for a Chilly Fall Day
We wait all year for the chance to rock our sweaters: why miss out just because it's a party? Skip the cocktail dress and spice things up by pairing a chunky sweater with a leather mini skirt, a cute hat, tights, and over-the-knee boots.
↓ 8 – Simple and Chic Fall Look
This brown, accordion skirt is such a beauty. It rightfully takes center stage with this otherwise simple outfit, complete with a funnel neck sweater and sleek, high-heel booties. From work outfits to weekend styles, a few tweaks can make this outfit work for almost any occasion.
↓ 7 – Footwear for a Sweater with Skirt Outfit
When wearing a short skirt, boots are always a fabulous option. They help balance out the skin-to-fabric ratio and they just look too gorgeous to miss out on.
↓ 6 – Outfit for Church
There are many events that this outfit could work for, but it makes for a beautiful church outfit during those chilly autumn days. Simply add a coat to keep yourself cozy warm.
↓ 5 – What to Wear to a Concert?
Headed to a concert? This outfit is just the thing! A long-sleeved band tee doubles as a sweater and perfectly balances out the more edgy leather skirt.
↓ 4 – Oversized Sweater and Skirt Outfit
Most of our outfits today showed you how popular tucking a sweater in is for this type of outfit. But here's how you can wear a sweater without tucking it in. The fringe along the hem is just as much a part of the look as the tan boots and it's layered over a white skater skirt; the asymmetrical hem keeps it from looking bulky or boxy, so that is a pro tip to keep in mind. Here are more ideas on the different Ways to Style Baggy Sweaters.
↓ 3 – Classic Cardigan and Cable Knit Skirt
Have fun by experimenting with different textures and fabrics to create a classic, everyday look you can wear all autumn long.
↓ 2 – Shades of Pink
Go for a solid pink up top and a printed pink skirt in a darker shade for a fresh weekend look.
↓ 1 – Slim-Fitting Cream Outfit
Last but not least, check out this beautiful ensemble utilizing slim-fitting pieces and a selection of lovely cream colors.
Frequently Asked Questions
And now, here are some frequently asked questions about wearing skirts with sweaters. Check them out.
Q. Do sweaters look good with skirts?
A. Absolutely they do! And that's why we wrote a whole post about it. While there are definitely some do's and don'ts to keep in mind in order to avoid looking frumpy or too covered up, for the most part, a sweater/skirt outfit is one of those no-brainers that you can wear all through the cold season: and look cute the whole time!
Q. What kind of sweater do you wear with a skirt?
A. This is a great question. And the answer is any sweater you like! It all boils down to the kind of look you are going for. Are you wanting to look chic and minimalistic? Try opting for a solid-colored combo in neutral tones. Are you loving the grandma aesthetic? Go for a big, chunky sweater and lightly tuck it into a midi-length wool skirt. Go ahead and skim through this post again while you are at it and keep an eye out for the different types of sweaters there are. That should give you some good ideas.
Q. How do you wear a midi skirt and sweater?
I would always advise opting for some type of heel with a sweater/midi skirt combo. Unless you are wearing boots, and then you can get away with a flat shoe. What you don't want to do is look too weighed down with bulky material so be sure to tuck your sweater in, and opt for a high-waist skirt to bring the eye up a little bit. You can learn more on this from our post on Best Footwear which goes with different types of Skirts.
And that's all for today! Thanks so much for reading. Do feel free to leave us a comment, letting us know what your favorite sweater/skirt outfit was in today's post!
R.H. Elias is a freelance writer, aspiring author, and freelance transcriptionist. She is a homebody all the way and loves curling up on a cold, rainy day with a good book and a warm cup of tea. Her favourite pastimes include reading, writing, and watching period films. She currently lives in Puerto Rico.