Jacquard Skirt Outfits: Jacquard, a fabric that is underrated. The material, shine, and patterns of this fabric are some of the elements that make it unique. From tops to dresses, the jacquard fabric gives a rich look to each one of them. Apart from that, skirts in this fabric are also one of the finest fashion trends.
Many people avoid wearing jacquard skirts because they can't figure out how to style them or they think it is only for formal wear. However, nowadays you can easily wear them. Jacquard skirts can be one of your favorite clothing pieces if you know how to correctly style them.
How To Style Jacquard Skirts
Skirts of different types and sizes can be styled for different purposes. However, jacquard skirts are mostly worn for formal occasions as they give a dressier look. Mini jacquard skirts can be easily corporated into your regular outfits with casual tops and blouses for workwear. You can also wear mini skirts with printed tee shirts and crop tops.
On the other hand, jacquard long skirts are perfect for wedding events. Pair them with off-shoulder tops, a cute belt, and glittery heels, and a perfect formal outfit is ready. Maxi skirts can also be worn with turtlenecks, sweaters, and velvet tops for winter.
Midi skirt outfits are the most popular among girls and they also are multi-purpose as you can wear them to both formal and casual events. Pair them either with plain tees and tops, silk cami tops, and leather jackets for a casual and comfy look. For a dressier look, wear them with blazers, coats, and statement blouses. In conclusion, jacquard skirts are just as stylish as any other skirt and can be styled in many different ways.
Tips On What To Wear With Skirts
Choose the right length of the skirt: Before selecting a skirt, figure out which length you actually need, which one suits your body type well, and then choose the right one. Usually, pencil and flared skirts in jacquard are the most popular choice for girls.
Balance your outfit: Since jacquard is already a bold and shiny fabric, try to balance your outfit by pairing the skirt with neutral-colored tops.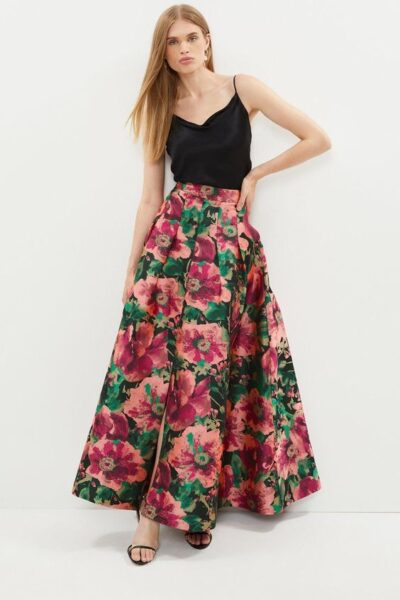 Wear the right shoes: Footwear is an important part so make sure you choose the right one according to your skirts. Mini skirts work well with long boots and low strappy heels. Maxi skirts look stylish with ankle boots, platform heels, and high-heeled pumps.
Add layers: Adding layers to your skirt outfits gives you a pleasing effect. Wear a cropped blazer with jacquard skirts to get a formal look. For the casual side, drape a layer of leather jacket or cardigan on your shoulders for a cool outfit.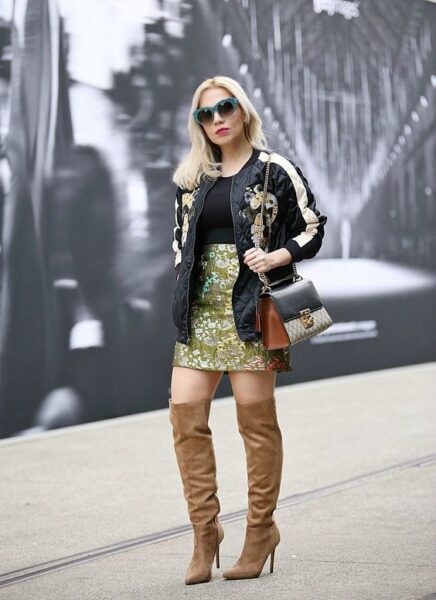 Add accessories: Accessories can enhance your look so add a statement belt with your skirt to get a polished look. Also, wearing tights not only enables you to wear a skirt in winter but also looks stylish.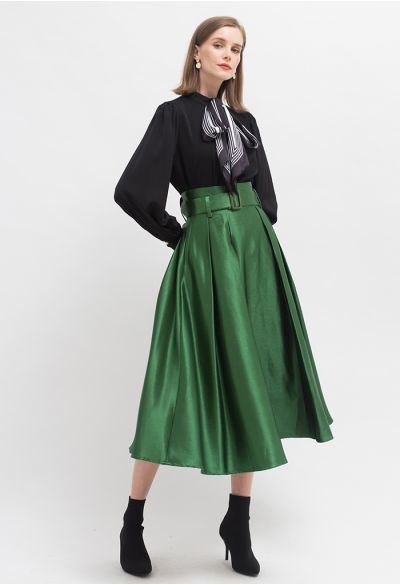 20 – Flared Midi Skirt With Ruched Top
Flared skirts have a beautiful flowy effect that looks even more beautiful in jacquard fabric. They are also a good choice for casual wear as it doesn't feel heavy. Pair this with a long-sleeved ruched top for a perfect holiday outfit.
If you are choosing a printed or patterned skirt, go with a simple top in a light color so that your outfit is balanced. Apart from that, wear some fancy heels like studded pumps or sparkly, strappy sandals.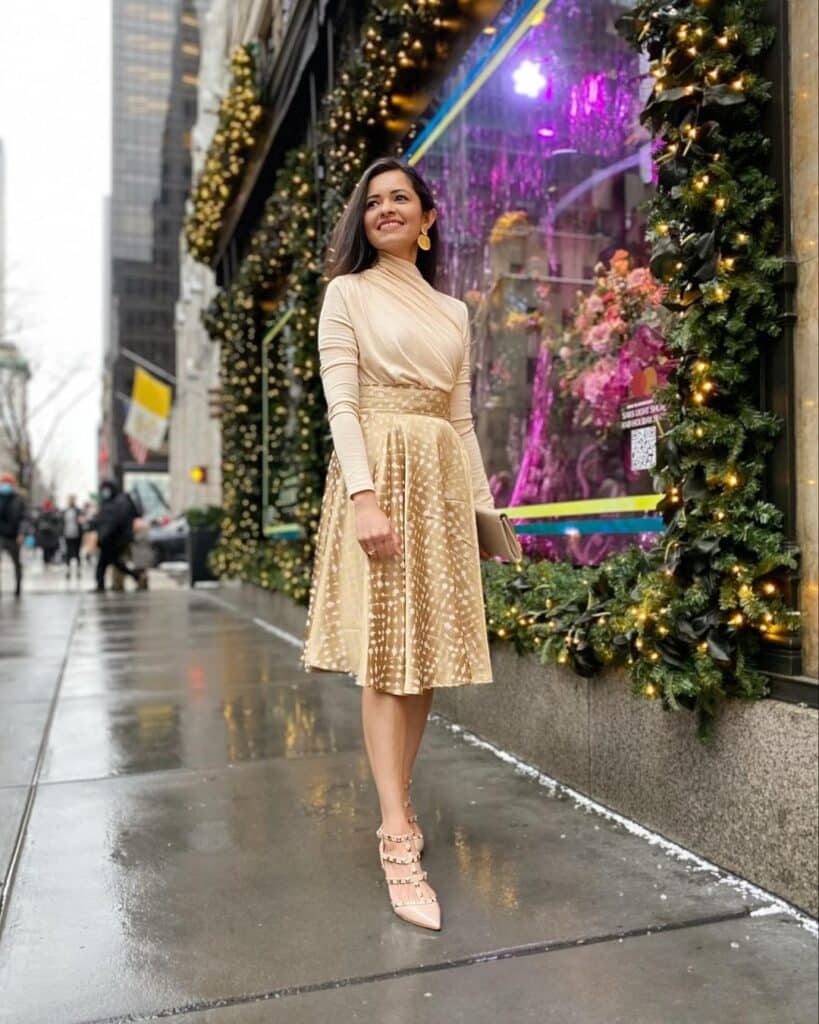 19 – Mini Skirt With Eyelet Blouse & Strappy Heels
The trend of eyelet blouses is not new to us as they have been in fashion for a long time. Even though, jacquard skirts look gorgeous on their own but pairing them with a beautiful blouse would increase their charm. The details of this eyelet blouse in a peplum style and puff sleeves are some of the highlighting elements of this outfit.
Strappy sandals suit the most with mini skirts, so you can wear them. Apart from them, you can also wear boots. To add a pop of color you can wear the sandals in a bright color like orange.
18 – Floral Printed Skirt With Blazer
You can always add a little bit of formal touch to your casual outfits by wearing a blazer. For this outfit, a jacquard skirt in a floral print is paired with a bustier top and thin high heels. Apart from that, a layer of blazer in a rich green color is also added to the look.
A cropped blazer would also be a good choice. If you want to wear this outfit to work, wear a longer skirt.
17 – Red Jacquard Skirt With White Buttoned-Down Blouse
This kind of outfit is perfect for when you want to dress modestly, especially for semi-formal events. White buttoned-down blouses are always a big yes to form an elegant outfit. Pair it with a high-waisted floral printed jacquard skirt.
You should choose the color of the skirt that complements the blouse like red or blue. Finish your look with stylish ballet pumps and a handbag for a perfect work look. Adding a statement belt would also give a defined look.
16 – Jacquard Skirt With Off Shoulder Top
Off-shoulder tops with skirts will always remain a classic combination. Even a simple top with a midi jacquard skirt will give you a festive look. For a really dressy look, you can wear a velvet off-shoulder top with a printed skirt.
This outfit is perfect for weddings, holidays, and even Christmas. If you are wearing it to formal events, wearing fancy heels and heavy jewelry would be better. Otherwise, you can also go with a simple choker to cover the bare neckline.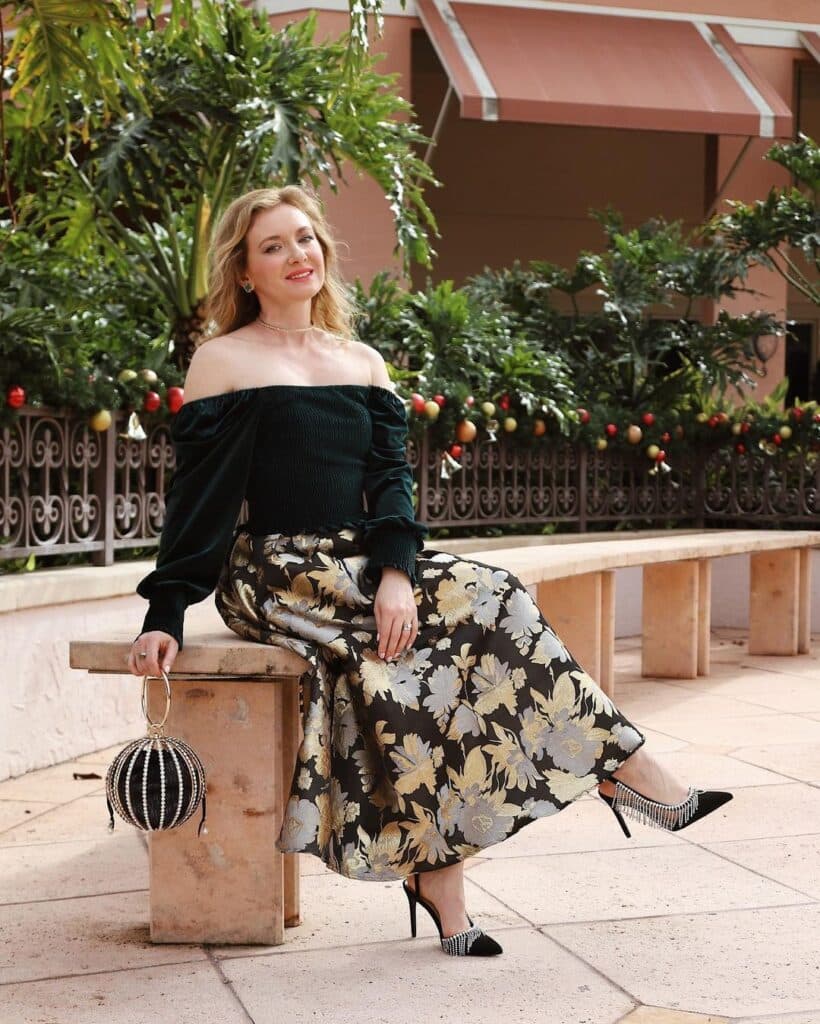 15 – Mini Skirt With Plunge Neck Top
Tops with plunging necklines are every girl's favorite and look really flattering. And there's no better color than black for a party outfit. Get this gorgeous party look by pairing a black top with a mini pencil jacquard skirt.
Pair this look with either black or red pumps and you are good to go. Don't forget to go bold with your makeup. Smokey eyes and red bold lips with this dress will make you look gorgeous.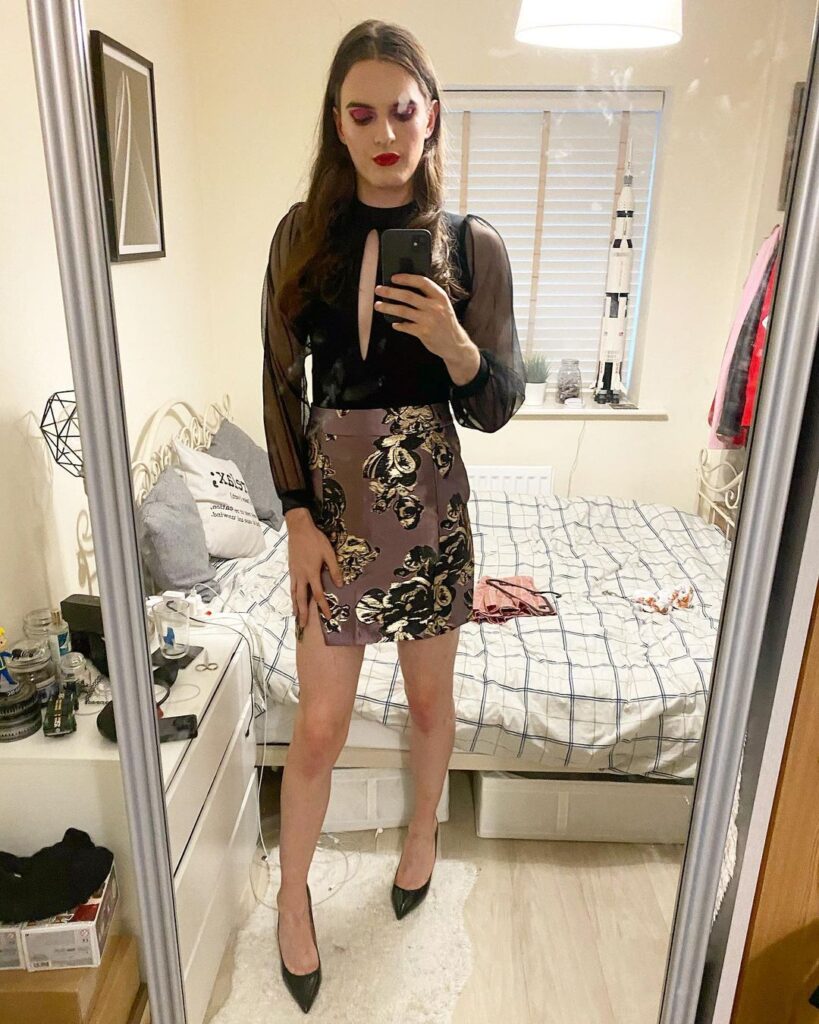 14 – Jacquard Metallic Skirt With Sparkling Heels
Let me be honest, even though jacquard skirts can be worn casually but they look most suitable in semi-formal events like parties and holiday outfits. A metallic skirt is one of a kind that looks perfect for partywear so wear a silver and black jacquard metallic skirt with a cute black top.
The top could be ruffled, laced, off-shoulder, or anyone that is event appropriate. To add the glam factor to your overall look, pair glittery pumps that stand out in your outfit. Add pearl accessories to finish your entire look.
13 – Pleated Midi Skirt With Ruffled Top
12 – Jacquard Skirt With Red Satin Top
Lightweight silk cami tops look perfectly balanced with heavy jacquard fabric which is why silk tops are the most suitable for them. Pair a red floral jacquard skirt with a red silk top. The color is perfect for the holiday season. A black or red leather jacket can also be added for an uber-chic look. Red ankle boots in the end will complete your whole look.
11 – Jacquard Wrap Skirt With White Top & Mules
10 – Vintage Flared Skirt With Shoulder Padded Top
When talking about jacquard skirts, we always visualize wearing them at formal events. But it is also easy to wear them as a casual skirt and looks equally good. You only have to pair a sleeveless shoulder-padded top with a jacquard skirt for this purpose.
When you are styling an outfit for summer, colors are another main factor to consider. Go with pastel or light colors so that you can get the best look.
9 – Leopard Printed Jacquard Skirt With Polo Shirt
There is no doubt that jacquard skirts look adorable in floral prints but animal prints are also one of a kind that looks stunning in jacquard. To get this gorgeous look, you can pair a leopard-printed pencil skirt with a collared and long-sleeved polo shirt.
Also, you can wear black boots with black leggings. Just the cherry on top would be red bold lips and you will have a complete package of a casual and comfortable outfit.
8 – Midi Skirt Paired With Cardigan & Nude Pumps
Jacquard skirts are so fancy that don't need anything extra with them. This kind of look is perfect for day or evening events in the spring season. A simply fitted cardigan with long sleeves can be paired with a printed jacquard skirt for a casual look.
To keep your overall look really casual and comfy, wear low-heeled pumps in nude colors and match your bag with the shoes. Moreover, add minimal accessories like studs, a watch, and others.
7 – A-Line Skirt With Cardigan Top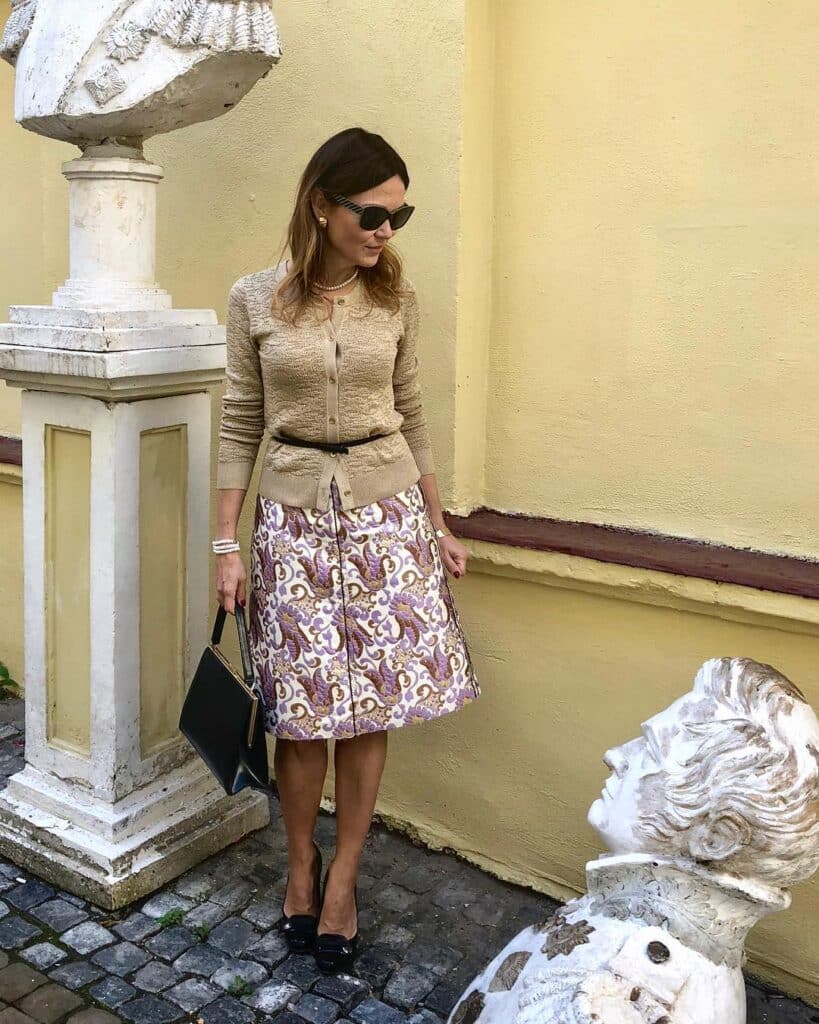 6 – Pencil Skirt With Leggings & High Neck Top
A chic streetwear outfit is not difficult at all to style, if you have the right things in your wardrobe. Wear a pencil skirt in jacquard fabric with a high-neck top. And to give it a classier look, wear black leggings and ankle boots. Another option is to wear knee-high boots.
Accessories your look with chains, hoops, and bracelets. Apart from that, an addition of a black leather jacket would also look really cool with the entire look.
5 – Floral Skirt With Pullover Sweater & Leather Boots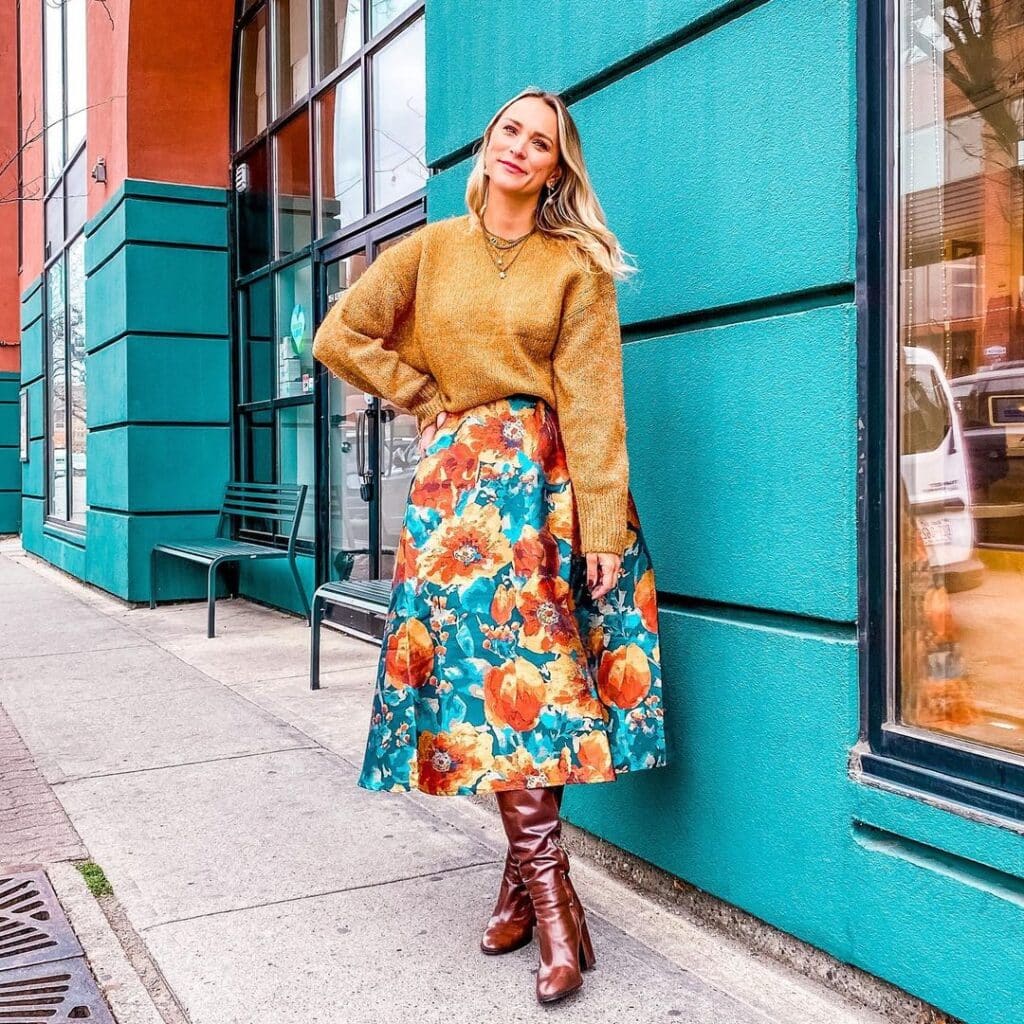 4 – Skirt With Thigh-High Boots & Leather Coat
Boots and coats are undoubtedly the best winter combination ever invented. And adding a jacquard skirt to this combination would simply enhance the charm of your outfit. So, ditch your usual skirt and wear a midi pencil jacquard skirt with a stylish long leather coat.
Thigh-high boots are a good option for this look but you can also wear ankle boots with leggings. Formulate this whole outfit in a neutral color of different shades like brown or green.
3 – Maxi Skirt With Turtleneck & Boots
Another winter outfit inspiration is to wear a high-waisted maxi jacquard skirt with turtlenecks which are essential for cold weather. Almost everyone owns one of them in their wardrobe and they can be styled with almost anything.
Apart from that, ankle boots look really stylish with long skirts so you can wear them as well. A little suggestion is to keep your hair up in a high ponytail or a bun and wear silver drop earrings with this dress to get a perfect night-out outfit.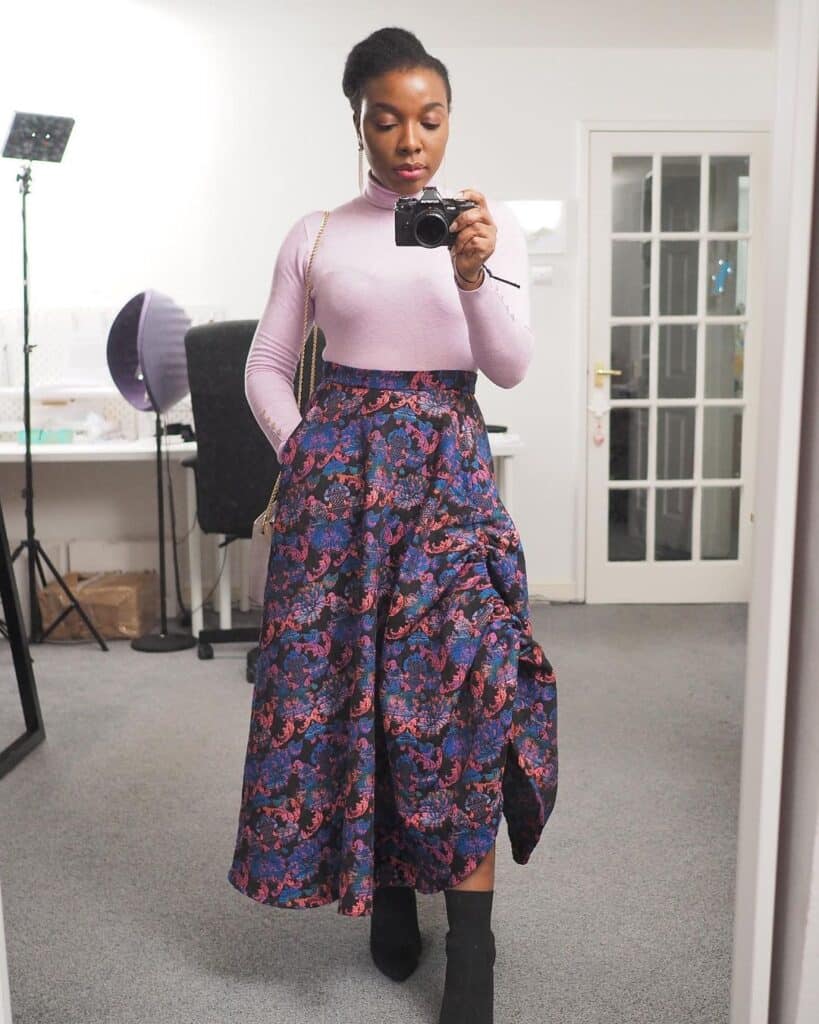 2 – Long Jacquard Skirt With Leather Jacket
Jacquard maxi skirts have their own charm, especially in winter. They keep you covered as well as look stunning. Jacquard fabric is already too much in terms of patterns and colors so while styling a maxi skirt in winter, pair it with a simple long-sleeved top.
Moreover, add a layer of a leather jacket or a sweater for the cold weather. Wear platform heels with the skirt to get a defined look and your outfit is ready.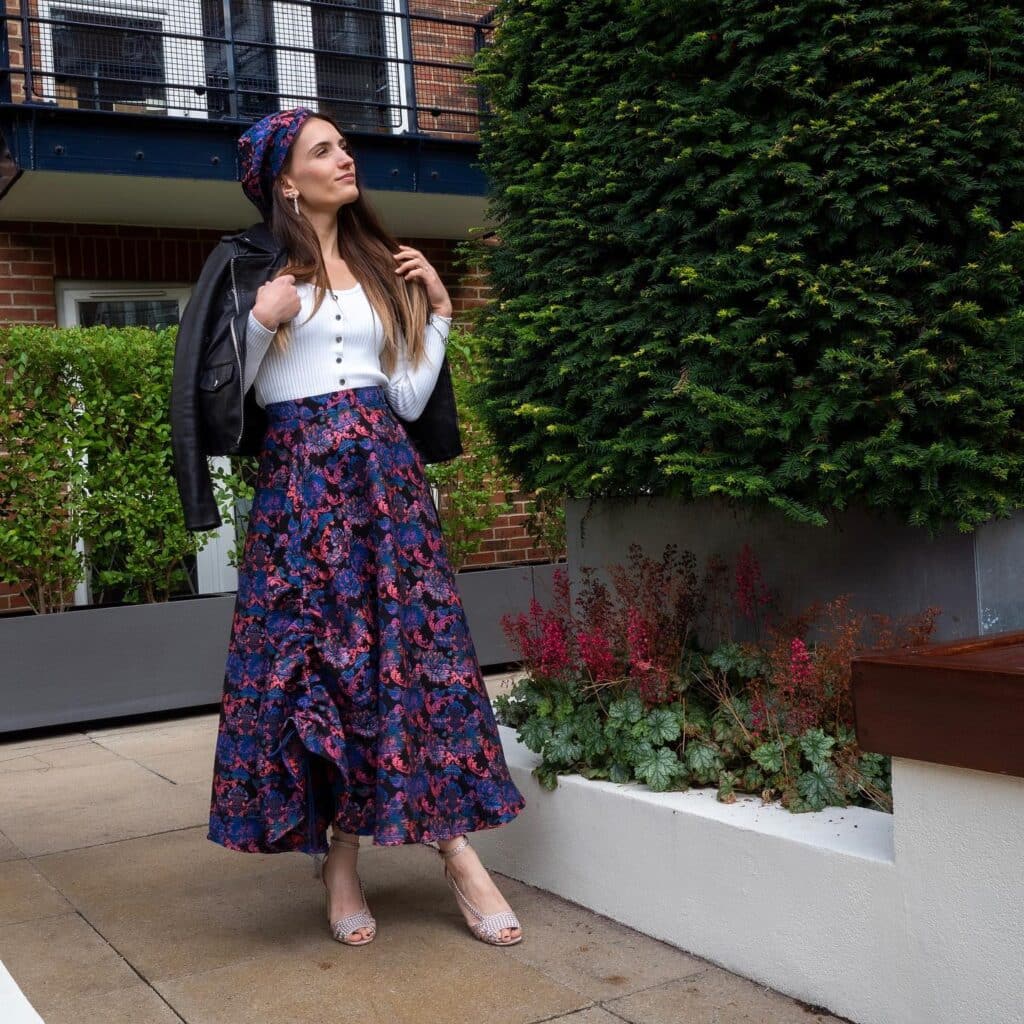 1 – High Waisted Maxi Skirt With Knit Sweater
Frequently Asked Questions
Q. What to wear with a jacquard skirt?
Ans. All kinds of tops and blouses can be worn with jacquard tops. For the summer season, go with off-shoulders, spaghetti straps, cutouts, sleeveless, and other such tops. Velvet, high necks, and long-sleeved tops are the options for winter.
Moreover, formal blouses, buttoned-down shirts, and ruffled and laced blouses are some of the options for formal wear outfits. In conclusion, jacquard skirts are a great clothing piece that can be paired with any kind of top according to the event.
Q. Can you wear jacquard skirts in summer?
Ans. Even though jacquard is considered a winter fabric, nowadays it is available in both heavy and light materials. This means that you can wear them in the summer as well. Apart from that, mini skirts can easily be worn with casual tops in summer.
Q. What kind of shoes do you wear with jacquard skirts?
Ans. The choice of footwear can depend on the type of skirt that you are wearing. High heels, silhouette, platform heels, and thigh-high boots look stylish with a mini jacquard skirt. Low-heeled pumps, strappy sandals, sneakers, and flats are most appropriate for midi skirts.
Moreover, maxi skirts look good with ankle boots, block heels, mules, and chunky platform sandals. Overall, the style and flowy effect of jacquard skirts look adorable with pumps and heels especially if you are wearing them for formal events.