Outfits with suede skirts. The suede trend is in once again and nothing looks sexier than a suede skirt. You can wear it at any occasion and any time of the year if you know how to style it properly. We have collected the best combinations that can give you ideas on what to wear with suede skirts.
We have a wonderful collection of all types of suede skirts, the best colours and designs that you can wear everywhere you go.
Ideas How to Wear Suede Skirts
Scroll down for the best ever collection of suede skirts that you can wear to school, at office, for any work related meetings, get together with friends, for a girl's night out and even to attend a wedding party. Learn how to dress up in your favourite suede skirts in different seasons for the perfect look.
#17- Lace Tops and Suede Skirt for a Formal Summer Wedding Look
Want to get dressed up for a wedding in summers? It can be difficult to find a comfortable outfit that is stylish and formal enough for a wedding but also nice enough to protect you from the heat. A neutral shade of suede skirt will be the perfect answer to your worries. Match it with a lace top and you are all set to go. I also love the small but attractive pieces of jewellery this girl is wearing as her earrings, necklace, rings and bracelet, making the outfit the perfect dress for any wedding guest.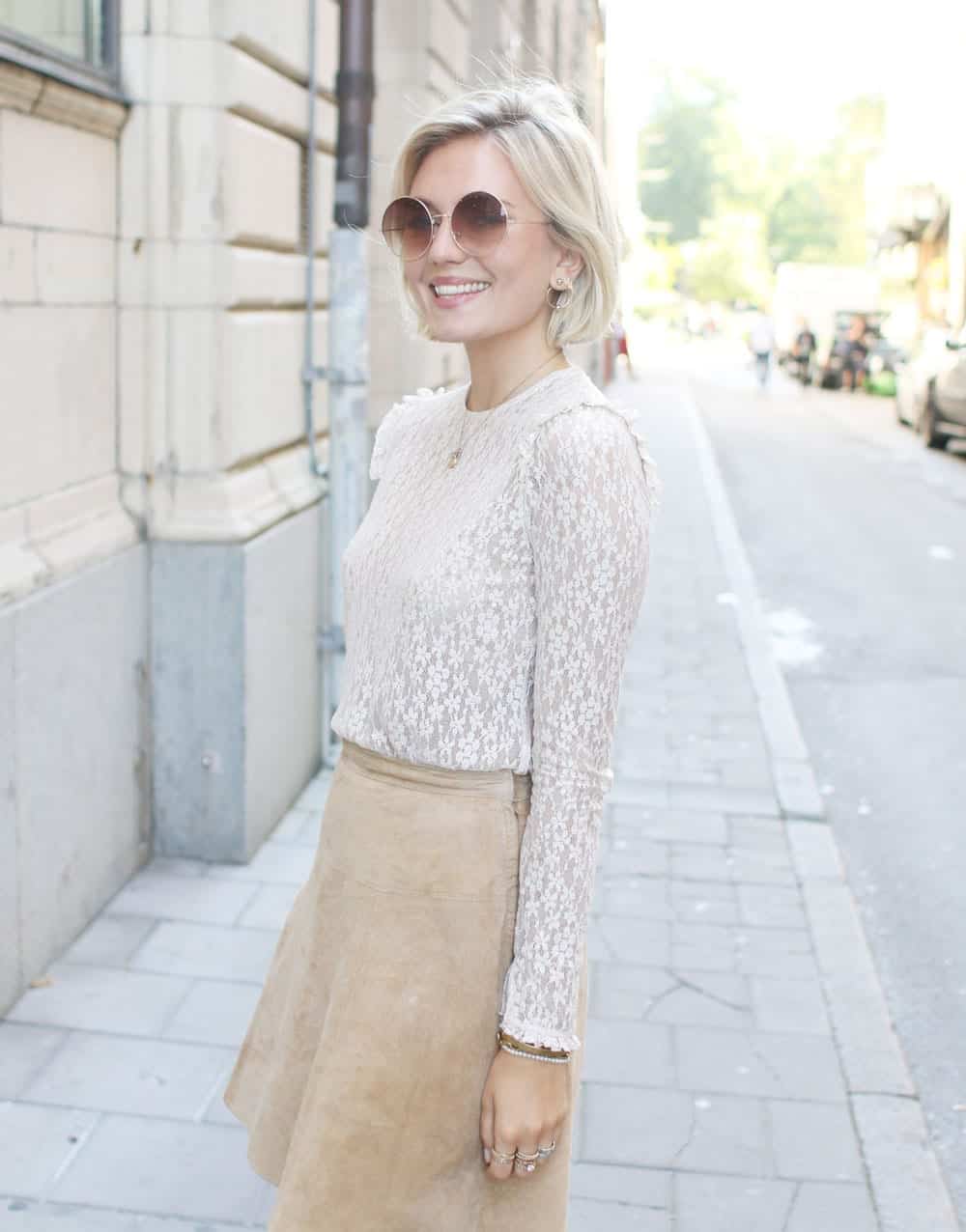 Source
#16- Casual Summer Outfit
Cut out heels, tucked in shirt and pink suede skirt. the perfect colours for summers matched with a beautiful pink lip shade.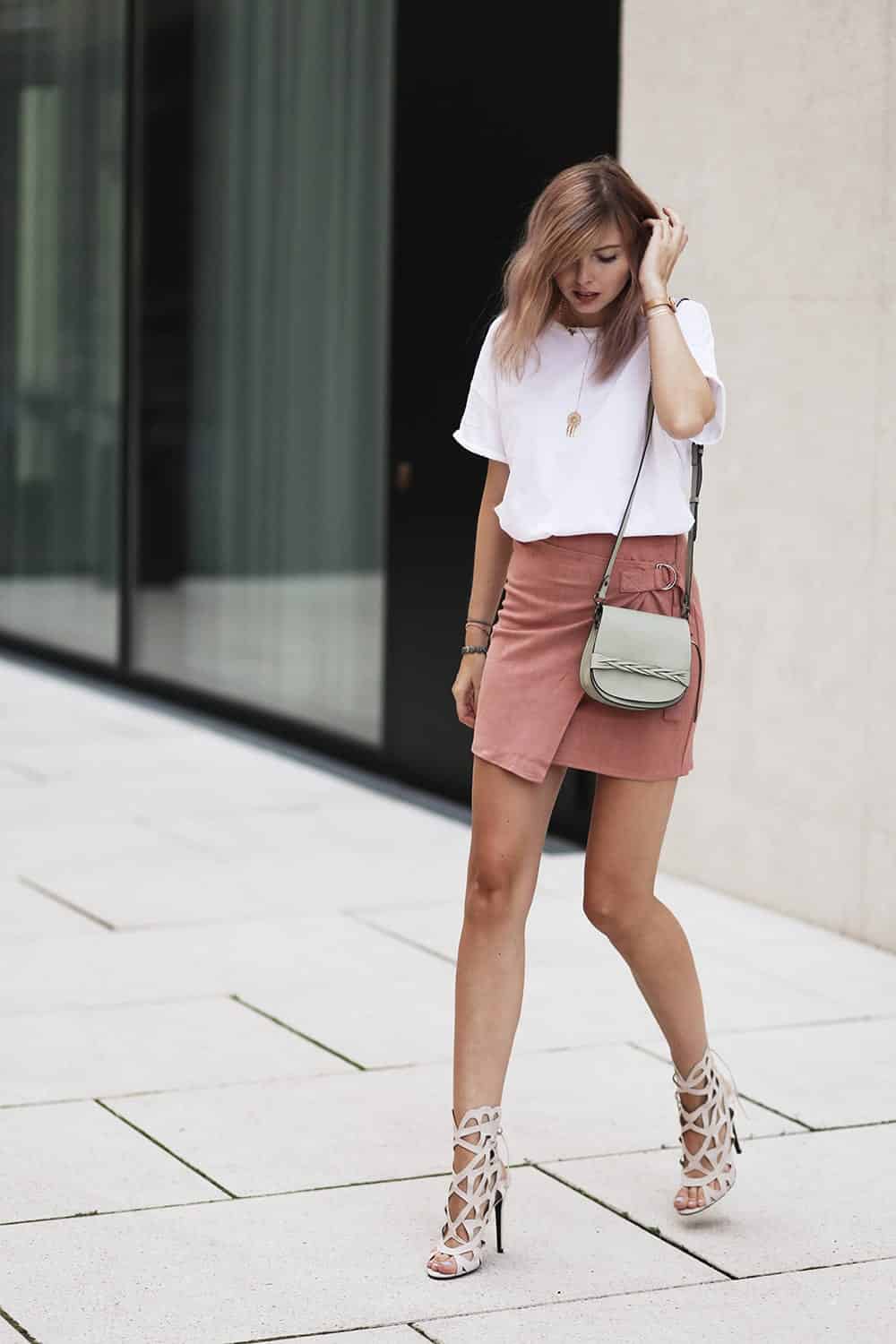 #15- Summer Street Style – A cool and funky patterned blouse for summer with messy hair making it the absolute street style fashion outfit. If you are planning a day out with friends or just want to go shopping, this outfit would be a great choice. Make this even perfect by choosing from one of our [highlight]15 Best Walking Shoes – Travel Style[/highlight].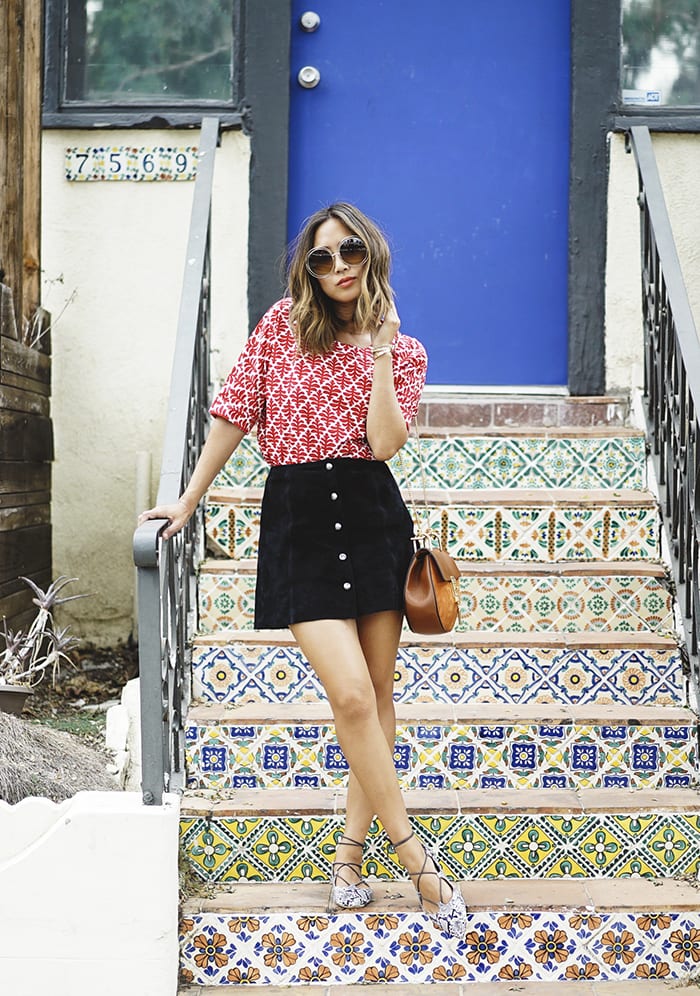 #14- Fall Outfit
Off shoulder shirts make wonderful outfits for fall. Check out how the outfit has been perfectly matched with heels and purse of a similar shade as the skirt.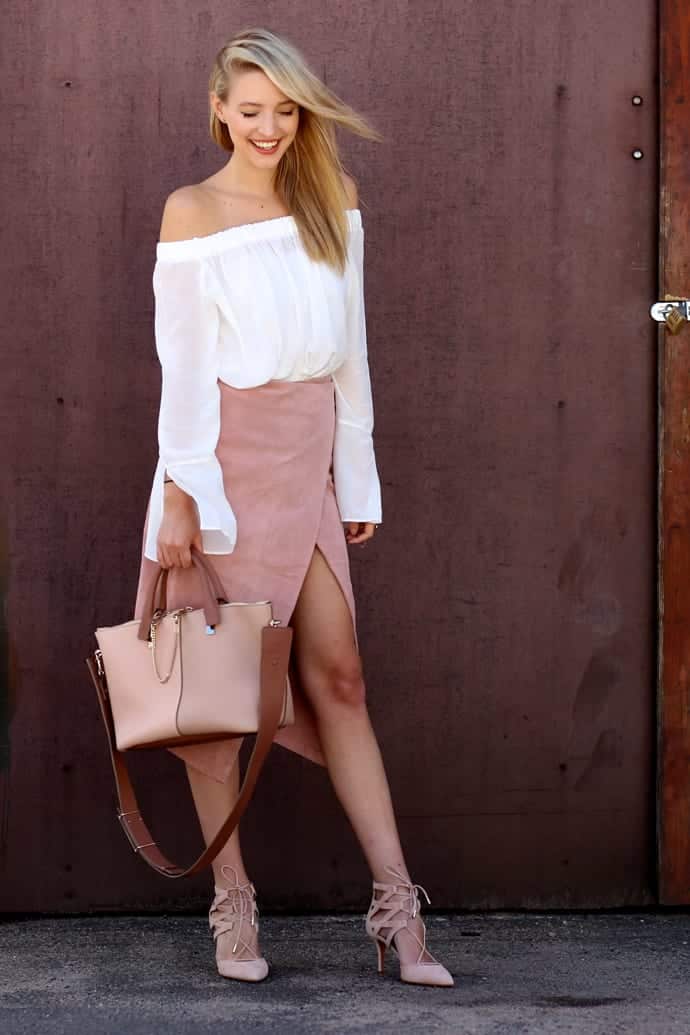 #13- Sporty Look Avec Seude
Who doesn't love to wear the tom boy or sporty look. Even if you have never tried it before, there's nothing wrong with experimenting a bit. Wearing a tank top gives a sporty look while the skirt helps keep the femininity of the outfit.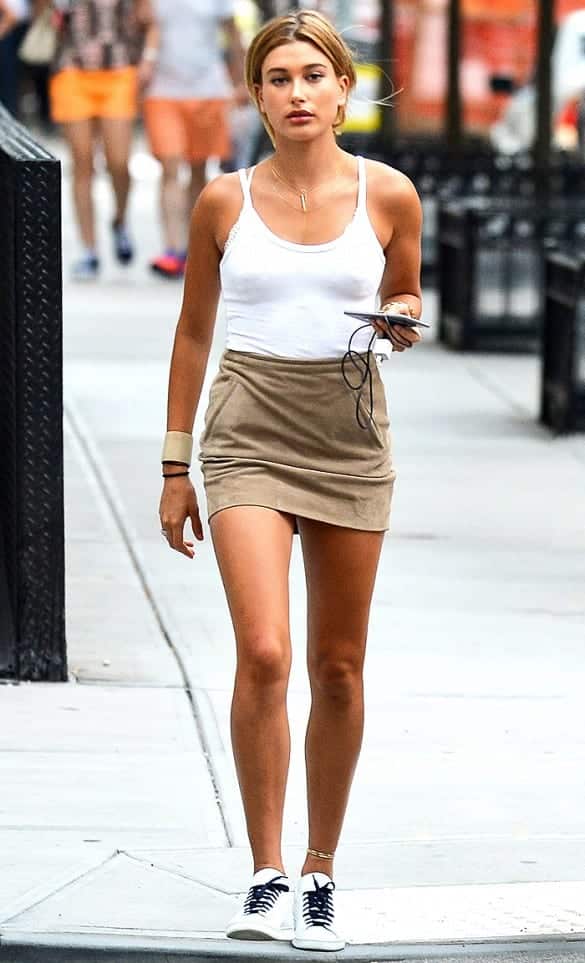 Source
#12- Suede Skirts for a Girl's Night Out
Leather jacket, ankle strap shoes, perfect for girl's night out. For more amazing ideas, have a look at [highlight]What to wear for a girl's night out? 17 girls night out outfits[/highlight].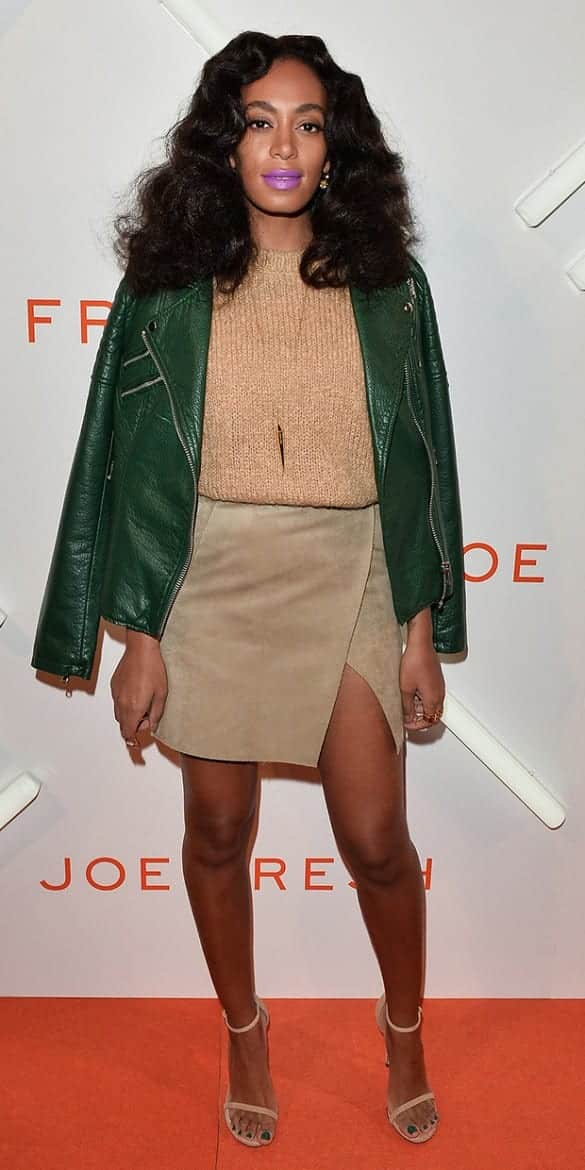 #11- Winter Outfit for Short Hair
Here's a trendy winter look with sweater and fringe skirt. For some reason, this looks really nice on girls with short hair.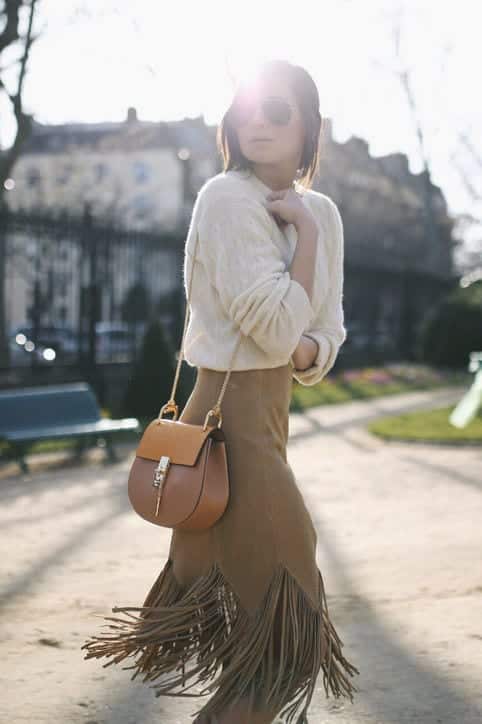 #10- Business Attire
For a professional look in winters wear your suede skirts with a blazer and flats. If you need to dress up more formally for work than this, then replace the flats with platform heels.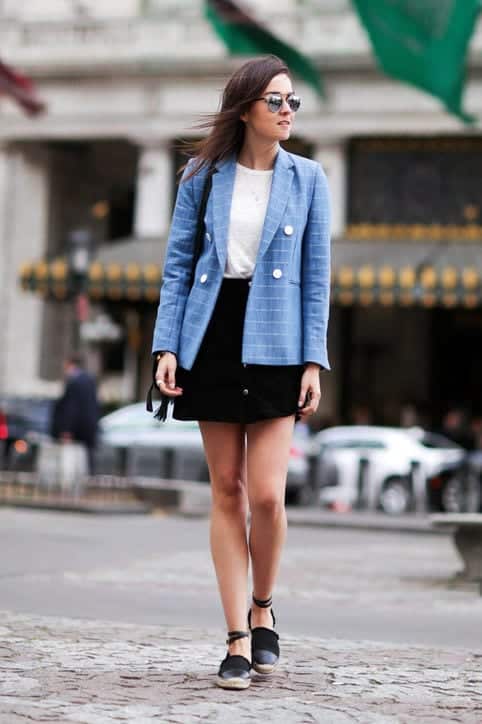 #9. Celebrity Inspired Spring/Summer Outfit
The American actress and singer, Vanessa Hudgens looks amazing in this white blouse and brown suede skirt. SHe has decided to wear black ankle boots matched with a black hand bag. White and black always make a great outfit combination expecially with those long back wavy hair.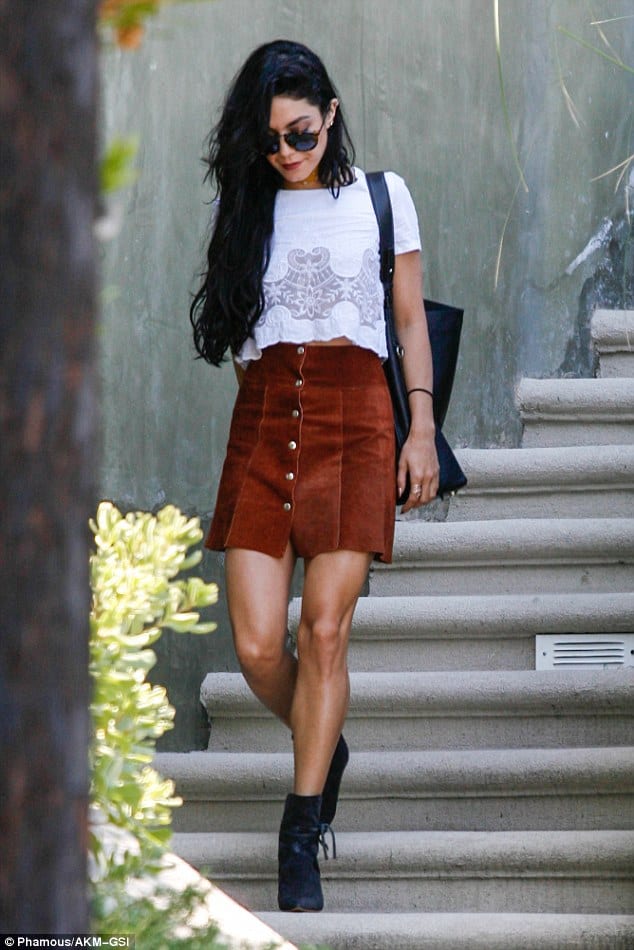 #8- Celebrity Inspired Fall/ Winter Outfit
Emma Watson looks as pretty as ever in her suede skirt paired with a full sleeve black blouse and black heels.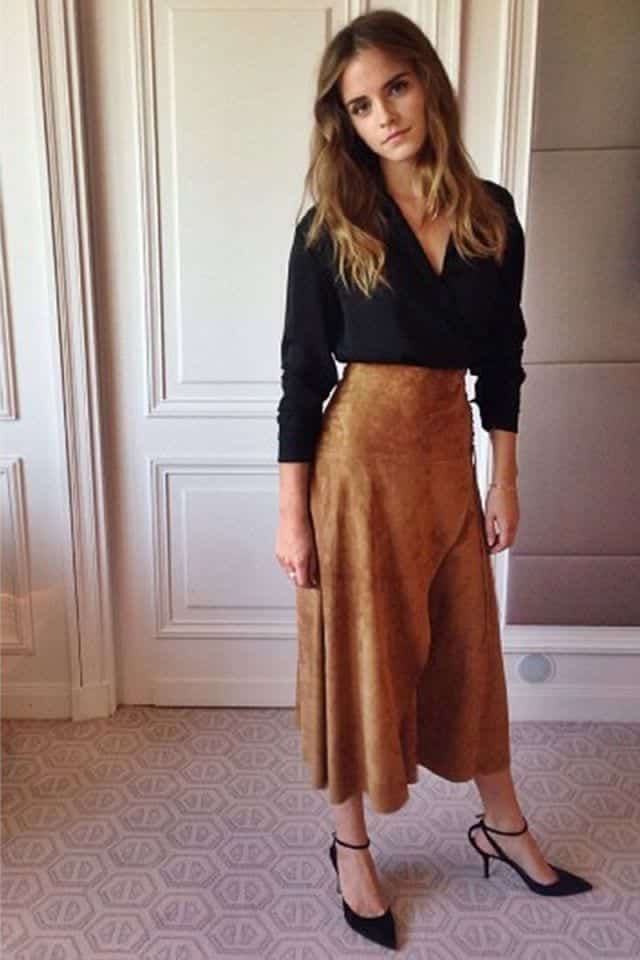 #7- With Knee High Boots – When it's snowing out there, nothing keeps you warmer that these comfortable furry vests that don't just feel but also look amazing. Wear tights under your suede skirt and long boots for an absolutely breath taking outfit.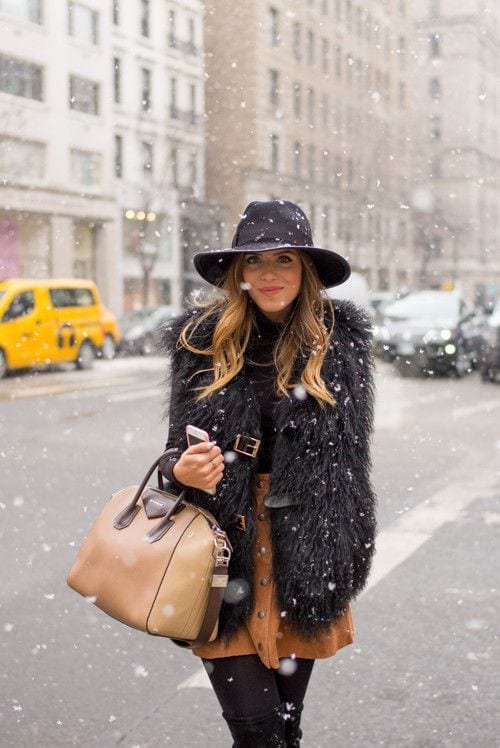 Source
#6- Celebrity Inspired Casual Outfit
Beauty blogger and swimwear designer Natasha Oakley looks gorgeous in an A line buttoned skirt, matched with a cop top and matching sandals.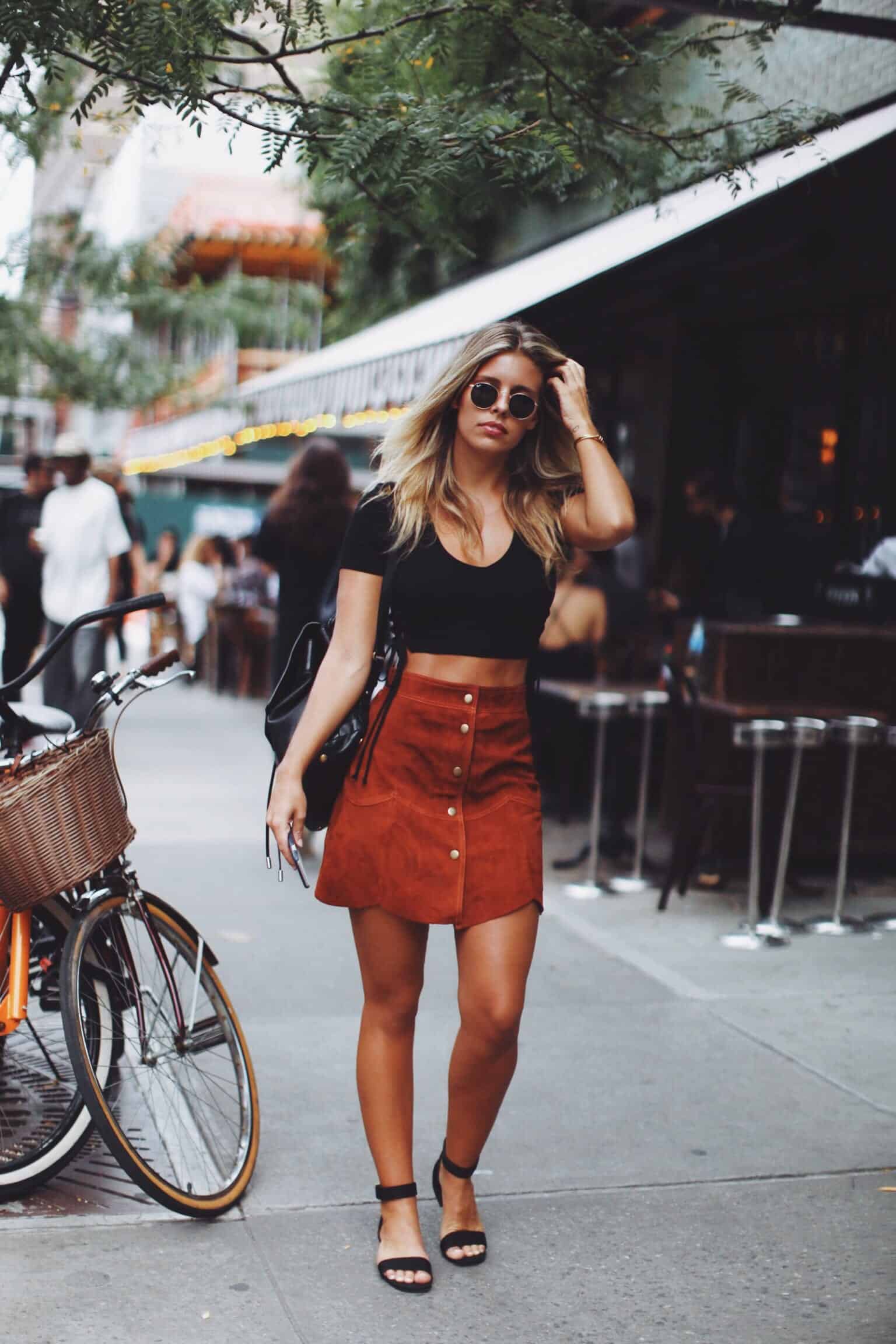 Source
#5- Chambray Shirt for School
Another great outfit for school or college girls. Chambray shirts make the best combinations with suede.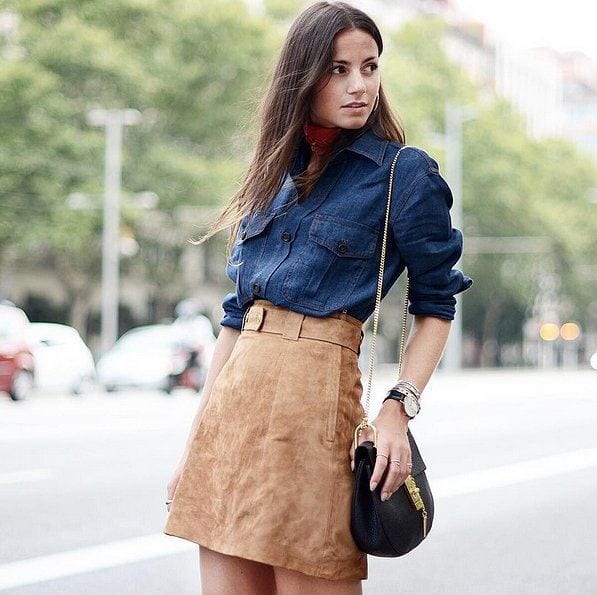 #4- Professional Winter Outfit
Khaki Suede Skirts for Winter matched with a neutral coloured sweater with matching shoes, hat and purse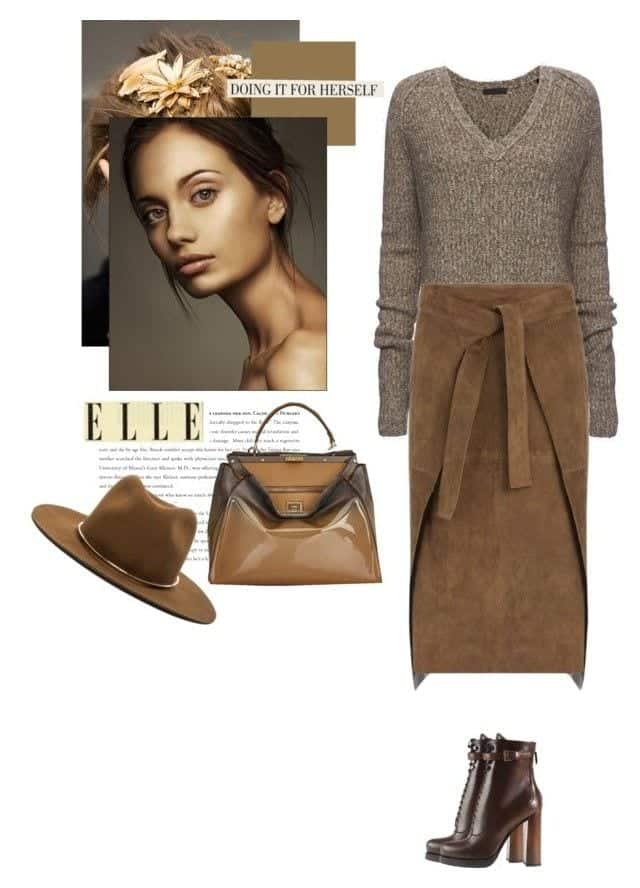 Source
#3- Polyvore Outfit
Black bralette and white tee for fall street style fashion. Also check out [highlight]16 popular spring street style outfit ideas for women.[/highlight]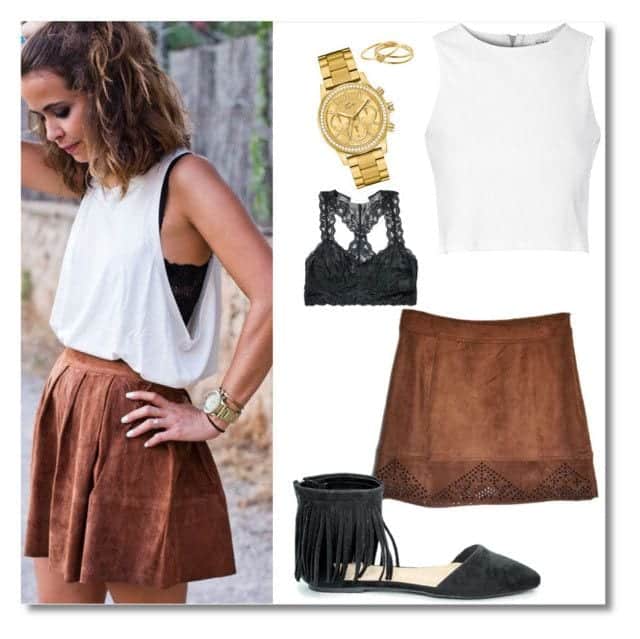 Source
#2. Suede Skirt with Long Coat
Turtle neck and long coat look great together for winter outfits. Add in a statement belt for an even more spectacular look.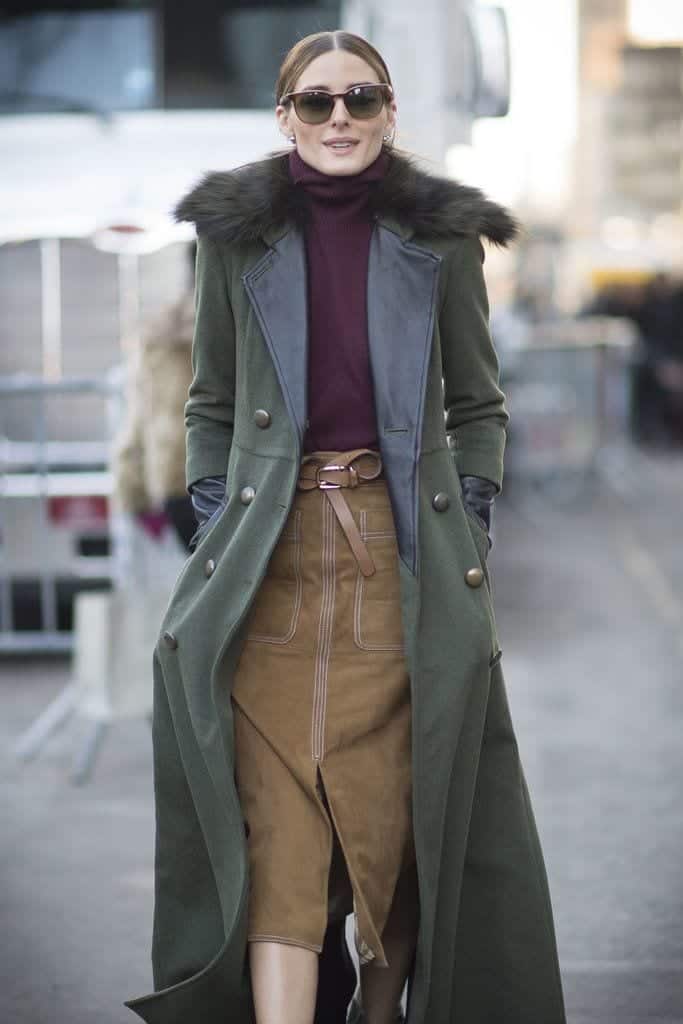 Source
#1. Patchwork Style Suede Skirt
Stand out from the crowd with a colourful patchwork suede skirt.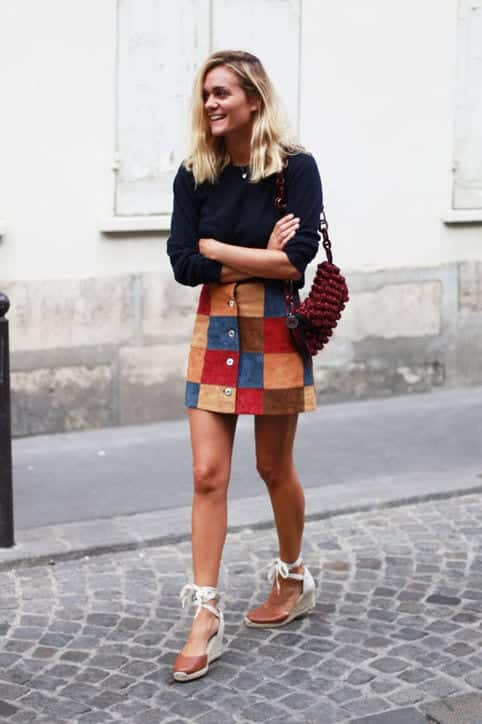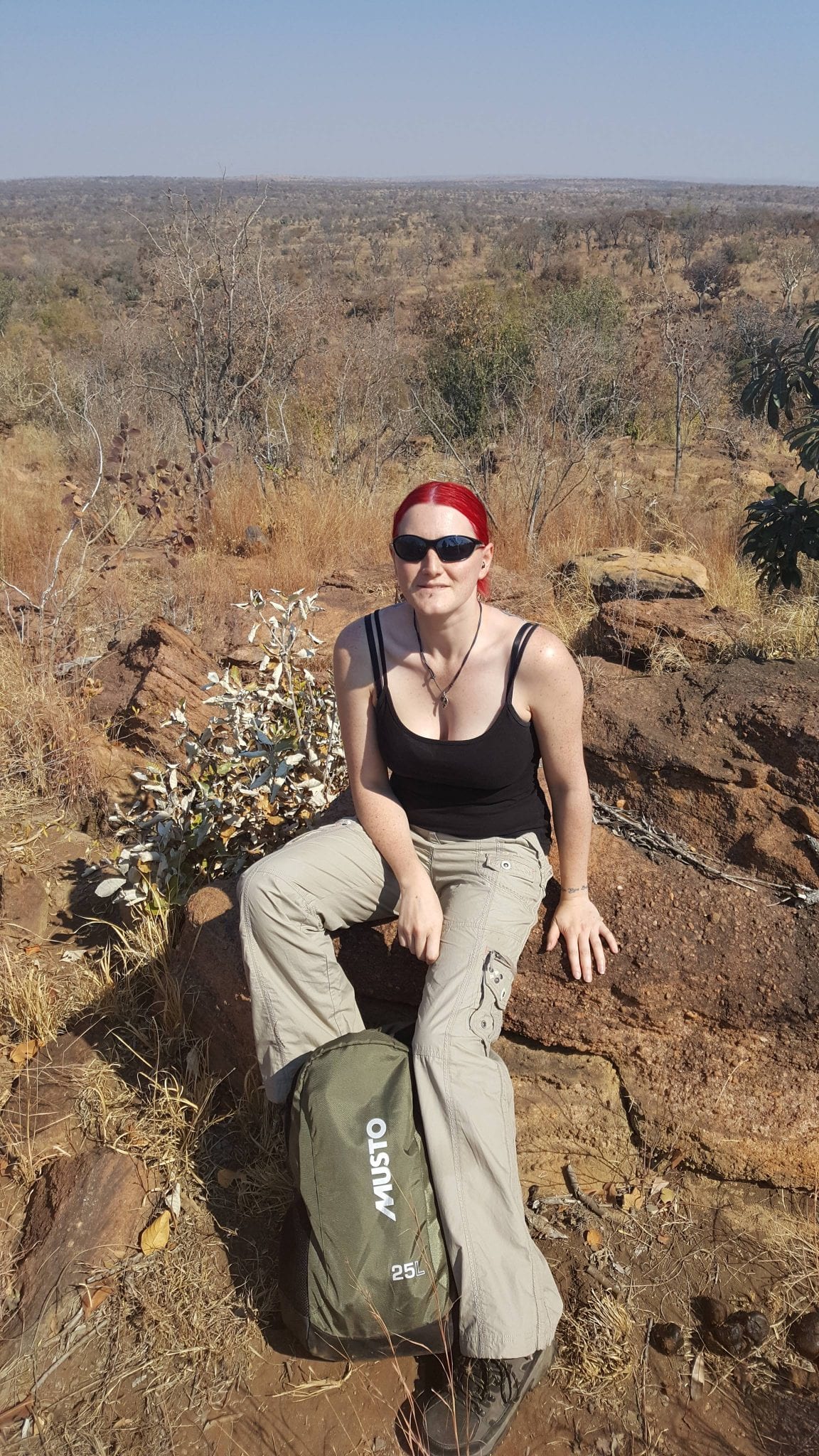 Caz, aka Vixen, has been freelance creative writing for several years. She has a lot of experience in different fields including high street fashion, tattooing art, and even the gothic and historical costumes. Caz has a Diploma in Fashion and Textiles and also a Bachelors Degree in Historical Costume and Corsetry. Her passion lies with gothic design, corsetry and any other styles considered to be taboo or unusual. Style-wise Caz has a love for Vivienne Westwood and her take on the punk era. Although Caz loves the weird and wonderful, she has a deep love for all fashion and allows this to show through her work.