Skirted Leggings Outfits: Leggings and skirts, both are a major part of our everyday wear. They help us put together some of the cutest and comfiest looks. So, some GENIUS thought of combining them both!
What are skirted leggings?
As the name suggests, these are leggings connected with a skirt from the waist. They come in various sizes and styles that give you a beautiful look. The term Skeggings is also used for this unique clothing item.
What To Wear with Skirted Leggings?
To style them rightly, you must decide on what kind of outfit you want and for what season.
For the summer season, you can pair mini or pleated skirted leggings with a crop top and sneakers and wear them to the gym, tennis, yoga, or any other activity. Add a sports jacket and wear it in winter as well.
These leggings can also be worn according to the skirt style. Wrap skeggings can be worn with tops and sweaters for casual wear. A-line skirted leggings give a professional look, so you can pair them with a buttoned-down blouse and heels for work.
Styling Tips
Avoid wearing really long shirts or tops that ruin the look of your skeggings, instead, go for cropped tops or tuck in the shirts.
Sneakers, flat sandals, pumps and lug sole boots are some excellent footwear options to wear with them in summer, while you can wear ankle boots or long boots in winter.
These are best for athleisure wear, pair them with tank tops and sneakers to get the perfect athletic look. If you're not really looking for a sporty outfit, I would recommend going for a Skort instead.
Create your own skirted leggings by pairing your normal skirt over leggings. Wear them in different colors to make a color-blocking outfit.
20 – With Crop Top
Both style and comfort can be obtained by wearing skirted leggings especially if you are looking for a tennis outfit. A pleated skirt is certainly worn for tennis but wearing it with leggings makes it more comfortable for many girls.
Pair it with a black tank top, and sneakers and you're ready for the gym, yoga, or sports activities. An oversized hoodie or a sweatshirt would go well if you want to wear it in winter.
19 – Grey Yoga Skeggings With White Tank Top
Skirted leggings also give an athletic look especially if you are wearing them in black or grey color. To get a super fit and comfy gym or yoga wear, you can wear knee-length leggings attached with a skirt, and pair them with a simple white tank top.
Crop tops, sports bras, graphic tee shirts, or any kind of sportswear can be paired with these skeggings to get a sporty look. Wear white or black sneakers with this combination.
18 – With Buttoned Down Blouse
17 – With Tie-Dye Printed Shirt
One trend that is never going to get old is tie-dye. Tie-dye prints look good with everything and anything whether it is a dress or just a top.
Skirted leggings come in a lot of variety so you can wear them if you want to wear different kinds of skirts also. This one has a knee wrap skirt with ankle-length leggings which is paired with a large knotted tie-dye shirt. You can also tuck in the shirt to get a more defined look.
It is a super cute and casual look, which can be worn every day easily. Since it is a simple look, you can elevate it by adding cute hairstyles, earrings, and bracelets. Sneakers in white or multi-colors are a cool choice to pair with them.
16 – With Collared Polo Shirt
A cute outfit like this can be your go-to look for fun activities like going for coffee, shopping, a movie date, or even to a theme park.
The color combination is making this look even more adorable. Leggings with an A-line skirt are paired with a simple white collared shirt, however, a layer of a white vest sweater of light fabric is also added. The fabric of the sweater west is very light which is why you can easily wear it in the spring season.
Wearing this in other pastel colors like purple, baby blue, and mint would also look good. Lastly, a cross-body bag would be a cool addition.
15 – Mustard Knee Length Skirt Attached With Capri Leggings
In these types of skeggings, the Capri leggings are almost unnoticeable as the length of the skirt is pretty long. It can be a business casual outfit that you can easily wear to work. As we can see, a black long sleeves top is paired here with mustard-colored skirted leggings.
For shoes, ankle boots are paired with them which is a great choice. You can tie up your hair in a sleek bun with stud earrings in the ear. Moreover, adding a long trench coat in cold weather will transform it into a perfect dinner date outfit.
14 – Floral Printed Capri Skeggings With Front Tie Top
We discussed a lot of options about the simple black and grey skirted leggings but printed skirts are also a huge part of our spring wardrobe. Even in summer, floral prints are a must-have for us. If you want a cute spring look, then you can pair floral printed skirted leggings with a collared t-shirt.
The shirt can be long or cropped depending on your choice, apart from this, you can pair the stylish studded flat sandals with this if you want to wear them to casual meetups. A straw bag is another cute addition to this.
13 – With Leopard Printed Top And Sneakers
12 – Marble Printed Leggings With Long Cardigan
11 – With a Shirt And Striped Cardigan
This cute and casual outfit is perfect for everyday wear, the black high-waisted skirt with leggings makes you look more put together without putting in the extra effort. Pair it with a nice casual top or t-shirt and add a layer of a printed cardigan over it.
If you pair a buttoned-down blouse and a cropped blazer with these leggings, it will transform into a nice business casual outfit.
10 – With a Hooded Jacket
This is the kind of outfit that you can wear while traveling, tracking, during vacations, and much more. The color combination of light and dark brown is making this look really good. An alternative to a hooded jacket could be a dark brown denim jacket as well.
9 – With Denim Jacket
Capri leggings attached with a skirt are perfect for casual wear, you just have to pair them with a white top and a cropped denim jacket with ripped sleeves.
We can see that the accessories have elevated this simple look, so instead of going for white sneakers, you should prefer printed pumps, mainly leopard printed. Moreover, wear a cap and sunglasses for a sunny day, and a large handbag to finish off the look.
8 – With a Checkered Printed Blouse
You can wear midi pleated skirted leggings in black color with a checkered printed buttoned down blouse and white sneakers. You can either wear a simple black hijab or a printed one.
Accessorize it with pearl bracelets, sunglasses, and a handbag to complete your look.
7 – With A Leather Jacket
In this all-black look, simple skirted leggings are paired with a printed black shirt and along with that, a leather jacket is also added to add that trendy element. White shoes will stand out separately if you wear them, however you can also go with black ankle boots as a second choice.
6 – With Cardigan Top
This one is for the lazy days when you don't want to dress up a lot. However, you can still stand out by accessorizing it with gold jewelry.
If you want the whole look to be simple and comfortable then, pairing printed pumps or strappy sandals would be a good option to wear for footwear.
5 – With a Sweatshirt
The comfiest autumn outfits are very easy to style like this one. The skirt gives you a modern look while the leggings keep you warm.
Pair it with a simple or printed sweatshirt with sneakers. This can be an ideal travel outfit as well, just add a cute backpack and sunglasses.
4 – With a Leather Jacket And Leather Boots
Pair a neutral color pencil skirted leggings with a white top. Add a layer of cropped leather jacket and pair long leather boots with it. In this way, you have a combination of neutral and leather.
It is a simple yet chic outfit that you can easily wear to dinner dates, parties, or at meet up with your friends. You can also add some trendy accessories like a scarf, earrings, and bracelets.
3 – With Brown Leather Boots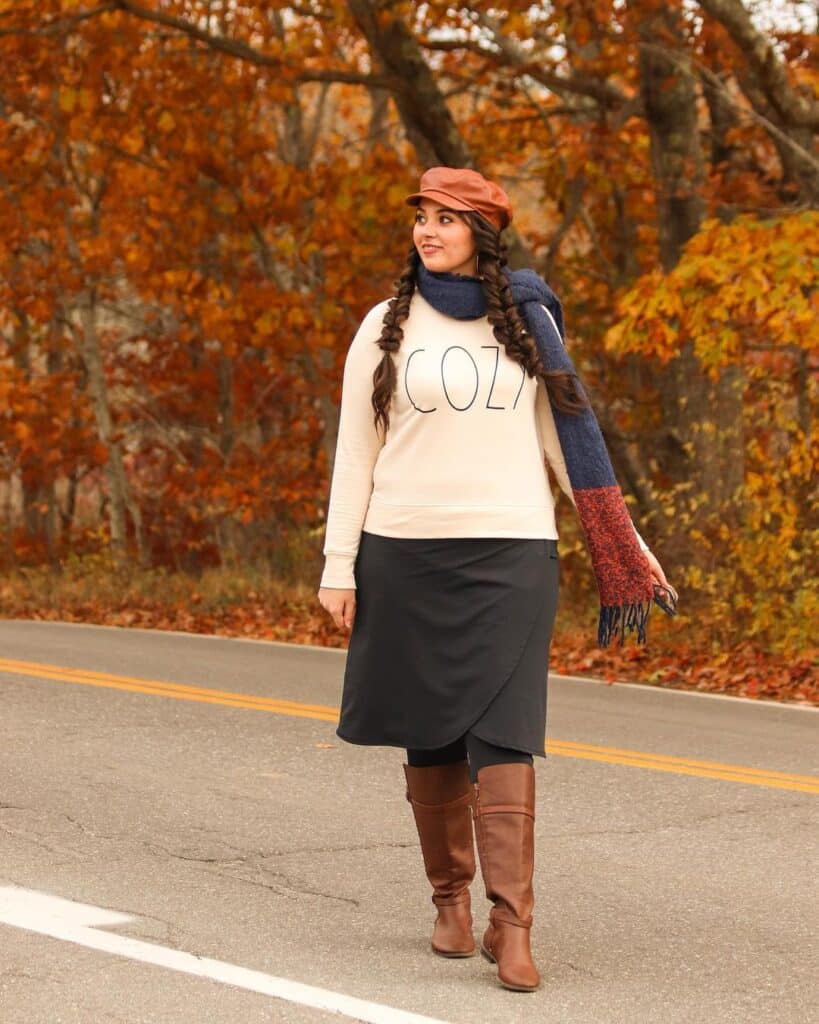 2 – With an Oversized Sweater
Pair plaid printed skeggings with an oversized cable knit sweater with a turtleneck. The combination of white and red gives festive vibes which is why this can be easily worn during the Christmas season.
Heeled ankle boots in white or brown color will suit the most with this. Small studs and rings are some of the accessories to amp up this look. Lastly, don't forget to put cute curls in your hair and you are festive-ready.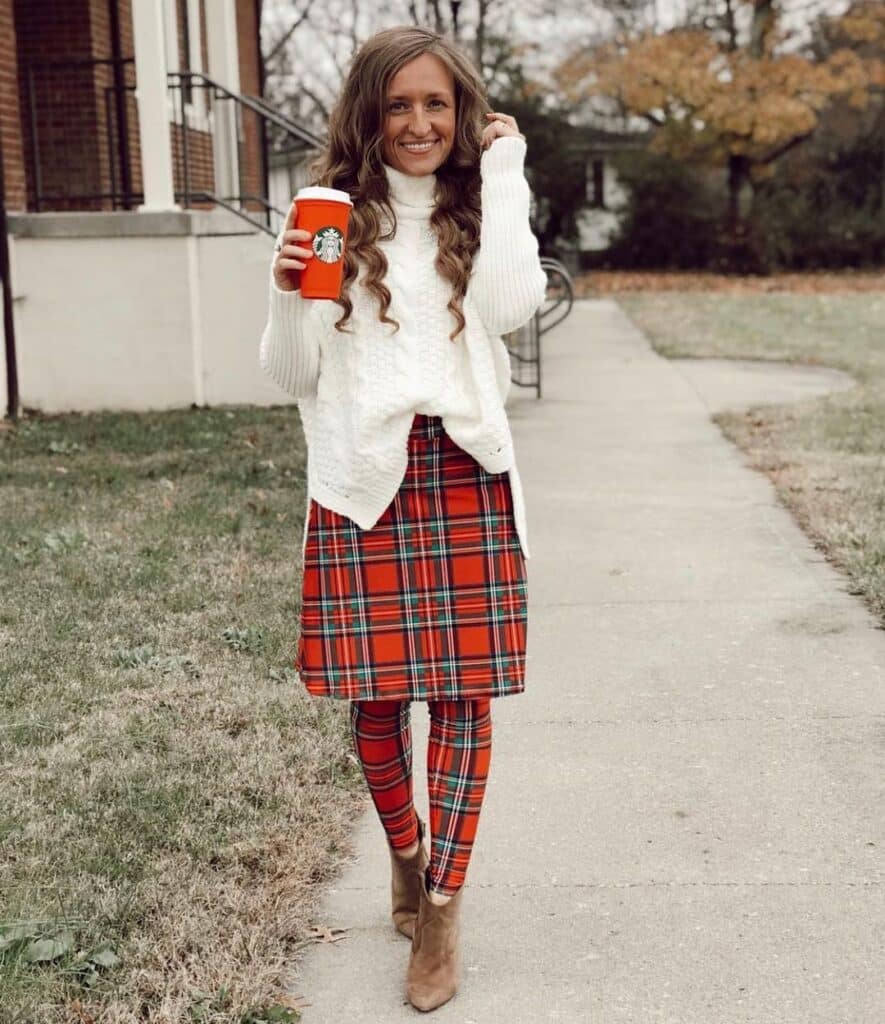 1 – With Your Favorite Graphic Tee And Jacket
Pair a pencil skirt attached with leggings in red color with a cute graphic tee. Layers are important for winter which is why you can add jackets, long coats, and any other things.
For the shoes, you can wear ankle or mid-calf boots. Moreover, accessories like colorful scarves, and beanie caps, can also be added to the look.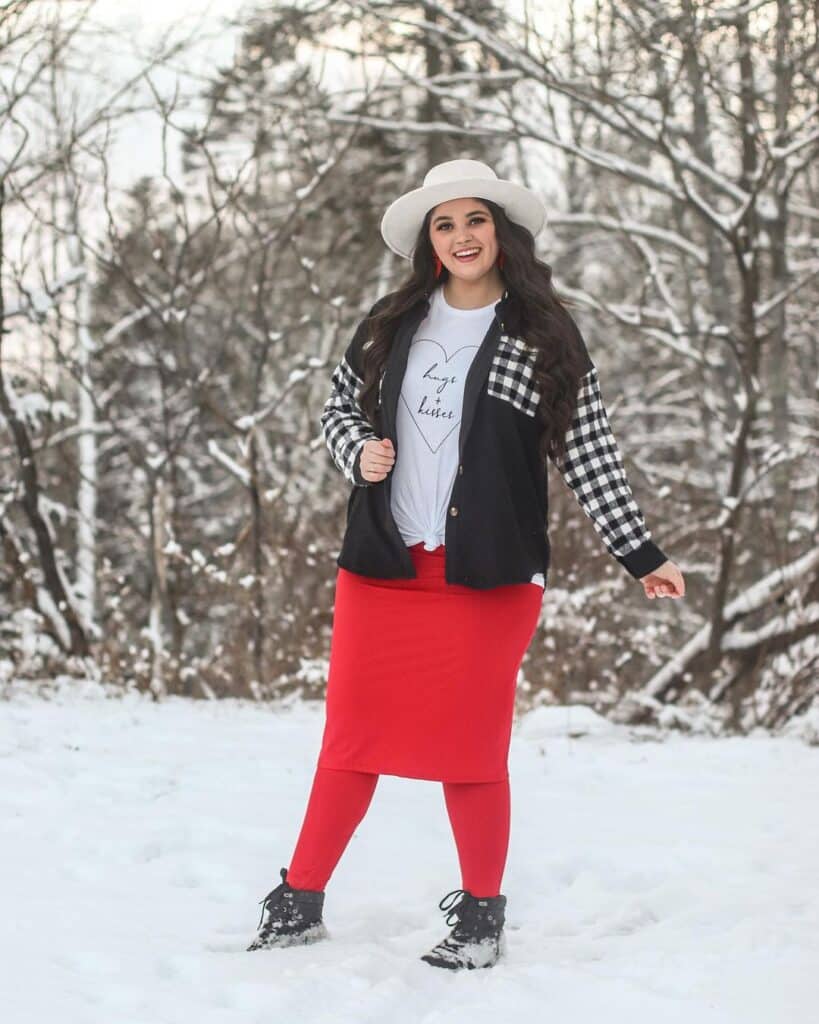 FAQs
Q. Is it okay to wear skirted leggings outside?
You can treat these leggings just like you would wear your normal skirts or leggings. They give you an athletic look so pairing them up with shirts, crop tops and sneakers is a good idea. Moreover, oversized sweaters and hoodies can also be worn with them in winter. Long boots, sneakers, loafers, and ankle boots are the kind of footwear that you can wear with these leggings.
Q. Are the skirted leggings suitable for gym, yoga or sports?
Skirted leggings are the most suitable for gym and sports activities. They are also categorized as activewear clothing which means that you can easily wear them to get an athletic look.
Not only do they look good, but they also provide a minimum coverage so you can comfortably engage in your sports activities. Mini-skirted leggings in black and grey color are the most popular and suitable choice for sportswear. Apart from that, flared skirted leggings are also really popular for ballet dancing.
Q. Is it okay to wear a skirt with leggings?
It is definitely okay to wear a skirt with leggings as it gives more coverage and a whole new look to your outfit. Moreover, It is not always necessary to buy skirted leggings separately if you want to wear them, instead, you can use your DIY skills by wearing your normal skirts with leggings, and you have your own skirted leggings ready.
Mixing two different colors or wearing a printed skirt with black simple leggings is also a fun idea. The idea of wearing leggings with a skirt is more popular in winter so, pairing a leather pleated skirt with leather leggings, a leather jacket, and long boots is also a chic idea.