You might have had the question "How to dress to hide belly fat?" cross your mind when you see your pooch sticking out and clothes that used to look flattering end up just not being it for you anymore.
I would like to take a moment to let you know you are not alone in your struggle. In fact, the bulging of the midsection is more common than you think! Typically, the fluctuating hormones, diet, and lifestyle changes target the 40 or 50-plus age group. However, young women also end up falling prey to this issue.
With that being said, I have researched, brainstormed, and brought up 20 ways you can dress to impress while subtly concealing your belly. Here's everything I'll talk about:
What Should I Wear If I Have Belly Fat?
The first thing that might come to your mind after hearing this question is shapewear. There is no doubt that they give you seamless curves and boost your confidence immensely, but they also might not be the healthiest option as the extremely snug fit can lead to problems in circulation and more.
So it all comes down to choosing the appropriate patterns, silhouettes, pairing, and colors to camouflage that pooch. Patterns involving vertical lines and small intricate prints are your new best friends, along with darker colors and solid outfits.
It's also important to choose the right pants for curvy women. High-waisted pants with wide and flared styles will pair phenomenally with flowy blouses. Untucked shirts and oversized clothing might just be your everyday go-to. And if all else fails, throw on an oversized jacket or plus-size blazer to nail the street vibe and successfully hide your belly!
Before we continue further, I would like to make a quick disclaimer. You are beautiful and having a bigger belly does not detract from your beauty. As long as you are taking a balanced diet, working out, and have no major risks to your health, embrace your body the way it is!
With that being said, keep scrolling to get inspired and look fabulous!
Tips for Spring/Summer
20 – Opt for Long Flowy Dresses
The light and billowy fabric, empire waist, and print contribute to hiding the belly and making it looks smaller. The ideal length on such dresses is a midi or maxi for maximum elegance, but they look cute on shorter dresses as well! This is a great option for not just mature women but plus size teens as well.
19 – Pair Oversized Shirts With Fitted Pants or Leggings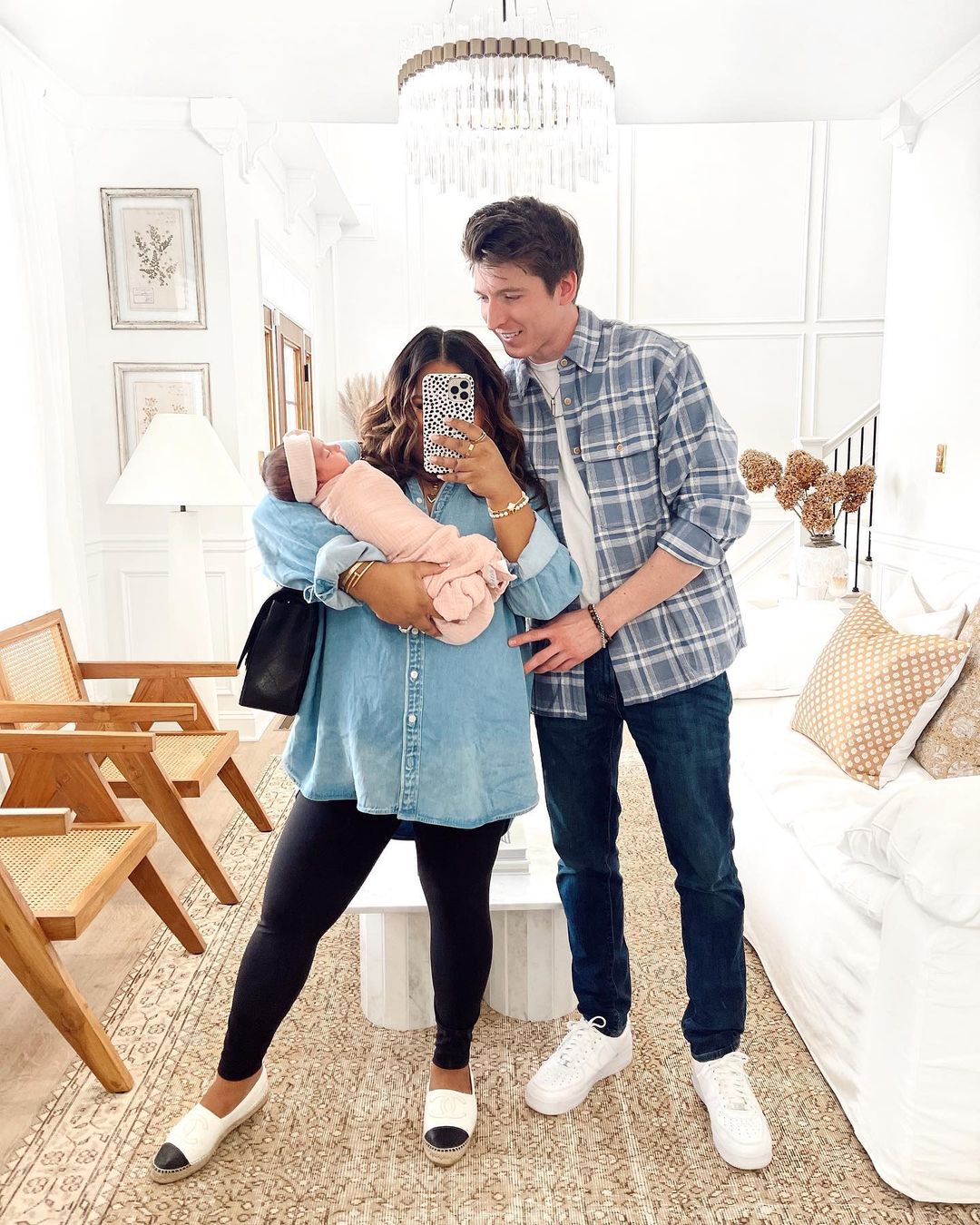 18 – Flared Skirts are Ideal for Hiding the Belly
Flaring skirts paired with French tucking at the waist help conceal the belly effortlessly. In this case, the layers of tulle on the skirt help to hide the pooch further. Here are some more stunning skirt outfits for plus-size women.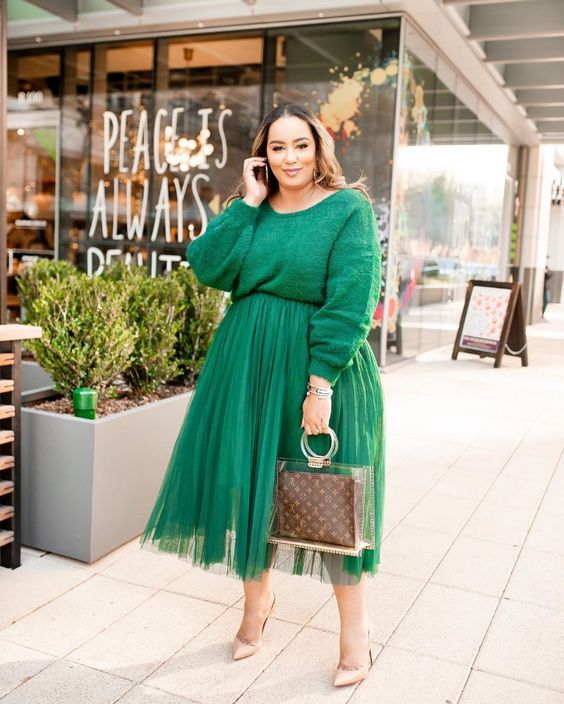 17 – Opt for a Dress with a Draping Effect on the Waist
You want to steer clear of dresses that cling to your midsection. An excellent way to divert attention away is to opt for one with ruffles/ draping effect around the waist. You can further contribute to this by opting for a dress with detailed sleeves or going big on the jewelry to trick the watchful eyes! This would also make a pretty cool clubbing outfit.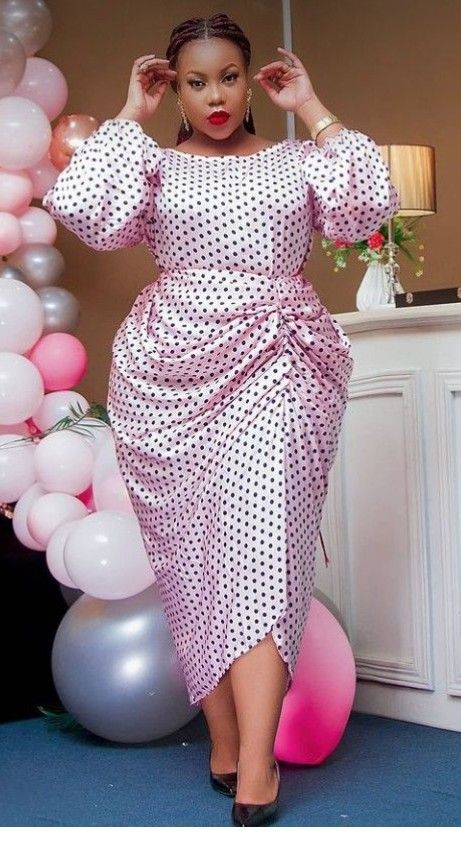 16 – High Waisted Baggy Pants are the Way to Go!
Baggy pants are usually not advised for concealing the midsection, but when worn correctly, look effortless. Pair your pants with a fitted top and a jacket/ blazer of your choice – the oversized, the better. You could even go for a bralette outfit if you want.
It all comes down to the tiny details when styling your pants. Add the folded hem details with a statement pair of shoes, and tie your jeans at the narrowest part of your waist. Adding a belt contributes further to the illusion of a slim waist!
15 – Choose Dresses & Blouses with an Empire Waist
A flowy empire waist dress helps conceal the belly, as shown in the image below. But you can opt for a fitted dress with an empire waist to look elegant while concealing your pooch effortlessly. The former is appropriate for everyday wear, whereas you can nail the fitted option for formal occasions.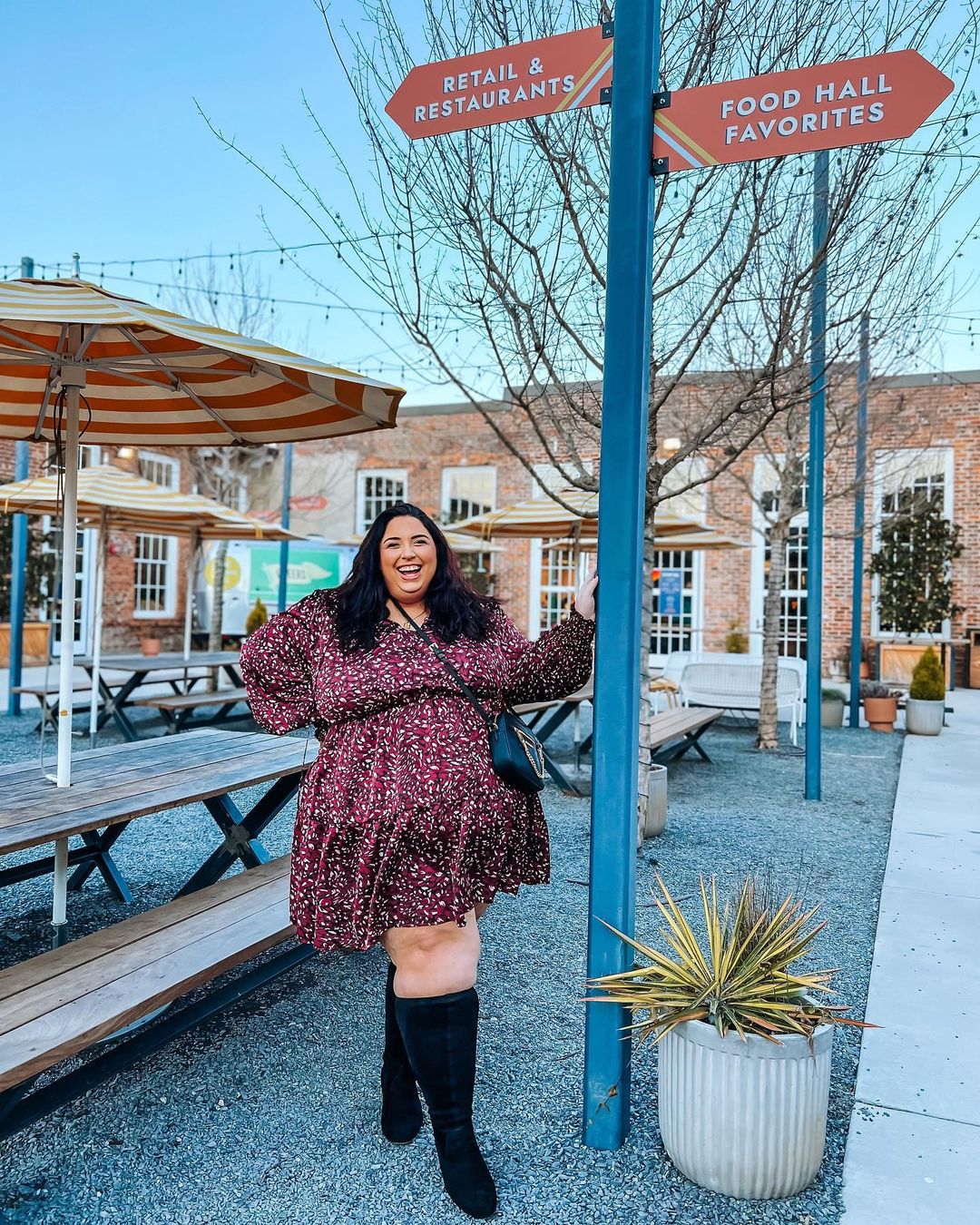 14 – Go for an A-Line Flare Skirt
Add statement accessories to divert attention away from your midsection. This way you might even get away with showing some skin!
13 – Opt for Printed Tie Pants with a Fitted Top
These pants are the easiest and chicest way to hide your belly. The bow detail on the waist helps conceal and slim your midsection as it serves as a belt at the narrowest part of your abdomen.
I suggest pulling the shirt out a bit to add a further slimming effect.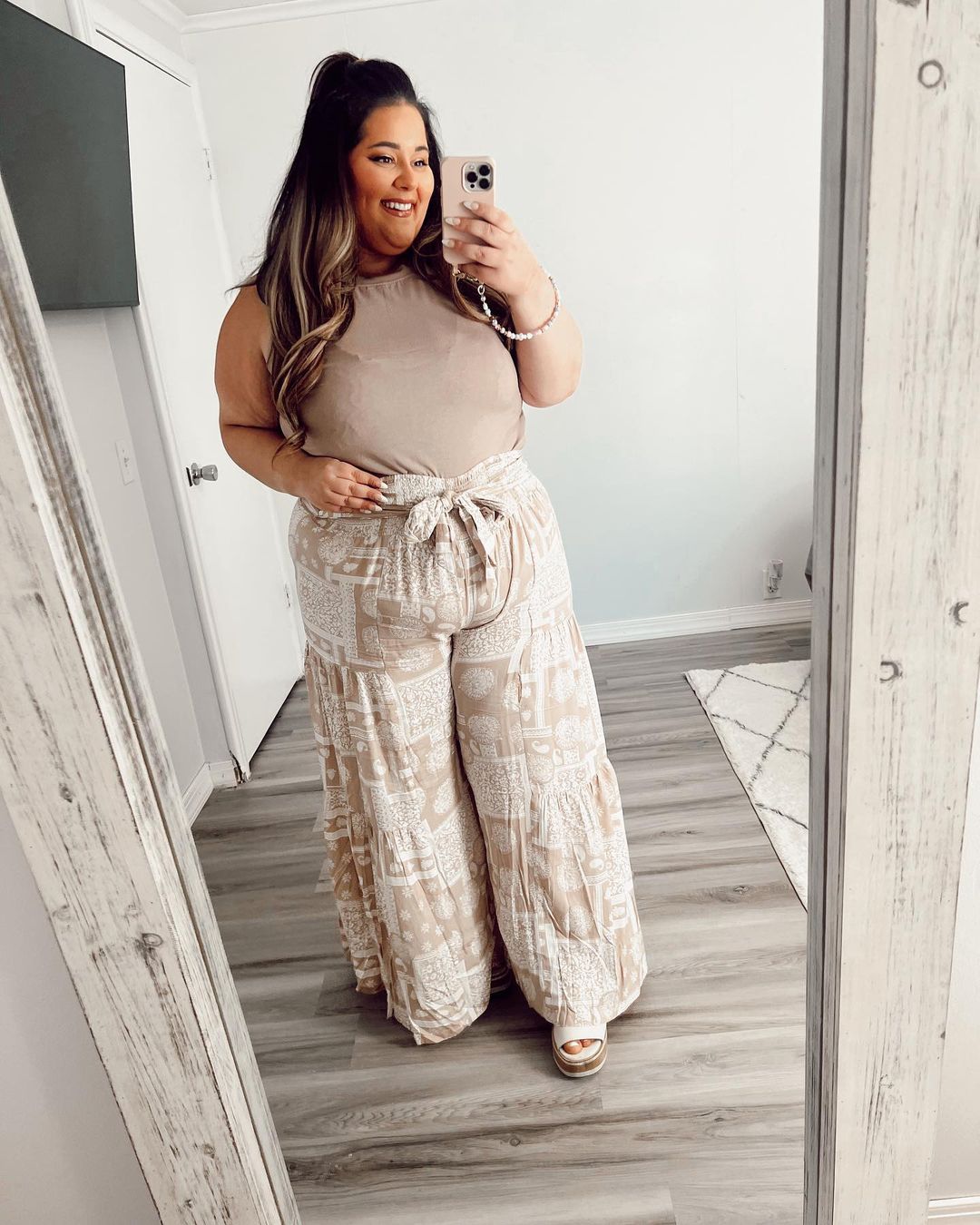 12 – Shift the Attention from the Belly to the Bling of your Dress
Occasionally, you can not get out of wearing a fitted dress, and you should not have to! In those circumstances, you want to incorporate an aspect that shifts the attention away from your midsection. In this case, the blinding fabric helps conceal the belly and makes her look fantastic.
Similarly, you can opt for fabrics with smaller patterns or thin vertical stripes. You can also add a statement item to your outfit that can range from shoes to jewelry. If all else fails, drape a slight pashmina over the shoulders, and bring it to the front to hide your belly.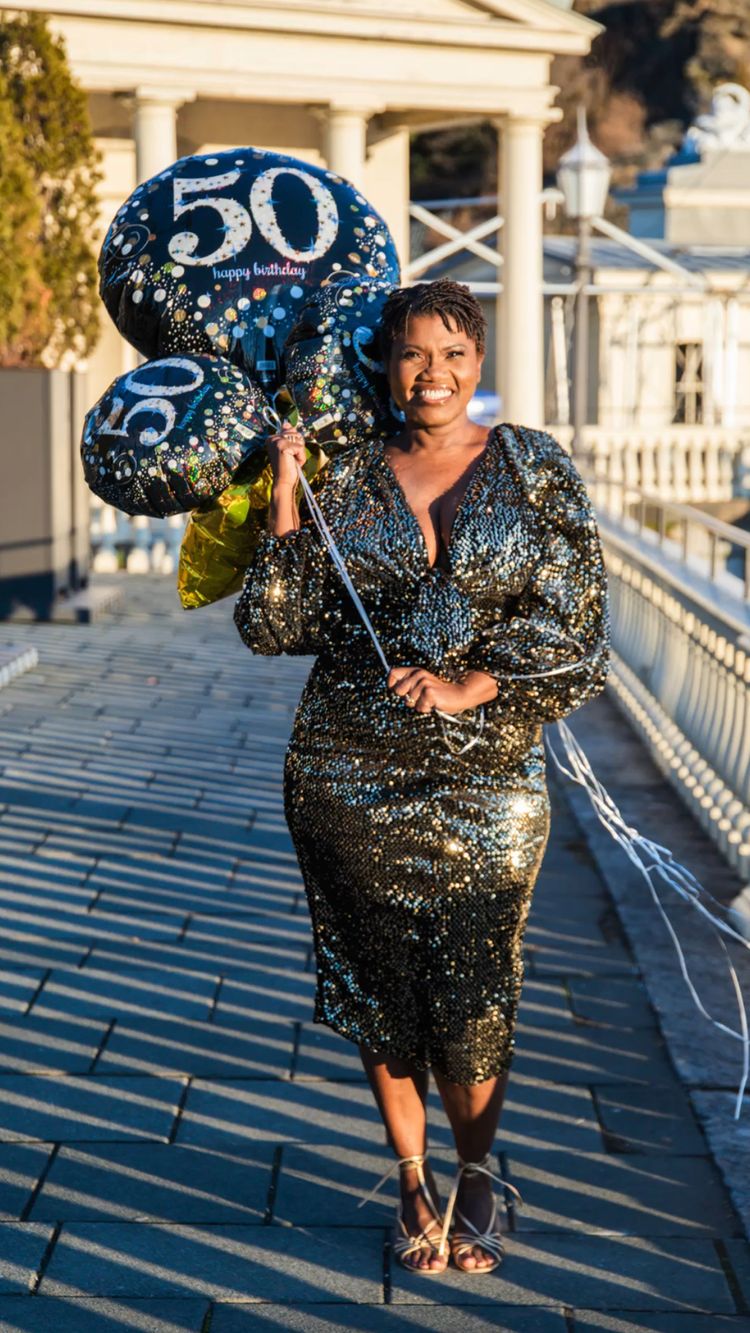 11 – Throw on a Kimono Over a Bathing Suit
If you are self-conscious about your midsection pooch in a bathing suit, throw on a kimono or an oversized shirt! It will serve the purpose of making you look fashionable and hiding the belly!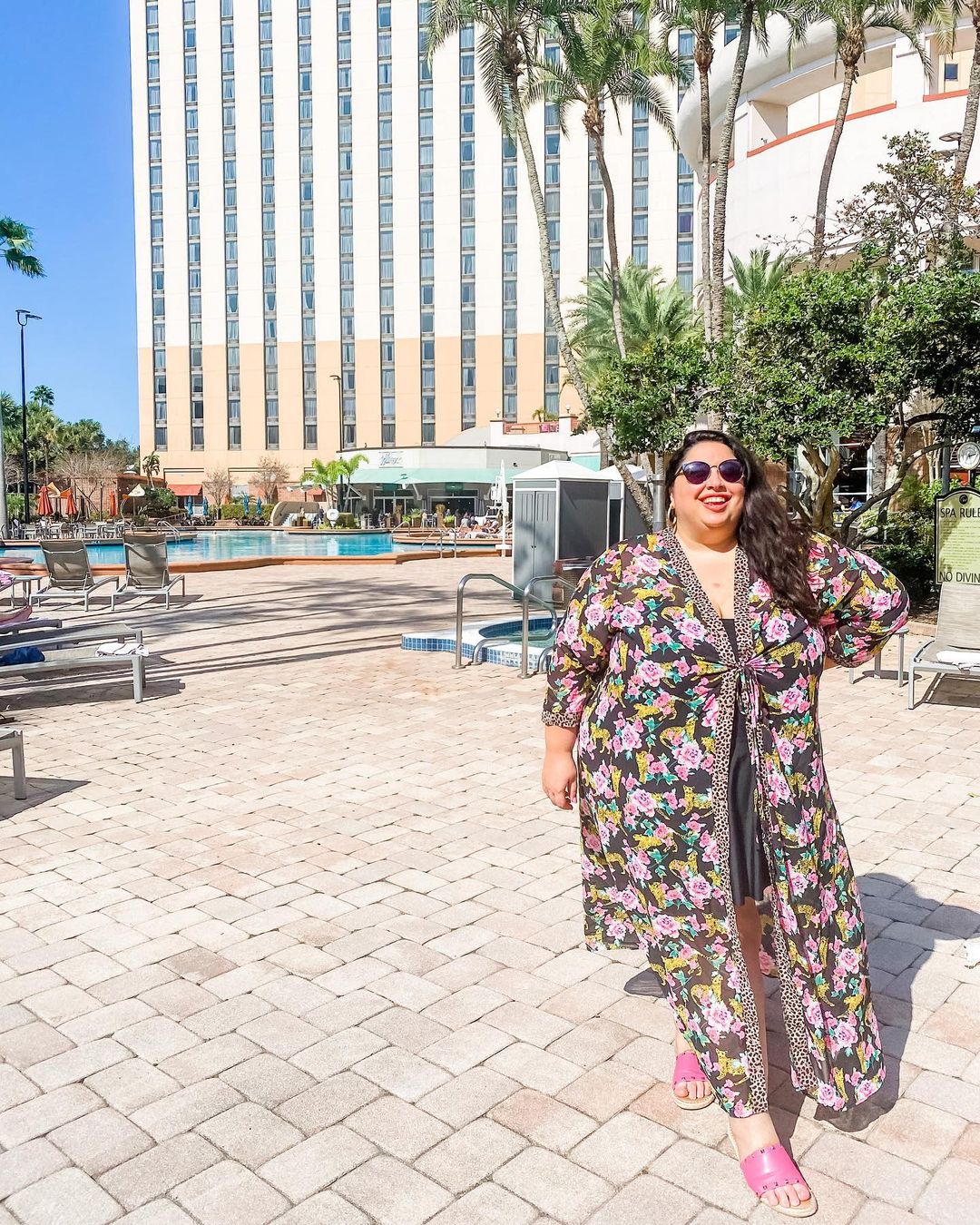 Tips for Fall/ Winter
10 – Untuck One End of your Oversized Blouse
This tip is a quick and easy way to style your favorite button-down shirts and blouses and is called French tucking! While tucking your shirt in, you pull it out just a tiny bit to give structure and definition to the narrowest part of your midsection, creating the illusion of a waist.
As you can see in the image below, completely untucking one end of the button-down blouse helps conceal the belly and looks stylish as well!
09 – Throw on an Oversized Blazer Over Your Outfit
Blazers are a trendy option these days. And they serve to slim your abdomen effortlessly, especially the ones with shoulder pads – or wider shoulders in general. If you leave your blazer open from the front, the tiny peek at your stomach decreases the thickness of your waistline and makes it look slimmer.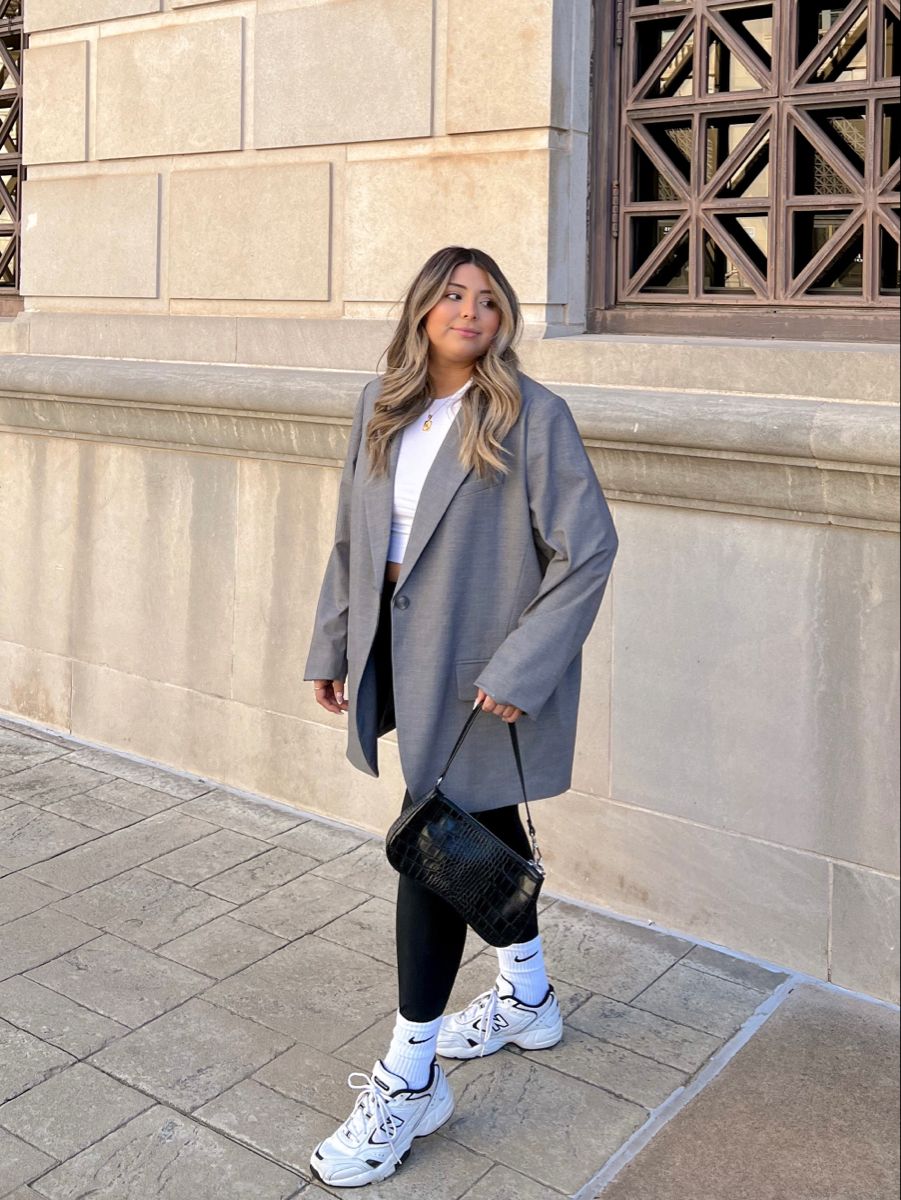 08 – Create a Monotone Look to Conceal the Belly
Different shades of the same color family provide an immediate depth to the outfit and successfully hide your stomach area. A monotone outfit creates the illusion of a sleek continuous figure. The eyes glide effortlessly over the top and bottom of the similar color family without having to pinpoint the bulges.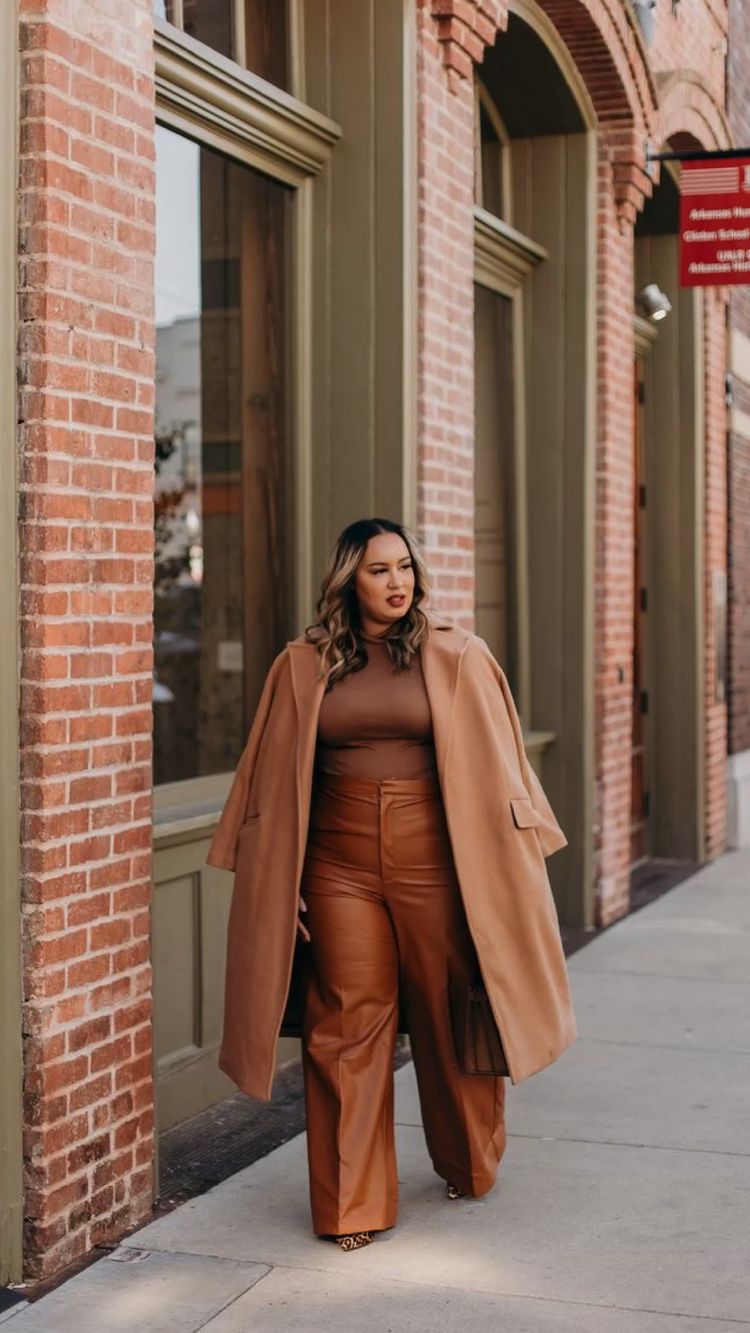 07 – Darker Colors Do the Work Effortlessly
You can add an oversized jacket on top of your mini dress to provide further coverage to your midsection. If darker tones are not your thing, you can get creative with the outerwear!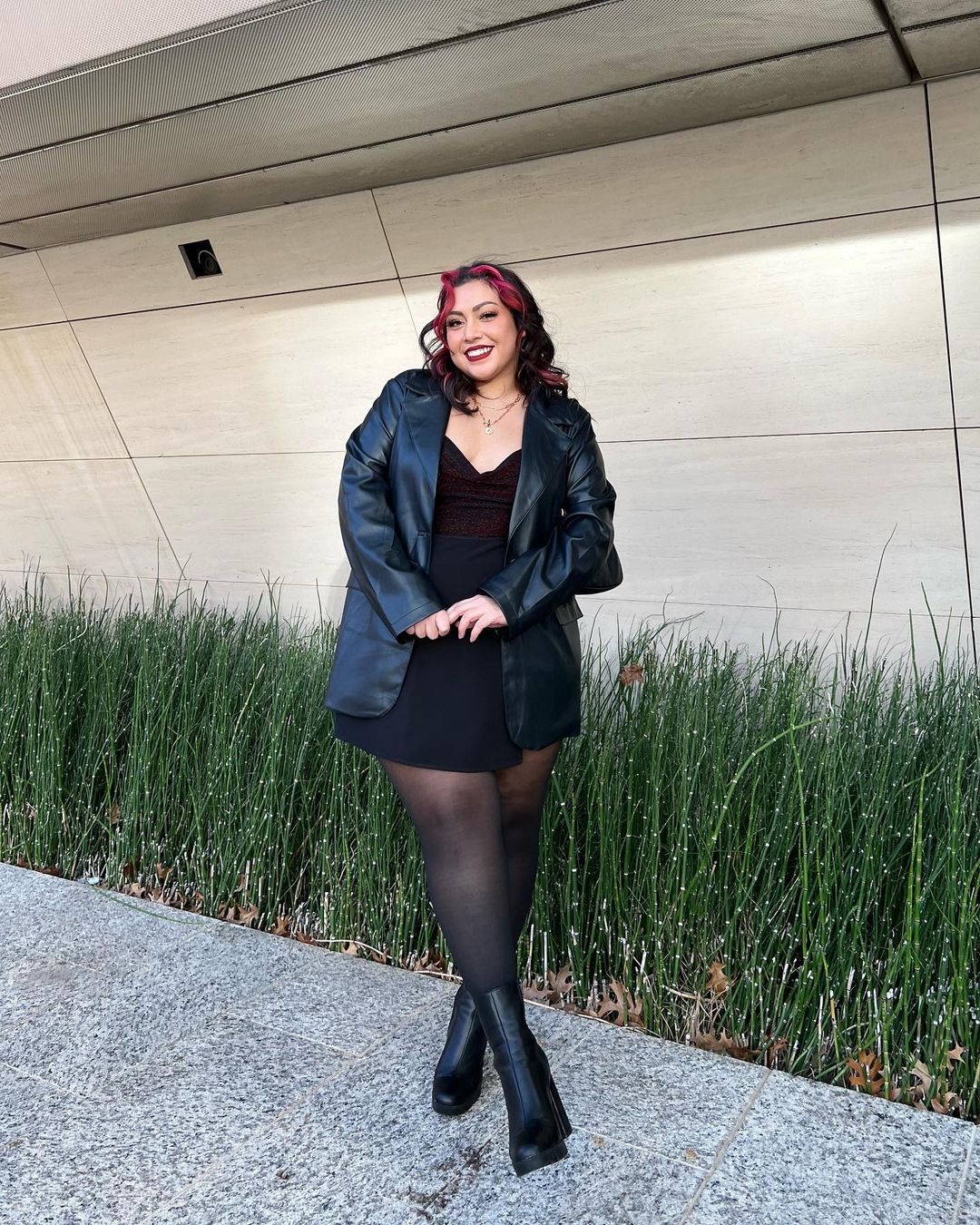 06 – Opt for a Straight Cut Dress
Mini dresses can be tough to style while concealing the pooch. Therefore, going for a straight cut or flared silhouette is key. You should pair your dress with statement knee-high boots to divert attention from your midsection.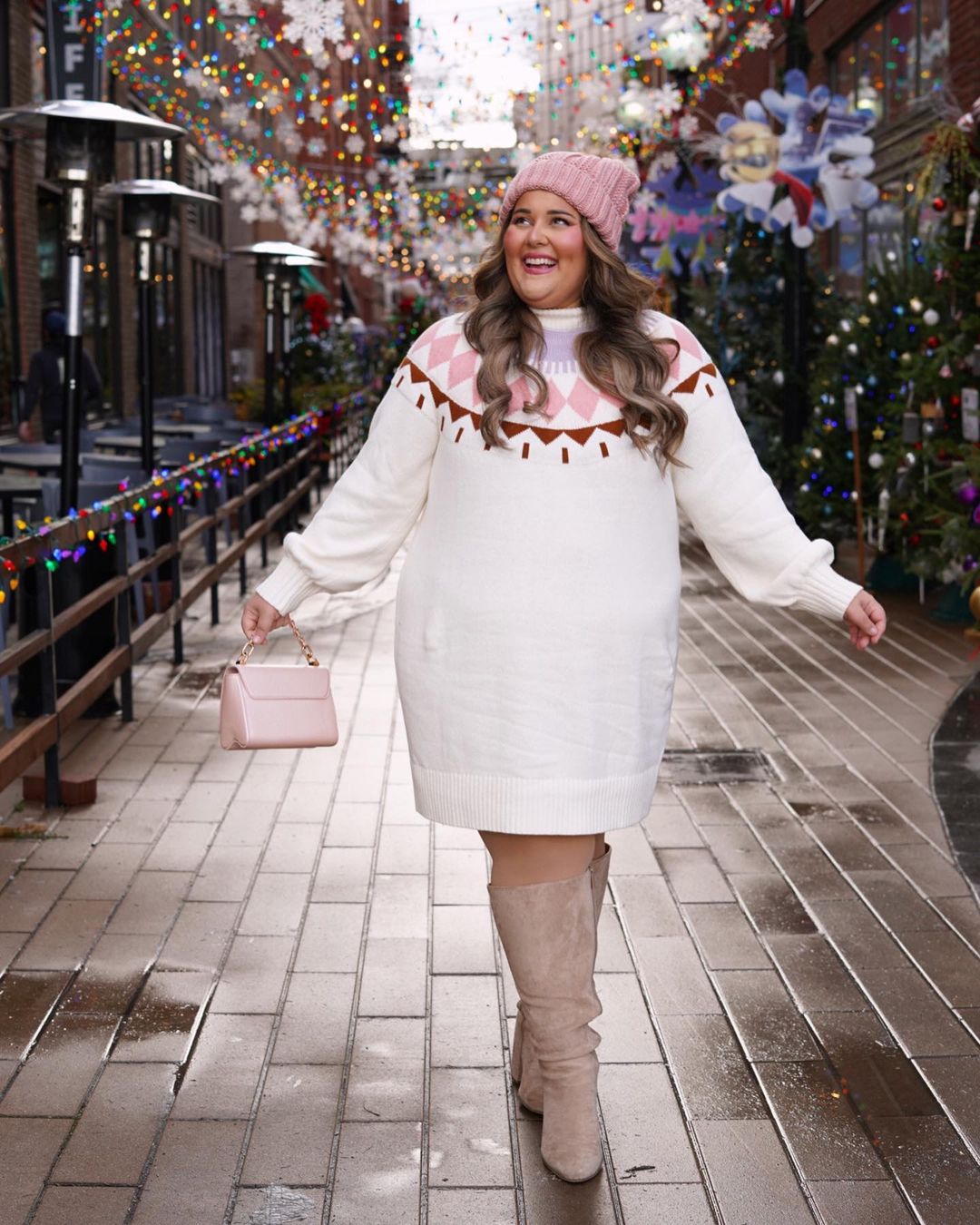 05 – Go for All Black to Conceal the Belly in Petite Women
It is a universal truth that black (and other darker shades) are slimming on women of all sizes. Thus, if you are petite or oversized, you will find comfort in knowing black will make you look thin regardless of the type of outfit you are wearing. So if you need to wear a bodycon dress, slay it in black!
04 – Wear a Matching Blazer & Pant Set for Formal Occasions
A lot of women find it difficult to dress for formal occasions while concealing their abdomen successfully. The easiest way to dress is to opt for a jumpsuit in a darker shade or a similar pant and suit set. If you can find one in vertical stripes, it would be the cherry on top!
Do not forget to pair your outfit with stiletto heels rather than chunkier block heels. And the flashier, the better. It will help make a statement and take attention away from your midsection.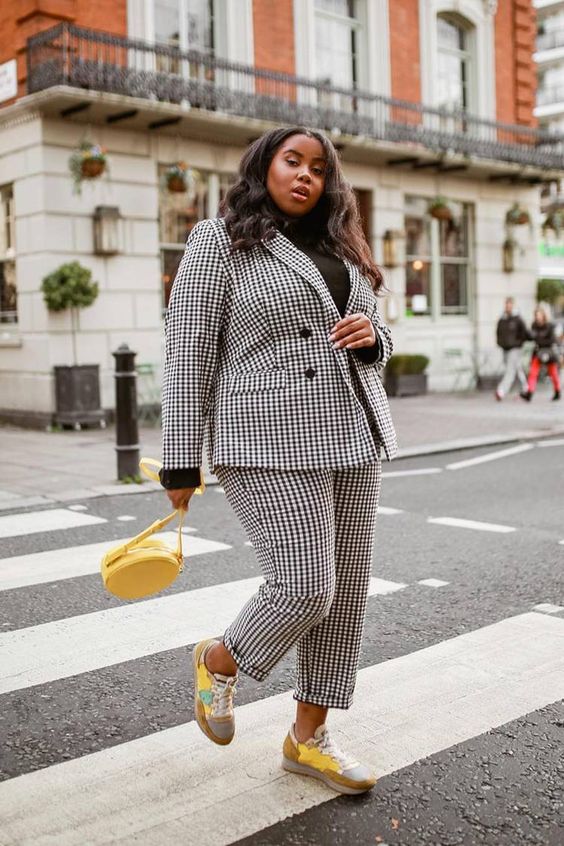 03 – Layer Your Outfit With a Long Scarf
This tip is exclusively for the fall and winter seasons – or possibly the chillier days of the hotter seasons as well.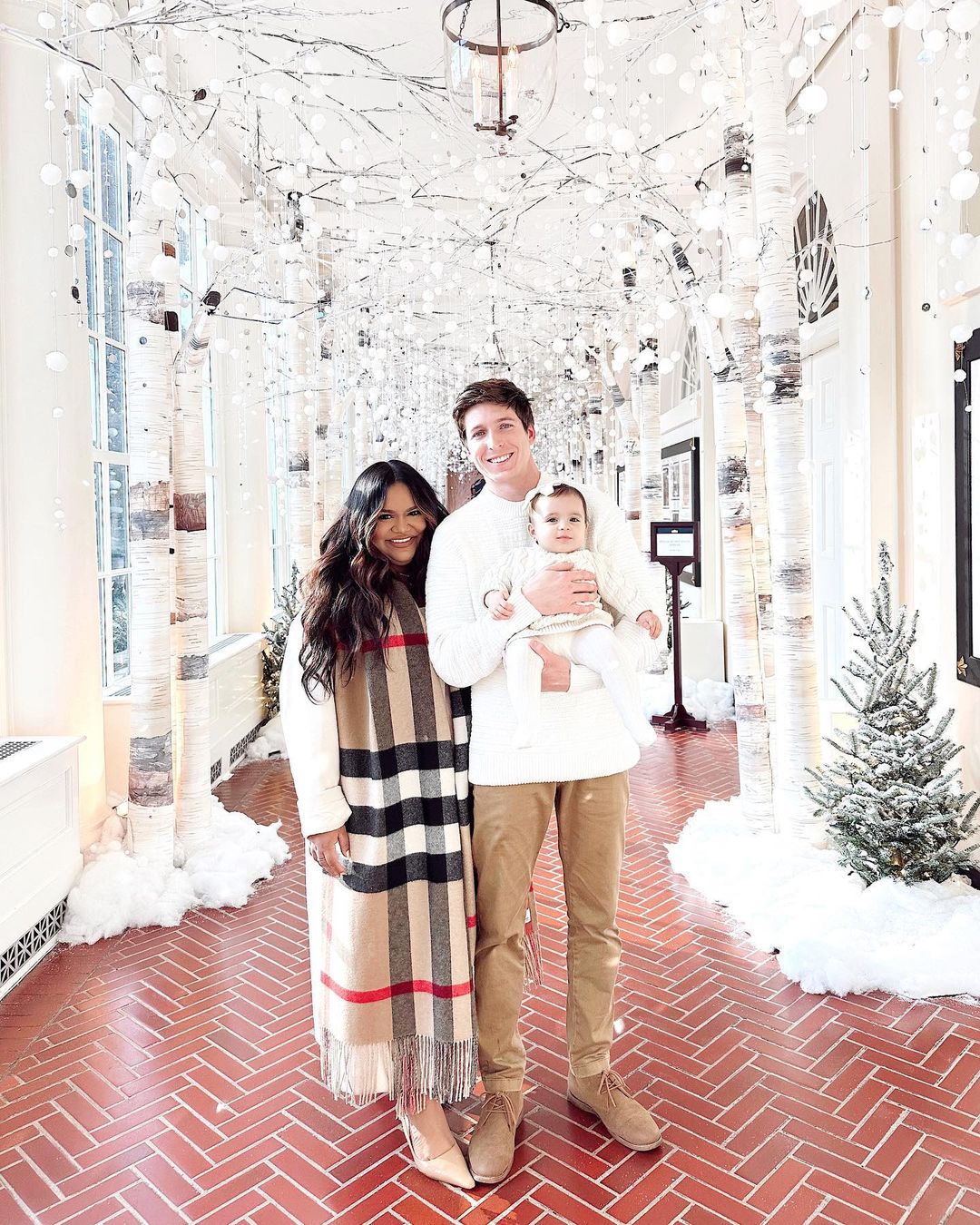 02 – Pair Your Fitted Top & Bottom With an Oversized Jacket
Just like the Blazers, jackets are the way to go! This is the best way to balance out your fitted clothing while still making you stylish. And the styling opportunities are endless. You could go for a street vibe or make it office appropriate; it all comes down to your preference!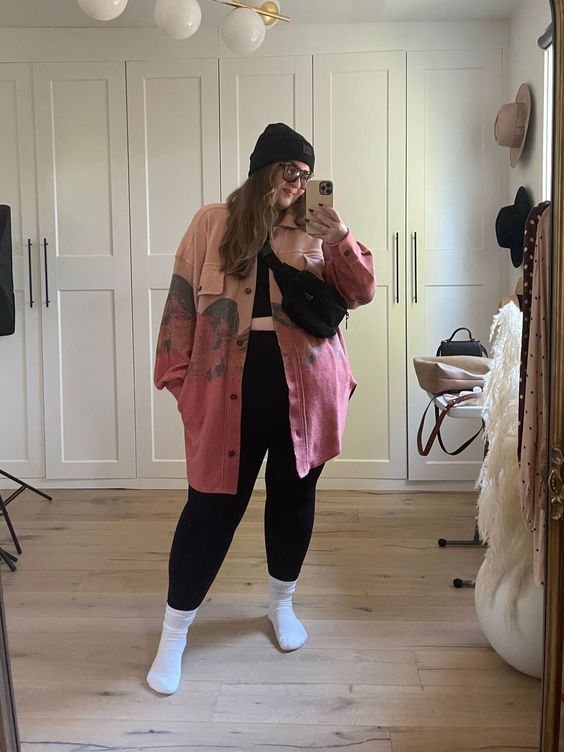 01 – Avoid Tucking Unless There is a Jacket or Flared Bottoms
I suggest avoiding tucking a fitted top if your bottoms are also fitted. However, consider adding an oversized jacket or jacket to cover the belly if you must. If neither of those options works for you, a scarf might be what you are looking for. Bring both ends of the scarf towards the front to hide your stomach.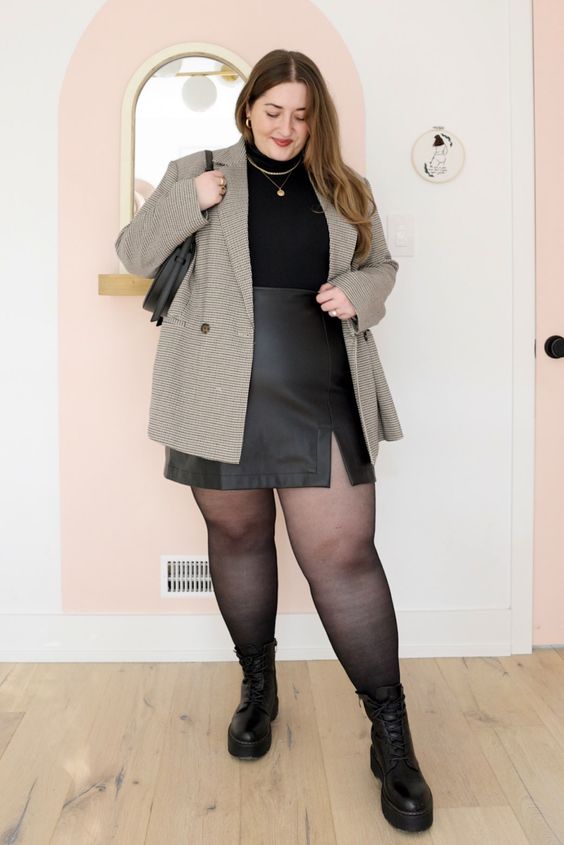 FAQs
Q. How can I hide my belly fat while sitting down?
Alongside all the clothing tips mentioned in this article, the only thing you can focus on is your posture to hide the fat when sitting.
The aim is to achieve a relaxed yet elegant pose. And to do that, you should straighten your spine and push your shoulders down and backward. Make sure to use your hands and elbows to hide the lower part of your midsection.
And lastly, kindly ensure your knees are at level with your hips and below your stomach. This will make you look elegant, taller, and narrower and take attention away from any unwanted bulges.
And move over to the edge of the seat for the ultimate sophisticated pose when you are being photographed!
Q. What type of pants hide a tummy?
As mentioned above, high-waisted pants with flared or wide hem work wonderfully to immediately make your midsection appear skinnier. Moreover, you should opt for darker ones with vertical pinstripe patterns.
If all these do not float your boat, you might want to check out tummy control pants. They are gaining popularity for their seamless fit, use, and purpose. You can check them out right here!
Q. How to hide lower belly pooch in a dress?
It is the easiest to hide your midsection fat in a flowy printed dress in a midi or maxi style. However, it is a bit more tricky to conceal it in a mini dress, which is why we look at the types of silhouettes you can try.
I suggest steering clear of bodycon dresses. Instead, opt for a straight or A-lined cut. You will also find empire waists to be the new thing that compliments your body type. Choose the ones which flare out beneath your bust to hide your pooch successfully.
If all else fails and you feel comfortable with it, reach for shapers, especially if you want to wear a skin-tight dress!