Internship outfit ideas for women – In an already competitive and rather male-dominated job market it is terribly hard for women to find jobs and make successful careers. Still, we are here to help you figure out how to put together stylish outfits to wear as an intern because you must always dress for the job that you want.
We hope to help you at least avoid the struggle in one area so that you might be able to focus better on other things. Here's everything that we will be discussing today:
We will help you compile outfits using your own clothes and suggest cheaper options that you can easily afford.
With this said, let us dive into a few of the million looks that female interns can wear in their office spaces and feel cute, professional, and comfortable simultaneously.
What to Wear at Your Internship?
Traditionally, office outfits are supposed to be formal but in the ever-changing corporate world, young women and men are able to dress up either casually or formally for their internships.
Internship outfits should be stylish and trendy but should also be worn in a way that exudes confidence, dominance, and power. People in the office – juniors and seniors – should be aware of your ability to get work done at all costs in the best possible way.
Internship outfits for women have a lot of variety within them, which makes styling them even more interesting. Women can wear dresses, suits, pencil skirts, blazers, or even jeans to work!
Since so many variations of internship outfits are present, always mix them up to stand out in your workspace as an intern.
Tips on Choosing Your Internship Outfits
Colors: Remember to avoid very bright and out-there colors. There may be exceptions with certain outfits but generally, this is one piece of advice we would like you to follow. The best colors would be brown, black, white, cream, beige, maroon, etc.
Shoes: Open shoes should be avoided in most cases with internship outfits. Pumps, mocassins, closed-toe stilettos, ankle boots, etc. should always be given preference. Additionally, whatever shoes are worn, should be comfortable.
Accessories: The most recommended accessories to be worn as an intern are wristwatches, minimalist rings and bracelets, and chains. Gold should be avoided while silver should be given preference. Additionally, leather handbags with abundant space in them should be preferred. Here's our complete guide on work-appropriate jewelry.
Comfortable and warm: Whether it is a summer or a winter internship, offices tend to be very cold spaces. Remember to keep a shrug with you.
What Not to Wear to an Internship
The following items should be avoided:
Ripped jeans
Dresses with thigh-high slits
Excessively low-cut dresses
Sheer clothing
Flip-flops
Business Casual & Casual Looks
22 – Sporty Chic but Minimalist
21 – Printed Blouse with White Pants
20 – Black Tweed Jacket With Black Pants
Who doesn't love black pants, right? We all do!
They are smart, sexy, slimming, always in style, and one of the best colors for an internship outfit. No matter what body shape or skin color, you will look good in it regardless!
Under the tweed jacket, put on a fitted ribbed turtle neck sweater and tuck it into the dress pants. To complete the look, wear a pair of beige and black ballet flats.
19 – Mustard Sweater Plus Mustard Pants
This is one of those times when we encourage you instead of discouraging you from putting together a brightly colored internship outfit.
Mustard sweater is one of our favorite items this winter. With a mustard, ribbed, crew neck sweater, put on a pair of mustard pleated ankle pants and brown slingback pump stilettos. As an accessory carry a black tote bag to easily carry your belongings.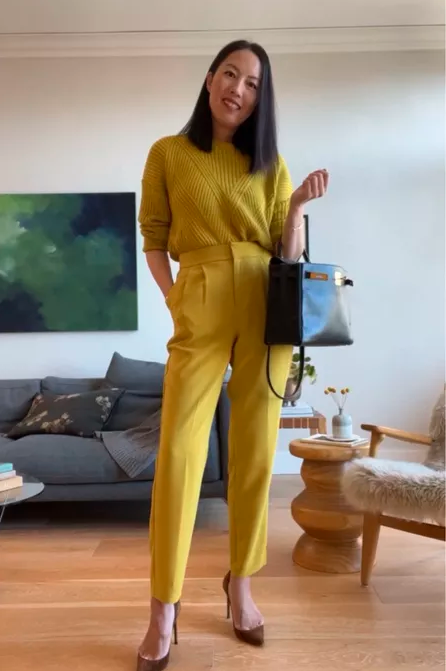 18 – White Crewneck Sweater With Mahogany Pants
Sometimes the basic white and black outfits require a splash of color, which is why we must add this look to internship outfits for women.
The high-waisted mahogany pants make this look perfect for the autumn season. The best way to wear the sweater would be to french tuck it into the pants.
To accessorize, add a mahogany or rust bag and minimalistic gold necklaces. Finally, for the shoes, we recommend pointed-pump high heels.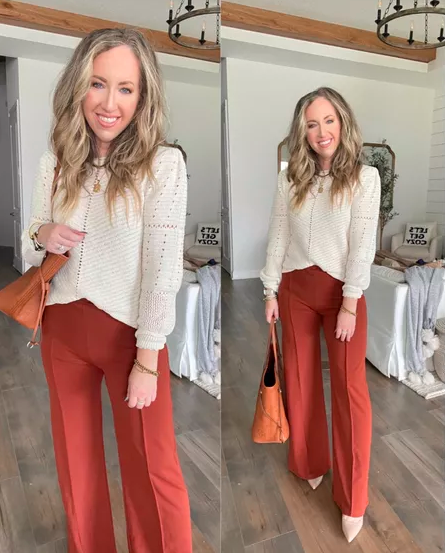 17 – Oversized Sweater With Leather Pants
If you are a fan of leather pants, this is the look you should choose for your internship.
Tuck in your oversized alpaca sweater into your brown leather pants and put on a pair of two-strap high heel sandals. Usually, we recommend close-toe shoes but this look is evidently an exception.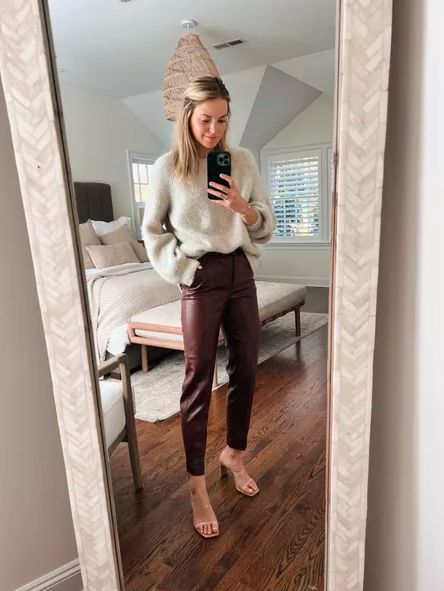 16 – Plaid Skirt With A High-neck Sweater
We did talk about plaid being an interesting twist on the internship outfits but instead of a plaid blazer, this look consists of a plaid skirt.
Usually, skirts are not able to keep you warm but this skirt will not fail to do so. Finally, wear a pair of knee-high leather boots.
15 – Oversized Blazer With Blue Jeans
Over the years, fashion has evolved in several ways. The way goes for women's work wear. People only stuck to pants and skirts before but now they are able to wear jeans while working as well. And even if that is not possible in your internship, the company you are working for might have a casual Friday!
The only thing to keep in mind is that jeans worn in an office place should not be ripped or torn.
Wear your blue straight jeans with a light brown oversized blazer and a black crew neck top underneath. Put on a pair of chunky loafers to finalize the look.
14 – Grey Plaid Blazer Over A White Turtleneck
If plain outfits are no longer keeping you excited, then you should definitely go for a double-breasted plaid blazer worn over a fitted white turtleneck sweater.
Under the sweater, wear a pair of black straight-ankle jeans. To top it all off, put on a pair of black mocassins.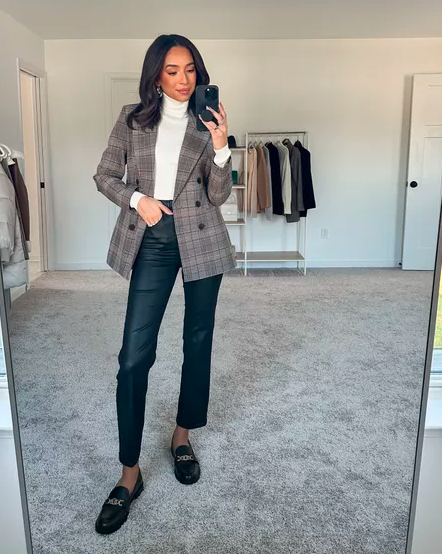 13 – Ribbed Sweater Vest Over A White Button Down Shirt
If you are presenting for the first time at a board meeting and require the perfect outfit, you are in the right place because we are here to help you.
Button-down shirts are made for the office, so why not wear one as a part of an internship outfit? Over the shirt, put on a white ribbed sweater vest. Also wear a pair of navy blue skinny dress pants and black pointed-toe high heels. This outfit will keep you warm and turn you into the head-turner of the office.
This time we shall be talking about the dresses and how to wear them as an internship outfit. The sweater dress is bound to keep you warm and the leather boots give it a classic yet glamorous spin. This dress is an investment you should definitely make.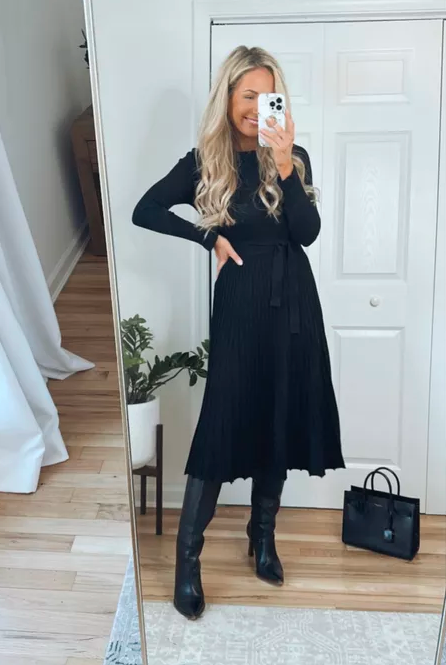 Formal Outfits
11 – Brown Wrap Coat With Black Wide Leg Pants
Winters are here and the temperatures are dropping really low, aren't they? If you are someone who feels really cold and is bound to shiver in the negative temperatures, this is an outfit definitely made for you!
The Lapel Coat covers you and keeps you warm all over and its brown color compliments the black perfectly!
Under the coat, wear a turtle neck sweater and a pair of high-waisted wide-leg pants. Since the pants are high-waisted, they help you tuck in your tummy, if you happen to be worried about that.
Finally, for the shoes, wear a pair of light brown slingback pumps. To accessorize, use a black belt with a simple, cold buckle.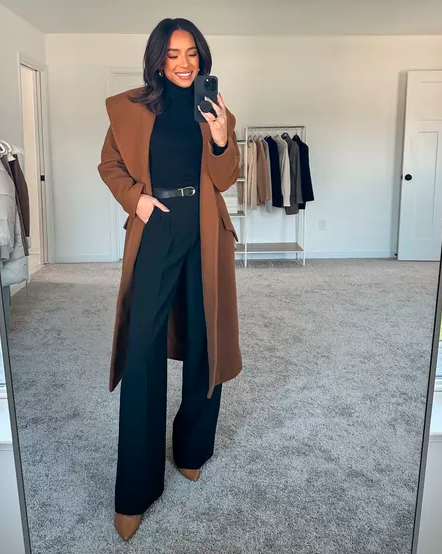 10 – White Cardigan Over A White Mock Neck Sweater
We did talk about black being great but white happens to give it a tough time as well. So if you are a fan of white as a color, then this is the internship outfit that you should put together for yourself.
Wear a long white duster cardigan over a sleeveless mock neck sweater and a pair of high-waisted ankle pants. To complete the look, add a pair of ballet flats and a black tote bag.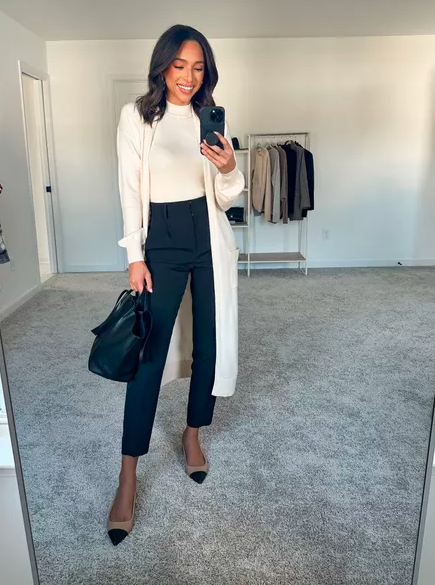 9 – Black Blazer Over Black Pants
This beautiful black boyfriend blazer goes really nicely with the high-neck sweater. To complete the look, black pants and ballet flats can be worn.
And to accessorize, you could wear small silver earrings or a silver chain and wristwatch.
8 – White Button-down With A Brown Skirt
We did several looks with pants, but now it is time to bring out the skirts. Combine a pleated brown skirt with a slim-fit white button-down shirt.
To make it look semi-formal, roll up the sleeves, and as an accessory, add a brown belt to the skirt. To top it all off, wear a pair of beige leather pumps, which we believe are made for office work.
So, if you would like to assert your knowledge of your subjects while looking suave at the same time, this is the look for you!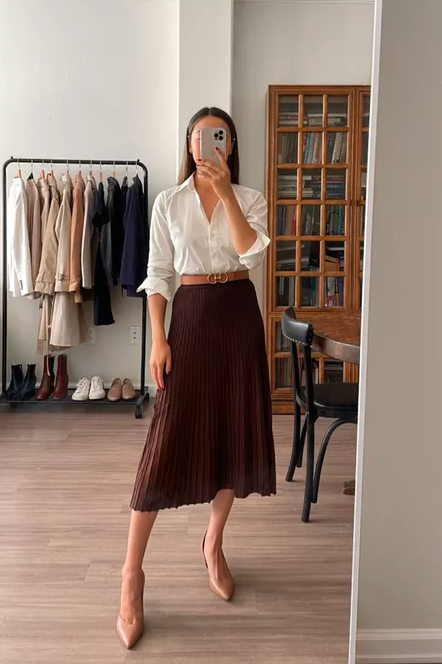 7 – Black Crewneck Sweater With High Waisted Pants
This outfit gives an 80s vibe. Of course, then these pants were worn by men at discos and now we can style them for women to be worn during their internships.
To imitate this look, wear a pair of high-waisted drape pants with a black cashmere crew neck sweater and brown loafer pumps. If you would like to accessorize, add a black horse bit belt.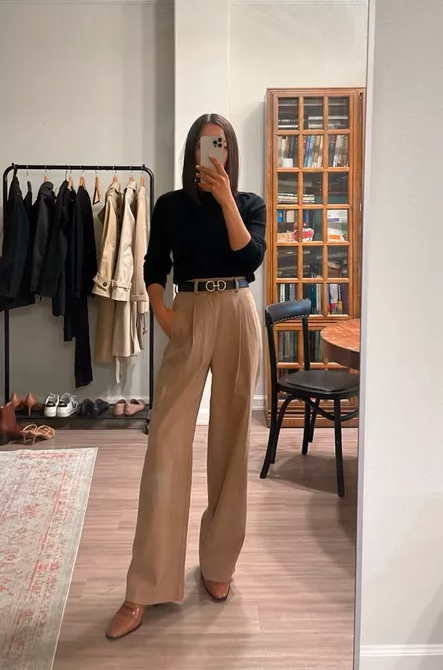 6 – White Over White
White symbolizes purity but it also gives us an angelic look and don't we all want that? Wear a pair of white wide-leg pants with a white mock neck sweater and hazel-colored pointed-toe pumps.
Just looking at this look gives a warm vibe.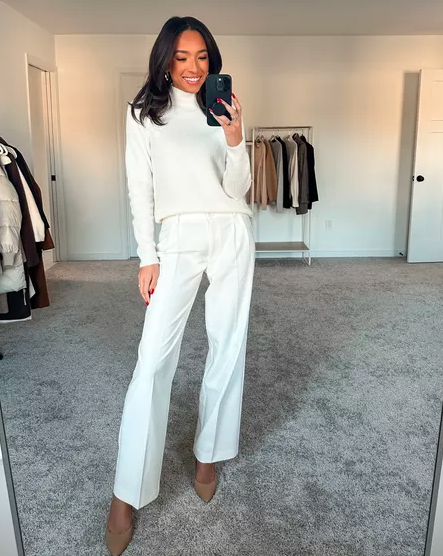 5 – Brown Belted Blazer With Brown Pants
The Ted Baker belted blazer can be worn with Ted Baker pleated pants. A brown slim belt will compliment the outfit and the pair of slingback high-heel pumps further increase the elegance of this internship outfit.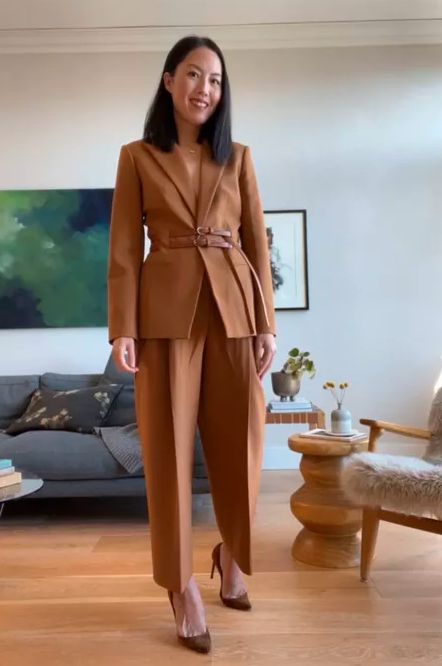 4 – Chequered Blazer With Chequered Pants
This is one of those internship outfits you might not be able to compile using the items in your closet because this is a co-ord set. However, this is a much-suggested purchase on our part.
Wear a brown double-breasted chequered blazer with a pair of high-waisted wide-leg chequered pants and a crisp white shirt. You can also carry a black bag to complete the look.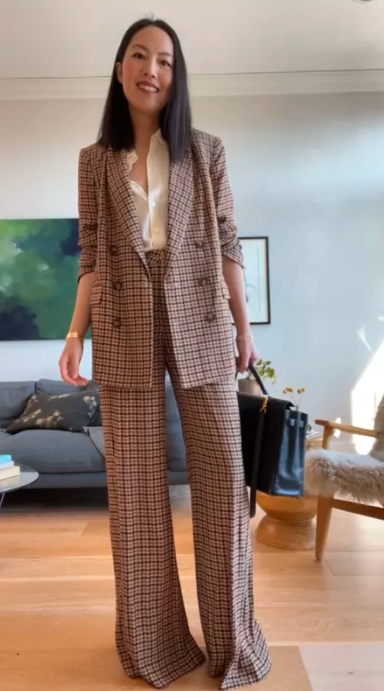 3 – Grey Stretch Crepe Dress With Leather Boots
This is the second outfit consisting of a dress in this list that we provide you for your internship outfit ideas. Additionally, if you lose grey as much as us, mark this look instantly! Because you will surely hear several compliments from your colleagues and co-workers.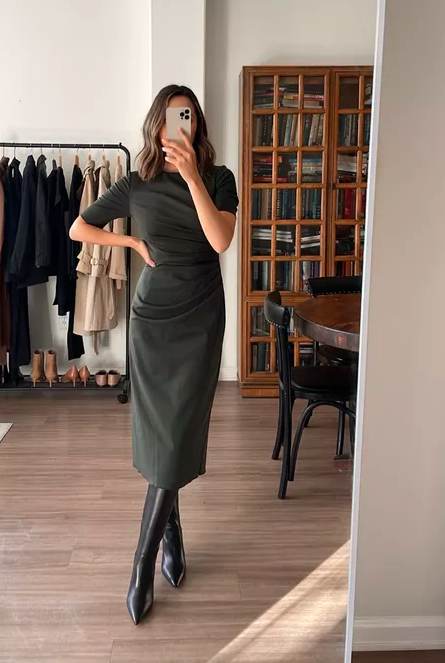 2 – Brown Sweater Vest With A White Button-down
We just love sweater vests and we love them even more at the office because they allow us the flexibility to do work efficiently.
Wear your cable sweater vest with black wide-leg tuxedo pants and an oversized white button-down under the sweater. to top off the look, wear a pair of heeled ankle boots.
1 – Light Blue Shirt With Sand-colored Pants
This final look is a classic for the office and might just be a must-have internship outfit. Everyone owns a light blue button-down and sand-colored or cream-colored pants. Therefore, putting together this outfit should be rather easy.
With the shirts and pants, wear a pair of tan-heeled clog mules and carry a tan cross-body bag to complete the look.
FAQs
Q. Can printed dresses be worn as internship outfits?
A. No! Printed dresses look very casual, while the office environment gives off a formal or semi-formal vibe. Therefore, they should not be worn as an intern.
Q. How shoud hair be styled with internship outfits?
A. With these outfits, hair should be tied up in a way that it does not fall onto the face. A loose bun or braids work really well. If it is your first day, getting a blowout done from the salon would not be a bad idea. And to look good every day of your internship, get a hold of a curling iron or a flat iron. You can get more ideas from these Quick and Easy Hairstyles for Work.
Q. What accesories should be avoided with internship outfits?
A. Very loud accessories should be avoided. Additionally, bangles that make sound should not be worn in the office.
I am a 3rd year dental student, grinding to complete my clinical hours and at the same time write some content here and there. Sometimes I sing and play my guitar (covers can be found on my Instagram).