Skirt Outfits for Plus Size Women: There is this ridiculous notion that curvy ladies need to avoid skirts at any cost; however, we put all those rumors to shame. And if there is anyone who can pull off skirt outfits, it is our beautiful plus-sized women out there! I believe that skirts look best for women with fuller figures as they bring out their curves and make their confidence unmatchable. There are various shapes, fits, and styles of skirts, including mini, A-lined, or flowy ones.
But the first step to flaunting your skirt outfit is to accept and love your body the way it is and all it does for you. As society progresses, we are working towards leaving our mainstream thoughts behind and embracing all body types the way they are. However, we still have a long way to go. And the change begins at a personal level. Thus, give yourself the love you deserve and get ready to style some phenomenal skirt outfits that will turn admiring heads your way. And the best part is that brands are catering to the needs of plus-sized women by giving you endless options to shop!
How to Wear Skirts if You're Plus Size?
Styling a skirt is extremely fun as you get to play around with different trends and styles to create a statement-worthy look. When it comes to putting together an outfit, it depends on the type of skirt you are going for. Choose a top that compliments the silhouette of your skirt. For instance, a cropped oversized top or sweater pairs well with a mini skirt or a cute bralette top with a long flowy maxi skirt. Thus, it all comes down to your personal preference and the type of skirt you choose. But make sure you do not forget to find the perfect shoes and accessories!
Styling Tips:
Plain-colored skirts in pale tones such as lilac, pink, cream, and blue will add a gentle look, whereas darker colors such as black, navy, grey, and brown can make you appear slimmer.
Patterns and flares look amazing but try to avoid very tiny prints.
Choose a flared and full style of skirt fitted at the waist for the shy plus-sized ladies out there.
Accessorize with contrasting colored belts and waist cinchers to go with your skirt.
Avoid clothes that don't compliment your shape and make you feel less confident.
If you feel insecure about showing off your legs, opt for fishnets or stockings for an edgy look!
23 – Pair a Knitted Skirt with White Sneakers
Knitted skirts are a perfect pick for the winter and cool summer days. They are easy to style, look fabulous and keep you warm too! Opt for heeled booties and nail the art of layering with a coat, sweater, and scarf for the ultimate winter look.
And the image below serves as an inspiration to style an outfit for a spring/ summer outfit. I would advise going for white sneakers and an oversized crop top to make your look more comfortable and practical. Here are some more of the Best Women's Outfits to Wear With White Sneakers.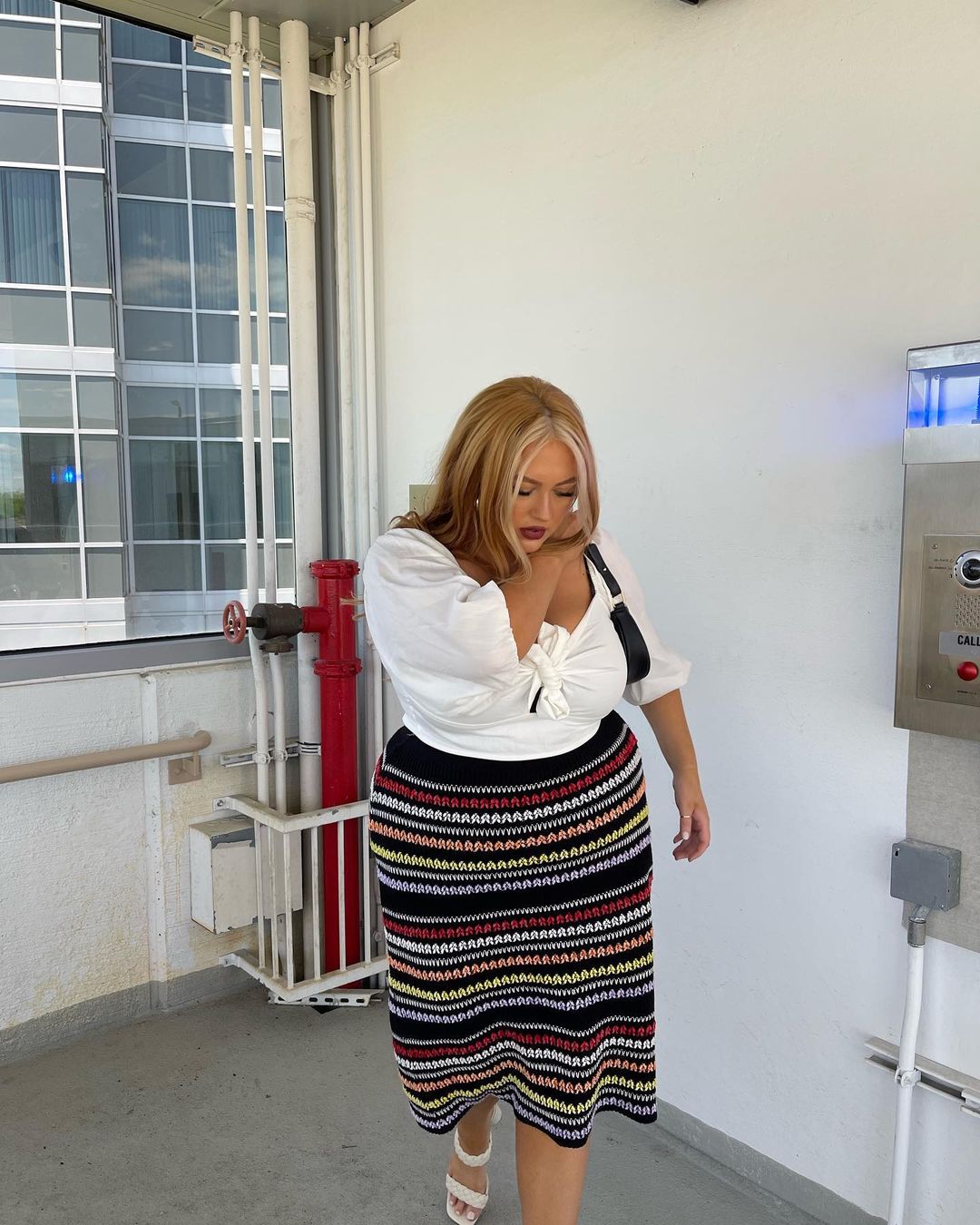 Get the look:
Crochet Knit Midi Skirt $56.21
22 – Go for White Accessories to Create an Ideally Balanced Look
This shade of pink is bright and beautiful! The best way to bring out the best of this gorgeous matching set is to pair it with white accessories. The hair scarf adds a feminine touch to the look, and the boots and purse in white complement the entire ensemble in the best way possible!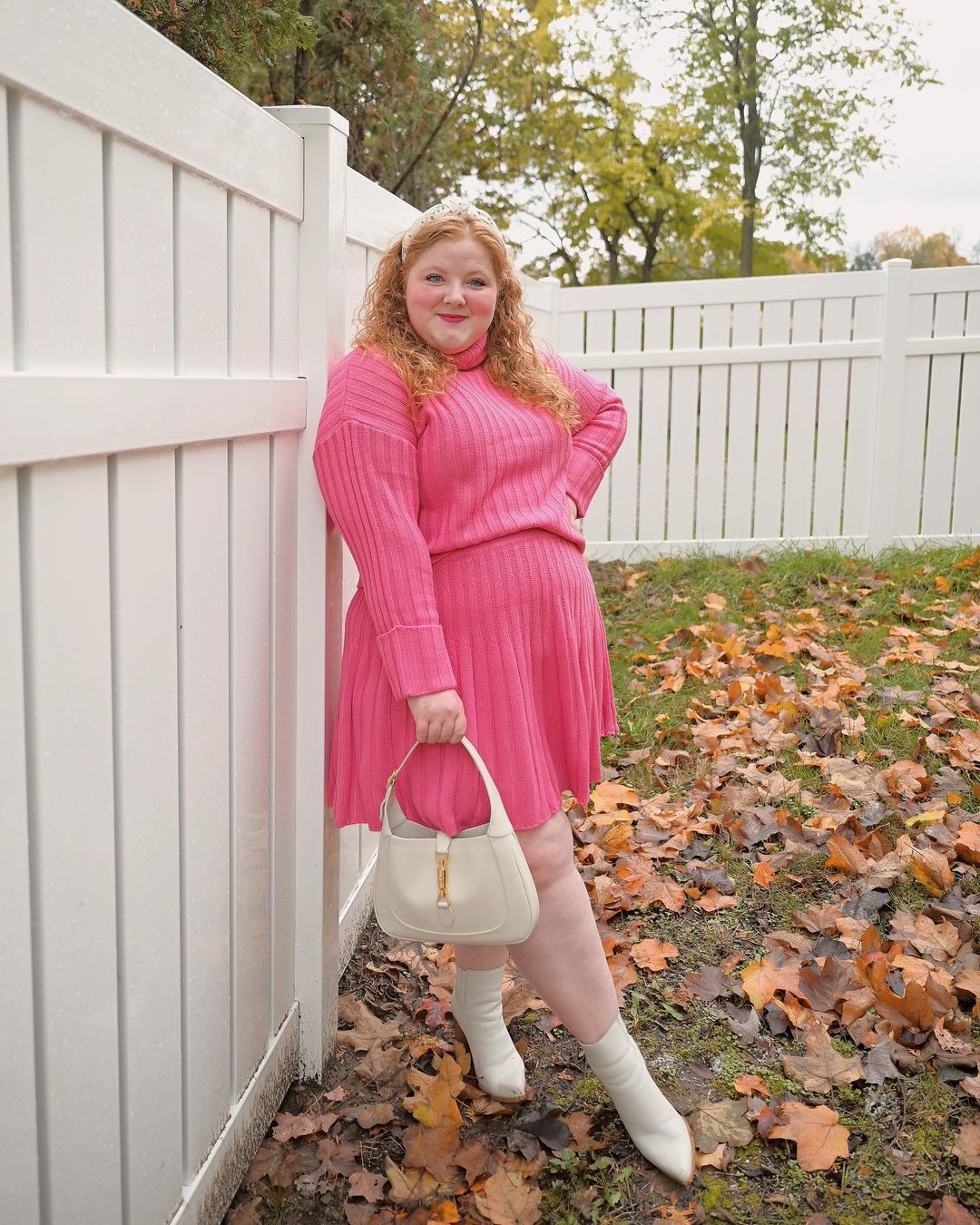 Shop the skirt:
22 – Master the Art of Perfecting Print-on-Print
Print-on-print might intimidate people as it is not always the easiest to style. However, the outfit below is an excellent example of how to nail printed outfits. Go ahead and grab a large printed top and pair it with a more detailed patterned skirt, or vice versa. Besides this, go for stripes or polka dots paired with other abstract patterns to create a balanced look.
21 – Add Texture to your Monochrome Look with a Snake Print Bag
This monochrome outfit in shades of moss and olive is stunning! The pairing of a silk top, suede boots, and pleated skirt is absolutely regal and works extremely well together. And adding the snake print purse was just what this outfit needed to nail that look! Opt for gold dainty gold hoops, and you're ready to hit the door!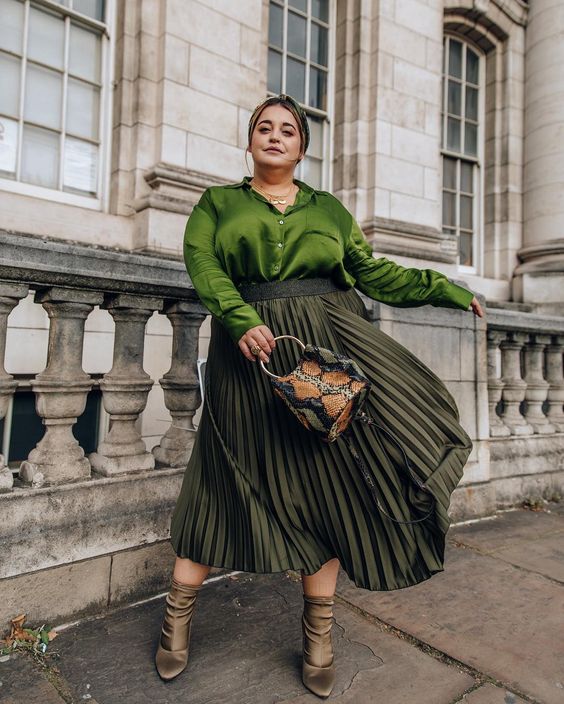 20 – Style Maxi Skirt with Tube Top for a Feminine Look
Maxi skirts are a safe option for any self-conscious plus-size lady. Not only do they take focus away from your legs, but they will encourage wanted attention on your waist, collar bones, and facial features. And, patterns will diminish your need for extra bling and additional focus and feature. Why not choose a fitted fishtail skirt for the more adventurous women out there and add that va va voom to your outfit?!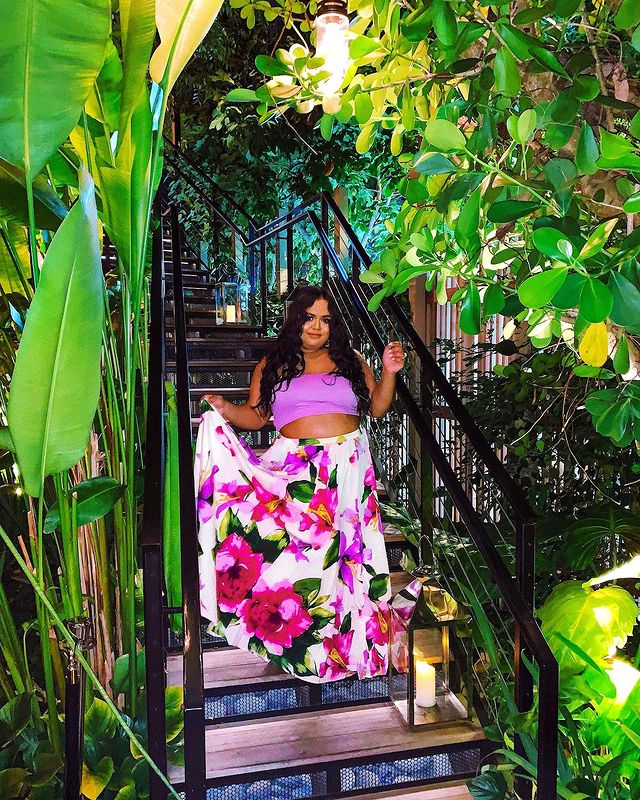 Buy similar right here:
19 – White Cardigans and Sneakers Work Best with Majority Skirts
Many plus-size ladies find this length of the skirt ideal for themselves. They allow for a cheeky showing off the skin, but they also come in such a vast collection of shapes and styles that finding your perfect skirt becomes easy. It is ideal to have knee-length skirts fitted around the waist and cinched at the knees to emphasize your hips and silhouette. Here are some Clubbing Outfit Ideas For Plus Size Women.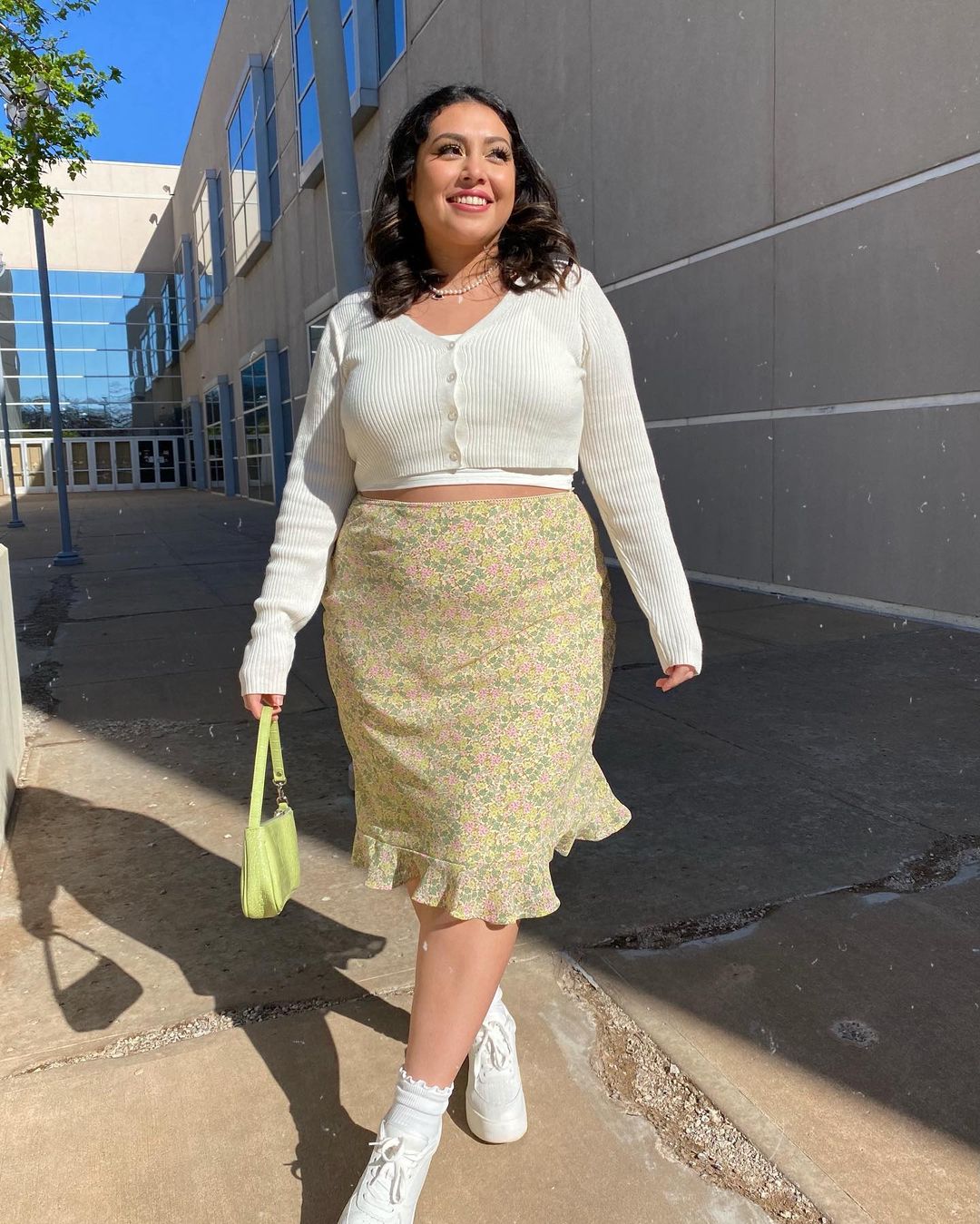 18 – Style your Mini Skirt with Thigh High Boots or Sheer Stockings
These come down to personal preference and confidence, as not all voluptuous women will choose a short skirt. But if doing so, choosing flared, loose-fitting, or fitted short skirts are entirely up to you! To prevent showing off any lumps and bumps you didn't even know existed, opt for a pair of stockings or fishnets to take the attention away. Match short skirts with knee or thigh-high boots as these will create the illusion of longer and slimmer legs. Patterns or plain are both a safe option for short skirts, although it depends on what occasion they are wearing.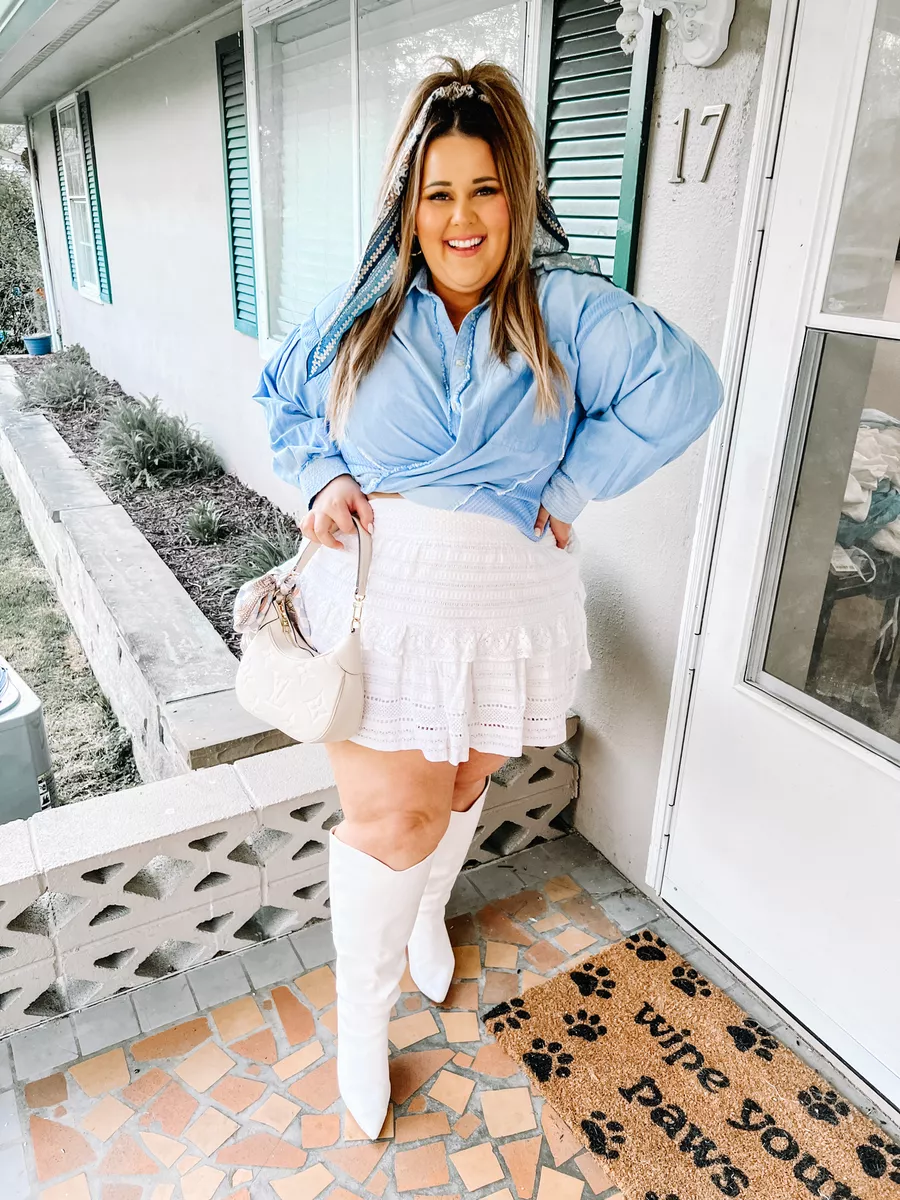 Get the look:
Cool & Clean Solid Button Down $128.00
Aerie Textured Lace Ruffle Mini Skirt $49.95
17 – Add a Pop of Color with a Bright Coat or Outerwear
Talk about a perfect formal look! You will be turning heads your way when you walk into the meeting room in this gorgeous fit!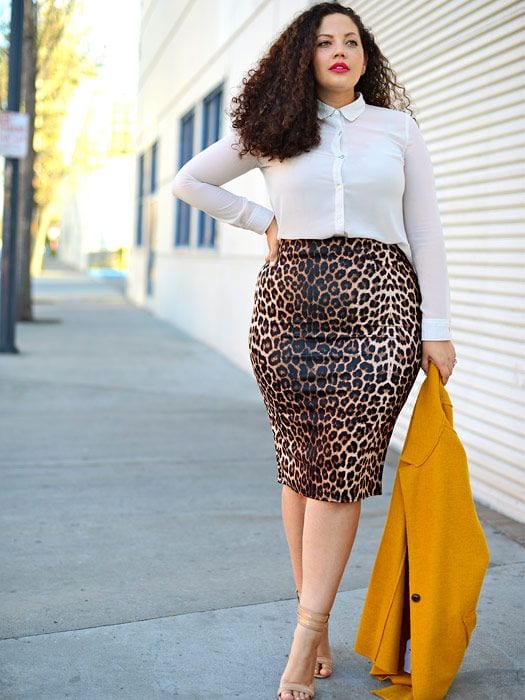 16 – Floral Maxi Skirts & Printed Tees Make the Best Summer Outfits
Floral maxi skirts are the staple for your spring and summer wardrobe! There are many ways to elevate your outfit or make it casual for an everyday look. Pairing a flowy maxi skirt with a printed tee shirt is the perfect outfit to hit the door for a casual day out. Moreover, choose a bristol top and heeled sandals to make your look more formal and date-appropriate!
Grab the skirt below:
15 – Get that Perfect Office Look with A-Lined Skirts & Blouses
A boss lady needs an outfit to fit her description and make her look demanding, and this outfit delivers just that and more! She's hitting all the marks in this look: fashionable, cozy, and here to mean business. Talk about an outfit done right!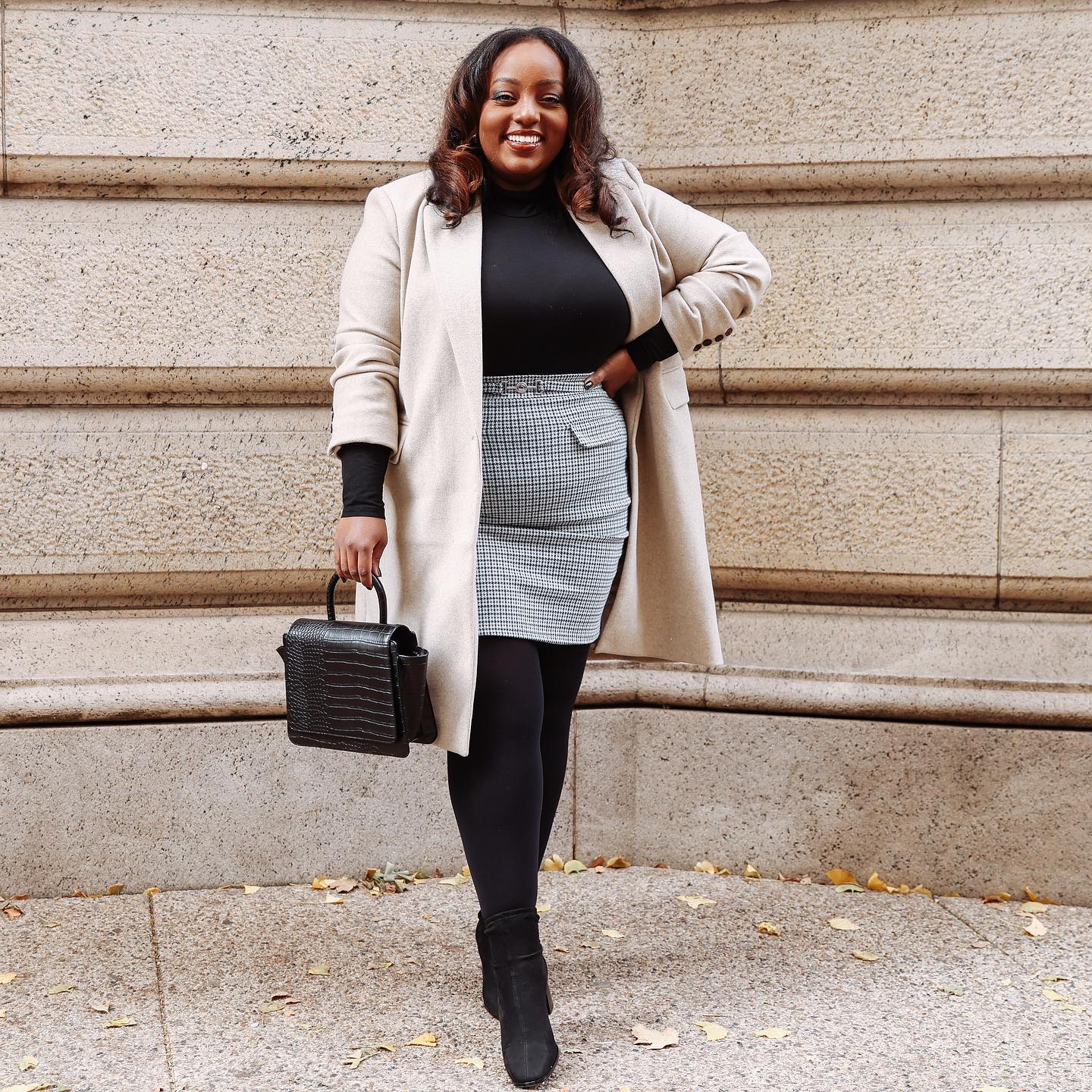 Shop a similar skirt right here:
Plaid Print Short Skirt $39.00
14 – Accessorize with Dainty Gold Jewelry to Nail the Night-Out Look
How cute is this gorgeous look?! It is fun, feminine, and flirty in the best way possible. A woman who wears an outfit like this is feeling herself, and I love that for her!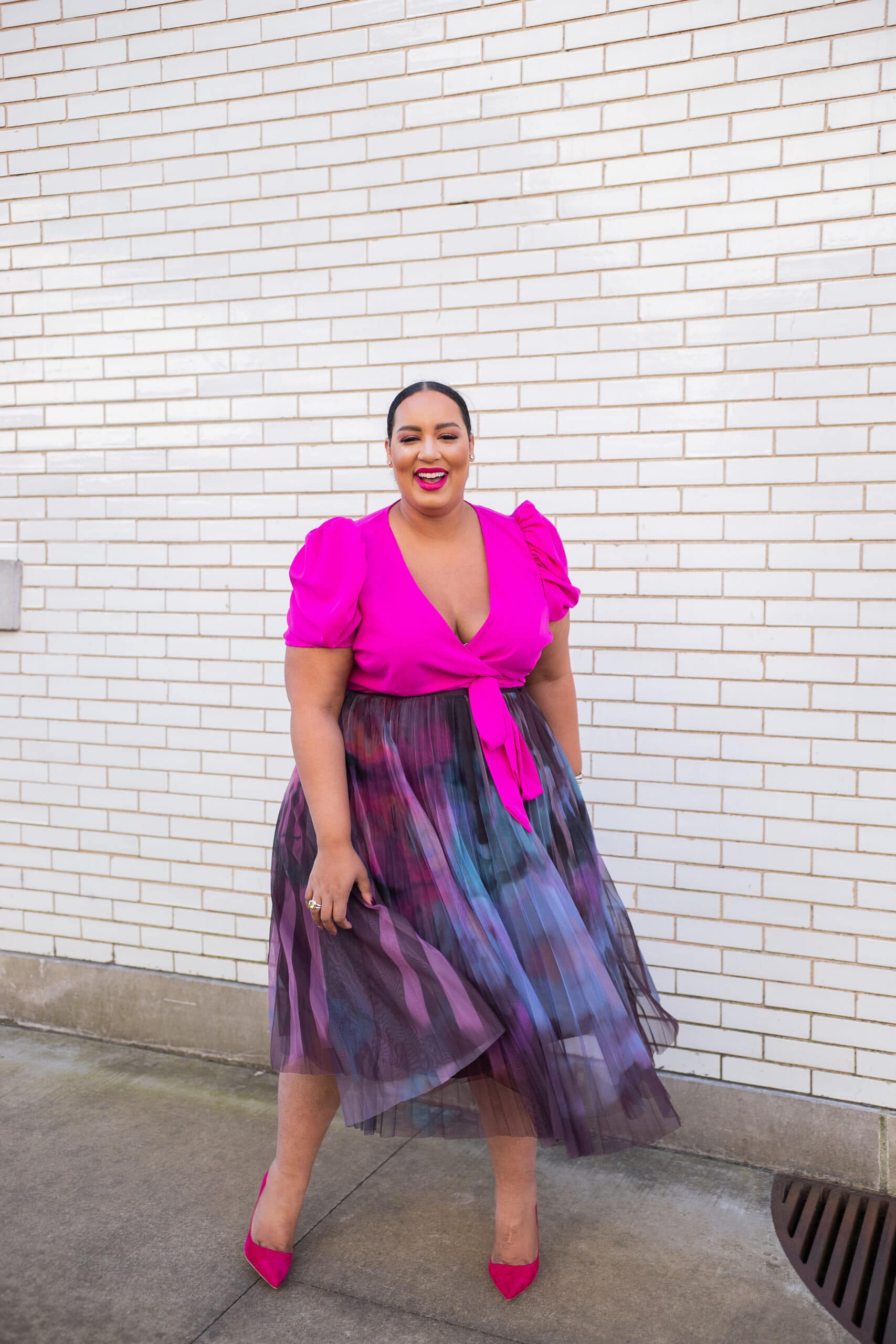 via
Grab a similar skirt below:
Tulle Custom Printed Skirt $200.00
13 – Glam Up in Monochrome for a Date with the Girls!
Why not choose a more fitted pencil skirt and that too, with a pattern?! Plus-size ladies should wear these without feeling uncomfortable, embrace your shape, and forget hiding your gorgeous curves!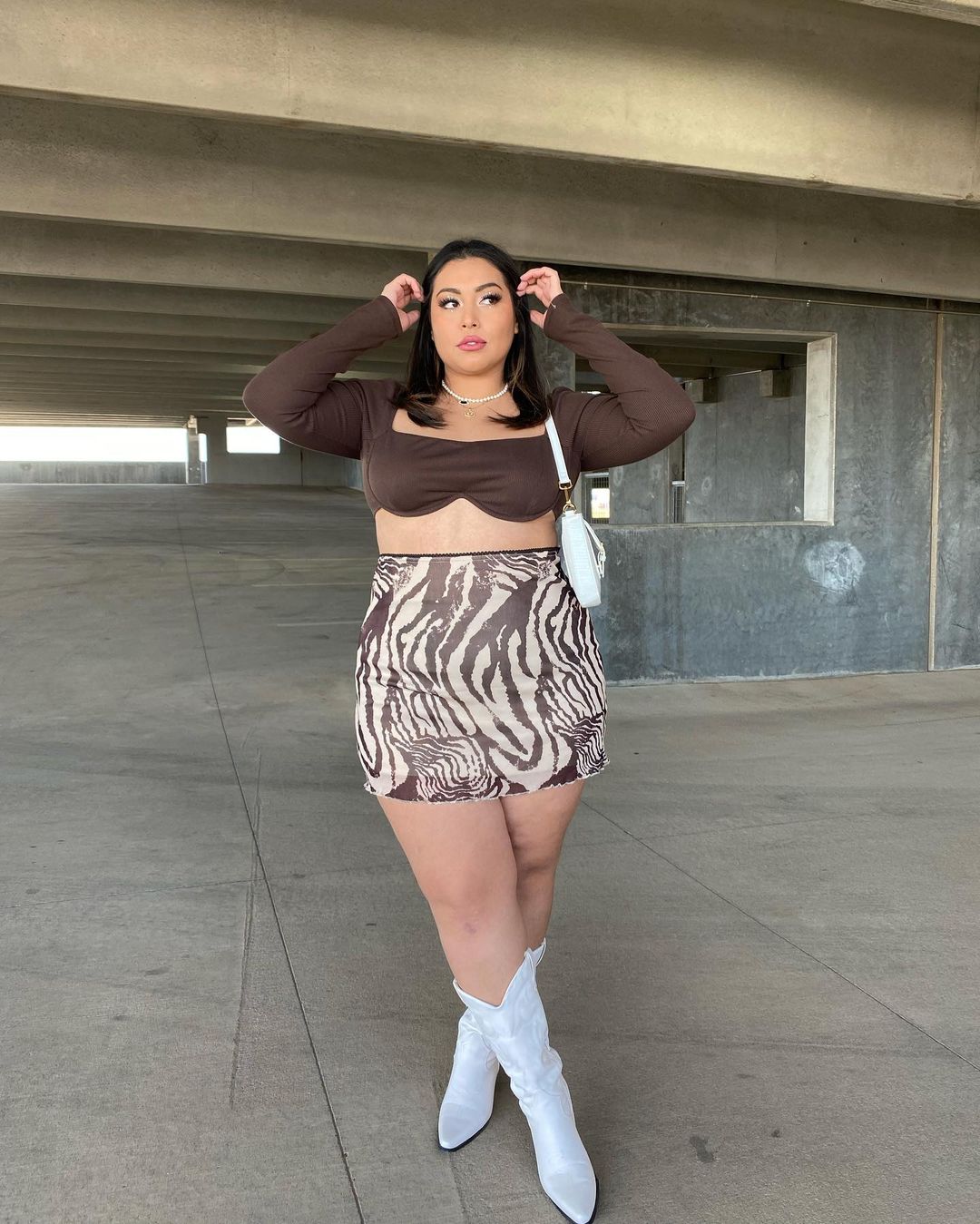 Buy the skirt:
High Waist Mini Skirt in Chiffon $25.00
12 – Opt for Hot Pink Accessories to Complement the Skirt
Switch this shirt for a more feminine, fitted top with flowy and detailed sleeves in white to bring out the best of your skirt. Moreover, swap those heels for a white pair and introduce color blocking to your outfit with a pink purse and accessories!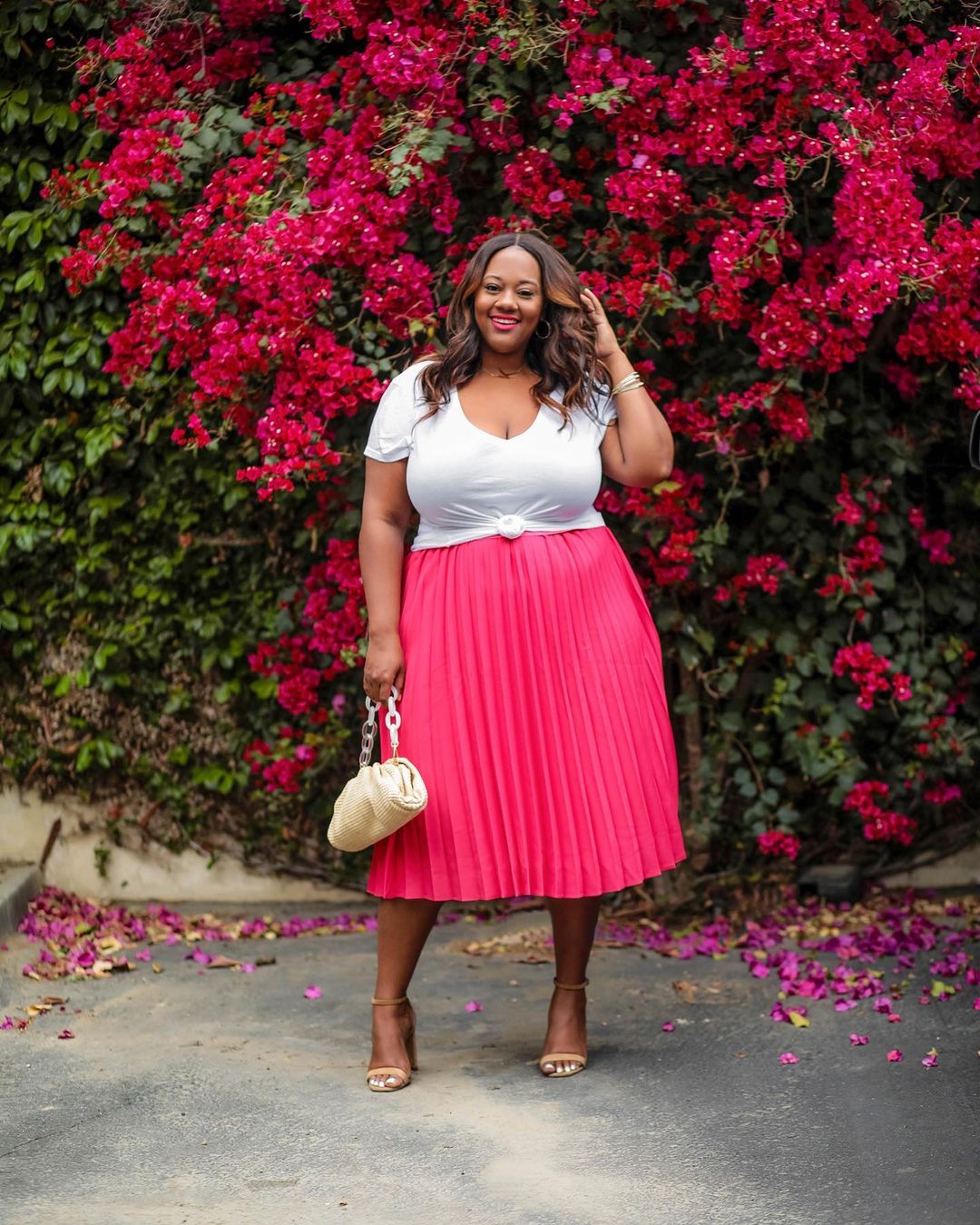 Shop the look:
11 – Master the Art of French Tucking for a Smart Look
This look is perfect for stepping right into the fall season! The brown and black hues are right on brand with the season.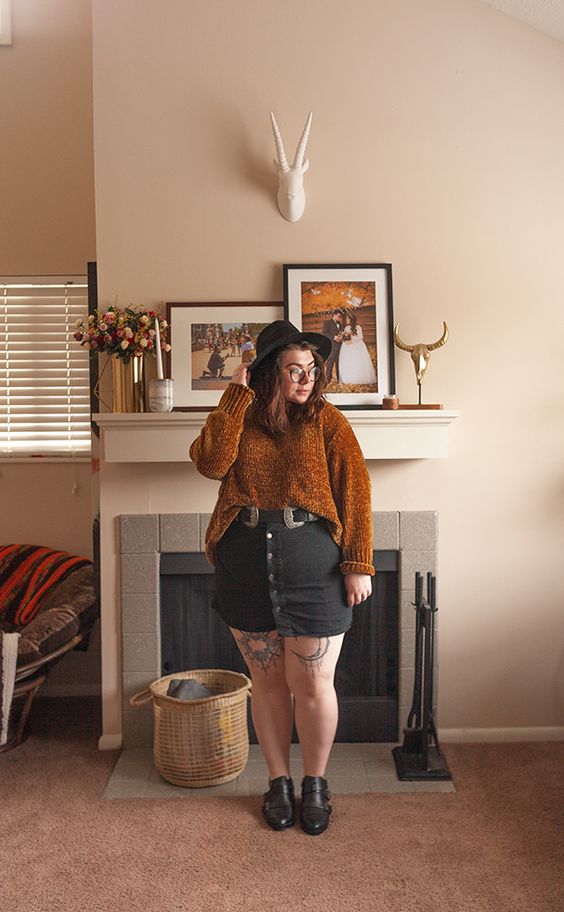 10 – Go for a Cute Bralette Top and Oversized Cardigan with a Denim Skirt
What a perfect way to dazzle and look trendy chic! Make your outfit more street wearable by switching those shoes for combat boots and adding a ripped denim jacket! Here are some cute Bralette Outfits for Plus Size Women to Try.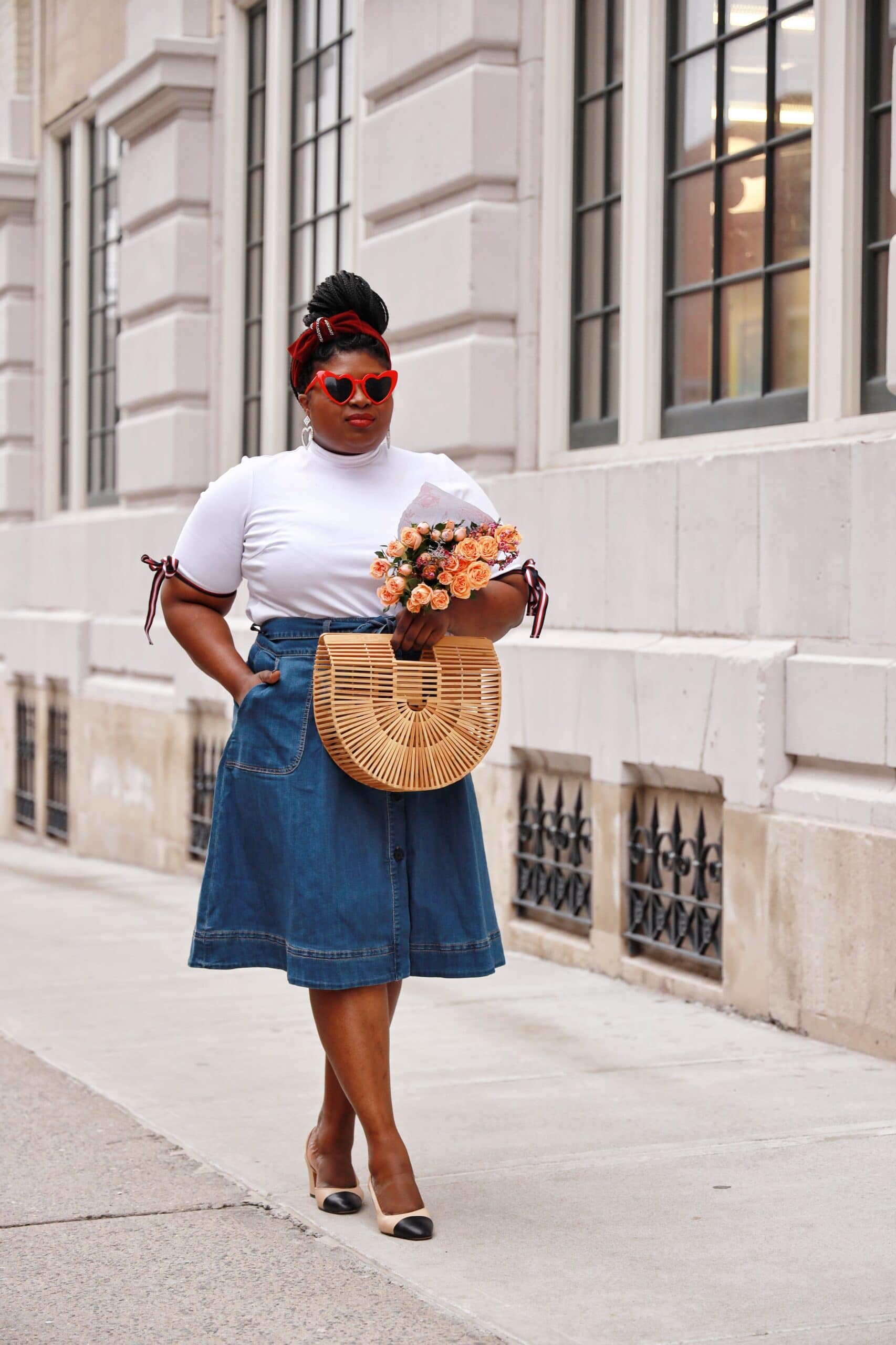 09 – Matching Sets are Perfect if Styling an Outfit Overwhelms You
The best and quickest way to ensure an outfit is justified is to reach for matching top and bottom sets. They require minimal styling as half the work is already done for you and always ensure a statement-worthy look!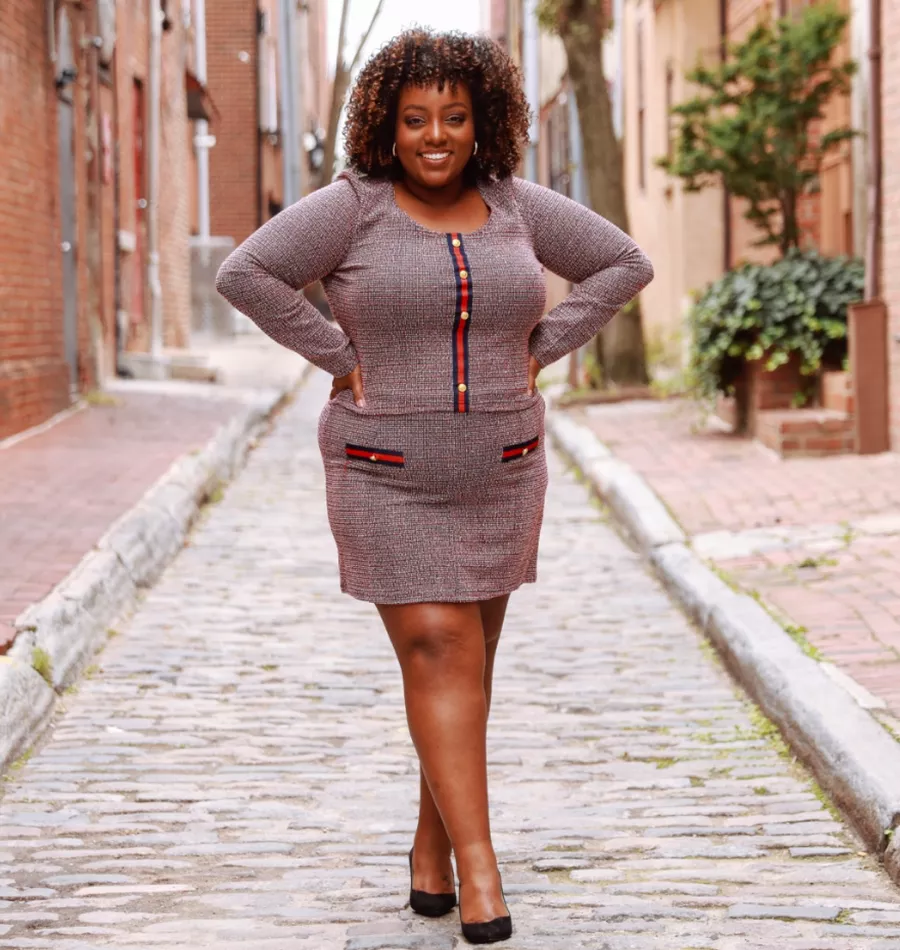 Shop the set:
08 – Master that Perfect Minimalist Brunch Look with a Midi Skirt
Belts are great for creating an hourglass shape which is an ideal form for a plus-size lady. This outfit is perfect for a brunch look or attending a daytime wedding!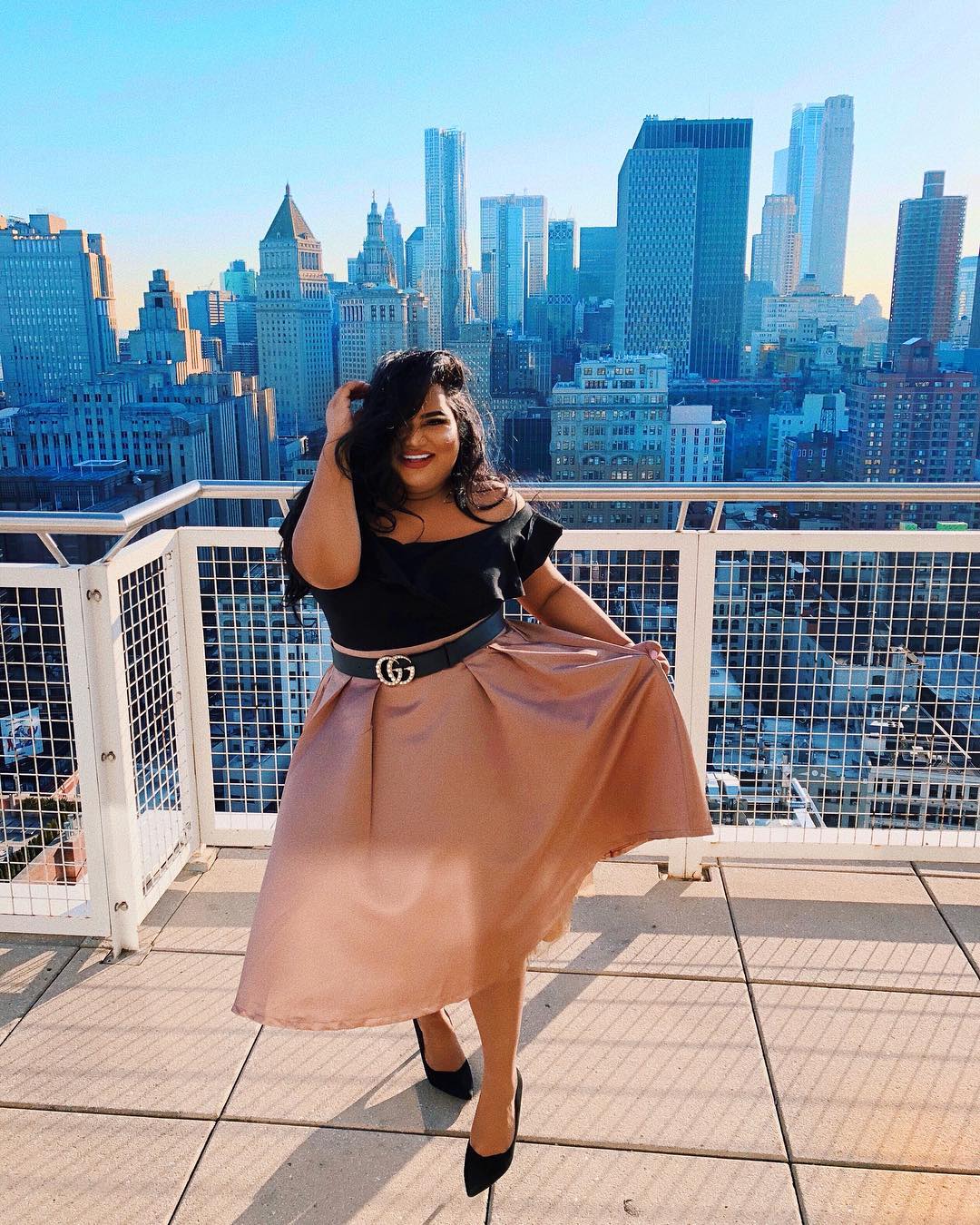 07 – Pair Yellow Accessories for the Ultimate Street Chic Vibes
Now, this look is what I call street chic! It is edgy, daring, and super trendy. You must opt for knee-high boots with this gorgeous outfit with a touch of yellow accessories to compliment the beret!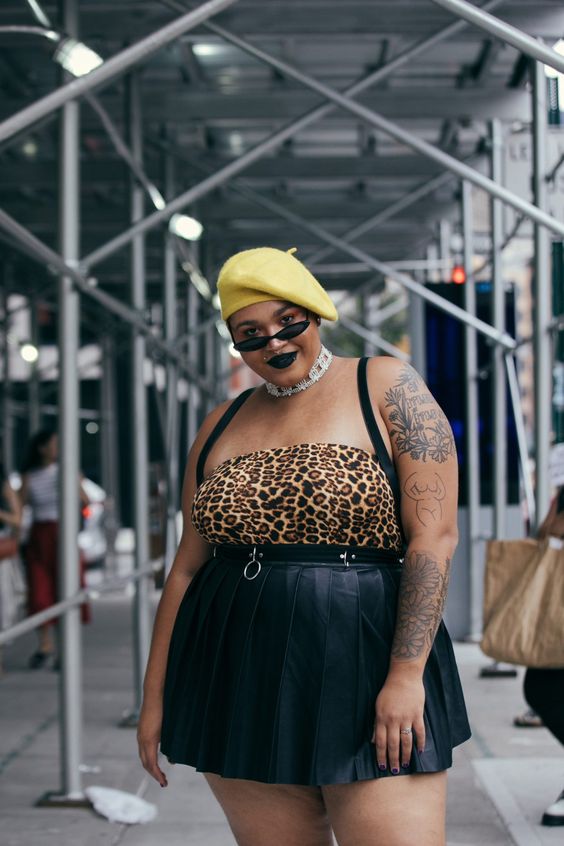 06 – Get Inspired to Create a Look Perfect for Every Occasion
Cute, feminine, and fun are the words to describe this gorgeous look!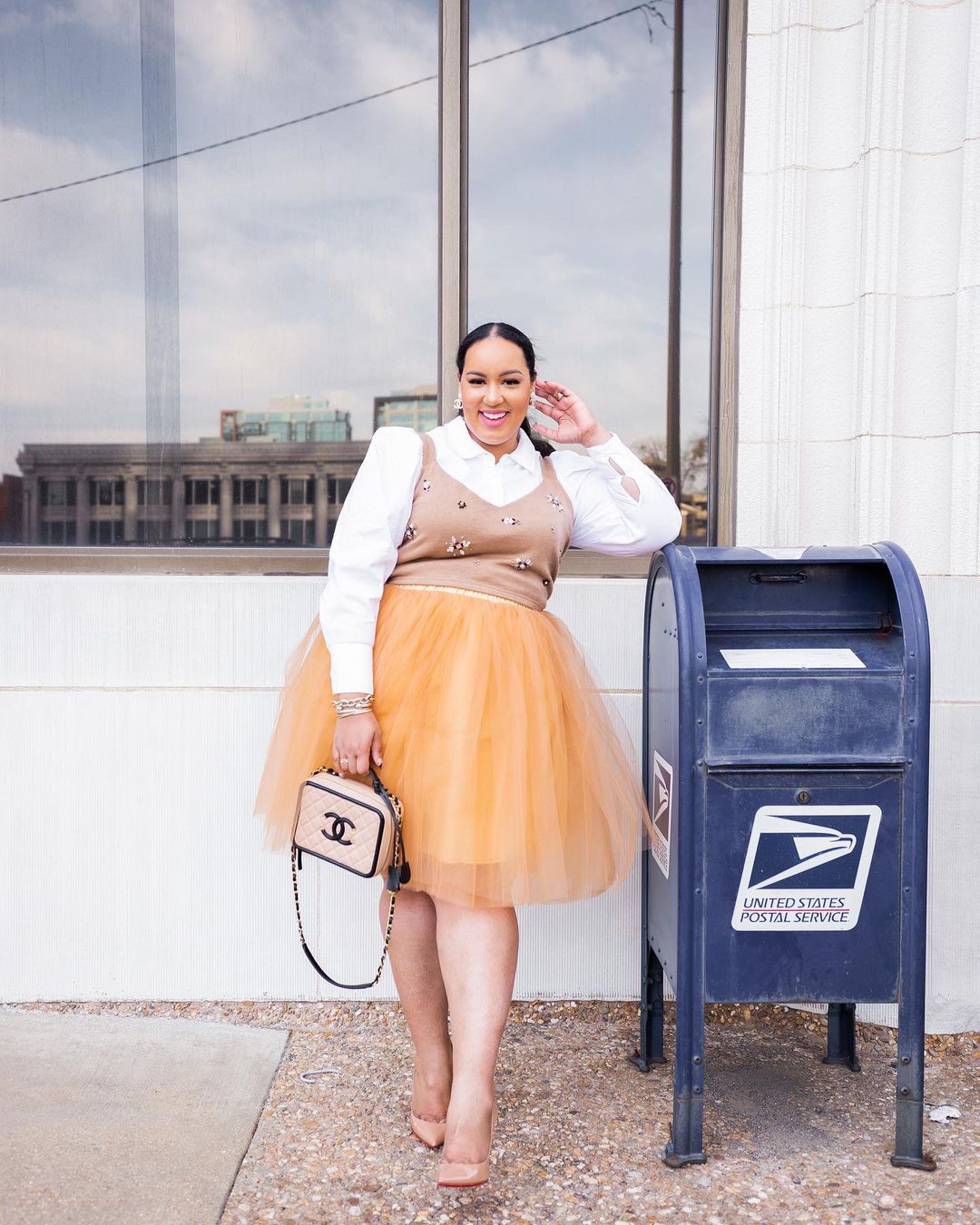 05 – Pair Bright Orange Heels with Waistband Skirt for a Bright Look
This outfit is pretty in warm hues of cream, brown, and ivory. I would advise switching the moss green shoes for a rustic orange to make you stand out and elevate your look.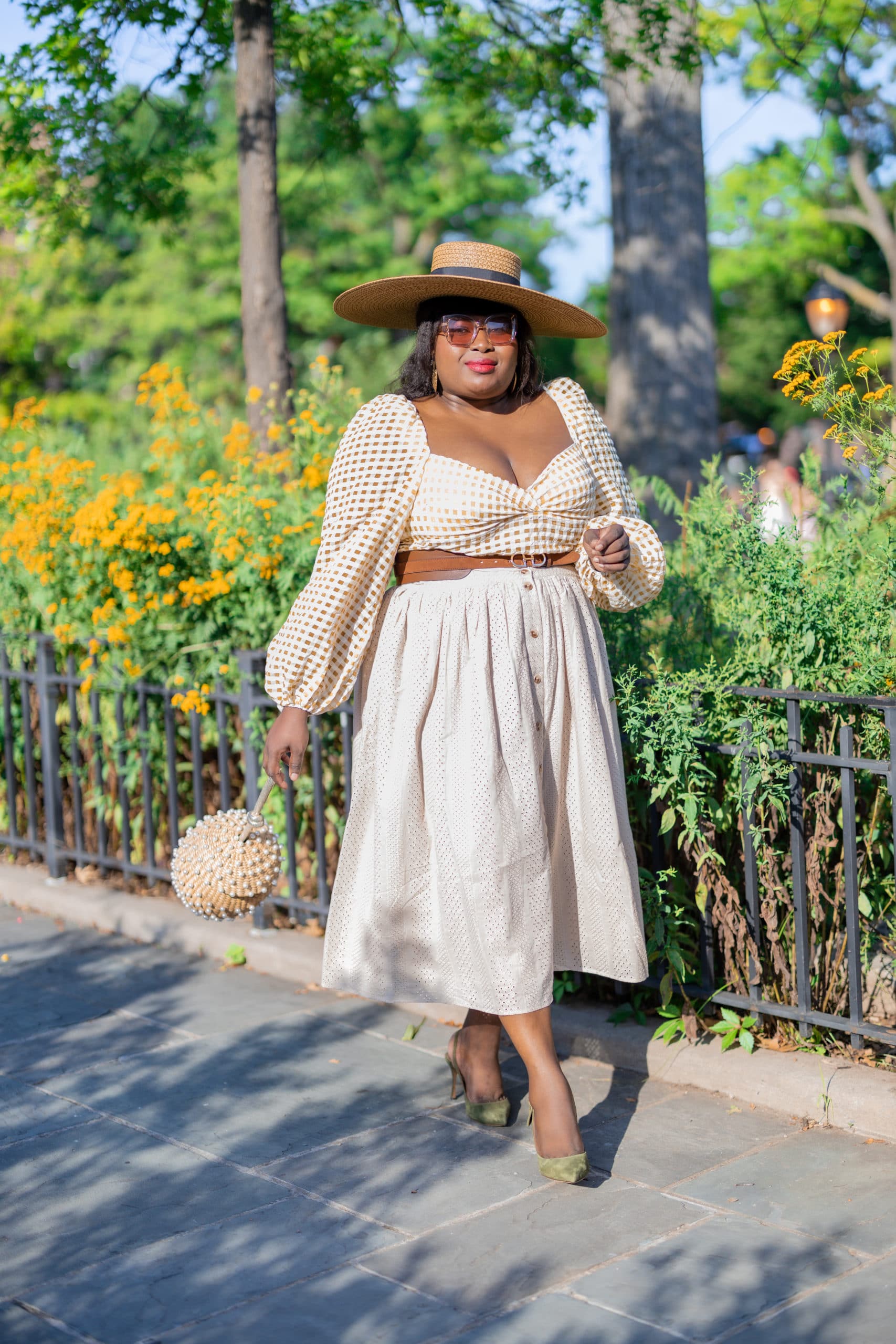 Shop the look:
Cropped Lyocell-blend Top $39.99
Eyelet Embroidery Skirt $49.99
04 – Opt for a Pair of Heels for a More Formal Touch
Go for a more satin blouse and stiletto heels in white to make your outfit formal and introduce color blocking to your look!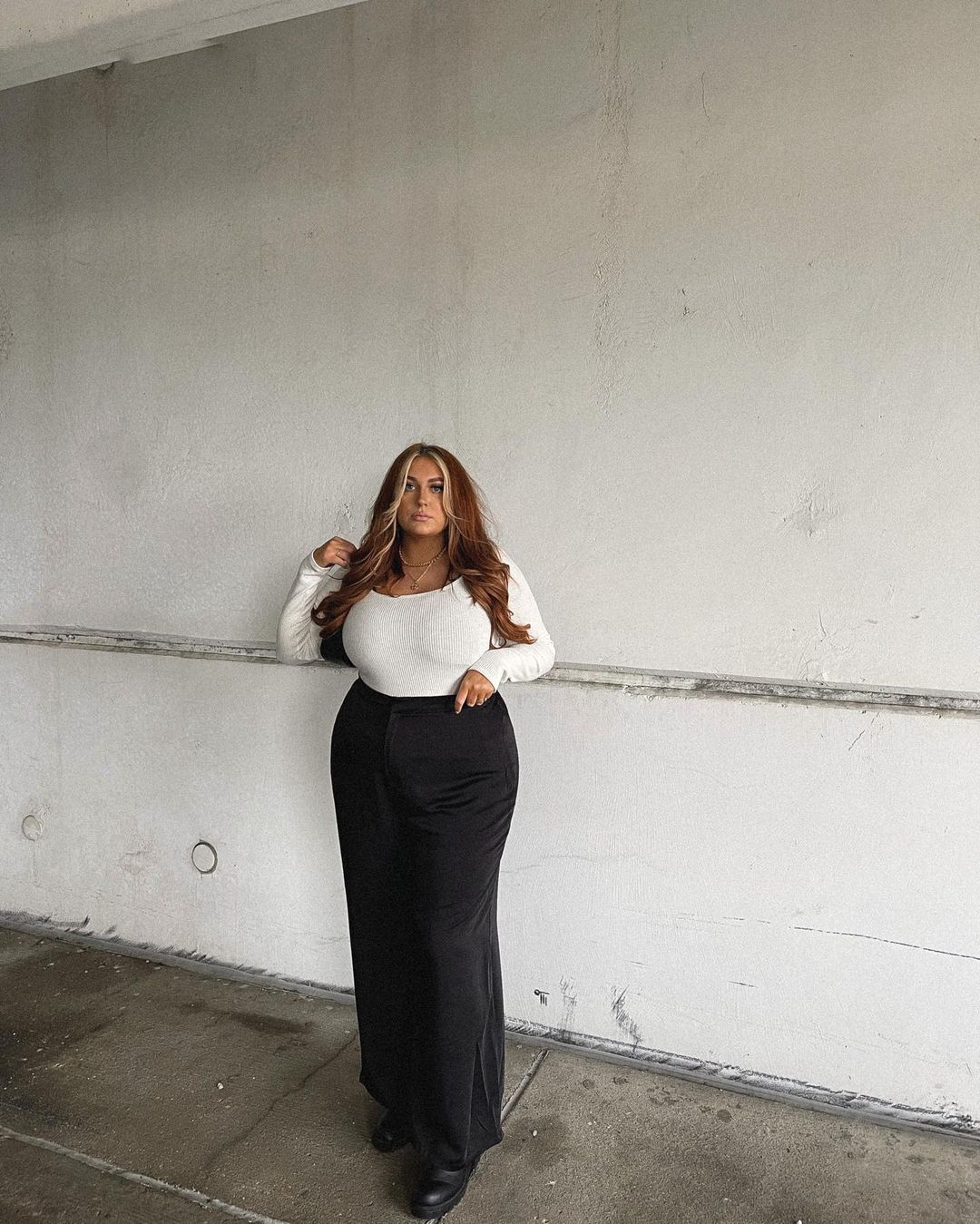 03 – Keep your Legs Warm in Winter with Stockings!
Here is another gorgeous look that exudes street vibes! It is equal parts edgy and easy-going. And the best part is that it is wearable enough to keep you warm and on your feet all day long. So brighten up your winter days in this street-chic outfit!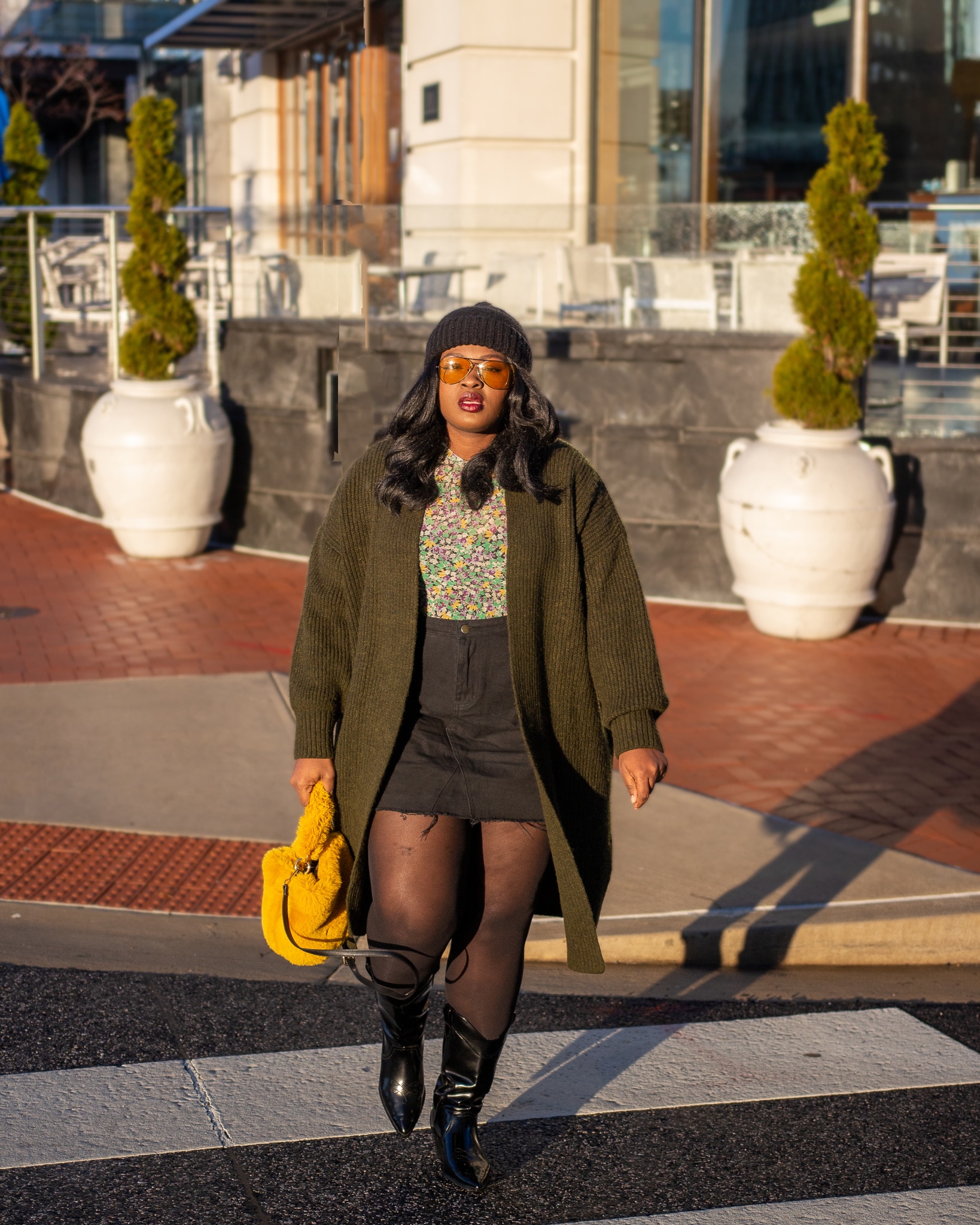 Buy the outfit:
New Frontier Western Bootie $158.00
02 – Get the Perfect Fall Look in Earthy Tones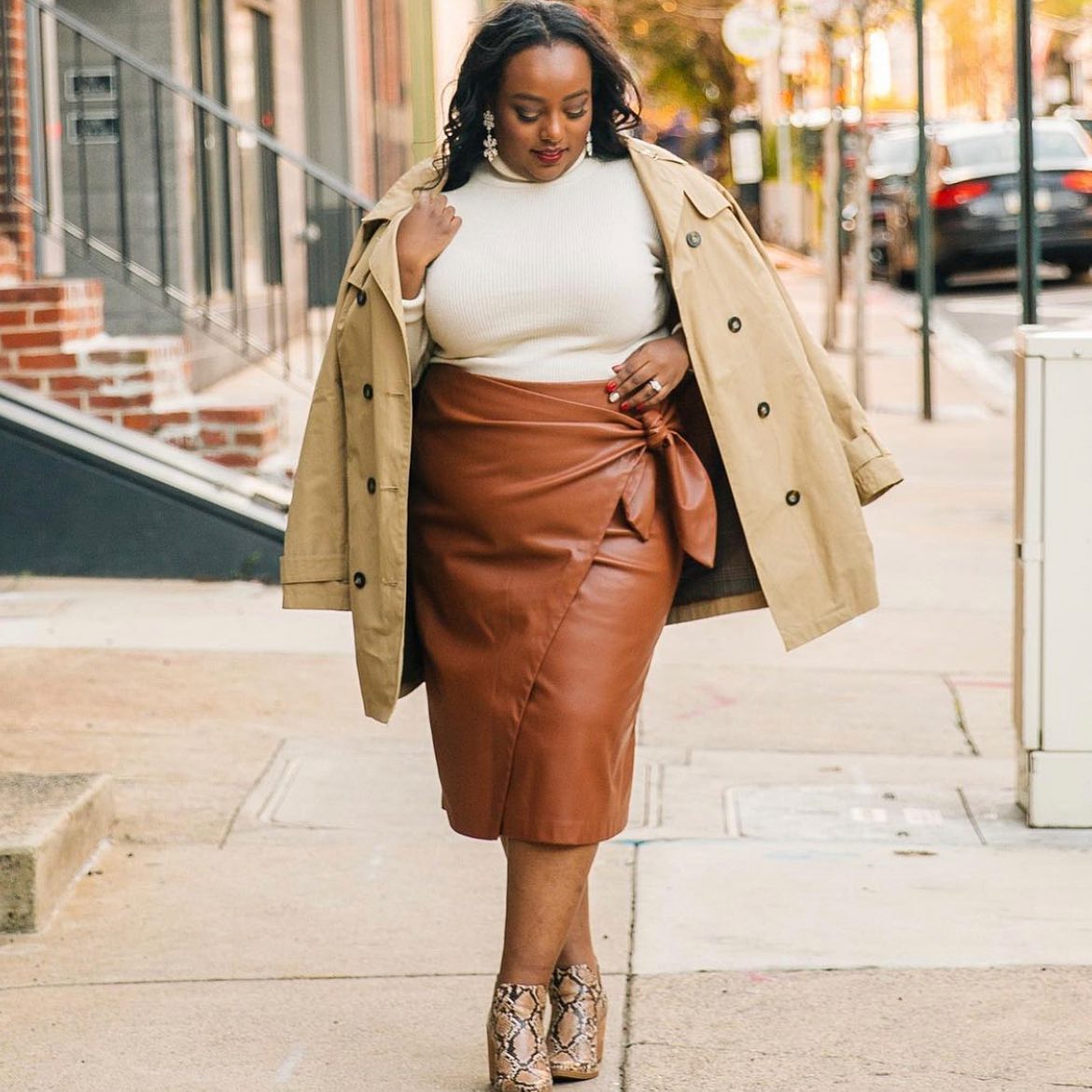 Shop the skirt:
Leather Knot Midi Skirt $175.00
01 – Pull your Hair Back in a Half-Up Half-Down Style for the Perfect Date Night Look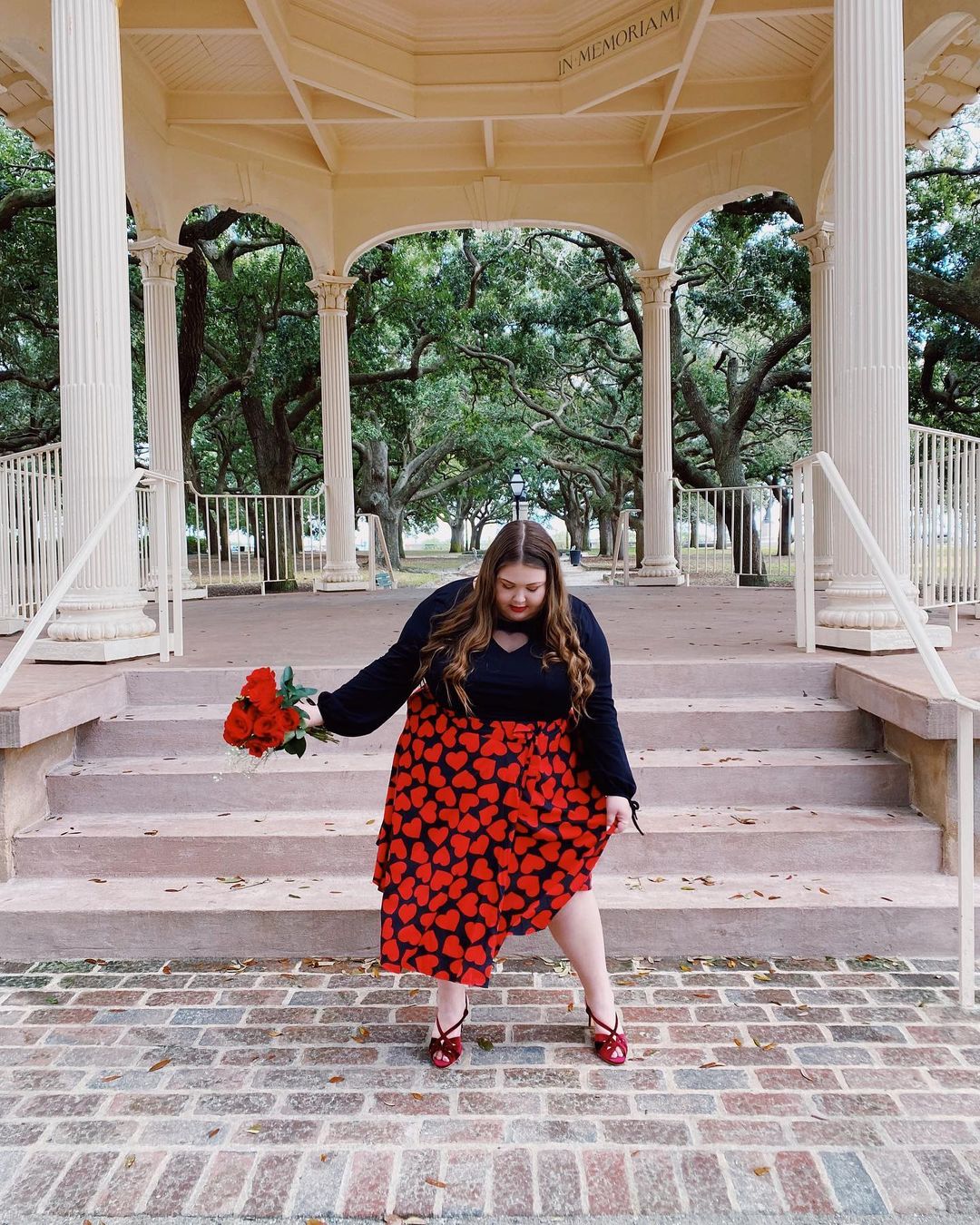 Frequently Asked Questions
Q. How do you wear a plus sized maxi skirt?
There are various silhouettes to choose from when it comes to maxi skirts. You can either go for the long flowy ones, wrap skirts that tie at the front, ruffles, or fitted a-line skirts. So, it may depend upon the type of maxi skirt you want to wear and style. However, crop tops, figure-hugging full sleeves tops, and blouses with details on sleeves look best with maxi skirts. You, of course, need to choose the appropriate accessories and shoes to match your outfit and create a killer look!
Q. What type of skirt looks best on curvy ladies?
I firmly believe that all kinds of skirts look phenomenal on curvy women if they are styled right and worn with confidence. These two aspects are the key to making any outfit stand out on you. Overall, the majority of plus-size women prefer knee-length skirts that are a-line or hug the figure nicely. These skirts compliment the figure well, help you create a cohesive look that suits your body type, and are easy to style with minimal effort. Thus, knee-length skirts are a popular choice amongst curvy women! Oh, and make sure to choose high-waisted!
Q. Where to buy skirts for plus-sized women?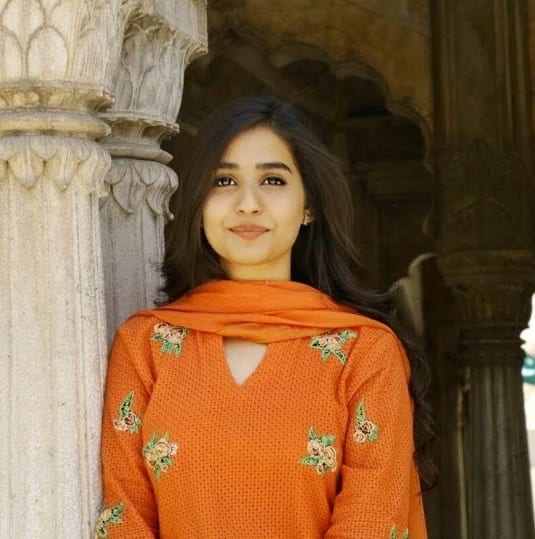 Janeeta Khan loves to write and loses herself in the world of fiction during her free time. You will probably find her curled in the corner with a Harry Potter book and a steaming mug of hot cocoa.