Plus Size Outfits with Thigh High Boots: In a world obsessed with footwear, the essential piece in your wardrobe are boots, and they are a staple because they go so well with any outfit you have in mind for any event or occasion.
The best part is, these shoes can go well in almost any season of the year! You can put them to use to create an effortless formal or even an everyday look. However, we have come to notice that also though girls find it easy to carry boots but are intimidated by thigh-high boots. For curvy girls, it is often challenging to find thigh-high boots and to match outfits with them. If you feel blank on how to pair up your thigh-high boots with various outfits, we bring you our 20 best outfits suggestions that you could follow and dress in style and be a fashionista!
How to Wear Plus Size Over The Knee Boots?
Here are a few tips we would want to share with you:
Pay attention to the hemline of your dress. Either it should be longer so that it meets the boots or fall an inch or two below them or if you are comfortable in showing skin, let it be a few inches higher than the boots to give that perfect look.
Invest in some tan and brown shoes that you can wear with almost any colored outfit.
While carrying the boots, assure the fact that they are just the perfect fit – not so tight that they will make you feel uncomfortable, nor so loose that they continue to fall off.
If you are unsure, better go with flat thigh-highs than going with high-heeled thigh-highs because they can be a little unsettling to carry for the first time.
Never wear extra-long dresses with thigh-high boots because it could spoil the look.
In case you are making a statement with your boots, like fringes, etc., don't go overboard with your outfit and keep it simple so that your shoes can stand out.
You can use them to create different looks like an edgy biker girl style or a cute cowgirl look. Pair the outfits and boots with fun additions like a leather jacket or a fringe jacket to get the technique right.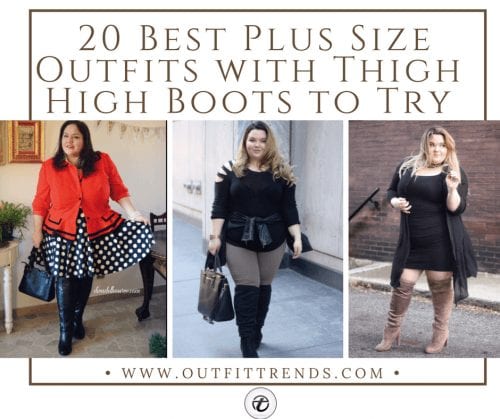 ↓ 20. With Jeans For A Casual Look
For a pre-planned date with your girls or a day filled with much fun and frolicking, you can dress up casually in your favorite shirt, jeans, and thigh-high boots. Who knew boots were so easy to style with a pair of jeans? We could be doing more of it every day. Add a scarf or a muffler that you can wear if it gets chilly. We love the use of brown accessories here to give this white and blue combination a fun look. Here are 18 Best Plus Size Celebrities Outfit Ideas from This Year.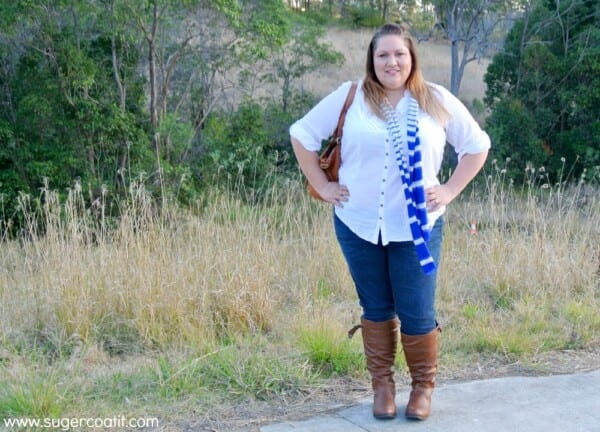 ↓ 19. With A Short Dress For Semi-Formal Wear
Tall boots go beautifully with short dresses as they not only keep you warm in winters but also give you that smart and formal look for parties and special events. Black thigh-high boots will go well with any outfit you have in mind. Check out this stunning dark-themed look consisting of a pretty little dress, black tights and matching black thigh-high boots. The chain bag is just the right addition to it!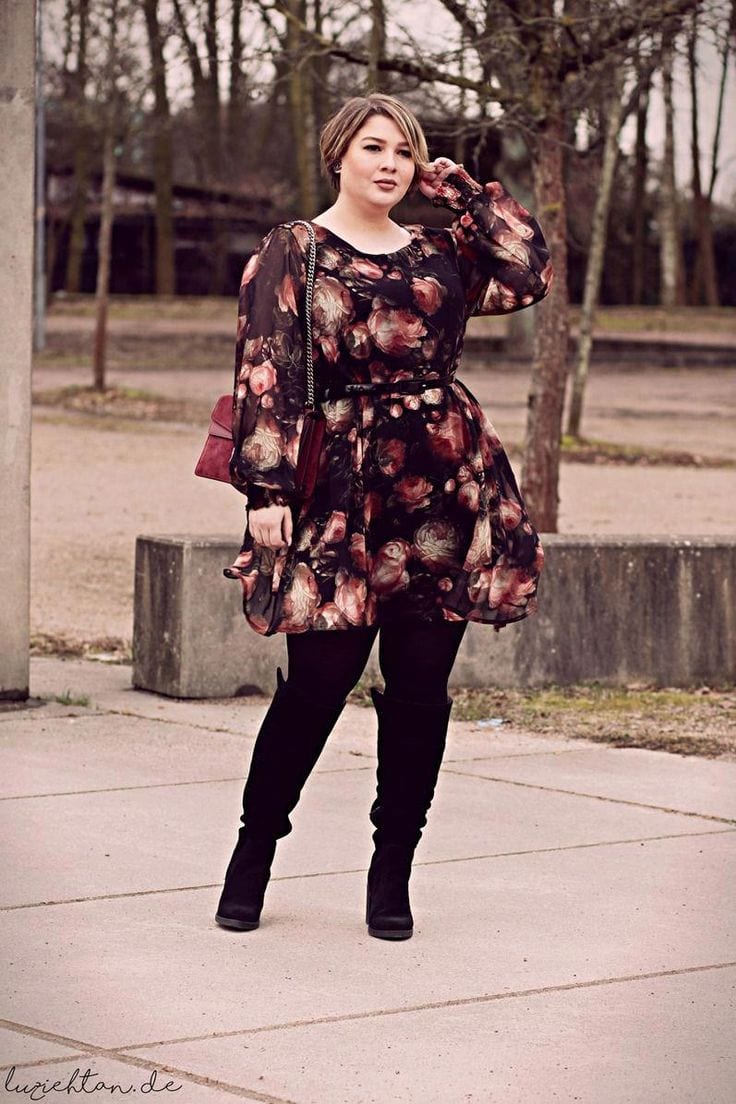 ↓ 18. With A Bodycon Dress For Date Night
Bring out the rocker chick look with these brilliant and put together laced up shoes. Couple it with your favorite bodycon dress and an original leather clutch and you are good to go! We love this over-sized hoodie dress, perfect for everyday hangouts but especially for the romantic getaways! We think it's also an apt choice for club night out.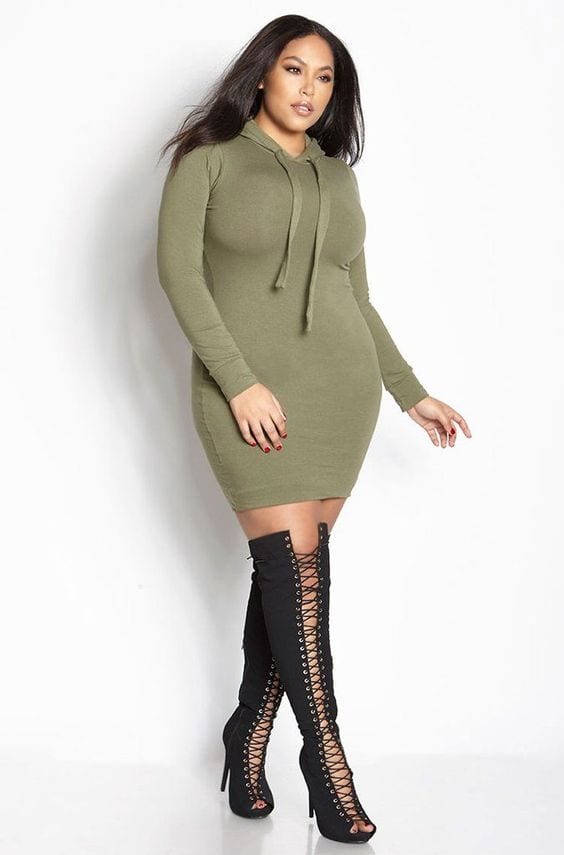 GET THE LOOK HERE:
Ami Clubwear Boots $69.99
↓ 17. With Your LBD
Black is an all-year-round color and a personal favorite. It is typically chosen to create the illusion of a slimmer body and is best for plus size women.  Strike a pose with these beautiful nude colored shoes and front open flowy chiffon/georgette long shirt in a light material for easy layering and just the perfect look in spring. Pair up the outfit with your favorite choker! Black-on-black looks trendy but is also overly done. To prevent this mistake, we recommend the use of nude or tan accessories. It helps add a neutral tone while also giving it a chic style.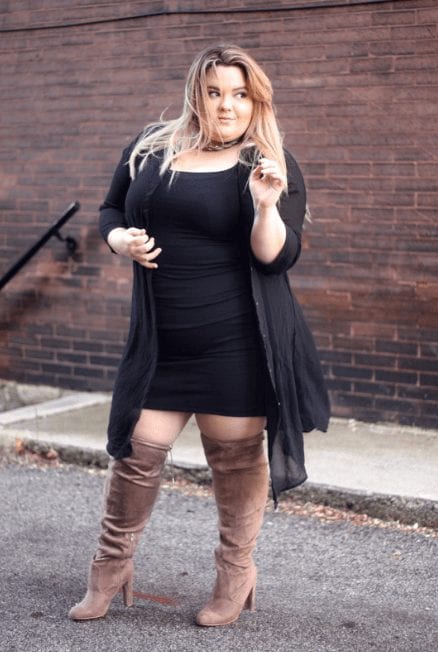 There is nothing that some black cannot fix. If nothing else works for you, black on black is always your best bet. Match your best pair of leather shoes with a black embellished shirt and skirt, along with a luxurious furry coat, and you are all set to dazzle! Trust us on this; it is the ideal date night look to create. We recommend going for leather items as they add a very rough and biker-girl-like vibe to the whole look.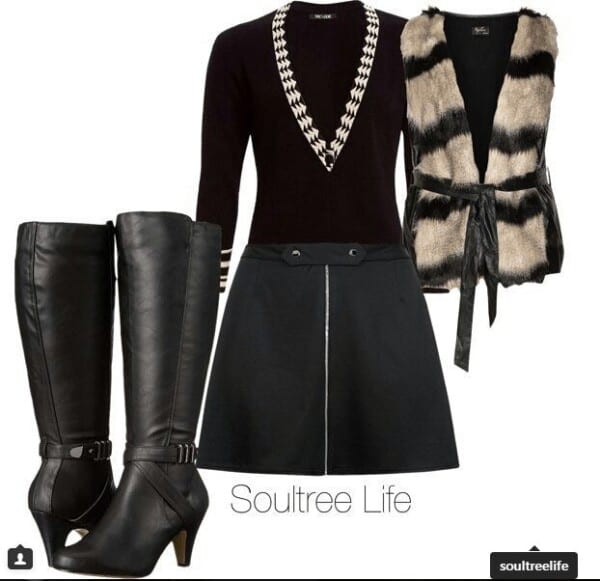 ↓ 16. With A Knitted Dress For Fall
Feeling cold? Bring out your chic knitted dresses and pair it up with bright colored footwear. Add a cute and fuzzy hat for your benefit! It is a clean and crisp look that allows you to flaunt your curves like a boss.
We love how there is minimal use of accessories, allowing the outfit to do all the talking here. If you wish to add some sparkle, a slightly longer chain necklace sounds like a good idea.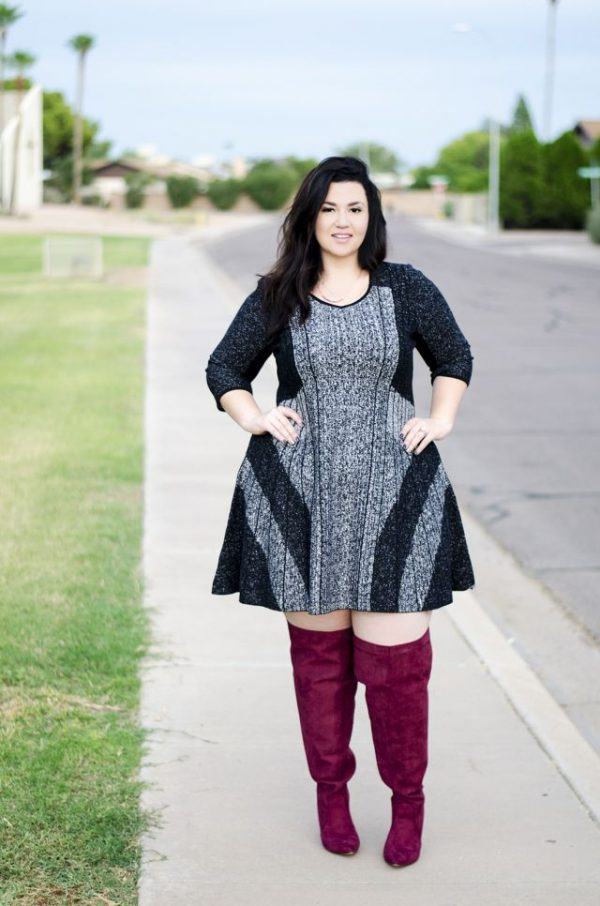 SHOP THE LOOK HERE:
Curvissa Knitted Dress £37.00
↓ 15. With Mini Skirts & Furry Coats
Mini skirts give your high-heeled boots that much sought out spotlight with a short length and the curved hemline. Now, it gets difficult to style the mini skirts in Winters but not when you have a variety of super cute overcoats to choose from. This furry coat and little top look great when paired with the plaid skirt. It is the perfect back-to-school look you have been looking to create. Check out these fantastic ideas on How to Wear Shorts for Plus Size Girls.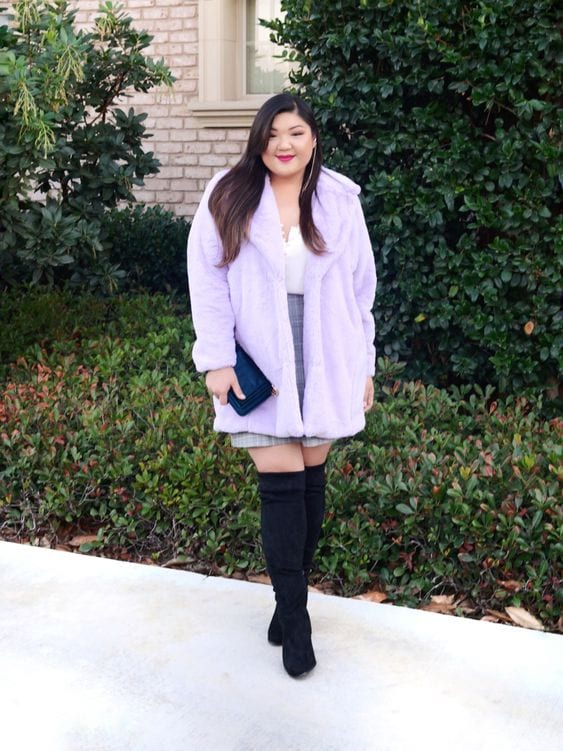 ↓ 14. With Oversized Tops
Tall shoes go superbly well with oversized sweaters and sweatshirts – a simple piece of apparel for fall and winter seasons. Get a bright pumpkin-colored top like this one, and you are sorted for the year!
We are digging this chic and smart style featuring a turtle neck oversized sweater, a headscarf, and some cool gold bangles. The outfit is everything you need to own up those curves. The colors are correctly chosen to reflect the warm fall vibes.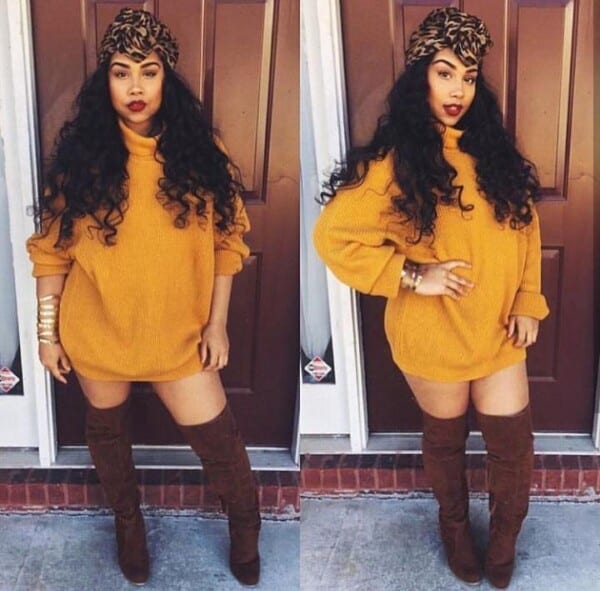 ↓ 13. With Floral Dresses
Who says prints and dresses aren't for plus size girls? We love how open the brands are towards bringing in fun and attractive options for curvy girls. Bring out your sweet and feminine side with a lovely floral dress and rock it with some black or bright-colored shoes.
You can opt for tones other than black depending upon the season and time of the day. For example, a subtle pink or blue floral print dress sounds like a great option for brunch! For night time, you can go for bold choices like black, midnight blue or even red.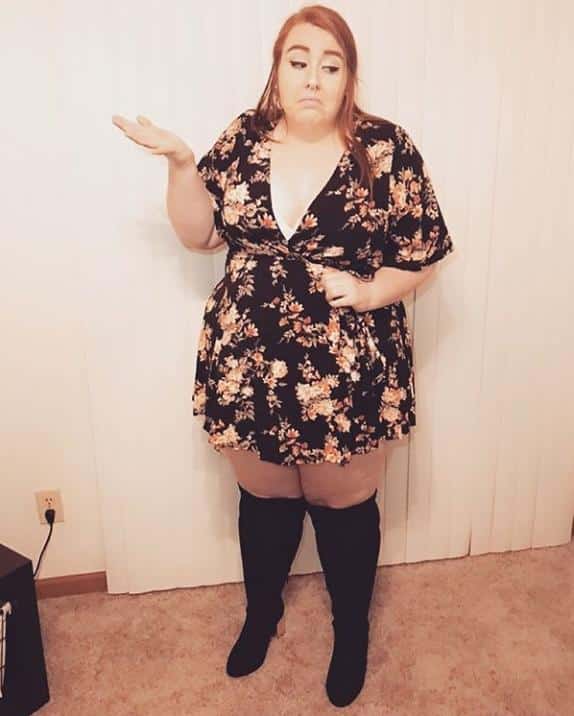 ↓ 12. With Peplum Jackets
Never mess with an edgy and confident girl. If you are one to own your style, this is it for you. You can wear your winter boots to work by keeping it professional and elegant in a peplum jacket that works wonders.
The ruffles at the hemline are really unique. While the peep-toe shoes seem to be adding a thing or two to the whole look. Keep the rest of it minimal and straightforward by throwing in just a pair of pearl studs or hoops.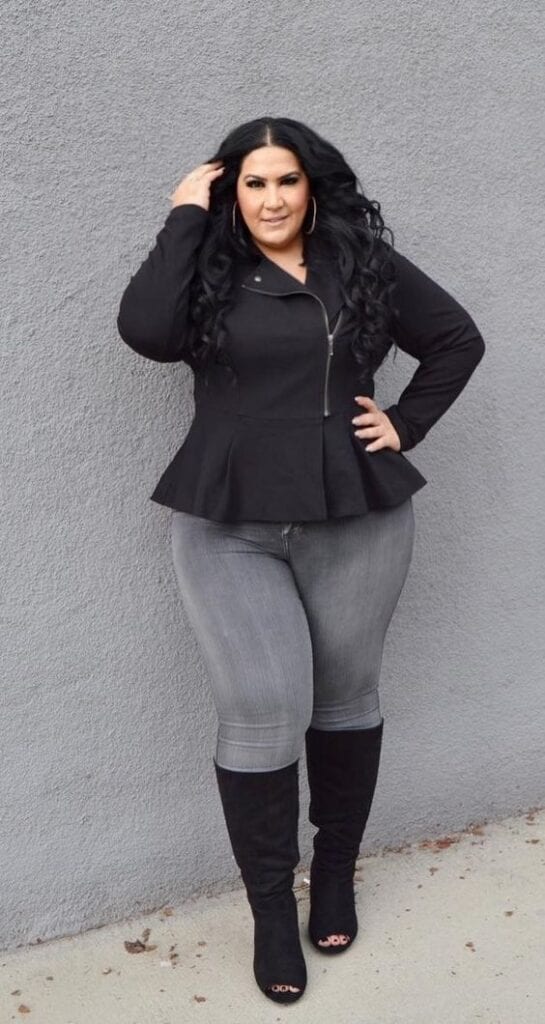 SHOP THE LOOK HERE:
Ashley Stewart Double Peplum Jacket $22.49
↓ 11. With A Midi Dress & Long Coats
Searching for an ultra-sleek ensemble? Style your midi dress with a long cardigan or coat, hot pair of shoes, and a bright velvet purse. It is a look borrowed from the Kardashians!
This combination of nude and olive green has our heart and is casual yet elegant. You can steal the look for a casual coffee date or work. Layering can help keep you warm against the cold breeze while also letting you stay fashionable and up to date with the trends.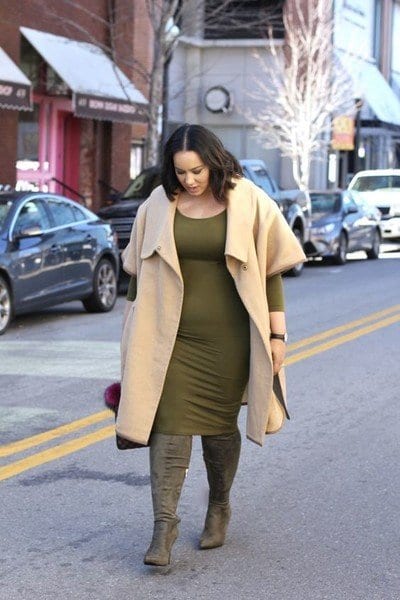 GET THE LOOK HERE:
Forever 21 Olive Midi Dress $28.00
Mango Leather Gilet £79.99
↓ 10. With A Polka Dot Outfit
For a cute and girly look, match your polka dot dress with a bright colored jacket or cardigan. It is our favorite girl-next-door style. And, of course, you can never go wrong when there is some black and red involved!
Now, for the accessories, make sure to stick to black for a basic style. We love the leather handbag and tall boots. It could just become your ideal Sunday Brunch look! Don't miss out on these Adorable Polka Dot Outfits.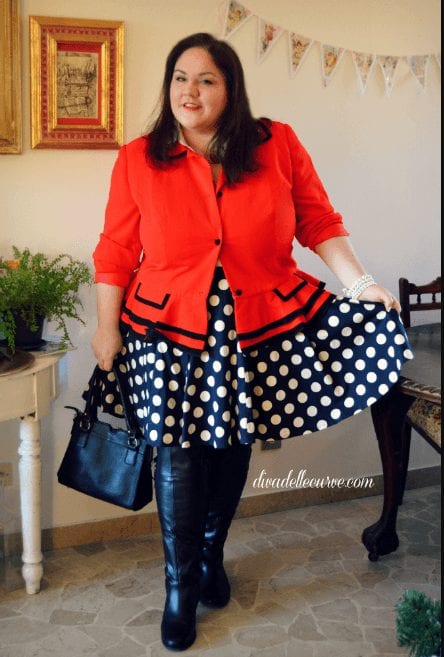 ↓ 9. With A Pleated Skirt
We bet you never thought that you could style these two unique pieces together! Pleated skirts with suspenders have been found to make quite a boom in the fashion pages lately. Add your skirt and blouse outfit with tall shoes and dance around like no one is watching.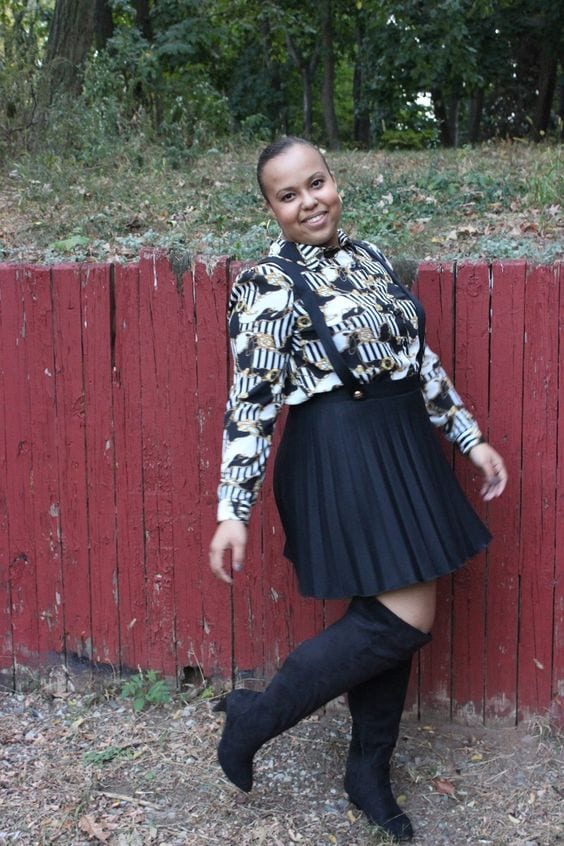 ↓ 8. With A Leather Jacket
A street smart outfit is hard to put together and to pull off. However, we can make it easy with just a few clean and straightforward pieces of apparel. Make a statement with a smart leather jacket and fresh footwear as the weather gets cold, and appear naturally classy!
You can also pair it up with fringe boots to add to that grunge look. It is the ultimate New York girl look to create when out of ideas. The beany and handbag are adding up to the whole cool and edgy style.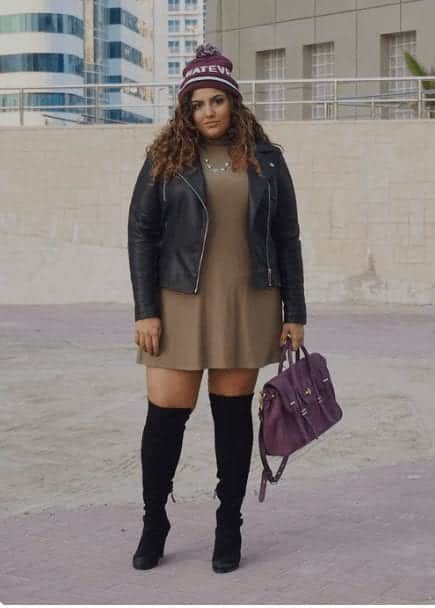 ↓ 7. With A Boho Dress
Going for a boho look for summer festivals or a trip out with friends? You can do it with a fabulous geometric print, long dress, and boots. Add a hat to complete the look! We can't stress on it enough; black is the go-to color for plus size girls.
However, if you are confident about your curves and love flaunting them to your best, go for any bold color and rock the dress! To channel out your inner cowgirl, you can pair the hat with some fringe boots. It will reflect the Texan Girl style.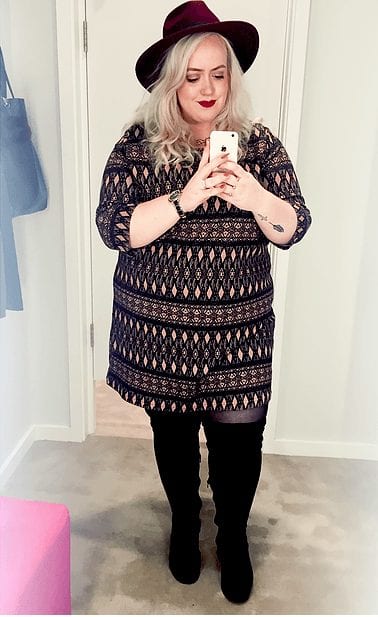 ↓ 6. With Denim Shorts
Going on vacation or a music festival? Give yourself a very sophisticated yet out-there kind of look by matching your favorite pair of shorts with thigh-high shoes. You can wear Shorts with any blouse or shirt depending upon your style choice.
To keep up with your youthful appearance, you can head for an adorable crop top or better yet a lace-up blouse like this one. Since white and black are out of choice here, we love the use of brown to minimize the colors and to give it a sober look.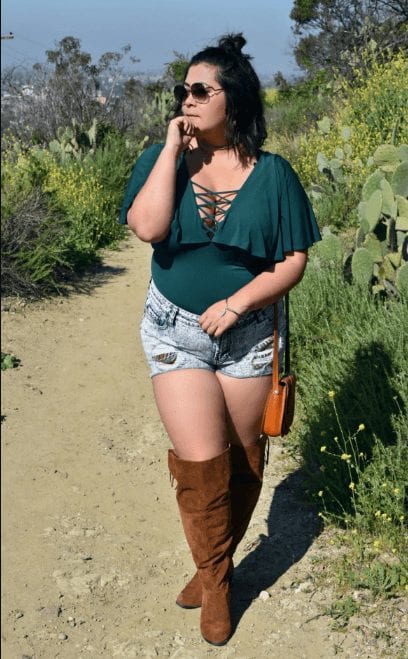 Via
↓ 5. With A Cutout Shoulder Dress
Show off some skin with a cutout shoulder dress and match it up with edgy thigh-high boots and some golden bracelet to complete the look. Who knew casual style could be so edgy and cool?
You can make this footwear a part of your daily wear in this simple way. All you need are some suede boots since leather could become too formal for everyday style. Here are 23 Ways to Style Plus Size Off-the-Shoulder Tops for Women.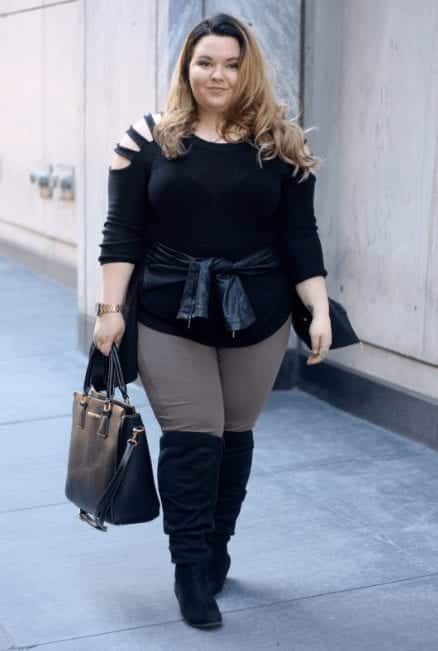 ↓ 4. With A Slit Dress
Feeling spunky? Try this beautiful slit dress combo that can never fail you on days where you feel adventurous and want to try on something bold for a change. If you feel bored with the typical boot style, you can go ahead and add a different element with the peep-toe style. This all-black look is just what you need for your day out with your girl gang. Don't forget to pull out your trendy glares!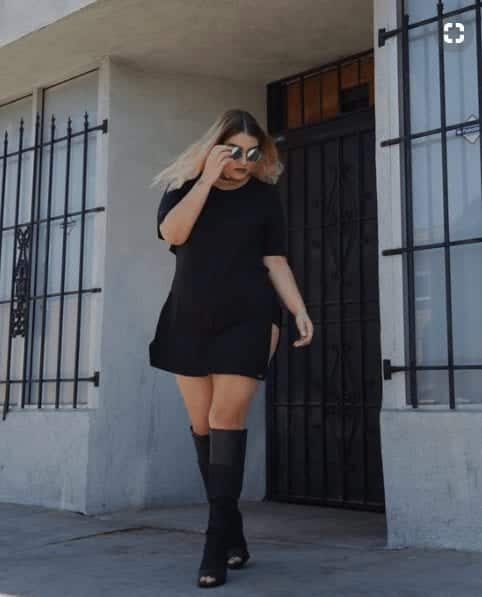 ↓ 3. With A Belted Dress
The belted dress will surely give you a perfect hourglass figure look. Tan is your safest bet when accessorizing a basic look. It will go wonderfully with your outfits. We love this cute handbag, belt, boots that go well with this black dress. If you have been on the lookout for a cute everyday style, this is it! You can go ahead and add some loops for some sparkle.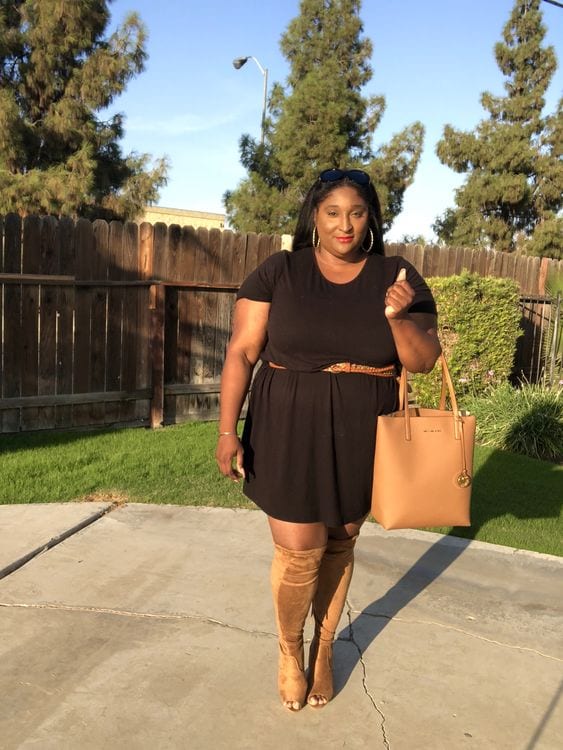 ↓ 2. With A Denim Dress
Denim is that much-loved fabric that designers use in numerous ways to keep the style quotient up and going. You have seen it as Jeans, of course, as well as jackets. We bet you haven't seen them enough as dresses. Here is a super chic and modern look featuring some denim and leather fusion.
The side panels feature leather, which helps to create a slimming illusion to conceal those curves. This combo of blue and black calls for some tall leather boots to complete the style.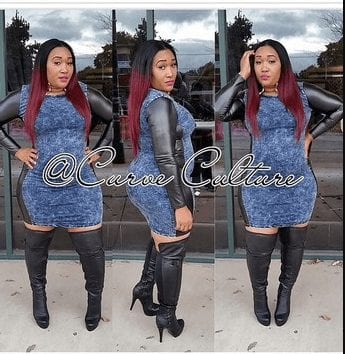 ↓ 1. What To Wear With Grey Thigh High Boots?
We've been getting this question a lot lately and our top choice is an all grey outfit. It is really fun to match your grey boots with an all grey outfit and to just play around with all the fifty shades of grey (pun intended).