What to wear with metallic heels – If you are a girl who believes in investing in sustainable articles, we have a sustainable shoe option for you. This beauty is called metallic heels and they would accompany you over the years with their trendy and sustainable qualities.
One quality we like the most about these heels is that they are not restricted to a single occasion or a season. You can easily juggle these heels between your summer, fall and winter outfits.
Best Outfits With Metallic Heels
You can wear it to your workplace with a formal blazer. Swap the blazer with a sequin midi dress and attend a birthday party in the same heels. So many outfits with a single pair of heels. Isn't that cool?
Also see : How to Style Metallic Sneakers
There is a popular belief among ladies that metallic shoes are not meant for everyone, rather they look more good on the models. If you think the same, follow along as we are here to burst this myth.
Everyone can wear these heels and rock them any day and anywhere. We have made a list of all those outfits that go along with these heels and make you look stylish and charismatic. So let's dig into the details.
Styling Tips
The first thing you need to keep in mind is your comfort level. Metallic heels have different variants like stilettos, wedges, lace-up heels and much more. Try them on before making a purchase and choose based on your comfort level.
When wearing metallic heels for the workplace, make sure your heel has a back strap. Heels having a back strap are called sling-back heels. They give a more sophisticated and professional look.
For your casual meet-ups and commitments, you can definitely have fun and experiment with different styles and cuts of heels.
When wearing a skirt with metallic shoes, make sure it is a bit up from your ankle so that your shoes could be visible.
Keep experimenting with the colors of these heels and do not just stick to one color.
23 – Lace It Up
Springs and vibrant colors go hand in hand. This spring, go for this off-shoulder yellow midi dress with lace-up silver heels.
Add accessories like a choker or pendant and bracelets. Carry a small box bag for a more chic look. This is amazing attire for a brunch with your girls.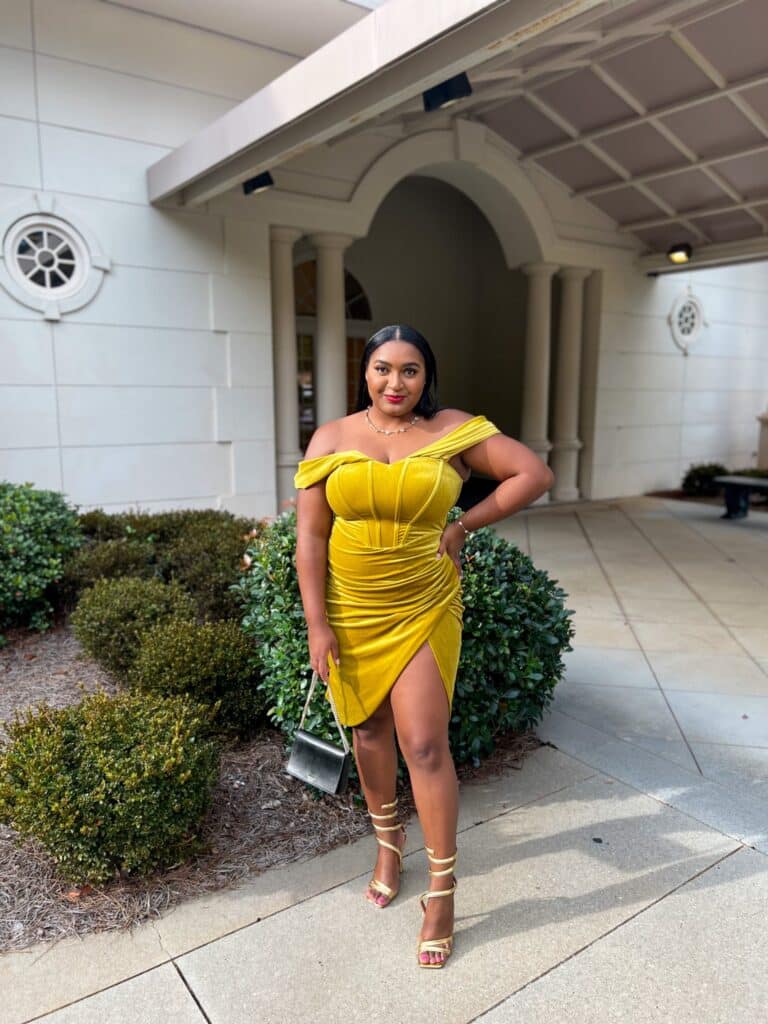 22 – Pair Your Striped Dress With Silver Stiletto Heels
Striped dresses are always in trend. We suggest going for this striped-tiered dress. Place a checkered blazer over the dress if the weather is chilly or you can also opt for a basic blazer to balance off the hues of the striped midi dress.
The pearl chunky necklace is absolutely adding to the beauty of this fit. Wear silver metallic stiletto heels. Pro tip: go for the same colored belt as your shoes as it looks quite stunning. Plus matching your shoes with a belt is a fashion statement in itself.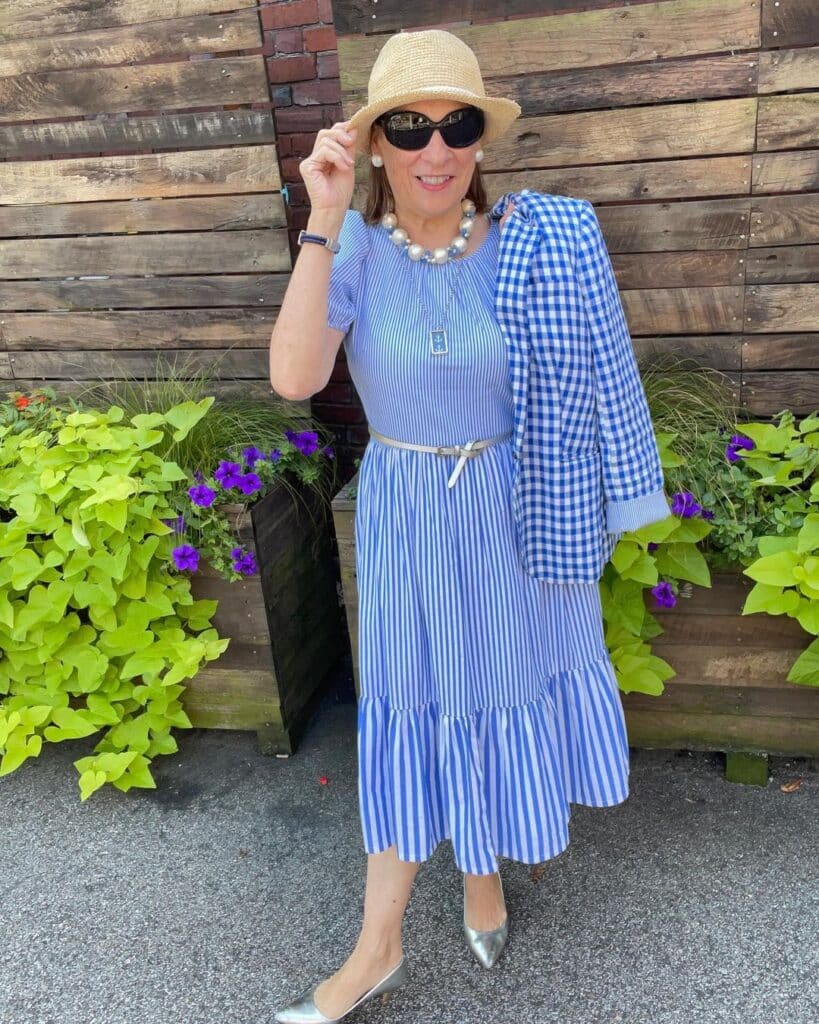 21 – A Day on The Fields With Braided Metallic Heels
When it comes to comfort, we suggest going for braided block heels. They are easy to carry and you can walk around for hours without getting uncomfortable or having pain in your foot.
Even those girls who are not a fan of heels, block heels would work for them as well.
20 – Wear Your Green Dress with Galaxy-Themed Heels
How gorgeous is this green midi dress? A vibrant and refreshing addition to your summer closet!
Add contrasting heels like this blogger has paired up galaxy-themed metallic heels. complete this green ensemble with a gold pendant.
19 – Choose Metalic for A Magical Trip to Santorini
Everyone around the globe has this desire to visit Santorini at least once. Because who doesn't love the calm and serene vibes and the gothic architecture of Greece?
If you are planning to pay a visit to Santorini, this outfit is for you. Wear a plain white blouse. Pair it up with a mini printed skirt and lastly complete the look with simple two-strapped wedge heels.
Wedge heels are considered best when you have to walk a lot and in Santorini, the most exciting thing one can do is to explore the city, the white streets and the pink cherry blossom trees.
18 – White Little Dress for Date Night
We love this pure white and metallic look. The white mini dress with simple beaded strappy heels looks stunning. A great choice for your date night!
Add a pair of earrings and create a boho makeup look.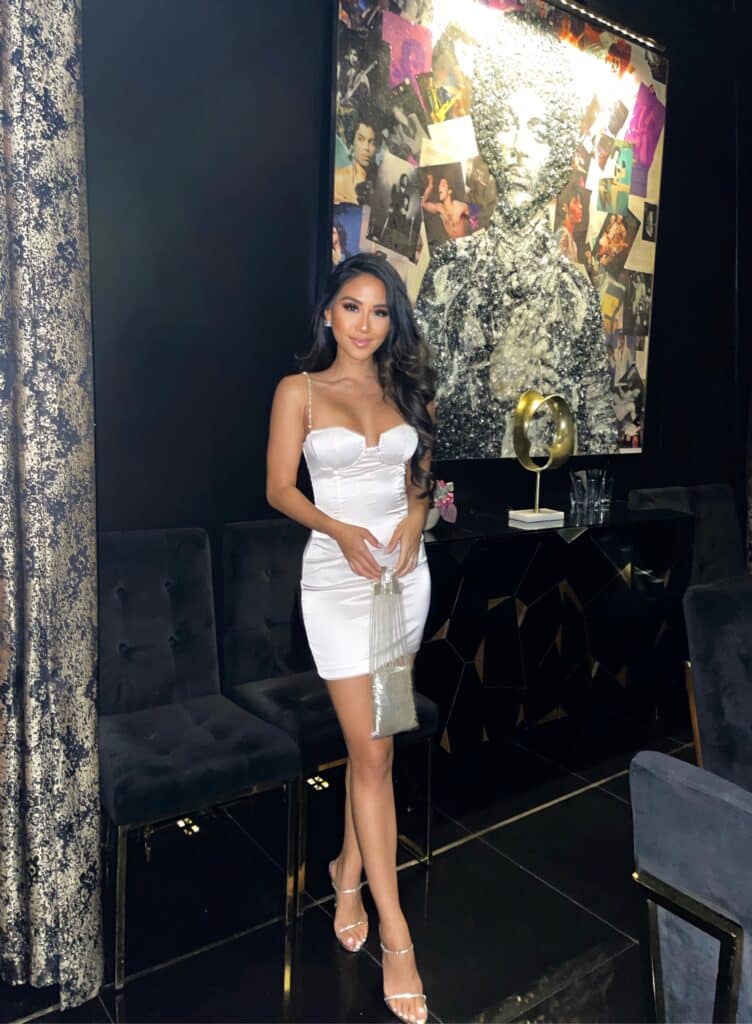 17 – How to Style Red Heels?
Here is an idea for an easy breezy summer look. This Blue Dress with a tinge of red flowers is a great choice to brighten up your summer days.
Wear red heels matching the embroidered red flowers on the dress. Add a bright lipstick and slay!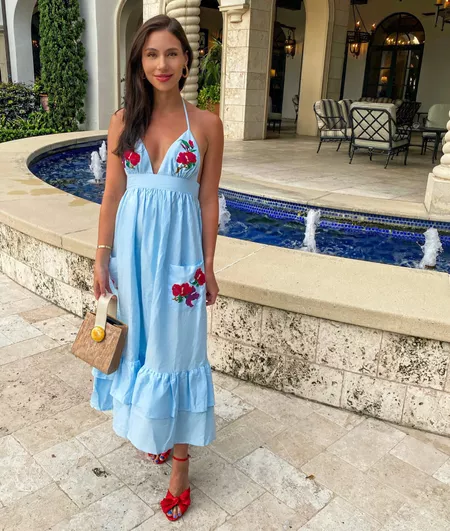 16 – Chrissy Teigan Inspired Look
We love how fresh and classy Chrissy Teigan is looking in this strapless dress. Plus the two-strap metallic stilettos are adding more grace to the outfit. You can surely go for this look for your parties and formal events.
Go for a warm make-up look with a nude shade of lipstick. Add accessories like a chunky gold pendant and golden hoop earrings.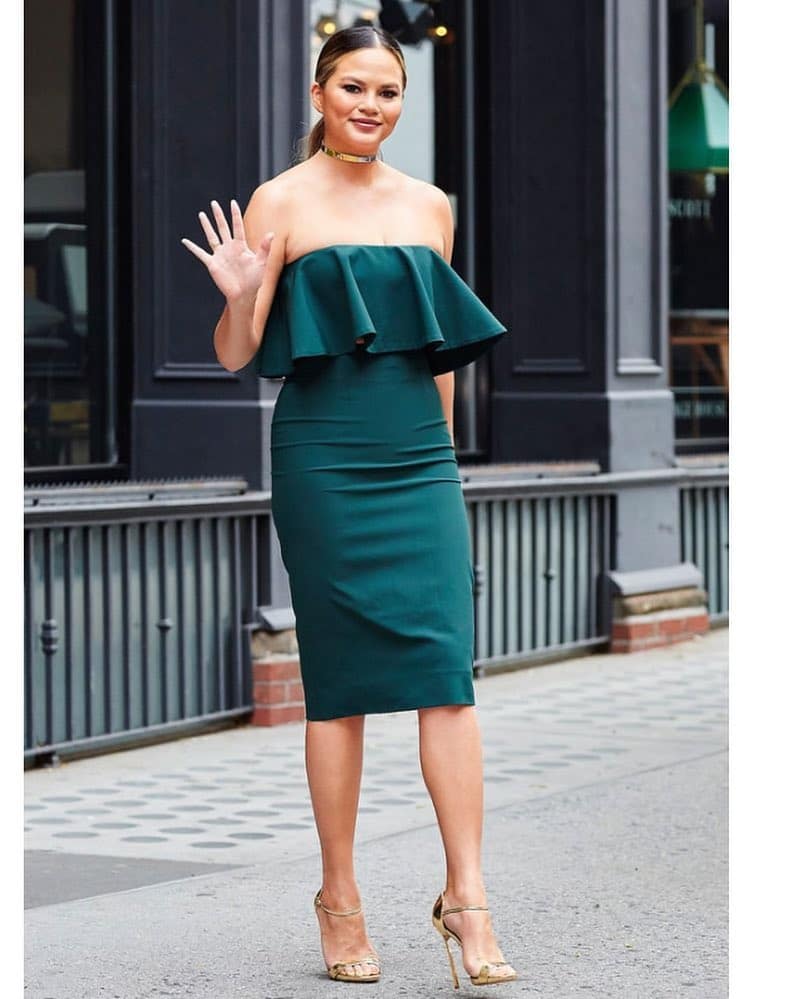 15 – Style Metallic Multicolor Heels with Purple Outfit
We have got you covered with this outfit inspiration if you are a purple lover like us. Put on a purple graphic t-shirt with a purple skirt. Tuck the shirt in and throw a belt to give a neat finish.
Lastly, add these multi-color strappy heels to add more colours to the fit and that's it. Your colourful summer outfit is ready.
14 – Try A Rose Gold Outfit for The Win
There is something magical about the rose gold color. It instantly makes you feel good. For that reason, we want you to add these rose gold hues to your outfit.
Pair it up with gold metallic heels. Let your hair down. Add diamond drop earrings and a diamond pendant. Carry your essentials in an embroidered pink clutch.
If going to a wedding, go for glowy and shimmery makeup. Keep it subtle with soft makeup for a date.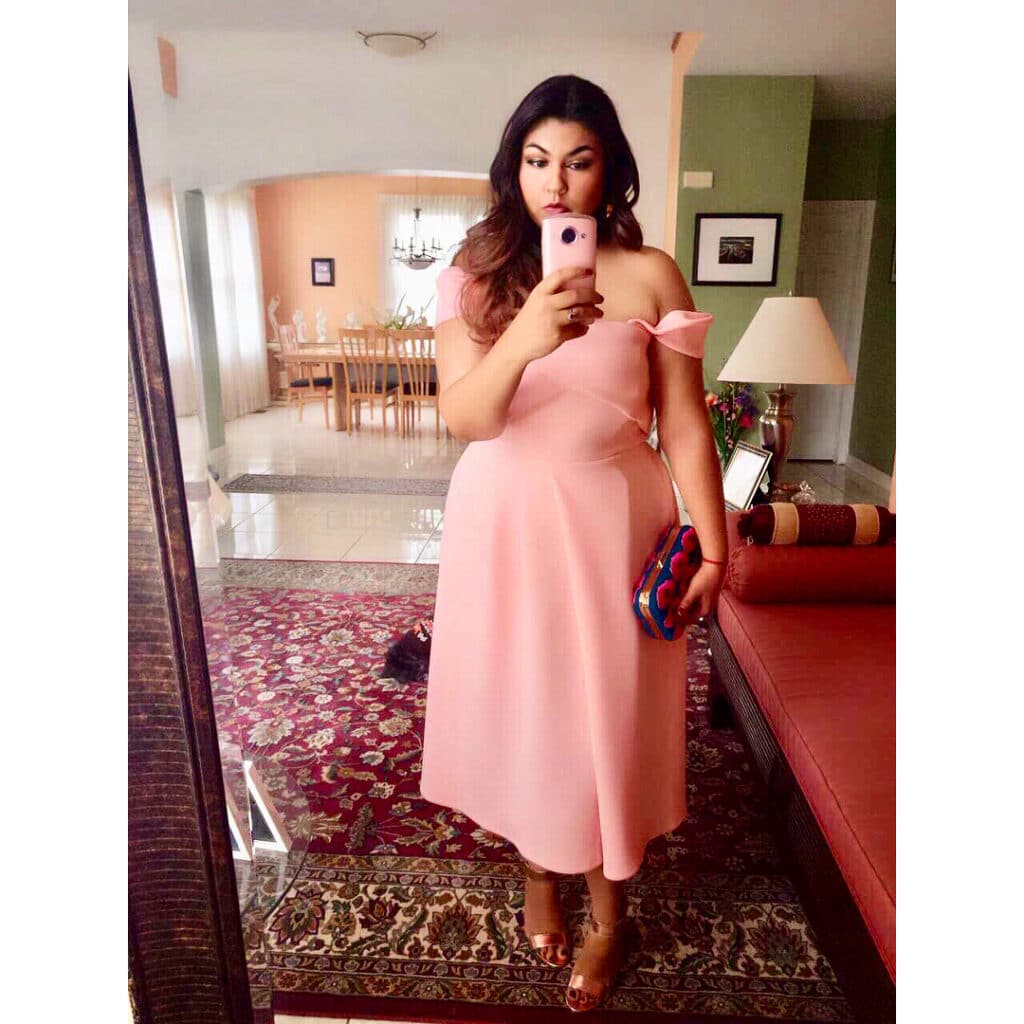 13 – White Cotton Dress With Metallic Clear Heels
Metallic clear heels are great for people who are hesitant in wearing shiny heels.
A totally classic choice for all the women out there and we are sure it will remain in trend over the years. Here is a simple dress idea with transparent heels. This ruffled cotton dress is a perfect pick for summer.
When wearing transparent heels, make sure you apply pretty nail paint on your feet nails, as it increases the beauty of your heels.
12 – What to Wear With Silver Metallic Heels?
Amongst all the colors, silver metallic heels are the most dynamic in nature. If you are going to a wedding, pair it up with your sequin dress. You are going to a party, wear it with your miniskirt and shimmery blouse.
Here is how to style silver heels for a lunch date. Wear a strapless floral dress and accessorize it. Complete the look with heels and you're sorted.
For more lunch date ideas, check out this post on What To Wear To a Lunch In Summers? 20 Summer Lunch Outfits
11 – Go for A Black Mini Dress This Weekend
You have a night out with friends and can't decide what to wear? Go with this mini dress in black. Add accessories such as a pendant and bracelets.
Go for a smoky makeup look. Carry a mini bag and Lastly, add more glamor to the outfit by wearing these strappy silver heels.
10 – Floral Pants With Metallic Platform Heels
Ditch the conventional basic pants and go for this floral pant outfit. Pair it up with a crop top and a matching blazer.
Wear these golden platform heels and you are all set to radiate that vibrant and positive energy from your fit.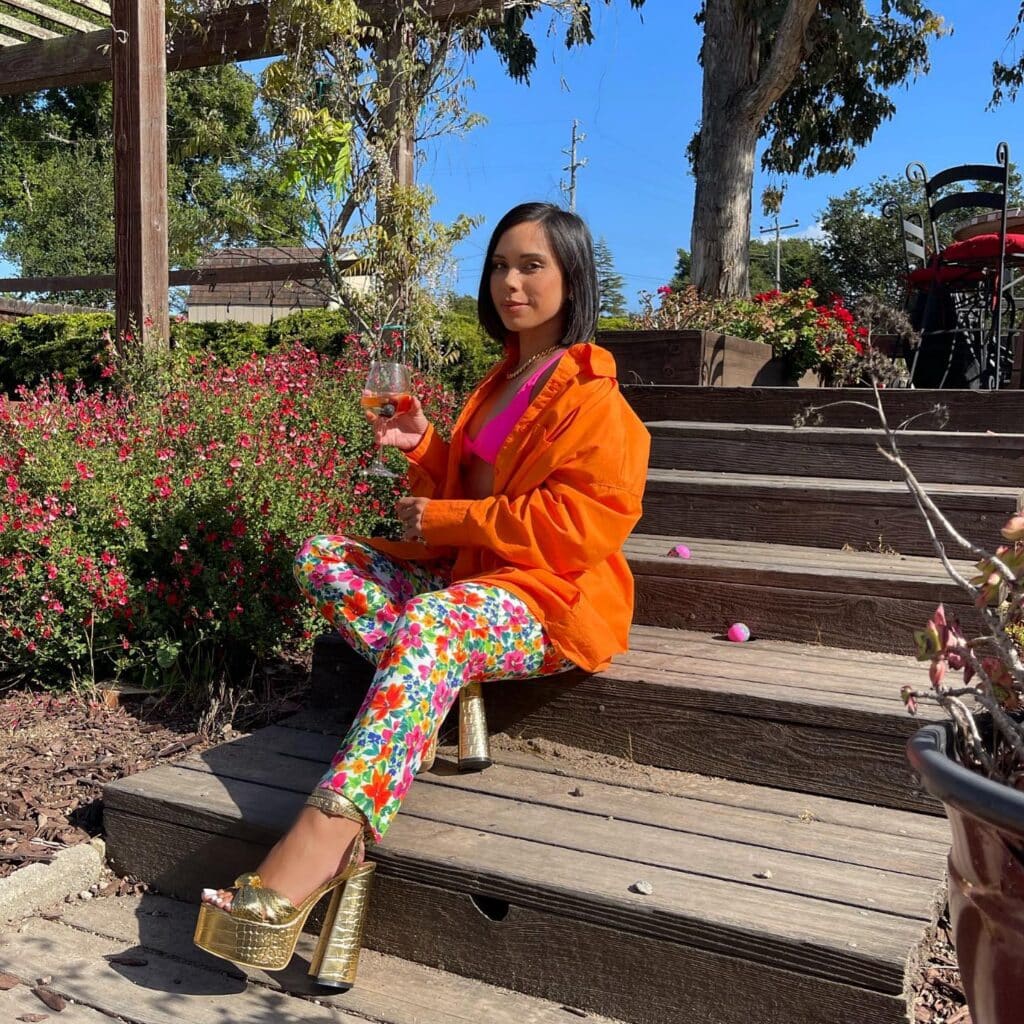 9 – Striped Dress With Ankle Cuff Heels
The only cuffs we are into are the ankle cuff heels in our life. For a look that is always in trend, go for this check dress and silver studded ankle cuff heels.
This seems like a casual and professional outfit but you can definitely wear it to your office dinner. Wear nude color lipstick and you are set for a day at work in style.
8 – Add Some Colors to Your Brunch Outfit
If you are swamped with work and it's still Wednesday, this is your reminder to go for a mid-week brunch with your friends.
Add these gorgeous colors to your brunch outfit to beat the mid-week blues. Carry a mini clutch. Wear shiny pink strapped heels. Put on bright lipstick and smile because a smile is the best makeup you can wear!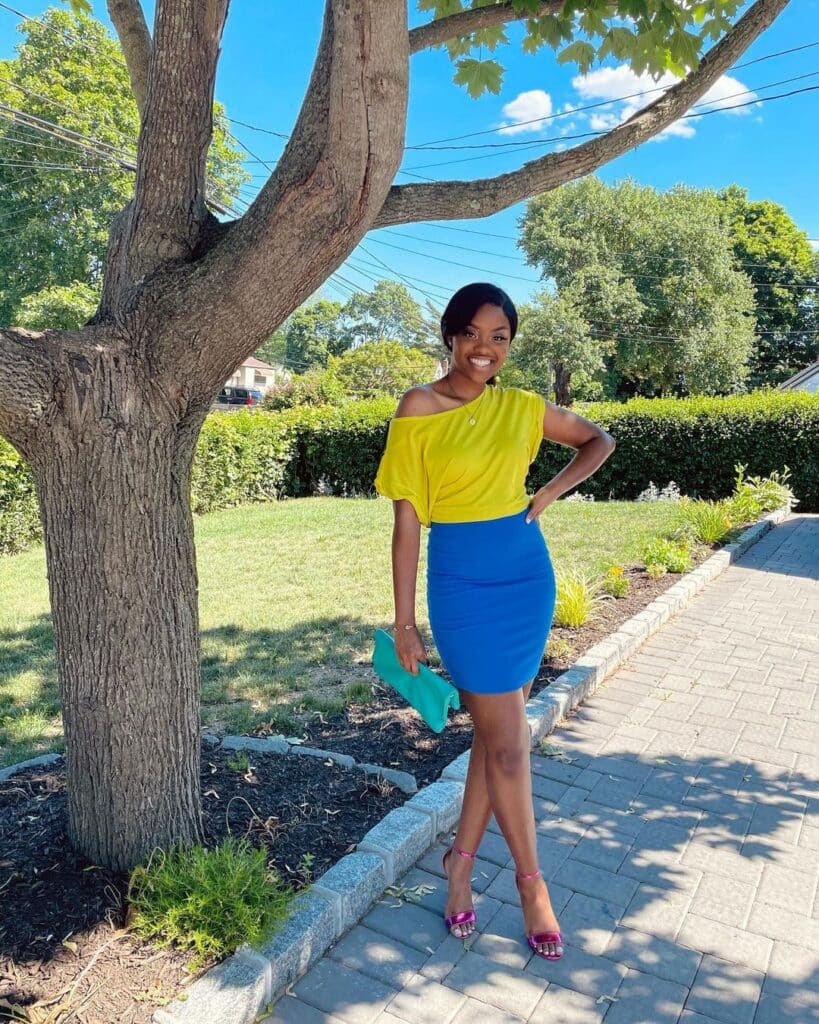 7 – Denim Skirts With Caged Metallic Heels
Denim is our favorite no matter in what form they are.
For a birthday party, opt for this side-slit denim skirt with a puff-sleeved shirt. To give it a fancier look, go for these gold caged heels.
Tie your hair in a pony. Add accessories like drop earrings and bracelets. Lastly, carry a square mini bag.
6 – Floral Outfit With Metallic Pumps
What's better than a floral outfit on a summer day out? We are totally loving this puff-sleeved floral short dress.
Pair it with blue metallic pump shoes would be a nice choice as pump heels look great with floral dresses and skirts.
After adding metallic pumps, you can go for a light makeup look. Just dab a tinted moisturizer, a peach blush and a pretty pink lipstick. That's it. You are all set for a walk around the city.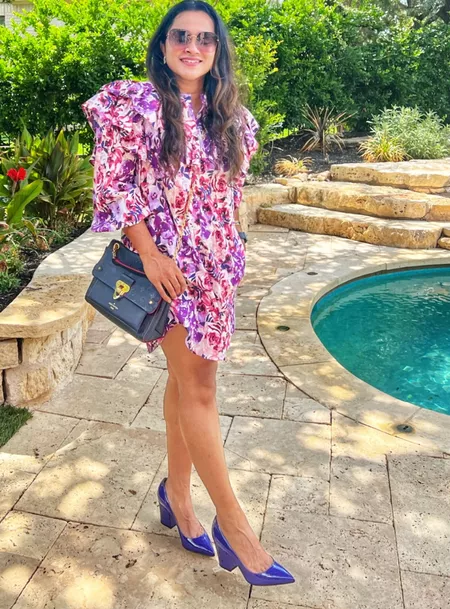 5 – Pretty in Pink
One of the most loved articles is pleated skirts. Go for this outfit when you are in hurry.
Simply wear a buttoned-down shirt, pair it with a matching skirt and you are done. No hustle, no pains!
Go for these golden sling-back shiny strappy heels and you are good to go. You can also opt for wedge heels in the same color.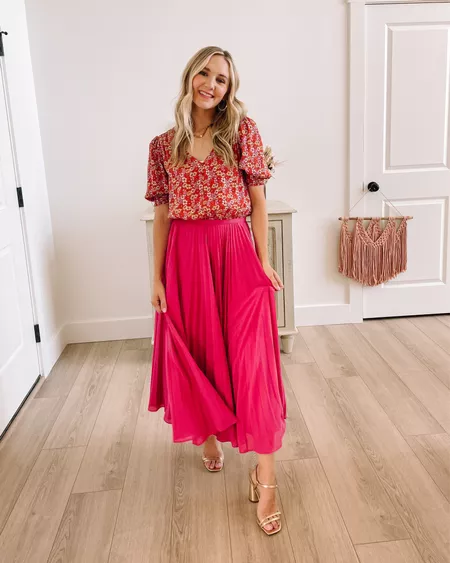 4 – Flared Jeans And Sweaters to The Rescue
Do you want a casual yet stylish fit? If yes, go for this flared jeans and turtle neck blue sweater. This is completely a comfortable outfit that is perfect for everyday errands or a shopping day in winter.
Lastly add these matching blue heels to your attire and your effortless casual outfit is ready.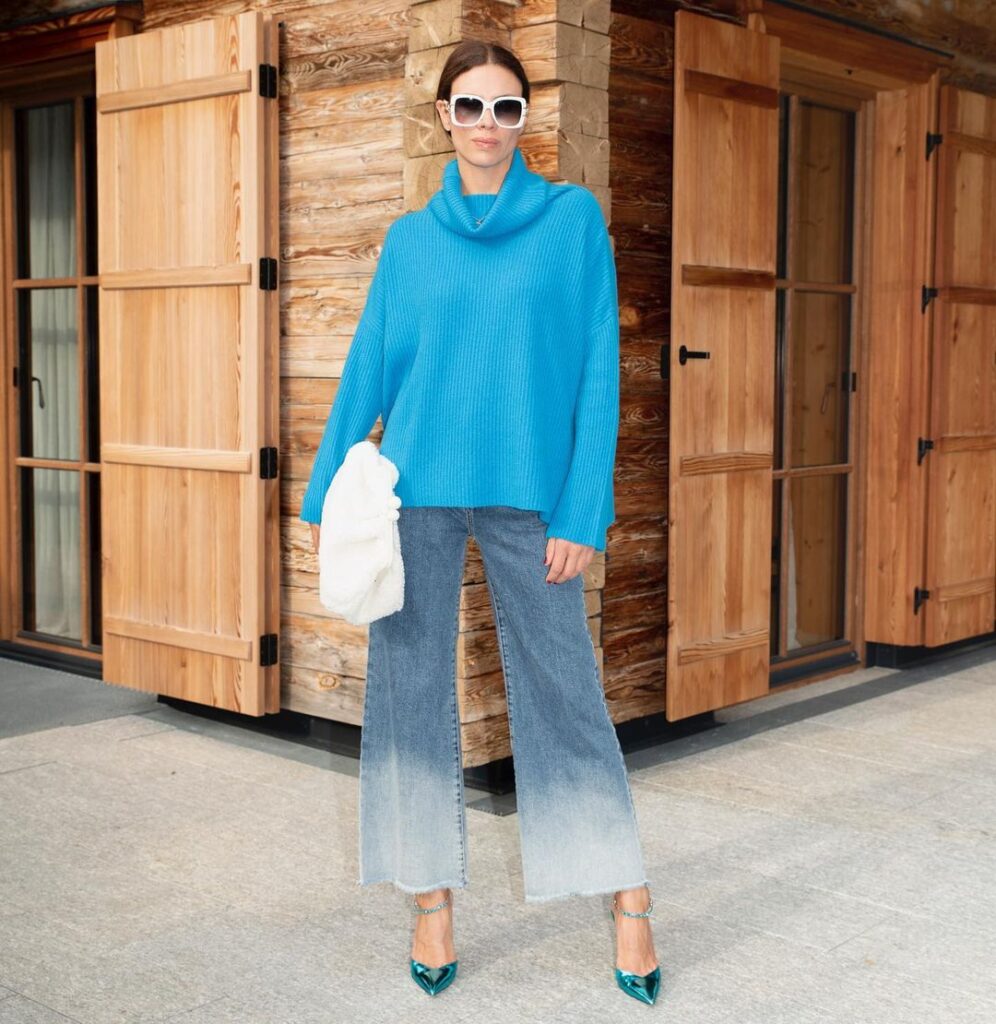 3 – The Cardigan With Bow Heels
Bows not only look good on scrunchies but they look absolutely great when on heels. This fall, pair up your cardigan sweaters with bow metallic heels and look stylish like never before.
Keeping in mind that these bow sandals are gold in color, you can also wear them on formal occasions like weddings and formal dinners.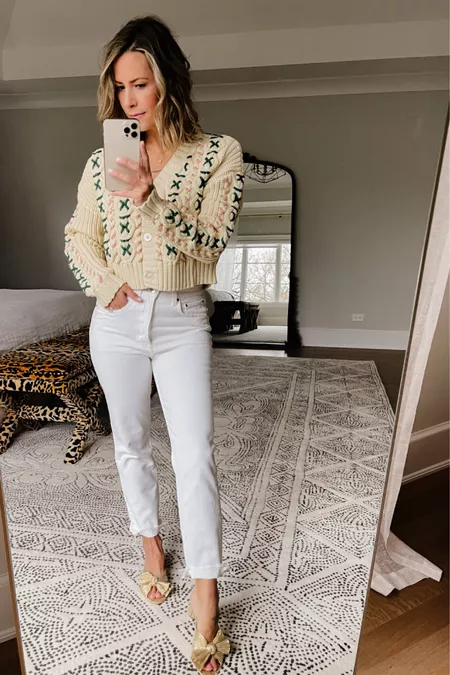 2 – Work Outfit With A Long Coat and Shiny Black Heels
When you want to layer up and yet want to stay stylish, go for this look. Put on a black striped shirt and wear a long coat over it. Go for formal pants or leather pants.
Lastly, add black pointed-toe heels to your attire for a professional look. This is a very relaxed and comfortable attire for your workplace especially when the weather is chilly.
1- All-White And Neon
Our last suggestion is to pair your white skirt with the same color shirt. Throw on a neon color jacket and you're sorted.
The perfect outfit for weekend lunch and coffee commitments! Pair this fit metallic ankle-length heels in silver.
Add your favorite pair of shades and finish the look with hoop earrings or studs.
Frequently Asked Questions
Q. Are Metallic heels in style in 2022?
Ans. Yes! absolutely, they are always in style. They make your outfit blingy and sophisticated. Even if you are wearing a casual or a basic dress, metallic heels will add charisma to your outfit and your personality. Apart from that who doesn't love shiny and sparkling shoes? They have always been in trend and we hope they will remain in trend for good.
Q. Can we wear metallic shoes to our workplace?
Ans. Yes, you can pair it up with formal blazers and high-waisted pants. Go for sling-back metallic heels when going to work. You can also wear basic skirts with pointed-toe heels.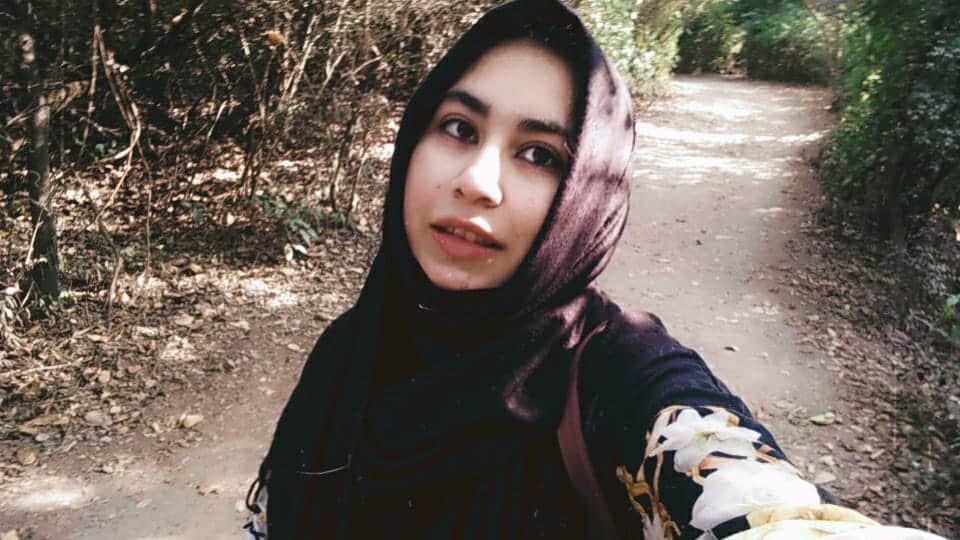 Hassana is a freelance writer who loves to read and write. A foodie by heart, she loves to cook and when she is not writing, she is in the kitchen. Mental health, fashion, and skincare are her favorite genres to write on. Apart from that, she is always ready to learn and explore all new things in life.