Striped skirt outfits: Skirts have been a personal favorite for as long as I can remember. These delicate, flowy, and lovely pieces make your outfits look absolutely stunning. As Spring and Summer approach, these striped skirts will be an excellent addition to your wardrobe, complementing your simple button-ups and tops.
Don't be afraid of patterns; these striped skirts are a great way to transform your outfits. We take you through the different ways you can wear and style your striped skirt, perhaps with something already available in your closet too!
What to Wear With Striped Skirts?
Striped skirts are both stylish and colorful. Don't be afraid to wear a striped skirt because these colors can make your outfits stand out and turn heads. These striped skirts are ideal for the summer months when you don't want to wear fitted denim and prefer something flowy and breathable instead.
Whether it's a fitted, flowy, midi, short, or long skirt, all you need to put together an outfit is, a top in one of the skirt's colors. Heels are a must-have with these skirts to elongate your legs. Add jewelry, shoulder bags, and possibly bandanas and hair bands.
Styling Tips
It's not usually a good idea to mix patterns with striped skirts. Wear a solid top with your skirts to draw attention to the skirts.
Striped pencil skirts look more formal, while flowy long skirts are great for day events such as a baby shower, brunch, birthday or garden party.
Choose the style and color of the skirt according to the event you are going to. Too colorful would not be an appropriate look for work, however subtle colors would look boring for a summer day or an outfit for your vacation.
Heels, or wedges are a must with skirts. If you are lucky enough to be tall or simply running an errand in a casual striped skirt you can get away with sneakers or ballet flats. 
Having the right fitting for a skirt is a must, however if it is a bit too loose adding a belt actually makes the outfit look better sometimes especially if it's a long flowy skirt.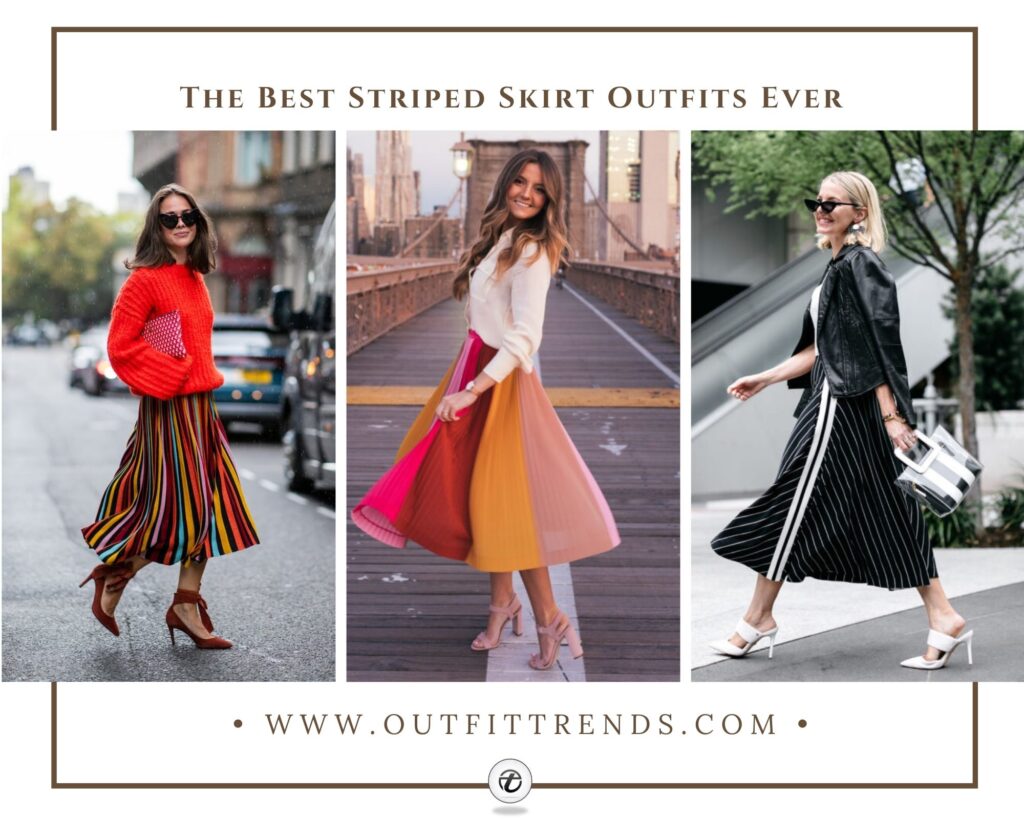 17 – Try a Red Bralette with a Red & Black Skirt
What a vibrant skirt! This skirt is definitely for the bold girls who love color and striking prints. This brightly colored skirt is paired with a red top with V detailing at the bottom of the bralette.
A big black belt is added to give some dimension to the skirt. This look is definitely an eye-catcher. Here are some more ways to wear a bralette this season.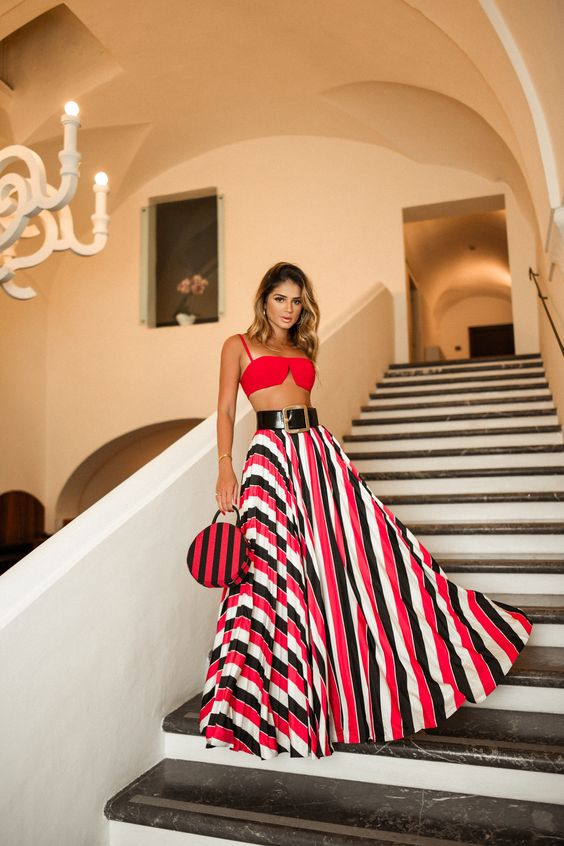 16 – With a Bandeau Top For Cruise Vacations
Going on a cruise or to a beachy summer destination for a vacation definitely involves outfits with flowy skirts.
They are a must-have because they are comfortable, beautiful, and look great in photos while also keeping you cool.
Pair this striped skirt with a summery bandeau top, white wedges, and sunglasses to complete the look.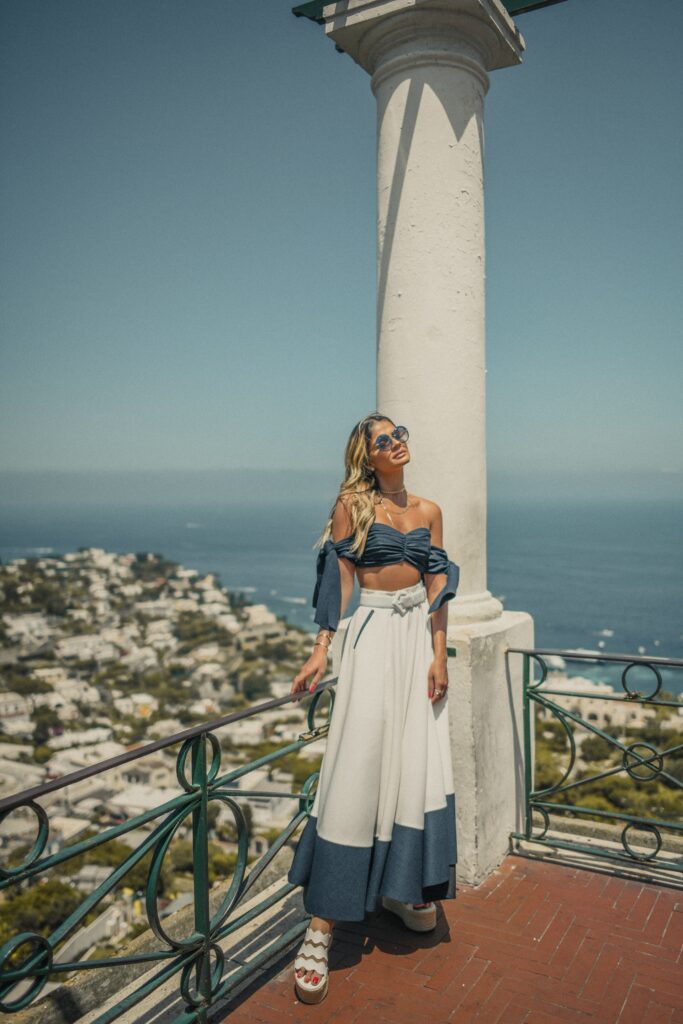 15 – Colorful Skirt with White Top For Summer
I love this skirt! The vibe fits the summer season, when you want to delve into more colors.
This striped pleated skirt will look perfect with a white top, notice the sheer sleeves on this top. Add pink heels, some everyday jewelry, and a pink bag to complete the look.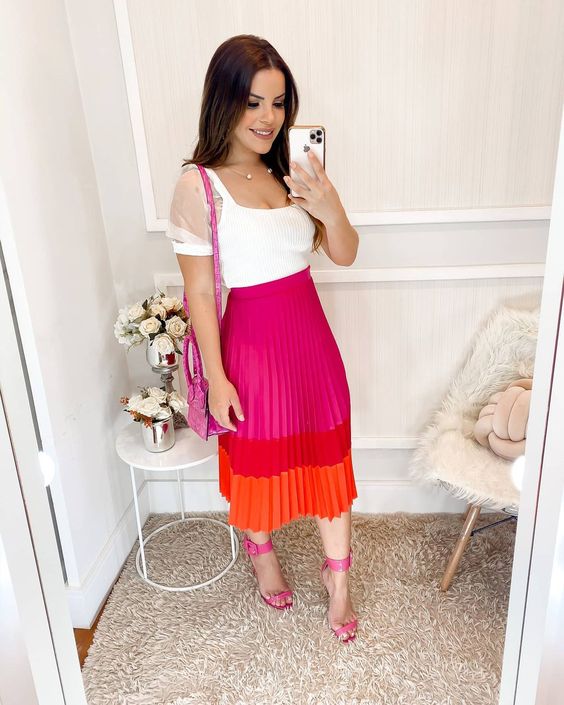 14 – Add a Leather Jacket
You can always experiment with skirts in various seasons.
Here we have a fall look with a black and white skirt. The stripes aren't too over the top, being subtle and close together.
The skirt is paired with a black sweater, a leather jacket and some black booties. Here are some more chic outfits to wear with a leather jacket.
13 – Try a Pink Top with Red and White Skirt for Date Night
This Valentine's Day pull out your red and white skirts and look perfect for the date.
This red is so beautiful, and to keep it wearable at the same time white heels have been added, as well as a pinky peachy halter top, a heart-shaped bag, and some cute shades.
Adding silver jewelry, some beautiful earrings, and lots of rings and bracelets will look very feminine and appropriate for the look.
12 – Black Top for a Casual Look
Want to wear your striped skirt, but still want to keep it casual? Not a problem.
The skirt's colors aren't too bright and are almost neutral, making the outfit ideal for a casual day look. Striped skirts, as you can see, are very simple to style. All you need is a black shirt, a small bag, and some white sneakers.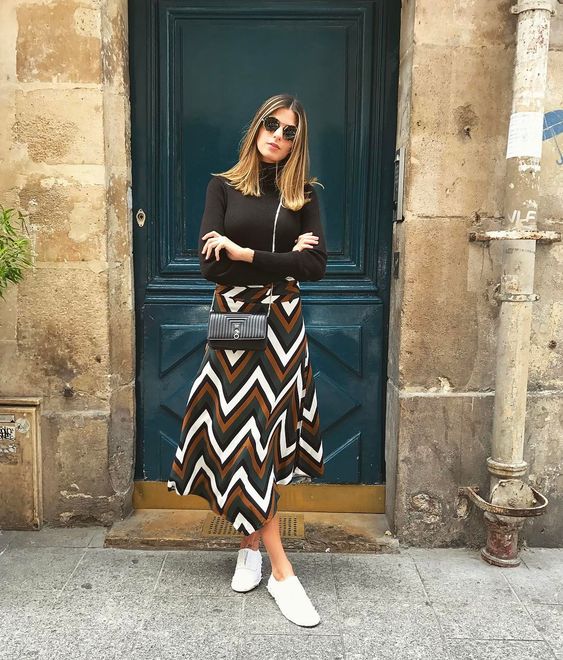 Going for a sexier look? Try opting for a horizontally striped pencil skirt, it shows off your curves, accentuates your legs, and makes you look feminine and beautiful.
Add a fitted top as opposed to a loose top. Don't forget the nude heels and let your hair down!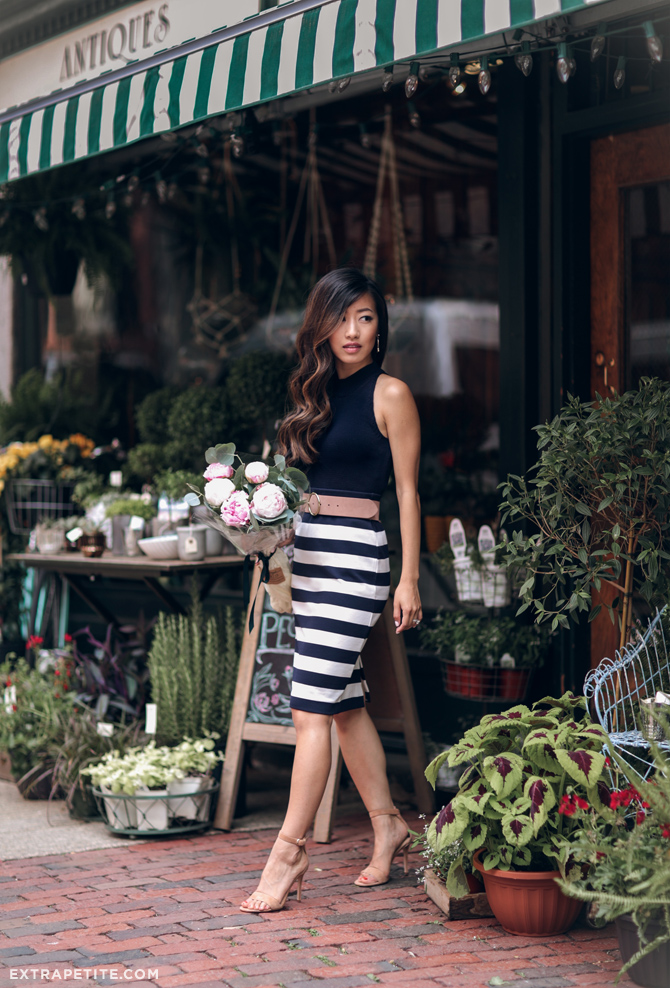 11 – With a Sweater for a Warm & Comfy Winter Outfit
Pencil skirts can also be dressed down. This navy blue and green striped skirt looks so comfortable and is paired with a bright pink sweater. Nude flats are also added.
This outfit is perfect for busy moms who want to look cute and presentable.
10 – Try The Stripes on Stripes Look
Matching separates have been so trendy lately, and for a good reason. The colors are neutral and look classy and expensive.
The entire outfit is striped but does not look overboard. Add nude heels and jewelry. Ditch the belt or jackets for this look.
9 – Layer Multi-Colored Striped With a Denim Jacket
Multicolored striped skirts are great, as you can literally choose any of the colors for the top.
With this particular skirt, a mint, blue, white or nude-brown top would look perfect. A white top shirt is paired with a denim jacket, a white bag and white flats.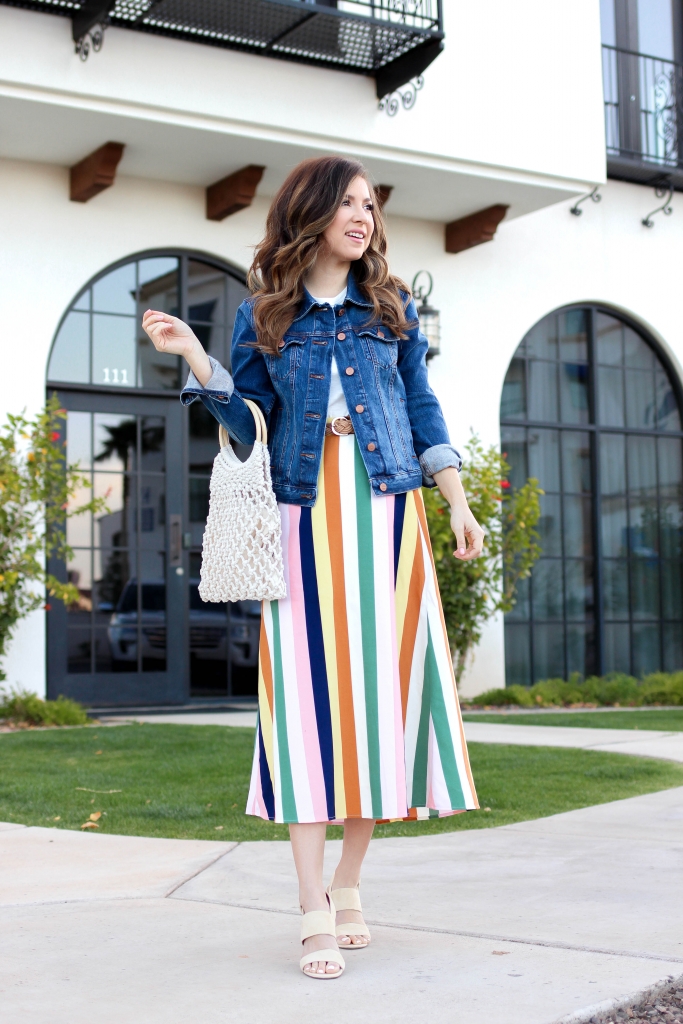 8 – With White Button Down
Flowy Midi Skirts have a vintage and elegant look to them.
The stunning white and blue striped skirt is paired with a white button-up which is tied as a knot in the front, which is simple yet glam.
Wear colorful heels or ballet flats with this look to add a fashionable touch of color to your outfit. You can even include a bright bag.
This outfit is definitely my favorite because of all the beautiful colors in that pleated skirt. Pleated skirts make skirts look even more formal and elegant. And with shades such as that gorgeous nude, mustard, maroon, and hot pink there are a ton of ways you can style this outfit.
You can wear this skirt to a wedding event as well by pairing it up with a fancier blouse. Here we have a cream button-up, with cuffed sleeves paired with some nude block heels. Always accessorize to elevate an outfit, a watch or pearl studs are a great addition.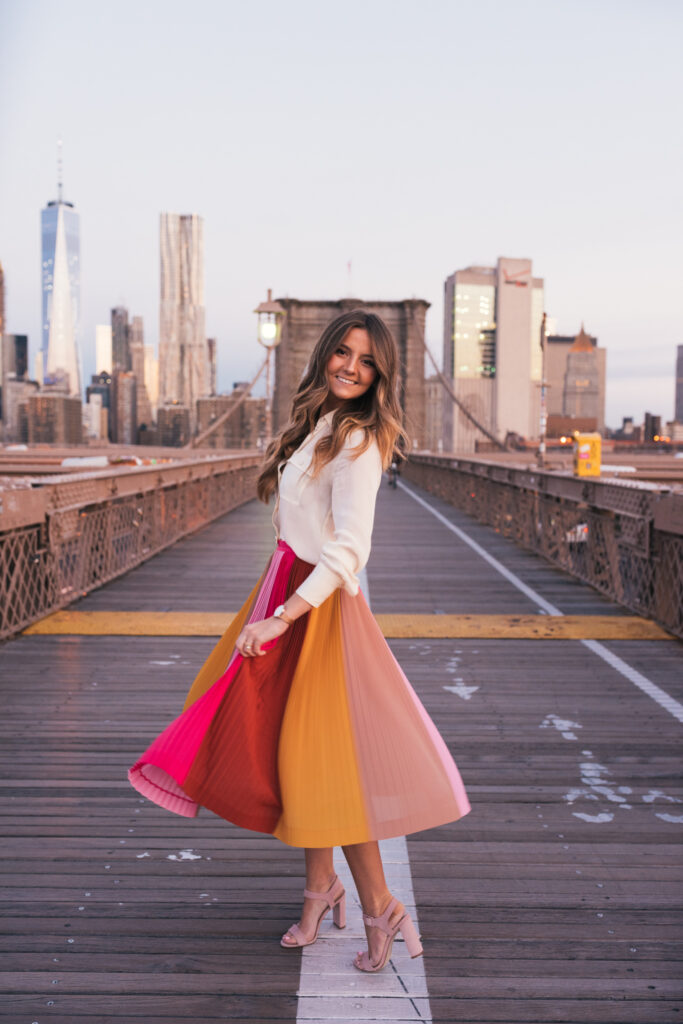 Here is one example of a blue and white striped skirt, which does not look anything like a uniform. The key here is the trendy style of the skirt, which is a mermaid hem.
The button-up is also a bit different, it has a v neck style to it which makes it unique and fashionable.
Don't forget to add nude heels, the ones that are very close to your skin tone because it makes your legs look even longer.
See how a white button-down goes literally with any type of skirt? Here are some more fabulous white shirt outfits for women to try.
7 – With a Blazer for Work
I love everything about this outfit, it is perfect.
The color of the blazer exactly matches the light blue in the skirt. Matching colors is very important when it comes to striped skirts. Add a white corset top, and some white heels.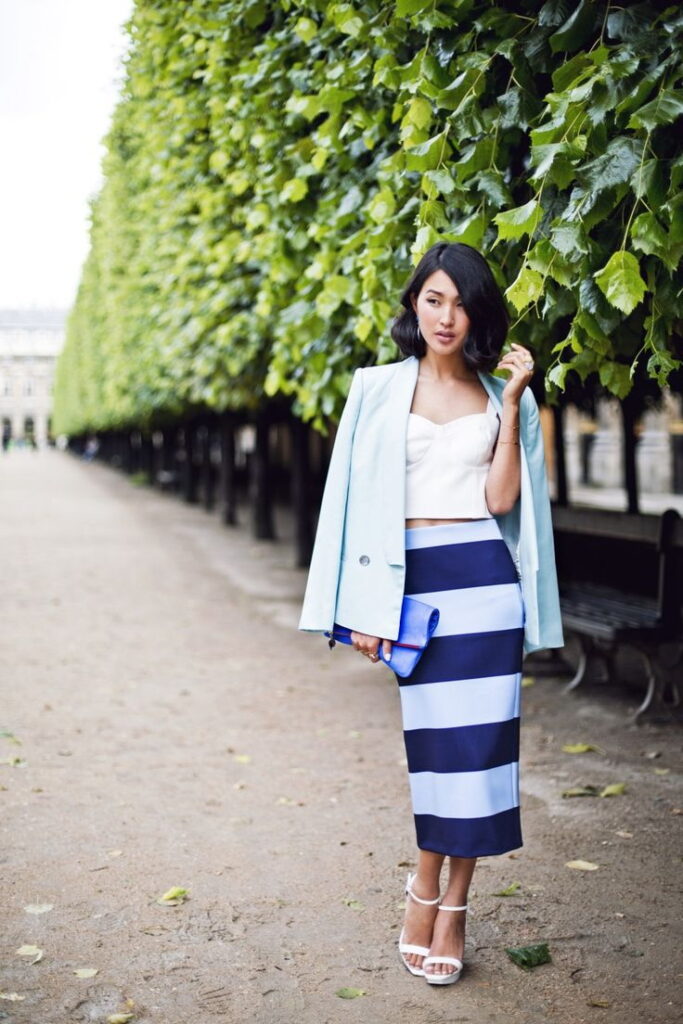 6 – Off White Blouse with Blue Striped for Daytime Outfits
Loose skirts are perfect for a day look, this skirt ties at the front too which gives it a different look.
Add a loose blouse on top, and some nude block heels. Your daily handbag can be easily incorporated into this look, here we have a brown one.
This skirt, in particular, can go with several of your tops and can be dressed up with a white lace top, some stilettos, and a fancier clutch instead of your daily bag.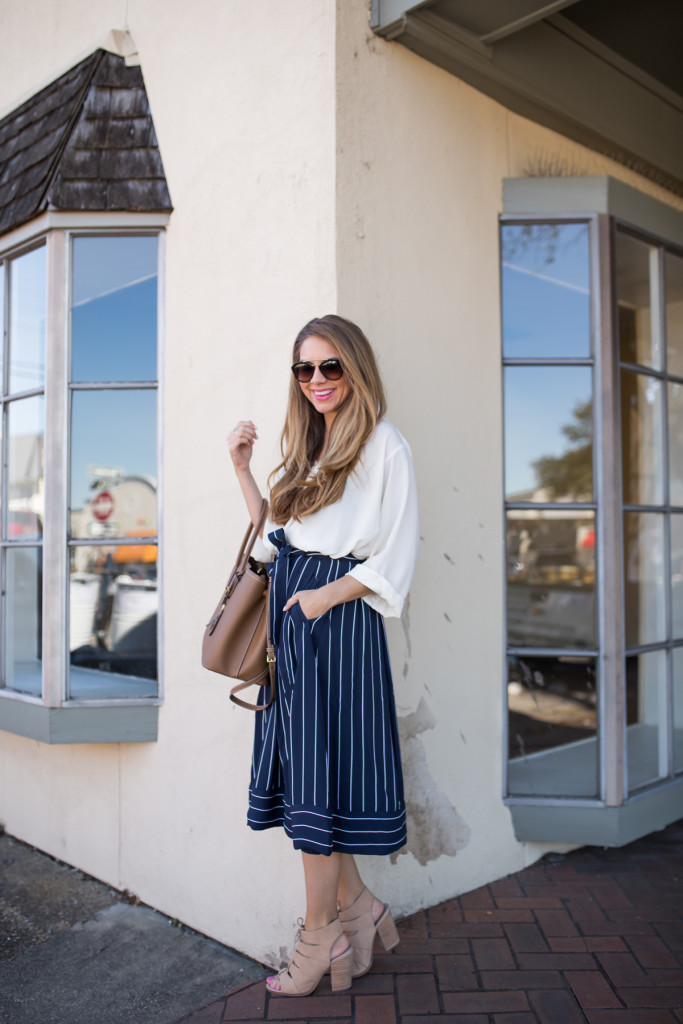 5 – With a Polka Dot Button Down For Semi-Formal Look
I know all girls dream of walking down the street in a flowy skirt once in their life, I know I do. These stripes are close together and look stunning.
You can wear a polka dot, or even a simple printed button-up with this skirt, don't forget to roll up your sleeves.
Add a pair of high heels, a belt and a purse.
4 – The Classic Black & White Look Never Fails
This outfit looks straight out of a magazine. Black is such an easy color to style.
Here we have a unique striped skirt, with white horizontal stripes on the sides.
The skirt is paired up with a leather jacket, white shirt and white heels. A striped bag is also paired with this one.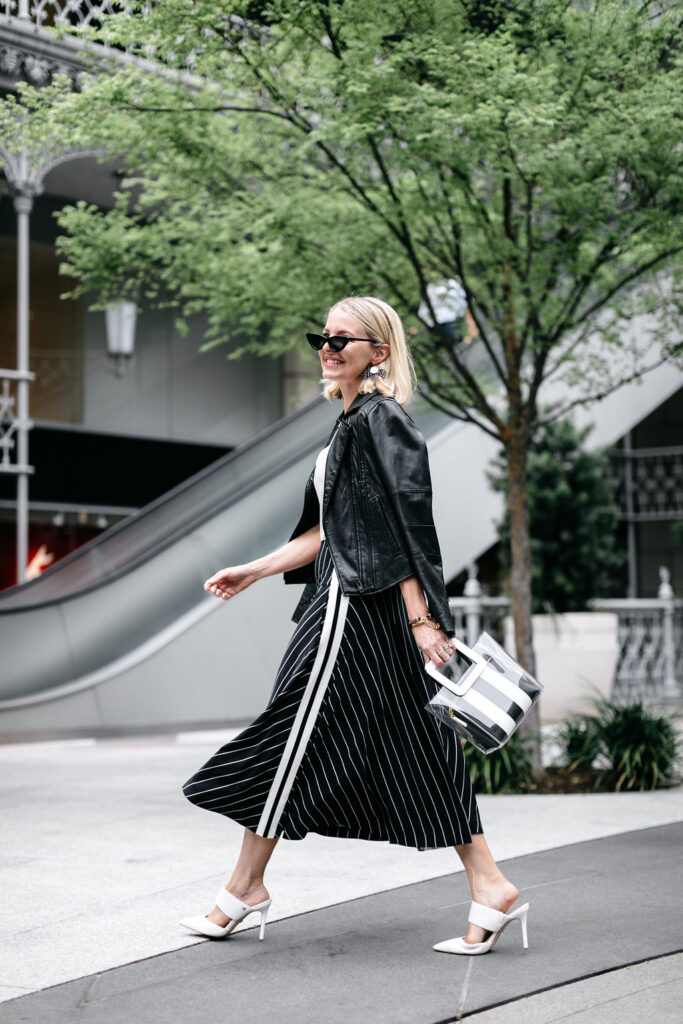 3 – With a Red Sweater for a Bold Look
I wasn't aware how good striped skirts or skirts for that matter looked with chunky sweaters.
Here we have a beautiful, colorful skirt with shades of red in it, paired with a soft, chunky vermillion-colored sweater.
The outfit is paired with gorgeous suede heels that tie at the front, a clutch bag, and some big shades.
This look is stunning and can be worn to any fall event when you feel super colorful and tired of the neutral shades.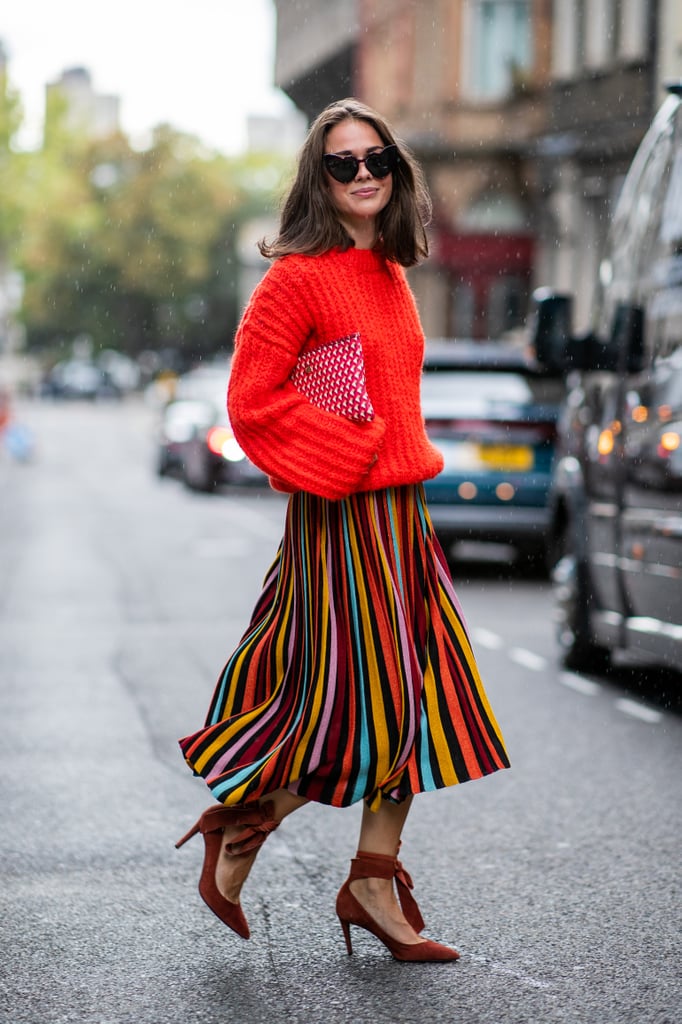 2 – Green Turtleneck with a Green Skirt Outfit for Outdoor Events
Silk Skirts are so trendy, especially the ones with cool prints that jazz up the outfits. Green is such a refreshing color, and looks pretty in this striped pattern.
With this color combination, the matching lush green sweater looks perfect. You can even wear a more fancier top with a silk skirt, or a lace cropped top for a more trendy look.
She's paired this outfit up with some black boots, a simple bag and some white shades!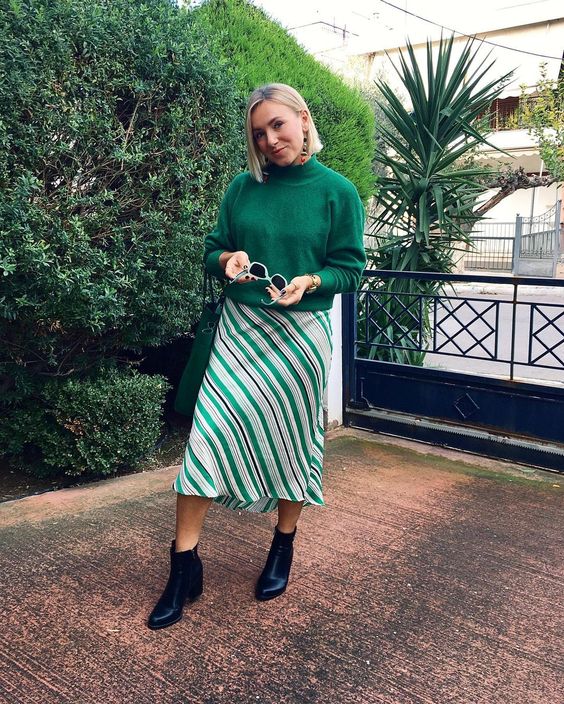 1 – Striped Mini Skirt with Cropped Tops
This outfit is definitely great for pictures, and for the Instagram girls who love the trendy vibes and fashion.
Here we have a striped mini skirt, paired with a sleeveless cropped shirt, green boots, shoulder bag and a hat.
It's totally unique, and I'm digging it.
Frequently Asked Questions
Q. Where to shop for striped skirts?
Q. What can I wear with a blue and white striped skirt?
A. There are various shades of blue, and if your skirt is light blue and white make sure you don't style it like a uniform because people tend to do that with such colors.
A white and blue skirt will look great with a white button-up or a loose blouse. If your skirt is fitted, wear a fitted top, if your skirt is loose a white blouse will look better.
Make sure your blouse isn't too plain, a bow at the front of it or some embroidery or details on the button would add to the look. Try adding color through shoes, or bags to avoid the uniform look.
Q. How to wear a Striped Mini Skirt?
A. Mini skirts are great for trendy young girls. Striped Tennis skirts in neutral colors will look fire with a long leather jacket or black shacket, or a matching blazer and a button-up.
You can add thigh-high boots, or even heeled boots. Accessorize with shoulder bags, and pearl necklaces as they are really fashionable these days, and lots of rings.
You can even add stockings, some polka dot ones would look super cute.