Stylish Wrap Skirt Outfits. The wrap skirt was first introduced in the late 1960s when it became popular among the ladies. The trend continued until the early 1970s. It has since made a comeback and today is once again in vogue.
In its heyday, wrap skirts were mostly ankle-length or longer. Today, we see wrap skirts of all different shapes, styles, and lengths. You can also make a wrap skirt at home since it is so easy to make. This way, it will be exactly what you want since you will have designed it!

A wrap skirt is worn around the waist and secured through a belt or by tying. The best thing about wrap skirts is that they don't just look attractive but they are also a comfy fit. Usually, they can be adjusted on the different waist and hip sizes. Back in the 1900's, they were made of batiste, a soft cotton fabric. These days, they are made of various materials, even denim. If you don't already have a wrap skirt in your closet, it's about time you include it.
Here are 30 ways you can stylishly wear a wrap skirt!
What To Wear With A Wrap Skirt?
Here are some styling tips to start with:
Get a wrap skirt that has some eye-catchy detailing. Like a buckle or strings.
Go for the mix and match look. A multicolored and beautifully patterned design is sure to make you look like a fashionista.
Choose the appropriate fabric that isn't just comfy to wear but falls well over your figure.
For summer, you can choose to wear a mini wrap skirt or a long one with a slit.
A wrap skirt attracts attention to your legs. Be sure to sport top-end footwear.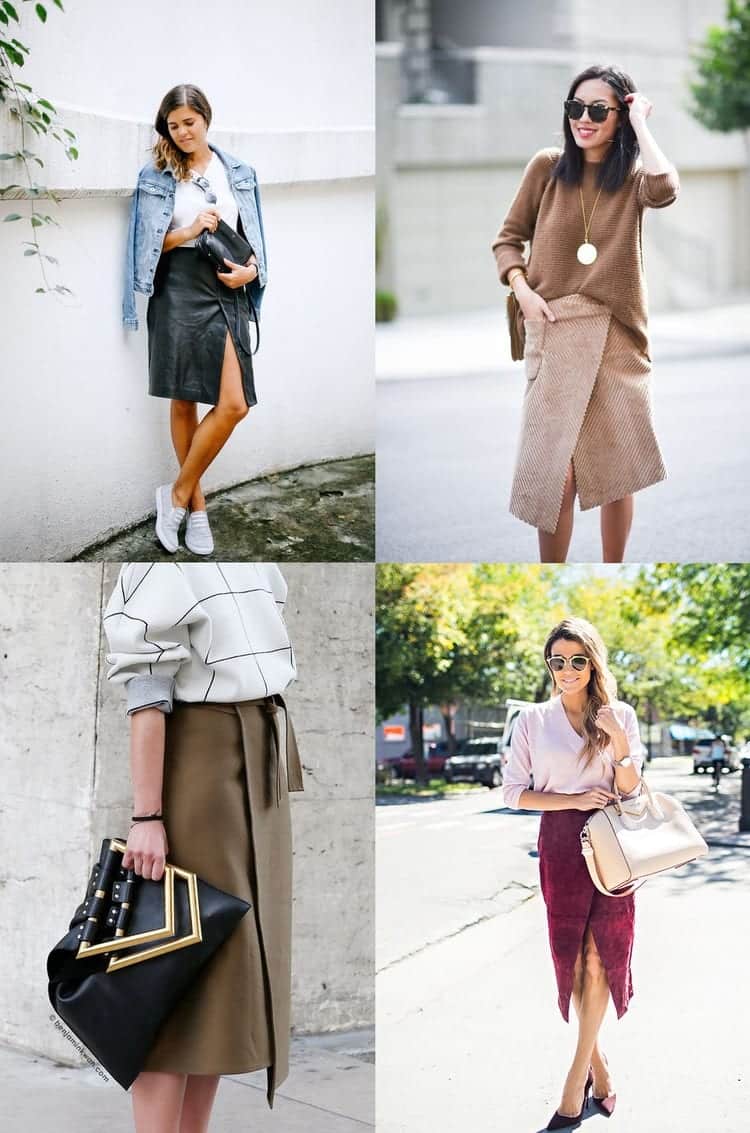 ↓ 32. Casual Wrap Skirt Outfit
With a wrap skirt, you usually get some extra detailing around the cinched part of the waist. Some skirts like the one pictured are tied. With fun detailing like that, you want to take full advantage and make sure you show it off. For that reason, we recommend a body-hugging top that you can tuck into your skirt. This lets the skirt take center-stage and doesn't overwhelm your figure with excess fabric.
For this outfit, which is great for summer beach days and pool parties, accessorize with brown and straw-based pieces like a little woven purse and sandals. Go for a chunky pendant necklace and oversized sunglasses to tie the look together.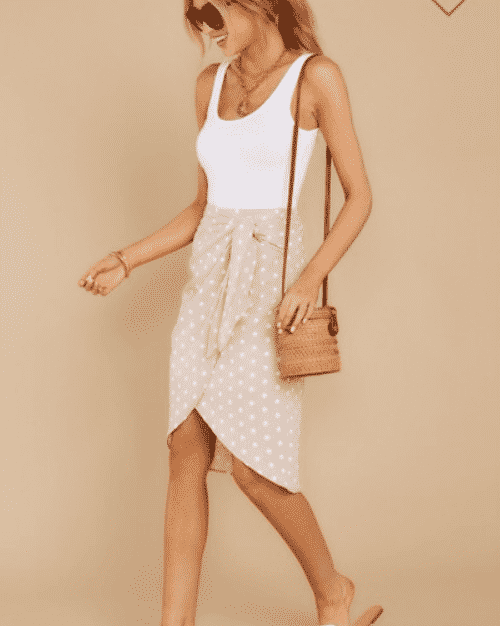 ↓ 31. Denim Jacket & Floral Wrap Skirt for Spring
An outfit like this is perfect for spring. A cute denim jacket will keep you warm on a chilly spring morning and the floral pattern on the skirt will keep you feeling the spirit of the blossoming season! Pair with some all-white sneakers and a white bodysuit top. This outfit is great for traveling, touring new cities, or visiting with your besties.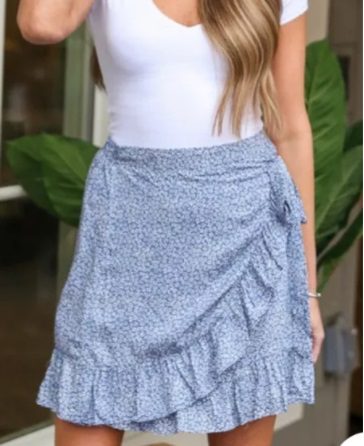 ↓ 30. Cute Summer Look
We love a cute wrap skirt for summer attire. It's a great way to stay fresh and cool while looking stylish. You can pair a sky blue floral skirt with a white tee for an adorable look you can sport for coffee dates, lounging at a bookstore, or grabbing lunch with friends.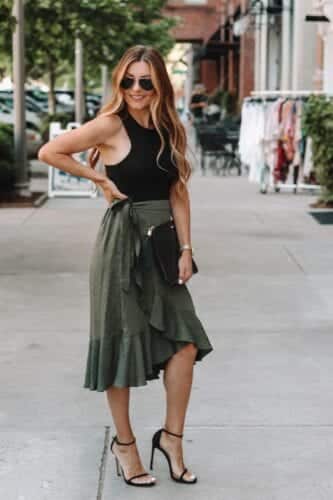 ↓ 29. Throwback Retro Booties
Throw it back to the good old '70s with a pair of all-white booties and keep it modern with a black bodysuit and a green wrap skirt. The lovely thing about this skirt is its length, ruffles, and darling floral pattern. You can rock this look for a party, concert, or a lunch date.
↓ 28. Work Outfit
Like pencil skirts, wrap skirts also make for chic and sober office wear. You can wear a wrap skirt with a belt for your workplace. A button-down shirt is a perfect top to pair with a wrap skirt for work attire. Add a belt and slip-on sandals and go for a chic chignon to keep the look sleek. Here are 20 Best Business Casual Shoes for Women.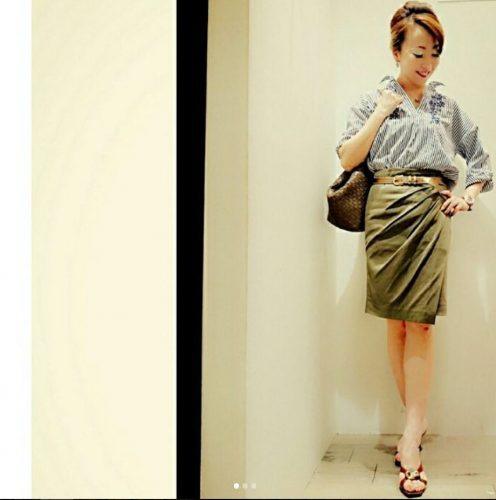 ↓ 27. Hijab Outfit
You can choose a modest way of sporting the wrap skirt as well. Wear a long wrap skirt with your outfit and show off your love for fashion!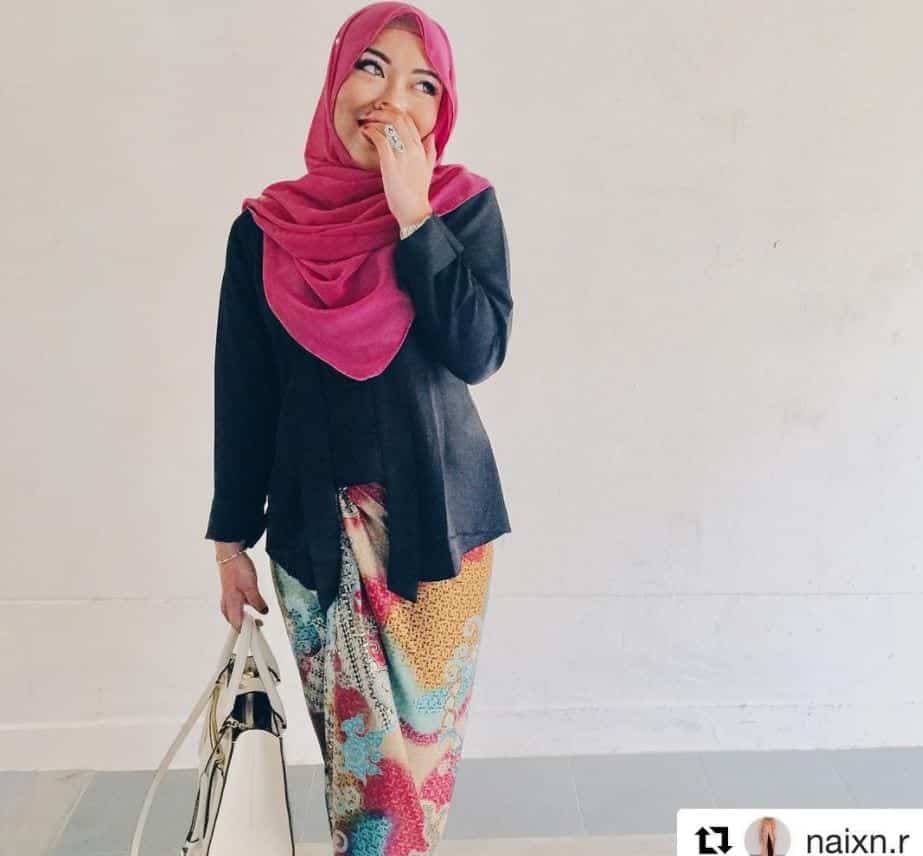 ↓ 26. Fun Party Outfit Mature Women
Spending the day with friends? Wear a wrap skirt! Go for the fun look and wear a light top with a bright wrap skirt. Add in a few cool accessories and you are good to go. Do check out these awesome Girls Night Out Outfits.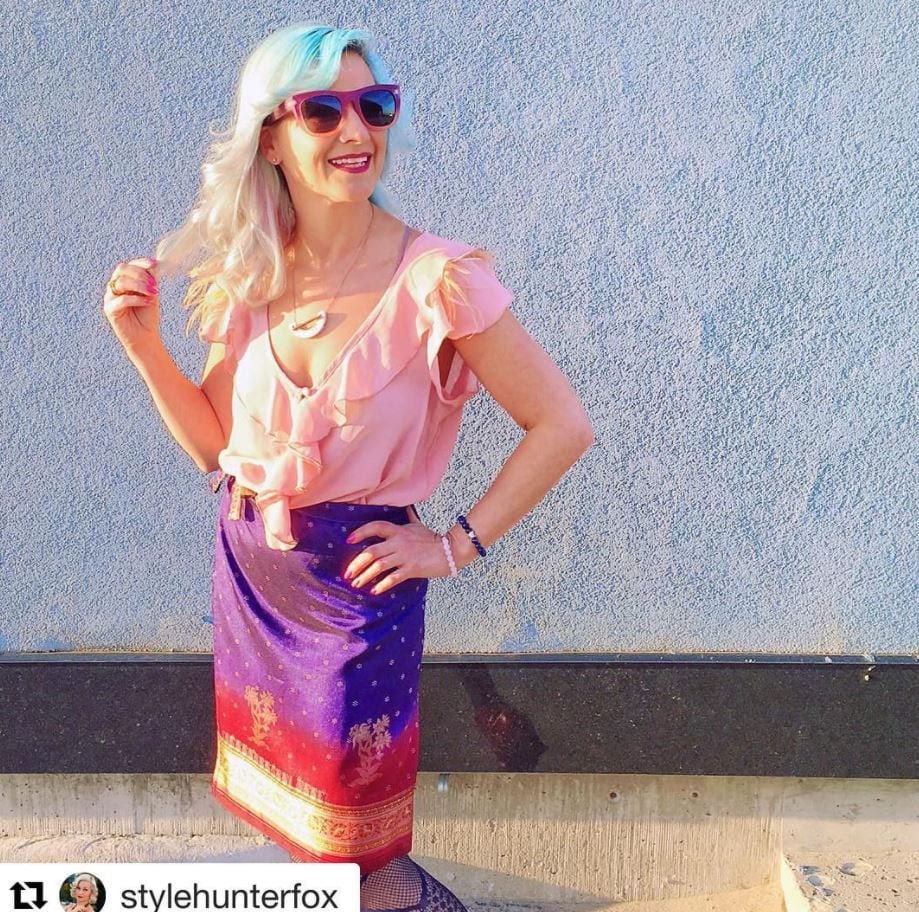 ↓ 25. Party Outfit
An off-the-shoulder black pleated top with a long wrap skirt that features a fashionable slit would make for the perfect party wear. We love this patterned skirt as well as the chunky strand necklace. This look is perfect for a beach party!
↓ 24. Formal Event Wear
Attending a formal event? Keep the look elegant. A long silk wrap skirt with a matching top would make you stand out in the crowd. Here are 18 Summer Wedding Dresses that you can try this year.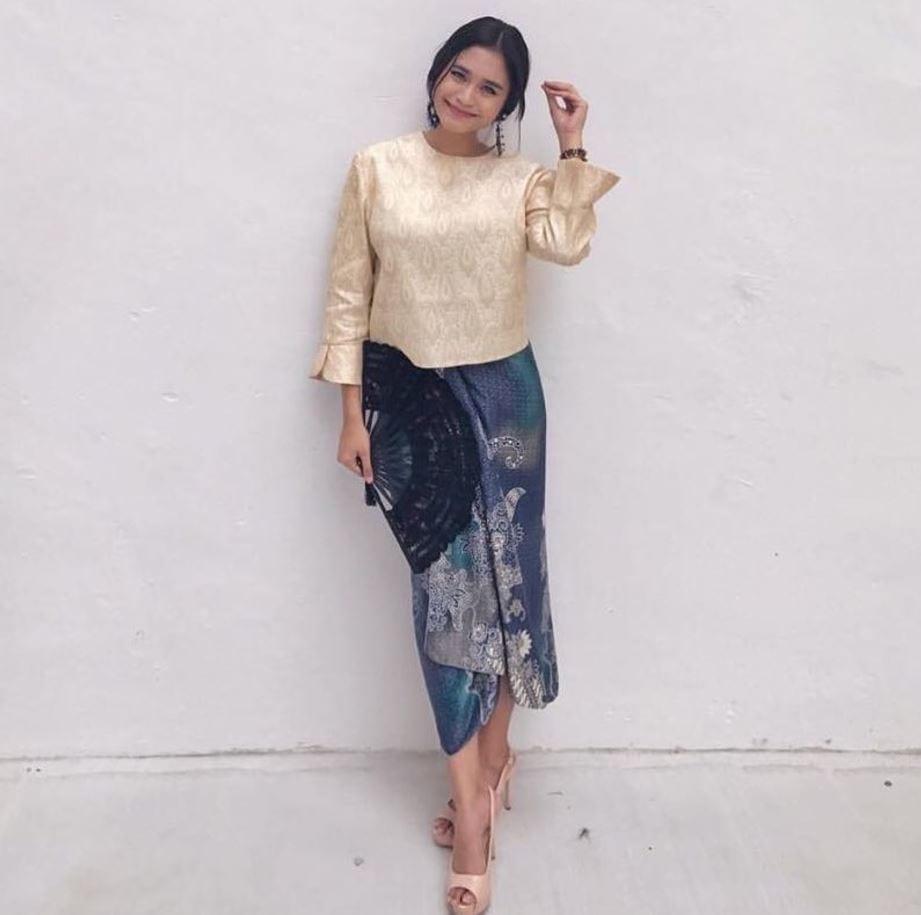 ↓ 23. Glamorous Shimmering Wrap Skirt
Awaken your inner fashionista and take your style up another notch with a stunning shimmery wrap skirt and turtleneck top. This is a classy and alluring look you could wear for a semi-formal event, as a wedding guest, or for a photo shoot. Peep those strappy heels, too!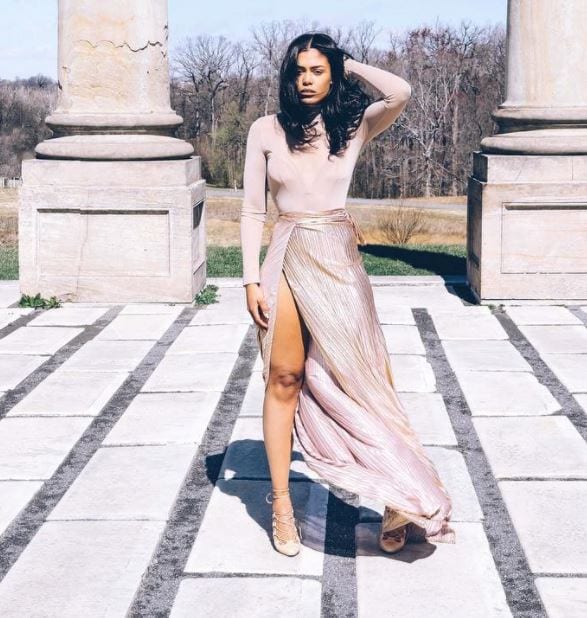 ↓ 22. Summer Style
As aforementioned, we just love wrap skirts for summertime. For this look, pair a mini wrap skirt with a sleeveless top to beat the heat and look snazzy, too. Check out these 20 Ideas How to Style Floral Skirts This Spring/Summer.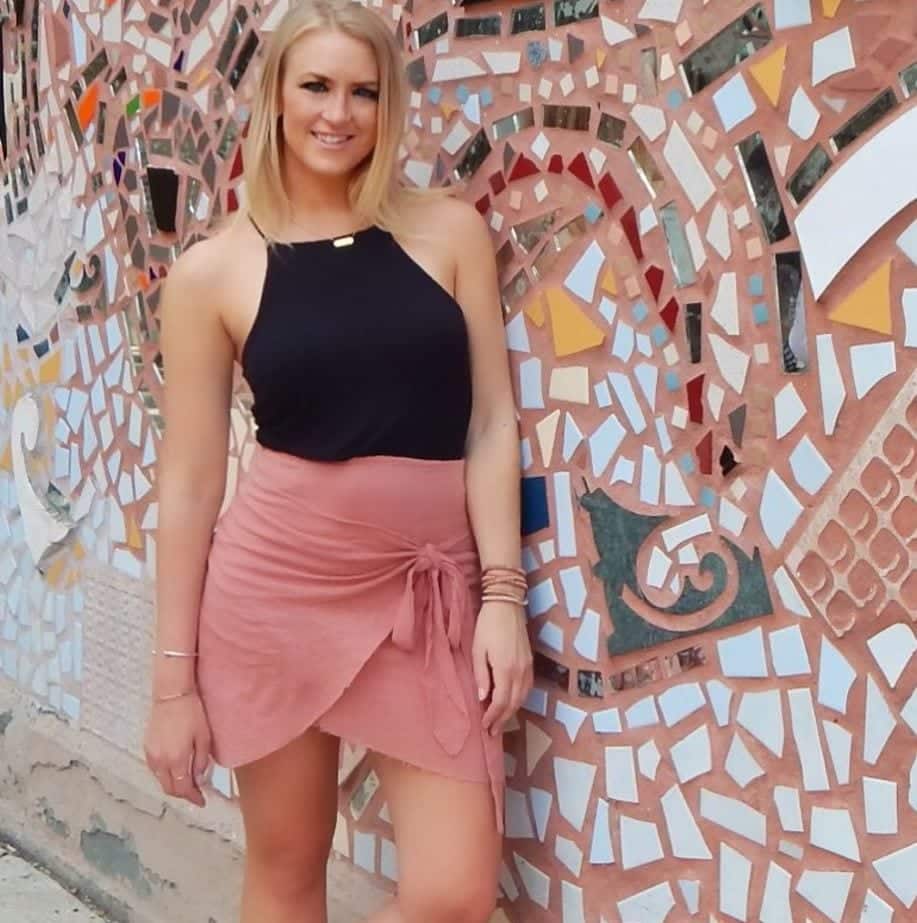 ↓ 21. What to Wear with Wrap Skirts in Winter
If you thought you could only wear a wrap skirt in the summer, think again, friend! Here is a fantastic example of how you can rock a wrap skirt during the winter.
First, you'll want to opt for a skirt that is a thicker material. Wool is a good example of this, and tweed is a super cute print that is popular in winter as well. Pair with a turtleneck top, tights, and some chic pumps. Last but not least, top the look off with a gorgeous pea coat. And voila! A winter look featuring a wrap skirt, at your service.
↓ 20. Casual Church Event Outfit
Incorporate a wrap skirt in your everyday wear to look super stylish. A ruffled hem is especially cute. Here are the cutest Yellow Skirt Outfits.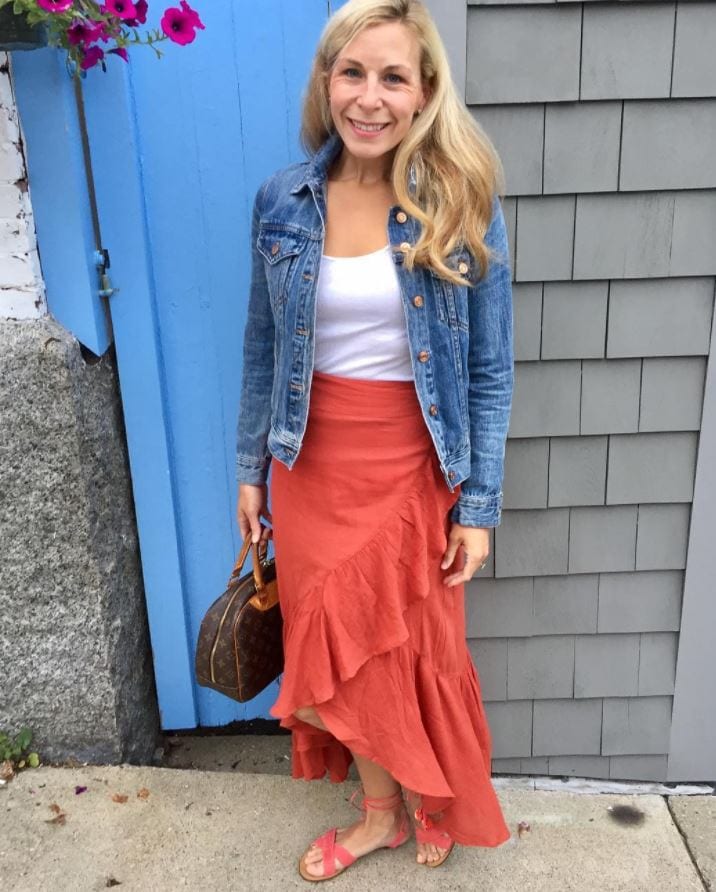 ↓ 19. Fashion Couture
Do you love high-end fashion? Get yourself a wrap skirt to show it off!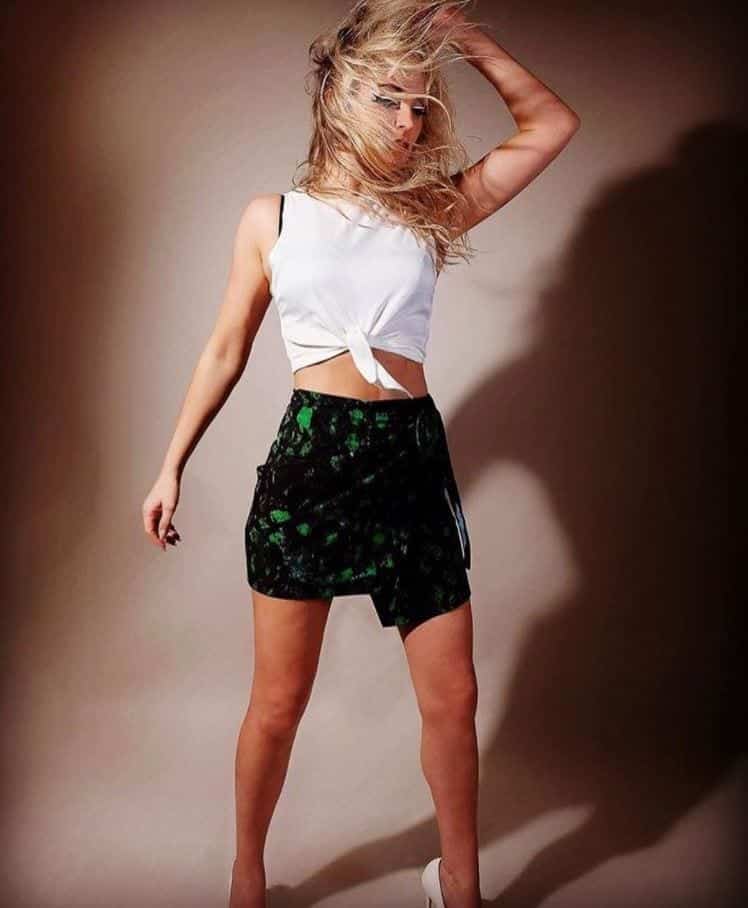 ↓ 18. Boho Style
Opt for a lighter palette for your next boho-chic look and pair a white wrap skirt with a pale lavender top. Tie a black ribbon around your neck to accessorize and go for black or pale-colored sandals. Here are 18 Ways to Dress Like Boho Chic.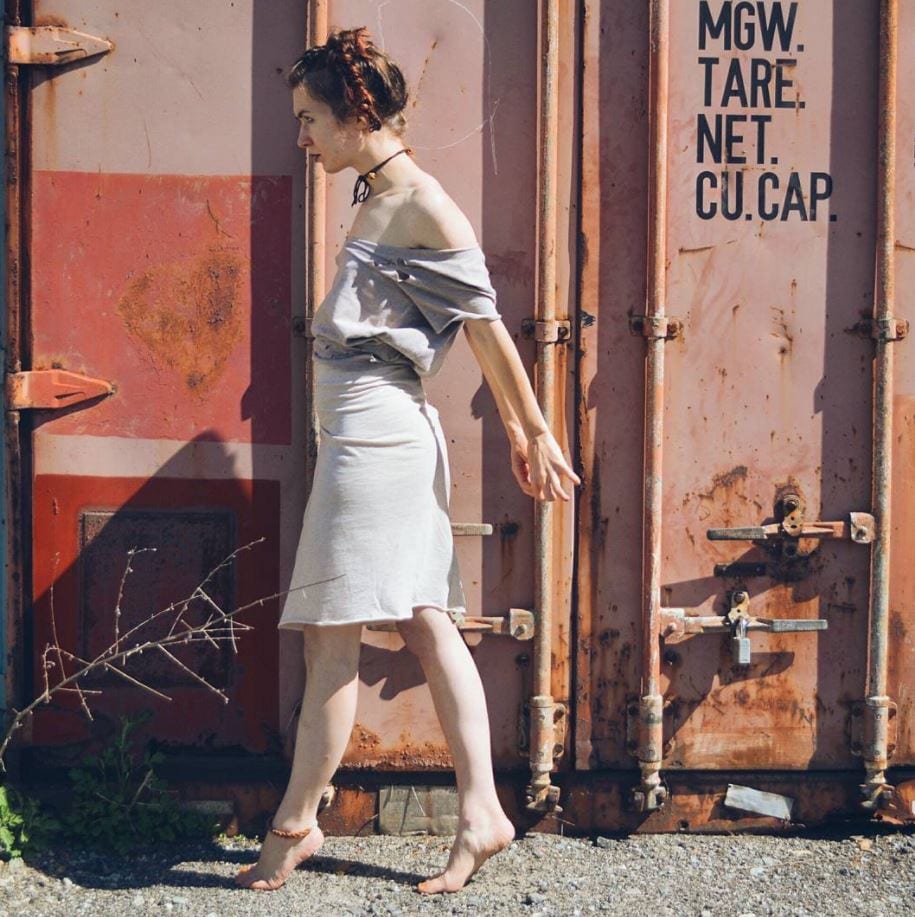 ↓ 17. Floral Outfit
Flowery prints make for the best choice in the summertime. Try a floral printed wrap skirt with a crop top for ultimate style.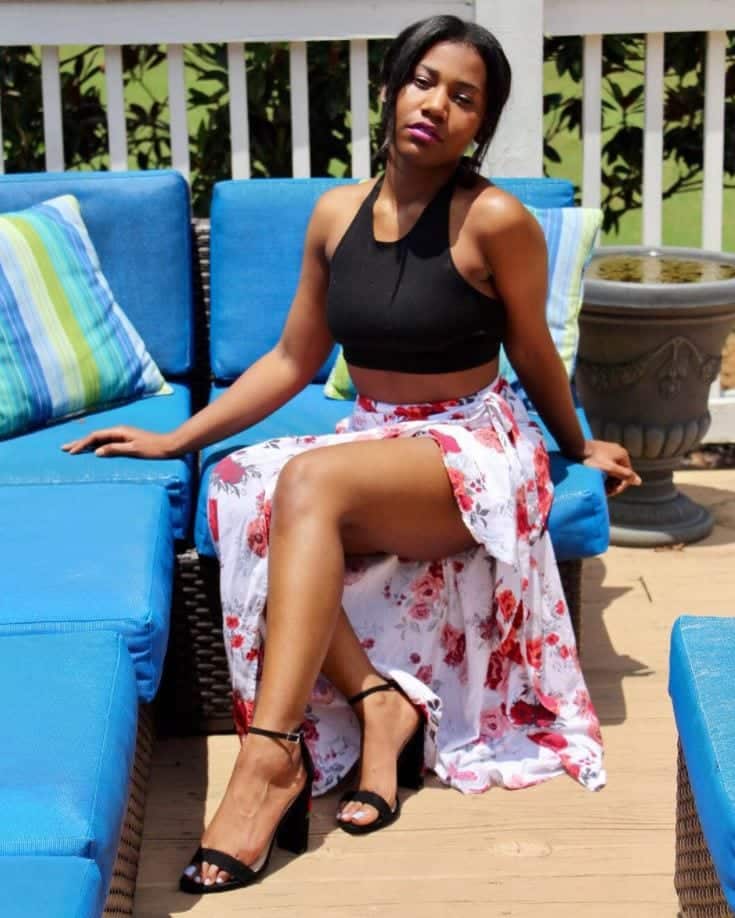 ↓ 16. Glam Look
For a glamorous look, go for an all-white outfit. A long chiffon wrap skirt with a plain top is sure to make you feel like a Greek goddess! Check out these 25 Ways to Wear Cobalt Blue Skirt.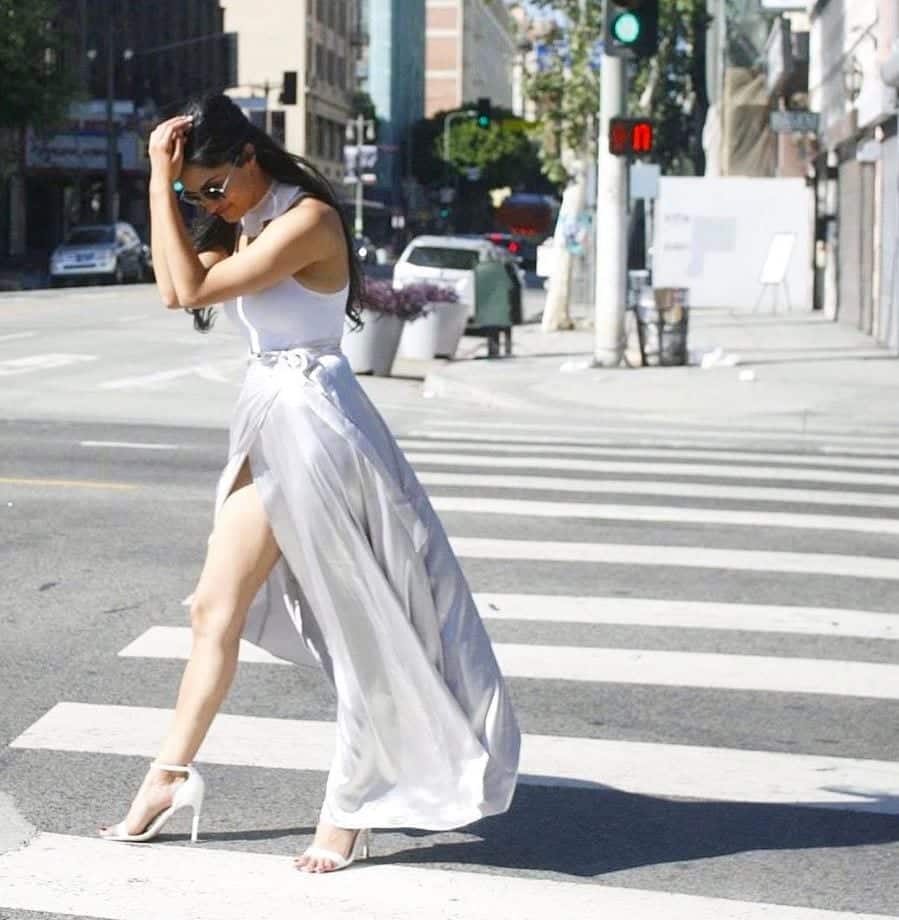 ↓ 15. Vacation Outfit
If you are looking for some cute vacation looks, check out this cute ensemble! A lace crop top with a bohemian printed skirt is the perfect example of gorgeous attire that can make your day. Rock a wrap skirt and make sure you snap lots of pictures!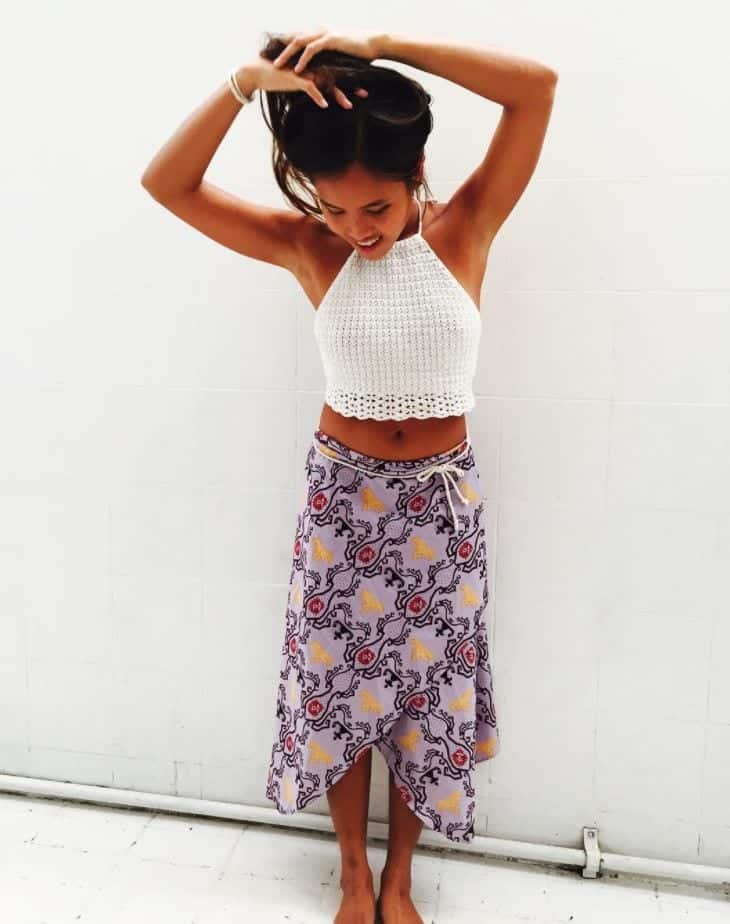 ↓ 14. Club Outfit
A tasseled wrap skirt with a lace top for clubbing? Yes, please! Bring a bit of summer into the club with you this weekend with this tasseled skirt, giving you a modern but understated look you'll feel comfortably cute in. For more ideas, here are some of the best Casual Outfits for Clubbing.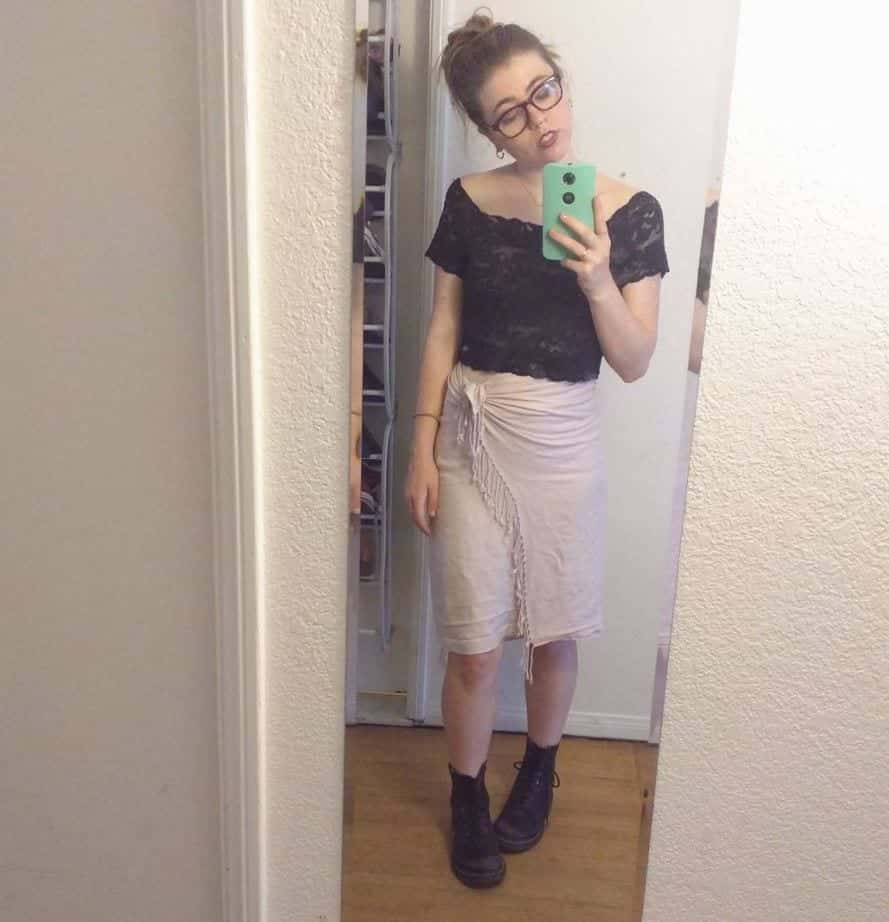 ↓ 13. Trendy Daytime Outfit
Go chic today and pair a green floral turtleneck with a sleek black wrap skirt. You can wear black pumps with this outfit or espadrilles. Add a little black designer purse to round off the look.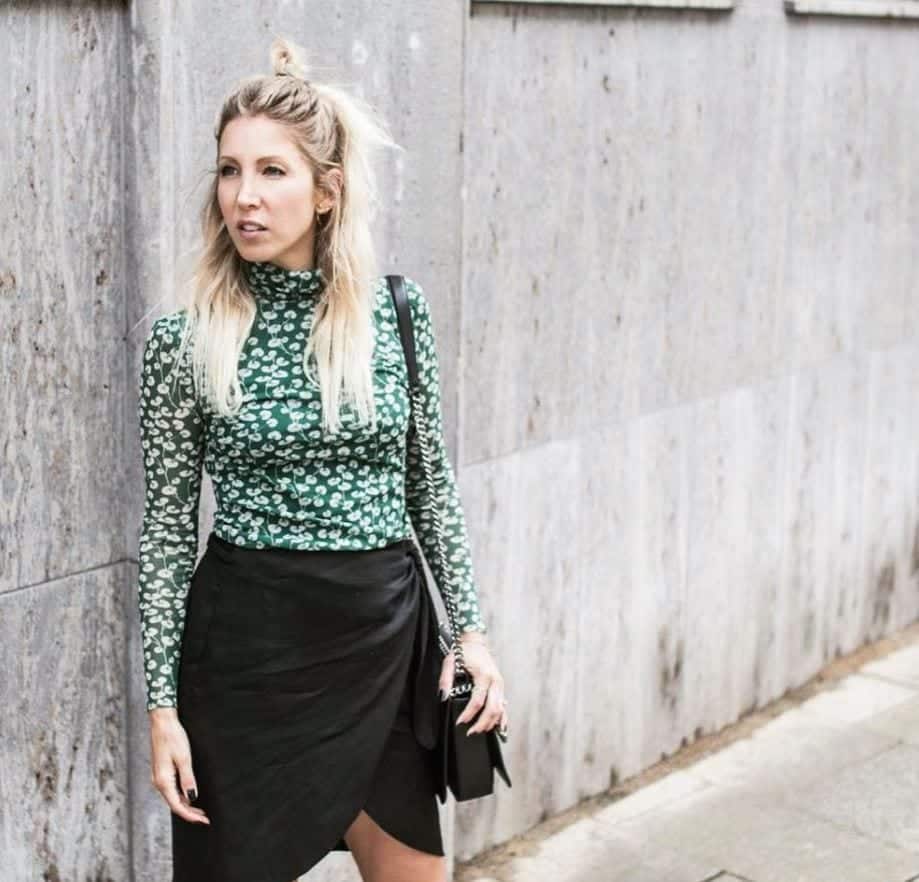 ↓ 12. Super-Cute Outfit for Going Abroad
Who doesn't love going abroad? Show off your love for travel with a gorgeous white flower-printed skirt and neutral sleeveless top. This outfit is comfortable and beautifully feminine. Add a simple pendant necklace and oversized sunglasses. Pro tip? Stash your necessities in a backpack purse for a hands-free way to make sure you really get to enjoy your travels without lugging a purse around!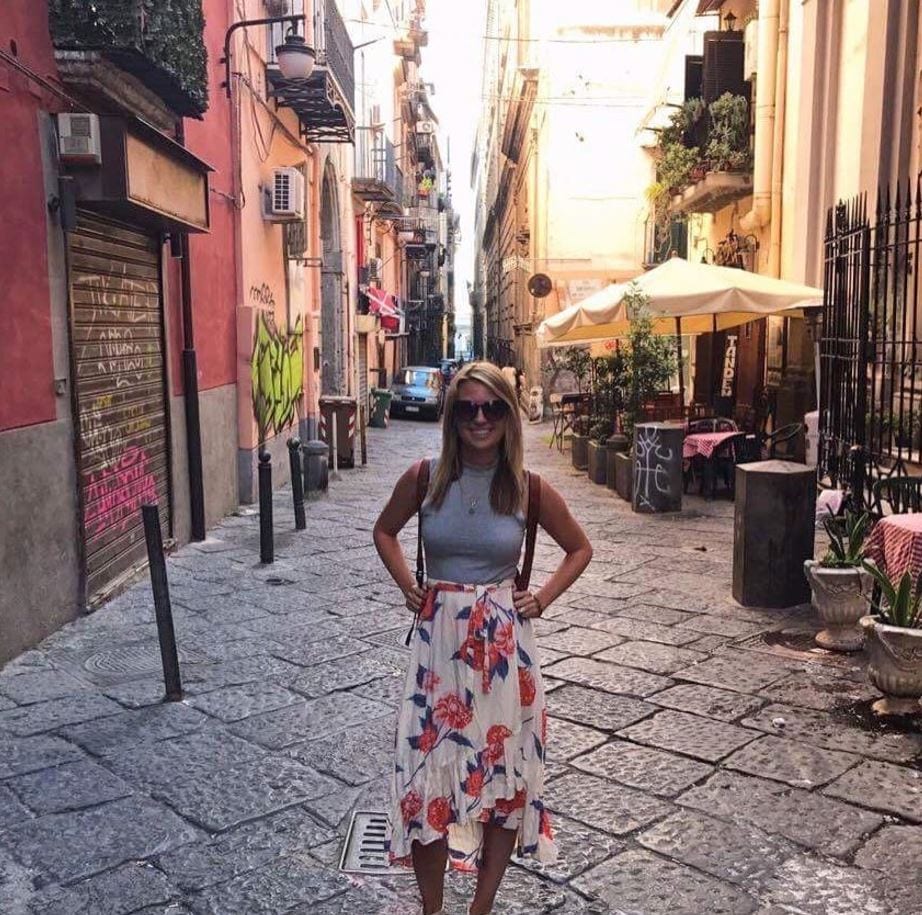 ↓ 11. Cute Beach Outfit
For a girly beach day look, combine baby pink, sky blue, and white for an adorable ensemble you can rock while you sip piña coladas! A blue ruffled wrap skirt is the perfect piece to wear over a bathing suit as you can pop it on or off with ease. Throw on a hat, hoop earrings and other delicate but fun accessories for boosting your style.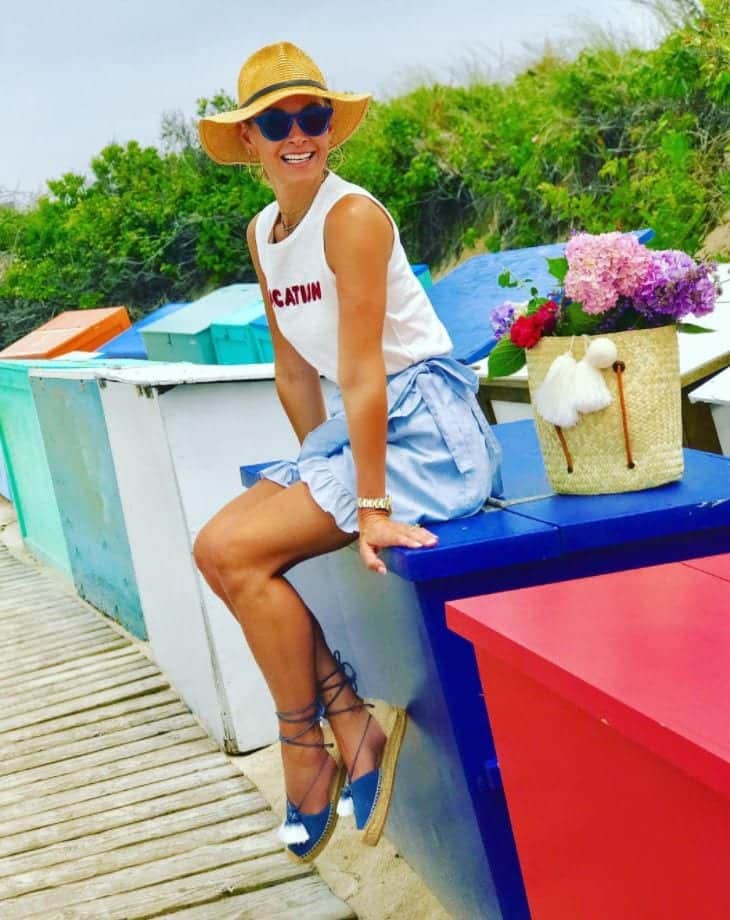 ↓ 10 – Monochrome Outfit
Full black never fails to look stunning. Have a look at these 20 Ideas How to Wear Sheer Skirts.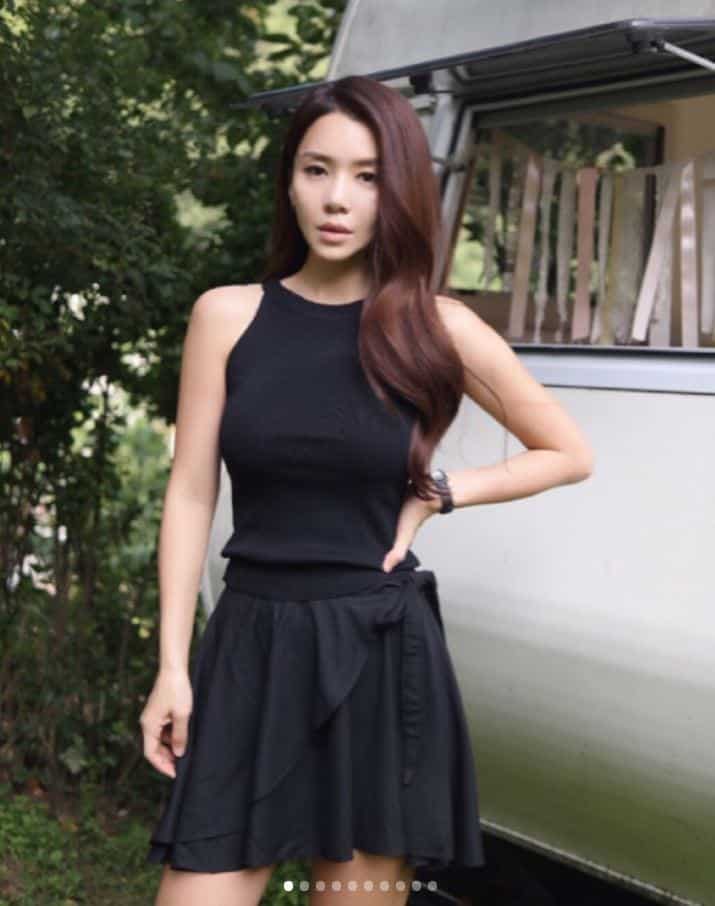 ↓ 9. How to Style a Leather Wrap Skirt
When in doubt, a great option for rocking a wrap skirt is by nabbing yourself a faux-leather little number and pairing it up with an animal-print long-sleeve top. This gorgeous ensemble is perfect for your next date night. Accessorize with some funky earrings, gold bangles, and pop on your favorite black booties.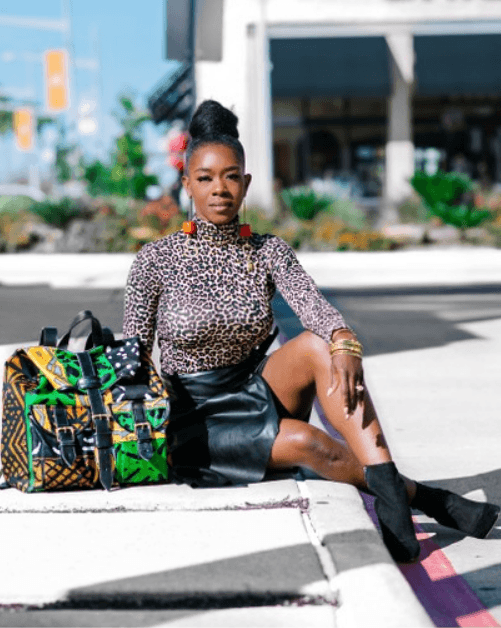 ↓ 8. Vintage Style
Go a little bit vintage with an old-school wrap skirt paired with a loose white top, tucked in, and accessorized with a chunky black necklace. This is a great outfit to wear to church or to brunch! Here are 25 Best Vintage Outfit Ideas for A Perfect Vintage Look.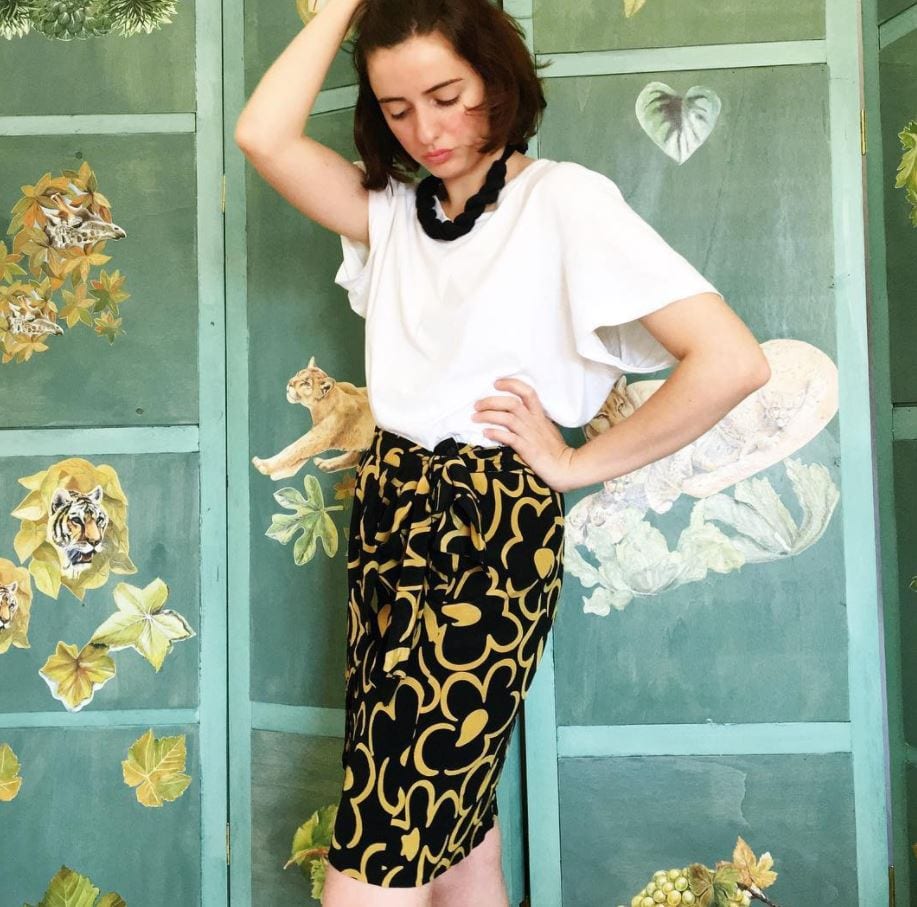 ↓ 7. Sophisticated College Girl Look
Every college gal needs a sophisticated outfit like this one. This ensemble works great for a variety of events from parties to dinners to meetings with professors (it also works well for both fall and winter weather… score!). Pair a black turtleneck top with a geometrically patterned wrap skirt and over-the-knee boots. Add a neutral-colored purse and a single bracelet. And voila! You are the picture of perfection.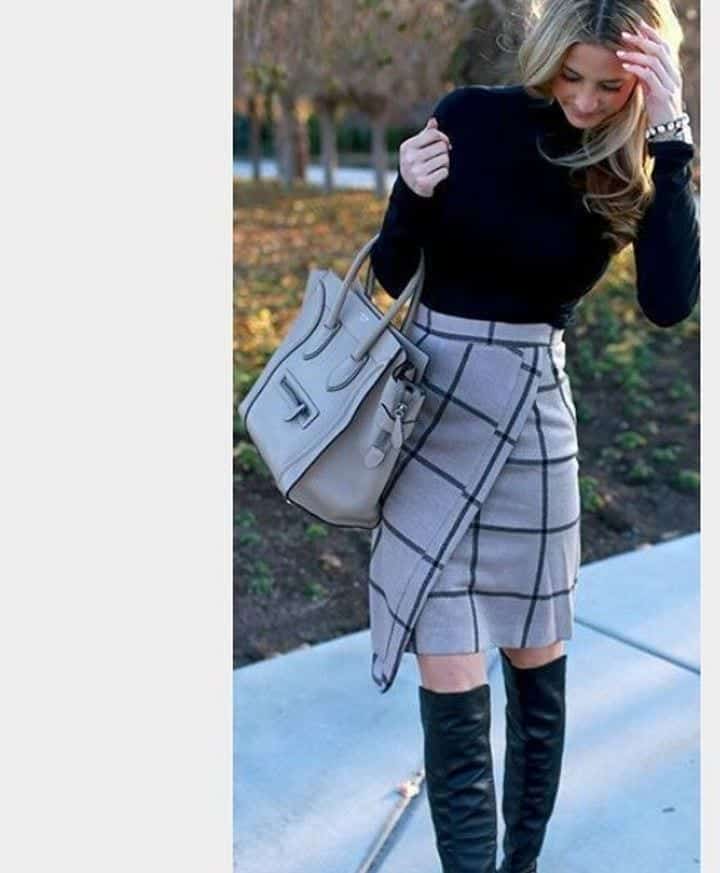 ↓ 6. Gypsy Look for Costume Party
Heading to a costume party? We've got the perfect outfit for you! A floating, dyed, long wrap skirt with a pleated, off-the-shoulder white top is sure to make you look like a princess. Or a gypsy. And we love the idea of both! Check out these 19 Ideas How to Wear Gypsy Skirts.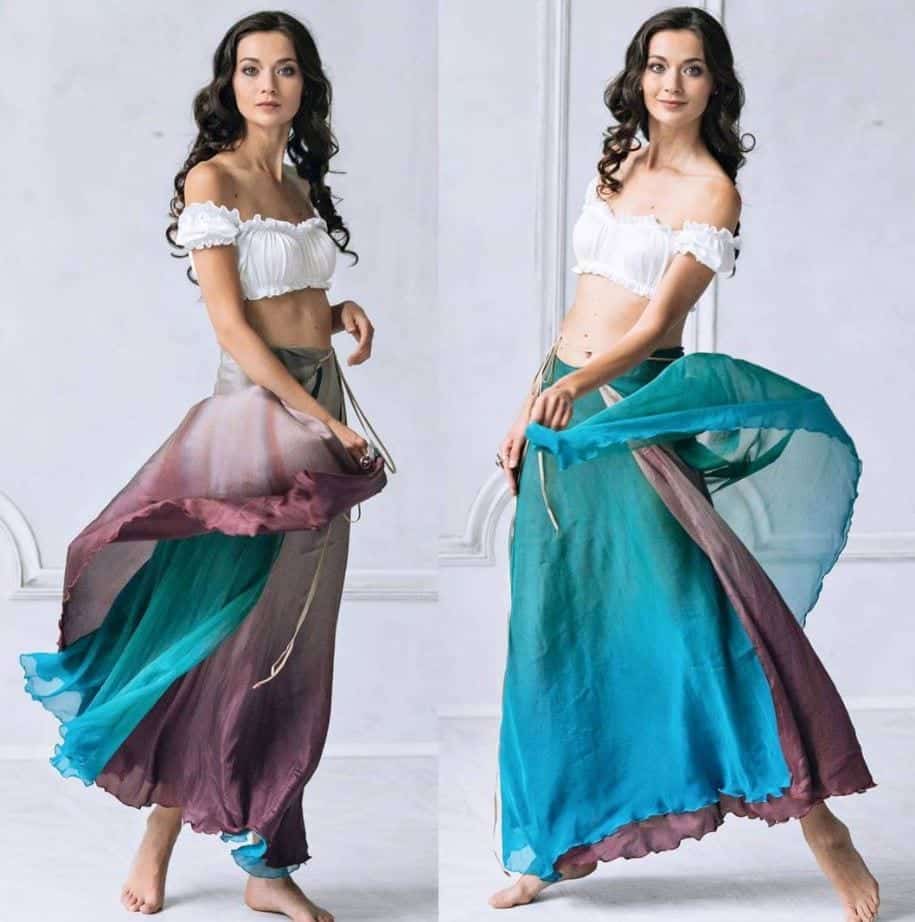 ↓ 5. Wrap Skirts for Plus-Sized Ladies
Don't let anyone deter you from following your fashion dreams. Love a wrap skirt? Then rock it with confidence. Pair it up with a white tee and a bold red lip. For a beachy vibe, wear your hair down with loose curls.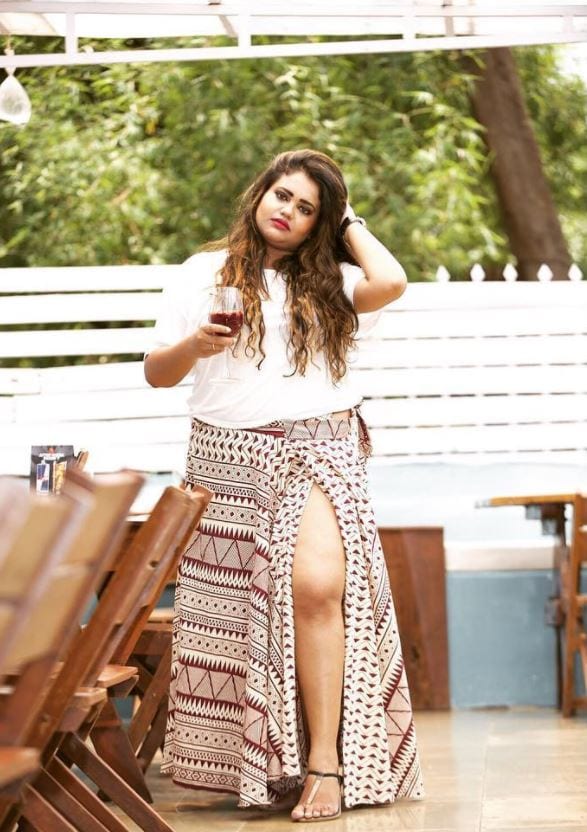 ↓ 4. Beachy Summer Look
Bring some boho vibes to your next beach day by pairing up a long wrap skirt with a little black crop top. This is a great outfit to wear over a bathing suit.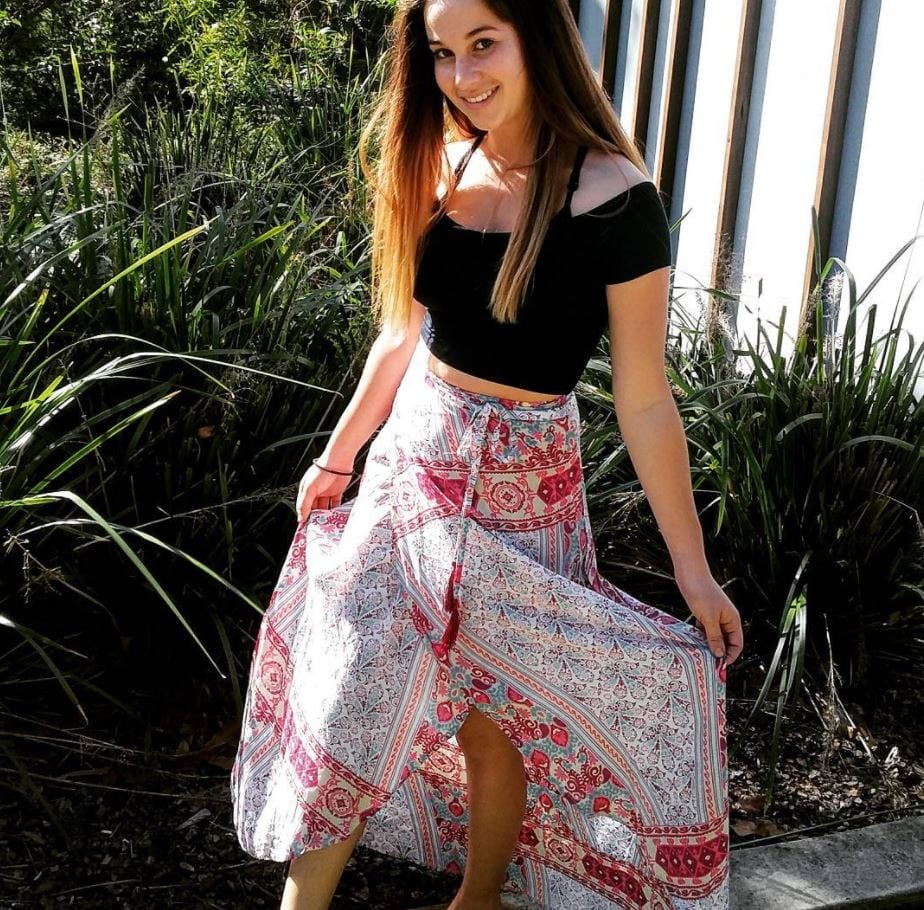 ↓ 3. Cute Spring Outfit
As the weather starts to warm up, indulge your joy in the flowering season by rocking a ruffled yellow wrap skirt. Not only will you feel as fresh and pretty as a daisy, but you will look super stylish too! Pair it with a white ruffled top and cute ankle-strap heels as well as a straw hat. Now get out there and get some sunshine, girl!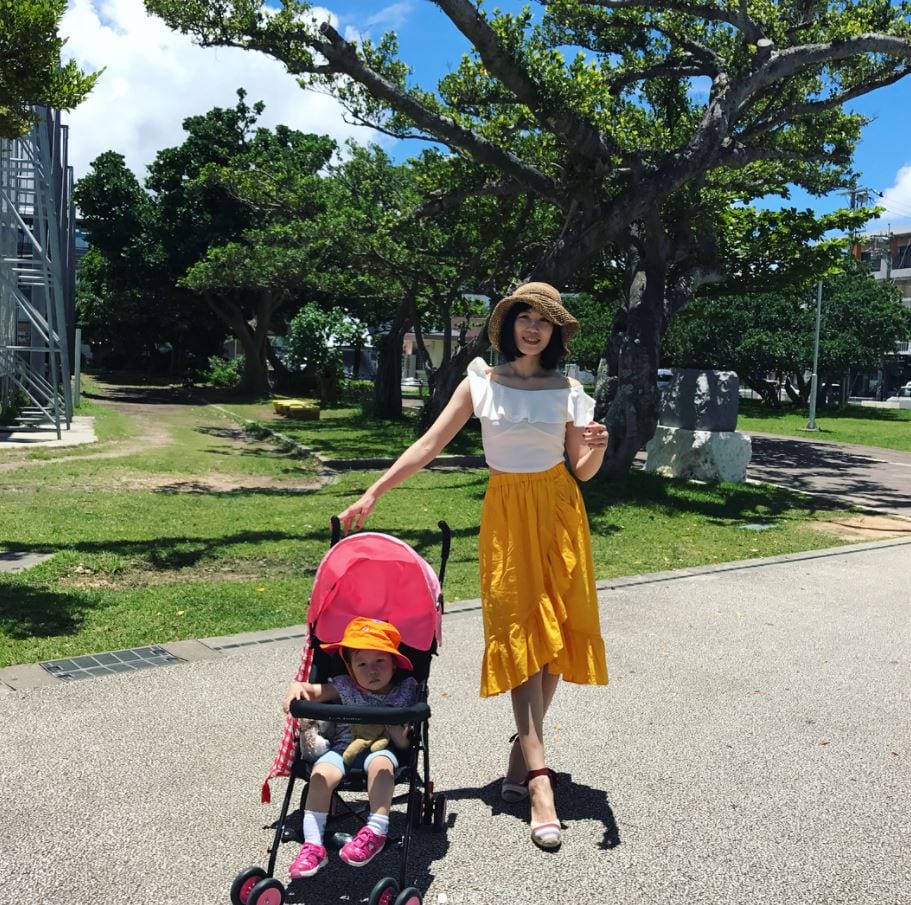 ↓ 2. Denim Skirt Outfit
Keep the look casual with a denim wrap skirt and a plain white tee. Dark red lipstick plus white sneakers and ta-da! You look flawless.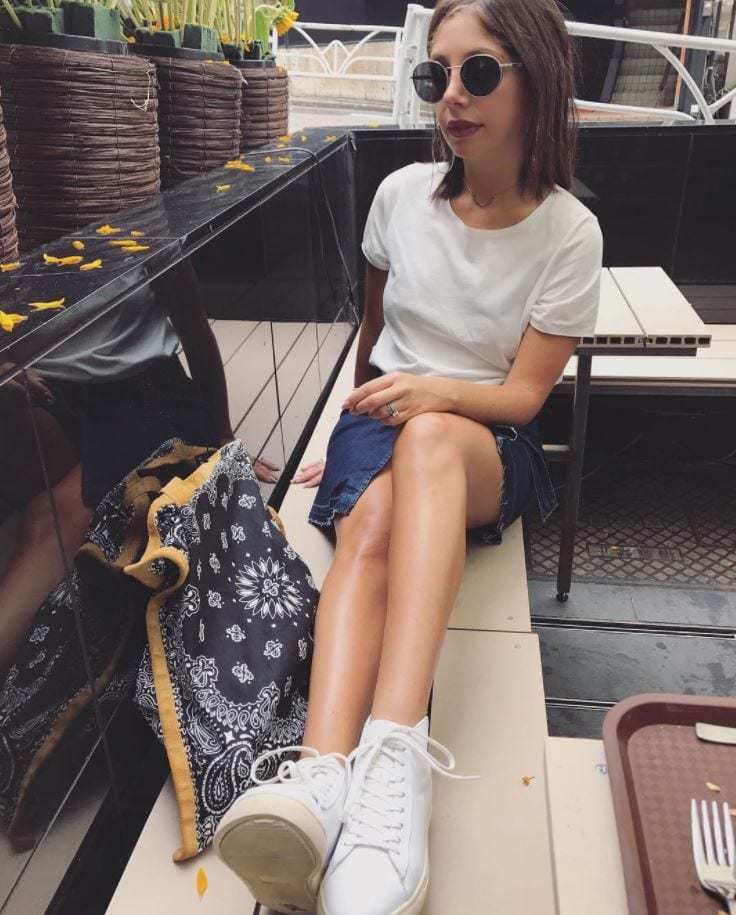 ↓ 1. Casual Girly Street-Style
Skip the traditional jeans and tee-shirt this weekend and pair up a long pinstriped wrap skirt with a graphic tee knotted at the waist. This is the perfect outfit to wear to run errands, head out for a coffee date with you guy, or spend the day picnicking at the park. The sky is the limit and you will feel and look like a million bucks in this casual girly outfit.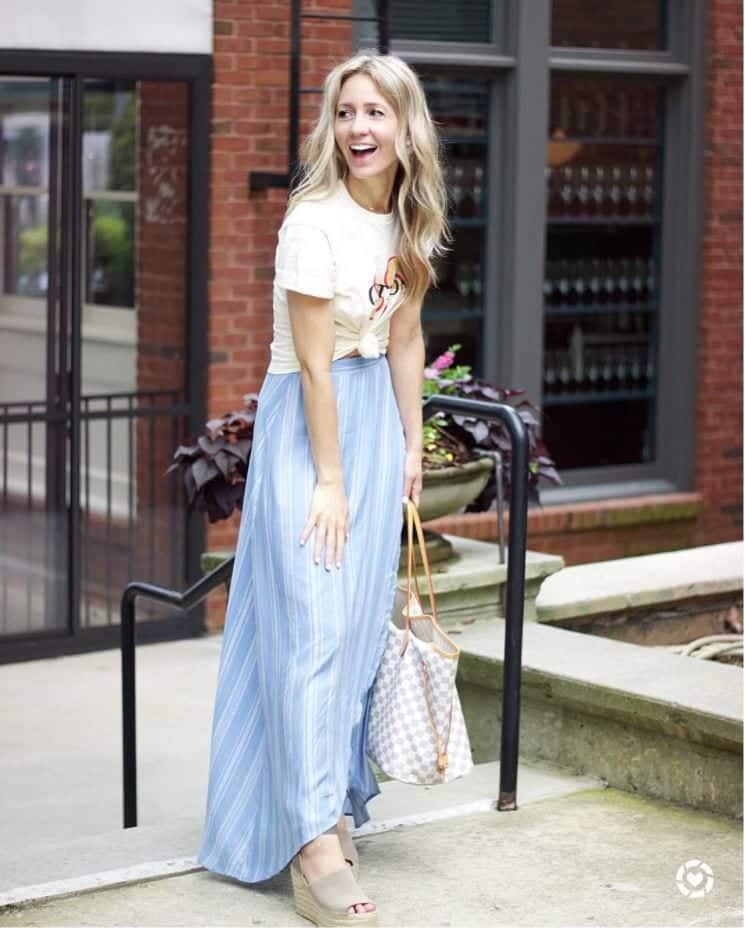 R.H. Elias is a freelance writer, aspiring author, and freelance transcriptionist. She is a homebody all the way and loves curling up on a cold, rainy day with a good book and a warm cup of tea. Her favourite pastimes include reading, writing, and watching period films. She currently lives in Puerto Rico.