As Stagecoach 2024 unfolds against the scenic backdrop of Idaho, it becomes evident that fashion is not merely a choice of attire but a statement and a canvas for creativity.
This is where attendees will embrace a unique blend of Old West charm, CowGirl-inspired looks and contemporary style in their outfits.
Inspired by the rugged spirit of the Wild West, festival-goers don attire from the 1800s, showcasing leather boots, wide-brimmed hats, and fringe-adorned vests and jackets.
Vibrant bandanas and intricately designed belts add a pop of color to the earthy tones prevalent in their clothing.
Despite their historical significance, these outfits frequently combine modern aspects, allowing guests to show their uniqueness while paying tribute to the event's Western cultural heritage.
Here's everything I'll cover in today's article:
What to Wear to stagecoach?
While there is no official theme, guests frequently adopt the Western motif of their own will, wearing cowboy boots, hats, and other Western-inspired gear to the event.
Dressing up for Stagecoach can be a fun and creative endeavor, allowing you to express your unique style while embracing the festival's Western heritage. You can also get lots of ideas from our detailed post on country concert outfits.
Here are some tips to keep in mind:
Styling Tips
Here are some tips and tricks to help you put together the perfect Stagecoach outfit:
Start with Comfort: Because Stagecoach is a music event, comfort is essential. Choose breathable textiles such as cotton and denim. Remember that you may be on your feet for lengthy periods, so choose comfortable shoes like broken-in cowboy boots or fashionable ankle boots.
Embrace the Western Basics: Build the whole look around traditional Western elements. A well-fitted pair of jeans, a plaid shirt, or a denim jacket can serve as your foundation. From there, you may add more personalised and one-of-a-kind pieces.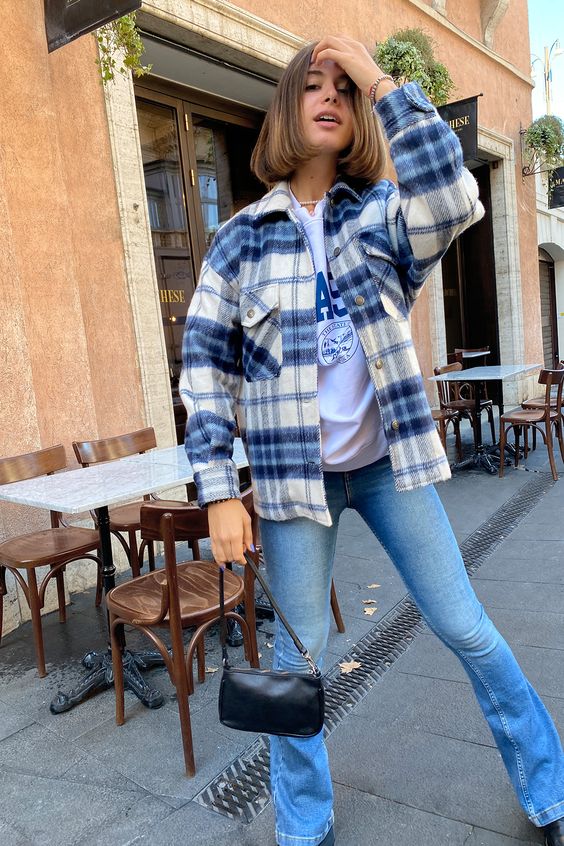 Accessorize Creatively: Accessories are where you can fully express your creativity. Wear a striking belt with a big buckle, a cowboy hat, or a fashionable bandana, and stack on necklaces and bracelets. Vintage-inspired jewellery, such as turquoise and silver, fits the Western concept well.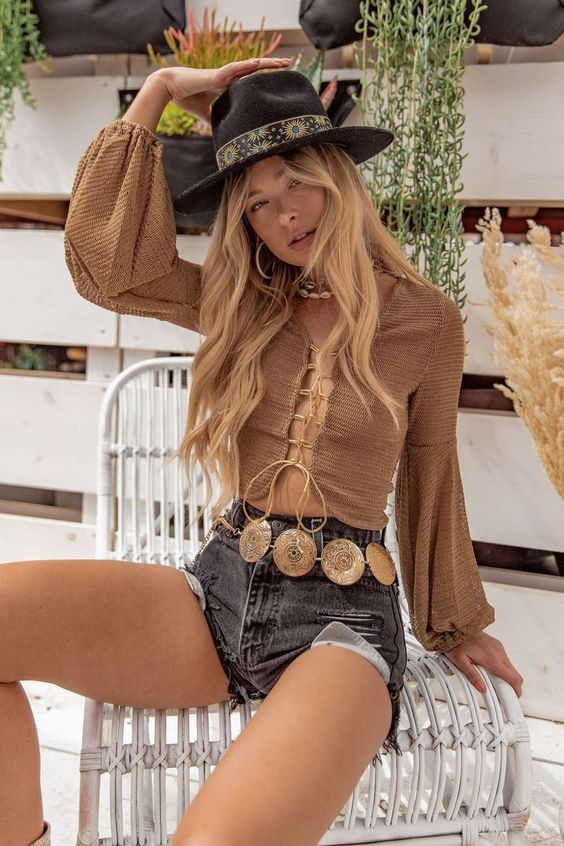 Play with Fringe and Embroidery: Fringe and embroidery are both iconic Western characteristics. A fringe jacket or vest may give a boho touch to any ensemble. Similarly, embroidered accents on pants or shirts may improve your overall appearance.
Of course there's an endless variety of fringed stuff available these days, be it fringed dresses or fringe boots.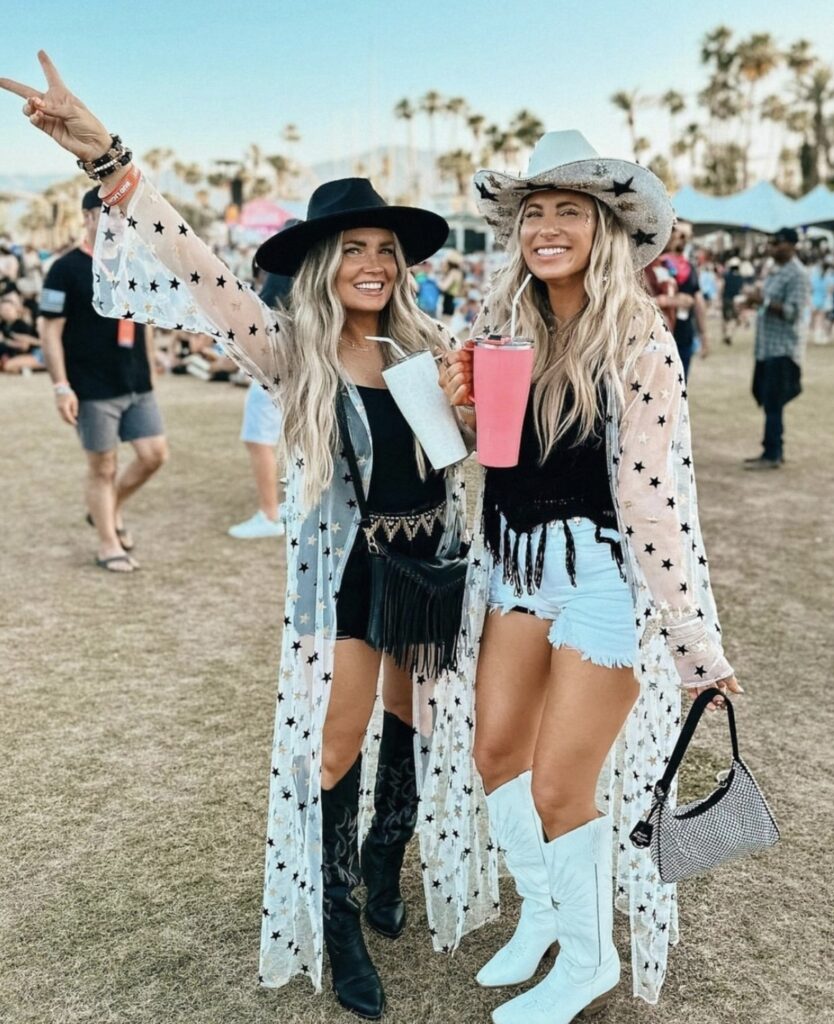 Mix in Modern Trends: Combine modern fashion trends with Western traditions. Pair a crop top with high-waisted jeans or shorts, for example. For a boho-chic look, use off-the-shoulder shirts or lace embellishments.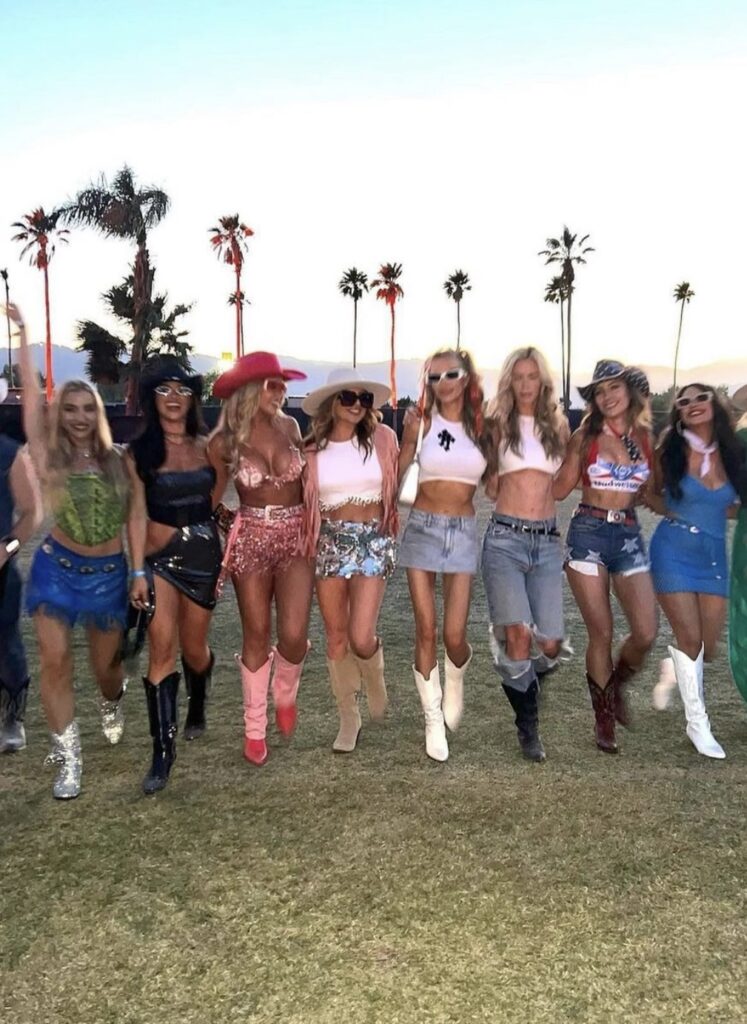 Don't Forget Your Hat: A trendy hat shields you from the sun and adds a dramatic touch to your outfit. It may be the main point of your ensemble whether you want a wide-brimmed hat, a cowboy hat, or a felt fedora.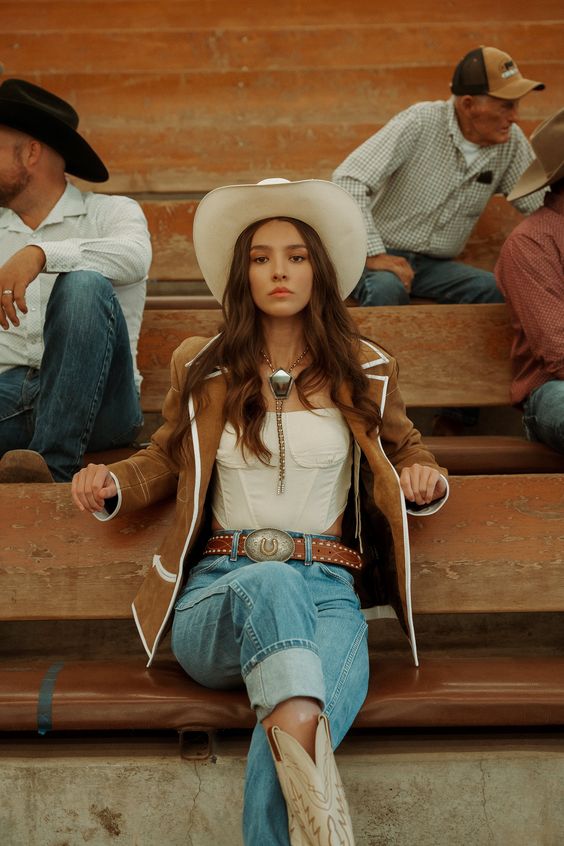 Layer Smartly: Check the weather forecast and layer appropriately. When the weather drops in the evening, a denim jacket or a lightweight cardigan may be knotted around your waist and worn for warmth.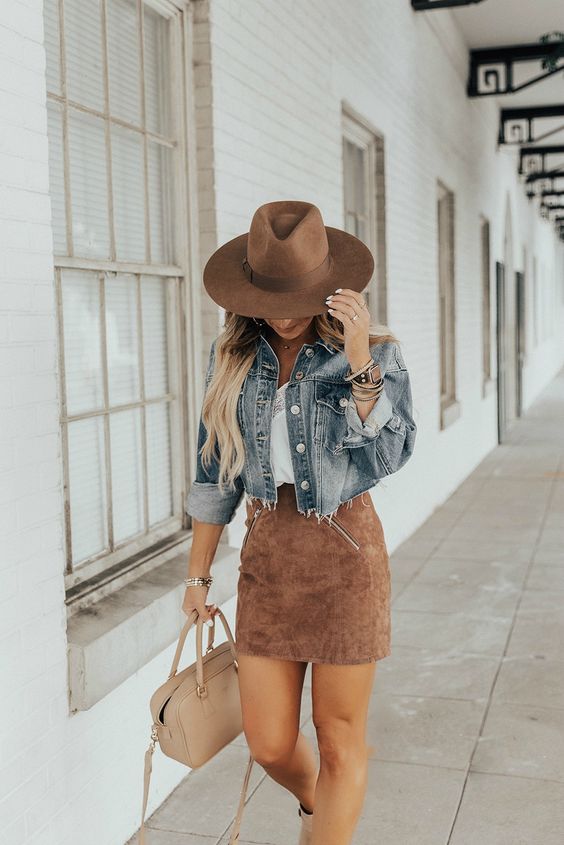 Express Your Individuality: Stagecoach is a celebration of variety and individuality. Add personalized details to your clothing, such as patches, pins, or custom embroidery, to make it distinctively yours. Denim jackets with custom patches are always a hit on stagecoach!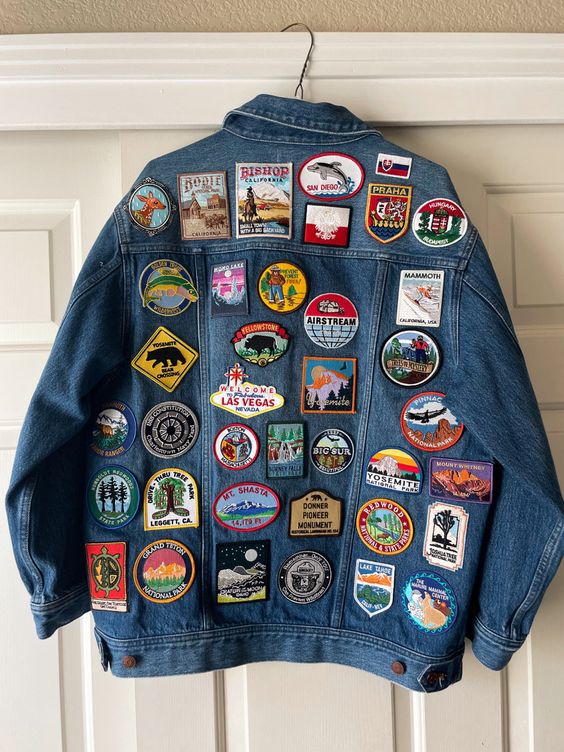 Practical Considerations: Consider practical considerations such as using a crossbody purse or a backpack to free up your hands. Bring sunscreen, sunglasses, and a refillable water bottle to remain hydrated during the day.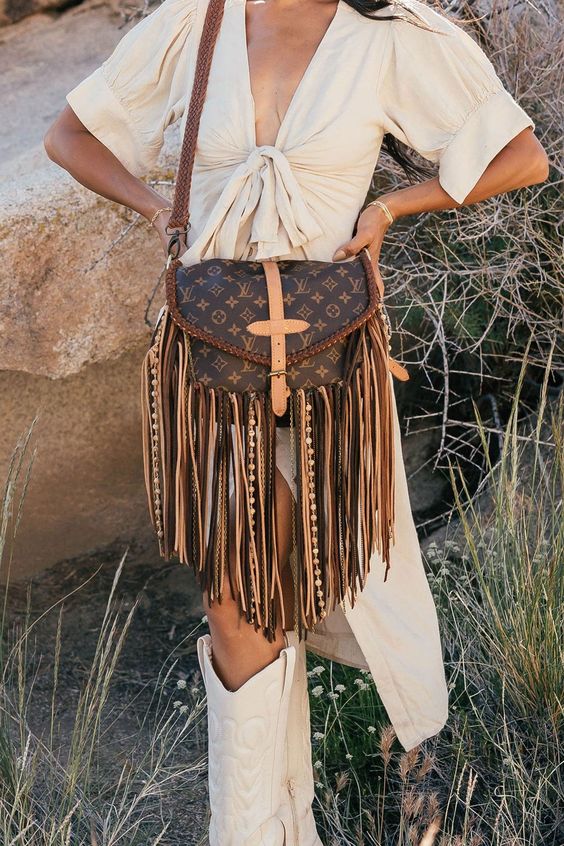 Remember, Stagecoach is about having fun and embracing the spirit of the Wild West, so let your creativity flow and enjoy curating your perfect festival outfit!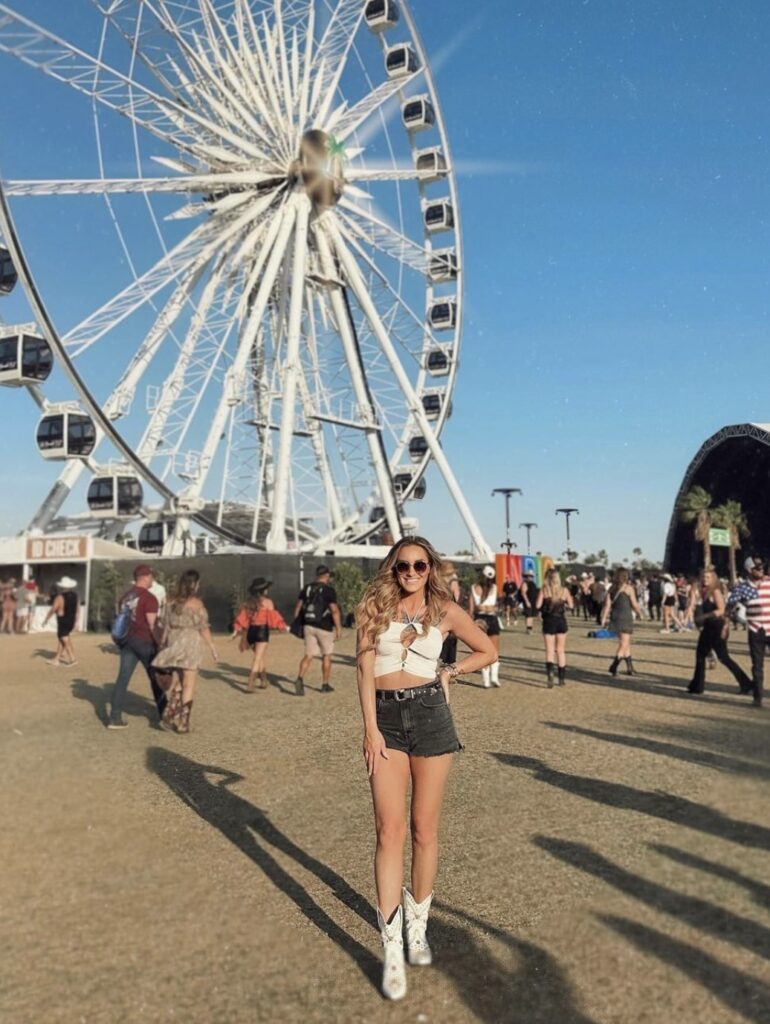 Our Favourite Looks for Stagecoach 2024
Saddle up, as these 15 carefully chosen outfits will help join the colorful tapestry of style at Stagecoach 2024, where the past meets the present in a harmonic celebration of fashion and persona.
15 – blinged up 2 set with white knee-length boots & fedora hat
14 – Red leather pants with cropped up black tee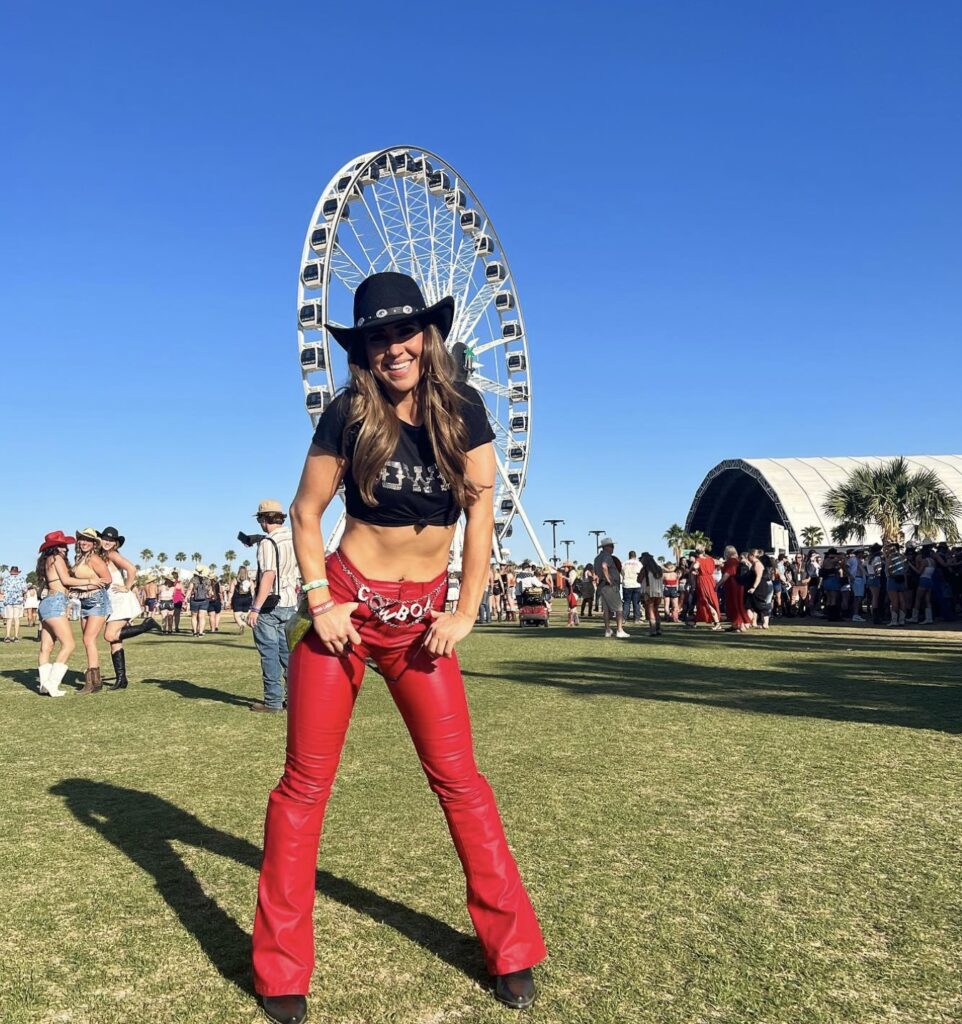 13 – White strappy mini dress With black cowboy booties
12 – denim overalls paired with brown cowboy boots & green cowboy hat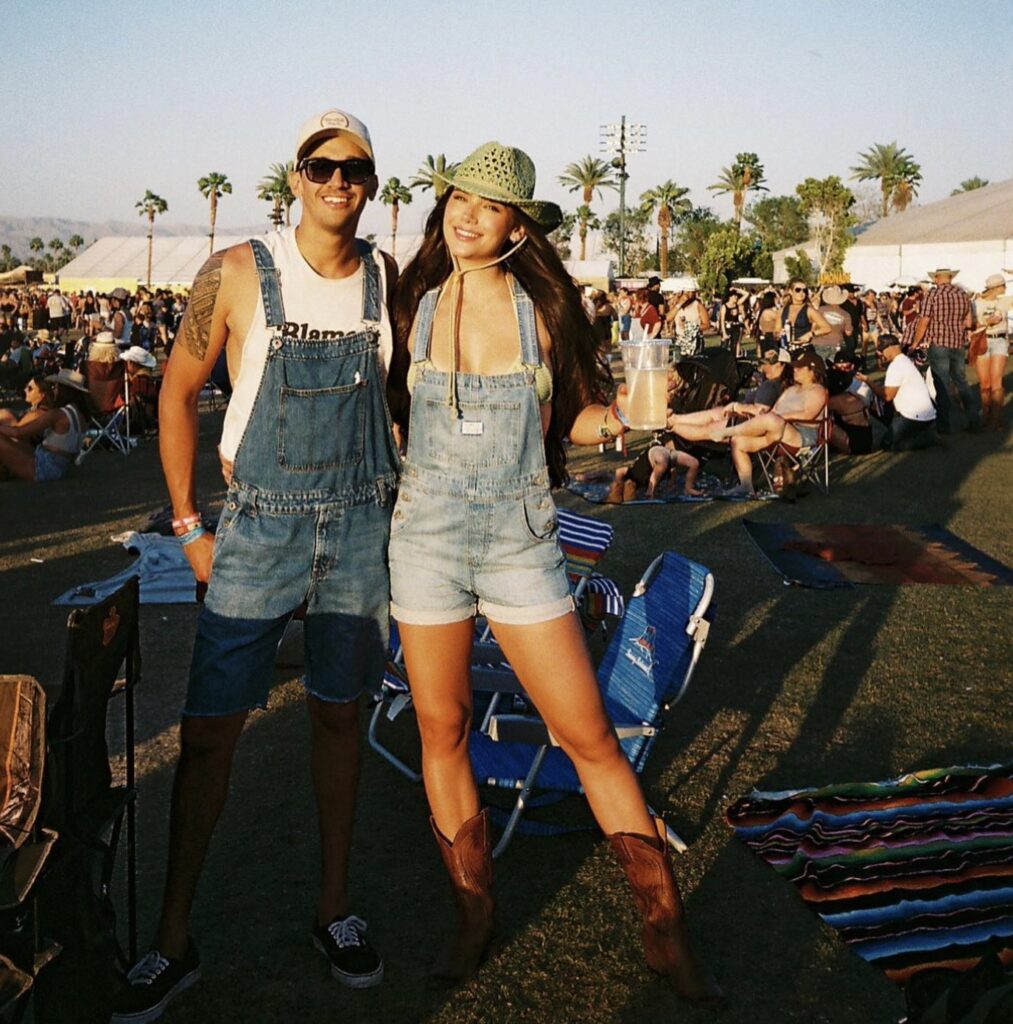 11 – adding your touch to the outfit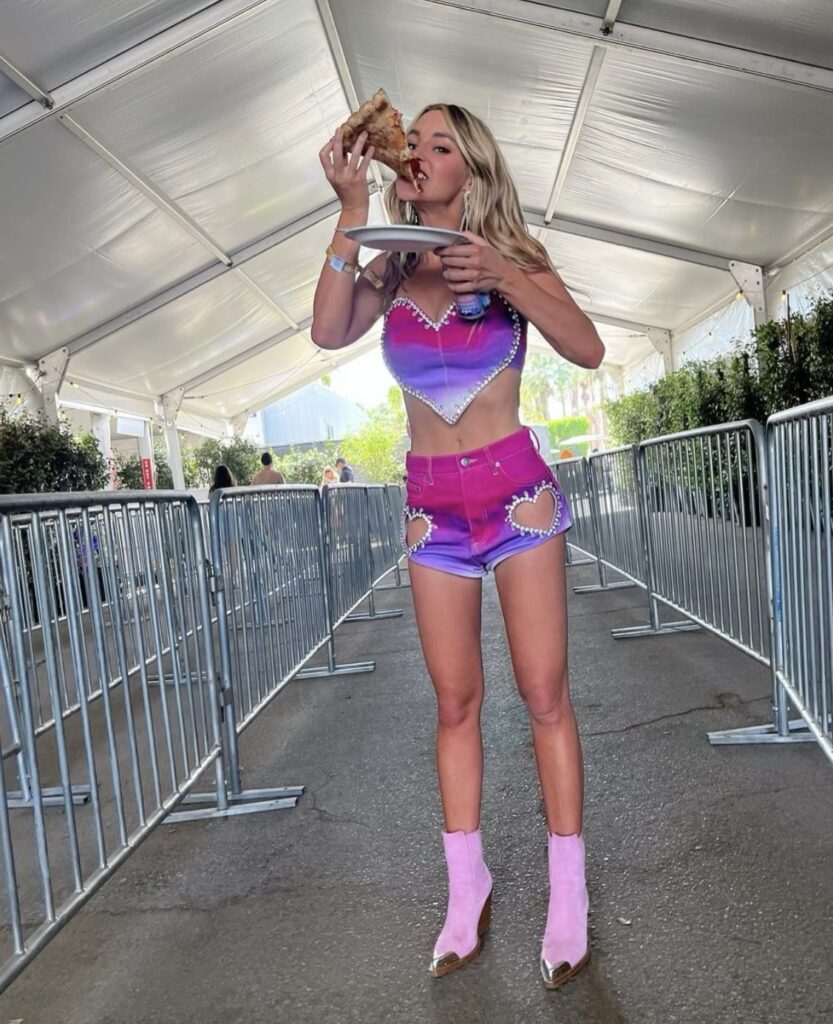 10 – gold sequinned top with cow print pants & silver metallic boots
9 – ruffled corset top with skirt & knee Length brown cowboy booties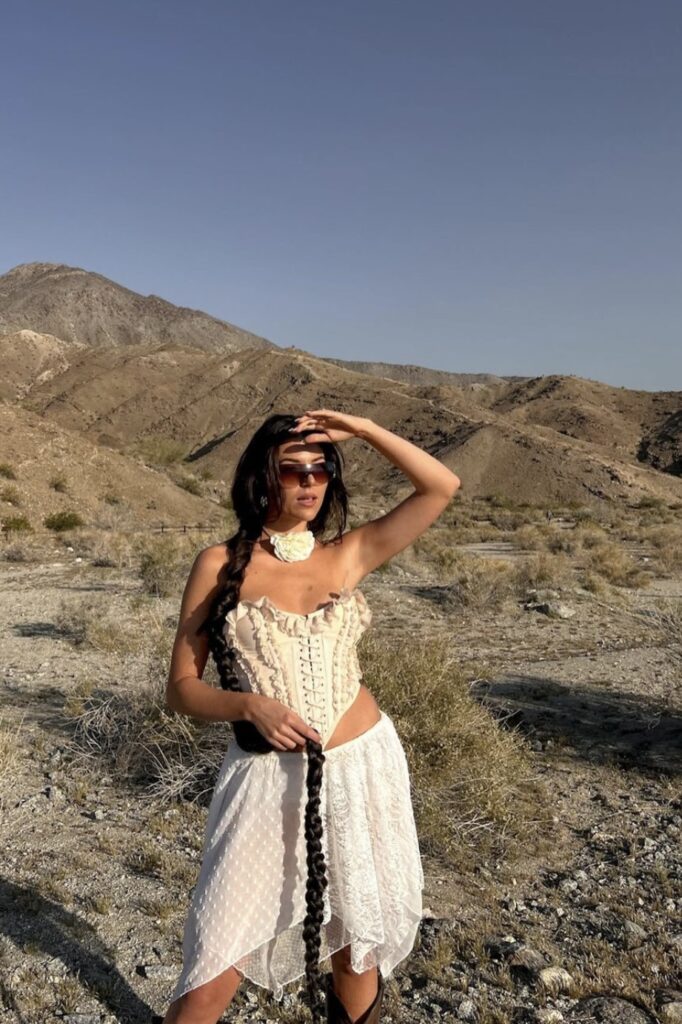 8 – Basic denim fit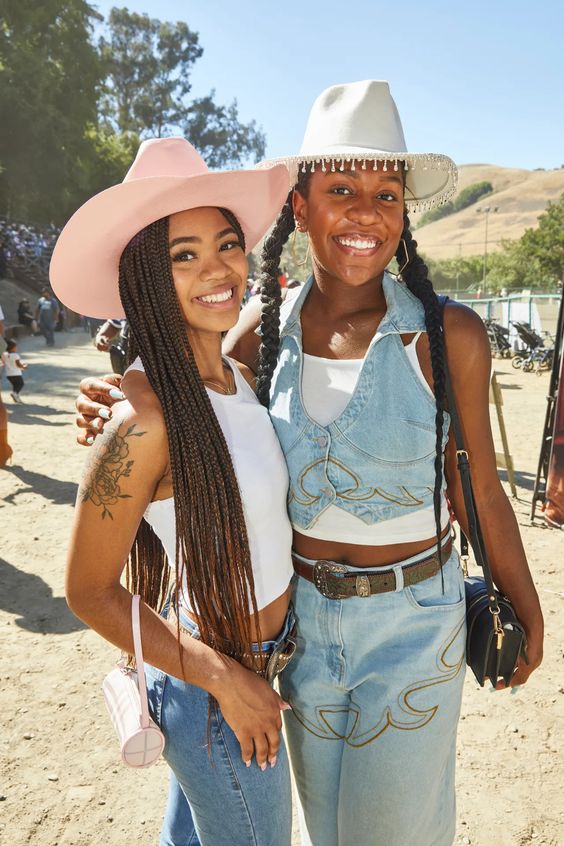 7 – yellows and whites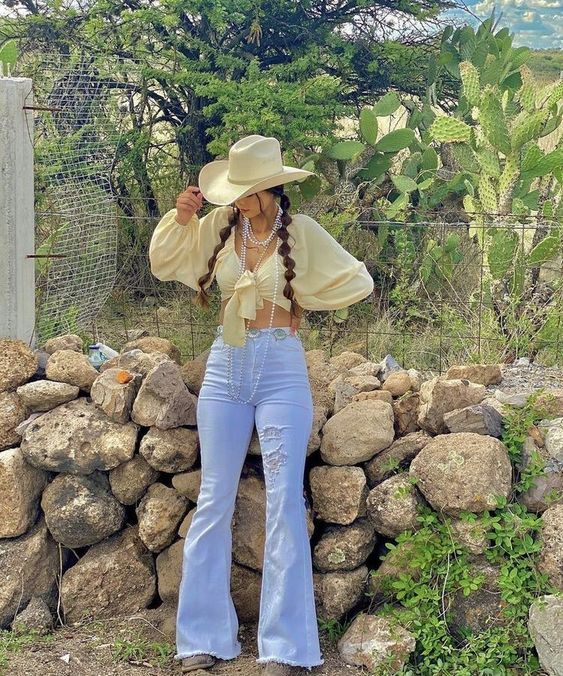 6 – Red silk top with silver metallic skirt and white boots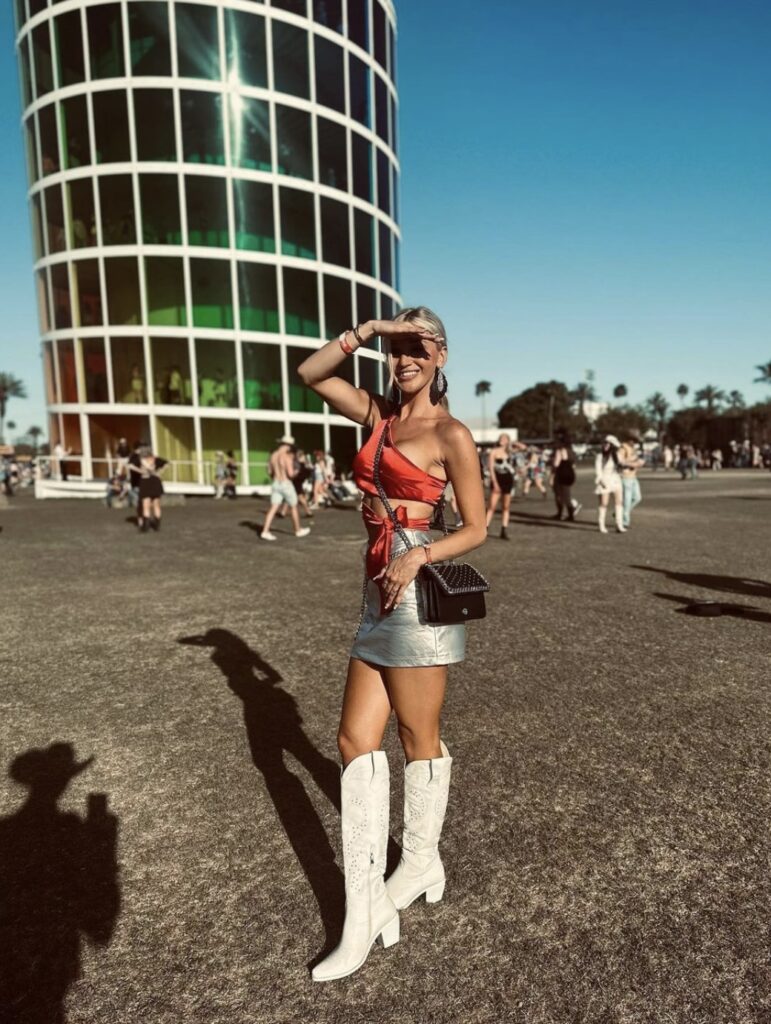 celebrities attending stagecoach
5 – Nina Dobrev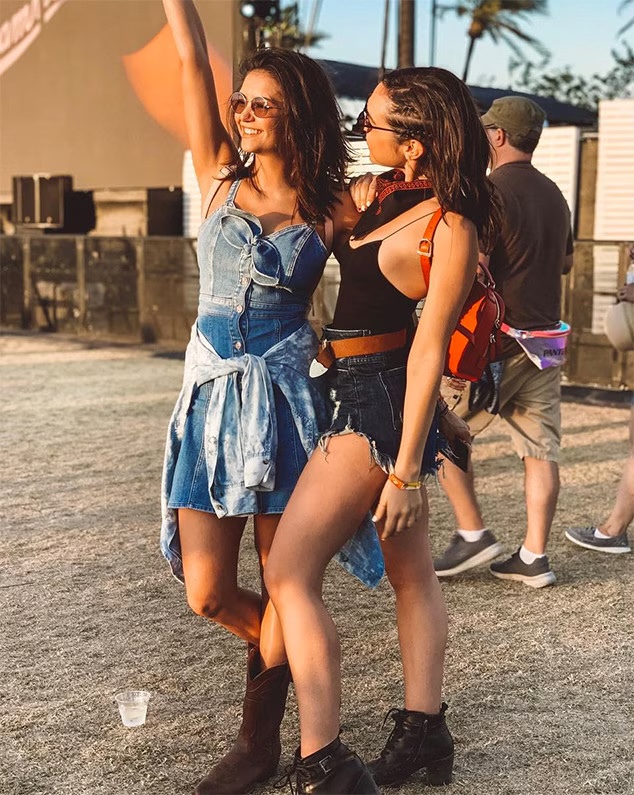 6 – Rita Wilson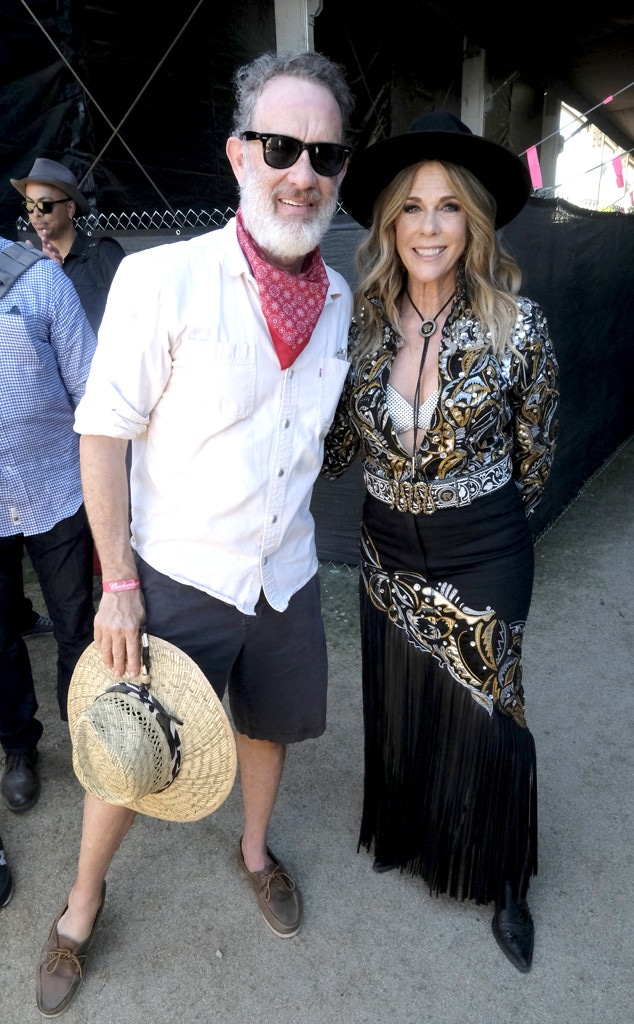 3 – Ireland Baldwin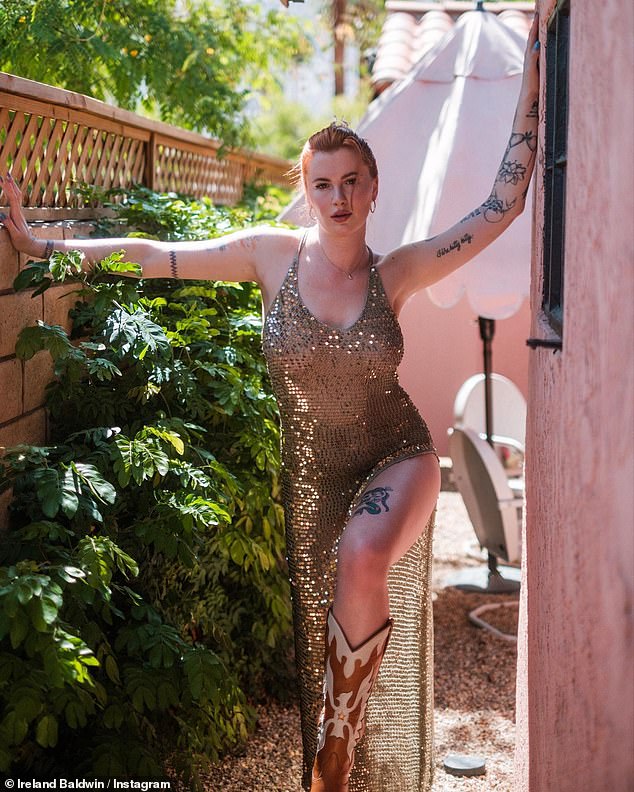 2 – Jeannie Mai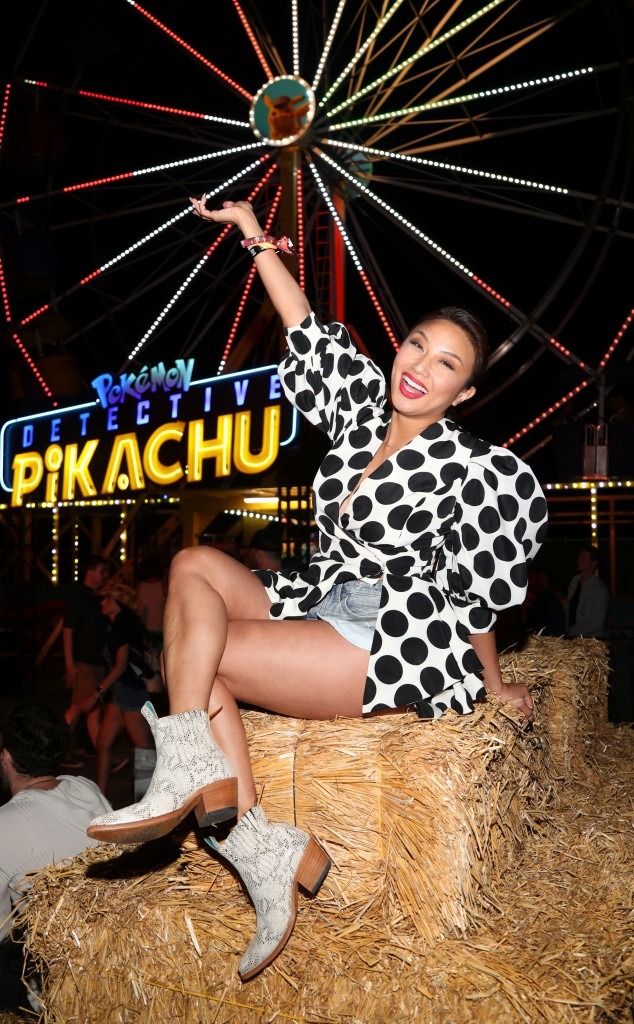 1 – Cassie Randolph