Fringed Boots Outfits. Fringe boots are undoubtedly a timeless fashion trend that can never go out of style. These boots are built from a high-quality suede material, which can last for a lifetime upon little care. However, the best thing about fringe boots is versatility. You can practically wear them with almost every outfit you have in your closet; whether it's jeans, shorts, or a mini dress, it will make everything more stylish and trendy.
However, besides being fashionable, fringe boots are the most comfortable because of their square-shaped toe and extra roomy inside. This is a feature you will rarely find in any other fashion boots. The comfy feel allows you to wear them all day long at work, shopping, or travel with no tiredness or shoe bites.
What To Wear With Fringe Boots Outfits
Fringe boots these days come in various shapes and materials to suit each and every type of outfit. They can be tube boots, stilettos, block heels, wedges, or ankle boots but will still look effortlessly fashionable. These boots are best paired with mini skirts, you can certainly call a mini dress the best fringe boots outfit ever.
You can always pair a mini skirt, whether it is an Aline or straight cut, with a simple cosy T-shirt or cute top with fringe boots and be a head-turner at every party or any other event. For a more casual look, you can always wear a pair of jeans or leggings as a fringe boots outfit and slide through any casual day with style.
In short, Fringe boots can be paired with almost any type of outfit and works well for every woman of any age. So, make a wise investment and buy a nice pair of fringe boots to level up your fashion game.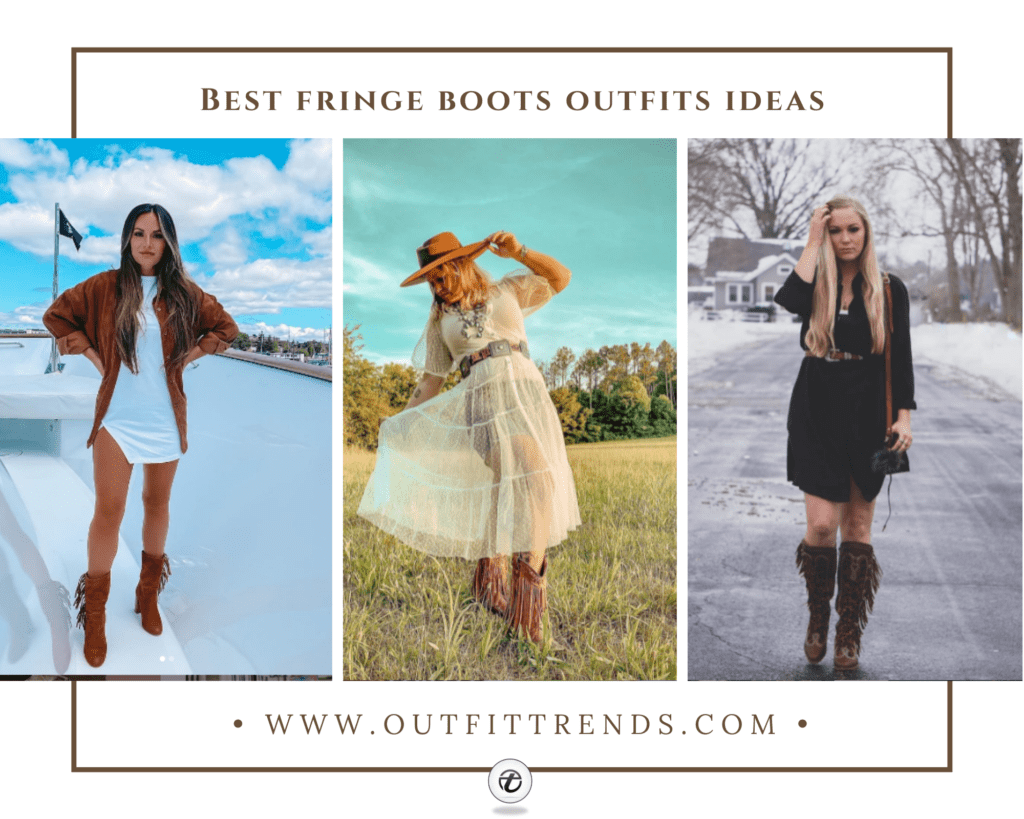 Tips On Wearing Fringe Boots Outfits
Less is more. If you are wearing a fringe boots outfit, do not add more fringe and over do your look.
For a fringe boot outfit, always go for neutal color boots otherwise it will color block your overall look.
A pair of fringe boots works well with skinny jeans or leggings. Do not ever wear them with wide legged pants or jeans.
Do not go over the board with the fringe thing. Choose the pair of boot with the right amount of fringe, so that it does not overshadow the real spirits of wearing boots.
20 – Three Layer Fringe Boots
This is one of the simplest and yet stylish looks you can carry in your day-to-day life hassle-free. In this outfit, dark blue skinny jeans are paired with a white button-down shirt. Wear the three-layer fringe boots to complete the look. Accessorized this look with a hair bandana and a nice wristwatch. With your fashion game on point, you can wear this outfit to work or on a casual evening any day.
19 – Fringe Block Heels
Neutral colors are always an ageless fashion trend, and we can rightly call grey color the ultimate king of all neutrals as you can style grey color with almost any other colour and step up your fashion game. In this outfit, a grey fringe block heel is paired with a grey stripes top, and knee ripped skinny blue jeans. To make it more presentable, wear a few delicate pieces of golden colour jewellery and a light fringe black shoulder bag.
Via
18 – One Layer Fringe Boots
This is the most elegant look to carry on any winter day. To create this look, pair regular skinny blue jeans with a faux fur vest over a button-down shirt, and lastly complete this look with ankle fringe boots. Moreover, you can wear a pair of sunglasses, a wristwatch, and a nice handbag to make this look more stylish. This could be your favorite look to carry around effortlessly this season.
17 – Five Layer Fringe Boots
The more, the better, the better the prettier; these fringe boots are the perfect example of this phrase. In this look, five-layer fringe boots are styled with a white mini dress and a denim trucker jacket over them. Moreover, wear a white long strap bag and a pair of stylish sunglasses to complete this look. Finally, in order to compliment the fringe of boots, a white pair of fringe earrings is worn with this look.
16 – Thigh High Fringe Boots
Thigh-high boots are a fashion statement in itself. In this outfit inspiration, black knee-tall fringe boots are worn over skinny blue jeans and paired with a brown leather jacket. In addition, a turtle neck mustard inner shirt is worn under a check shirt to complete this ultimate winter look. You can always slay an outdoor winter fun evening and be a head-turner with this outfit.
15 – The Classic Black And White Fringe Boot
This is an evergreen, classic look you can wear to any occasion, whether it's a work meeting or a party. In this outfit, a black and white stripe full sleeve dress is worn under a sleeveless denim jacket and of course the black beauty fringe ankle boots. Moreover, for spicing up things furthermore, wear a crossbody bag, sunglasses and a black hat to compliment the overall look. Lastly, the loose curl casual hairstyle is adding more to the beauty of this look.
14 – Side Fringe Ankle Boots
This is another causal street smart look that you can carry all year round. Style a grey full sleeve mini dress with a multicolour scarf around the neck and a camel brown tunic vest over it. Moreover, wear ankle side fringe boots and carry a red half round crossbody bag to complete the overall outfit and be ready to be the centre of attention where ever you go.
Via
13 – Lambert Fringe Boot With Distressed Jeans
Lambert fringe boots are the newest and the most trendy fringe boots style. You can pair it with any of your casual outfits and step up your style game. In this everyday simple look distressed ripped jeans are paired with a casual T-shirt and of course red lambert fringe boots to complete this overall look.
12 – Styling A Casaul Fringe Ankle Boots Look
Denim shorts are a wardrobe essential that every woman should have for the days when they are indecisive what to wear and still want to make a fashion statement. In this look, denim shorts are paired with a simple grey T-shirt and a sleeveless jacket. Moreover, for completing this look wear ankle fringe boots and a nice long strap bag. In addition, a nice pair of sunglasses can elevate this look more than you can imagine.
11 – The Ultimate Cowboy Fringe Boots Outfit
The vintage cowboy look is a timeless fashion that can never go out of style no matter what. To create this look wear a pair of cowboy shoes with denim jeans and a nice T-shirt complementing the overall look.Moreover, a nice bandana and a few pieces of vintage jewellery pieces can add more to your overall appearance. If you are fond of vintage outfits then this is the right outfit for you.
10 – Styling Ankle Fringe Boots With A Cute Dress
If you are fond of wearing dresses and frocks then this look will be your favourite summer look to wear. In this outfit, ankle fringe boots are styled with a knee-length white printed dress. Moreover to compliment this look wear a pair of stylish sunglasses and a beige picnic hat with lightly curled hair and you are good to go to slay your day!
9 – Fringe Boots Holiday Look
While talking about fringe boots look, who can forget a holiday fringe boot look? This is the ultimate look to wear on your next vacation and experiment with your fashion style. To create this look wear mid-calf side fringe boots with a white slide slit tunic topic and a brown button down shirt over it. This is the most simple yet the most stylish holiday day for you.
8 – Thigh High Fringe Boots
Want to slay your beach day out in style and do not know what to wear. Not to worry we are here for the resue. To create a simple yet most stylish look just wear a white coverup over your white bikini or swimsuit and wearing knee-tall fringe boots with it and slay the day.
7 – Styling Fringe Moccasin Boots
If you want to add fun to your summer look, try this fringe moccasin boots look. To create this look wear a sleeveless yellow mini dress and tie a belt around your waist with a printed multicolour scarf around your neck. In addition carry a handbag and wear some light jewellery pieces to compliment the moccasin boots.
6 – Winter Fringe Boot Outfit
This is the most pretty winter look you will ever see. You can also slay your winter evening by wearing this look and this does not require a lot of effort also. you just have to wear a simple black full-sleeve dress and tie a brown leather belt around your waist. Moreover, add a leather long strap bag and same colour boots to the overall look.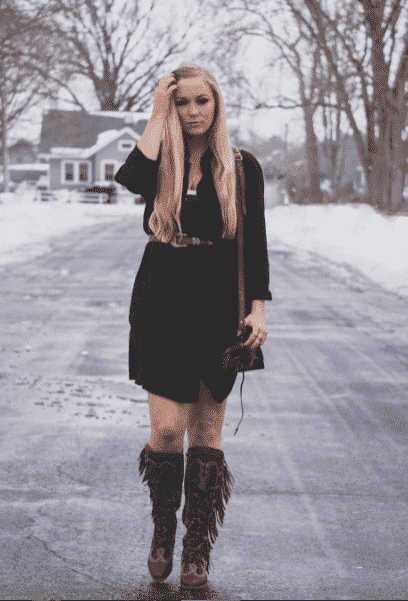 5 – The Perfect Summer Outfit Idea
If you are looking for a fun look for summer, then this look can be a lifesaver for you. Just wear mid-calf boots with a brown half sleeves dress and you are good to go.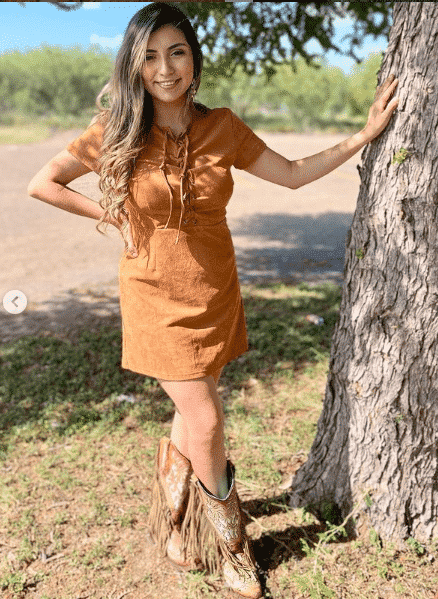 4 – The Sexy Crop Top Look
Looking for spicing up things a little, try this look. In this outfit, a white off shoulder crop top is paired with a simple blue pair of skinny jeans and thigh-high fringe boots.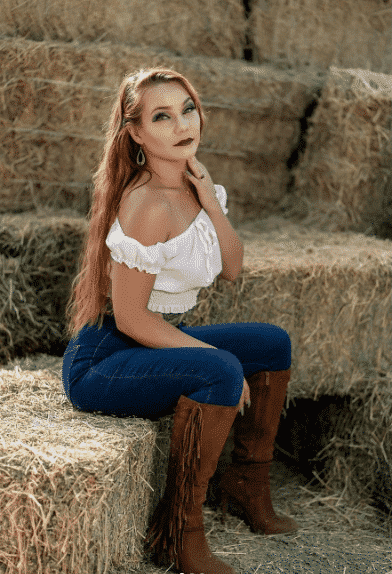 3 – The Adorable Outdoor Outfit Inspo
This cute outdoor outfit is all you need this summer. Wear mid calf fringe boots with a brown frill sleeveless mini dress and accessorise it with a few pieces of jewellery and sunglasses.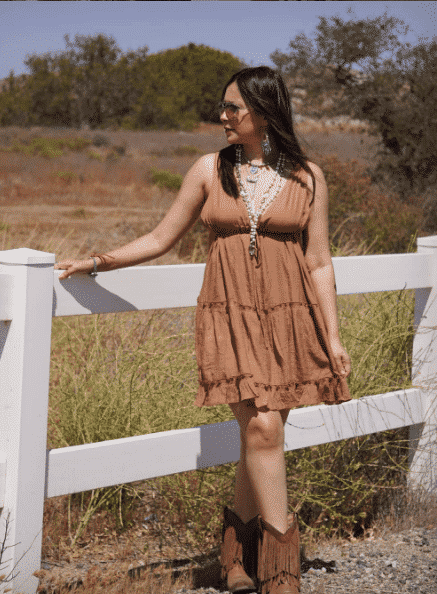 2 – With A Simple White Tunic
This is the most simple and yet stylish look you can carry on any usual day. You just have to wear a simple white tunic and pair it up with a pair of fringe boots.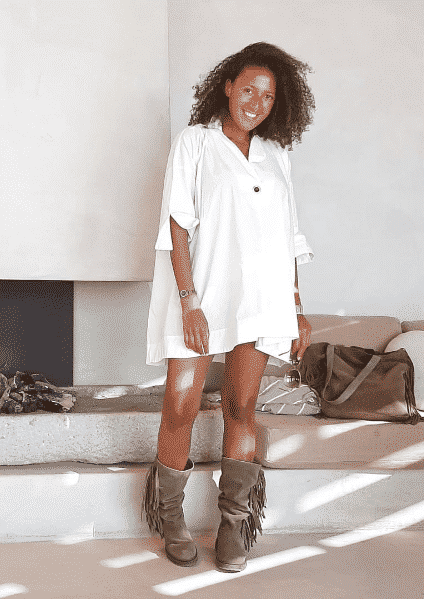 1 – With A Mesh Cover Up Dress
If you are up for experimenting a little, try this one! To create this look, wear a mesh cover-up dress over a white t-shirt and printed mini skirt with fringe boots and lastly add some accessories to complete this look.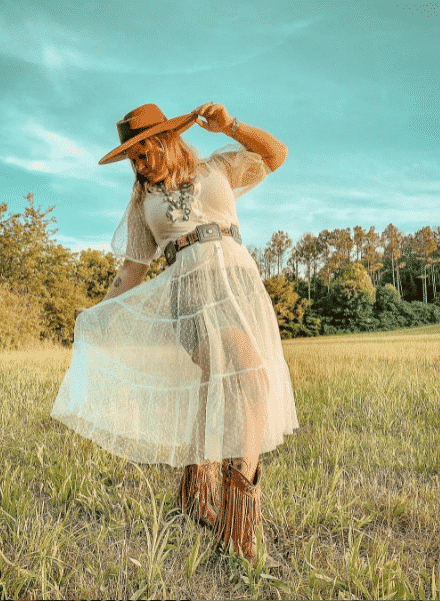 Fequently Asked Questions
Q. Are fringed boots in style 2021?
Ans. Fringe boots are an ultimate timeless fashion that remained trendy from the 1970s until now and will last far beyond. In 2021 fringed boots have hit the fashion world with more force than ever. Celebrities like Gigi Hadid And Cardi B have embraced their style on-ramps as well as on the streets with these boots. Therefore, you can always wear a pair of fringed boots without thinking it is obsolete in 2021 and slay in style.
Q. What to wear with fringe ankle boots?
Ans. There are no serious compulsions; you can wear whatever you want. But a pair of fringe ankle boots are best styled with skinny jeans, leggings, or knee-length skirts. For short dresses, mini skirts, or shorts, prefer to wear thigh-high fringe boots as they will add more detail to your look and make you look more trendy.
Q: What outfits to wear with black fringe boots?
Ans. If you want to wear a black fringe boot, do not ever pair it with same coloured jeans or leggings, as it will make you look dull. Instead, try to wear a contrasting colour outfit with black fringe boots. Maybe grey or blue coloured jeans or skirt will do the work well and make to slay the day.