White Dress Pants Outfits: White, no doubt is the colour of elegance and decency. The perks of wearing white pants are that they look good with every colour combination. On the other hand, dress pants are often associated with formal wear but you can wear them with your casual outfits as well. They can prove to be the perfect fit for your business meetings and casual dinners. They can also help you in formulating a beautiful and fun outfit for your sudden hangout plans. So it is safe to say that white dress pants are not only bound to formal wear but you can easily slay them for casual looks too.
How To Style White Dress Pants?
White dress pants can be worn to any occasion and at any time. You just need to pair them with the right kind of tops and colours according to the occasion. The beauty of your outfit depends on your choices. If you want to create a formal work look with white dress pants then you can pair them with blazers and button-down shirts with heels and minimal jewellery to gain that sleek attire.
Similarly, if you want a fun and casual outfit for your hangout plans with your friends, then you can wear your white pants with an off-shoulder or any casual top or even oversized tee shirts. There are a number of different ways in which you can style your pants and if you want more ideas on what to wear with white dress pants, then scroll down because this article includes 20 amazing ideas like these.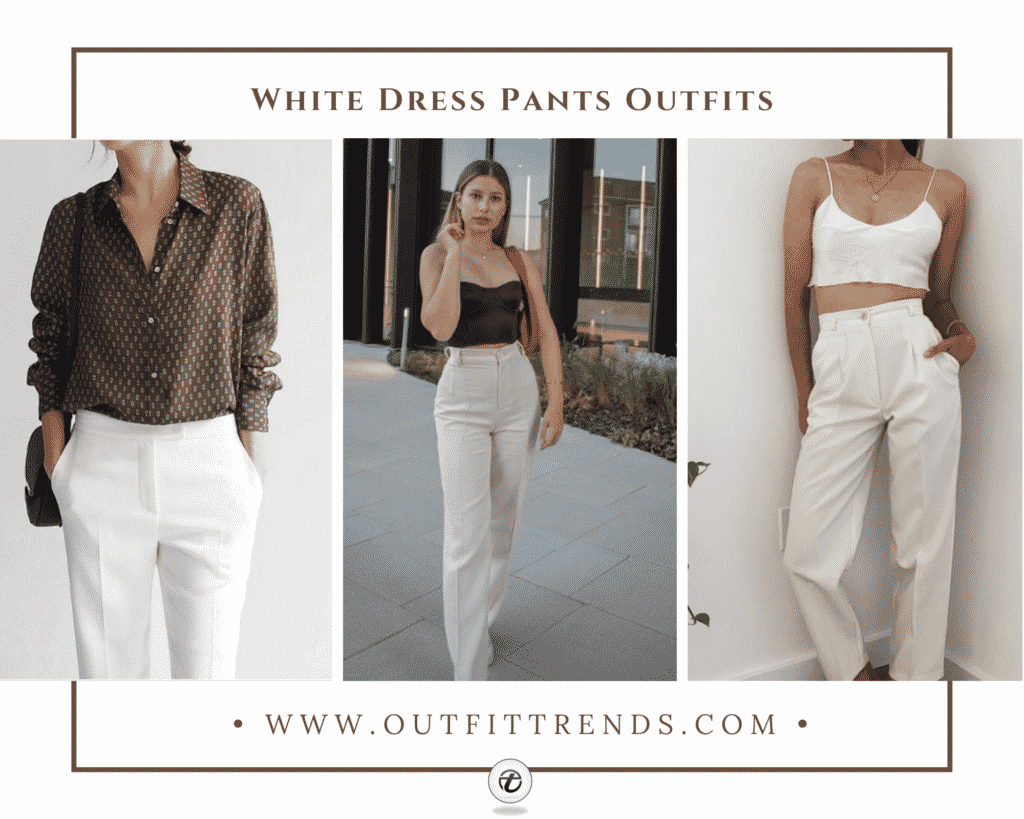 Tips For Wearing White Dress Pants Outfits
White is the kind of color that can be paired with any other color, but the most popular ones are black and blue.
If you are opting for a formal look, comfortable heels, and sandals can be a great choice for footwear.
Minimal accessories never hurt anyone, add them to enhance the charm of your entire look.
The white color looks stunning but it comes with its own disadvantages. It can be a risky choice so you should avoid wearing it on rainy days.
20 – With An Oversized Denim Shirt
Starting with one of the coolest and effortless white dress pants outfits. An oversized denim shirt with puff sleeves is always a big yes for a casual and classy outfit. Complete the look by adding your favourite pair of heels and bag and you are ready to go.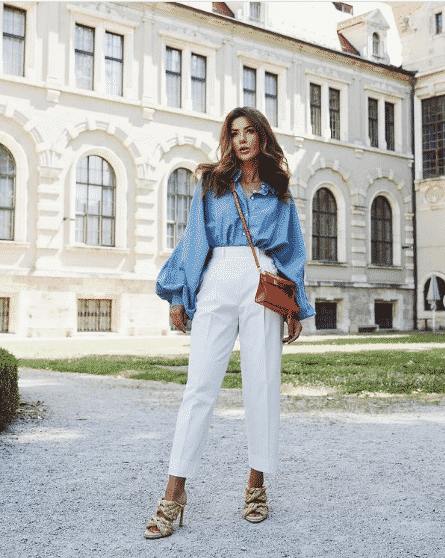 19 – White Pants With Corset Top
Want a chic outfit for a dinner date? Here we are with the idea. Corset tops don't need any introduction as they are already a fashion statement. Corset tops are stylish in their own way and give you a subtle look. So pair them with your white dress pants to get the perfect dinner outfit. You can also carry your favourite bag to complete the entire look.
18 – White With A Pop Of Pink
You can level up your fashion game with this stunning outfit. This shocking pink top is beautifully complementing the white dress pants. If you are one of those people who like bright colours, then this is a perfect fit for you. Statement earrings of the same bright colour and sleek high ponytail are just some of the little and cute additions to the look.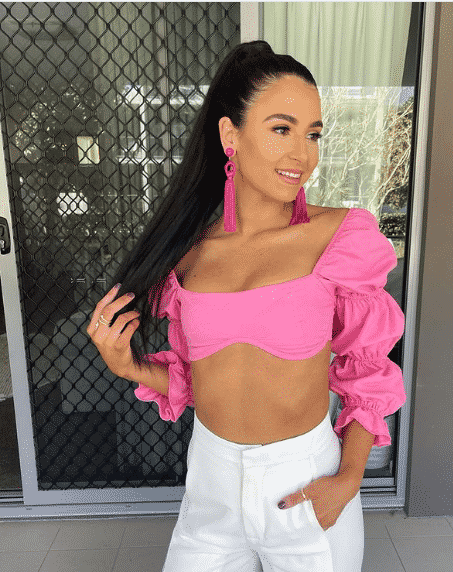 17 – The Girl Boss Outfit
You can channel your inner girl boss with this gorgeous outfit. This is an all-white outfit with a hint of blue, definitely a perfect colour combination. Here high waisted dress pants are paired with a white cropped blazer and a blue lace corset top is worn underneath. The blazer is added to get more of a formal look but you can also skip it. In this way, you can get both formal and casual outfits in one go.
16 – A Business Outfit
White dress pants can easily resolve the issues of your everyday work outfits. It is one piece of clothing with which you can form both casual and formal outfits. And then comes a business casual outfit which is too easy to style like this one. Just grab any formal shirt of your favourite colour and assemble it with white pants and a few accessories to get this look.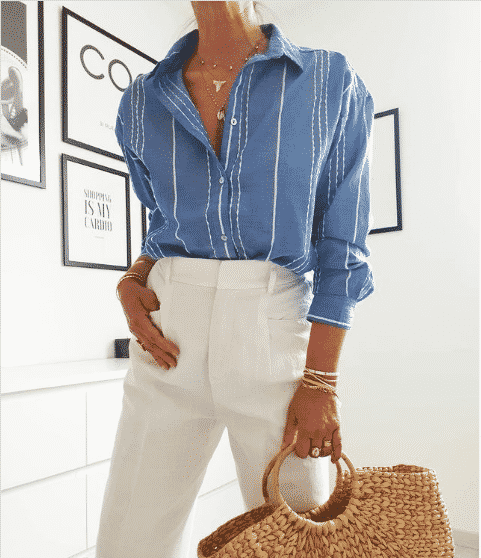 15 – White Dress Pants With Tie-Dye Bodysuit
This might come as a surprise to you that white dress pants can be paired with bodysuits because why not? Just like you will wear them with any casual jeans, you can always wear them with white dress pants. To balance out the colour combination, you can pair a tie-dye bodysuit with white pants as they will complement each other.
14 – White Dress Pants Outfit For Winters
Winters are perfect to don those pants. To create this look, you just need to grab your favourite sweater and pair it with white pants and you are ready with this oh-so-good winter outfit. Yes! It is as simple as that. And if you want to go over the top, add a coat too. This is a black and white kind of outfit but the colour combination completely depends on you, preferably bright colour tops would look great with white pants in winters. Lastly, don't forget to add bold red lipstick to your winter look.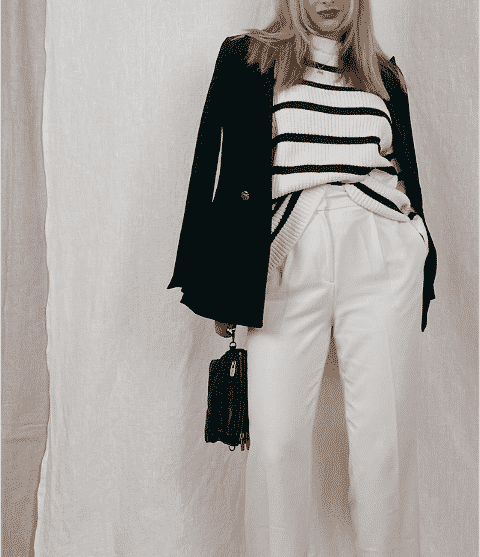 13 – The Perfect Office Look
As it is already mentioned that white dress pants are a perfect fit for formal wear so you can wear them at business meetings confidently. You can create this look by pairing your white pants with a navy blazer with the same colour top underneath. You can also wear a watch and tie your hair up in a ponytail to get more of a formal look. This colour combination will also give you a decent look.
12 – What To Wear With White Pants?
You can never go wrong when you are wearing white and black. It is a classic colour combination and always looks stunning. A simple black tank top with white dress pants can be an ideal outfit for your brunch or shopping plans with your best friends.
11 – White High Waisted Pants With Off-Shoulder Top
An off-shoulder crop top with white pants is a perfect outfit for a coffee or dinner date. Not to forget, it is a multi-colour top which obviously looks amazing but you can also choose some brighter shades like yellow or pink. Lastly, don't forget to put some highlighter to enhance those collar bones.
10 – Casual Look With White Dress Pants
Here comes the most asked question. How can we wear white dress pants casually? Well, it is quite simple. Take out any top that you would wear casually and pair it up with dress pants. You should preferably wear darker shades otherwise the choice is yours. If you are bored with casual jeans then try this hack asap!
9 – How To Wear White Dress Pants?
Forming an elegant outfit with white dress pants is not a hard task at all. As you can see below, just pairing a white silk camisole top with white pants will make you succeed in this mission. A cute necklace and studs will act as the cherry on top. You can also add a cropped blazer to turn it into a formal look.
8 – White And Pink Outfit
Not mentioning pink with white would feel like a crime. It is the favourite colour combination of most of the girls out there. This cute outfit can be created by pairing up a baby pink shirt with white pants. For footwear, you can wear sneakers with this outfit.
7 – One With The Tee
Here we come with an adventurous outfit. If you have never tried a tee shirt with dress pants then this is an inspiration for you. Oversized tees are every girl's favourite because of how comfortable they are. You can form an all-white outfit by adding white sneakers and you can also add a cap to get more of a sporty look. It is one of the most comfortable and effortless outfits you can form with white dress pants.
6 – For The Love Of Aesthetics
If you are also an aesthetic lover like me then try out this outfit. You can also call it a perfect party outfit. White dress pants with a tank top and oversized blazer are all it takes to form this beautiful outfit. Add statement earrings and your favourite fancy heels to your look and you are ready to slay at any event.
5 – White Wide-Legged Pants With Denim Jacket
Blue and black are the most liked colours paired with white so what's better than combining all three of them? The best way to give your outfit a more casual look is to add a jacket with it. High-waisted dress pants with a black tank top and a denim jacket outfit can be the kind of outfit you can easily wear to any casual occasion. You can wear your favourite heels or sneakers as well with this outfit. Don't forget to add those glasses to get some perfect insta-worthy pictures.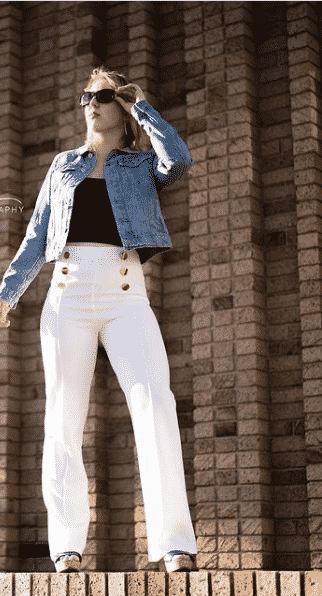 4 – A White Affair
An all-white outfit, why not? It can be a great choice if you need something minimal and elegant. You can also add gold jewellery if you want because it will amazingly stand out with this outfit.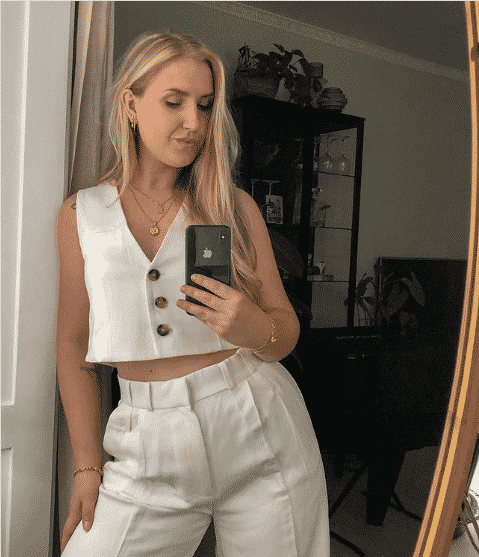 3 – White Skinny Pants With Cut-Out Top
This cut-out long sleeve knit top can be an amazing addition to your wardrobe. If you still don't own a cut-out top then it's time to get one and pair it up with white dress pants. The trend of cut-out tops is not new and if you want a fun outfit like this one then try it out now.
2 – With A Floral Top
The floral print is a fan favourite and a must-have for summers. It is the kind of print that is always in trend and can be worn in any season. They make some of the cutest outfits when paired with white pants and it will also balance out the colour combinations. It is a casual outfit and can be perfect for your daily events.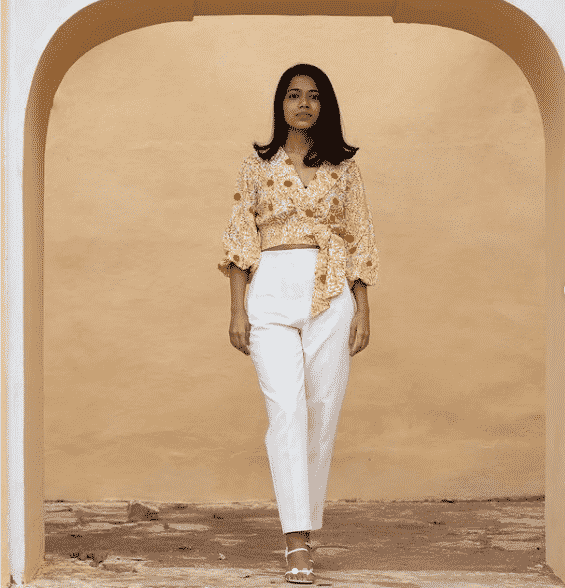 1 – Another Work Look
When we say white dress pants are perfect for work outfits, we mean it. And this outfit is another great example of that. So here is another work outfit inspiration for you. A simple patterned blouse with white pants would surely give you a sophisticated look. You can add minimal accessories as well with this outfit. A sleek bun with centre parting along with heels will increase the charm of this whole look.
Frequently Asked Questions
Q. How to style white dress pants?
Ans. The options to style your white dress pants are limitless. Work meetings, casual dinners, or Sunday brunches, white pants will work for every event and every occasion, if styled properly. If you are going for a more formal look then pair them up with buttoned-up shirts and blazers. For a mixture of casual and formal looks, go for white dress pants with casual tops and minimal jewellery. And for a completely casual outfit, you can wear them with oversized tee shirts and sneakers.
Q. What season can white pants be worn in?
Ans. Honestly, they are not bound to any season. Winters might seem to be a perfect season to wear them but hey, nobody said that they are designed for winters only. White dress pants with crop tops or cold shoulder tops would look more than perfect on summery days. You can also pair those pants up with sweaters and hoodies for chilly days. All in all, it is safe to say that white dress pants are the ultimate fashion clothing that you can slay all year around.
Q. What color shoes goes with white dress pants?
Ans. The colour of your shoes can depend on your whole outfit and occasion but some of the most common colours of shoes worn with white pants are nudes and pastels. Red heels can also give you a classic look with white pants for a casual dinner. If you want to wear white shoes with white pants, make sure to add some colours to your top. And if you are going for an all-white look then you can wear bright colour heels too.