How to reuse old sarees: The last two years saw a hike in the number of people showing keen interest in reusing, repurposing old items they possess. From repurposing and revamping old furniture to reusing, reselling, thrifting clothes/shoes/accessories, we have seen tremendous interest in DIYs, thrifting, refurbishing old items around the house, far and wide across the globe. On this note, have you ever thought about putting your or your mom's old sarees to better use? If you are keen to know how old sarees can be repurposed and turned into fun new items than have them sit in the corner of the closet, you are in the right place!
We have put together a list of creative and fun DIY projects that you can do that will transform your sarees into something fun and also make them worth wearing again. You'll be surprised to see the numerous options you have when it comes to being creative and turning old sarees into new decor pieces, new outfits, and much more. This way, you get to keep the saree for a longer period, allowing you to use them while also being able to cherish the memories the items hold. So if you treasure your old sarees, read on to find out all the fun and creative projects you can take up right now!
How to Make New Outfits from Old Sarees?
There are a lot of ways you can reuse your old sarees and turn them into surprisingly new items. Be it new outfits, new decor pieces for your home, accessories, and more, your old sarees can be totally customized. A trick to remember when reusing old sarees is to choose designs and patterns that will be perfect when upcycled and will make a bold fashion statement. Read on to find out some fun and unique ways to create new items from old sarees.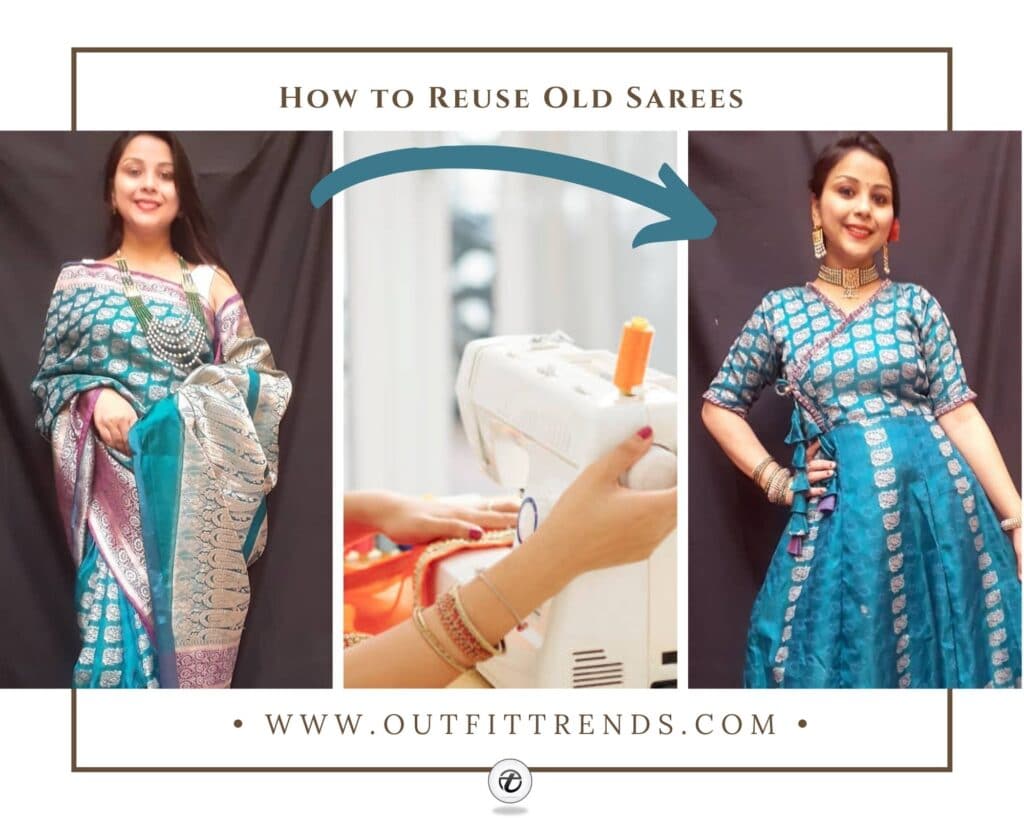 Tips To Remember
Ensure all sarees being used for any project are in absolute best condition so as to avoid future wear and tear.
Delicate sarees can be left out when choosing to reuse old sarees for home decor. Instead, they can be used to make blouses, tops, etc.
Make sure you or your mom are absolutely fine with having the sarees be revamped because afterall, they are bearers of many precious memories.
Most importantly, whatever DIY project you take on, make sure to have fun while creating something new and exciting!
11 – Redesign Your Old Saree
A very simple but effective way to add some spin to your old sarees is to revamp their style and appearance. It's a widely known fact that saree designs and styles go out of trend rather fast, which leads you to have to repurchase sarees quite often to suit present-day styles and trends. A simple tip to remember when it comes to sarees is, always opt for classic and timeless designs.
Saree designs that are elegant and timeless never go out of style and you can wear them for years to come. But for the occasional one or two sarees that do not make the cut to be worn as is, they can be redesigned by adding a different lace or border pattern to enhance the appearance of the saree and adding the subtle touch of new to the item.
Another simple way to revamp the look of your old saree is to change up the pattern of the blouse you have paired with it. You can opt for a sleeveless, halter neck style, or an elbow-length blouse- whichever style best compliments the look of the saree and elevates the outfit. Here are some latest saree blouse designs to make the decision easier for you.
You can see here how just changing the saree blouse can have such a huge effect: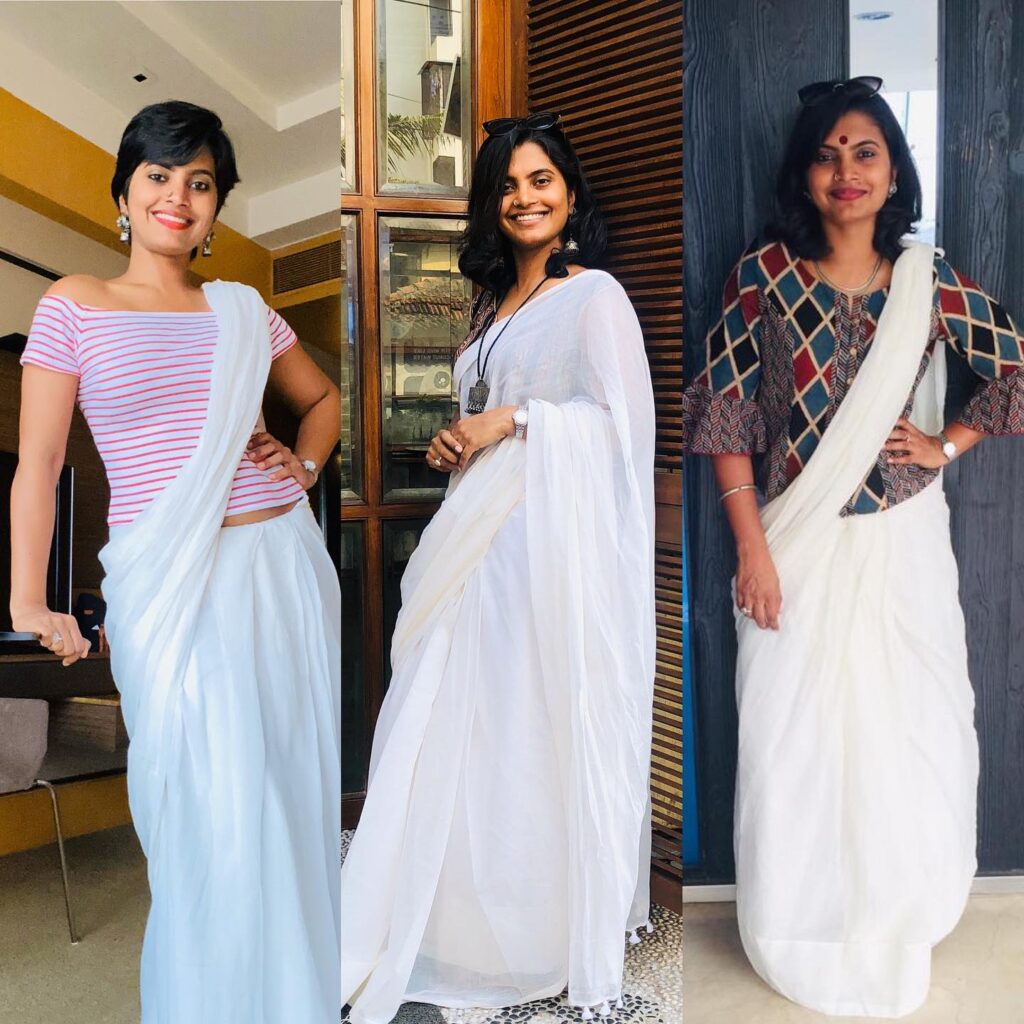 10 – Turn Floral Sarees Into Dresses
Floral sarees in georgette, chiffon or organza fabric can easily be converted into the cutest dresses that you can wear on their own or with pants or tights. You might need a tailor's help with this project to ensure that you get the kind of fitting that you want.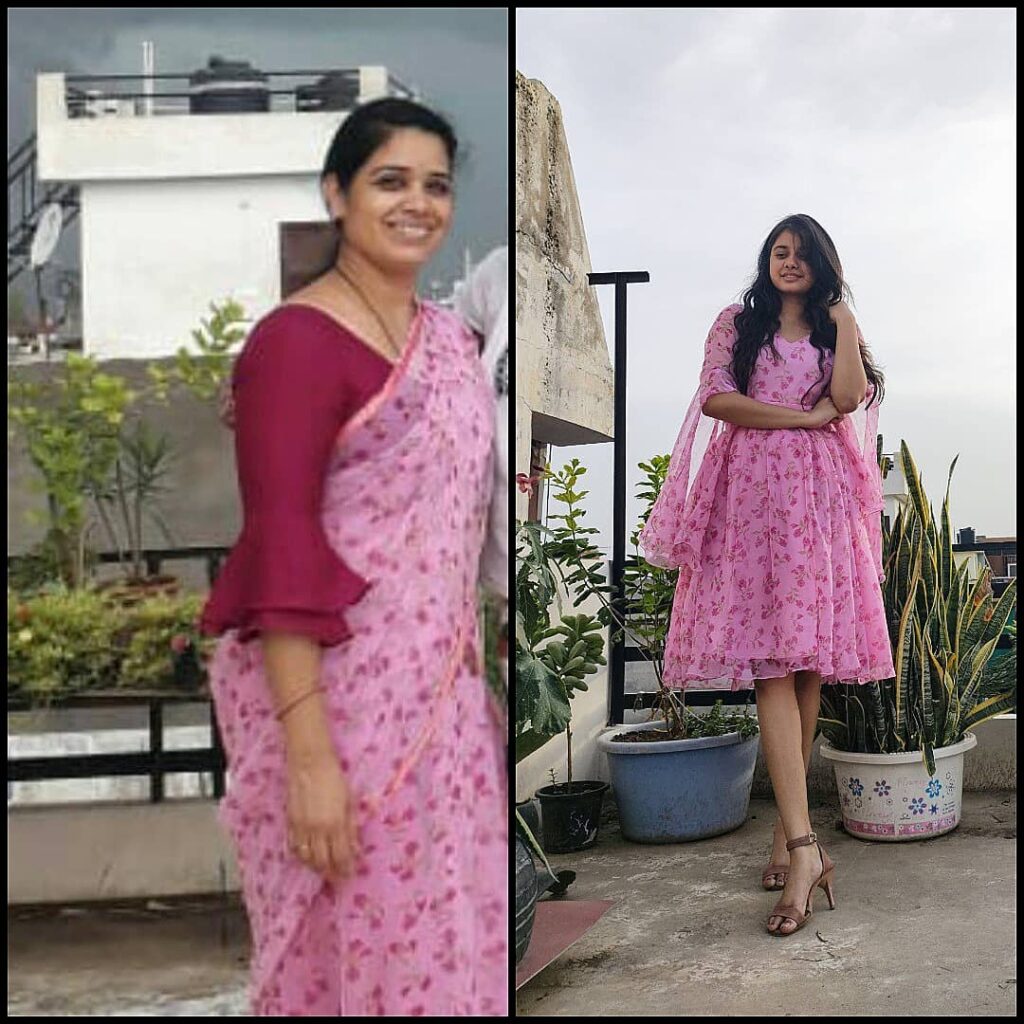 And if you're more into Eastern outfits than western then you can easily turn floral sarees into A-line shirts or dresses and pair them with pants and dupatta for a modern yet classic look.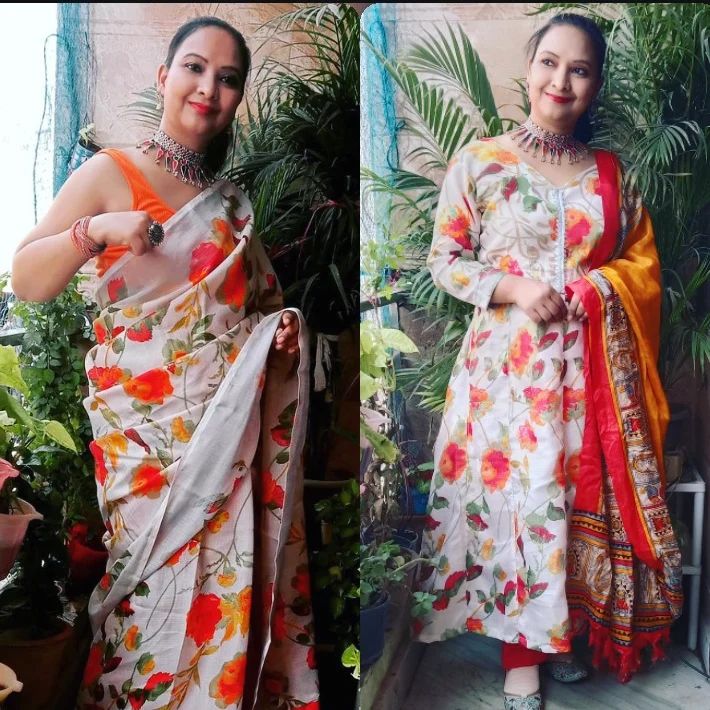 9 – Turn Your Old Sarees Into Fancy Cushion Covers
This one makes for an uber-cool DIY that you can attempt to do in your spare time. Reusing old sarees and converting them into super fancy cushion covers is an amazing way to add some spice to your home decor. This holds especially true when you are looking for ways to add fancy festive items to your seasonal home decor during special occasions and festive celebrations. Vibrant sarees with gold detailing make for a good option as they hold so much richness in terms of color, and texture, making them the number 1 choice for cushion covers. These need not be used as a daily styling piece in your living space but can be the perfect selection for grand occasions.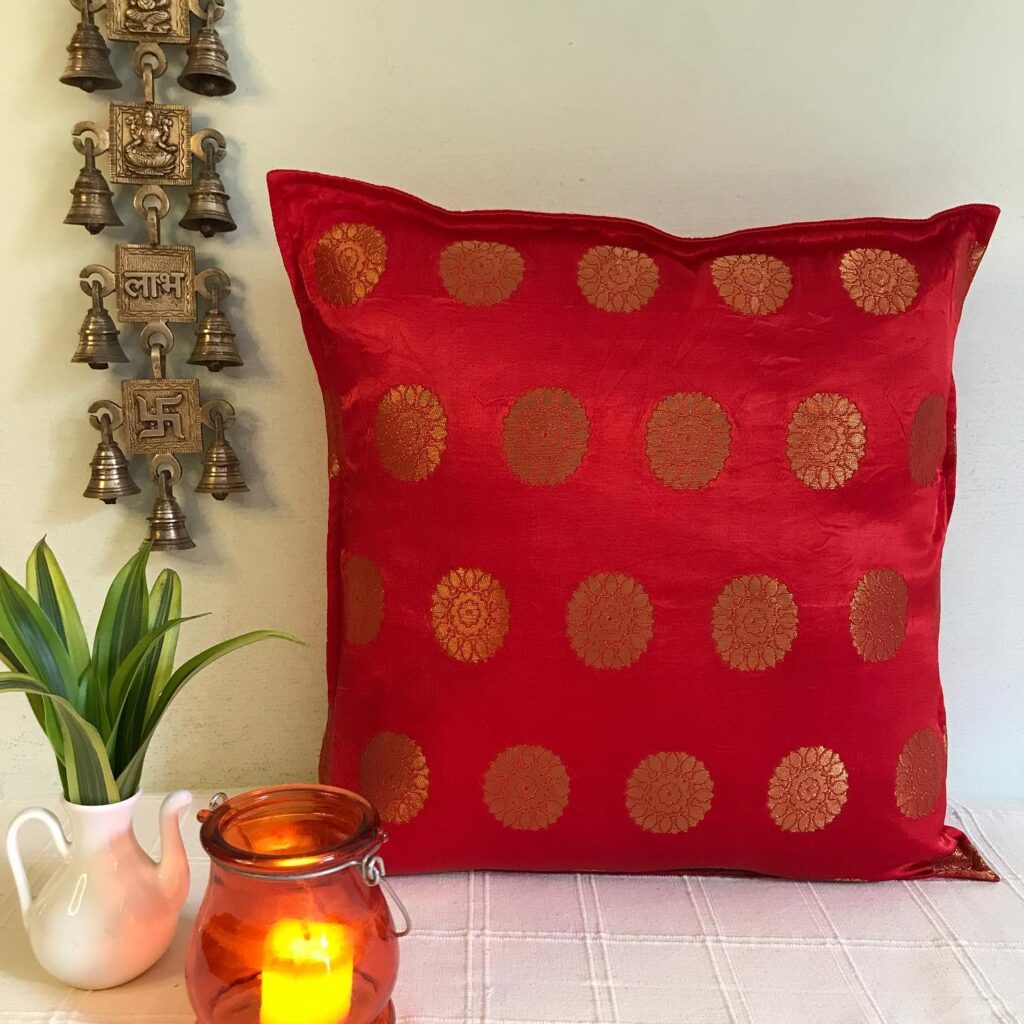 8 – Turn Your Mom's Old Saree Into A Kaftan Style Kurti
Kaftans are an absolute classic, aren't they? The best way to reuse your mom's old chiffon sarees is to turn them into kaftan-style dresses or kurtis! Kaftans make for a timeless summer/spring piece that is a must in your wardrobe if you enjoy time by the beach under the sun.
Light flowy materials like chiffon sarees make for a good choice when considering what kind of material would be best suited to turn into a kaftan. If you opt to go for a beachy look with your kaftan, you can look for sarees with minimal prints and design in light shades like pastel hues of blues and greens to compliment the holiday vibes. If you are looking to turn the saree into a kaftan style kurti, you can opt for bright and vibrant shades in different patterns and designs that can be beautifully customized with a sequined neckline, paired with cigarette pants for a fun, casual, indo-western look.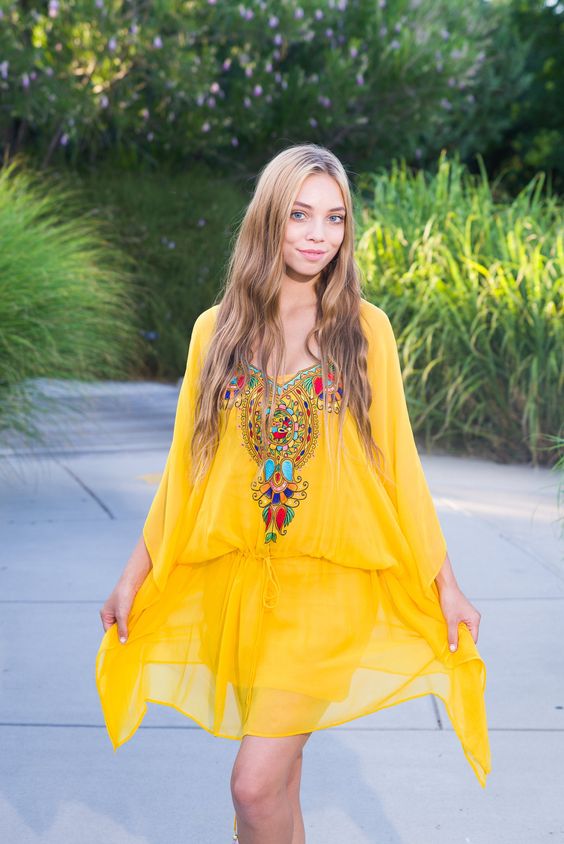 You can use beautiful bandhani print chiffon sarees to create kaftan style kurtas with a beautiful gota-patti detailing at the front as well!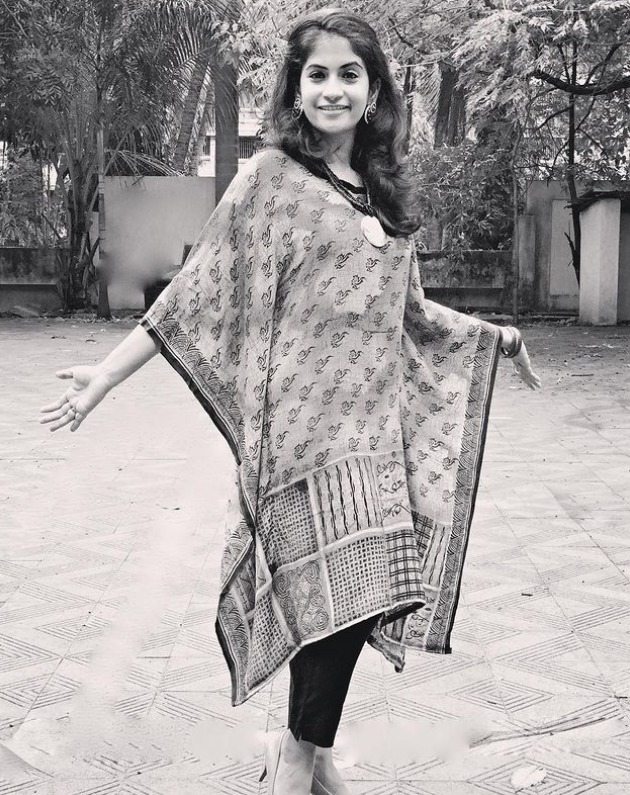 7 – DIY Sarees Into Table Runners
There have definitely been times when either you or your mom have gone on a hunt to find fancy table runners, which when found, turn out to burn a hole in your pocket. Table runners are definitely a beautiful styling piece for your living space, but why spend a lot when you can easily use beautiful and elegant fabrics that are in your possession already?
You can turn your heavy old sarees into beautiful table runners that can make for the perfect decor piece for when you have guests over, on festive occasions, etc. You can choose bright colors which gold thread work that compliments the interiors of your home and also fits in beautifully with the aesthetic you are going for. You can even choose to convert your sarees into placemats that can be used under vases and other table decors that are perfect for grand occasions.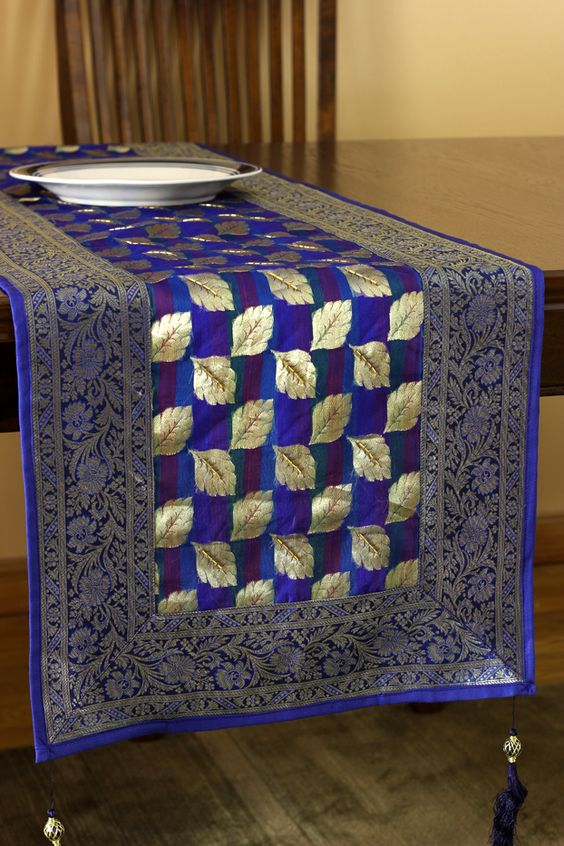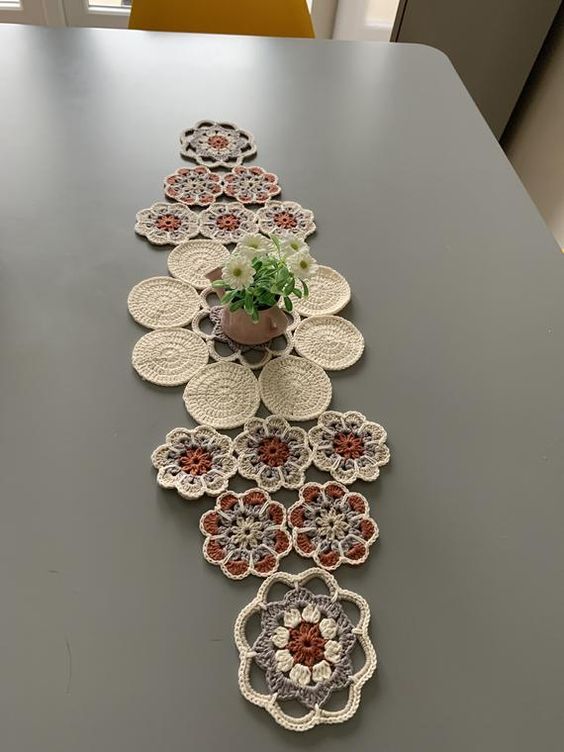 6 – Palazzo Pants
Another super cool way to repurpose your old sarees into something new is to make palazzo pants out of them! We see umpteen styles and patterns of palazzo pants and you can add your own spin to them by revamping your or your mom's old sarees to ultimately create a whole new outfit.
You can choose various styles and fabrics to achieve your desired look- be it a simple and elegant palazzo pants outfit, or a pair of palazzos with grand brocade work making it a great choice for weddings and other festivities. Here are some ideas on how you can wear these palazzo pants with kurtis for a chic look.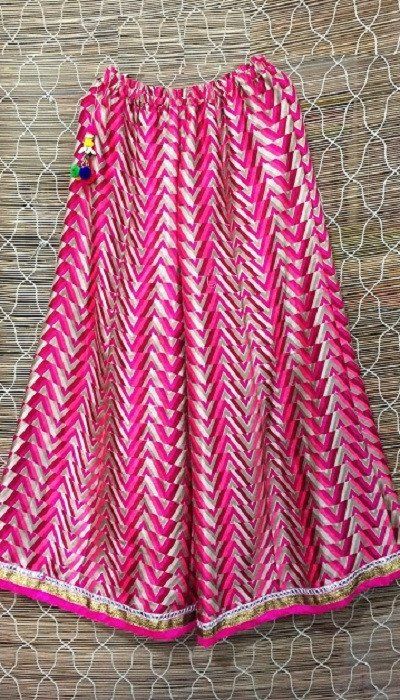 You can opt for more lightweight fabrics and create palazzos that you can easily pair with a simple short Kurti or even a basic black or white top to achieve a simple everyday look.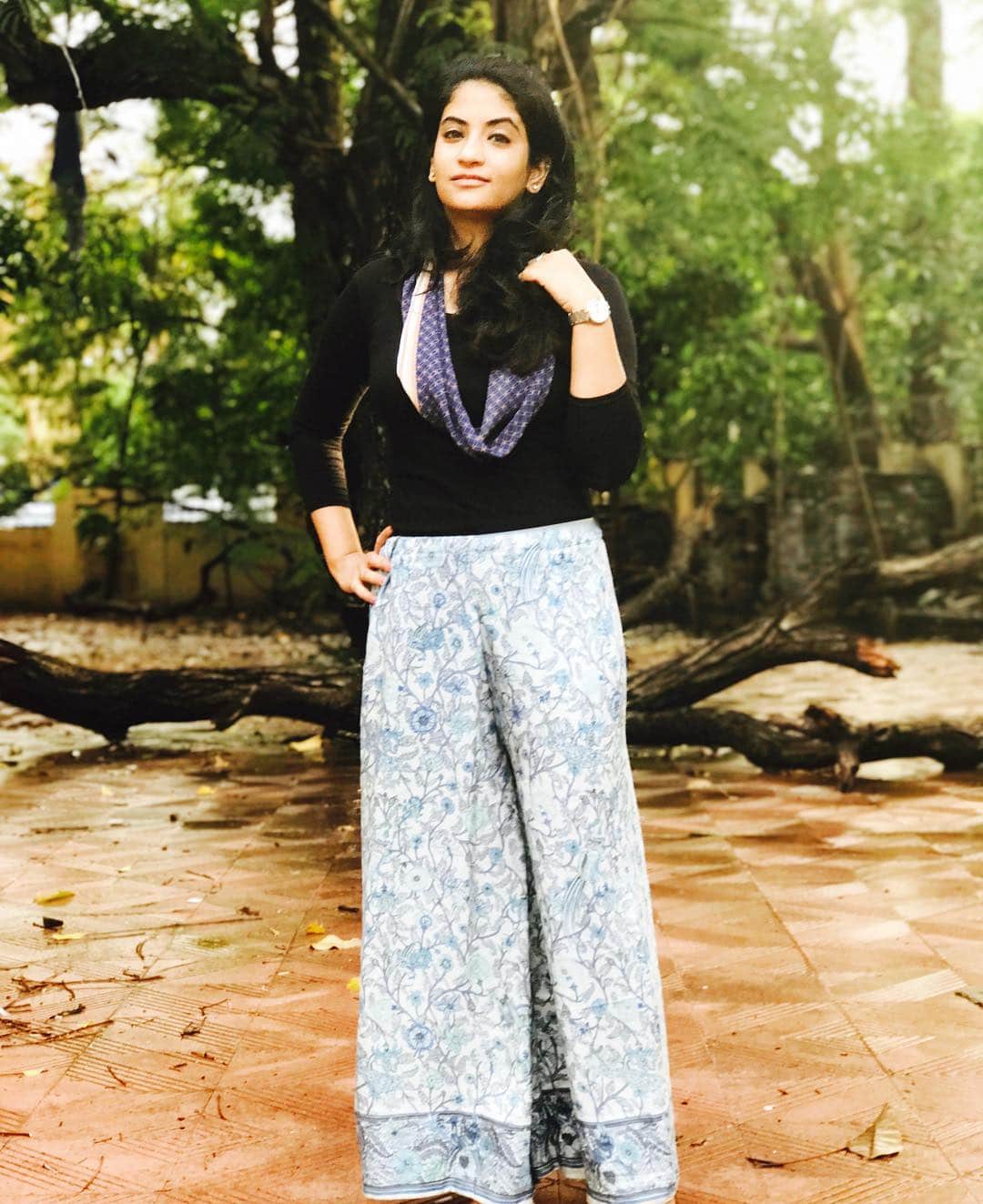 5 – Customised Potali Bags
Potali bags are one of the most popular kinds of bags out there. They are very versatile and make for great accessories to carry along with your festive and ethnic wear. Although very trendy, they are not very easily available outside India. This had us wonder, how about custom making your own potali bags out of your old sarees? Seems like a great idea, doesn't it? You can choose a saree fabric that very closely matches your new outfit in terms of colour and pattern to have a super trendy yet gorgeous custom accessory.
You can change up the style from the classic potali bag to an envelope style handbag which is the perfect size to carry all your essential items. Along with matching these potali bags exactly to your outfits, you can even have custom elegant bags made that would match all your traditional outwear. Saves a whole lot of time on figuring out what bag or clutch to match with your outfit!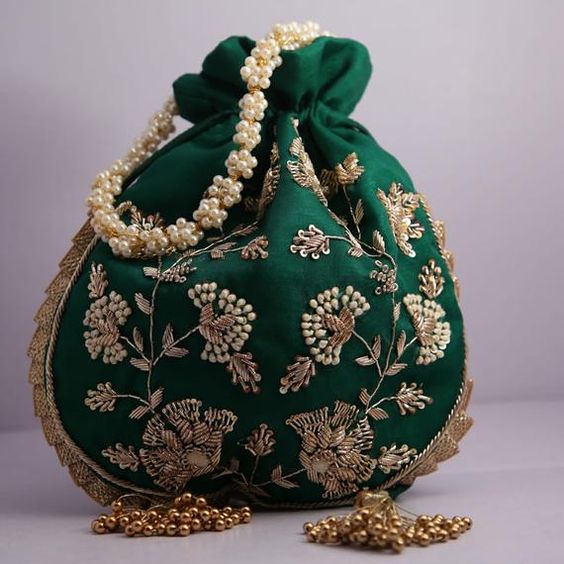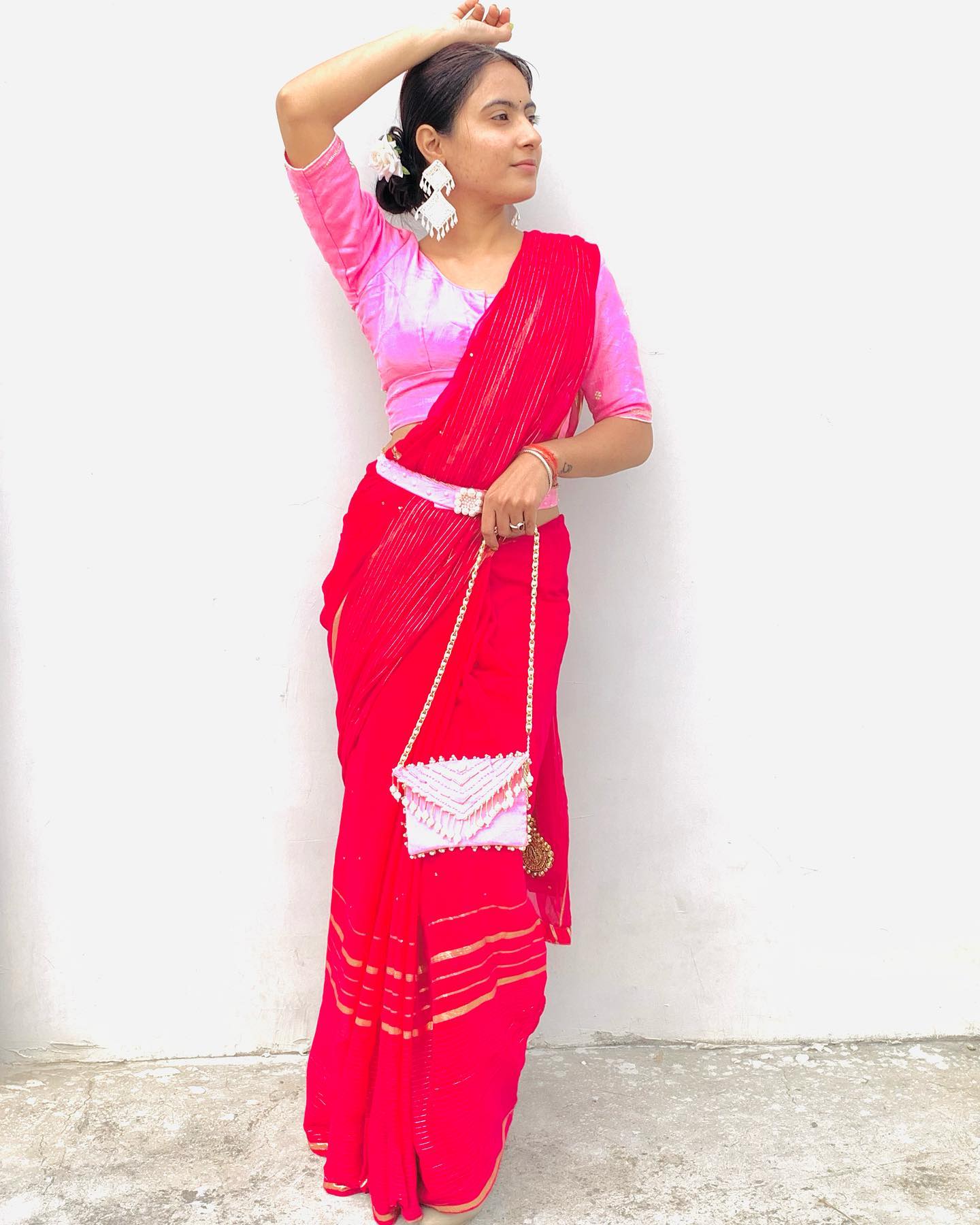 4 – Turn Old Sarees Into Anarkalis, Angrakhas & Long Kurtas
Another amazing way to transform old sarees into something new and chic is to have long Anarkalis or kurtas stitched. With various styles trending in terms of kurtis, Anarkalis, etc., you can sift through some classic old saree designs that can be turned into beautiful new pieces, perfect for wedding guest outfits and other occasions. A gorgeous style that can be achieved is a sleeveless collared Anarkali. This can be tailored using sarees with gorgeous gold threadwork that will add glamour to the outfit.
Paired with a potali bag and statement earrings, it will make for a gorgeous pre-wedding guest outfit. Another way to revamp your old sarees with brocade work is to have them tailored into long straight kurtas. These have a richness and grandeur that is perfect for grand occasions. Celebrities too have been spotted in brocade kurtas as they are classic pieces to own. They can be beautifully paired with cigarette pants or even plain satin skirts.
I love how this diva turned her saree into not just one but two kurtas: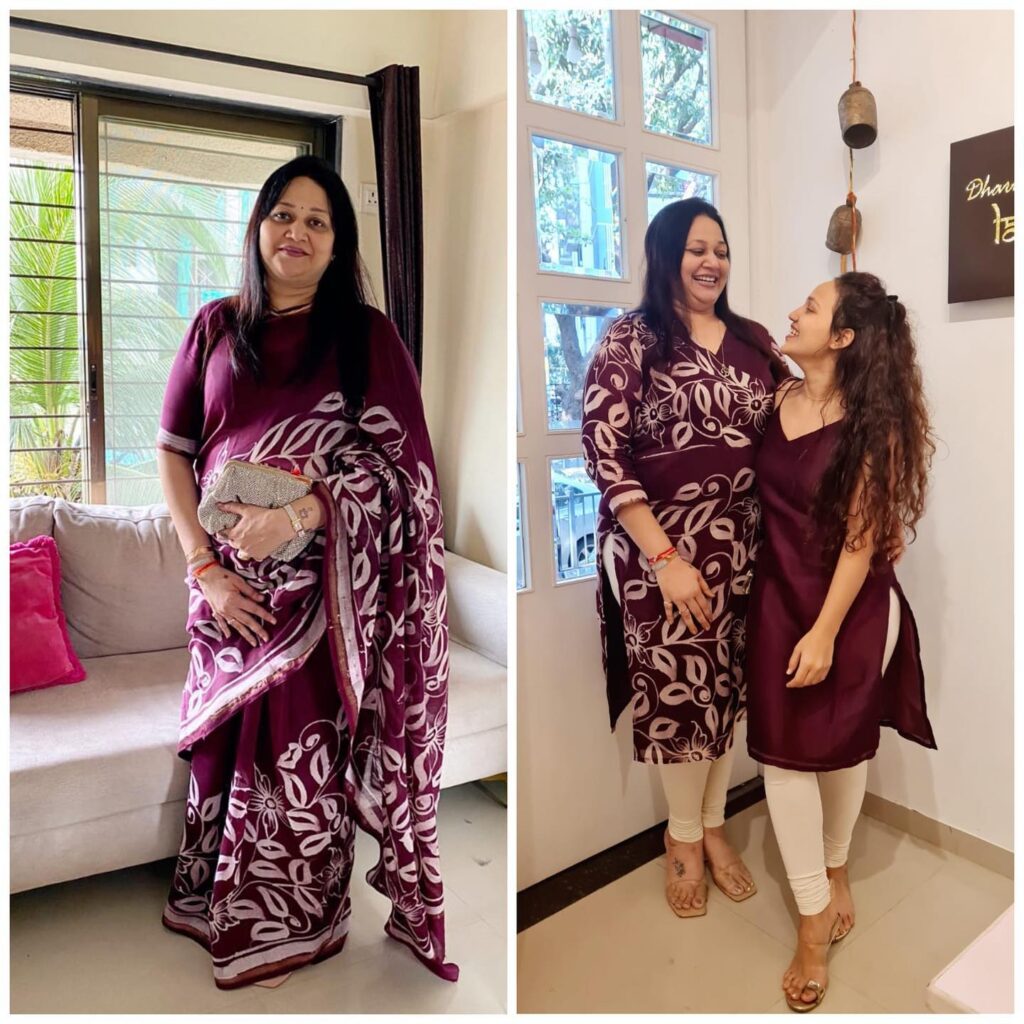 While this beauty turned her saree into an anarkali dress and added a silk dupatta to it: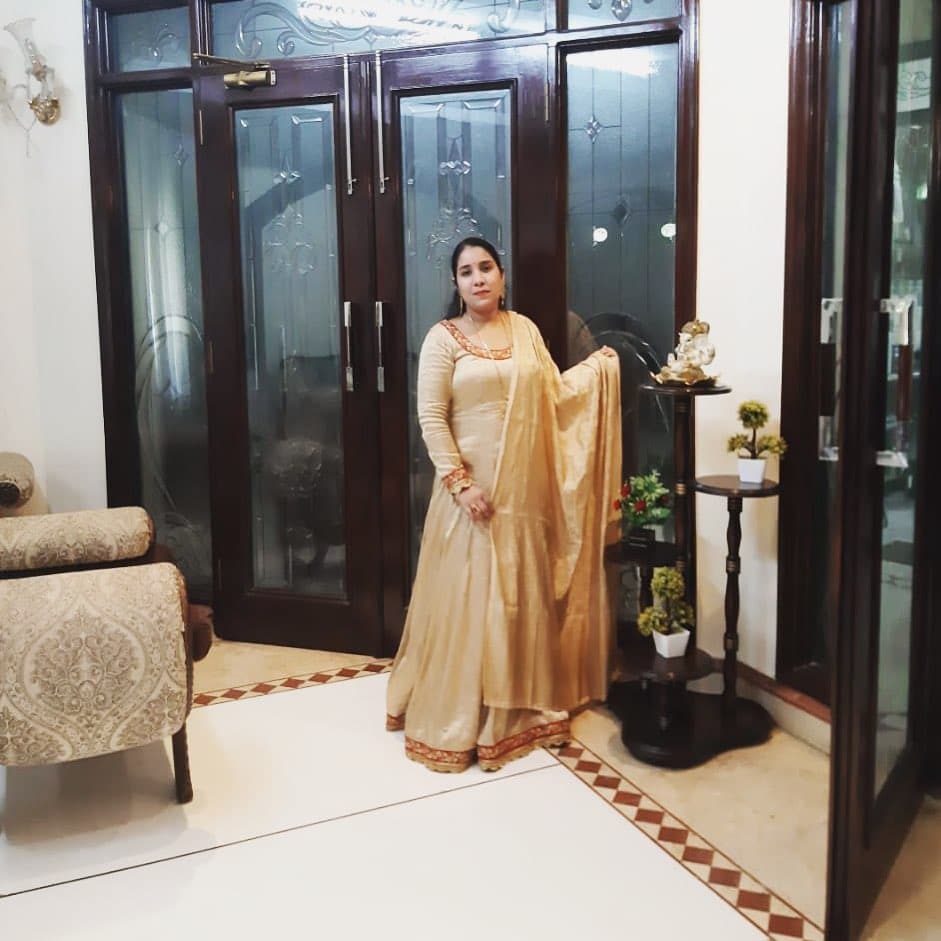 And this one changed a banarsi sari into an angrakha dress, how amazing is this transformation!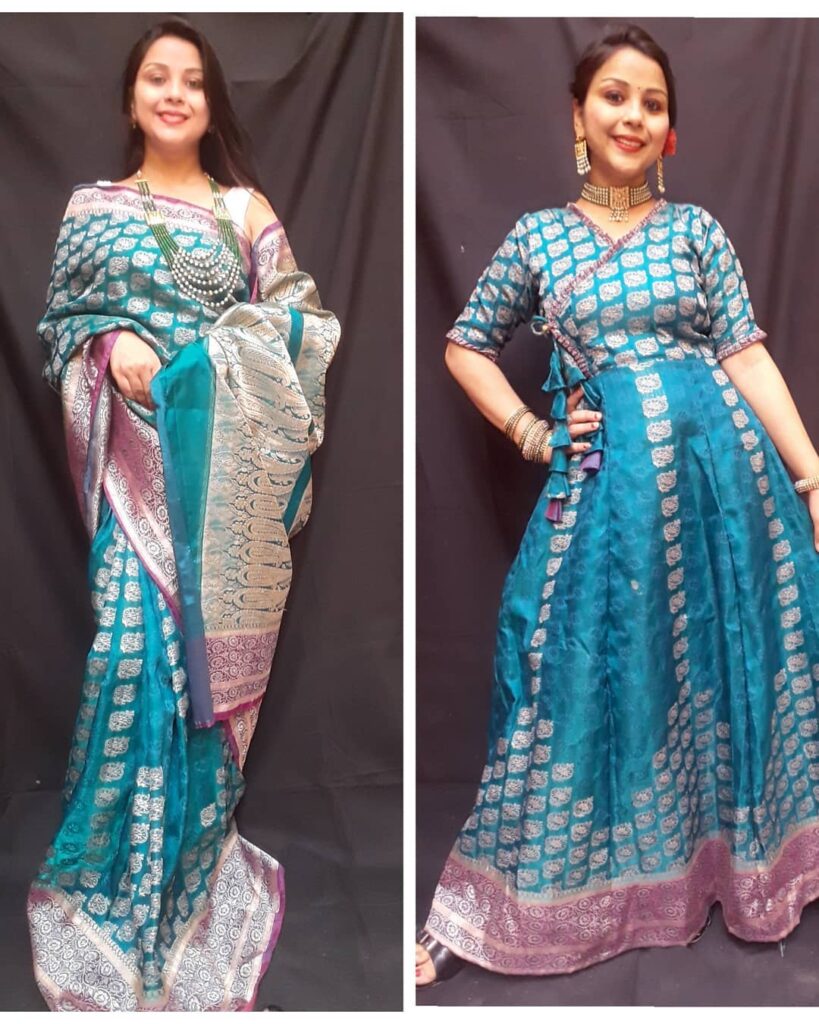 3 – Turn Your Sarees Into Dupattas
Why spend a whole lot of money on an expensive dupatta when you can easily have one made using old sarees? A grand zari dupatta with a brocade Anarkali or kurta looks splendid. You can turn a saree with beautiful zari work and pair it with a raw jut silk kurta to create a very expensive look on a budget! With absolutely minimal to no cost at all, you can create a beautiful dupatta that can not only be paired with one kurta but can be mixed and matched with various outfits. Talk about value for money! If you're fond of carrying dupattas then you must check out these must-have dupatta types for this year.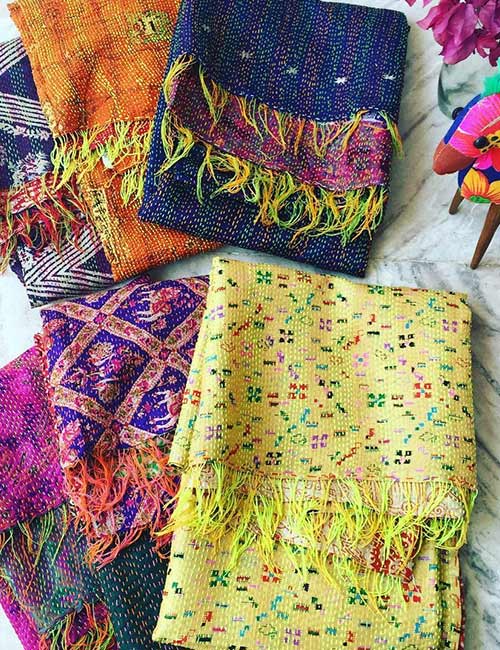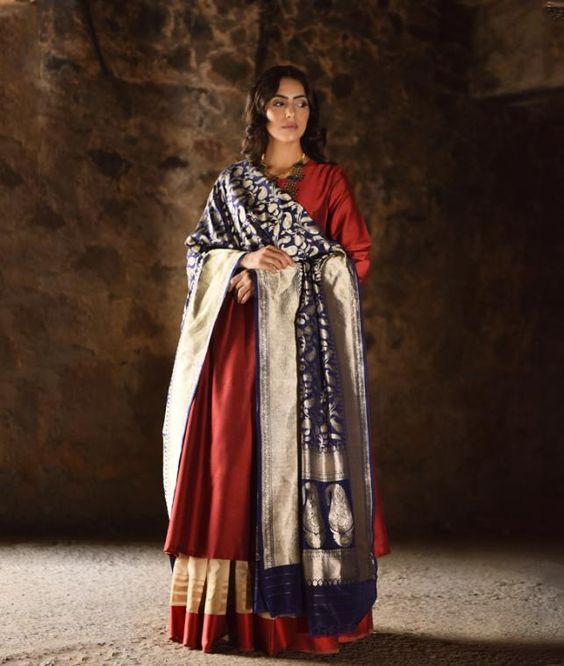 2 – Revamp Old Sarees Into Skirts/Lehengas
This is a no-brainer and an absolute classic solution to finding ways to reuse old sarees. If you have sarees that have beautiful beadwork and look elegant and grand altogether, get to work, cause those sarees make for absolutely gorgeous lehengas and skirts. These skirts or lehengas are your perfect choice for wedding festivities and various grand occasions and they will have you looking unique, making you stand out in the crowd.
A skirt made out of a brocade saree can be beautifully paired with a cropped white shirt, styled with a heavy choker style necklace for an indo-western fusion look which is all the rage in wedding guests/bridesmaids looks. You can have a beautiful lehenga stitched out of a heavy beadwork/brocade saree which can be styled with a matching blouse for a heavier and grander look, perfect for festival celebrations and other occasions.
I'm in love with how this blogger used her MIL's old saree and turned it into a blouse and lehnga that she layered with a peplum jacket.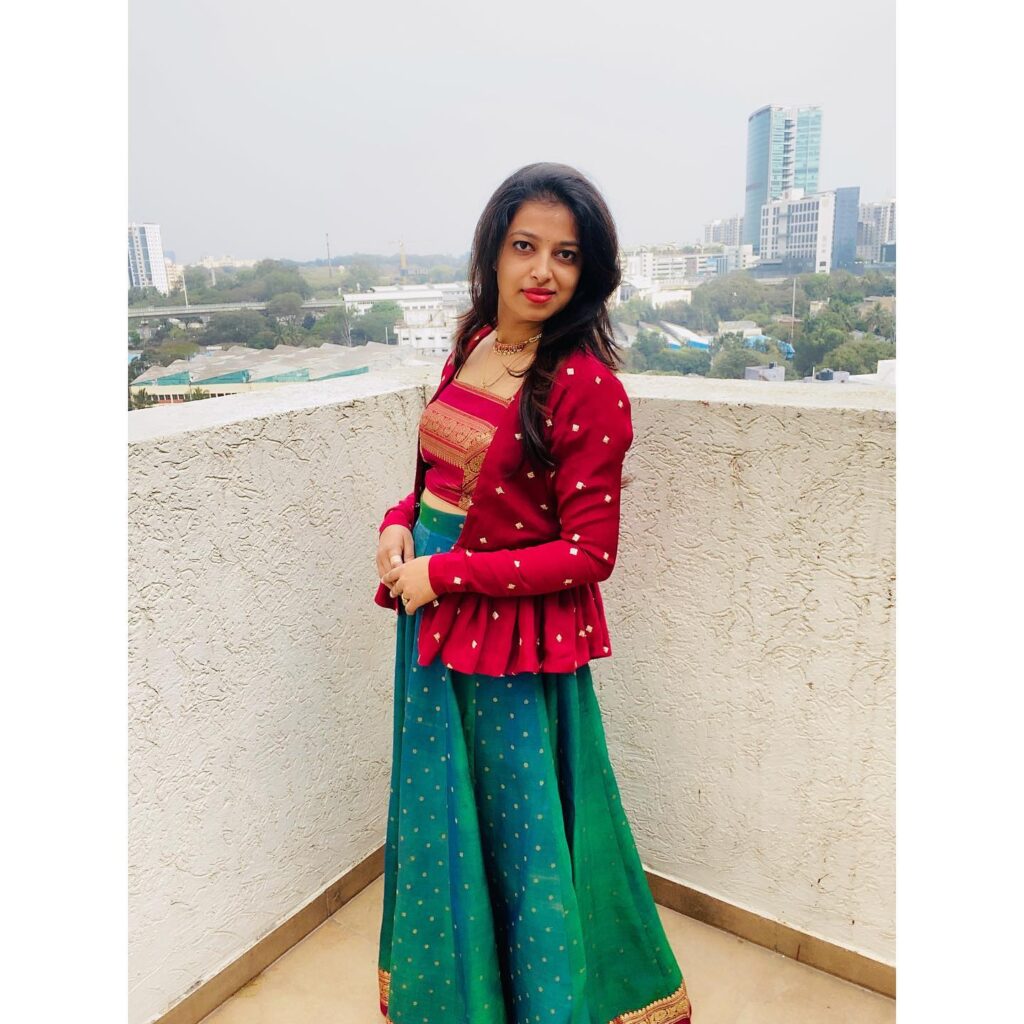 1 – Lamp Shades
This may come across as a weird suggestion, but there actually are a number of sarees that can be reused and turned into lampshades. There is no doubt, sarees are an expanse of gorgeousness with detailed and intricate work, and we understand you would want to treasure those pieces for generations to come. But a great way to be able to use your or your mom's old sarees is to use them as home decor!. Now, this is may sound like a fun and interesting suggestion to those who enjoy a bohemian aesthetic in their living space- with lots of prints, patterns, and colors. But if you are someone who enjoys owning unique home decor pieces, this is the perfect DIY project for you! You can use gorgeous printed sarees with prints or embroidery to achieve a boho look on a regular-looking lamp. Unique and chic on a budget!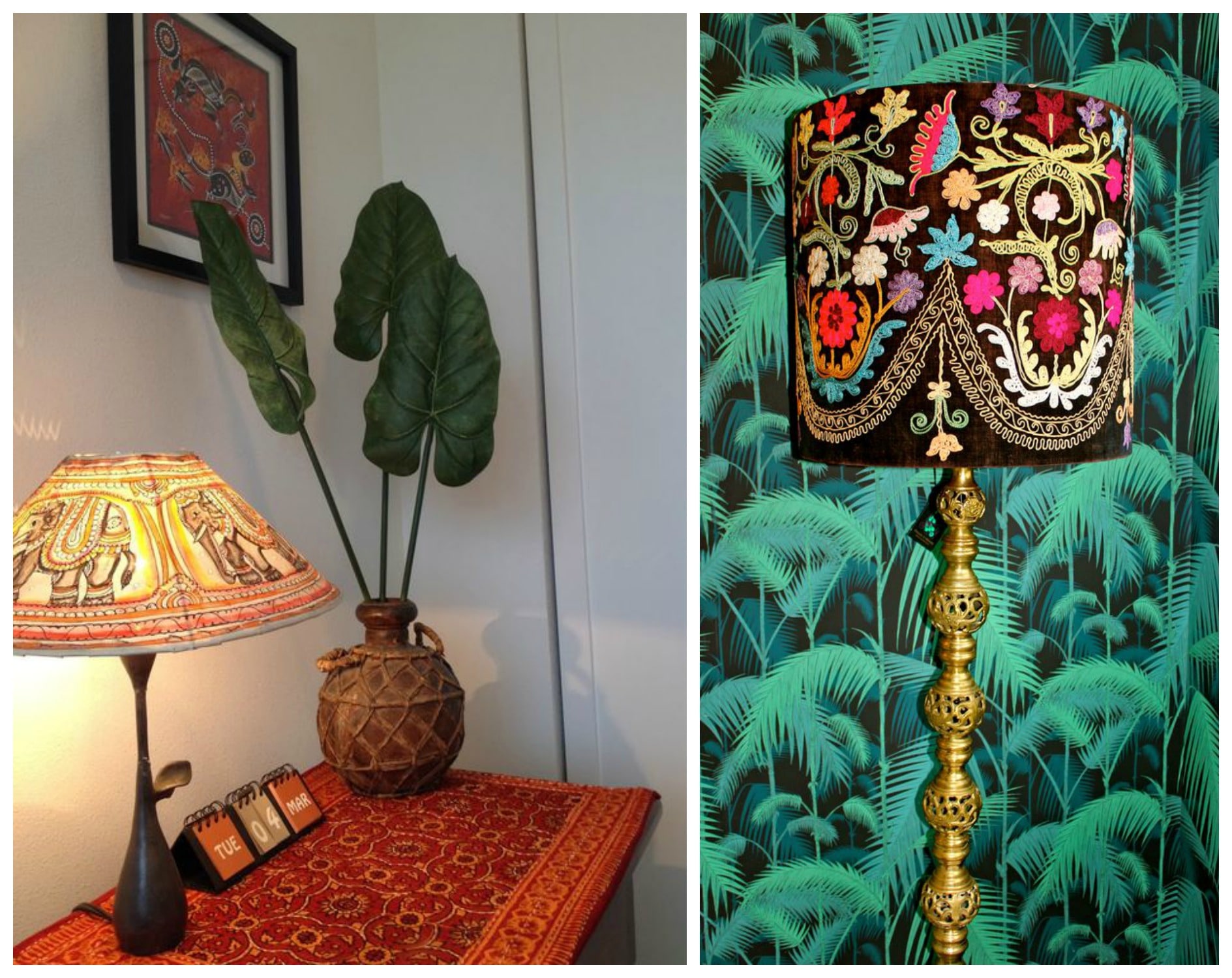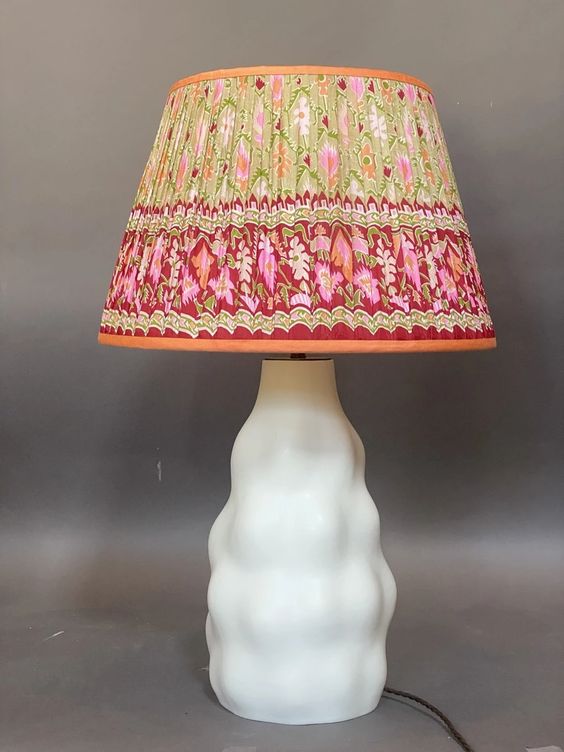 Q. How can we redesign old sarees?
A. A great way to redesign and change up the look of old sarees is to add a new kind of lace or border pattern as we have discussed in the above list of suggestions. If you own a white saree, a great idea would be to have it dyed into another color, giving you an all-new saree!
Q. How to reuse old georgette and chiffoon sarees?
A. Since georgette and chiffon are fabrics with fall, they look amazing when turned into dresses. This works best if your saree is in a cute floral print. Alternatively, you can also change them into dresses for kids.