Kurti with Palazzo Pants – Are you bored of wearing regular narrow pants or cigarette pants with your Kurtis and looking for a sensational change in your outfit? Adopt the latest trend of Palazzo pants with Kurtis to flaunt your fashion statement. We assure you that a carefully selected Palazzo paired with a Kurti will give you a bubbly as well as sophisticated look.
You will be amazed to know that the ethnic and stylish Kurtis with versatile Palazzo pants are highly in demand this season.The celebrities and the style icons of the fashion industry are wearing these at the hottest parties and major events.
From 60's to 90's, the palazzo pants has always been appreciated by the fashionistas, and now they are back with a big bang with a variety of styles of top. However, if worn in an Indian style, teamed up with well- selected Kurti and the classy combo of shoes, jewelry and makeup, will definitely charm the elegantly ethnic appeal. You can also wear the kurtis shown here with patiala shalwar, get some great ideas here: Patiala Shalwar Outfits-18 Best Ways to Wear Patiala Shalwar
How to Wear Palazzo Pants with Kurtis Stylishly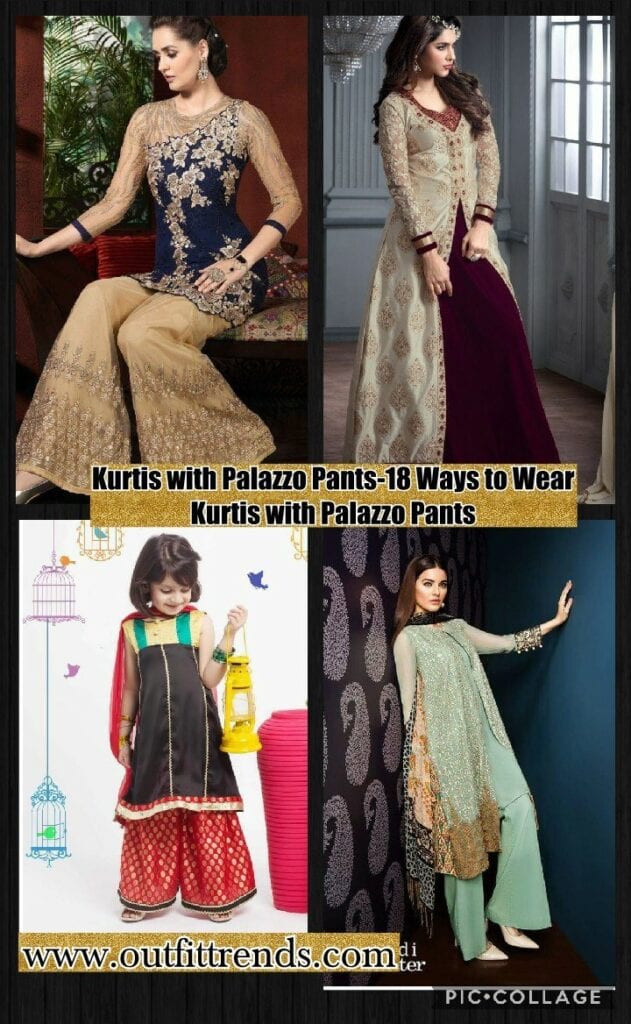 There are various ways of styling palazzo pants, but the most interesting and chic style is wearing them with a trendy kurti. All you have to do is to pick a stylish Kurti with a stunning palazzo and match it up with a suitable hairstyle. You will definitely present yourself in an amazing look like never before.
Here we will share 18 best ways of wearing Palazzo pants with Kurtis.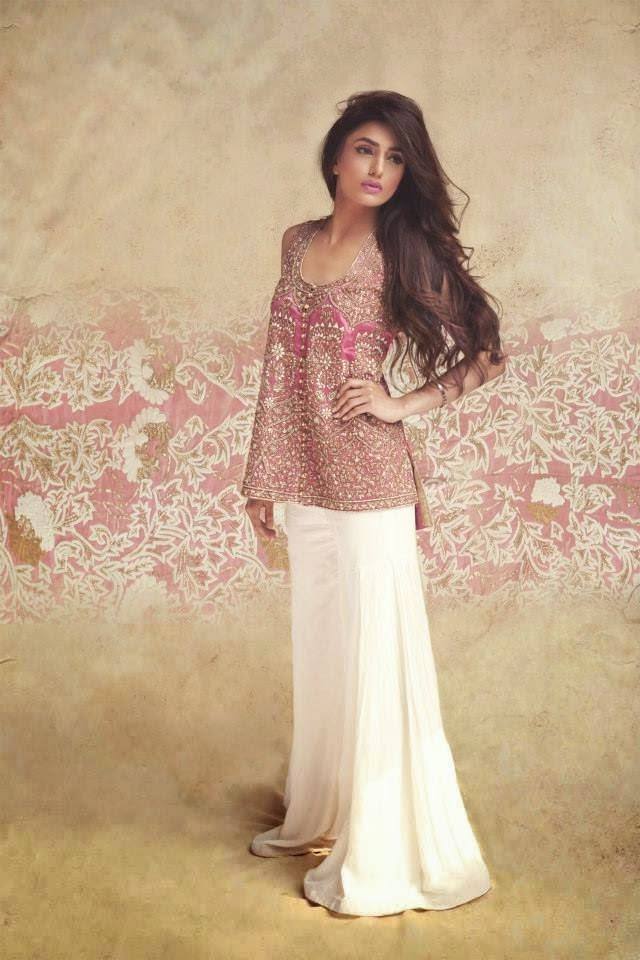 via
# 18 – Embroidered Royal blue Palazzo with a stylish Kurti
This vibrant and trendy palazzo pants with the intricate design look fabulous with stylish short Kurti. The hair style of soft low curls adds to the beauty of the apparel. This style is particularly suitable for plus sized and plump girls as it will make you look slimmer.
via
# 17- A bright and Radiant Look for Wedding Guests
This vividly chic style is best if you want to go simple yet glamorous in a party. The net fabric of frock shaped Kurti looks gorgeous with the pleated flare of the palazzo. It's the best color choice for the girls with low lights in hair or light shaded hair. For a nice hairstyle to go with this look, check out 14 Cute Mehndi Makeup Tips and Mehndi Makeup Tutorial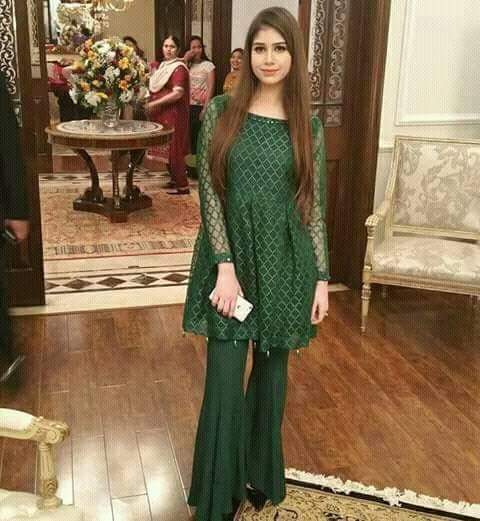 via
#16- Stylish Double layered Kurti with Georgette Palazzo
The double layered, drop cornered georgette Kurti with embellished bottom is a stunning match up with a wide flared palazzo. Team it up with the right pair of heels and elegant jewelry and you are ready to rock the party. The palazzo with flowing fabrics like silk, georgette or chiffon are best suited to the plump or plus sized girls as they won't remain stiff and would make you look slimmer.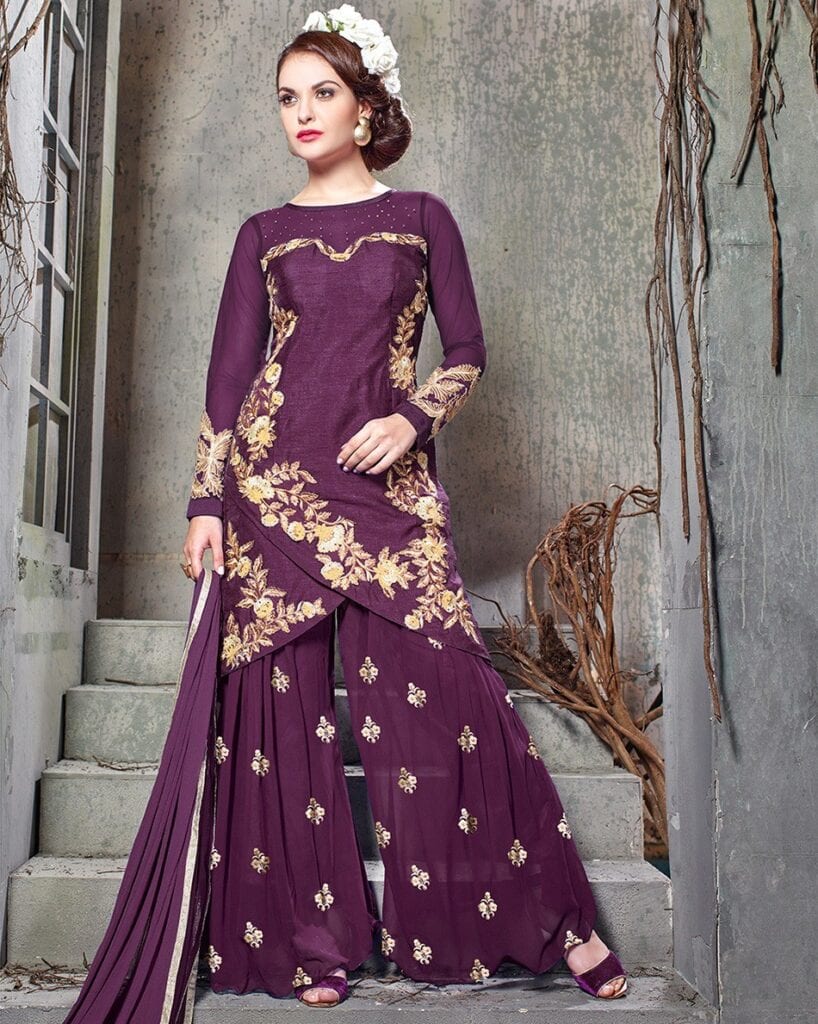 via
#15- Printed Black Palazzo with Simple White Kurti
If you are going informal and want a befitting palazzo with your classy white Kurti, this brightly printed light flared palazzo is the best option for you. Bright colored jewelry will mark a fashion statement of your own. This outfit will add a charming appeal to the skinny and petite girls because the palazzo of stiff fabric will look great on you.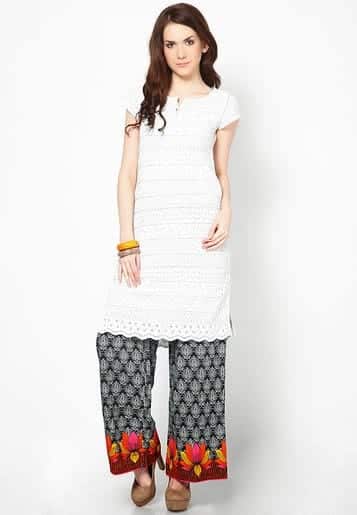 via
# 14- Silky Floral Look for Spring
The absolute chic style to step out is to put on the Palazzo and Kurti of floral print with contrasting colored silk drape pointed high heels and large ringed earing. There will be nothing to stop the heads to turn around!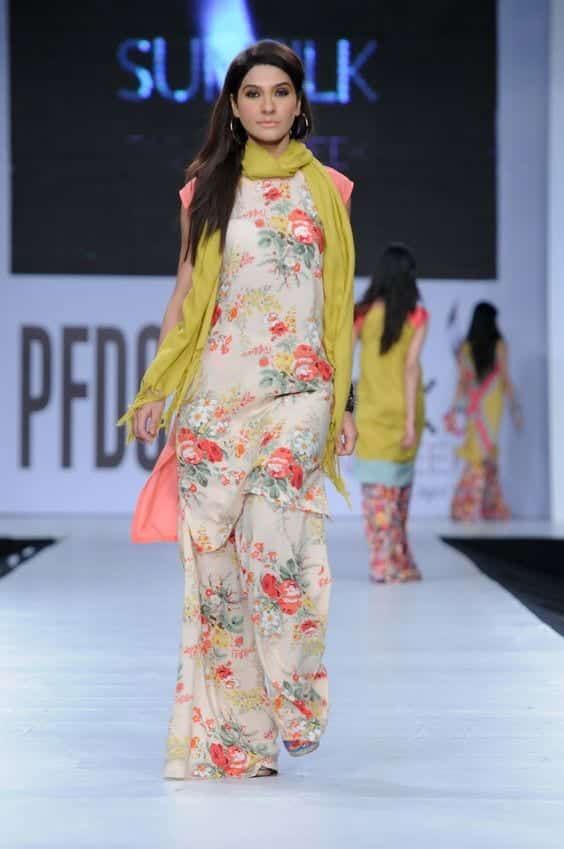 via
#13-Trendy Winter Fabric Palazzo with Gown Style Kurti
The latest winter collection has rocked the market with the voguish designs of Palazzo and short Kurti with the gown. Don't miss this rising fashion statement while adding to your wardrobe.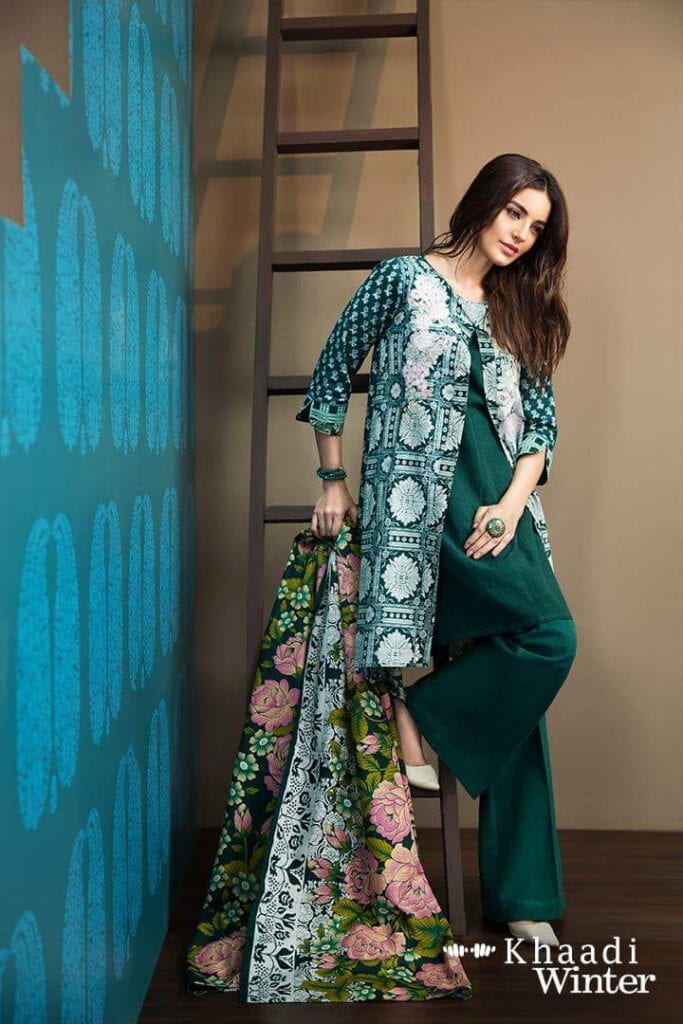 via
#12- Long Kurti with Palazzo
Bollywood superstar Alia Bhatt looks dazzling as well as elegant in this white colored long and open Kurti with Palazzo. When fed up of colors, go'White'and sophisticated! RECOMMENDED: 18 Stylish Shoes To Wear With Palazzo Pants to Compliment Your Look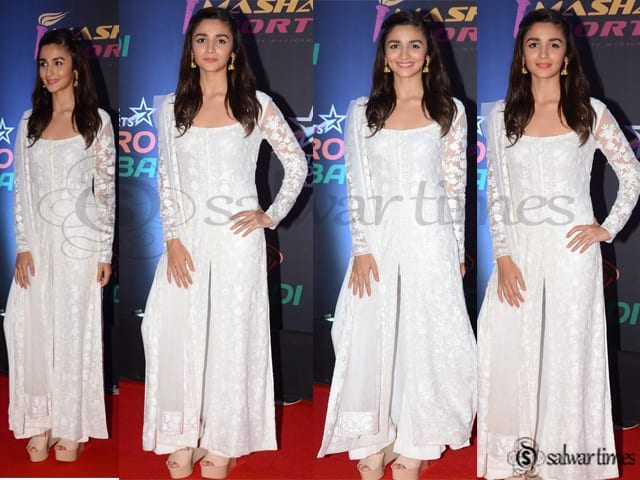 via
# 13- Bridal Long Kurti with Palazzo
The intricate needlework and embroidery have heavily embellished this perfect choice for your wedding wear. The wide flared plain palazzo is complementary with the Kurti and gives a uniquely magical essence to your wearable.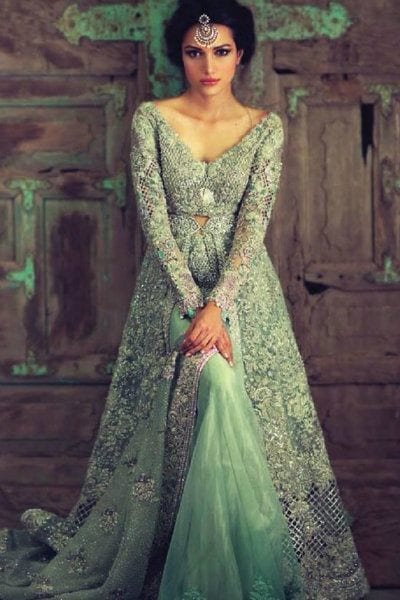 via
# 12- Indian Celebrity Style
The Hottest Bollywood star Jacqueline  Fernandes is wearing this flirtingly eye-catching pair of Palazzo pants of wide flare with very short cute Kurti. The large sized earrings are adding fire to the flame indeed!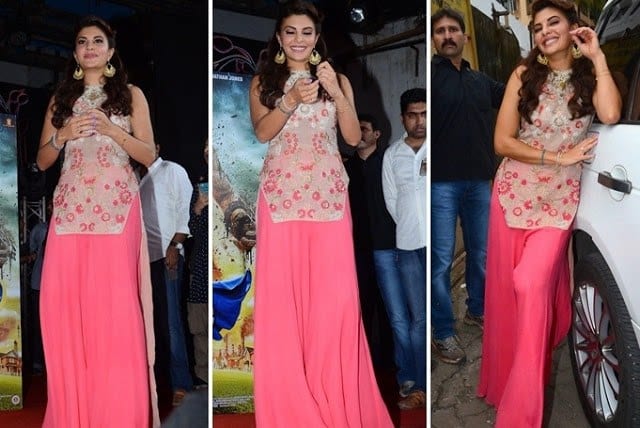 via
# 11- Angrakha Style Kurti with Palazzo
This gorgeous winter fabric design is super-trendy this year. The Angrakha style knee length Kurti with short flared Palazzo is a stunningly graceful combination to opt for this season.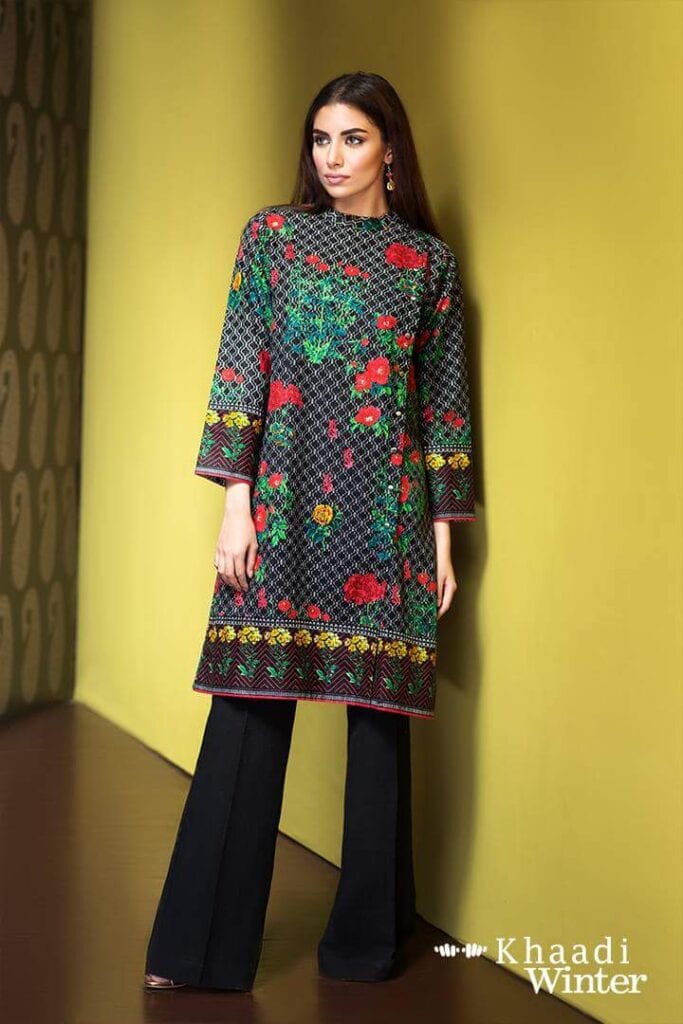 via
# 10- Funky Outfit for College Girls
This lovesome style of cotton wide-legged palazzo pants with loose short cotton Kurti is especially for slim and slender girls. It is a flamboyant way to get dressed up in a unique but highly fashionable style. Here are 28 Modern ways to Wear Palazzo Pants with other Outfits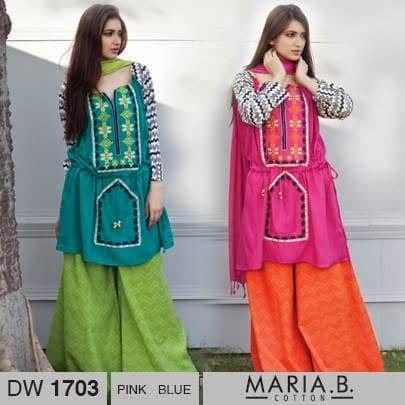 via
#9- Wedding and Party Look
The long slit of Kurti and wide flare of the Palazzo is all time favorite for the wedding wear. This extremely sassy design of Kurti Palazzo will never go unnoticed if worn with bold jewelry.
via
#8- Black Kurti with Bright Orange Printed Palazzo
Get basic! wear plain black regular Kurti with vibrant colors and design of a Palazzo. Team up with antique earrings and high silhouettes and be a classy chic.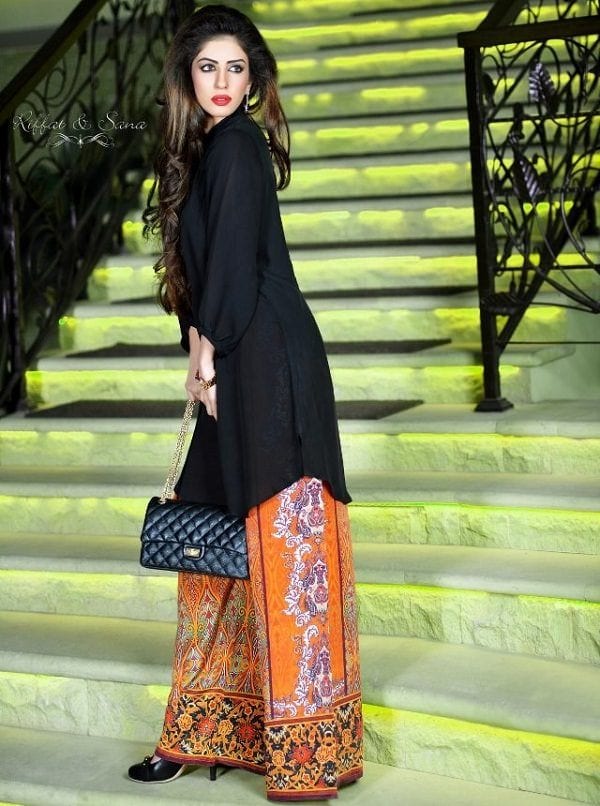 via
#7- Open Kurti for Casual Look
Tall girls look incredibly stylish with long open shirt style Kurti and Palazzo. Ladies with medium height must wear this combo with high heels or wedge while lofty girls can comfortably step out in their favorite chappals, Kolhapuri or any flat-heeled sandals. Here's our guide on What to Wear at Holi Festival; 16 Idea Holi outfits Ideas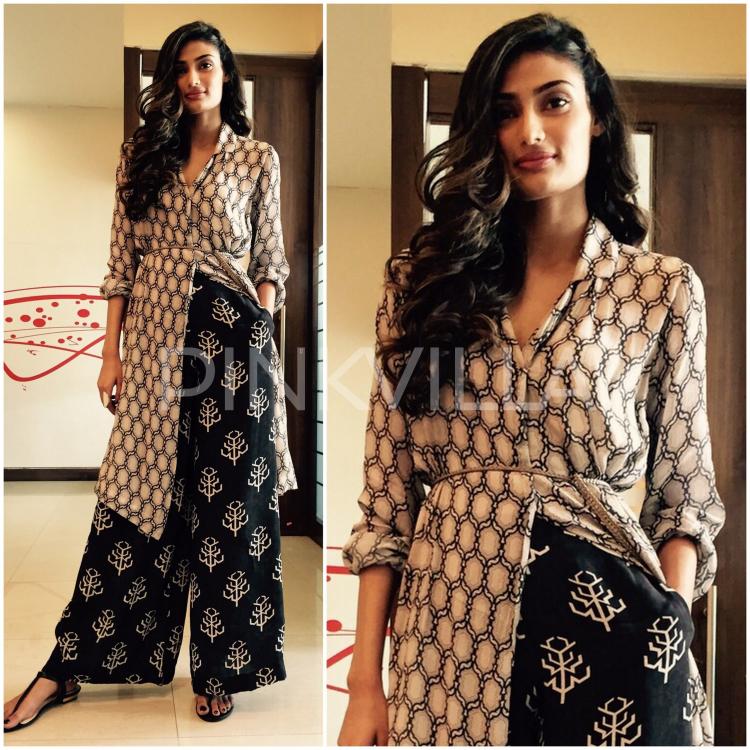 via
#6- Cotton Vibrant Palazzo with Short Kurti for Winters
The cute little girls with short height and skinny stature don't need to avoid the Palazzo Pants. Go for this lovely style of brightly printed cotton Palazzo and short loose Kurti. paired up with untied, well-styled hair you will definitely win hearts.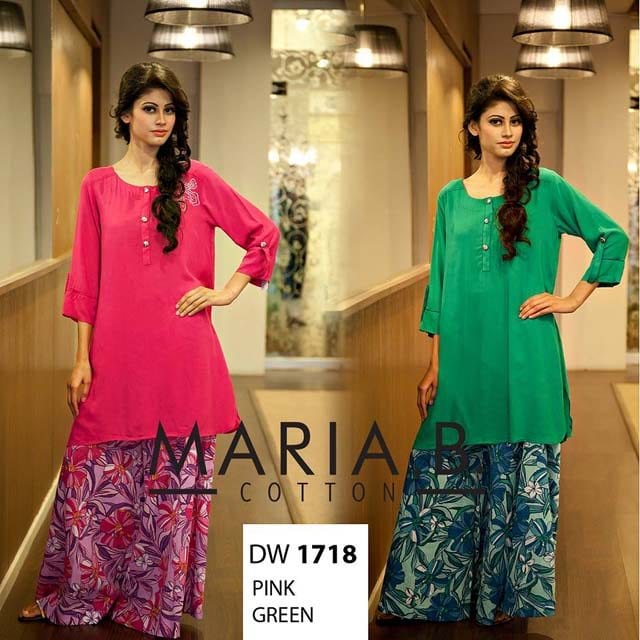 via
#5 – Gown Kurti With Wide Leg Palazzo
The all-time trendy short fancy gown with plain Chiffon Kurti and Georgette Palazzo is the most elegant choice for you to wear on the upcoming events. They will appear outstanding with extra high heels, perfectly straight hair and sophisticated pearl jewellery.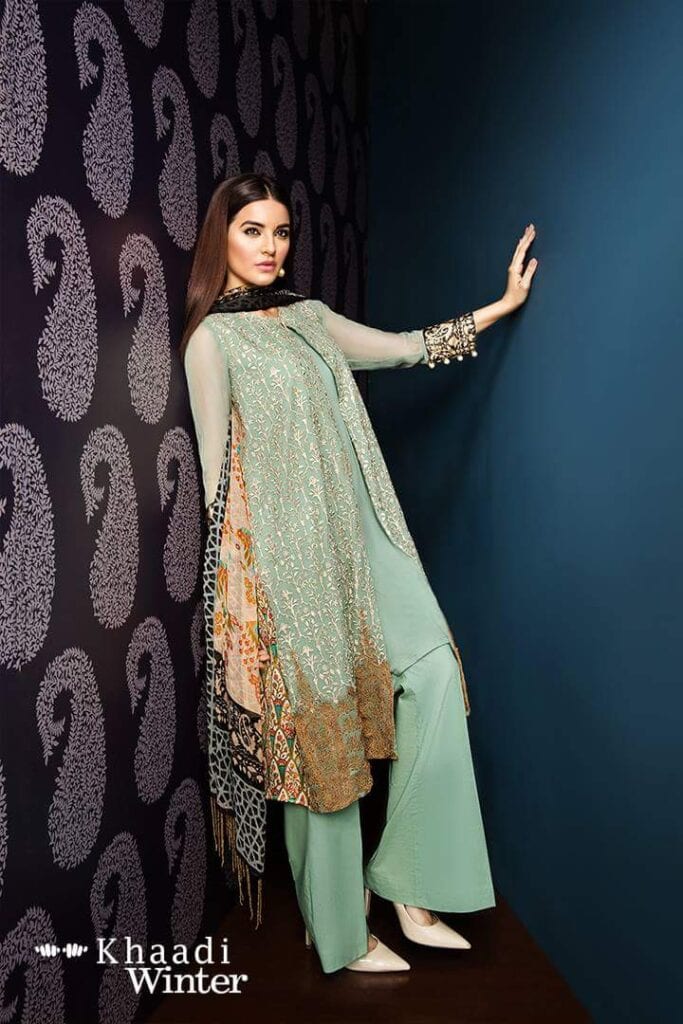 via
#4- Ethnic Wear
Double Layered Net Georgette Palazzo with Short Net Kurti. If you are looking for ideas to design the best party wear for yourself, have a look at this gorgeous idea.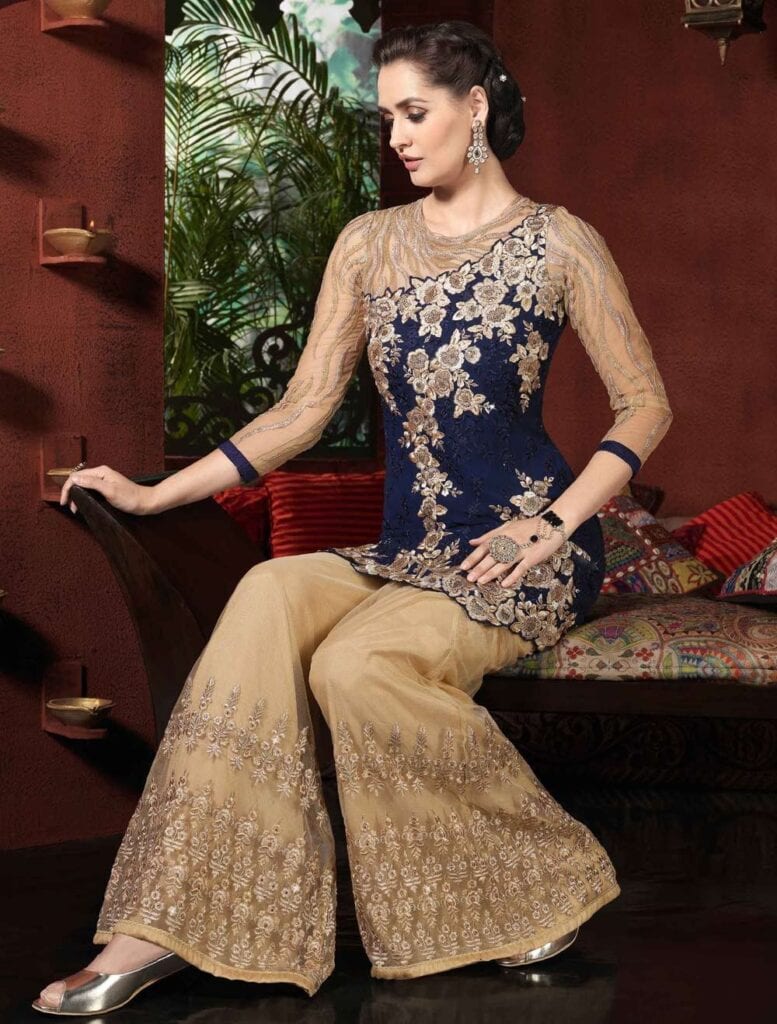 via
 # 3-  Asymmetrically Tailed loose Kurti with Palazzo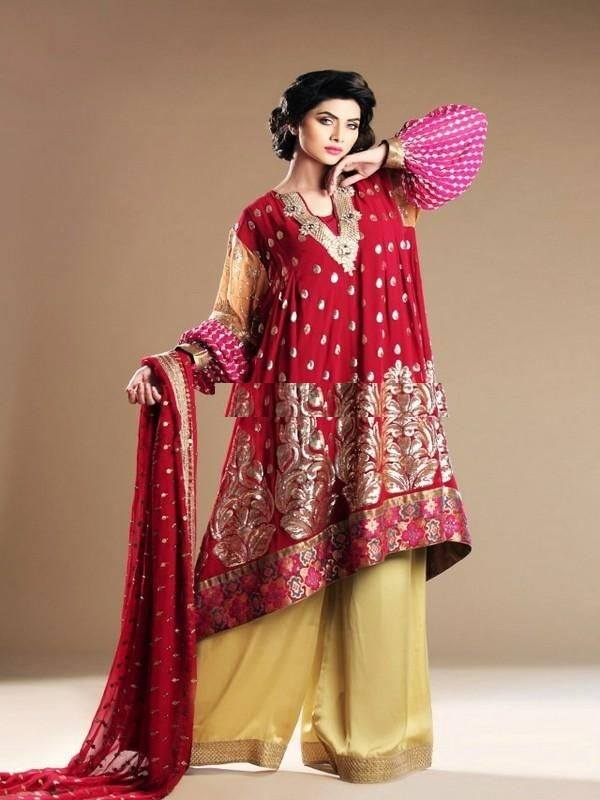 via
#2 -Kids Wearing Palazzo with Traditional Kurti
It's always a great idea to make your baby girl wear the same kurti as yours. For more such cute ideas and inspiration, check out 100 Cutest Matching Mother Daughter Outfits on Internet So Far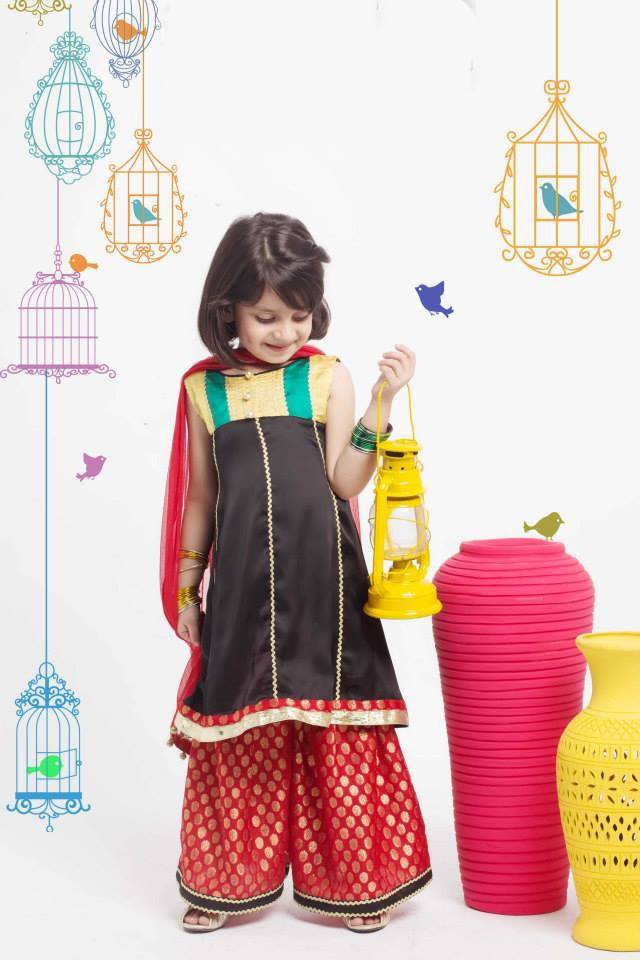 via
#1 – Winter Palazzo Design with Buttoned Kurti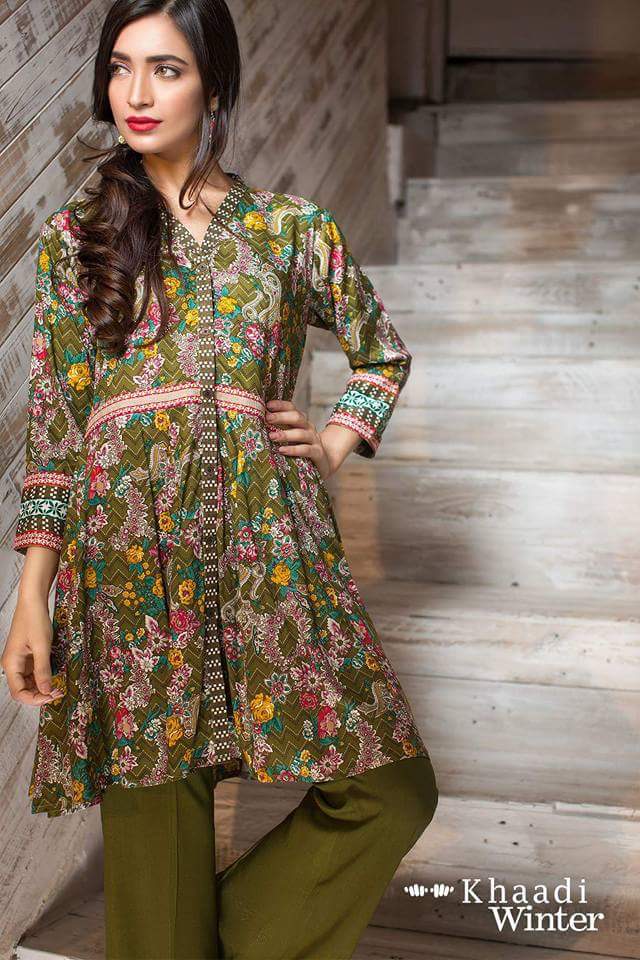 via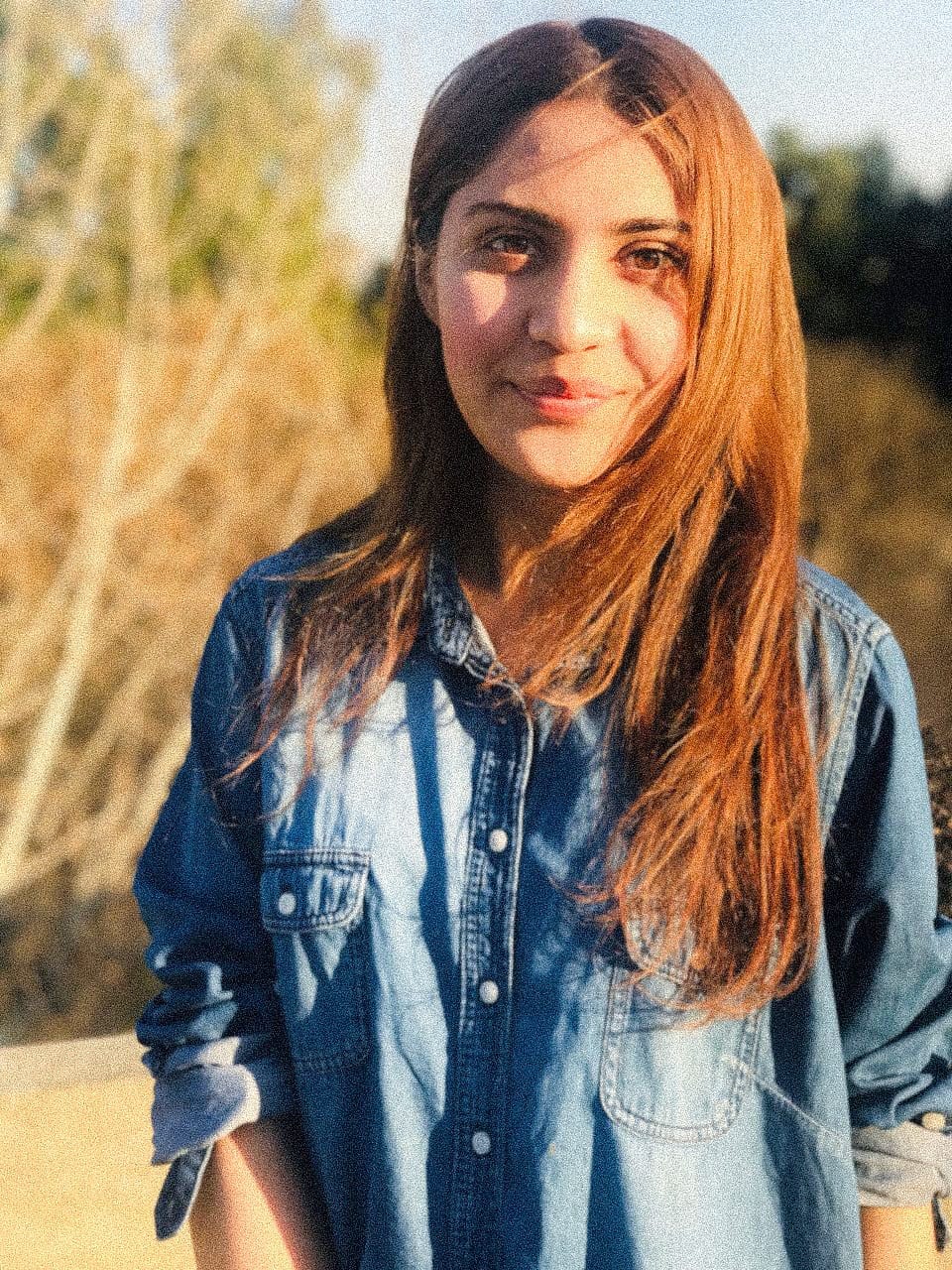 Aleena is a young, passionate writer and a keen observer. She loves fashion and is always looking for new trends and styles. Besides writing, she is a very good speaker who strongly believes in serving humanity and focusing on the positive side of things.