Wednesday Addams Inspired Outfits: Past year has been all about us crushing over her fashion sense. One of the most-watched series has not only broken all the records but also created new hype for goth aesthetics.
Everything in the series was perfect but the one thing that was exceptional was Wednesday Addam's wardrobe.
All the fashion pieces, including checkered vests, vintage-style dresses, striped shirts, and much more, can easily be incorporated into our everyday wardrobe.
The soft goth aesthetic with a modern touch of subtle layerings of jackets and accessories makes these outfits easy to wear.
Here's everything that we will be discussing today:
How To Dress Like Wednesday Addams?
She had some statement pieces and prints in the show including stripes, checkered prints, sweaters, vests, straight pants, and much more.
Layering is another main factor in her dressing, not to forget her gothic makeup, accessories, boots, and her gothic hairstyles.
The outfits in the show are quite easy to recreate. If you observe deeply, the costumes are a mixture of soft goth aesthetics and some trendy fashion pieces which shows the trendy twist to her goth outfits.
The modern looks can also consist of all-black fits including turtlenecks, straight pants, and cropped jackets or vests.
However, if you want to fully dive into a goth look, invest in collared blouses and lace dresses in vintage prints like polka dots, checkerboard, and stripes.
The introductory collared dress is one of the iconic outfits that you can easily recreate. Moreover, the prom dress is another great option for the gothic party look.
Here are a few tips:
One of the key elements for a goth look is wearing a lot of jewelry. You should invest in some statement neckpieces, earrings with different symbols, and multi-layered bracelets.
Silver or black jewelry looks great with goth outfits as compared to gold. Other accessories include tights, hats, belts, and much more.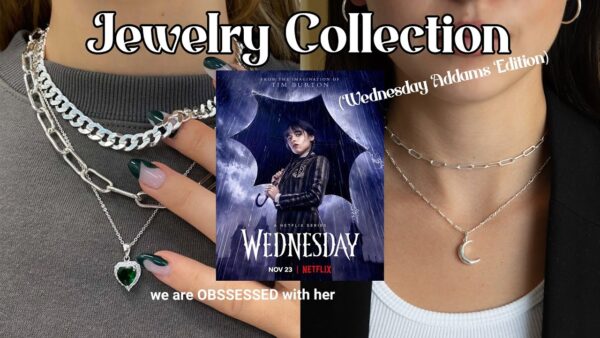 Apart from clothes, makeup is another factor that makes your gothic look different from others. Smudged black eyeshadow, a deeply contoured face, and bold lips that give a witchy effect are trademarks of a perfect goth look.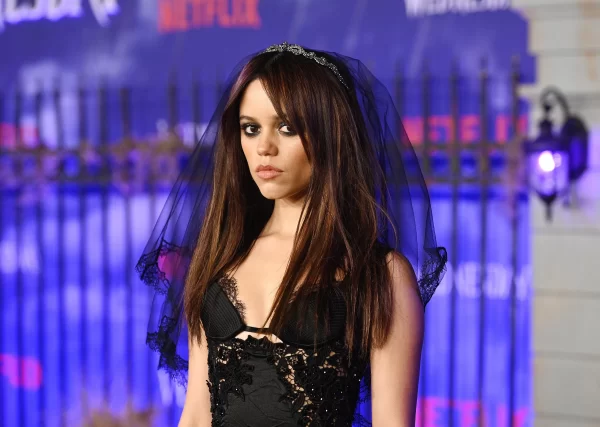 You might get limited options for goth outfits, so make them interesting by investing in clothes with sleeve details, corsets, ripped jeans, leather skirts, velvet dresses, and oversized clothes.
We know that black is the basic color for goth outfits, however, you can also experiment with other deep and dark muted shades such as red, purple, and green.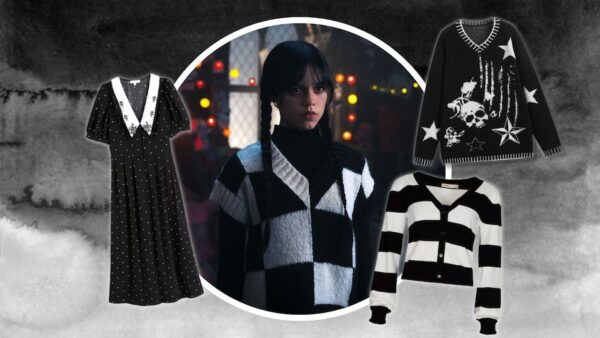 Easiest Wednesday Addams Costume Ideas
20 – Collared Dress With Boots
The iconic collared dress has become the trademark after the show.
You might have seen this vintage style dress as it was also worn by the original Wednesday in the Addams family.
It is quite easy to recreate this look, to make this dress look more gothic, wear some accessories including silver jewelry, fishnet leggings, and boots to complete the look.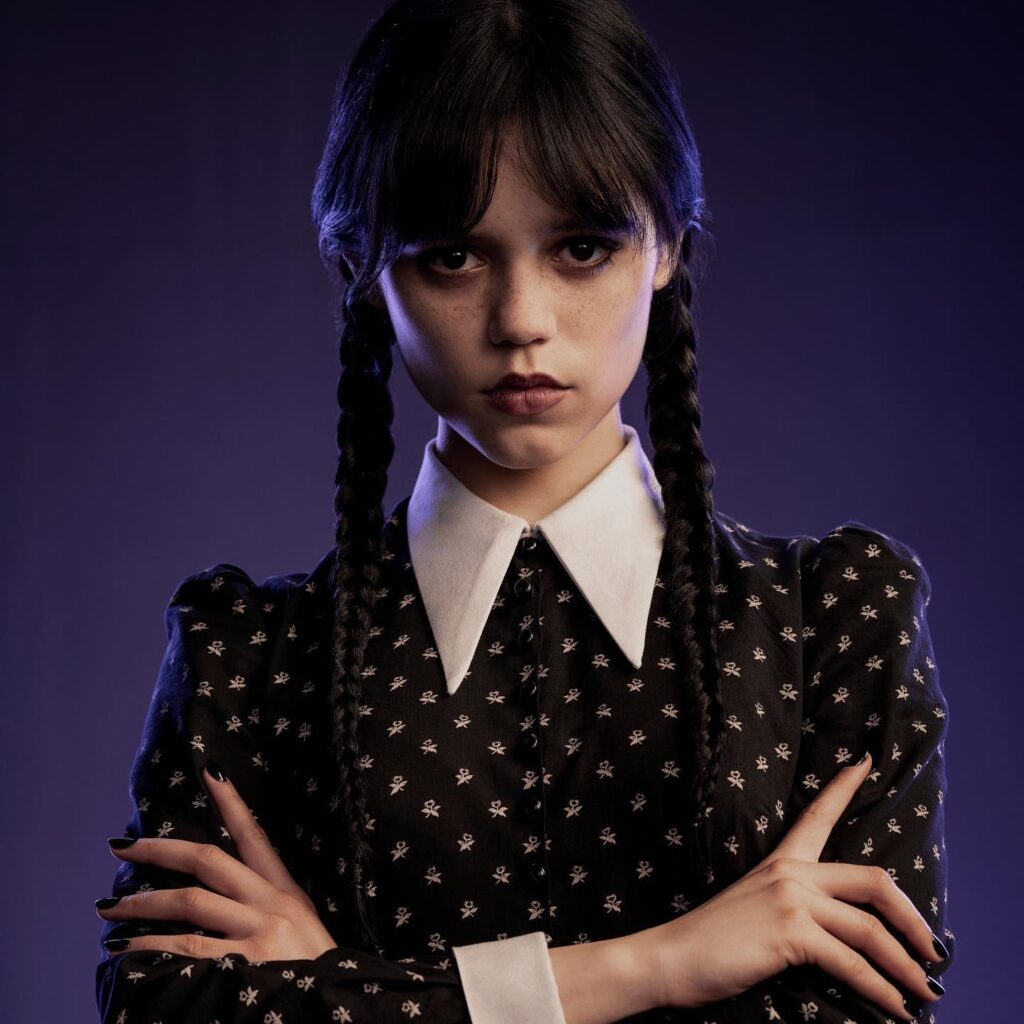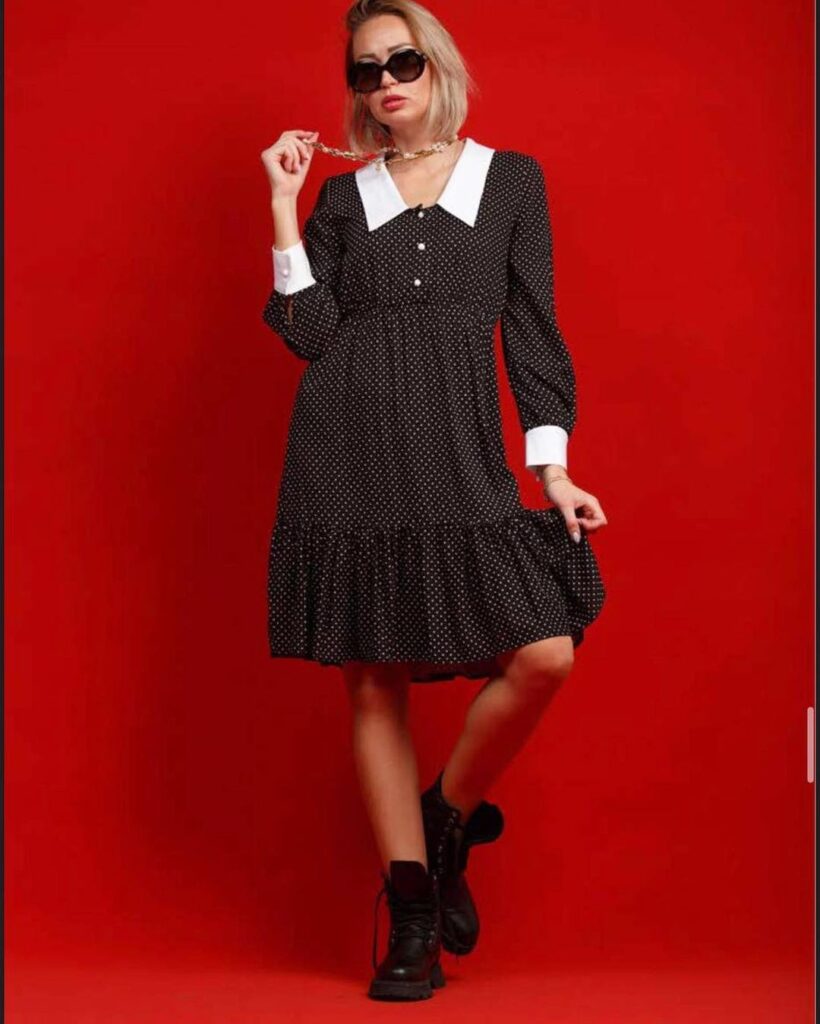 19 – Checkered Sweater Paired With Straight Leg Pants & Varsity Jacket
The show has some great outfit ideas for high school teenagers interested in goth aesthetics.
The checkered prints and layering already scream goth style.
Pair a checkered sweater with jeans, and boots, and lastly, layer a cool varsity jacket. This outfit is perfect for high school teenagers and for those who are beginners in goth fashion.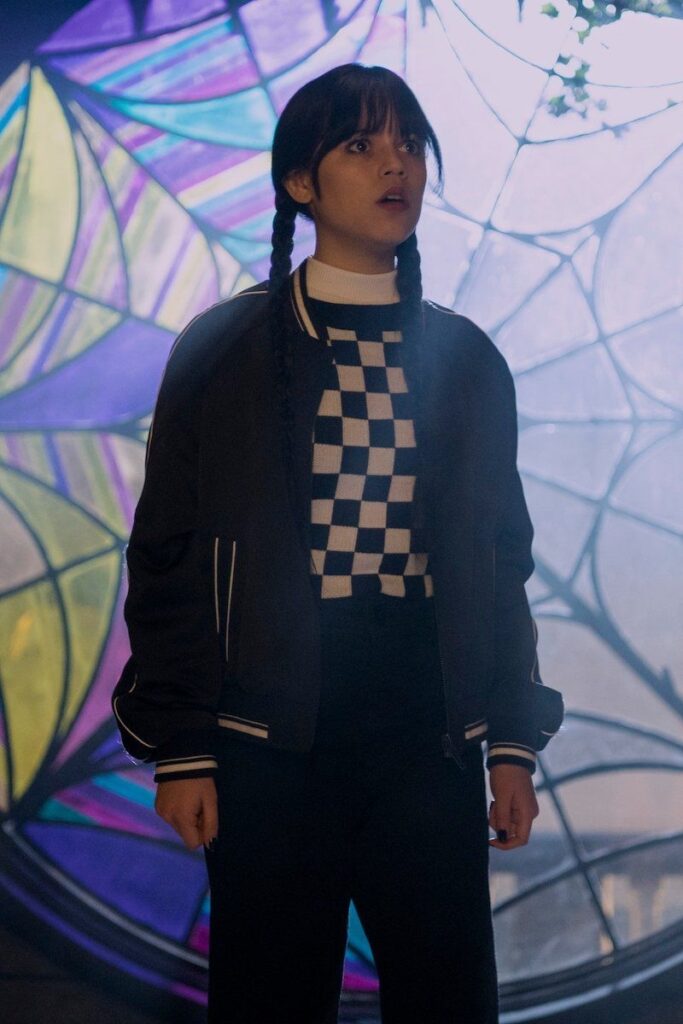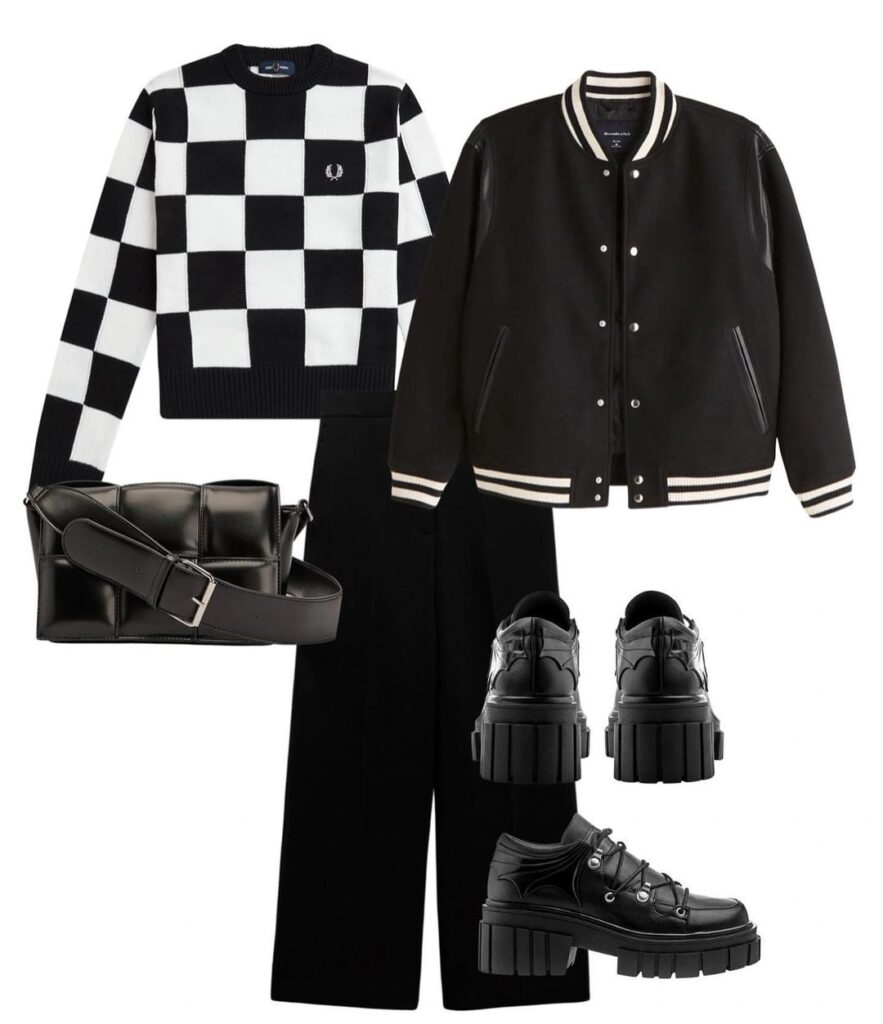 18 – Buttoned Down White Shirt Layered With Vest & Cropped Jacket
This girl is not only good at solving mysteries but she also has a great fashion sense. Take this outfit as an example where she paired an oversized buttoned-down shirt with wide-leg pants and layered it over with a checkered vest and a cropped jacket.
We must say that her layering game was on point during the entire show. Moreover, her favorite platform boots are also a part of this outfit, which you can replace with sneakers to wear this outfit to college.
Here are some more ideas on all the different ways to wear a white shirt.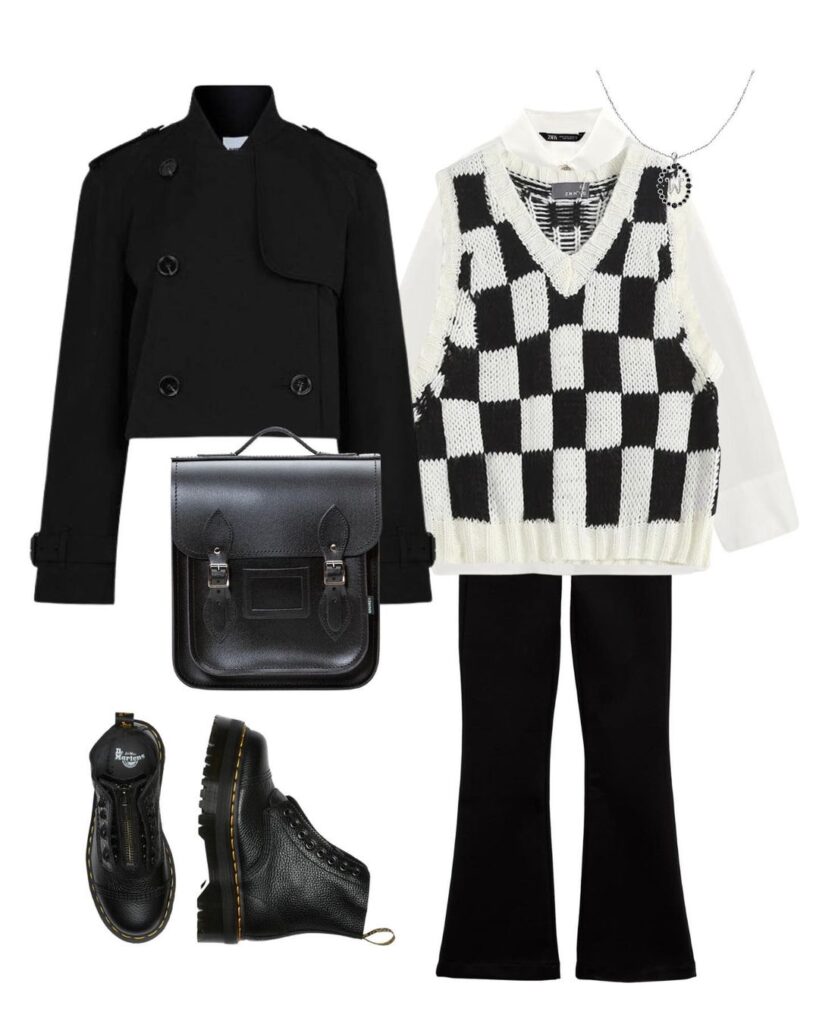 17 – Sweater With Puffer Vest & Straight Pants
The best thing about the outfits in the show was that the casual fits were fashionable yet very easy to style.
Our favorite Adamm went on a monster hunt wearing this chic outfit where she paired a long sleeve sweater with straight jeans and a puffer vest.
The outfit is simple and wearable but the layer of the vest gives it a modern twist. Other layering pieces that can enhance your outfits includes coat, jackets, hoodies, and cardigans.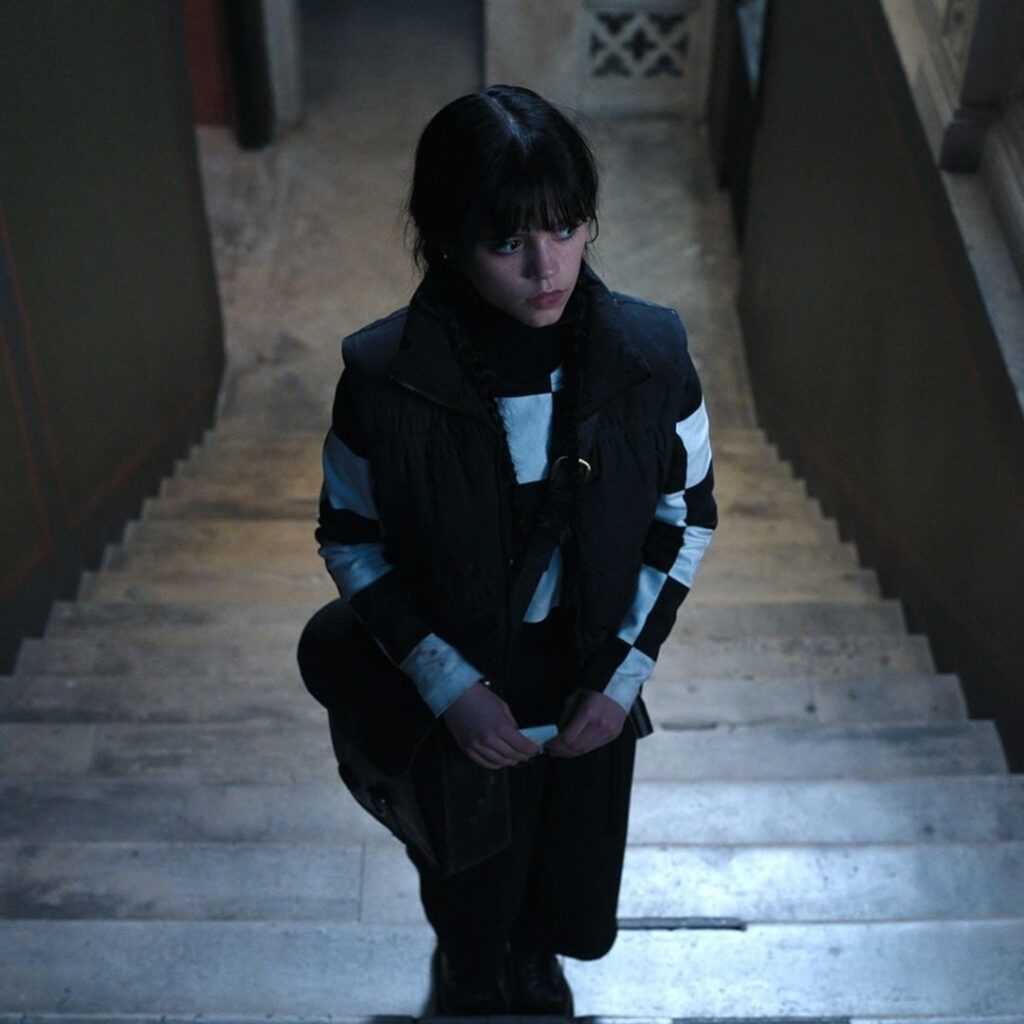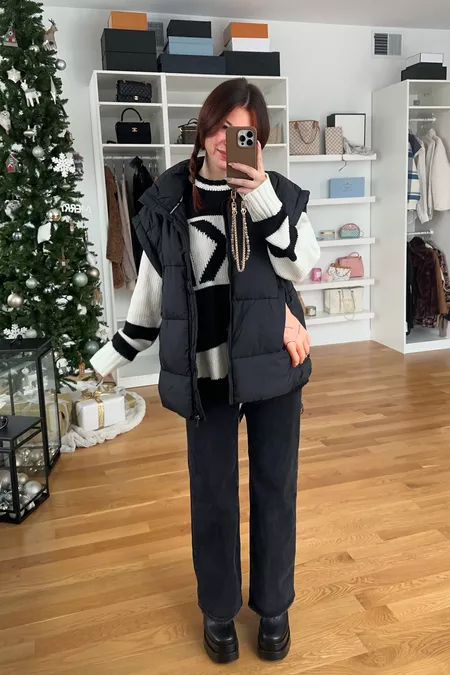 16 – Black Lace Prom Dress With Pumps
Apart from her impeccable performance, her prom dress is definitely the second thing everyone is going crazy after. And we might also spot many teens wearing it in the upcoming prom events.
You can buy this dress and pair it with platform pumps or you can DIY this look by pairing a ruffled cami top with a midi skirt and a waist belt.
Don't forget to add that iconic hairstyle to complete your look. This costume can be perfect for Halloween parties, Christmas, and other events as well.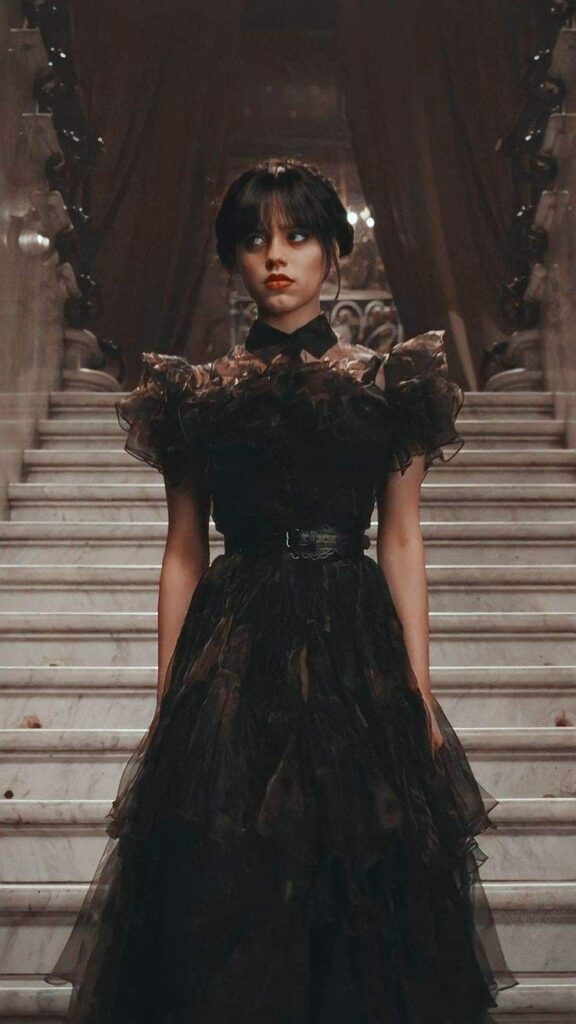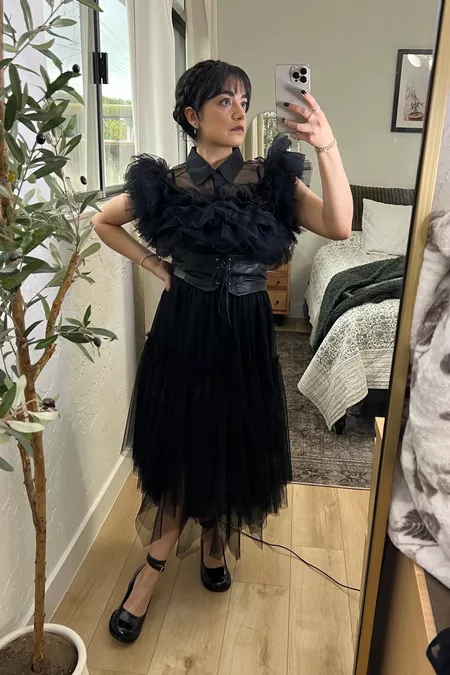 Shoes & Accessories
15 – Laced-Up Boots With Skirt & Knit Top
Lace-up boots were already very popular but she made them even more famous. You wouldn't catch her wearing fashionable sneakers like other teens, instead, she paired these boots with almost all of her outfits.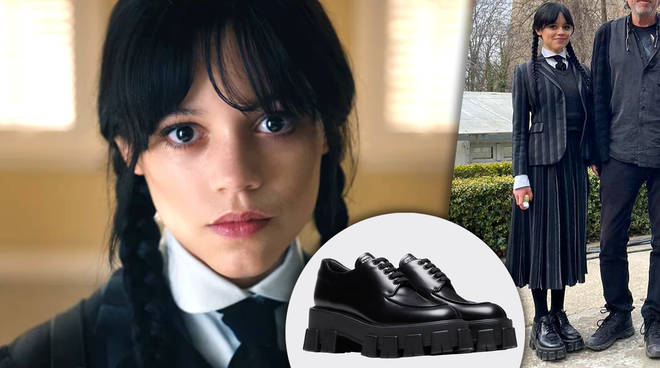 Goth-style outfits always include some kind of chunky boots and laced-up ones are the most popular among them. You can pair them with tights, shorts, skirts, and even dresses as well.
14 – Platform Sandals With Leather Skirt
You obviously know that she loves layers and chunky footwear, and this outfit has it both. Start by pairing a turtleneck with a leather skirt and tights.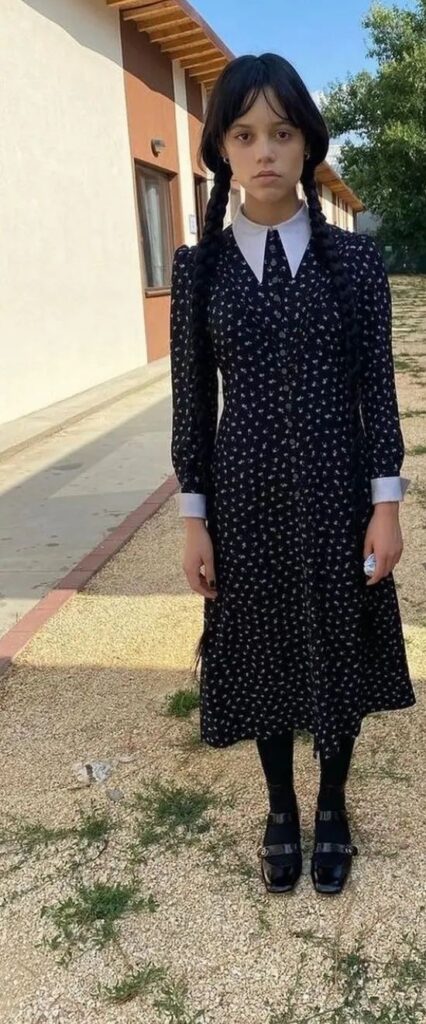 For footwear, go with chunky platform sandals and you are ready with a casual and chic outfit. To add more of a goth element, you can also add a cropped leather jacket to the outfit.
13 – MaryJane Pumps With Velvet Mini Dress
Even though she never wore any cute dresses in the show but who said that you can't? This embellished velvet mini dress is a perfect example of a cute dress with a hint of soft goth aesthetic. Pair it with either black or white tights and add some accessories.
Mary jane pumps will give you nostalgia as they were popular back in the 80s. Wednesday wore these with her prom dress, and you can also wear these with all kinds of dresses, especially vintage ones.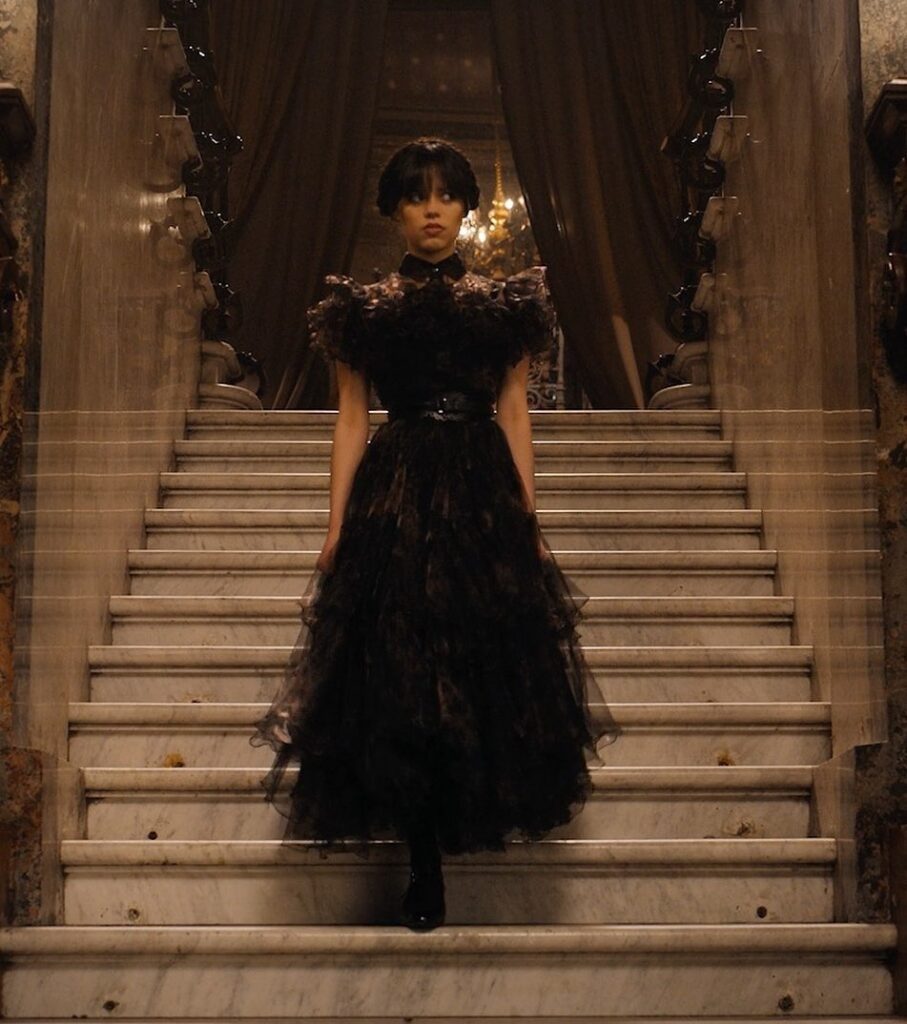 12 – Black Snood With A-Line Dress
Wasn't it cute when Enid gifted Wednesday the adorable snood for her birthday?
Well, it has become a prominent accessory since then but many of you still don't know how to style it. Even though she wore it with jeans and a shirt but it looks the most attractive with dresses.
Pairing snoods with cute dresses will simply enhance the charm of your outfit and everyone will know that you are a true fan.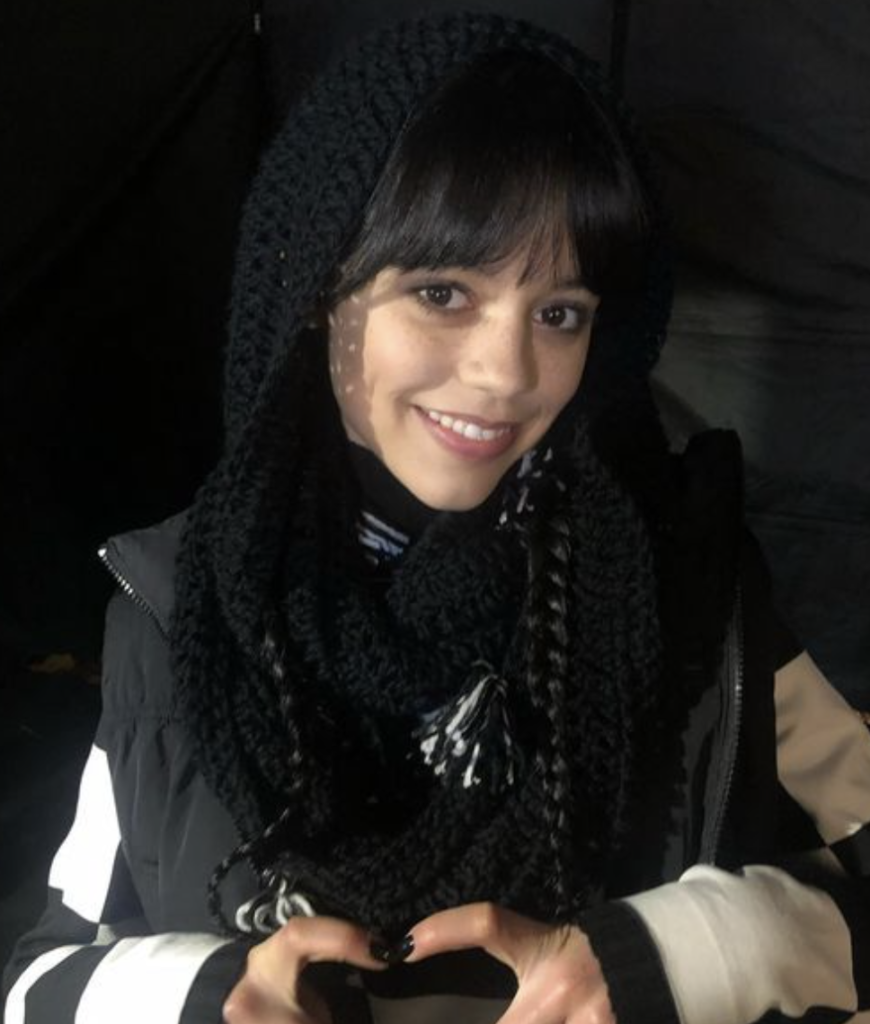 11 – Striped Socks Paired With An Oversized Sweatshirt & Boots
To get a pure gothic look and an easy-to-style outfit, pair an oversized sweatshirt in black color with black tights, and chunky sneakers. Striped socks are another one of the prominent accessories we saw on the show where she styled them with most of her casual outfits. The long socks can be styled with many other things including skirts, shorts, oversized hoodies, and much more.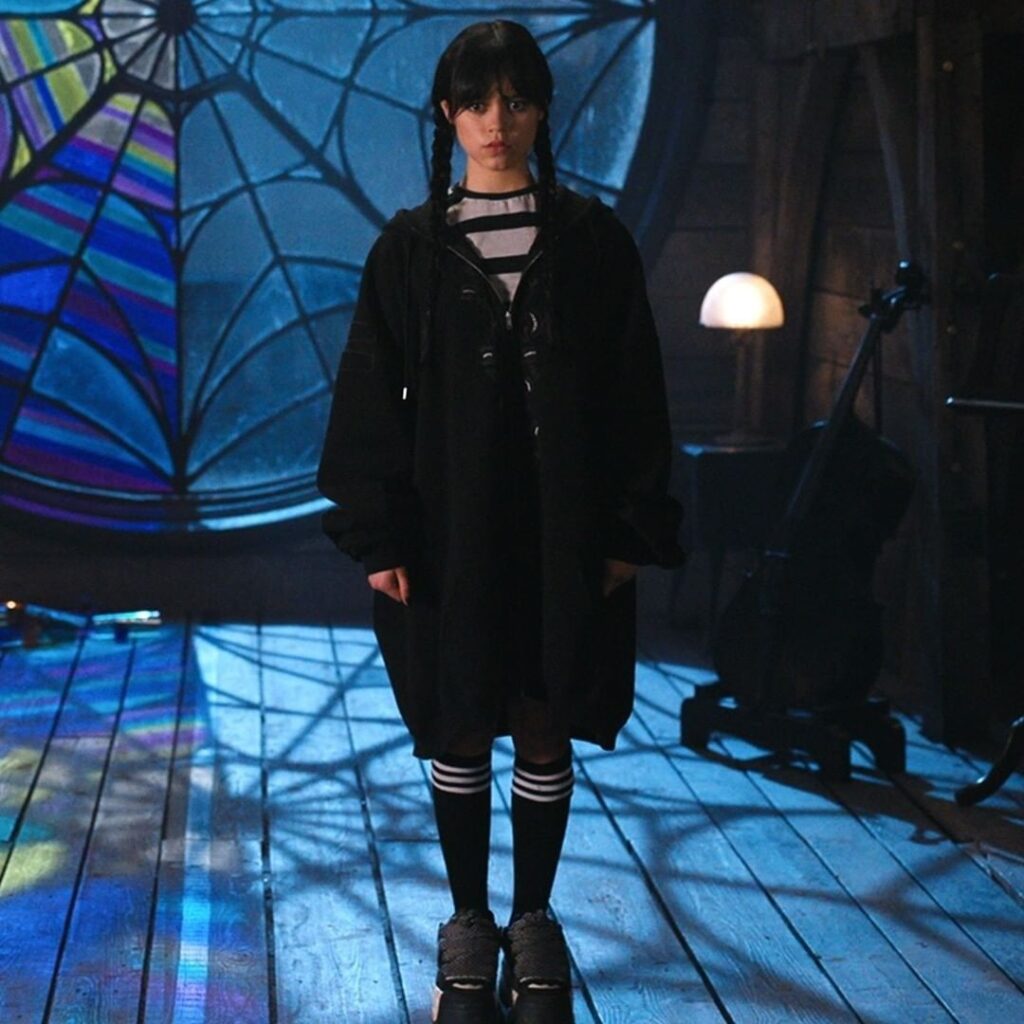 Casual Outfits
10 – Sweater With Mini Skirt & Boots
This sporty look is perfect when you want an element of goth aesthetics in your casual outfits. Start by wearing a turtleneck layered with a cropped v-neck sweater and pair it with a cute mini skirt.
You can also wear a pleated skirt in a checkered print to get more of a goth style. Boots can be replaced with chunky sneakers for casual wear.
Lastly, add silver or black earrings, a choker, and bracelets to complete the look.
9 – Tie-Neck Top Layered With Sweater Vest & A-line Skirt
This look is a classic vintage outfit that includes a beautiful tie-neck top with balloon sleeves. These kinds of tops are quite popular in dark academic aesthetics. Layer it with a sweater vest and pair it with an A-line skirt.
If Wednesday was wearing this outfit, she would definitely add some more layers with may be a cardigan or jacket. She would also replace the pumps with her favorite platform boots.
8 – Sweater Vest Dress With Combat Boots
7 – Striped Turtleneck With Cropped Jacket & Wide-Leg Jeans
This outfit is perfect when you want to pull off a casual goth outfit. Add the Wednesday element by wearing a striped turtleneck with straight-leg jeans and layer it with a cropped denim jacket. Combat boots are already an essential of a gothic look so wear them to finish off the look.
6 – Striped Blazer With Fishnet Tights & Platform Boots
How would Wednesday dress up for work?
Just like this by wearing an oversized striped blazer over a buttoned-down shirt and pairing it with printed tights. To make this outfit more work appropriate you can wear matching striped straight trousers to complete the look.
Formal Dresses
5 – Midi Dress With Red Boots
Undoubtedly, Wednesday wore some of the iconic dresses in the show which have their own place but you can also take inspiration from her and you can also add your personal touch to the outfits. How about adding a pop of color to your footwear?
The red shoes compliment significantly a beautiful ruffled black dress. This casual yet chic look is perfect for date nights, Christmas, dinner parties, and much more.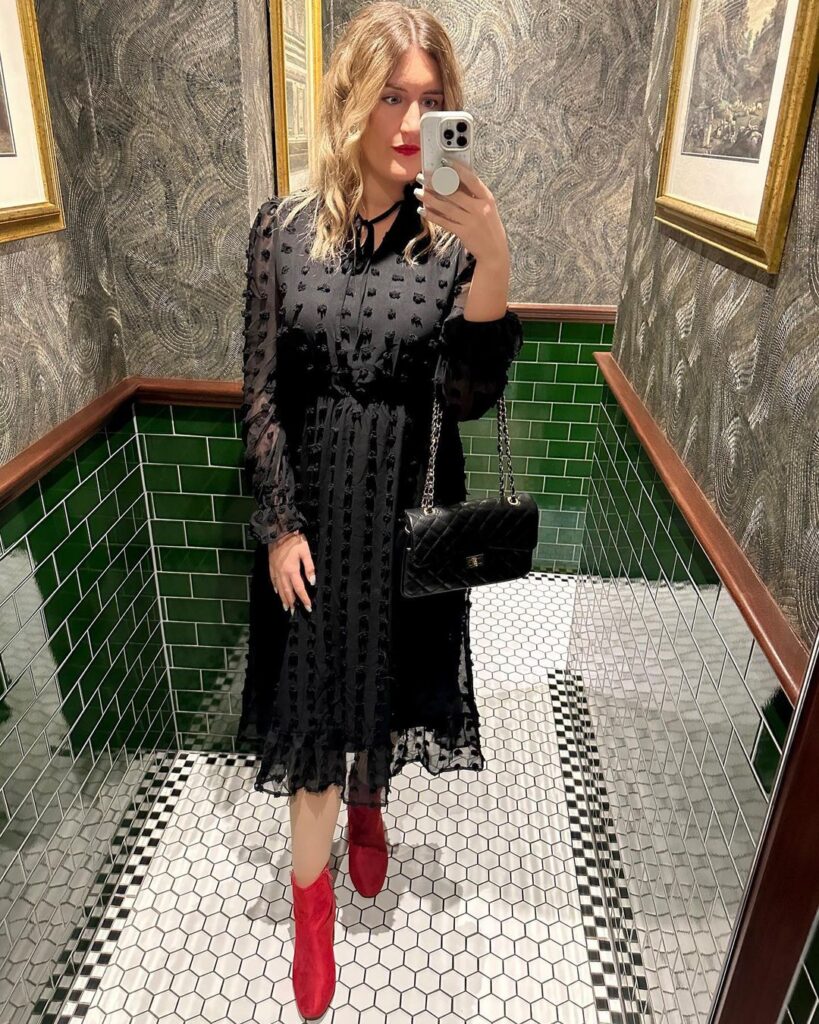 4 – Collared Flare Dress With Leggings And Boots
This cute, casual, and signature Wednesday dress is perfect for your daily wear outfits. You can style it with jeans and tights and much more. The boots and two braids will help you in keeping up with the theme.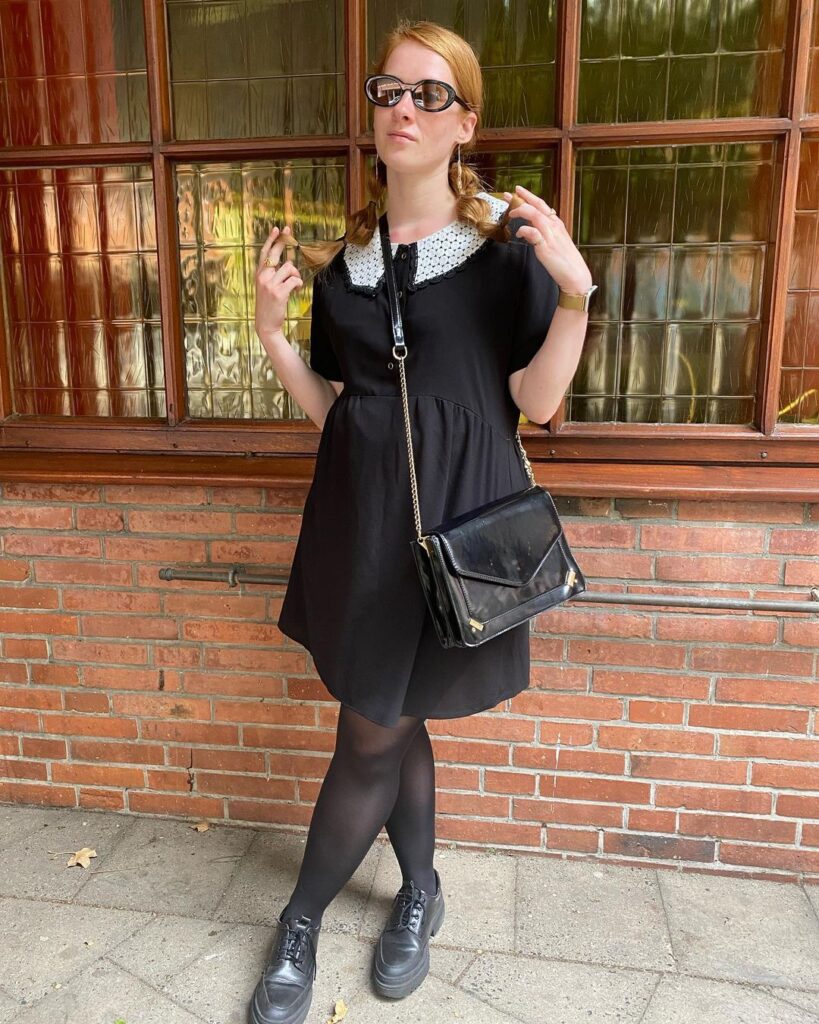 3 – Velvet Maxi Dress With Platform Heels
Nothing can be more flattering than a pure black velvet maxi dress. You wouldn't need anything more to pair up with it. Just smokey eye makeup, red bold lips, and fancy heels would be enough to create a stunning goth party look. Even though the deep dark black color is stunning but the velvet dresses also look amazing in other darker shades including red and green.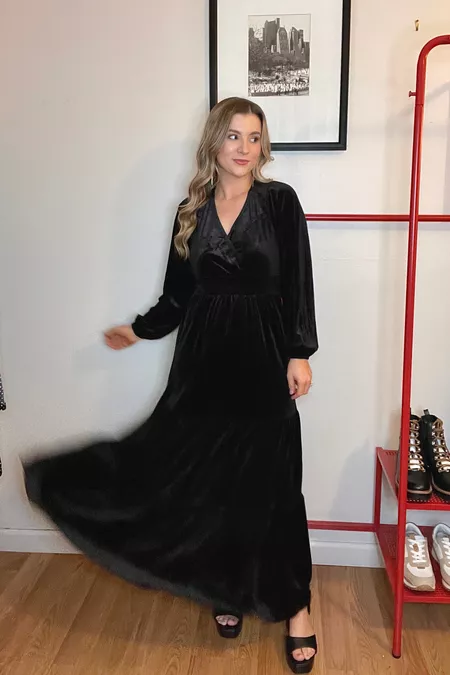 2 – Leather Flare Dress With Tights & Pumps
Going glamorous in goth style can never be a bad idea and for that purpose, a flare leather dress is a perfect choice.
This elegant and soft look can be a perfect Wednesday Addams Halloween party dress. Printed fishnet leggings are one of the prominent goth accessories, so pair them with a leather flare dress and also wear some pearl accessories. For footwear, you can either choose boots, heels, or pumps.
1 – Puff Sleeve Dress With Knee-High Boots
This adorable puff-sleeve dress is proof that goth aesthetics can also be cutesy. Inspired by Wednesday's prom look, this dress can be paired with knee-high boots or combat boots. Other than that, you can also wear tights with it. The detail which needs to be noticed is that a black buttoned-down shirt is worn underneath to get the perfect look.
FAQs
Q. How to be wednesday addams for hallowen?
You can either copy one of her show costumes or create one of your own Wednesday-inspired spooky looks. Go with the iconic collared flare dress with tights and pumps. Tie up the braids and go with smoky eyes and dark red lips. Accessories like skull earrings and a choker will complete your look. Don't forget to carry the "thing" with you to the party.
Q. Does wednesday addams wear makeup?
Wednesday's makeup is so subtle that it almost looks unnoticeable. The most prominent things in her look are the black smudged liner and the red plummed lips. Jenna Ortega's natural freckles are another thing contributing greatly to this look.
To recreate her makeup look, start with a lightweight sheer foundation, and concealer and set your face with powder. Deeply contour with natural brown shade to highlight the cheekbones. Lastly, create the perfect plummed lips with a lip liner and go with any gothic hairstyle of your choice, though nothing beats the braids.
Q. How should you dress like wednesday addams in pure dark academia style?
An outfit in a pure dark academic style is not a difficult one to style. Start by pairing a white collared blouse with black straight pants or a pleated skirt. Layer a checkered vest or cropped cardigan to add a goth touch. Lastly, go with doc martens or laced-up boots to finish off the look.