Shawl Outfit Ideas: Shawls are considered a winter must-have. Not only are they the best way to keep warm and cozy on the harsh winter days but also an exciting way to amp up your winter wardrobe. All the beautiful colors and the intricate designs of these shawls make them stand out, and each is unique from the other be it pashmina Kani, cashmere, cotton, chiffon, or whatnot.
Handmade shawls are considered a symbol of luxury especially the pashminas made in Nepal and Kashmir.Dating back to the Mughal period the Kani pashmina shawl is considered the best among shawls particularly due to its intricate making process i.e wooden needles on a traditional handloom but most importantly its unique Mughal designs that are woven into the shawls.
How to Wear Shawls?
Women around the world seem to be stepping up their winter game by adding all kinds of shawls to their winter wardrobe. The best part about shawls is that be it eastern wear or western wear they go with almost anything and everything with the secret being in carrying it with confidence. You can mix and match these shawls with almost any outfit, and they are suitable for all occasions because shawls come in designs suitable for all occasions varying from casual to formal. So ladies buckle up because we're about to have an exciting ride exploring all the adventures girls around the globe are doing this winter with their favorite shawls. Don't shy away from trying out a few of these looks because I'm sure not only will you enjoy it but will get a lot of compliments too!
Tips to carry shawls
Most plaid shawls or plain shawls are worn with western wear. E.g. a plaid scarf can be worn as a scarf around the neck paired with a long coat or a jacket. Similarly, a plain shawl can be carried around the arms and styled with a dress.
Traditional shawls like the Mughal Kani pashmina are usually worn with eastern clothes such as shalwar kameez or saree etc.
However, you can mix and match eastern and western wear to make a fashion statement e.g. wearing a pashmina with a suit.
If you're keeping it all traditional with eastern wear and pashmina shawls then it's advised to wear traditional jewelry with it e.g. jhumkay etc.
↓ 32 – 'tis the season to wear shawls
It's time to add color to your winter wardrobe and yes you can keep those greys and blacks but it's better if those are left for the shawls. Pink ski jacket paired with knew length hiker boots and beanie with the shawl making this look stand out in all that snow! The girl looks gorgeous in this ensemble and I'm sure many of you would love to try it out on your next ski trip too!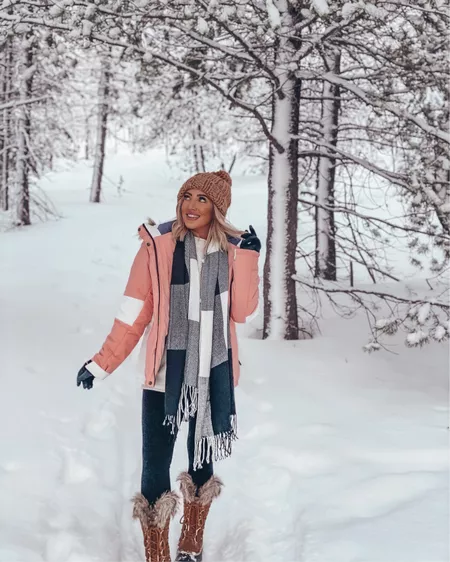 ↓ 31 – Shawl and lace cami combo
A green shawl styled with a lace cami top, flared jeans and hat is not only a fashion statement but a rather exciting way to add color to the ensemble. Although shawls are mostly associated with the winters but this seems to be a summer outfit and ladies you can carry a light shawl in the summers as well to amp up your look or give it that extra edge.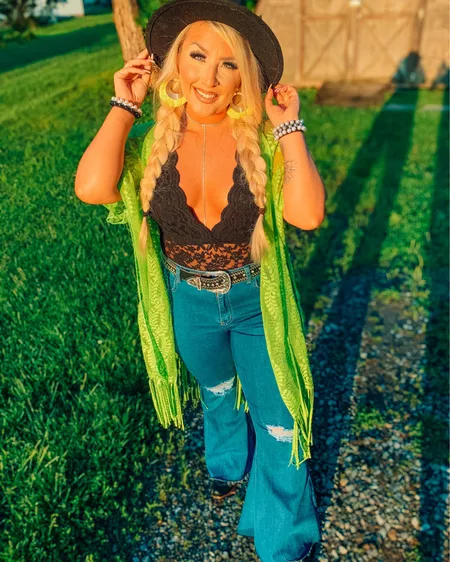 ↓ 30 – Orange Pashmina with some blue!
I can't help but say how extremely gorgeous and eye-catching a traditional Kani shawl looks with traditional eastern kameez and trousers. Moreover, this color combination is literally to die for and even that is an understatement.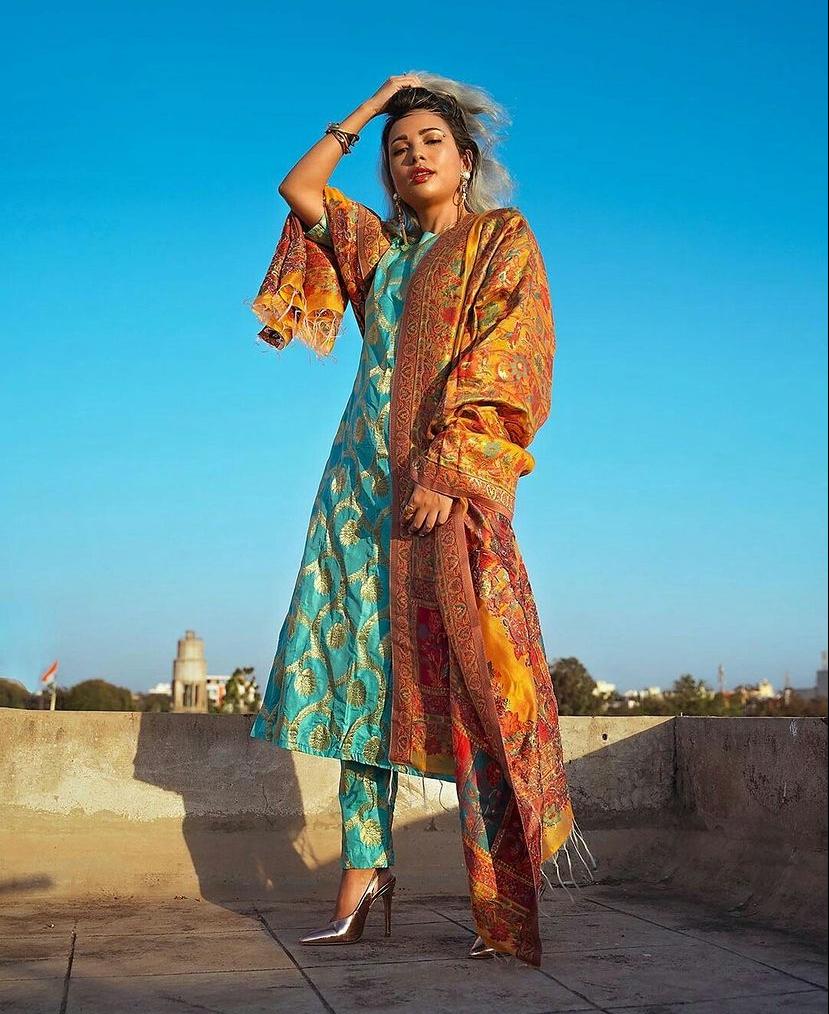 ↓ 29 – Call it salt and pepper!
The square box design of this shawl adds that hint of geometry to this ensemble which is quite trendy these days. A usual way to carry shawls with western wear is to drape the shawl over the shoulders and style it with hats and boots.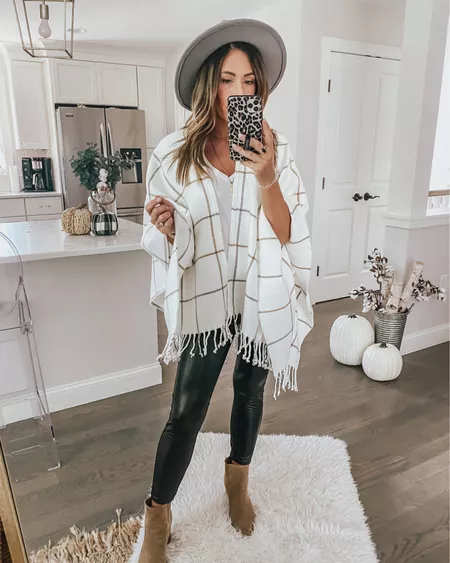 ↓ 28 – Jumpsuit style!
Do you have a formal event coming up on a chilly evening? Well ladies I got you covered. Let this look be an inspiration for you and take out that pashmina from your closet. Plain white jumpsuit with a shawl draped over the shoulders and a sleek updo. This girl is definitely making a statement and I admire this look so much! To complete your look, here are the best Shoes To Wear With Jumpsuits.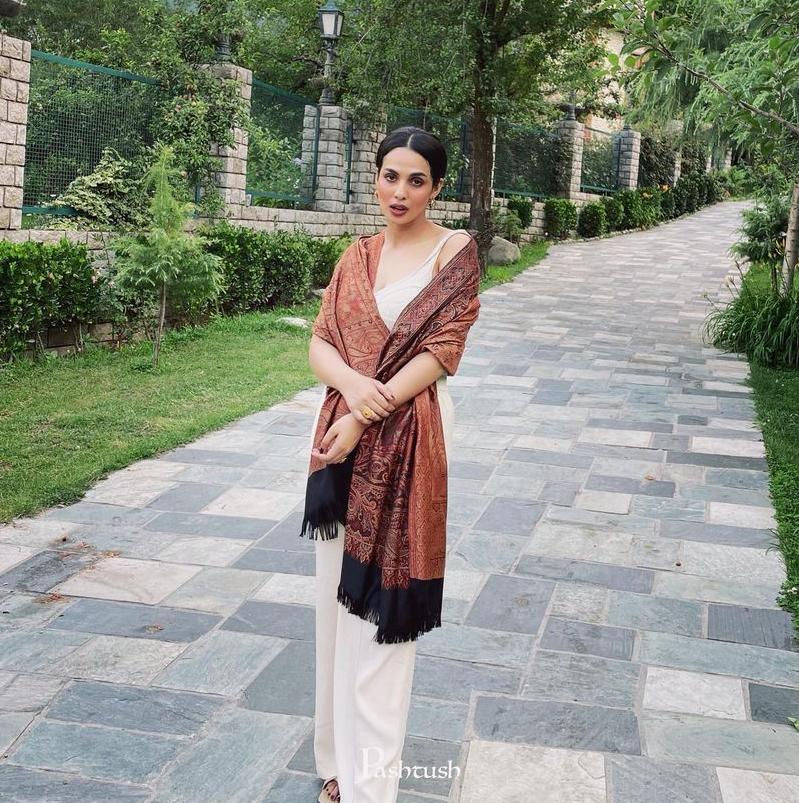 ↓ 27 – Pink shawl outfit
Live up to your barbie dreams and go for an all-pink outfit styled with a pink shawl off course and make the ultimate fashion statement that everyone is waiting for!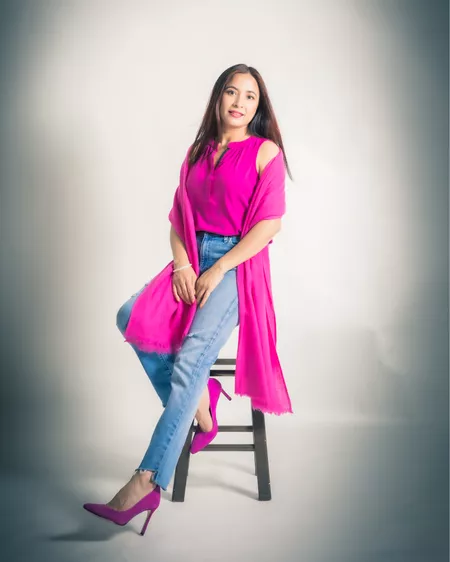 ↓ 26 – Bodycon and boots
We've seen shawls draped over the shoulders styled with leather pants or jeans and boots but a bodycon is surely a new look. It's also an exciting way to show the thick thighs you've been working on because waiting till summer is exhausting, am I right?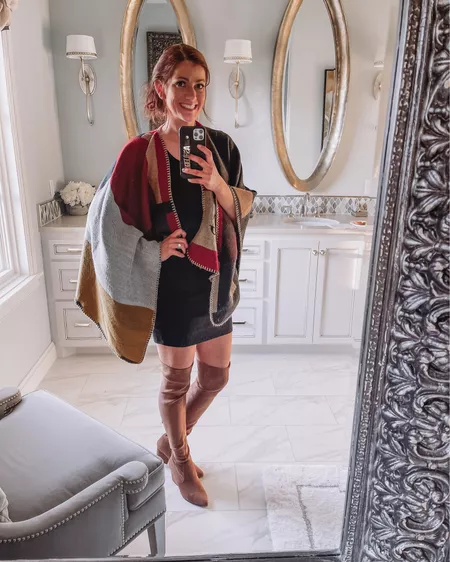 ↓ 25 – Sweater Dress and Shawls
Girls are commonly seen wearing Turtle neck sweater dresses paired with a shawl and long boots nonetheless, every single one of them looks different and stands out from the other. In all three of these pictures although the style is the same sweater dresses with shawls and long boots but all three of the girls have somehow managed to add their touch to it. Common or not sweater dresses and shawls sure do look extremely chic!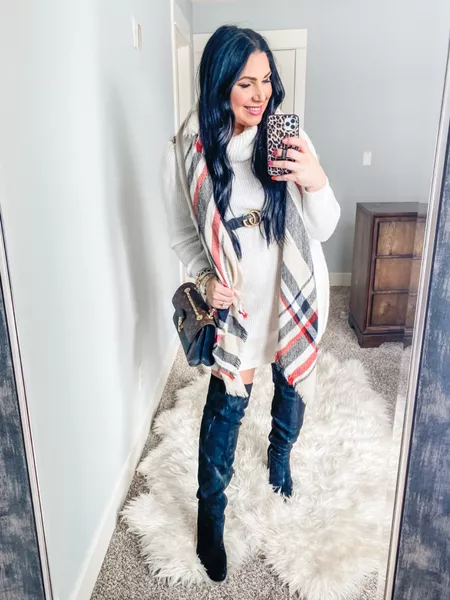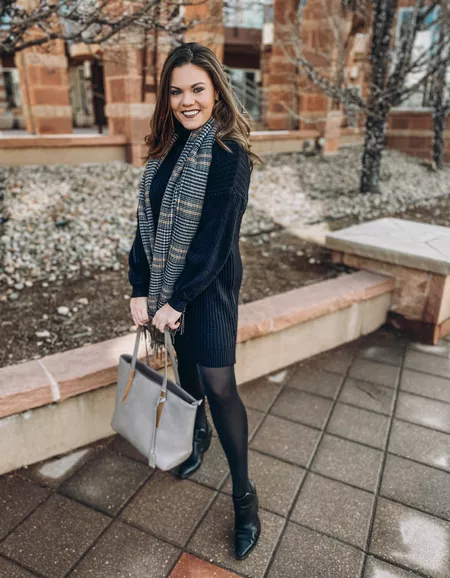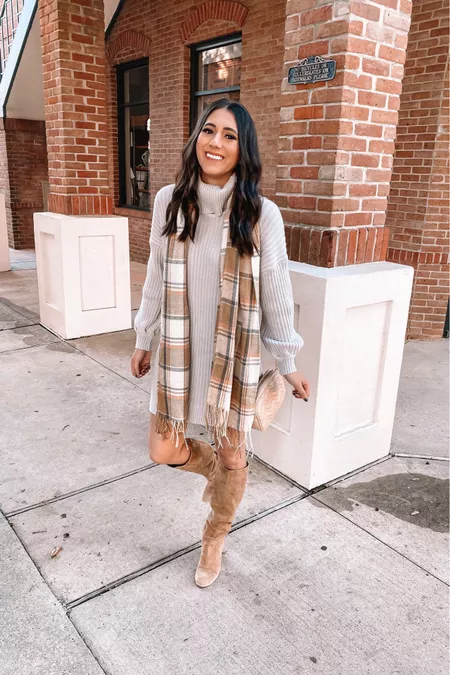 ↓ 24 – East meets West
A little of this, a little of that…. mix and match till you get it right! Velvet skirt and blouse style shirt with a pashmina shawl draped over the shoulders is the true embodiment of East meets West. Use a belt to cinch in the shawl around the waist area. The traditional jewelry and shades amp up the look!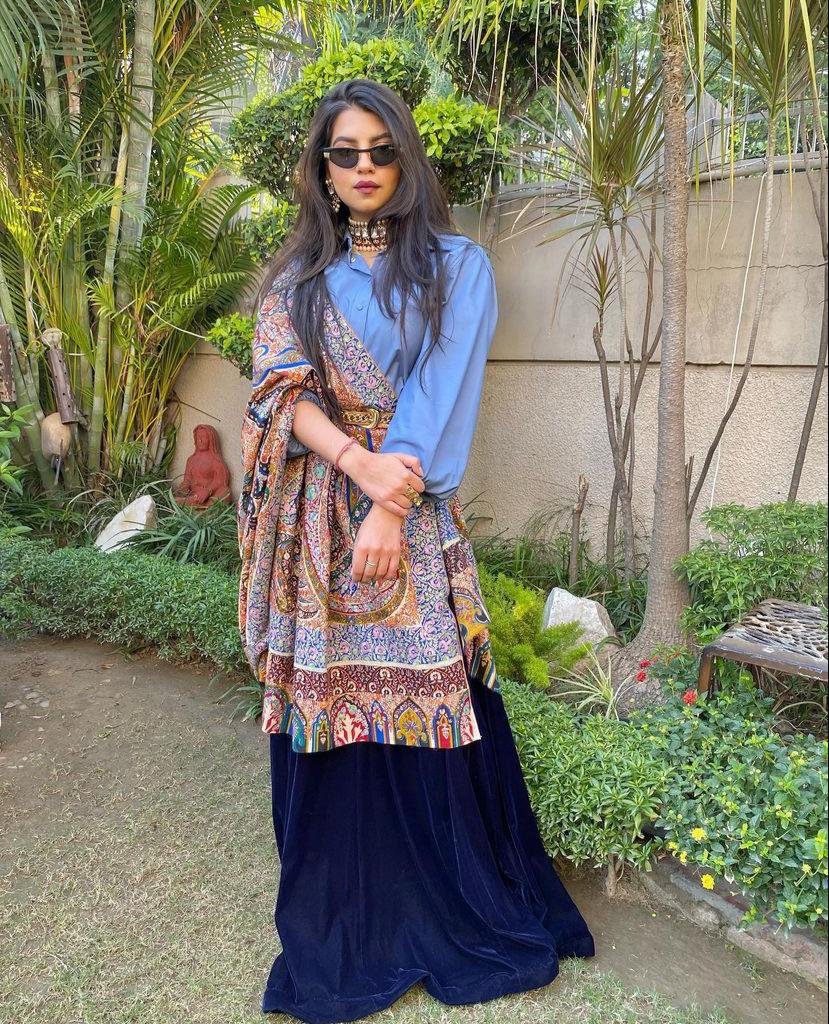 ↓ 23 – Fendi Style
Let your Fendi shawl shine because it surely deserves all that spotlight. Let all the attention be driven towards it by styling it with an all-black outfit and boots.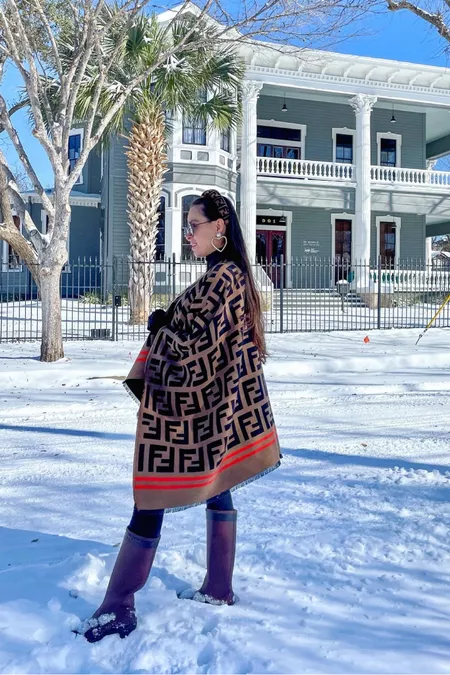 ↓ 22 – Long shirt and Trouser
A monotone straight A-line shirt and trousers paired with a colorful pashmina is the best way to make the pashmina stand out.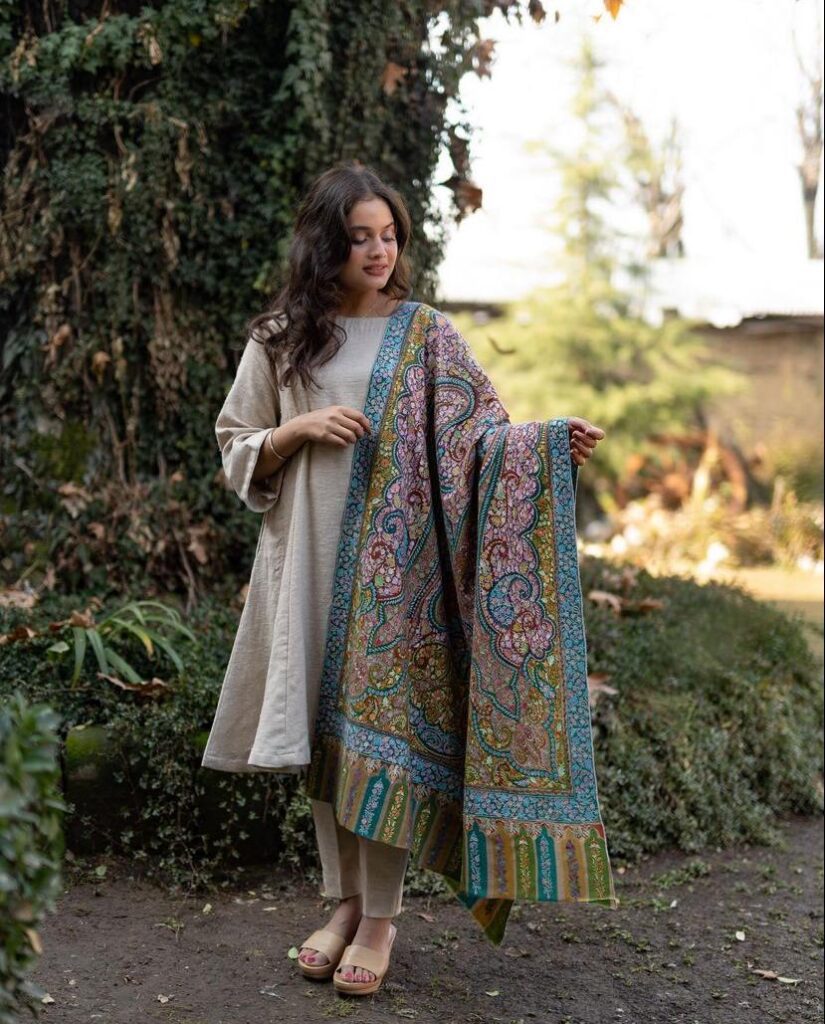 ↓ 21 – Serene Green
I love the fact that she's wearing all green with a deep blue sea background because this combo is picture-perfect. Mint green pashmina styles with a khaki monotone suit and mint green satchel bag. The details of this outfit concerning the color are truly inspiring!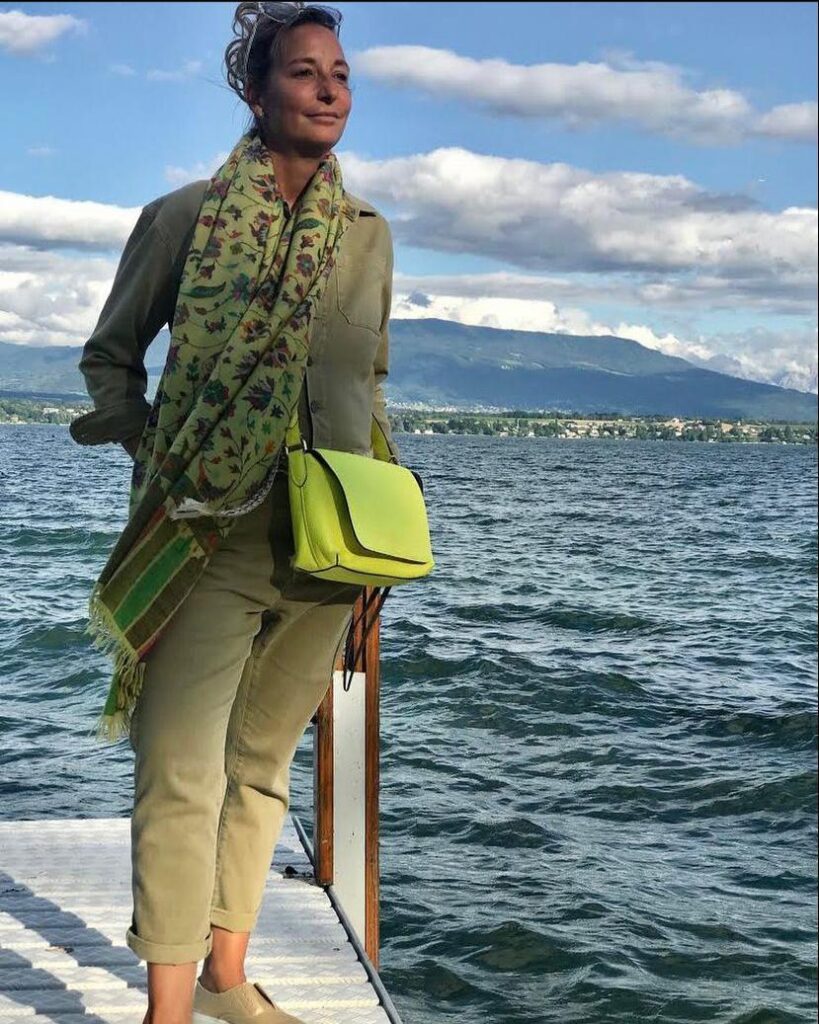 ↓ 20 – Cowboy Hat and Shawl
Let your shawl be in the spotlight by draping it over your shoulders and pairing it with minimalistic accessories like a hat etc.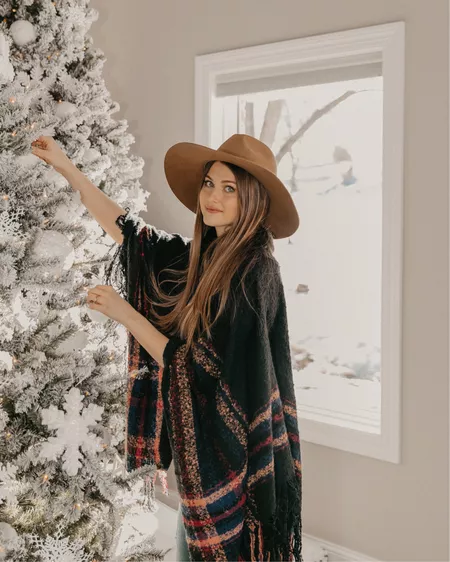 ↓ 19 – Headscarf and Shawl
Who says you can't be a fashionista with a headscarf? I love everything about this look and the fact that she has followed the same color palette is amazing. Girls usually accessorize their head scarfs with brochures or fancy pins etc but she decided to style it with a shawl around her neck and it adds to the look!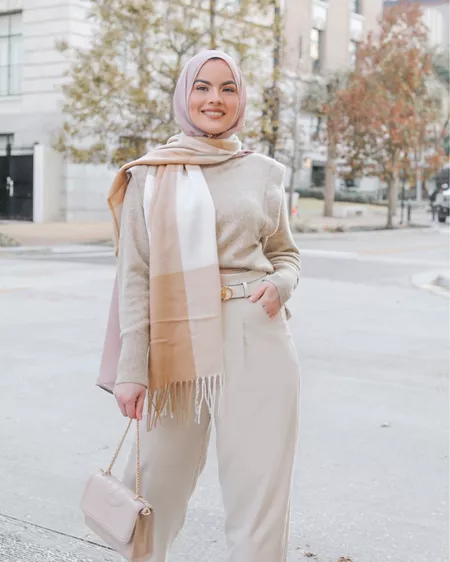 ↓ 18 – Long coat and shawl
Long coats are winter essentials so ladies it's time to bring a little twist to your everyday winter outfits. Accessorize your long coats with shawls not only will it keep you cozy but you'll be looking stylish as hell! Do check out our complete guide on Different Ways to Wear Long Coats This Winter.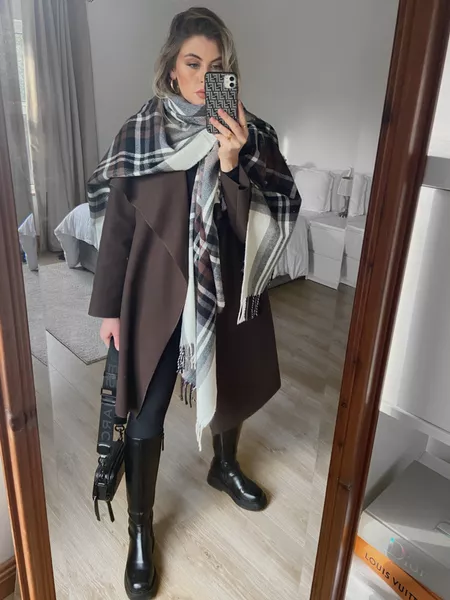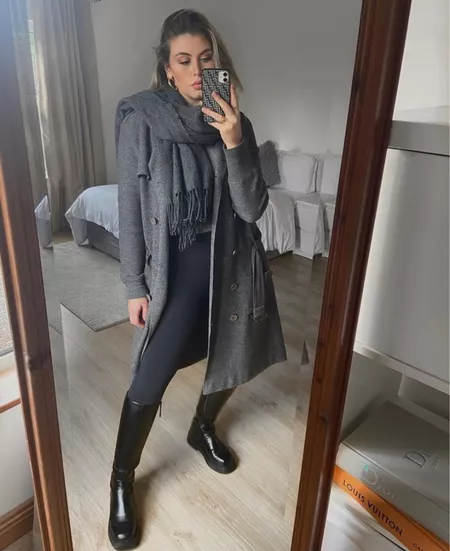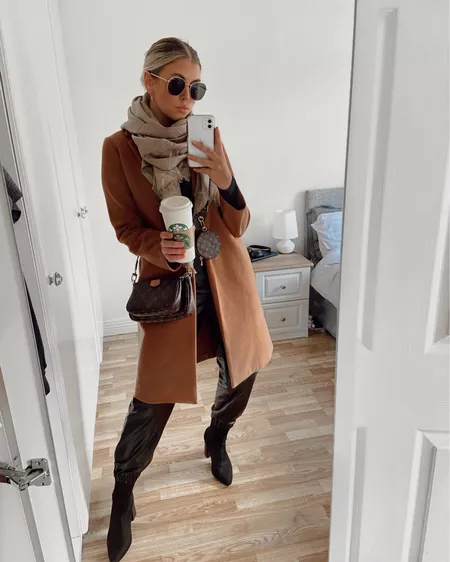 ↓ 17 – Pashmina on white
The model has paired her pashmina with a white suit which is particularly admirable because it gives all the spotlight to the pashmina and its details. The traditional accessories and bag add to the look!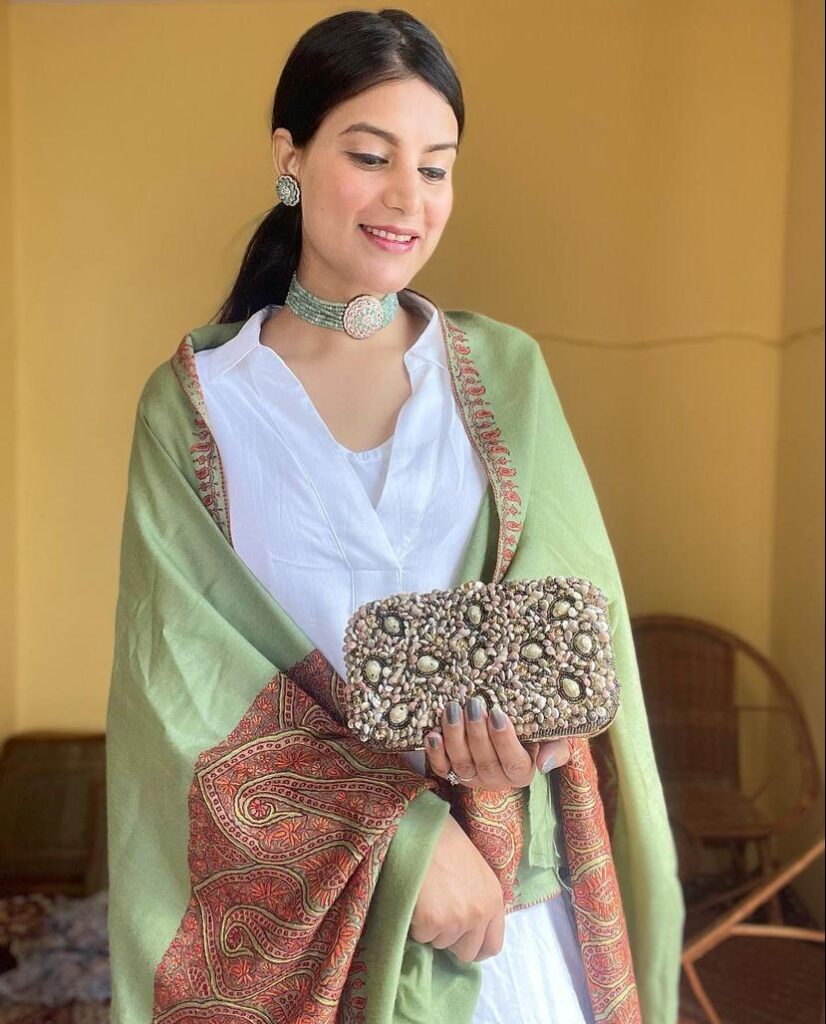 ↓ 16 – Shawl it up
Wearing a shawl as a wrap cover up with a belt is the way to go ladies!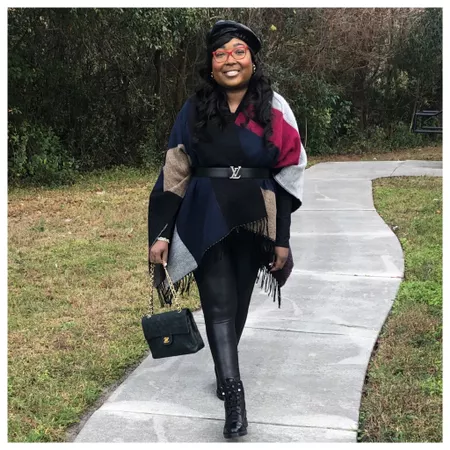 ↓ 15 – Faux Fur Pashmina Shawl
This faux fur pashmina styled with a hat looks extremely elegant. Pashminas are a fashion statement but this faux fur adds the element of elegance to this ensemble!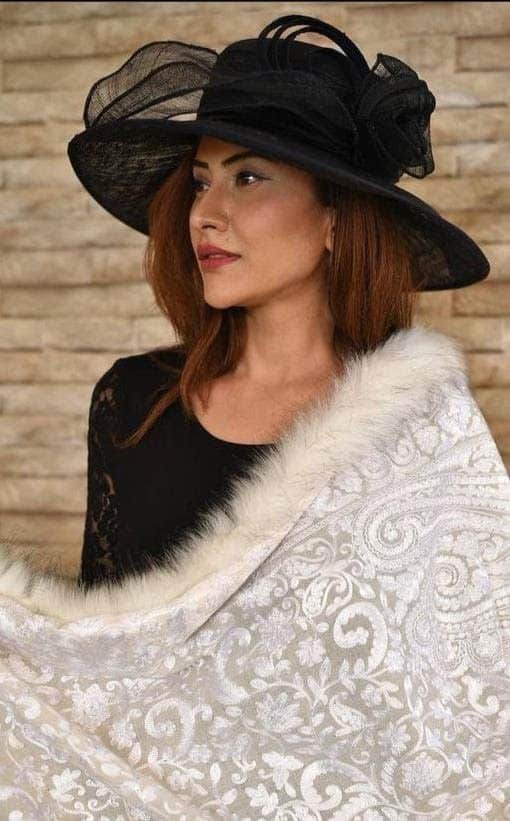 ↓ 14 – Tunic/Kurta and Shawl
The true style and elegance of pashminas are brought out when paired with traditional wear. I love how the embroidery on this kameez matches the shawl!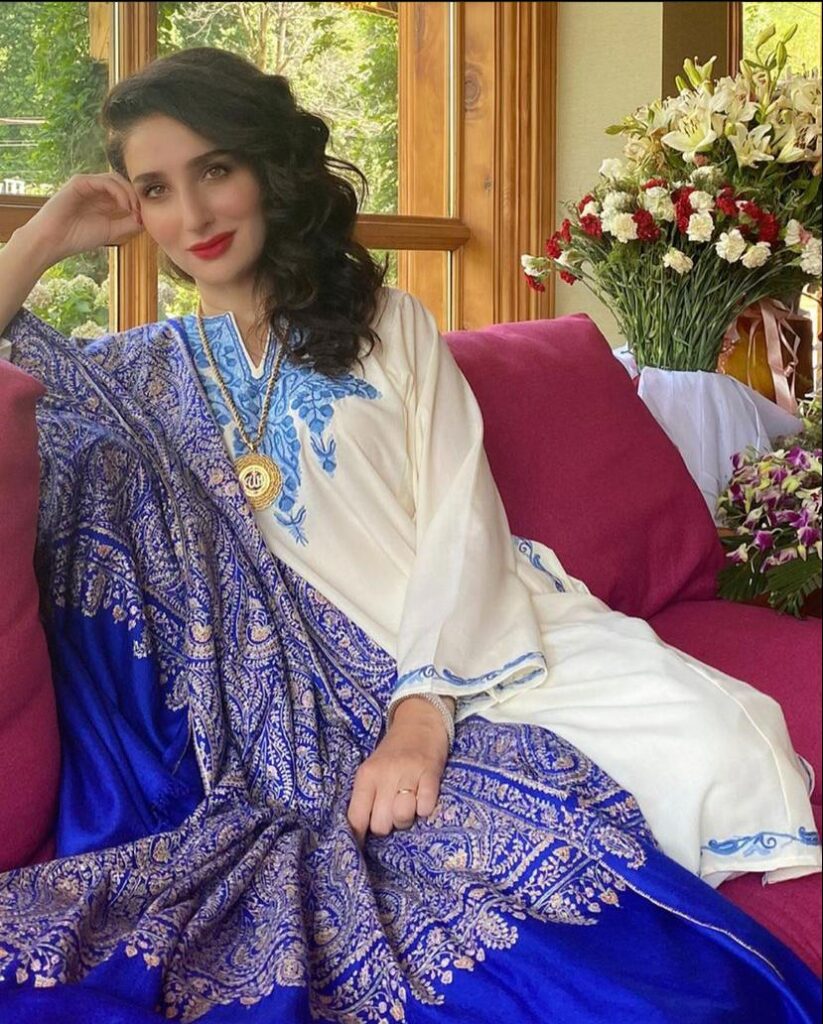 ↓ 13 – Can I Wear Shawl with Jeans?
Turn your shawl into a poncho-style cover-up and pair it with jeans. The nude color palette of this look is truly admirable and to die for!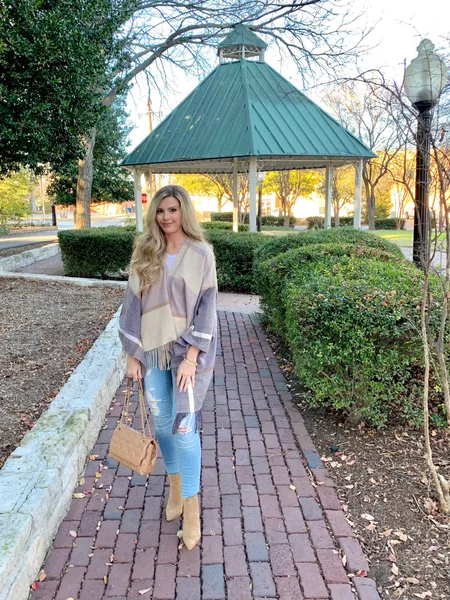 ↓ 12 -Business Casual
Since it's time to back to schools and colleges let this business casual look be an inspiration for you to be a total fashion icon walking around campus while you work hard for those grades. The shawl adds to the formal look of this business casual ensemble and in general, this outfit looks quite trendy. Whereas the messy updo surely adds to the casual side of this look and is the true embodiment of a college look when you have deadlines to meet and looks to keep!
↓ 11 – Keepin' it traditional
Sarees are the epitome of royalty and elegance and when paired with a pashmina or shahtoosh shawl it brings out that traditional royal look that leaves everyone in awe.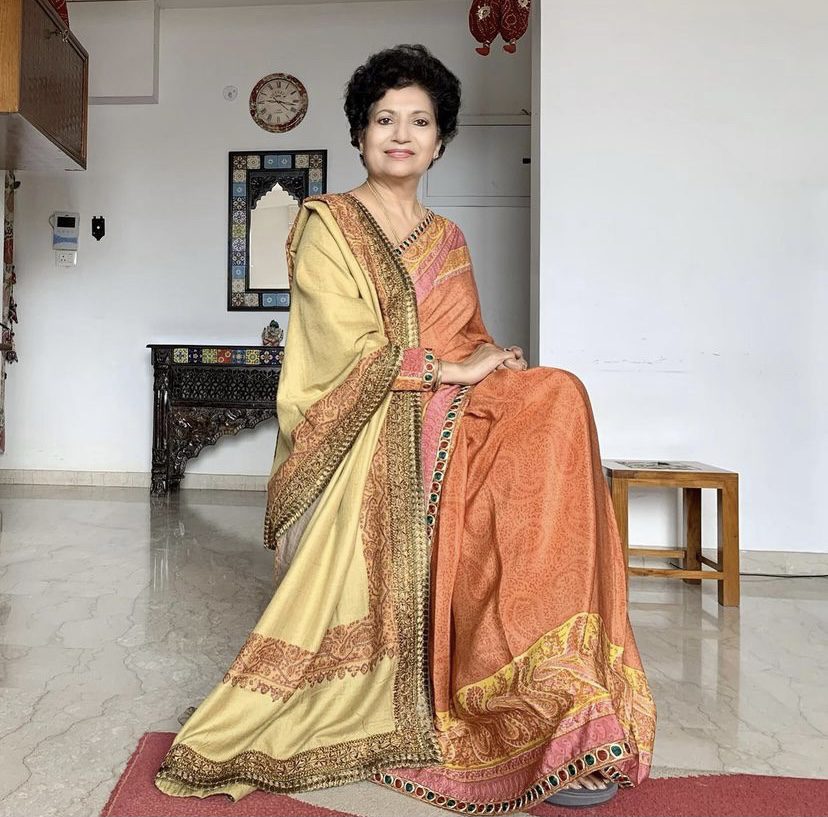 ↓ 10 – Shawl with a side of snake print
Snake print amps up the look no matter what outfit you're wearing and styling it with a shawl gives it a very edgy and chic look.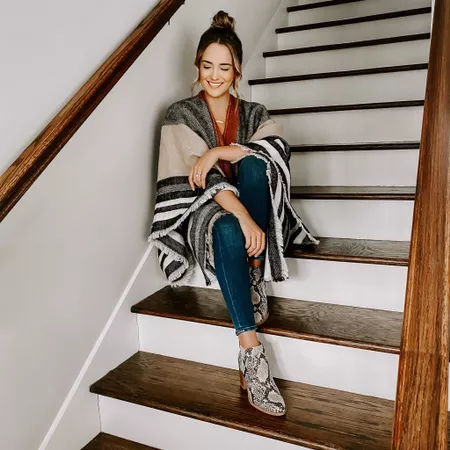 ↓ 09 – All Black
Add color to your all-black winter outfit with a shawl. The colors of this shawl make this outfit look perfect for autumn time!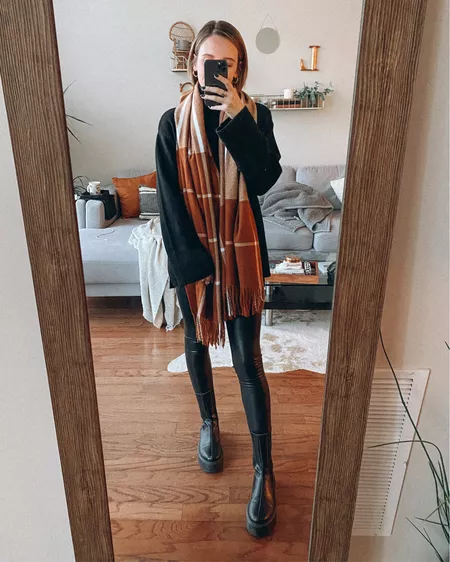 ↓ 08 – Shawl Headcover
For the girls that cover their heads up try out a shawl this winter because it will surely keep you warm and comfy and its intricate patterns and unique designs will make you stand out!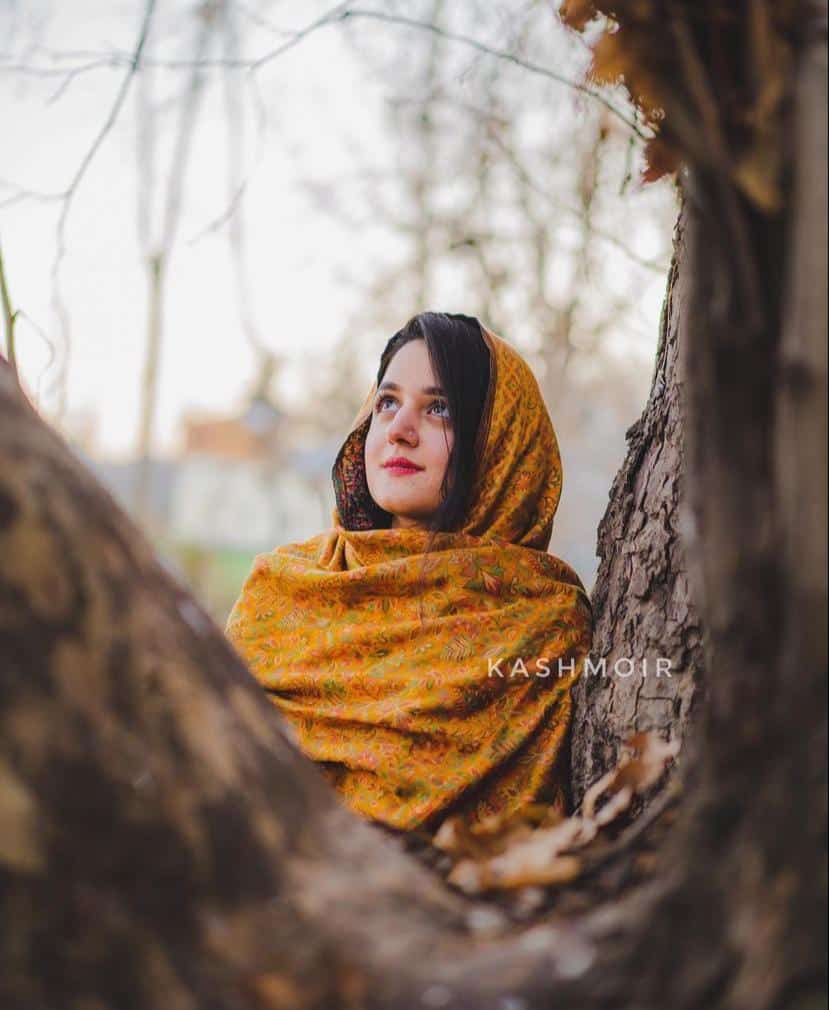 ↓ 07 – Maid of Honor
If you're looking to add a touch of elegance to your maid of honor outfit a cashmere or pashmina shawl is the way to go ladies!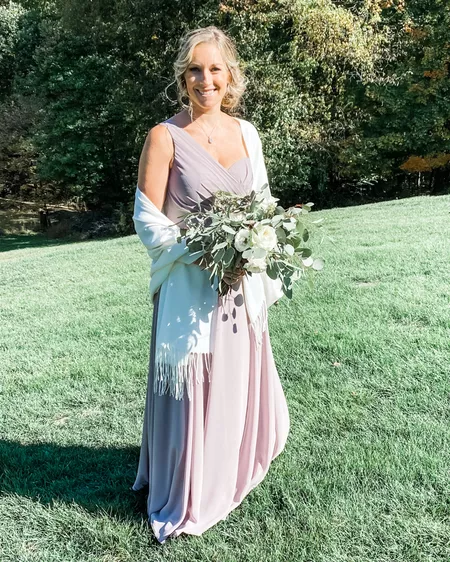 ↓ 06 – Leather Jacket and Shawl
If you're looking to add a bit of a twist to your leather jacket then way have just the right idea for you. Add a plaid shawl around the neck and it will not only give you that extra edge you're looking for but will add color to your black leather jacket ensemble. I love how that p cap goes with the plaid scarf and ties the look together! Here are some more of our favorite Ways to Style a Leather Jacket.
↓ 05 – Prom look
If it's going to be a little chilly around prom time for you then that's your cue to add a shawl to your dress and call it an evening (a rather cozy evening). I love the fact that the girl has played with all neutral colors in her look each different than the other, but she still managed to carry it. Black dress, grey shawl, brown clutch, and nude heels. It's truly something rare and unique but she sure knows how to carry this look!
↓ 04 – Skirt and Shawl Outfit
Going to grab a pumpkin spice latte? Hold up… you gotta have the perfect outfit for that and we got you covered with a shawl styled with a skirt. The colors of this outfit are perfect for autumn!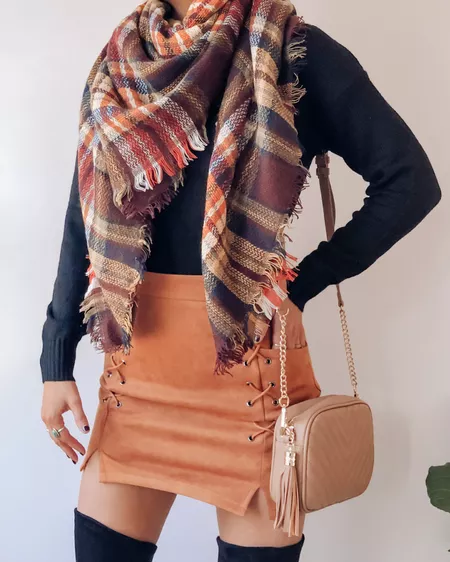 ↓ 03 – Boss Babe
Work your 9-5 magic by styling your suit up with a shawl. This is the perfect definition of a mix and match outfit done right!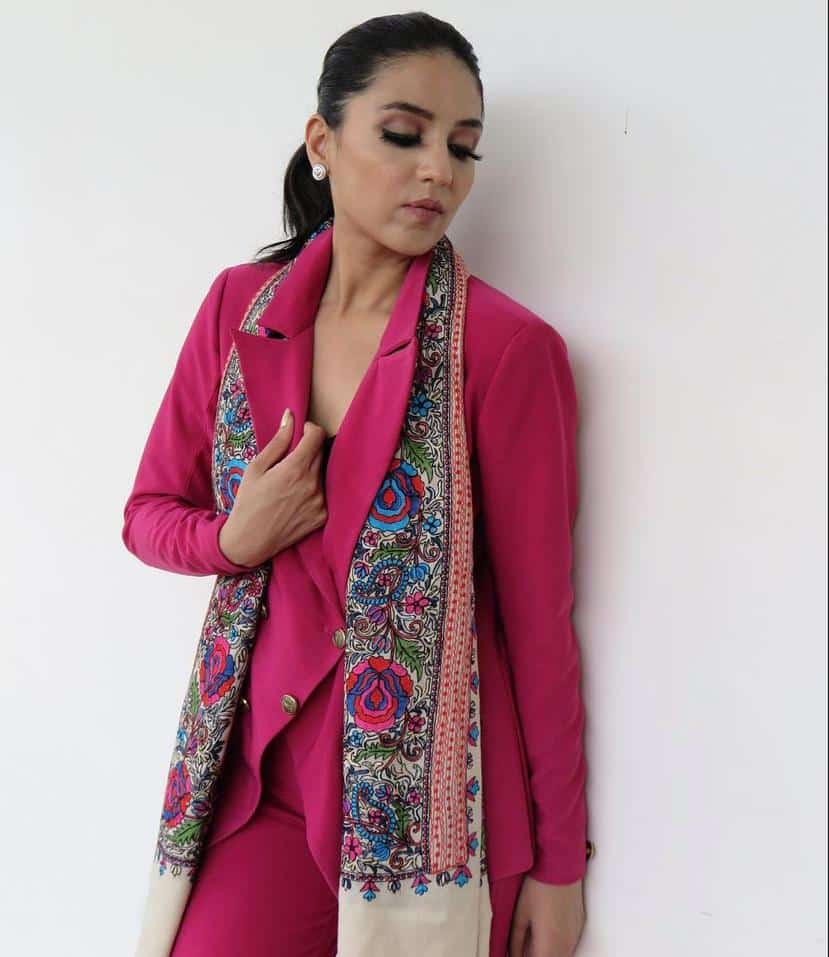 ↓ 02 – Black and Red
Black and red is the ultimate hotshot combination in the fashion world. A black and red plaid shawl over an all-black bodysuit and leather pants is the way to go ladies. Those accessories just add that extra spice to this look especially the beret which makes the model look like she just landed from Paris.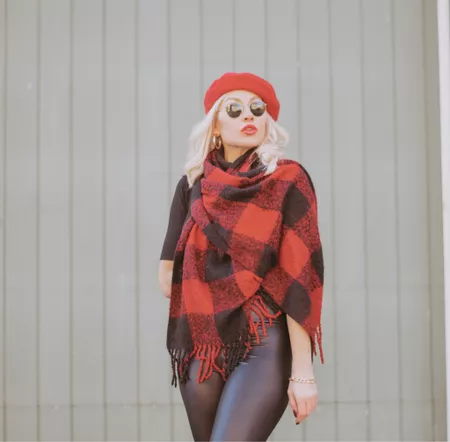 ↓ 01 – 4th of July
This shawl is the true embodiment of the 4th of July spirit and if you're a true American citizen or a fan of the USA then consider this a sign to get an American flag shawl and style it with your favorite sweater.
Frequently Asked Questions
Q. Where are pashmina shawls woven?
Jammu and Kashmir are particularly known for the pashmina shawls but they are also famously made in Nepal.
Q. Which shawls are woven in Kashmir?
Shawls in Kashmir are woven by two techniques i.e kani shawls and sozni shawls. There are three types of basic fabric used i.e Shahtoosh, Pashmina, and Raffal. Shahtoosh is known as the king of shawls and the main technique to identify is that it passes through a ring which is why it is also called the ring shawl. Pashmina Shawls are woven from the fur of the Kashmiri goat.
Q. Why are Kashmiri shawls so popular?
Kashmir shawls are valued for their fine wool, skilled weaving and embroidery, and soft texture.
Q. Is Cashmere the same as Pashmina?
The main difference between cashmere and pashmina is the subspecies of the goats. Cashmere shawls are made from the wool of Himalayan goats whereas Pashmina shawls are particularly made from a specific species of mountain goats called Capra Hircus.