Latest Saree Blouse Designs. Ethnic and cultural wear such as sarees are a trademark of the subcontinent women. Be it embroideries, laces, ribbons, beads, or gota; sarees are a gift to the women of the subcontinent from their rich culture.
Sarees are incomplete without the extravagant blouse style – blouse acts as a foundation to the fall of Saree. We have various designs to show you regarding the saree blouse that famous people in the fashion industry and bloggers have worn to kick-start trendsetting blouse styles.
How to Wear Saree Blouse
Almost all of us had tried to make a saree out of our mother's dupatta once in our lifetime. That's because saree has always been the first loved garment of each one of us. It is a timeless beauty that needs to be cherished and appreciated and belongs to women of every age group. There are wide varieties in sarees that include silk saree, banarsi saree, chiffon saree, Baghalpuri saree, etc. And the beauty of the saree is doubled when you pair it up with an ethereal blouse. It is an integral part of an exquisite saree, and so it must be of a unique design as well to add to the whole attire.
Some Dos and Don'ts:
Do choose the right blouse for your body shape: A great fitted blouse is everything you want and need, so look for a good tailor. If you're curvy, you should definitely go with a quarter or full sleeves. And if you want to add some volume to your chest area, you can go completely sleeveless and add embellishments on the neckline or tussles at the back of the blouse.
Do wear a colour that enhances your skin tone: Many people are unaware of the fact that some colors can make you look a lot dull while others can make your skin glow. If you're light-toned, go for bright and bold colors, but black will look the best. Beige, bronze, and chic red look the best on wheatish girls while golden and copper look amazing on dark-skinned beauties.
Don't forget to tie the Petticoat nicely: Petticoat keeps your saree in place, so tie it nicely, keeping in view its length and the length of the saree. If you tie it much below, it will make your overall look droopy. Don't tie it much above your navel than it should be as it will show your ankles if you're wearing a see-through saree.
Do choose a fabric that is easy to handle: Carrying a saree is an art, and one needs to master it you need to prioritize your comfort. Choose something that you will be able to carry elegantly and gracefully. Don't go for fabrics such as net or chiffon if it's your first time as it can make you look clumsy.
Don't be afraid of using safety pins: Want to carry a saree without any hassle? Tie it with a bunch of safety pins to keep it in place. This will make your saree look neat, tidy, and properly managed.
Don't compromise on comfort. You don't necessarily need to wear stiletto heels if you don't want to as with no previous practice you will keep on tripping over things the whole event. Rather go with something you're comfortable with. It can be platform heels or wedges or even flats. Just have a graceful gait and stun everyone!
Do experiment with different draping styles. Draping style can either make the look or break the look. A saree draped too high looks unattractive while a saree draped too low can make you look chubby. Find the perfect balance, and you're ready to rock.
Do pick your jewelry beforehand. Too much jewelry can look a bit overwhelming and old fashioned. Wear a few pieces of unique and dainty jewelry to add to your look. You can always count on a statement necklace for the spark you need.
Don't let your bra straps peek through. Make sure to choose a bra that suits your blouse well because peeking bra straps look quite unflattering and weird.
Do try different pally draping styles. You need to learn this from your mom or an aunt to master this technique. Or you could just learn it from a few youtube videos. Ensure that your saree's pallu is not too narrow or too broad as it can give your saree an awkward shape.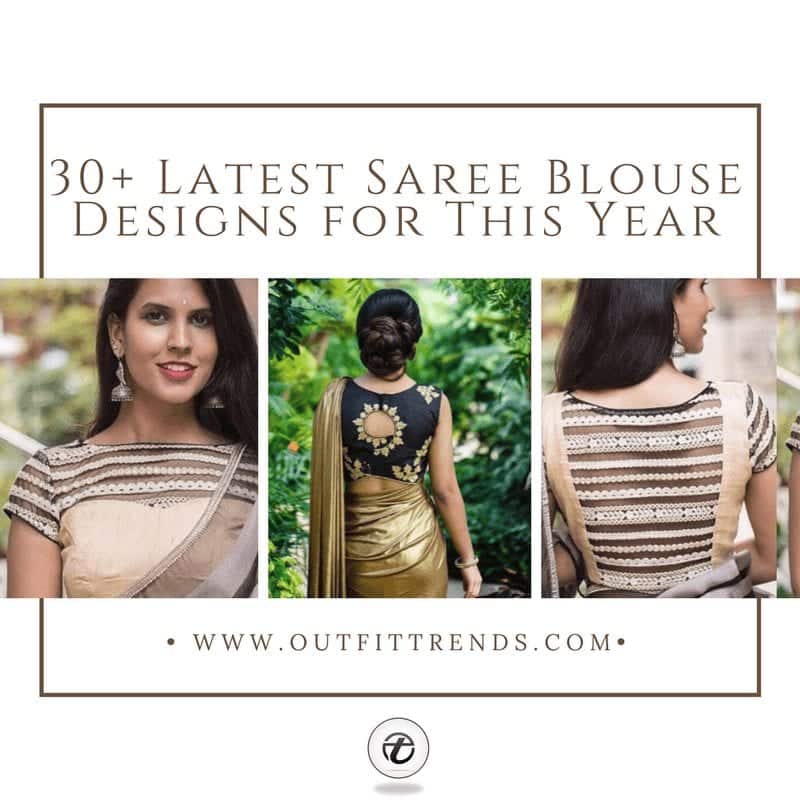 ↓ Fringes
Fringes are back in fashion, making everyone go crazy for them. And if the fringes are paired with tiny beads, it looks even better. You can wear a blouse with fringed sleeves or just on the neckline for a classy look. Beaded fringes will make you shimmer and shine as you move, making you look angelic and beautiful. Want something extra? Cover your whole blouse with beaded fringes and look glamorous than ever.
↓ 50 – Illusion Neckline
Illusion neck is a new trend but definitely a worth trying one. It is actually a sheer net panel on the neckline of your blouse to give it a deeper look. This illusion neck is often embellished with crystals or pearls, and they seem floating in your neckline. How cool is that? You can also use the sheer panel to make your sleeves out of it to give it an off-shoulder look.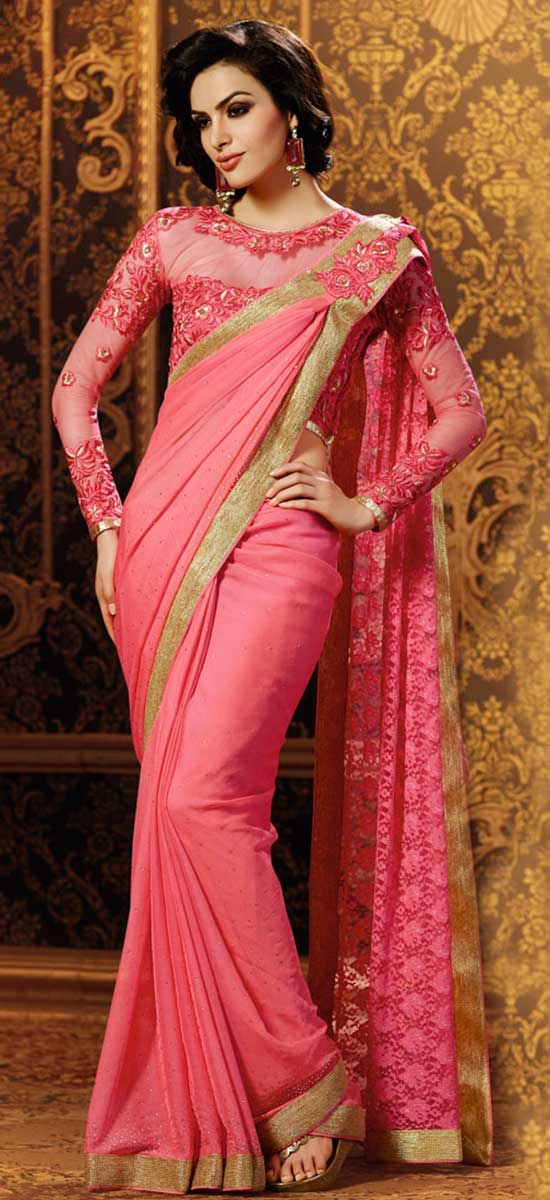 This is so far the most unique and trendy design of all the traditional saree blouses. You can try full opaque sleeves or can make them shear as well, depending on your personal preferences. Both ways it is going to look bomb! You can accessorize it with a beautiful choker and no earrings to look majestic yet straightforward. Sleeve embroidery or mirror work can look absolutely ah-mazing as well. An upcoming destination wedding? Don't think much and go for a plain saree with heavily embroidered sleeves to look royal.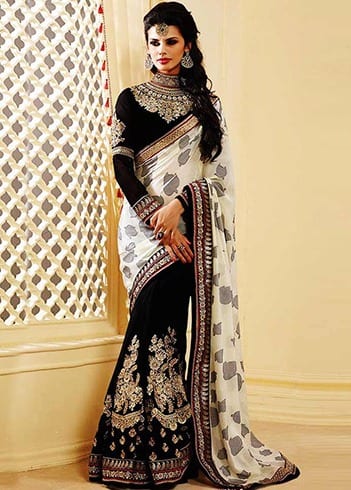 ↓ 49 – Off-Shoulder Blouses
This off-shoulder blouse can make you look gorgeous in a second. This trend is often followed at star-studded events like red carpets or fashion shows. Try to add some beaded fringes or belts around the waist to give this statement look a boost. Don't want to show too much of your skin? Go for an elbow length sleeve and look modest as well as the prettiest.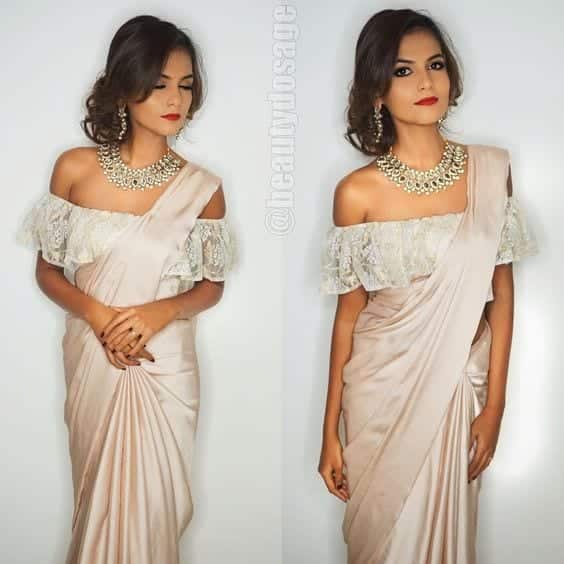 ↓ 48 – Sheer Sleeves
Perfect for women who feel shy going sleeveless or if you have to follow a dress code in your school farewell sheer sleeves will save your day. These sleeves are often preferred as full or quarter and they are quite in fashion these days. You can add all the glitz and glam to the sheer sleeves to make them look even more popping and chic. Embroidered sleeves and neckline can also enhance the beauty and glamour of this saree. Lastly, Pair it with some heavy earrings and ethnic jewelry, and you're good to go.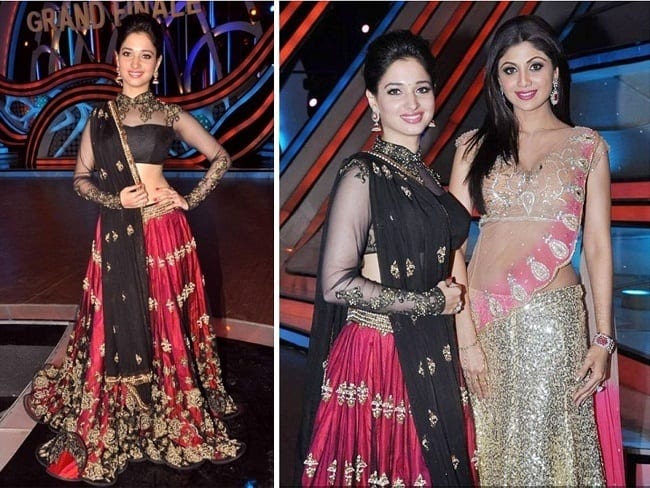 ↓ 47 – The Sleeveless Horse Shoe Neck
It's a more everlasting yet straightforward blouse design to wear. It can remain on the trend list forever for its flawless look. This sleeveless horseshoe shape back and front of the blouse will look so contemporary with a chiffon or net sari. Here's How to Wear Saree for Short Height? 14 Pro Tips for Short Girls.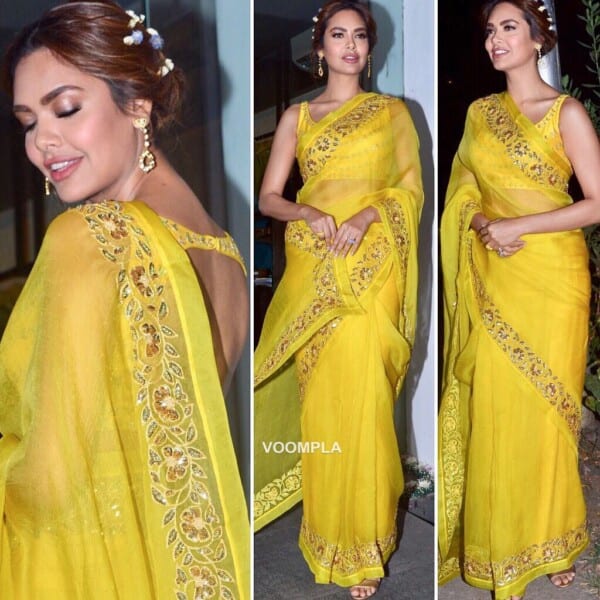 ↓ 46 – Ban Mesh
A network of thin stripes connected in a parallel manner along the ban style neck design is a fabulous and amazing new way to express your Indian creativity for the blouse and contrasting sari.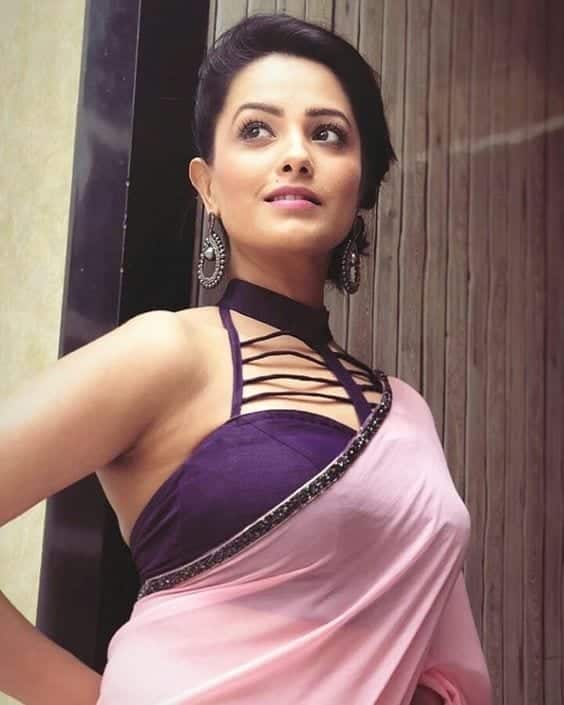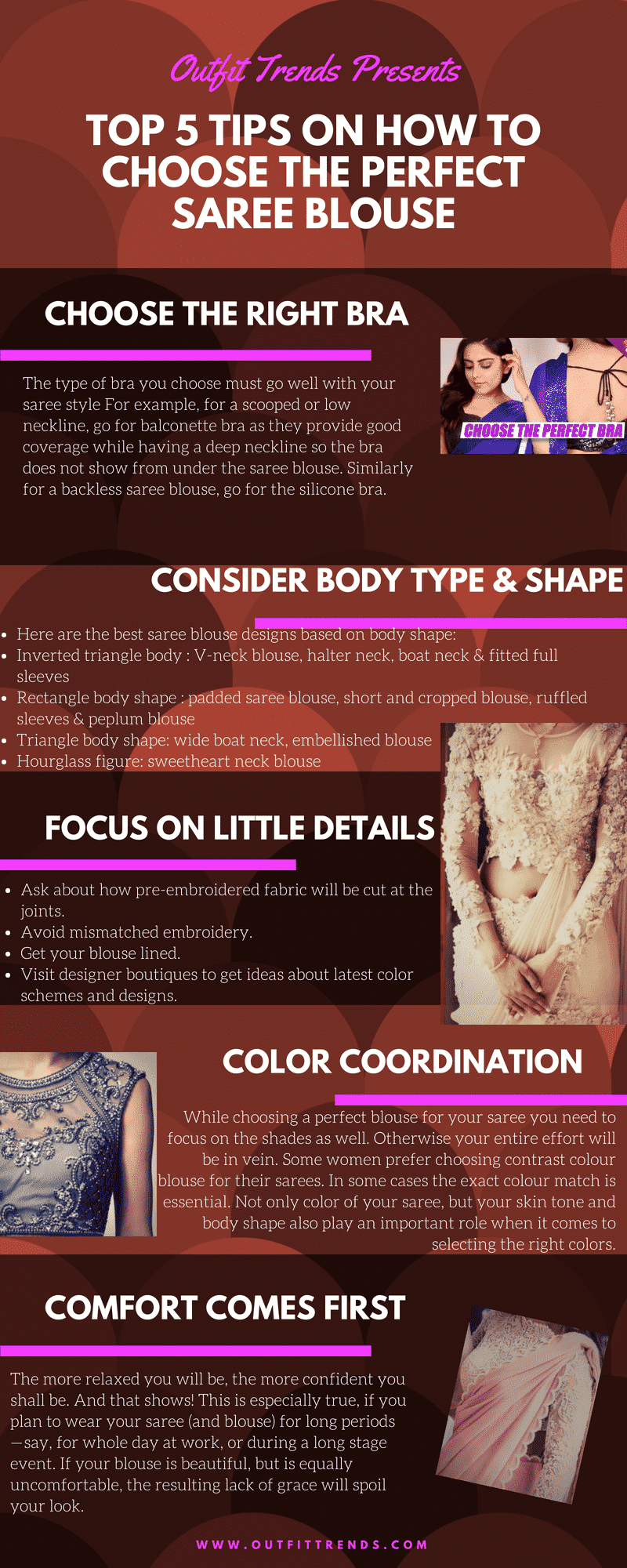 ↓ 45 – Wedding Guest Style Sari Blouse
A string bow tied at the back of the blouse connecting the ends of the horseshoe loop is a trademark for the blouse back design, thus adding a cultural and formal look to the sari itself.
↓ 44 – Looped Envelope
A dark-colored blouse with patches of the sari on the full sleeves and a looped envelope kind of neck design is such an enchanting way to carry your sari outfit on a family function.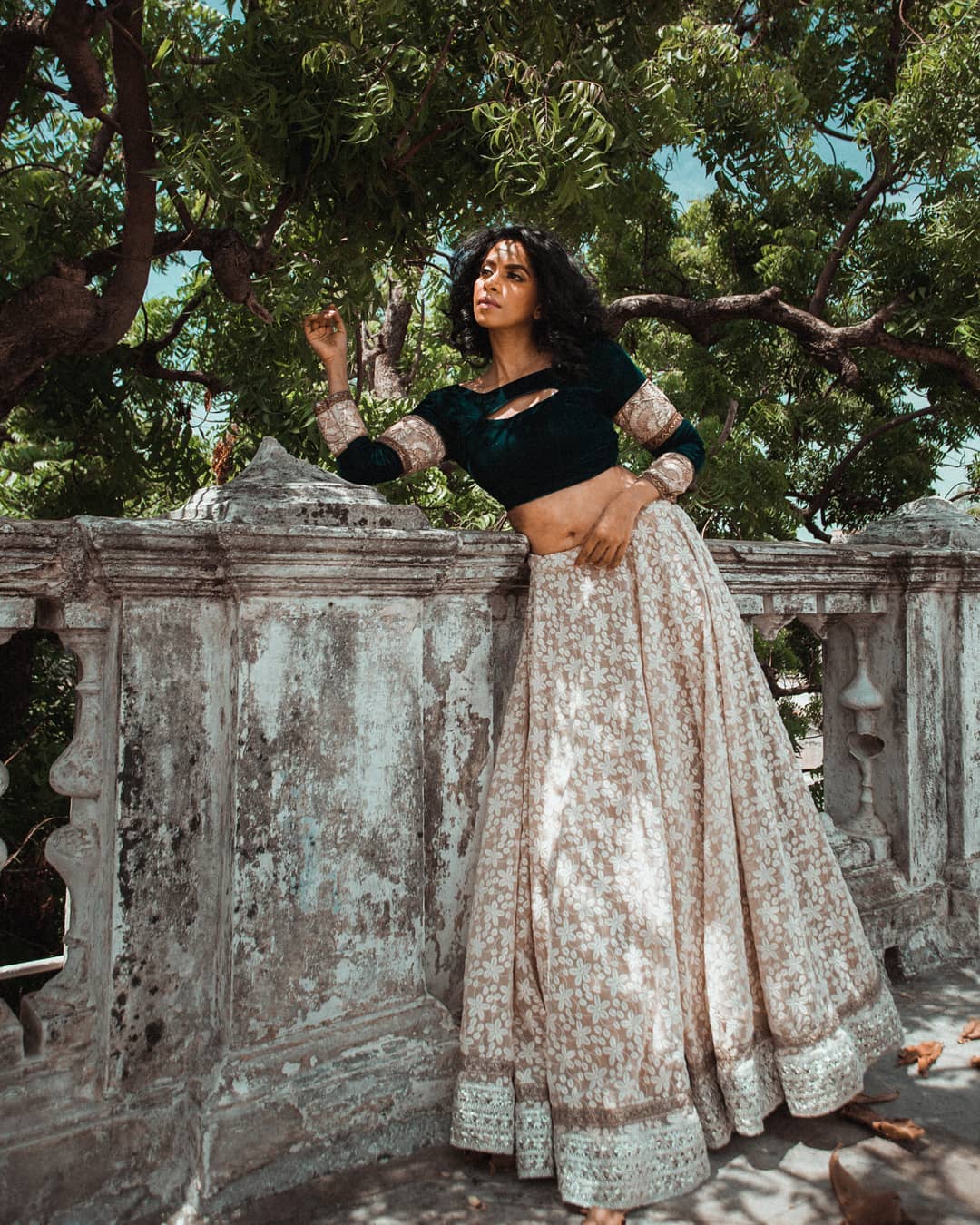 ↓ 43 – Funky Blouse Backs with Motifs
A trendy style to reallocate your appearance in the fashion list – a multi-hued motif at the back of your three quarter sleeved blouse and plain sari can be worn by all the young girls combining their eastern taste with creativity.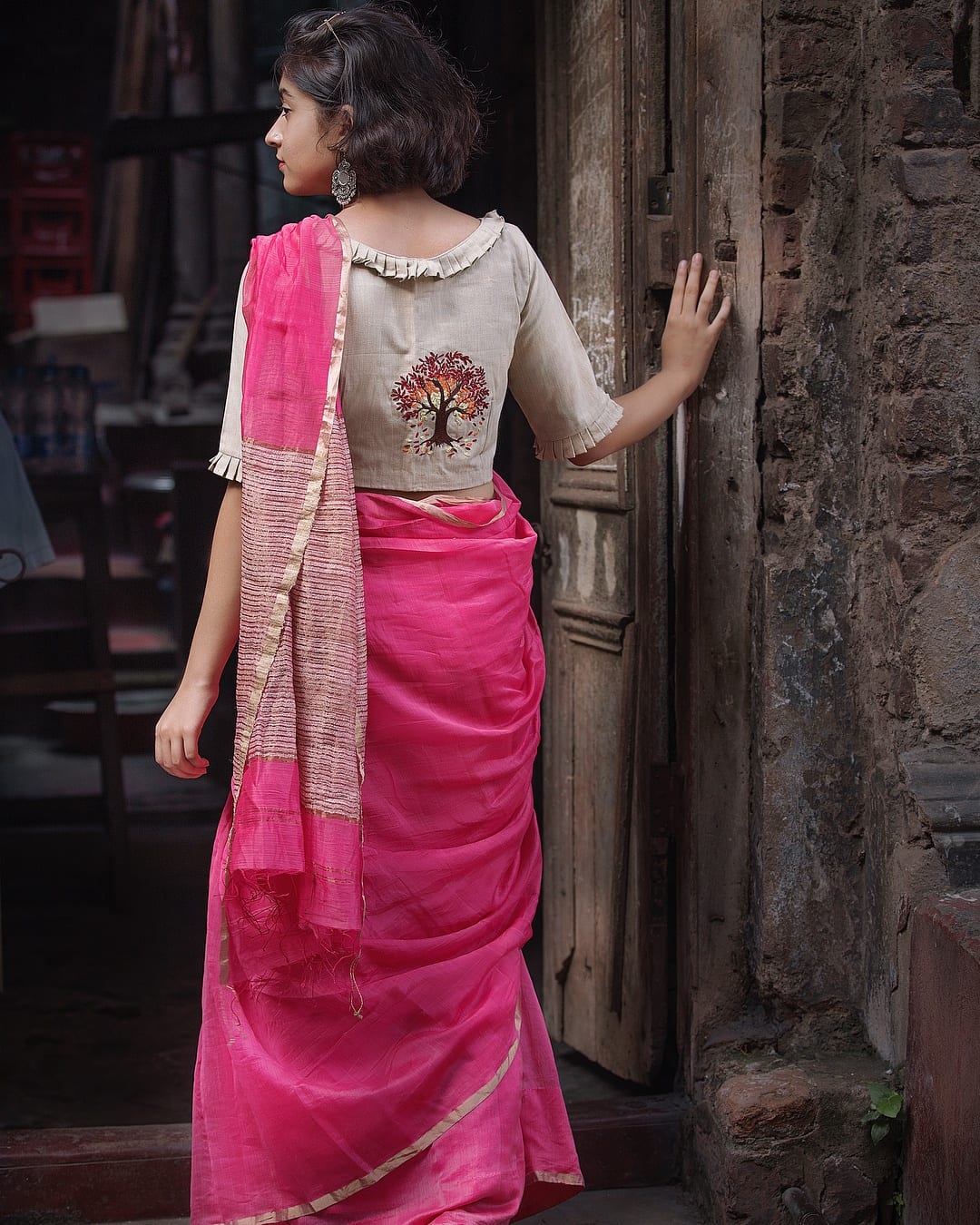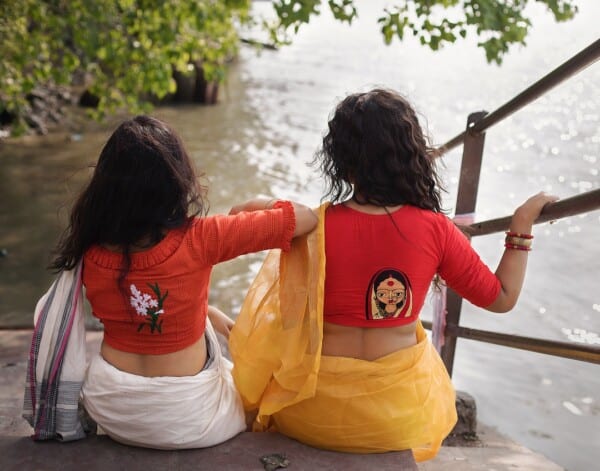 ↓ 42 – Sequin Saree Blouse for Parties
Well, black is a must color to have in your sari collection and to add the sensuality in the grace of black, the blouse ought to be a low decollete front for a sexy date night.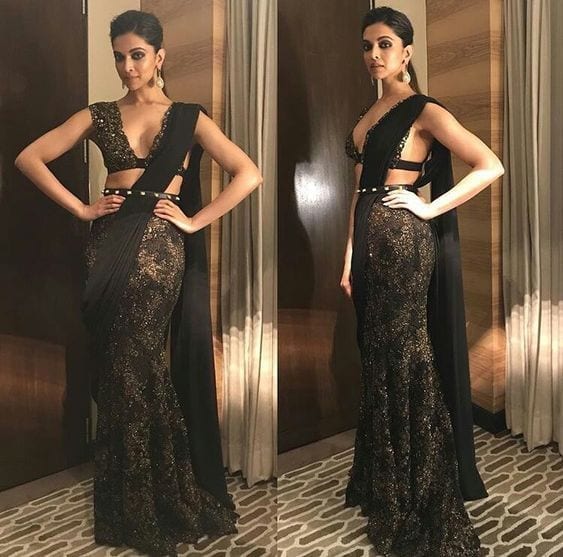 ↓ 41 – Single Tassel
You would look so decent and graceful in this blouse style with a half-high necked front and a huge loop at the blouse back with a single showy tassel. It goes quite well with a small printed, single-colored sari.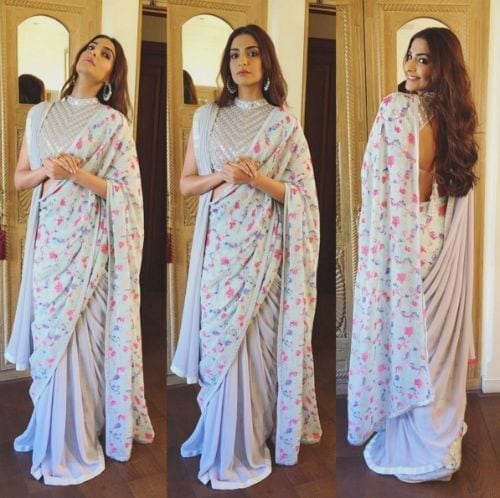 And if you're not too fond of back designs, you could easily incorporate such a pattern for the front neckline of your blouse.
↓ 40 – Single Sleeved Blouse
Extracting the western dress style to combine into the eastern sari blouse is called a sense of fashion. A blouse with one sleeve full and another sleeveless with two colored saris is exotic.
↓ 39 – Sexy Blouse Design
You want to look elegant and extravagantly posh on an award show, or semi-formal event, then go for a thick translucent netted blouse with simple neckline and small beads embedded into the blouse with embroidered connections, styled with plain fall sari. You can have low side cuts on the blouse to reveal your curves.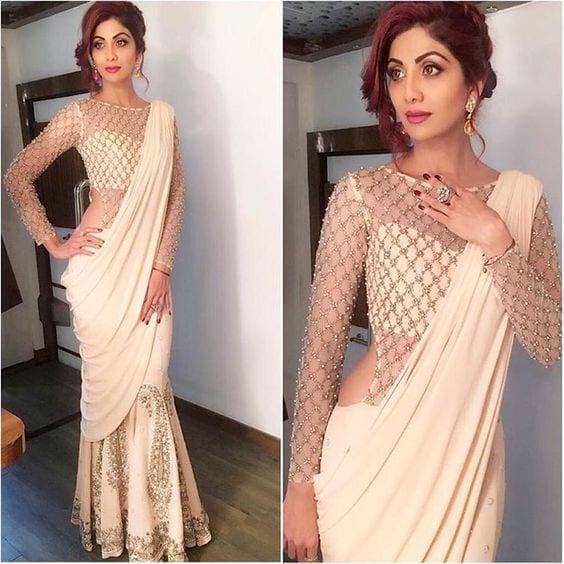 ↓ 38 – Off Shoulder With Stripes
Flared quarter sleeves and cold shoulder blouse is just perfect to showcase your jewelry collection, such as a heavy stoned necklace. A horizontally striped blouse and a golden bordered sari are superb looking but if you have a broad chest then you should avoid horizontal stripes.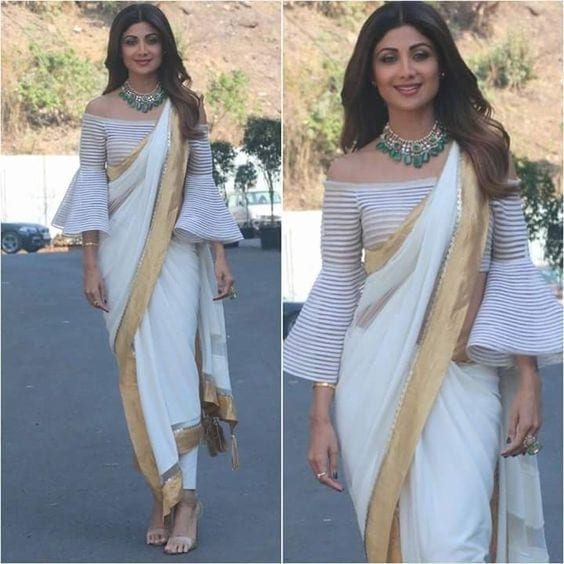 ↓ 37 – Celebrity Style Saari
Add dimensions to your blouse by attaching two different colors in halves on a blouse with a closed high Chinese collar and half sleeves. Also, have a look at these Indian Celebrities in Palazzo Pants.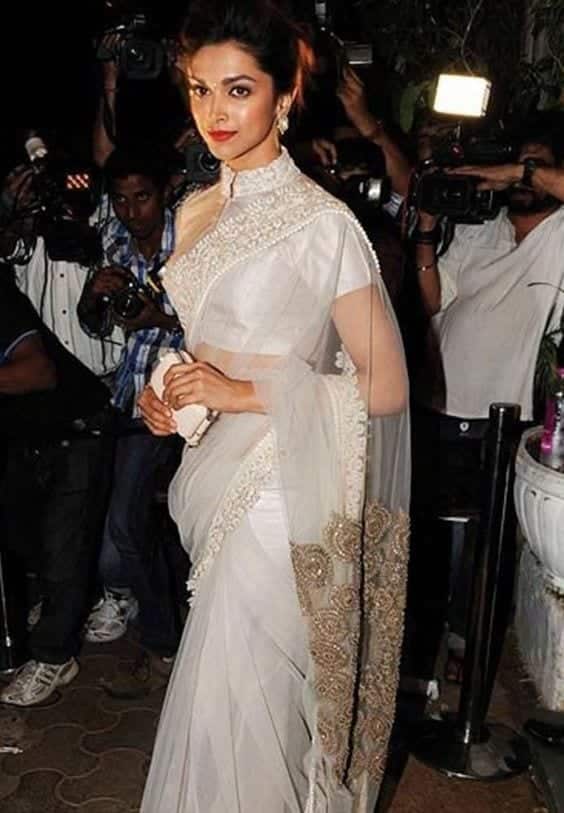 ↓ 36 – Net Embroidery
From the beginning of your neckline to the start of your chest, add thin embroidery on a piece of a net of the same sari color on the blouse, and a heavy bordered sari edge is just the right ethnic wear for the night.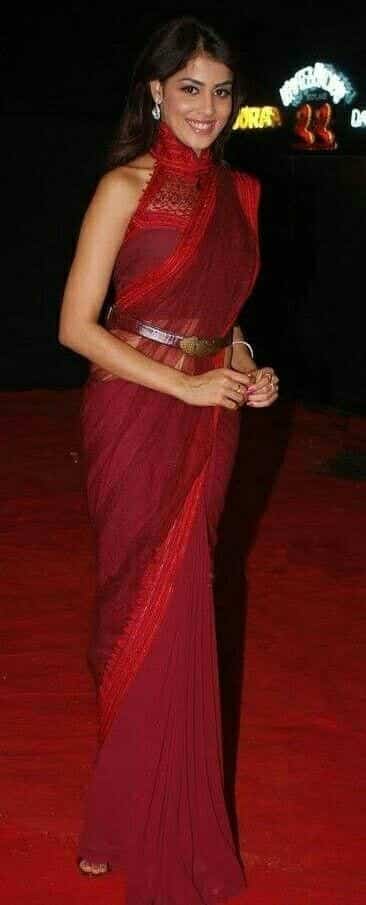 ↓ 35 – Upper Arms Cut
Such cuts, much wow. It is an incredible way to give subtle, attractive looks through your sari blouse with only revealing loops of your upper arms in blouse sleeves.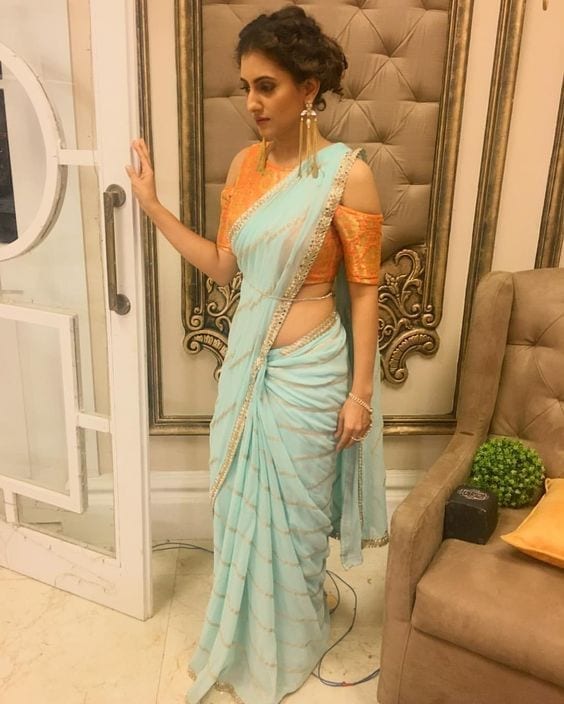 ↓ 34 – Collared Cold Shoulder
A unique style to adopt for sari blouse – a proper collared upper half of the blouse continued with shoulder caps and a contrasting lower off-shoulder blouse separated by a space on the front is mind-blowing.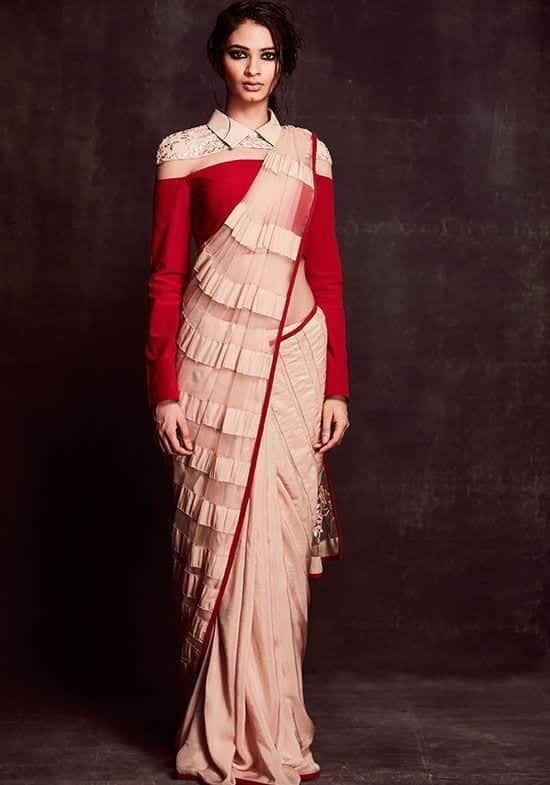 ↓ 33 – Inward One Shoulder
A new modern style to wear the sari pallu ( shoulder drape) from inside the blouse is just epic. A peacock hued sari blouse with a heavily beaded neckline with one shoulder is marvelous.

↓ 32 – Slanted Cropped Blouse
This never gets old, a V-neck front and sleeveless slanted belly high blouse is so easy to go and carry kind of top for the double shaded sari.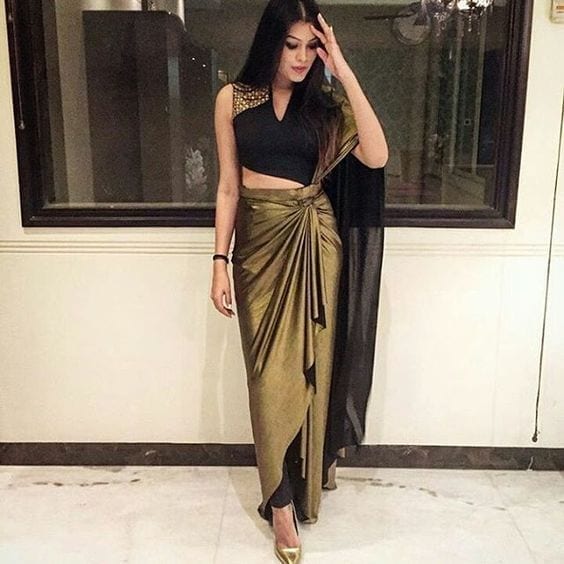 ↓ 31 – Beach style Folds
A chiffon Chunari sari with its drapes tightly folded along the blouse shaped to give a single shouldered top look is just similar to the summer beach style tops.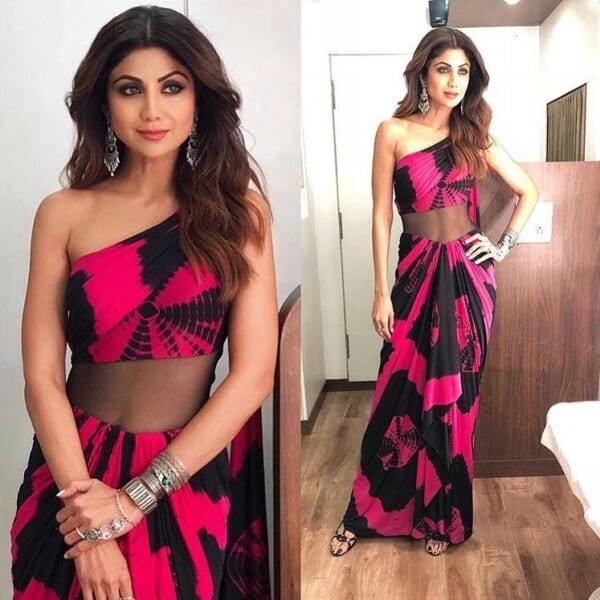 ↓ 30 – Classy Strapless
A perfect portrayal of femininity, this bra style strapless blouse carried by a thin net up till the neck end with lightly glittery work on it is so dashing.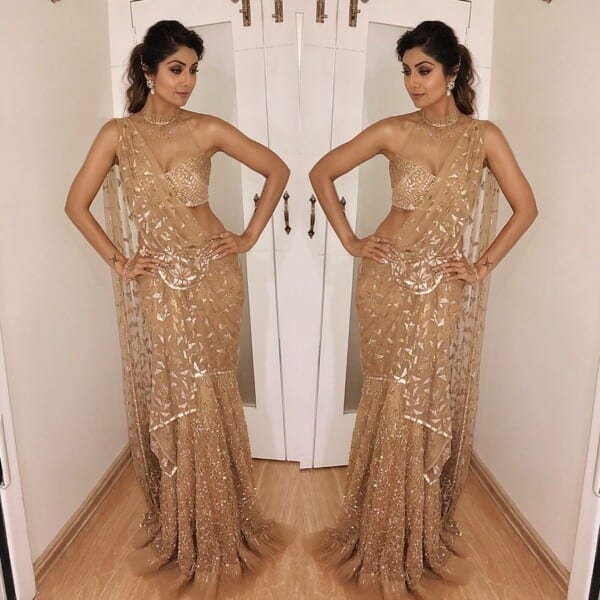 ↓ 29 – Embellished Cuts
Another unique but funky style to carry your sari outfit is the cropped tank top sparkling and embellished blouse with armbands to decorate your sleeveless arms.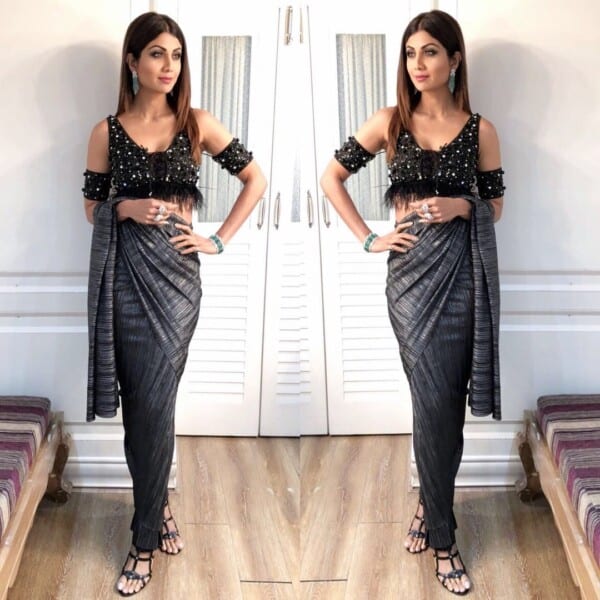 ↓ 28 – Shirt blouse
Just like a casual cotton shirt you wear with jeans, we can use it as a sari blouse too, with a plain cotton sari as a relaxed weekend outfit.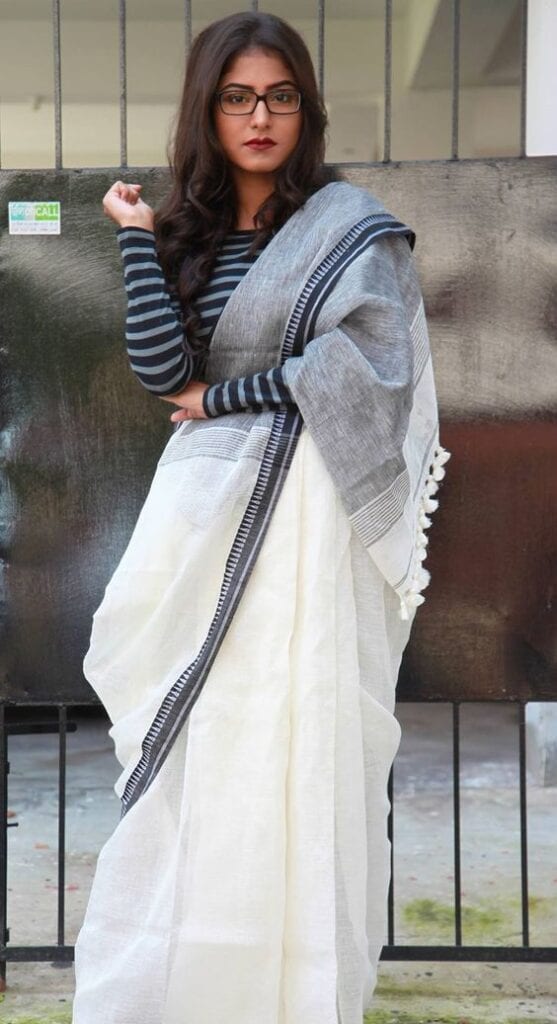 ↓ 27 – Almost Backless
A single fat strap as the back of the blouse and a round-necked sleeveless front is too good to brag silently about your back tattoo or curves. Here are 14 Most Elegant Saree Designs.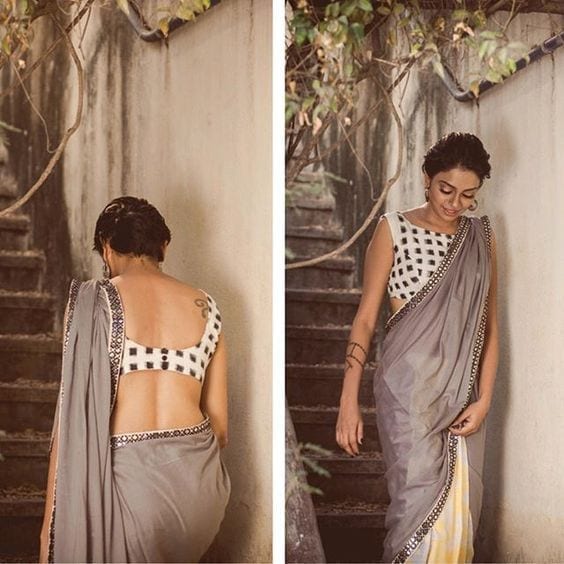 ↓ 26 – Simple Knot
A simple yet captivating blouse still would be a small hooked loop at the back, and a basic knot formed at the bottom of it. Keep the front sophisticated and straightforward.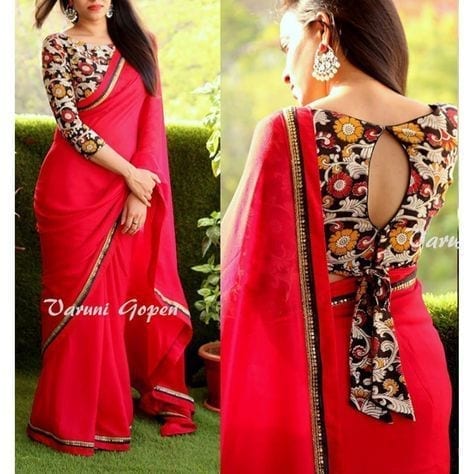 ↓ 25 – Statement Backs
Your gotta worked sari blouse is one of the most delicate blouse styles with the round, symmetrical loop in between the blouse's back bordered by gotta is just heavenly.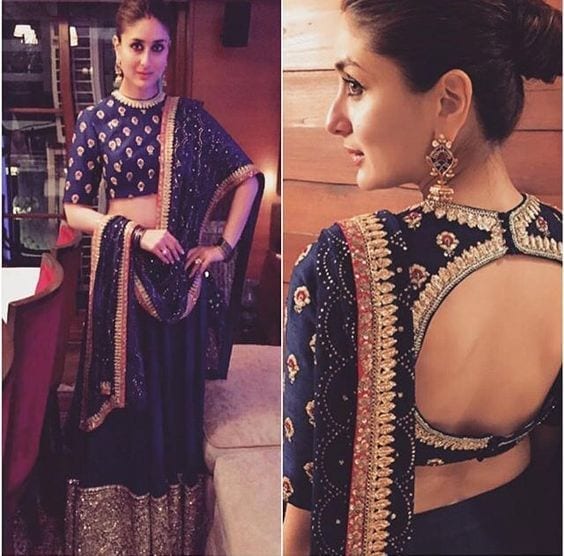 ↓ 24 – Chest Detailing
Keep the half body of your blouse and sleeves in opaque color and leave the rest as a shiny thread-work on the transparent net for a smashing new look.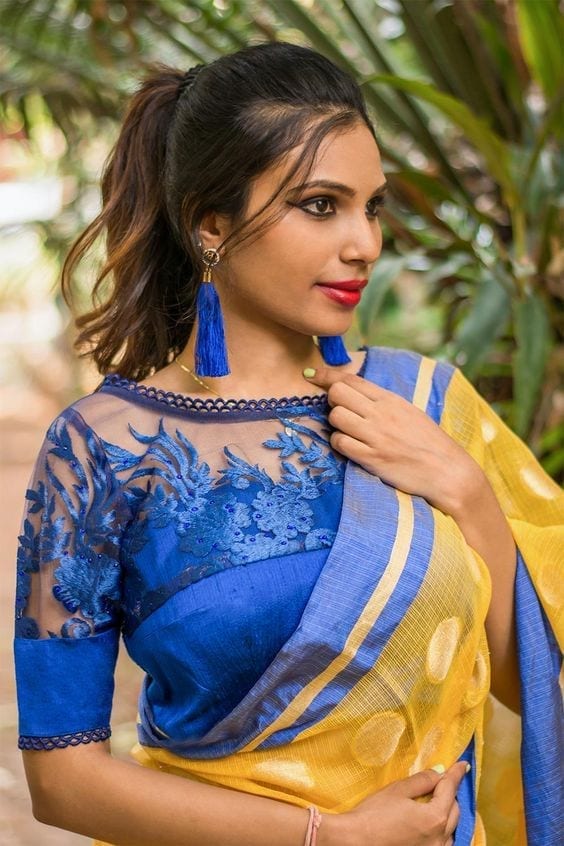 ↓ 23 – Blouse With Short Flared Sleeves
A rather appealing and urbane sleeve style adopted on a plain dark sari blouse with a bell or flared sleeves from the end are exquisite.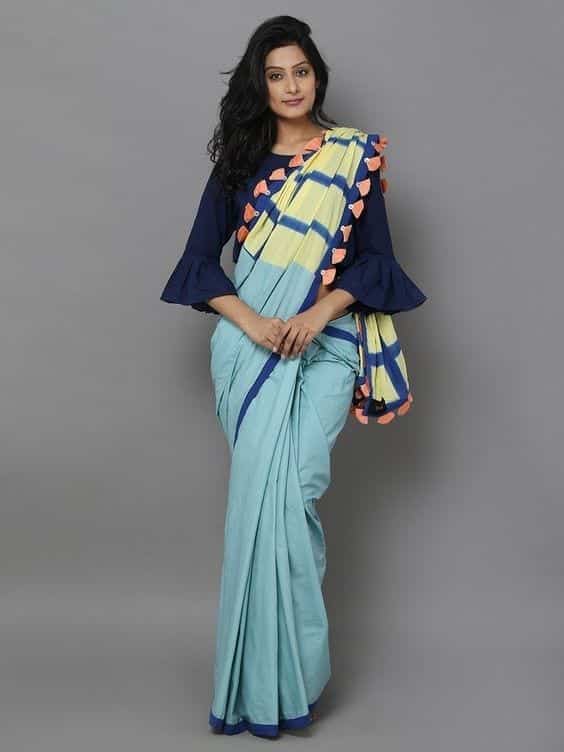 ↓ 22 – Chiffon Sleeves
A round neck style with hug umbrella chiffon sleeves and a contrasting sari is a symbol of eastern aesthetics.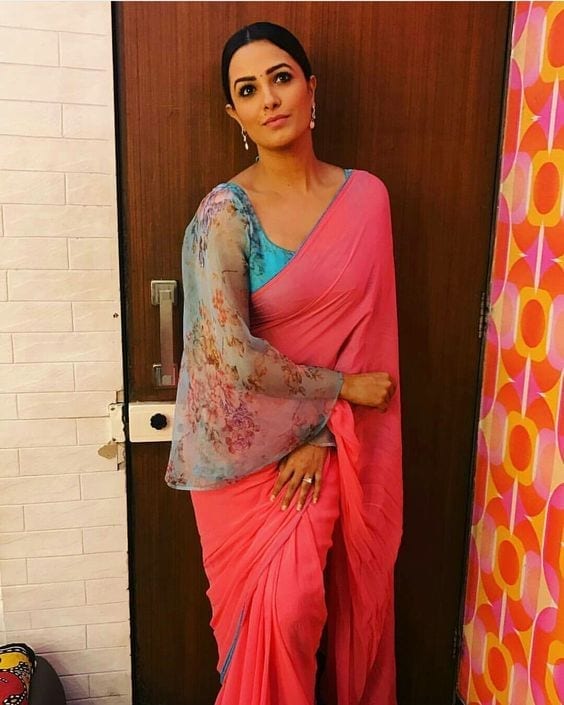 ↓ 21 – Party Wear Blouse
A perfect vogue sari look pulled with golden fringed blouse back, and stone studded laces are ravishingly superb.

↓ 20 – Tassels
Backless blouse with completely undemanding front – edges of the back lined up with Latkans and strings in the bottom for the fancy look to a simple sari.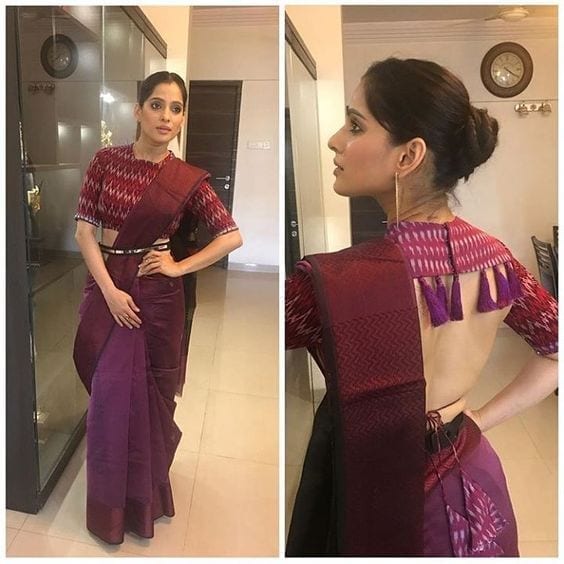 ↓ 19 – Multiple Straps
A number of straps stitched horizontally throughout the blouse back with capped sleeves, and rectangular neck design is so divine.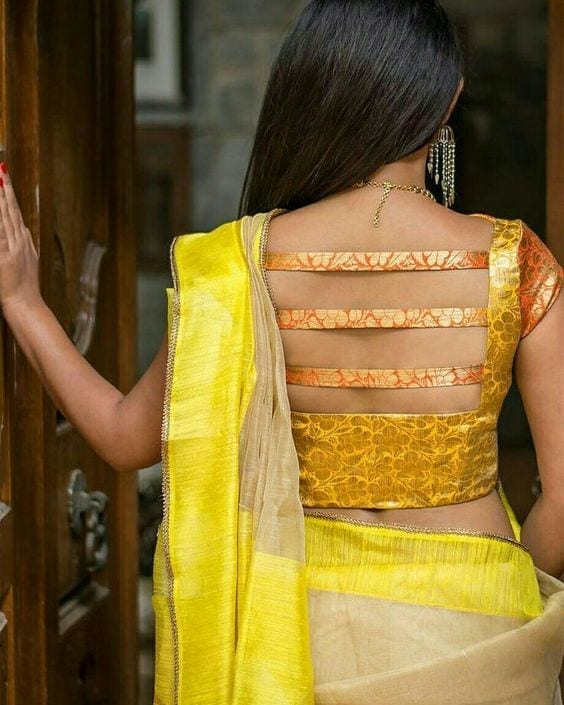 ↓ 18 – Glamorous Party Look
You want to go all cultural on your bridal shower or best friend's wedding parties; a horseshoe front neck design and half sleeves all done on a glittering, shiny golden or silver cloth is a beautiful choice.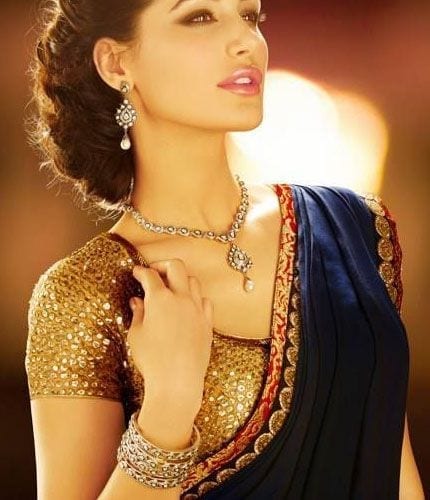 Irrespective of whether you belong to India or not, sarees are loved by women everywhere. They are used during fancy functions, parties, weddings, proms, farewells and events for women to dress up and look stylish. These days, sarees come in a range of different designs and patterns. Top designers such as Sabyasachi and Manish Malhotra are famous mainly due to their stunning saree designs, attracting the likes of famous Indian celebrities.
# 17. Traditional Design
Keep it classic and elegant with a full-sleeved blouse, full of rust-colored embroidery and a chiffon saree. If you notice, her hairstyle is totally complementing this look so make sure you choose the right hairstyle with your saree. Here are some great hairstyling ideas with a saree that you must try.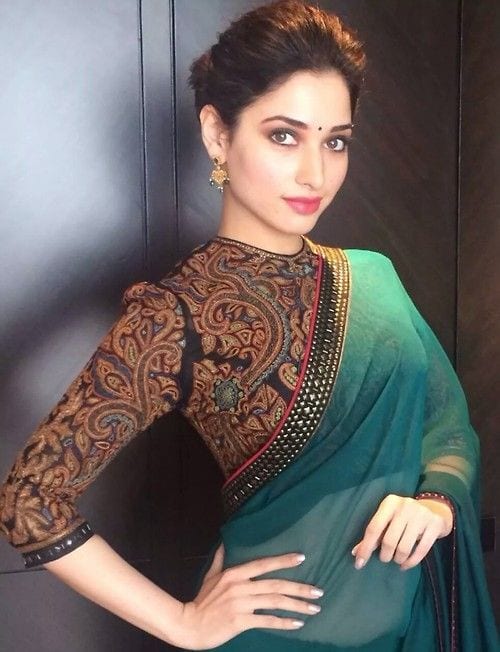 # 16. Black and White – Classic yet Sexy
This is one of the prettiest blouses we have ever seen, and we think you will agree! It's sheer, it's satin and it's everything a girl could wish for!Sleeveless blouse with deep back neck/backless.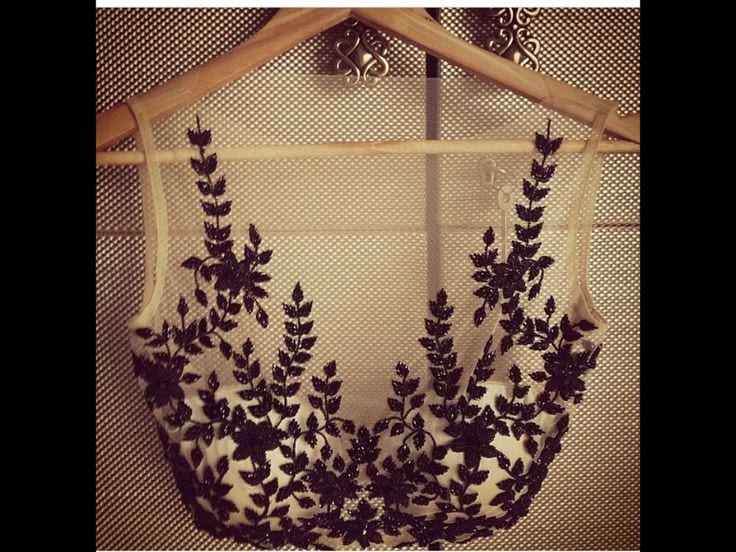 # 15. Bollywood Celebrities Inspired
Kajol is a great style inspiration, so follow her look by pairing black with baby pink for an awe-inspiring outfit.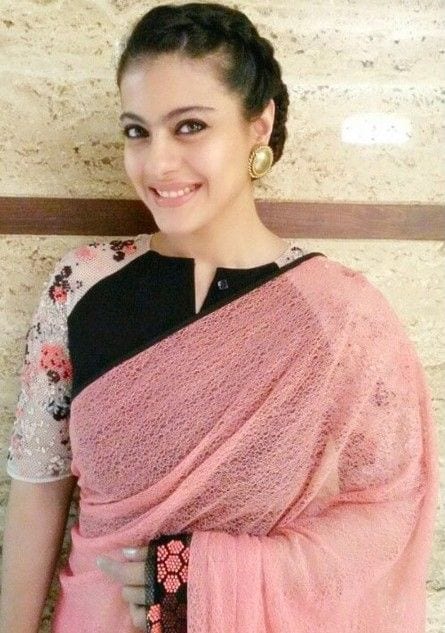 # 14. Plain, Simple yet Eye-Catching
Your dress does not have to be laden with embroidery or sequins for it to be beautiful. Keep it stunning by choosing a simple short-sleeved, bright color and keeping it simple.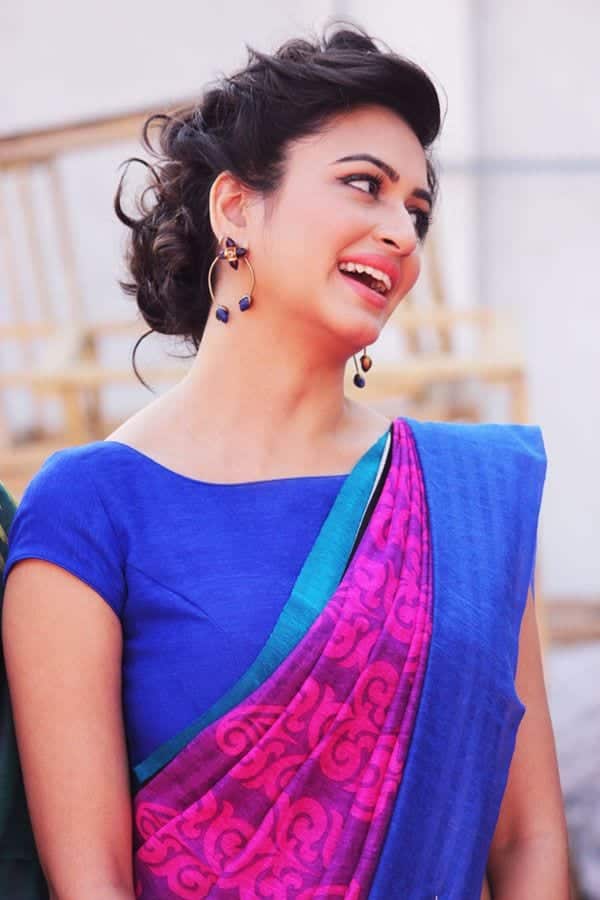 # 13. Party Style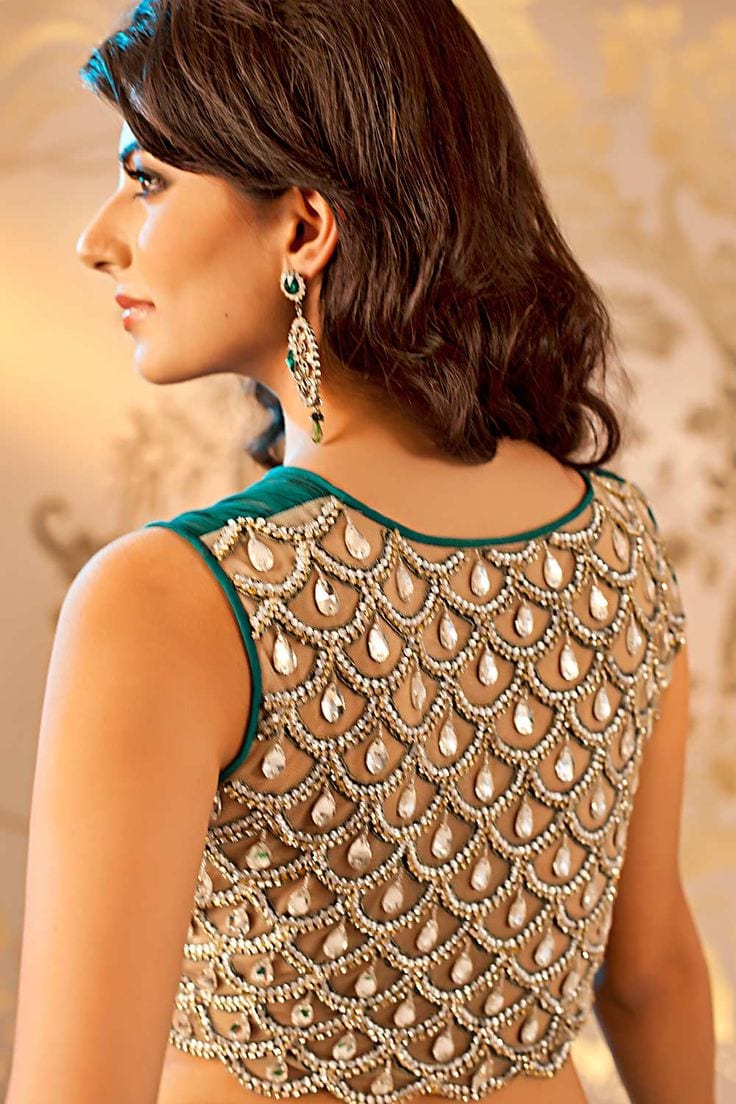 # 12. Orange Is The New Black
Stick to one color for both the blouse and the 'palu', such as orange, and get a lot of silver sequin work done on the cloth.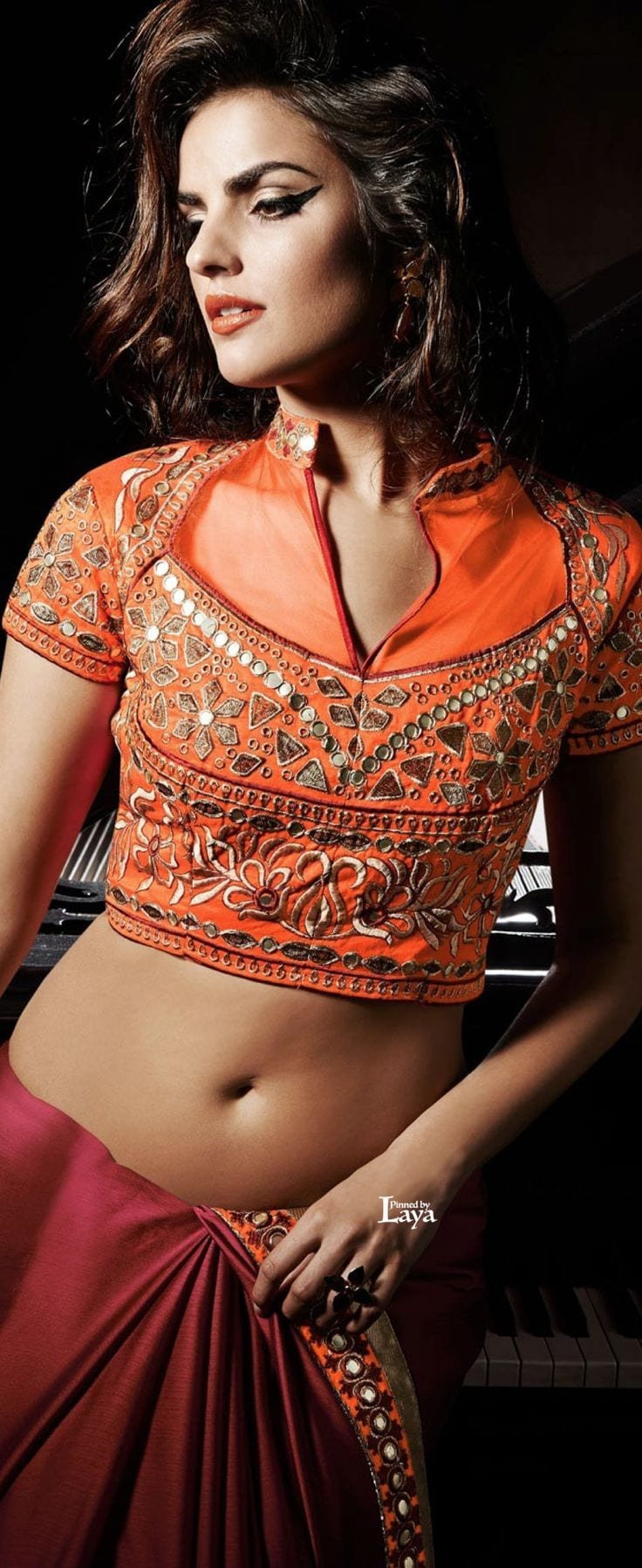 # 11. Pearls Are A Girl's Bestfriends
Forget diamonds, because pearls are totally fashionable right now! Load them up on your blouse and choose a deep neck style.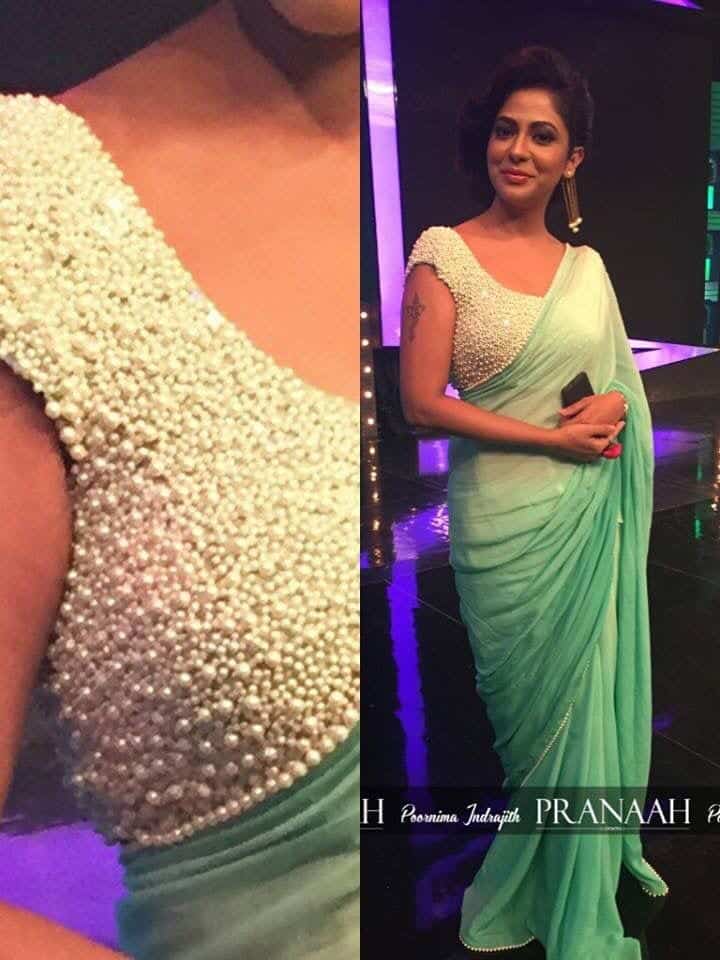 # 10. Turkish Style
Turkish style fashion is all about flowers, patterns and golden embroidery.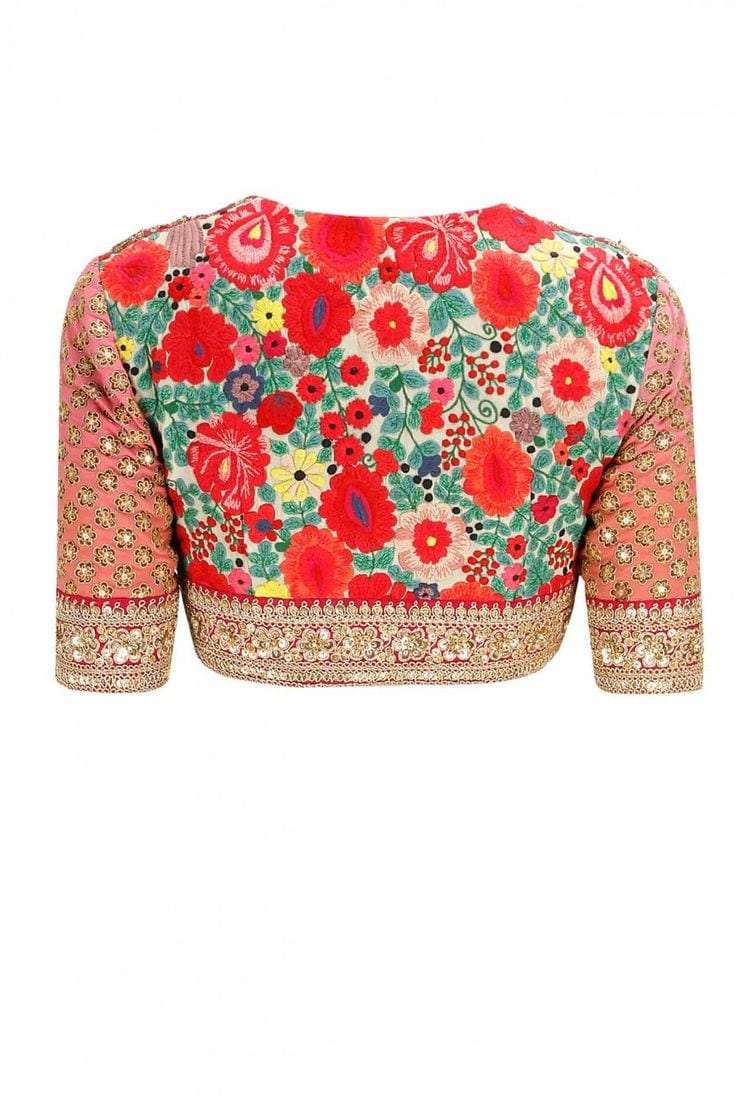 # 9. Victorian Style Sleeves
Instead of focusing on the blouse, draw the attention towards the sleeves and load them up with pretty sequins.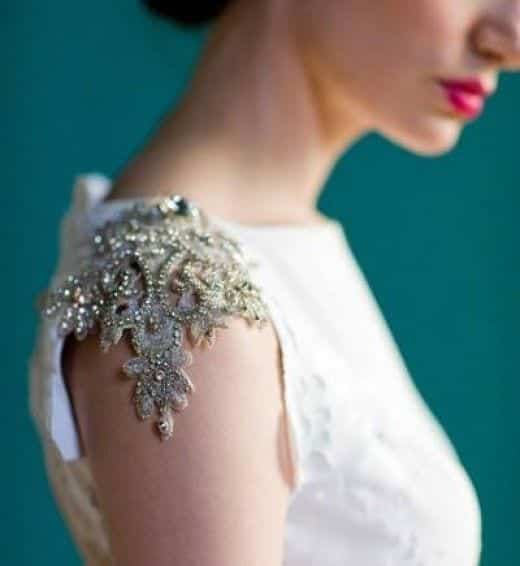 # 8. Elegant and Graceful
This style is perfect for a farewell or prom dress, as it is elegant yet simple at the same time

# 7. Deepika Blouse Style
Deepika Padukone is the queen of sarees, so seek inspiration from her and go all-pink! We're loving this full-sleeve blouse with a backless design of hers. You should also check out these Great Bras To Wear With A Backless Dress For The Perfect Look.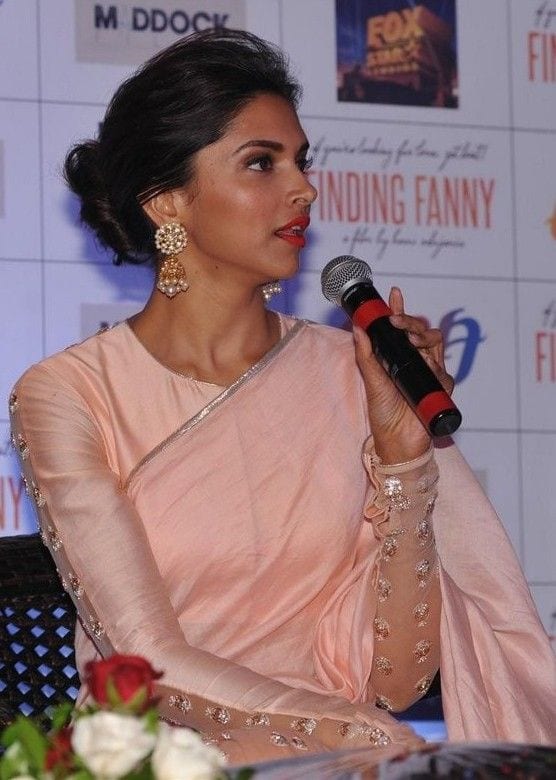 # 6. Floral Desing
This style is perfect for a fancy party or wedding, as it is elegant yet catchy at the same time.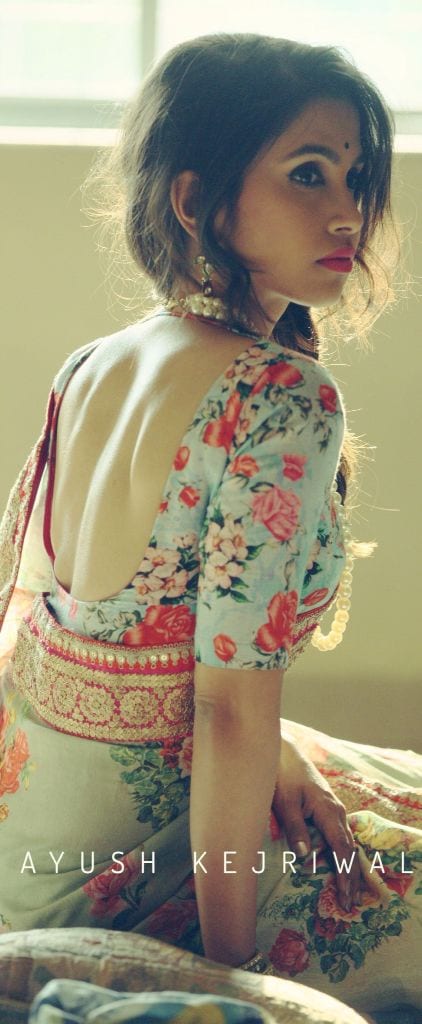 # 5 -Simple Design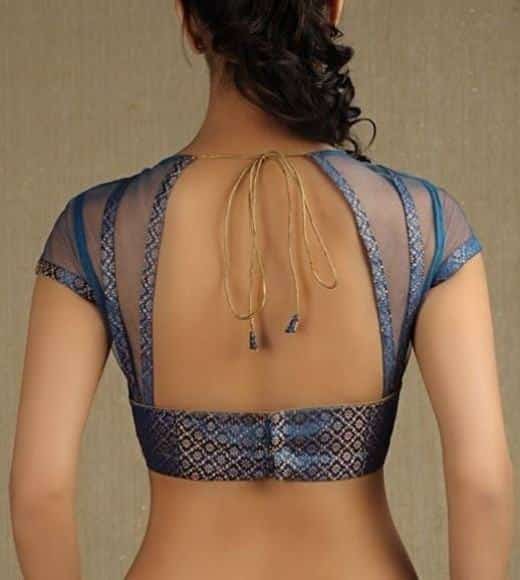 # 4 -Quarter Sleeves Brocade Work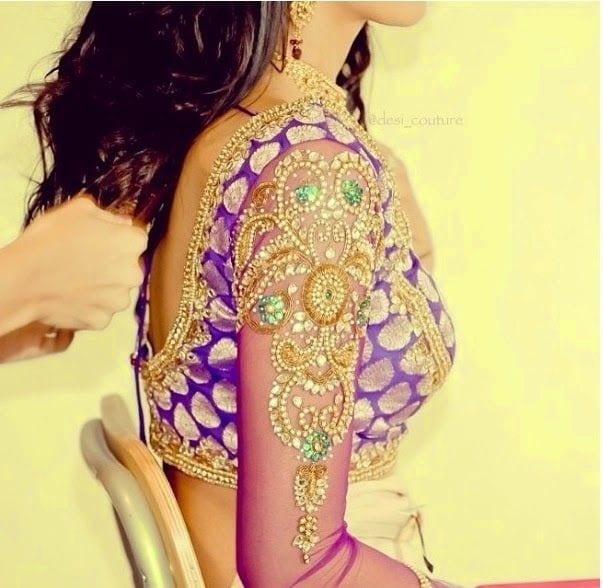 # 3 – Bridal Couture Style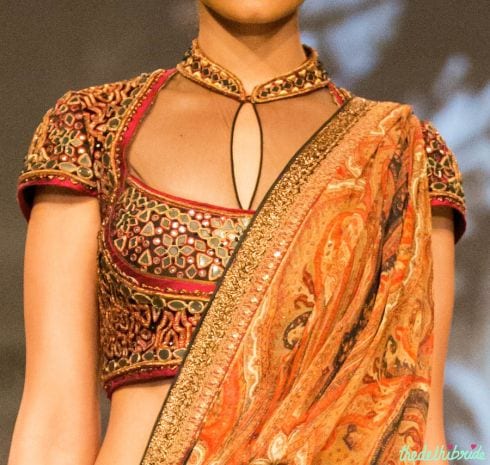 # 2 – Style with Transparent Saree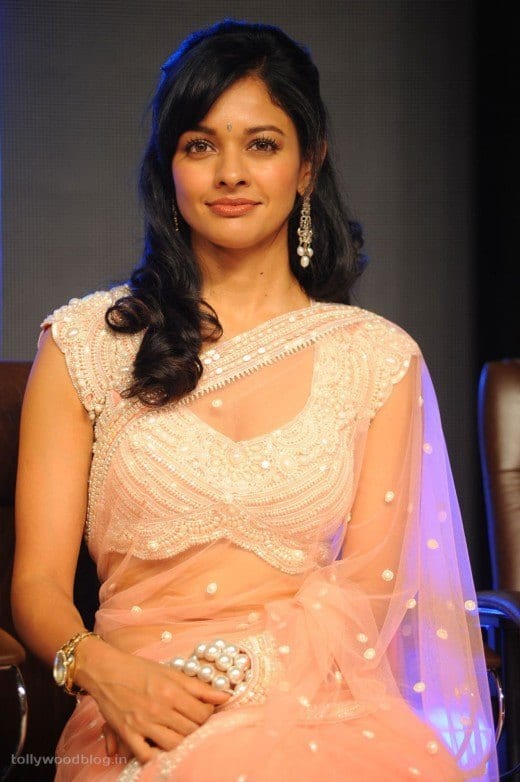 # 1 – Short Sleeve with Deep Back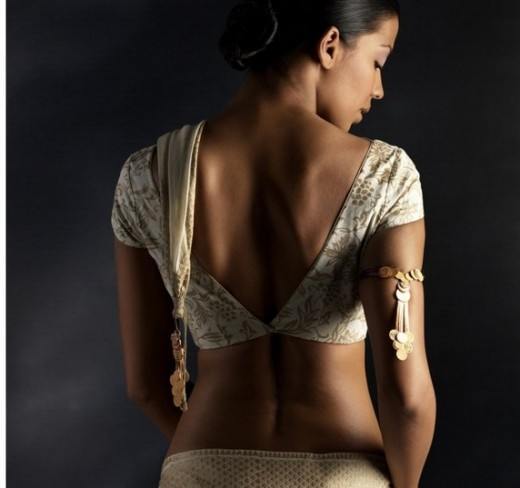 FAQs
Q.

Which type of saree will suit me the best?

A. If you're skinny, heavy cotton sarees or heavy silk sarees will look the best on you, accentuating your curves. On the other hand, if you're chubby, net or chiffon sarees will look amazing on you.
Q.

Do you need to wear a bra under a saree blouse?

A. Yes, but you need to choose it carefully or get it designed so that it doesn't show through the blouse. Moreover, some tailors stitch padded sarees in which you do not require wearing a bra beneath.
Q.
Which hairstyles look the best with sarees?
A. Messy low bun, side bun, loose curls, beachy waves, dead straightened hair, sleek bun, or a half-up puff can make you look like a goddess in a saree.
For more details, head on over to our detailed post on Celebrities Inspired Hairstyles to Wear With Saree.
Saari is the most favorite dress for the women of the subcontinent and it can be used to slay at any event. Be it a wedding, an office party, or a farewell; you can look stunning and graceful carrying it. We have discussed some pretty unique designs of saree blouses as they're the most in focus, and you got to look gorgeous as well. So quickly decide what design you are going for in your upcoming event!