Elegant Saree Designs- Saree, also known as India's national dress, is a female dress or garment. Indian, Bangladeshi and Pakistani saree dresses are famous worldwide because of their ethnicity, beauty, and luxurious vibe.
The material of the saree is about five to nine yards long. It is the only unstitched garment that has been famous not just in the subcontinent but also abroad. Saree is paired with a crop top like blouse till the belly, usually with half sleeves. You can style saree in about 80 different ways, including Nivi style, Gujarati style, Kashta style, Bengali/Oriya style, Gond style, Malyali style, etc. Amongst all of them, Nivi remains the most popular style. There are uncountable varieties of saree fabric, such as Chanderi sari, Maheshwari sari, Dhokra silk, etc.
Are you looking for the latest saree designs and ideas on how to wear a saree for a glamorous look? Or are you searching for how to style a saree and the latest Saree fashion trends? Well, this post is going to answer all of these questions. So stay focused as there are some fantastic ideas in store for you. Here's our Step By Step Guide to Drape Saree
How to Wear a Saree Elegantly
With time, the color and fabric options for the saree have also expanded. These days, the most famous fabrics for saree are Crepe, silk, chiffon, Satin, Charmeuse, etc. The traditional and dull colors are no more in fashion, and some unique colors such as Blush Pink, Smoky Beige, Pumpkin Orange, Rust Brown, Pineapple Yellow have been added to the palette.
Saree is an easy-to-wear garment and has gained a lot of attention, even in the west. Brides living abroad also prefer wearing saree's on their wedding day. However, sarees are no longer limited to weddings and festivities. People these days wear modern draped sarees regularly and slay each day.
Some do's and don't's of wearing a saree:
Firstly it is essential to choose a piece that fits you perfectly and suits your personality. There are a wide variety and variation in designs, prints, fabric, color, etc. Therefore one should know which type of saree will suit their personality, body type, and skin tone the best.

Choose the color of your saree according to your skin tone. You're the best judge of what color suits you and if you're wearing the saree for a special occasion, it makes sense to go for one that complements you best.

Take the weather into consideration while wearing a saree. Avoid wearing bright colors like yellow on a hot sunny day.

Tie your petticoat above or below the navel and tuck properly. A loose or untied petticoat may make you seem fat.

Use safety pins for adjusting your saree, but make sure to use them neatly and on the inside.

Pick the saree's fabric carefully; make sure you can handle it well, and keep in mind the weather conditions and occasion. You cannot pull off a chiffon saree on a windy day or a silk saree on a rainy day.

Pick the right shoes, which should be comfortable as the saree may give you a hard time walking. Heels are the best choice as they will reduce your risk of falling.

Do not let your petticoat stay flared because it will make you look shapeless.

Ensure your saree is not long enough to touch the ground as that can make you stumble and fall.
You'll find below some of the latest trends in saree fashion, along with styling tips and tricks. We're sure that by the end of this post, you'll be a saree styling pro, and you'll be able to look like a diva when you wear a saree next time.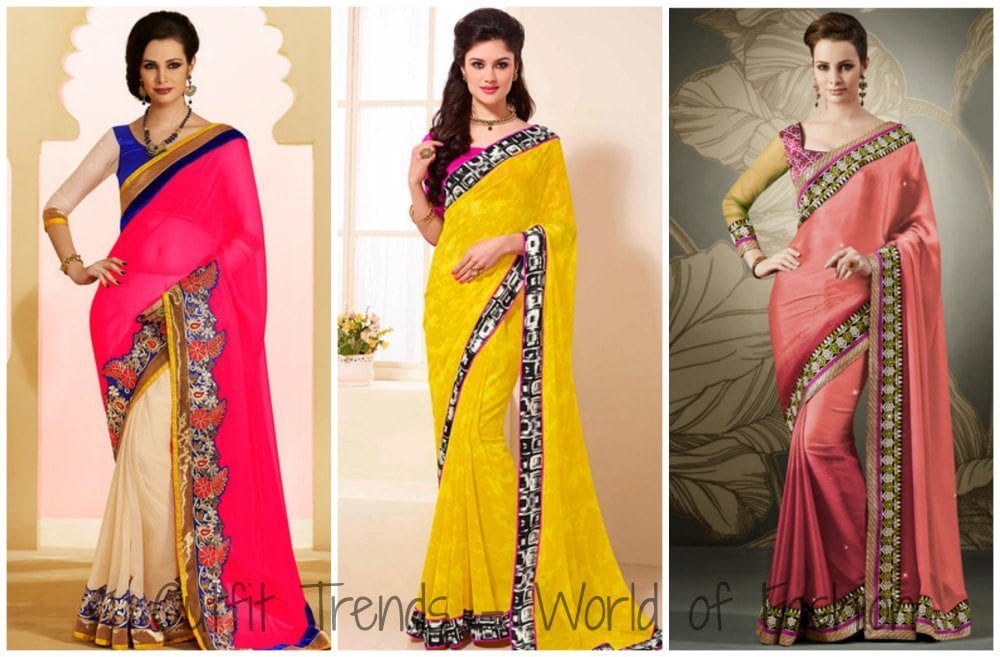 ↓ 22 – The most famous type of saree blouses are :
The design of a saree blouse is of enormous significance as it can make or break your look. Gone are the days when silk or Banaras blouses with plunging necklines were the only choices. These days people prefer wearing a stylish and comfortable blouse.
You can even wear your saree with a tee shirt or collared button shirt for casual occasions. However, for formal functions and weddings, try wearing your saree with a stylish blouse like halter neck, tie up or cape, etc.
Here are some of the most trending saree blouses these days.
Halter neck: It has a broad neckline that can be tied up at the neck.
Corset: It is a strapless blouse. It can be worn by ladies who want to show off their toned bodies and shoulders.
One shoulder: These are netted sarees with one shoulder/sleeve.
Tie up: These are the traditional style of blouse with two straps only.
Backstrap: It has a single or multiple straps at the back, perfect for people who want to show off their toned back.
Spider web: It has strings are attached to the back, which looks like a spider web.
For more details on this, go through these Latest Saree Blouse Designs That You Must Try.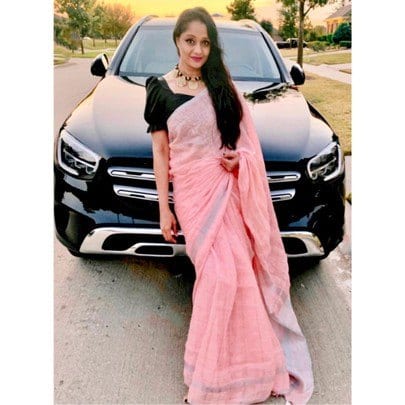 ↓ 21 – How to Drape a Saree
Here are the steps to help you drape your saree perfectly.
1 – You need to start with the blouse/top on.
2 – The next step is to wrap and tuck the cloth. Hold the sari in a way that the shorter side goes from your waist to the floor. And wrap the longer end around your waist. Adjust it till it reaches the navel.
3 – Drape the plated end- Adjust it to the length you want, and then pin it to the shoulder strap of your blouse.
4 – Cover the hips – Pull the fabric from the top left of the saree and fix it. Drape it well along the sides and then tuck it to the navel.
Here are some saree designs that will give you an insight into the latest sarees and their designs. I have mentioned some draping styles that are very famous and elegant for any girl to wear.
Let's see the collection now. Most of the dresses in this collection are available at a very reasonable price in different markets and online stores. These sarees are exquisite yet come in a very affordable range.
↓ 22 – White Decent Saree
↓ 21 – Fusion Saree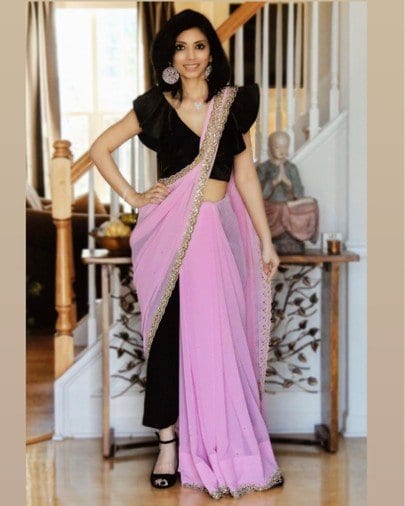 ↓ 20 – How to Wear Saree With Pleats
↓ 19 – Simple Elegant Sarees for Wedding
↓ 18 – Elegant Silk Sarees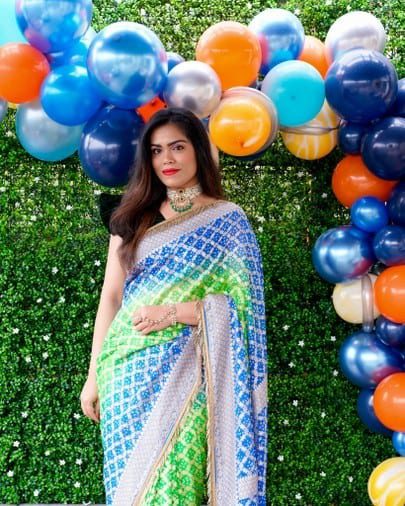 ↓ 17 – Saree Styles for Mature Older Women
For adult women, we feel that nothing beats the black and gold combination in a saree. And to prove this, we have these beautiful examples of Jaya Bachchan and Dev Patel's mother at Oscars. Do have a look at these Pro Saree Wearing Tips for Short Girls.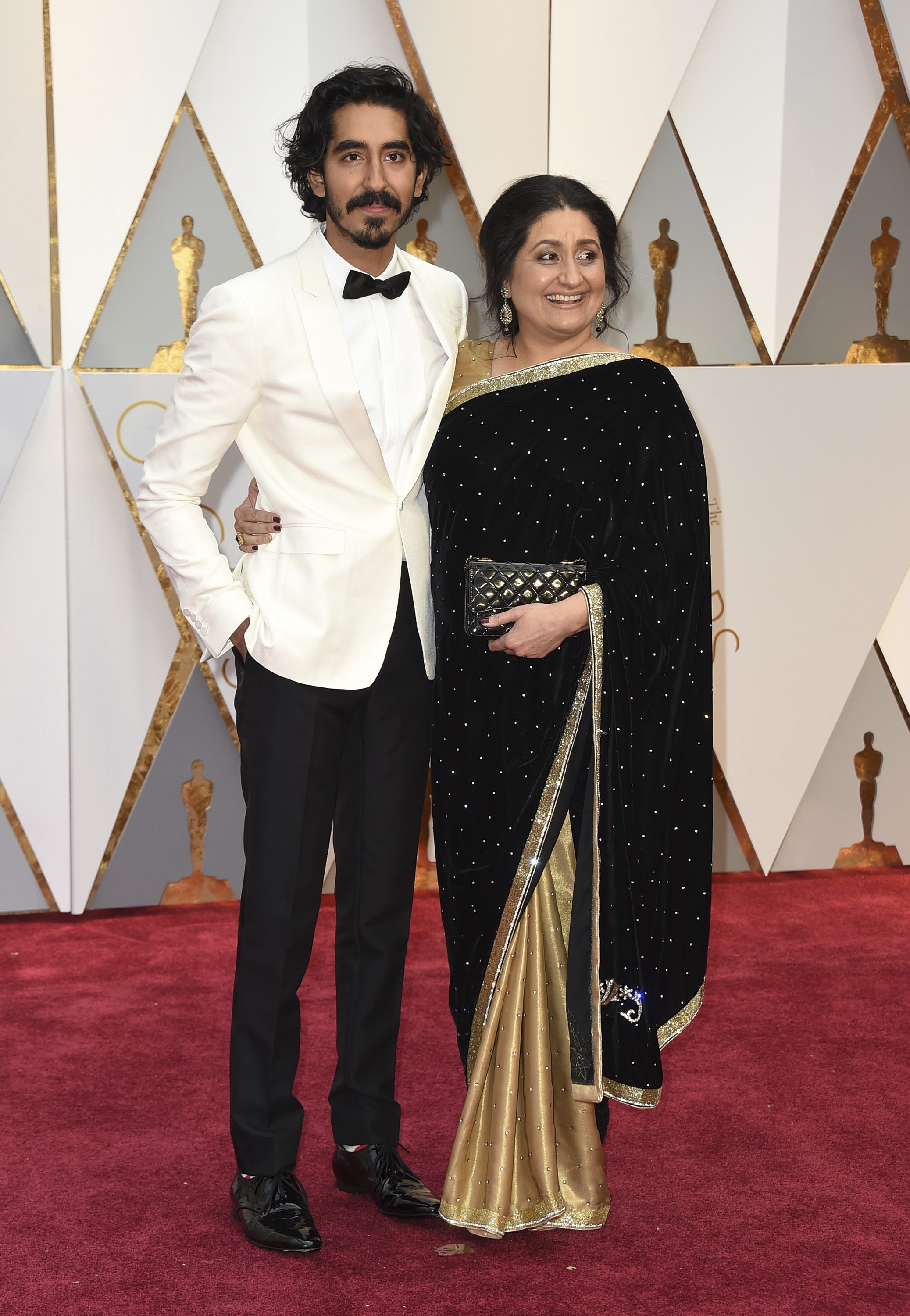 ↓ 16 – Net Saree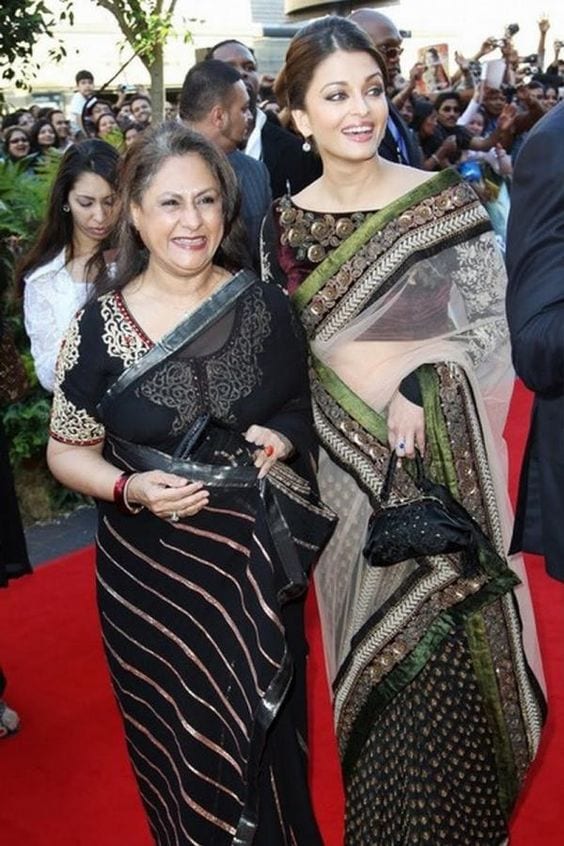 ↓ 15 – Denim Saree
With the ever-increasing popularity of sarees, everyone tries to give a new look to the traditional sarees. One such attempt is seen here as Sonam Kapoor wears a denim saree in dhoti style and a belt.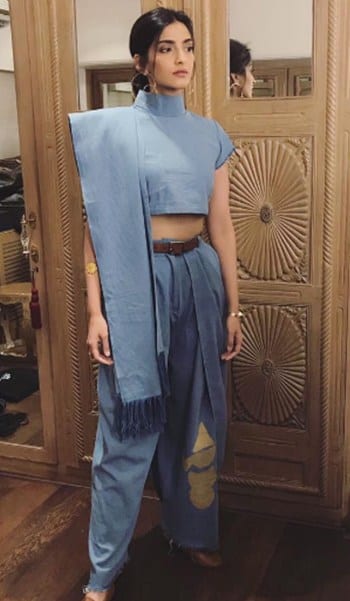 ↓ 14 – With Off Shoulder Blouse
Here is another unique way of draping a saree which makes it much more practical. The off-shoulder blouse gives this saree a very modern and swag look.
↓ 13 – Step by Step Video Tutorial – How to Drape Half Dhoti Style Saree like Sonam Kapoor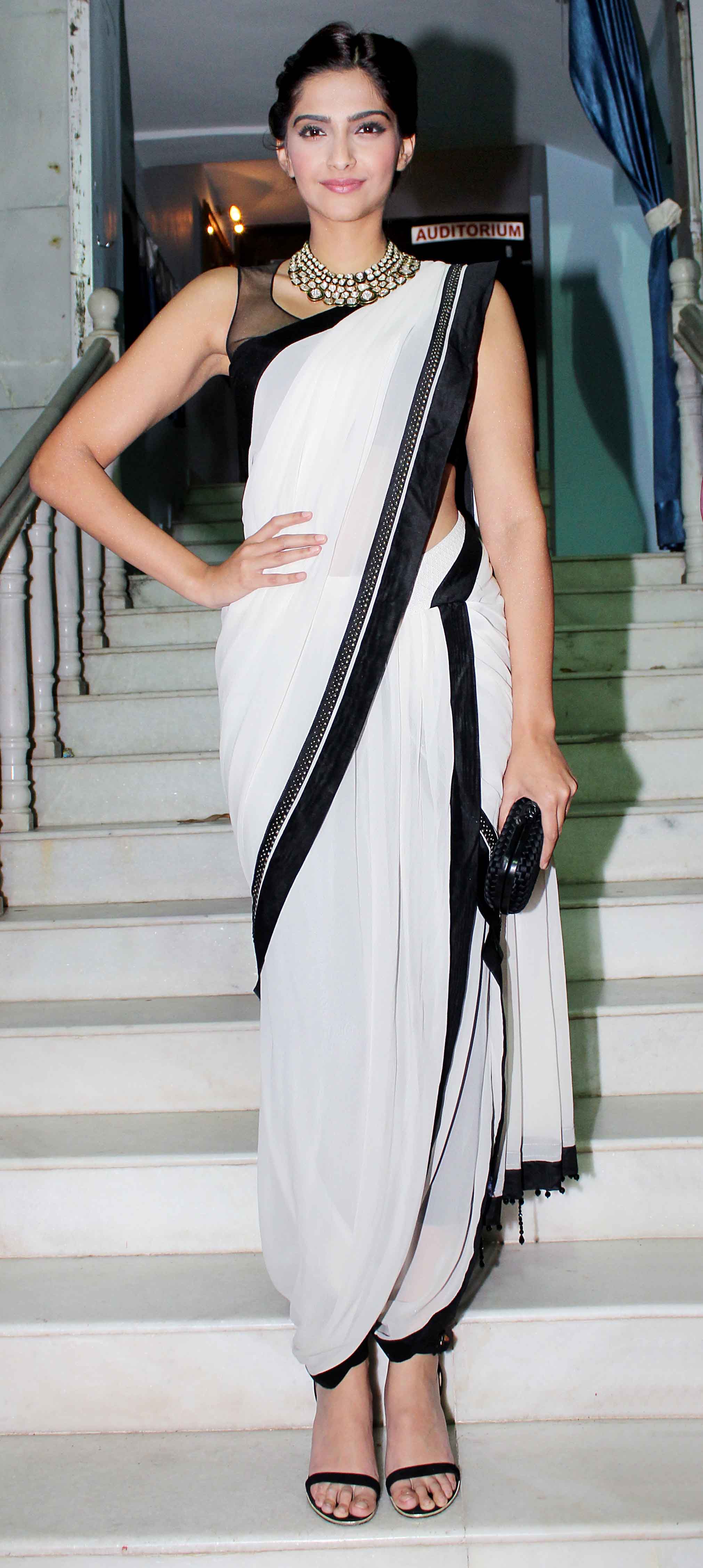 If you got inspired by the unique saree draping styles that we shared above, see this video as it shows an effortless and easy way to drape the dhoti style saree just like Sonam Kapoor. Remember that this style looks best in sarees, which have a light, flowy fabric with good fall, for example, chiffon.
↓ 12 – Date Night Saree Look
Kangna's saree is perfect for a date night, especially for Valentine's day date. The saree comes in a lovely pastel pink color with hearts printed all over it. Simple yet unique and bold, just like Kangna herself is. Since this year is all about statement sleeves, we also have our eyes on that puffed sleeves blouse. Have a look at Date Outfits for Women.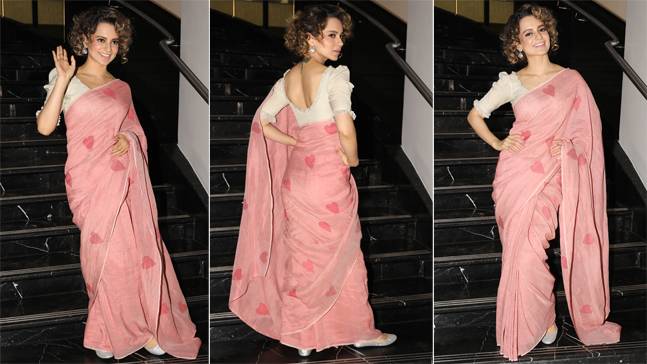 ↓ 11 – Sonam Kapoor Fringed Saree
Sonam Kapoor is the girl to look at for the latest fashion trends. Because ruffles and fringes have been trending a lot lately, Sonam went ahead and wore a fringed saree. It's new and unique, as well as a modern take on the traditional saree. She paired the saree with Jhumkis and a low bun with a mid parted hairstyle. Here are the Cutese Celebrities Inspired Hairstyles to Wear With Saree.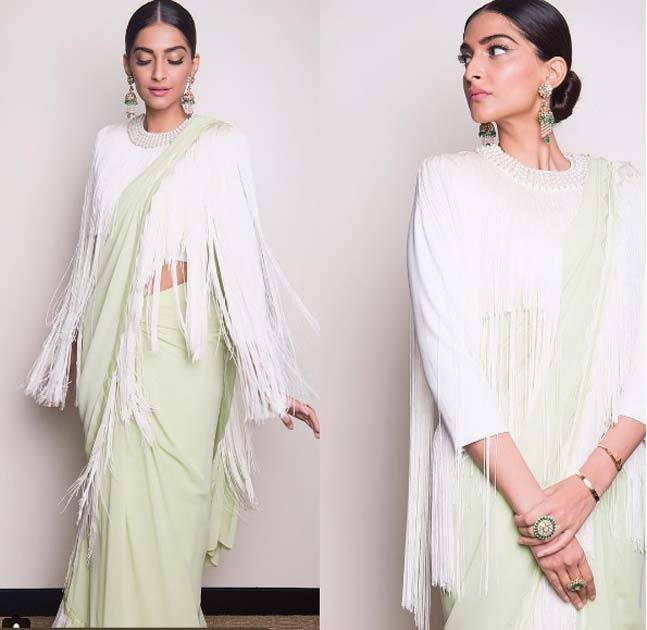 ↓ 10 – Gorgeous Saree Dress
Some brides prefer to wear sarees at their wedding as well. This is where saree dresses come in. They are a beautiful fusion between sarees and dresses, which make you look classy and elegant.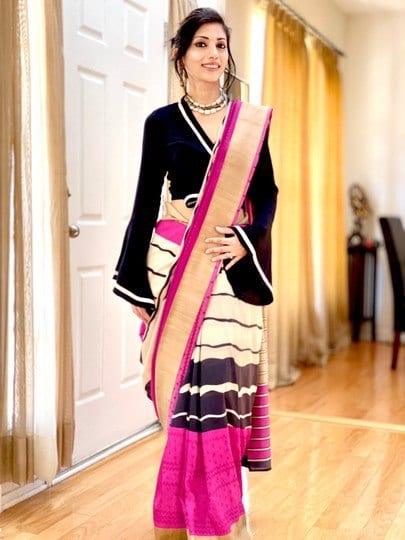 ↓ 9 – Printed Floral Saree for Spring
Floral prints have been trending for as long as we can remember. Now, they have made their way into eastern clothing as well, and we say they look jaw-dropping. They give you a light and breezy look, which is perfect for spring parties and day-time functions. Here's our guide on How to Wear Saree with Tutorial.
↓ 8 – Chic Minimalist Saree – Celebrity Style
Kareena Kapoor's bold choice of saree colors and that fabulous hairdo make her look like a style diva. The neckline of the blouse also looks fantastic. For more blouse ideas, you can check out these Latest Saree Blouse Designs.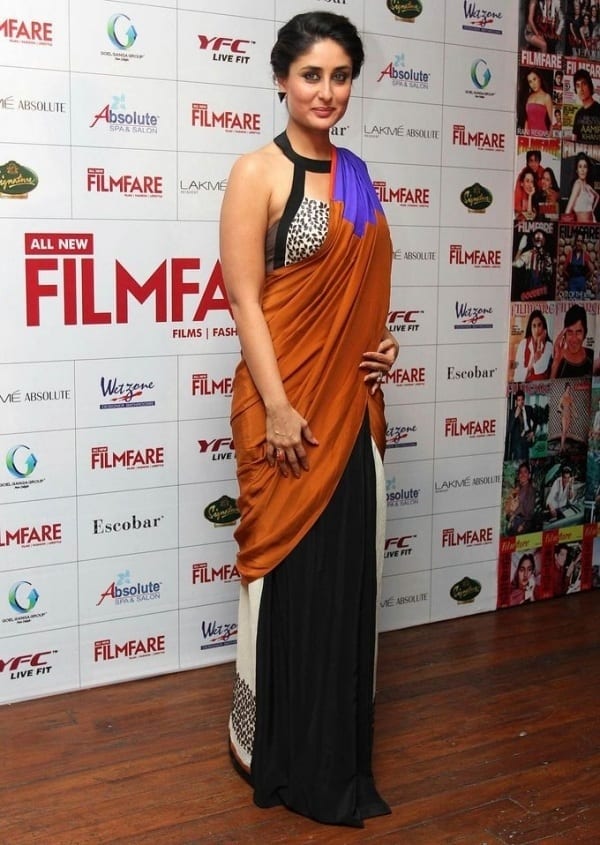 ↓ 7 – Embellished Sarees for Wedding Guests
Sometimes all you are looking for is the perfect saree that would not make you look too overwhelming and also look great at the same time. Embellished sarees will do the deal for you. They are great for going to weddings as guests or for formal parties.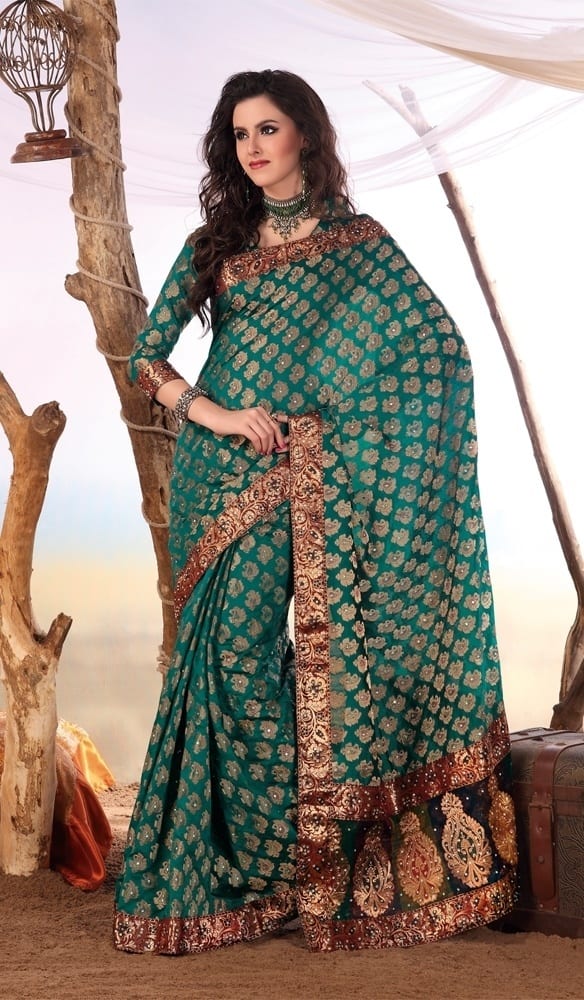 ↓ 6 – Simple Sarees for Work
The saree styles shown below are simple and elegant, making them appropriate for workwear.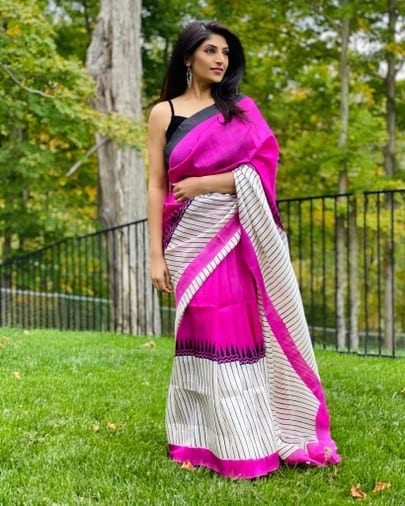 ↓ 5 – Red and Black Printed Saree
Ever since the beginning of time, red and black have been the most loved combination of colors. We suggest you include this piece in your saree wardrobe for a stunning saree outfit, appropriate for semi-formal wear.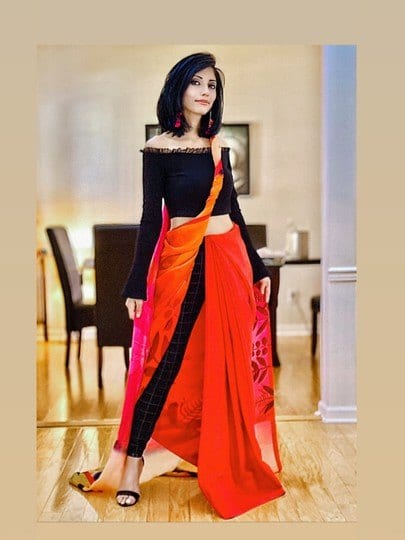 ↓ 4 – Pink Chiffon Saree
Chiffon sarees are the best to wear in the summertime because of their light and breezy nature. They keep you cool and give you a very feminine and classy look as well. The color pink never goes out of fashion, so you should not worry about not looking good when dressing up in a pink saree!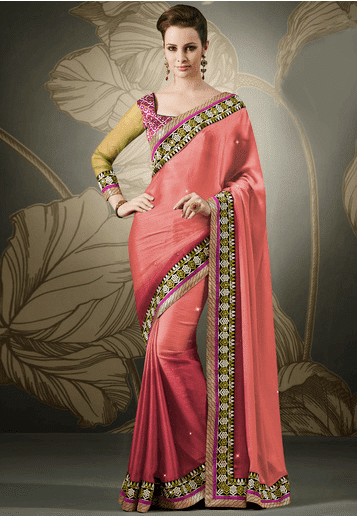 ↓ 3 – Ombre Shaded Saree for Parties
Ombre shades give you a soft and minimalistic look while making you look elegant and classy. This look is great for parties and even office parties. With ombre sarees, you can wear a statement necklace or bracelets to make it look even better. As this saree is usually very simple to look at, go creative with your hairstyle.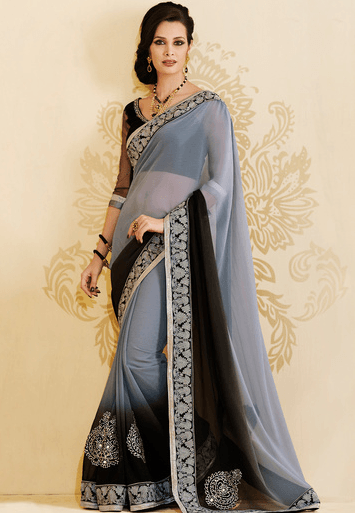 ↓ 2 – Ethnic Yellow Saree in Georgette for Spring
Spring screams color, and so should you! People who shy away from colors can never have the perfect wardrobe. The colour goes well hand in hand with sarees, and so you should experiment with colors a lot. Wearing a yellow saree in springtime will give you a vibrant and youthful look that will turn heads left and right.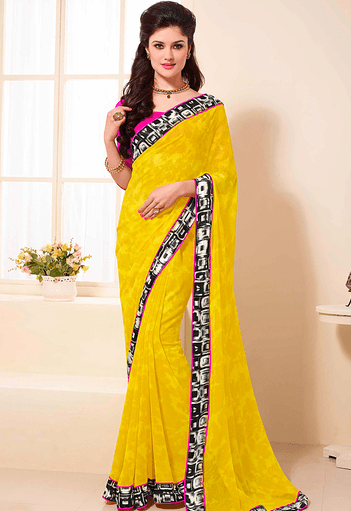 ↓ 1 – Silk Sarees for Formal Wear
Silk sarees are made, especially for formal wear. They make you look classy and feminine and also give you a lovely vibe. Silk sarees are comfortable to wear and are very trendy when it comes to saree fashion in the West. With silk sarees, earrings look amazing, as well as bangles and anklets.
So, here are all the saree designs that we have come up for you so you can follow them and carry your saree as elegantly as you can. For some people, wearing a saree is quite a difficult task, especially newbies. To calm their nerves and answer any potential questions, we have a Q/A session answering all the questions people frequently ask about sarees below. So, read on and rock your way straight into a saree!
FAQs
Q.

How to style a saree according to your body type?

A. Your body type can tell a great deal about the saree that would suit you. So, considering your body shape is an excellent idea before styling your saree outfit. It is suggested for tall and slim girls to style their sarees with an open pallu or with pleats in them. Whereas if you are medium height, try going with a draped pallu.
Q.
Which fabrics of sarees work best in the cruel summer heat?
A. It is tricky to wear a saree in summers, but it is not impossible. Fabrics such as cotton, georgette, and chiffon are lightweight and do not overwhelm the person wearing them.
Q.
Which accessories go best with sarees?
A. The most asked question is undoubtedly about which accessories might look great with a saree. If you are wearing a simple saree, go creative with the accessories. You can wear contrasting bangles, a nose ring, and a necklace. Some people even prefer wearing anklets and heels with sarees. It's all up to your liking and creativity, but do not forget to not overwhelm your entire look by wearing too many accessories.