The Best oversized hoodie outfits– Want to look cute in an oversized hoodie but don't know how to style it? Want to know where to buy oversized hoodies from? Do you think you won't look good in an oversized hoodie? Don't worry about all that.
Oversized hoodies can be worn with whatever you want. What's even better is that they are extremely comfortable wearing outside the house and inside. People believe that oversized hoodies can only be worn as casual loungewear. Still, this article is here to make you think otherwise. Oversized hoodies come in a wide variety of colors which is why they can be paired with several outfits.
How to Wear Baggy Hoodie Outfits?
1, Layering: Always layer your oversized outfits because they look better that way and layering also keeps you warm.
2, Jewelry: Jewelry can make or break an outfit. Make sure to wear the perfect jewelry with oversized outfits because it can be a little tricky to decide with oversized outfits.
3, Confidence: Never forget to wear some confidence on you people! Nothing will ever look good without it.
5, Never listen to what other people say: Usually, people will tell you baggy clothes make you look homeless but don't pay any heed to them. If it is your style, then you should wear oversized clothes. Never listen to what people have to say about how you live your life.
Where to Buy Oversized Hoodies from?
1, Zara
3, Boohoo
4, Ali Express
5, Etsy
↓ 31 – Black oversized hoodies with thigh high boots
A plain black oversized hoodie with black knee high boots is the ultimate fall season outfit but it can be worn anytime of the time. This outfit is easy to put together, comfortable and yet fashionable. A black hoodie is a staple and everybody needs to own one. Not just a black hoodie, an oversized black hoodie is what you need. Try this look out for lunch with friends, night out or even a birthday. Pair it up with some jewelry if you wear it to a formal event.
↓ 30- With light blue jeans
This outfit is the cutest and comfiest. A grey oversized hoodie with a white crop top and blue mom jeans with white Nike airforce 1s is the perfect everyday attire or outfit to run errands. You can also wear this out for lunch or dinner because it looks very cool and you'll be comfortable, which is the best part. Don't forget to wear your sunglasses!
↓ 29 – With black pants
A black hoodie with black flare pants. Flare pants are trending these days and look good with just about anything, so why not pair them up with a zip-up hoodie and rock the look. The hoodie will keep you warm, and the flare pants will keep you stylish.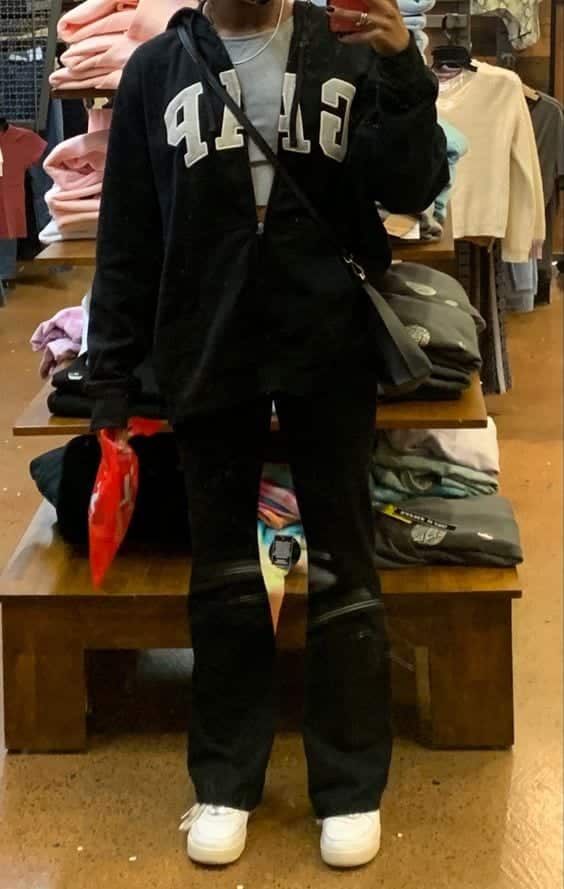 ↓ 28 – Graphic pullover with ripped jeans
Ripped jeans are back in trend, grab a pair and wear it with a cool graphic oversized hoodie. In the picture, the girl is seen wearing light wash denim ripped jeans with a black graphic hoodie, Nike shoes, and a pair of sunglasses with some gold jewelry to compliment the look.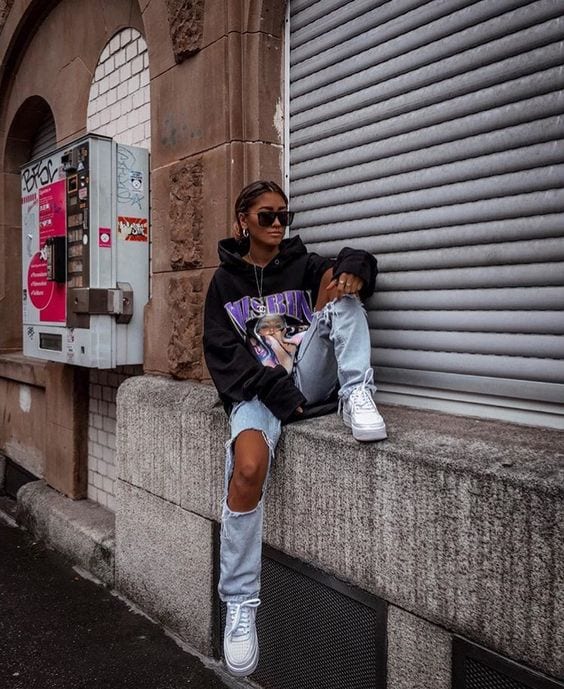 ↓ 27 – Nude oversized jumper with blue jeans and heels
Jade Thirlwall looks stunning in a nude-colored oversized hoodie with light blue denim jeans and sparkly pointed heels. Jade made this very casual look into a semi-formal look just by wearing the heels. The English singer looks gorgeous as ever in just an oversized hoodie which is why you should give this outfit a try.
Also, have a look at Baggy Sweater Outfits – 41 Ways to Style Baggy Sweaters for more ideas.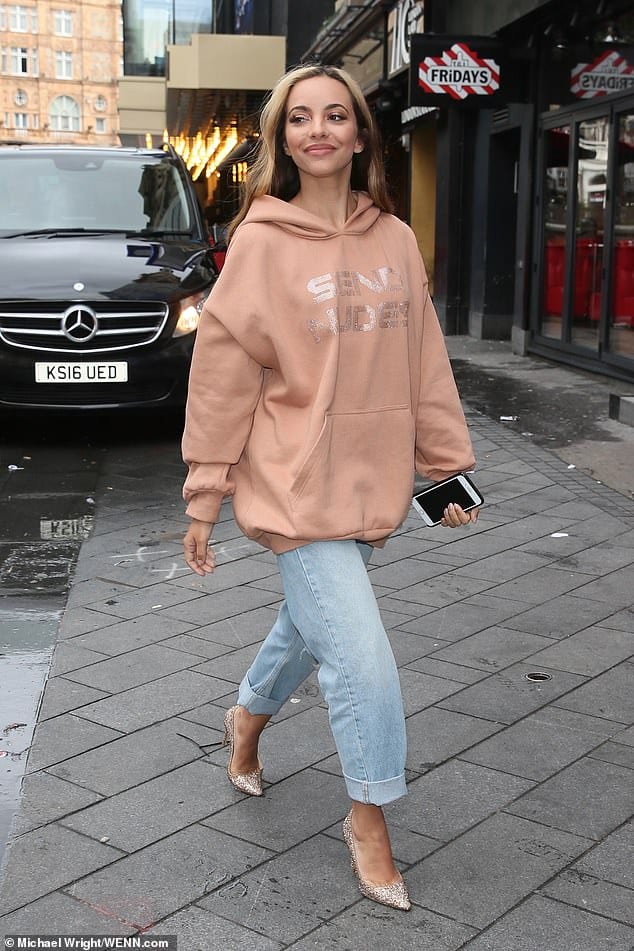 ↓ 26 – With tennis skirt
A white tennis skirt paired with a navy blue oversized hoodie is the outfit everybody is wearing these days. Tennis skirts are in fashion again, so grab one and try this outfit with black boots or heels if you want.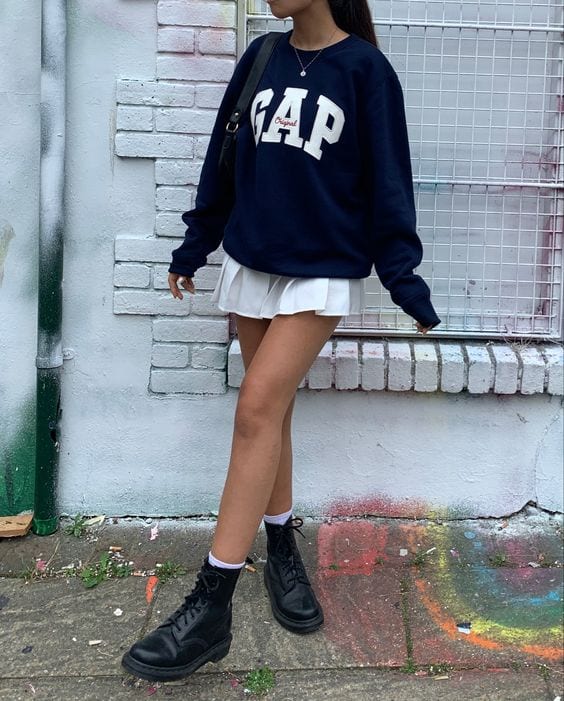 ↓ 25 – With grey sweatpants
The ultimate stay-at-home outfit is an oversized hoodie and sweatpants. You will stay comfortable and stylish too. If you don't feel like dressing up, wear this, don't know what to wear? Wear this. It is our favorite, and we hope it's yours too!
↓ 24 – With up-sized black jeans
Cropped hoodies are a super cute way to style oversized hoodies. Showing some skin but also staying warm. Pair a grey cropped hoodie with some black loose-fit jeans and see how good it looks. Also, have a look at 26 Modern Ways to Style Baggy Pants for Girls.
↓ 23 – How to layer a hoodie with a long coat?
Layering is the secret to staying warm in the wintertime. Wear a white hoodie with some blue denim jeans and a grey long overcoat. This look is chic and stylish. You will stay warm and look cool too!
↓ 22 – With biker shorts
A bright-colored hoodie would look great with some plain black biker shorts. If you are not a pants girl, then go for shorts but don't think an oversized hoodie won't look good with shorts. A purple hoodie will look great with black biker shorts, and you can enjoy wearing shorts and a hoodie. Best of both worlds!
↓ 21 – With leggings
Pastel colors are trending these days, and everybody wants some pastel colors in their closet. Grab this hoodie and find the perfect way to incorporate pastels into your outfits. Leggings are always the way to go when you need a last-minute outfit. Give this outfit a go, and you'll understand why we drool over hoodie and leggings outfits.
↓ 20 – With knee socks
Longer socks such as knee socks are the coolest thing ever. Wear a printed hoodie with some knee socks and watch everybody stare at you! A white hoodie with black knee socks and white shoes will make the perfect contrast for the perfect outfit.
↓ 19 – Styling black Outfit
When your pair Balenciaga's with something, it automatically becomes classic. This look is the ultimate bad girl look with a black oversized hoodie with classic black Balenciaga's. If you happen to own a pair then do not miss out on this look.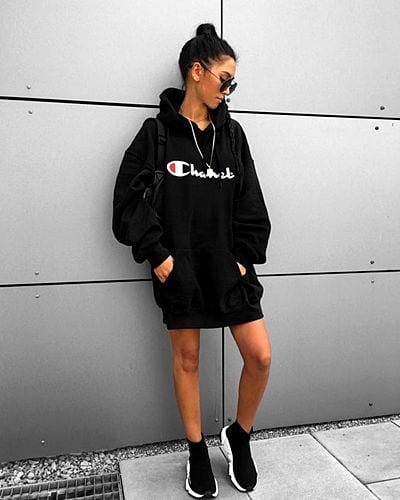 ↓ 18 – How to wear a hoodie with a black skirt for teenagers?
A black skirt with a grey-lined hoodie would make a great outfit for school or any day when you don't want to be too formal but also need to be. This is a comfortable outfit, and it's also cool.
↓ 17 – With puffer jacket and knee high boots
Just by looking at this outfit, you can tell only bad Bs can rock it. This outfit will require some sass and if you've got it, then go for it. A black oversized hoodie with a black puffer jacket and knee-highs is the sexiest outfit made for a sexy, confident woman. Also, try out How To Wear Puffer Jacket? 31 Chic Outfits With Puffer Jackets.
↓ 16 – Hoodie with denim jacket
You can never go wrong with a denim jacket. If you have one in your closet that you haven't worn in a while, bring it out. Pair it up with any nude-colored hoodie and black ripped jeans and give it a go.
↓ 15 – How to wear a hoodie with a leather jacket
A leather jacket is another staple that everybody needs in their closet, and if you don't have one, you need to get it this instant because you might just like this outfit. Pair a grey hoodie with a black leather jacket and a beanie. Don't forget sunglasses for some added glamour!
↓ 14 – Oversized pullover with chunky white boots
A plain white hoodie with some chunky platform white boots is a classic statement. The gold chains complement this outfit greatly. If you like oversized outfits, then be sure to give this one a try. It can be formal and informal. The choice is yours.
↓ 13 – What to wear with a neon green jumper?
Neon colors are extremely trendy, and everybody wants to own something neon-colored, so grab this neon green hoodie and wear it with really short shorts or pants if you want. The clear bag makes the outfit even better because we cannot stop staring at it, and we know neither can you!
↓ 12 – Hailey Baldwin's street style look
Hailey Baldwin rocked this super cool look while taking a break from NYFW and strutted the streets of Manhattan in an orange hoodie with nothing but black booties. The black booties give the outfit the formal vibe that Hailey wants to keep, but the hoodie will keep her comfortable. Nevertheless, the outfit looks great!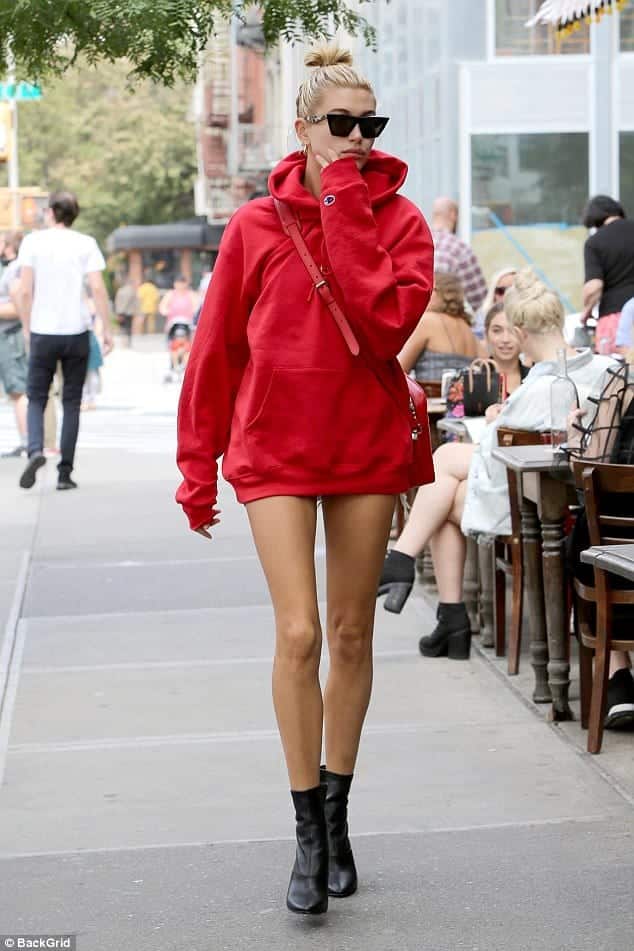 ↓ 11 – Matching grey shorts set
Matching sets are the best thing ever, don't you agree? They are so comfortable we would never change out of them if we didn't have to. If you are still confused about how to style an oversized hoodie, then grab a matching hoodie and sweatpants set. This charcoal-colored set would look great when worn with white sneakers.
↓ 10 – When to wear a brown baggy jumper with flared pants?
This outfit is cute and comfy. The cheetah print flare pants look gorgeous with this brown sunflower print hoodie and the yellow fur bag. If you like such old-school, 90s vibe outfits, then you should definitely give it a try!
↓ 9 – Grey pullover and shorts set
This grey oversized hoodie and shorts set is something you need in your life as soon as possible. It is the comfiest outfit ever and it looks so cool when paired with the right sneakers and fanny pack, if you like those. Some people may think this is a bit of a tomboy outfit but that is not the case. Anybody can wear whatever they want.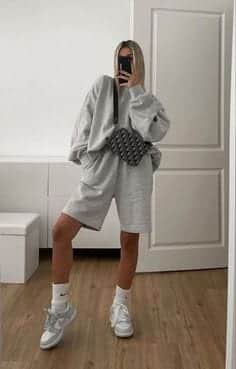 ↓ 8 – With khaki pants
This black Nike hoodie looks great with these khaki bell-bottom pants. It is a very different color contrast which is why it is quite appealing to the eye. This outfit can be worn with friends or just about anywhere if it is your style. Give it a try.
↓ 7 – Tie-dye hoodie
Tie-dye is another thing that is in fashion these days, and everybody wants to own something tie-dye colored. This playboy tie-dye hoodie looks stunning in sky-blue and white. Wear this hoodie with shorts, pants, or a skirt and turn heads!
↓ 6 – Velvet jumper and pajamas
Velvet is something that looks like royalty, even if it is in a night suit. This gorgeous velvet hoodie and sweatpants set would look great when paired with a white headband and some jewelry.
↓ 5 – Baggy Pullovers with plaid pants
This pastel green hoodie with these plaid pants looks very cool indeed, and the Vans make it even better. Rock this outfit whenever you feel like it and make everybody wish they were wearing it too!
↓ 4 – With mom jeans
Mom jeans are the best if you don't like skin-tight clothes. Mom jeans with an oversized hoodie is the perfect outfit to wear if you are going out but have no idea what to wear. Also, check out 25 Chic Ideas How to wear Mom Jeans.
↓ 3 – With blue jeans and cami tops
A Brown oversized hoodie with a crop top and blue denim jeans will have you look stylish and comfy at the same time. This is the perfect outfit for an outdoor lunch or picnic. Check out How to Wear Light Wash Jeans .
↓ 2 – With cami top and sweatpants
This is another outfit with a cami top and grey sweats and a hoodie. This outfit can be worn to the gym or if you're going shopping. This outfit will have you looking good without even trying, girls!
↓ 1 – With cargo pants
Cargo pants are a stunning item of clothing to have in your closet. This grey oversized Chicago hoodie looks badass with cargo pants and white sneakers. Gold hoops and sunglasses are an added bonus and they make the look complete.
Frequently Asked Questions:
Q. How to look cute in an oversized hoodie?
A. There is no way to look cute in an oversized hoodie. Everybody looks cute in an oversized hoodie. You don't have to try much; people will just find you cute. All you have to do is wear an oversized hoodie.
Q.

What to do with oversized hoodies?
A. There are several outfits that you can come up with if you own oversized hoodies. There are 30 outfits that you can make with oversized hoodies mentioned in the article above.
Q.

Are oversized hoodies attractive?
A. This is something that will vary from person to person. If somebody has a different style, if they don't find baggy clothes attractive, they won't find it attractive. However, if somebody's style is baggy and oversized clothes then, of course, they would find it attractive on other people too. Don't worry too much about what others think, wear what makes you feel good!
I am a women's holistic health coach and student that enjoys history, experimenting with makeup and skincare, playing sports, working out, and doing all things adventure-related.