Can you imagine a time when leggings had a reputation whereby it was only okay to wear them in the confines of your house?
However, fashion trends for the past few years have thrown leggings into the limelight they deserve due to their comfort level.
Whether you are planning to wear a short skirt in winter or a long flowy outfit in summer, there is no better option than leggings to pair up your outfit with for a cute vibe.
Here we have put together some great leggings with dress combos so that you can wear your favorite pair of leggings whenever and wherever for both formal and casual wear. Here's everything that we'll cover today:
How to Style Leggings with Dresses? (Styling Tips)
It is a fact that there is no going back to jeans or trousers if you get used to wearing tights or leggings. They are the comfiest piece of clothing and can be styled in numerous ways, no matter the season.
They look equally amazing with short outfits, long outfits, boots, flats, and everything- you just name it.
Keep these pointers in mind when wearing Leggings under a dress:
Be mindful of the length of the dress so your leggings are visible.
Try faux leather leggings for a more dressy look.
Any long shirt/sweater/tunic will go easily with any pair of leggings.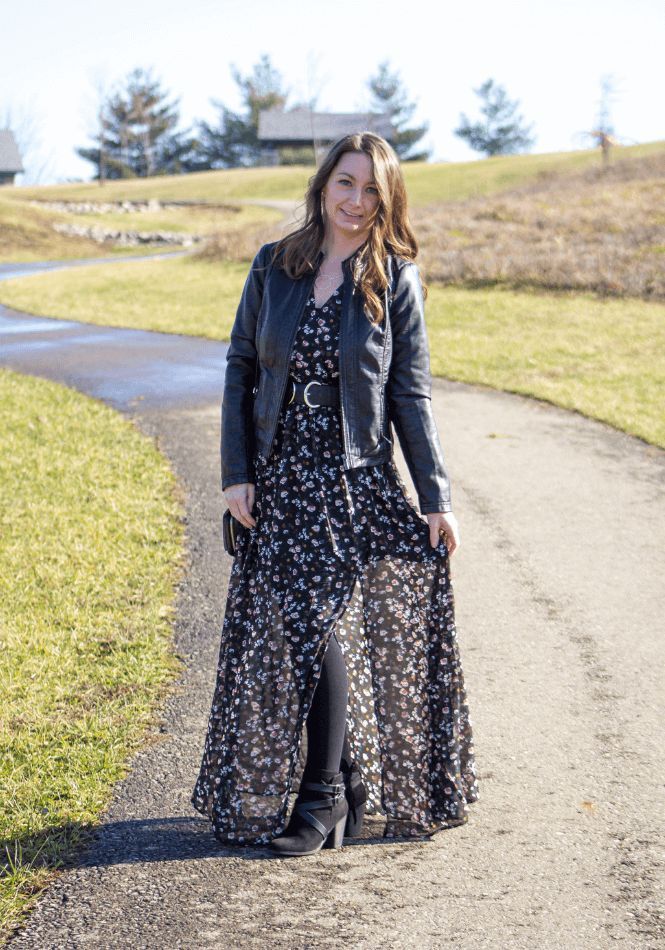 Keep your dress minimalistic if you are going for a printed, or embellished legging.
It is better to wear leggings that are in breathable material, especially in Summer.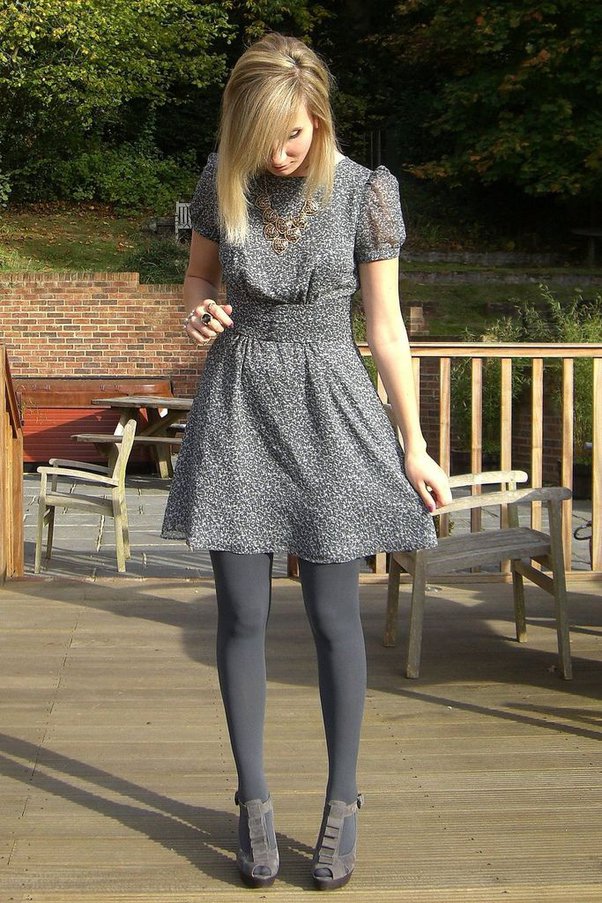 Go bold with layering colors on colors or texture on textures.
Almost all of them are stretchable, but make sure you are buying the right size.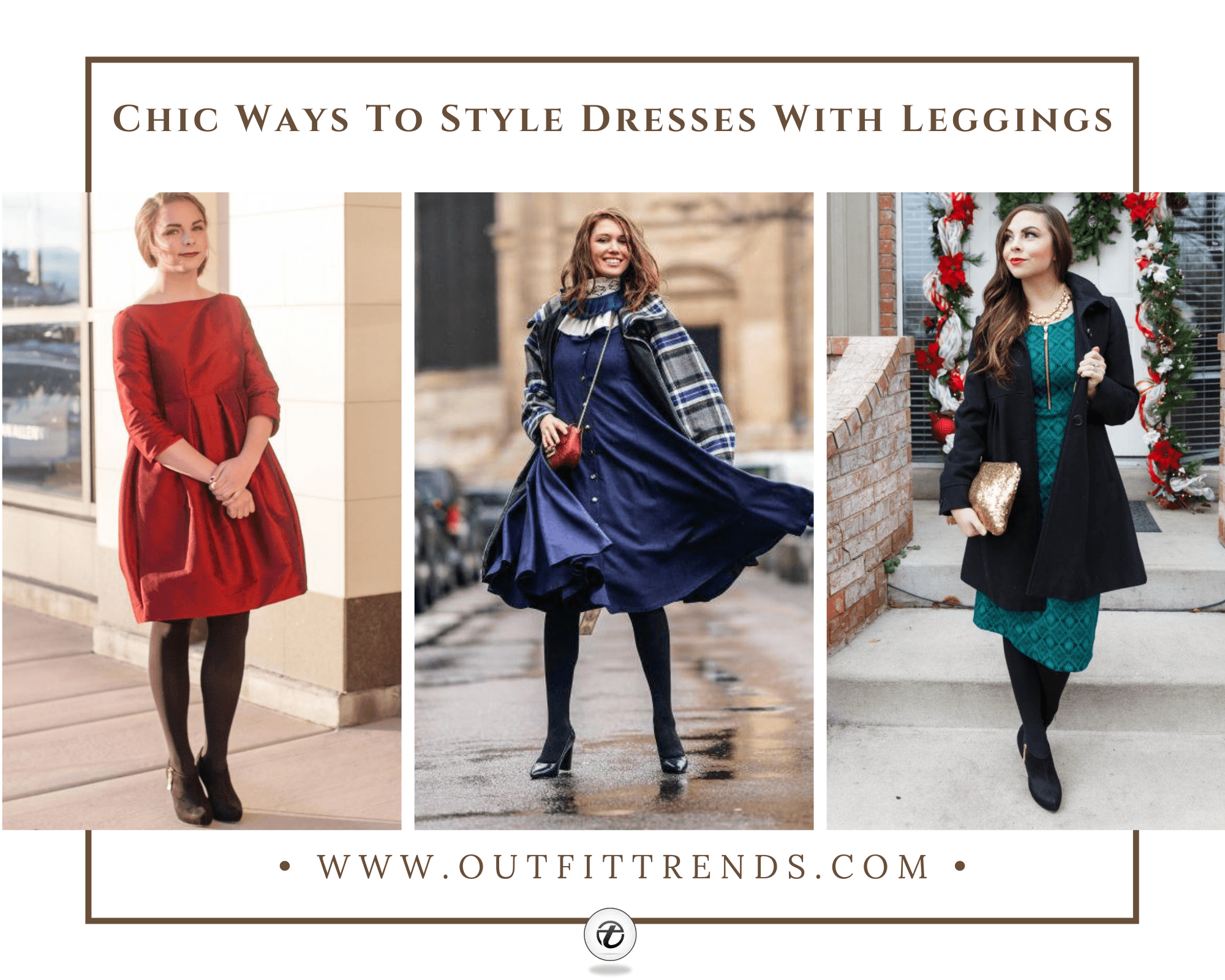 Semi Formal & Formal Looks
32 – Sightseeing Look
Whether you are on tours or sightseeing around the city, a must-pack essential piece of garment is your legging.
They are so versatile that they can be matched with various clothing items to create different looks for both formal and casual wear.
You can team up a simple black blouse and printed midi skirt with cropped black tights for a day out with friends and family.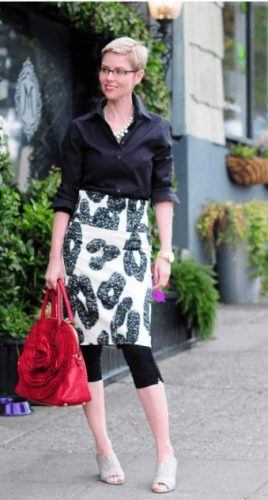 Similarly, if you have to meet with clients on trips, stirrup tights can be used with the same outfit to create a formal look for meetings.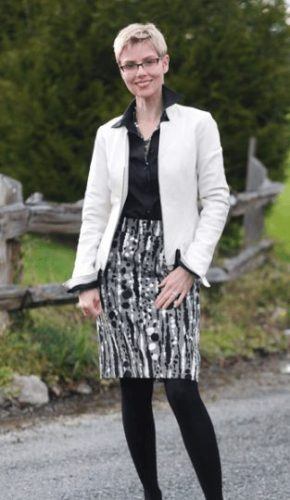 31 – Street Style
For a modern and minimalist street style look, wear them with a long overcoat and sneakers in matching color. Don't miss out on these Popular Spring Street Style Outfits Ideas For Women.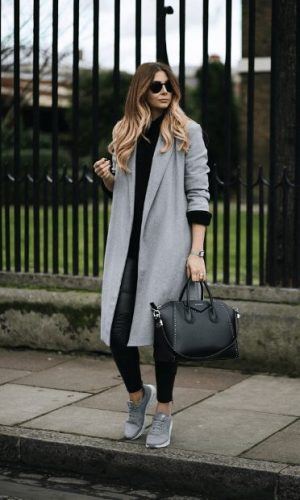 30 – Sunday Brunch Outfit
Embroidered pieces of clothing will never go out of style and make their comebacks time and again.
This beautiful and intricate embroidered long shirt will go perfectly with your leather leggings, and to make it pop, add a bright-colored undershirt and pumps.
Have a look at these 15 Ways to Dress up for Sunday Brunch.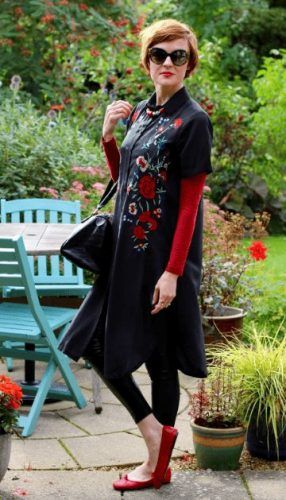 29 – Rocking Black
You can flaunt your cropped black leggings with a beautiful sleeveless floating coat with a belt.
28 – Perfect Outfit for Shopping
Shopping trips call for outfits that are not only comfy but also help in maintaining your style.
Pair up your black leggings with this flowy black dress and smart black and white strips turtleneck for a tremendous chic casual look.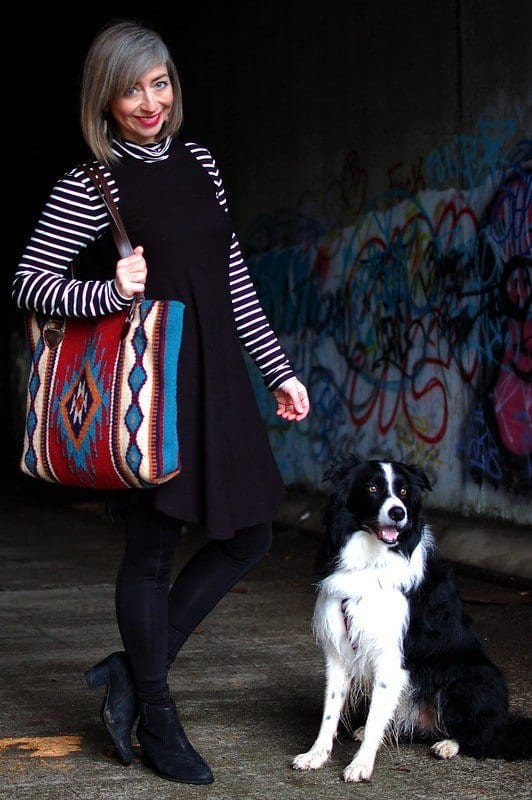 Casual Looks
27 – With Crochet Dress
Crotchet dresses have a very feminine vibe about them. A crochet jersey dress will look ideal with leggings. Do have a look at these ideas on how to wear Patterned Leggings.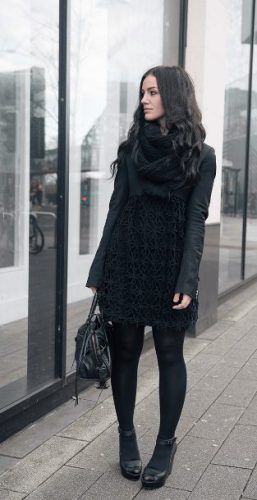 26 – Leather Leggings with Tunic & Sweater Dresses for Fall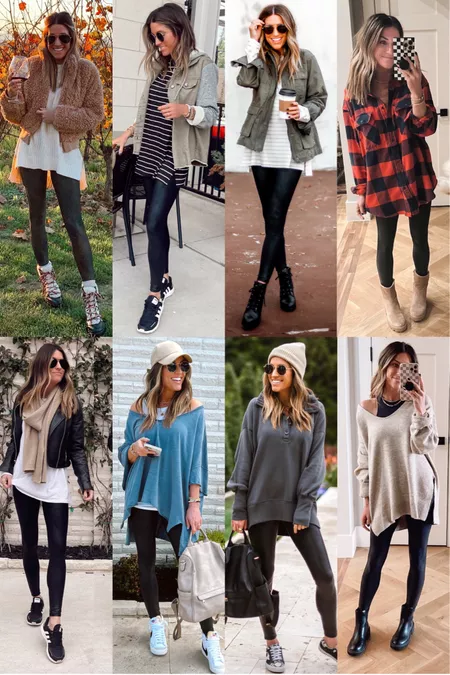 25 – Go Monochrome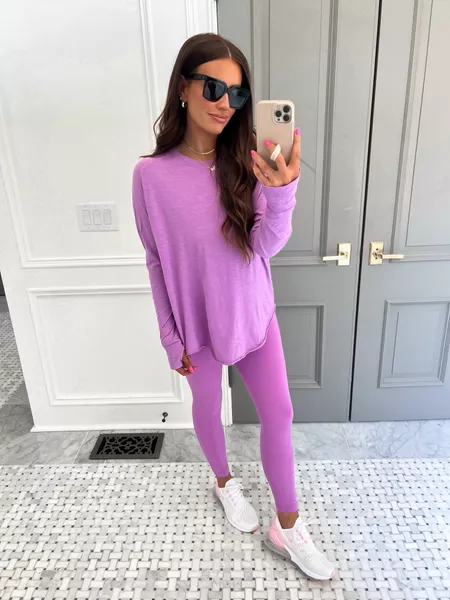 24 – Thin Leggings
Some people are just not made for thick leggings and always want something stunning yet breathable for their legs. So, for those people, thin breathable tights are the best option.
They provide full coverage and can be styled in numerous ways under a dress.
You can wear them under a skirt or short dress to style your outfit in winter. Pair it up with boots or high heels to finish off your look.
23 – Wear It Under Dress With Boots
In case you are wondering what all in one look you can create with them and stun throughout the day, then this one is for you.
Wear a plain tee shirt or crop top along with leggings and style it with a long shrug or a coat, depending on the weather and season.
Step up your style game by pairing it with a pair of boots. Ankle-length boots would be more suitable for summer and spring seasons, whereas knee-length boots are preferred for winter.
Add a crossbody bag, cute accessories, and wear your hair in half-bun. You are all set to rock and roll.
22 – Under Dress With Flats
Cute tops, shrugs, leggings, and flats never go out of fashion. You can either choose sneakers, pumps, or peep-toes to complete your look.
21 – For Office
Some women prefer chic and relaxed clothing for work as it helps them concentrate more on their work instead of fixing their clothes.
So if you are one of them and are always worried about what to wear with your tunics, Kurtis or long shirts, then here is the solution- black leggings!
They go with all dresses and every colored outfit. So make sure you have a good collection of them and all the other basic colors. Here are some more Outfits with Black Leggings.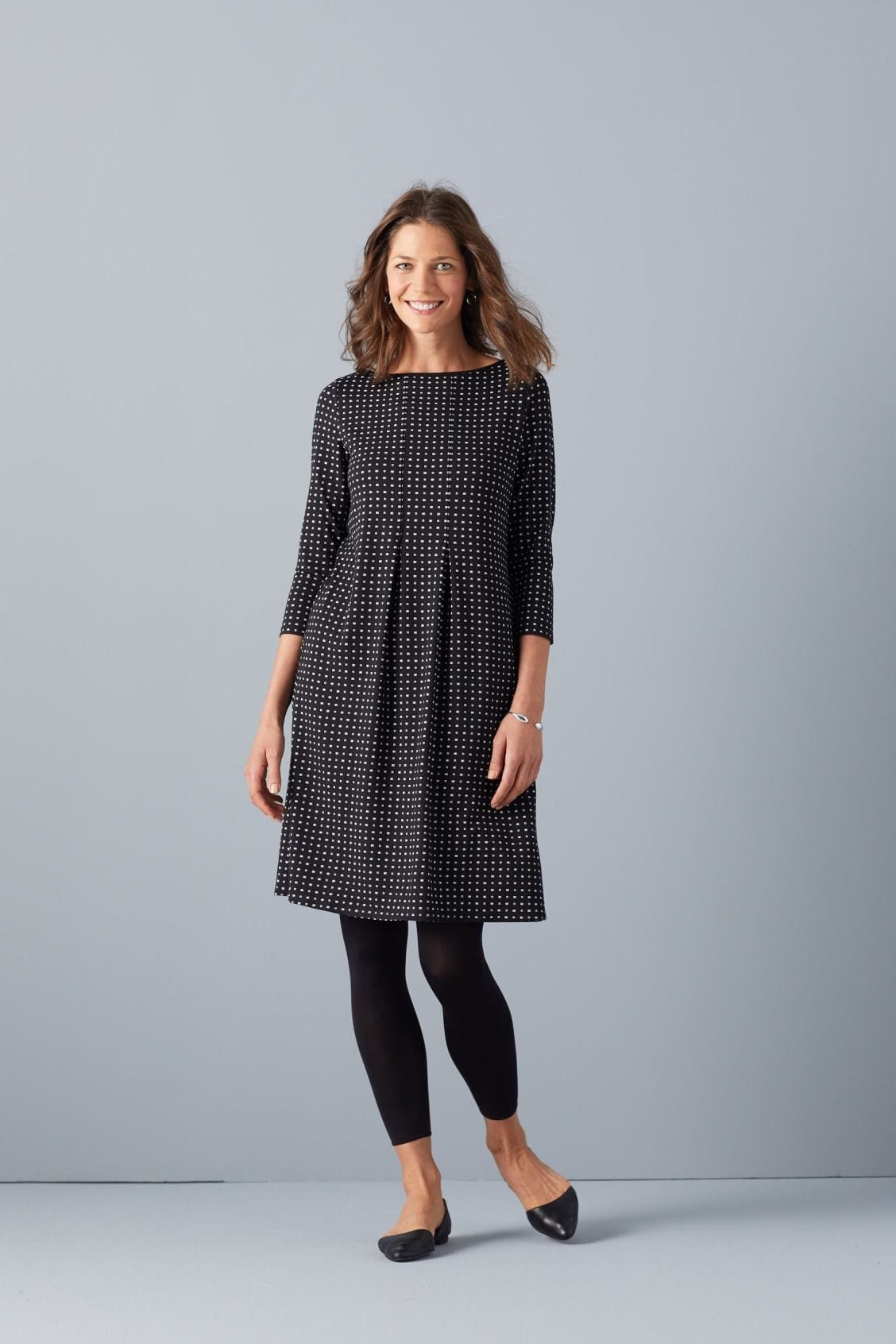 20 – Dress with Leggings for Plus Size
Plus-sized women can also wear them and rock them better than anyone else.
For a more captivating look, it is recommended that curvy women should wear them with long tops or shirts that cover the upper portion of their thighs.
19 – For Women Over Fifty
Are you over fifty? If yes, then what type of outfits do you prefer? We assume relaxed and comfortable clothing.
How about you change from sweatpants and loose trousers to tights and leggings? Pair them with long flowy frocks, tunics, and shirts and feel the comfort level yourself.
Also, don't forget to wear classy shoes and statement accessories to brush off your look.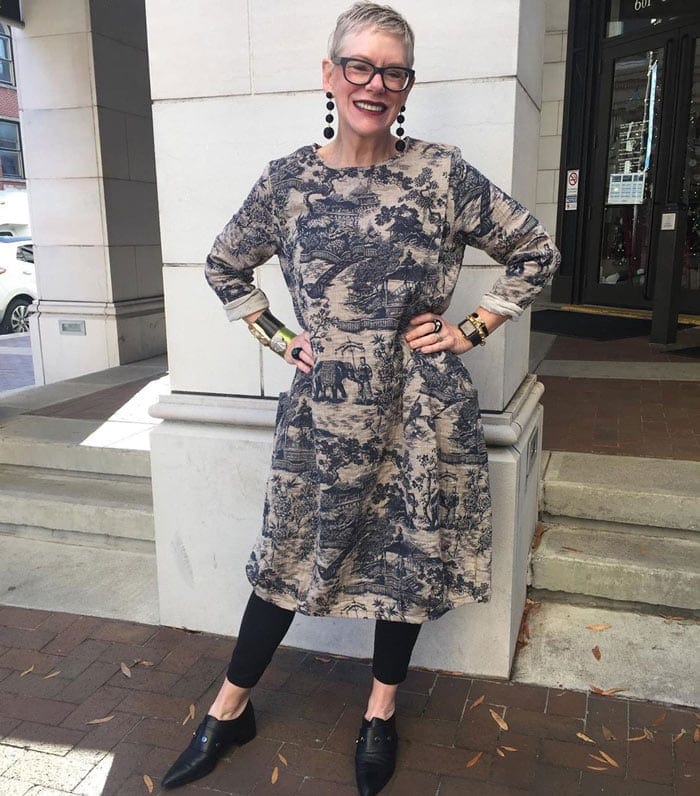 18 – With Checkered Shirts
Checkered shirts are one of the most gorgeous and ideal pieces of garments in a women wardrobe since they can easily be styled with multiple options.
This beautiful high-low check print tunic can be styled with these leather leggings from Nordstrom.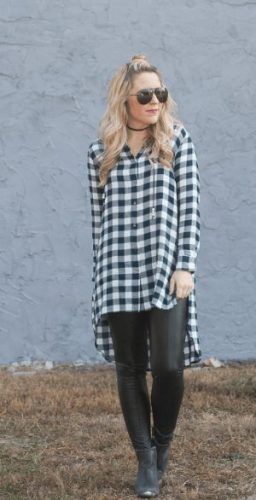 17- Frolicking in Winter
Being out and about in winter doesn't have to be a challenge now, and your favorite leggings need not be shunned.
Tuck in your comfy leggings into your boots and wear a warm sweater dress to complete the outfit. Wear a cardigan or a jacket to keep you warm.
Throw in a beautiful golden neck chain to dress up. Here are 16 Beautiful Tunics Top Outfits for women this season.
16 – Back to School Outfit
Racking your brain for new and exciting outfits for another school/college/university year?
Style these comfortable chafe-free leggings ideal for all seasons, with your structured long Tibi blazer with check print and oversized Tee.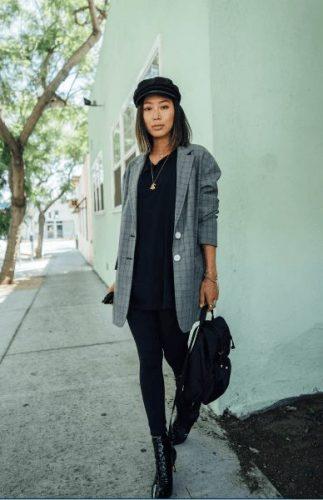 15 – Playing with Sequins
Glittery outfits with sequins are the perfect choice if you have a night of clubbing or partying in cards.
Style them with a sequins mini skirt and a smart black quilted moto jacket for a fantastic look. Who says you can't wear legging to the parties?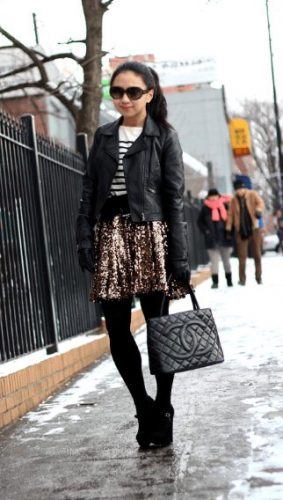 14 – Leggings with Red Dress
If you are planning to turn heads, wear a bright red wrap-away halter dress and give it a beautiful, edgy look with these sleek leggings from Nordstrom.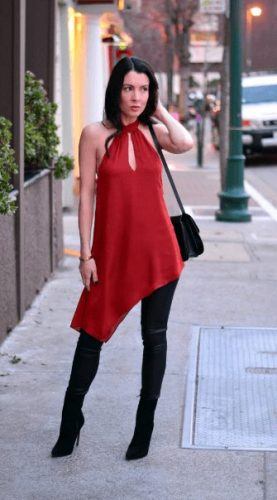 13 – Fall Outfit Ideas
Fall is all about beautiful colors and trendy outfits. Wear this sophisticated cold shoulder sweater dress with faux leather leggings from Nordstrom for an attractive look.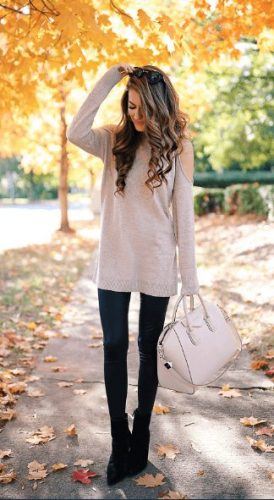 12 – Elegant in Black
If black is your signature look, leggings will be your best bet, especially if they are printed or embellished.
Wear them with a lovely double body crop top dress and add white sneakers to provide that softening touch.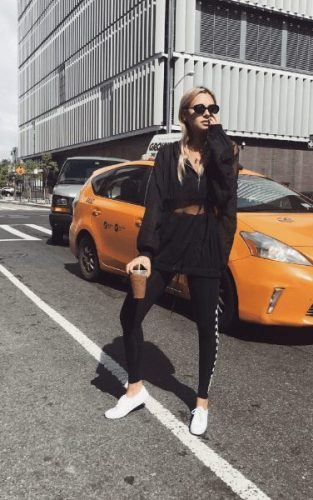 11 – Casual Athleisure Party Outfit
Bring on the athleisure vibes with these beautifully printed leggings, and you can style them with simple black jersey dress to create an alluring and chic look.
Add a pop of color with a gorgeous bright-colored silk or printed scarf/beanie.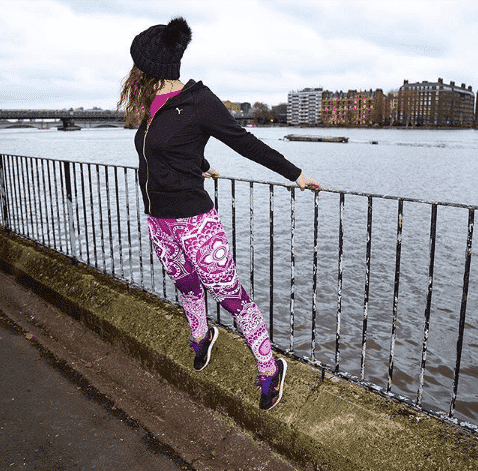 10 – Leggings for Winter Vacations
Winter vacations abroad mean you have to carefully pack up your comfy and warm clothing items while considering your limited space.
This beautiful cross front sweater dress will be ideal for wearing with woolen leggings to keep you looking gorgeous and warm at the same time.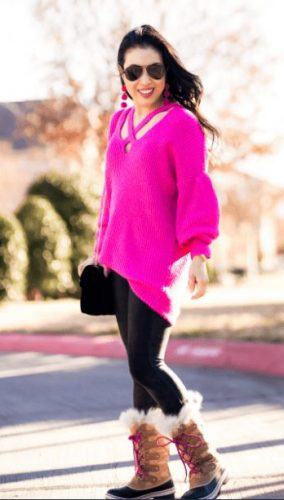 9 – Contrasting Color Outfits
Layering and contrasting colors is an art, but it can make even a simple piece of clothing stand out perfectly.
Wear a long dress shirt with an oversized sweater and colored leggings for a great casual look.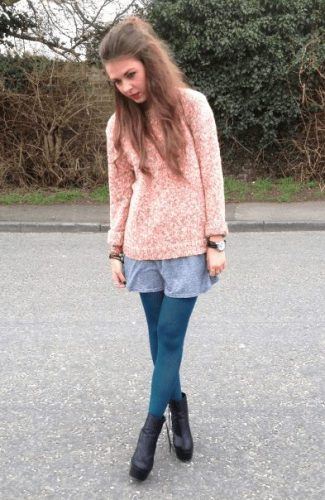 8 – Floral Leggings
Welcome spring with awesome floral leggings and style them with this peplum shirt dress.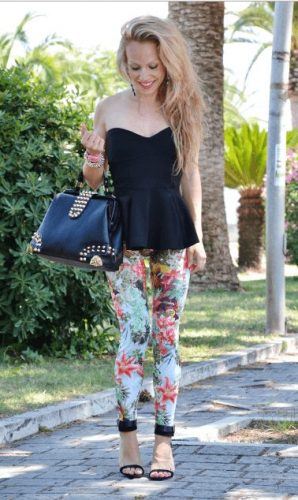 7 – Casual Winter Outfit
Dress up for winter mornings with woolen leggings and this cute white and grey shirt-skirt dress combo with a structured and formal cardigan in dark shade.
Add in a bright mustard scarf to add some color into the whole ensemble. Here are 21 Ways to Wear Black Leggings.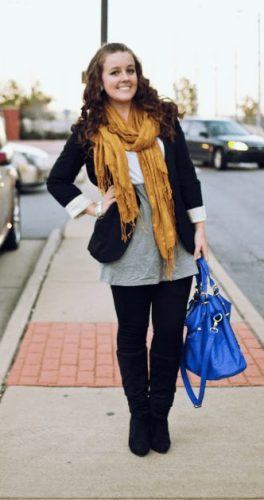 6 – Work Outfit
Leggings can easily be worn to the office if paired intelligently with an oversized shirt and structured oversized cardigan.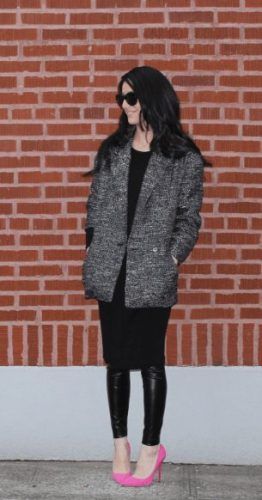 5 – Office Party Outfit
If you have been invited to the office party and feeling particularly down or lazy, just wear a cute strappy sweater dress with leggings for an effortlessly sophisticated look.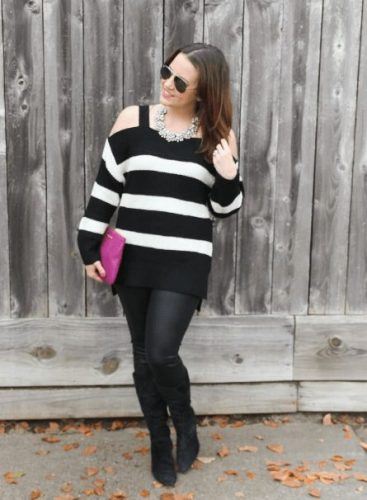 4 – Thanksgiving
Style your leggings with a black dress and beautiful and comfy faux fur coat for a great thanksgiving outfit. Here are more ideas on styling a Faux Fur Coat.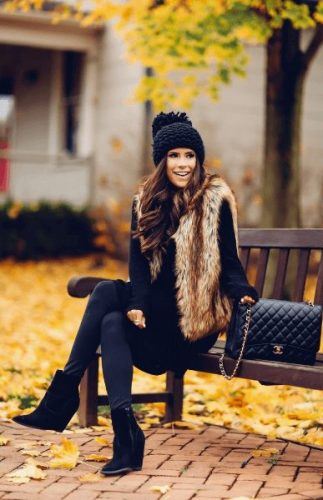 3 – Chic in Pink
Pink is one of the most popular colors, and polka dots on the pink dress is like treat for eyes.
This pretty dress can be worn for special events and occasions and will look stunning with black patterned leggings. To dress it up, wear with shiny pointed boots.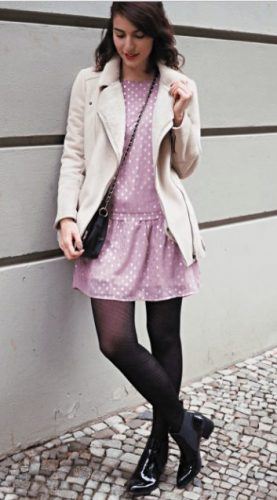 2 – With Pleated Dress
A plain pleated dress can be worn with a printed blouse and can be worn with smart black leggings for a very sophisticated look.
To dress up the look, you can add a pair of pink earrings and a golden statement bracelet and ring.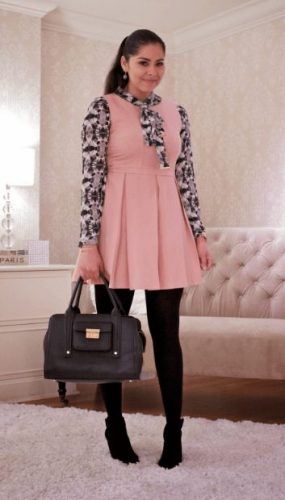 1 – Summer Combo
You can style your leggings with long kimono dresses and a tank top for a comfortable, breezy summer outfit.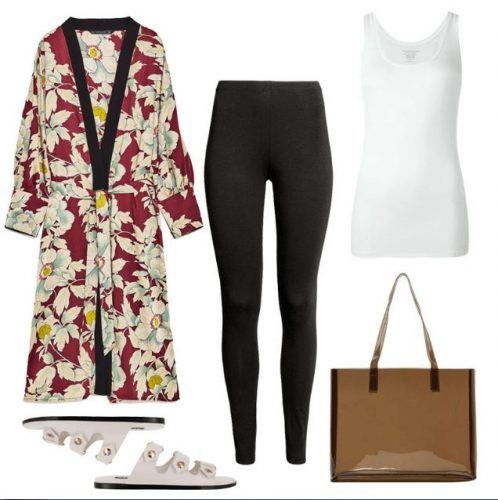 FAQs
Here are some of the most asked questions about styling ideas. We have tried to answer all your queries in detail after thorough research and asking fashion influencers.
Q. Is it okay to wear leggings with a dress?
Q. What kind of dress goes well with leggings?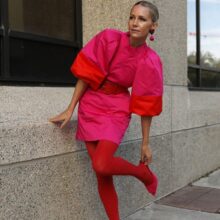 A. A knee-length, short or mini dress goes well with leggings if the purpose is to cover your legs stylishly or protect them from cold.
Whereas low dresses and tunics below-knee length looks the most flattering with them as it is hard to choose trousers with them and wide bottoms do not suit them. So, what other better option do you have?
Q. What to wear under a dress to cover legs?
Q. How to wear leggings with a summer dress?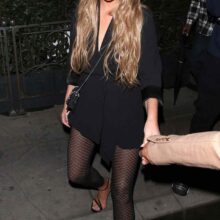 A. Wear a cute flowy frock or tunic with them in summers and enjoy all day long.
You'll have your legs covered, meaning no sun tanning and mosquito bites in the evening. You can also wear them with oversized tees for a relaxed look.
It would be best to choose sheer leggings for summer or those in thin fabric to avoid feeling uncomfortable.
Q. How to wear leggings if you are over forty?
Q. What type of dress to wear with leggings and boots?