Best Cutout Dresses. It is a favorite amongst celebrities and has recently resurfaced on the red carpet, taking over our Instagram feeds with the last NYFW… what is it exactly? The cutout clothing trend, of course!
This daring fashion choice takes many forms. Cutouts in dresses, slits in tops, holes in sweaters. Many are saying it's the new black. And if you are a gal who likes to stay on top of the trends, this is one you don't want to miss out on.
But you might have some qualms about this particular trend. As an ordinary woman, rocking a sweater that features sixteen different-shaped holes (narrowly exposing your bra, we might add) in your weekly trip to Target seems a little… well… extreme. And popping on a dress that has giant pieces of fabric missing to head to your sister's bridal shower can you leave you feeling a tad, um, exposed.
That's why we've rounded up 20 of the best cutout outfits around that you can actually wear. From peek-a-boo shoulders to pretty little back details, these stylish looks all feature small, well-placed cutouts on cute dresses, tops, and sets so that you can hop on the trend without feeling like you've left half of your outfit at home. Let's get started!
How to Wear Cutout Dresses
Here are our top tips on how to wear cutout clothing and how to rock the cutout fashion trend.
Avoid the hole-y look. Clothing with random holes in it is not nearly as stylish as a structured dress with an actual cutout on the sides or along the back. You don't want to look sloppy so unless your style is super grunge, we recommend keeping your cutouts more structured and deliberate.
Less is more. You don't have to go overboard with this trend. A simple dress here, a cute top there, is really all you need. It's an inherently edgy clothing trend as well, so don't feel like you have to wear the most revealing options out there. Keep it understated and leave a little to the imagination.
Pay attention to your undergarments. While it depends on your cutout placement, you may be showing a little more skin than you are used to with cutout clothing. So wearing the right undergarments is essential. Opt for skin-colored wherever possible, and consider getting creative with your bras to avoid them showing. Sticky bras, low-back bras, strapless or sewn-in bras are all good options.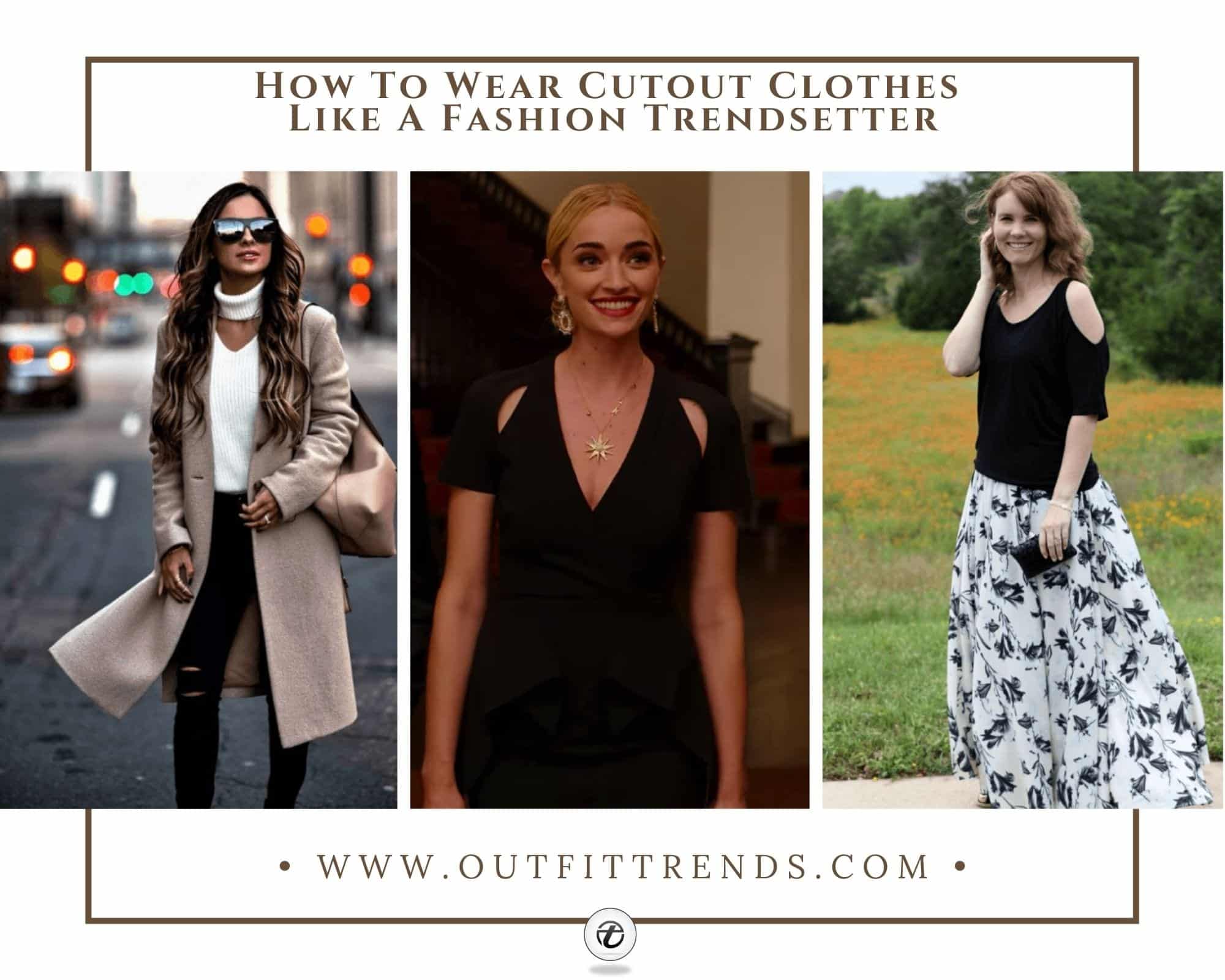 Without further ado, here are our top picks for simple but stylish cutout outfits that you can wear… from maxi dresses to bathing suits and everything in between!
↓ 21 – Celebrity Style
Starting with one of my most recent favorite cutout dresses, it has to be this look of Brianne Howey from the recent Netflix series, Ginny and Georgia. For the Casino Night, she looked super-hot in this black shirt and skirt with cutout detailing on the shoulders and a plunging neckline. She also accessorized it to perfection with her gold jewelry, heels and that super cute clip in her bun. If you like this look, you need to check out these Shoes To Wear With A Black Dress.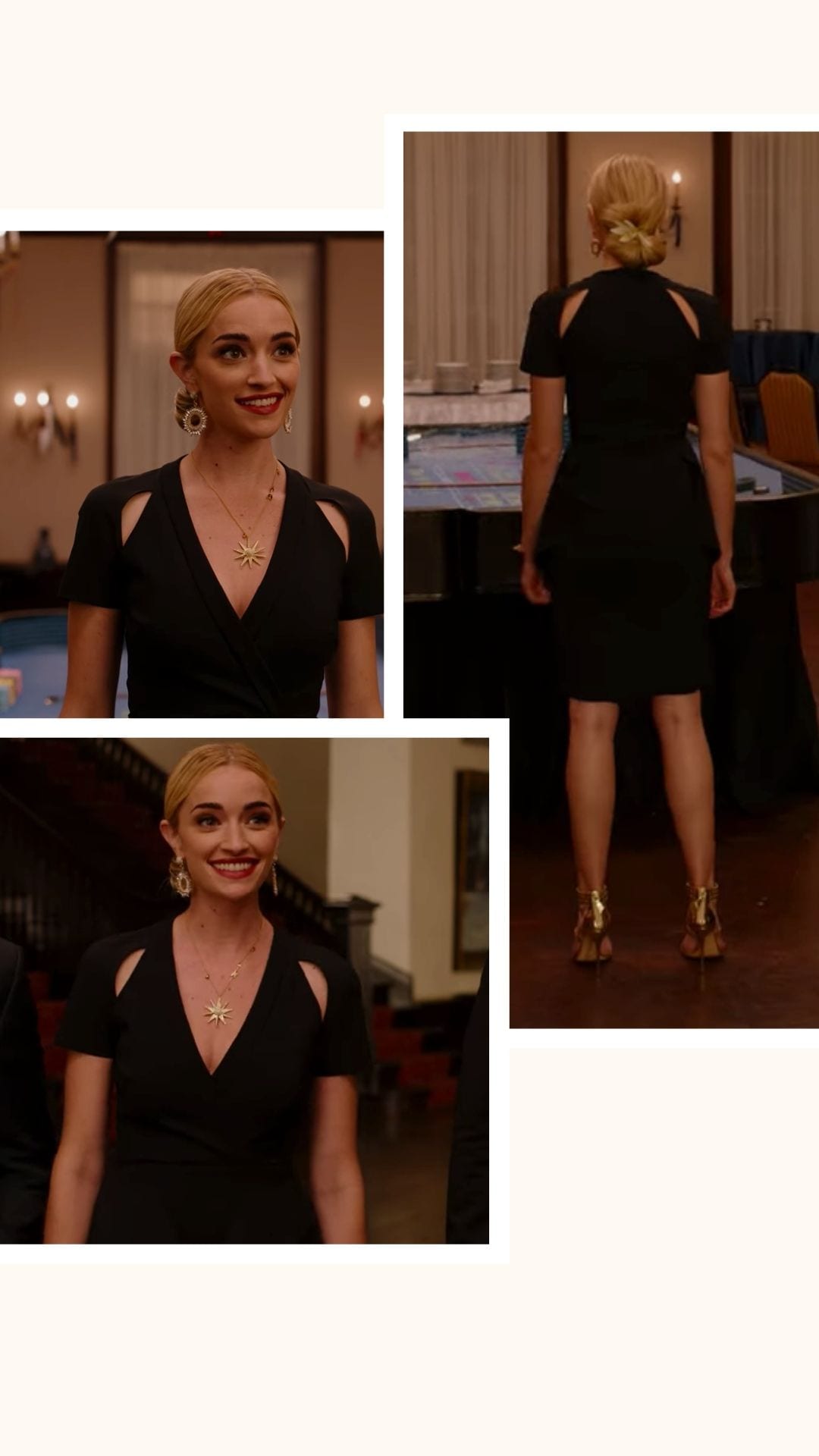 While I couldn't find the exact dress that she's wearing, here's a very similar Black Gown, a gorgeous belted cutout dress from Zara and the exact same Swarovski pendant that Brianne is wearing.
Next up we have Katie Holmes, who went out for her morning coffee in the most perfect Spring dress we've ever seen. The midi-length dress featured keyhole cutout design and billowing sleeves. You can buy her Suki Dress by Ulla Johnson for USD 826. Since this was her off-duty, street style look, she paired the dress with Original Achilles sneakers that can be bought here for USD 425. If you want a more budget-friendly option, I really loved this floral printed keyhole cutout dress for just USD 26.99 or this cutout dress with statement sleeves for USD 49.99.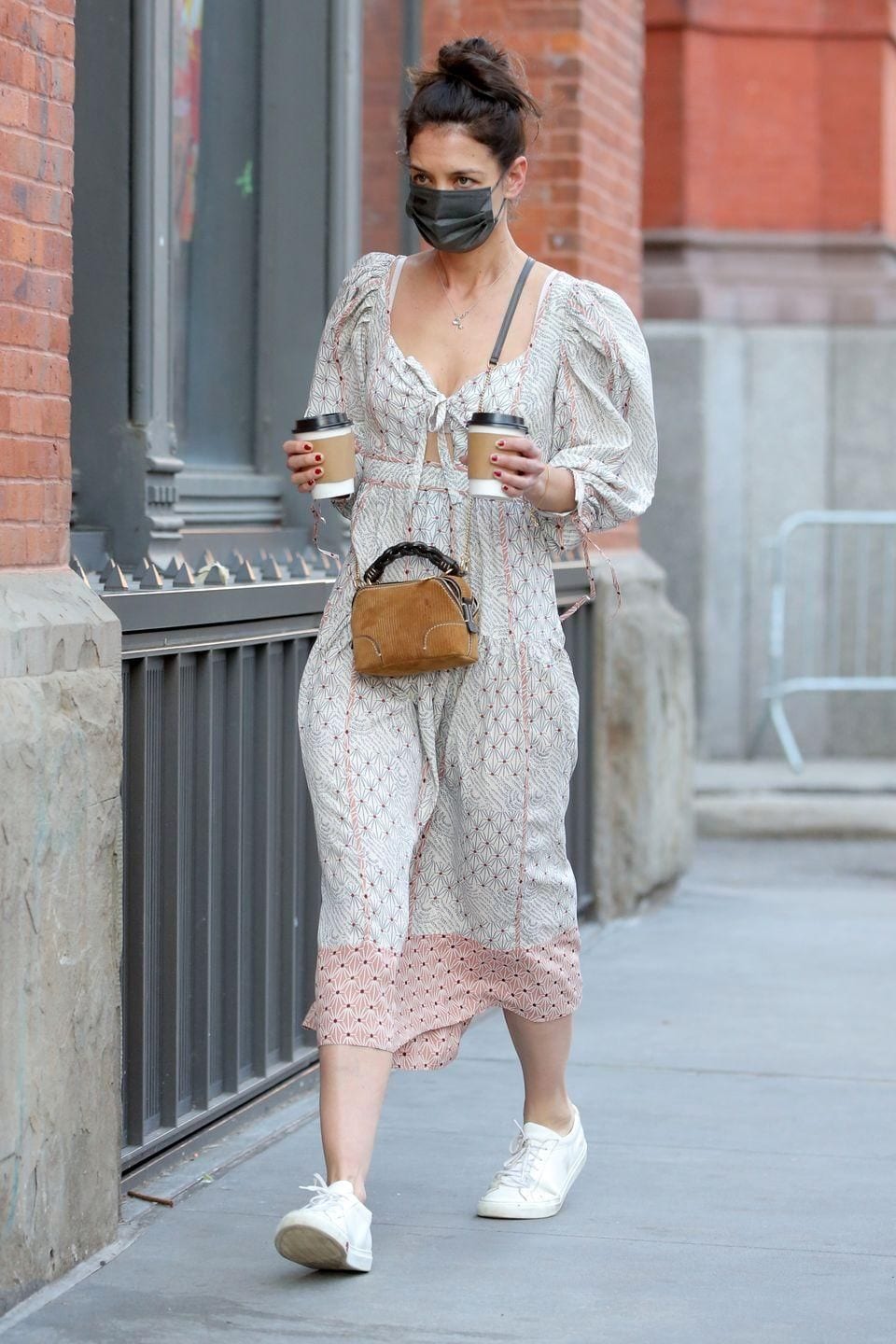 And finally, we have the gorgeous Queen Letizia of Spain in a very modest cutout dress. This confetti print, keyhole cutout dress with billowing sleeves seems to be one of her favorites as she has been spotted in it for the third time at a public event.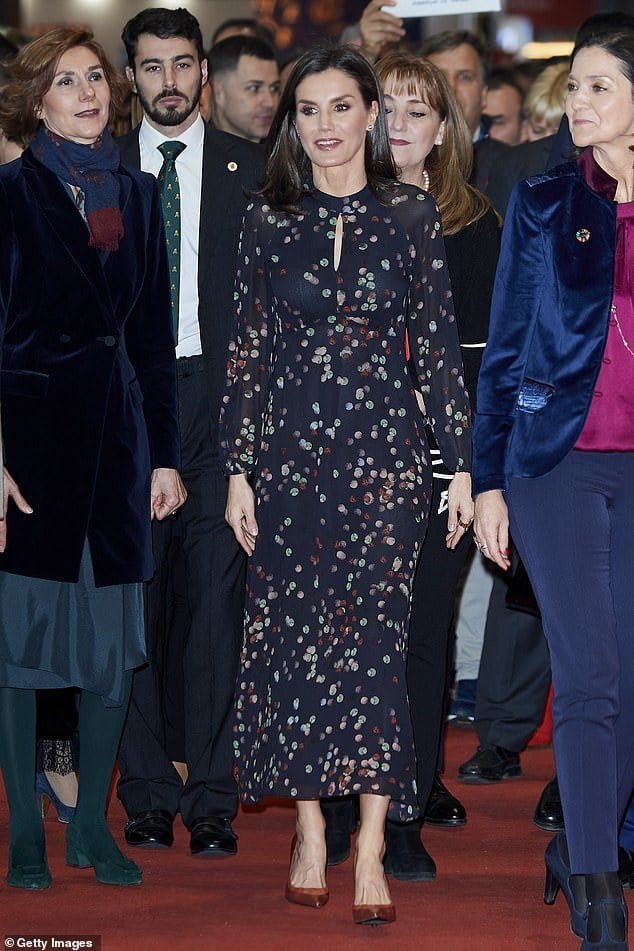 ↓ 20. Casual Cutout Long-Sleeved Shirt
Ease into the trend with a cutout sleeved top. It's a great pick for spring when you want to enjoy the warmer weather but aren't quite ready to go for short-shorts and camis. Pair your shirt with leather leggings, a bamboo handbag, and a pair of contrasting colored heels.
This simple look is great for work events, lunch dates, and get-togethers with friends. You can even rock it working from home.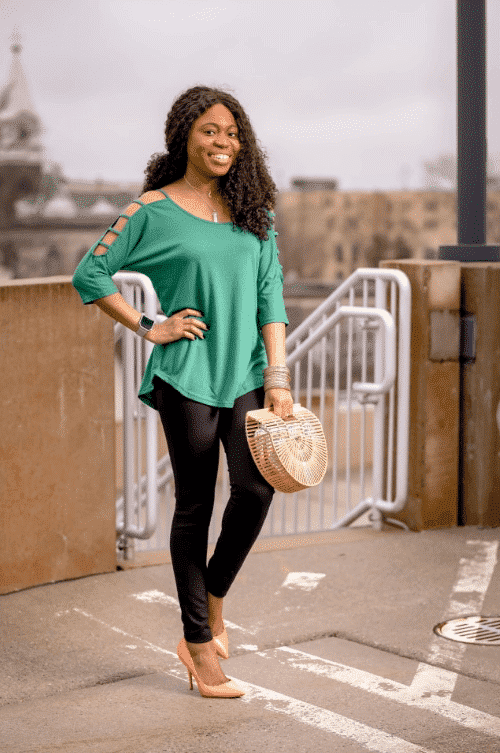 ↓ 19. Eyelet Peplum Top
Did you know an eyelet top actually qualifies as a cutout top? This is another fun way to rock the trend. With this peplum top, you can wear a bralette underneath or a strapless tank if you want more coverage. Wear with wide-legged trousers and strappy heels.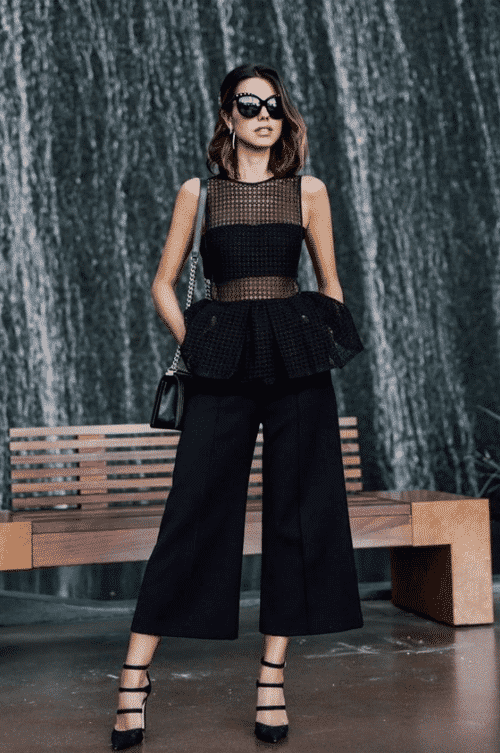 ↓ 18. How to Wear a Cutout Clothing in Winter
When it comes to cutout sweaters or turtlenecks, here's a fantastic way to rock them. While we normally think of cutout clothing for summer weather, here is how you can incorporate it into your fall wardrobe. Make sure to layer up and have fun pairing different neutrals for a chic look.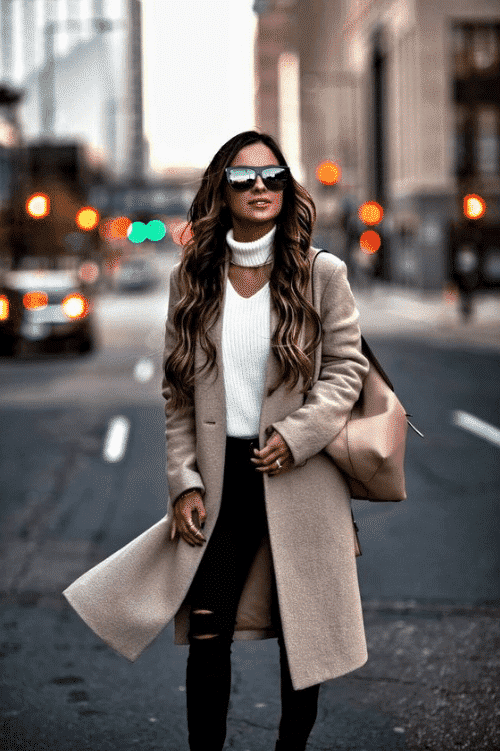 Here's another beautiful cutout outfit for winter – just a knitted sweater, jeans and booties. You can buy a similar sweater here for $405 and here for $490.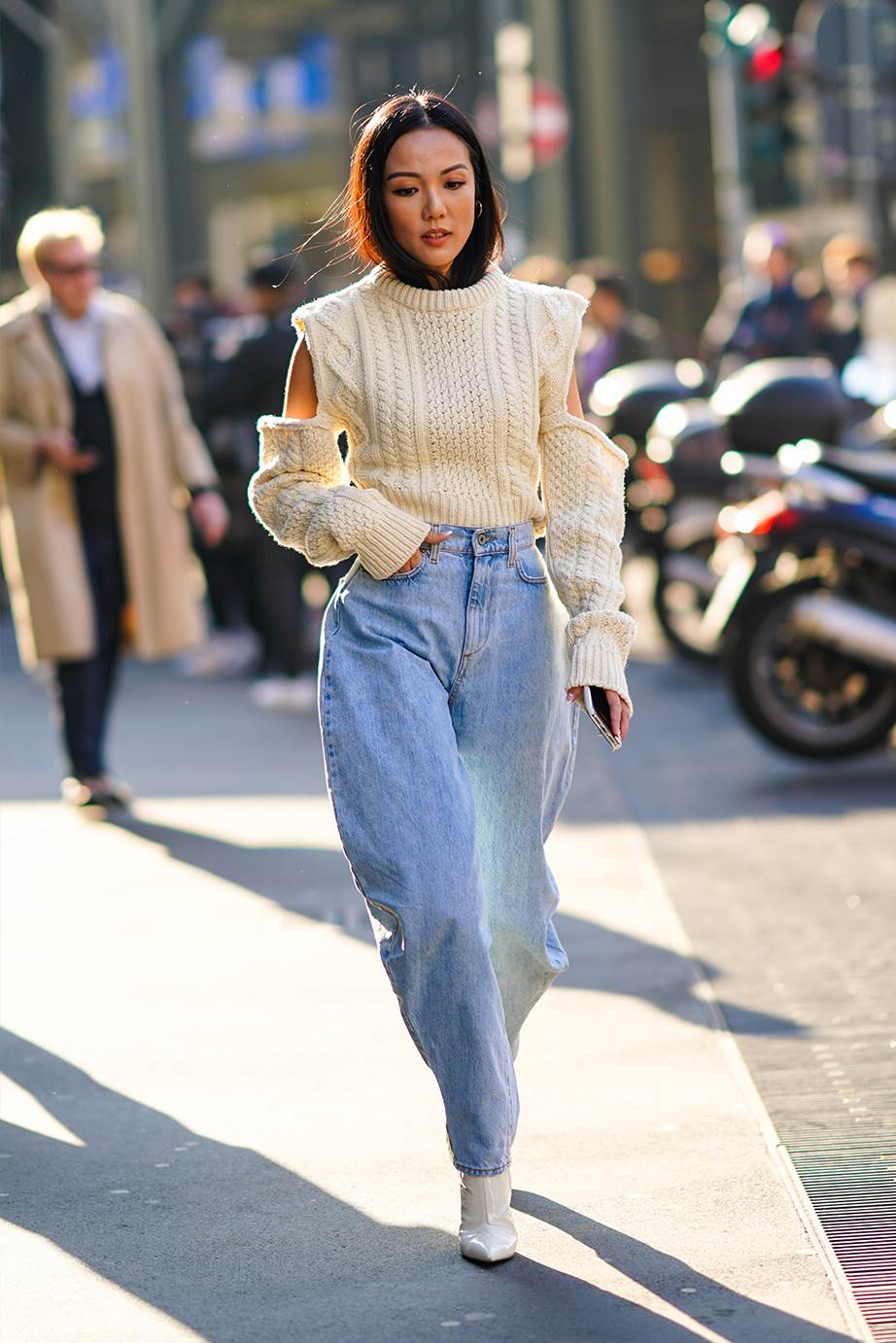 ↓ 17. Cutout Sleeve Dress and Stretch Boots
Here is another fantastic fall weather option. This curvy lady paired a cutout sleeve dress with a pair of stretch booties and a cute suede purse. Notice also she sports a bow-detailed belt to cinch her waist and add structure.
You can go full monochrome like she did or add a contrasting colored purse to break it up and add a new dimension to the look.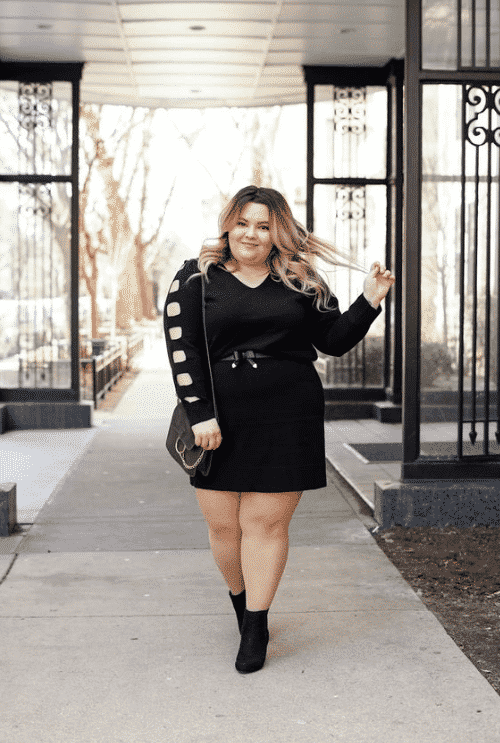 ↓ 16. Everyday Stylish Outfit
This light and bright look is perfect for spring or summer and utilizes two great summer colors: white and yellow. The black accents help edge the look up a bit as well.
This stylish look is perfect for grabbing coffee with friends, shopping trips with your best girlfriends, or exploring a new city. The tiny geometric cutout pattern on the top will keep you feeling cool, which is always helpful.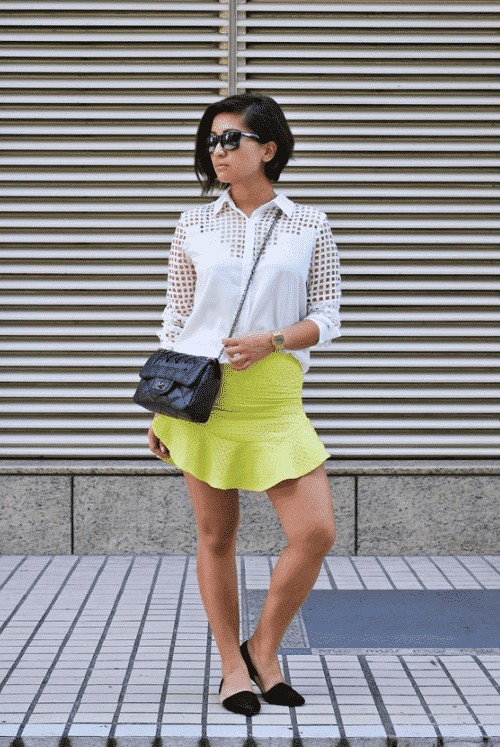 ↓ 15.  Black Maxi Dress
There are a hundred ways you could style a great cutout dress. Here's one of them. This maxi dress would be plain without the thigh-high slit and cutouts along the sides and back, but it's even more fabulous when worn with an embroidered leather jacket and stretchy booties.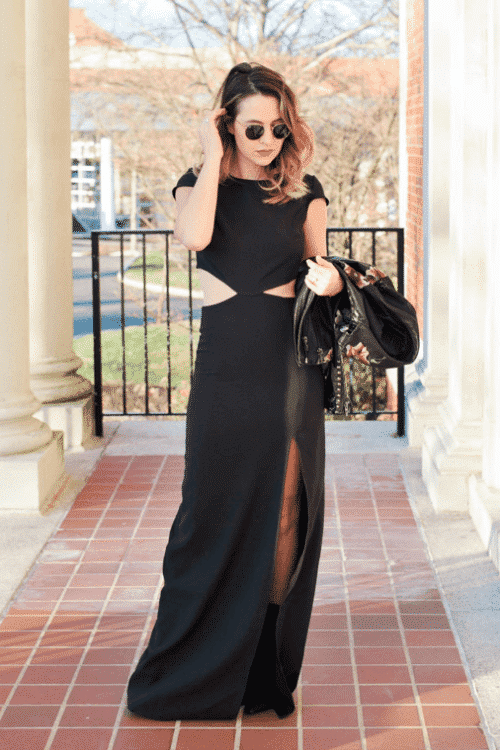 Here's the back view! As you can see, a maxi cutout dress is a lot of material broken up by strategic cutout placements… and it looks incredible.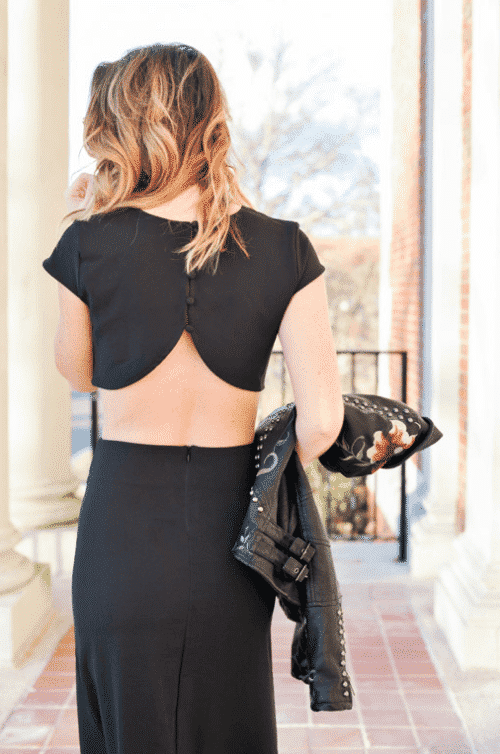 ↓ 14. Honeycomb
Looking for a fantastic city-girl street-style outfit? Here you are. This chic look pairs a simple top with a high-waisted skirt layered over a bodycon skirt. Add some strappy ankle-strap heels and accessorize with sunglasses and a chain-strap purse. We are in love with this honeycomb cutout pattern on the skirt that gives you a taste of the cutout trend without going crazy.

↓ 13. Cutout Shoulder Top
When wearing a long skirt like this, pairing it with a cutout shoulder top (now known as Vaccine Tops) is the perfect way to balance out all that material. We recommend tucking in your top though, to give the look a little bit more structure. Overall, this is a simple outfit, great for church or other family-related functions, that you can dress up or down according to your need. Here are more ideas on What to Wear With Cold Shoulder Tops.
↓ 12. Cutout Skirt
This stunning ensemble is just one of the many ways you can wear a cutout skirt. This particular skirt has a tiny cutout pattern, and it's layered over a bodycon dress. It's a great way for the style-savvy woman to incorporate the trend into her more high-end outfits.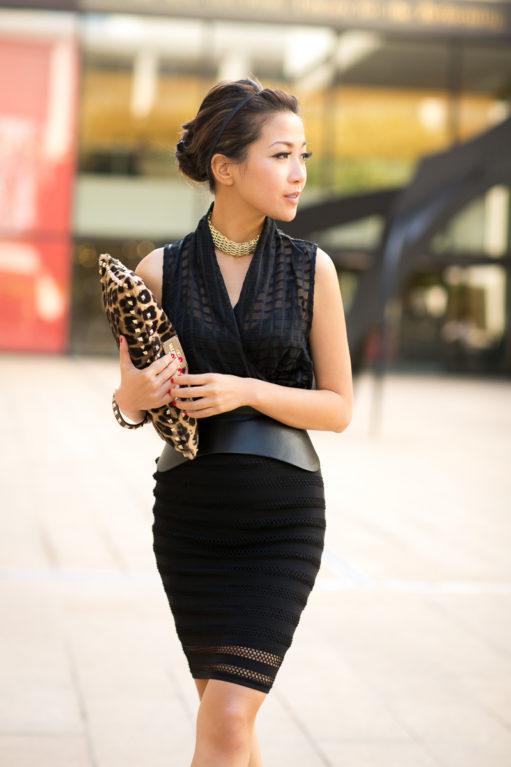 ↓ 11. Bohemian Maxi
If you're a boho-loving gal, you are going to love this dress. Perfect for summer, this breezy, floaty dress will have you walking on air with its gorgeous pattern, delicate sleeves, flattering neckline, and pretty side cutouts. Add a statement necklace and the shoes of your choice. (You can wear sandals, flip-flops, heels, or, like this gal, some combat-style boots. A great way to mix up different styles.)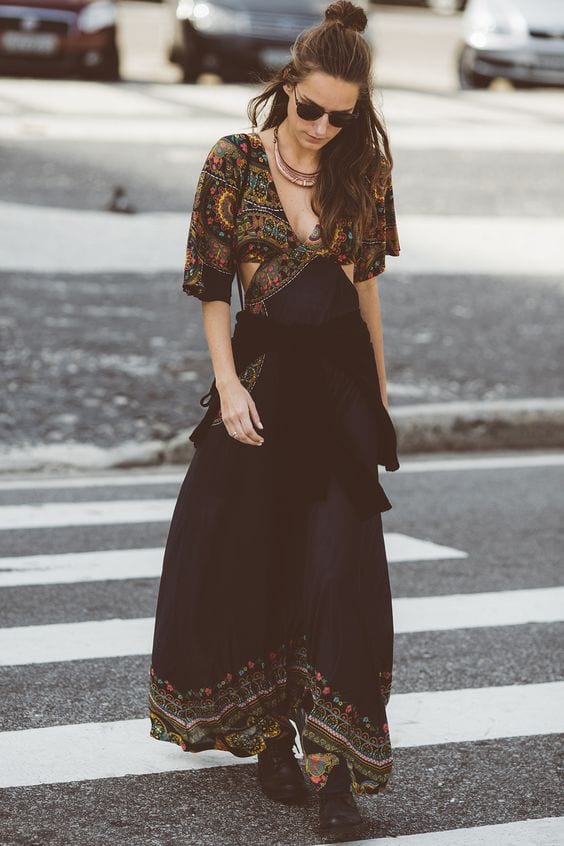 ↓ 10. Two-Toned Semi-Formal Gown
This black-and-white dress is ultra-chic, ultra-stylish. Great for semi-formal affairs, this floor-length dress features a high, straight-across collar, a defined waist, and cutouts around the sides. Accessorize with a silver bracelet and oversized hoop earrings.
↓ 9. Cutout Cocktail Dress
Forget about the mini cocktail dresses. This stunning floor-length dress will have you feeling all types of stylish. This moss green is just trendy enough to make a real statement without sacrificing one inch of style. Wear with a choker necklace, silver earrings, and sweep up your hair in a high bun to draw attention to your face and shoulders. Wear with heels, or, if you are making it more casual, white sneakers.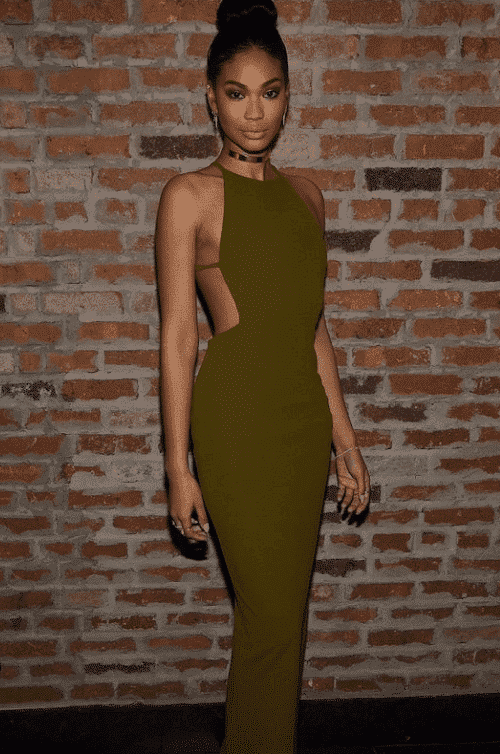 ↓ 8. Chic Orange Party Dress
If you don't quite see the chic factor in cutout clothing, you will with this dress. This highly stylish frock has a slitted cutout right beneath the collarbones, detailed with metal cutout circles. It is paired with some bronze pumps and simple silver earrings. It is extremely stylish and perfect for the serious fashionista. We love!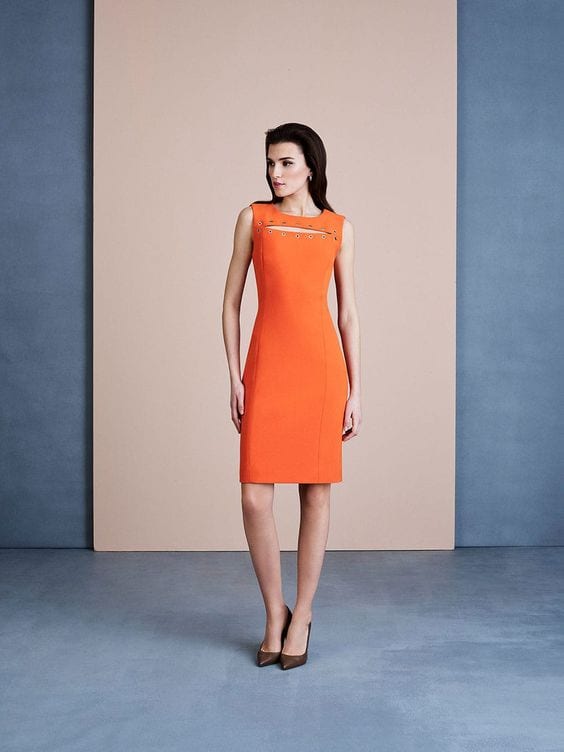 ↓ 7. Darling Beach Mini Dress
Nothing says beachwear like a front-tie cutout beach dress. This little number can be worn on its own or over a bathing suit. It's great for beach parties and get-togethers at the pool. Accessorize with a wide-brimmed straw hat, statement earrings, and a handbag.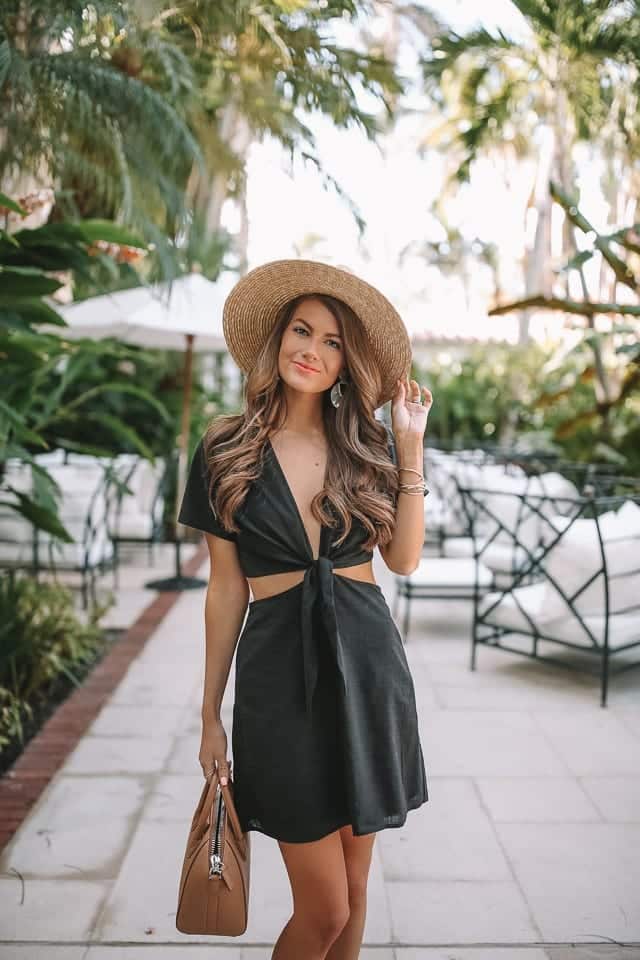 ↓ 6. Cutout Back Details
For a dress like this, you might want a sewn-in bra or even a sticky bra. This lightweight summer dress features cap sleeves and an adorable polka dot print. The back cutouts are not overdone, so it is also a good option if you are still getting used to cutout clothing in general.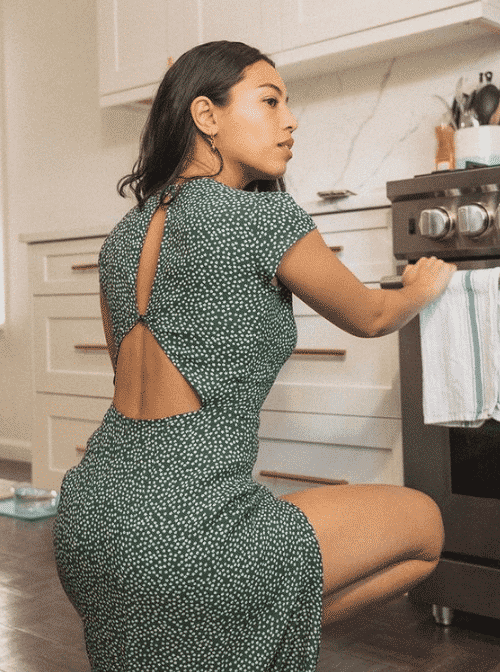 ↓ 5. Embroidered Mini Dress
A great way to start out wearing cutout dresses is with a delicate little frock like this one. The side cutouts are subtle and perfectly balanced by elbow-length sleeves and a mid-thigh hem. We have said it before and we will say it again: there is no better option for summer weather than cute cutout dresses!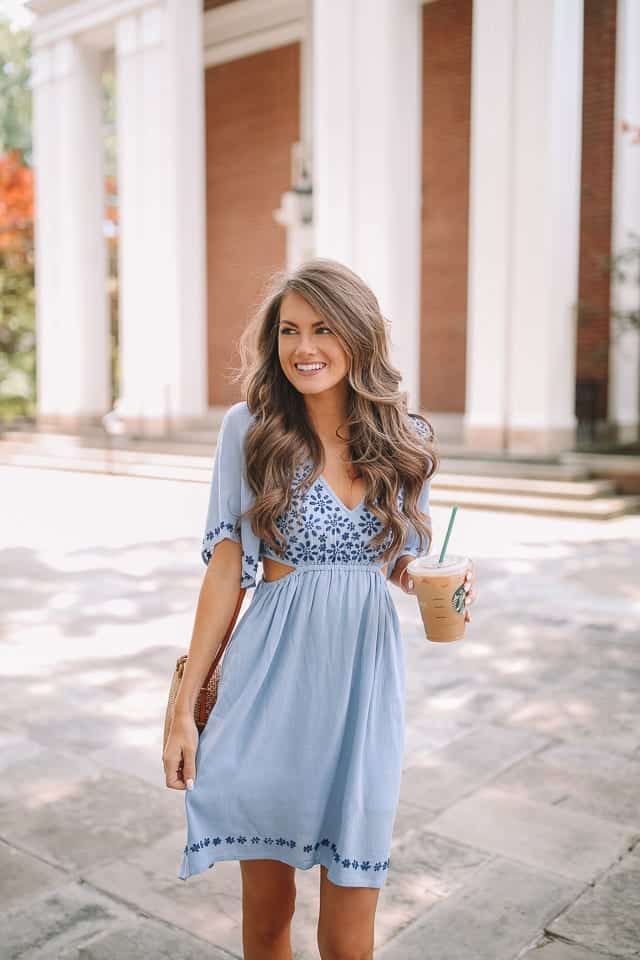 ↓ 4. Perfect Vacation Look
Vacationing in the summer often means heat, heat, heat. But with a cutout dress, you can enjoy that hot weather to the fullest. A dress like this will keep you feeling light and cool… and cute, too! Accessorize with matching sunglasses, a black wide-brimmed hat, and a handbag.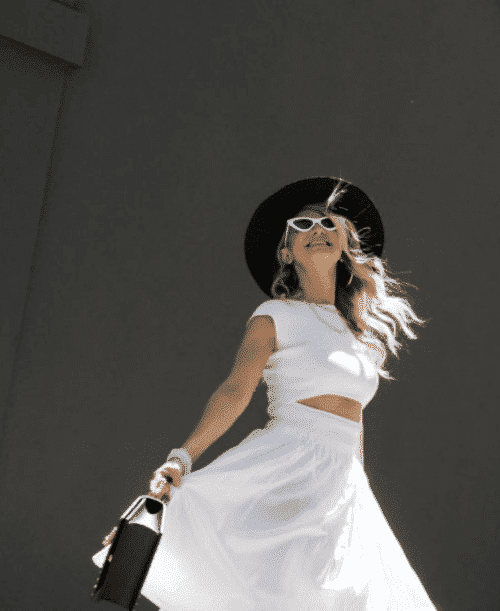 ↓ 3. Cutout Bathing Suit
A cutout one-piece is a great alternative to the basic bikini. It covers you up a little bit more without feeling any less cute or beach-worthy. We love this polka-dot piece which combines two trends, paired with an oversized straw hat, sunglasses, earrings, and some red lipstick! This look is perfect for days at the beach or even pool parties.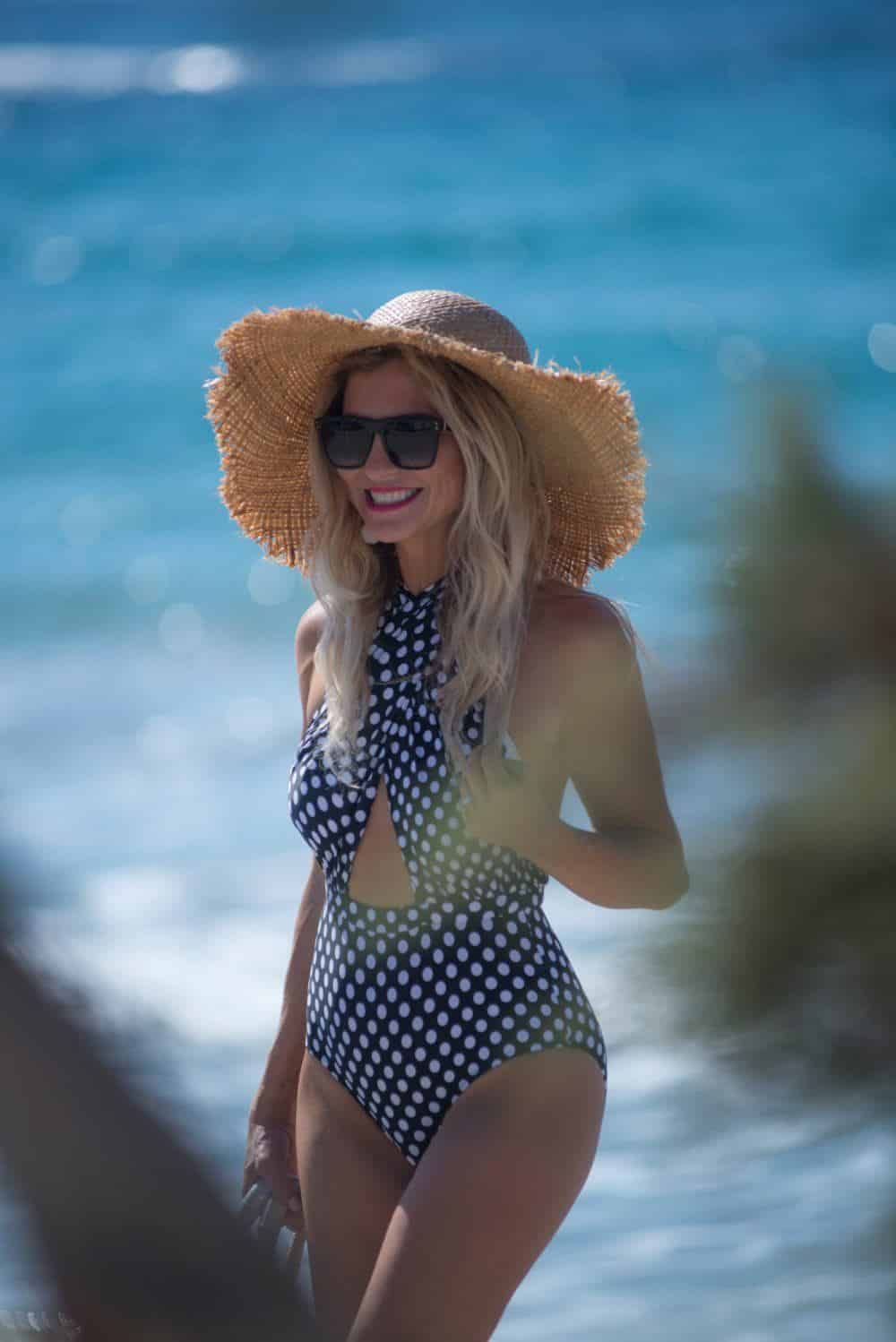 ↓ 2. Layering Over Button-Down Dress Shirt
Another fun way to wear a cutout top is by layering it over another top, in this case, a white button-down shirt. It's different and edgy enough that you can feel totally unique in your style choices; plus, it's great to wear in the cold-weather months when it's best to layer your clothes. This black-and-white outfit can be accessorized with a wide-brimmed felt hat, sunglasses, and a cute purse. Here are some more Fresh Outfits With White Shirts.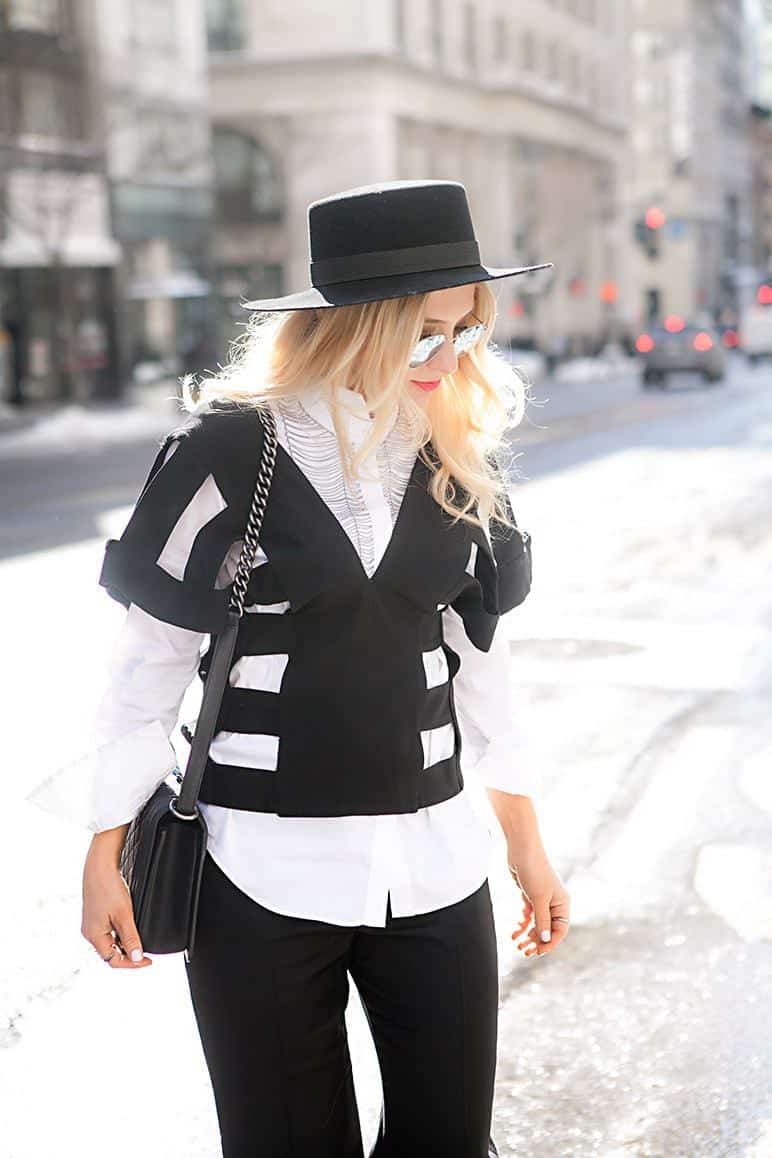 ↓ 1. Multicolor Cutout Dress
For the girl who loves color and likes to push the envelope with her fashion choices, this dress is a dream come true. It is the perfect choice for photoshoots, beach parties, and vacation events. And with all this colorful goodness, it needs little accessorizing. Simply pair it with some neutral-colored heels and add some gold hoop earrings.
Frequently Asked Questions
Here are some frequently asked questions about the cutout clothing trend. Check them out!
Q.

How to wear the cutout trend?
A. Start small. If you have never worn cutout clothing before, it might seem a little daunting at first. Maybe you are okay with cutouts on the shoulders but feel a little shy about cutouts on your back or sides. That's okay! You should only wear what you feel most comfortable in.
Perhaps you can start with a dress that has a cute little cutout below the collarbone. Or a shirt with a cutout on the upper back. Whatever you decide on, be mindful of your undergarments.
Q.

How to wear a cutout dress?
A. A cutout dress is just like any other dress and can be dressed up or down accordingly. They are best worn in summer (or at least warmer weather) as you are exposing that little extra bit of skin. For this reason, be sure to wear the appropriate undergarments (you may need a sticky bra if the cutout is on the back or a low-back bra) and you should wear skin-colored in case of any slips.
Q.

Are shoulder cutouts still in style?
A. Cold shoulder tops are not trending these days (which is why we only included one cutout shirt that could double as a cold shoulder top) but that doesn't mean you can't wear a top with shoulder cutouts. The way you accessorize a top is important so stick to trending accessories and keep your overall look modern and stylish.
Q. 

Where to Shop for Cutout dresses and clothes?
A. Here are some of the best places to shop for cutout dresses:
Nordstrom
Zara
Cult Gaia
Revolve
Free People
Feeling ready to tackle the cutout clothing trend? We hope so! Let us know how you'll be bringing cutout clothing into your wardrobe this year in the comments below.
R.H. Elias is a freelance writer, aspiring author, and freelance transcriptionist. She is a homebody all the way and loves curling up on a cold, rainy day with a good book and a warm cup of tea. Her favourite pastimes include reading, writing, and watching period films. She currently lives in Puerto Rico.