Outfits for Libra Women. Libra is an air sign, who is not known for her decisiveness. A Libra woman likes to sort carefully through their options prior to making a final decision. At times this is something that stands in the way of making a choice with regard to her outfit.
However, sometimes this is the reason that they always look so fabulous.
How to Dress Like a Libra?
Libras are cool and collected and like to dedicate time to romanticizing their style and their life. As a result, you will not be seeing them compromising their style. Although they do like comfort and convenience. Therefore you will most likely see Libra's rocking outfits that are multifunctional, and hyper prepared for any curveball the day may through them.
Likes classic style: First and fore it is important to note that a libra will most likely be taking her fashion inspiration from the classics. Audrey Hepburn, Merlin Monroe – and anyone else who screams old Hollywood and classics. Therefore elongated silhouettes, straight cut garments, and minimalist detailing are their go-to.
Prefers outfits that can go from day to night: Libras value efficiency and thought-through choices. Therefore if an outfit can be taken from daytime to nighttime in no time, they will be highly content.
Likes the lush lifestyle: Libras like to feel nice, this concerns their fabric choices too. They will most likely relish in soft silk or velvet. Suede is also on their list of favorites.
Particular color choices: Libra's are known to be calm but alluring. This also can be seen in the color selections they are comfortable making. They rock both day-to-day and seductive neutral hues, depending on their mood.
The color pink: Lastly Libra women are known to be drawn to the color pink. Each sign has its lucky color – and for Libra's it's pink. Whether it is baby pink, coral, or fuchsia, each Libra must have that lucky color in her closet. Do check out these Hot Pink Dress Ideas.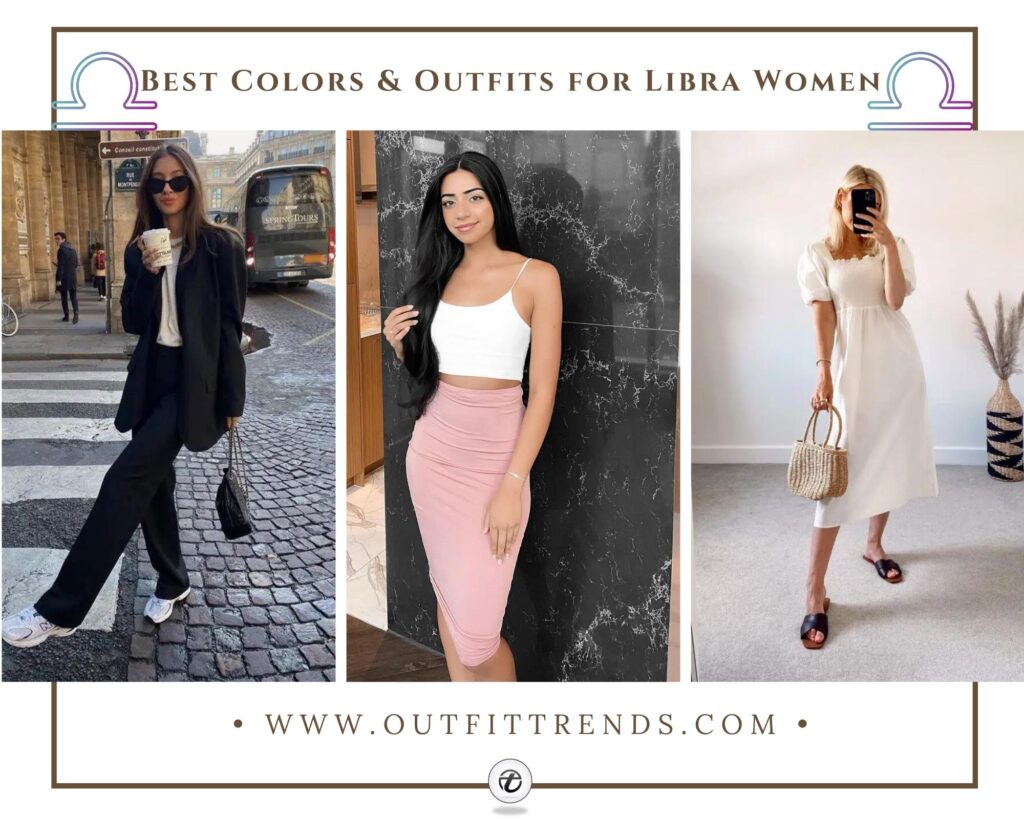 20 – Pair a Tube Skirt and Top For Day to Day
Start off the list with a casual look. Not to mention, one that is perfect for the fast-approaching summer. This super casual yet put-together outfit is right up Libra's alley. Moreover, the light pink color that is so important to Libra's luck is not forgotten so here are some of the most fab Outfits with Pink Skirts.
19 – Have an Ultra Soft Sweater Ready For a Chilly Day
As we know Libra's enjoy that luxury experience, therefore their choice of fabrics is often time led by that. Therefore it is no surprise that a true Libra closet includes that one special super soft cardigan or sweater. Most commonly the sweater will have a geometric print, that is put together and will easily blend with an array of other clothes.
18 – Get The Go-To Long White Dress For Summer
Everyone might have their go-to Little Black Dress, but not Libras. They have their own iconic dress, and most likely it is this super easy long white summer one. They are more likely to feel most like themselves in a lighter color palette, hence the white. Similarly, their utilitarian viewpoint allows them to recognize that a maxi dress offers much more comfort.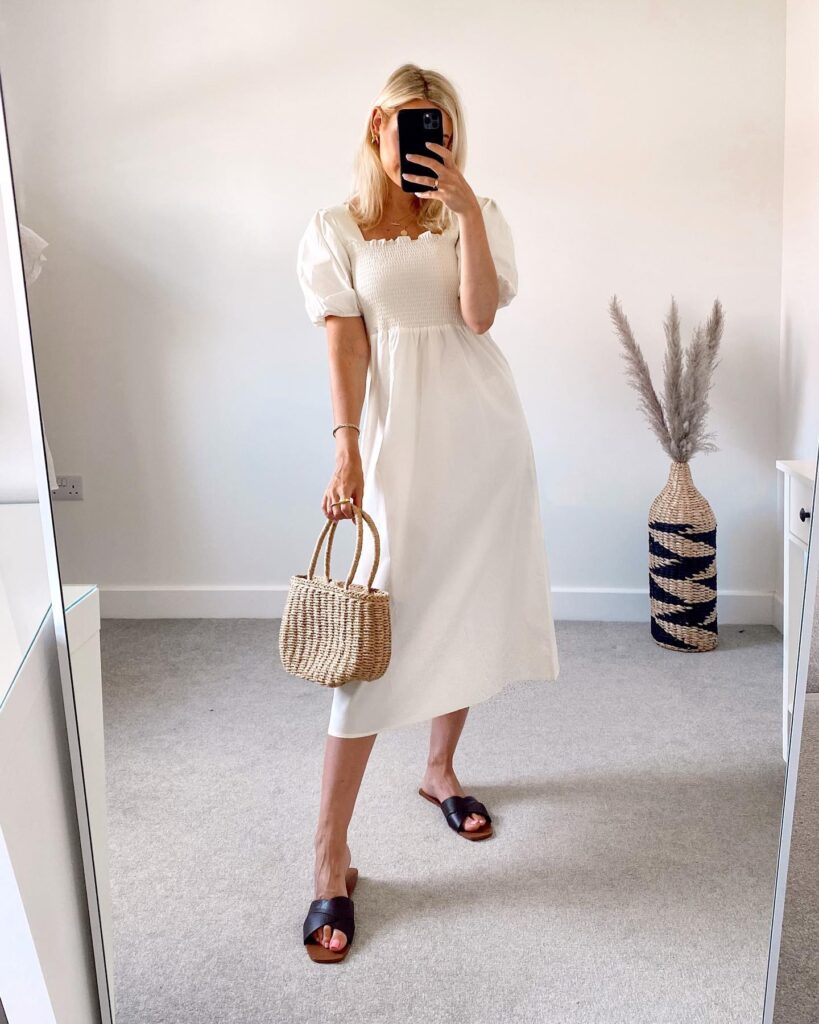 17 – Mix In a Bright Pink Mini Purse to Diffuse a Casual Outfit
Even on their most casual days, Libras will have something that stands out. For example a mini purse, in their favorite light pink color. Similarly, even a simple white shirt will always have a slight pattern to uplift the look.
For more ways to style Mini Bags, check out this article!
16 – Get a Lime Green Dress for Your Showstopper Look
Everyone knows that a Libra is a show stopper. Thus a stand-out outfit is a requirement in their closet. This highly trendy scrunched-up dress, in bright lime green, is the perfect option. Moreover, when skillfully paired with all-white accessories the look will be absolutely stunning.
15 – Match a Straw Hat with a Straw Purse
You will not catch anyone other than a Libra so carefully matching and pairing certain items. For instance, the straw bag, which has been in style since summer 2021, is certainly making a comeback. Be super specific with your choice of accessories and match it to a classic straw woven hat. Moreover, finish the look off by keeping it all in one caramel color scheme.
14 – Make a Mini Skirt Look Classy With a Light Brown Buttondown
Libras like to have fun, and their outfits suffice. Although instead of having full-out provocative looks, they would much rather mix and match. Pair a black mini skirt with a unique light brown button-down.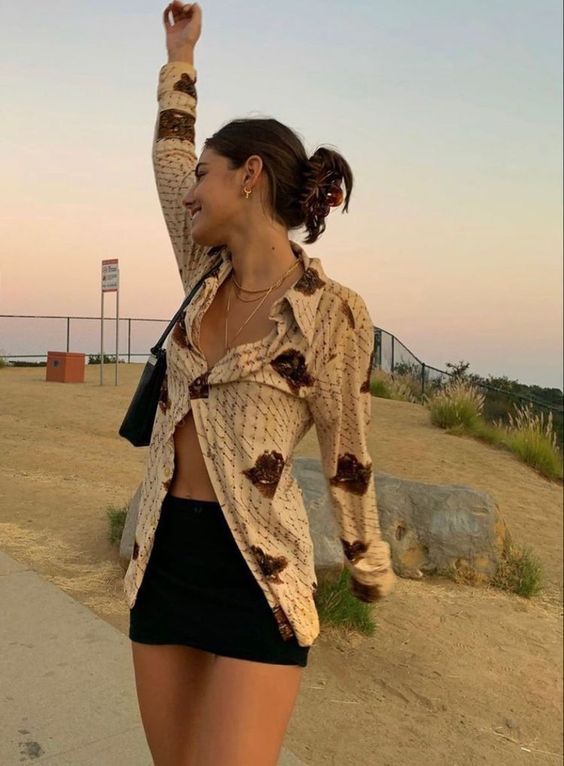 13 – Go For a Satin Creme Dress For a Romantic Summer Night
We have already mentioned the Libra iconic Long White Dress earlier in the list. However, this is their evening alternative. Once more remember the need for tactility for a libra, and go for a satin fabric. Moreover, stand out from others, and get a dress in bone – a much more graceful alternative to white.
12 – Match a Chocolate Bag to a Chocolate Top
Libras are planners, therefore unlike anyone else are highly skilled in matching their clothes to one another. For instance, if you have a stand-out chocolate-colored bag, make sure to make it stand out by matching it to the same colored top.
11 – Create Contrasts With Thick Fabrics and Lace
A Libra is an innovator in some cases, so prepare to mix unusual fabric pairings. For instance, a thick firm black skirt, with a thin and airy lacey top. This is not only unique but also the perfect outfit for the upcoming summer.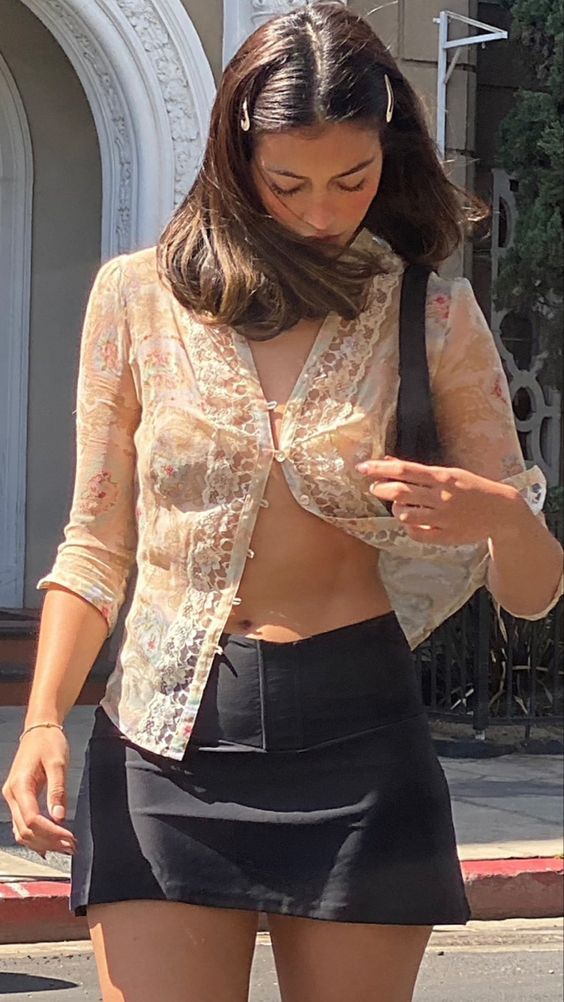 10 – Create a Black and White Look For Your Casual Day
Even on a day off a Libra will always look put together. Nevertheless, the outfit on the day Libras don't feel like dressing up will be simpler. Most likely a go-to black and white ensemble. Like this black matching blazer and pants. Paired with strikingly contrasting white sports shoes and top. Additionally, notice how the usually professional-looking blazer is made immediately stylish with just the use of sporty shoes. Here are some Amazing Black and White Outfit Ideas.
9 – Pair a Loosely Woven Vest with Some Pants For a Busy Day
On a day that Libra needs to look professional and presentable, you can bet she will be wearing an all-beige combo like this one. The recently highly trendy woven vest is also an addition to their closet that is absolutely necessary. It is our suggestion that you get one in a neutral color like a beige, brown or black – so you can pair it with a variety of outfits.
8 – Choose a Bright Blazer to Lighten your Work Days
Alternatively, sometimes Libra is in need of a pick me up on her workdays. Thus she turns to color. One of her highly lucky colors is blue, therefore we recommend you have a blazer in this color. As Libras are in tune with all things spiritual, this look is most likely going to be your lucky go-to. Especially when you are in the middle of a heavy work week.
7 – Make Professional Look Casual with a Crop Top
Leave it to a Libra to be done with her work and hop straight in for drinks with her friends. Although the outfit must suffice. Therefore sometimes you will find a Libra pairing her work blazer, not with an uptight blouse. But instead with a crop top, which she can reveal as she pleases. This top addition is highly transformative. Similarly, a bright blazer color is crucial. Emerald green is both professional and will enable such a transformation.
6 – Pair a Silky Shirt With Gold Necklaces
Another thing that Libras do impeccably is pair their accessories to their outfits. For instance, this outfit is right up their alley. It has a pretty layered necklace situation going on. Although it does not look overbearing. Instead, this is a highly diverse look. Suitable for perhaps any location.
5 – Go For a Top With Flared Sleeves
Even a white top, is not so simple when worn by a Libra. They like glamorous and romantic outfits. Therefore you are most likely to find them in a ribbed white top, with cute and uniquely flared sleeves. Similarly, they will most likely pair it with the most up-to-date trendy shoes, like the loafers for example.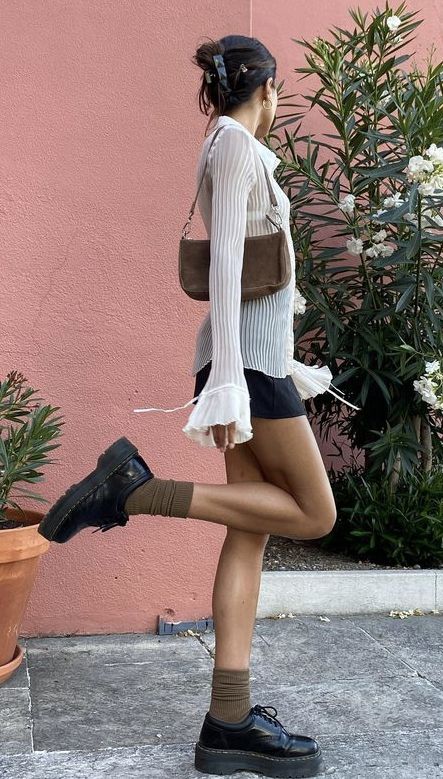 4 – Match a Zebra Shirt to Black Pants
Instead of getting a white or black satin shirt, add a more personal option to your closet. For example a zebra printed shirt. Moreover, you can try searching for a top that has a lot of thin fastenings, which are very in style right now. And will be an even bigger trend for summer 2022. Moreover, we must not forget that Libra like sensuality, therefore the fabric choice matters greatly. Go for a thin satin seethrough material. Pair it with your most comfortable black pants, and have a highly versatile outfit for day to day.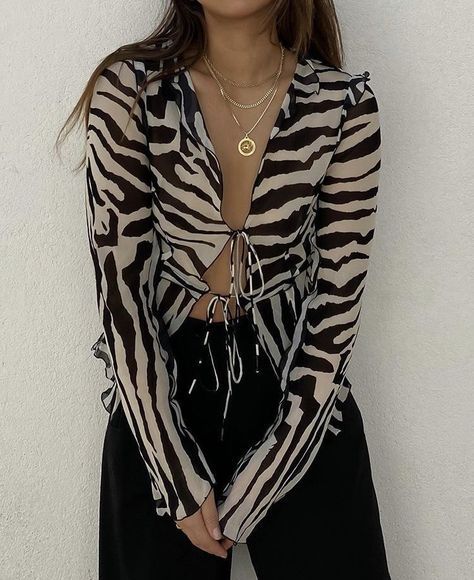 3 – Create an All Whtie Outfit With Minimal Effort
Versatility and ease, are the two most desired qualities for this star sign. Therefore having a top and bottom co-ord or just perfectly matching pants and top is a must for a Libra. Especially in such a light and cute color as white. This outfit requires little effort. Similarly, it requires little accessories as they would pose as distractions to the serenity of the look.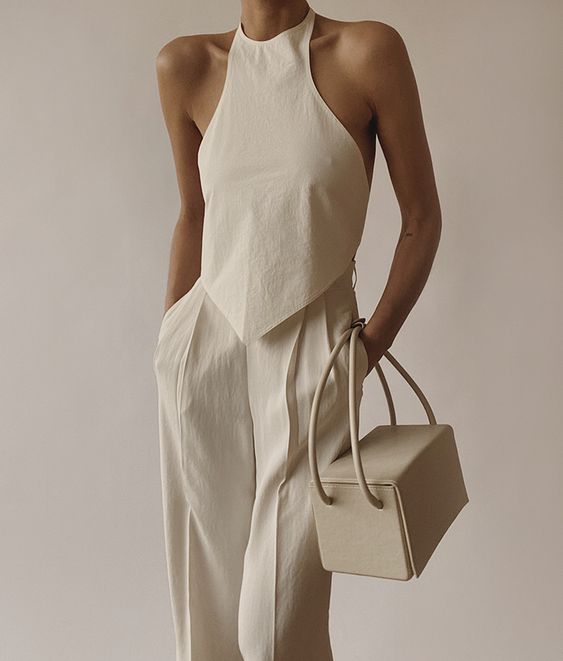 2 – Pair a Woven Top, a Bralette, and Cargo Pants
Although this style is not immediately screaming glamorous Libra, it is perfect for this sign. A libra very rarely likes to take risks, therefore having an outfit like this for that spontaneous occasion is a must. Second, to last on the list is this unforgettable pairing. It looks complicated at first, but don't let that deter you away. It is simply comprised of three clothing items. A black bralette, or bra top (whichever you are comfortable with more). A loosely woven white long sleeve. As well as cargo pants.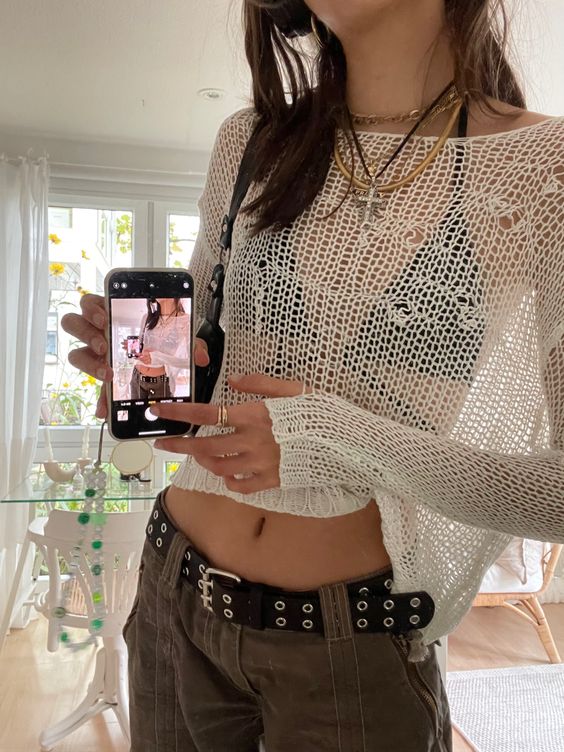 1 – Cute Summer Ensemble with a Frilled Top and Floral Skirt
Last on the list, is a classic Libra look. The lover of romance must have a floral skirt in their closet. Although a floral skirt look isn't complete without a gentle, elegant ruffled top to pair with. A classic accessory perfect for a Libra is pearls. And this look, like no other – will go perfectly with them.
Libra Celebrity Outfits
Here's a bonus section for those who made it to the end of the list! For our celebrity inspiration of the day, we have the most stunning and stylish Bella Hadid. Bella is a Libra since her birthday falls on October 9th.
If we analyze her wardrobe and outfit choices, we see that she's really into vintage-style outfits along with embracing the Y2k fashion trends. Being a 90s baby of course she's all too often seen wearing outfits that are inspired by the 90s as well as sporty and athleisure outfits. Finally, she's also known for her monochromatic looks that she rocks everywhere, be it on the red carpet or on the streets. Here are some of her recent outfits that we loved and found really inspiring: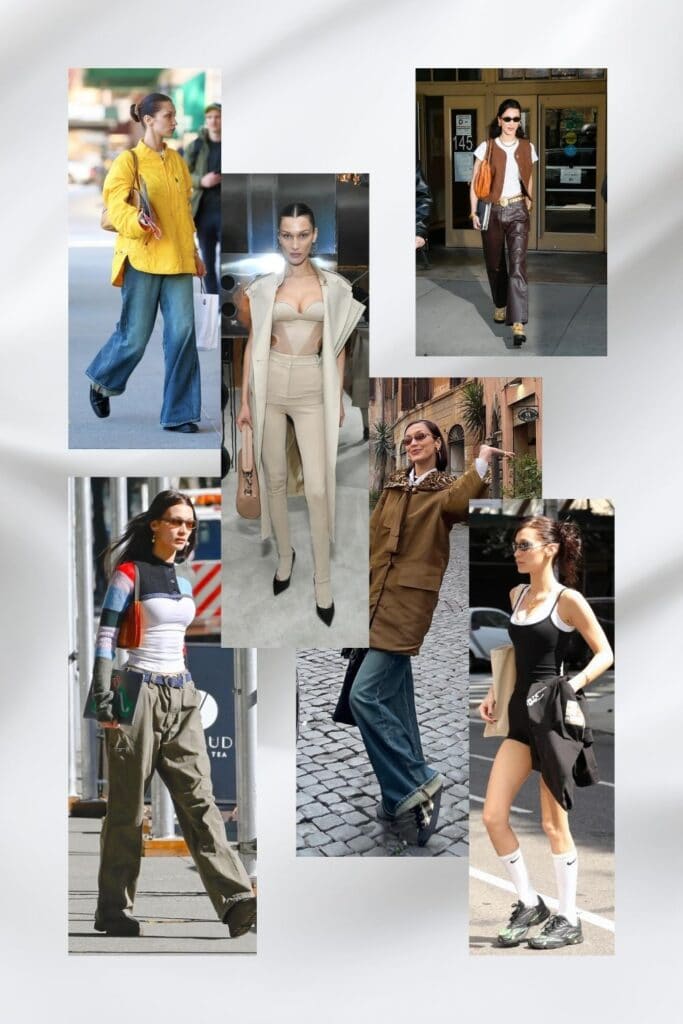 Frequently Asked Questions
Q. What would a women Libra wear?
There are three important factors to consider when answering this question. Color, style direction, and fabric. Libra's are lovers of classic fashion. Although they adore the allure that comes with fancy fabric. Such as furs, silks, and suede. Lastly, they are always drawn to light pink shades. Not only that, but it is also their lucky color. However, we mustn't forget about Libra's seductive character – which allows her to balance out her love for pink with natural brown and black hues.
Q. What famous female celebrity is Libra?
One of the best things about being a Libra is that you have so many style icons to look up to. A number of celebrities share the Libra zodiac sign and they always have their style game on point so you must follow them. Some of the most famous include Kim Kardashian, Bella Hadid, Serena Williams and Hilary Duff.