Floral Blouse Outfits. Floral prints are a popular print for many reasons. Not only are floral prints super feminine, but they are a flattering print on all women and can be coordinated into all kinds of outfits.
They are fitting for spring, playful for summer, refreshing for fall, and brightening for winter. There is a lot to love about floral prints and for these reasons and more, we firmly believe that every lady should have a floral blouse in her wardrobe! So, let's look at some simple tips for styling floral blouses as well as 30 example outfits for you to get inspiration from. Let's get started!
How to Wear a Floral Blouse in Style?
Here are some tips on wearing floral prints:
For silk, satin, or delicate floral tops, try them with skirts or flare pants.
For cotton and linen floral tops, pair them with jeans and denim.
Avoid layering floral prints (like a floral top and a floral skirt) unless it is a matching outfit. Too many floral items can be overwhelming in one look. But as with all fashion choices, there is a way to achieve a floral-on-floral look if you are really set on it! However, as a rule, we do discourage going overboard with any one print. Be sure to check out our Spring Outfits With Floral Jackets-12 Cute Outfit Ideas.
Avoid wearing super loud accessories with floral blouses because most of the floral prints are loud in itself and you do not want to detract from them!
Consider the size of your florals. Plus-sized gals should avoid too large a print as it can be overwhelming on their figures.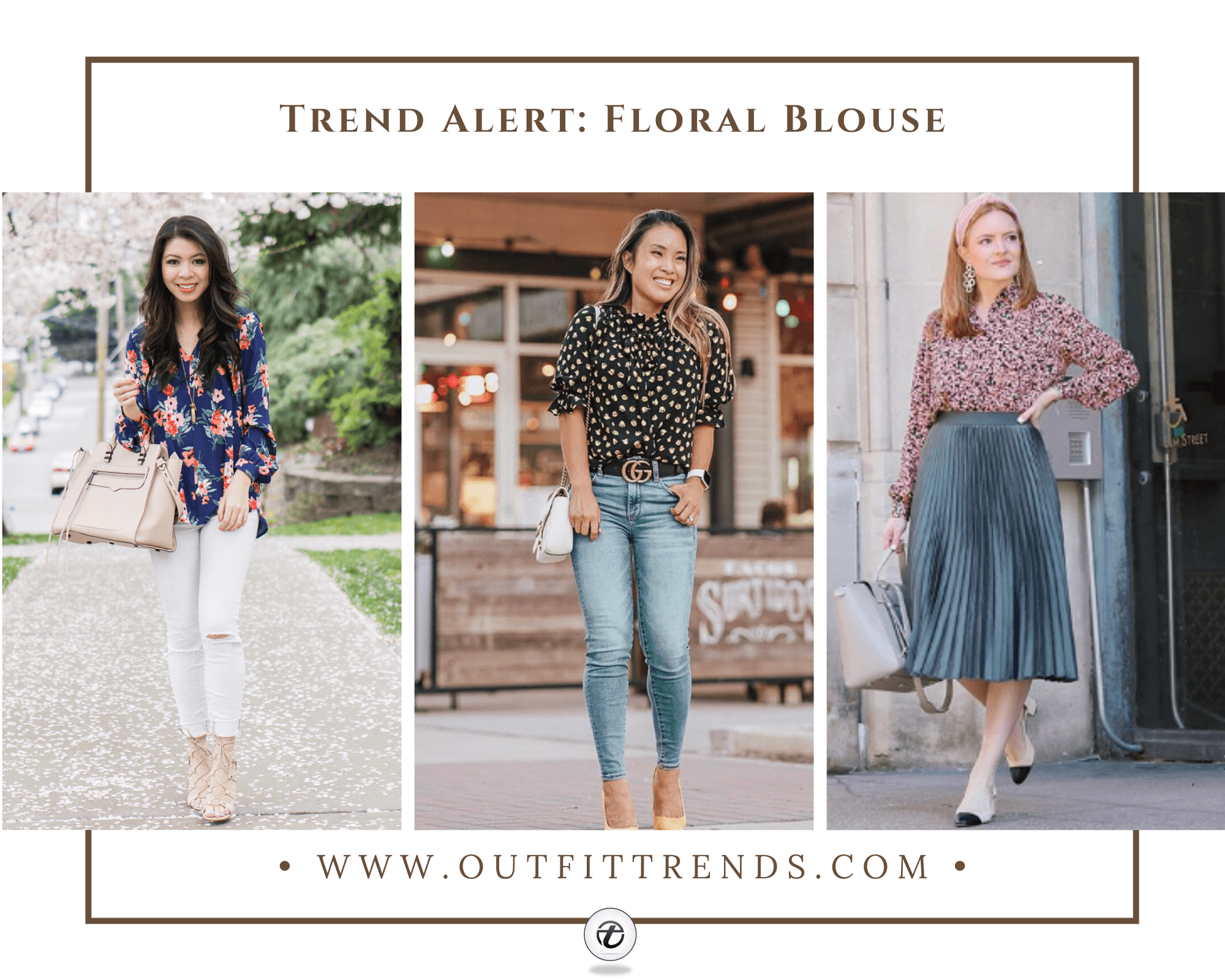 Now, let's take a look at those outfits!
↓ 30. Wrap Top Date Night Look
We love a chiffon blouse, but we especially love a floral wrap top chiffon blouse. (Try saying THAT three times fast!) This absolutely gorgeous blouse can be paired with some distressed skinny jeans, mules or sandals for a fabulous fate night look you will want to rock again and again.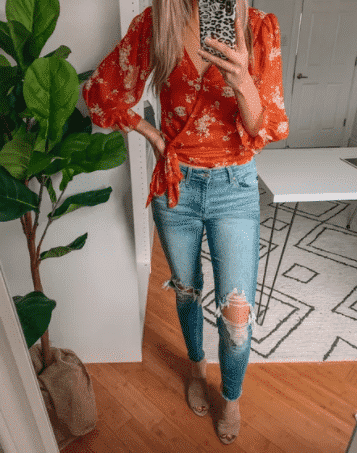 ↓ 29. Floral Spring Outfit
If there is ever a time to wear florals, it's obviously spring. We like this take on the classic look which incorporates some darker colors to make it a little less traditionally spring. Try this look next time you have got a girls day out planned or you are grabbing brunch with your guy.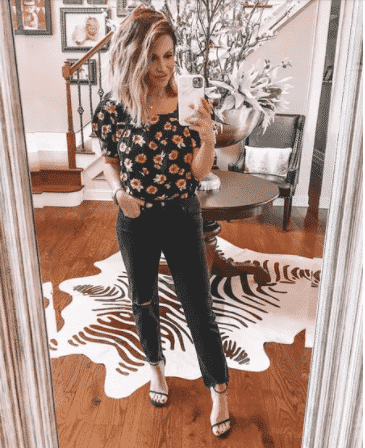 ↓ 28. Go-To Vacation Outfit
This bright blue floral top will give you all the summertime vacation feels! We especially love it when paired with a straw hat, some white denim shorts, and sandals or mules. Play with the accessories and feel free to experiment. You can't go wrong with this look.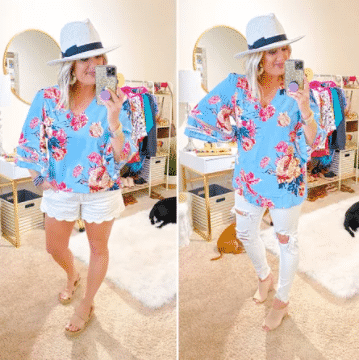 ↓ 27. Darling Summer Look
Nothing is sweeter or more darling in the summer than a lovely chiffon floral blouse. We especially love it when paired with a cute straw hat and a faux leather miniskirt. What can we say, we're in love!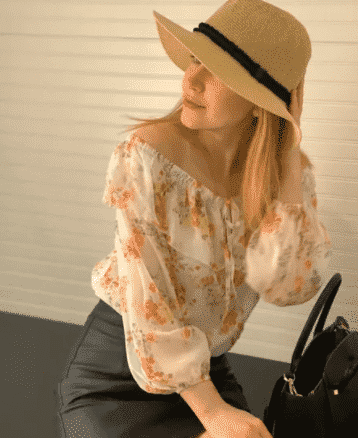 ↓ 26. Chic and Stylish Weekend Outfit
Hands down, our favorite weekend look is this one right here. It's cute and chic while still being casual, and it makes use of our adored floral blouse top! Pair up some mom jeans with a cute little ruffled floral print top and finish off the look with some white ankle booties and a little quilted purse. This is a stylish look you could even rock for a date!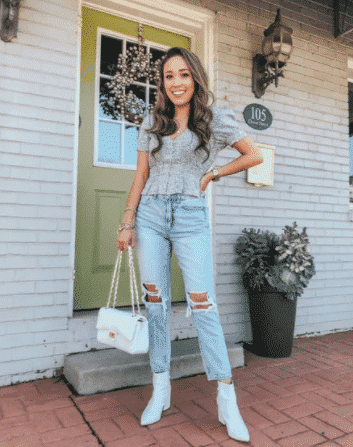 ↓ 25. What to Wear With a Floral Shirt?
Come summer, we all want some quick and easy ways to style our favorite blouses and floral tops are no exception! One great way to wear a floral shirt is by pairing it with denim shorts. We love these slightly longer shorts with a rolled hem, which definitely helps to up the elegant ante.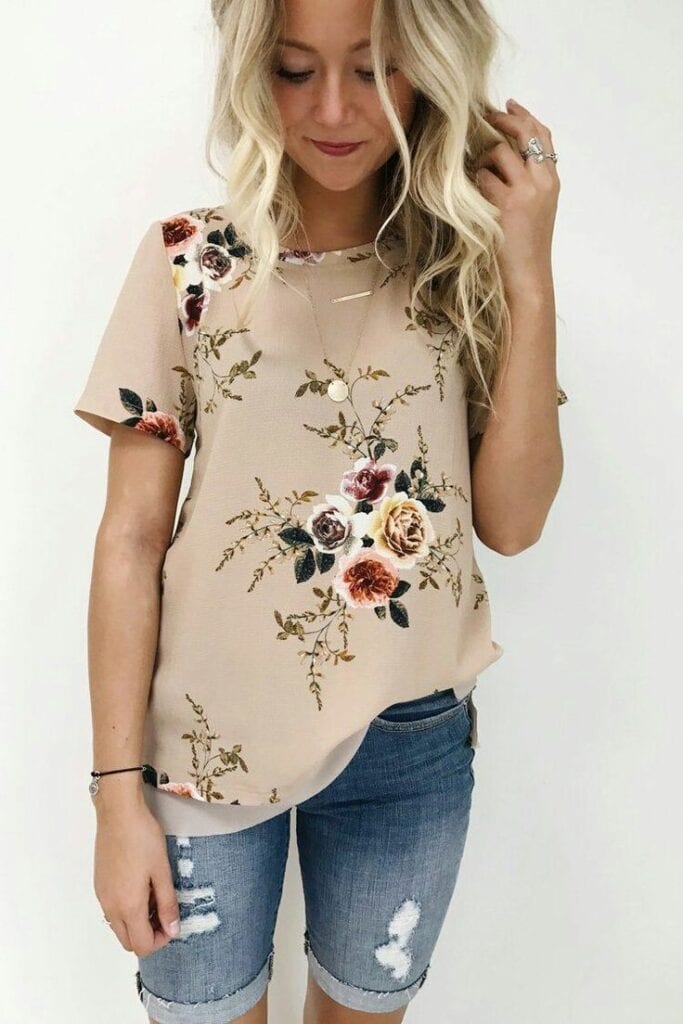 ↓ 24. Summer Floral Blouse Outfit For Women
Have fun with your textures and prints by pairing a loose, flowy floral top with some scalloped hem shorts and a pair of cheetah print flats. This is a lovely summer look that is light and cool while still being stylish. Here are 22 Cute Floral Print Outfits Combinations for Spring Season.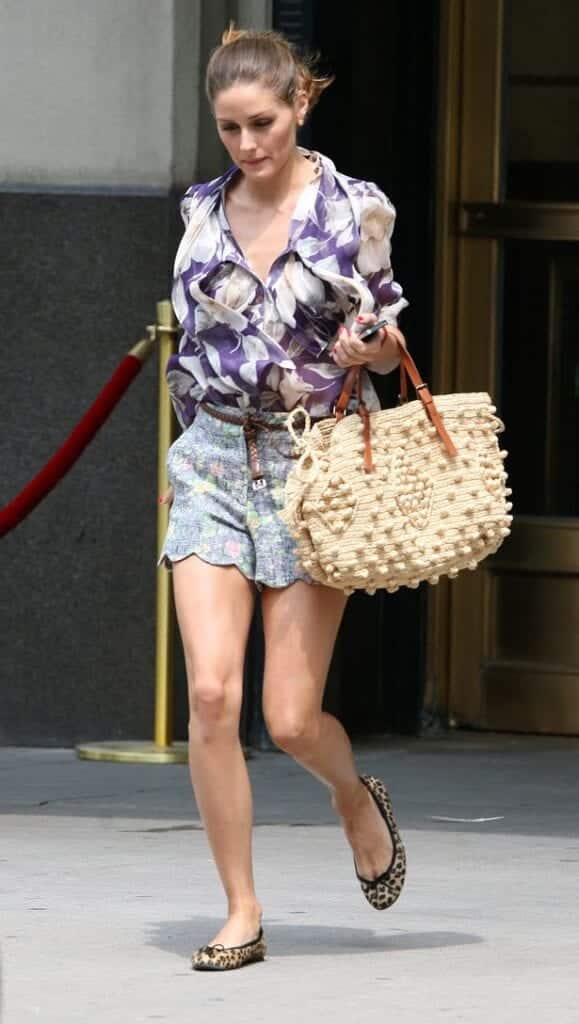 ↓ 23. Springtime Dinner Outfit
You will feel like a million bucks rocking these wide-legged pants and floral top. It is a light and refreshing ensemble you could wear to a date or to a semi-formal dinner in the spring.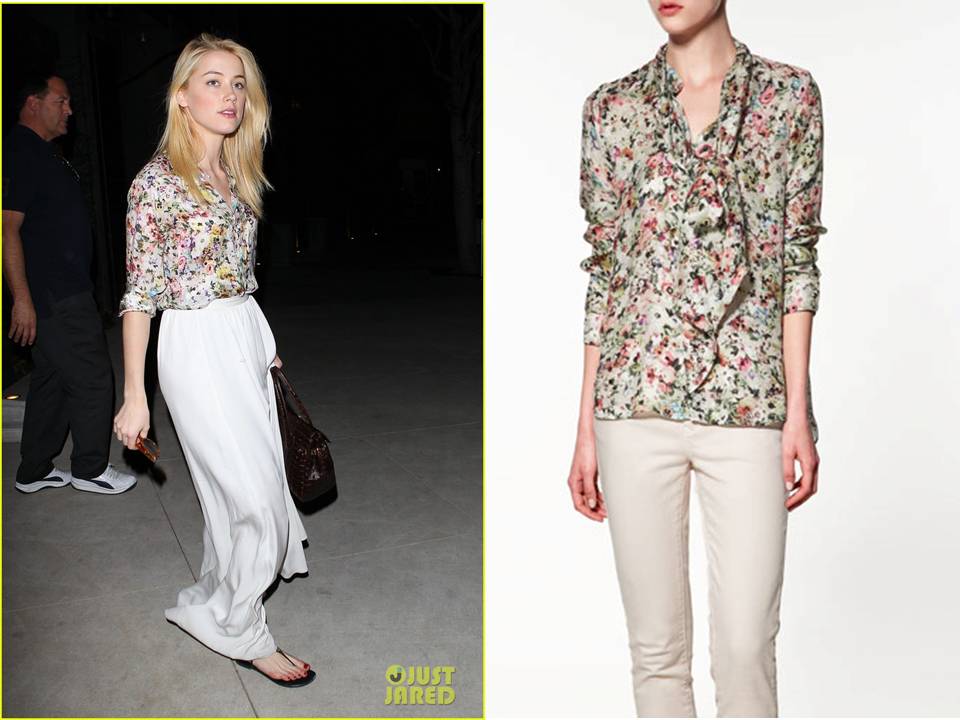 ↓ 22. Celeb-Inspired Basic Everyday Look
Flower power! The forty-plus Charlize Theron brightens the day in a floral blouse with skintight jeans while out to lunch in West Hollywood. This is a great everyday look you could rock whether you are running errands, picking up kids from school, or grabbing lunch with friends. Here are some more amazing dressing styles for Women Over 40.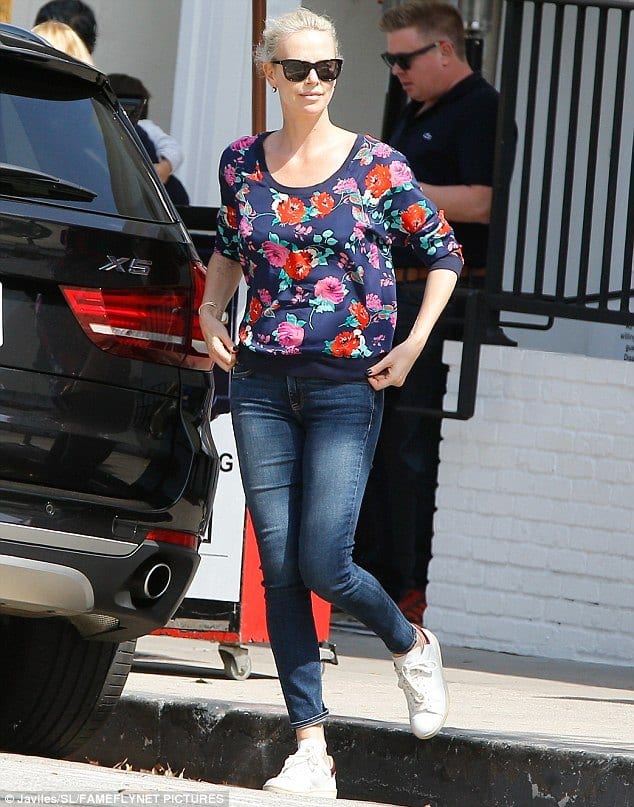 ↓ 21. Semi-Casual Top and Jeans
A fail-safe look is this one right here. Meet up with friends, grab coffee with your guy, or spend the day shopping in style in an emerald green floral blouse, sleek fitted jeans, and a neutral-colored belt. Keep accessories minimal and go for a classic makeup look. For this outfit, you could rock boots, heels, or flats: try matching your shoes to your belt to really tie the look together.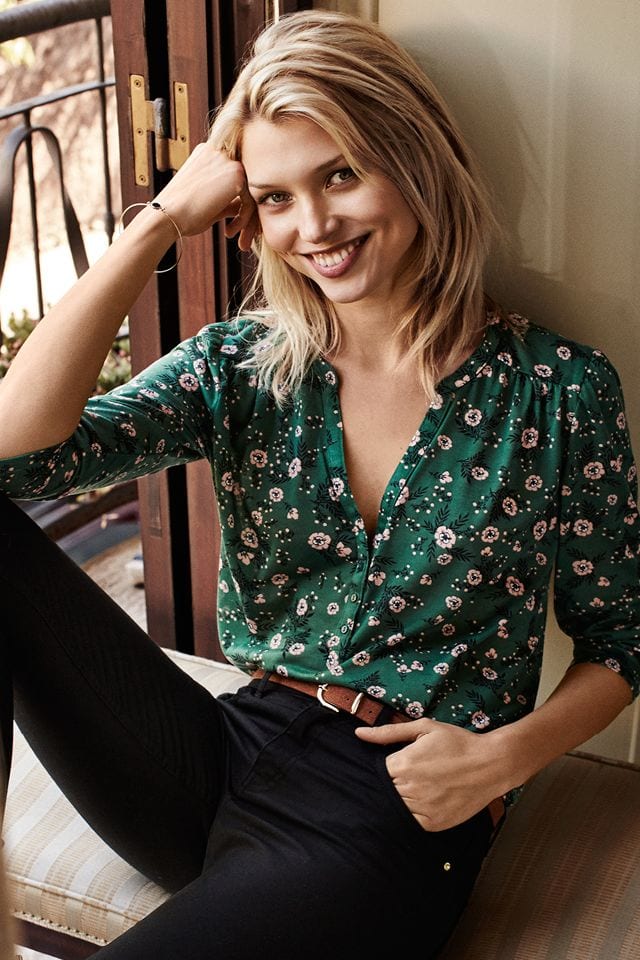 ↓ 20. How To Style a Floral Blazer
Another way to incorporate a floral print into your everyday wear is by popping on a floral blazer. They are easy to style, just remember to keep the rest of your look muted so that your blazer really takes center stage. One way you could do this is by opting for a white blouse, jeans or leather trousers, and neutral shoes like black booties or nude heels.
Here's a complete guide on What to Wear with Printed Blazer.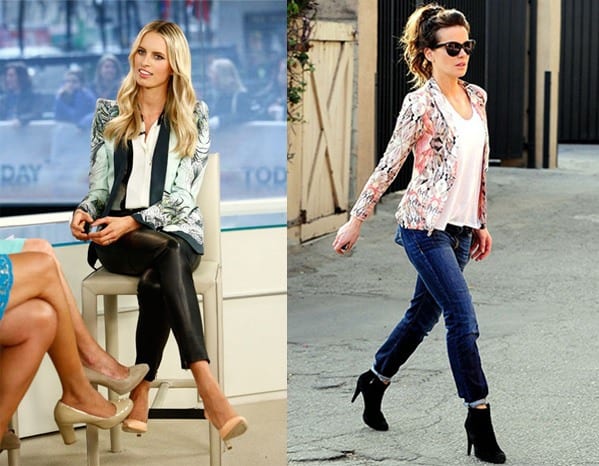 via
↓ 19. Celeb-Inspired Walking Outfit
A cool floral blouse is excellent for an everyday look. You can wear a floral blouse while doing grocery shopping, going to the mall or visiting the library. It makes you look stylish and cute and is a great casual look.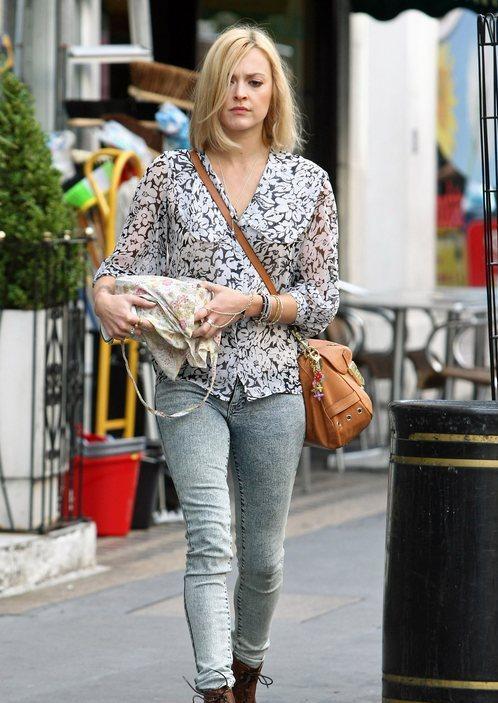 via
↓ 18. Distressed Jeans and Sheer Top
Floral prints work very well with sheer materials and are nicely complemented by distressed denim. Give Kylie Minogue's coy look a try this summer and finish off the look with a cute white clutch and orange-red heels. You should also have a look at these 18 Styles to Wear Ripped Jeans for Teenage Girls.
↓ 17. Cute Church Outfit
If you need a cute Easter outfit or just regular church look, give this ensemble a try. We love the refreshing simplicity of this darling outfit as well as the combining of colors. What really sells this look is the accessories so be sure to get yourself a coordinating necklace and tote bag in neutral colors to tie the ensemble together.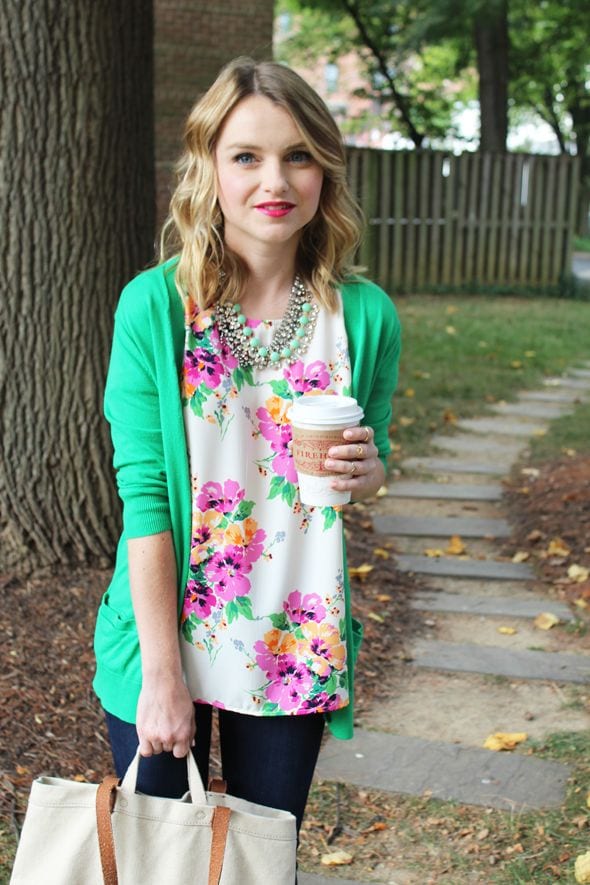 ↓ 16. Casual Weekend Lunch Look
White-colored floral blouses are very popular because it is a great way to show off a bright floral print without taking away from it. A well-tailored floral blouse would also go really well with white wide-leg pants, so do check out these ideas on How to Wear White Wide Leg Pants.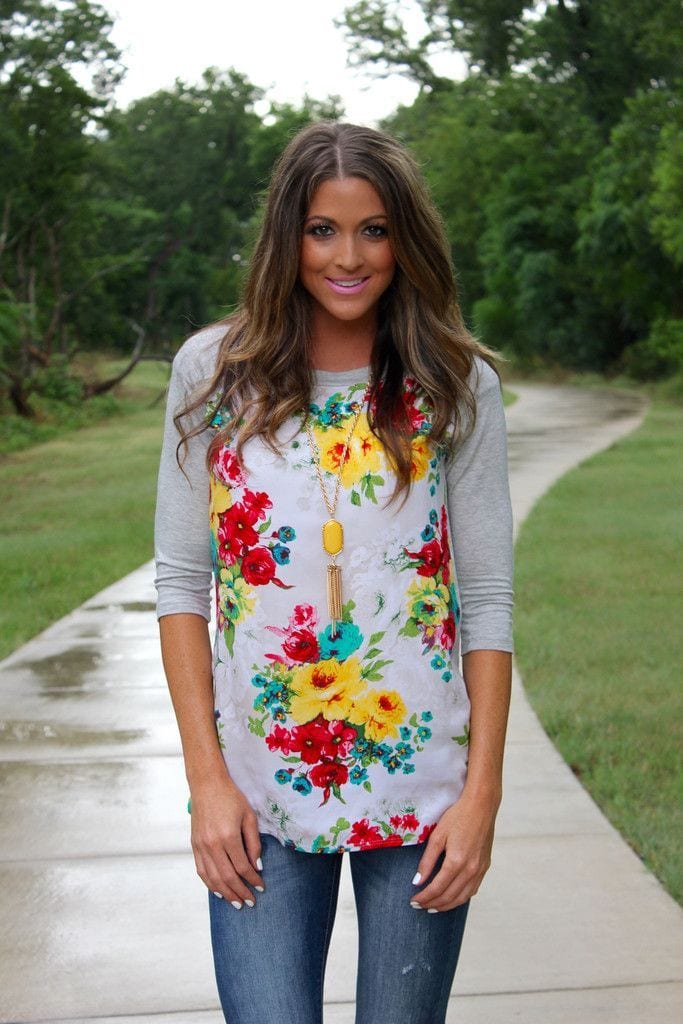 ↓ 15. Funky '70s Inspired Work Attire
Flared pants are a fun pairing for a funky floral top. This makes for an out-of-the-box work outfit that your coworkers are sure to love. For the pants, we recommend steering away from jeans as that would be too casual and opting for trousers or dress pants.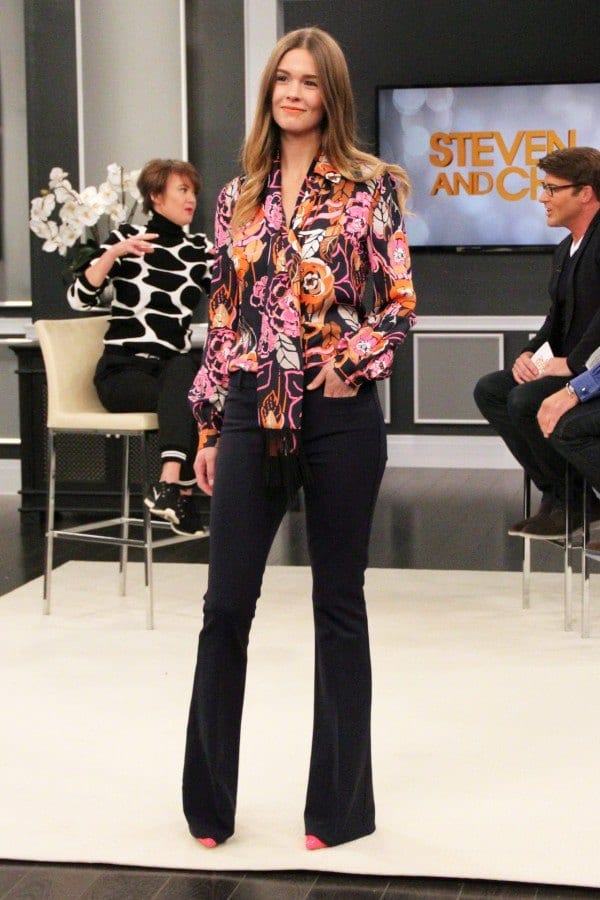 ↓ 14. Tunic Style Top with Skinnies
Got a cute tunic top you have been dying to try? Pair it up with some white skinnies and let that print take center stage.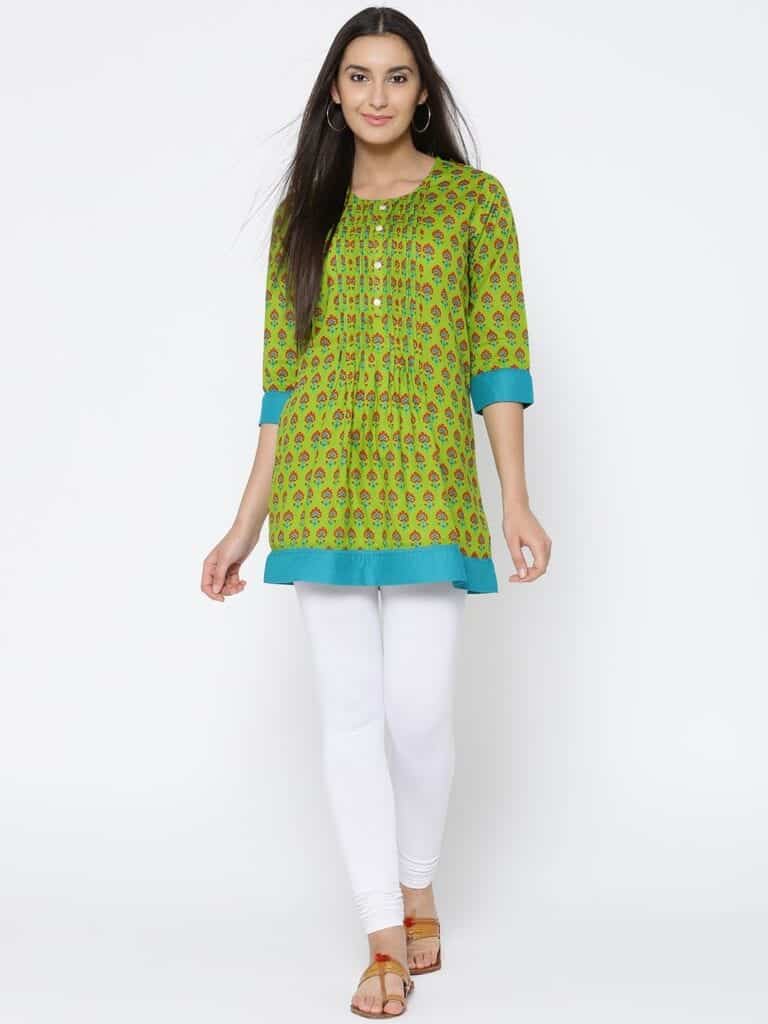 ↓ 13. Maternity Style Top
If you are on the hunt for a cute maternity look, try a sweet floral print with a matching cardigan and jeans.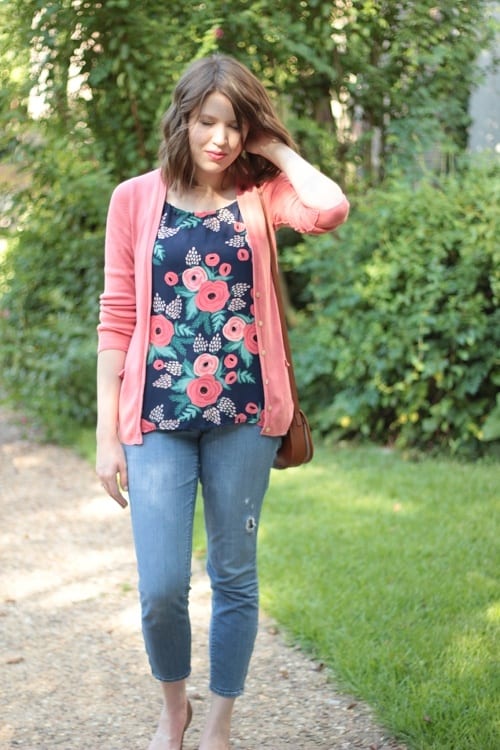 ↓ 12. Matching Top & Capris
As aforementioned, going head to toe in florals is not always the greatest idea. However, there are always exceptions. One example of that is a matching outfit of top and pants (or top and skirt), finished off with some chunky black heels. Keep your accessories minimal. Here are 20 Ideas How to Style Floral Skirts This Spring/Summer.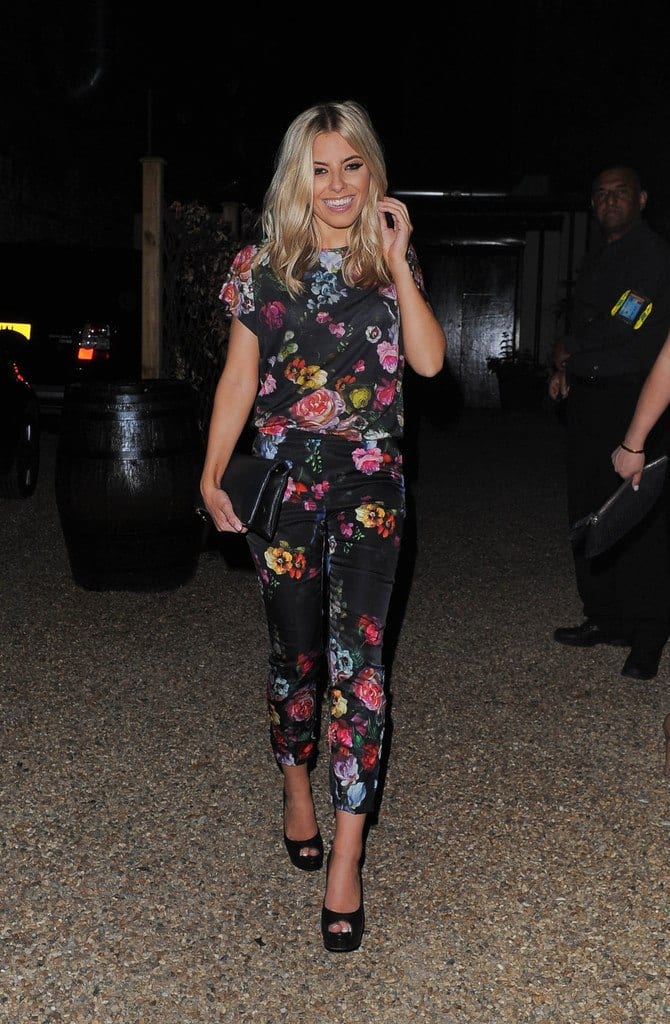 ↓ 11. Work Event Outfit
Here is how you can rock a floral blouse for a work event or formal occasion. Simply tuck a sheer floral top into a leather midi skirt. We do not recommend going too sheer with your blouse unless you wear a cami underneath, especially when you are rocking the look for a work event. Lastly, finish off the look with some strappy heels.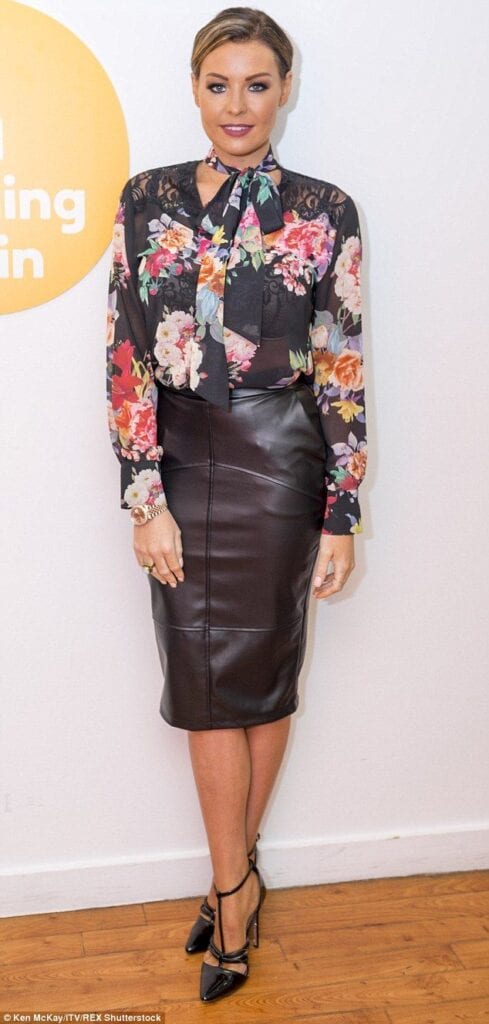 ↓ 10. Emma Roberts '70s Inspired Outfit
When in doubt, we can always get great outfit inspiration from the celebs. In this look, Emma Roberts rocked a gorgeous '70s-inspired outfit featuring a high-neck floral blouse, flared crop jeans, and some closed-toe suede heels. It's simple but definitely a fashion statement. We heart it!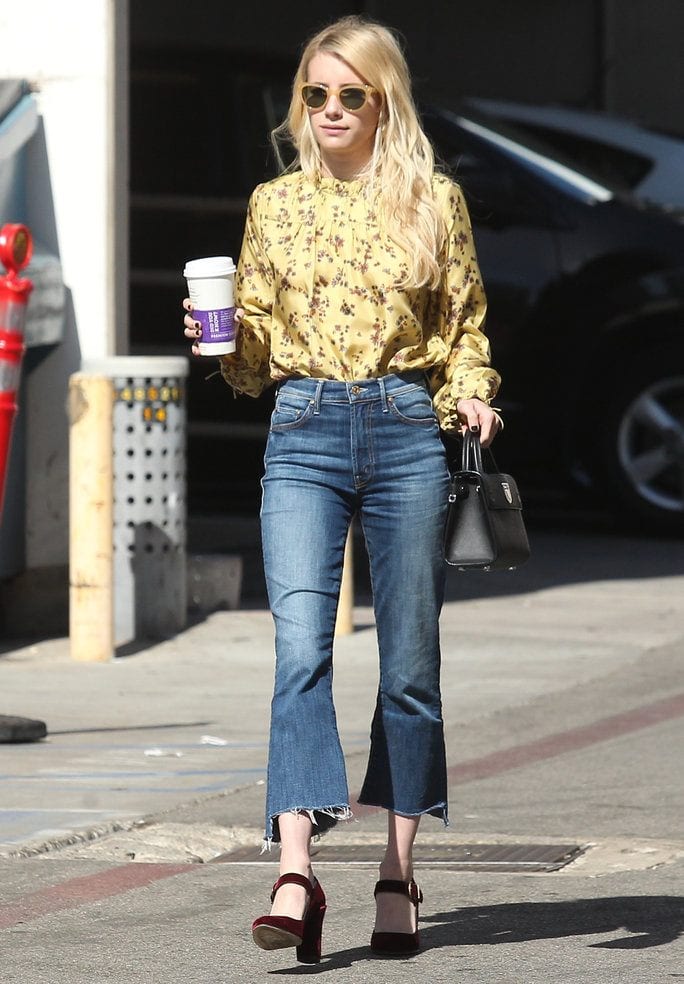 ↓ 9. Ruffled Floral Blouse Outfit
For a darling springtime look, try pairing a ruffled floral blouse with white wide-leg trousers and nude heels. A pearl-bead headband ties the look off, as well as a pair of tassel hoop earrings!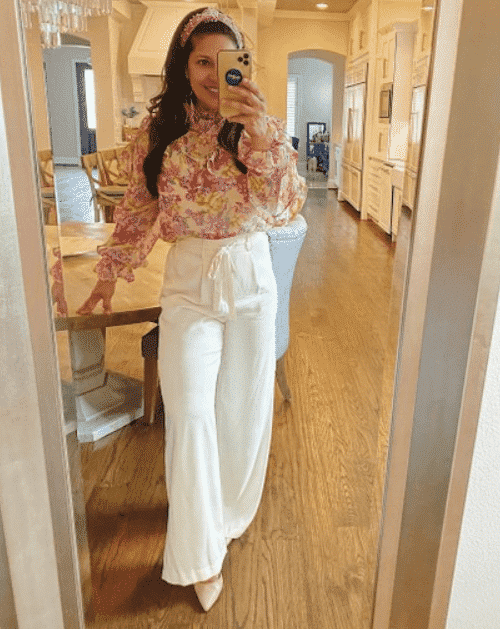 ↓ 8. Shoes to Wear With Floral Blouse Outfits
You can wear all kinds of shoes with floral blouses depending upon whether you are wearing a casual blouse or a formal one. We love this abstract floral print top with lace-detailing shorts and high heels. A contrasting shade of purse does the job nicely of finishing off the look. Do check out these 40 Ways to Style Floral Shorts.

↓ 7. Hairstyles With Floral Blouse Outfits
If you are feeling especially summery or are looking to create a fresh and exciting springtime look, try building an outfit around pale green, olive green, and beige. We love this soft mint green floral blouse in chiffon paired with olive green pants and beige sandals. Finish off the look with a coordinating purse, a simple gold necklace, and a high ballerina bun!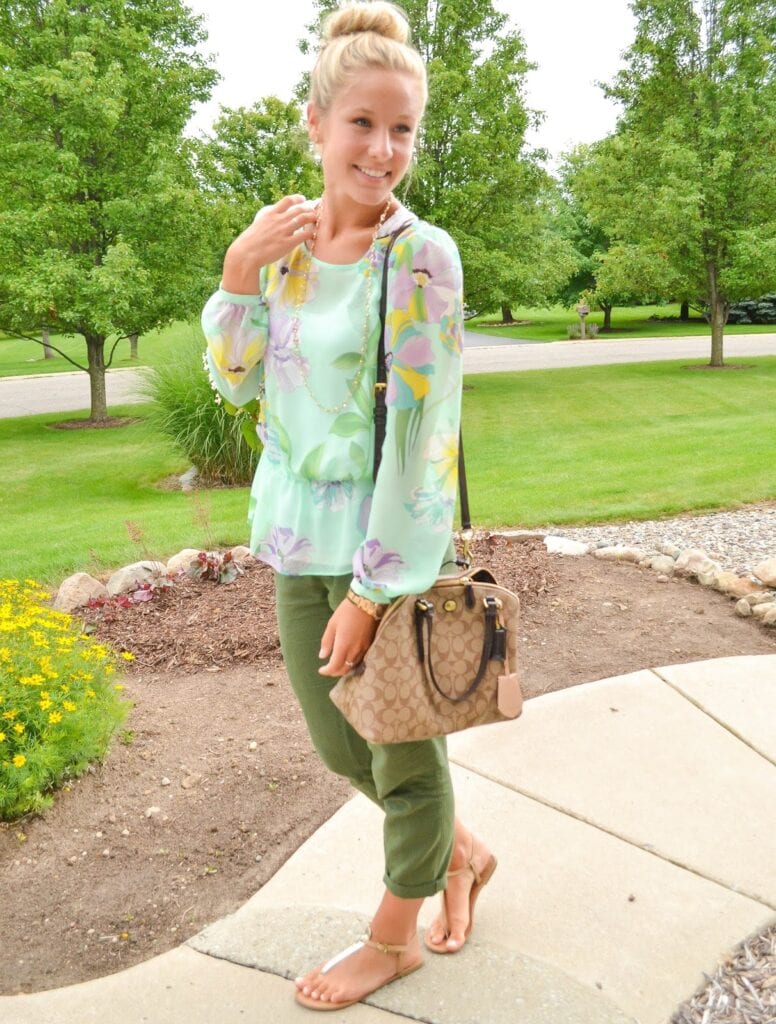 ↓ 6. Stylish Floral Wraps
Sheer floral wraps, scarves, and jackets are beautiful when worn in a floral print. They are comfortable and trendy and can be worn in any season. For winter you can wear wraps of thick material but in summer you can wear sheer wraps as a summer jacket. Try pairing a floral print cardigan with a striped top (we love some print-on-print combos!) with skinny jeans and some wedge heels. This is a great casual look you can wear to any daytime activity.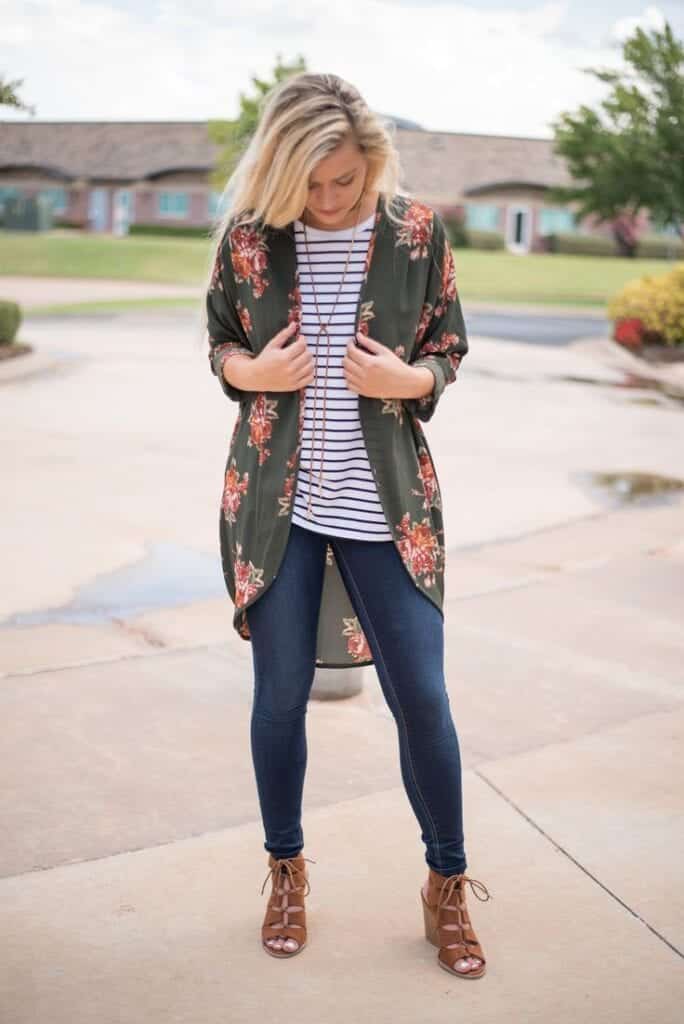 ↓ 5. Date Night Outfit
Floral blouse outfits are ideal for an occasion where you want to dress up properly but do not wish to look like you are overdoing it or trying to get too much attention. They perfectly combine a casual and dressy vibe and look great whether it's your first date or your 10th. Don't miss out on this best ever collection of Date Outfits for Women.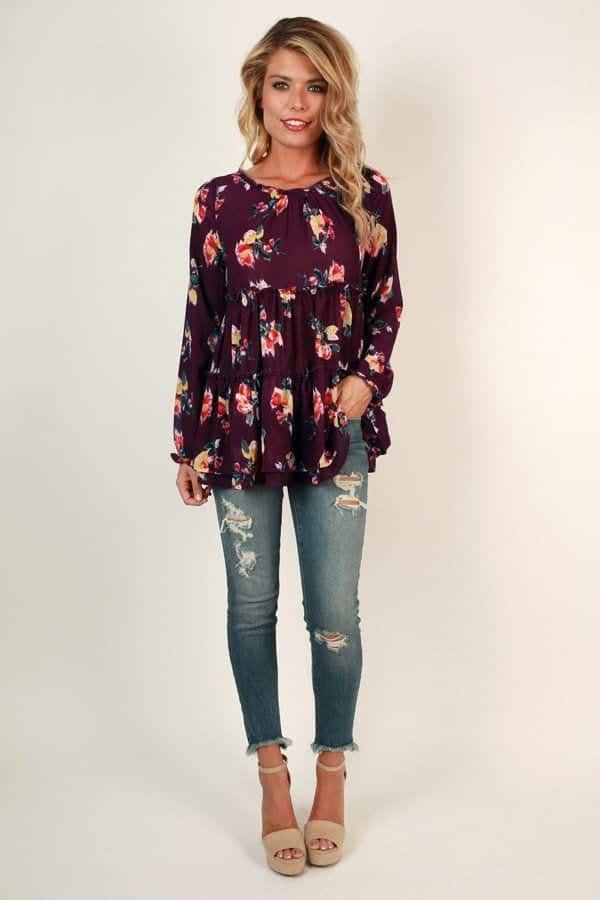 ↓ 4. Button-Down Floral Top and Skirt
Button-down floral blouses of sheer materials are also a great go-to when we look at floral tops. They can be worn for formal occasions like weddings, parties, dinners or birthdays. They can be worn with skirts or silk pants. Wear high heels with the button down floral blouse outfit to complete the formal look. Also, have a look at these ideas on How to Wear Button-Front Skirts.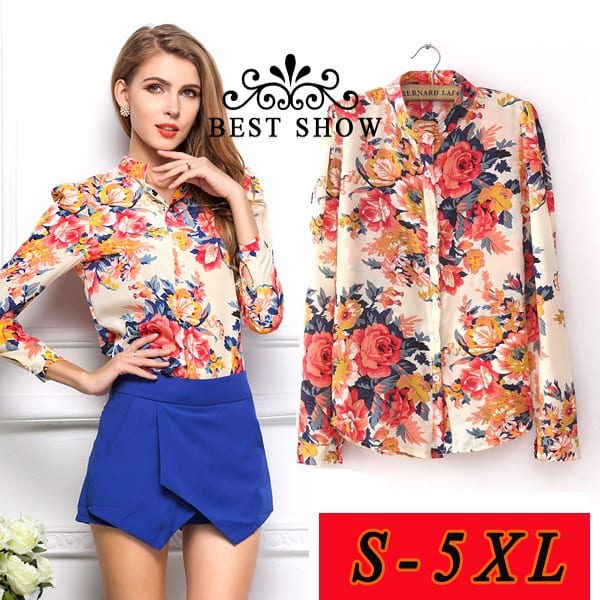 ↓ 3. Embroidered Top with Denim Shorts
Embroidered floral designs are not for the faint of styling hearts. This beautiful and intricately embroidered pattern is a bit of a bold move, but when worn with confidence, it makes for a great conversation starter. Plus, people will think you are a bonafide fashionista and that is always a great reputation to play with. Rock your embroidery and play it off with some diamond earrings, red lipstick, and denim shorts.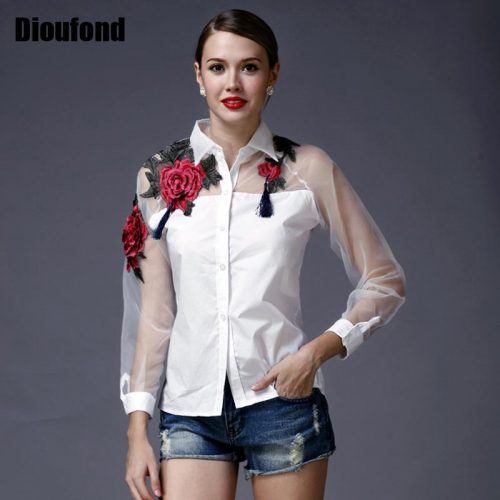 ↓ 2. Chiffon Blouse and Black Jeans
There is no better time to rock chiffon than in the summer, as you can easily pop a chiffon blouse over a bralette and pair it with some jeans or leggings. For a breezy date look, try this lovely ensemble and remember to include tan or beige accessories to tie it together.
↓ 1. Blue Floral Shirt for Spring
Denim jeans, shorts and skirts all look good with floral tops. If the denim jeans are ripped or frayed, wear a casual floral blouse with it. To go with a more formal floral blouse, it is better to go for jeans with a proper cuff or hem. Even skinny or straight legs look good.