How to wear an Organza Saree: From grand wedding festivities to attending various events in your packed social calendar, there would be a number of reasons why you would choose to wear heavy ornate outfits to look your absolute best. Then again, wearing heavy lehengas and sarees can prove to be quite cumbersome. The good news is that you can achieve the same level of grandeur and elegance with lightweight, comfortable, and breathable fabrics that are an absolute dream to wear and are showstoppers, just as much as their heavier counterparts.
One such feathery fabric is organza, which has become quite the trend-setter in recent times as it has won the favors of designers, the best dressed Bollywood stars, and well-known fashion influencers too. Celebrities like Kareena Kapoor Khan, Anushka Sharma, Deepika Padukone are among the many who have donned beautiful organza sarees and created quite the buzz in the Bollywood fashion scene.
We have put together tips, tricks, and ways to navigate and style your organza saree to achieve a look, perfect for any occasion- be it destination weddings, or evening cocktail parties. Read on to find out 10 ways to style an organza saree and where you can shop them from.
How To Drape Organza Sarees in Different Ways?
Organza sarees are one of the best options for women who are looking to accentuate their curves. Organza is a firm material by nature, which balloons up upon wearing, expanding the figure frame. You can wear these gorgeous sheer beauties and embrace the beauty of the fabric with the right drape and fall. An important thing to remember with organza sarees is that they cannot be easily tamed. The drape of the saree is extremely important, which if done up well, can really compliment any body type.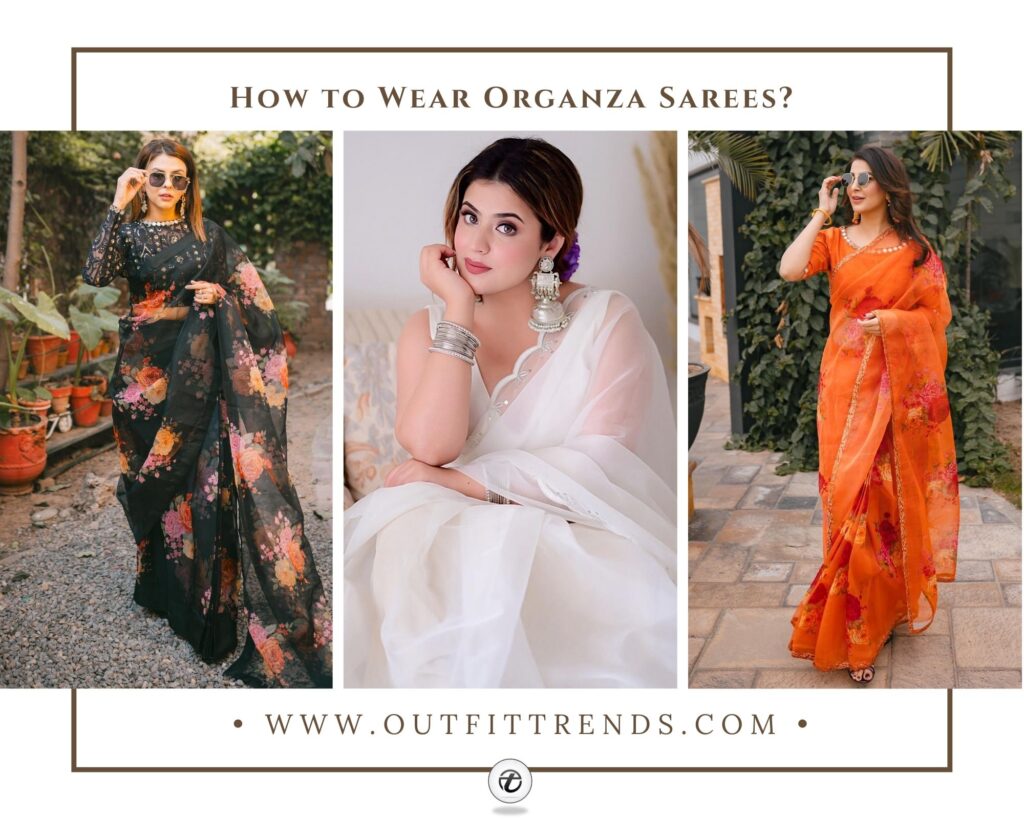 Tips to remember for your organza saree
The more the number of pleats, the more the saree will expand at the turns. So opt for the desired number of pleats.
While making the pleats at the waist, ensure the pleats are pinned together as the fabric is slippery and tough to hold on together.
Leave the pallu dangling free over the shoulder rather than pinning them up or folding them.
Never hang your organza saree after washing. Instead, lay it out on a flat surface, avoiding direct sunlight.
Noticed an irritating stain on your saree? Start by applying a mild liquid detergent to the stained area, and wash it off with cold water after having let it soak for a few minutes.
Avoid loud colours and opt for pastel and dark shades as they look ethereal in the organza fabric.
13 – Celebrity Style
Starting off with our favorite celebrity look of the day, Hollywood actress Kareena Kapoor looks breathtaking in a pista-colored, hand-painted organza saree.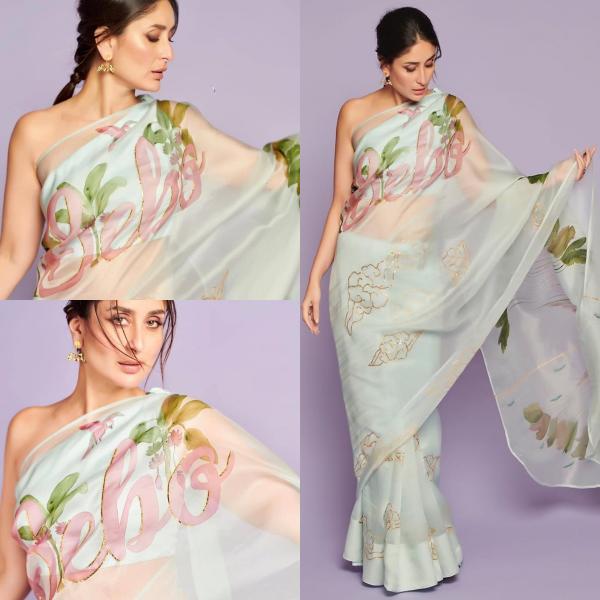 12 – Organza Saree with Velvet Blouse
The interplay of fabrics always makes a saree unique. We're totally in love with this combination of emerald green velvet blouse and saree that features the famous Patola print on an authentic pure silk organza fabric.
Here's another look where a plain gold organza saree has been matched with a black velvet blouse.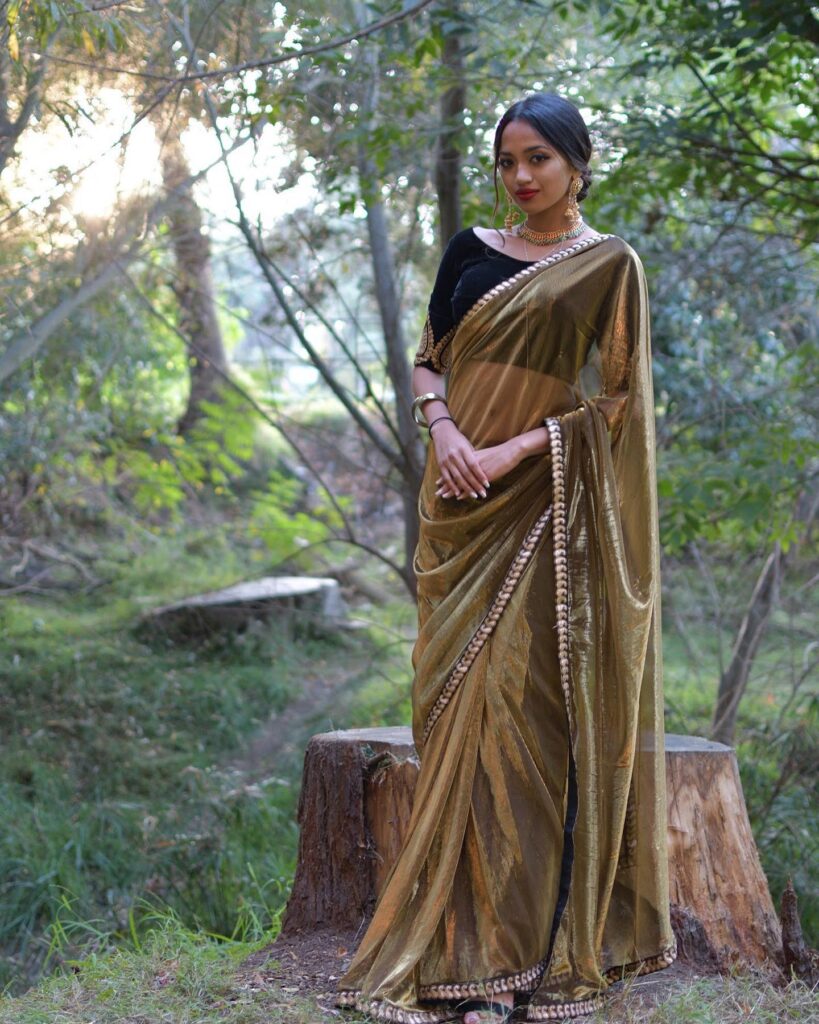 11 – An Excellent Choice for Plus Size Women
Organza sarees are a great option for plus size women as they look gorgeous in this fabric.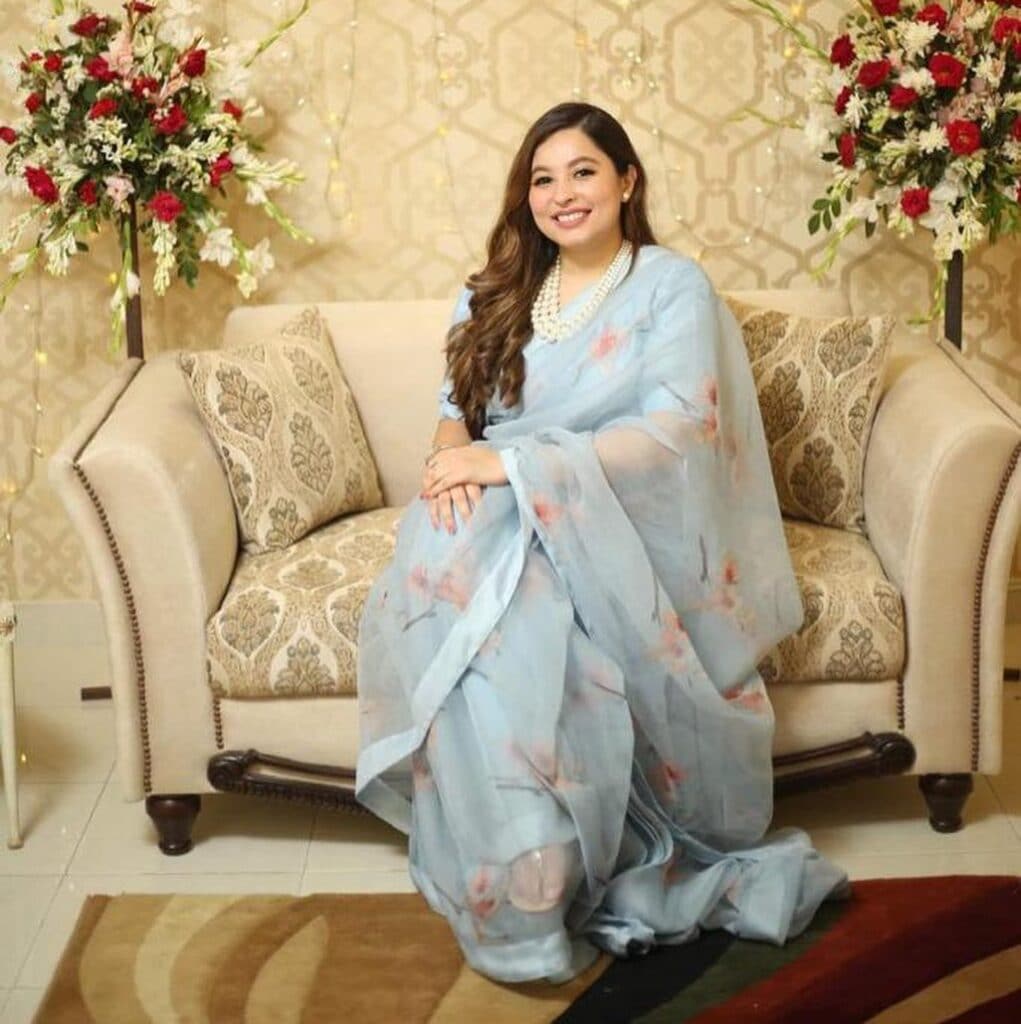 10 – Styling an Organza Saree as a Wedding Guest
Since organza sarees are simple, you should style them with heavy jewelry and floral hair accessories for wedding functions.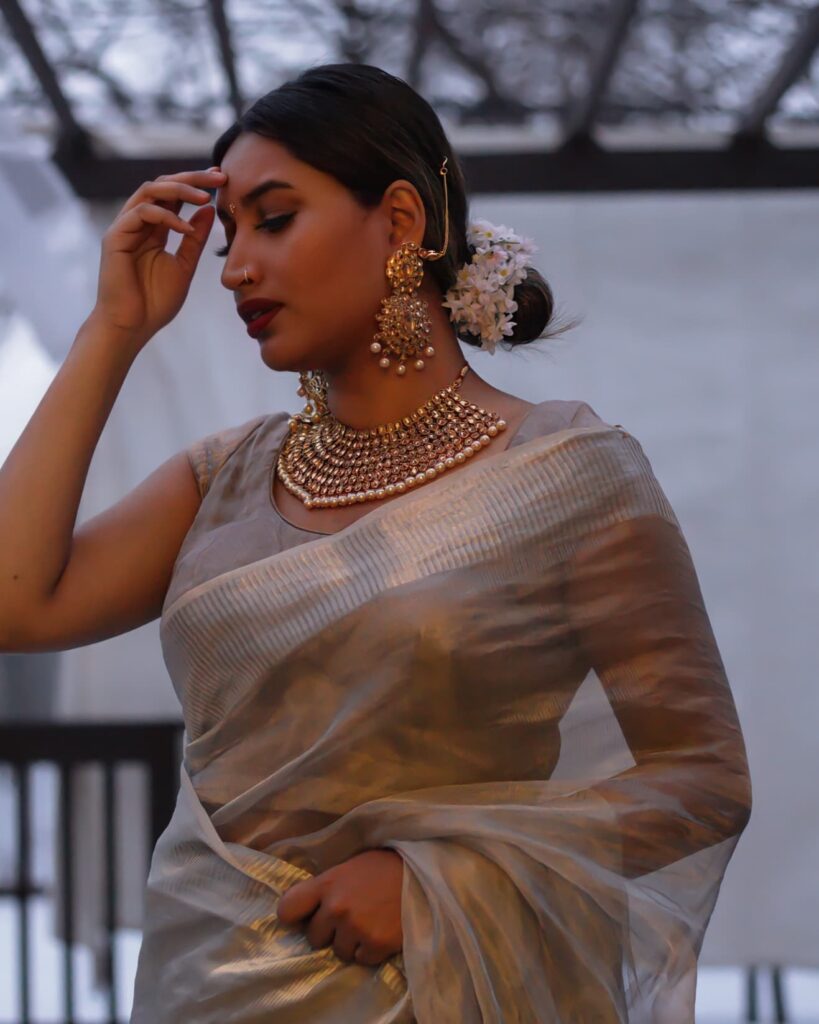 Here's another stunning look of how you can carry organza sarees for daytime wedding functions: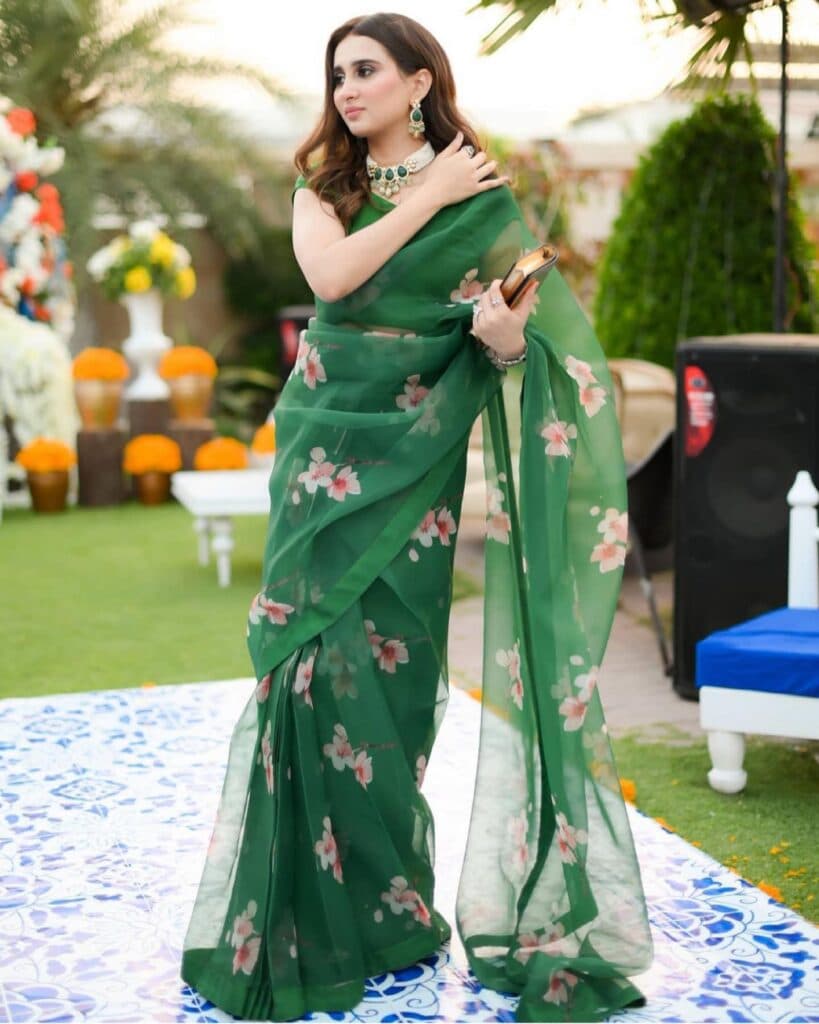 9 – What Accessories to Wear with an Organza Saree?
Your organza saree in itself is the most beautiful piece you adorn. To keep the saree as the star of the event, you can opt for a simple look by pairing the saree with a classic multi-layered pearl choker that will add the perfect touch to any shade of organza like whites or pastels as seen below, or even with gorgeous dark shades. Like we see here, you can pair the saree beautifully with a sleeveless spaghetti strap blouse in a color that perfectly compliments the saree while adding a pop of color to your pastel selection.
Another trick that you could try is using your crop tops as blouses for your sarees! Yes, you read that absolutely right! You can save an extra buck on the blouse by choosing a block color crop top as seen on Priyanka, who is seen wearing a red velvet-ish blouse. This way, you are left with tons of options and a variety to mix and match your accessories when you style your organza sarees.
8 – Monochrome Organza Saree
When in doubt, go monochrome! A classic way to style your organza saree is to opt for monochromatic style to achieve a sophisticated and elegant look. When styling your saree that has light zari weaving, you can opt for a blouse in the same shade with thread work and choose a more modernized look for the blouse like spaghetti straps, to create a bit of fusion in the very classic saree style.
Leave the pallu open over the shoulder for a relaxed and flowy look and pair the ensemble with statement earrings in the same color palette to complete the minimalistic monochromatic look. This look fits perfectly for day/night events- be it for weddings or other festivities and functions. An alternate styling tip is to pair the look with a heavy choker necklace, a classic hairdo in a bun paired with fresh flowers. This will add the extra glamour the look needs for grand day parties and events.
7 – Floral Organza Saree
Attending a pre-wedding ceremony but can't seem to put your mind to wearing a heavy lehenga or saree? You can choose an organza look in bright day colors like yellows and pastel pinks to create a look perfect for summer festivities. If you own a floral print organza saree, you can pair the saree with a deep-cut v-neck sleeveless blouse for the right summer/spring vibe.
Pair the saree with a long neckpiece like a beaded long necklace in complementary colors to further enhance the outfit. A pair of nude or dull gold block-heeled sandals will make for the perfect choice that will let you move about in comfort throughout the day. A classy sleeked-back ponytail and minimal accessories like an accent ring will bring together the outfit and will have you looking like a breath of fresh air on a fun, eventful summer day.
6 – With Puff-Sleeve Blouse
If you are bored with regular blouses, you can try styling your organza saree with a puff-sleeve blouse! Although not one of the conventional blouse styles that are paired with sarees, when worn with a beautifully draped light-colored organza, floral print saree, it can add a vintage cottage-core feel to the outfit.
A gorgeous chiffon puff sleeve blouse paired with very minimal accessories can create a beautiful day-to-night transition outfit, with hair let down and sleeked back. It can make for a simple yet beautiful outfit with just the right amount of 'extra', thanks to the puff-sleeve blouse. The blouse can be tailored to your liking and what makes it better is its versatility and how well it can be paired with long skirts and lehengas and can spice up your regular festive looks.
5 – Styling the Classic White Organza Saree
White is one such color that allows for a wide range of vibrant color contrasting and creates room to mix and match and play around with your colors. If you own a white organza saree with a hand-painted border as seen in the picture, you can choose to keep the look minimal along the monochrome line.
Or you can play around and have fun with color and choose to include it in your outfit in the form of a mini statement handbag! Adding color into your outfit in this manner avoids attracting a lot of attention to heavy jewelry that you would ordinarily pair with your ensemble, and keeps all the focus and attention on the gorgeous work on the saree which a small statement handbag can perfectly compliment while keeping the accessories at the bare minimum. Here are some more of my favorite white saree designs.
Here's another gorgeous white organza saree with embroidered detailing by the Indian brand Pranaah. Such sarees are perfect for parties or engagement functions where you want to keep it simple but classy.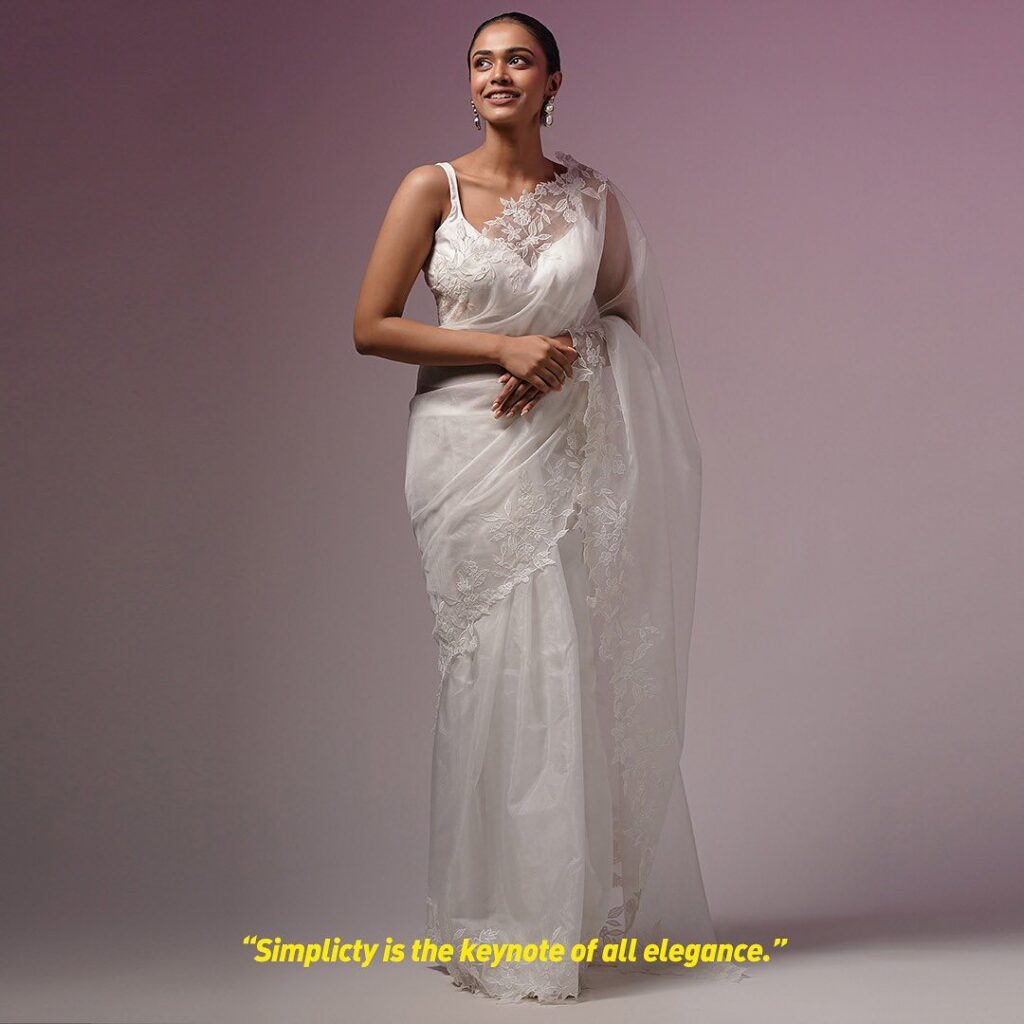 Let's be clear on this one- silver jewelry, paired with absolutely anything, is a stunning classic! When deciding what to pair with your white organza saree, a classic styling tip is to pair silver oxidised jewelry with it. Afghani jewelry or silver oxidised jewelry make for amazing statement styling pieces that quickly enhance your outfit- even if you are to wear just a pair of heavy silver jhumkas.
This adds on to the beauty of a simple elegant saree while making you feel extra glamourous with statement pieces like a silver choker style neckpiece, heavy ornate jhumkas, or even big statement rings. Clubbed with a 3/4th sleeve blouse, adds a bit of a vintage flare to the outfit further styled with hair tied up in a low bun, classic winged eyeliner, and bold lips. If you're a fan of chikankari then you must check out these modern chickenkari outfit ideas.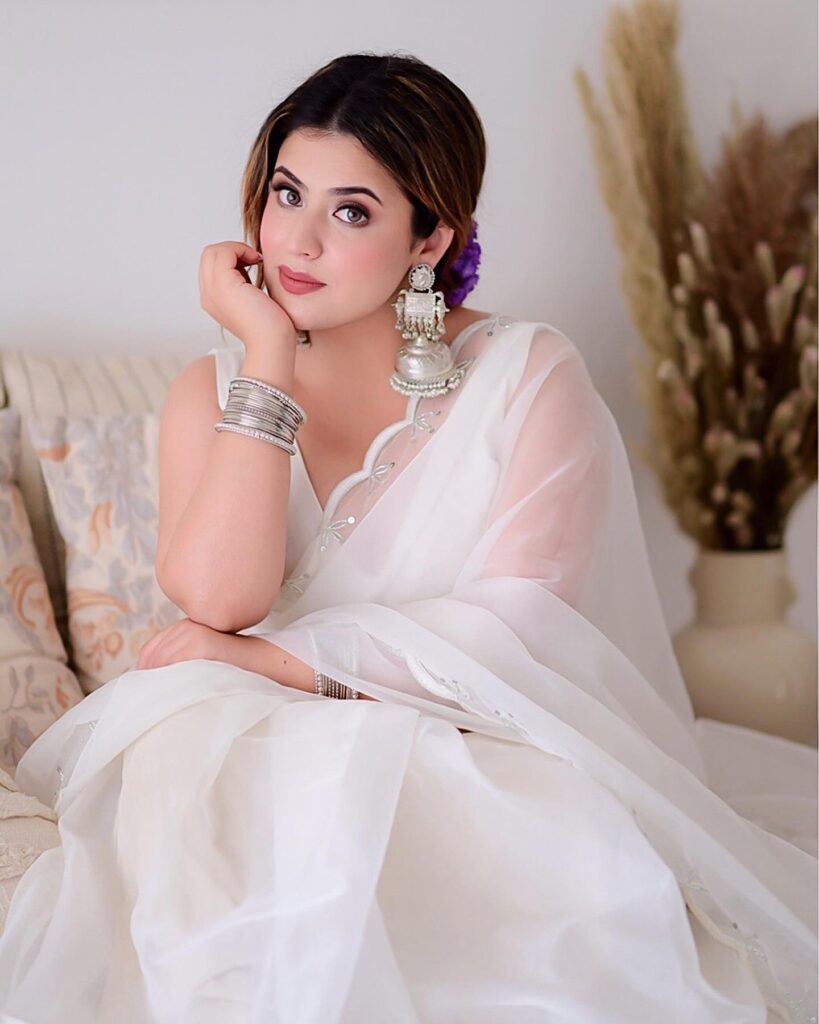 4 – Looking For A Change? Add A Belt/Kamarband
It's no doubt that we love a good fashion moment especially for grand festivities like weddings. Events like these really do bring out everyone's Sunday best, with them covered in their fineries to make a statement. If you are looking for a way to stand out in the crowd, we've got you covered! Sarees are an expanse of elegance and grace that can be styled in ways that make you look and feel gorgeous. A great way to create a different look is to wear your organza saree with a kamarband! A simple kamarband or a belt can elevate your outfit and a modern flair to your look perfect for any event.
You can opt for lighter colors for your organza for day events and choose darker shades like greys and blues for an evening affair to complement the atmosphere and the theme of the occasion, and a belt or a kamarband in matching shades with your saree will be the perfect touch of "extra" that you need to stand out in the crowd. Simply paired with a sleeveless deep-cut back and big meenakaris or chandbalis, will pull your ensemble together perfectly
3 – Opt For A Strapless Blouse
A very unconventional take on blouses generally worn with sarees, but strapless blouses have increasingly become a trendy choice when it comes to wearing unique and different blouse styles. A strapless blouse makes for a perfect choice if chosen to wear for a tropical theme, beach sides wedding. It makes for right pick when attending a day function like the haldi ceremony at your best friends' wedding! You can style your light as a feather organza saree with a strapless blouse in a shade complimenting the saree, paired with big statement earrings or beaded choker neckpiece that will keep your outfit looking chic and elegant at the same time. The perfect inspiration for a strapless blouse look is Deepika Padukone's Mehendi function look in the movie Yeh Jawani Hai Deewani!
2 – Add Some Ruffles
If you are looking to wear something out of the ordinary for an evening occasion where the dress code is evening gowns and dresses, you can opt to wear a classic pastel hues grey organza saree that you can perfectly style with a crushed satin asymmetrical cut sleeveless blouse. You can complete the look with a few statement pieces like drop dangle earrings, a bracelet or ring, and a sleeked back ponytail which will be the cherry on top. This ensemble will keep you looking fresh, with an all-new look, very different from the usual, and is sure to turn heads wherever you go!
And if a ruffled saree feels too much to you, you can instead add some ruffled detailing to your blouse like this diva: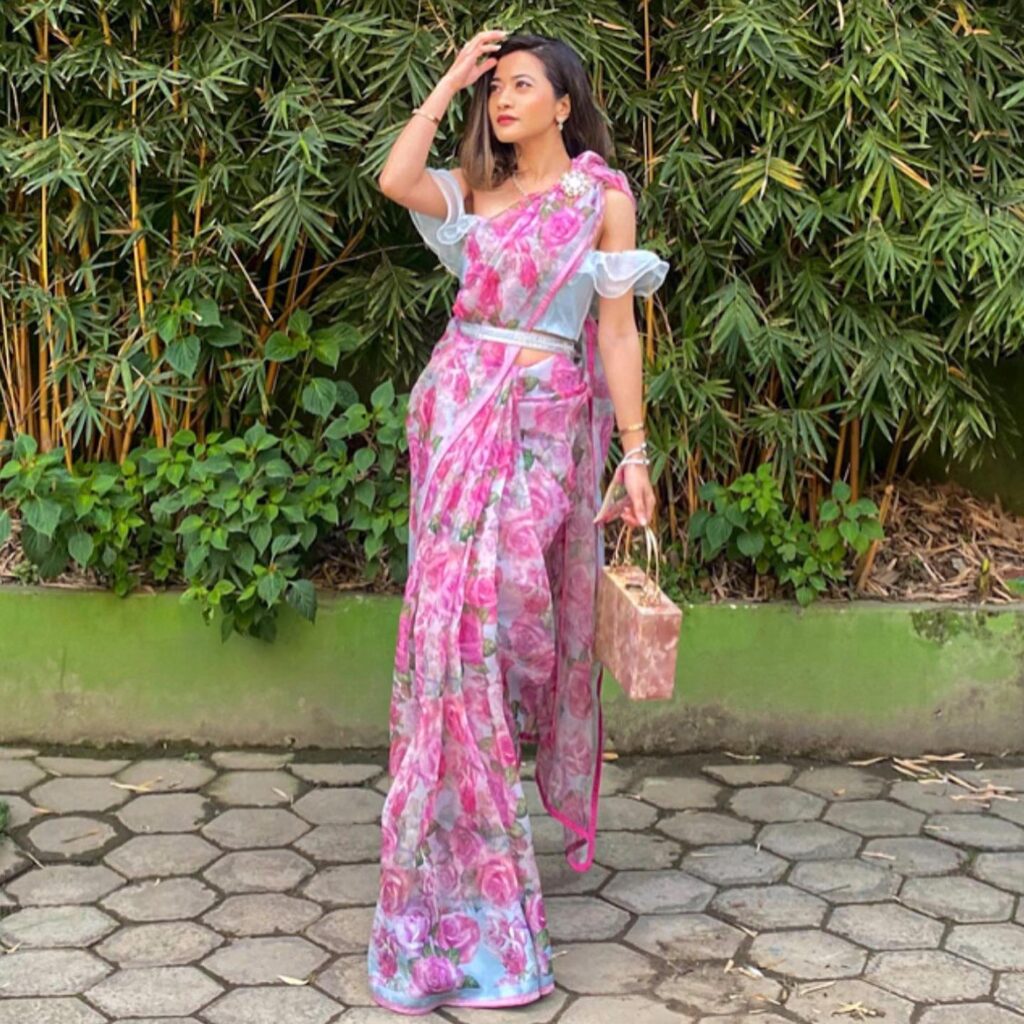 1 – A Pant Saree Affair
You are probably wondering who even wears the two together, but this combination really does work! It is a very modern and trendy take on how you would typically drape your saree and if you are looking for an extra fancy way to change up the way you drape your saree, pair it with a pair of trousers!
Take your organza saree onto the next level with this styling hack where you can drape it in multiple ways with a pair of trousers that can be found in your wardrobe or are easily customizable to go well with the shades of your saree. Although organza can be tricky to hold together due to its light feathery nature, a carefully draped saree with trousers, paired with a belt, can create an elevated look that is a fusion of classic and modern all-in-one outfit. You can style it in a variety of ways, that perfectly complements your body while also making you feel your absolute best! If you like this idea then you must check out our previous post on how to wear pant sarees.
Q. Who can wear an organza saree?
Organza sarees are a boon for women who are looking to accentuate their curves. The fabric is firm in nature and balloons up upon wearing which expands the figure frame. If you are looking to wear an organza saree, ensure the pleats created aren't many as they expand further at the turns. This will give you a very sinched waist and add volume to your curves enhancing your figure frame.
Q. Can organza saree be ironed?
Steaming is the recommended method for the best and safest finish. Although if you are to iron, use the lowest temperature setting on the iron on the wrong side of the fabric. A pressing cloth between the iron and the saree will be the best. To freshen up the saree between wearings, spritz it with Delicate Spray.
Q. Which petticoat is good for an organza saree?
A satin petticoat with your organza saree is the best option. A satin petticoat under the saree helps enhance the sheen of the organza fabric.
Q. Where to shop for Organza sarees?
Here's a list of some amazing brands that are selling beautiful Organza sarees, with most of them offering International deliveries:
Q. What kind of blouse to wear with an organza saree?
Organza sarees can work with plenty of fabric choices depending on the occasion and weather. For example, in winters, organza sarees with velvet blouses are a popular choice whereas in Summers they look equally good with net blouses. Another popular choice that works for pretty much every season is the use of solid-colored silk blouses with organza sarees.