Best Black Saree Designs. As a child, as a lot of us do, I too, often used to sneak some of my mother's dupattas and wear them as sarees along with her heels. In hopes of replicating the grace and beauty of my mother in a saree, I would often play dress-up with her black dupattas and sarees. Such is the charm of the 6-yard beauty.
Every fabric, every style, and every silhouette of the sarees present to you a world of its own. Banarasi for the royalty, florals for the spring, from the romantic chiffons to traditional front pallu, sarees hide a myriad of worlds and have a little something for everyone.
One such fashion phenomenon is the timeless black sarees. The epitome of grace, a black saree can go from elegant to sensual in a hot minute. When it comes to stylish versatility, black sarees win every time. Bringing to you some exciting and glamorous black saree designs so you can choose for yourself. But first, some tips and tricks on how to style a black saree.
How to Style a Black Saree?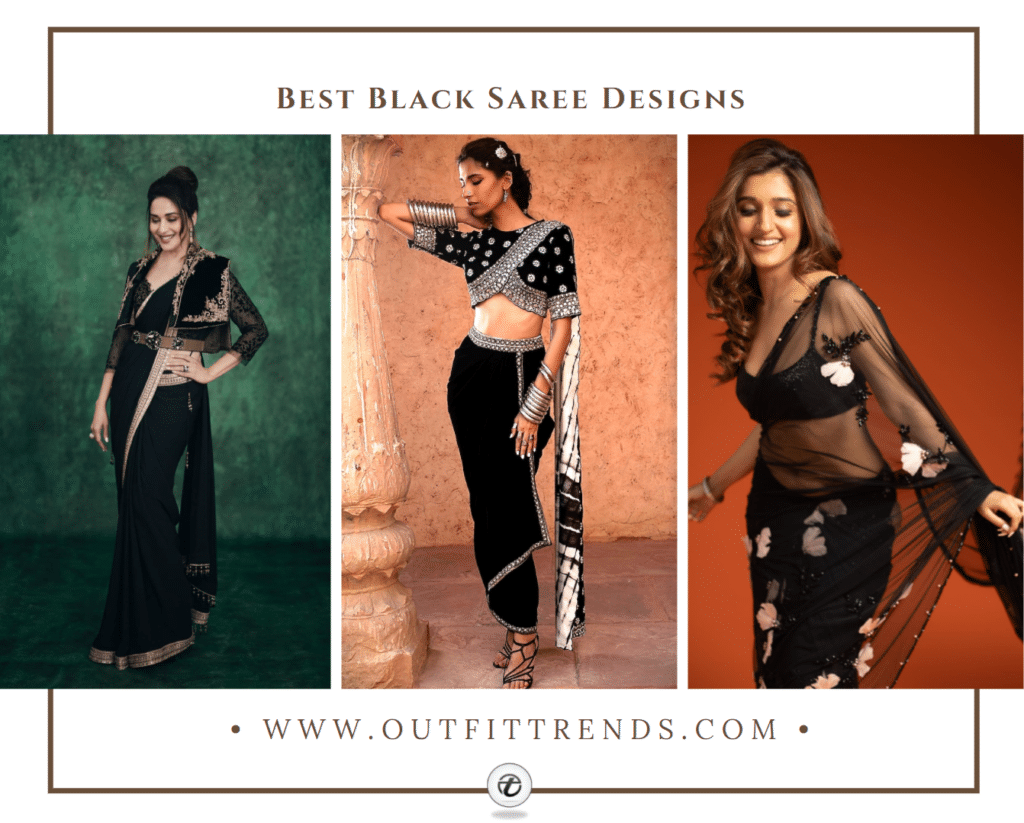 An excellent way to give a kick of traditional glam to your black saree is to opt for a black embroidered jacket and style it with a low waist saree and gold chandbalis.
A versatile color, black compliments both silver, and gold jewelry, for a traditional look, style your black saree with gold jhumkas and gajra, or give it a contemporary look by pairing it with silver statement earrings, and sequins clutch.
Style your black saree with a banarasi dupatta in a popping shade, like magenta or ruby to add a pop of color to your outfit.
Nothing beats the sheer beauty of an all-black look, ace the all-black saree look by styling it with blow-dried hair, dewy no-makeup makeup look and statement earrings to bring the whole look together.
18. Reusing Your Mom's Old Saree
Most of our moms have their black sarees and wearing them is such a surreal experience that everyone needs to try it at least once. Here we see the beautiful blogger Alina styling her mom's saree and it is all the inspiration we need.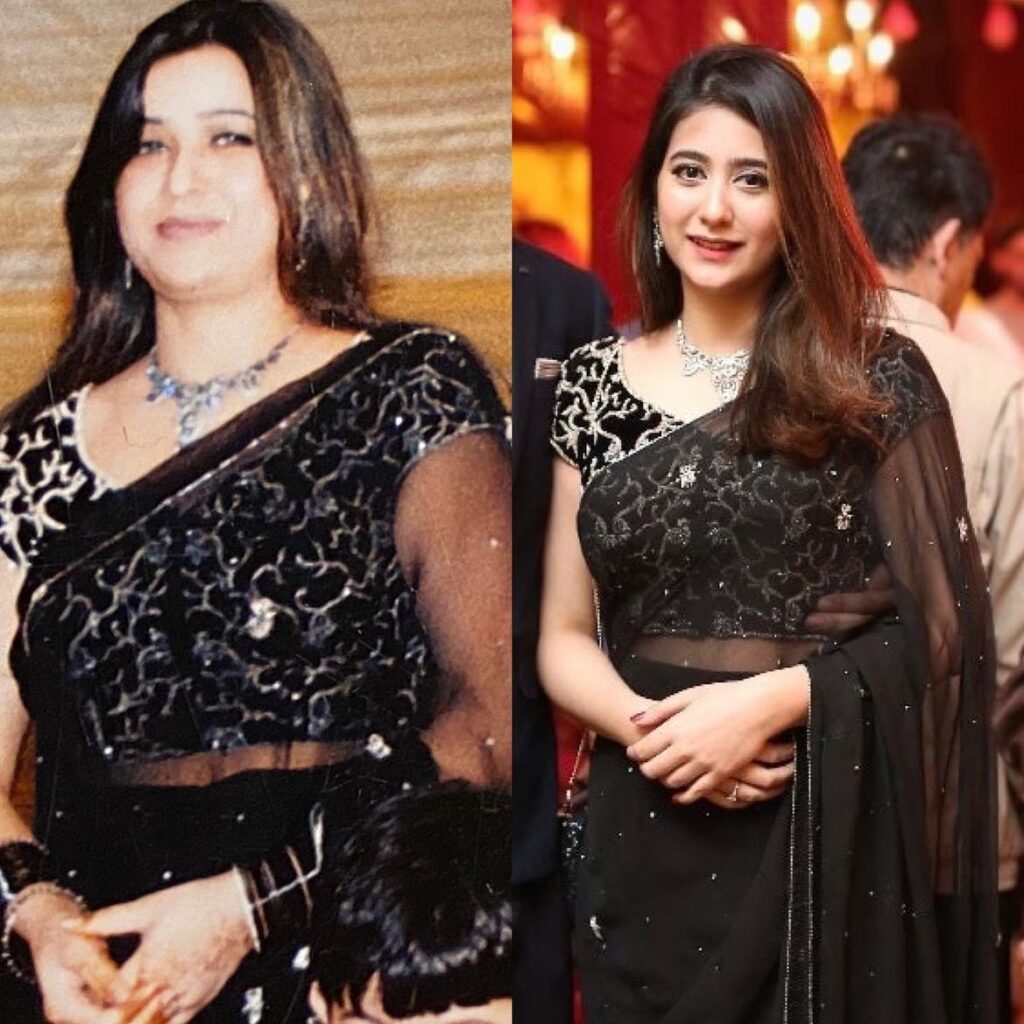 Here are some more ideas on How to Reuse Old Sarees to Make New Outfits.
17. Plain Black Saree With a Floral Blouse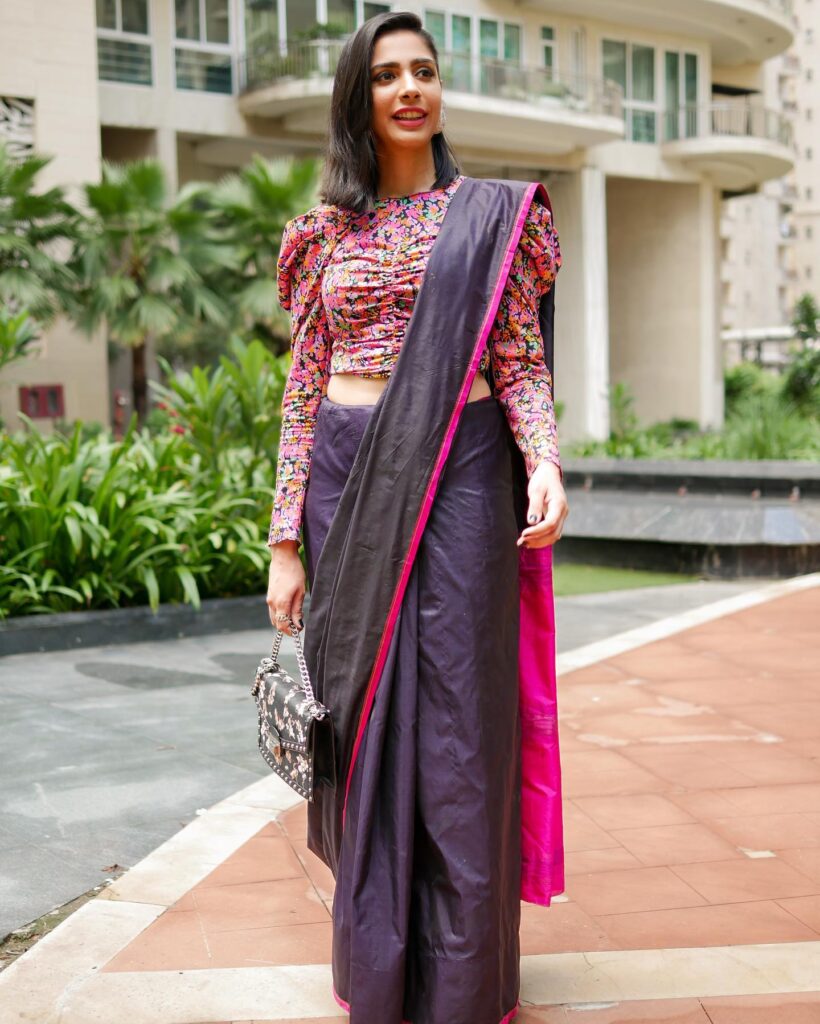 16. With Contrasting Blouse
This fun and cheeky cotton black saree with funky fish prints is exactly the kind of trendy casual option we were looking for this summer. Airy and lightweight, this easy breezy cotton saree paired with a contrasting yellow blouse makes for a perfect option for your next brunch date or a shopping spree. Who said black is only for formal events, add your favorite color in your day-to-day outfit with this jazzy number and rock the effortless street style look. If you still haven't decided on your blouse design then you must check out these Latest Saree Blouse Designs & Blouse Styling Ideas.
15. Black Pant-Saree Design
Classy but make it contemporary. This satin black pant saree with embroidered tulle inlays is a perfect blend of traditional elegance with some modern drama. Style it with a side bun with roses, diamond danglers, and a bold lip to keep the sensual glam going. Here are some more Ideas On How to Wear Pants Style Saree?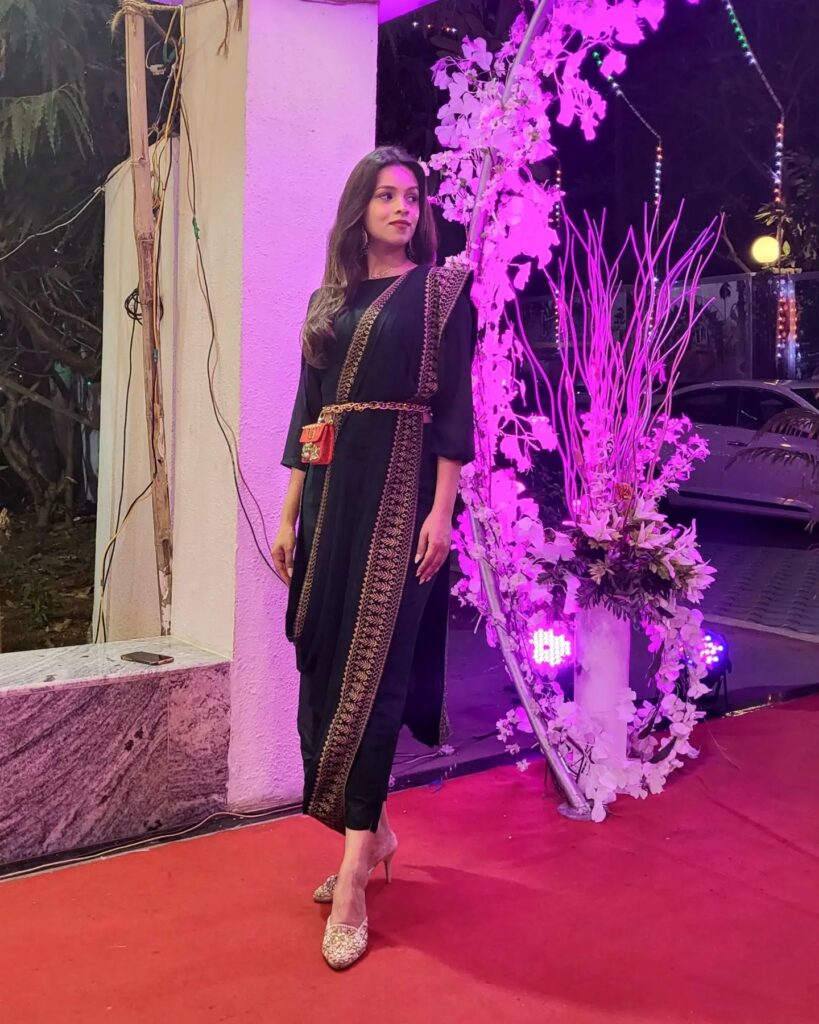 14. Tulle Black Saree with Feather Details
Elegant and supremely lightweight, this french fabric is one of the top choices of couturiers when it comes to designing elaborate ball gowns, skirts, and now sarees. This graceful tulle black saree with delicate feather details is a timeless piece that is going to adorn your wardrobe for years. Style it with a grey bell sleeves blouse to cut the monotony or embrace the all-black look by styling it with a black sequins blouse.
13. Back to Black with Lolo
Take notes from the fashion queen Lolo on how to ace an all-black saree look with utmost grace. Donning this stunning Sabyasachi number, Karisma looks like a million bucks. Clean and graceful this monotone look, styled with a clean bun and statement earrings is one of the best black saree designs of the season. Ace this look in your own beautiful way and tag us in your pictures.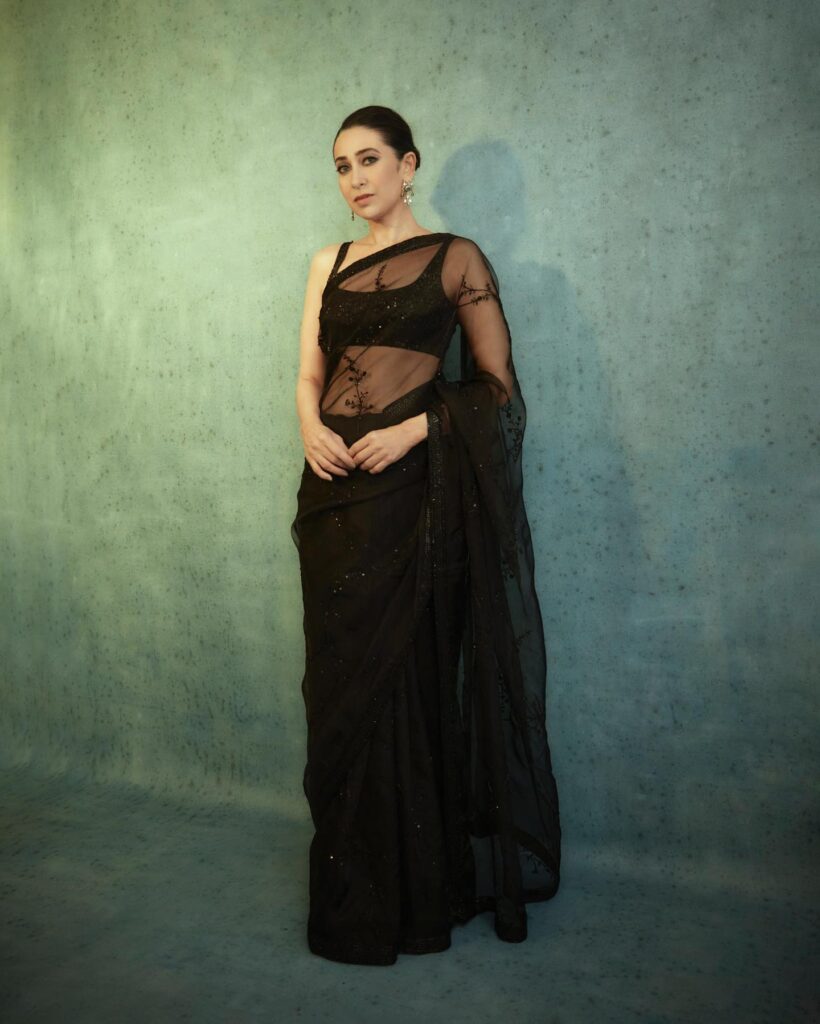 12. Black Saree Paired with Hijab
A modest yet beautiful way to adorn the classic black saree is to style it with a matching full sleeves blouse and a contrasting hijab. Accessorize the look with silver bangles and voila you are all set to dazzle.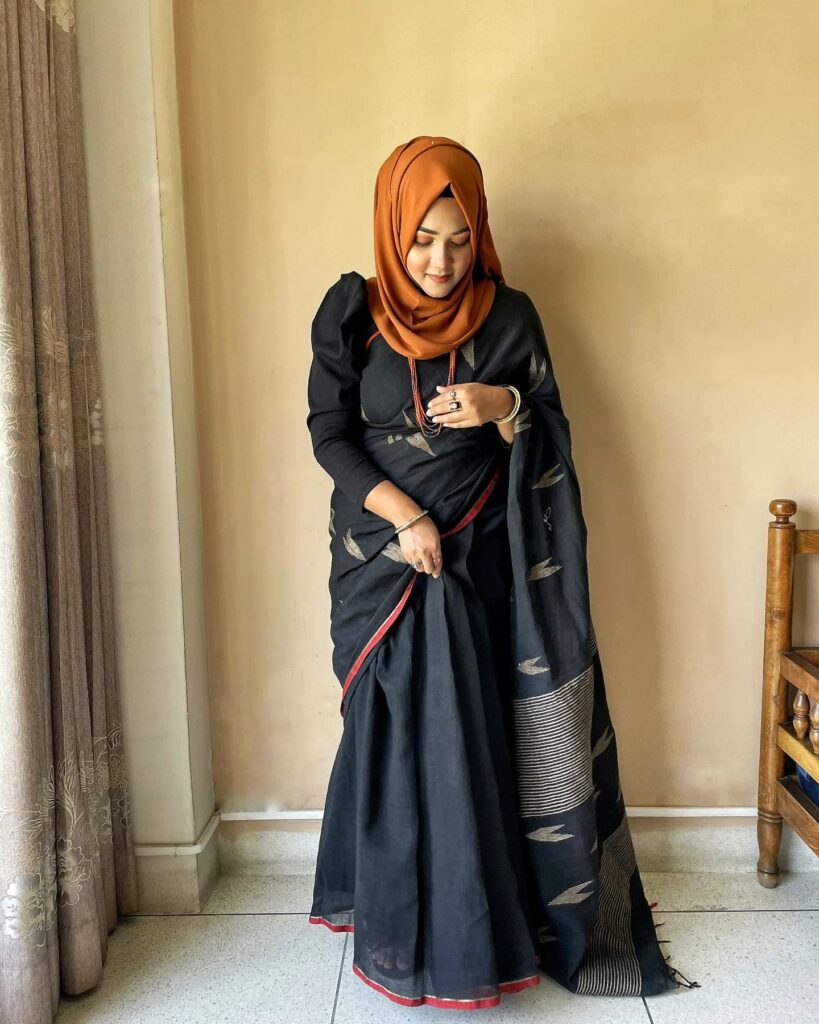 11. With a Belt
A classic black saree styled with a matching or contrasting belt that cinches at your waist is as glamorous as it can get. A belt will not only define your waist but will also give a well-defined structure to your saree ensemble while making it easy to carry. Complete the look with a sequins clutch and a dainty bracelet.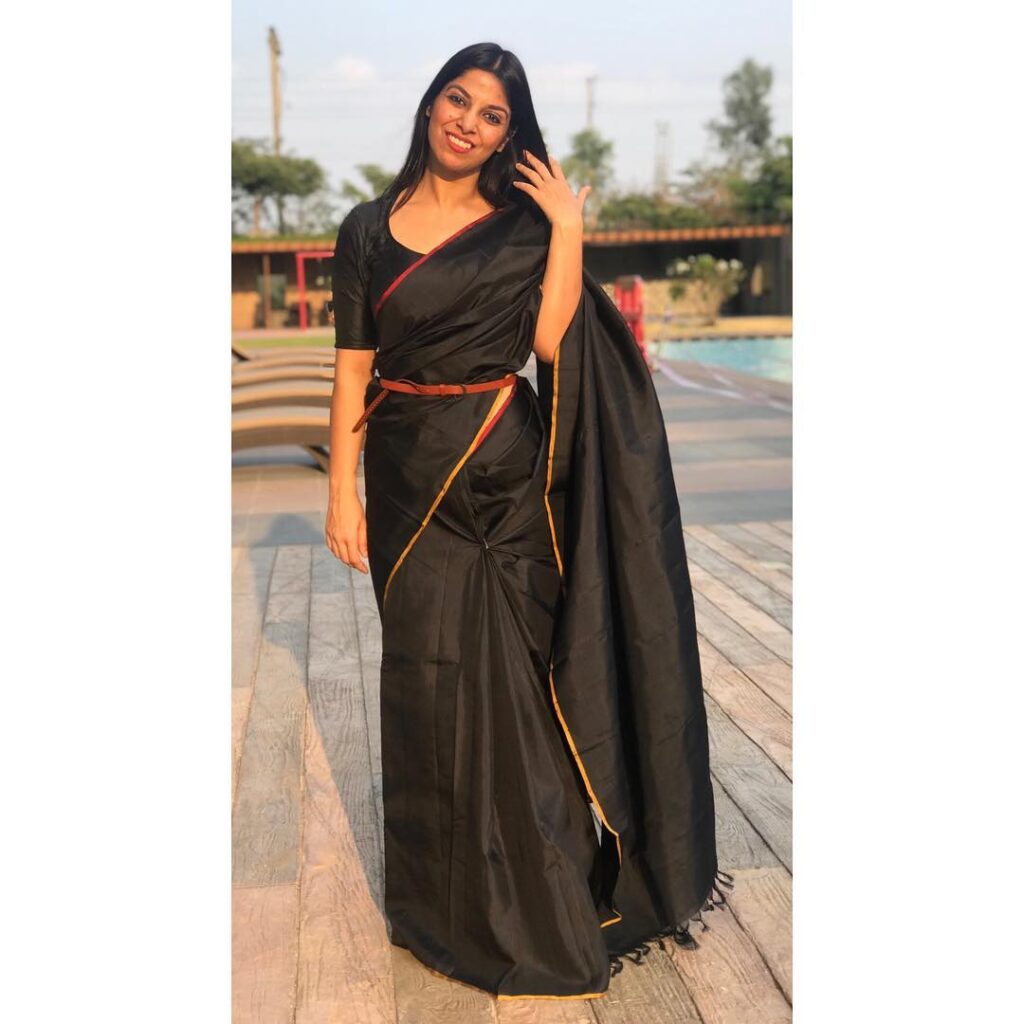 10. With Contrasting Pallu
An all-black look can sure be intimidating, so a simple way to ease into the all-black trend is to add a pop of color to cut the monotony. From pairing your 6 yards with a contrasting blouse or opting for a black saree with a teal pallu, there are a lot of ways you can go about adding a hint of shade to your outfit. Flaunt the contrasting color by draping your saree with a front pallu.
Via
9. Beat the Heat with Black Floral Saree
Get ready for the summer season with this easy breezy black floral saree. Perfect for the summer heat, the dainty floral print lends the saree a new freshness with a youthful vibe while the lightweight georgette fabric makes the garment summer appropriate. Pair it with a contrasting blouse and get lost in the 00 nostalgia of summer vacations and juicy mangoes.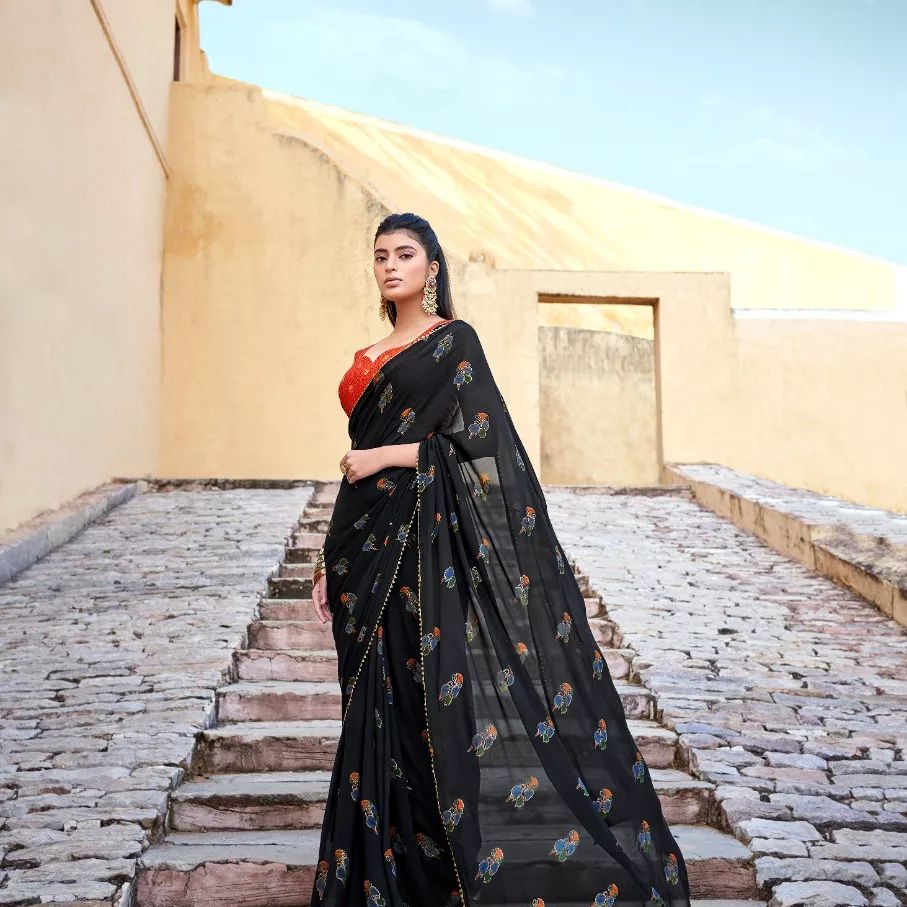 8. Black Banarasi Saree
Looking for a timeless, graceful yet regal outfit for the wedding season? We have got your back. Look like a maharani in this sophisticated and splendid black banarasi saree and garner compliments wherever you go. With utmost class and grace, style this royal look with a messy bun, gajra, and gold temple jewelry for that magnificently traditional look. Here are some of the Best Banarasi Saree Designs you need to check out.
7. With a Crop Top
Hello girls, we have got the perfect farewell or wedding outfit for all our fashion-forward queens. Contemporary elegance with a youthful vibe, this stunningly sexy black saree paired with a statement crop top is here to rule the fashion world and we are here for it. Effortless yet chic, bring back the sexy with this stylish number and make heads turn this wedding season.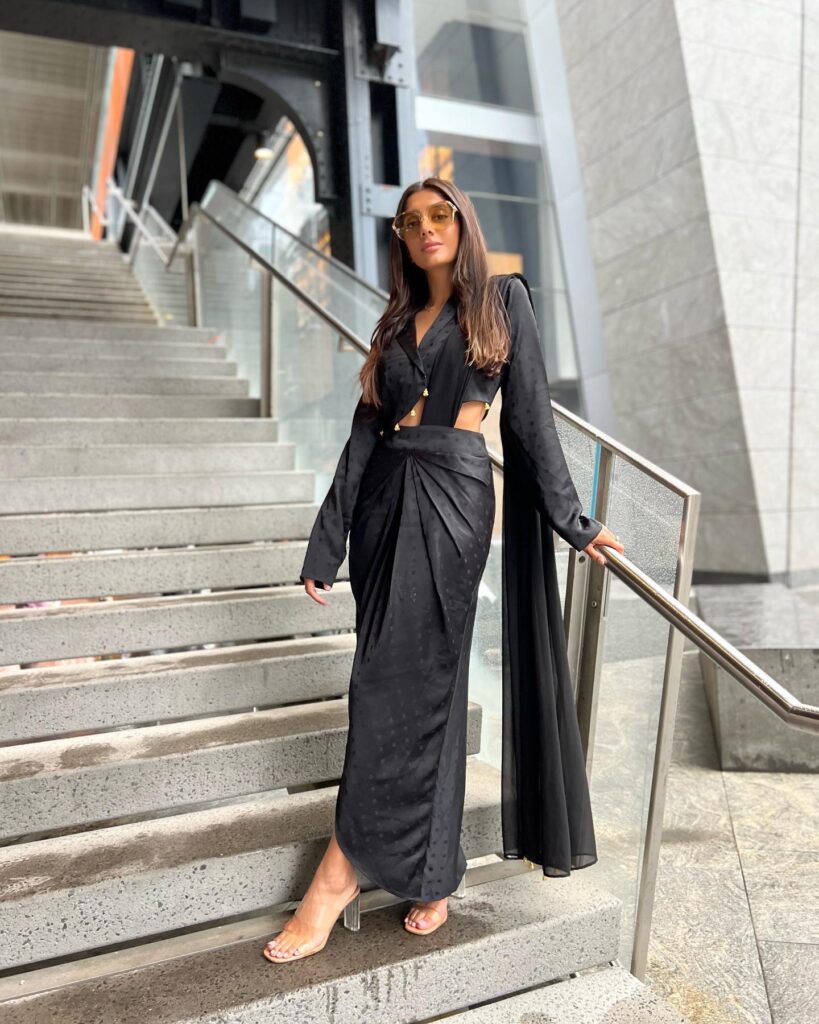 6. Black Dual Tone Saree for the Retro Lovers
Turn back the time with this glamorous chiffon saree in the classic black and white shades and let the magic of nostalgia make a style statement. Beautifully effortless, this airy dual-tone saree will turn you into a Bollywood diva in a chiffon saree singing in the mountains. Add 2020's hottest trends – pearls, into your outfit by opting for a pearl handbag or a pearl headband and make the best of both worlds.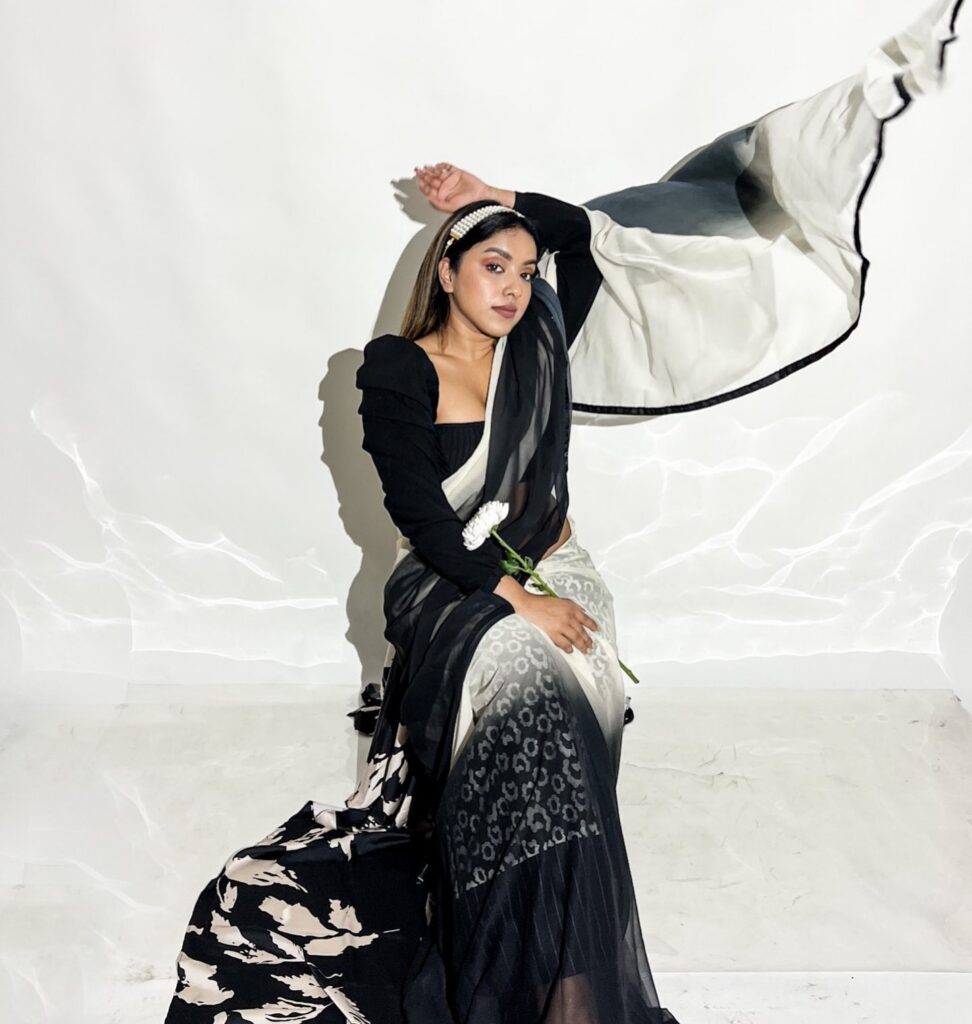 5. Black Lehenga Saree Design
First-timers and amateurs, we understand draping this 6-yard of magnificence can indeed look like a daunting task. But with the invention of lehenga sarees, draping and now wearing a saree is a piece of cake. Flaunt this black lehenga saree at the next wedding with a sleek bun, statement chandbalis, and dance all night.
Via
4. For the Bride
Break the tradition by adorning this magnificent black saree to your wedding and make heads turn. For the non-traditional bride, this black saree with the contrasting red blouse is a unique choice that is surely going to make you stand out. Adorn this stunning number with your head held high, and make history.
Via
Black and gold sarees don't just look regal on brides but they can also be good wedding guest outfits, especially for the sisters of the bride or groom.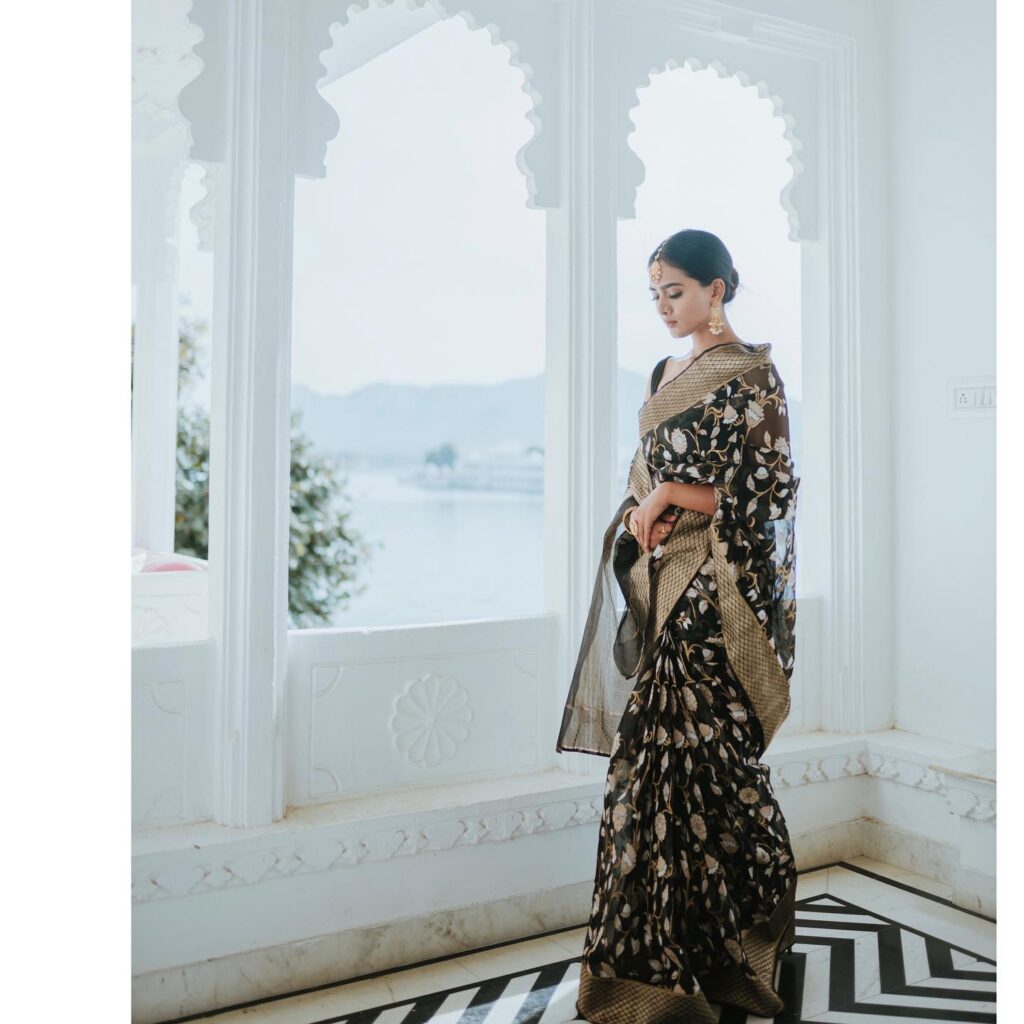 3. With a Short Jacket
Enhance the beauty of the quintessential black saree by pairing it with a short jacket with intricate embroidery work. The contemporary silhouette of a jacket blended with the sheer elegance of the intricate embroidery work is what makes this outfit a showstopper. Style it with a wavy ponytail or a messy bun and let your gorgeous outfit do all the talking. You can also opt for a sleek hairdo with a dramatic smokey eye, and a bold lip for an old Hollywood glam look.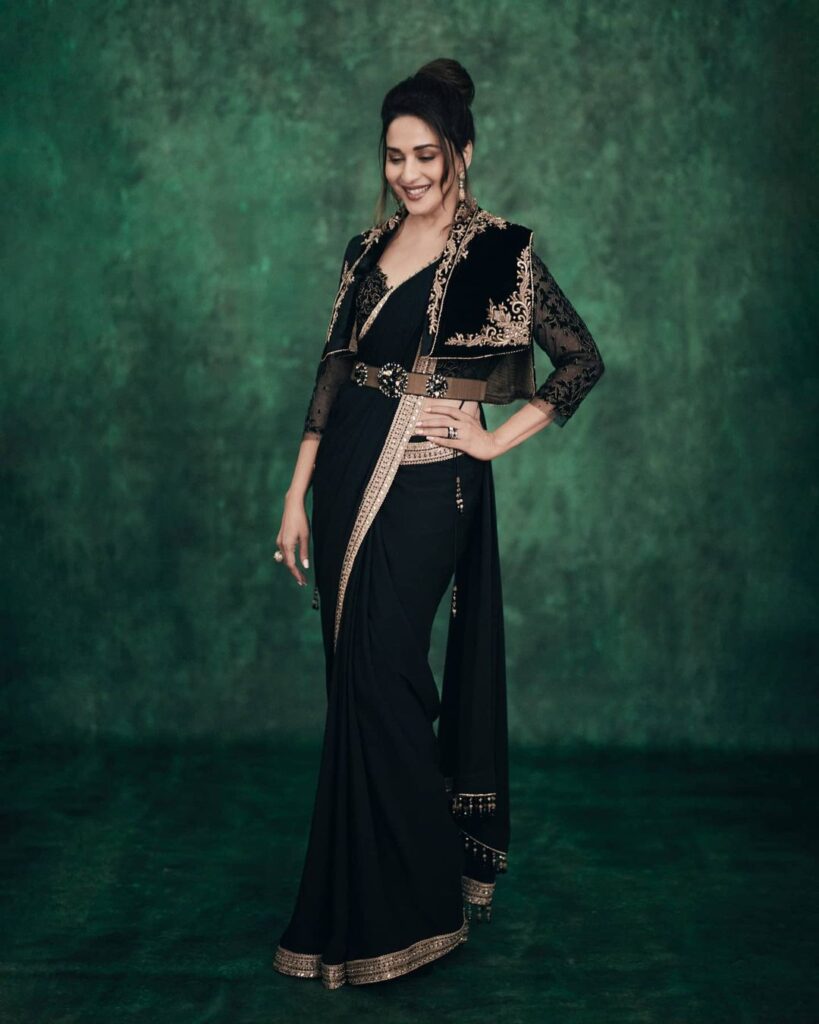 2. Black Saree with Off-shoulder Blouse
Sexy, chic yet timeless, this fun and fresh black saree paired with a striped off-shoulder blouse has got the stamp of approval from our celebrities and influencers. Ruling the fashion world for a while now, this cheeky off-shoulder trend lends that oomph to a classic black saree look. Wear your hair in beachy waves and opt for contemporary statement earrings to finish off this look.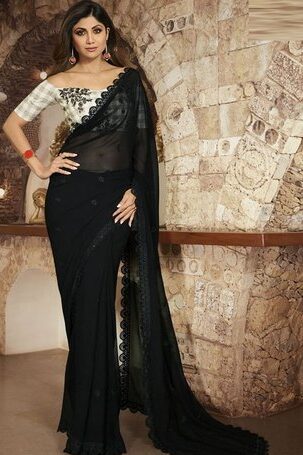 1. Black Dhoti Style Saree Design
Dhoti saree has many different forms with the most modern version being that of dhoti pants being worn with a blouse and saree. A fun and modern look, this dhoti-style saree in black is one of the best saree designs that you can flaunt this wedding season. From Shilpa Shetty to Madhuri Dixit, this dhoti style black saree is quite popular amongst celebrities and we can see why.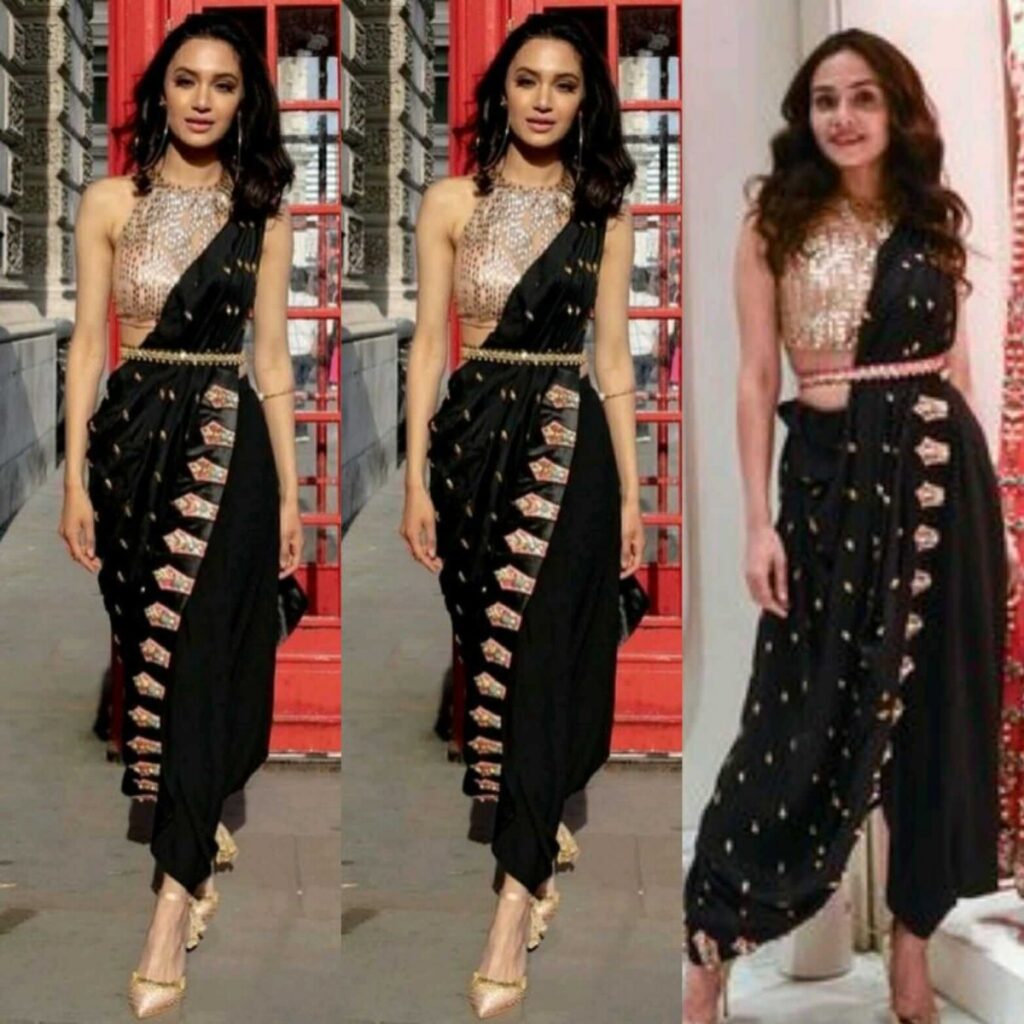 There is also a more traditional form of this saree known as the Kasta saree and they're very similar looking.
Enhance the look by pairing this supremely comfortable yet chic ensemble with oxidized silver jhumkas, stacks of bangles, and nude makeup to let the outfit be the star of the show.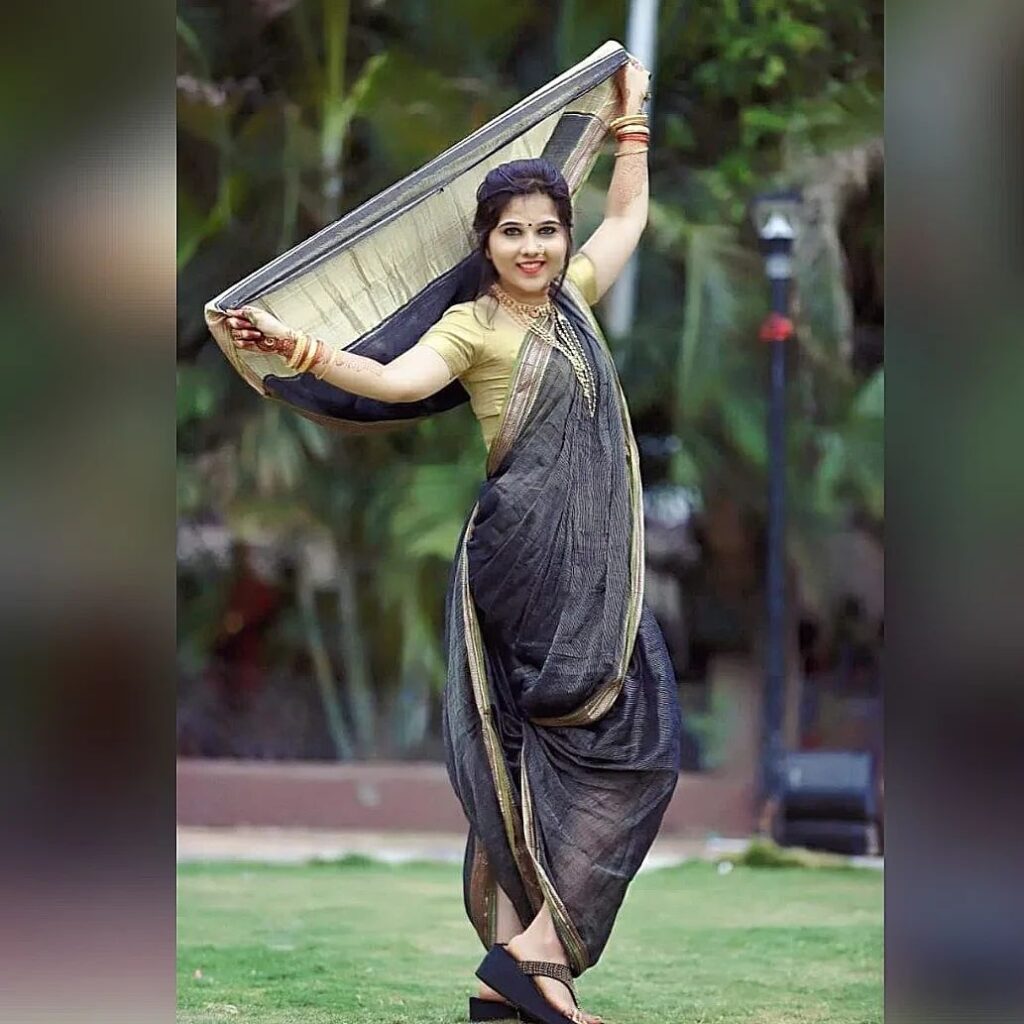 Frequently Asked Questions
Q. Which blouse will go with black saree?
Black is supremely versatile, which means it can go with myriad colors and silhouettes. For a fun and casual look, pair your black saree with an ajrak printed blouse, or for a wedding-appropriate look, style it with a gold brocade blouse, gold chandbalis and you are all set to dazzle. You can also opt for a monotone black blouse with delicate embroidery as nothing beats the magic of an all-black saree outfit.
Q. Can I wear black saree for partywear?
A banarasi black saree with a matching blouse is the quintessential traditional wedding outfit. For lighter functions, a tulle black saree with feather details is a great option. A sexy and chic ruffled black saree or black dhoti saree are also some of the great options to wear to a party.