Summer Outfits for Rome. Wondering what to have on your summer packing list for Rome? Perhaps you envision your summer vacation of discovering the historical capital of Italy. All the while being dressed in the most stunning outfits.
Loose summer dresses to avoid the heat, whilst wandering about the small cobbled streets. Possibly you see yourself walking from church to museum to grand squares and snapping photographs as you go for memories.
What to Pack for a Summer Trip to Rome?
There is so much to discover in Rome, so much so that putting together the itinerary alone is overwhelming. Figuring out what to wear and packing each outfit is yet another hassle. Thankfully, we have researched the most trendy and appropriate outfits, perfectly suitable for a trip to Rome in 2022.
Important Things To Remember
The Heat: Rome is a small city with networks of tiny streets and no openings to water sources. Therefore, Rome is quite hot and stuffy. Due to the geographical positioning, this is accentuated, by high temperatures and unavoidable sunlight. Therefore it is good practice to pack light clothing, airy dresses, and appropriate breathable fabrics. Linen and cotton for example.
The Cobblestone Streets: Firstly, it is rare that you would find a clean slap of asphalt in this area. Not only are the buildings, museums, and churches old and historical – the roads are too. And although this is a wonderful cultural immersion your shoes must correlate. Due to the rocks that cover nearly every street, you will need to be strategic in your choice of footwear. Pack something that will be comfortable for walking around in those conditions, something without heels.
The Chilly Nights: Although you can expect lots of warm weather and sunlight during the daytime, the nights can offer you a different reality. Due to the cobblestone streets, and stone houses surrounding you – the evenings and nights are quite chilly in Rome. In the case that you want to make plans to go out on the town pack something warmer.
Dresscode for Cultural Attractions: It is no secret that Rome is home to some of the most sought-after cultural buildings, including various churches. These locations require some dress code rules. Nothing short, reveals too much of the shoulders is necessary. Similarly, you might want to pack a headscarf – to be able to enter the orthodox Christian churches.
Italian Dinners: Nobody is known for dinners like Italians. Long evenings which start early and stretch deep into the night, filled with fine foods and wines. This is certainly not something you want to be underdressed for.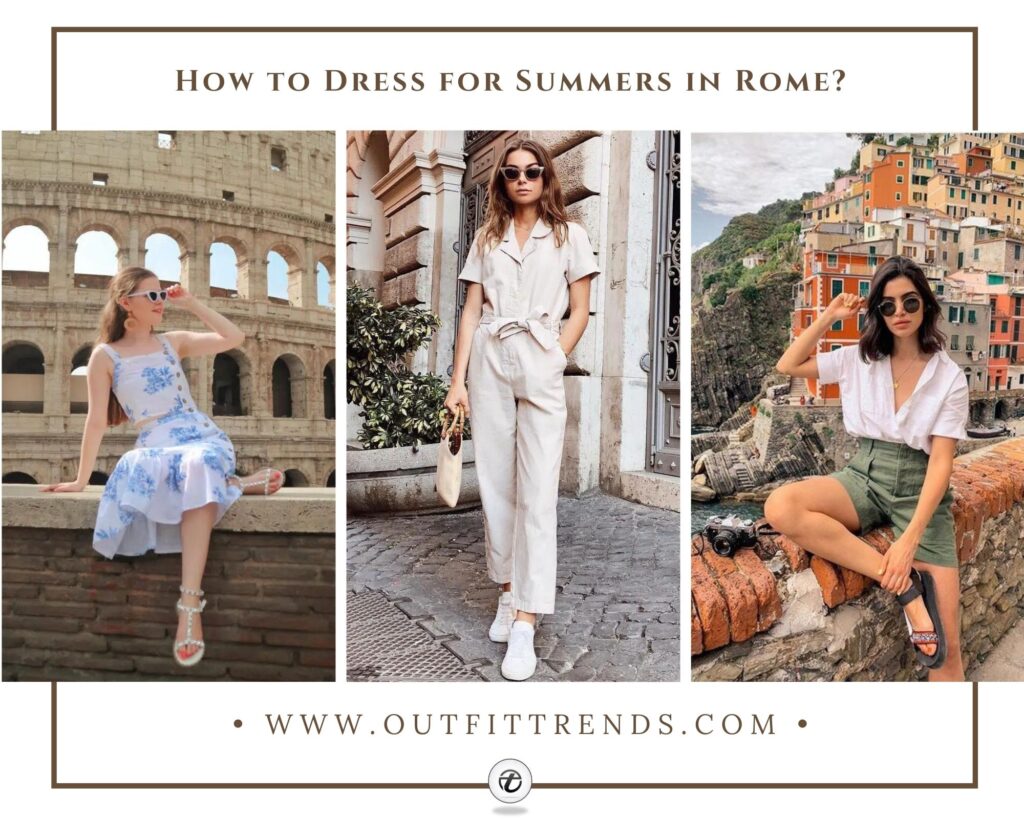 23 – Play Up Your Favorite Denim Shorts With The Right Blouse
Since denim shorts are a highly casual option and do not seem suitable for the grandeur of Rome. Although you can try and optimize this comfortable article of clothing with a fancy-looking blouse. For example, go for a satin blouse, with a unique sleeve to really transform this look.
22 – Choose Linen Shorts As An Alternative To Denim
A second option to the denim shorts outfit, we present to you linen shorts. Not only are they far more formal looking. They also happen to be the best option for summer, namely due to the breathability of this fabric. Particularly in Rome, where the weather is extremely hot – they are the best option.
21 – Create An All-White Look To Beat The Heat
As we continue with Rome's appropriate daytime outfit options we must propose for you try and create an all-white outfit. This first option has a flowy ankle-length satin skirt, paired with a very casual white tank top. The color white attracts less sunlight and traps less heat therefore is perfect for daytime adventures in the city. Here are some White Dress Pants Outfits that you might want to try.
20 – If You Need To Wear Pants, Choose White Ones
Alternatively, to the previous outfit, this option contains pants. Similarly, it is also a sun-repelling all-white outfit. If you prefer to wear pants, yet want to be comfortable in the summer heat, find a pair in linen. As we have mentioned this is a fabric that allows for good ventilation. This way even though pants are generally warm, you will be comfortable in the heat.
19 – Try Out A Matching Skirt and Top Two-Piece
It is no surprise that packing and planning for a trip to Rome are overwhelming. Trying to figure out a stylish outfit for each day might become difficult. This is why we suggest trying to find co-ord pieces to take with you, they are easy and stylish. For example, this tank top and midi skirt united with a blue and white print serve as the optimal effortless option.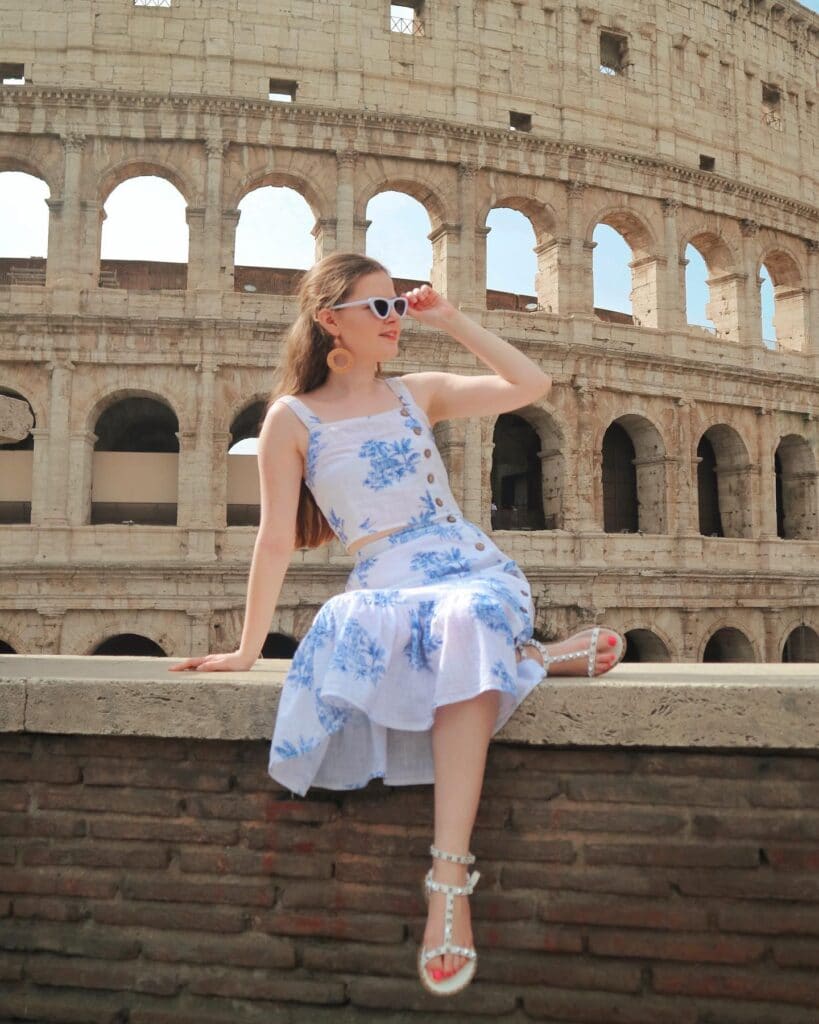 18 – Diffuse An All Red Dress With Woven Accessories
If you envision yourself as an eye-catching persona who roams the streets of Rome with an air of style and mystery to you, you need to pack along a red dress. A unique way to style it is with the very trendy woven bag, and matching woven espadrilles. Perfect your look for the night with these Red Dress Makeup Ideas & Hairstyling Tips.
17 – Create An Elegant Look With A White Dress And Nude Accessories
An alternative to the previous outfit which will be no less appropriate for Rome is this outfit. A loose-fitting cotton white dress, paired with nude sandals and a nude bag. This look is perfect with minimal accessories, so you can leave your freshly tanned arms untouched by any bracelets or rings. Simplicity is key.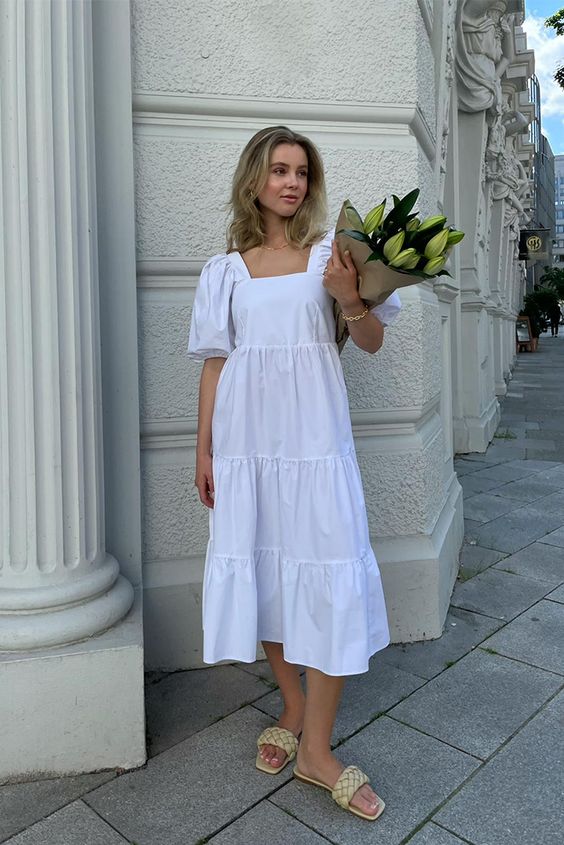 16 – Pair Patterns With Pastel Colors For Easy Complex Outfits
An easy way to create complex-looking outfits is through the mixing of prints with colors. Especially if the additional colors are not the same as those which make up the print. A great place to start is a black and white print and a pastel color.
15 – Pack A Short Floral Dress In Warm Tones
A floral printed dress is a summer must-have. Especially if that dress is in a warm and vibrant color palette. Lastly, make sure your dress is short as it adds youth to the look.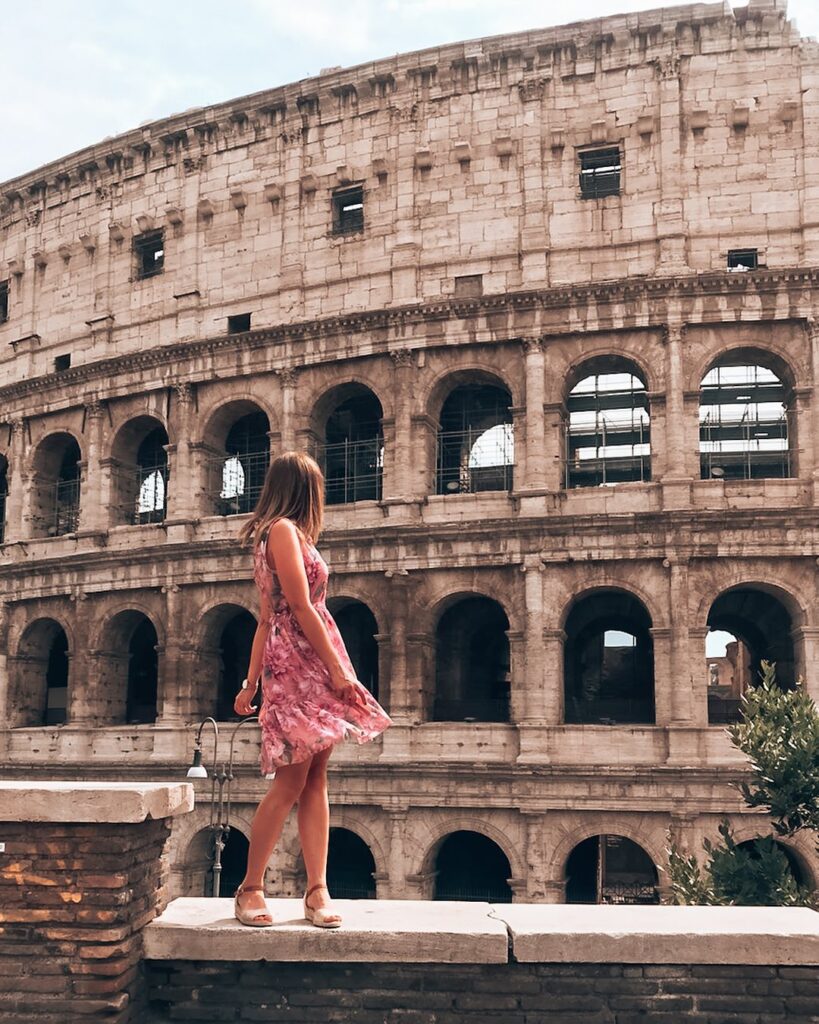 14 – Use Brown Accessories For A Formal Look
Not only are brown bags and shoes a highly fashionable option, but they can also add sophistication to any outfit. For example, if you find the perfect polka-dotted dress, don't be basic and pair it with black shoes. Instead spice things up with a brown bag, brown shoes, and possibly even sunglasses with brown rims. This will make this infamous print your own.
13 – Don't Go For White Shoes With A Red and White Polka-Dotted Dress
Similar to the previous outfit if you have a red and white polka-dotted dress, try to make it unique through yet another unpredictable choice of shoes. It would be an easy choice to pair some white sandals. However, if you go with a nude pair, to match a nude purse you will once more create a much more stand-out outfit.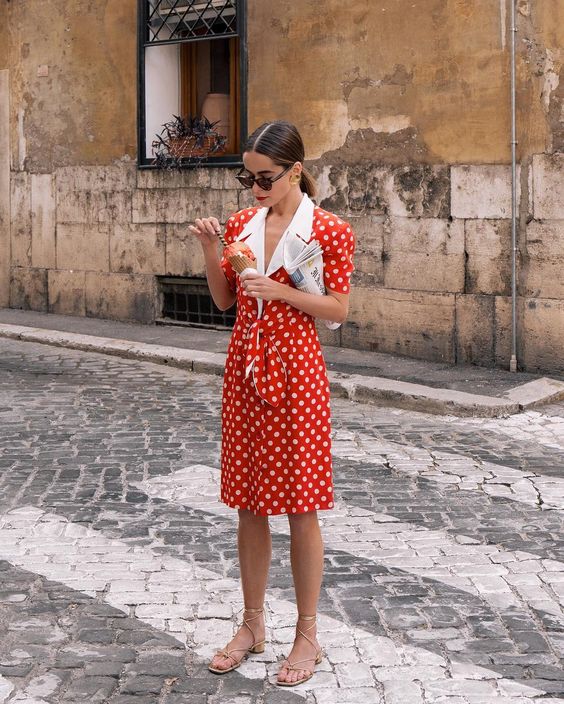 12 – Elevate A Classic Little Black Dress With A Trendy Purse
Even when you are trying to look highly fashionable in Rome, you can resort to fashion classics. You just need to find ways to build on those staple clothing articles. For example, pairing a newly trendy shoulder purse with a little black dress can really make your look stand out. Here are some more Outfit Ideas on How to Wear the Little Black Dress.
11 – Go For An Asymmetric Fastening Polka Dotted Dress For Day-To-Night Looks
In the case that you are going to travel and you do not have heaps of space in your suitcases to dedicate to hundreds of outfits, you need to optimize. One way of doing this is to choose outfits that will work for both day and night. Dresses, with ruffle detailing and long sleeves, are the perfect option.
10 – Stand Out With An XL Woven Bag
Woven purses in all shapes and sizes have become a very large trend in 2022. Take charge of this new style and exaggerate it with an extra-large woven bag.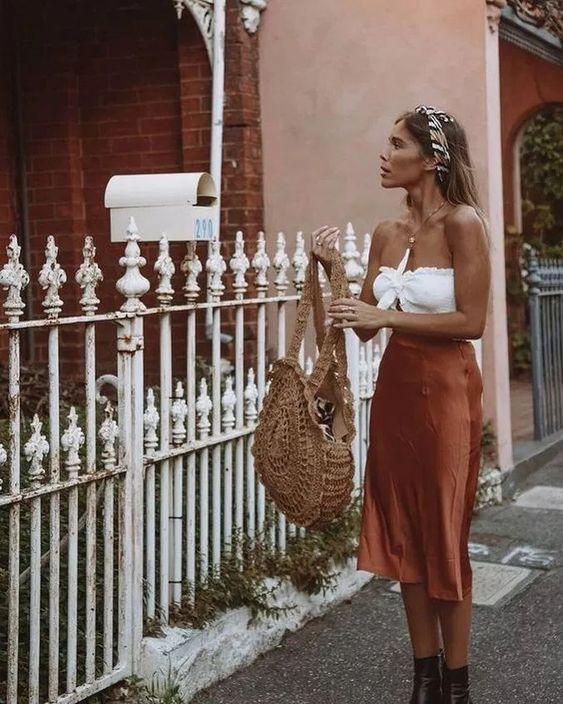 9 – Pair A Stunning Mermaid Skirt With An Off The Shoulder Top
A mermaid skirt is one of the most comfortable and dressy skirt options you can choose for a summer day in Italy. Due to the construction of the skirt, it will allow for maximum airflow and keep you from being overly warm. If you pair it with a top with ruffles and off-the-shoulder sleeves, you will look fabulous.
8 – Go For A Pantsuit For An Easy Casual Outfit
Another option for a daytime look that is efficient in packing and styling is a pantsuit outfit. Make sure to find one in a light color to not attract too much sunlight. Similarly choose one in a light fabric, for instance, linen.
7 – Contrast A Long Lacey Dress With Grungy Accessories
A unique way you can make a classic lacey white dress seem more stylish is by choosing accessories in a contrasting style. For instance, try to pair with grungy boots, all-black grungy eyewear, and possibly even grungy jewelry.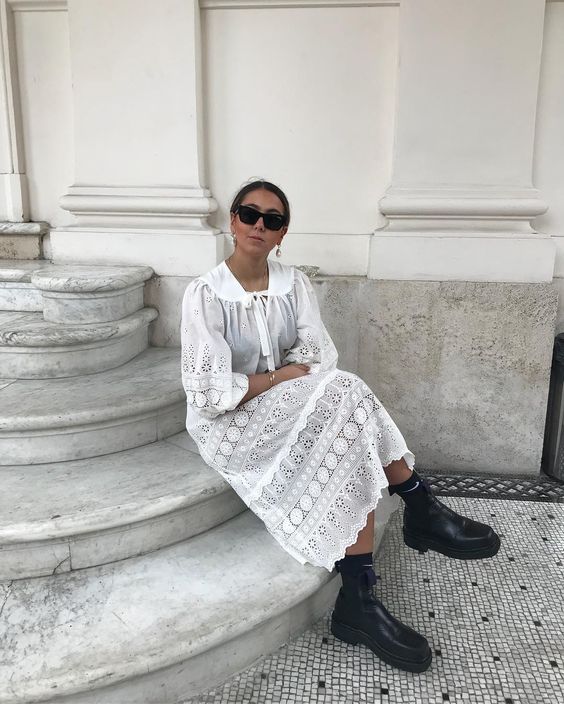 6 – Short White Dress For A Dinner In Rome
In this part of our rundown, we are going to give a closer look at the outfits which would be fitting for fancy Italian dinner plans. This first outfit might seem too casual, but imagine yourself sitting in a restaurant amongst one of the streets. The warm yellow light of the street lams shining down on you, and your white dress reflects it back. You will look just as magical as the place you are in.
5 – Find A Linnen Costume In A Vibrant Color For An Evening Look
As we have mentioned before in this article, evenings even in Rome in summer, sometimes turn out to be unexpectedly chilly. In order to stay warm but fashionably dressed, find a jacket and shorts co-ord. Preferable in a linen or cotton fabric in order to have increased functionality.
4 – Choose A Unique Tie-Dye Dress
One pattern for a dress that you might not expect to look as stylish as this is tie-dye. It is making a trend come back and if applied sparingly onto the clothes turns out to look very fancy. Perfect summer design for a summer evening dress. Here are some more Ideas on How to Wear Tie-Dye Outfits.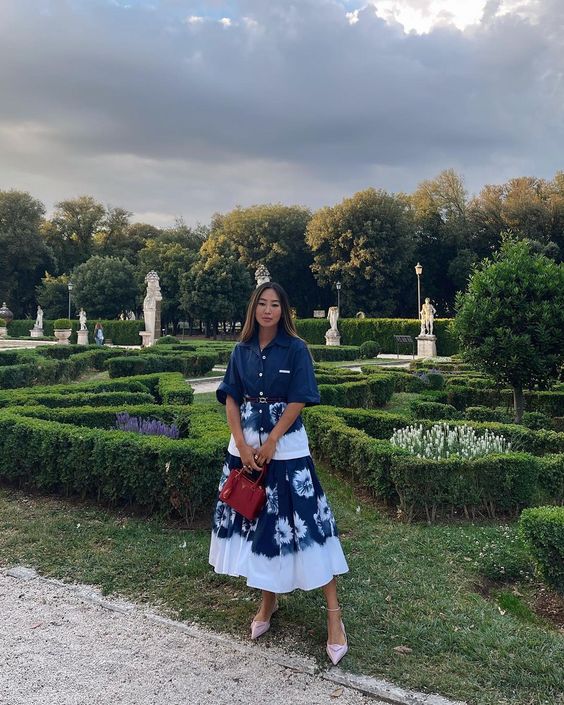 3 – Pair Laquer Flats With A Vintage Looking Dress
Even on the cobbled streets of Rome, you might want to wear pumps, or flats – especially if it is for the good of the outfit. Although we still advise against wearing heels, these lacquer flats are the perfect alternative. Pair them with a muted green dress for a vintage look.
2 – Accessorise A White Dress With Large Earrings
This deep neck cut for dresses has surfaced as a large trend in 2022. In an effort to accentuate how open your neck and chest area are in this dress type, try to stay away from necklaces. Instead reach for some large earrings, to dress up this fabulous dress.
1 – Find A Black Dress With A Box Cut And Full Sleeves For Dinner
Even a black dress has the chance to look like a fabulous dinner-worthy clothing item if it has the right elements. Similar to the previous outfit, a box-cut chest silhouette is unique and worth looking for. Although put together with these wonderfully ruffled sleeves you will have a one-of-a-kind dress.
Frequently Asked Questions
Q. What should you not wear in Rome?
Rome is a place filled with rich culture, your outfits should match that. Instead of wearing something casual like graphic t-shirts, white sneakers, and denim jeans, opt for something more elegant. Try wearing something with a light floral print. Go for linen shorts instead of basic denim ones. Lastly, switch out white sneakers for some authentic espadrilles.
Q. Can I wear flip flops in Rome?
Avoid flip-flops when in Rome. Not only are they not an appropriate utilitarian choice, but Rome does not have any beaches. It is also highly uncomfortable on the cobblestone streets. You will find yourself tripping over your feet, and being unable to walk further than just a few steps. Instead, we recommend that you choose some sandals, or espadrilles – something breathable but with fastenings, as we discussed in our post on Best Walking Shoes for Europe Trip.