Best Silk Saree Designs: Nothing looks more elegant than a woman in a stunning saree. Sarees are not only traditional but also trendy and modern. Silk sarees are the most popular among women. This is due to the fact that silk is soft, and there are a lot of types to choose from. Traditional silk sarees are suitable for both formal and casual occasions, such as weddings and family gatherings. This demonstrates the trend's adaptability. The silk saree itself instantly brings a feeling of magnificence to our minds.
Here is a collection of saree designs for the year 2022 that you can add to your wardrobe.
What Are The Best Silk Saree Designs?
If you are in love with sarees, you have to agree that silk sarees are one of the best kinds of sarees. No other outfit can highlight your curves and create a flattering figure like a saree draped elegantly around your waist. Silk sarees are an essential part of weddings and other celebrations. These sarees are popular due to their durability and luxuriousness. These are unique in their own way, and these styles never go out of trend, making you look more beautiful every time you wear them. And if you don't know how to wear a saree, don't worry because we've got your back!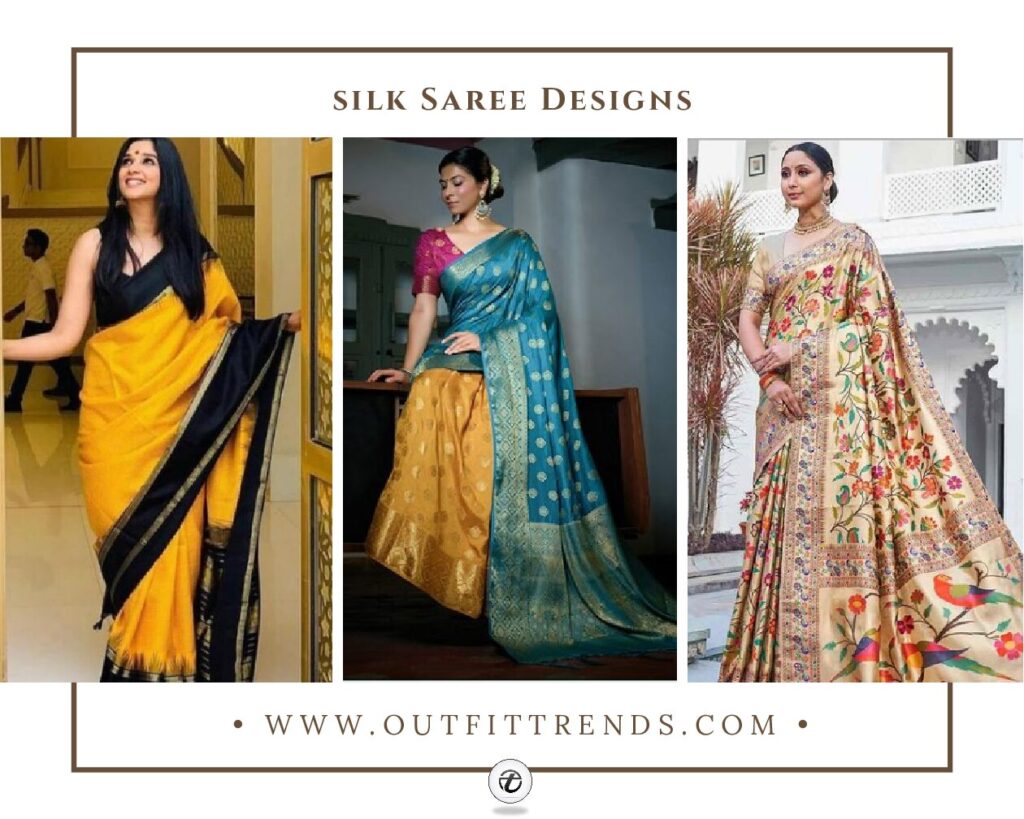 Do's And Don'ts For Styling Silk Sarees
• For footwear, choose heels or wedges with your saree for a more elegant look.
• Always choose a saree blouse design that complement your saree. A variety of fabrics, designs and textures can cripple your appearance.
• Wear appropriate accessories for a formal appearance.
• For a semi-formal occasion, choose minimal jewelry such as traditional earrings only or a statement neckpiece.
• Make sure your saree is precisely tailored to your measurements, neither too tight nor too loose.
• The color of your saree should complement your skin tone
• If you want to try out new things, you could replace the saree blouse with another contrasting color such as gold, blue, or purple.
21 – Ivory Kosa Silk Saree With Golden Border
This dazzling ivory Kosa silk saree is a work of art. It is endlessly elegant and rich, with a distinctly traditional feel. This saree gives you a charming and alluring appearance in the drape—Wearable, lightweight, and more comfortable. Take a look at this lovely ivory saree with a touch of gold, paired with a maroon blouse that adds to its beauty.
20 – Embellished Banarsi Silk Saree
The banarasi saree is popular among women of all classes, not just brides. These lovely and elegant sarees have gained in popularity and are now the first choice for every woman when it comes to sarees. Women adore the trendy and exotic weavings created by designers who use zari, motifs, and emeralds. Celebrities and other popular public figures are increasingly wearing banarasi sarees to weddings, special occasions, and functions. The embroidered banaras saree is a wardrobe essential. Take a look at this classic yet affordable banarsi silk saree embellished with dori and stonework.
19 – Solid Silk Sarees In Multicolors
Sarees made of pure silk are a blank canvas for your limitless creativity. Solids and minimalist designs have always been popular. "Less is more," as the adage goes. The image below shows that girls in solid silk sarees look stunning and rock the minimal look.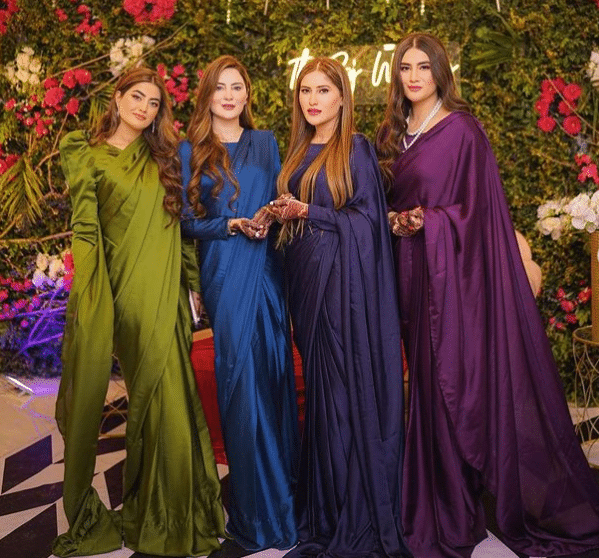 18 – Pink And Gold Pattu Silk Saree
When it comes to pattu silk sarees, a few classic colours will be around forever. The first places on the list will be in a muted pink, if you ask. This isn't to say you can't add a new dimension to this evergreen hue. The glittery pink sarees with zari borders are still a popular choice. If you tend to play it safe and avoid all the daring, loud colours. It's perfect to choose a muted pink and pair it with a gold blouse to slay this look.
17 – Kanchipuram Silk Saree
Kanchipuram or kanjivaram silk sarees are regarded as a royal, heritage, and classic sarees. The contrasted beautiful and elegant borders, checks, stripes, and floral motifs distinguish the traditional kanjivaram silk saree.
16 – Mirror Work Silk Saree
This lovely, delicate, and elegant saree will be an excellent addition to your saree collection. The elegantly designed silk saree with mirrors on the border is the new name of glamour, and you will be smitten by its pink ombre colour and sparkling embellishment.
15 – Metallic Grey Kanchipuram Silk Saree
The metallic grey colour is dazzling in its own right.s This metallic grey kanchipuram silk saree has a spark of beautiful rich designs topped with small traditional leaves all over the body, complemented by a contrasting shiny-pink blouse. This saree's appearance says a lot about the best work of style in every way possible
.
14 – Pistachio Green Satin Silk Saree
Satin Sarees are the most beautiful. These sarees are incredibly soft and comfortable to wear! With this stunning yet soft pistachio green saree, you can look dashing while displaying your inner self. It is a perfect choice for both formal and informal occasions. To finish the look, pair it with heels and jewellery and for a minimal look, just put on a statement neckpiece or a beautiful pair of earrings. Put it in your closet right away.
13 – Digital Print Silk Saree
This digitally printed silk saree with an embellished blouse is a dazzling saree that is a wardrobe must-have. It can be worn casually, for a dinner party, at a wedding, or any festival look. This elegant saree with beautifully printed adornments and embellishments on the blouse is so lovely that one can't help but fall in love with them.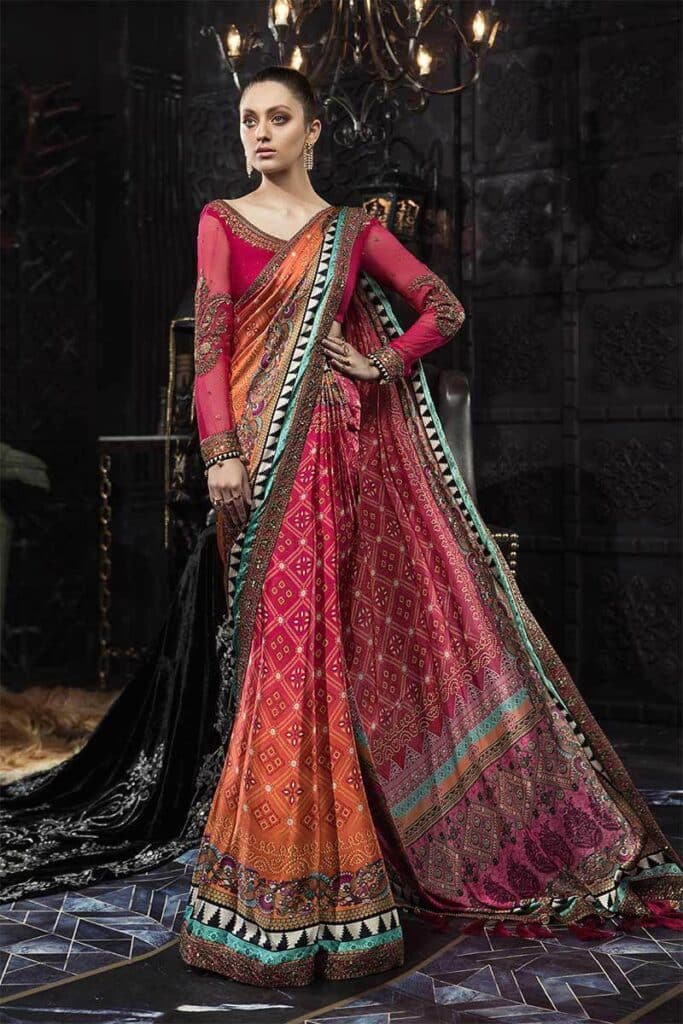 12 – Traditional Ivory White-Red Banarsi Silk Saree
Don't we all want to wear a beautiful traditional banarasi woven silk saree? This is a stunning banarasi saree that is half rose red and half ivory white. A rose-red blouse complements the saree. These traditional sarees never fail to enchant onlookers and serve as a royal saviour for every lady.
11 – Paithani Silk Saree
The uniqueness of paithani silk and the stunning golden yellow colour makes this saree look very luxurious. This fabulous and lavish paithani silk saree with a royal appearance is a true masterpiece. This saree is a must-have for every woman who enjoys standing out in a crowd. This paithani silk saree is an ideal traditional outfit for any occasion.
10 – Lycra Silk Plain Saree
Lycra Silk Sarees are stylish and classic saree that looks great in solid patterns. We are aware of how breathable this fabric is. Also, look at how well this saree flatters your figure! A lycra silk saree shows off your best fashion sense. This lycra silk saree will highlight your true beauty. The shimmery marron saree looks stunning when paired with a solid-colour blouse and a ruffles pattern all around the border.
9 – Multi-Color Raw Silk Saree
Traditional raw silk sarees are popular at all times. It is a symbol of elegance and classiness. Sparkle your look in this magnificent multi colour raw silk saree that is a visual feast! This multi-coloured banarasi saree will undoubtedly enhance your inner beauty with its lovely teal blue and mustard yellow hues. The saree is paired with a crimson pink blouse, which adds to its indulgence.
8 – Floral Printed Soft Organza Silk Saree
These lovely floral printed organza silk sarees are very trendy these days because they are lightweight and easy to drape. These sarees come in a variety of pastel colours. You can choose any colour that appeals to you, and it will look stunning. This pink saree has a floral digital print all over it and is very well crafted. For a soft ethnic look, try a matching or contrast blouse
.
7 – Black Kota Katan Silk Saree
Black colour is always elegant. A black saree is the most versatile and always reflects your refined sense of style. You are free to wear any brightly coloured blouse you desire. Alternate between different coloured blouses if the saree is plain or simple. Black contrasts well with bright colours such as pink, red, green, and grey. The image below depicts a sophisticated look in a black kota katan silk saree with a gold zari border, paired with a lovely maroon silk blouse and a traditional entice style neckpiece. This attire is the most practical solution for your more fashionable appearance.
6 – Leopard Printed Silk Saree
The soft satin silk saree with eye-catching leopard print completes your look with a sign of beauty. Look stylish and spectacular in this fabulous leopard print saree. This saree is a must-have for the entire season. Carry the attire with minimal accessories for a stunning look.
5 – Hand Painted Silk Saree
Have you made the wise decision to purchase a handpainted saree? If you answered yes, it would be your favourite drape. A pastel grey silk sari is painted beautifully all over with an adorable floral design, and some pearl embroidery adds a touch of elegance. This saree is the ultimate expression of elegance and style.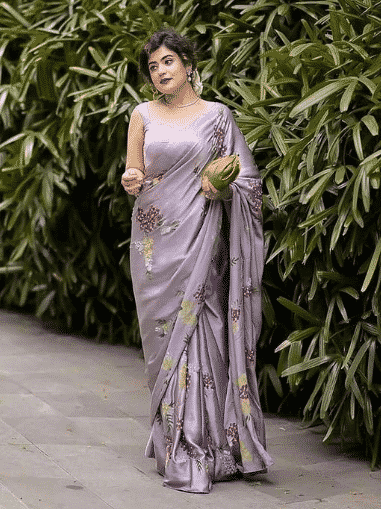 4 – Silk Jacquard Saree In Checkered Pattern
Checked sarees have a stunning aesthetic look when draped. The checked saree is one such saree design that has charmed many women throughout the ages while still being fashionable. The checked sarees are gorgeous both to look at and to wear. This checked silk cotton saree has a bright pink and green colour scheme and a golden zari border. The golden zari work on this saree adds to its lavishness.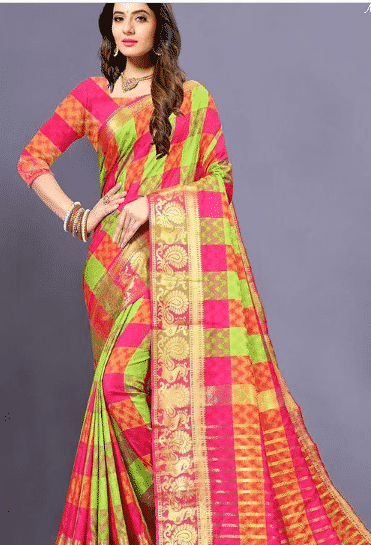 3 – Bright Yellow Kanchi Silk Saree
No other colour shines as brightly as yellow. It is a colour associated with happiness and cheerfulness. Yellow silk sarees with contrasting coloured borders or blouses look lavish. As you can see, this yellow kanchi silk saree with a bold black border is stunning. Wrap yourself in this lovely bright saree to feel the joy.
2 – Chanderi Silk Saree
The chanderi silk saree is a traditional ethnic attire marked by its lightweight and sheer texture. This lovely chanderi silk saree is woven in ivory silk and golden zari classic design. The stunning maroon embellished blouse contrasts sharply with this saree. This saree doesn't require many accessories to look lovely, but you could try an elegant hairstyle and some light jewellery to complete your look.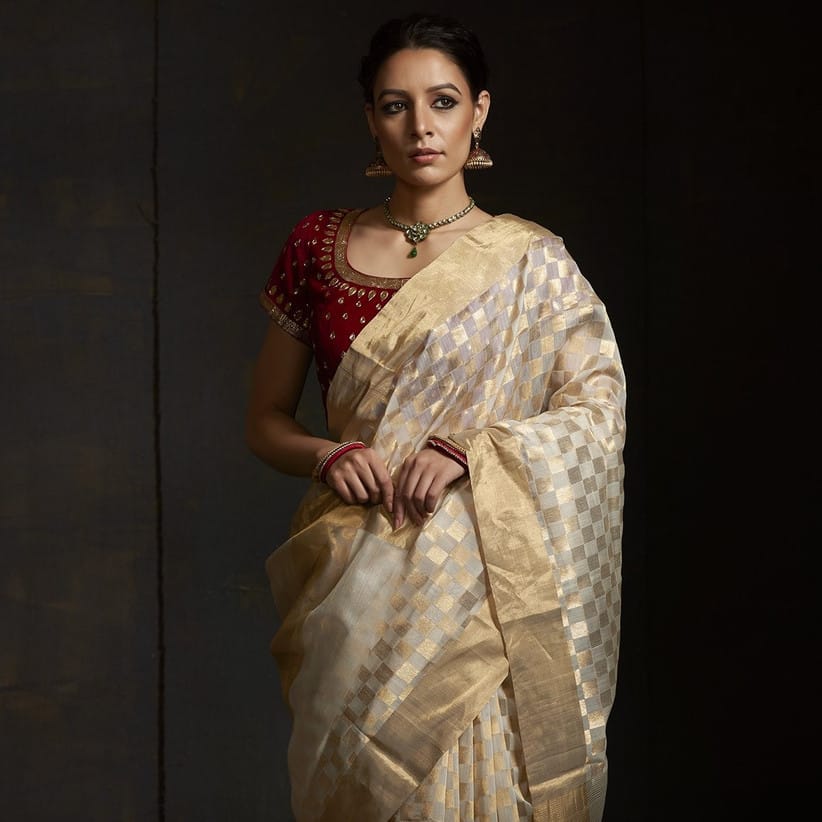 1 – Mashru Silk Saree
This mashru silk saree is an ideal choice for a special occasion. This emerald green rich colour with a touch of silver will undoubtedly make a style statement. And you will never want to get enough of this softest, silkiest, smoothest saree that you will drape like a diva. It's a lightweight fabric that looks great, so you can easily drape it for a lovely day ahead. A stunning look with a sophisticated drape!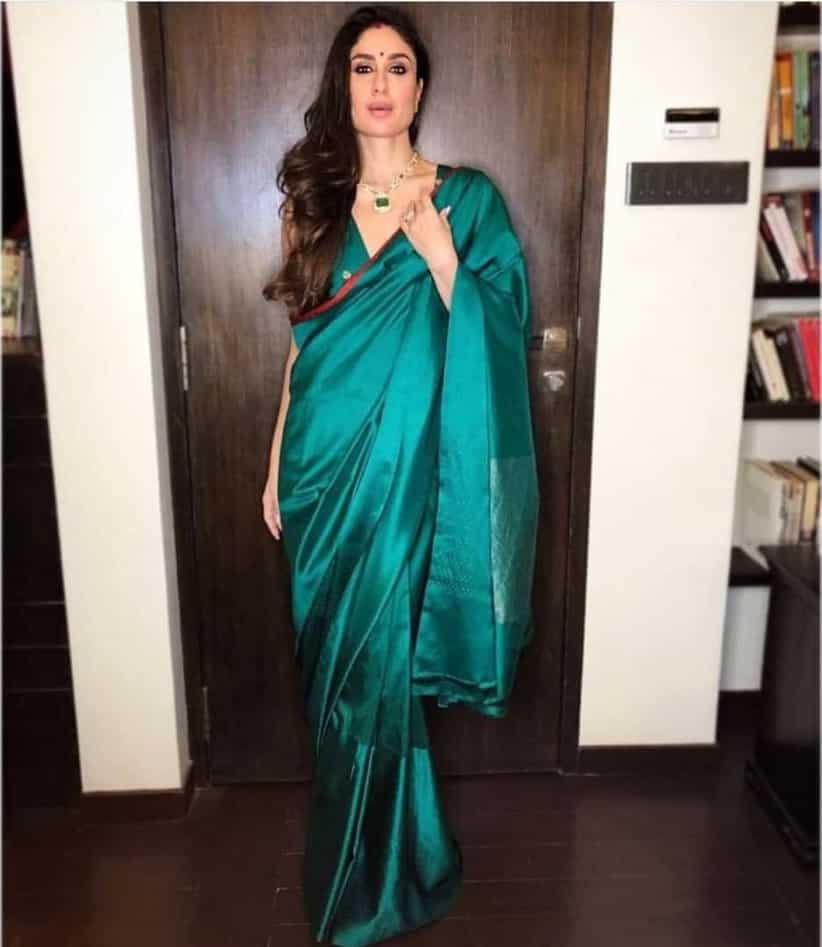 Frequently Asked Questions
Q. Which colors of silk sarees are popular right now?
Ans. Silk sarees have always been a delight and an eternal trend for women of all ages. The silky, smooth touch is ideal for every woman who loves her curves. If you're wondering what colour is popular these days, look no further. Pastels are the way to go. These pastels refer to the soft, light hues of all primary colours and white sarees, which are one of the beautiful wonders that have been associated with the dressing style.
Q. What are some popular wedding silk sarees?
Ans. Kanchipuram silk sarees woven with silk and gold cloth are best for wedding or bridal wear. You can wear anything from western to Indian styles, but silk sarees are more than enough for weddings. These wedding silk sarees are perfect for wearing on your wedding day or when you need to look your best after the ceremony. So, choose from some of the finest silk sarees for your special day.
Q. Which silk sarees are trending?
Ans. Many new saree trends have been introduced, and they are not only liked by millennials, but they also believe that it is an excellent outfit choice that is appropriate for all occasions. The most popular silk sarees are pastel coloured silk sarees, floral printed or embroidered silk sarees, ombre silk sarees, and solid silk sarees are becoming more popular.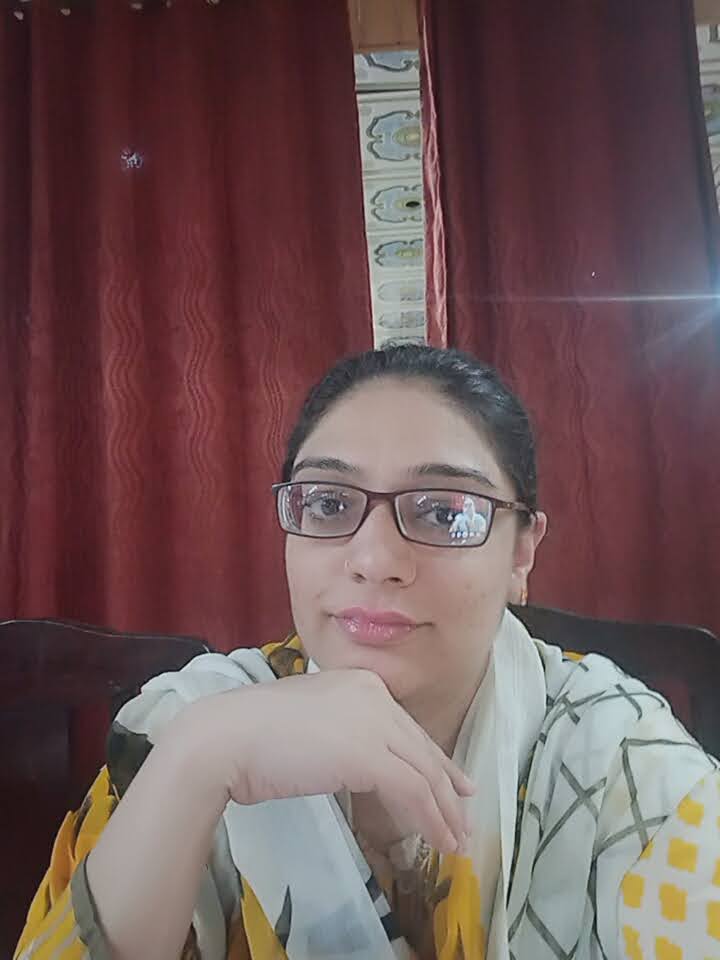 My name is Hina, and I am a passionate and dedicated writer. Like many others, I was unsure where to begin, so I chose to begin my journey from this platform.