I do not think there exists a girl who does not own a black bag. Black bag outfits are a must-have in everyone's closet. Beautiful, versatile, and sexy, black bags come in a wide variety of styles from shoulder bags, mini handbags, clutches to cross-body bags, etc.
One good black bag can go with almost anything in your closet from dresses to casual or formal wear. If you don't know what color bag to style with your outfit, just throw on a black bag it will always look good. Today we bring to you the many ways you can style your black bags.
What to Wear With a Black bag?
Most of the time, the style of the bag depends on the event you are going to. For example, when you're going to a dinner, a mini bag or a clutch will be more suitable compared to a backpack or a tote.
Bags can be styled in a few different ways, and according to your outfit, you can choose how to style them. With a fall or winter outfit, wearing the bag as a crossbody will elevate the outfit making it look trendy. For a blazer outfit, you could wear it on your shoulder.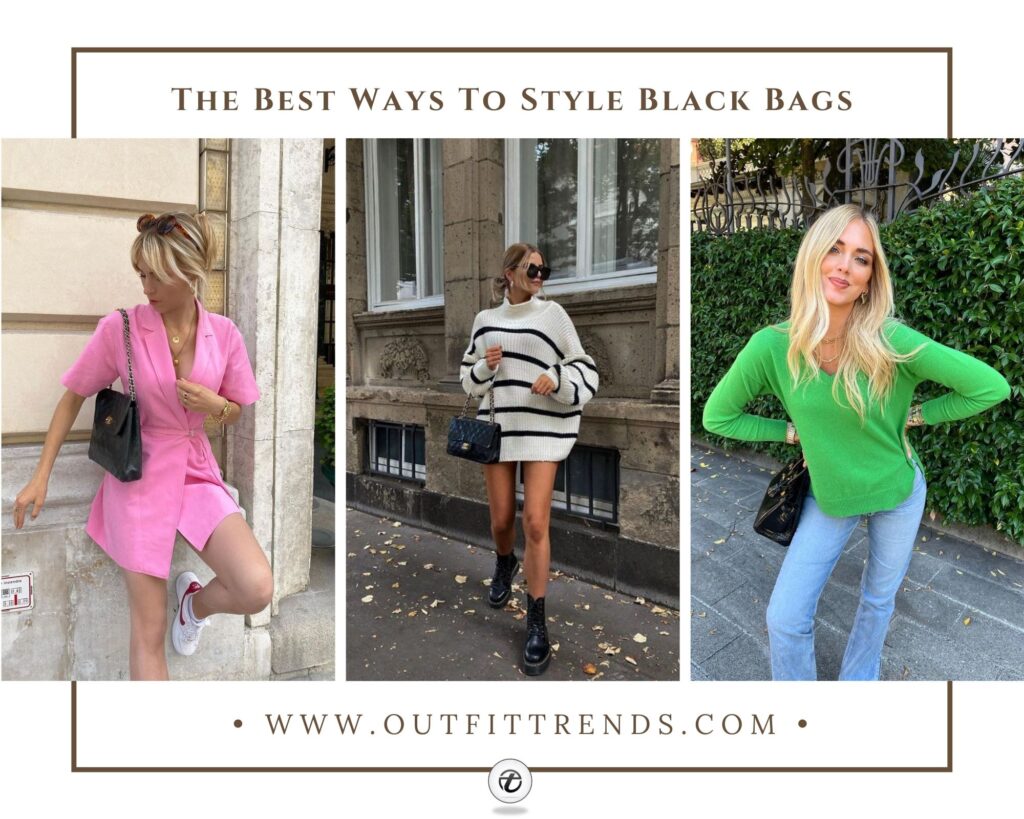 Tips For Wearing Black Bags
Bags with chain straps look more expensive and add a beautiful and feminine touch to your outfit.
Investing in an expensive black bag is better than buying multiple black bags. They will last for decades, and classic bags like the Chanel Flap bag will look good with every outfit. You won't have to worry about them getting worn out, at least not for a few years.
Try opting for a lightweight bag, black bags are usually worn on an everyday basis. It is important to have a comfortable bag. If you're a fan of light bags then you'll love these Most Beautiful Clear and Transparent Handbags.
Match the jewelry you're wearing with the color of the bag's hardware. Gold jewelry and trinkets look great if the bag's hardware is gold. Silver and gold may clash with each other.
↓ 33 – With a Blazer
One of the trendiest looks of the year is a blazer look. This one is a baggy one, paired with white sneakers and some retro yellow-tinted shades. A big black Chanel flap bag is paired with the look, and looks absolutely perfect with the outfit. Here are some more of my favorite Outfits with White Blazers.
↓ 32 – Night Out Outfit with a Black Bag
For a night out, a party for example you really either want to carry a small bag or no bag at all, taking care of it should be the least of your worries. A mini bag is perfect for your essentials and looks so nice with a silk emerald dress and some yellow heels. You can add an extra detail to your bag, by adding a twilly on the handle of the bag.
↓ 31 – How to Style a Black Fanny Pack bag?
Fanny packs are fashion-forward and convenient. Your hands are free if you decide to carry a fanny pack. Here we have the beautiful Hailey Bieber, in a silk two-piece set in a gorgeous dull yellow gold color, and is paired with some white shoes. A black Louis Vuitton fanny pack is paired with the look. Notice how the rims of the shades and the color of the hoops are gold to match the hardware on the bag, it's all in the tiniest details.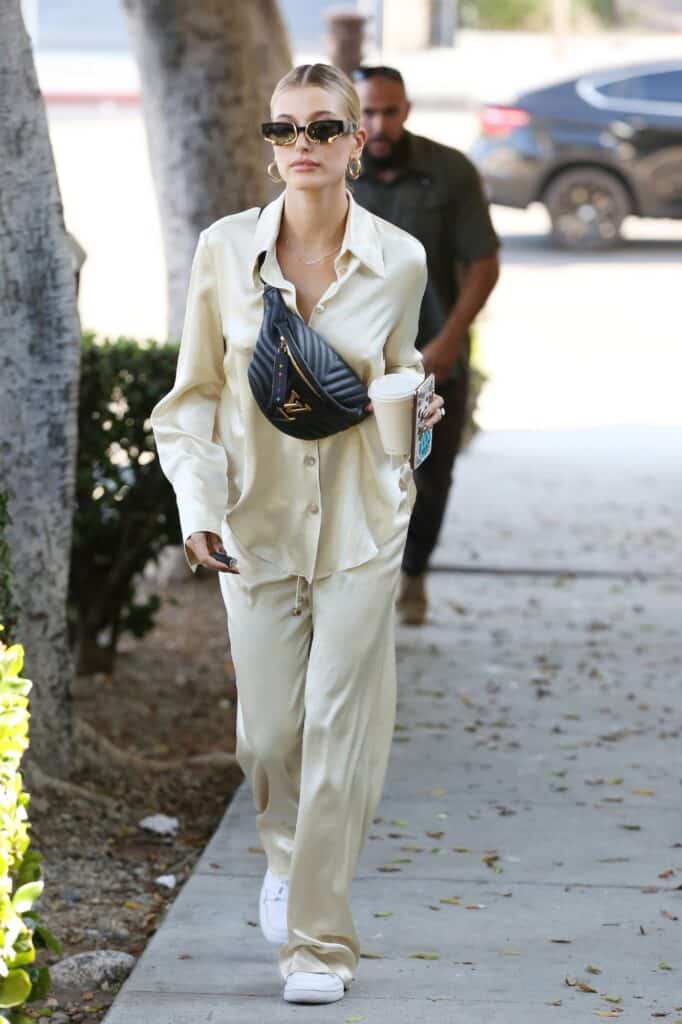 ↓ 30 – With a Monochrome Outfit
Monochrome outfits are very popular these days, a great way to accessorize them is pairing a neutral colored bag and shoes such as black with them to make your outfit stand out.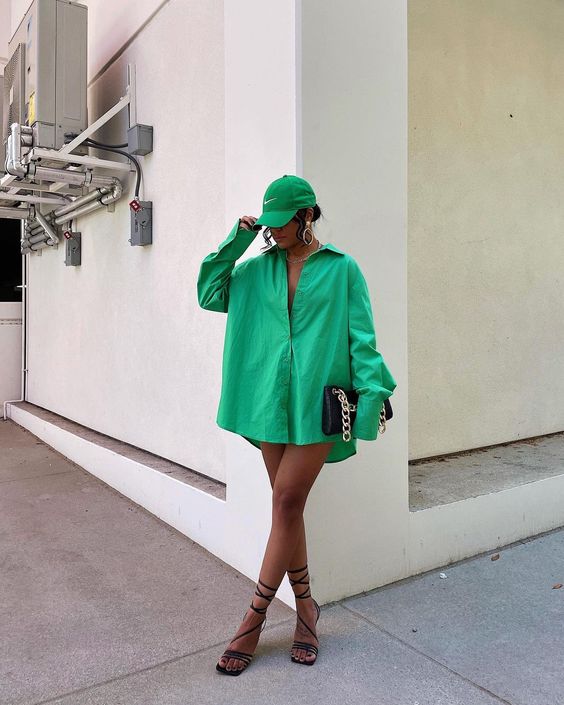 ↓ 29 – Black Bag with an Oversized Sweater
A great way to style bags with your oversized sweaters is, by picking a color in the sweater and accessorizing everything around it. In this case, we have a black and white sweater, and the black lines match the black bag, boots and shades. Here are some more Ideas On How To Wear Oversized Clothes.
↓ 28 – Black Bag with a Fall Outfit
Styling your bags, as a crossbody as it looks super cute with your fall outfits. The black bag matches the black leather jacket, and goes well with the neutral outfit inside. Notice how the jacket and the bag's hardware is silver.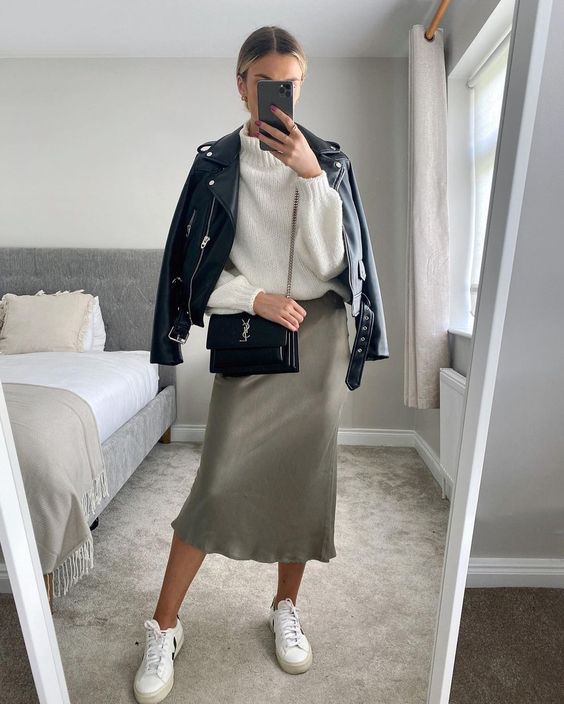 ↓ 27 – Cute Outfit with a Black Backpack
Instead of a mini bag, backpacks can be worn with your outfit instead to make your outfit look casual. Here we have a cute fall sweater, paired with brown pants, an off-white cap, black shoes and a black backpack. This look is great for teenagers.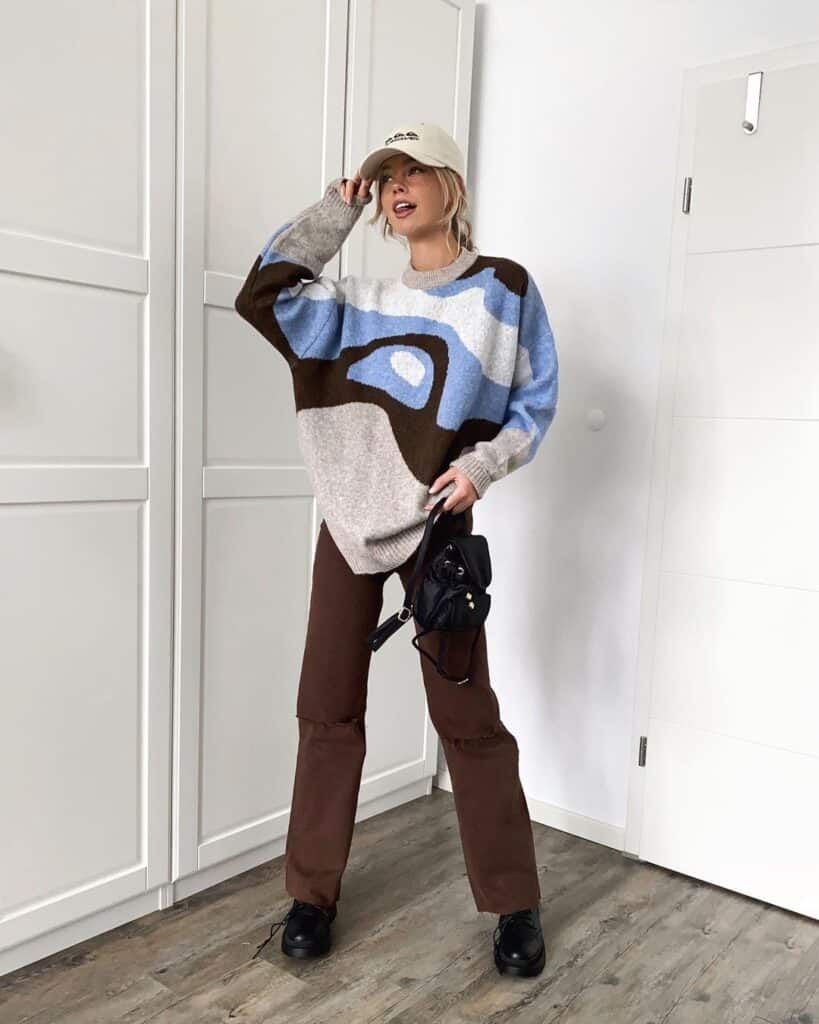 ↓ 26 – With a Skirt
Shoulder bags are the IT bag of the year and look great with the Parisian-inspired looks. I'm loving the mint and white combo of this outfit, and black is so versatile that it looks good no matter what the color combination is.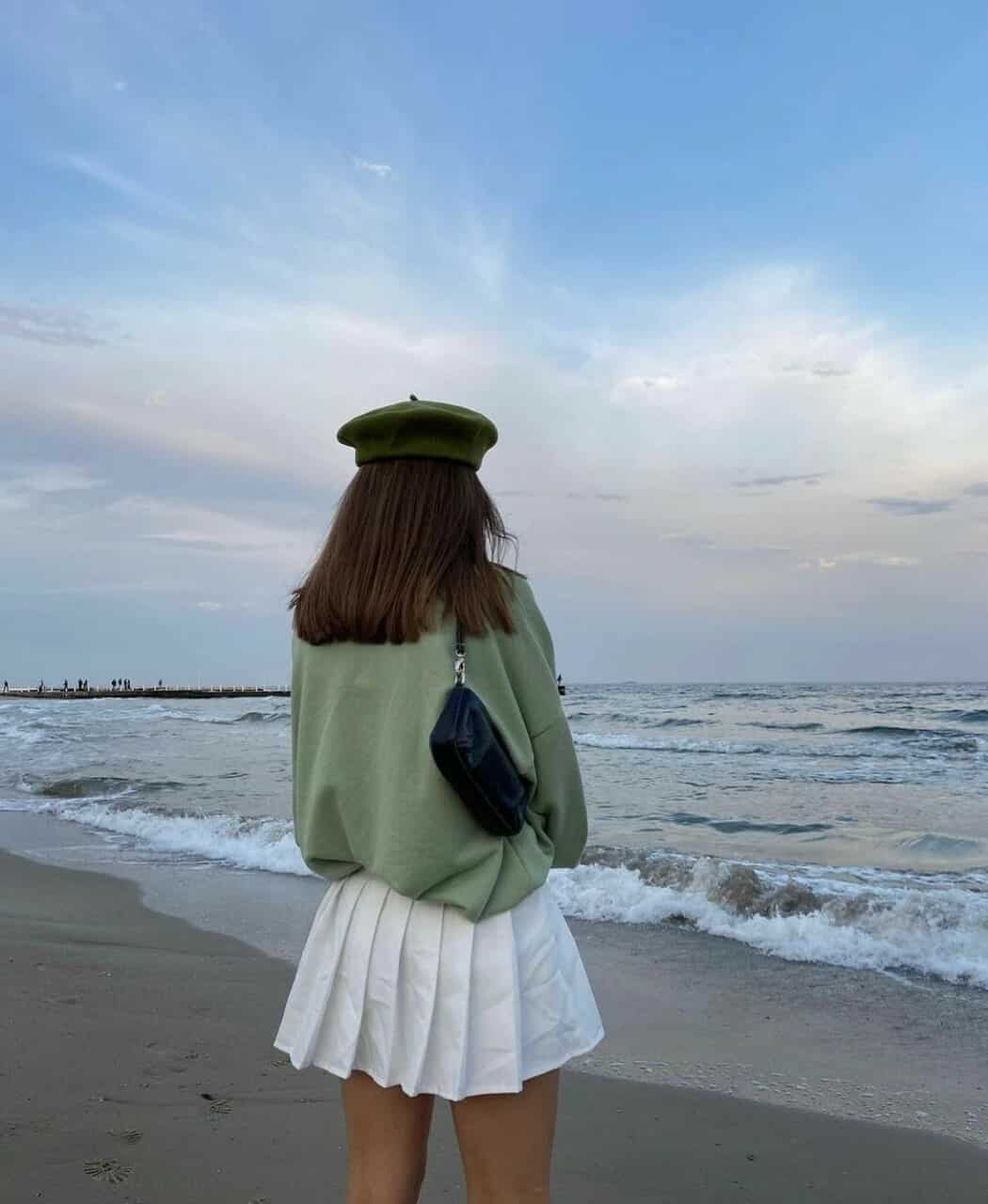 ↓ 25 – Trendy Work Outfit with a Black Tote Bag
Work requires big tote bags for all your files and essentials. This well-structured tote is paired with formal pants, a sweater over a white shirt and a belt to give some definition to the loose sweater. A tie is added, with a pair of heels and this look still manages to look feminine. The bag is big but goes well with this outfit.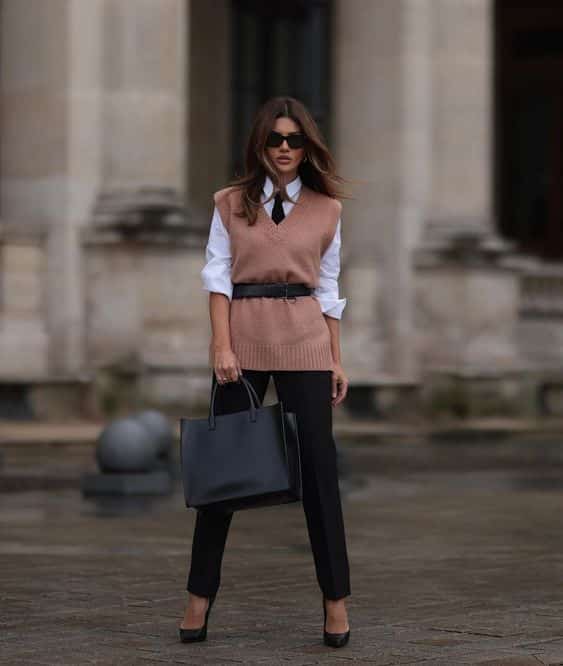 ↓ 24 – Black Mini Bag Outfit
Mini bags may only have space to put your lipstick or credit card in, but add some much character and vibes to your outfit. This black silk two-piece set, with fur detailings, is paired with a mini bag and some high heels.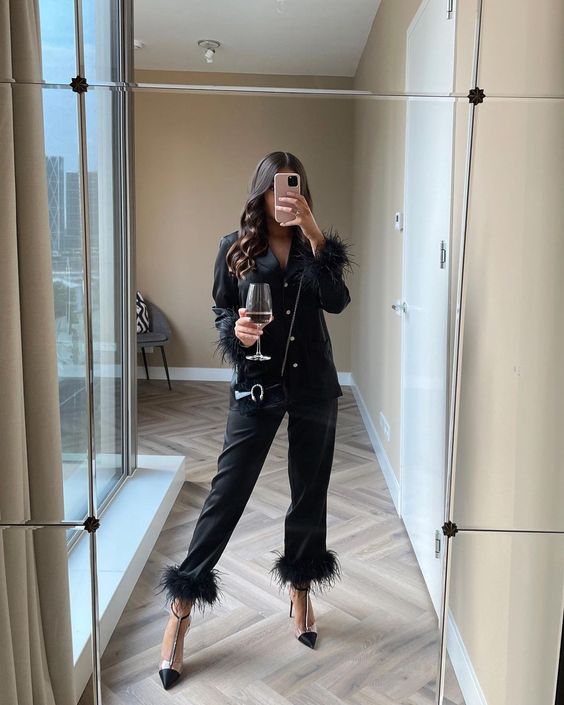 ↓ 23 – Black Leather Bag with a Dress
A side bag, with some chain detailing, is neither too big nor small so it will go perfectly with your dresses. The black bag matches the polka dots in this beautiful dress.
↓ 22 – Stylish Outfit with a Black Bag
The nylon Prada bags should be your everyday bag. They are edgy, cool and trendy. Here we have ripped jeans, paired with a white top and a blue cropped blazer.
↓ 21 – Black Bag with a Neutral Outfit
Neutrals will always go with neutral colors, it's a fact. This matching nude set is paired with a black bag with gold detailing at the buckle and makes the entire outfit a whole lot better.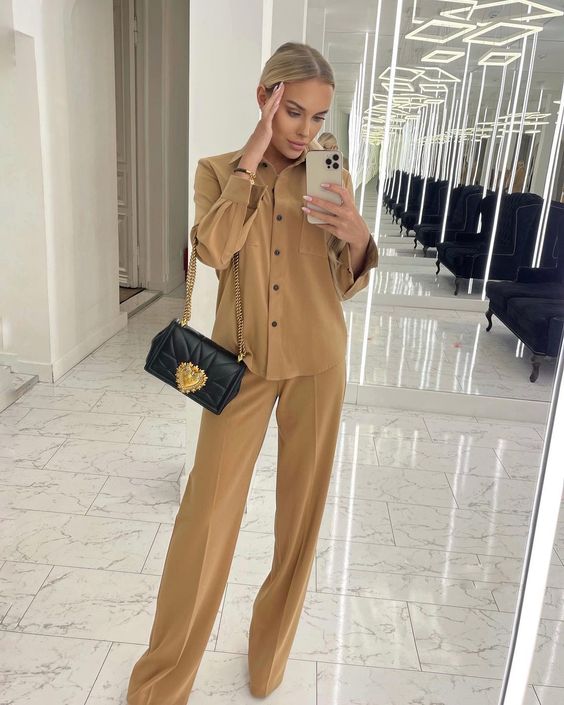 ↓ 20 – Bella Hadid's Denim Outfit with a Black Bag
Yes, black bags also look exceptionally bomb with denim. Bella is rocking a denim jumpsuit with a black purse and some black heels. It's simple yet trendy.
↓ 19 – Crossbody Black Bag Outfit
When your outfit doesn't have a lot going on, such as this plain midi dress paired with a pair of converse you can style your bag in a way that elevates the outfit. This rather plain but elegant bag is styled as a crossbody bag which totally adds something to your plain look.
↓ 18 – Aesthetic Outfit with a Black Bag
Pair your shoulder bags with a skirt, green blazer and some platform shoes.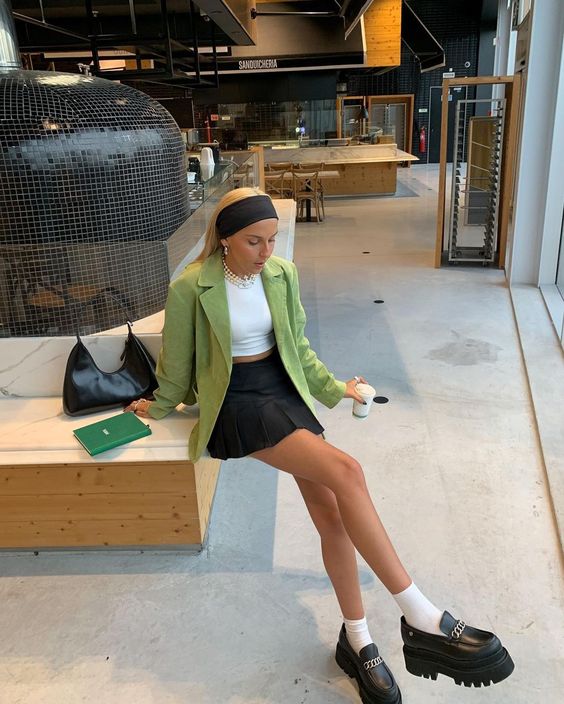 ↓ 17 – All Black Outfit with a Black Bag
All-black outfits are my favorite, and is there even a better option to pair something other than a black bag with your black outfits? Mini bags, small or large, purses or shoulder bags, the whole lot will look amazing with your black outfits. Here are some more Chic Ways to Wear All Black.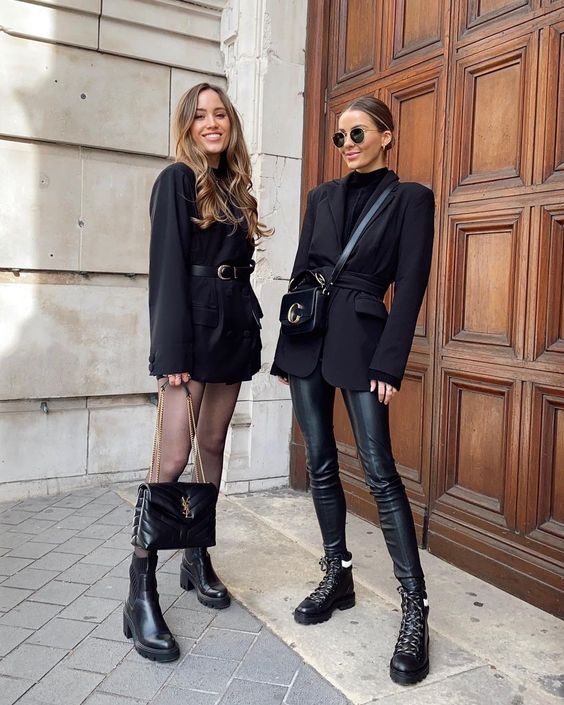 ↓ 16 – With a Power Suit
Don't know what bag to wear with your suit? Here we have the Dior saddle bag paired with a black and white lined suit, that goes quite well with the outfit without toning the formal vibe of this outfit.
↓ 15 – On Wednesdays we wear Pink
No matter how bright the color of your outfit might be, it may or may not have the color black in it, one thing is for sure: black bags will look great with it. This blazer dress is a vibrant pink, paired with Nike sneakers, and some layered necklaces. The black bag does not look out of place with this look at all, instead it looks well put together and chic.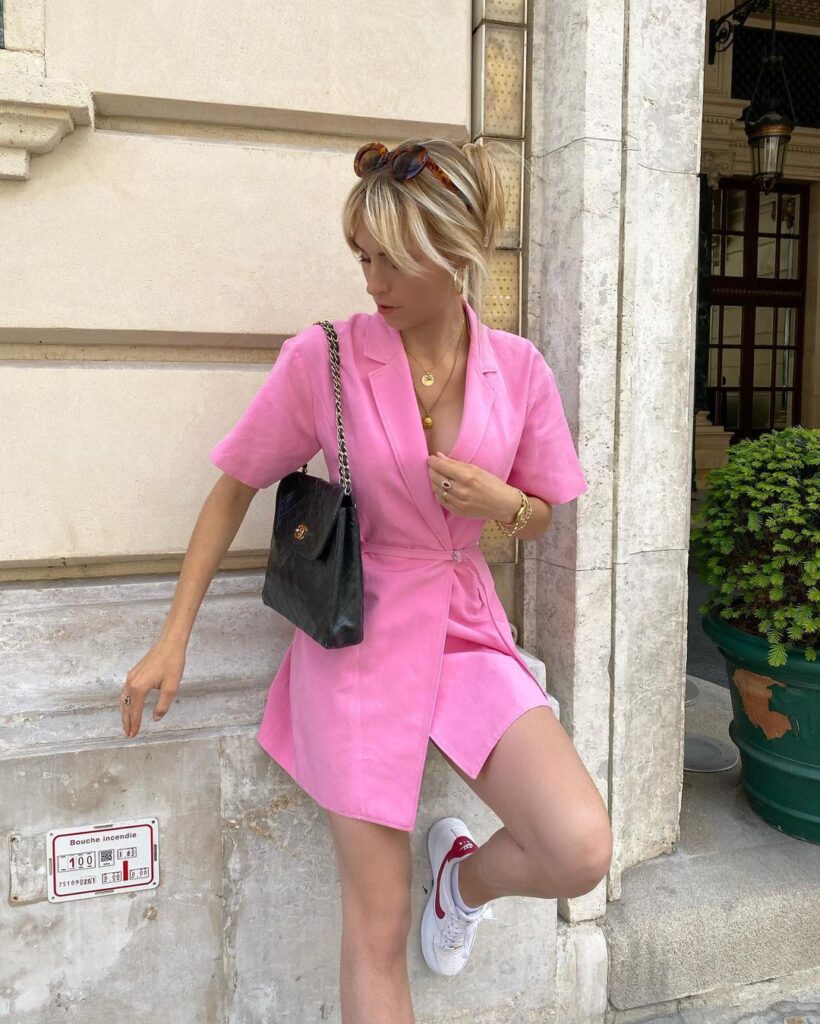 ↓ 14 – With an Everyday Look
For an everyday look, you need a bag that's small and handy but spacious enough for your things. A nice jacket is paired with some jeans and a black cropped top under. What makes or breaks the outfit by adding a cute touch is the mini bag paired with it.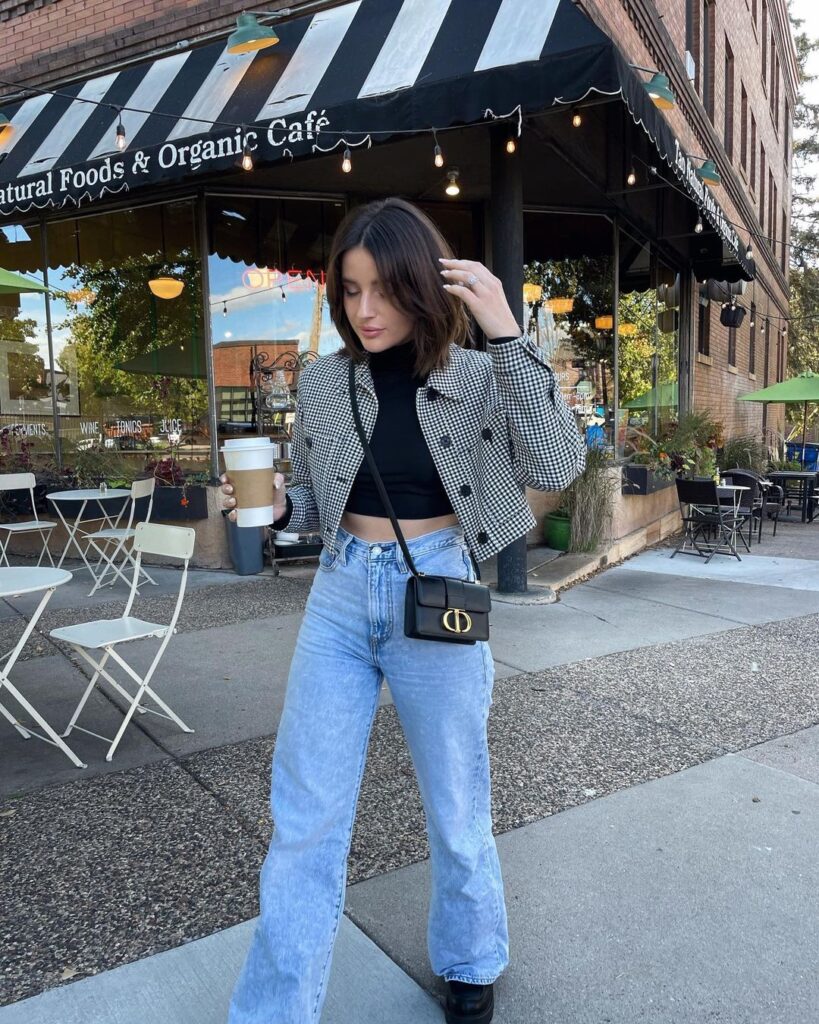 ↓ 13 – Patterned Black Bag
Black bags don't always mean fully black bags. Here we have a black bag with some pattern on it. Have a plain black dress you want to wear but don't know how to style? Try pairing a patterned black bag and heels with the look to add color to your outfit.
↓ 12 – Winter Style with a Black Bag
Leather pants are paired with a pink sweater and a thick, warm jacket on top. Accessorize with an off white scarf, a winter cap and a black bag. If the bag was white, the white jacket and the scarf would totally make the bag go unnoticeable. You want to make your bag stand out!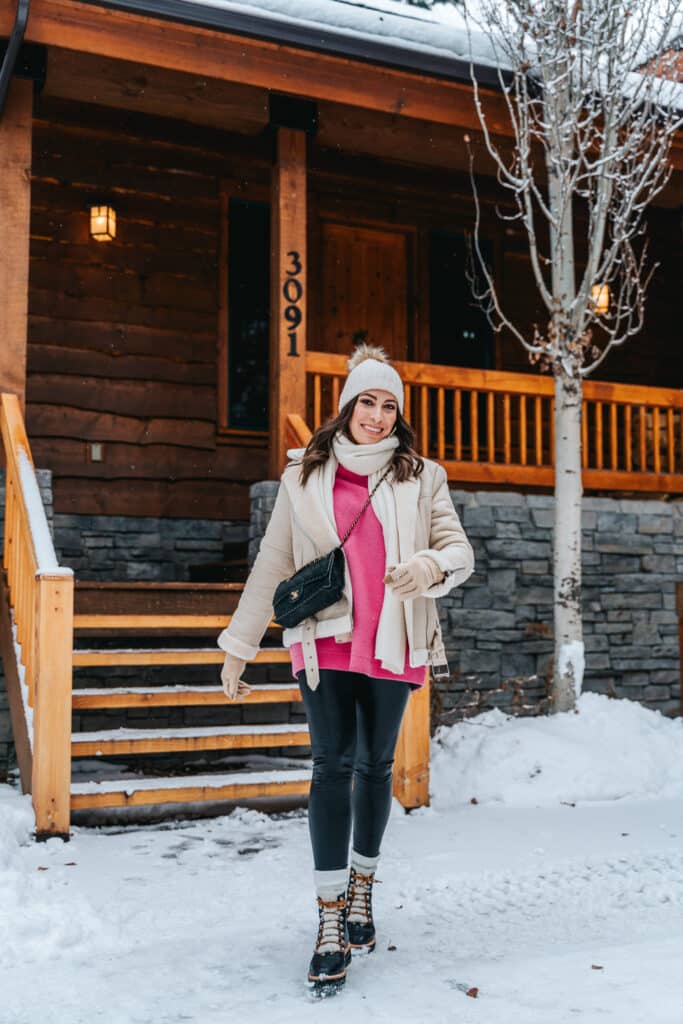 ↓ 11 – Chic Outfit with a Black Bag
A white shirt dress, with black detailing at the top goes perfectly with the black bag.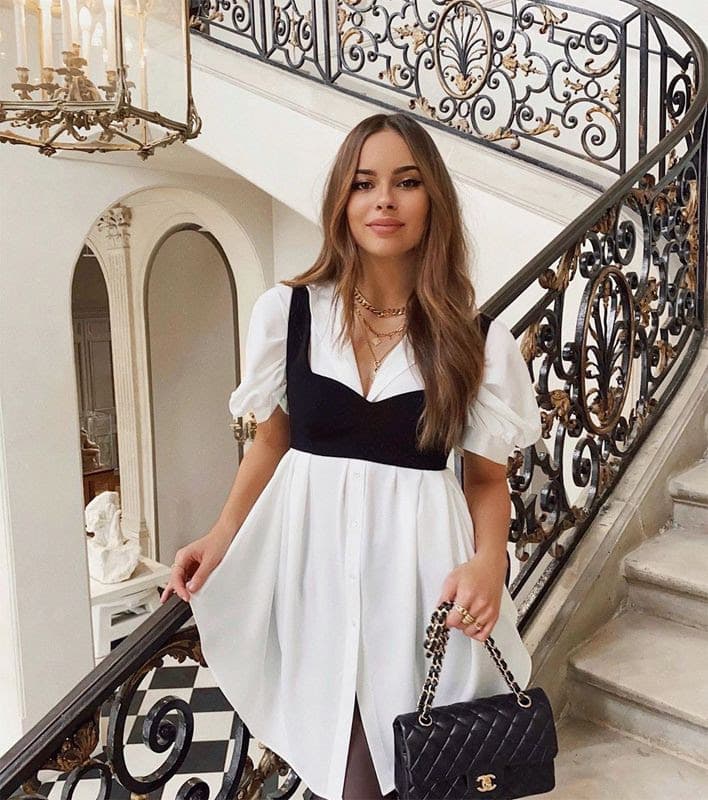 ↓ 10 – Biker Chick Outfit with a Black Bag
Always carry a small bag with your edgy outfits. These pants are paired with the coolest jacket ever, and some platform heels. A mini bag and some cool shades complete the look.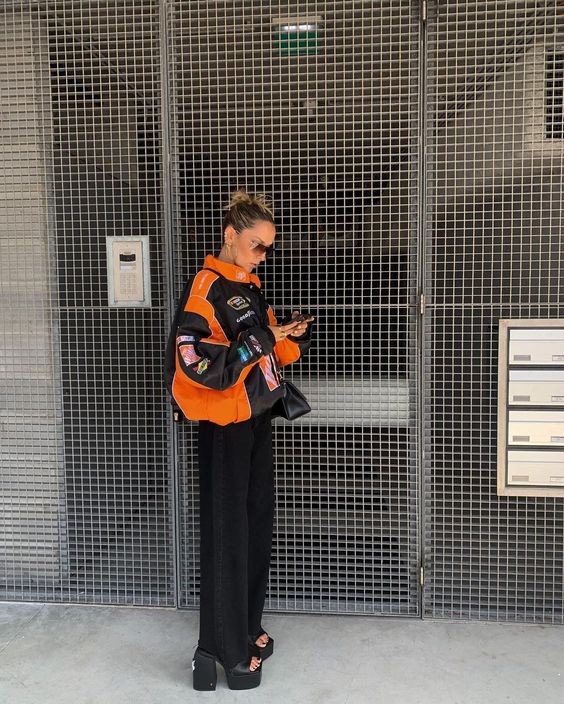 ↓ 9 – Casual Outfit with a Black Bag
When your bag is extra, even if your outfit is simple it looks great. A black Birkin is paired with denim jeans and a plain green sweater.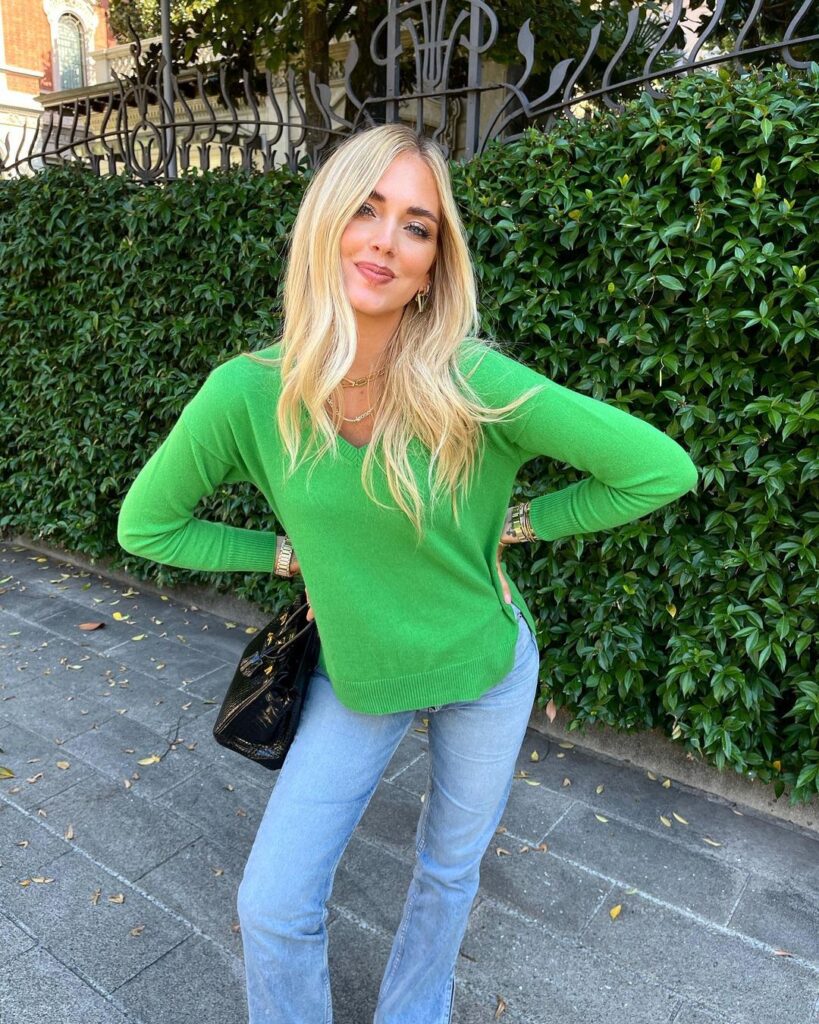 ↓ 8 – Day Out Outfit
Pair white jeans, with a warm sweater, a leather jacket and a black bag. This one is a top handle bag.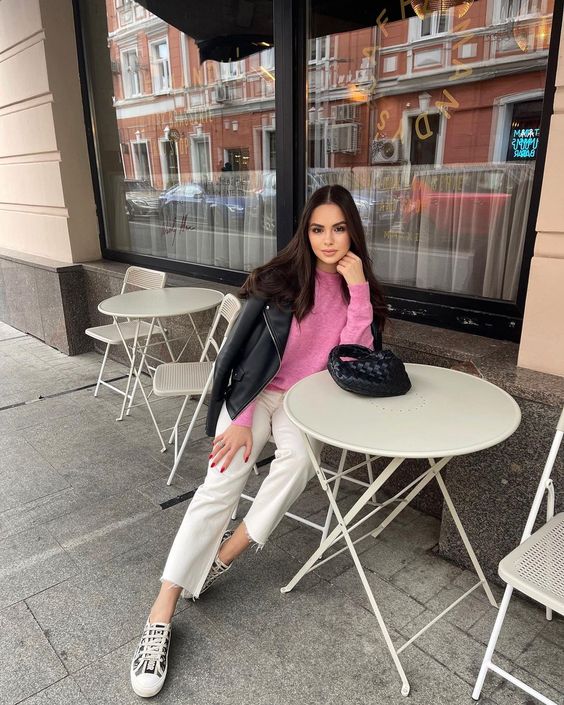 ↓ 7 – Y2K Outfit with a Black Bag
Funky patterned pants can be difficult to style. An easy way is to pair a sheer fitted top and a black bag to go with it. Super 2000's and fashionable.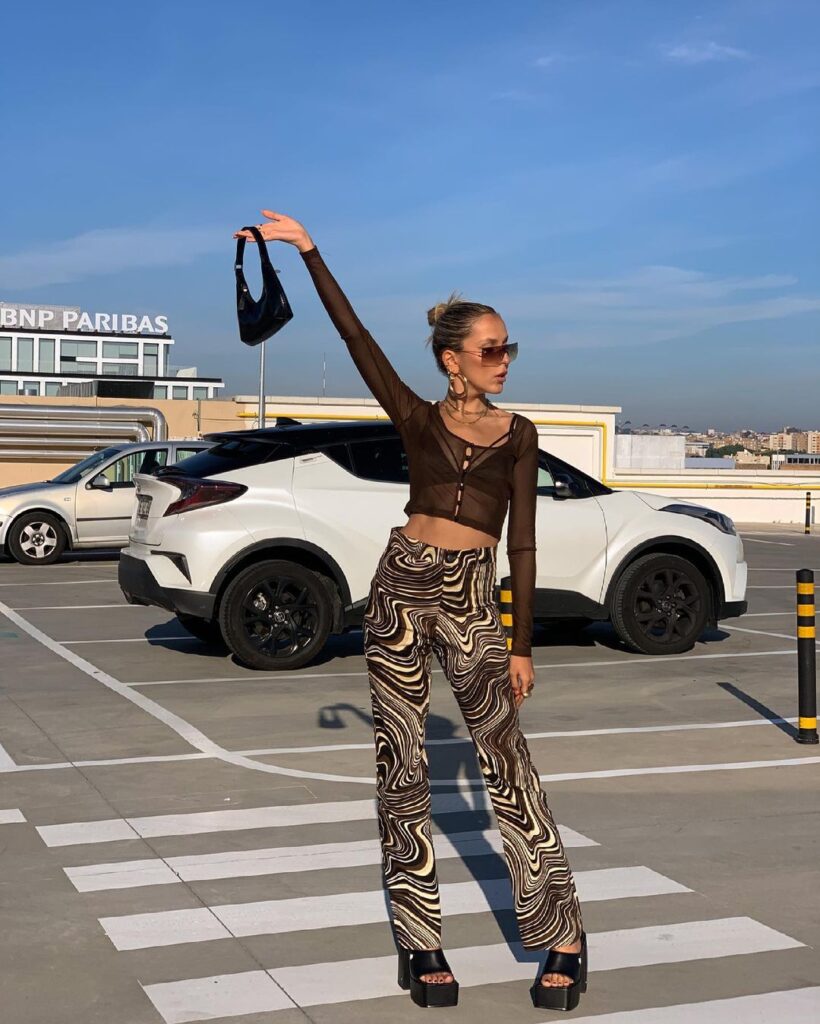 ↓ 6 – Black Belt Bag
Belted bags are a great way to accessorize your classic white shirt, blue jeans outfit.
↓ 5 – Summer Outfit with a Black Outfit
Change things up, style a dumpling shaped bag with your fun summer outfit.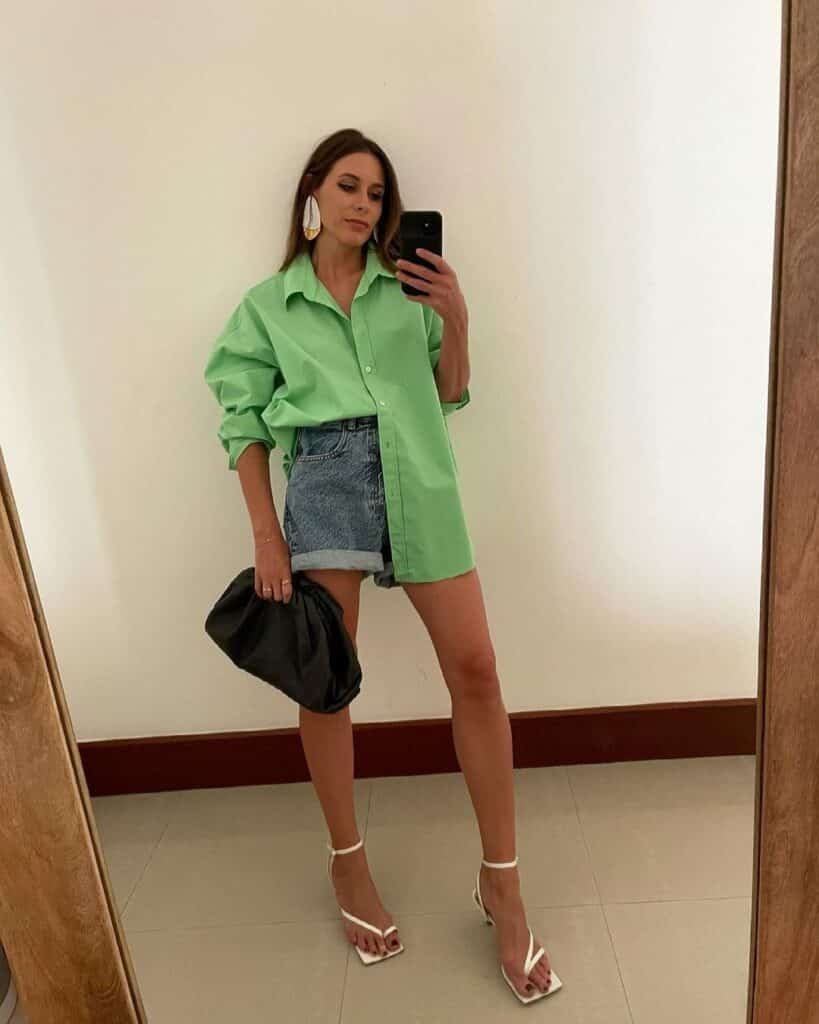 ↓ 4 – Spring Outfit
Spring outfits are usually white or pastel. Here we have a blazer paired with a crochet skirt and some white kitten heels. Pair a black bag with this look for a more fashion-forward look.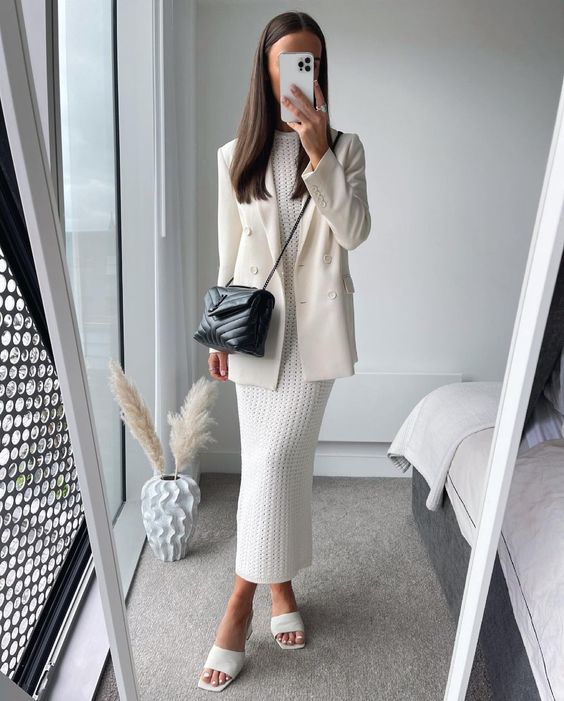 ↓ 3 – How to Wear a Black Bag With a Colorful Outfit
Told you, black goes with every color. Here we have a neon yellow outfit paired with a black bag and it looks absolutely fabulous.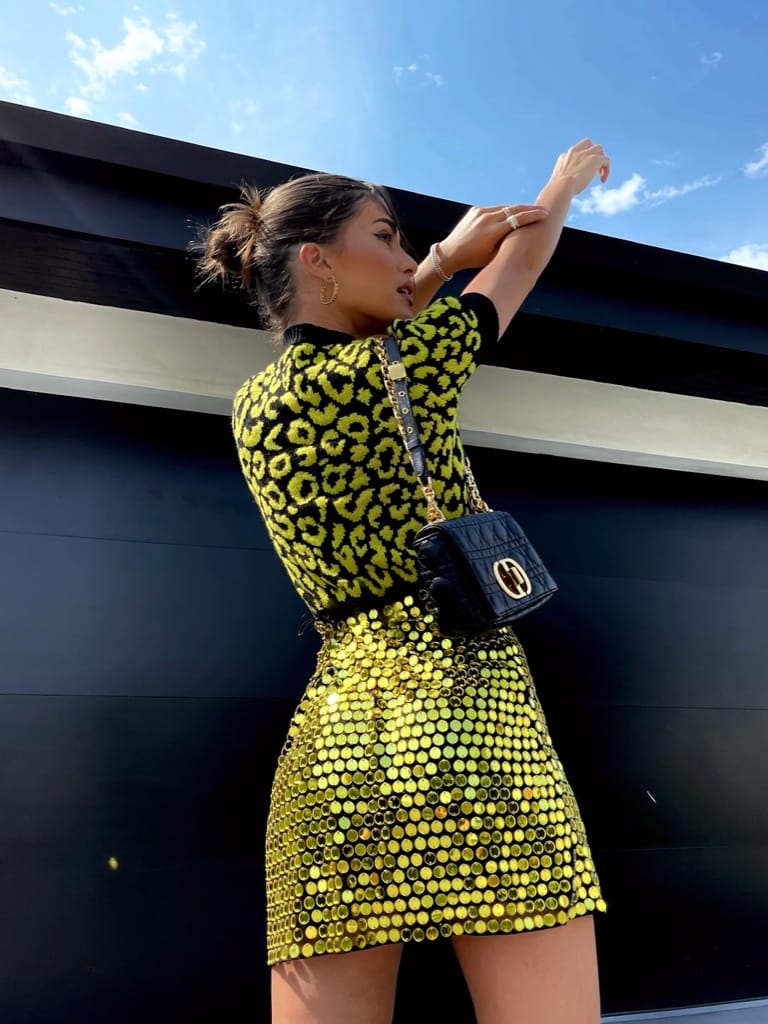 ↓ 2 – Black Clutch
Big clutches have taken the internet by a storm, it's your turn to rock this bag with your everyday outfits. Instead of your boring totes and handbags go for a stylish piece like this instead.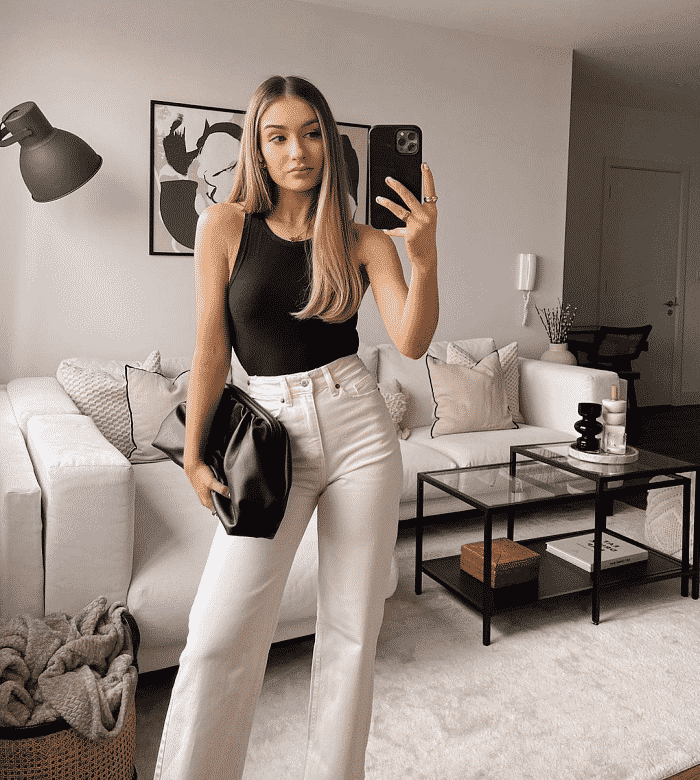 ↓ 1 – All White Outfit with a Black Bag
The black and white combo is iconic. Here we have a sweatshirt, paired with a tennis skirt, white cap and a black nylon bag.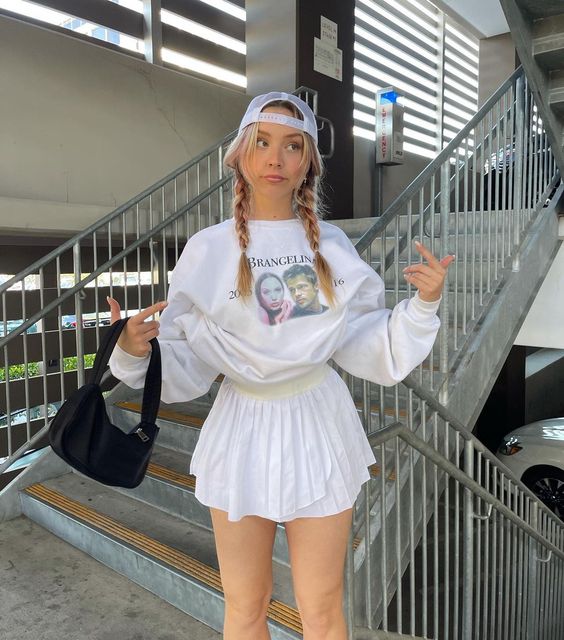 Frequently Asked Questions
Q. What color shoes to wear with a black bag?
A. The classic way to style shoes with your bag is by matching the colors with each other. Pair black heels, shoes or flats with your black bag. This is the trendiest way to accessorize your outfit. You may also wear snake, or cheetah print shoes with a black bag as such prints have an element of black in them.
Q. When to carry a black purse?
A. A black purse is a wardrobe essential. A black purse gives a very sleek look to the outfit, you can wear it to work, a trip to the mall, for your everyday errands. A shoulder bag can be worn to a fancier event or with your trendy outfits with ribbed or sheer tops and skirts. A black purse will look great with every outfit for every occasion.
Q. What outfit to wear with a black bag for work?
A. Work requires a larger bag for your files and work things, a black tote is a perfect choice. Pair it up with some neutral-colored pants, a neutral-colored top, it can be a button up and add a blazer on top. A sweater or top with elements of black will be easier to style with a black bag, you can throw on a pair of black jeans to complete the look. You can get more ideas about styling work outfits with bags from our last post on How to Wear Clear Bags and Purses to Work