Leather On Leather Outfit Ideas- While the leather jacket is unquestionably an autumn staple, new forms have recently emerged to let us reimagine how leather garments should be worn. Leather is the ideal material for keeping you warm while maintaining a sophisticated appearance. So when you're unable to choose a favorite piece, try these other ways to wear leather, and we're here to show you how.
While black and brown have remained the go-to colors, several eye-catching hues have also found their way onto the runway and the streets, resulting in a slew of inventive and interesting ensembles. We analyzed your most frequently searched terms and concluded that you are interested in learning how to wear leather pants, leather blazers, and leather skirts. Of course, you can't go wrong with a leather jacket, but there are a few things to keep in mind while purchasing and wearing one. Let's look at a few of the most practical pointers for leather users. (Because we adore alternatives!)
How to Wear Leather on Leather
Along with sweaters and boots, leather is a fall/winter wardrobe must. Of course, a classic leather jacket outfit comes to mind, but there are so many alternative options to carry that don't involve even a single moto zip.
Based on several effortlessly dressed ensembles we have seen on the streets, we're breaking down the fundamentals and offering suggestions on incorporating leather into any look. Indeed, there are enough possibilities here to experiment with that you'll find yourself experimenting with your wardrobe's many leather-effect pieces.
Even if you're not keen on wearing leather from head to toe and would rather have a touch, there are numerous ways to do this. Continue reading for some of our go-to styling options, as well as links to basics that will help you pull them off.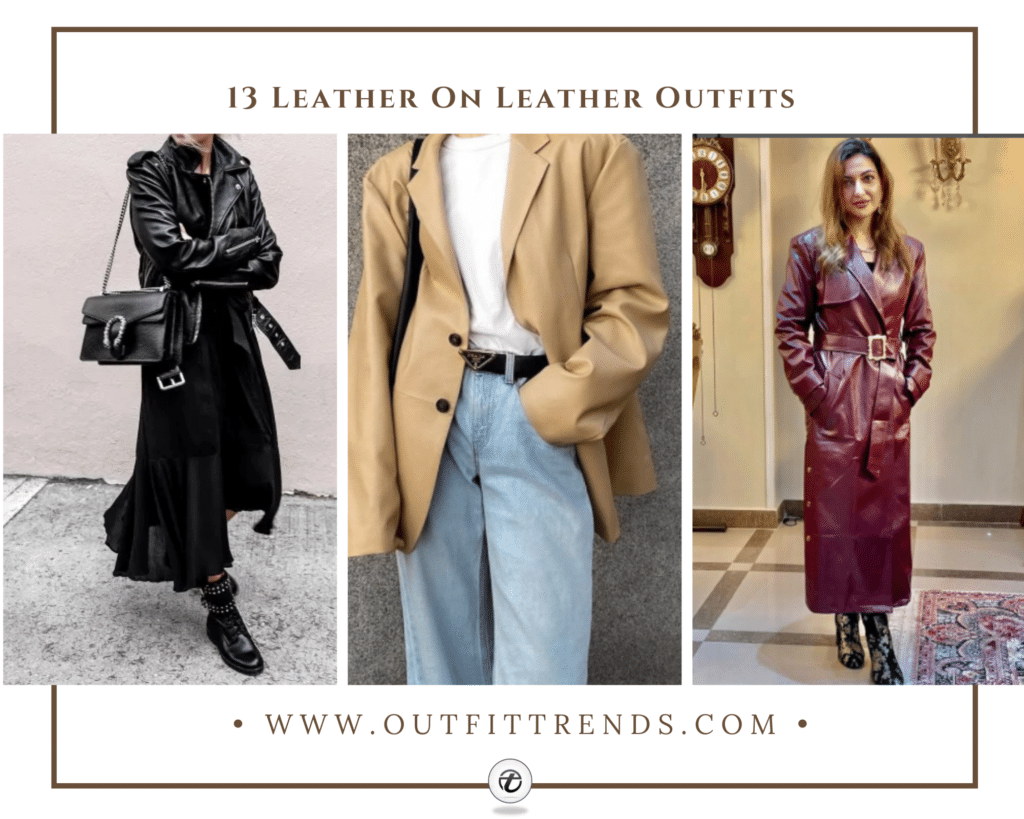 Tips For Styling Leather
Don't Mix: Black and brown are never a good combination. While you may adore these two hues, avoid blending black and brown. Both are solid hues, yet they clash and make you look strange when combined.
Weather: Adoring your leather jackets does not imply that you wear them all year round; they are only a blessing in freezing weather, keeping you warm and comfy.
Combinations: You can wear a leather jacket with one or two layers of crisp V-neck or button-down shirts underneath, but never with a woolen sweater; it's more comfortable to keep the layers thin.
Size: Always opt for clothing that fits you perfectly; some outfits, such as sweatshirts or t-shirts, look better with an oversize fit, while others, such as suits or leather skirts, look better fitted. On the other hand, a leather jacket must be tailored properly to the wearer's body.
Accessorize: Accessories can be worn with leather. In addition, women can carry a leather handbag, belt, metallic chains, or necklace, for example. However, combining all of these will make an uncomfortable appearance that does not work.
Shoes: It is important to pair leather with the appropriate shoes; the wrong pair of shoes can destroy your whole look. Whatever the current trend, black footwear is a solid bet, and it pairs nicely with some incredible black leather coats that go with everything.
12 – Black Leather Jacket With Matching Leather Pants
As expected, the first outfit is quite conventional, as you may have guessed. The ensemble comprises of a white tee, a black leather jacket, leather pants, and pale pink heels. While this is the type of look frequently seen on fashion blogs, I'm sure many of you haven't attempted it before. I strongly advise you to give this one a try, since the fit is really popular for a reason.
11 – Burgundy Trench Coat In Leather With Animal Print Boots
While the trench coat will always be classic, leather quickly elevates the appearance to a more contemporary level. This floor-sweeping leather topper makes the most substantial impression, whether in black, brown, or an earthy tone like burgundy.
Sharp, simple trench coat designs look the most elevated for optimum versatility. Simultaneously, luxury features such as a shearling-trimmed collar, zippered seams, and patent accents serve attractive focal points, adding texture and visual curiosity.
10 – Leather Jacket With A Mesh Dress And Matching Black Boots
Go for a black leather jacket on top of a long mesh maxi dress and pair it with studded black leather boots and a bag aswell to complete your look!
9 – Multi Colored Leather Jacket With Black Shorts
As previously stated, wearing a leather jacket with leather pants is often a fantastic look. However, that ensemble would appear to be a little too prominent for some. If a somewhat more understated design fits your personality better, you may wish to style the leather jacket in this manner.
Rather than wearing leather pants, opt for leather shorts and a clutch bag. If you want a sexy skirt look, go for a leather mini skirt, paired with leather boots. A skirt that fits at the waist is ideal for tucking your shirt or sweater.
Try wearing a turtle neck or long sleeve sweater. If the weather is only inching towards cool, you can wear a sleeveless sweater or crop top! If you need to wear a handbag, add to the leather with a small cross-body bag.
8 – Pleated Leather Skirt With A Textured Leather Jacket
This is another outfit that works well with a moto-jacket, whether cropped or quilted. Wear a sweater or light hoodie with a medallion necklace to draw attention to your jewelry. If the weather is cold, you can also wear tights to cover your legs.
If you wear tights or stockings, you are not required to wear them in a solid color. Instead, consider experimenting with printed tights in an interesting pattern to extend your legs and produce a "wow" impact.
You can either carry a small clutch or a huge hobo bag to continue with accessories, depending on the occasion. If you want a more glam look, opt for chunky jewelry pieces, a golden-toned choker, and midi rings if you like a more pared-down appearance. You can even wear a watch if the event is more business-like.
Put the finishing touches on your ensemble with patent pointy or round-toe pumps. Additionally, you can wear open-toe heels and tights to complete the fashion-week appearance.
7 – Classic Leather Jacket With Black Skinny Jeans.
An outfit like this one may help you look smart and stylish, and it can help you stand out even more in the winter when many people dress in bulky ensembles. A classic leather jacket that never gets old and a pair of skinny jeans with your favourite comfy heels are all you need to style the outfit. You can pair it with a leather bag and jewelery with a minimal touch.
via
6 – Leather Pants With Gold Leather Clutch
Leather is the perfect material that will warm you up while keeping your look chic. Do you have an upcoming date and want to look sexy without looking as if you're trying? Here's one of our fashion picks. Leather trousers are the best, while a tank top makes you look relaxed and a jacket keeps you warm. Regardless of how frigid it may be.
5 – Striped Sheer Blouse Paired With Leather Pants
Isn't this top a little too sheer for winter? That is not the case. You only need to add the appropriate item. Underneath, a solid-color tank or T-shirt will work, or you may layer it with a blazer or leather jacket. Perfect for pairing with leather pants. This is the most chic look that you can wear at meetings and lunches too. Perfect outfit for a sunny day.
4 – Fitted Black Leather Dress With Lace-up Boots
Dress in black leather for a formal look with a sophisticated touch. The most efficient technique to add more flair to this ensemble is to finish with silver leather lace-up ankle boots. Black is everyone's favorite color of all time and we feel confident wearing it don't we ? So go grab your favorite just leather jacket and style as we suggested to look like a style icon.
Motorcycle boots are the best shoes to pair with a matching moto jacket. If you want a leather-on-leather style that is chic, subtle, and can pair with any color top or dress, this look is perfect. Pair your boots with a complimenting leather handbag. You can wear leather boots with chains and straps. Or, you can wear studded boots with spikes or pearl details.
3 – Pink Slit Dress With A Leather Bomber Jacket
To give the look a more feminine feel, ladies can pair a leather bomber jacket with a pink dress. There is no other color that evokes more Barbie-like feelings than pink. Additionally, coordinate the jacket's color with the shoes. You can conduct an internet search to determine which colors match well with pink clothing.
2 – Tan Leather Boots And Matching Skirt With Fur Neck Leather Jacket
A skirt that is mid-length shouts high fashion! Consider pairing a tan leather skirt with a leather faux-fur lined jacket. Long leather boots that extend past your calves will amp up the runway vibes. You can also wear open-toe heels on a date, out clubbing, or partying. Substitute a turtleneck or a black ribbed sweater for the turtleneck.
You can accessorize with biker-style accessories such as a silk pirate scarf or huge sunglasses. This outfit does not require jewelry, as the look is dramatic enough on its own. If you wish to wear accessories, opt for a pair of basic gold rings. Additionally, you can carry a leather clutch or an oversized shoulder bag.
This adaptable design can be worn with long or straight hair for a model-like appearance. Alternatively, if you require a more refined look, wear your hair in a pulled-back ponytail or huge bun.
1 – Leather Pants Paired And Grey Suede Long Boots
Wear suede or leather ankle boots to complete the look. Leather Pants paired with Suede Thigh-High Boots is a great combination. As a leather jacket and pants ensemble, this one is unique. Instead of ankle boots, add a feminine touch with these grey thigh-high suede boots.
Frequently Asked Questions
Q. Should you get a size larger or smaller in leather jackets?
You should size down from your usual outerwear size, as a leather jacket is not intended to be roomy. It should fit like a glove over your armpits and shoulders, whereas genuine leather stretches with use when you initially put it on.
Q. How did leather jackets become so popular?
The most likely explanation for leather jackets' popularity is their timeless style, which never goes out of style, and their durability, making them a must-have item because they may last a lifetime.
Q. Would a leather jacket look nice on me?
You will look excellent in a leather jacket if you understand how to combine it with your attire, and you will always look nice wearing the correct size. It all begins with purchasing a leather jacket; always try it on before purchasing, and online retailers always include a sizing chart.
Q. Which trousers would you pair with a leather jacket?
A leather jacket pairs well with the majority of pants. Denim or chinos are ideal for a relaxed daily look when paired with a leather jacket. Black, blue, and brown pants are frequently paired with a leather jacket. You may elevate your style by pairing leather pants with a leather jacket.