Dhoti skirt outfits – According to current fashion trends, dhoti pants or skirts are popular in various materials, designs, and cuts. Crop tops and choli have become fashionable, and their appearance has become popular when worn with dhoti skirts.
Today, dhoti-inspired attire is worn at parties, weddings, festivals, and other events. It would be so wonderful to dress up and celebrate special occasions with everyone, and when it's combined with stunning attire, no one can stop you from being the center of attention.
How To Style Dhoti Skirts?
Many women are sporting cape tops and dhoti lehenga combinations. Center pleats, cowls, and an illusion of a wrapped cowl around the waist are all attractive features.
Tips and Tricks on Wearing Dhoti Skirt Outfits
You can wear your dhoti skirt with any top. If you want to go for a western look, you can try a camisole, tube top, or tank top. If you want an eastern look, you can wear it with any of your favorite matching blouses or choli.
Drape a dupatta or a chunni around your neck or shoulders to further accessorize your fit. There are ways you can even make a dupatta drape out of your dhoti too. It would also give off a cultural essence and look decent enough with your skirt.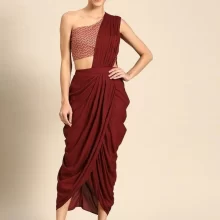 Wear your dhoti bottoms with a below-the-knee Kurti or dress. This is a very different yet stylish look if you seek ways to style your long shirt for the day.
Pull up a jacket and pair it with your choli or your top. Go for a traditionally designed jacket, such as a saree jacket, for a fusion look for the day.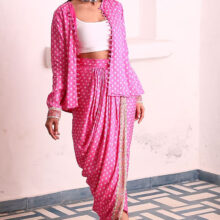 Accessorize your outfit. You can wear big jhumkas with your dhoti petticoat to bring out the inner eastern girl in you and wear a fancy choker. Add some glamorous jewelry if you are going to a lavish event.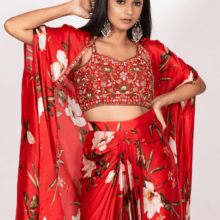 20 – Yellow Dhoti and Cardigan
This look is perfect for you if you are going for an eastern look with a hint of something western. The matching embroidered top with your dhoti skirt fits perfectly for a formal event.
You can try a mix-and-match long yellow cape or cardigan to cover your shoulders if you are looking for a more modest look and do not want to wear a dupatta.
Complete your look with fancy silver jewelry matching the embroidery on your blouse. Some yellow khussa or heels would work best as footwear.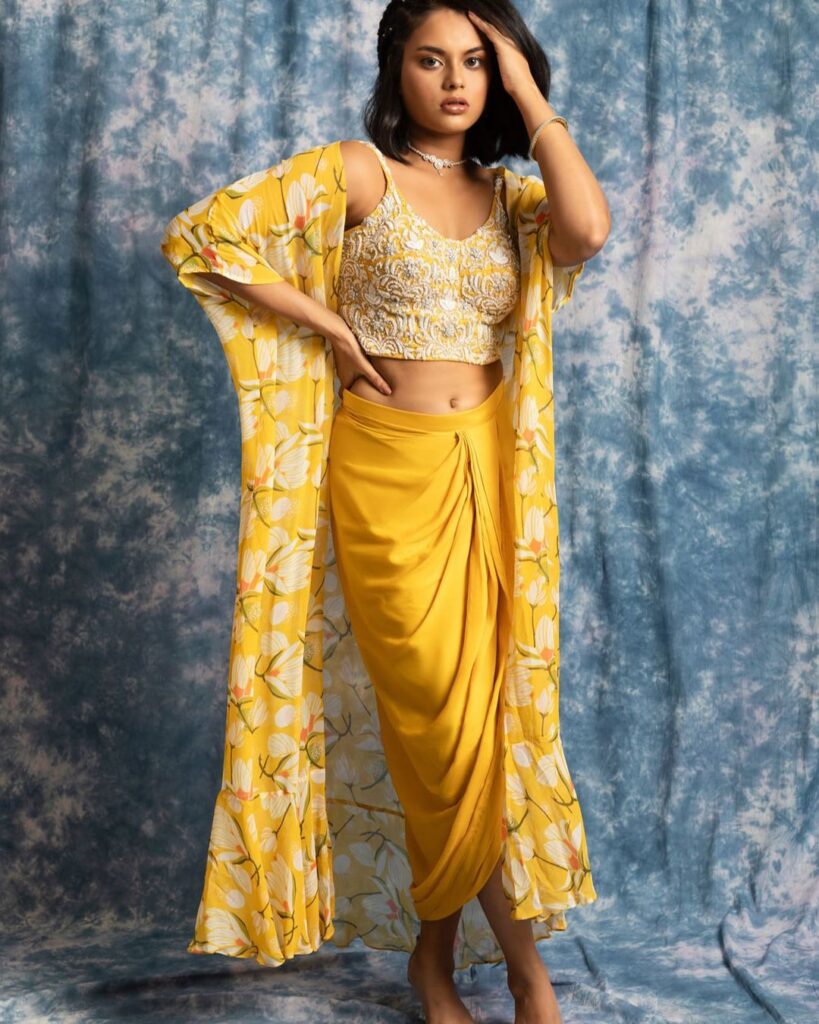 19 – White and Yellow Color Combo
If you are looking for a lighter, pastel-colored look, this light yellow color always saves the day. Wear your top and add your yellow blazer over it. A simple white dhoti petticoat would work wonders with this simple fit.
Wear fancy earrings and matching pastel-colored heels to make your boho look a little fancier.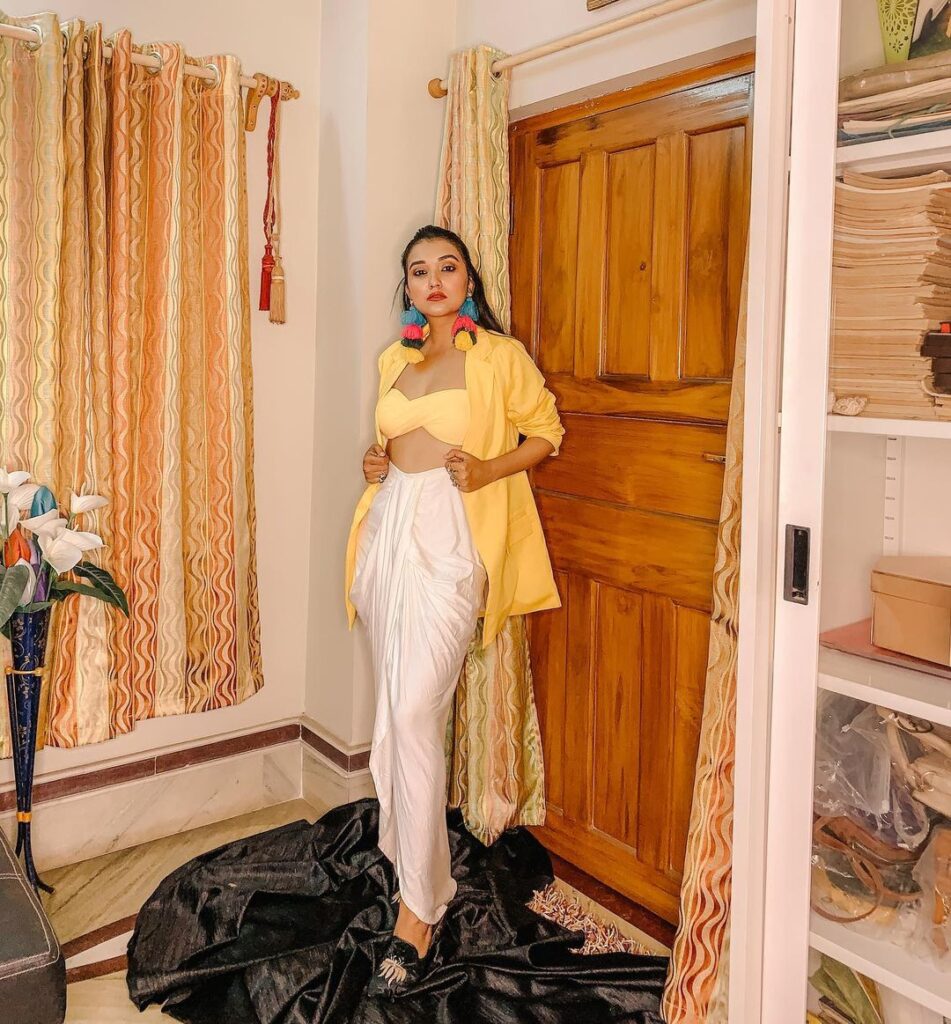 Yellow and red are the ideal colors for any Mehendi or Mayon event. The simple yet stylish look will definitely be the center of attention throughout the entire day.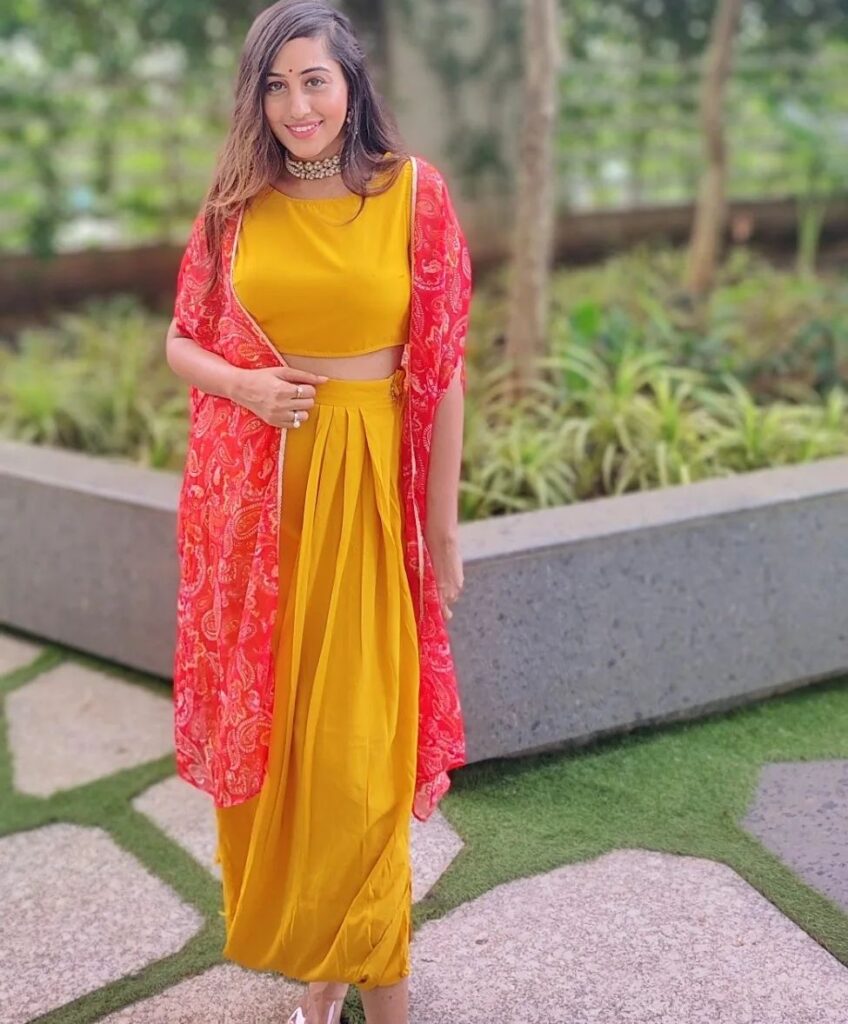 17 – A Contrast of Green and Yellow
If you are going to a semi-formal event where you have to get dressed accordingly, nothing too extra or too simple, this is your angel in disguise.
Archana Puran Singh wore a green and yellow draped skirt and a co-ord jacket. Paired with a simple camisole top underneath the jacket, the look is also comfortable and classy.
You can wear matching necklaces just like her, along with some green or yellow rings. You can either wear transparent heels like Archana, or you can wear square toed sandals.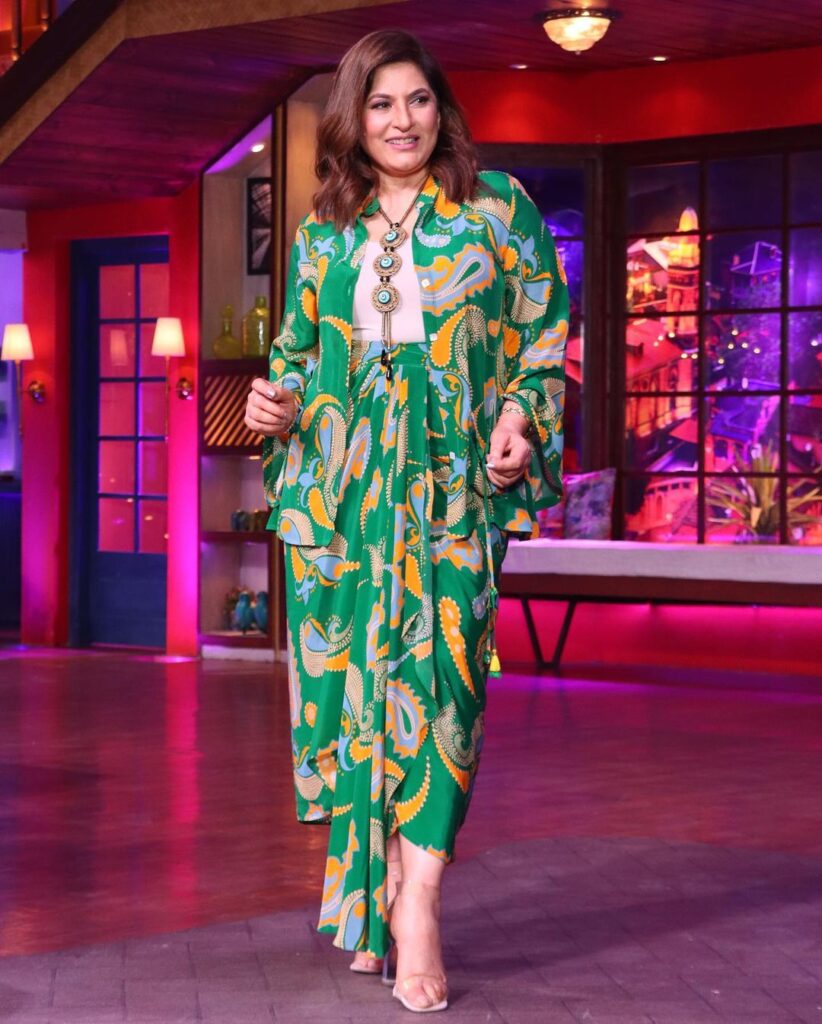 16 – Green Wedding Fit
On the lookout for a stylish, classy, yet comfortable dress for the wedding night of a close relative or friend? You can try on something just like this outfit.
The green-colored silk skirt has a perfect fall that looks amazing on whoever would wear it. The embroidered net blouse and the frill dupatta that would be wrapped around your arms will make you stand out from the crowd.
This picture-perfect look, paired with minimal makeup and jewelry, will make you look as elegant and beautiful as ever.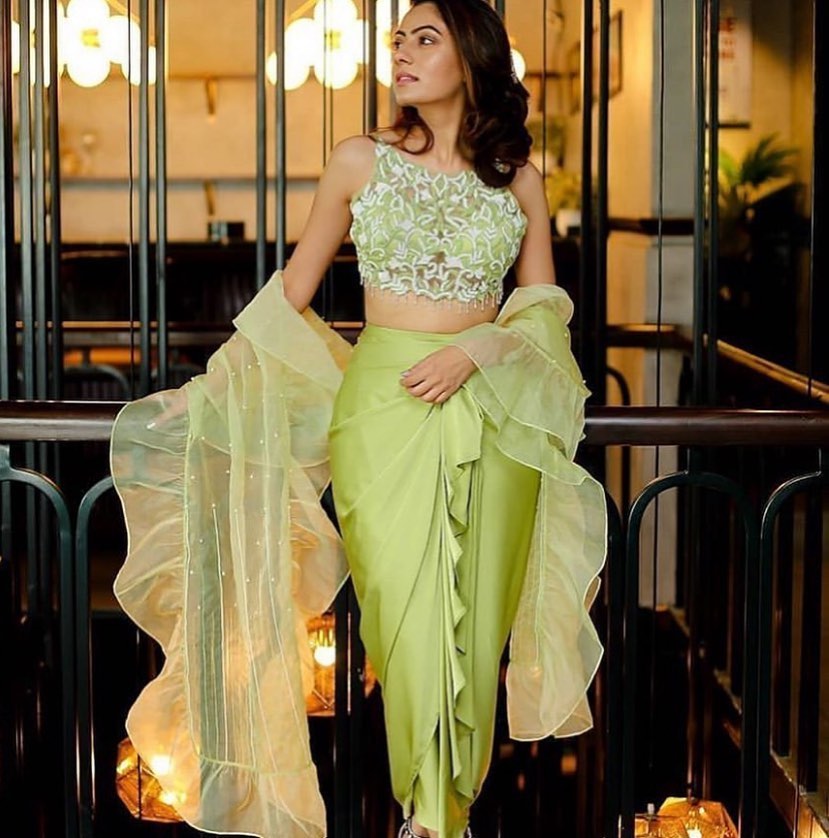 15 – Modern Embroidered Jacket and Indian Dhoti
This fusion of the modernistic jacket and the traditional dhoti petticoat must be your go-to festive look for the entire year.
The mixture of these two poles apart styles would fit perfectly well in today's age and according to the current trends.
Pair up your dhoti bottoms and the co-ord matching cropped top with an embroidered cropped jacket and your whole look is ready in seconds. There is no need to put in any extra effort in such a fit as well.
Your favorite matching earrings and preferably contrasting white or brown khussa or heels would work best with your whole look.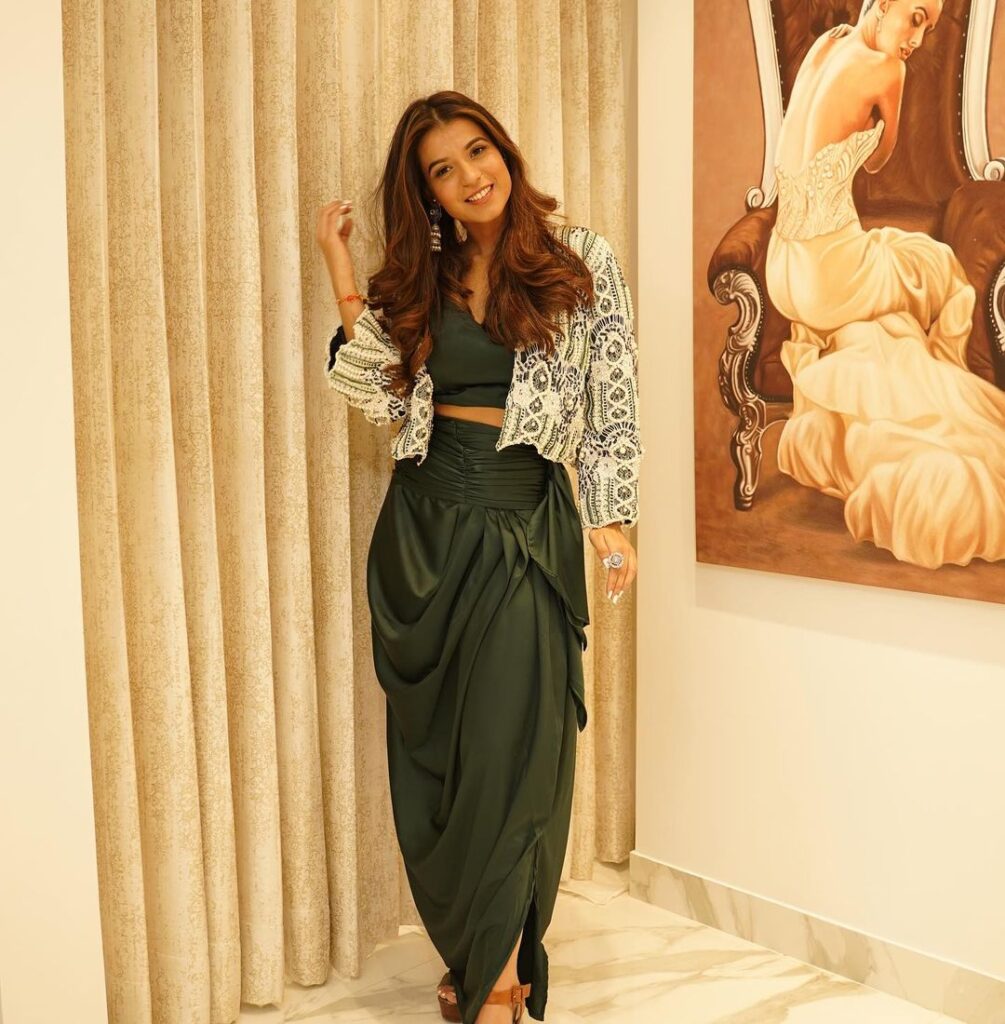 14 – Boho Chic and Contemporary Indian Wear
Another Mehendi look of the day is one of my favorites. You can either wear it on your own Mehendi or to your best friends as well, as this fit can never go wrong.
The vibrant hues of the colors catch the viewers' eyes. Blue, red and yellow are the perfect mix for a Mehendi event, and you will fit well with the others while looking much more stylish than everyone else.
The modernistic cropped top and cape dupatta or upper work well with the draped skirt. The cherry on top is the bronze or golden colored jewelry that would look amazing with your fit.
Wear matching footwear. You can also try yellow or beige colors for your sandals or heels.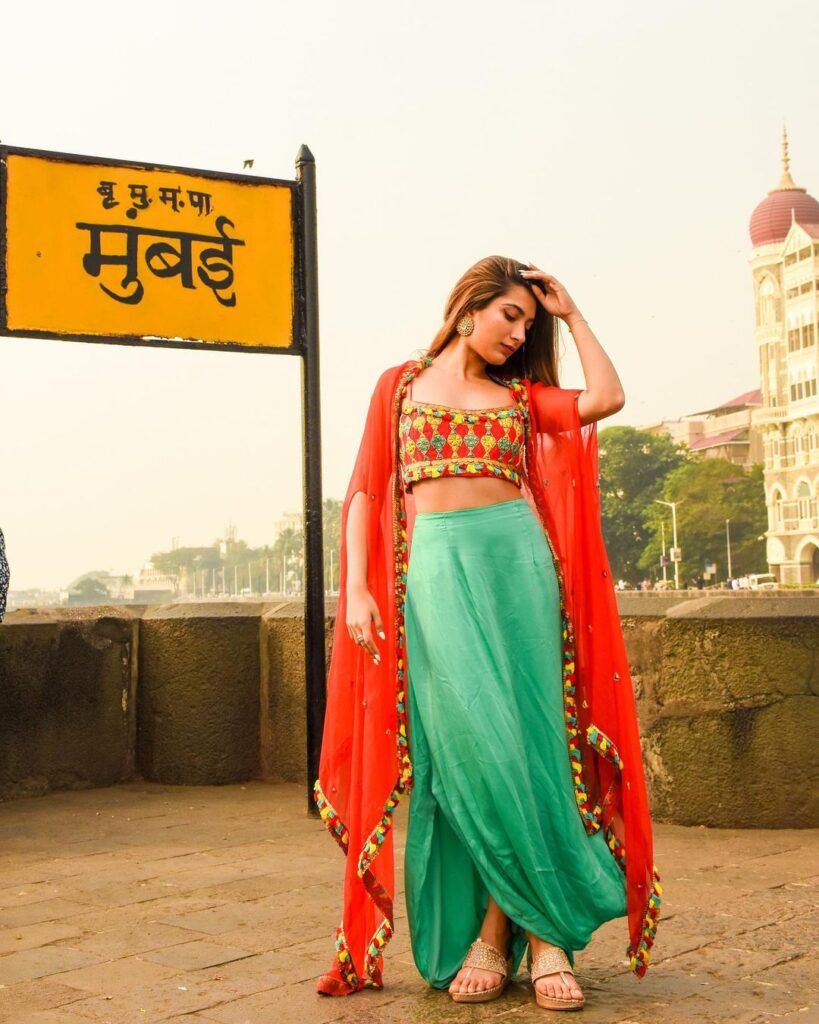 13 – Dhoti Jacket Set
The winter season asks for something warm and cozy. Dhoti, on the other hand, can sometimes be light and breezy. It is crucial that you choose the right fabric and style to wear such bottoms in the cooler seasons, like velvet fabric.
You can try on a draped skirt and jacket set like this one. The thick fabric of the skirt will make you feel comfortable and warm throughout the day. The jacket on top will also keep you safe from the harsh winter winds.
Wear a belt around your waist to give it a more enhanced look. You can wear matching heels as your footwear, as this will give off a more professional look, and you are good to go.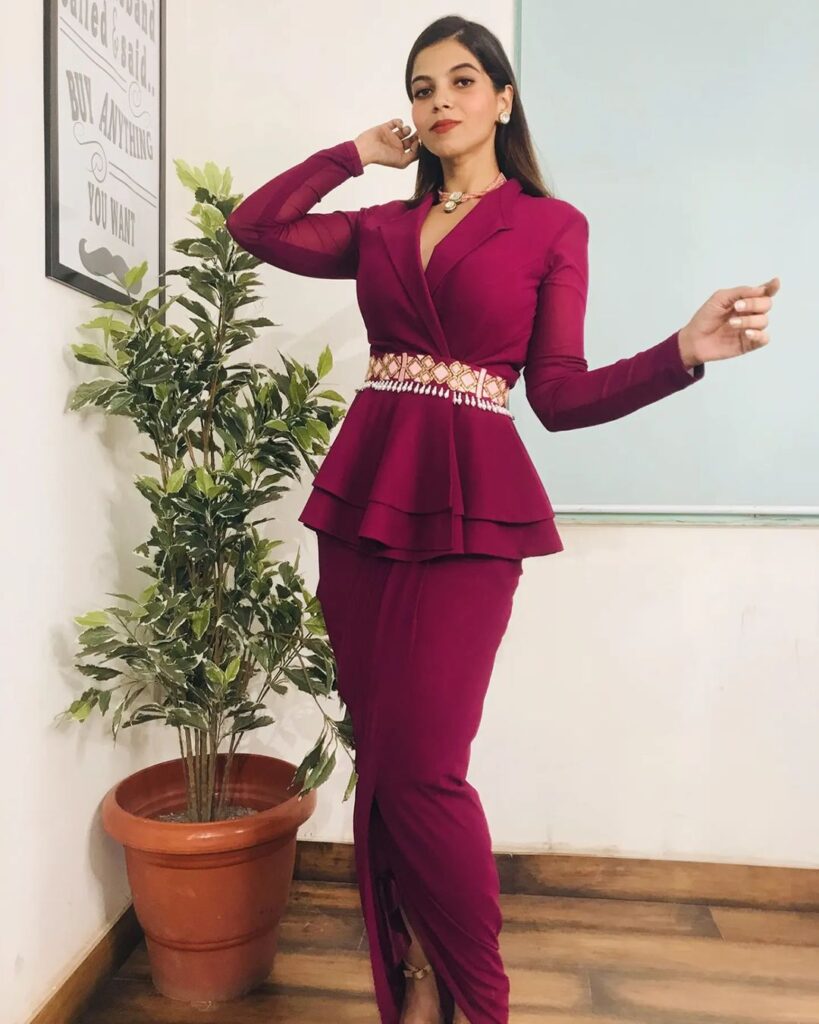 12 – Co-Ord Dhoti Set
You can find several matching sets with a blouse and skirt trending a lot these days. There is no chance that you would want to miss this fashion style.
Countless designs, colors, and styles are available for you to try. The co-ord dhoti set is a safer and better option for you to try if you are skeptical of wearing something like this or if it is your first time trying on a dhoti petticoat.
From Indo-western to fully eastern looks, you can try any you want according to your liking and whatever suits your style best. Many women wear both, as they look good equally.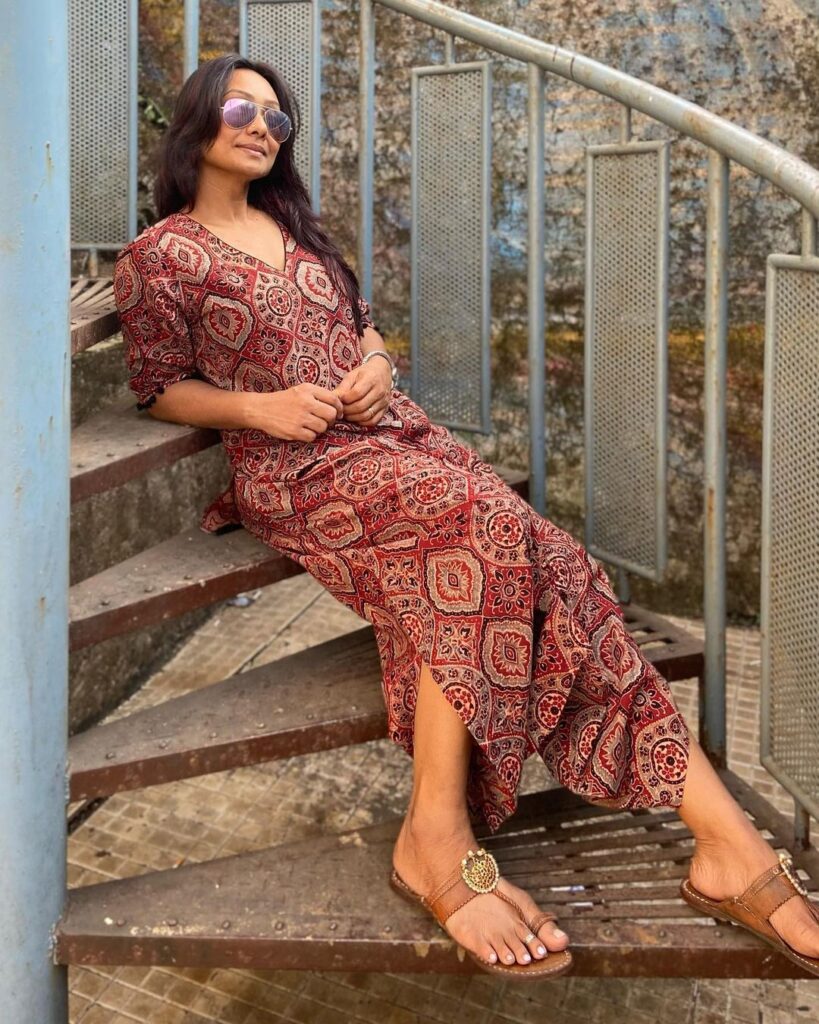 Everyone wants to look different, vibrant, and beautiful in their wedding dresses. You can flaunt your culture and wear brightly colored dresses, especially in Mehendi. Just like this banarsi bright pink apparel.
A one-shoulder blouse with a matching drape skirt dress is the way to go for your special event. The banarsi cloth with golden work and the pink color will make you stand out and look feminine and pretty.
Wear matching khussas to stay comfortable throughout the day, and some minimal jewelry would work best for anyone. Avoid wearing bangles, bracelets, or rings for an easier henna application on D-day.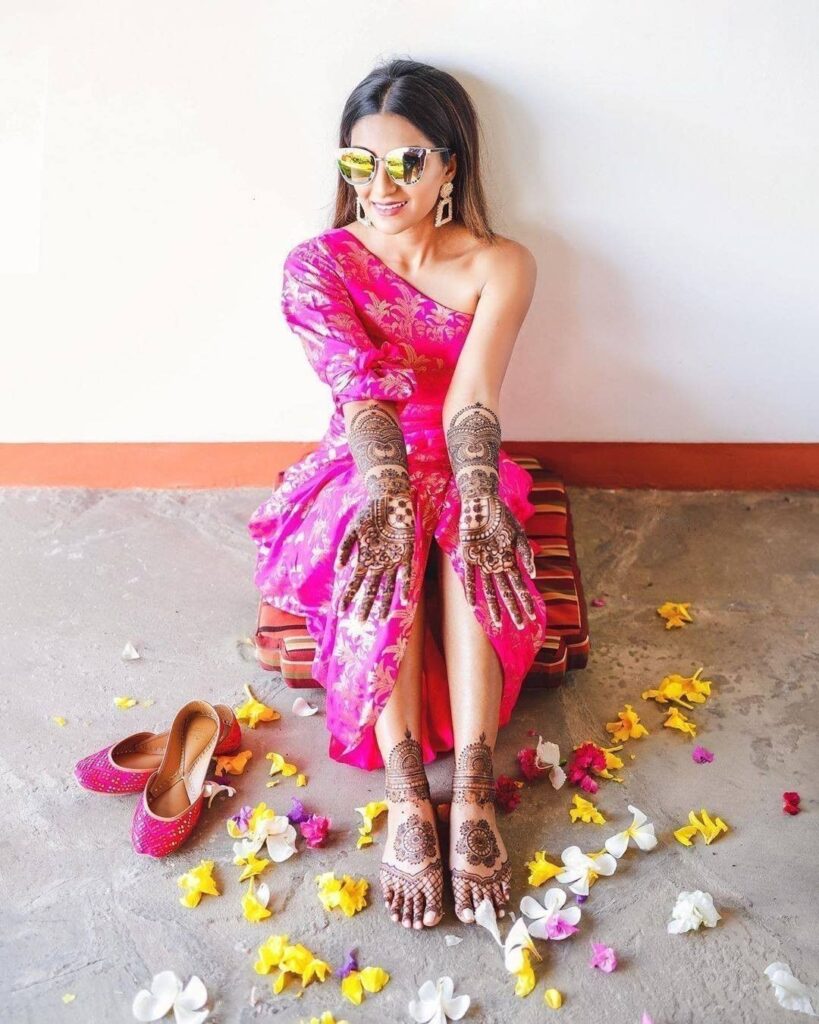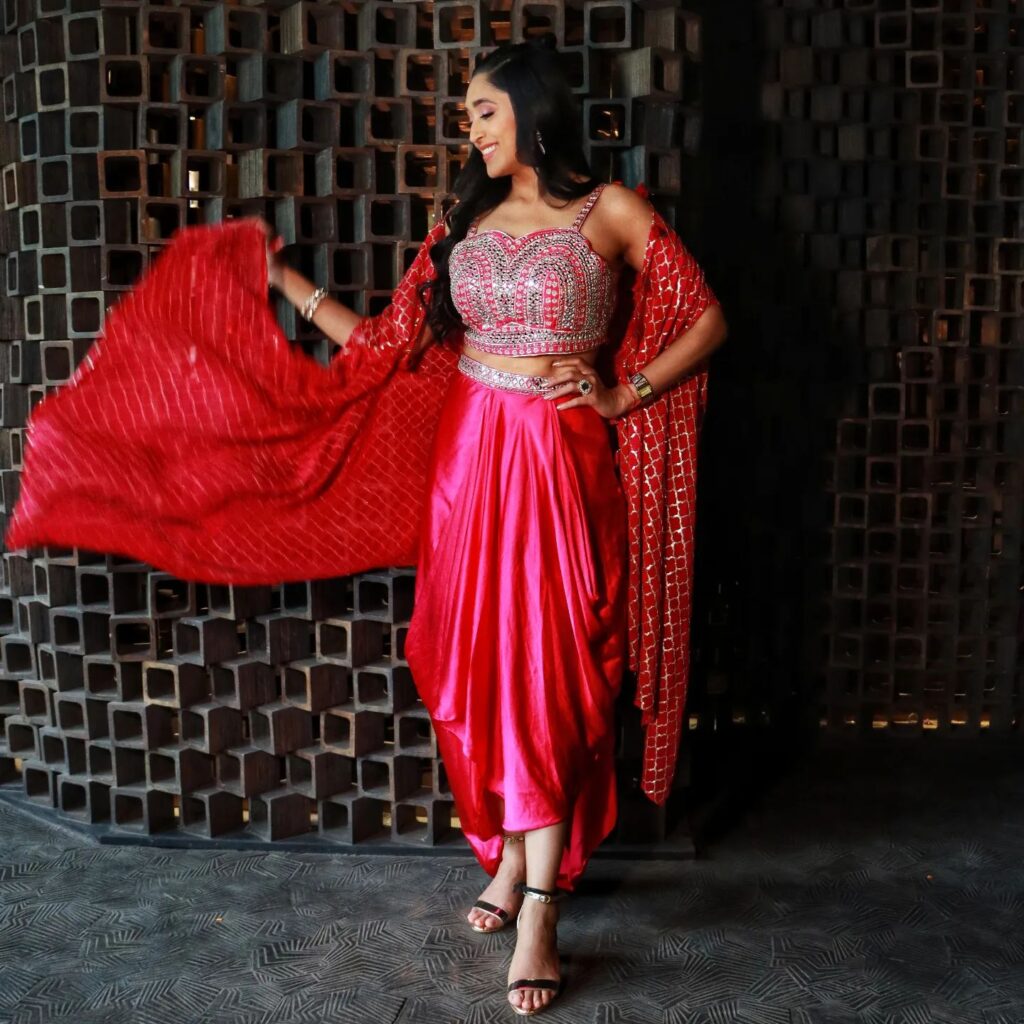 9 – Dhoti Drape-wrapped Skirt with Embellished Crop Top
These skirts in the dhoti style may be worn to any occasion or festival. With this outfit, your wedding attire will be simple for you.
All you have to do is wear this embellished pink crop top and a matching drape-wrapped skirt with the perfect fitting. To top it all off and make your outfit more wedding appropriate, carry a matching dupatta with you.
The classic and cute pink look will make you look as adorable as ever, with the simplicity of the fit and your accessories.
The daylight will make you shine brighter with all those dazzling fits and your glowing makeup to complete it.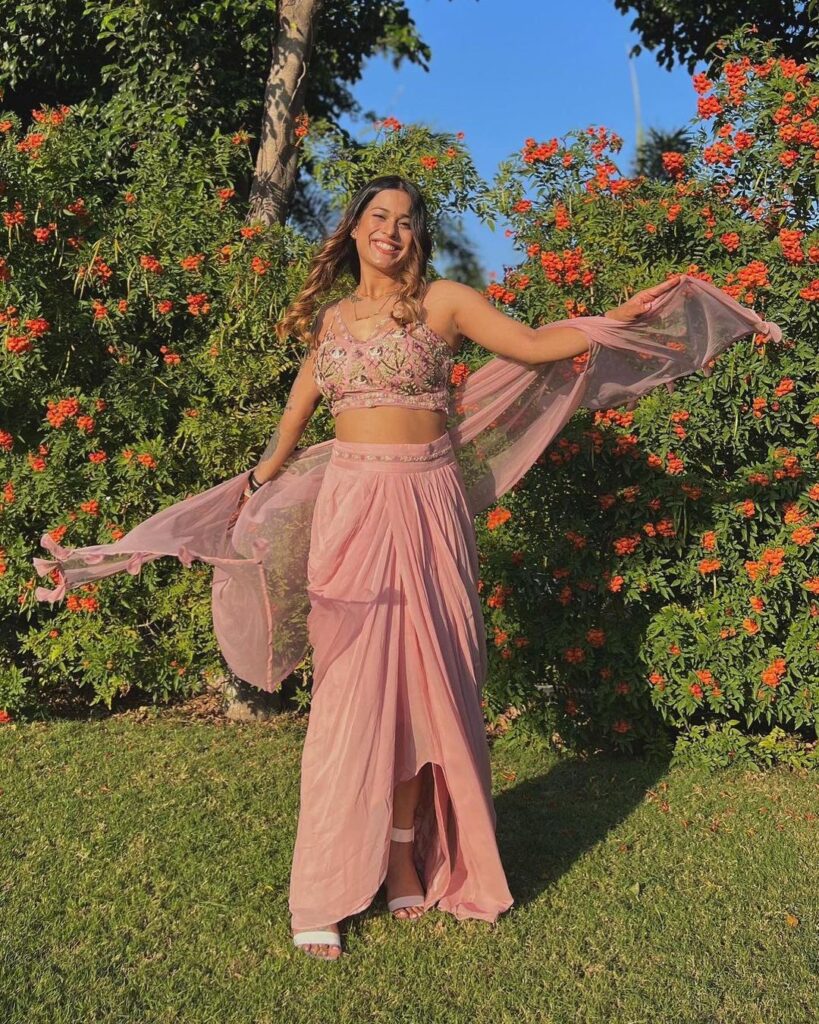 8 – Cape or No Cape Dhoti Look
You can wear your skirt with any top and cape you like; let your creative mind wander and decide what suits you the best.
A matching cape will look as good as without one. Like this look, depending on your mood and style preference, you can wear an upper with your blouse and skirt, along with some matching heels.
Accessorize accordingly, and you are good to go.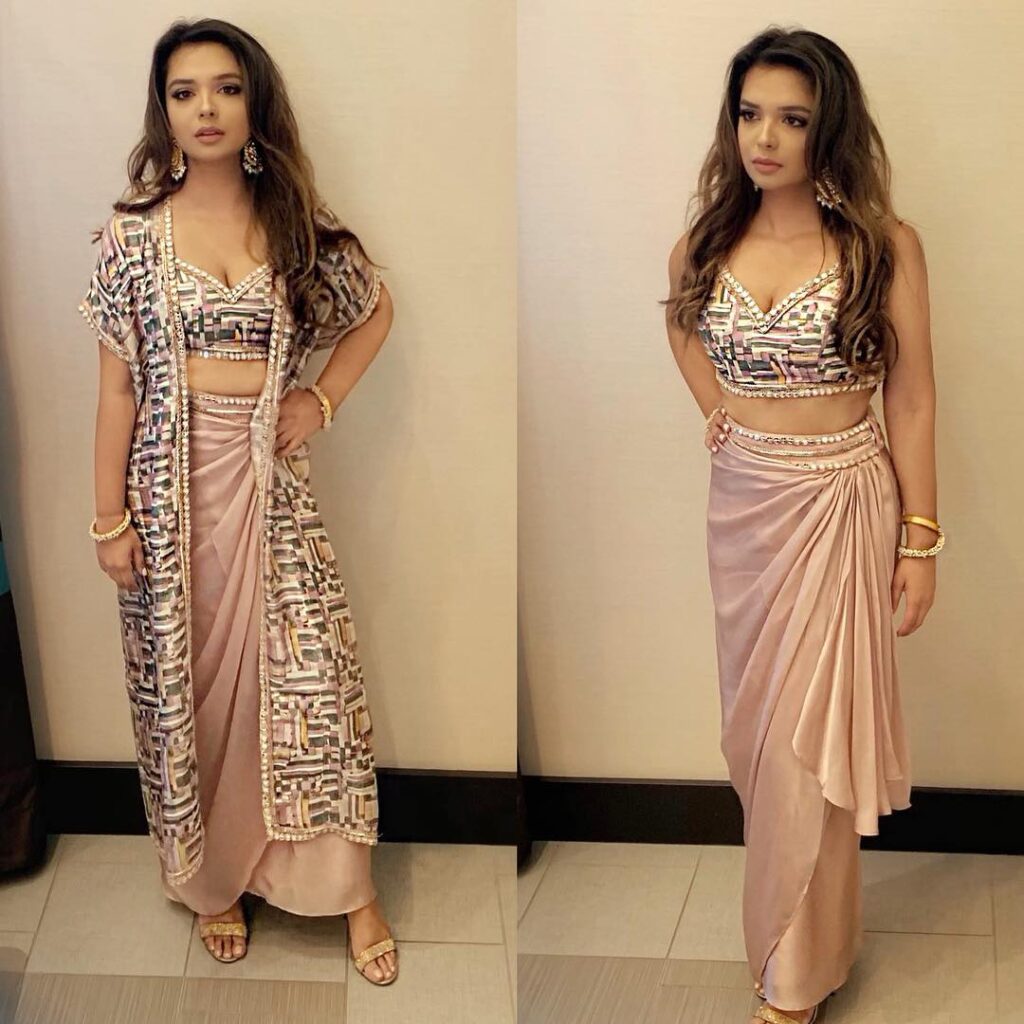 7 – How to Wear Ivory Satin Skirts?
A satin drape-wrapped skirt can be worn in numerous ways, especially at wedding festivals. It will look good with anything, from a crop top to a jacket on top.
A simple ivory satin skirt, paired with a pink crop top with ivory work done on the fabric, will look simple and amazing. Or go for golden work on your blouse, just like this one. The minimalistic look will bring out the glamour and class in you.
You can try wearing a lightweight jhumka or earrings with it, along with a pair of matching pink or white heels. Try wearing an anklet on your feet to make your exposed ankles look more beautiful and attractive.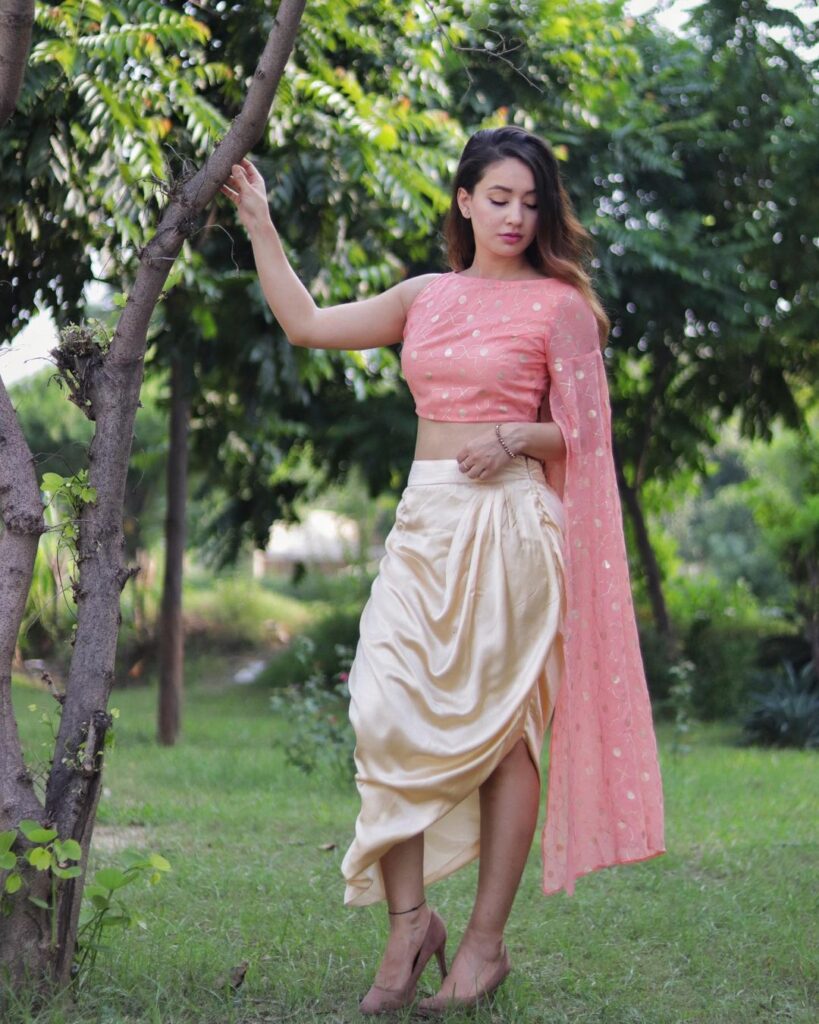 6 – Go-to Casual Look
Among the several draped skirt looks, you can also find some that you can easily pull off daily. You can pull off something similar to this look for your casual day out with your friends or any last-minute plan.
The beautiful dhoti skirt pattern paired with a checkered contrasting shirt is perfect for your go-to look.
You can wear a dupatta with your outfit to make it more eastern, along with matching khussa shoes. To complete your look, you should also try wearing minimal and cute jewelry, like anklets or bracelets.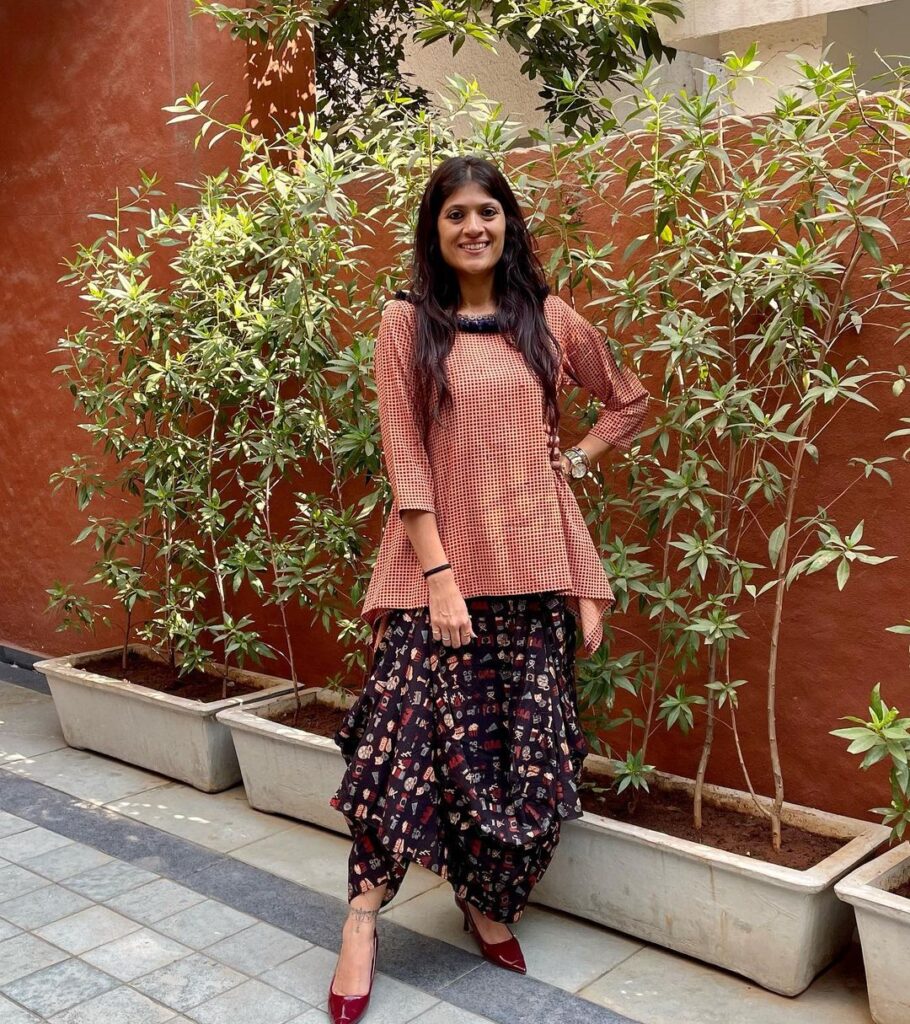 5 – Blue Bridesmaid Fit
We have all seen bridesmaids wear long dresses or even suits to their best friend's wedding, but we have rarely or never seen them wear a dhoti skirt set to one. Now is the right time to try this rising trend for your bridesmaid look.
The sky blue color fits perfectly well for a pastel-themed daylight wedding. The matching lightly designed choli, along with the bottom wear, looks graceful and you would not feel like you are missing out on the dresses.
You can wear an upper long enough to touch the ground for a more elegant look. You can also wear some long silver earrings to match the wedding vibe, along with silver heels, and you are ready.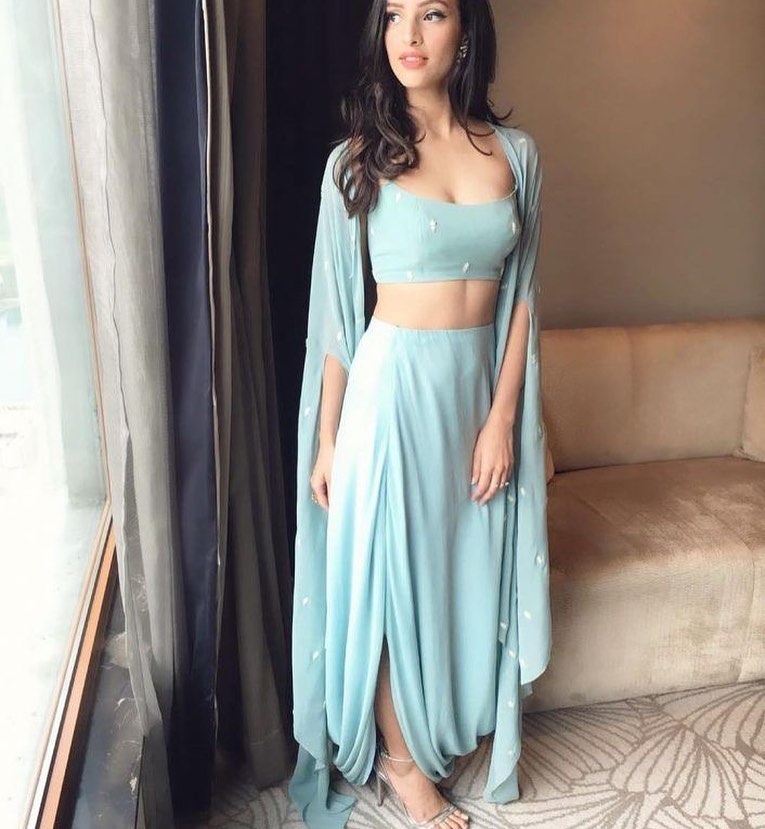 4 – Ivory and Gold Blouse Dhoti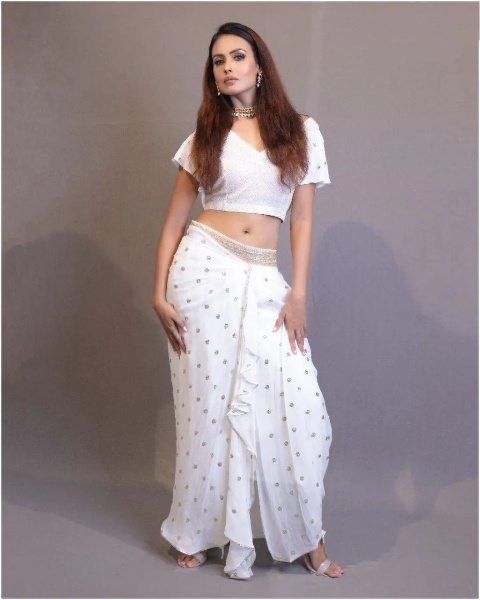 3 – Draped Skirt with Cape Dupatta and Choli
For a formal function, are you looking for an Indo-Western outfit? Look nowhere else. For beach vacation wedding events, this fit is ideal.
Try an embroidered choli and cape dupatta with a dhoti petticoat. It is contemporary, yet it also has certain ethnic elements. It isn't easy but also fun to experiment with various styles and designs.
This outfit represents a free-spirited style. Its comfort and convenience make it quite popular. You will stand out and look amazing in it.
The embellishments of the fit would make it easier for you to wear light jewelry that contrasts with your attire.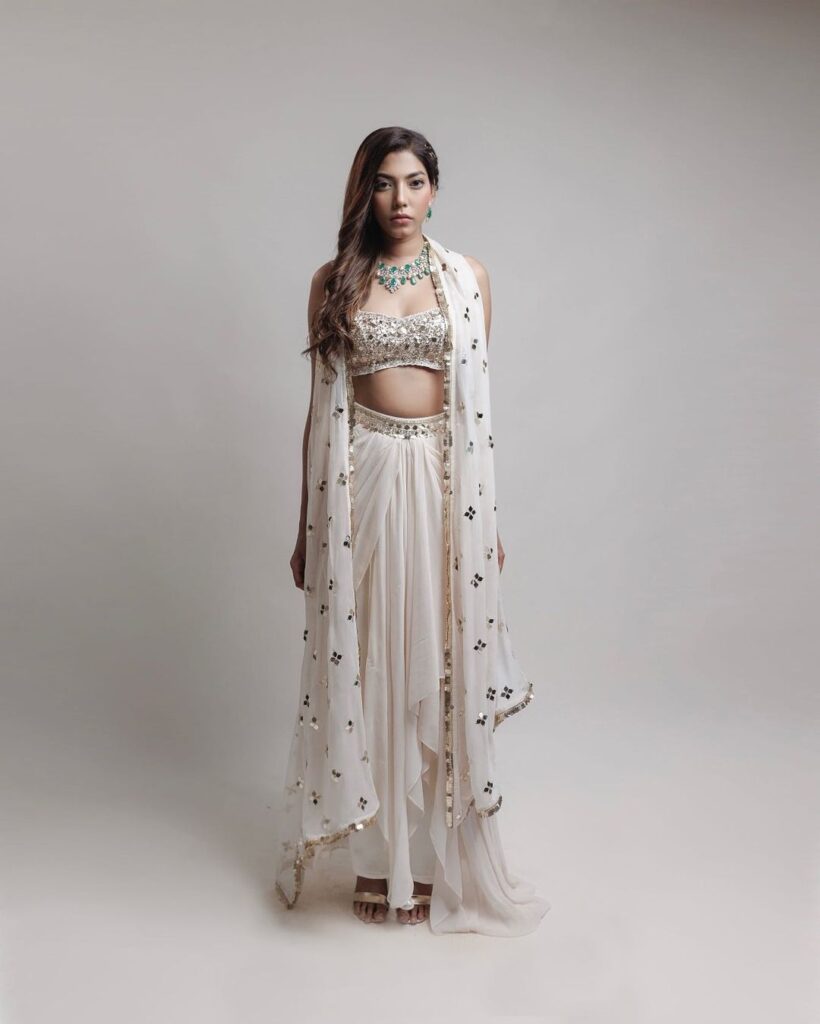 2 – Casual Black Shirt and White Skirt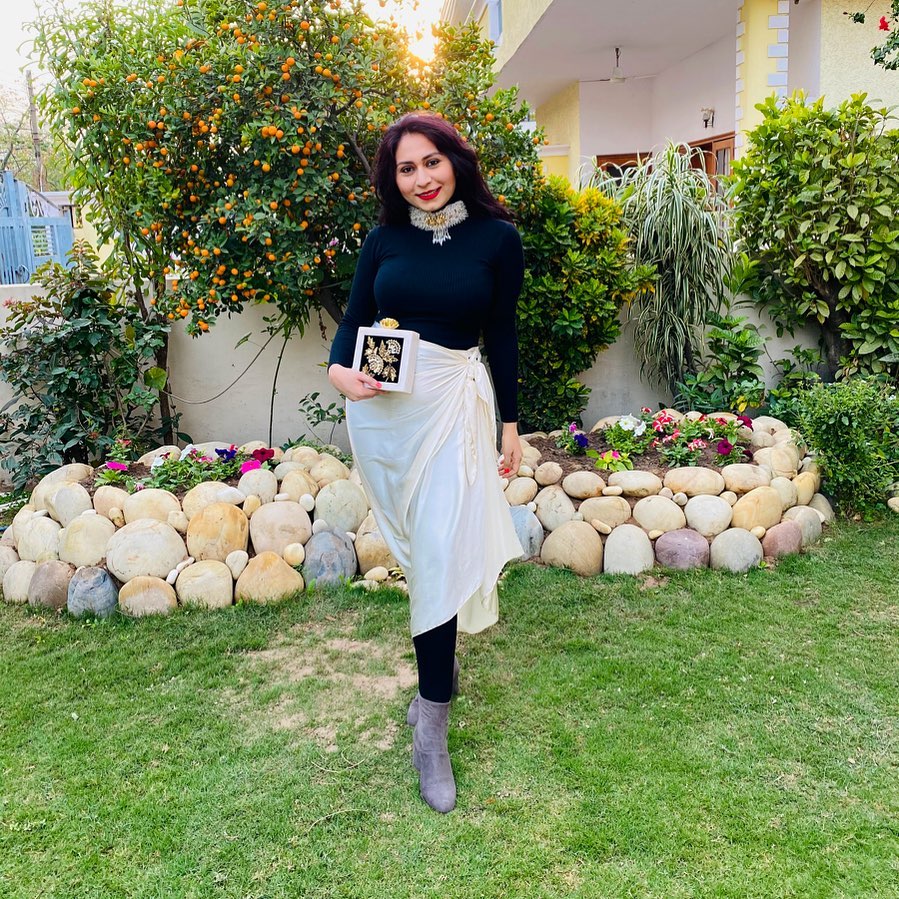 1 – Embroidered Cape and Draped Dhoti in Black
If you want to feel nothing less than royalty, then you should try this outfit.
The black and white mix and match of the colors are simple yet aesthetic. You will love this one if you are a fan of such black and white attires.
An embroidered cape or upper with a crop top made from the same fabric and an all-black drape-wrapped skirt will make you feel confident and bold.
You can try wearing black or white accessories with it. Moreover, a white pearl necklace will greatly enhance your royal look.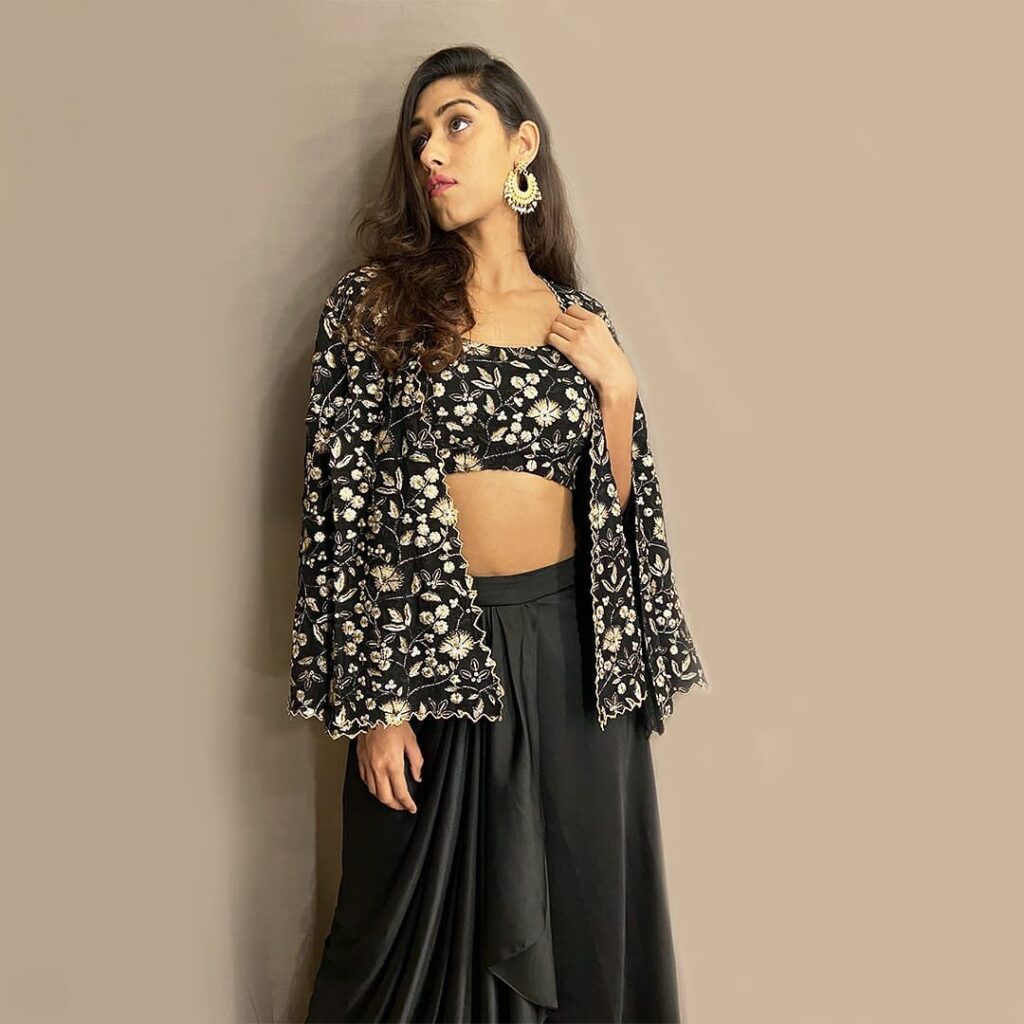 Frequently Asked Questions
Q. What is a dhoti skirt?
Ans. A dhoti skirt's draped silhouette offers a novel take on traditional skirts. This classic yet modern choice is incredibly adaptable and may be paired with a short tunic, crop top, bandi, or even a trendy asymmetrical jacket.
Q. What looks good with dhoti skirt?
Ans. Dhoti lehenga looks great with any blouse or top, including tank tops, tube tops, jackets, and uppers. Moreover, white kurta tops look amazing on them. The hottest fashion items right now are co-ord dhoti sets and colored silk kurta tops.
Q. How comfortable is a dhoti skirt?
Ans. As it is designed to fall away from the body and allow for movement, it is among the most comfortable bottom apparel for Indians. Dhoti can be the ideal summer clothing because of its loose fittings and pleasant material.