Pakistani Mehndi Dresses are not only famous in Pakistan but their designs are much appreciated and love all over the world due to rich cultural touch and colorful Patterns.Choosing the mehndi outfit is very very tricky job. It is not only the mehndi clothing , but the complete matching of dress with makeup ,jewelry, hairstyle etc a perfect combination that can make your big day really memorable.So lots of girls are looking  for ideas what dress to wear for your Mehndi ? Well,we Bring you season most trendy bridal mehndi Dresses collection here.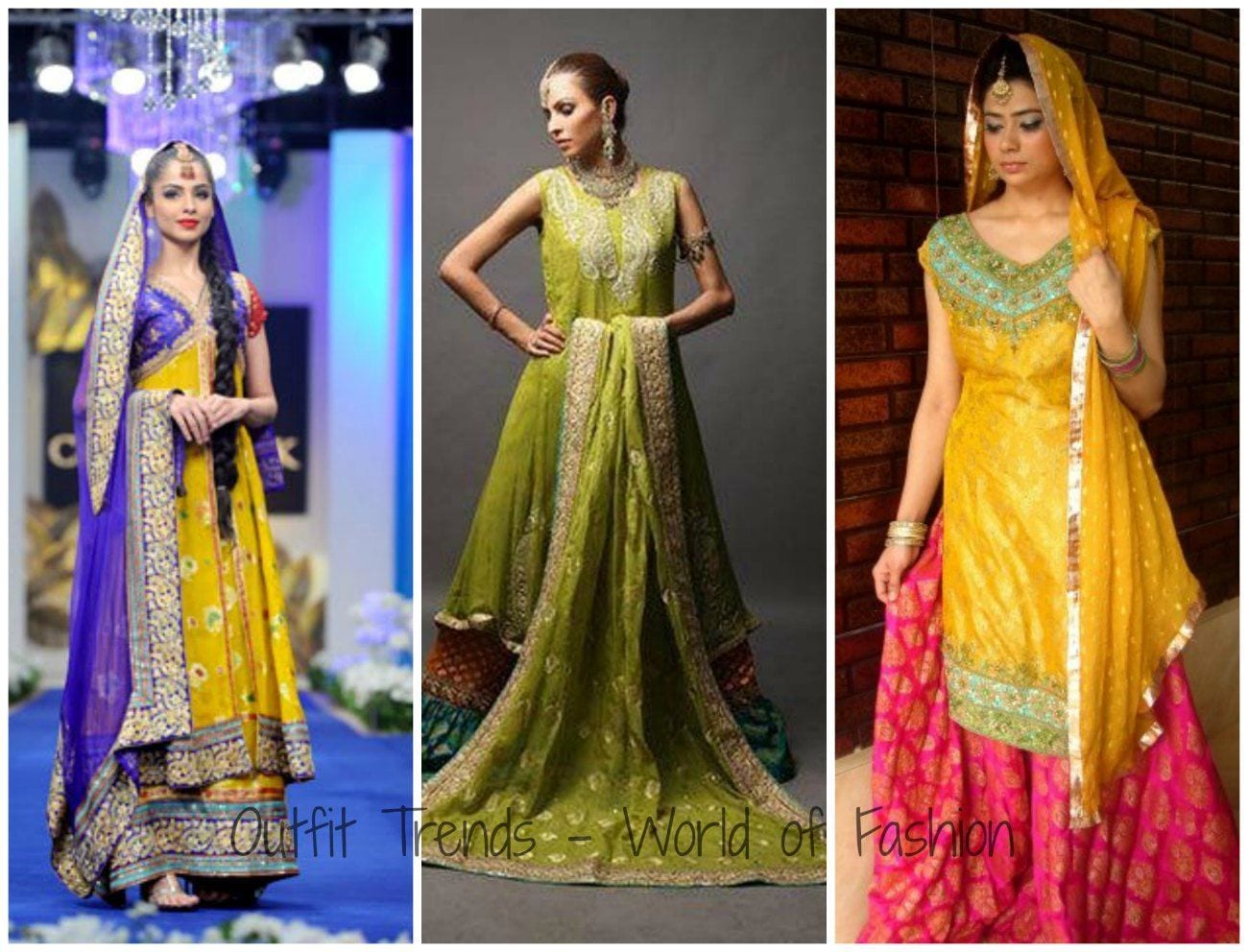 What comes to your mind when you talk about Pakistani weddings? I am sure the answer would be beautiful Pakistani clothes. Pakistani dresses and fashion refer to the eastern clothes that are worn by Pakistani people. Pakistani fashion is popular among-st everyone and even in abroad people prefer buying eastern wear on occasions. Pakistani fashion includes traditional wear as well.
In Pakistan dressing and clothes are given a lot of priority especially when it comes to events such as wedding, mehndi, eid etc. Pakistani wear is similar to Indian dressing because of the similar culture within the boundaries. With every year and new season fashion keeps changing and Pakistani's are big followers of fashion and designer wear.
When it comes to wedding ceremonies in Pakistan, people make sure to wear pretty clothes. They wear different clothes on each wedding event. In mehndi functions men mostly wear shalwar kameez with dupattas which they put on their shoulders.
Women usually wear yellow or orange Shalwar Kameez with contrast. Yellow Dupatta and Yellow kameez are also preferred with it but now a days since fashion is growing people tend to go for designer wear as well.
During other events such as barat or valima girls wear some heavy clothes with pretty embroidery and embellishments. Brides normally wear expensive lehnga or gharara most commonly  in red,Yellow, maroon and pink colors with lot of  jewelry.
List of  Few Top Pakistani  Mehndi Dresses designers
Pakistani fashion designers are very creative. They are adored across the world and have won many international Designers awards.
Maheen Ali
Maheen Khan
Sadaf Malaterre
Mehmood Bhatti
Deepak Perwani
Kamiar Rokni
Hassan Sheheryar Yasin
Amir Adnan
Junaid Jamshed
Nickie Nina
Mohsin Ali
Every year bridal couture and fashion events take place. Where designers bring out their beautiful work and show case it. They know how to turn the dress of your dreams into a reality. So that the bride looks beautiful on her day. Brides to be want to look pretty on their wedding day. Bridal couture mehndi dresses collection is a great source to stay updated about latest wedding fashion trends.
Stylish mehndi dresses are very important for such occasions. Every girl on this day wants to look pretty and so is always excited for this occasion.
On mehndi night the bride does not put too much makeup but she shows her real beauty. She wears jewelry made of flowers. Some girls also wear bangles and khussa with their traditional wear for extra beauty and with these traditional accessories they look elegant yet modern. Not just Pakistan but also all over the world eastern wear are highly preferable clothing wear and they prefer ordering mehndi and wedding Pakistani wear from Pakistan.
Girls can design clothes with dark color contrasts according to the season. A lot of bead work and embroidery work is in fashion. Dark colors add charm to the clothes yet there are so many designs and variations in all these fancy mehndi wear and wedding wear. Now a days, girls prefer buying from boutiques or get them stitched from tailor.
Ready made suits are also available in a variety of colors. It is an individual's wish and preference what they would like to chose. One thing which is most important when choosing an outfit is that make sure that you choose the color that is most ffavorablefor you and suits you.Lets See the  collection now.
 Latest  Bridal Mehndi Dresses and Trends.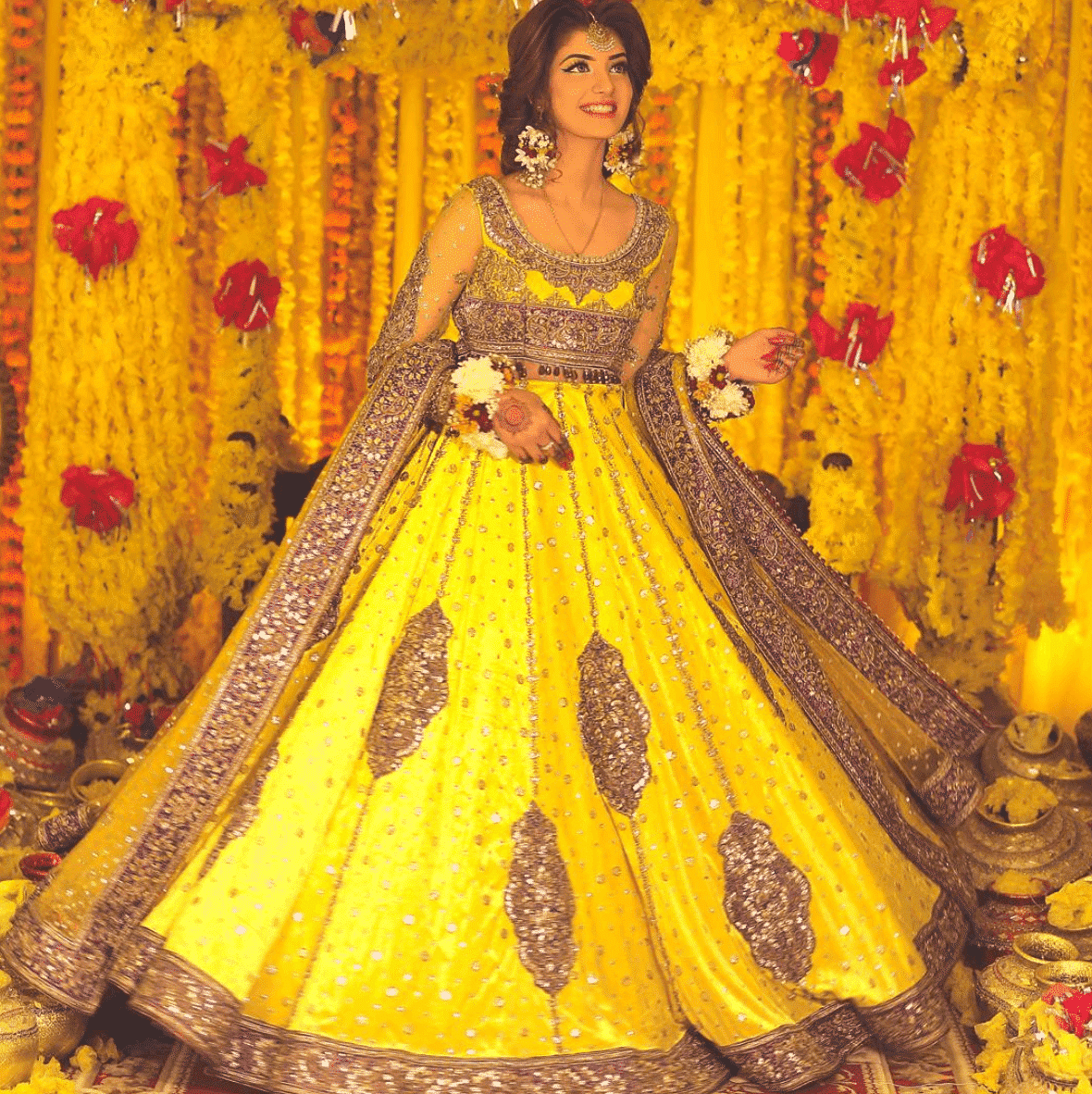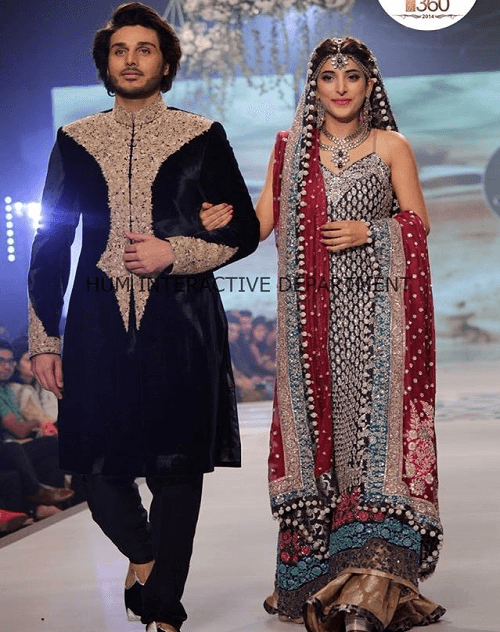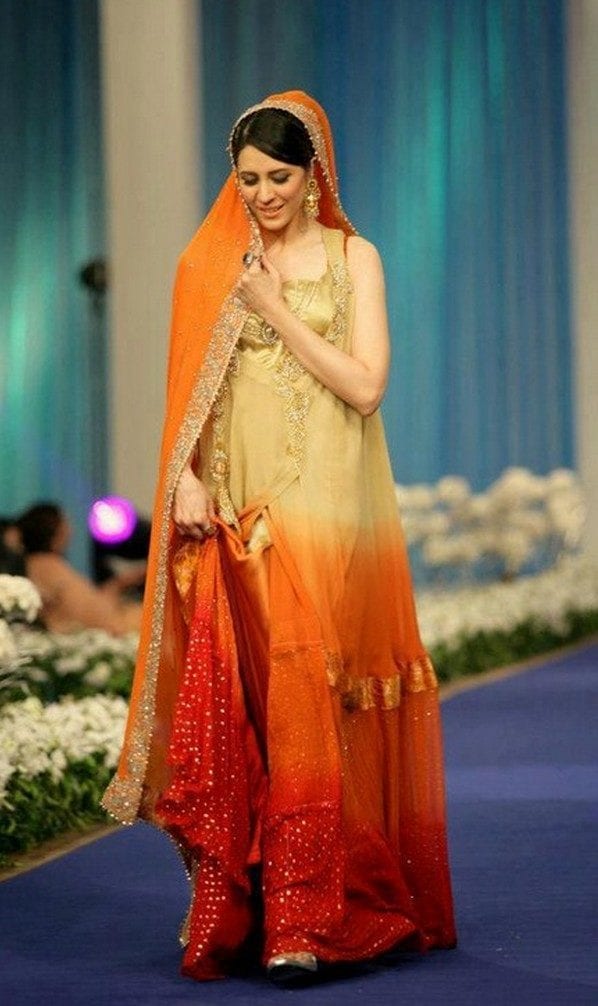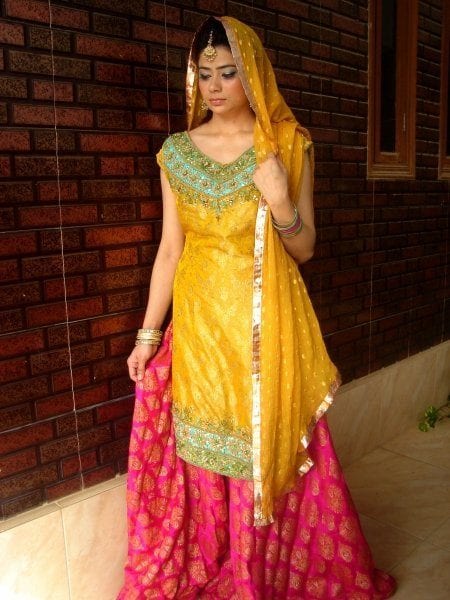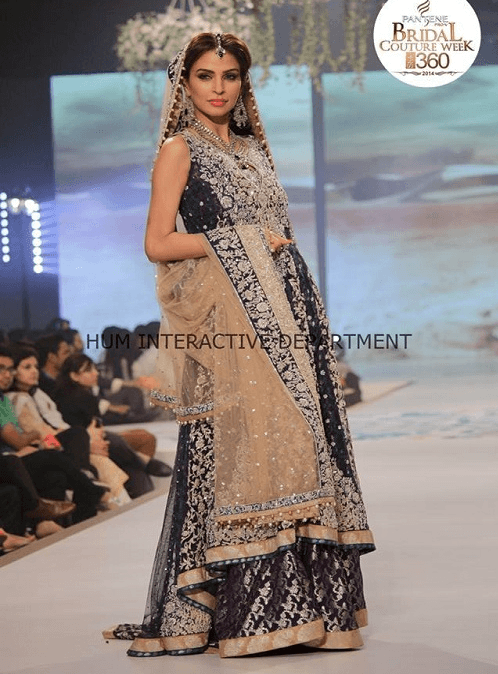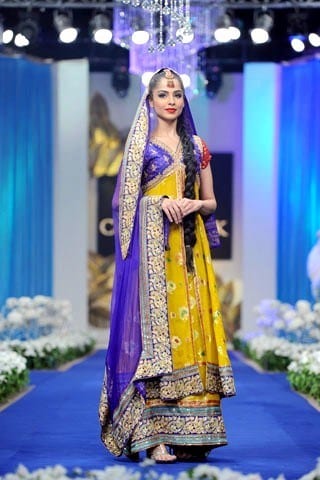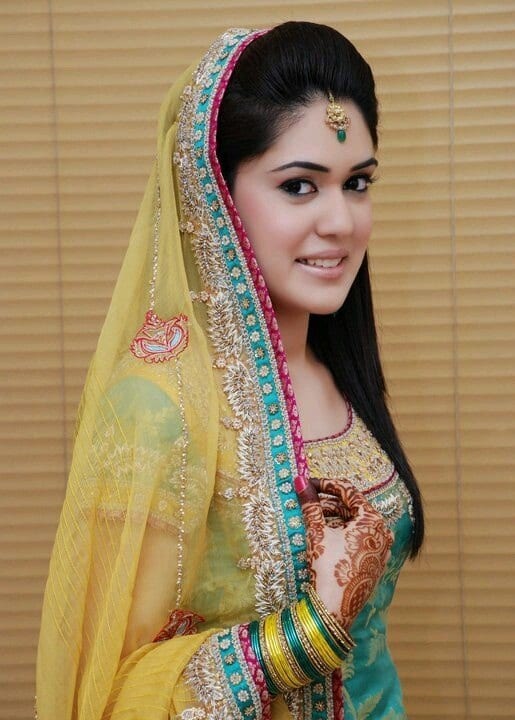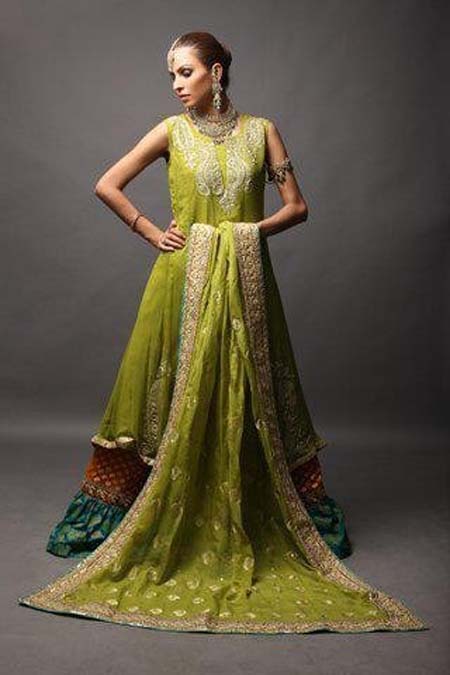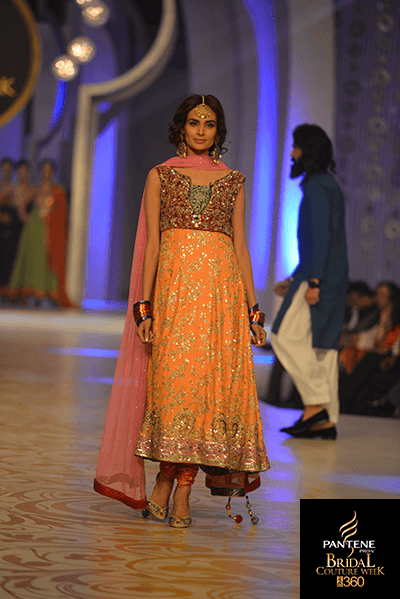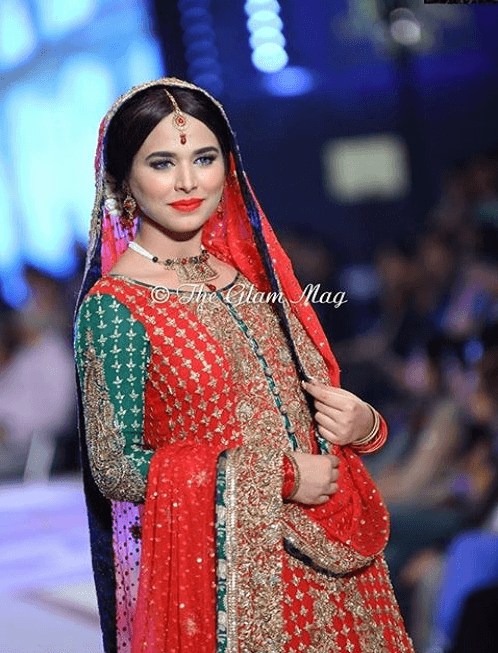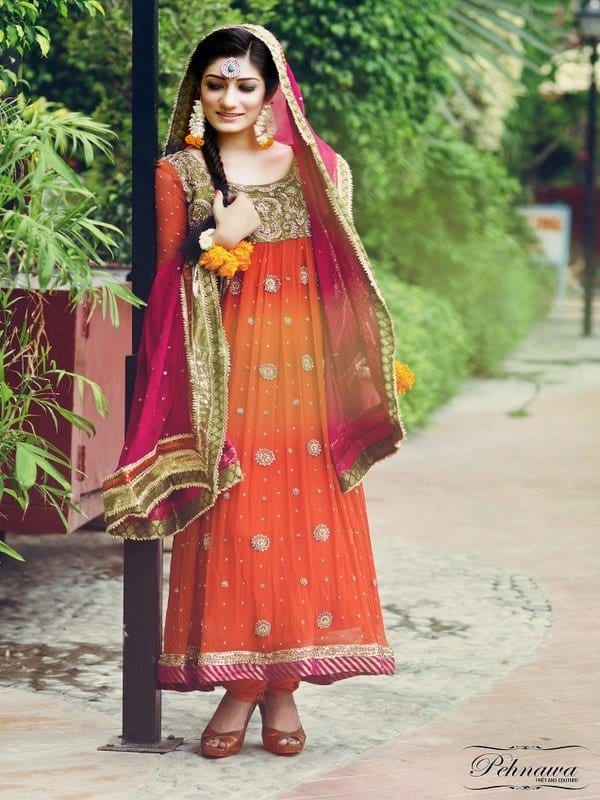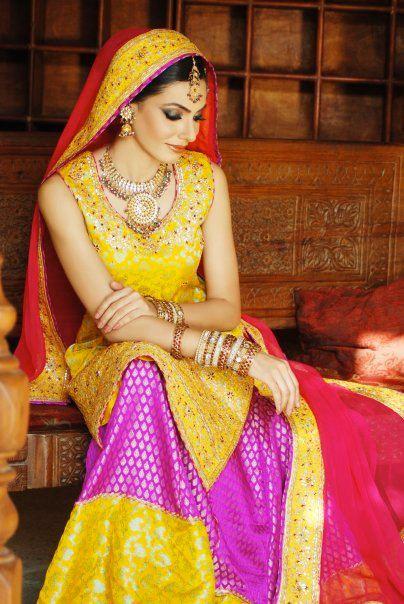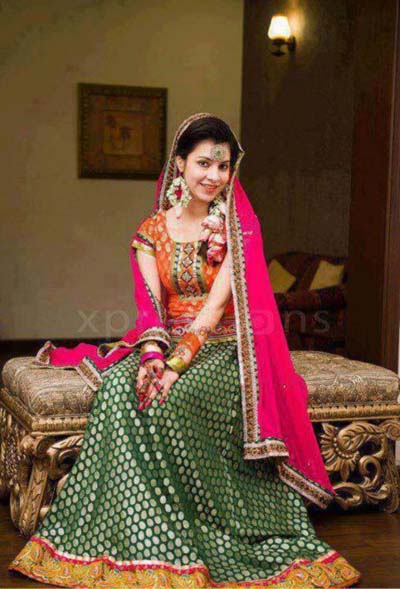 Images source Pakistan Bridal couture Week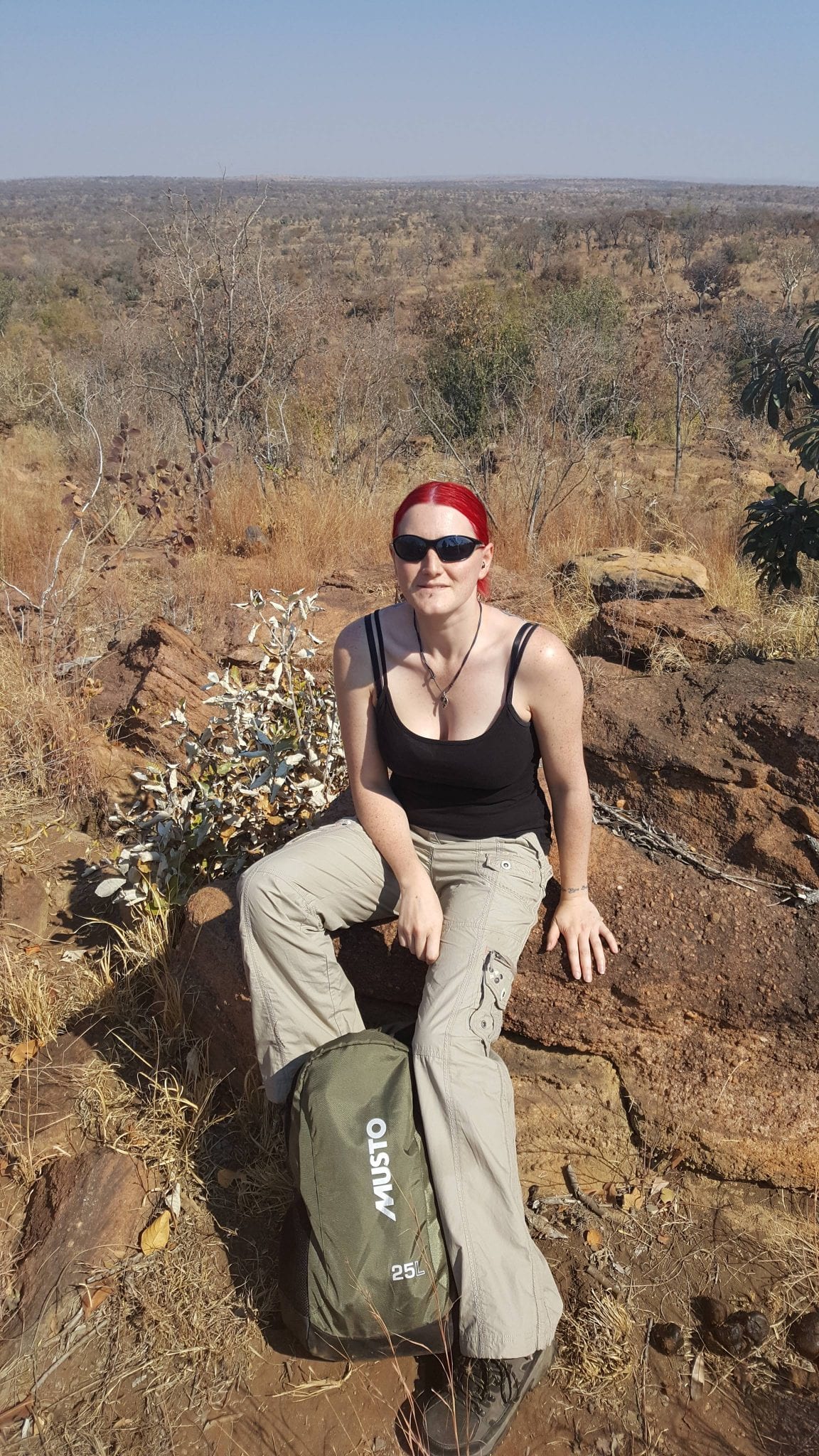 Caz, aka Vixen, has been freelance creative writing for several years. She has a lot of experience in different fields including high street fashion, tattooing art, and even the gothic and historical costumes. Caz has a Diploma in Fashion and Textiles and also a Bachelors Degree in Historical Costume and Corsetry. Her passion lies with gothic design, corsetry and any other styles considered to be taboo or unusual. Style-wise Caz has a love for Vivienne Westwood and her take on the punk era. Although Caz loves the weird and wonderful, she has a deep love for all fashion and allows this to show through her work.