Indian Summer Wedding Guest Outfits- Weddings in India are as extravagant as a wedding can be! These weddings can even last for a whole month or more, with events lining up one after another, each with its dress code and theme.
Being a guest at an Indian wedding is a big responsibility. Not only do you have to look beautiful, but you also need to keep with the theme of the event. No matter if the marriage is at an exotic destination or the groom's backyard, it is always a burst of colors and patterns. Indian culture is represented the best at an Indian wedding, so guests feel very conscious while picking out their whole wardrobe for the wedding. It is quite a task to pick at least five outfits to cover the entire wedding. Buying all these new dresses can be a burden on your pocket. Instead of shopping so much, opt for already existing outfits and style them up in unique ways. 
People usually dread summer weddings when in fact you can have the most fun on them! You must choose your outfit's fabric, keeping in mind the heat and the sweating that's bound to happen. Luckily, Indian couture offers many flowy and light dresses that you can pull off well at a summer wedding. The rich Indian traditional clothing's beautiful colors look even better in the sunlight and give you many Insta-worthy pictures. So, do not forget to make a lot of memories while you look stunning in your Indian outfit. 
How to Dress for an Indian Summer Wedding
Gone are the days when you had to stick to traditional Indian sarees to look attractive. You no longer have to fit in a spectrum while choosing your outfit. Fashion is now all about your comfort and your sense of style. Now, pastel and sorbet colors incorporated in non-traditional clothing are the trends. As guests, you can play around with existing Indian outfits in your closet and mix and match things up. As long as your dress looks funky and glamorous, you are good to go! 
Do's and Don'ts for an Indian Wedding Guest Outfit
Make sure the outfit you are choosing is comfortable because, at an Indian wedding, there is bound to be a lot of dancing. 

Do not try to fit in the old and boring cultural fashion. Instead, play with your individuality and wear what you love. 

Go all-in with your jewelry and makeup if you are wearing a simple dress. 

Do not be afraid to wear playful and funky colors; they are indeed the life of an Indian event, especially in summers. 

Avoid wearing black and white! At a summer Indian wedding, the brighter your attire is, the better it will look – especially if it's an indoor event. 

At a summer wedding, dress in loose-fitted, comfortable and light fabrics like Anarkalis and gowns. 

Keep your heavily embroidered outfits for the main events like the wedding or the reception. 

Do not forget to accessorize! Wear bindis, tikkas, bangles, and cute rings and necklaces. Please don't overdo it because you don't want to be sweating with all the jewelry.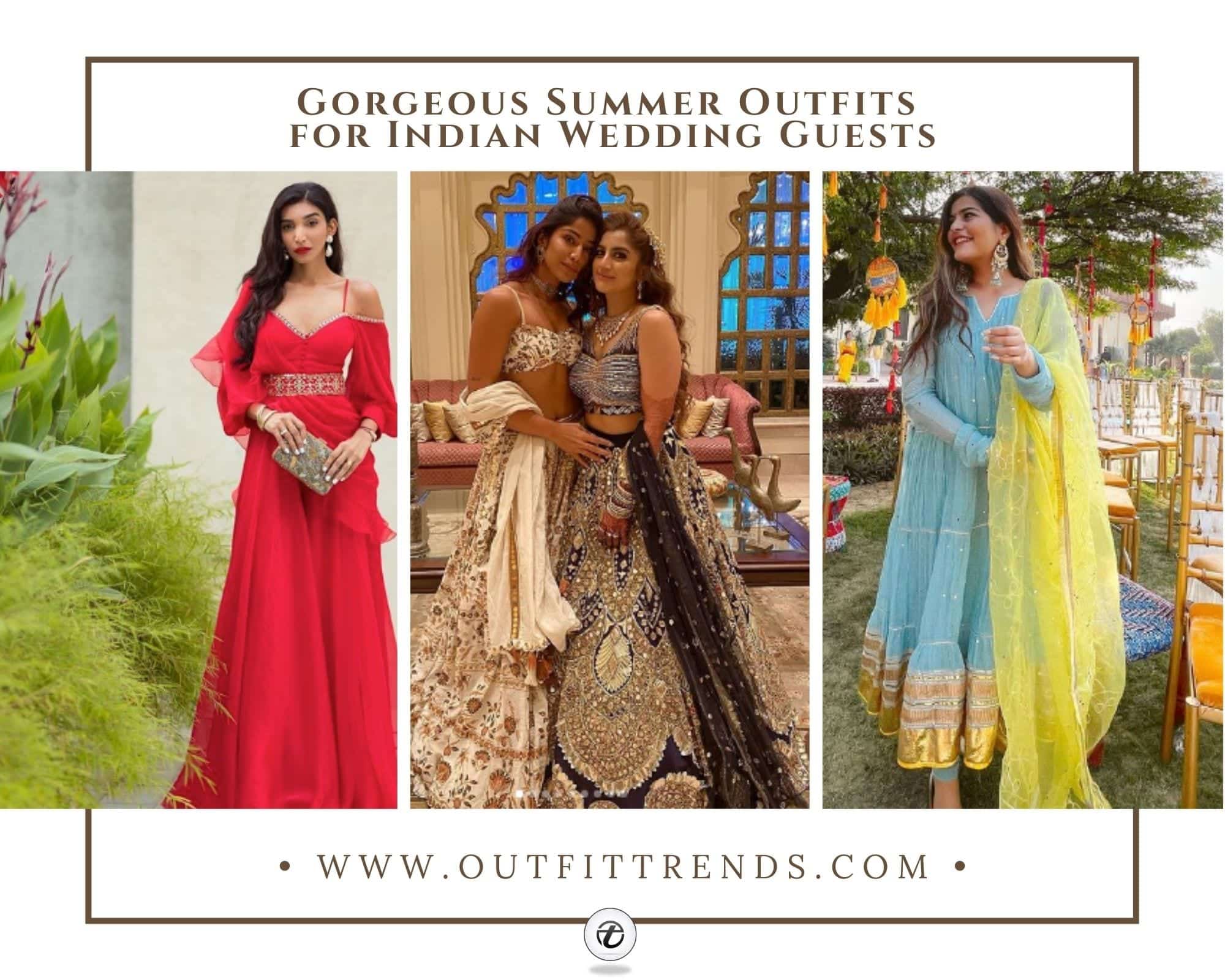 Since you never know how long an Indian wedding event will last, it is advisable to wear a comfortable outfit and breathable fabric. Your shoes also matter a lot, if the event you are going to includes a lot of dancing. The colors that look gorgeous in summer weddings are pastels. Since it is an Indian wedding that you are going to, there are bound to be many colors and a lot of patterns. 
We have brought you the ultimate list of outfits that will cover all your events for any Indian Summer Wedding coming up! These will ensure that you look the prettiest among all the guests and fit in with the event's theme. We have also kept in mind the intense summer heat you will have to experience, thus suggesting lighter and flowy fabrics.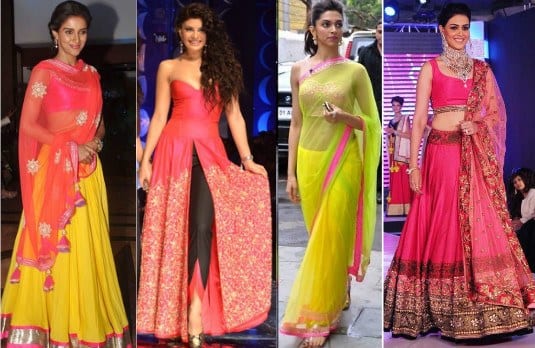 via
Here you go-
↓ 15 – Bold Red Dress
Red color and Indian weddings simply go hand in hand so it's always a safe bet to wear red outfits. You can go for a simple look like this gorgeous gown by Ridhi Mehra that has a modern look because of its shape, off-shoulder neckline and statement sleeves, as well as a classic Indian look because of the traditional mirror work.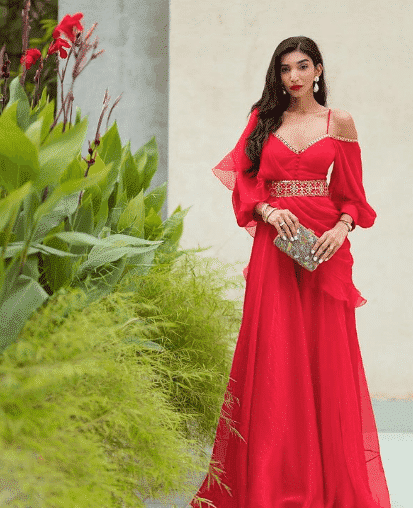 Or go all out on the bling-factor with a sequin red dress from House of Musafir.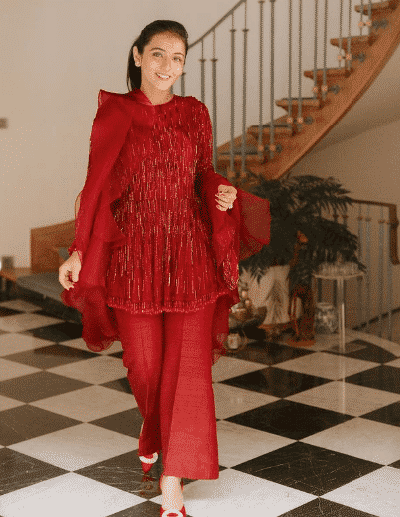 ↓ 14 – Intimate Indian Wedding Outfit
If you're attending an intimate wedding, engagement or perhaps a pre-wedding puja where the dress code is relatively simpler, I recommend going for a printed saari and accessorising it with pearls, floral gajras and a beautiful clutch.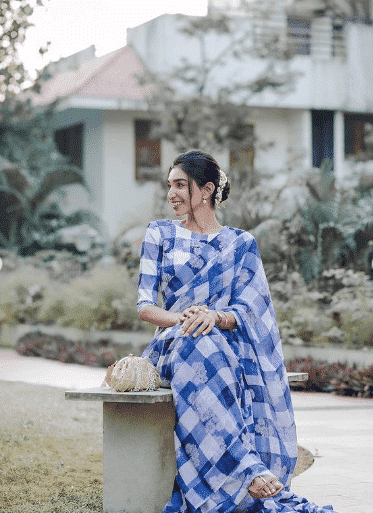 Or you could accessorize such sarees with statement, eye-catching jewelry like we see on the gorgeous Juhi who's wearing a floral printed saree from PrintsByRadhika.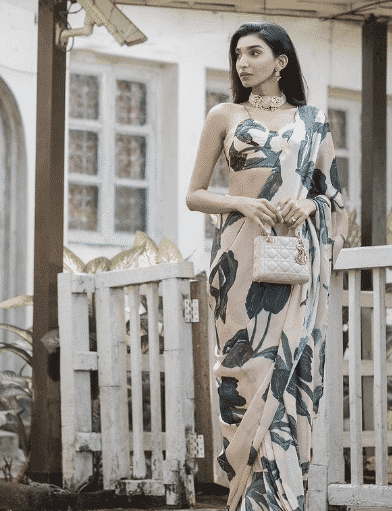 ↓ 13 – Best Colours for Summer Weddings
Fashionistas recommend that you wear bright and beautiful colors at Indian wedding ceremonies. Bright colors are the life of every Indian wedding and make it look a lot prettier and colorful. You can play among gorgeous colors like cobalt blue, hot pink, bright yellow, flaming orange, radiant red, or a rich maroon.
Blacks and whites are usually not preferred because Indian culture associates these colors with misfortune or even death. So, while going to an Indian wedding, be sure to keep dull colors off your list.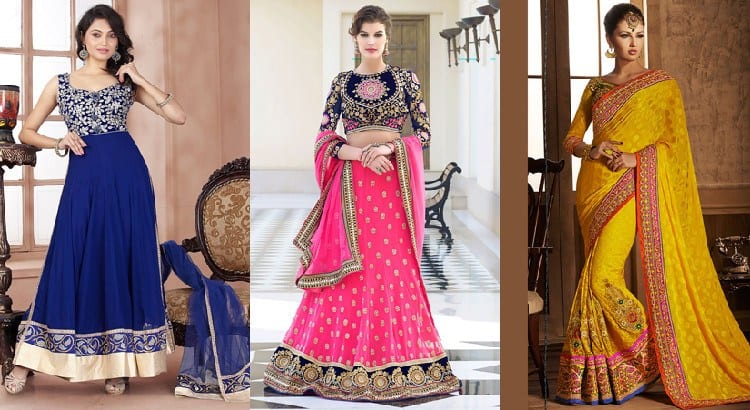 Pastel colors look the best for outdoor summer weddings. Floral prints and light fabrics will also keep you cool and breezy while you dance the night away! We love this beautiful Ice-blue lehnga which would be ideal for any day time function.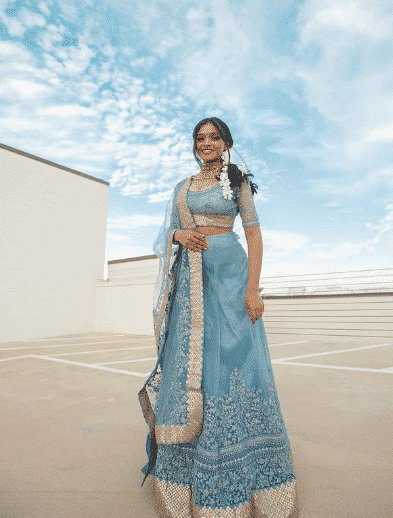 ↓ 12 – Accessories for Indian Summer Wedding
If you have decided to go all-traditional, consider wearing Indian accessories such as long gold necklaces. Some people shy away from wearing accessories and think that they will make them look overdressed. Well, that is not the case. You can never be too overdressed at an Indian wedding. So, go all out while choosing accessories to wear with your wedding outfit.
You can also wear head ornaments and long earrings. Golden sets of bangles also look great with half-sleeved sarees. Anklets and rings are a great addition to your saree outfit as well. If your saree is brightly colored, avoid wearing colorful accessories. If it is dull, try wearing bright and funky colored accessories to even it out. You can find some great hairstyle and accessories inspiration from these Cute Hairstyles With Maang Tikka/Maatha Patti This Season.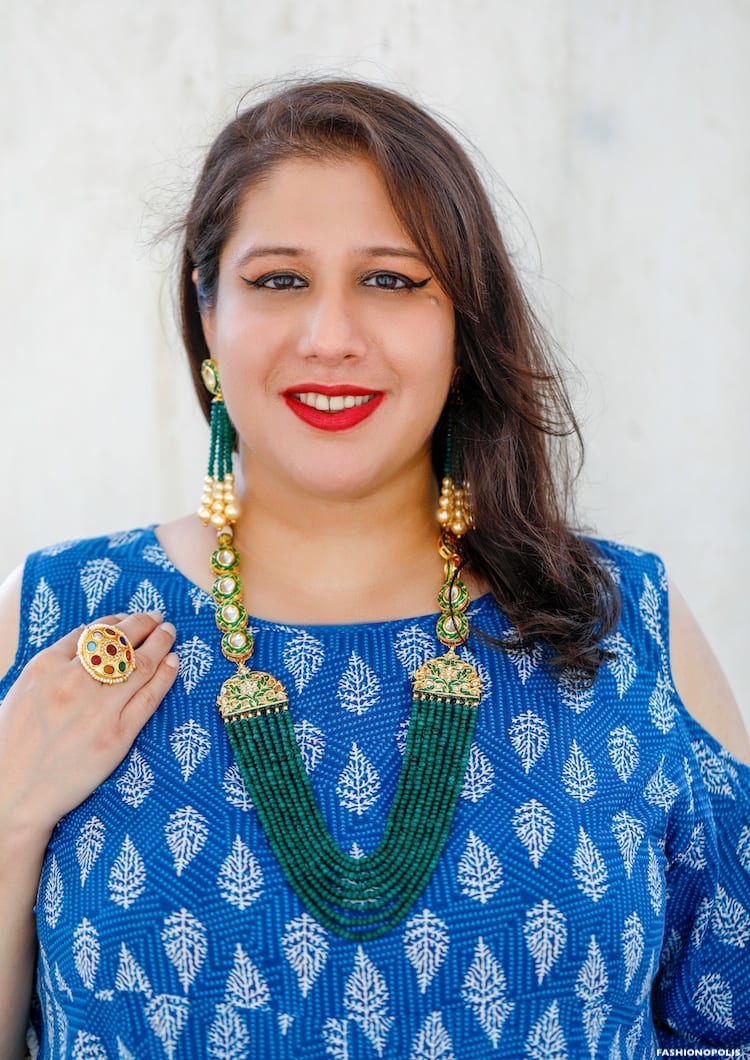 And of course if it's an outdoor Summer wedding, you can just not forget your sunglasses.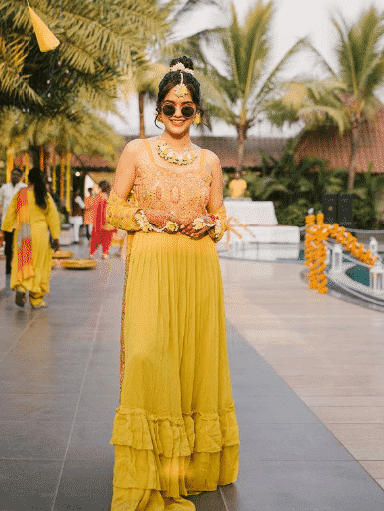 ↓ 11 – A Chic Mehndi Outfit
 If you think you can only wear the traditional and everyday mehndi outfits for you to look good, you are very wrong! We bring you the chicest outfit of this summer wedding season. A printed cape or short dress with tulip pants or bright colored palazzos gives everyone the ultimate mehndi vibes. You can choose the fabric of your dress according to your choice, but we recommend choosing silk or chiffon.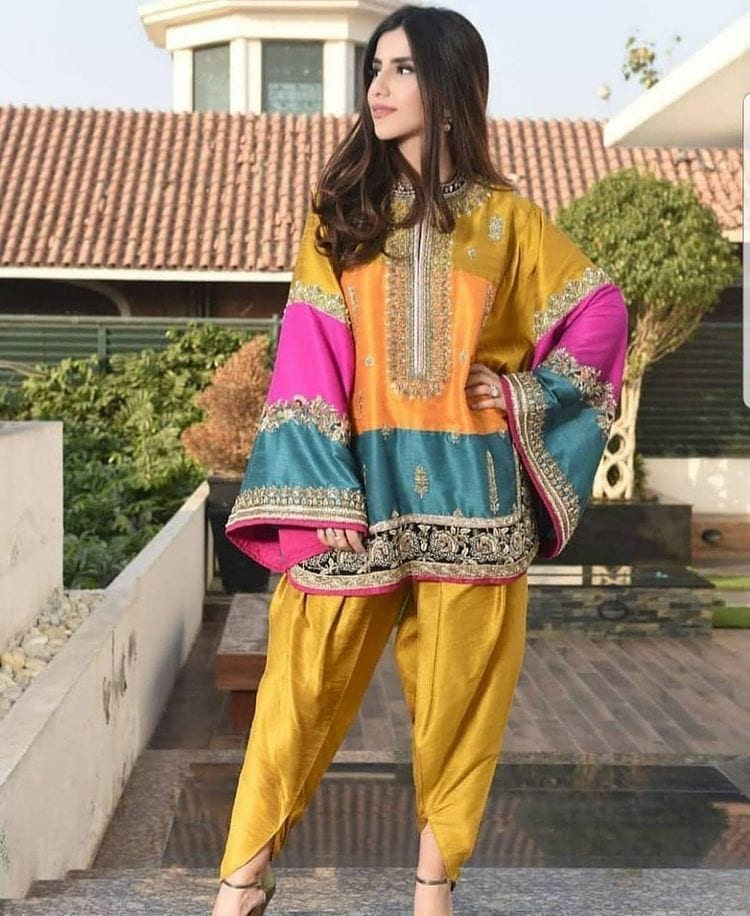 ↓ 10 – Bollywood Inspired Lehenga
We are sure about one thing; you can never go wrong with a lehenga at an Indian wedding, be it summer or winter. If you want your lehenga to stand out among all others, choose nonconventional patterned lehengas. Bright and beautiful colors look best when it comes to floor-skimming lehengas. Your top could be peplum, cropped, embellished, or embroidered. It all comes down to your fashion sense and what you are comfortable with! Add beautiful bindis and chokers to your outfit to elevate it. Do not forget to twirl around and take amazing photos for your Insta feed!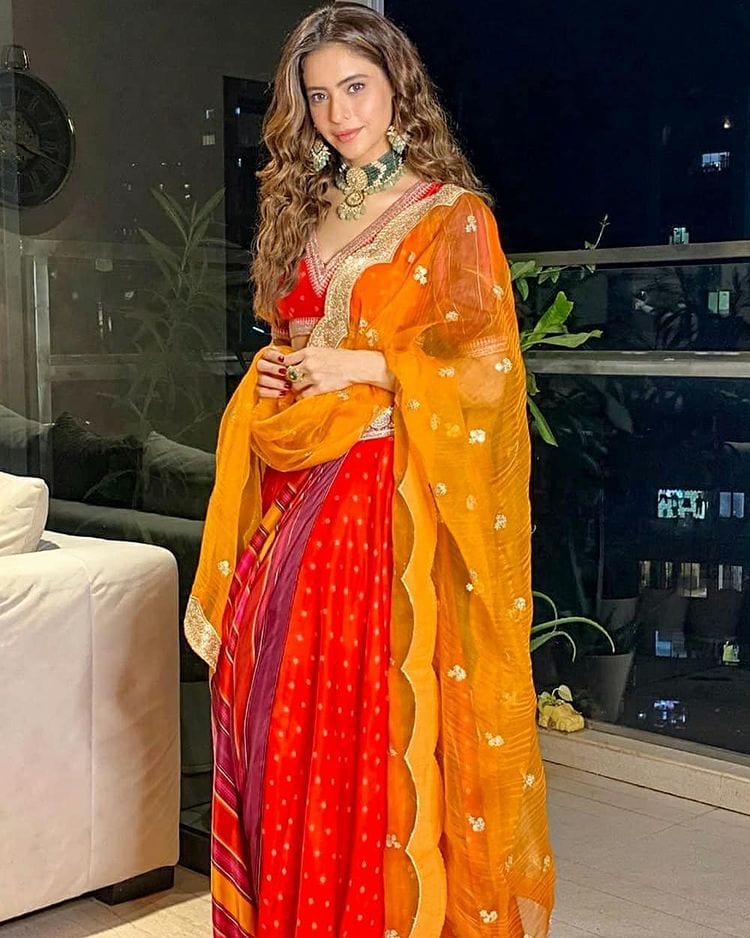 And since we're talking about summer weddings, such lehengas can be beautifully paired with cholis or crop tops.
↓ 09 – Classic Indian Sarees
People are usually inclined towards classic Indian sarees on main events such as the wedding itself or the reception. Traditional Indian sarees are the best representation of Indian culture and fashion. For daytime weddings, dusky pastel colors work best, while for nighttime weddings, darker hues do the wonder. For a summer wedding, we suggest you go with lighter shades and lighter fabrics. Here are some Saree Wearing Tips and Ideas that you'll find of great help.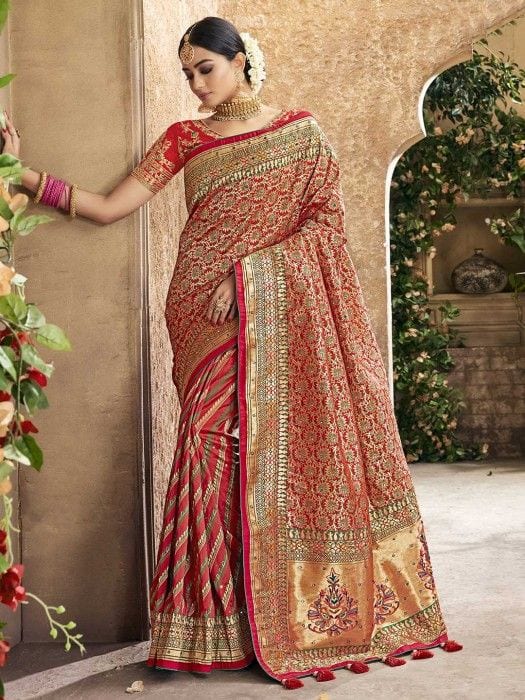 ↓ 08 – Gorgeous Anarkali Dresses
Anarkali dresses are trendy among Indian traditional attire, and women adore them! They make you look stunning while also accentuating the shape of your body nicely. Women can wear Anarkali dresses at multiple events, which is why they are an excellent purchase. You can wear these on sangeets, mehndi as well as the leading wedding. Silk Anarkali goes hand in hand with summer weddings because of its flowy fabric. You can pair your silk Anarkali dress with a net dupatta and some big Jhumkas!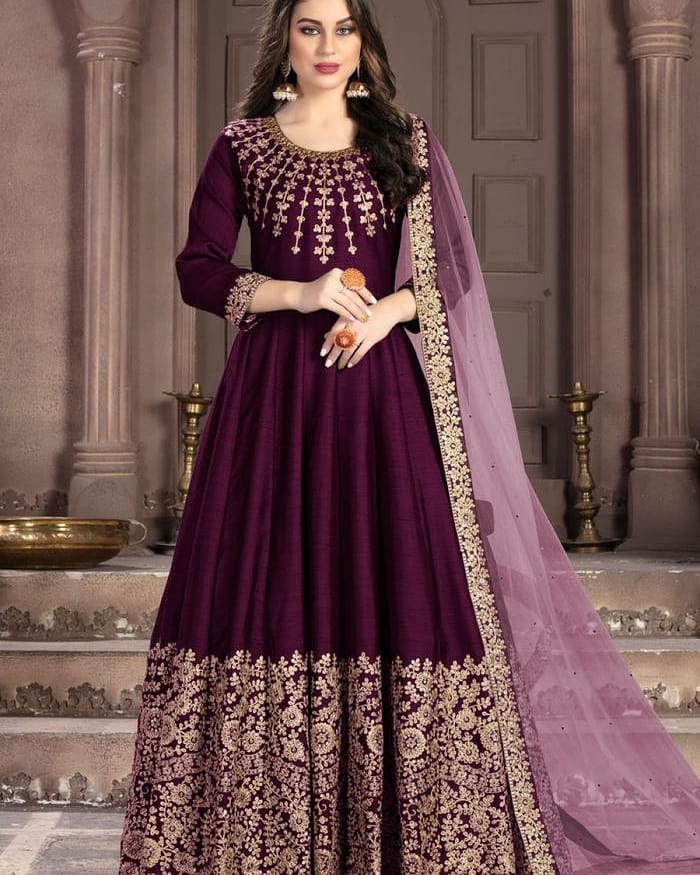 While the above look is more of a traditional one, here's a more modern version of the Anarkali dress for those who like to try new and unique looks. This dress is from Ridhiee Suuri and it looks fabulous on our favorite Indian influencer, Kritika.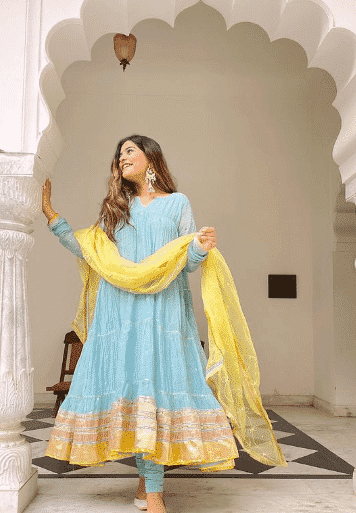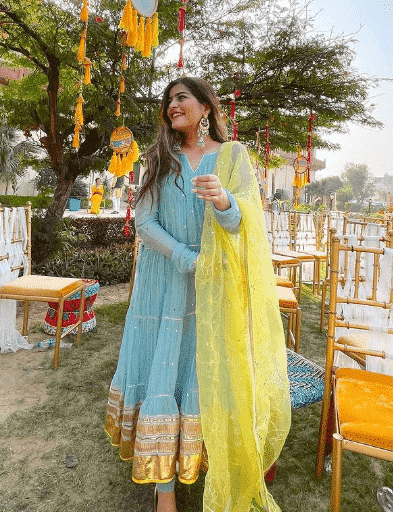 ↓ 07 – Traditional Sharara Suits
Shararas, also known as two-legged wide trousers, are very popular in Indian culture. They look gorgeous at wedding events. It gives you a very feminine and blingy look, which is all that you desire in an Indian wedding. These beautiful pieces of clothing are comfortable and stylish, perfect for a summertime wedding.
You can pair them with cropped Kurtis, long-sleeved shirts, peplum blouses, or even short dresses. Shararas also look best with a big Dupatta and some next-level jewelry. Wearing big earrings and bangles with this outfit will make you look show-stopping. 
↓ 06 – Jacket Style Anarkali
Indian weddings can never be complete without girls twirling in their Anarkali dresses and spreading colors everywhere! Luckily, there are a lot of styles and designs that Anarkali dresses come in. So you do not have to worry about having a repetitive or boring wedding outfit. Fusing, Western and eastern fashion trends is always a good idea. So we bring to you this top-trending idea of a perfect wedding guest outfit; the jacket style Anarkali.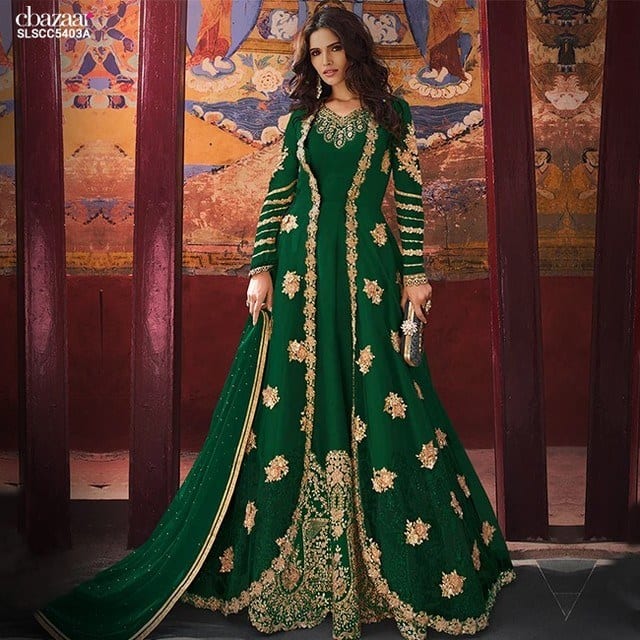 ↓ 05 – Fancy Salwar Suits
Salwar suits are also trendy among Indian people because of the comfort they provide. These look the best at sangeet and mehndi events. Westerners often love wearing salwar suits, too, because of the ease they get while wearing them. These suits can be embroidered, embellished, or decorated with sequins. Instead of a regular shalwar, you can also opt for the trendy Tulip Shalwar Outfits.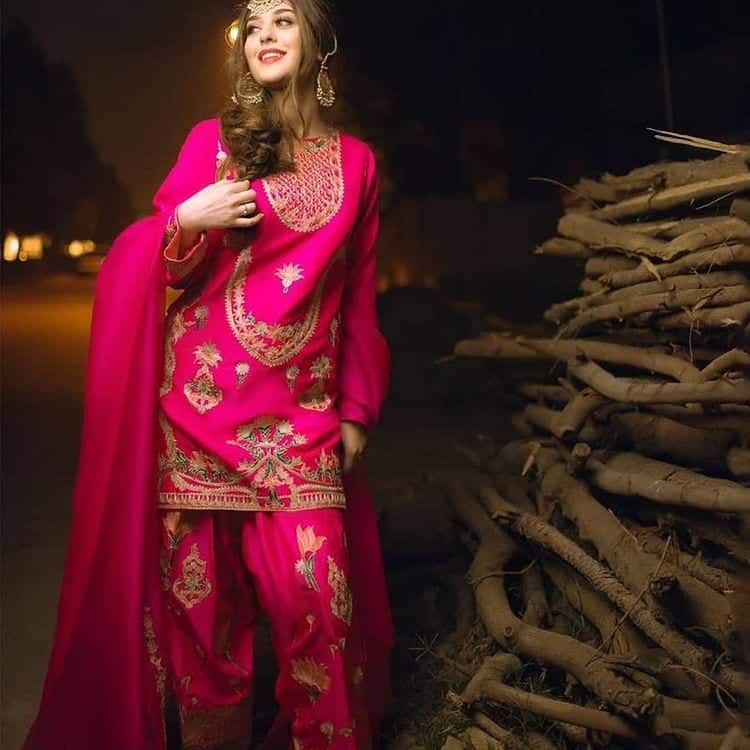 ↓ 04 – Lehengas with Long Shirts
These light and breezy lehengas with long shirts are a perfect pick for summer weddings. Bell-shaped sleeves and a flowy dupatta will give you a very feminine look. Pastel-colored lehengas look gorgeous on events such as reception or the actual wedding.
These give you a stunning and fresh look. With simple outfits, you can wear many accessories, so do not shy away and get your hands on a lot of them. Flower crowns, flower earrings, and dainty rings look best with these lehengas.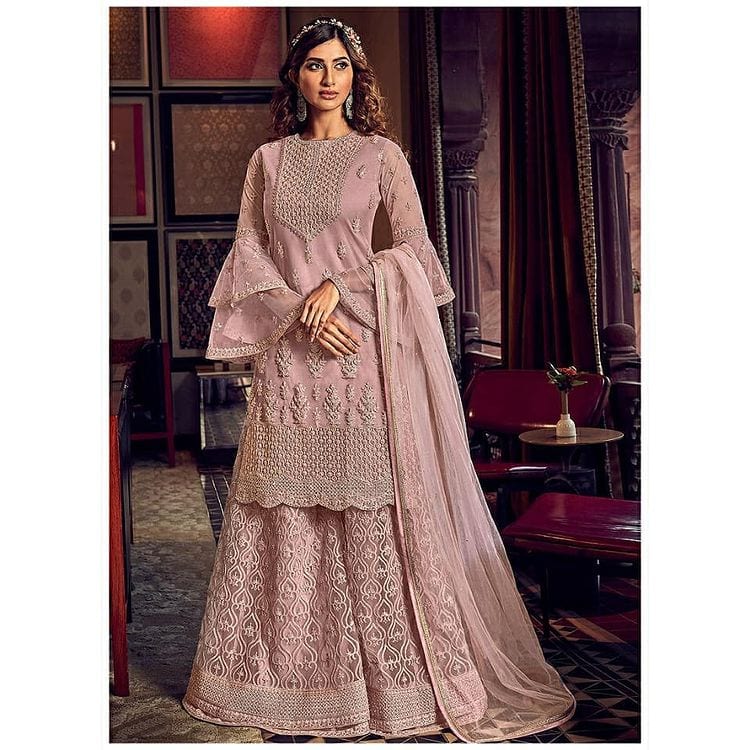 ↓ 03 – Pishwas with Fancy Dupattas
Long silk dresses, also known as Pishwas, look and feel amazing in the summertime. Ladies can wear these beautiful and traditional dresses at multiple Indian wedding events. These go perfectly with Khusas, a conventional shoe.
You can spin around in your Pishwas all you want while turning heads left and right. Lightly embroidered Pishwas not only looks elegant but also gives you a lot of space to accessorize your outfit the way you want to.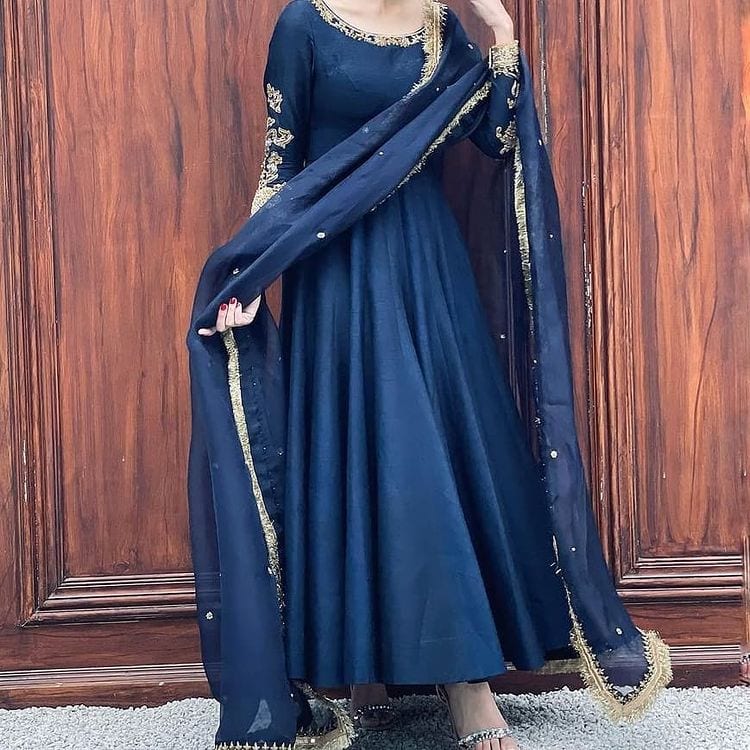 ↓ 02 – Floral Sarees
Non-traditional saree prints are a massive hit among saree lovers. People who love the fusion between eastern and western fashion are very much inclined towards these nonconventional patterns in traditional clothing. Women love wearing floral prints are in all seasons.
These sarees are light and breezy, and you can wear them on the sangeet as well as mehndi events. You can accessorize these beautiful but straightforward sarees with silver earrings and necklaces.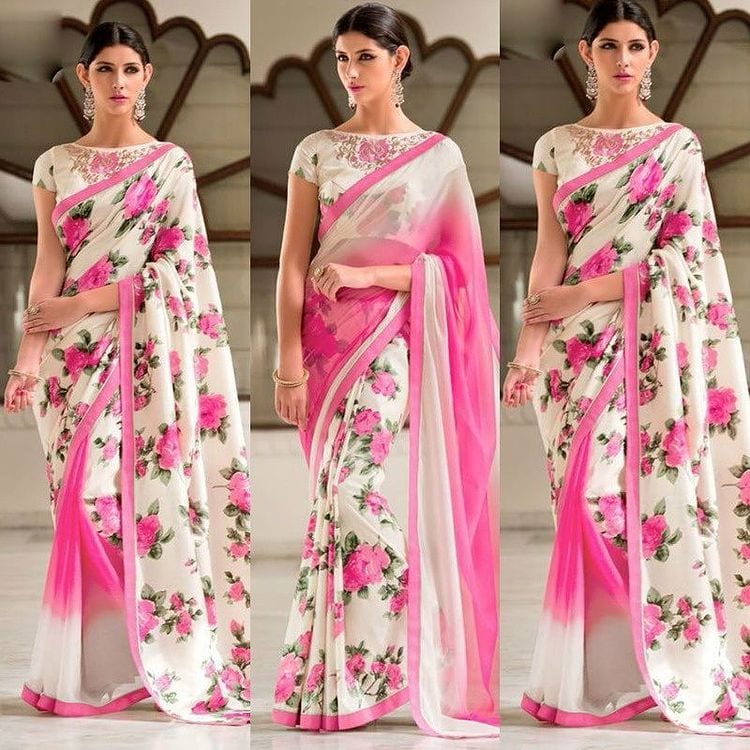 ↓ 01 – The Ultimate Kurta and Pajama
The long Kurti and pajama outfits date back a very long time. This super traditional and beautiful outfit looks gorgeous at events of sangeet and Mehendi. You can design the neck and sleeves of your Kurti the way that you want to.
A boatneck, a V-neck, and even a round-shaped channel with tussles hanging on the back look very dazzling. In summers, they are comfortable to wear and also very breathable. You can get yours made in any colour that you want. Ready-made Kurti looks gorgeous with a long dupatta and churidar pajama. Colorful bangles and long earrings go very well with this traditional look. To amp up your look, here are the Latest Shalwar Kameez Neck Styles.
FAQs
Q.

What should a Westerner wear to an Indian wedding?

A. Being a westerner, you may want to dress up the same way as everybody at an Indian wedding, but these Indian clothes may seem very intimidating to you. Well, here's good news. You can get yourself a pre-made Indian saree, which is very easy to wear. You can also go with a simple Salwar suit or a fusion outfit such as palazzo pants and short dresses. 
Q.
Is wearing a saree to the main wedding event mandatory?
A. Some people think wearing a traditional Indian saree is compulsory. It is not true at all. While people love wearing traditional Indian sarees at the leading wedding event, you can also opt for brightly colored lehengas with various patterns. Pair them with embellished or embroidered tops. 
Q.
Can I wear a formal gown for an Indian wedding?
A. Yes, if you have a formal dress in your closet, you can make use of it at the reception event. This event is mainly traditional, and you need not worry about looking odd in a formal gown. Accessorize your dress well with the help of a delicate clutch or purse. Add earrings, necklace, bangles, and even anklets to make your gown look even more beautiful. 
Q.
What colors should I avoid wearing while going to an Indian wedding?
A. You should avoid wearing red and pink hues because Indian brides generally wear these shades of colour. As long as you are not stealing the bride's limelight, you are good to go. Summer weddings call for light and breezy colors. Choose these for a more relaxed effect.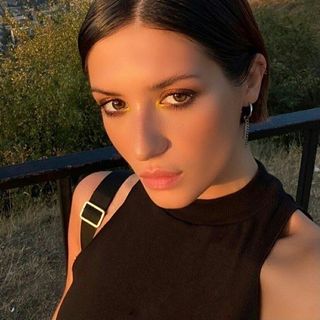 Avid reader and Fashionista. London Based freelance lifestyle editor