Pakistani Bridal Shower Outfits. The bridal shower is a relatively new trend in Pakistan. It is not totally new but has grown on the masses only in the last few years. So it is something so hot and hip that all the brides-to-be are super excited about it.
The bride's best friends take lots of pains to plan the whole bridal shower saga keeping a balance between the western roots of the occasion as well as incorporating the local traditional into it. A bridal shower is significant for the bride because it is one day when she can let her hair down and enjoy to the fullest with her girl squad. Amidst all the wedding chaos going on in her life, this one day planned out by her friends is a respite for her. Choosing the right bridal shower outfit is very important because if all goes well with the shower, the bride will be confident and assured about the upcoming big wedding day.
How To Dress Up For a Pakistani Bridal Shower
So here are some cool tips for the bridesmaids about bridal shower dresses for Pakistani brides.
Choose the color of the dress that will not be worn on any wedding day so that there is some variety, and the bride will not look similar on the wedding day too.
To be on the safe side, choose the colors that a Pakistani bride is least likely to wear like white, black, grey, or brown.
Keep the comfort of the bride as the foremost priority in this function because the upcoming days are sure to bring a lot of stress and nervousness for the bride. So, plan a dress that is beautiful as well as comfortable and according to the weather conditions.
Remember, the dress should not be too heavy that it surpasses the main wedding dresses. Also, it should not be so casual that there is no difference in typical outfits or bridal shower outfits.
In the wedding dresses, there is usually the compulsion to follow certain traditional styles, themes, and looks but here keep the wishes of the bride at the forefront.
When you are planning a bridal shower for your friend, keep in mind that it is about the bride and not about you.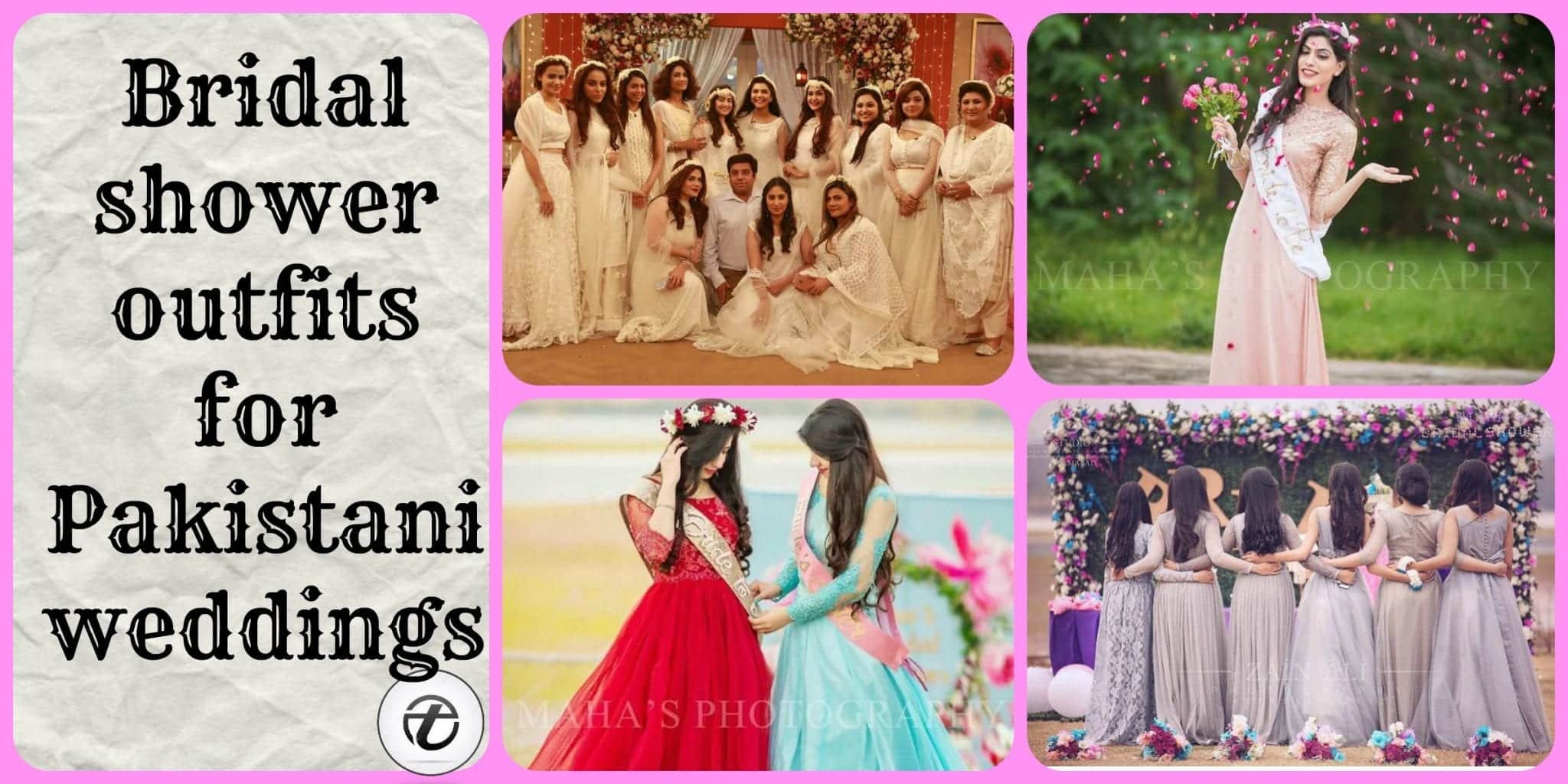 ↓ 35 – What Gown Suits Your Body Shape?
The bridal shower is all about having fun with the girl squad, following a theme, cutting a cake, and taking loads of pictures together. This is the function that officially marks the opening of a wedding week these days. Ladies, the rest of the stuff is easy, but choosing the right outfit is the real challenge. You might be thinking of wearing a gown or maxi on this day, we assume. Hence, have a look below and find out what wedding gown compliments your figure the best. Good luck!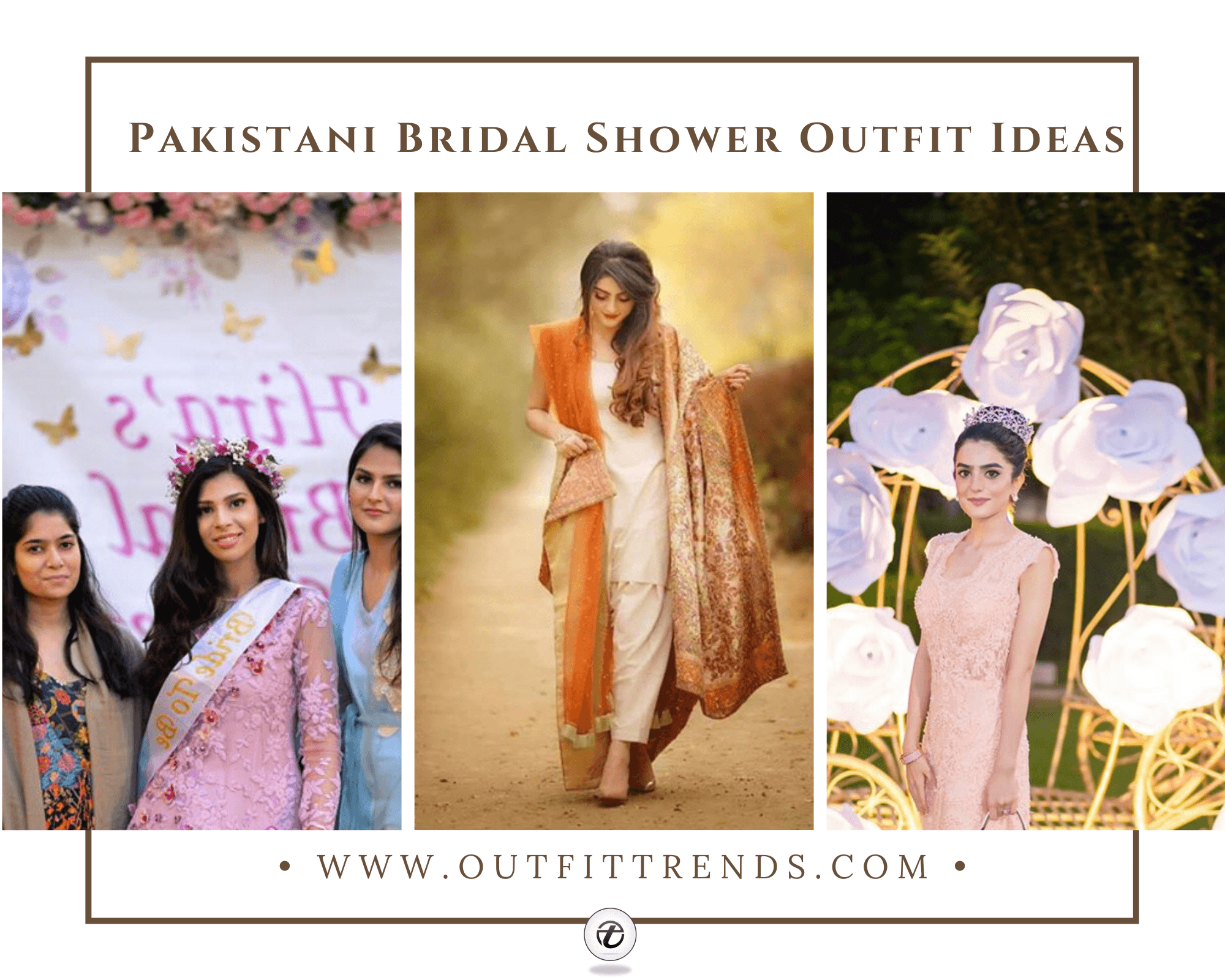 The Empire Line Gown: 
Empire line gown is the one that has a raised waistline and sits just below the bust and flows down the hem. It is most suitable for brides having a pear-shaped figure and small bust.
The A-Line Gown:
A-line gown is well-fitted at the bodice and rolls out to the ground with an unbroken line. It is the perfect one if you want a long tail dress for your bridal shower. Moreover, it is ideal for people with a large bust or curvy figure and wants an illusion of a slim figure.
The Ballgown:
It is a gown that has a dramatic skirt and fitted bodice. It suits well people having a pear-shaped figure or slender figure as it helps to hide the lower body and accentuate the waist. Short people should avoid ballgowns as they make one look fluffy, and you might not want it.
The Trumpet:
The trumpet skirt flares out below the hips and creates a semi-full skirt without extra bulk and volume.  This type of gown will suit people who have a good height and average weight, people who are neither too thick or too thin.
The Sheath Gown:
The sheath gown is an excellent fit for people with lean figures, both tall and short. It also aids in contouring body from head to toe.
The Mermaid Gown:
The mermaid silhouette flares out to the hem and also contours to the body from the chest to the knee. People with slender figure should prefer mermaid gowns and make sure you are confident and comfortable with whatever you are planning to wear.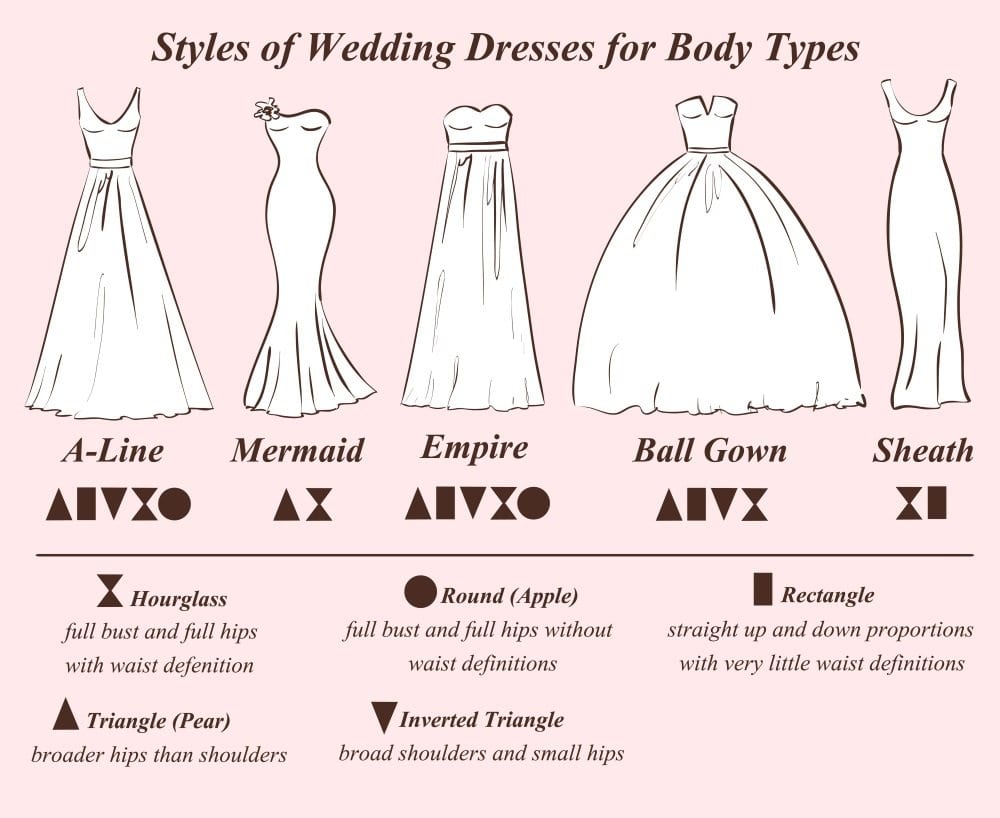 ↓ 34 – Aiman Khan's Bridal Shower
Aiman Khan, the heart of Pakistan's drama industry, got married last year at a young age of twenty. Her wedding week was a dream wedding for a reason. She wore extremely captivating outfits that stunned everyone. For her bridal shower, she chose to wear a golden-grey silk long tail gown with some golden flowers on the front. She looked ethereal in natural glowing makeup and loose curls. Her sister Minal Khan who was a bridesmaid, choose to wear a green chiffon long tail gown. The twins did twinning on bridal shower and shared an evening full of laughter and joy with their girl fam.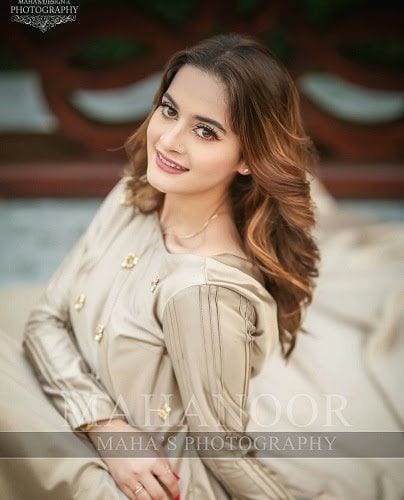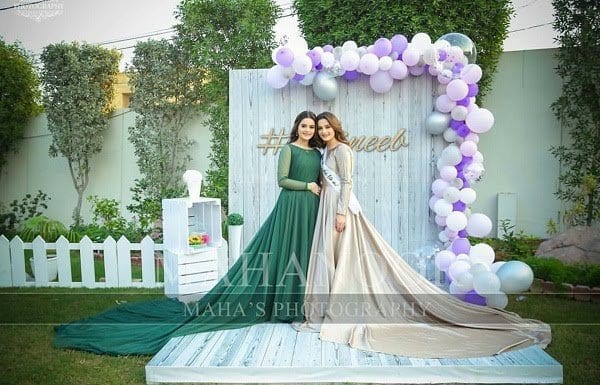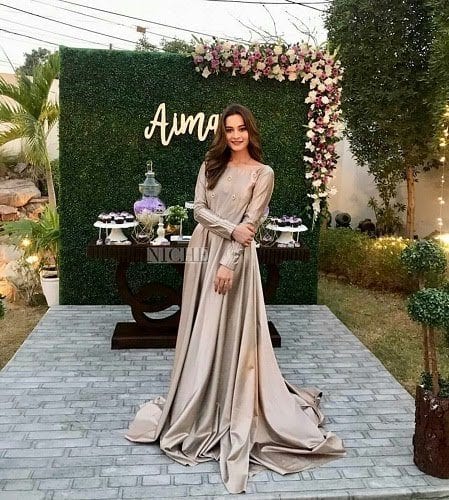 ↓ 33 – More Celebrity Style
Another actress of Pakistan, Sarah Rizwi, choose to wear a golden skirt on her bridal shower. Her golden plain silk skirt along with golden chiffon self-printed mid sleeve blouse made her look like a princess. Also, the golden flower pins and long wavy hair gave her a girly touch.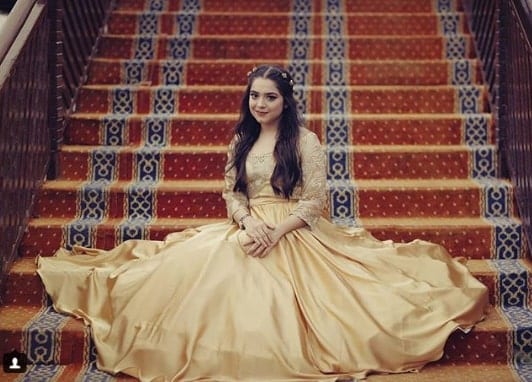 ↓ 32 – Color Coordination With Bridesmaid
Bridesmaids are an essential part of weddings. They provide the bride with the courage and support she needs during the most critical time of her life. Friends and bridesmaid throw the bride a bridal shower. Hence they equally deserve an excellent evening. So, girls grab yourselves outfits that are in contrast with the bride. Go for maxi's and gowns in silk and net and set the stage on fire this evening. Let the bride wear a shade lighter or darker than you and accessorize her outfit with heavy tiara makeup.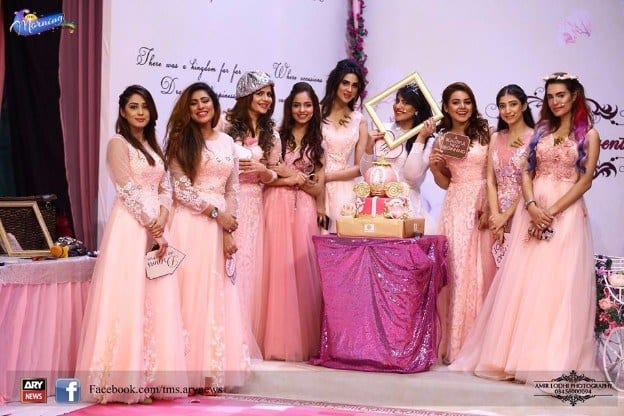 ↓ 31 – Western Style
Since a Pakistani wedding is all about desi and traditional wear, you can start the wedding with something different like western wear. Gowns and maxis are too mainstream, as well. Skip them also and wear short sequin dresses with tights and accessorize with tiara, makeup, and cool jewllery. Don't forget the props, after all, you have to take thousands of selfies and pictures, and you need many ideas for them.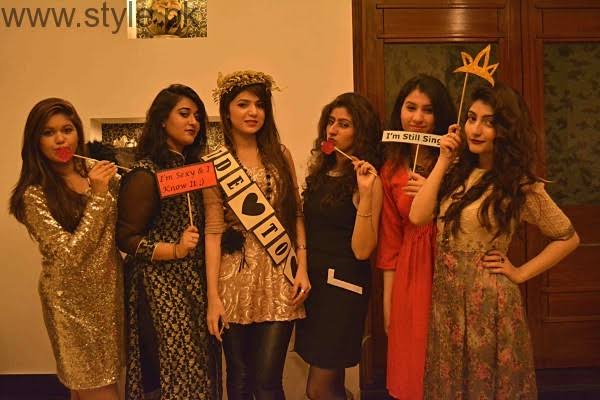 ↓ 30 – Can You Wear White For Your Bridal Shower?
White looks like a dream on any bride. Although eastern culture doesn't prefer white. So why not steal western culture for a day, at least? Go with a white net floral gown on your bridal shower. Get your hair curled up and fix a tiara. As your outfit is white, bold makeup is what you need with it. We hope your friends have a theme arranged for you.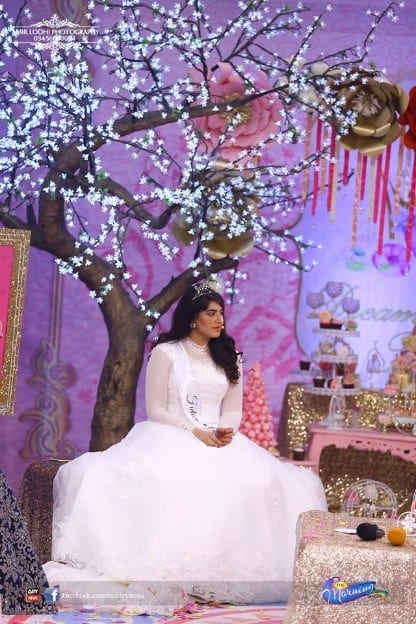 ↓ 29 – What To Wear For Bridal Shower Brunch?
Bridal shower brunches are trendy. The wedding functions are usually in the night, so keeping the bridal shower in the day is often a good idea. But it means you wear light colors. If the weather permits, a brunch in sunny outdoors can be a memorable event. You can also choose from some outside accessories like hats, sunglasses, and scarves. Here are 15 Ways to Dress up for Sunday Brunch.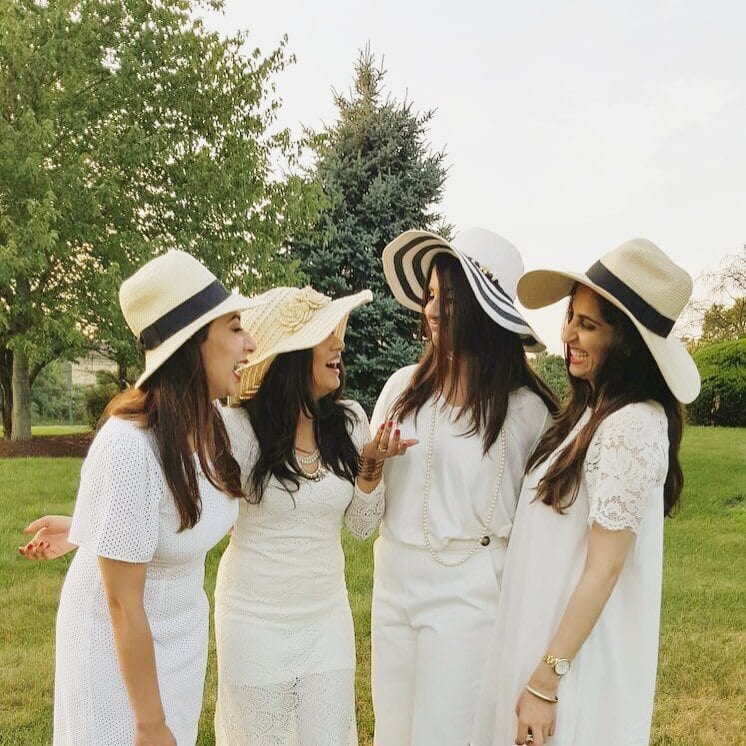 ↓ 28 – Spring Outfits For Pakistani Wedding
Bridal shower decor, whether in Spring or not, heavily utilizes the flower arrangements. If you are fortunate to have your bridal shower in Spring, then you can have lots and lots of flowers to make a beautiful setting for the occasion.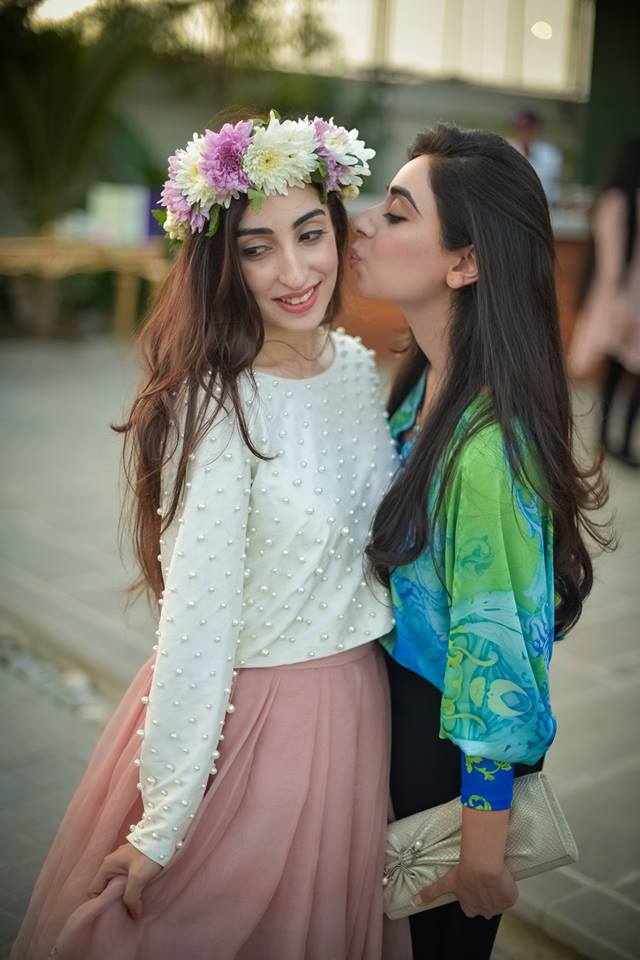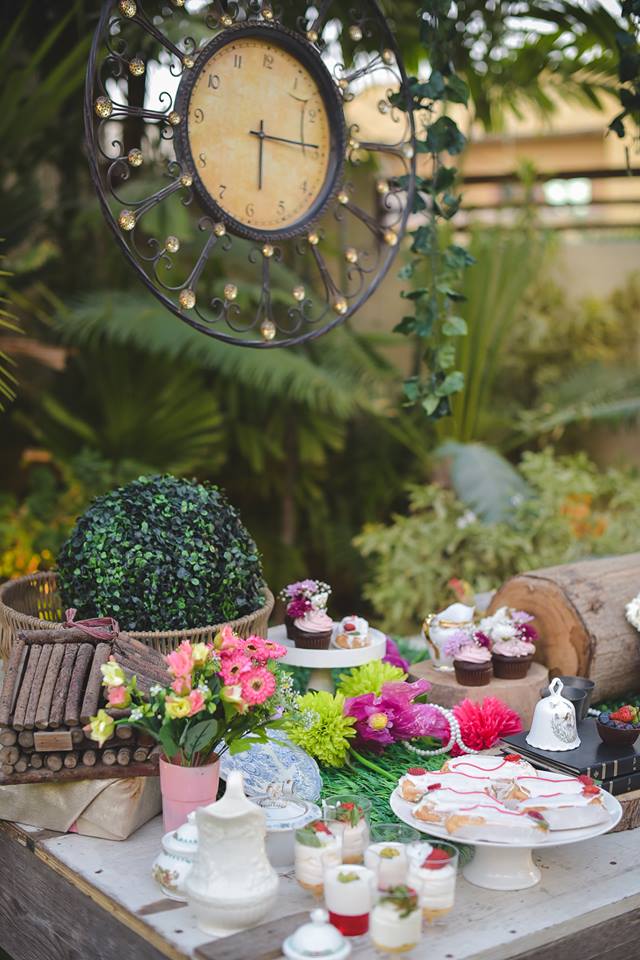 ↓ 27 – Outfits For Winter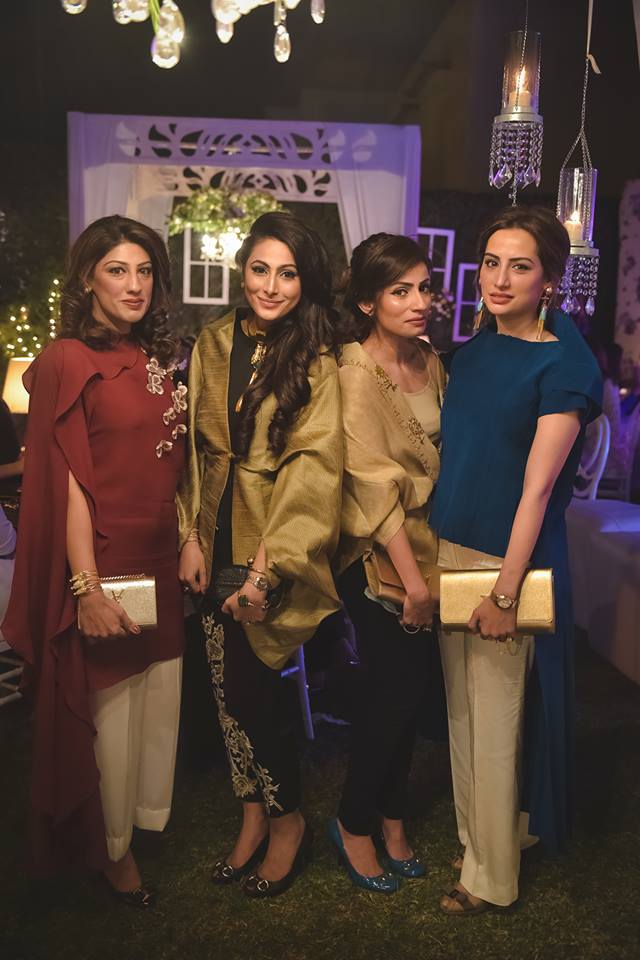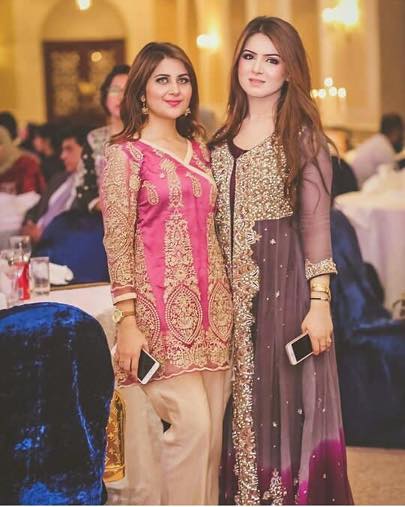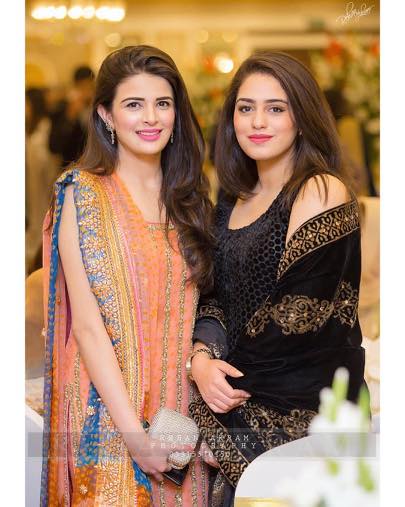 ↓ 26 – Desi Outfit Ideas
As it is mainly a western tradition, the outfits of the bridal shower are influenced by a western touch, but it is best to wear a mix of both these two cultures and create a cool combination of both. Also, have a look at these 20 Classy Outfits for Pakistani Girls with Short Height.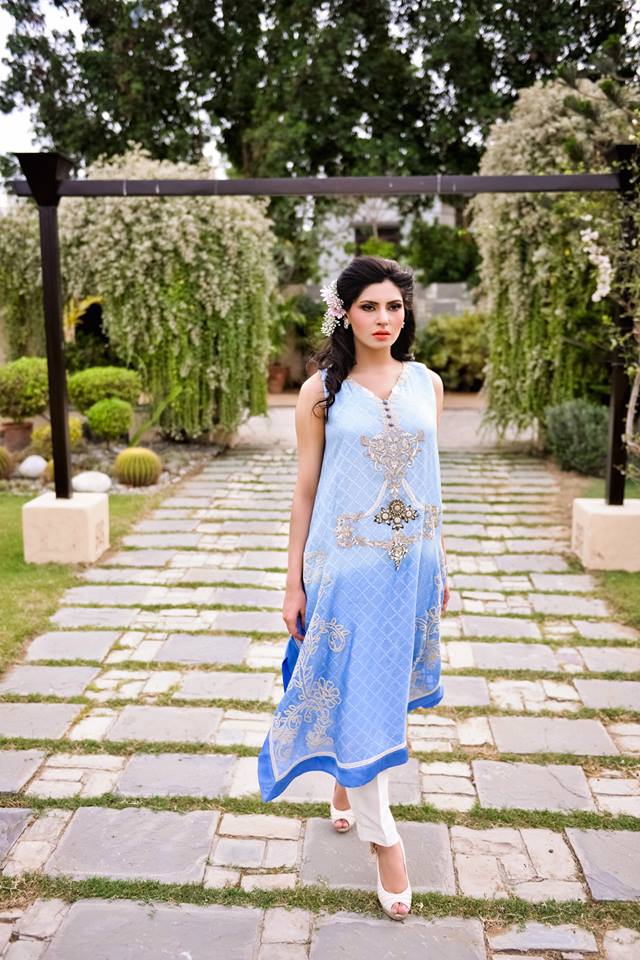 ↓ 25 – Princess Themed
A tiara like head accessory is usually a must for brides on the bridal showers. It signifies that today is about the lady wearing the crown, and it is no small occasion for her but something that will change her life forever. A wreath of the flower is a suitable replacement for the crown. Usually, in Pakistani bridal shower, you will surely see lots of girls as well as the bride wearing jewelry made out of flowers. Brides are given the gift of fresh new flowers to make the event auspicious.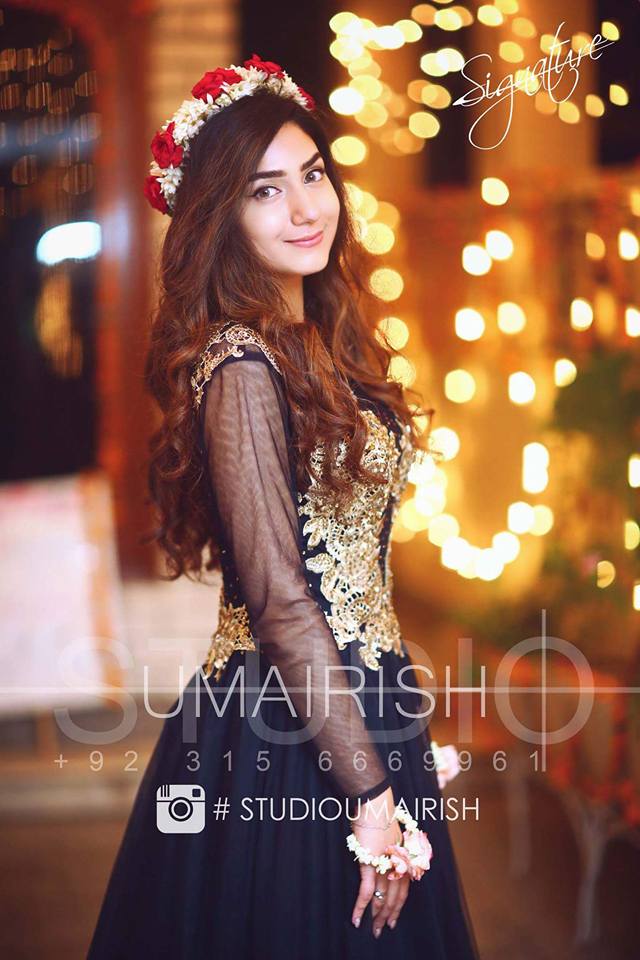 ↓ 24 – Lady In Black
Although the age-old trend is changing and brides are opting for black to be worn on their wedding day, but if you love the black color but cannot wear it on your big day because of all the "Bad omen" talk, then the bridal shower is the best day to wear the black color.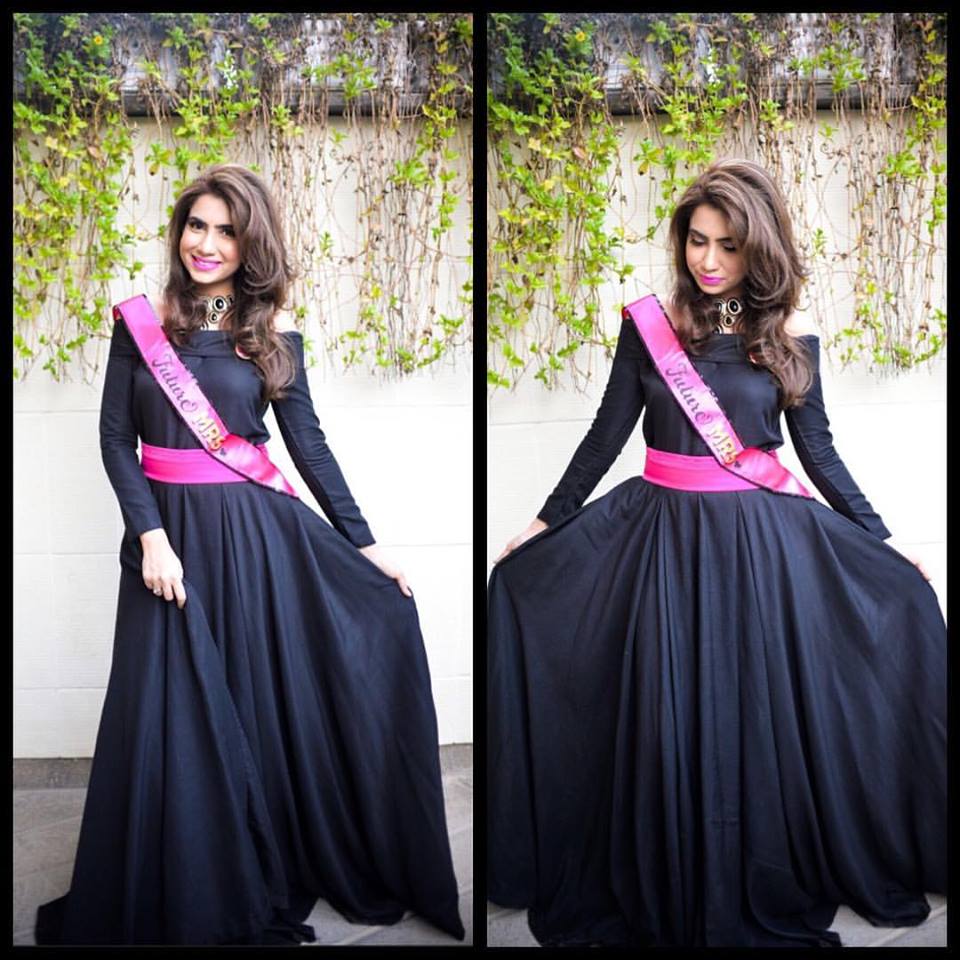 ↓ 23 – Net Skirts
Long net skirts are all the rage these days. These may be lehnga style or skirt style, but in both ways, the embroidered net looks serene and beautiful and would be perfect for a bridal shower party. Here are 20 Elegant Outfits for Pakistani Women Over 30.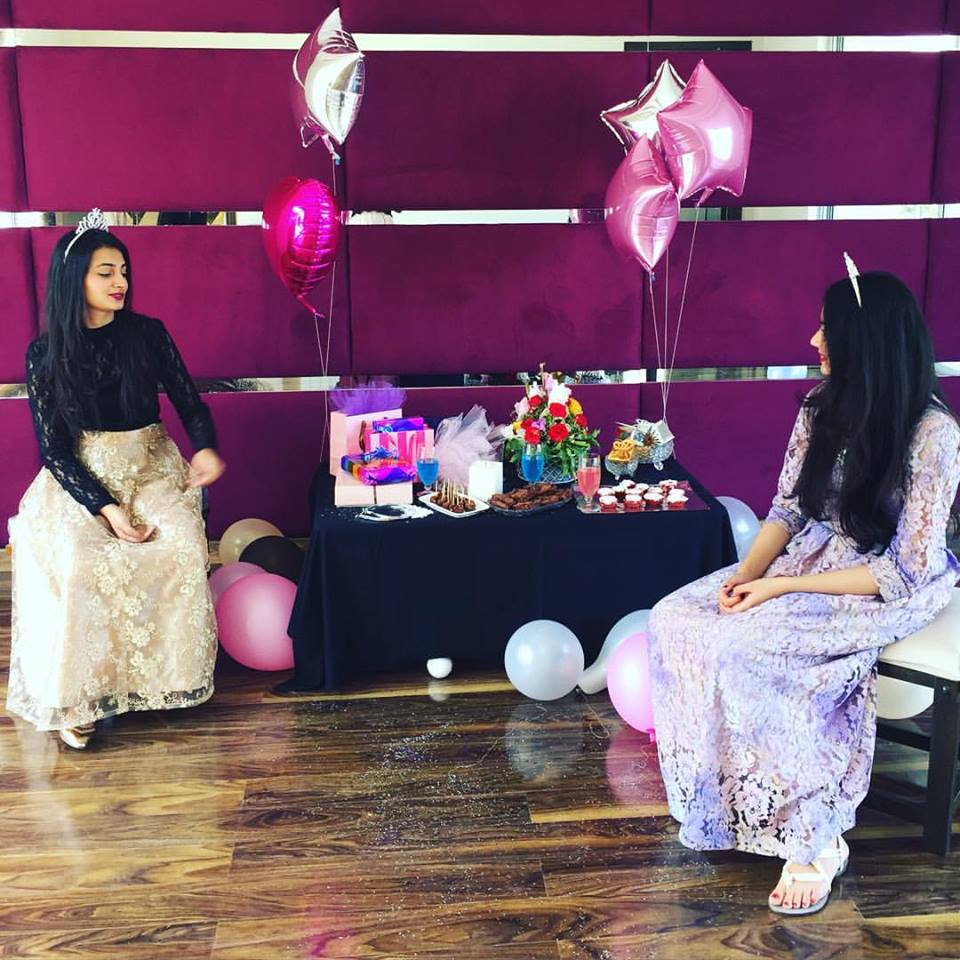 ↓ 22 – Gorgeous Outdoor Looks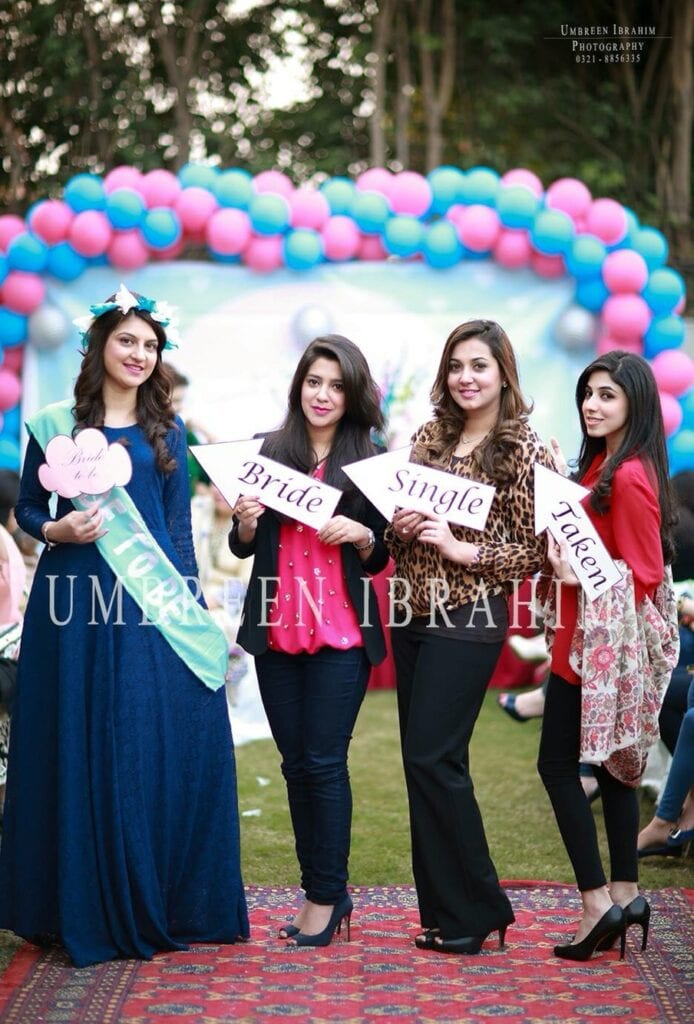 ↓ 21 – Celebrity Style Outfits For Pakistani Brides
Whenever some celebrity is getting married, their bridal shower is celebrated in one of the many Pakistani morning shows. You can get the latest fashion ideas from these morning show bridal showers. The white theme is prevalent for bridal showers. If you are following a white theme, dressed in white lace and chicken, look elegant and beautiful. You can combine motia flower head wreaths and Gujras and complete the celebrity style look.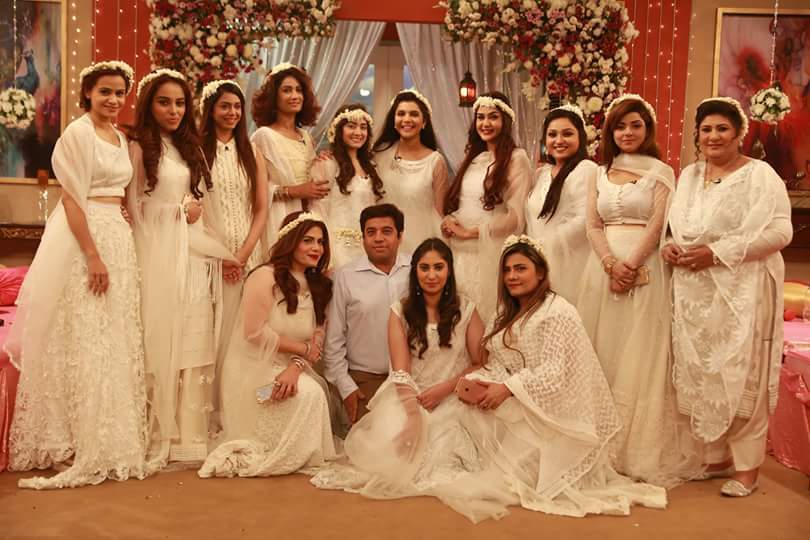 via
↓ 20 – What To Wear For Bridal Shower Luncheon?
Luncheon means it is a daytime event, so go for a theme with light colors. Wear light make and white-colored jewelry. Also, for brunch and luncheons, there are lots of beautiful decor options if you are planning it outdoor. So choose a time when the weather is good and go for an outdoor event.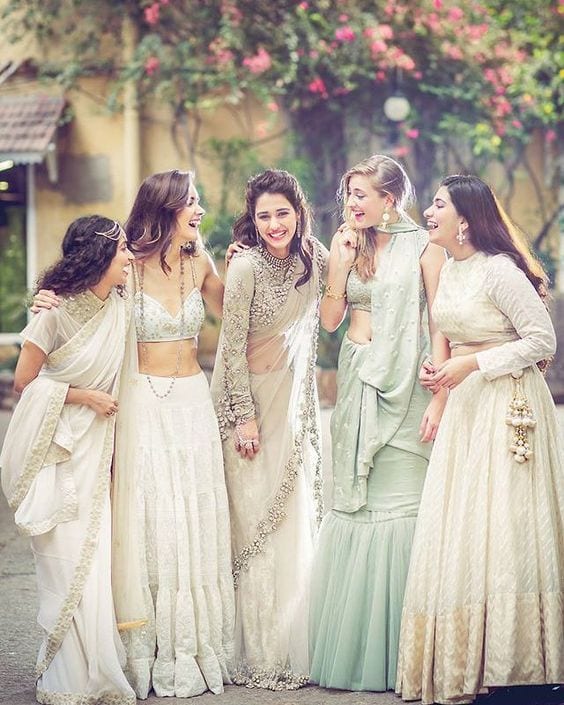 ↓ 19 – Summer Outfits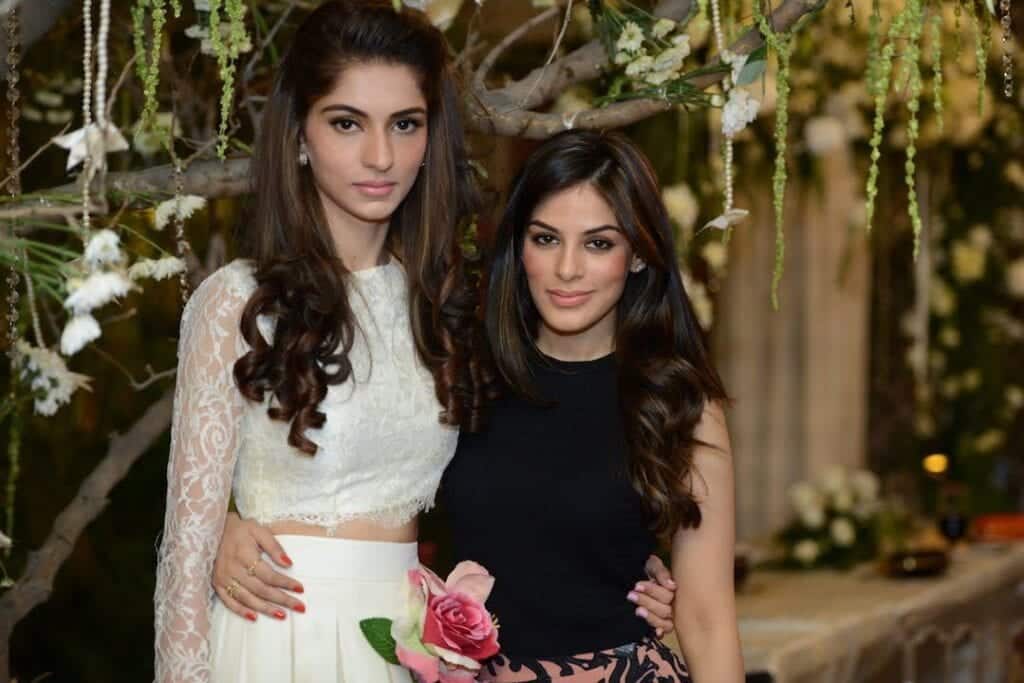 ↓ 18 – Makeup For Pakistani Bride and Bridesmaid
According to our Pakistani tradition, the bride wears heavy makeup on her wedding day. So for a bridal shower, we would advise going for a light makeup look. No need to go to parlor for makeup. Just wear what you usually wear for parties. If you have sensitive skin, be careful. Heavy makeup on bridal shower may trigger any allergies and cause you to have pimples before the wedding day. Here are 20 Pakistani Wedding Hairstyles for a Perfect Looking Bride.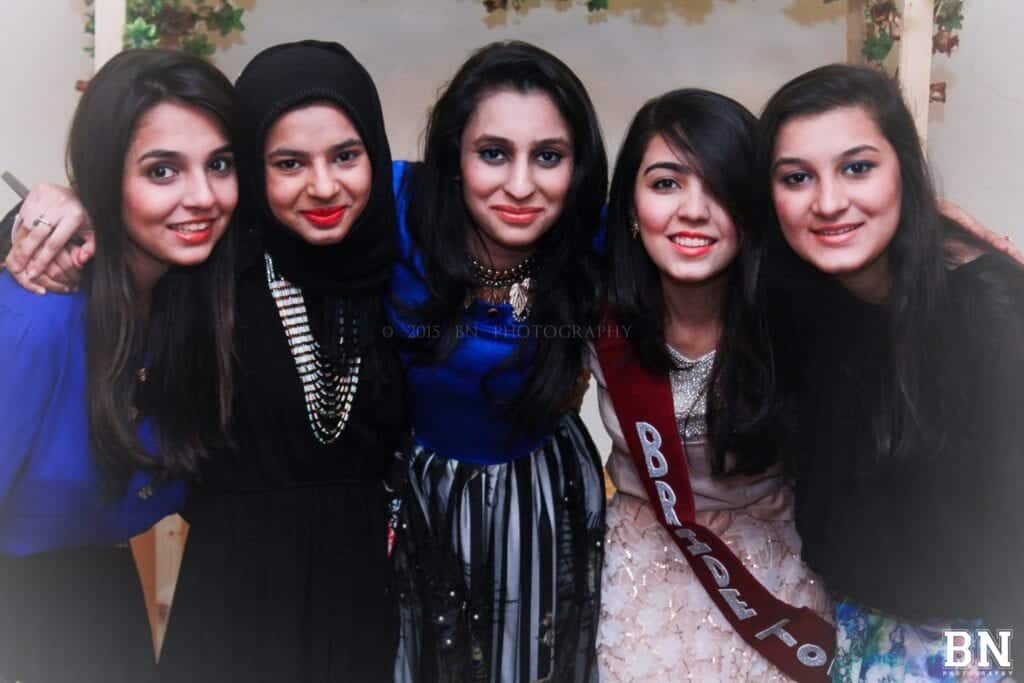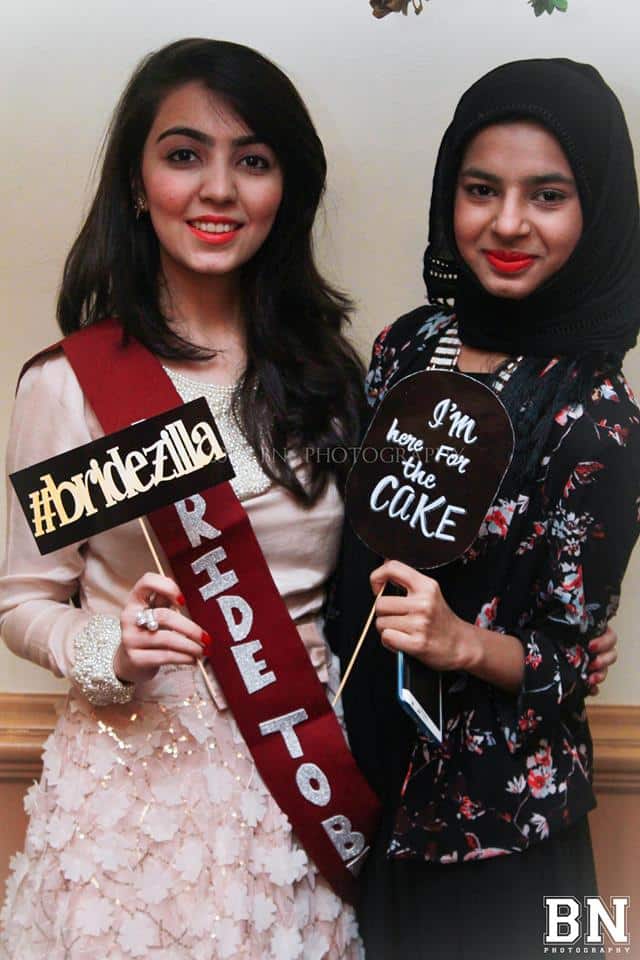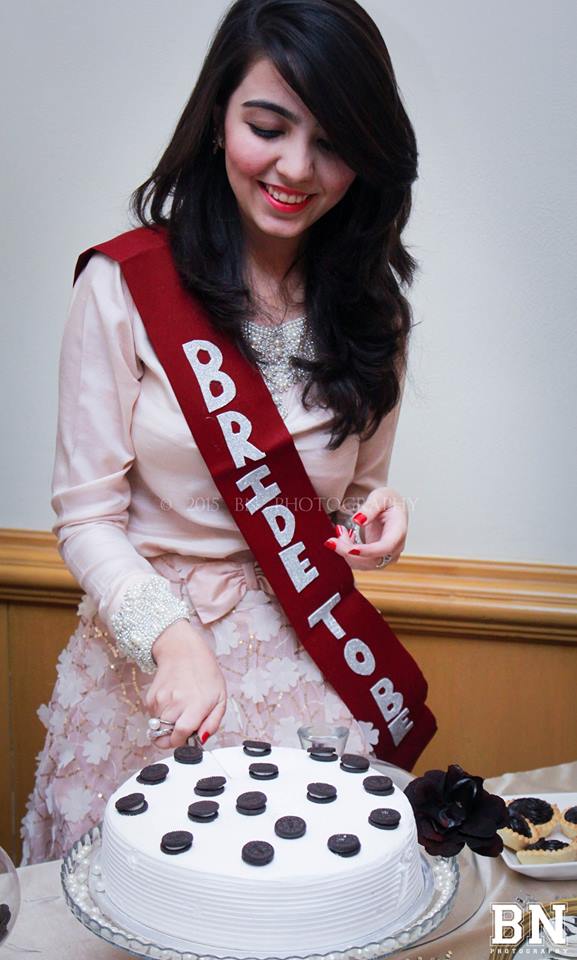 ↓ 17 – Elegant & Sophisticated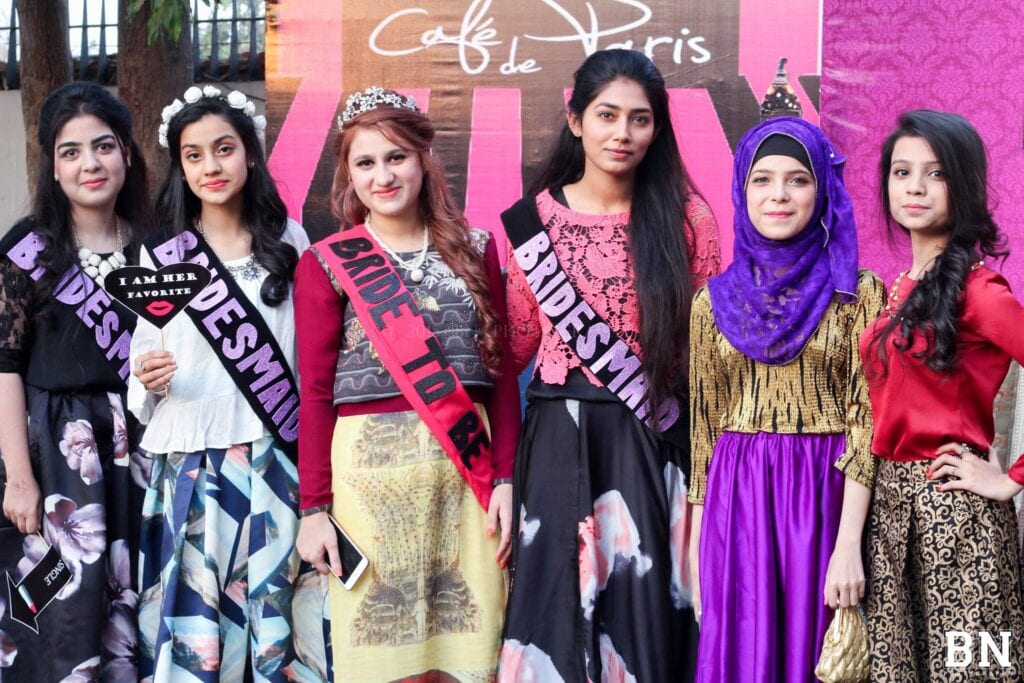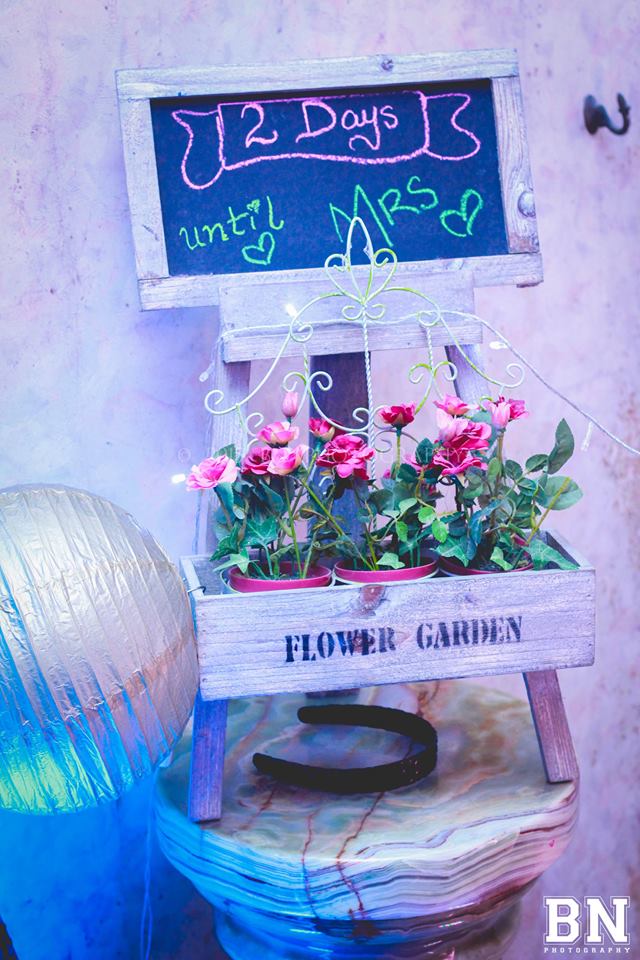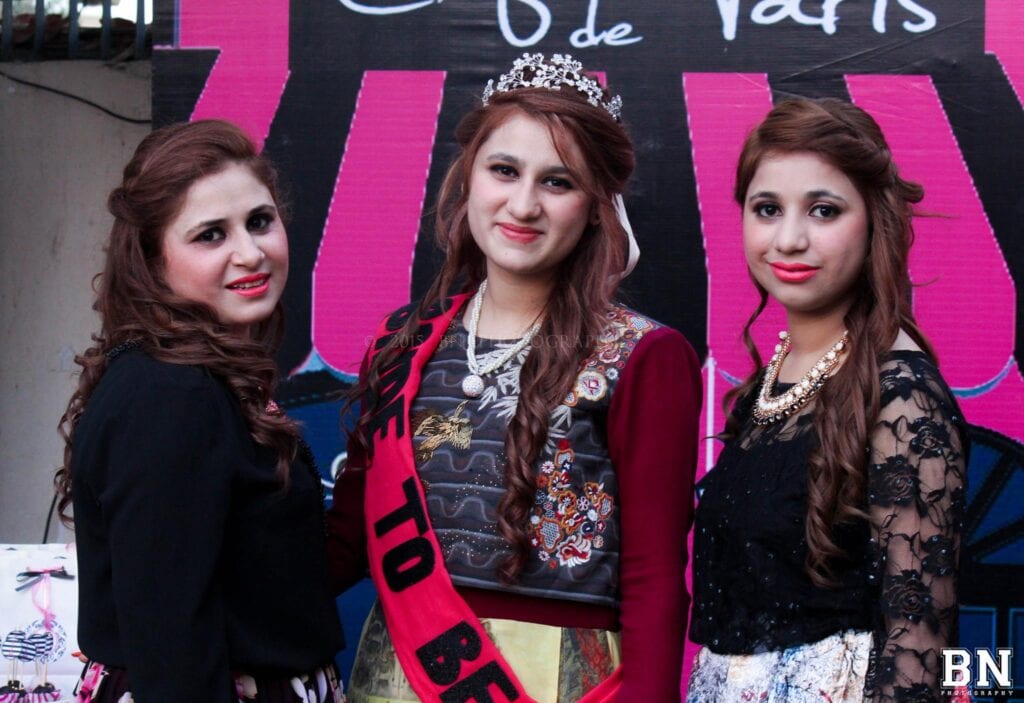 ↓ 16 – Royal Bridal Shower Outfits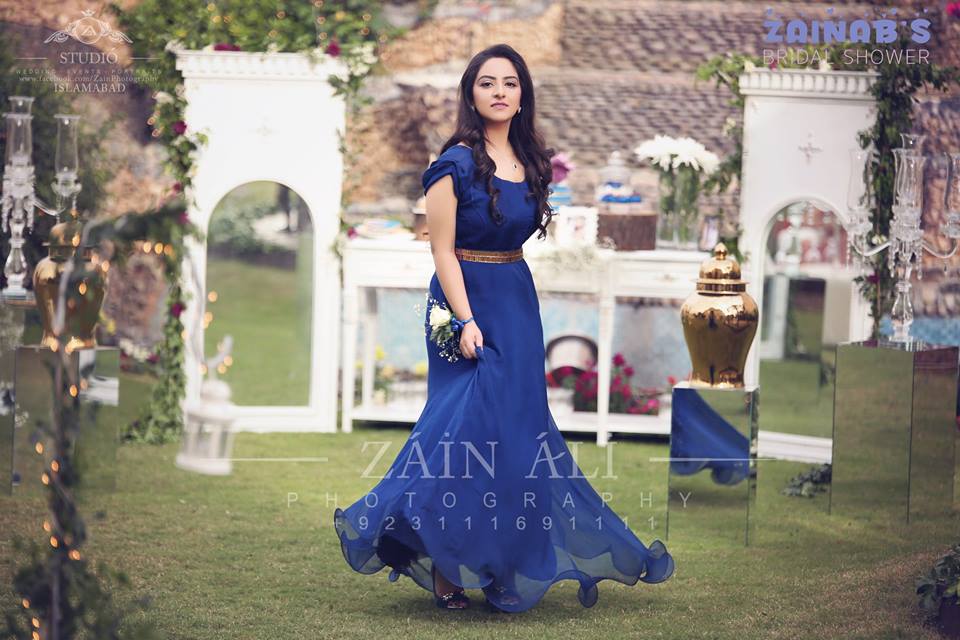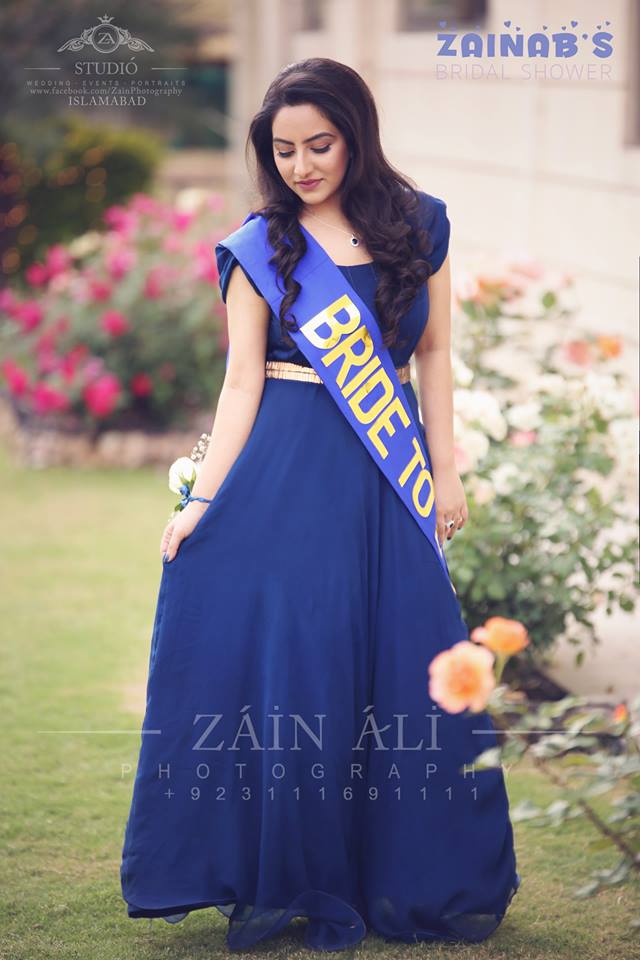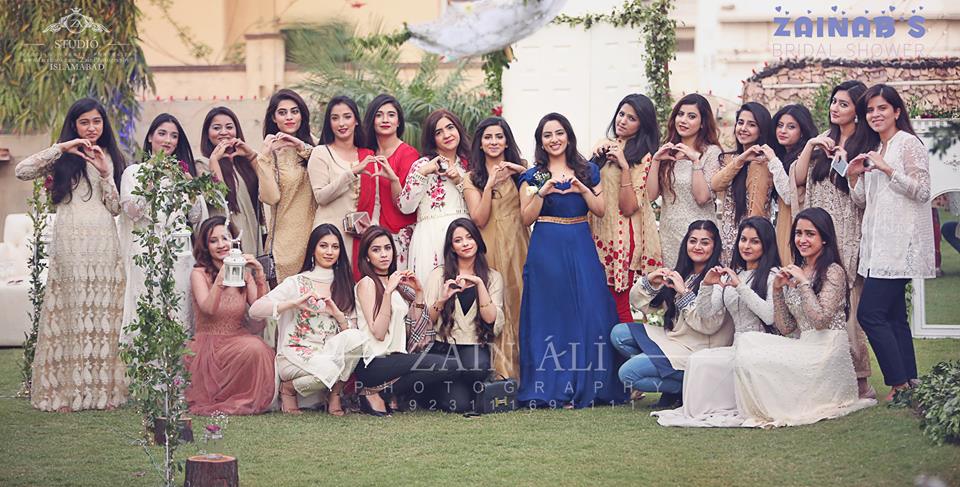 ↓ 15 – Simple But Cute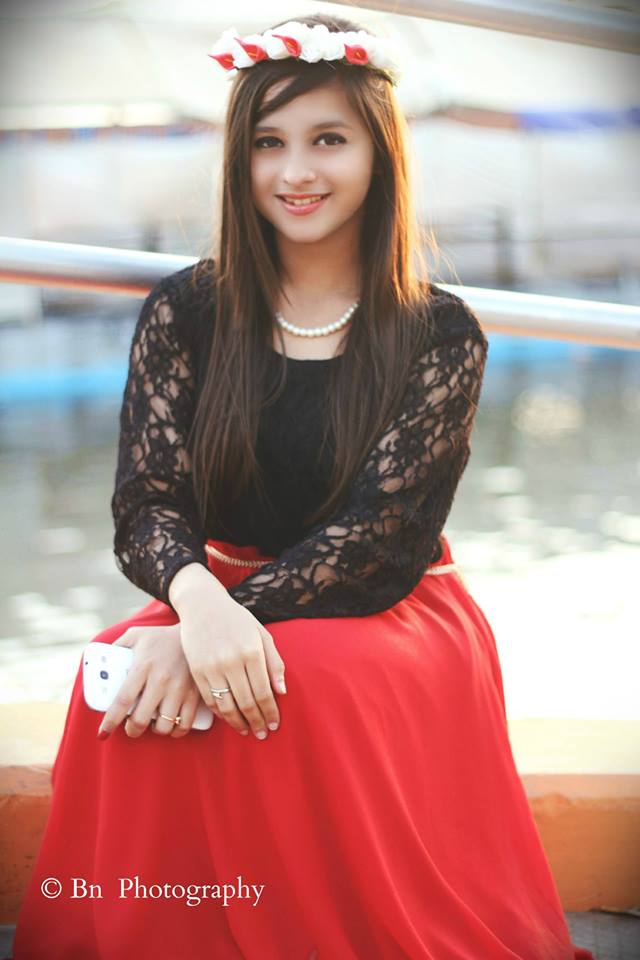 ↓ 14 – Sari Themed Bridal Showers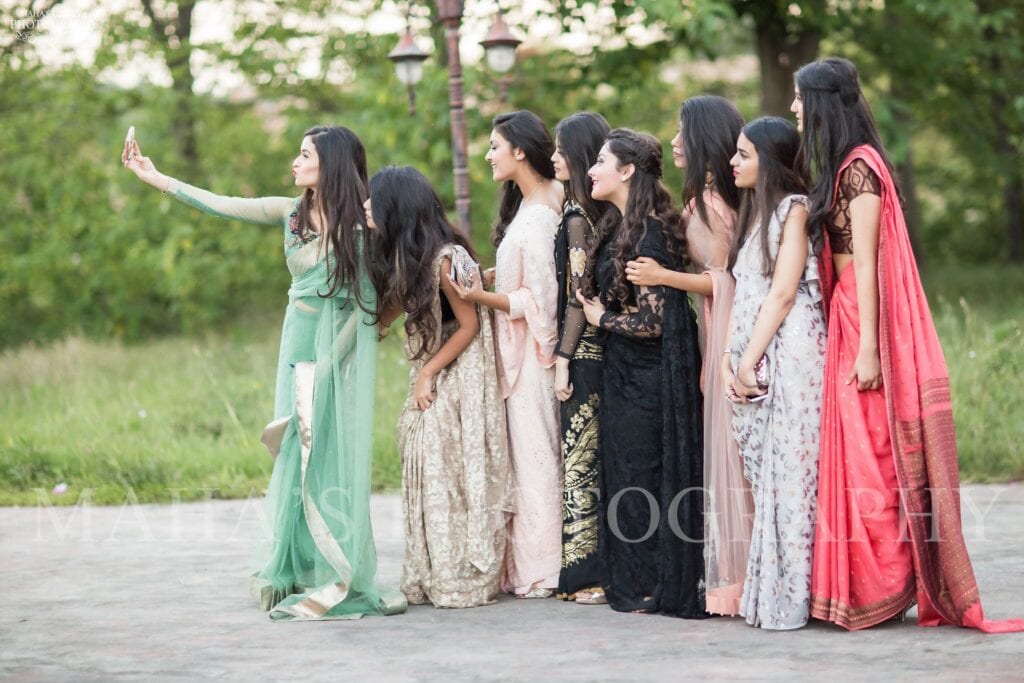 ↓ 13 – Pastel Coloured Outfits for the Bride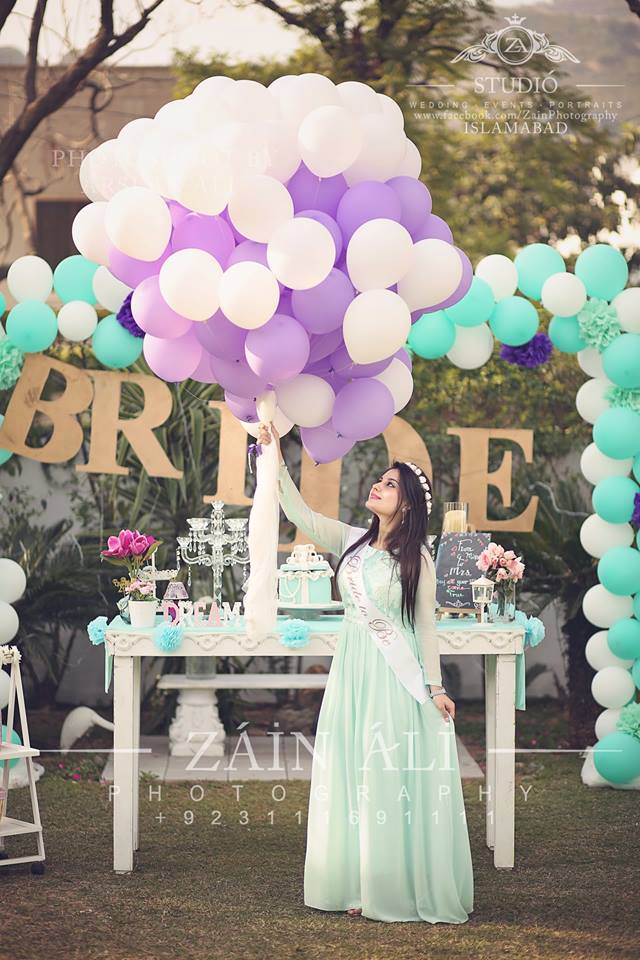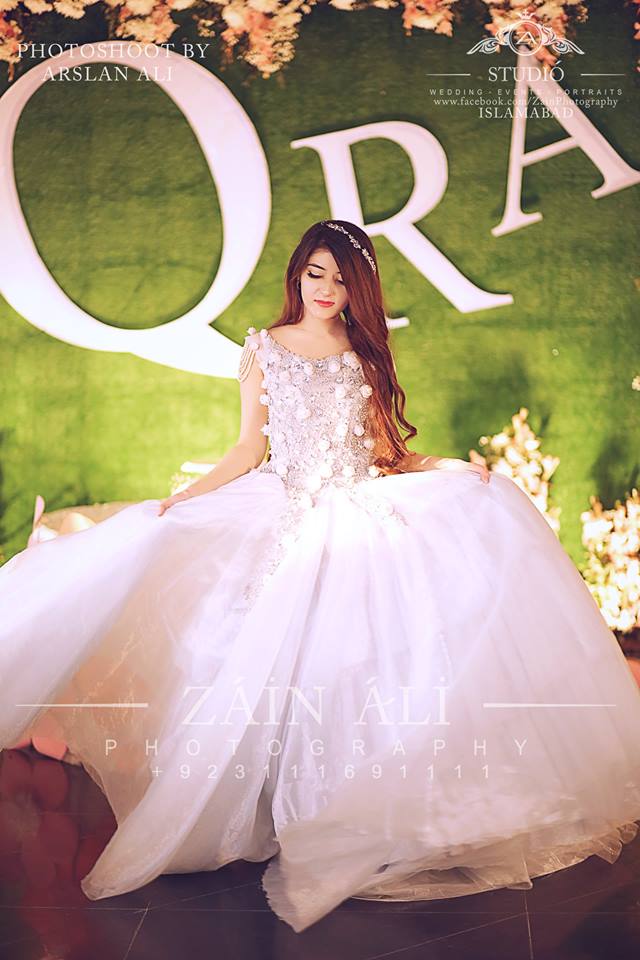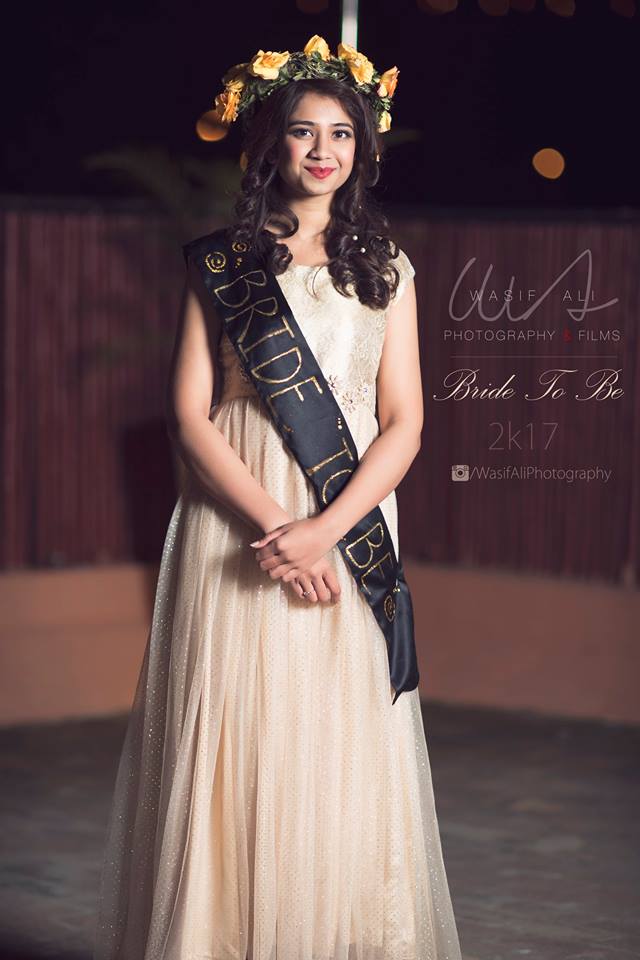 ↓ 12 – What To Wear When Attending A Bridal Shower In Pakistan?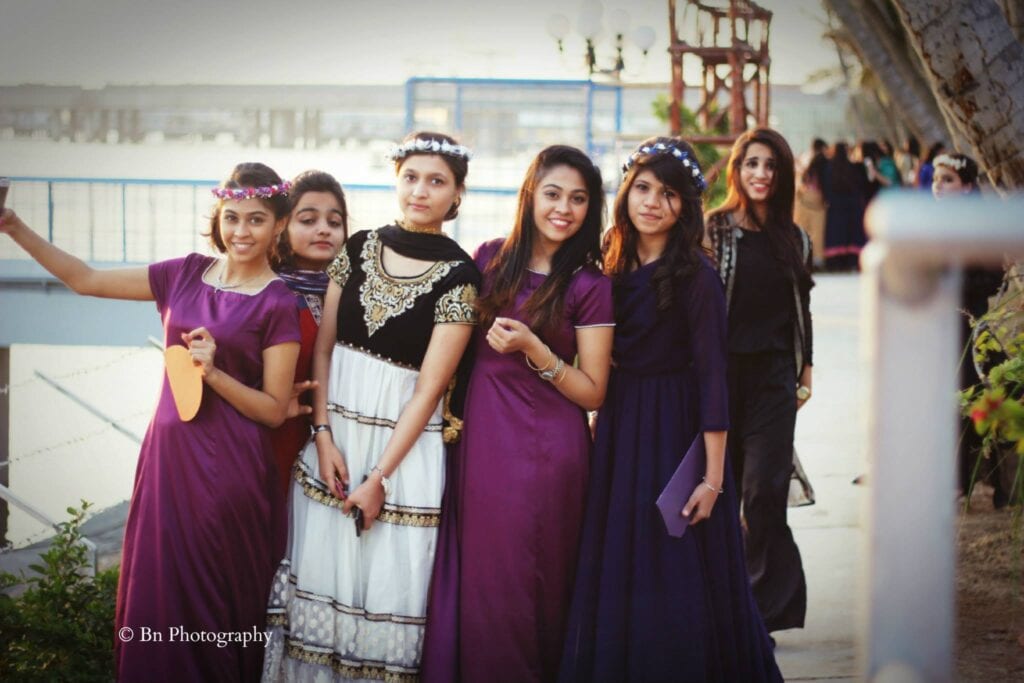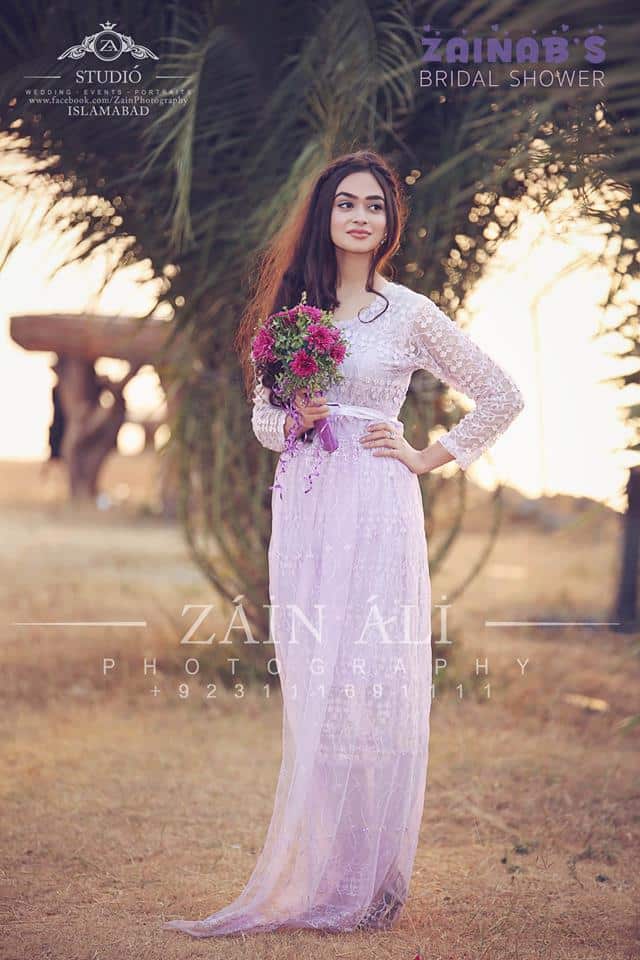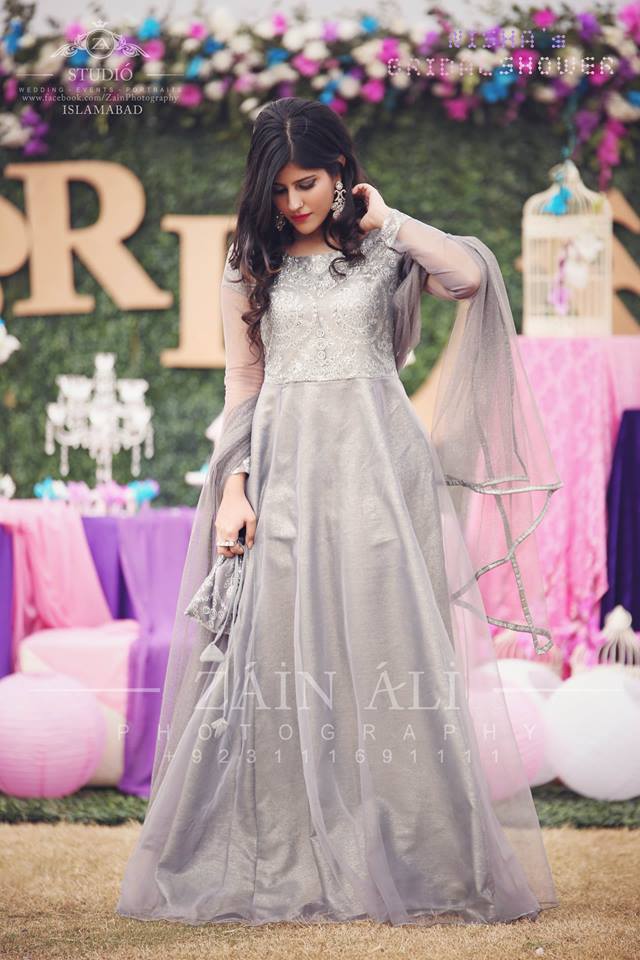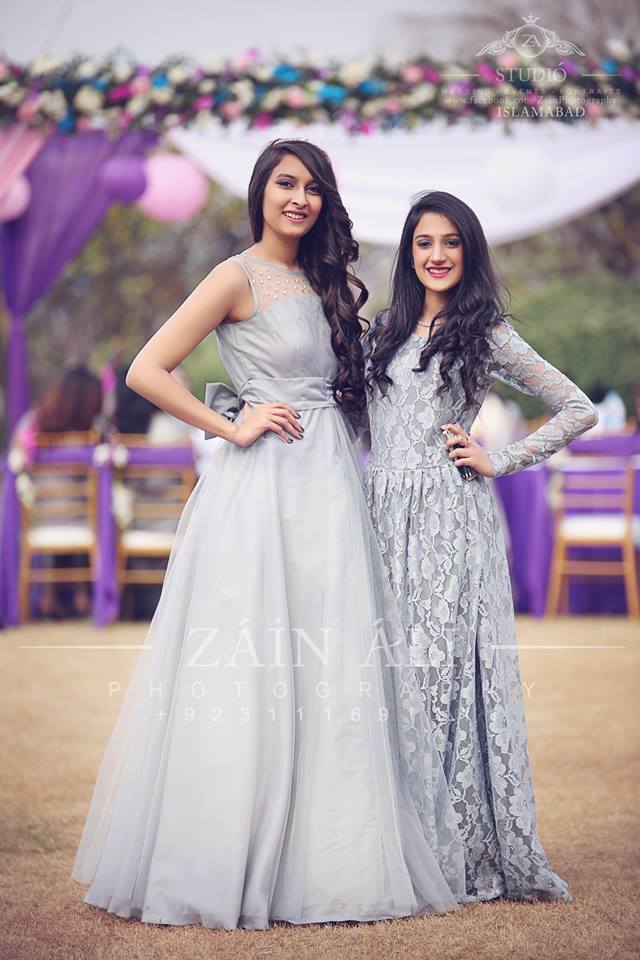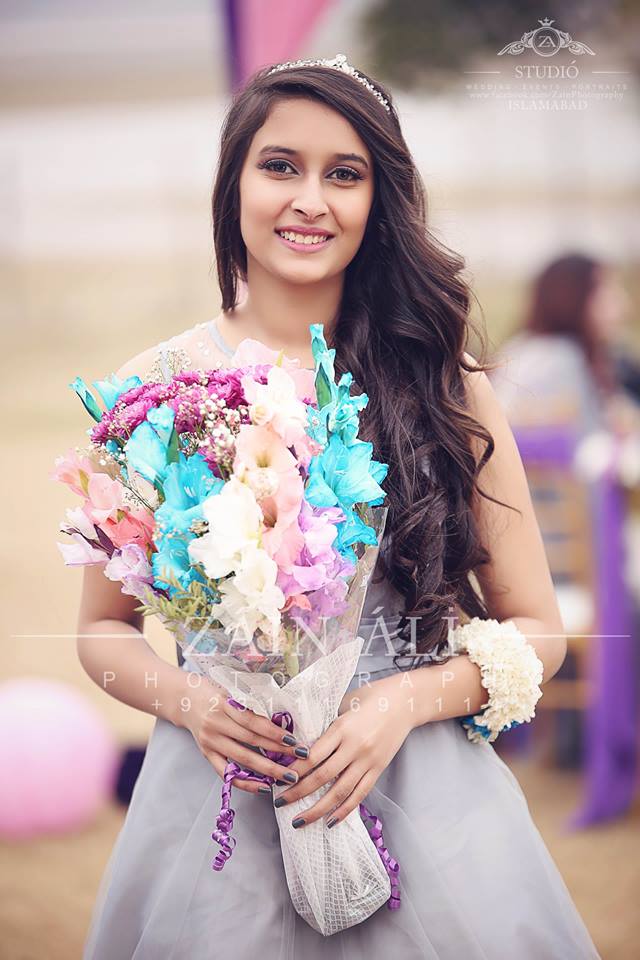 ↓ 11 – Urwa Hocane's Bridal Shower
Check out the complete wedding pictures of this beauty here: Urwa Hocane Farhan Wedding Pics| Nikah Walima Dholki Barat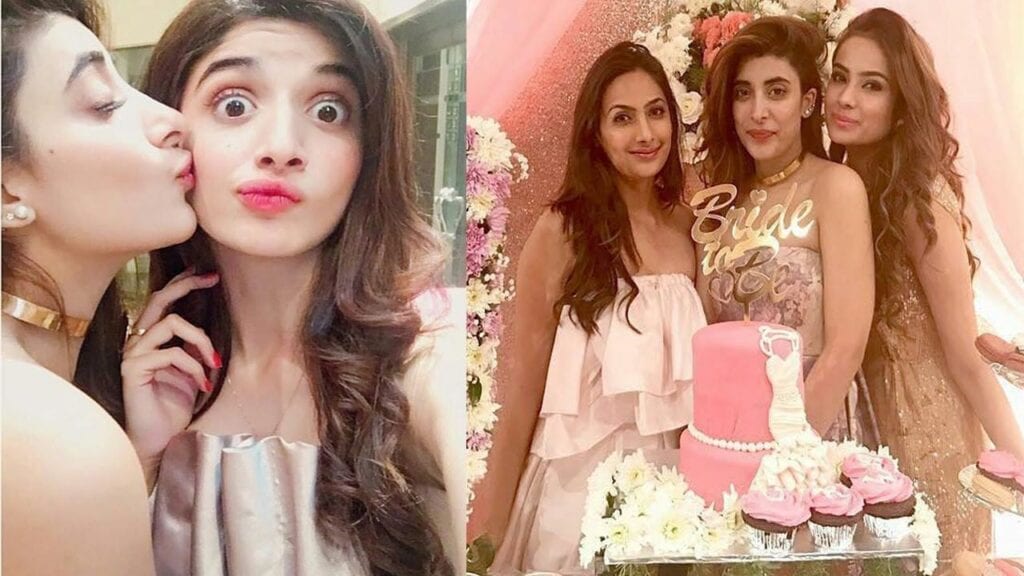 via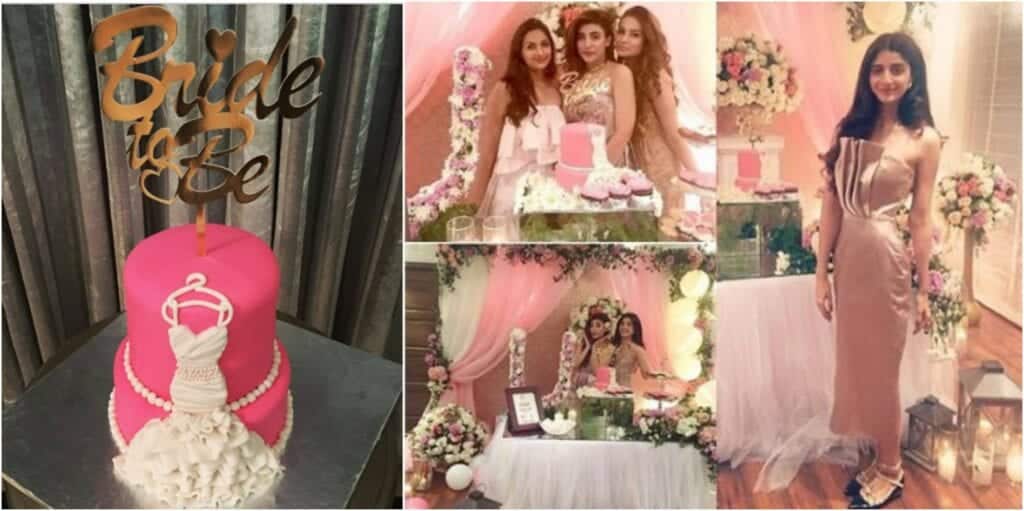 via
↓ 10 – Accessories For Pakistani Brides To Be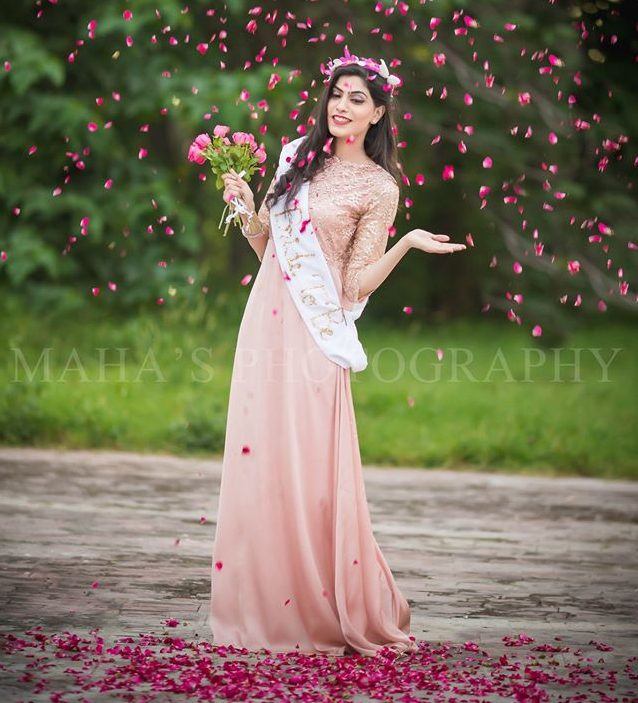 via
↓ 9 – Sharmila Faroqi's Bridal Shower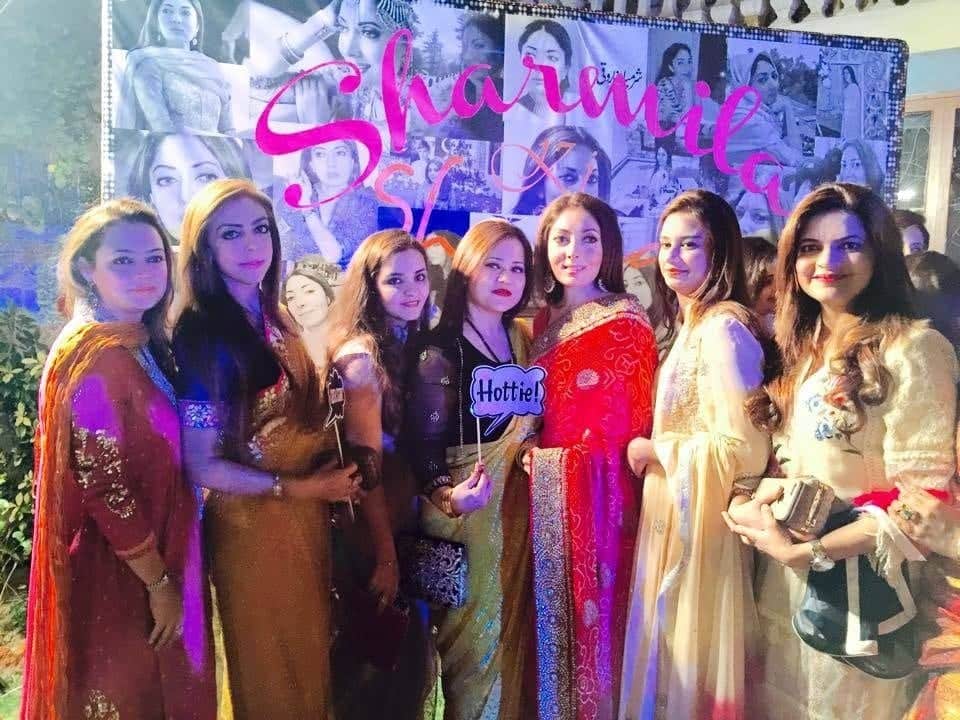 ↓ 8 – Bridal Shower Outfit for the Couple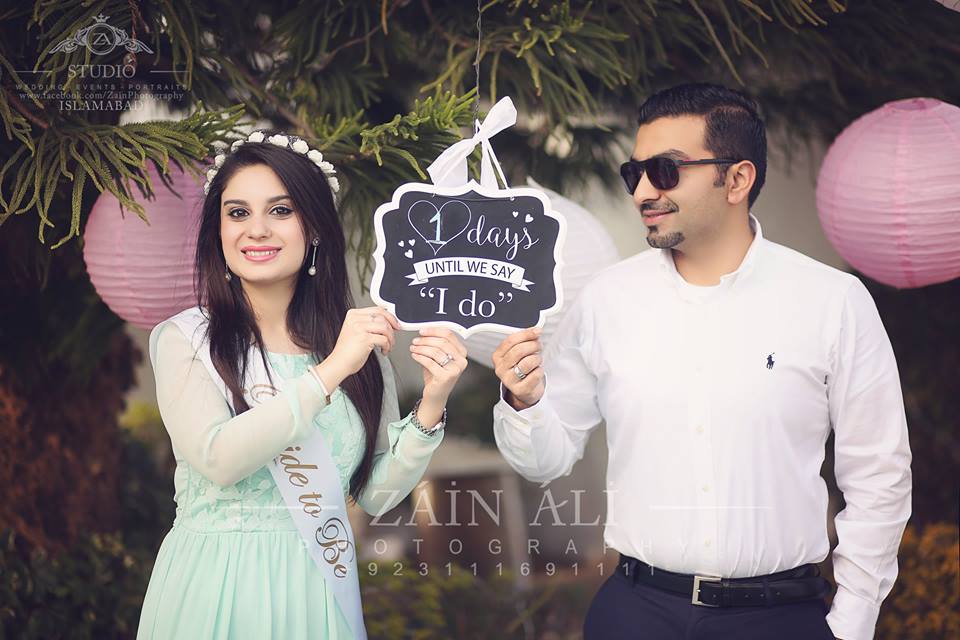 ↓ 7 – Fairytale Themed Dress for Pakistani Bride-to-be
Long flowing and frilly dresses are hot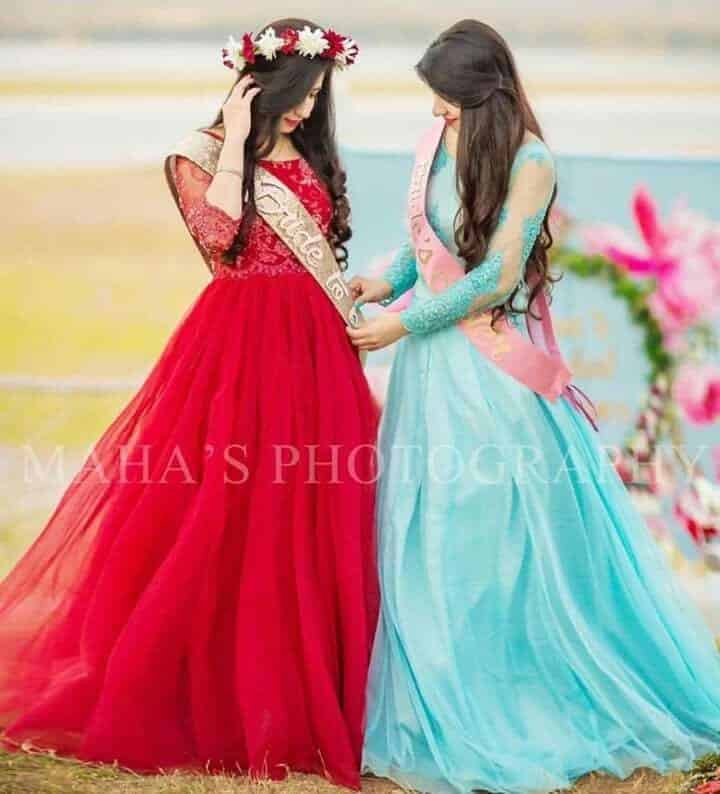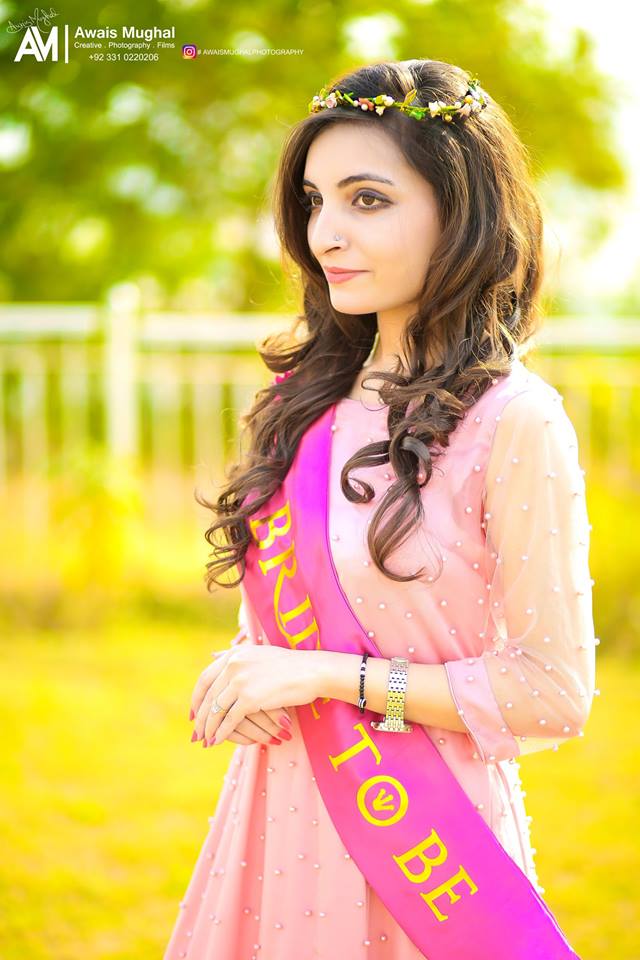 ↓ 6 – Colorful & Vibrant
If you do not want to follow a color theme, varied, colorful dresses also look beautiful. Then the decor should be in light colors, so it goes with the robes of all the guests.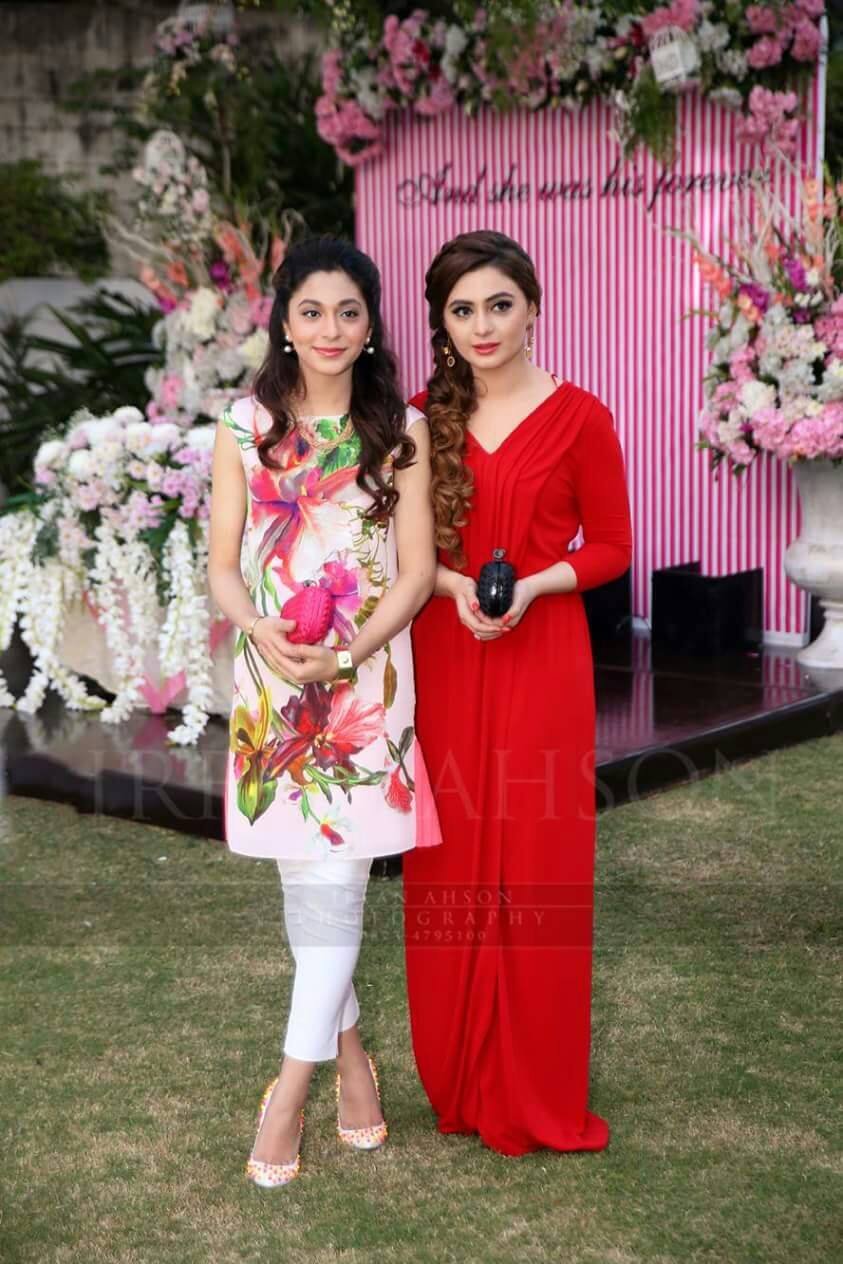 ↓ 5 – Outfit Ideas for the Family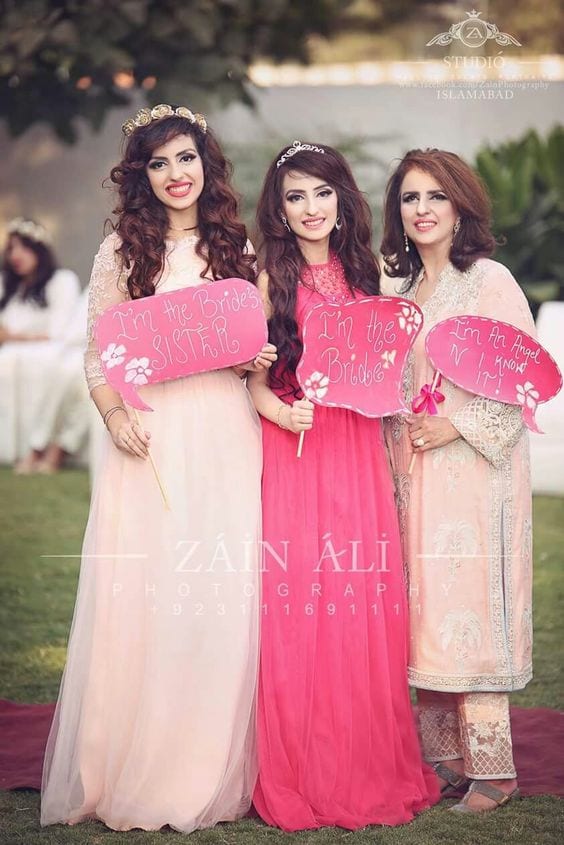 ↓ 4 – Fall Themed Bridal Shower Outfits
There are too many bridal showers with white or off white theme. If you want to be a little different then Lilac, purple, fuchsia, and violet are cool colors to choose from. You can find flowers to match these shades too, easily. Here are 10 Most Stylish Pakistani Bridal Dresses for This Season.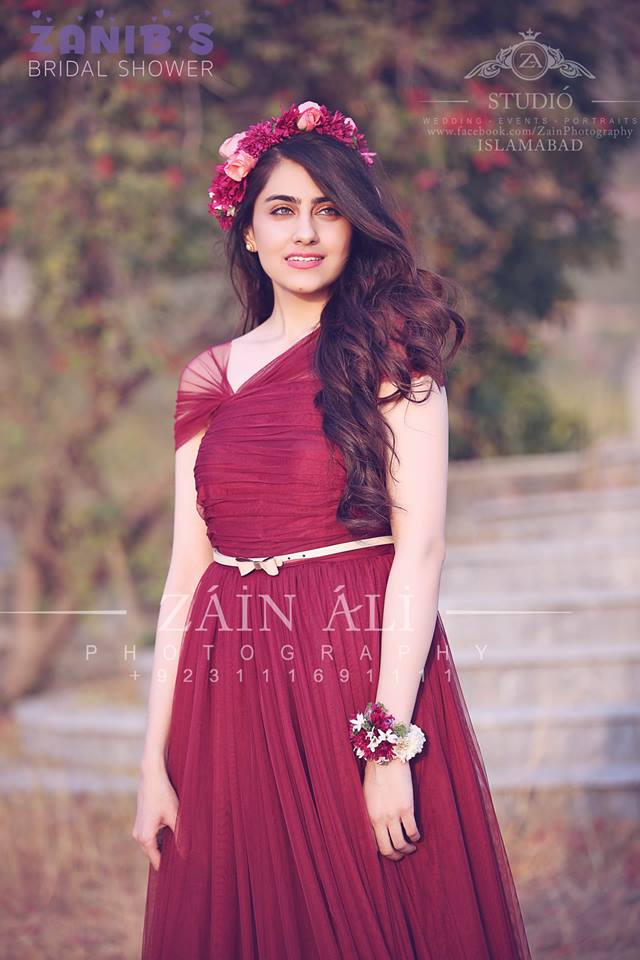 ↓ 3 – Celebrating Bridal Shower in Desi Style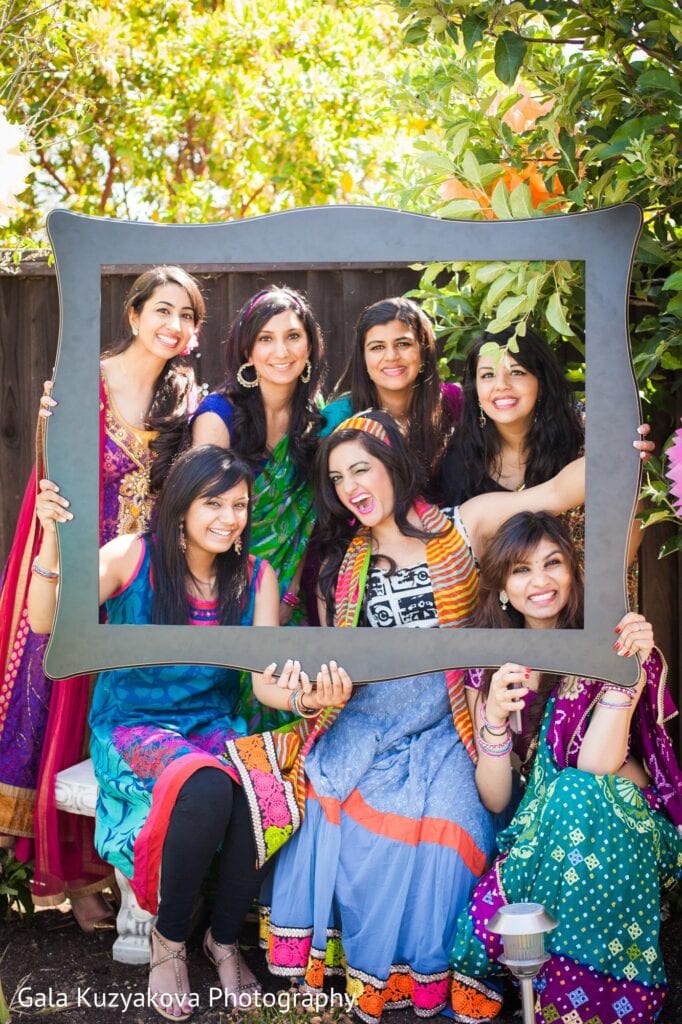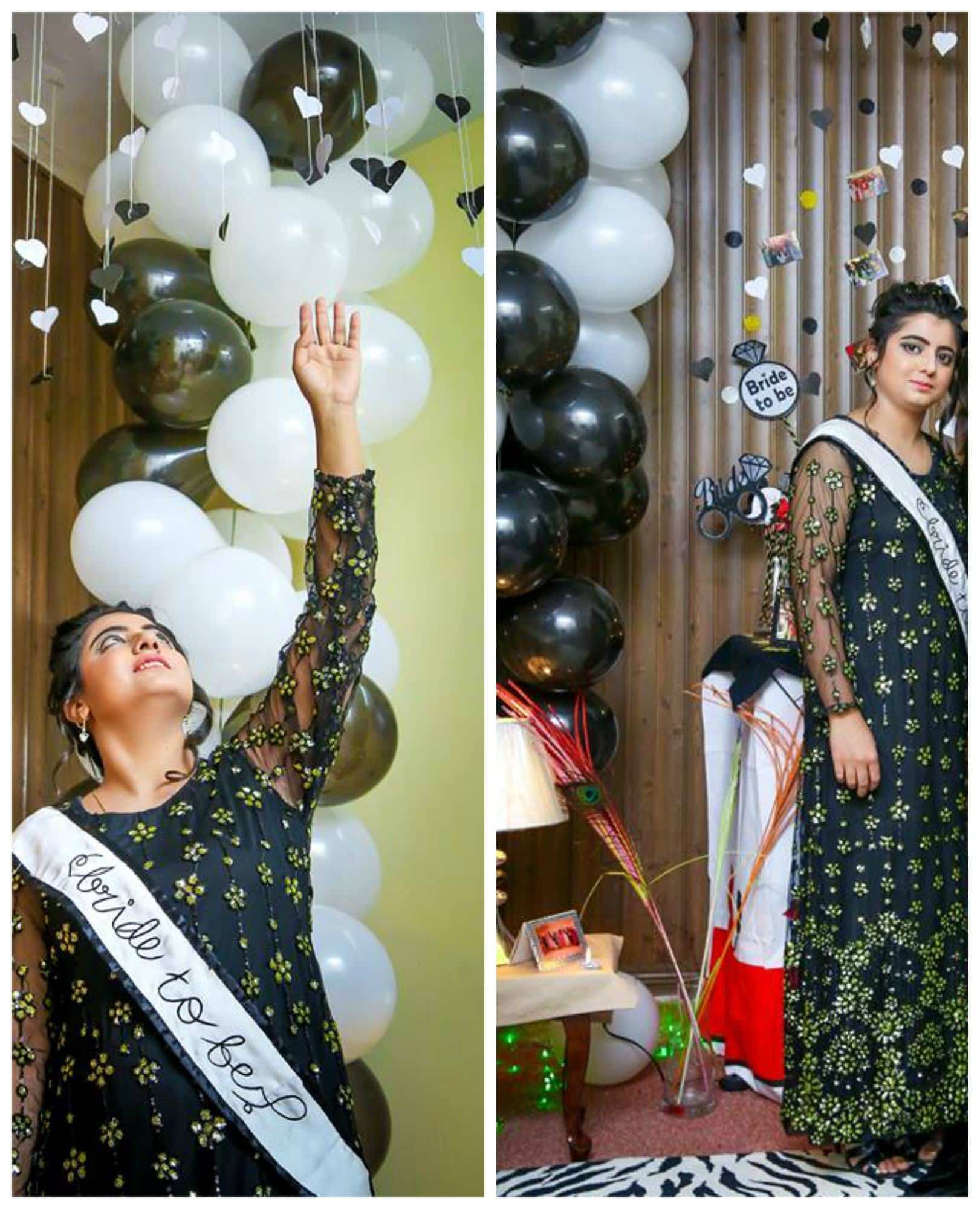 ↓ 2 – Hairstyles For Desi Bridal Showers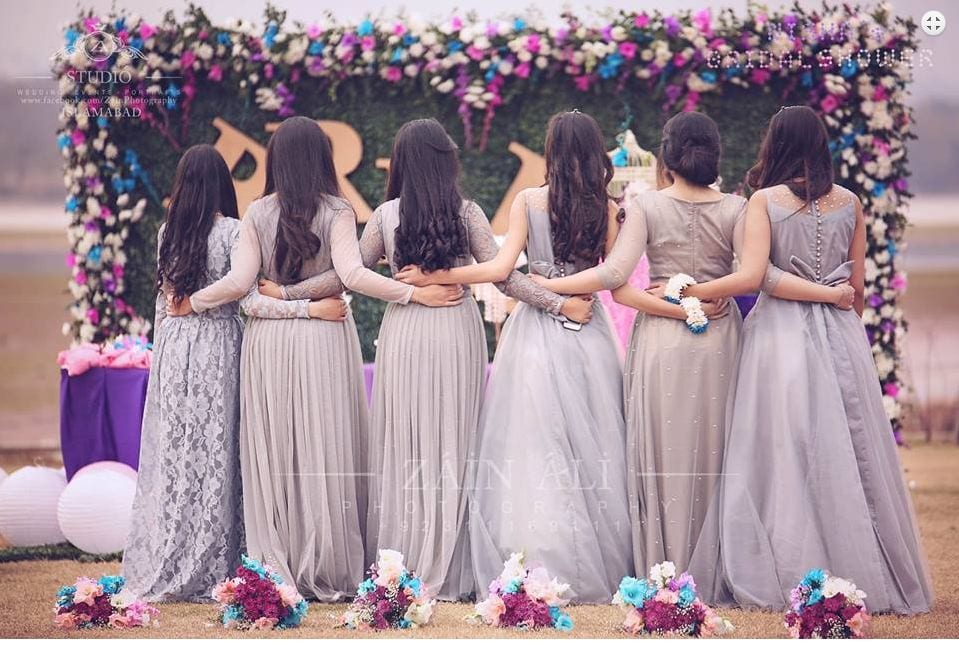 via
↓ 1 – Chic Outfit With Straight Pants
If you want something different and you are not into the long flowing type of girly dresses then, you can try out any cool and stylish looking pants with a short top. Crop Tops with lace and sequin make the right combination. Or if you are wearing funky pants, then a plain top will look good with it too.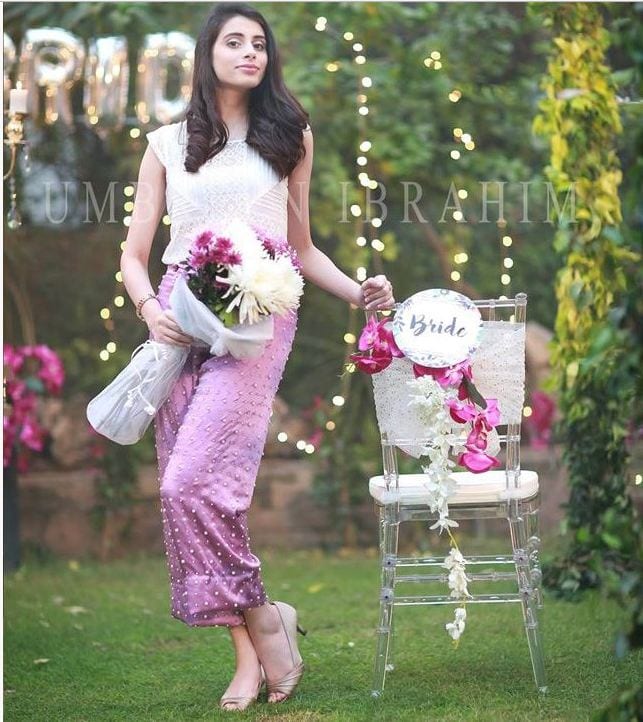 via