Pakistani Wedding Hairstyles. Every girl wants to look like a Queen on her big day. Plus, being a Pakistani bride is no joke from the heavily embroidered and embellished lehenga to being laden with all kinds of heavy jewelry, and getting layers of makeup. A Pakistani bride has to go through a lot.
So as important as it is to wear the best dress and the prettiest jewelry and get a super gorgeous makeover done. Another vital thing, which enhances your whole look is a fantastic hairstyle. Here we have some beautiful Pakistani Bridal hairstyles for that perfect look.
Fabulous Bridal Hairstyles For Pakistani Brides
A hairstyle is something that can make or break your look, and no one knows it better than a Pakistani bride. Some girls look great all their lives, and their wedding day makeup and hair don't do justice to their beauty. So, it is essential to research what hairstyle you are going to wear on your big day and how will it look. So, to ensure your hairstyle is the perfect one, here are a few tips to keep in mind.
The first step is to know your face shape and bone structure so you can get a fresh haircut that suits your face.
Research your face shape and hairstyles that will suit you before your wedding day. For example, girls will round, or chubby faces should avoid wearing their hair in a tight manner or sleek buns as they will make their look more round. On the contrary people with square faces can easily slay such hairstyles.
You can visit your hairstylist before the wedding day and discuss your ideas with him, take his suggestions, and then give them a thought.
Make sure your accessories blend well with your face shape and hairstyle. Like, a maatha Patti suits people with an oval face, and maang tikka looks better on people with round faces.
Try to wear accessories that contour your face and add a soft touch.
Make sure your hairstyle can stand the weight of your dupatta.
Always try different hairstyles at home before you wear them on your wedding day. So, you don't mess up your big day look.
Take care of your hair! Do oiling and get some hair treatment like Keratin or Protein treatment before your wedding.
Wash your hair and blow-dry them on the wedding day before you visit your salon or leave them half wet so your beautician can do it.
Use pins to fix your hair, and don't forget to use hair spray so that your hairstyle lasts for long.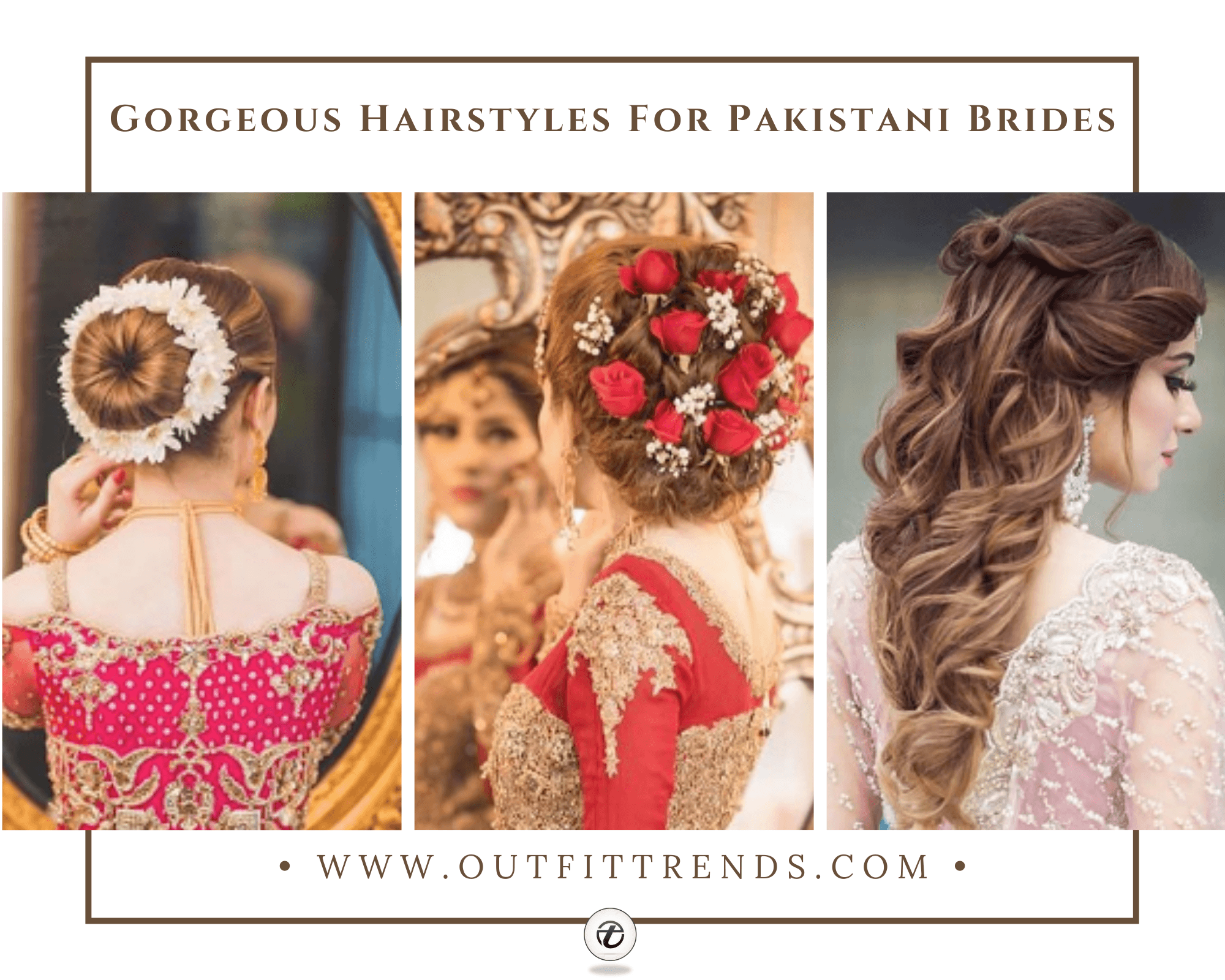 ↓ 25 – All In One Hairstyle
A wedding day is undoubtedly overwhelming for any bride, and we know you are no exception to this case. Well, girls, don't worry because outfit trends has everything covered for you exclusively as well as inclusively.
Go for a hair updo that has loosely curled front hair strands, a twisted front hairstyle with a crown braid, and finely curled and twisted hair bun. Accessorize your hairstyle with fancy pearls or bead hairclips. This hairstyle can look great even with bold makeup, jewelry, and dresses because it is fancy yet not so fancy!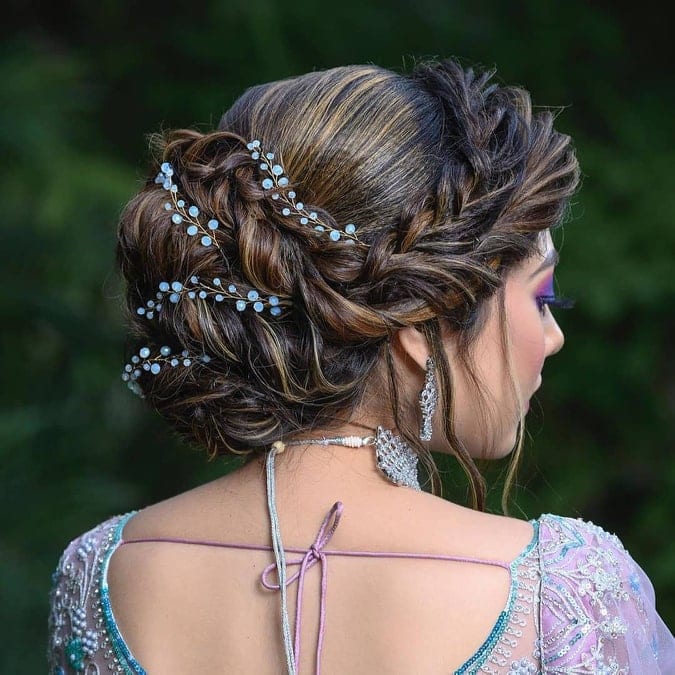 ↓ 24 – Soft Hair Updo With Jhumar
Believe it or not, but no one wants to have a sharp look on their wedding day as it makes one look way older. So, avoid sharp makeup and hairstyles and go for soft looks. Opt for a soft hair updo with some loose curls and accessorize with the help of maang tikka and jhumar. With hairstyles like these, you can easily wear bold makeup and jewelry without looking extra. Don't wait anymore, and consider this look before you finalize your wedding lookbook.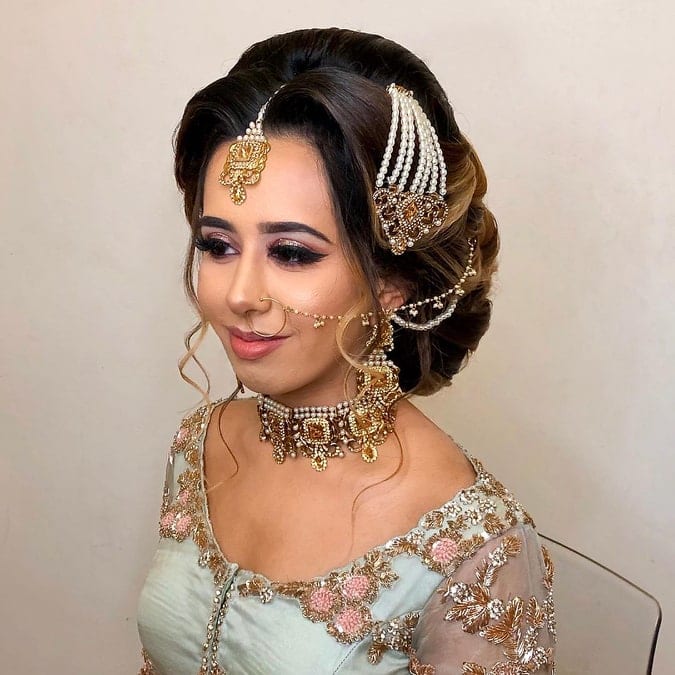 ↓ 23 – Floral Hair Jewelry
Floral hair jewelry never goes out of fashion, especially if you look back at Pakistani wedding fashion trends. Floral hair enhances the beauty of any bride. So, don't wait anymore and choose this style for at least one of your wedding day functions.
One way to do is to wear your hair in a low bun and cover it all with flowers. This looks really pretty if you're wearing a net or see-through chiffon dupatta as the flowers shine through it.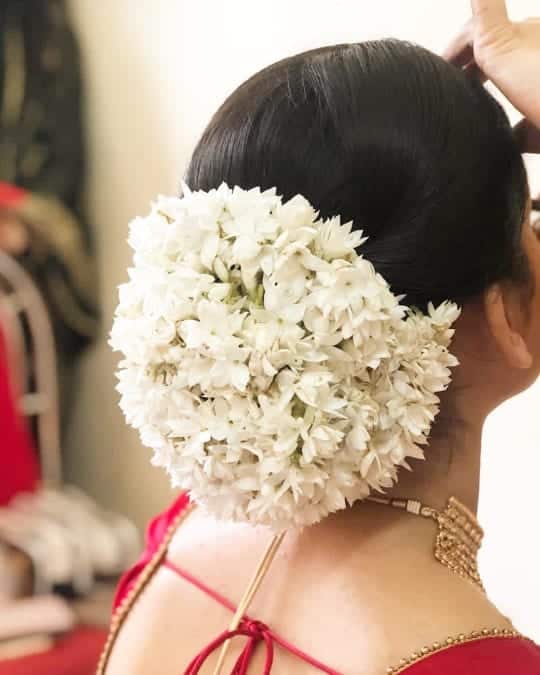 Another adorable way to wear flowers in your hair is to get a twisted hair updo and add flower detailing around the entire hair bun and add some detailing in the twists as well. I can't think of a better style.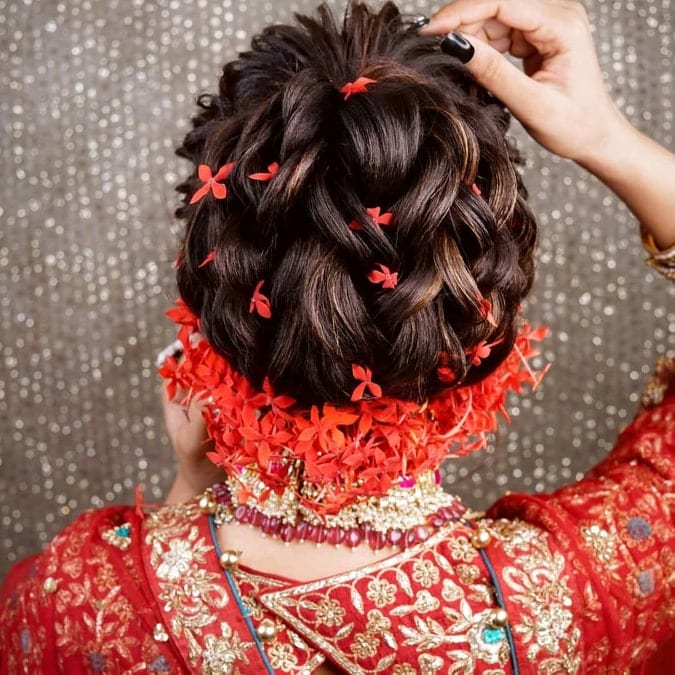 ↓ 22 – Soft Beachy Waves
The key to making an excellent bridal look is to keep everything well balanced and in an elegant proportion. If your dress, jewelry, or makeup; any of them are heavy, then make sure your hairstyle is as simple as possible. Go for wavy hair or beachy waves and accessorize with a broad maatha Patti and necklace. Keep your earrings a little light with a heavily embroidered wedding dress.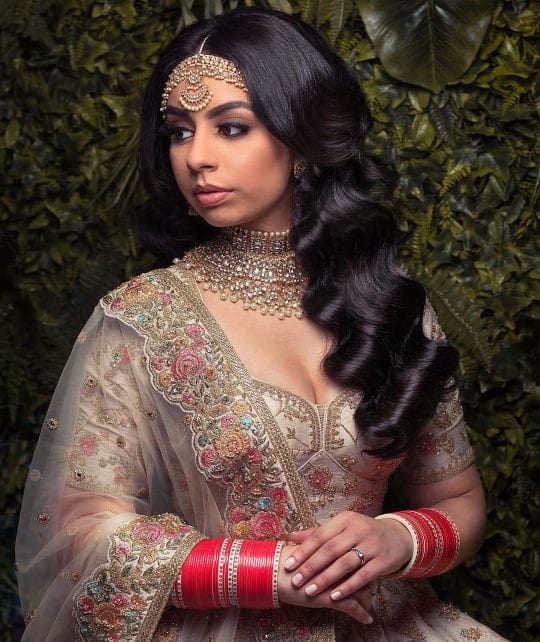 ↓ 21 – Messy Braid Hairstyle
The majority of the brides go for hairstyles that appear extremely neat and clean, and hence they opt for sleek hair buns or elegant hair updos. But, girl! You should try out something different yet very alluring like messy braids. Wear your hair in a messy fishtail braid and add some fancy clips to it or go for flower detailing. Keep the twist at the back or bring it to the front, whatever you like. Curl a few front hair strands and fix your dupatta over it. Little effort, more charm!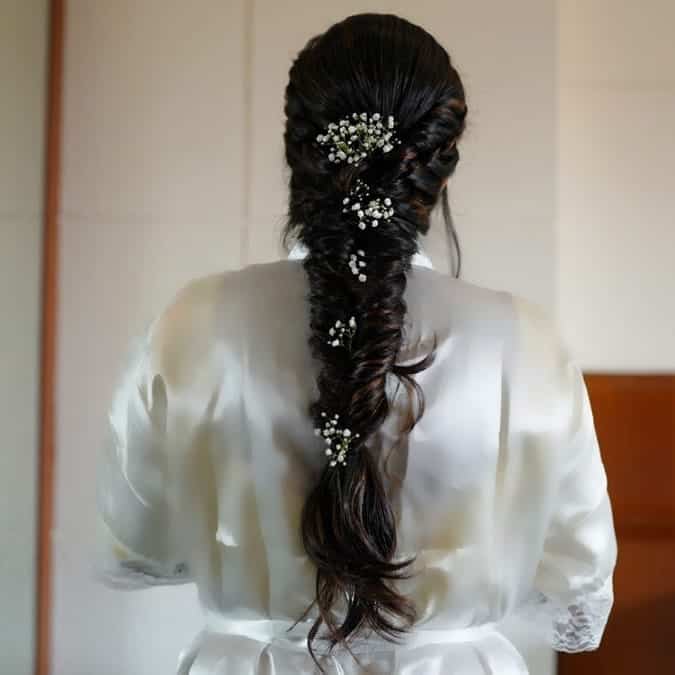 ↓ 20 – The Traditional Bride
The most common yet the most elegant hairstyle of them all. This traditional and straightforward puffed front updo is perfect for your big day. You can comfortably wear all sorts of accessories with this hairstyle, but what will look the best in undoubtedly a broad maatha Patti and choker along with some drop-down earrings.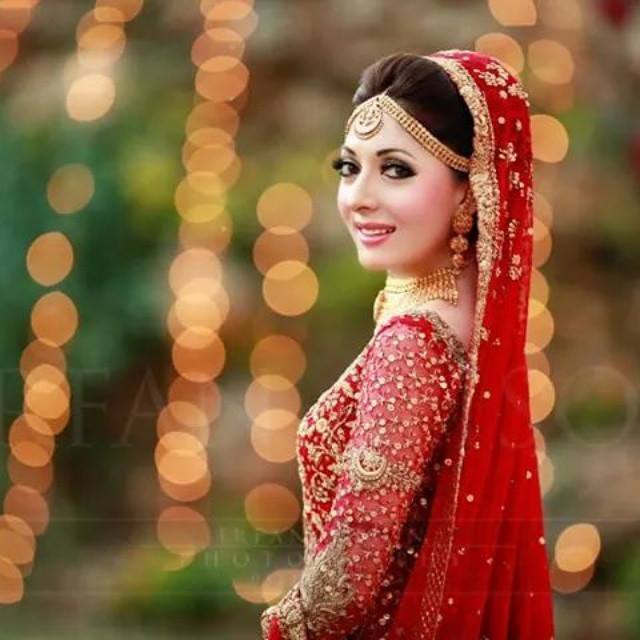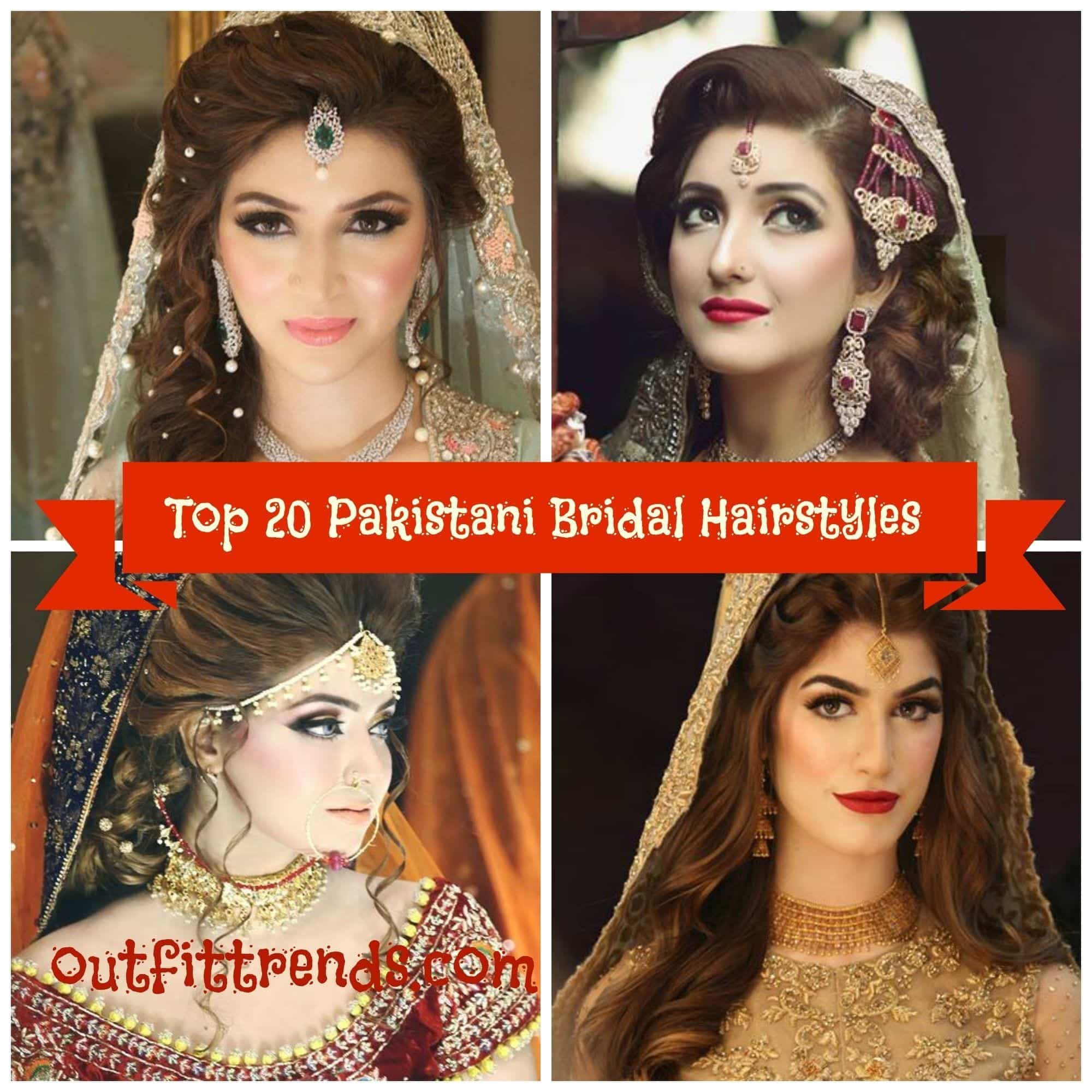 ↓ 19 – Embellishing Is Important For Bridal Hairstyles 
A bride must focus on the details. Trust me. Those are the things that count. Why only wear a heavily worked dress or big jewelry? Add some embellishments to your hair as well. Make a side bun or braid and embellish it up with pearls and diamantes. How gorgeous, no? Make a side do and embellish it up with pearls and diamantes. How impressive, no? Such embellishments, including pearls, head-bands, and small fresh flowers are trending a lot in 2020.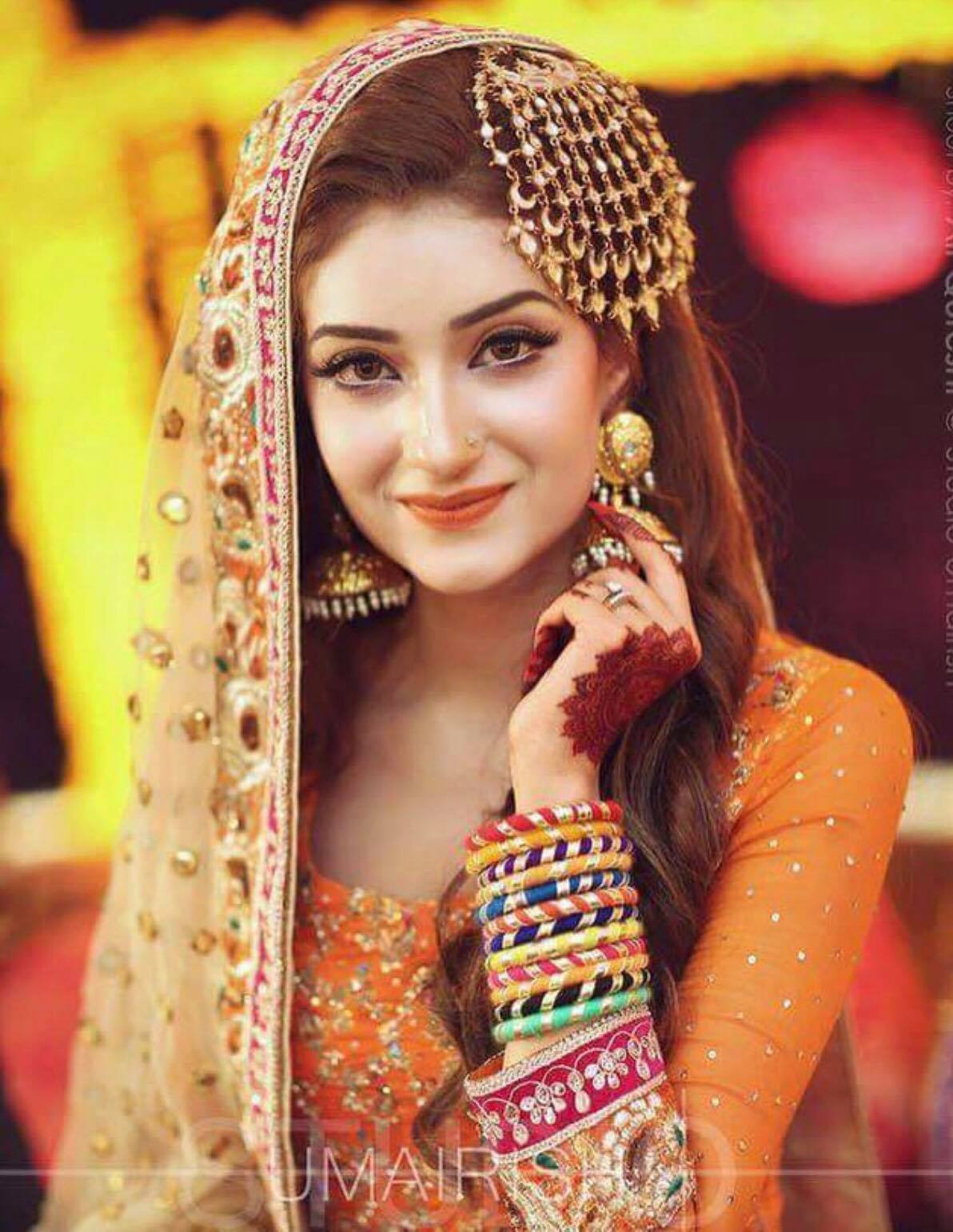 ↓ 18 – Walima Day Side Bun
If you're bored with the traditional and simple updos and buns, say yes to a side bun. Look differently perfect on your big day.
↓ 17 – Go Messy
Go bold on your big day with this messy curly hairstyle. Bring half of those messy curls to the front. Cause who said a bride is not allowed to do some experiments for her wedding day?
↓ 16 – The Queen

What's a queen without a crown. Make a crown braided updo. Not only is it perfect for your wedding day, but it makes you look like a QUEEN!
↓ 15 – Accessorize With Flower
A simple middle partitioned folded front updo with a flower or more pinned to the side adds that bit of freshness to your overall look. Perfect for a summer bride.
↓ 14 – BIG, BIG Hair
For all those not-so-traditional brides, this hairstyle with a middle partition, curls, and loads of backcombing is PERFECT. Not only does it make you look like a modern-day bride, but it also adds that extra bit of volume to your hair.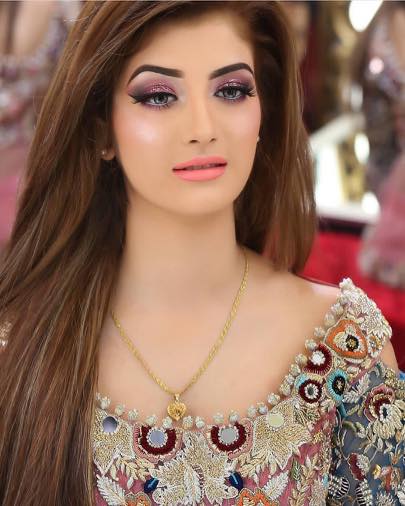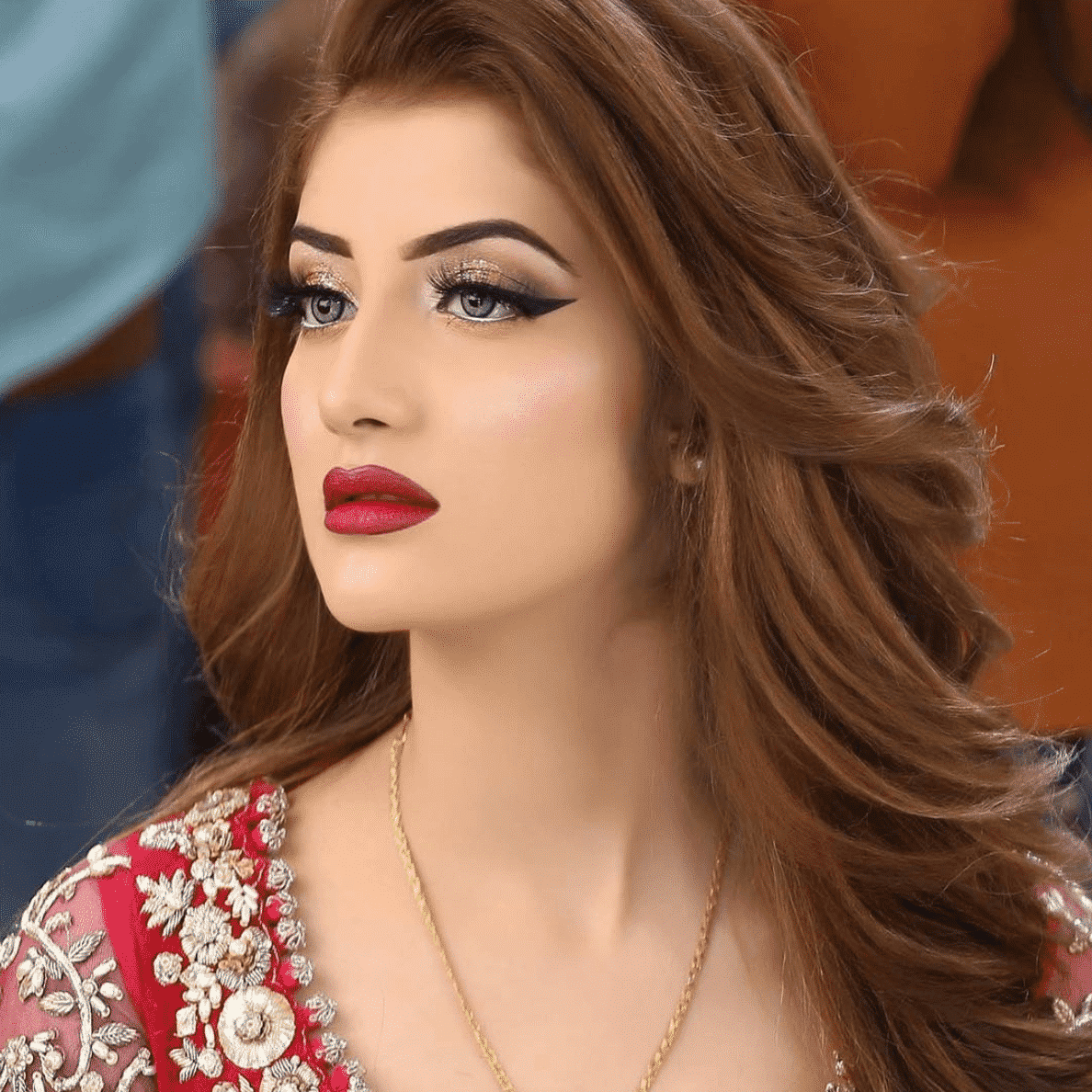 ↓ 13 – Fishtail Braid
Fishtail braids have always been a favorite from everyday school hair to formal events. Make a messy fishtail braid and add some pearls to it. Take out one or two strands of hair and curl them.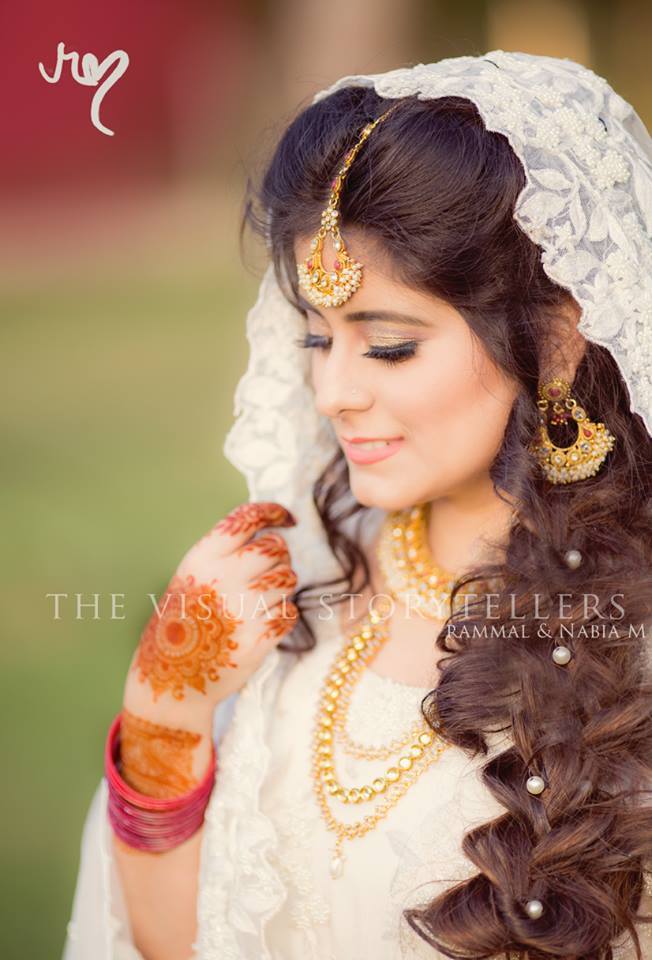 ↓ 12 – Tucked Back Do
This hairstyle is perfect for the brides who have a small face. Tuck all the hair back into a low bun. This hairdo adds such a neat finish to the overall look. WOW! Don't miss out these 14 Cute Mehndi Makeup Tips and Styles Trending These Days
↓ 11 – Poofy Bun
This Hollywood Red Carpet style poofy side partition bun is perfect for your wedding day. Take some strands of hair out from the front and look like a CELEBRITY. Also, don't forget that this is an ideal hairstyle for brides who are looking forward to wearing large earrings or a large necklace. Fix your dupatta at the back of your hair, slightly above the hair bun, and you are good to go.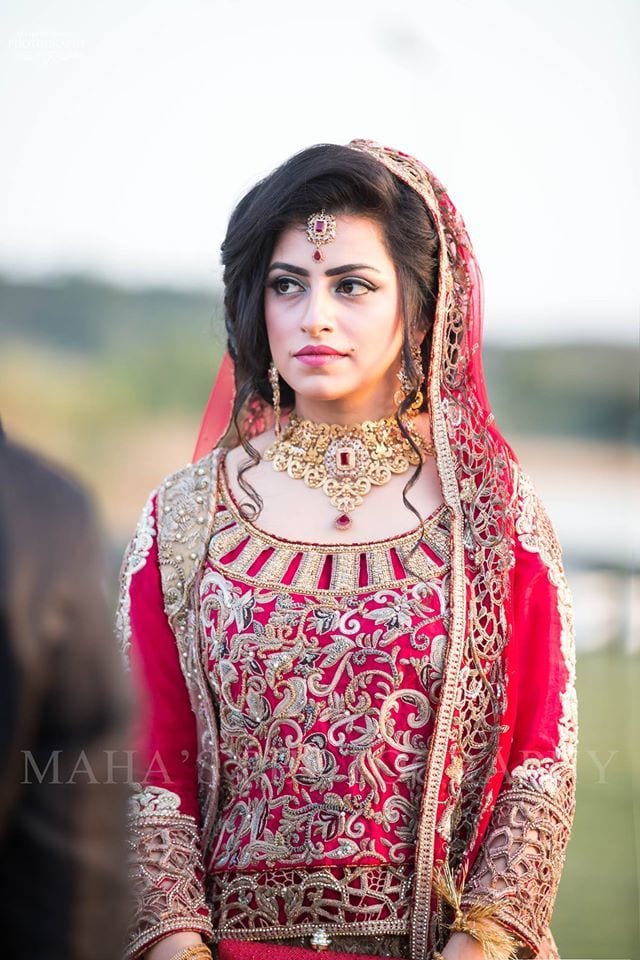 ↓ 10 – 'IT' Girl
Be the 'IT' girl bride this year with this chic hairstyle. Folded front with open curled hair is all you need to wear to create a statement style. Wear it on any day of your event or every day. You won't regret it.
↓ 9 – Rope Braid For Round Faces
Since rope braids are the new black when it comes to Bridal Hairstyles this year, it is a perfect wedding hairdo for you. Finish the do off with a poofy front and some pearls.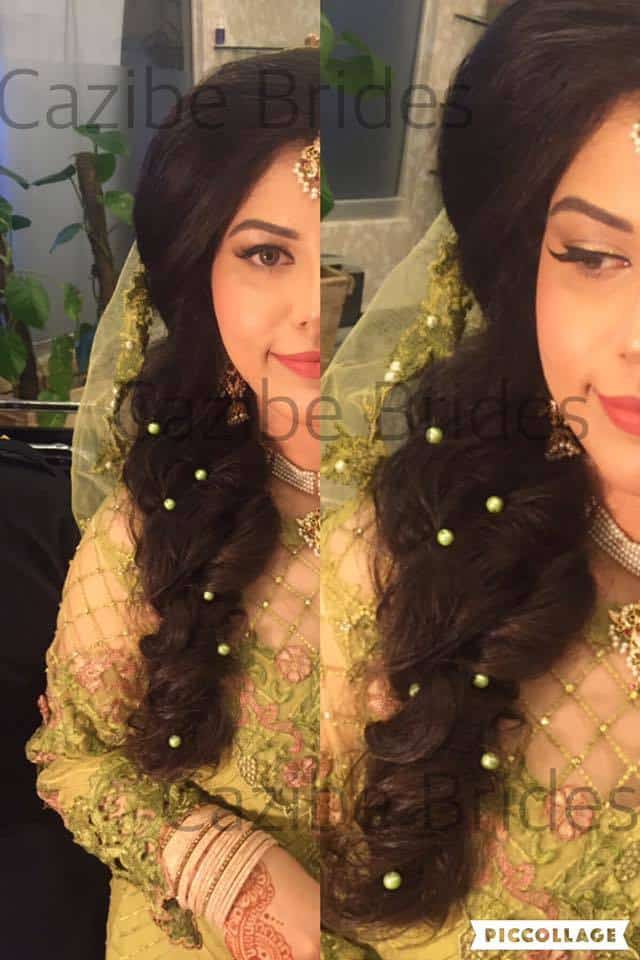 ↓ 8 – Add Some Waves
Wavy hair will never go out of style. Pair them with a middle partition with crown braid on both sides and backcombing. BEST COMBO EVER! Hairstyles like these can easily be paired up with heavy jewelry and bold makeup because the hairstyle is as minimal as possible. It is an ideal Barat day hairstyle as many brides have heavy dresses and makeup planned for their this big day.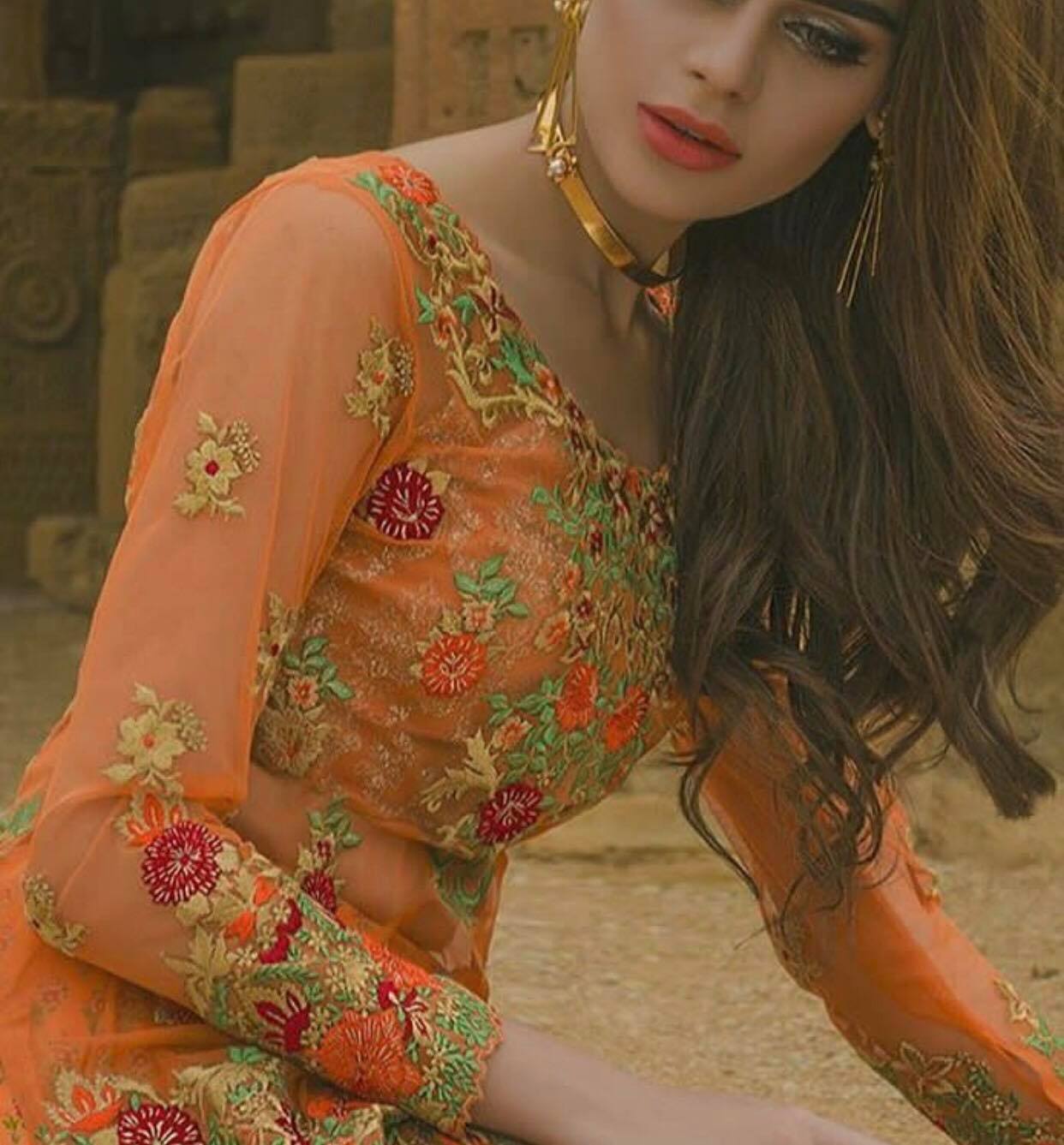 ↓ 7 – The Runaway Bride
Look like you're about to walk the runway with this model-like bridal hairstyle. This hairstyle looks complicated but isn't in reality. All you have to do is straighten your hair, separate the front hair or your bangs and curl the rest of your hair and pin them up on top of your head. You might need to use a lot of pins to fix them so keep using a hair-spray to keep it all in place. Wear this hairstyle on your engagement or any other day on which if you are not planning to wear a dupatta over your head.
↓ 6 – Twist Them Up
Poofy twisted hair and some twist curls. A perfect hairstyle for your big day. One way to wear this hairstyle is to go for poofy twists on top of the head and fix a beautiful maang tikka in the center and let the rest of the hair open and wear them in loose curls. You can attach some flowers or beads to this hairstyle as well. This minimal hairstyle can make a great engagement or reception bride.
Another great way to wear twists and curls together is this messy hair bun. Add puffy twists to your lower hair and tie them up in a low bun. For the upper half of your hair, backcomb them with a center partition and merge them with your bun. Add on a large mang tikka to add a little more beauty to the hairstyle. You can easily fix any sort of dupatta over hairstyles like these.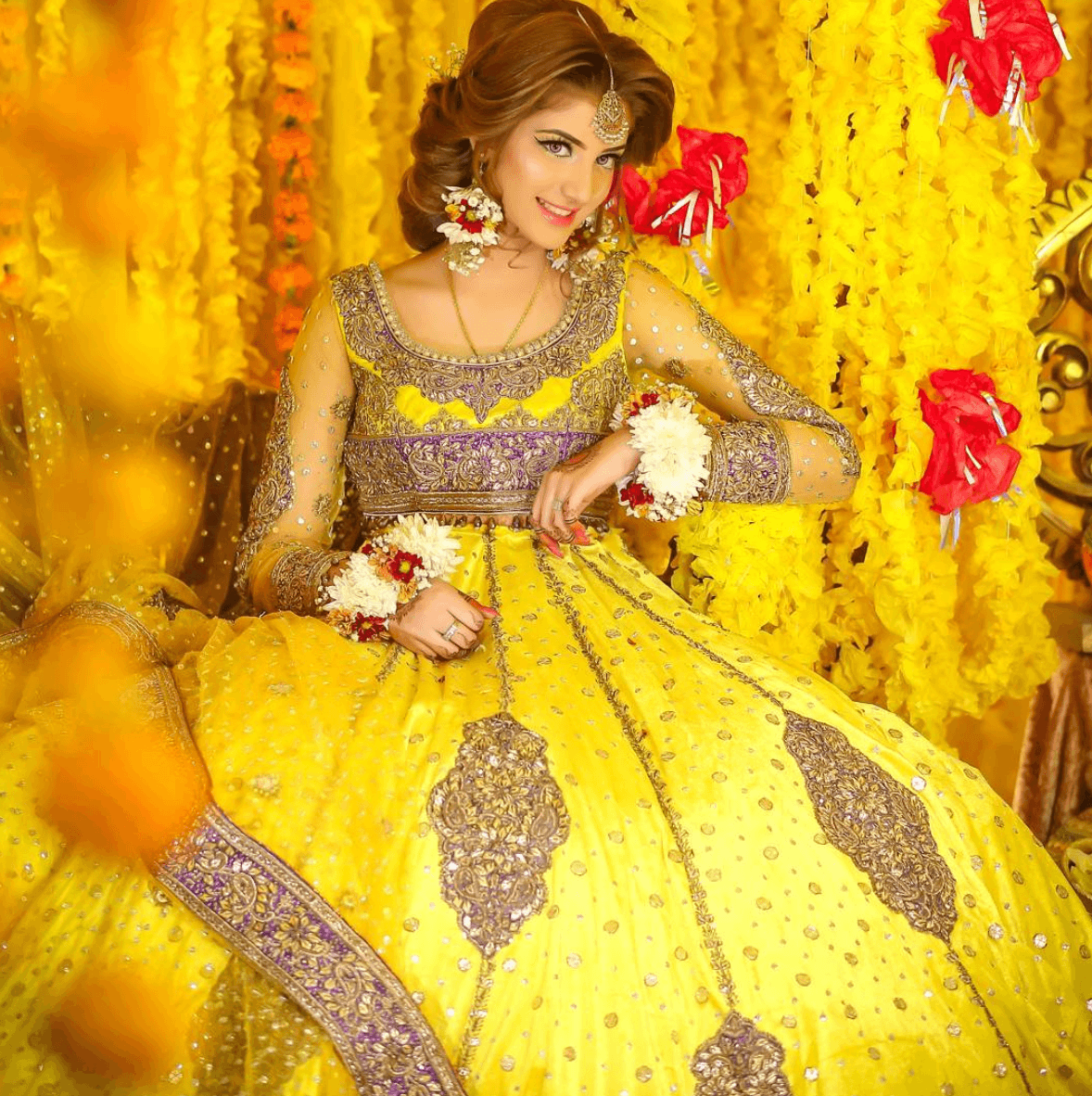 ↓ 5 – Add It All
Be a bride that drops jaws with a fancy and extraordinary hairstyle. Add a lot of texture to your hair with bold textured braids, curls, and twists. Add it all girl.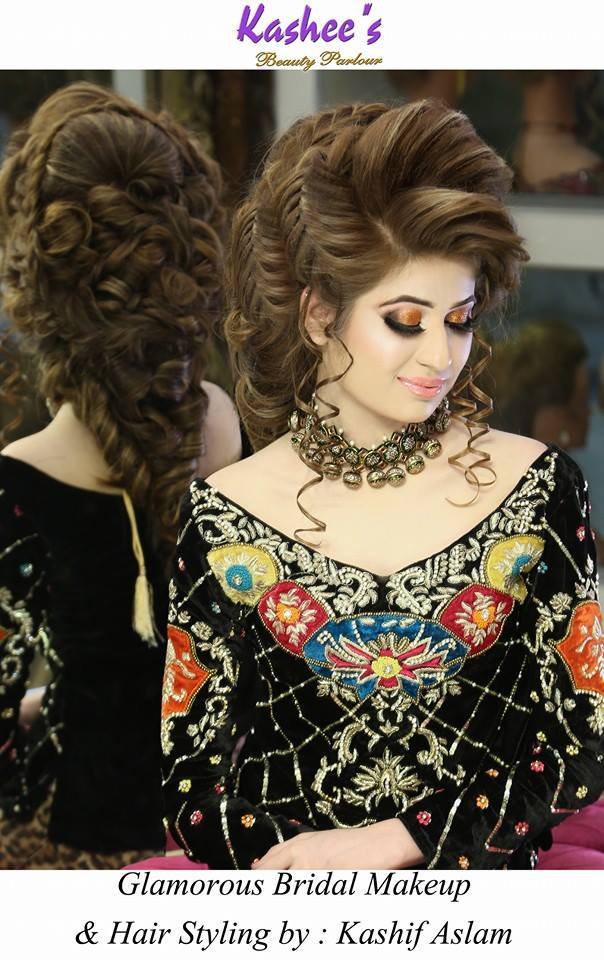 Here's a video tutorial showing step by step instructions on how you can achieve a similar look on your own:
↓ 4 – Bollywood Look For Barat Bride
This center partition updo is perfect for a bride who is a fan of Bollywood. Go for an utterly sleek center partitioned hair and accessorize with the help of a maang tikka in the center and jhumar on one side. Keep your earrings light and wear a layered necklace. It's going to look perfect, nothing less nothing more. Add on some smokey eye makeup! One plus point of this hairstyle is that you can wear heavy dupattas on your head without worrying about disturbing your hairstyle. This hairstyle will make an adorable Baraat bride.
↓ 3 – Simple Hair For Mehndi
Some brides want to keep it simple and don't wanna go all cray-cray on their hair. This one is hence PERFECT! Blow-dried hair with side partitioned hair and minimal jewelry is something brides would love to opt for their engagements or dholki and even the Mehendi functions.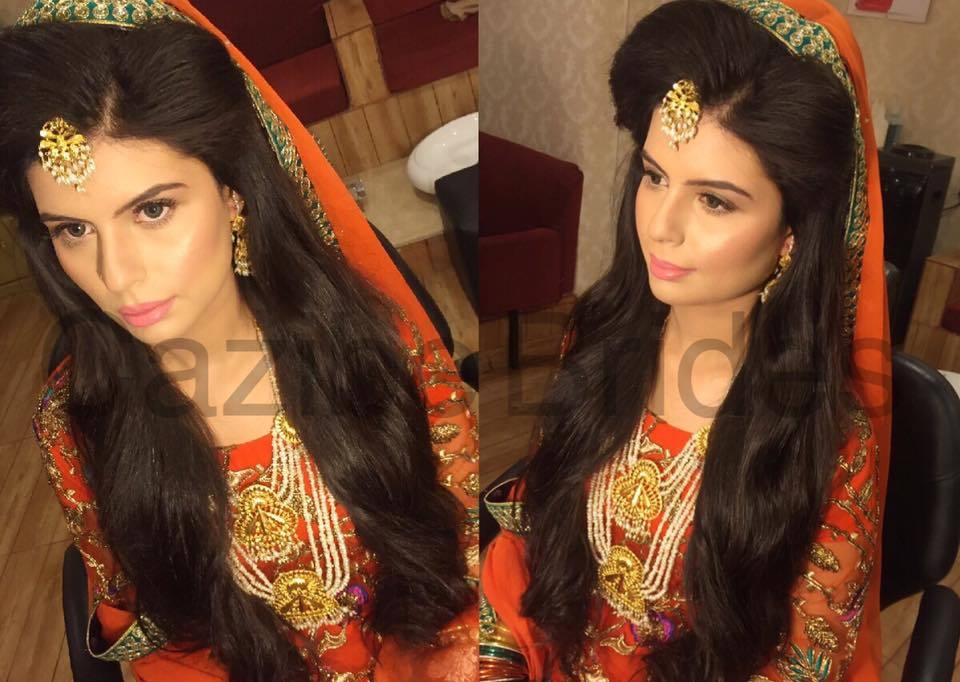 ↓ 2 – Bold And Beautiful
As a bride, never be shy to play with your hair. This volumized puffed hairdo is perfect for that CONFIDENT bride. This hairstyle can be accessorized with jewelry like maatha Patti or heavy chokers. Moreover, the dupatta can be easily fixed on hairstyles like these.
↓ 1 – Elegant Hair-Do For Walima
This one is probably my favorite out of them all. Wanna look young and elegant on your wedding day? This is perfect for any bride who wants to create a decent and sleek look. The perfectly twisted hair decorated with flowers is the minimal yet most attractive look. Put on a dupatta at the back of the head and fix it well with pins, so your front hair twists do not sit.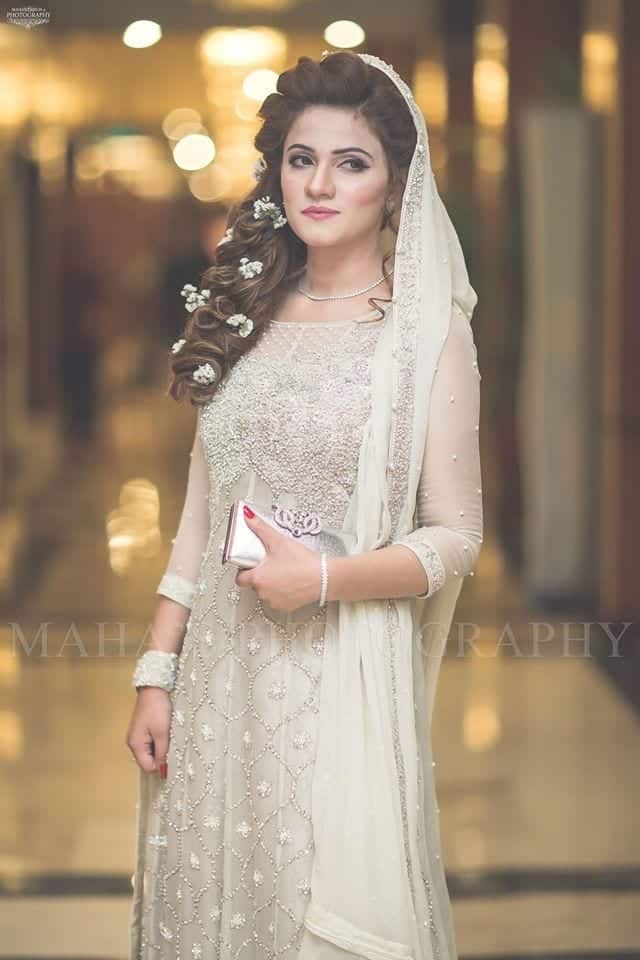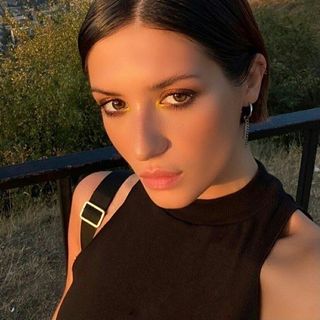 Avid reader and Fashionista. London Based freelance lifestyle editor