Cute & Romantic Sikh Couples: Sikhism as a religion began with Guru Nanak Dev and dates back to the 15th Century. Sikhs are often spotted wearing a turban that is known as Dastar or Pagri which symbolizes courage, spirituality, and honor.
A wedding ceremony that takes place in accordance with the Sikh rituals is known as Anand Karaj meaning blissful union. Love knows no boundaries and goes beyond caste, creed, and religion. We bring you a list of our favorite Sikh Couples that not only exemplify their culture and roots but also exhibit how true love exists around us.
Cute Sikh Couples That You Should Know Of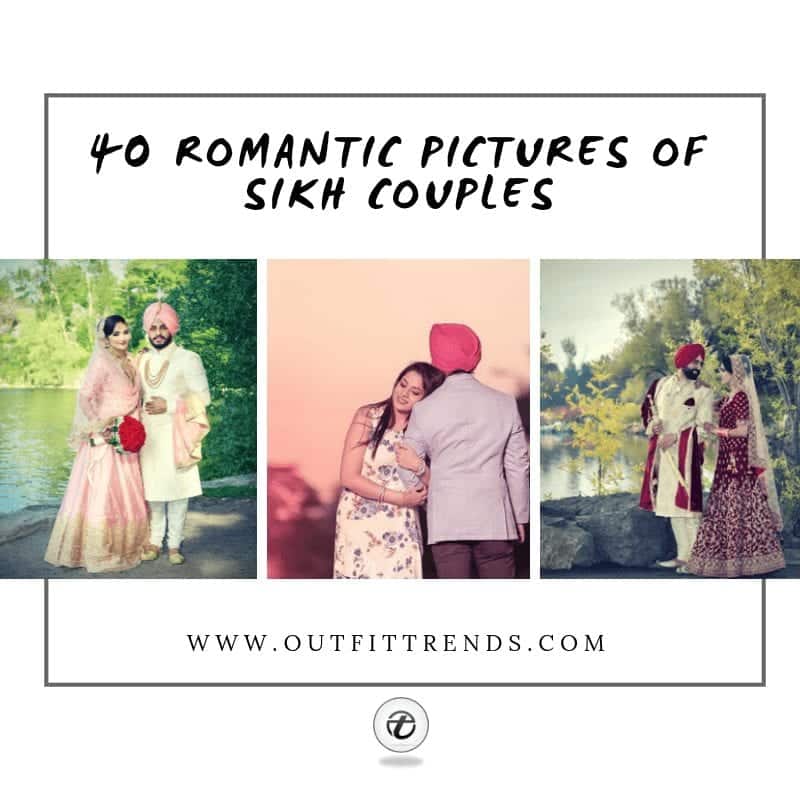 Before diving straight into the list, here are a few things you should know about Sikhism:
The religion is the fifth largest in the world.
Despite having originated in Punjab, Sikhs are not necessarily only Punjabi.
A large number of Hindus also believe in Sikhism and have been wed through Gurudwaras.
The religion gives both men and women an equal status.
Sikh men and women often have typical last names where Singh means Lion and Kaur means Lioness.
A number of Sikh women also wear the turban.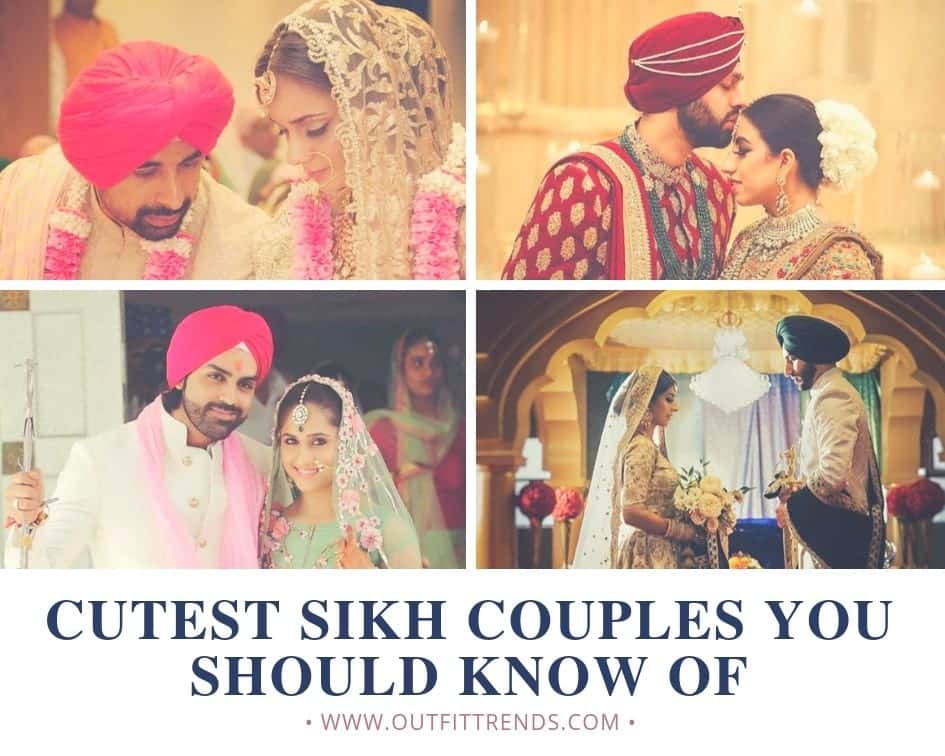 ↓ 40. Angad Bedi and Neha Dhupia
This one comes as no surprise. The most recent of Bollywood weddings was that of Neha Dhupia and Angad Bedi that happened in a very hush-hush ceremony at a Gurudwara. Both Neha and Angad belong to Sikh families and had been rumored to be dating since quite some time. The wedding took place in Delhi for which Neha chose a beautiful Pink Lehnga. The couple is also expecting their first child. Here are Celebrities Couples Matching Outfits.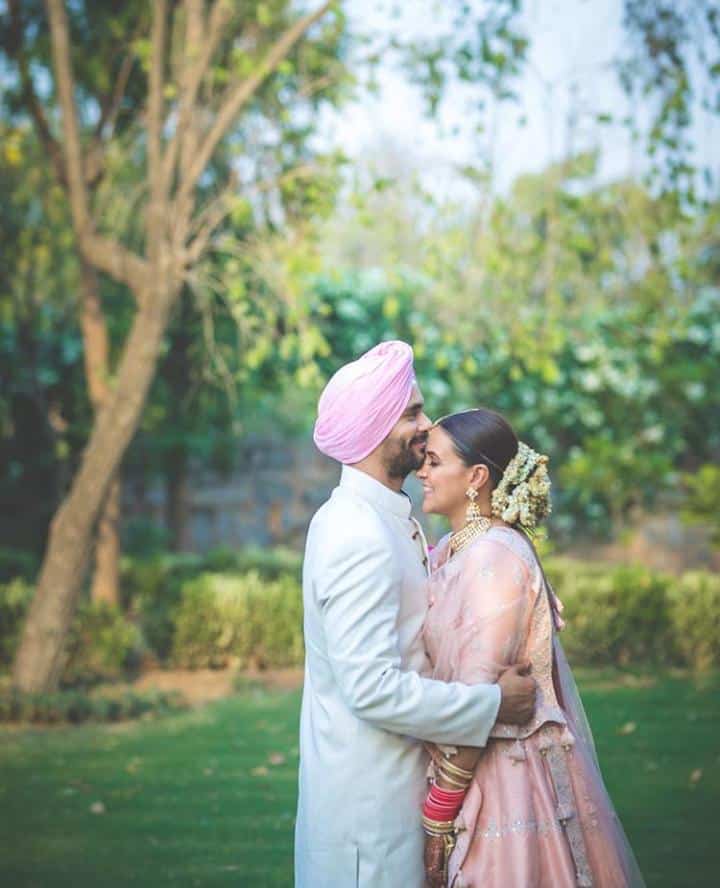 ↓ 39. Gursikh Couple
A Gursikh, meaning Guru's Sikh, is one that fully devotes their life to the True Guru. Such a person is supposed to be a higher level Sikh. It is compulsory for all GurSikh Men and Women to wear the turban.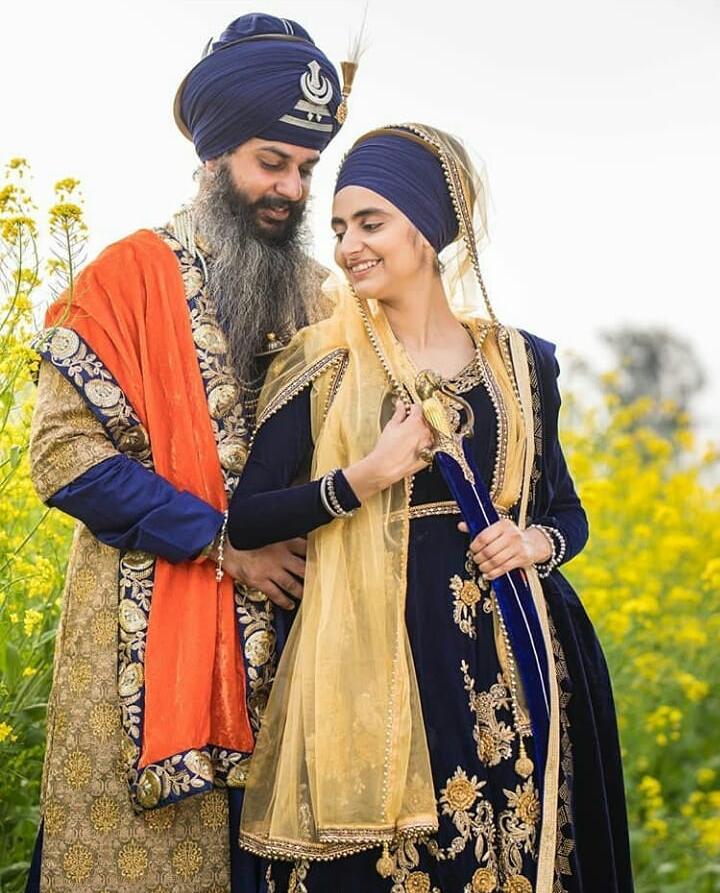 ↓ 38. Jimmy Shergill and Priyanka Puri
Jimmy Shergill is a famous Bollywood Actor and Producer and was born into a Punjabi Sikh Family. He has been spotted in movies like Munna Bhai MBBS,  Tanu Weds Manu, Happy Bhaag Jayegi among others. Jimmy married his long-time girlfriend Priyanka Puri in 2001 in a traditional Sikh wedding.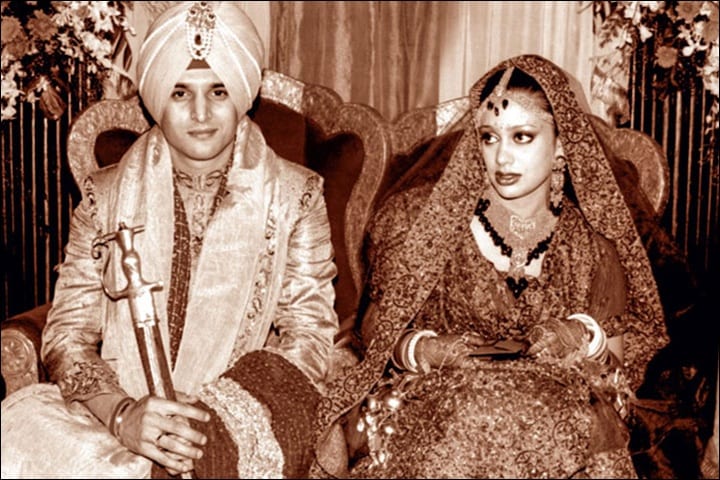 ↓ 37. Ranvijay Singha and Priyanka Singha
Rannvijay is a Popular Reality TV Show Host and Film Actor. The Actor belongs to a Military Background family and was the first among six generations to be an exception from the Army. After winning MTV Roadies, he got the opportunity to host and later judge the show. Rannvijay and Priyanka first met at a Party and hit it off from there. After realizing their love for each other, Rannvijay introduced her to his family on the occasion of Lohri. They tied the knot in a traditional Punjabi Wedding in Kenya.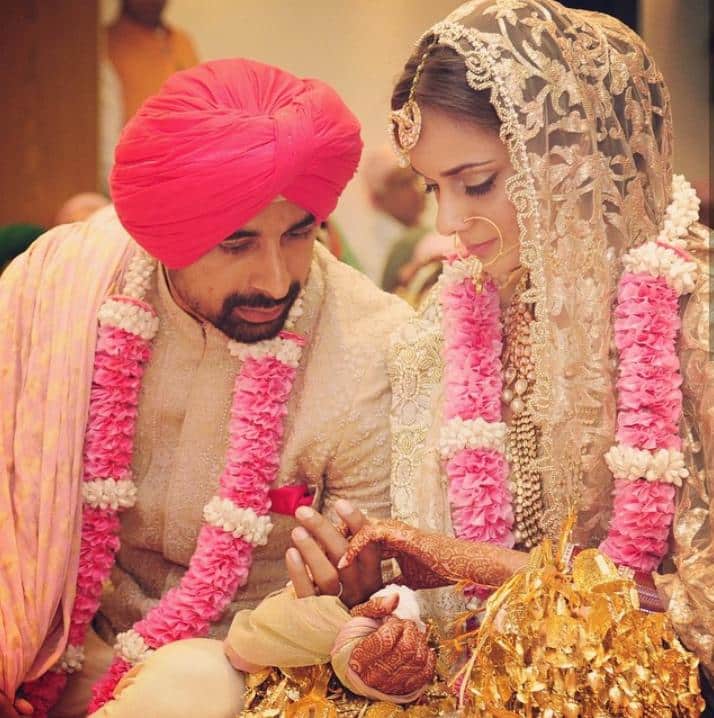 ↓ 36.  Harbhajan Singh and Geeta Basra
The famous Indian Cricketer Harbhajan Singh, commonly known as Bhajji, saw Geeta in a Music Video and had a love-at-first-sight moment. After pursuing her for over 10 Months, Geeta finally gave in and the two fell in love with each other. They tied the knot abiding with traditional Sikh Rituals. The couple has a daughter together named Hinaya Heer Plaha.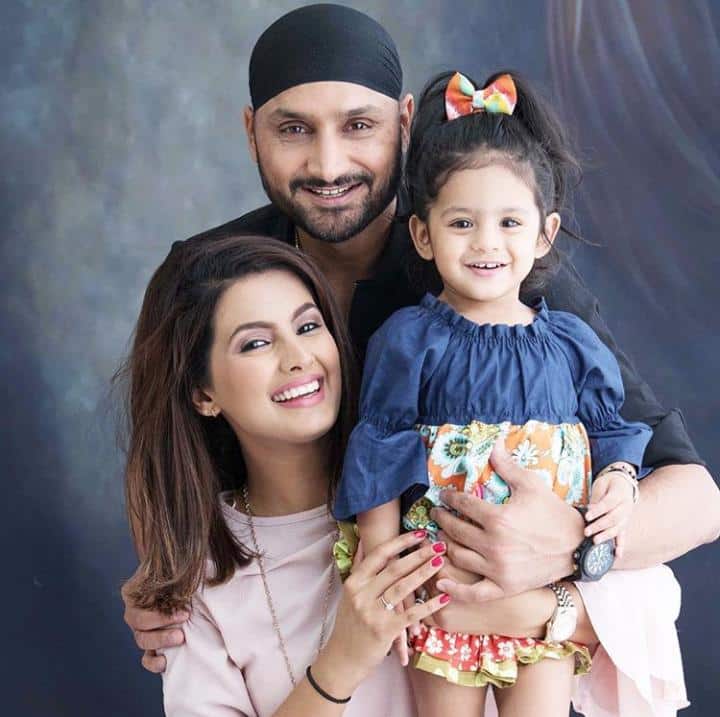 ↓ 35. Aesthetic Sikh Couple
Look at how elegant this picture is of this Sikh Couple. White is definitely a different choice for wedding outfit colors when it comes to South Asian weddings yet it has been trending since a couple of years.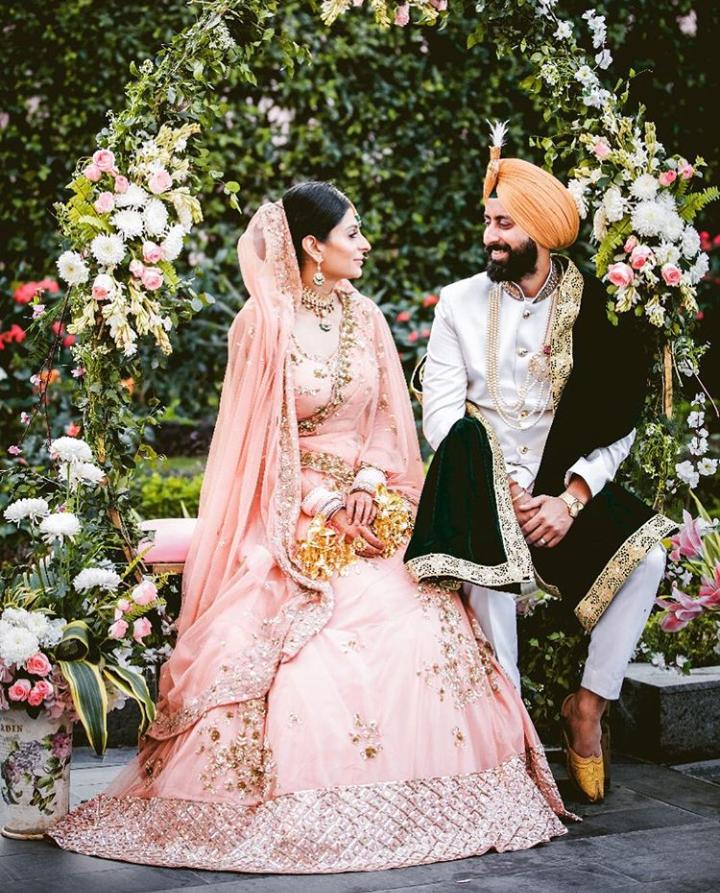 ↓ 34. Yuvraj Singh and Hazel Keech
The Indian Cricketer Yuvraj Singh who previously fought cancer recently got married to his rumored girlfriend Hazel Keech. As per Sikh Belief, Hazel was required to change her name to Gurbasant Kaur before her marriage. The couple initially avoided talking about their relationship but announced their engagement on Instagram. The couple had two weddings, one per Sikh Rituals in Chandigarh and one per Hindu Rituals in Goa after which the couple hosted a lavish Reception for their friends and families.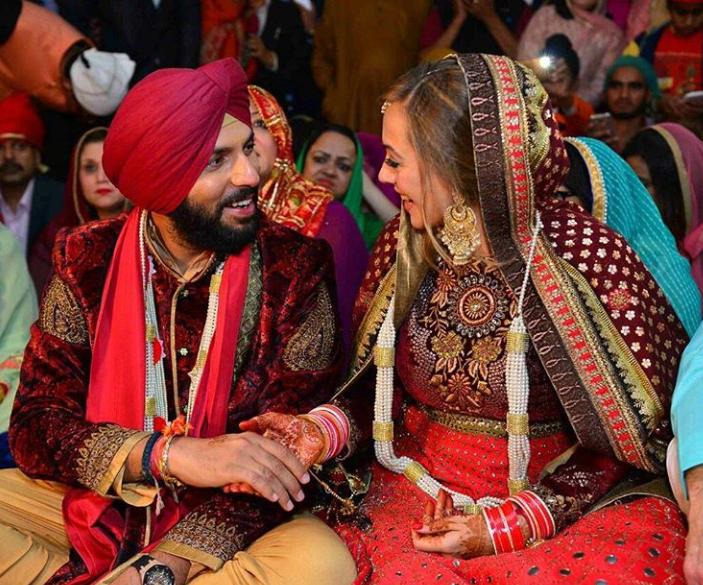 ↓ 33. Honey Singh and Shalini Singh
The popular Indian Rapper, Honey Singh, married his long-term girlfriend Shalini Singh in 2011 in a private Sikh Wedding at a Gurudwara. However, he kept his marriage a secret so as to not let it affect his fan following. He later introduced his wife to the public on an Indian Reality TV Show. Honey and Shalini were High School lovers and stayed together even when Honey left for the UK for his further studies. Does it get any cuter than this?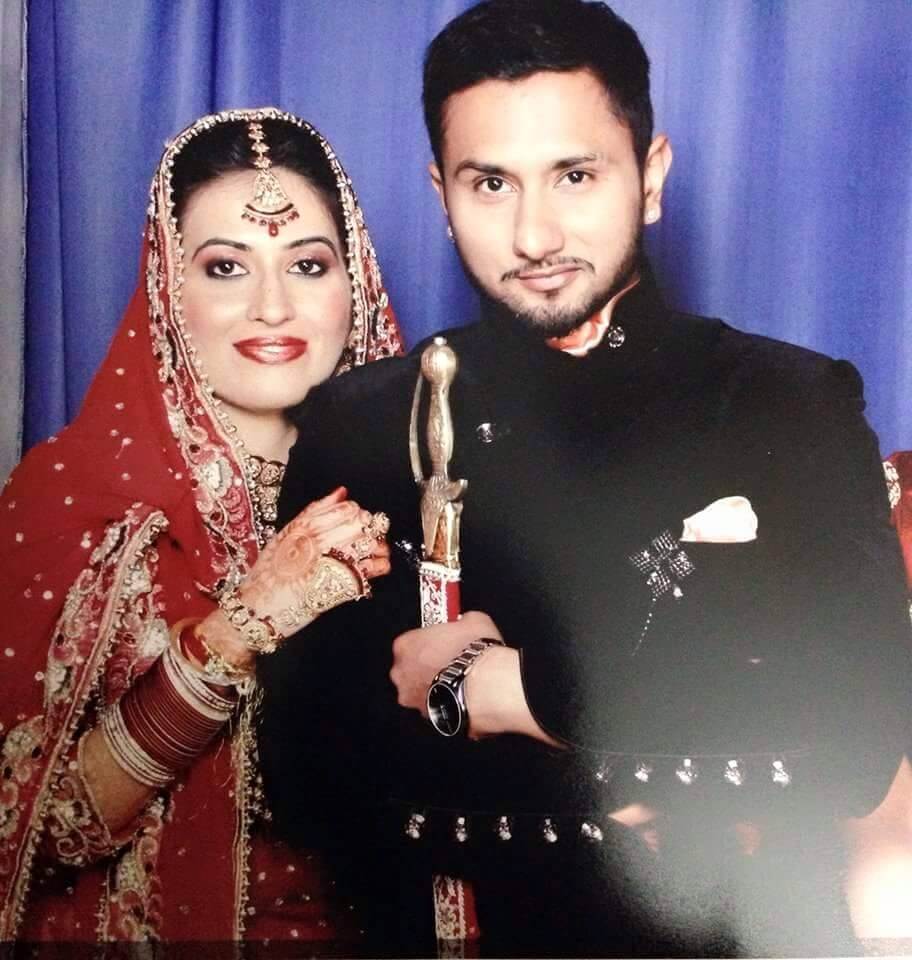 ↓ 32. Affectionate
The love these two seem to be exhibiting seems unmatchable. We love how beautifully they seem to be engrossed in each other.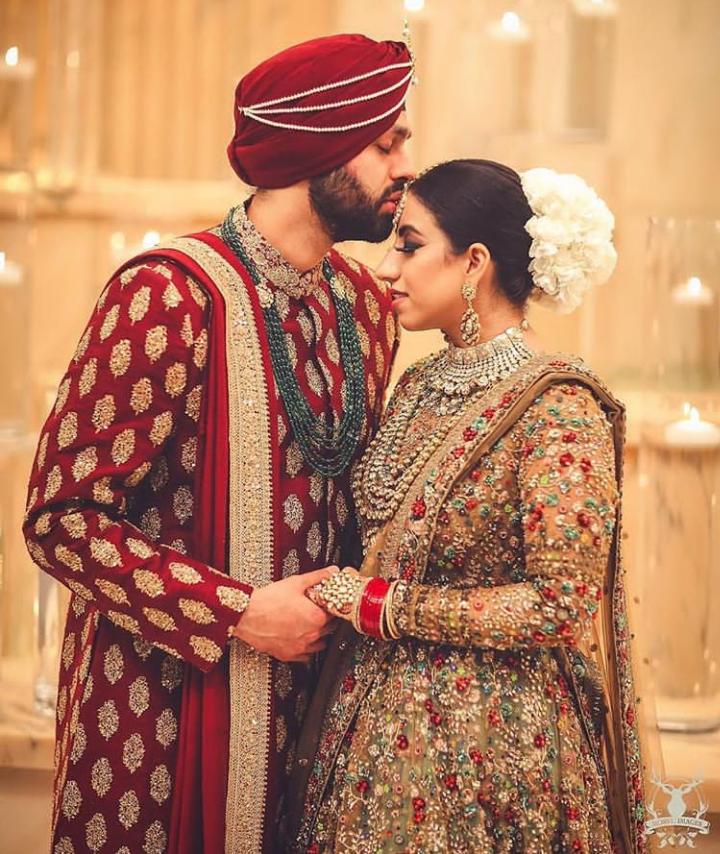 ↓ 31. Classy Sikh Couple
We could not have missed this couple out of the list. Going by the username @JattDiQueen, Kiran shares images of her and Tavneet who happen to be High School Lovers. Check out their Instagram feed for all the right kind of feels.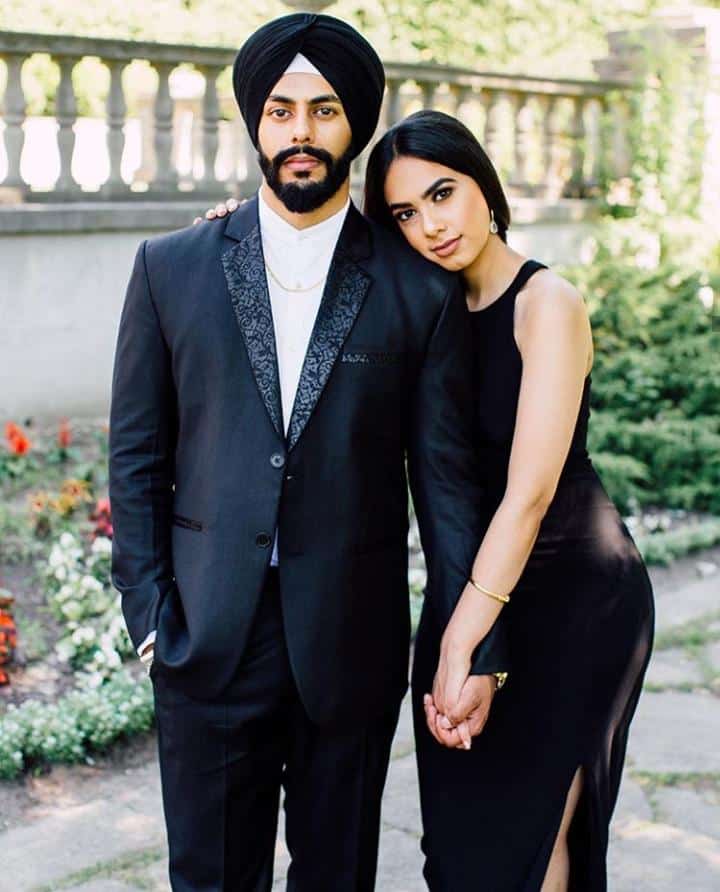 ↓ 30. Mayank Gandhi and Hunar Hali
It seemed like love at first sight for Mayank and Hunar who were introduced to each other by their families. What seemed a lot like a love marriage, in fact, happened to be an arranged one. Both Mayank and Hunar belong to the Indian Television Fraternity yet never happened to run into each other. It was after their Roka that they tried to take time out to know each other better. The couple belongs to different beliefs respectively, with Mayank being a Hindu and Hunar being a Sikh. They tied the knot with a Punjabi Wedding that took place at a Gurudwara. Here are 18 World's Smallest & Cutest Dwarf Couples To Know.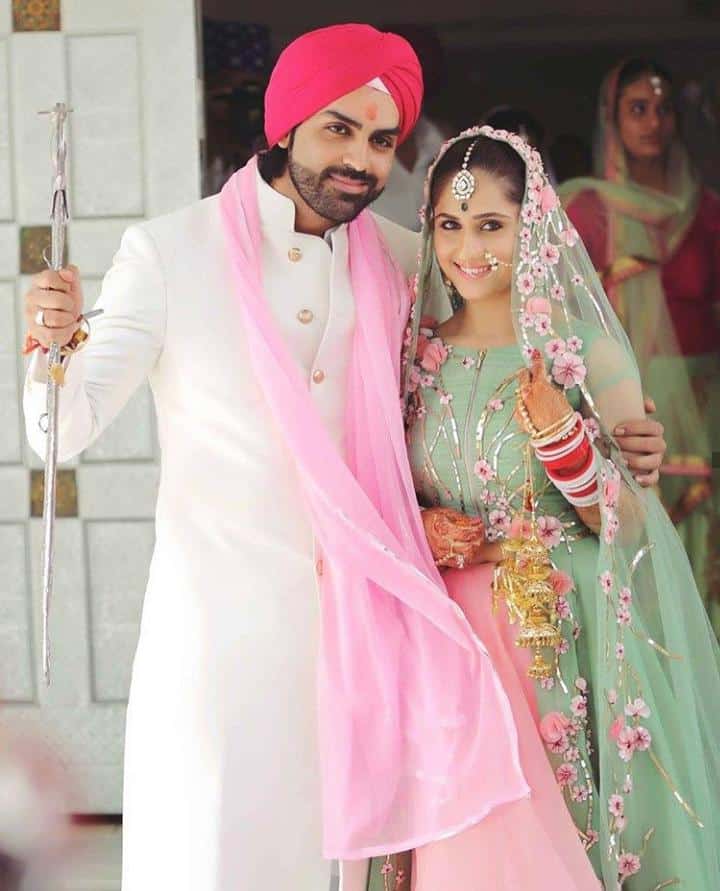 ↓ 29. Royalty
The grace held by this couple is nothing short of Royalty. The Sehra, Kalire and the Kirpan (Traditional Sword) are like the icing on the cake. Pink has recently been popularized as the go-to wedding outfit color ever since Anushka Sharma and Virat Kohli chose it for their big day. We love how glorious they both look together.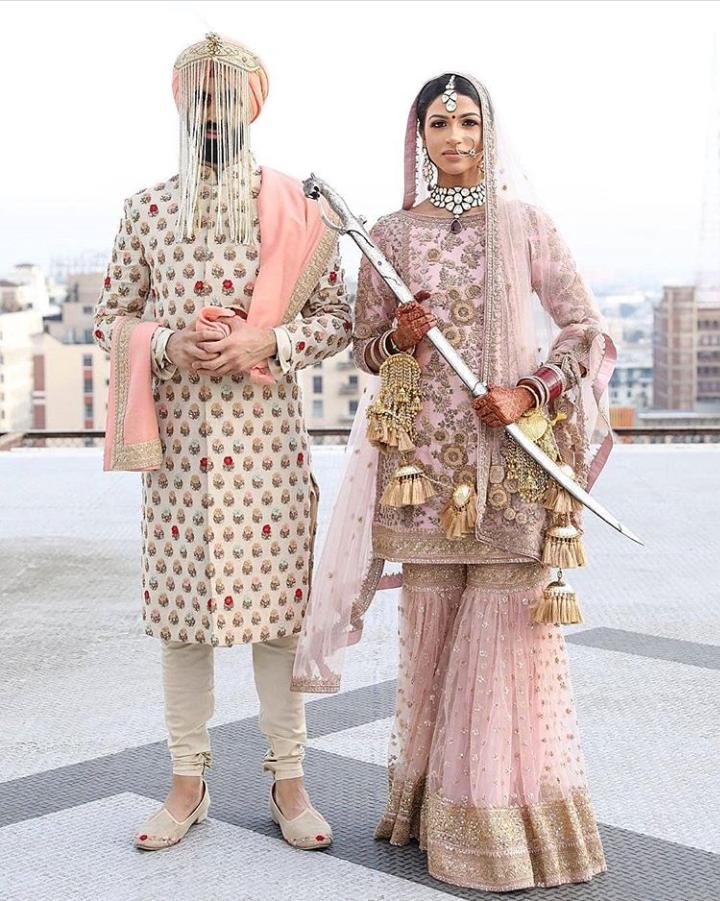 ↓ 28. Serene
We cannot help but notice how calm these two look in each other's company. The picture epitomizes the love shared by these two. Watching them stare into the eyes of each other reminds us greatly of the Disney Fairytales we have grown up watching.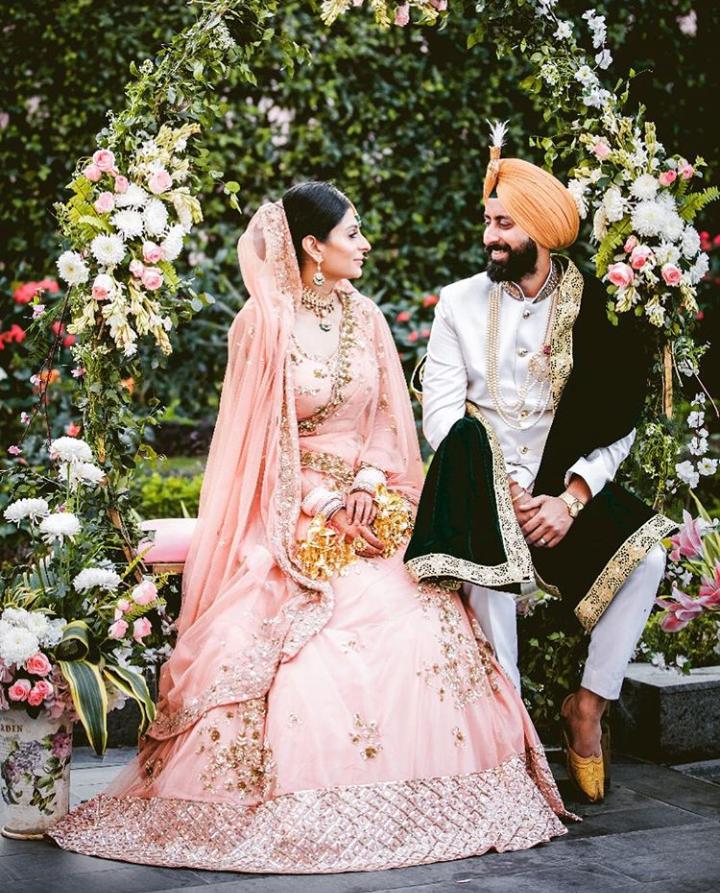 ↓ 27. The Youthful Couple
We love the freshness and youthfulness of this couple in particular. The bride's no makeup look is refreshing and looks beautiful. The coordinated wedding outfits are done nicely, putting them ahead of many of the other couples. We love how young the couple seems and how well connected they are to their roots.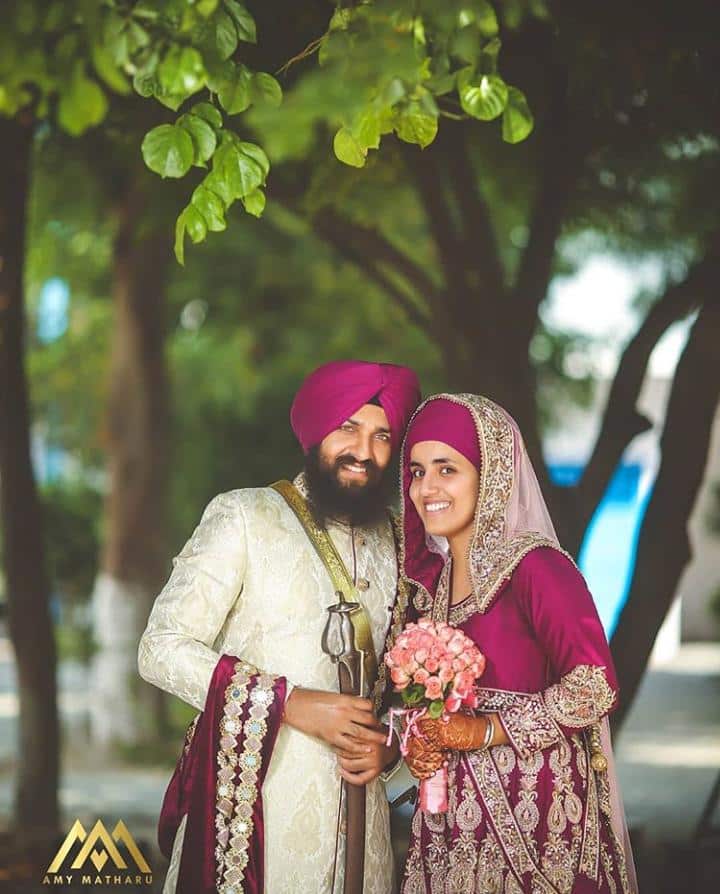 ↓ 26. Gurdeep Mehndi and Jessica Singh
Gurdeep Mehndi belongs to a very musical background with his father being the Legendary Daler Mehndi and his Uncle being Mika Singh. Gurdeep happens to be a singer himself and he tied the knot with his NRI Model-Girlfriend Jessica Singh in a private ceremony.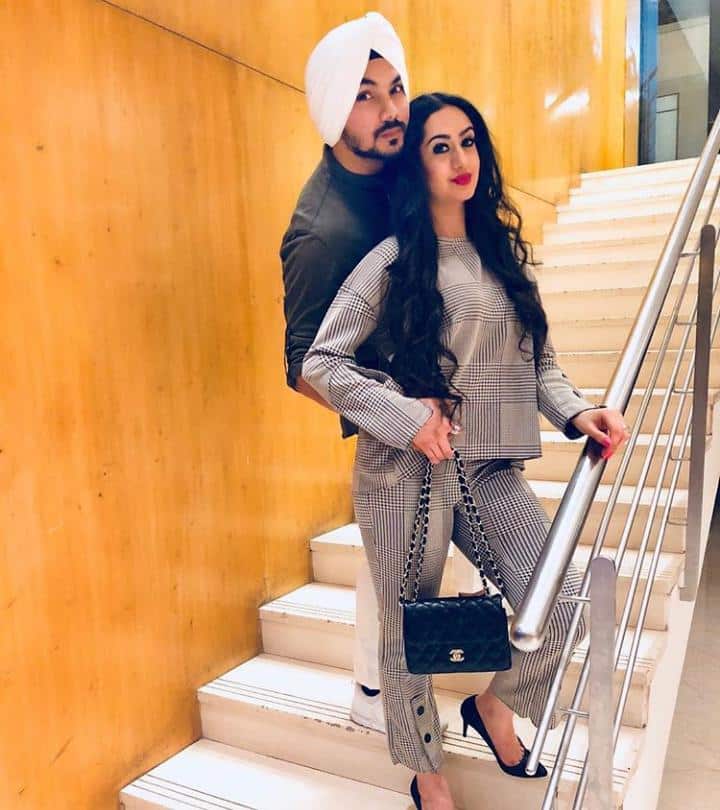 ↓ 25. Plus Size Couple
This plus size couple seems to be defying all odds by speaking up about their love without letting the criticism from getting to them. Ankit and Ishleen are inspirational when it comes to confidence, self-love, and even fashion.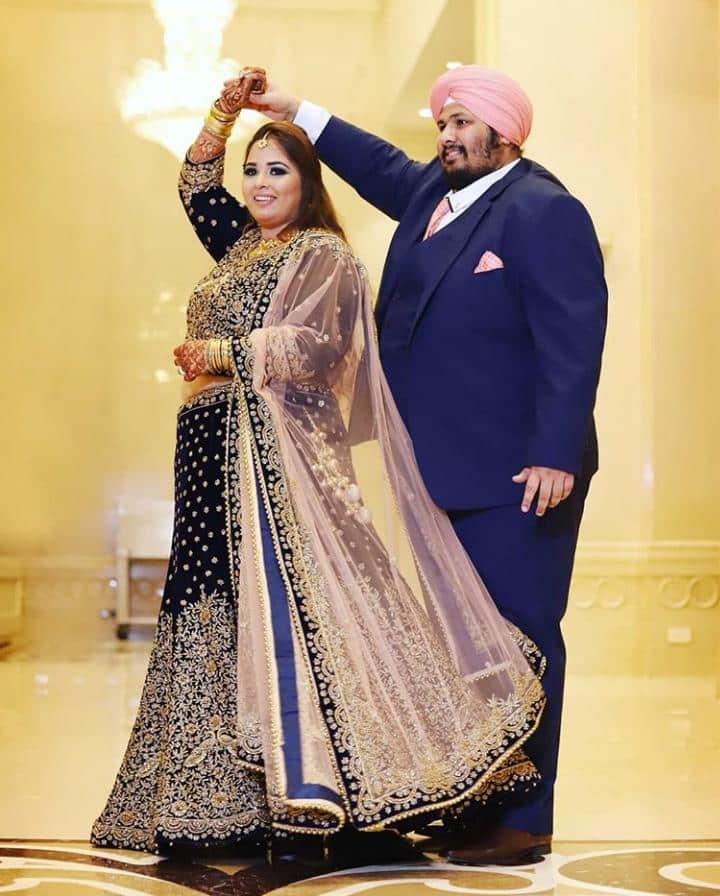 ↓ 24. The Adventurous Couple
Love, Beauty, and Adventure – Does it not sound like the perfect combination? Jaskaran and Jasleen are what you call relationship goals. The youthful couple seems to be much in love and never seem to let go of an opportunity to travel together.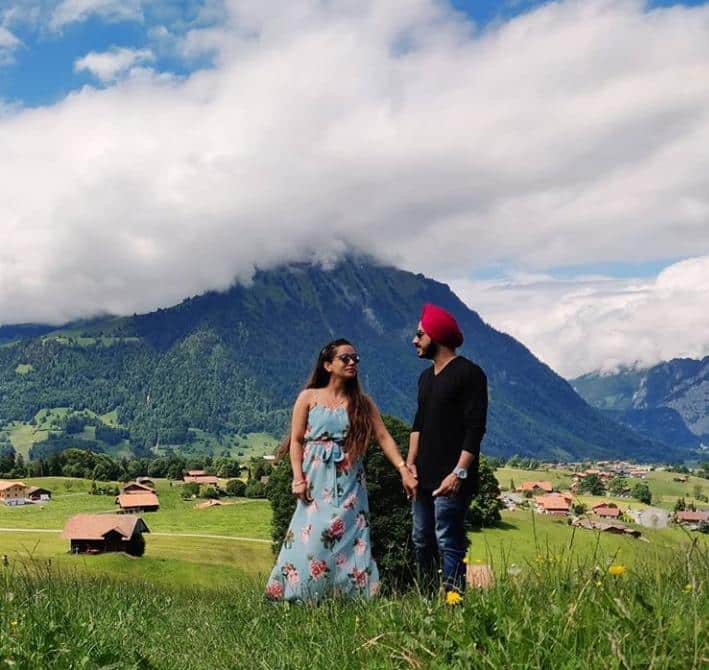 ↓ 23. The Entertainers
Going by the username of @that.couplethough on Instagram, this Married Sikh Couple make super funny videos and happen to be really entertaining. Apart from the videos, they often post pictures of themselves and their travel adventures.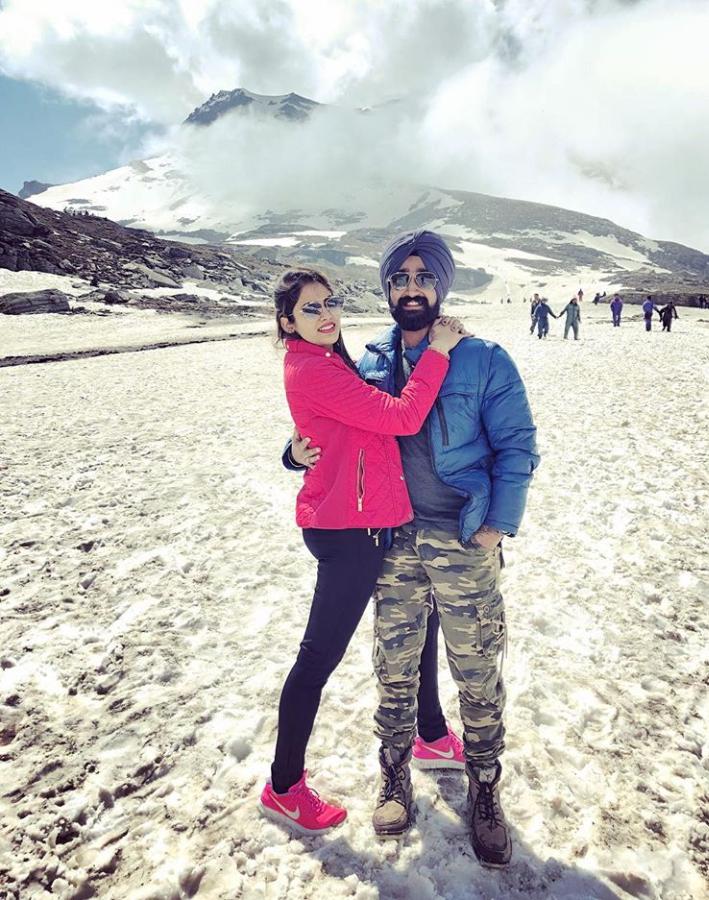 ↓ 22. Super Fashionable Couple
Gunjeet and Harpreet's Pre Wedding Photoshoot is enough to give us the right kind of fashion goals. The floral print dress and the mint-green turban look aesthetically pleasing in this cool shot.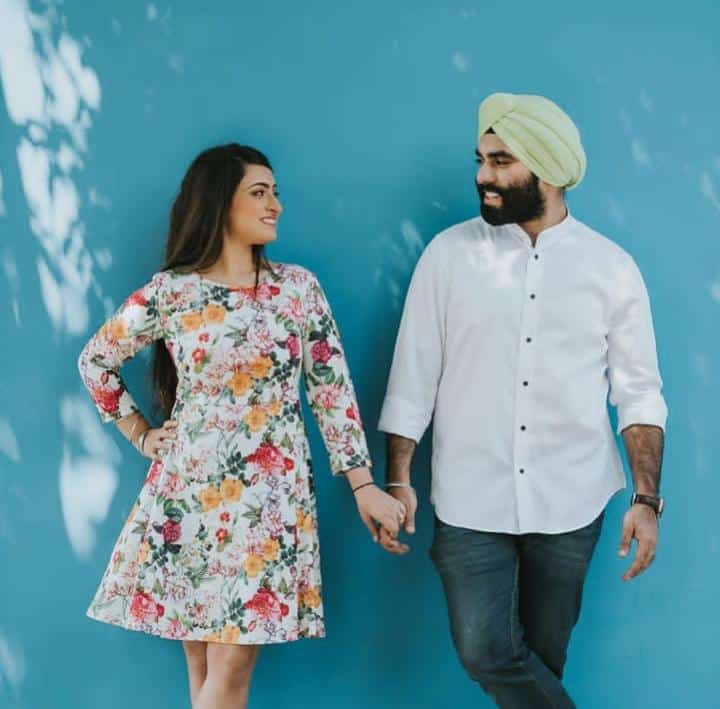 Via
↓ 21. Eternal Love
Tina and Harpreet are based out of Canada and are parents to three young boys. The couple was together for 4 years after which they tied the knot. They completed 14 years together in August. The couple is both Practical and very fun-loving. Tina and Harpreet are not your average couple and love talking about practical issues like racism, being mortgage free and Marriage.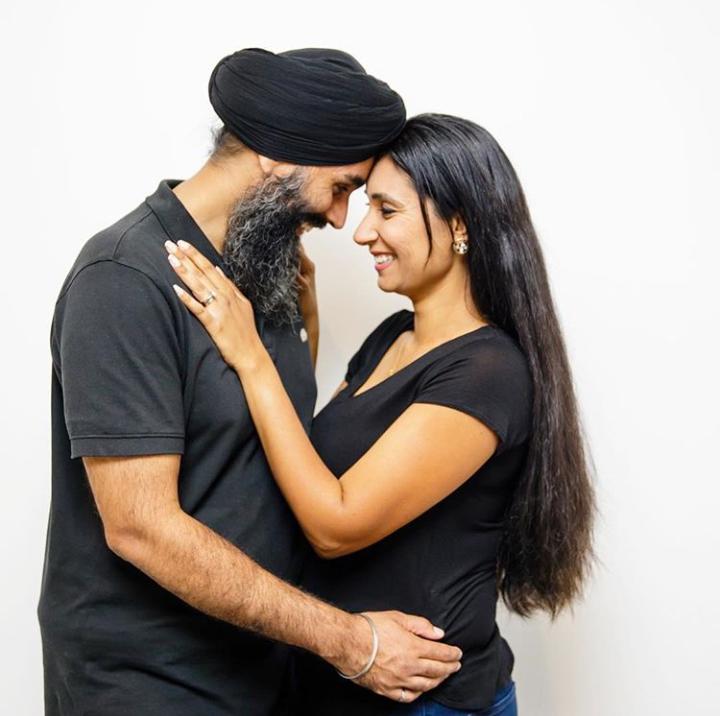 ↓ 20. The Travellers
Going by the name of The Sikh Traveller, this Canadian couple shares breathtaking pictures of their travels. They recently had a baby boy that makes appearances along the journeys. Here are Cute Indian Couple Images.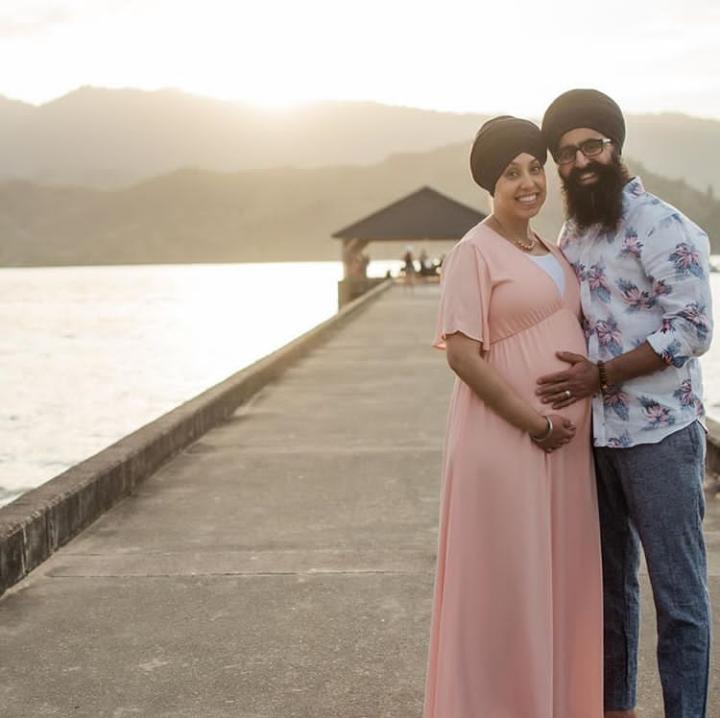 ↓ 19. The Modern Sikh Couple
We stumbled upon a picture of this Sikh Couple that seems on-point with their fashion choices. We love how gracefully the Rashpreet Singh has styled he turban with his Suit. On the other hand, Manveer Kaur seems to be doing justice to the Blue Slit Dress.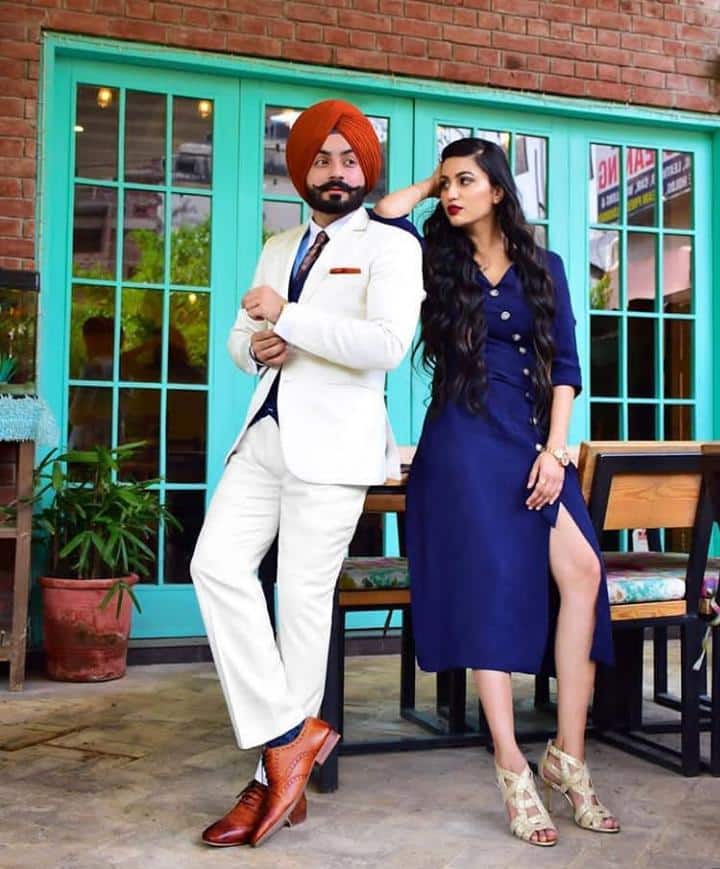 Via
↓ 18. Devinder and Kiranpreet
We are out of words to express what we feel about this beautiful couple. This picture of Devinder and Kiranpreet holding hands exhibits what the strength of love really means.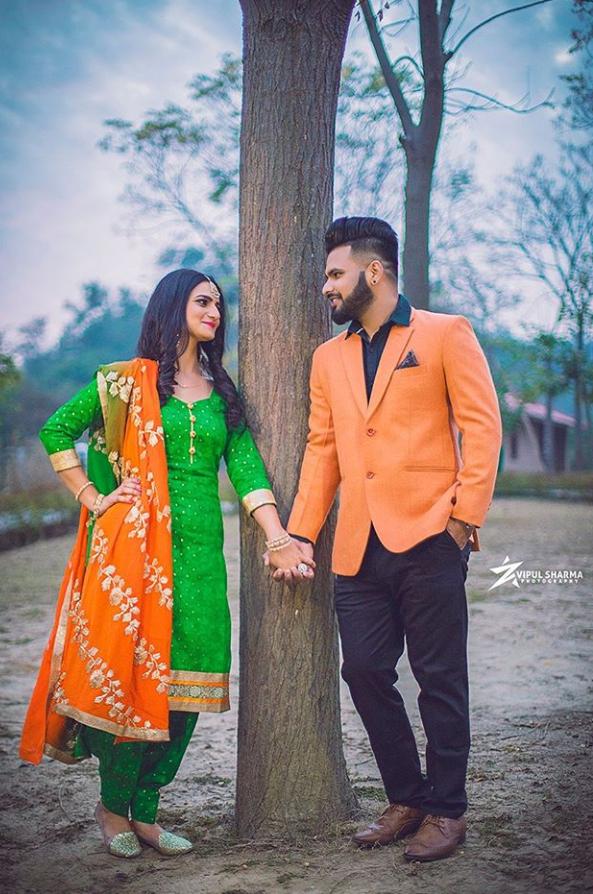 ↓ 17. Plum Perfection
This roundup of Sikh Couples has us keeping an eye out for the trendy wedding outfit colors. From Whites and Pastel Pinks, we have now got the Plum Perfection. The coordinated look appears to be magical and is definitely difficult to achieve yet has been done effortlessly by these two.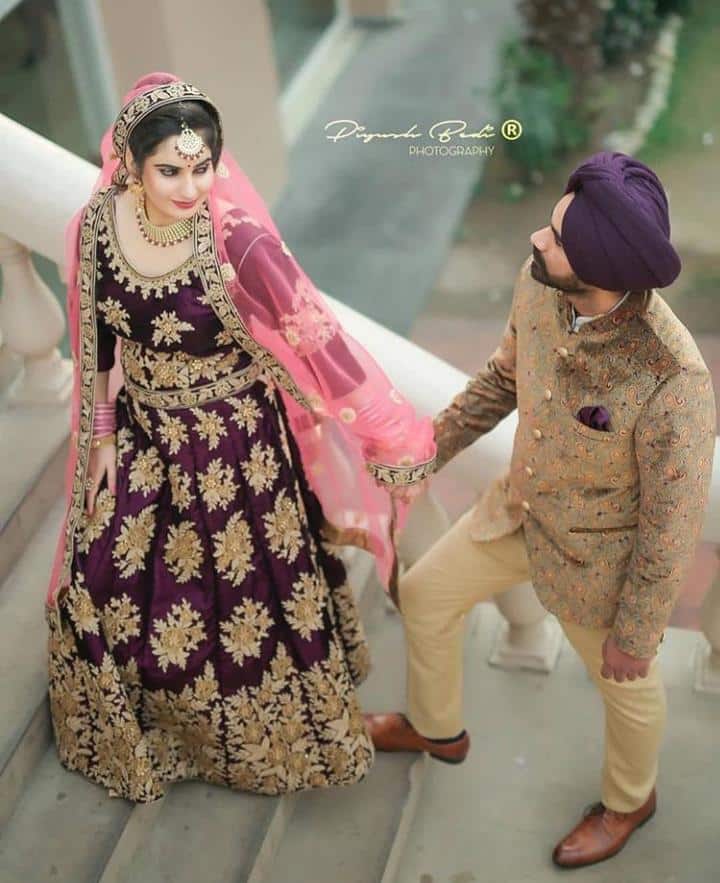 ↓ 16. Blissful
This picture is proof of what love is really about. The mere feeling of love brings us nothing but comfort and solace. The picture speaks words for what this couple holds for each other.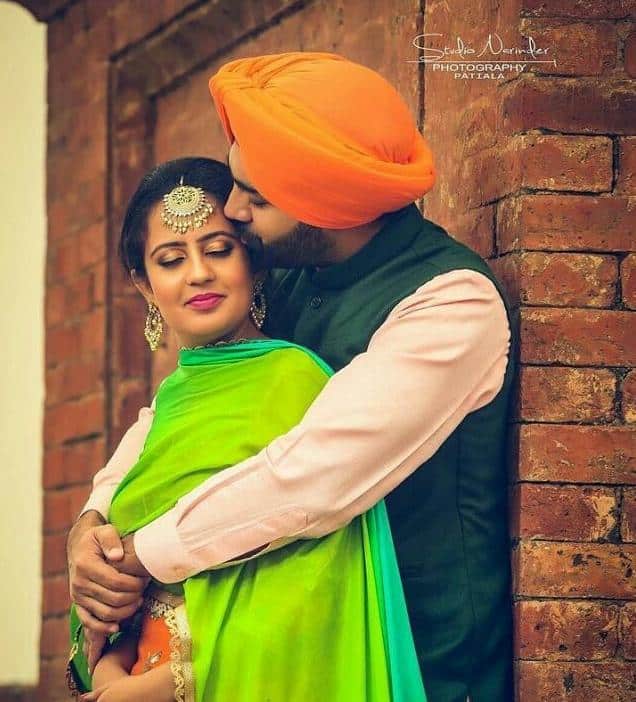 ↓ 15. Manpreet and Sandeep
This Canadian Sikh Couple had the wedding of our dreams. The exquisite decor, trendy outfits, and stunning photographs define how perfect the ceremony must have been. The blissful union of these pure souls have us believing in true love all over again.
↓ 14. Togetherness
Marriage marks the embarking of a new journey, a journey of love and togetherness. This Wedding Photograph epitomizes just that. The pure exchange of look between this couple speaks volumes about the kind of love they seem to be sharing.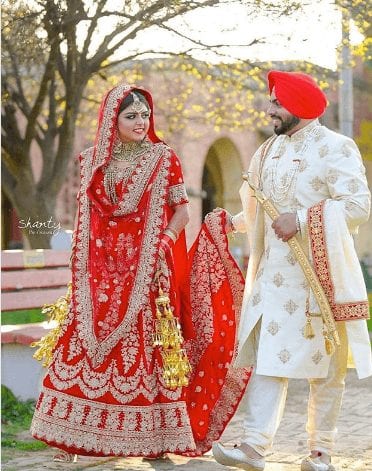 ↓ 14. Togetherness
Marriage marks the embarking of a new journey, a journey of love and togetherness. This Wedding Photograph epitomizes just that. The pure exchange of look between this couple speaks volumes about the kind of love they seem to be sharing.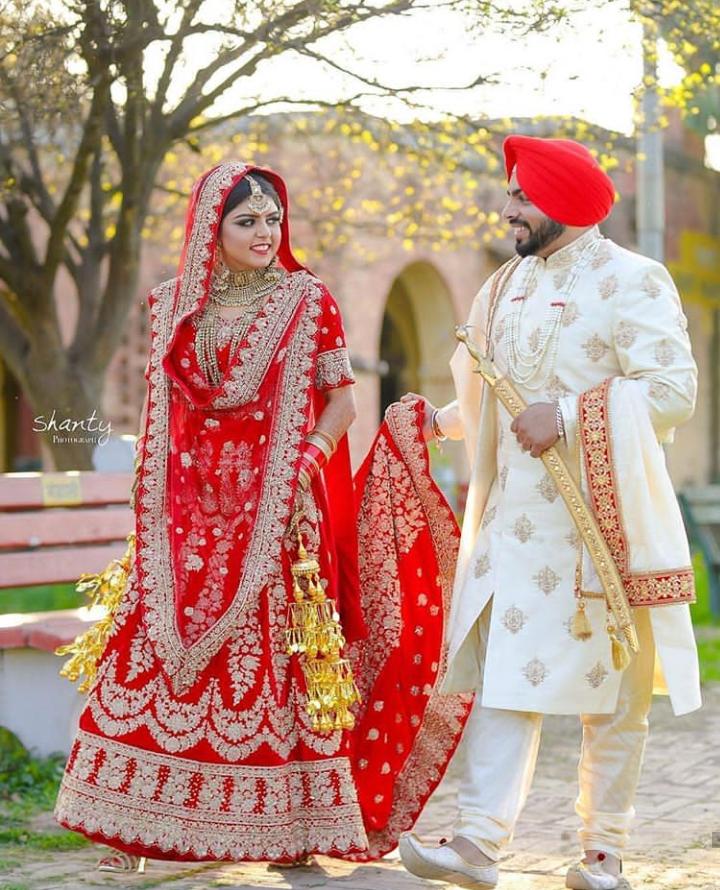 ↓ 13. Timeless Classic
Looking at this picture, all we could think of was how classic this couple looks. A traditional South Asian wedding includes the red color, depicting love and culture. The smiles on their faces are enough for us to understand the joy they bring to each other.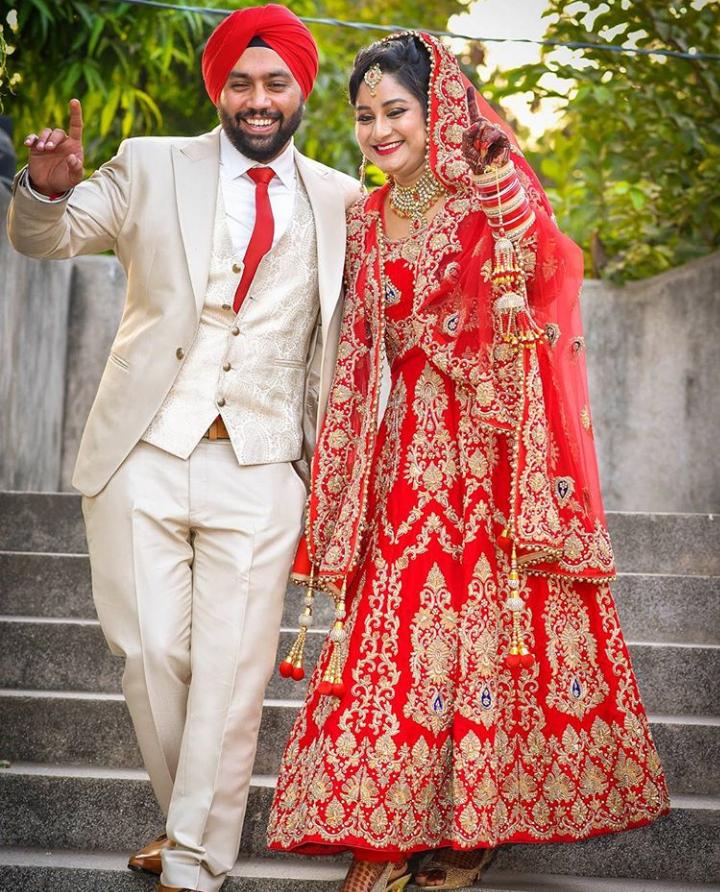 ↓ 12. Desi Sikh Couple
This couple seems to be in an embrace of a lifetime. The two seem to be a reflection of Happiness, Comfort and Confidence.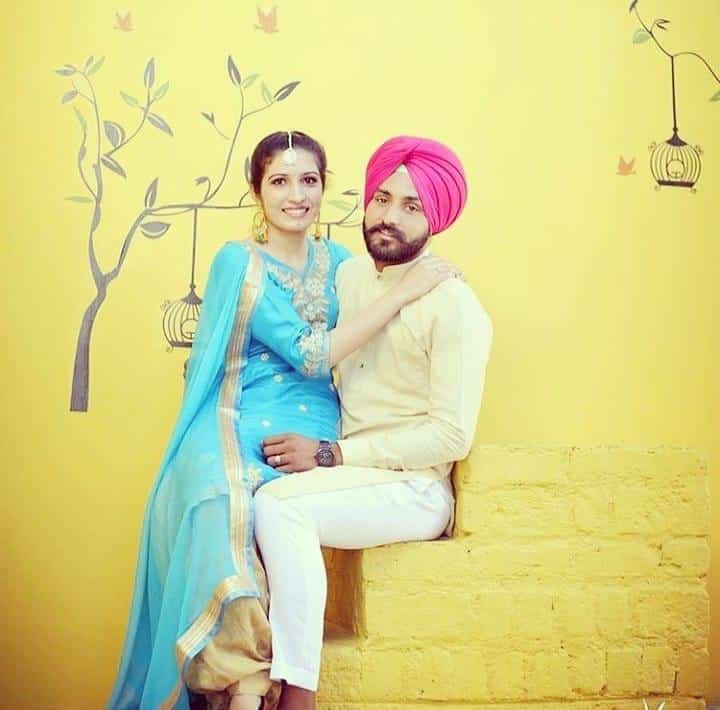 ↓ 11. Interracial Sikh Couple
There has been a shift towards Interracial marriages of Sikh Individuals and they go on to tell us how love exists beyond borders. Geographical Boundaries cannot halt the spread of love among them.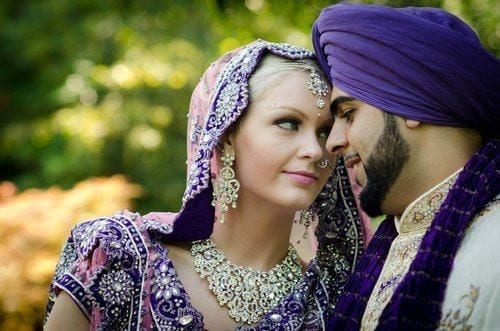 ↓ 10. Navjot Singh Sidhu and Navjot Kaur Sidhu
Love is not limited by age and our favorite next couple includes two well-known personalities. The popular TV Show Presenter, Cricketer, and Politician and his wife are super adorable. Their wit and constant support for each other is unmissable. Coincidently, both happen to share their first and last names.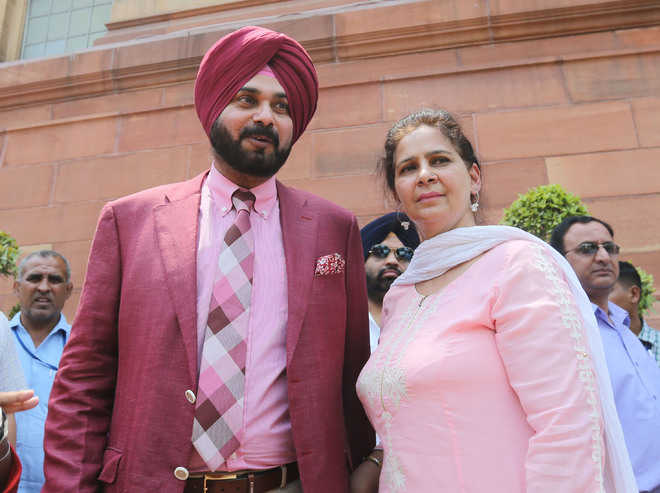 ↓ 9. Daler Mehndi and Taranpreet Kaur Mehndi
The man behind the record-breaking Punjabi Songs like Bolo Ta Ra Ra and Tunak Tunak Tun is a prominent Sikh Personality. He is married to Taranpreet Kaur and has four children with her.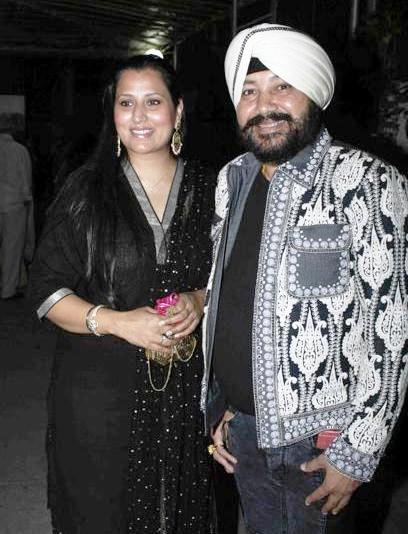 Via
↓ 8. Bobby Deol and Tanya Deol
Bobby Deol, son of Popular Bollywood Actors Dharmendra and Hema Malini, belongs to a Sikh Jat Family. Bobby married his then-girlfriend Tanya Deol back in 1996 and are still going strong.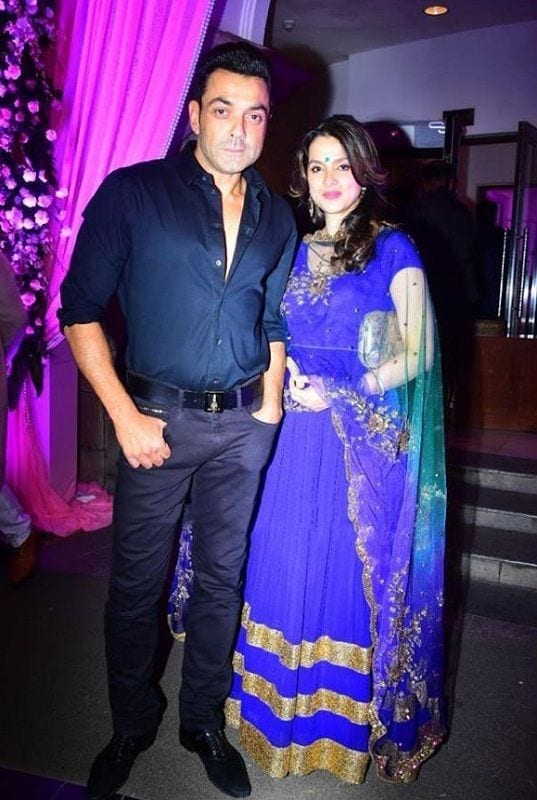 ↓ 7. Sangram Singh and GurKiran Kaur
Famous Indian TV Personality, Sangram Singh recently got hitched with GurKiran Kaur in an Anand Karaj. Sangram now plans on quitting TV to settle in Norway with his family.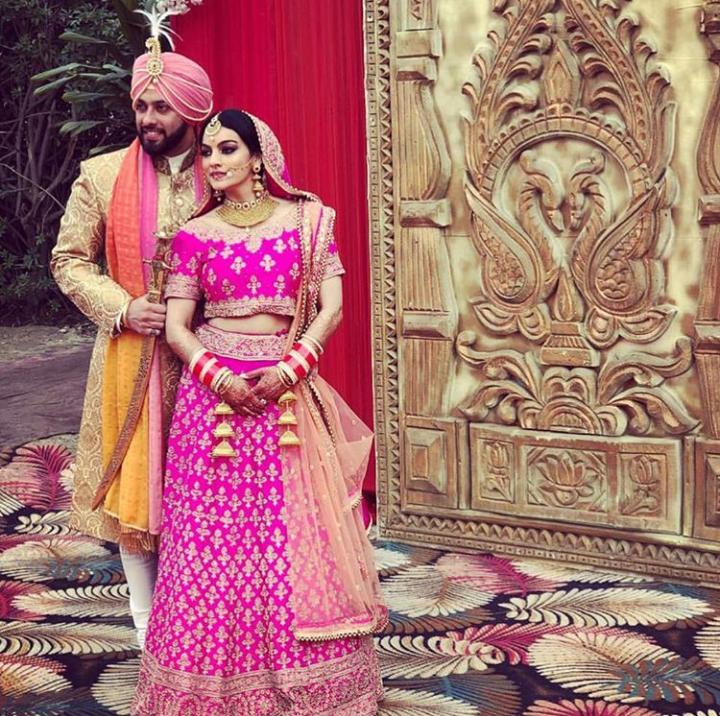 ↓ 6. Rishi Attari and Gul Panag
The Indian Actor-Model Gul Panag belongs to a Sikh Family and married her long-time boyfriend Rishi in a traditional Sikh Wedding back in 2011. The couple was recently blessed with a baby boy.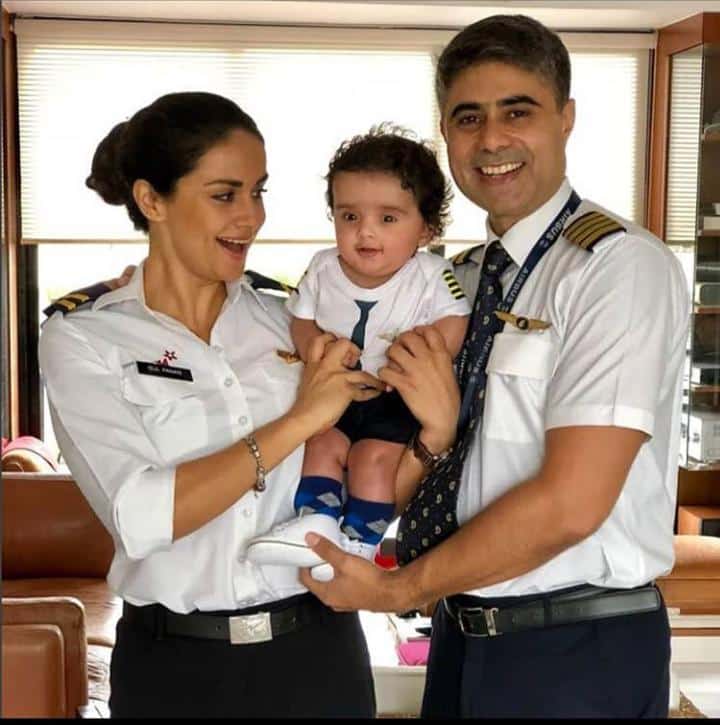 ↓ 5. Mr. and Mrs. Jassi Gill
Pictures have surfaced of the famous Punjabi Singer Jassi Gill and his wife. Despite him keeping a low profile, articles continue to speculate regarding his marriage.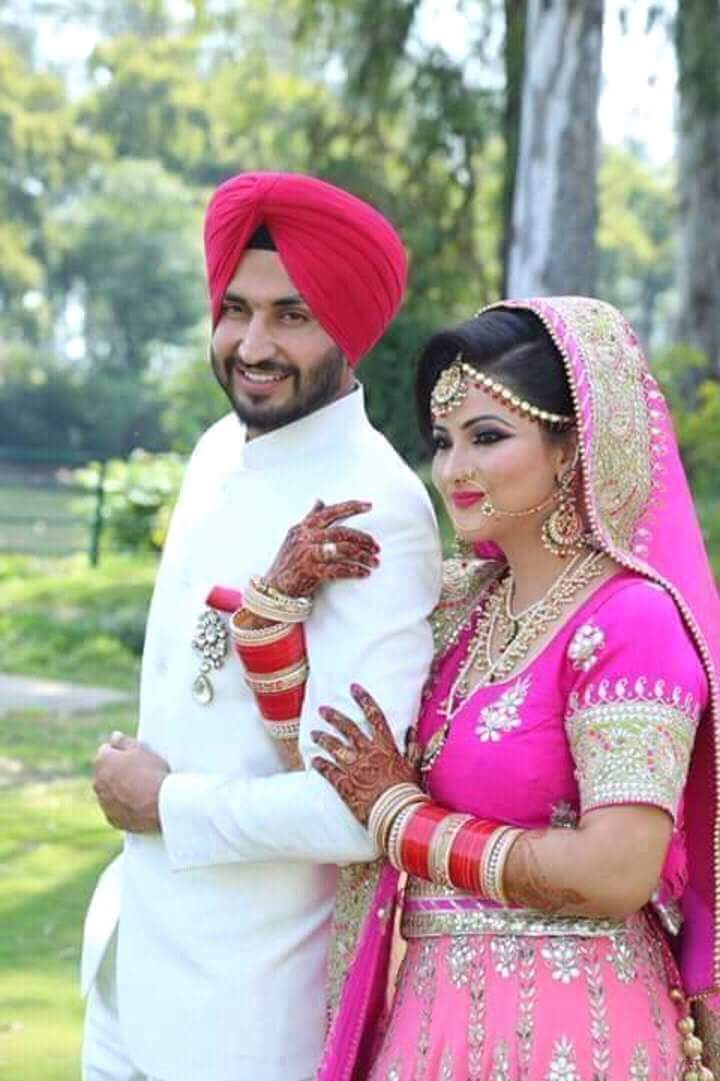 Via
↓ 4. Vindu Dara Singh and Dina Umarova
Vindu Dara Singh is the son of, the famous wrestler and later turned actor, Dara Singh. He has performed in various Reality TV Shows, theatres and has acted in movies. He is currently married to Dina Umarova with whom he has a daughter.
Via
↓ 3. Gippy Grewal and Ravneet Kaur Grewal
Rupinder, commonly known as Gippy Grewal is an Actor, Song Writer, Singer, Producer, and Director. He is married to Ravneet Kaur Grewal with whom he has two songs.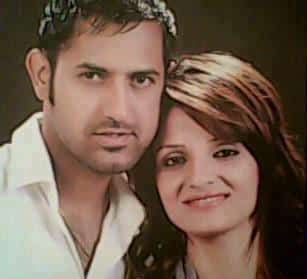 Via
↓ 2. Friendship Kind of Love
No one love beats one that embodies friendship. It is essential to find a friend within your partner for a more. If the warmth and friendship exist in a relationship, the bond becomes unbreakable.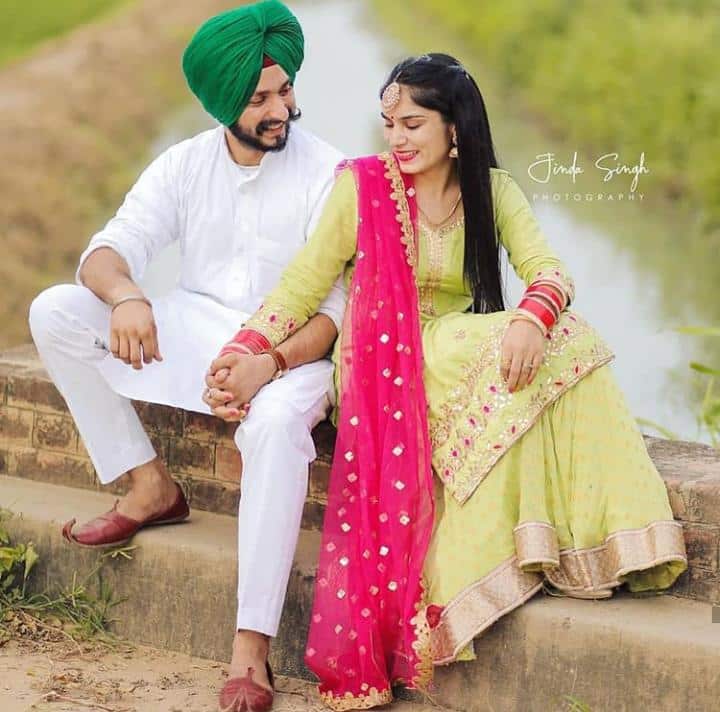 ↓ 1. Playful
Nothing like adding a bit of fun and excitement in your everyday lives. We love how cute and playful this bride looks on her big day.