Rehearsal Dinner Outfits For Brides: The rehearsal dinner is a distinctive pre-wedding celebration that gathers the bride and groom and their closest relatives and friends together. You want to look your best as the bride on this fateful evening. However, selecting the appropriate dress for this particular occasion can get tricky.
To help you find the perfect outfit, it's important to keep a few key factors in mind. In this article, we'll look at 20 lovely options for brides to help you choose your perfect attire.
With our today's tips, you will be ready to enjoy your special day in style!
What Should a bride wear to a rehearsal dinner?
The idea is to pick an outfit that makes you feel confident, relaxed, and eager to celebrate with your loved ones on this wonderful day. The options can be overwhelming, from sleek and stylish jumpsuits to romantic fitted dresses. To make sure you pick the best look, it is important to consider the elements like fabric, fit and silhouette.
Much like the wedding itself, rehearsal dinners have certain protocols and etiquette to follow. For the bride, appropriate attire is generally a dressy cocktail dress or jumpsuit with dressy heels. However, A bride can choose to dress up or down for her event. Some prominent options are:
Cocktail or midi-length dress
A romper or jumpsuit
A simple/ casual sundress
Let's look at these ideas in more detail below:
Tips for Choosing Your Rehearsal Dinner Outfit
As this day is very special for the bride and groom and deserves its moment in the sun. These tips can help find the perfect outfit that will make you look beautiful on your big day.
Consider the location and dress code: The location and dress code of the event will play a big role in what you wear. If the dinner is at a fancy restaurant, a more formal outfit might be appropriate, while a more casual backyard barbecue could call for a more relaxed look.
Personal style: Choose an outfit that reflects your personal style and makes you feel confident and comfortable. Whether you prefer a classic, feminine look or something more modern and edgy, make sure your outfit showcases your unique taste and personality.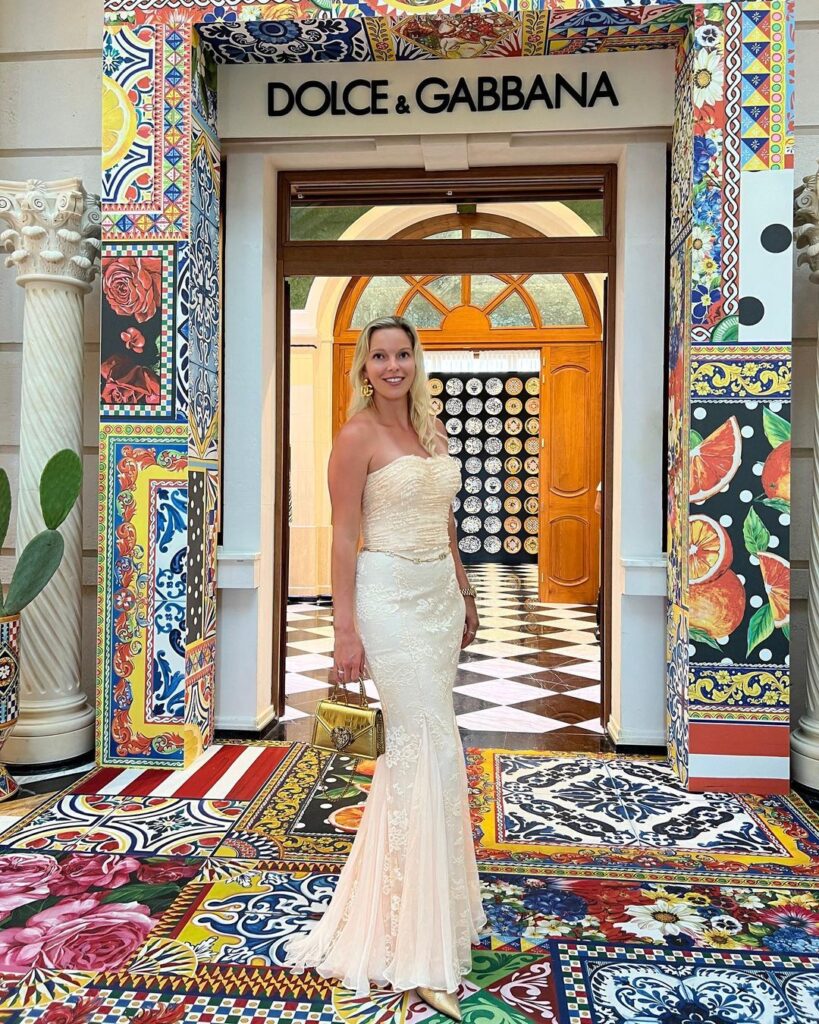 Consider the weather: If the event is outdoor, make sure to choose an outfit that is weather appropriate. Light fabrics and breathable materials are a must for warm weather, while layering options are great for cooler temperatures. You can opt for a pantsuit as it is very versatile.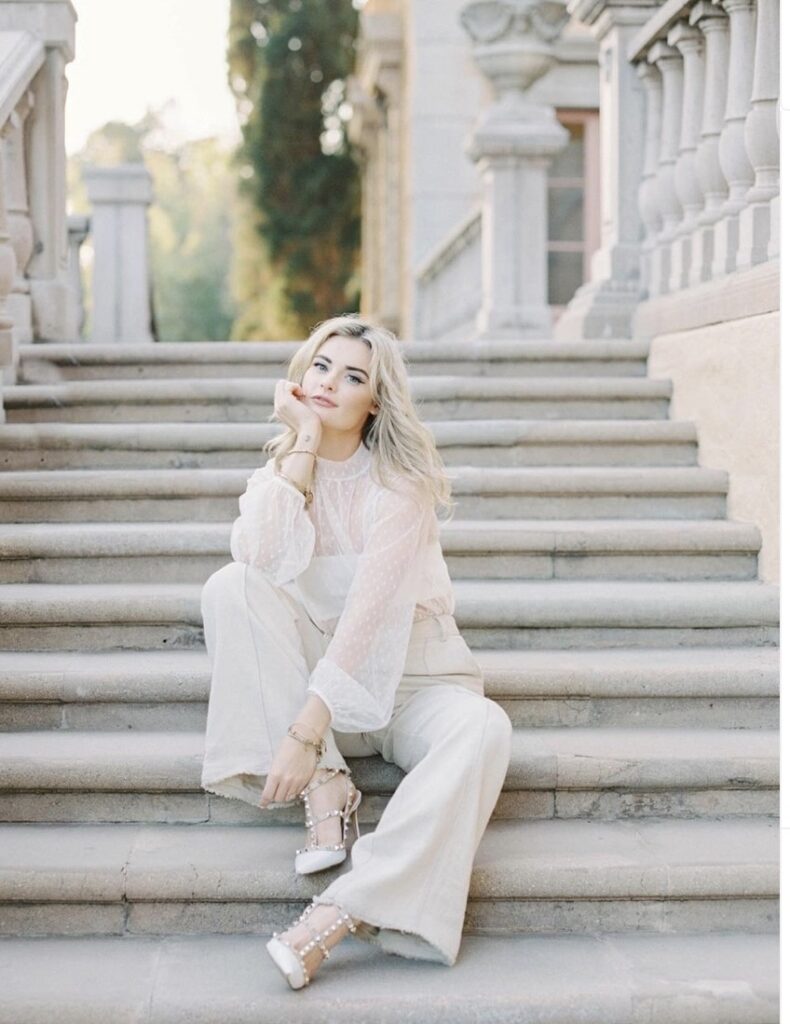 Accessorise wisely: The right accessories can take your outfit to the next level. Consider statement jewellery, a chic clutch, or a pair of eye-catching heels to complete your look.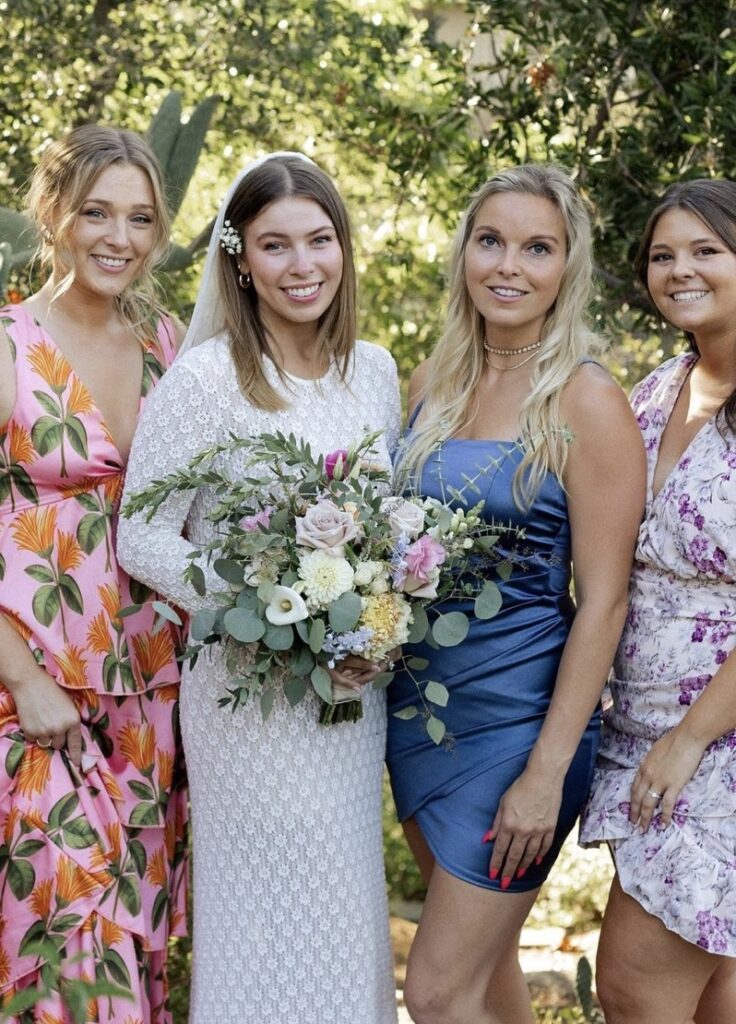 Keep it comfortable: You want to be comfortable and able to enjoy the celebration without any distractions, so choose an outfit that fits well and feels good to wear.
Dos and Dont's
Do's:
Dress appropriately for the occasion – choose an outfit that is appropriate for the formality and theme of the event.
Enjoy yourself – take a moment to relax and enjoy the company of your loved ones, as the rehearsal dinner is a time to celebrate the start of your wedding festivities.
Choose Comfort – When determining what to wear to a rehearsal dinner, comfort is essential. Make sure you can move about in whatever you're wearing—the last thing you want is an irritating hemline or a skirt that rides up.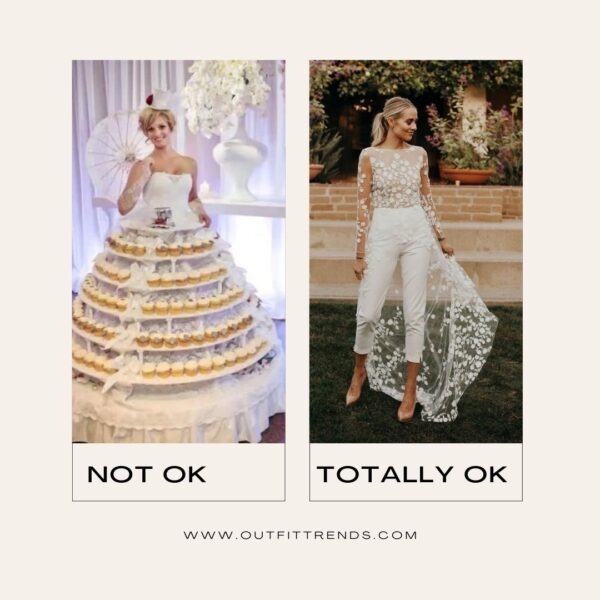 Don'ts:
Be too focused on details – while it is important to have a well-planned event, don't get so wrapped up in the details that you forget to have fun and enjoy the occasion.
Wear something too casual – while you don't have to wear anything too formal, it's important to avoid wearing something too casual or informal, like denim or gym wear.
casual & easy outfits
With so many options available, it can be difficult to choose the right outfit; below there are a few ideas that can help you in putting together a casual and easy look that will have you feeling confident and beautiful.
20 – white sleeveless Ruffled Jumper with matching heels
This look is perfect as it combines elegance with a touch of glamour effortlessly. The white sleeveless ruffled jumper is a versatile piece and provides a chic and sophisticated foundation for the outfit. Paired with matching heels, this look is elevated, creating a polished appearance.
The addition of dangly earrings and a blowout hairstyle adds a touch of glamour, giving you that "glowy bride-to-be" look.
This combination of classic and trendy elements creates an outfit that is both timeless and on-trend, and ready to celebrate your upcoming nuptials with your loved ones.
19 – white silk mini-dress paired with string heels
This look is a modern take on classic elegance and is perfect for a bride-to-be looking for a chic and sophisticated outfit for their special day! The white silk mini-dress provides a clean and effortless foundation, while its silky texture adds a touch of luxury.
The pairing of the dress with string heels is a contemporary twist that gives the look a touch of edge. The sleek bun and gold hoops add a touch of sophistication and glamour, making you feel like the star of the show.
18 – White Silk Satin Dress with Chunky Heels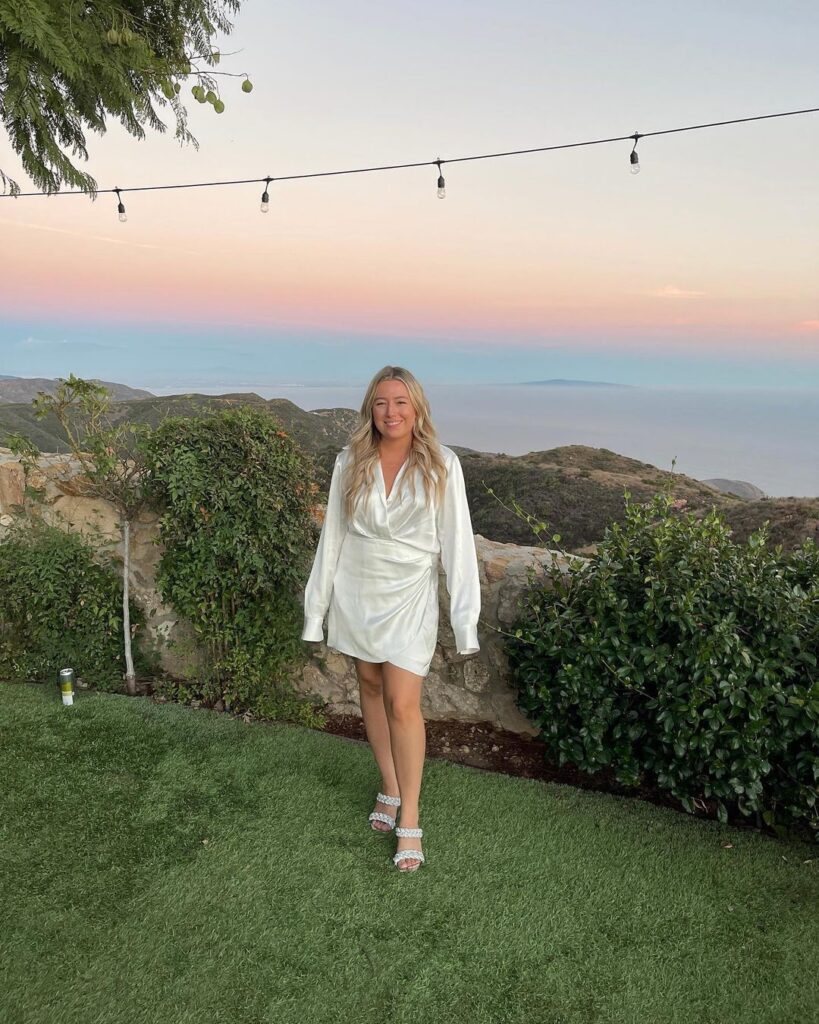 semi-formal outfits
17 – Long white dress accessorized with a hat
White is indeed a classic and timeless colour choice for brides. It is often associated with purity, innocence, and elegance, making it a fitting hue for one of the most special days in a person's life.
Additionally, white is a neutral colour that complements all skin tones, allowing the bride to shine and be the centre of attention. To add your personal touch you can accessorise with unique items such as a cowboy hat and boots.
For an outfit like this, I would go for one of these boho bridal makeup looks.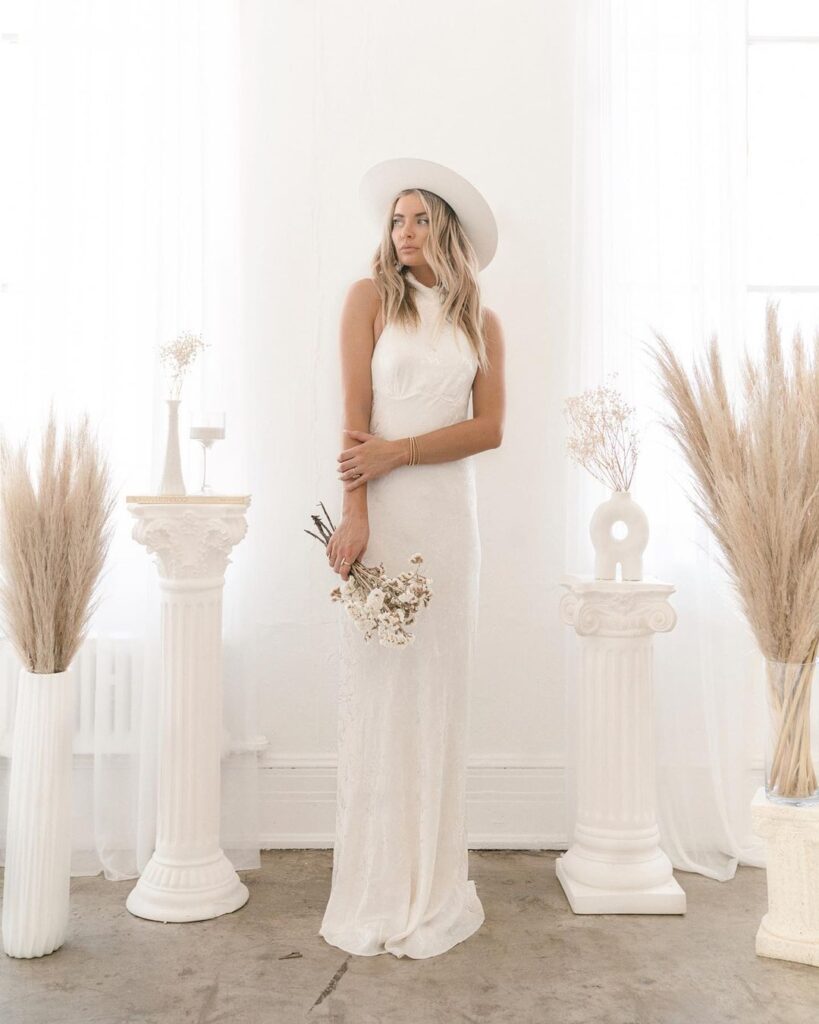 16 – White sheer ruffle mini-dress with transparent heels
This white sheer ruffle mini-dress with transparent heels is a perfect choice for a semi-formal outfit. The ruffle details add a feminine touch to the dress, while the transparency of the heels adds a modern and stylish edge.
The mini-length of the dress keeps the look flirty and fun, while the sheer fabric adds a touch of glamour. Overall, this outfit is a great choice for a bride who wants to make a statement and show off her personal style.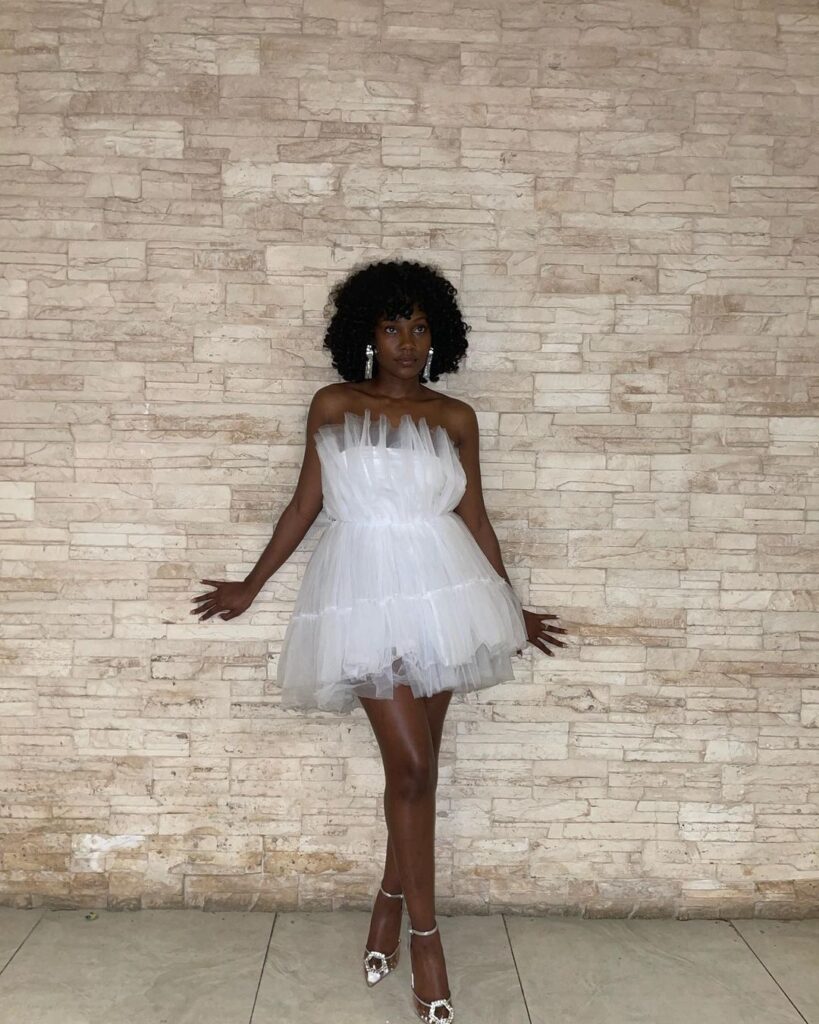 15 – white Feathered Top with matching pants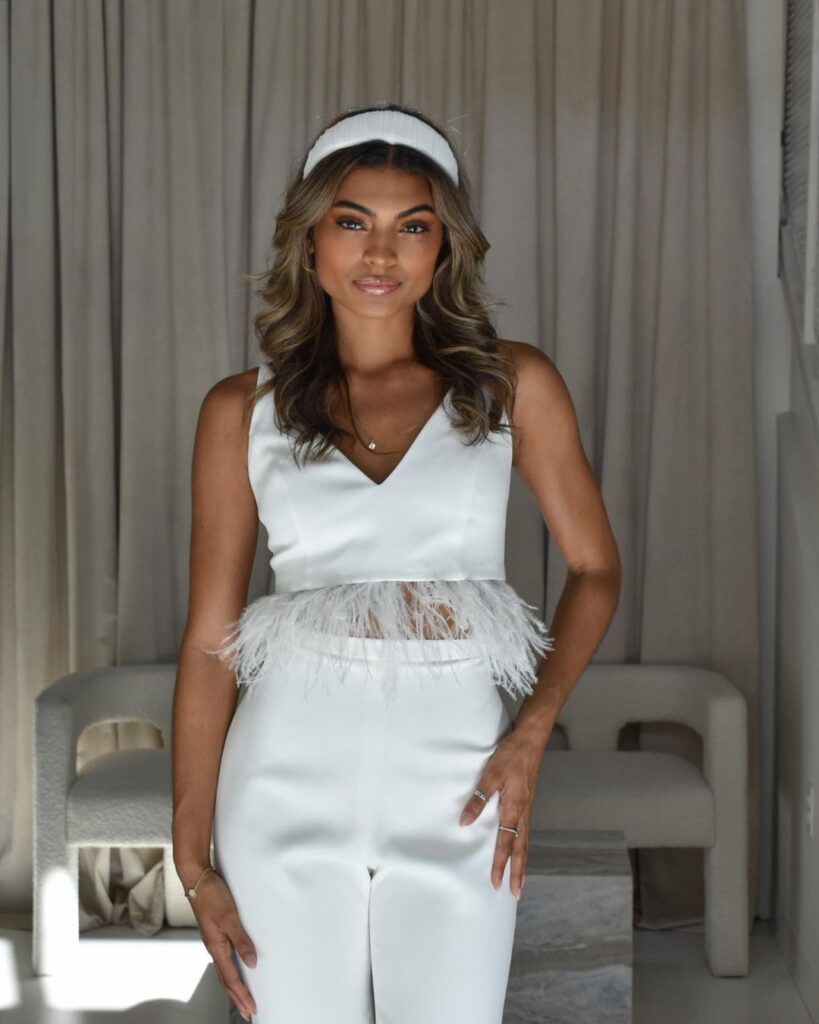 Summer & Spring outfits
14 – Baby Pink Floral Embroidered Dress
If you want a Vintage bridal outfit, then a baby pink floral embroidered dress is a delightful option for a warm and sunny outdoor rehearsal dinner. This dress captures the essence of spring and summer with its delicate flowers, light and airy fabric, and sweet pastel hue.
Pairing it with heels in a neutral colour, such as nude or champagne, will elongate your legs and provide balance to the outfit. Finishing the look with a light pink makeup palette that complements the dress's colour scheme will enhance the overall vibe of feminine sophistication.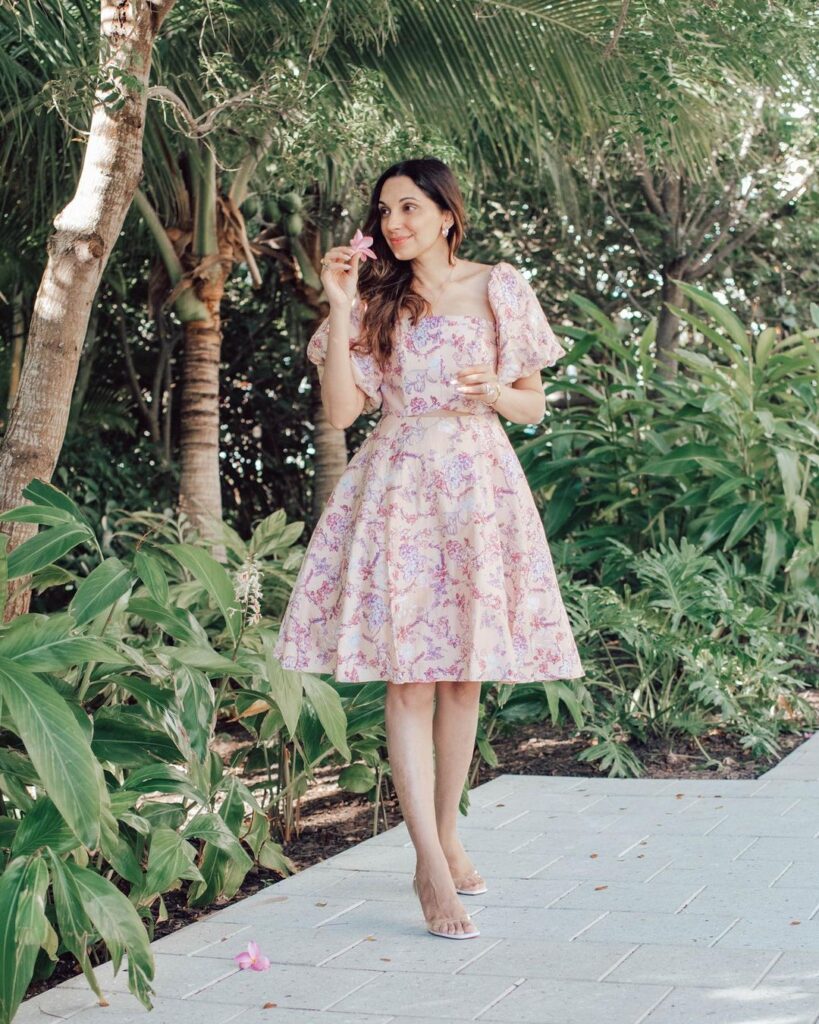 13 – Polka-Dot Dress with Puff Sleeves Paired with Black heels
This look is a fun and playful option for a nighttime event, combining a touch of whimsy with timeless elegance. The polka-dot dress with long puff sleeves is a great choice. The dress is paired with black heels, creating a sophisticated and stylish look.
The sleek ponytail and accompanying bag add the finishing touches, tying the whole look together and giving it a polished appearance. Besides that, a long-sleeved dress is also a great option for those looking for a more covered-up look, while still maintaining a chic appearance.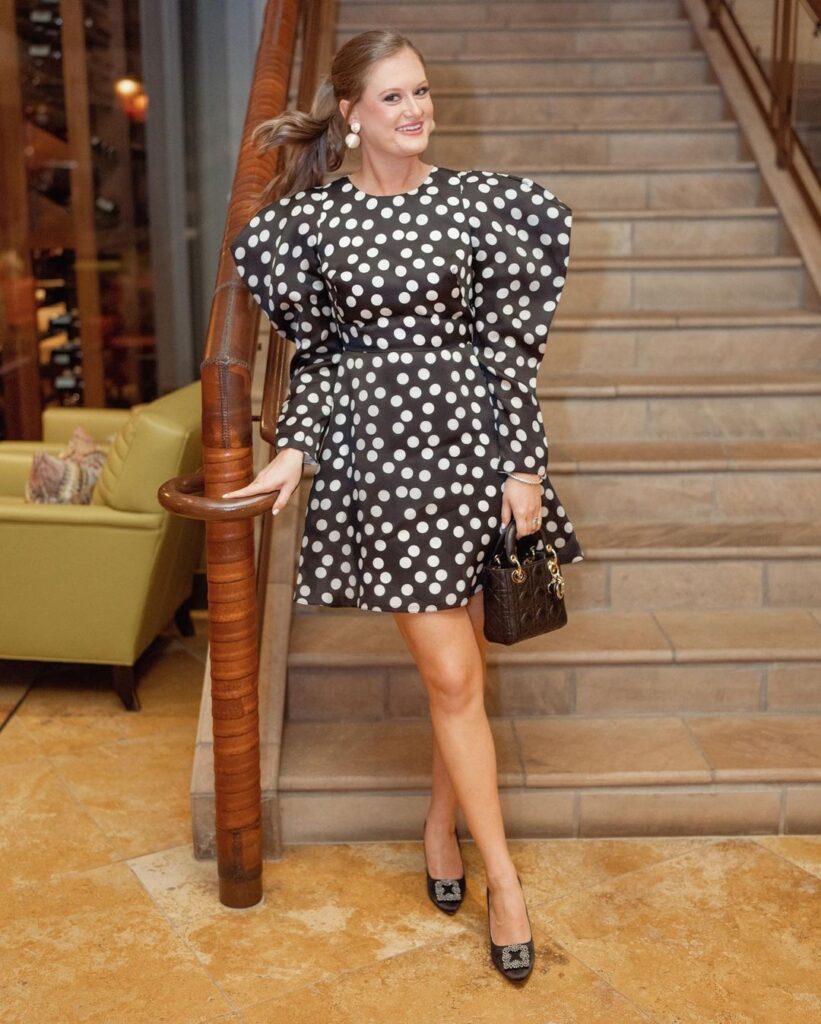 12 – Green floor-length dress paired with silver heels
This look is a fresh and vibrant option for a spring or summer affair, perfect for a bride who wants to make a statement. The green floor-length dress is a bold choice, bringing a pop of colour to the event. The dress's simple silhouette provides an elegant and sophisticated foundation, while its colour adds a touch of playfulness.
The pairing of the dress with silver heels adds a touch of glamour, creating a look that is eye-catching. This is a great choice for a bride who wants to show off her style, while still maintaining a classic and refined look.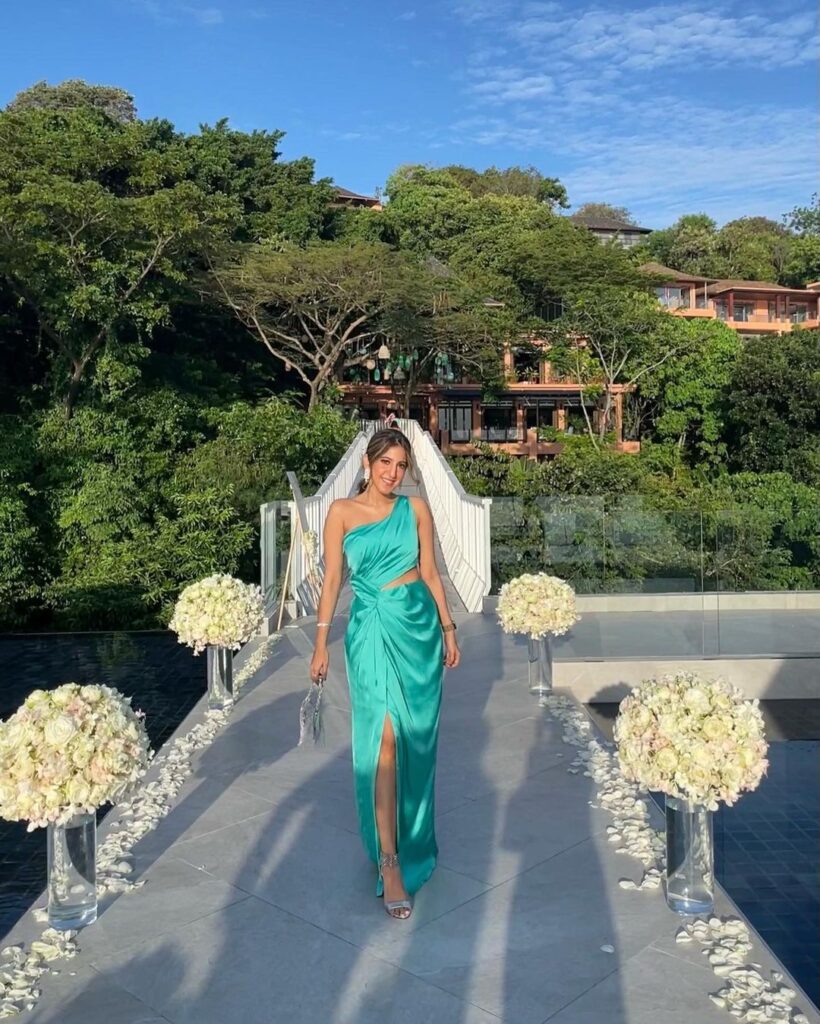 winter & fall outfits
When it comes to hosting a rehearsal dinner in the winter or fall, you need to take into consideration the colder weather and adjust your outfit accordingly. Dark shades like black, red and forest green are popular choices that work well in colder weather.
And if you need more ideas, check out these winter wedding outfits for brides.
11 – Black Velvet Pantsuit with white heels
A black velvet pantsuit paired with white heels is a chic and sophisticated option for a fall-themed outfit. Velvet is a luxurious fabric that adds a touch of glamour to any look, and black is a timeless colour that never goes out of style.
10 – Black Sequin Jacket with Red midi skirt
Outfits for plus-size women
9 – Off-white knee length dress with Nude heels
It is important to remember that there are endless options available, no matter your body type. An off-white knee-length dress with beautiful patchwork on the top and a bow belt is a stunning choice for a plus-size bride. The patchwork adds a unique touch of texture and visual interest, while the bow belt draws attention to the smallest part of the waist, creating an hourglass silhouette.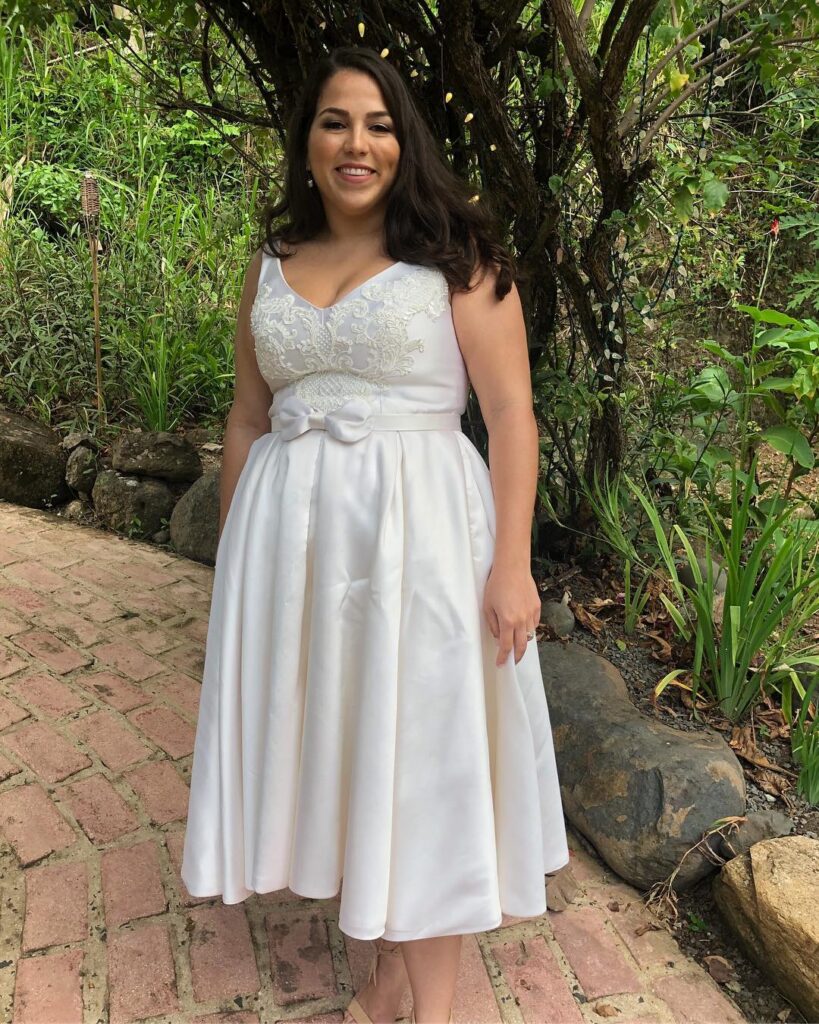 8 – Black Long-sleeved Floor Length Dress
A black full-sleeved floor-length dress is a stunning choice for a plus-size bride looking to make a statement. The elegant and classic look of a full-sleeved dress creates a flattering silhouette, while the floor-length hem adds a touch of sophistication.
The intricate black embroidery on the dress and the long sleeves add a touch of elegance and femininity, making it the perfect choice for a fall dinner. Pairing the dress with elegant heels and simple jewellery will complete the look and make you feel like the star of the show on your special day.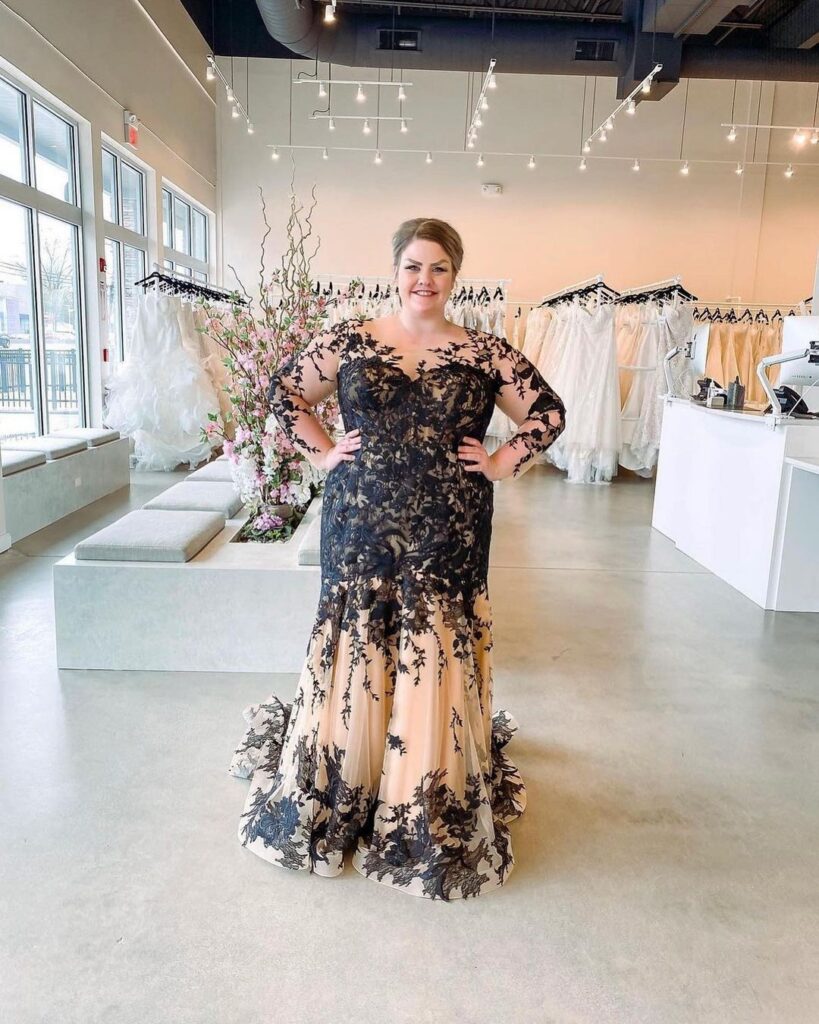 7 – Sparkly dress with matching clutch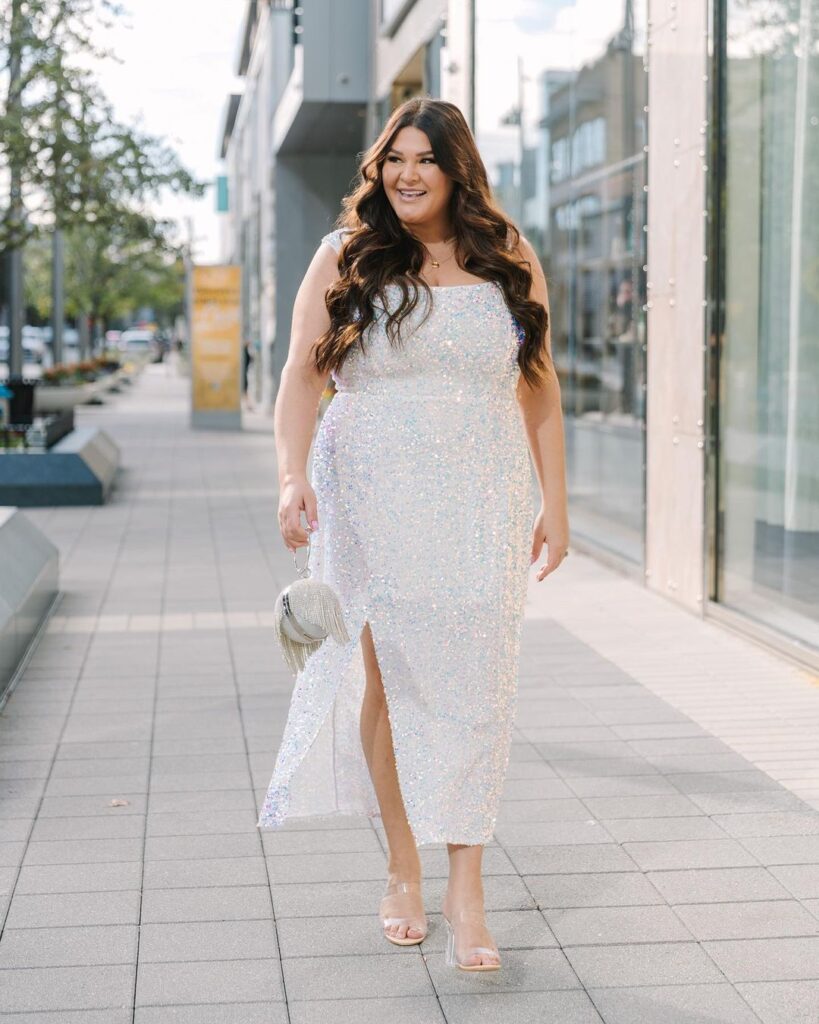 6 – White low-cut dress with a net veil
A white low-cut dress with a net veil can make for a stunning and sophisticated look for a plus-size bride. This outfit is perfect for brides who want to show off their curves and feel confident on their special day.
The low-cut neckline is a daring choice that will draw attention to the bride's beautiful neck and shoulders. The net veil adds a touch of romance and elegance to the look, making it perfect for a sophisticated and stylish dinner. You can add a pair of high heels and statement earrings to complete the look.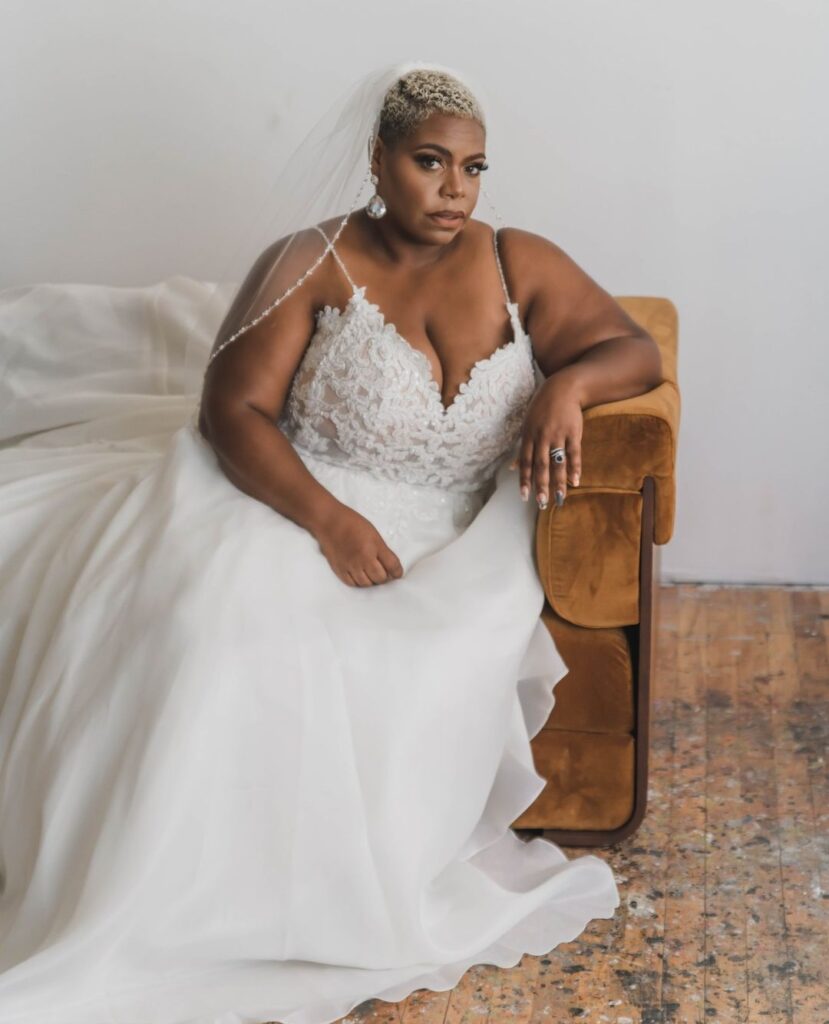 5 – a flowy printed dress with brown heels
For a more relaxed and casual vibe, a flowy printed dress is perfect. Opt for a dress that has bold and bright prints to add a pop of colour to your outfit. To keep the look playful and easygoing, pair the dress with comfortable heels and statement earrings.
Celebrities on their rehearsal dinner
4 – Amal Clooney
Amal Clooney made a stunning appearance in a fiery red dress. The dress, featuring a fitted silhouette, was a bold choice for the event, showcasing her confidence and style. The bright red colour of the dress immediately draws attention and adds a touch of drama to the occasion.
The dress was paired with simple yet elegant heels, which complemented the dress without overpowering it. Overall, Amal Clooney's red dress for her rehearsal dinner was a memorable and fashionable choice that perfectly embodies her bold and stylish personal taste.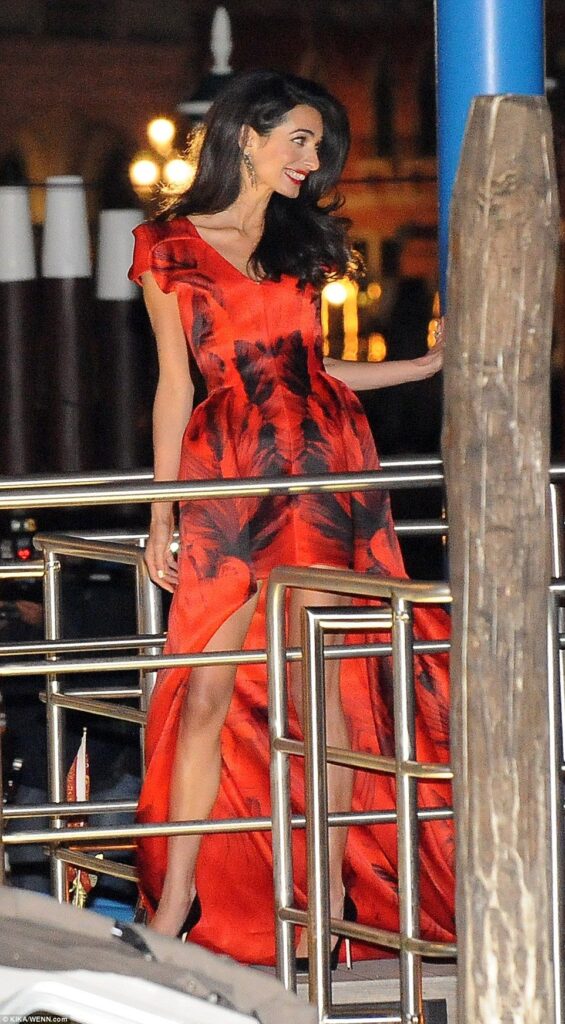 3- Zoe Kravitz
Zoe Kravitz's bridal rehearsal dinner outfit showcases her style as effortlessly cool and hip. The combination of satin bridal slip shorts and a crystal-covered crochet dress is unexpected and fashion-forward, making a statement. The shorts and dress combination is a nod to the bridal lingerie trend, while the use of shimmering crystals adds a touch of glamour.
The use of silky satin and delicate crochet is also a nod to Kravitz's bohemian aesthetic, making it a fitting choice for the actress and singer. Overall, this look is a testament to Kravitz's confidence in her style and her willingness to embrace bold and unexpected fashion choices.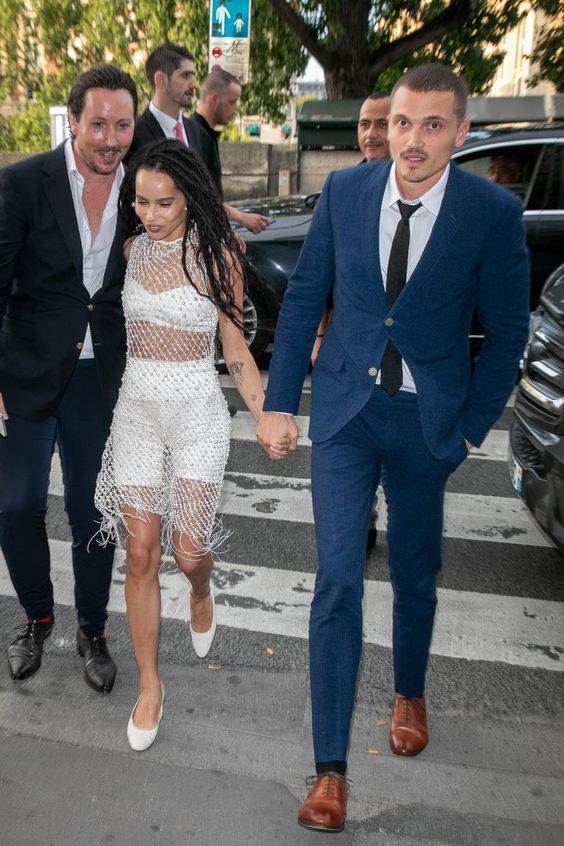 2 – Hailey Bieber
Hailey Bieber's dress was a stunning choice for the occasion. The white mini satin dress features a low neckline that adds a touch of sexiness and elegance to the overall look. The luxurious satin material adds to the dress's glamour and helps enhance the bride-to-be's natural beauty.
The diamond necklace adds a sparkle, all while drawing attention to the neckline and accentuating Hailey's beauty. This dress is the perfect example of a classic and elegant bridal look, with just the right amount of modern edge to make it a standout choice for the big day.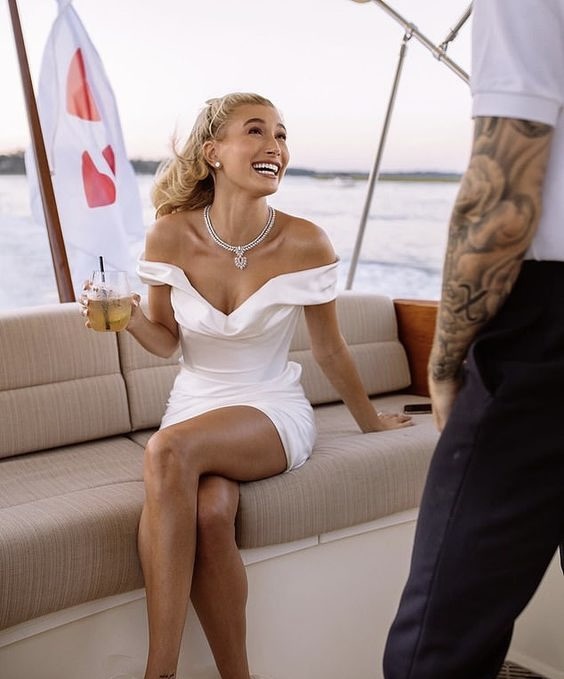 1 – Stassi Schroeder
Stassi Schroeder wore a gorgeous long white silk gown with a split cut for her rehearsal dinner gown. Under the spotlights, the white silk fabric shimmered and embraced her shape, creating a sleek and exquisite silhouette. Moreover, the slit cut gave a touch of glitter and focused attention on her legs, making her seem even more lovely.
The dress had a traditional and timeless feel about it, making it ideal for a bride-to-be seeking a refined and subtle look. The dress's simplicity was matched by a pair of high heels, which lengthened her legs and added height.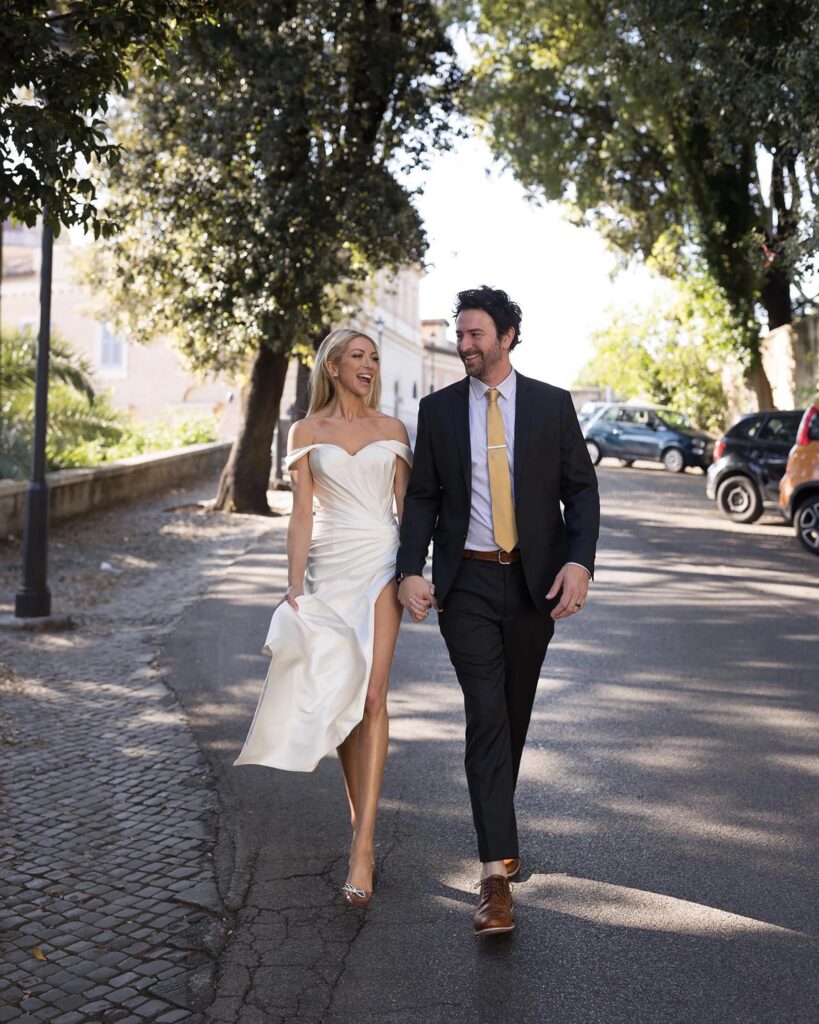 FAQs
Q. What colors can you wear to a rehearsal dinner?
As the bride, you can wear any colour you prefer for your rehearsal dinner attire. There are no strict rules when it comes to the colour of your outfit, so you can choose something that reflects your personal style and taste.
Some popular colour options for rehearsal dinner outfits include white, cream, blush, soft pastels, and metallics like silver and gold. If you want to make a bold statement, you can also opt for brighter colours like red, blue, green, or yellow. Lastly, the choice is yours and should ultimately depend on your personal preference.
University student by day and a ferocious writer by night. As an avid homebody, I'm a lover of naps, cookie dough, and currently residing in the borough I love, most likely multitasking. :)