Outfits With Square-Toed Sandals – Are you tired of the same plain old pair of sandals? Well, this article is perfect for you! Sandals come in all shapes and sizes but they can also get really boring really quickly. If you're looking for something that's familiar yet modern, old but trendy, then square-toed sandals are exactly what you need.
The square-toed sandals trend is on the rise and might very well be up there with the classic pair of sandals. Whether you're going out on a girl's night or going to work on a Monday morning, these sandals can both be chic and comfortable.
Outfits To Wear With Square-Toed Sandals
Square-toed sandals have the power to make or break your entire outfit. When done right, they allow your outfit to stand out but if you pair them with the wrong look, they can ruin the entire outfit.
Deciding on some outfits with sandals isn't something you need to spend ages doing because these sandals can be paired with your go-to cargo pants and blouse, or with that gorgeous bodycon dress, you've been saving for the right occasion. They can look dazzling with your cozy crochet tote but can also look equally fashionable with a chunky crossbody bag.
Do's and Don'ts
Don't Overwear Them. Even though square-toed sandals are chic and stylish, overwearing them will definitely lead to a foot injury as your toes will try to grip onto them throughout the time they are in use.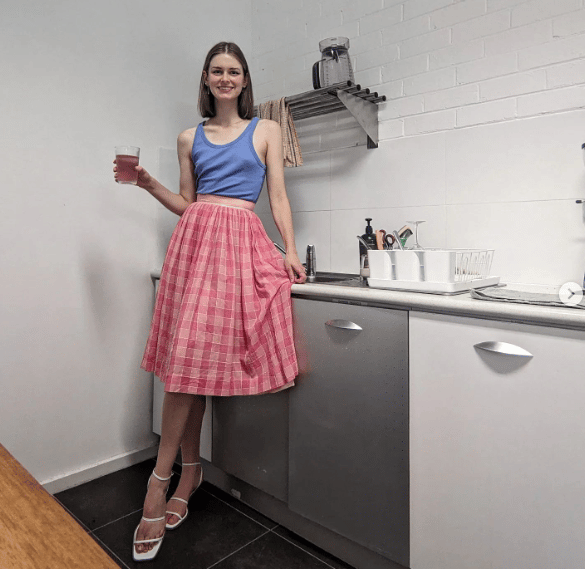 Don't Go For Cheaper Options. Cheaper options are quite attractive when you're on a budget however with these types of sandals, it is wiser to go for quality over quantity or they can cause blisters and bruises.
Take Care Of Your Feet Before Wearing Them. Square-toed sandals can give you the desired 90s look you're searching for however if you haven't been taking care of your nails and feet, they can be one of the worst options to go for.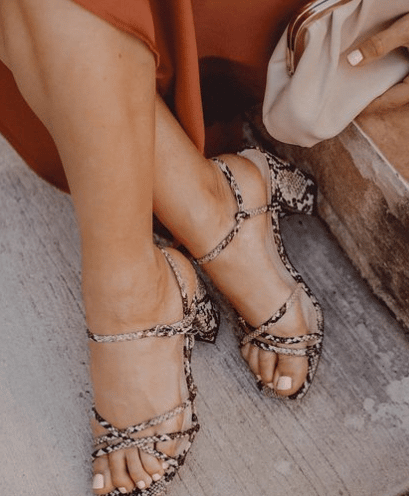 Wear Complementing Hues. When you're pairing an outfit with your brightly colored heels, remember to go for an outfit that complements them. Too many colors can clash and ruin the entire look so it's important to balance them out.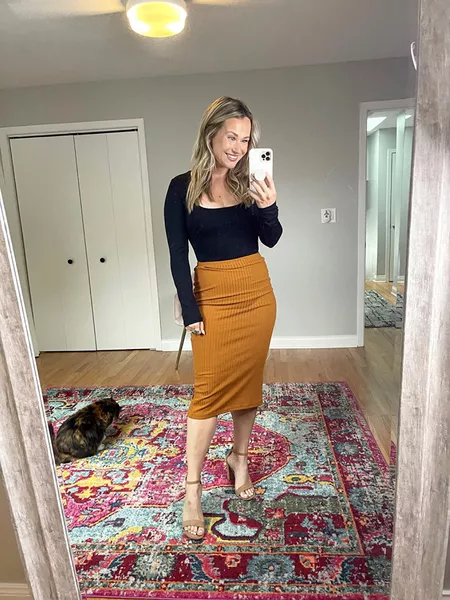 20 – Sise Slit Crop Top Paired With Jogger Pants and Black Sandals
If you're looking for an outfit that's both modern and pairs well with your square-toed sandals, look no further because we have the perfect outfit for you! This stunning black crop top with a cut down the left side paired with high-waisted black jogger pants, a white shrug, and black square-toed sandals make for a good day out. Match this outfit with a padded chained bag and some gold jewelry to complete the entire look.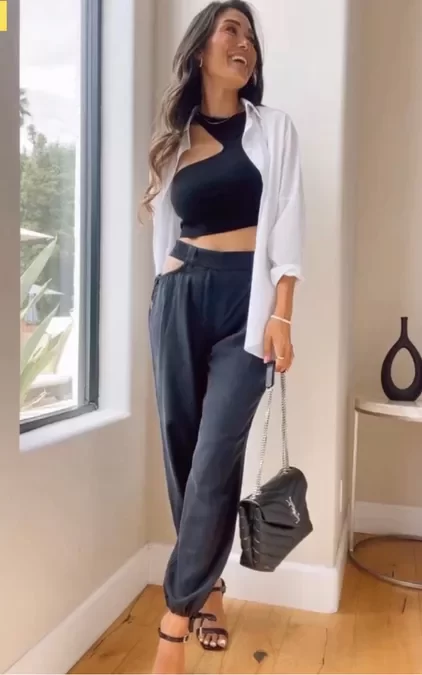 19 – Clear Heels With A Red Ruffled Mini Dress
This look features an elevated version of your boring old heels. If you're going to a party and don't know what to wear then this outfit might be the inspiration you need. Instead of wearing a normal pair of heels, go for these bedazzled clear square-toed heels with a reflective silver base. Pair them with a red mini dress with frills going across the dress to extenuate it, put on some gloss and you're ready to turn every head at the party.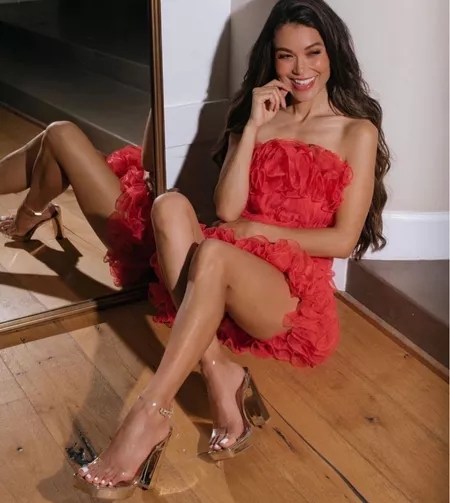 18 – Clear Square-Toed Sandals With A White Net Dress
Square-toed sandals are not only for nights out but they can also be worn on a weekend getaway. They can be both comfortable and will allow you to look cute so that you can take Instagram-worthy pictures to post on your feed. This look features a beautiful white spaghetti strap laced dress that goes just beyond the knees. Pair this outfit with your skin-toned sandals, wear a pendant, and look jaw-dropping on your mini vacation.
17 – Off-Shoulder Top With Baggy Grey Jeans
This outfit features an off-shoulder multi-colored printed blouse with a black blazer on top, making it perfect to wear with a gorgeous pair of sky-blue square-toed sandals. Matched with this outfit are some oversized baggy black faded jeans with multiple pockets. You can also add a cute pink purse and a plain silver chain to make the entire look come together.
16 – Distressed Jeans Paired With Orange Square-Toed Shoes
Sometimes you're tired and are just looking for a casual outfit to wear with your chic square-toed sandals but can't seem to find the right one. Don't worry, we've got it covered with this basic but cute look. A square neck plain white top that's tucked in ripped blue denim jeans. Add in some neutral square-toed shoes and a necklace and tada, and you've got yourself an entire look.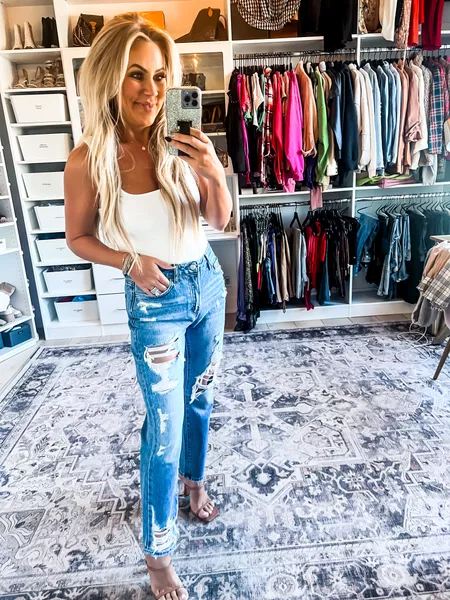 15 – Knitted Black Side Slit Dress With A Trench Coat
Dresses can also be paired with square-toed heels and not only do they help elevate the dress but they also make you look taller. This stunning knitted black dress can be paired with classic black square-toed heels and a beige trench coat to complete the look. Throw in a black chained shoulder purse, and a silver locket with some silver hoops to complete the look.
14 – Floral Pleated Dress Paired With Square-Toed Wedges
The post couldn't be complete if we didn't mention a floral dress because square-toed wedge sandals complement it perfectly. This look showcases a white floral long dress with a square-cut neck and pleats in the center. The sleeves of the dress are lined with frills and the entire outfit is paired with wedge heels. To add to the look, add a pink cross-body bag, some classic shades, and some beaded necklaces.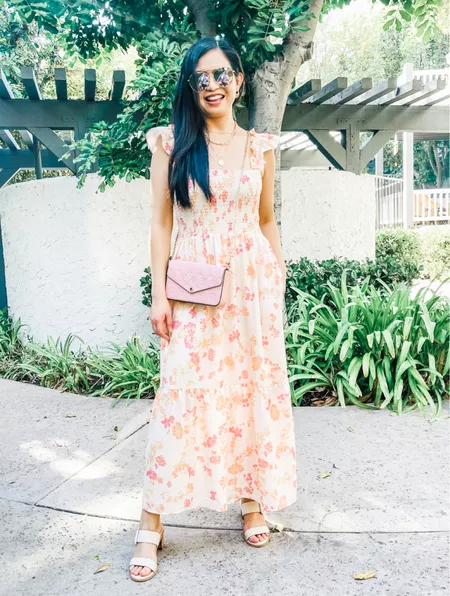 13 – Black Bralette On Black Pants With Silver Square-Toed Heels
When in doubt, wear black. You can never go wrong with a full black outfit no matter what! Featured in this look is a black bralette top paired with high-waisted black wide-legged pants with a chic black blazer to complete the look. Just to add that little pop of color, pair it with some silver square-toed heeled sandals and the look is complete.
12 – White Square-Toed Sandals With A Square-Cut Printed Dress
If you're going on a vacation to a summery country and looking for an outfit with square-toed sandals, this outfit is definitely what you need to bring along. The look features a white dress just above the knees, with the cutest lemons printed on it. The dress has a square-cut neck with full ruffled sleeves and a frill at the bottom. This little dress matches perfectly with white square-toed sandals and some white nail polish to make it stand out even more.
11 – Black Leather Sandals With A Snake-Printed Button Down
What's better than a normal square-toed sandal? Square-toed sandals made from leather! These sexy-looking sandals with a thick wedge can be paired with a snake-printed button-down with cuffed sleeves. In addition to this, match these with classic-looking black skinny jeans, add in a ring and some vintage jewelry, and rock that 90s look wherever you go.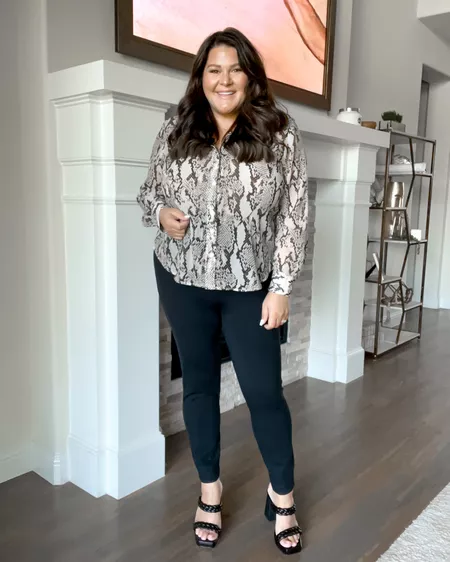 10 – Ruffled Yellow Crop Top with Square-Toed Black Heels
This look is one for fashion adventurers who are willing to wear outfits that are outside their comfort zones and explore the realms of fashion. The entire look showcases a yellow pleated tube crop top with a belt around the hips. Match this funky top with a black leather jacket, some ripped blue jeans, and some vintage latex black square-toed heels. This look can be further paired with some chunky sunglasses and a mini purse lined with silver chains.
9 – Spanx Leather Trousers With Black Bodysuit
If you're not afraid to be a little bold then you might want to consider wearing some spicy Spanx leather trousers to make everyone's jaw drop. These black fitted Spanx leather trousers can be paired with a black bodysuit underneath with a round neck and full sleeves. Add in some sexy black square-toed sandals with a trap across them and a cross-body bag to make the entire look come together.
8 – Beaded Square-Toed Heels With a Yellow Button Down
To mix it up, we bring this casual look featuring a plain yellow button-down with full sleeves going all the way to the thighs. Paired with it is a gorgeous pair of square-toed high heels lined with pearls across the top and bottom strap. Throw on your black square shades and get your cute little puppy to take an Instagram-worthy picture.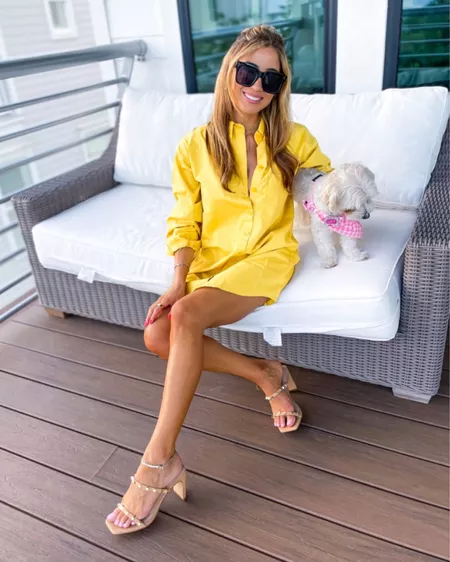 7 – Bronze Bodycon Dress With Black Square-Toed Sandals
Looking for a formal outfit to wear with square-toed sandals? This look is just that with its bronze bodycon midi dress tied at the front and lined with pleats at the bottom. To further add to the formal vibe of the look, throw in a wristwatch, add some classic gold hoops and match it with a black handbag. Don't forget the most important part of the outfit, the black square-toed sandals to complete the look.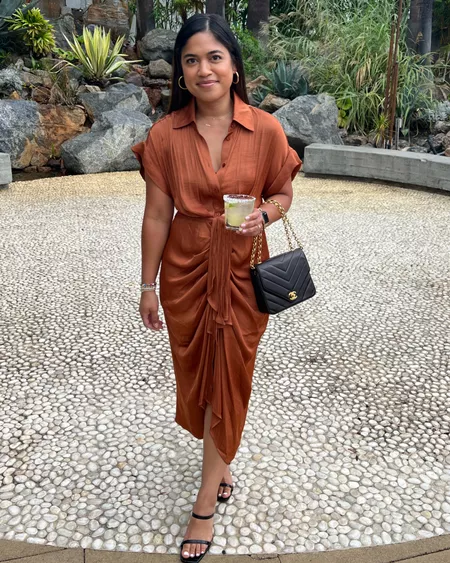 6 – Blue Sandals With Beige Board Shorts And Blue Button-Down
This causal outfit can be worn when going to a friend's house or just to look cute on an average weekday while going to get groceries from a nearby store. It highlights a sky-blue button-down tucked in high-waisted and buttoned beige shorts paired with the cutest matching sky-blue square-toed sandals. Add in some small earrings, and a gold choker-style chain, and make the outfit stand out.
5 – Blue Pleated Floral Dress With Puffy Sleeves And a Shoulder Bag
No matter what age you are, you can always rock a square-toed sandal! This look showcases a beautiful blue floral dress, just above the knees. The square-cut neck, the wide sleeves, and the pleats across the hips make the dress stand out. Pair it with a shoulder bag, some earrings, and some skin-colored sandals, and voila, you now have a cute outfit to start your day.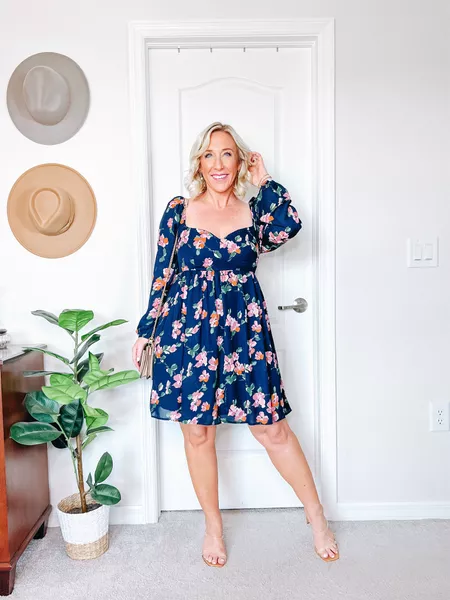 4 – Shocking Pink Suit With A White Clutch
Shocking pink might not be for everyone but if you dare to try to pull it off, it looks stunning. Not only does this outfit highlight a bright shocking pink co-ord set of blazers and shorts, but it also matches it with a cute white top to create contrast. Furthermore, it shows a white cute pair of square-toed sandals and a white clutch as well.
3 – Holographic Jacket With Square-Toed Heels
Next, we have this trendy outfit that is not only fashion-forward but it is also comfortable. This outfit has a grey cold shoulder top, paired with a holographic silver jacket and a classic pair of ripped blue jeans it. However, the highlight of this outfit is the black pearl square-toed heels that add that much-needed bling to the look. Pair it with chunky black shades and a black shoulder bag for some extra sparkle to the outfit.
2 – Dark Brown Leather Pants With A Crop Top
This outfit features dark brown leather pants that have a zip down the middle. Added to this look are a cute square-cut black crop top and classic black square-toed heels. Further, this look also shows some chunky gold hoops to bring the look together. Even though this look might seem basic, it is both minimal and trendy.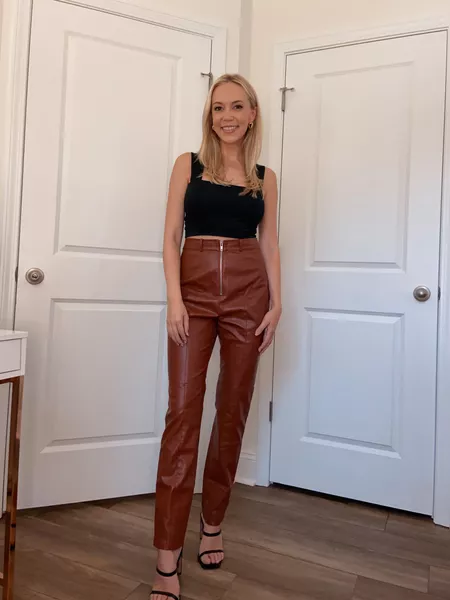 1 – Cheetah Printed Shirt With Orange Square-Toed Shoes
Last but not least we have our iconic cheetah-printed look. The post can't be complete without featuring it! This button-down is french tucked in light wash blue jeans with rips across the knees. Paired with this outfit are some orange square-toed heels along with lots of beaded bracelets and black shades to complete the look. You can even match this with a cute tote or shoulder bag.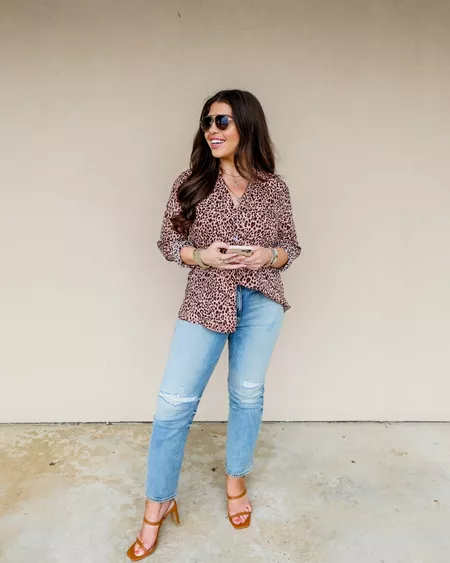 Frequently Asked Questions
Q. Are square toe heels in style in 2022?
Ans. Recently, square-toed heels have made a big comeback in the fashion industry. These heels were extremely popular during the 90s and their origin can be traced back to ancient Japan. These types of shoes are controversial with people having varied opinions on the matter but it's safe to say that everyone is talking about them.
Q. Is square toe better than round toe?
Ans. The answer to this question depends on your personal preference however square-toe shoes allow more room for your toes than a rounded toe which means that your feet get more breathing space. These kinds of shoes are easier to wear and will allow you to walk for longer periods of time more comfortably than the round toe.
Q. When did square toe become so popular?
Ans. Back in the 1930s, the square shape became a hit and took the fashion industry by storm. The now in-fashion square toe can be seen in various 90s tv shows like Friends as well as Sex And The City. These types of sandals are now re-entering the world of fast fashion and appeal to many due to their nostalgic feel.