Summer camping outfits: If you are an outdoorsy person, camping in the summer will most probably be on the top of your list. Camping is an activity most people enjoy, and if you have yet to go camping it's high time that you do.
Camping is filled with quite a lot of activities such as a relaxing bonfire, a dip in a nearby lake, a hike, or a barbecue.  It also gives you an opportunity to bond with your friends and families and makes for a great mini-vacation or a fun-filled activity for the weekend.
What to Wear Camping in Summer?
A classic look, however, long gone are the days of black tights, a t-shirt, and a plaid shirt around your waist. You can always opt for that look, but we have some trending outfits for you that you can easily recreate and look effortlessly amazing in.
Biker shorts are your best friend. It is a piece of clothing that has spread like wildfire on the internet and looks just as good as it feels. Opt for shoes you can run or trek comfortably in, and wear easy-breezy clothes you can beat the heat in. Materials like linen and cotton are perfect. If you are in a woodsy area with a lot of nature around you, wear long sleeves to protect yourself from the bugs or bushes. All sorts of athleisure, activewear, and comfy clothing such as sweats, cargo pants, denim shorts, plaid shirts, and oversized tees are recommended.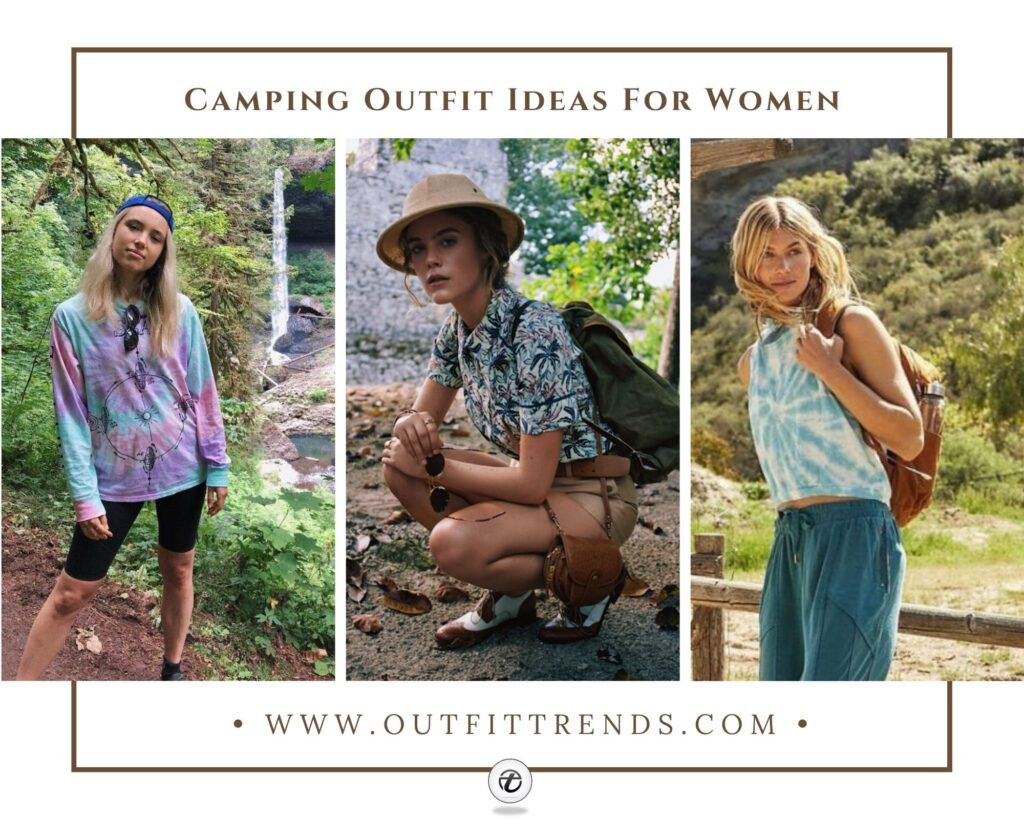 Packing Tips
Wear clothes that are breathable, because if you are walking or running it gets hot.
Keep a light jacket just in case it gets chilly at night.
Do not forget to put sunscreen on.
Keep your sunglasses and a hat.
Comfortable trainers are a must. You can wear sandals if you will walk on an even surface.
You will need to make sure you keep your menstrual products with you. You won't know if they will even be available where you go so you need to plan in advance and keep them with you just in case you or anybody else needs them.
Teens have the urge to wear whatever without realizing if it's even comfortable or not. Try to take those outfits with you that are comfortable enough for you to wear all day. Go for comfort over looks.
Don't forget to keep sunblock with you and use it every single day. You need to make sure you have sunblock with you, it is extremely important for when you are in the outdoors.
If you plan on wearing skirts or shorts then you should definitely keep some stockings or leggings with you so that you don't get bug bites, sometimes they can be really harmful and ruin your entire trip.
You should definitely check the weather forecast and plan accordingly because the last thing you need is to pack for the wrong weather.
Caps, bandanas, sunglasses, and fun jewelry will be your best friends. These accessories will spice up even your lamest outfits. You just need to know how to wear them and which outfit they would look best with!
↓ 53 – Biker Shorts
Biker Shorts have been the trendiest piece of clothing since Kim Kardashian started rocking them. Comfy, and easy to wear these are perfect for the summers. Pair them up with a long t-shirt, white trainers, and a light backpack to carry all your essentials in. Since biker shorts are super trendy this season, I would highly recommend that you go through these Ideas on How to Wear Bike Shorts for Women.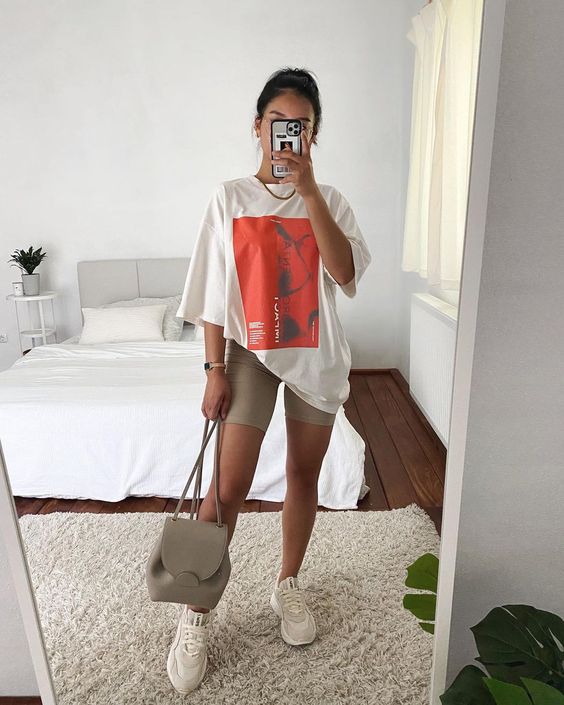 ↓ 52 – Oversized Tee
Oversized shirts are considered very trendy as well these days. They come in all sorts of colors and designs and look great paired with a pair of denim shorts. You can always accessorize with minimal jewelry and a pair of cool shades.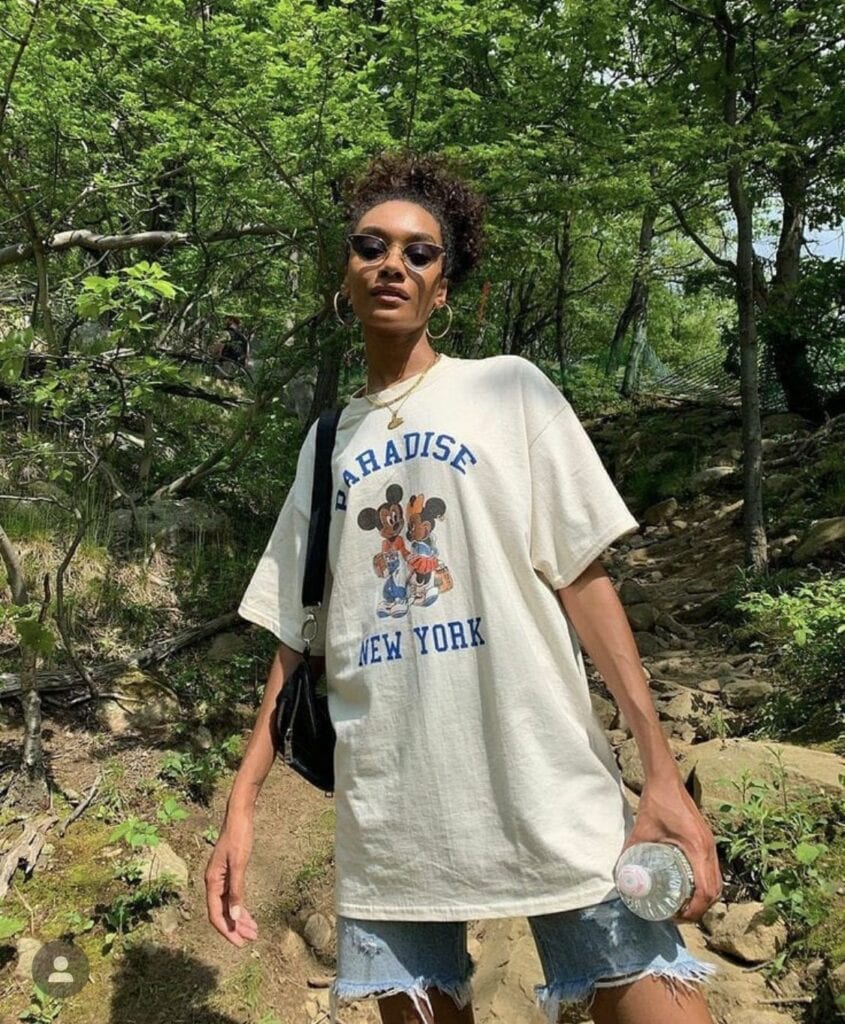 ↓ 51 – For Teenagers
Overalls are a great option for teenagers, as they are comfortable, and a lot of teens seems to be rocking them nowadays. Pair it up with a white shirt under, and a colorful scrunchie to accessorize.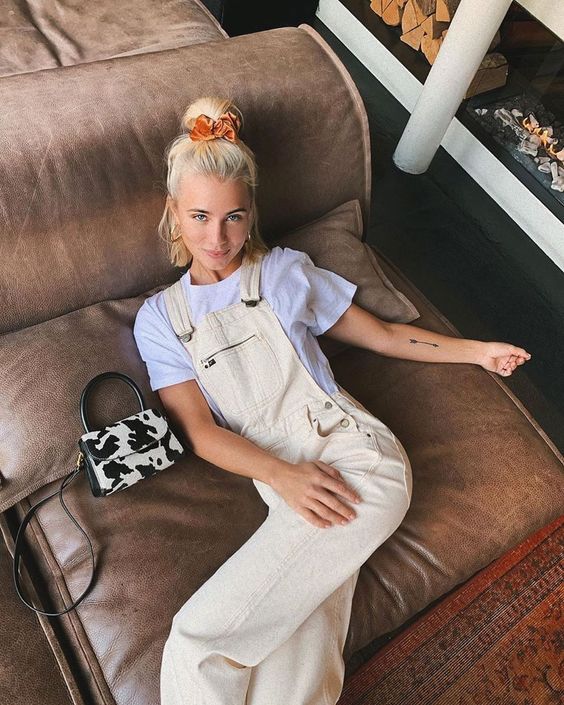 ↓ 50 – Cute Summer Camping Looks
Camping looks are not restricted to activewear. Pair colorful pants with a white tank top and a floral bucket hat and some sandals. Add your everyday layered jewelry and hoops.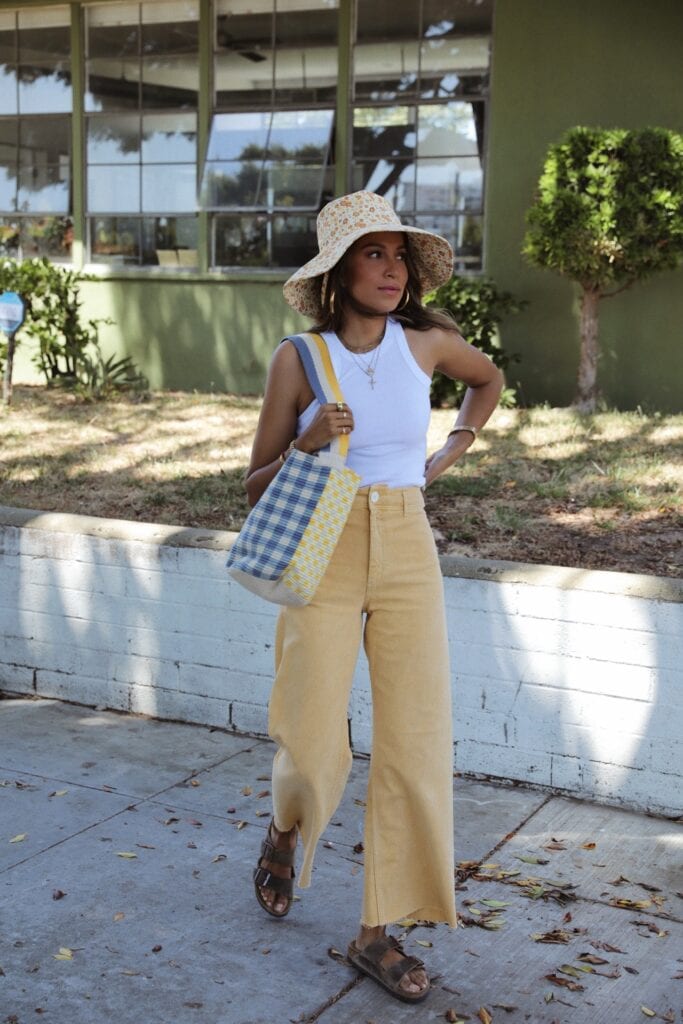 ↓ 49 – For a Hike
This outfit is perfect for a hike. Pair comfy leggings up with a tank top and some trainers. Keep a flannel with you to protect yourself from bushes or the sun. Here are some more Summer Hiking Outfit Ideas For Women To Wear This Year.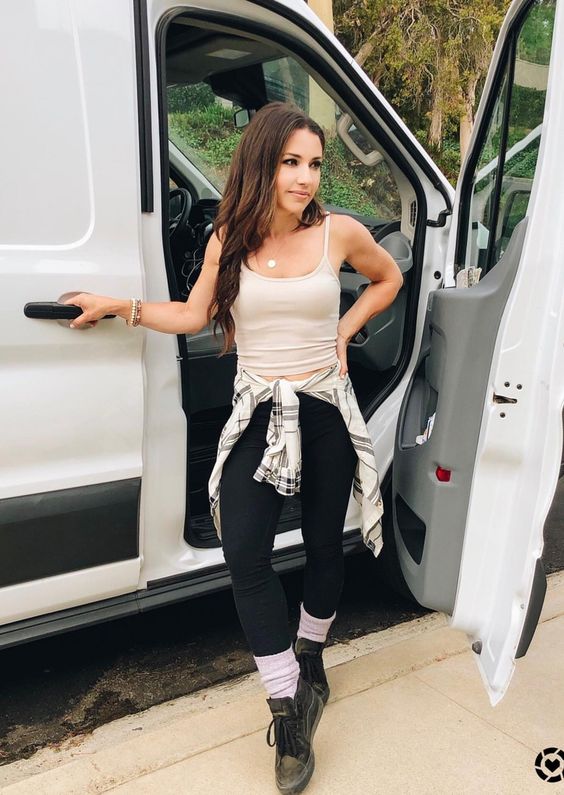 ↓ 48 – Neutral Looks
Want to go for a neutral look? Here is a full neutral set: a pair of biker shorts, a cropped tank top and a light cardigan.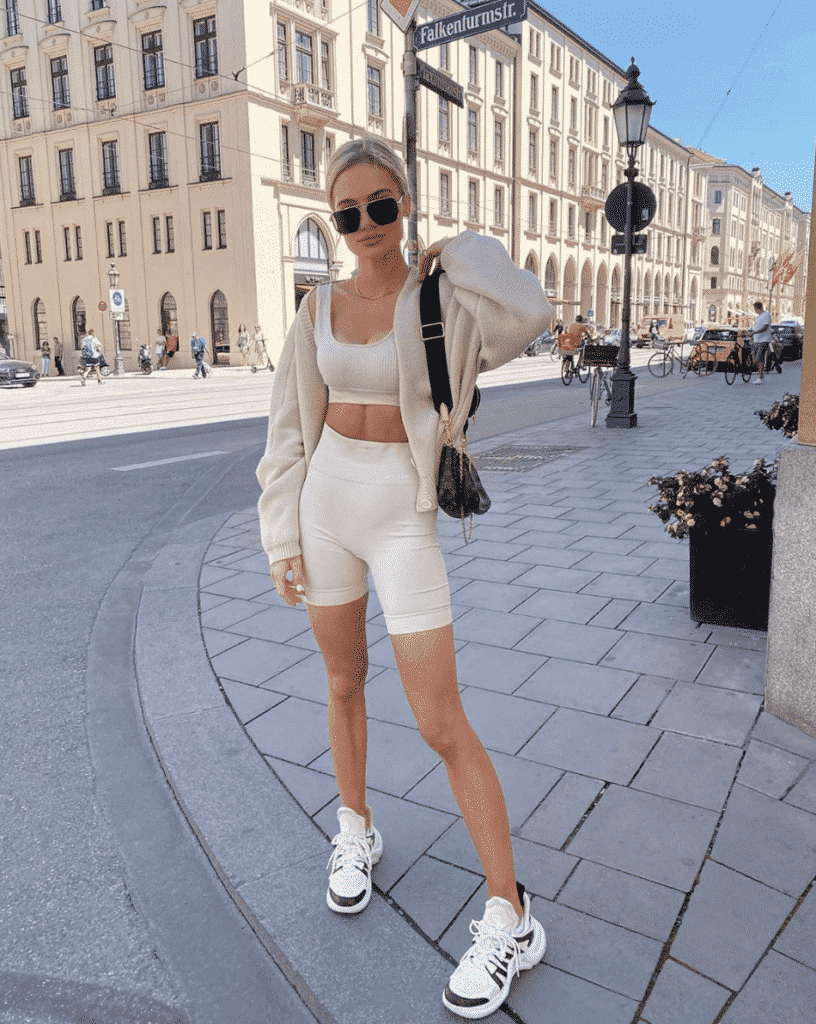 ↓ 47 – Beat the Heat
A pair of ripped jeans with a white cropped top and a breathable button-up on top looks perfect for a day camping look. This outfit is airy, and you can take the button-up shirt off when it gets hot. A pair of sandals are great if you plan on staying around the camp. A hat is essential to protect yourself from the sun.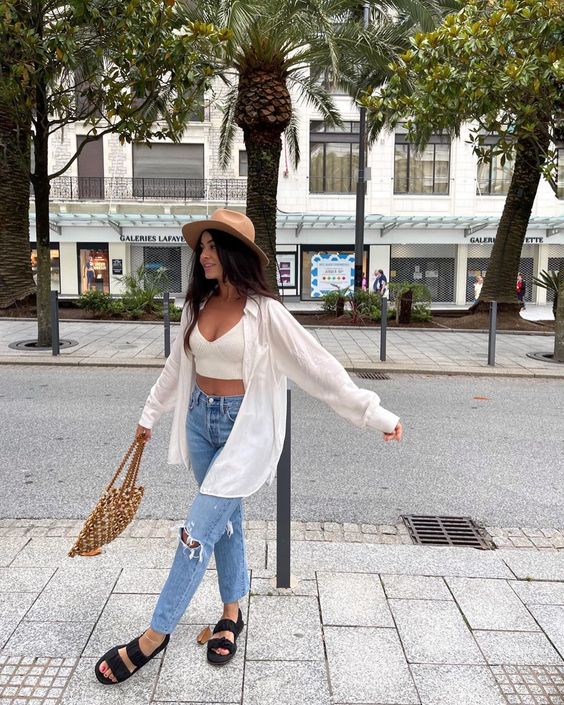 ↓ 46 – Bonfire Outfit
A bonfire can be used as an excuse to dress up and look cute. A simple mini floral dress such as this green one looks super flirty and cute. It tends to get chilly during the night so a plain cardigan can be worn on top with some white trainers.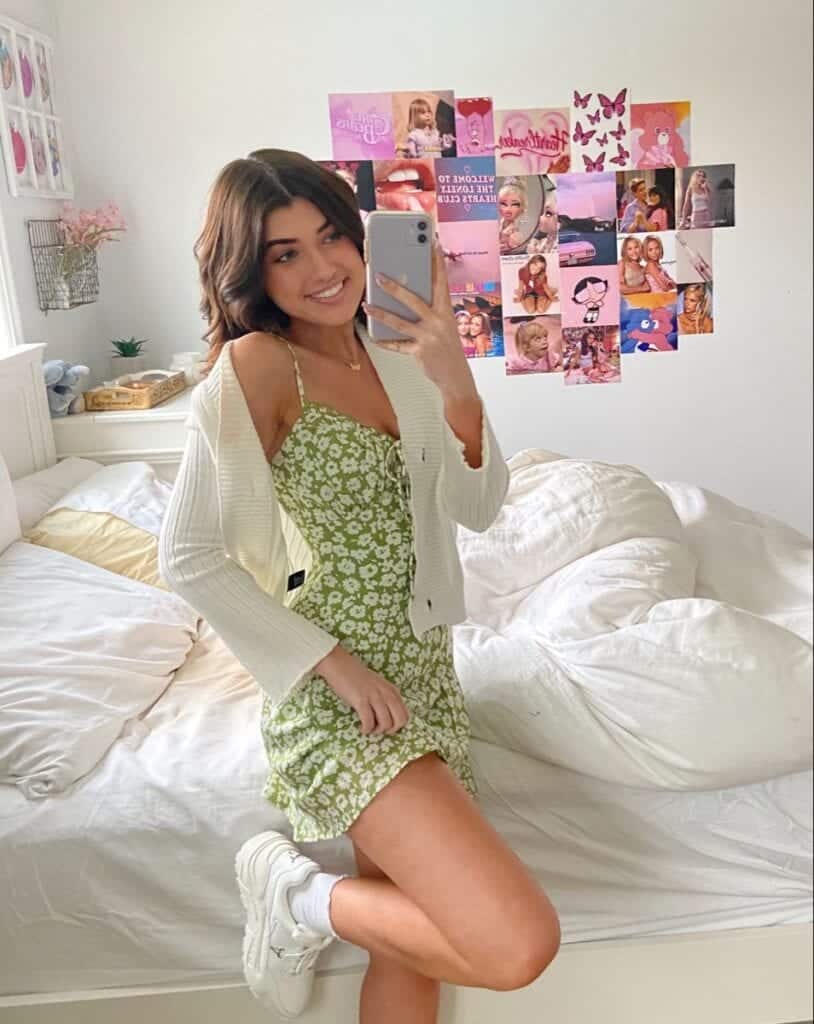 ↓ 45 – Casual Look
You can still look glam in a casual outfit for camping! This black-on-black look is so easy to recreate. All you need is a black baggy shirt and some biker shorts with some sandals are you are good to go. A mini cross body bag can be added for your phone, charger, etc.
↓ 44 – With Denim Shorts
A basic white top and denim shorts can be amped up by a few accessories that really make your outfit stand out and look Instagrammable. Add a bandana and wear it around your neck or style it with your hair.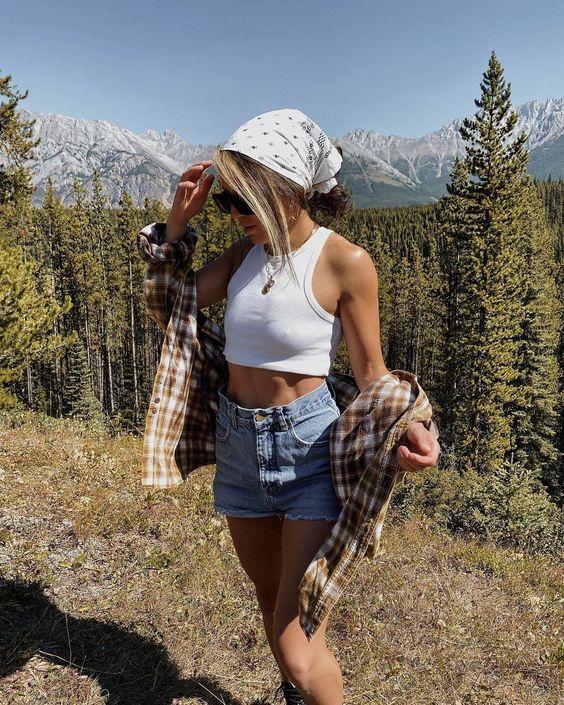 ↓ 43 – Combat Boots
Combat boots to hike and trek as much as you want, a baggy tee and some shorts, as well as a flannel shirt around your waist and a hat.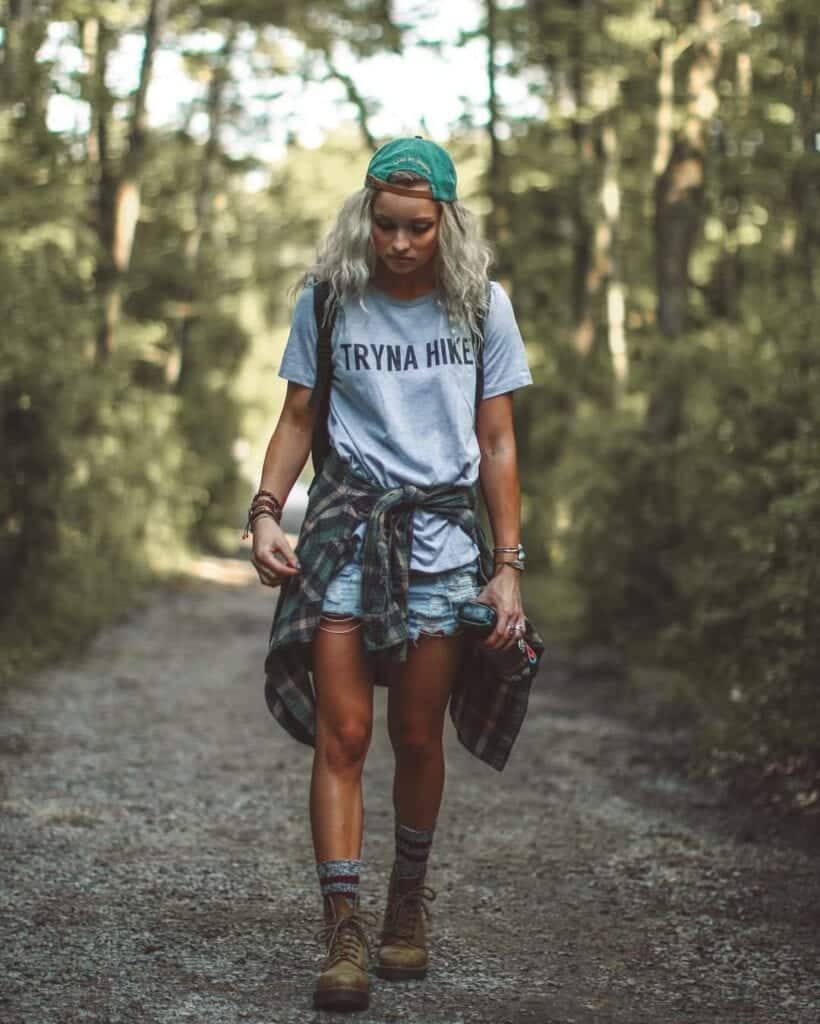 ↓ 42 – Tie Dye
Tie-Dye shirts are very much in fashion, here is a hipster one with a cool design on top. This shirt is an upgrade of your basic plain tees. You can wear shorts, cycling shorts, or cargo pants as this shirt will look good with almost anything. Here are some of my personal favorite Tie-Dye Outfits that you can take inspiration from.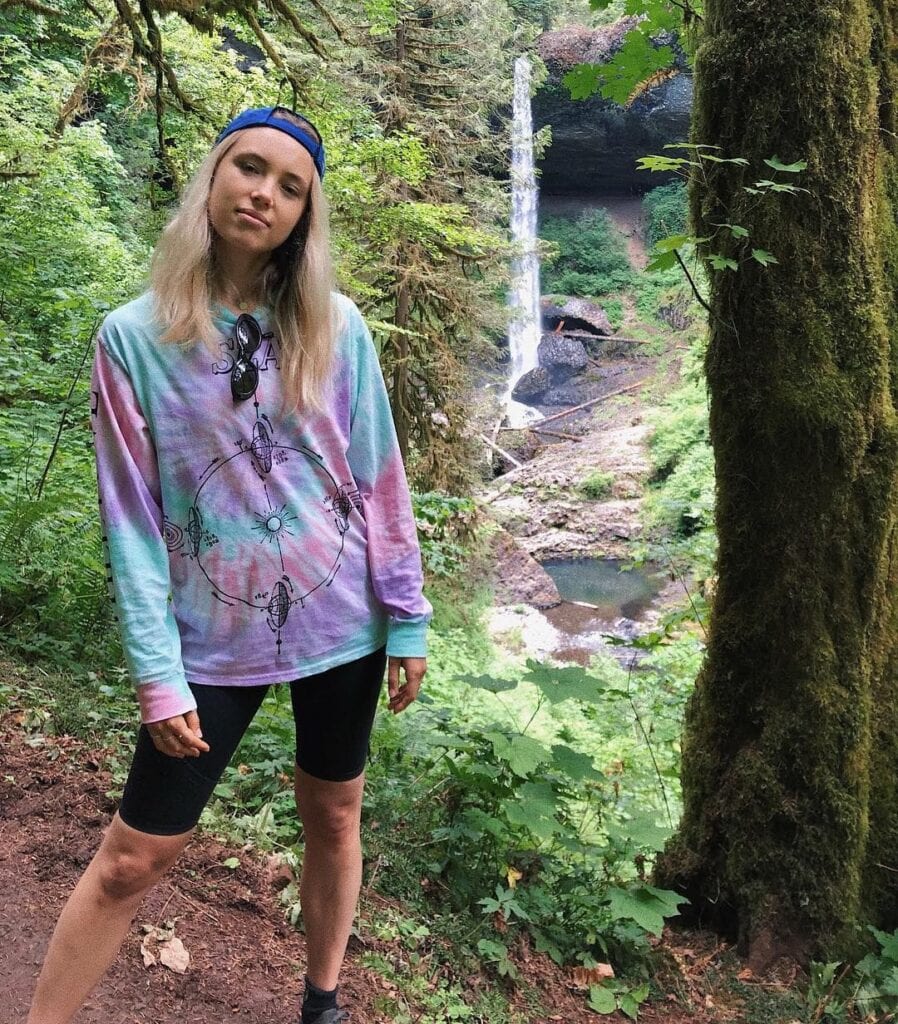 ↓ 41 – All Black
If you always tend to wear black here is a great way to add some color and print to your outfit. Pair printed or colored converse with your outfit, in this case, we have leopard print converse shoes paired with an all-black outfit.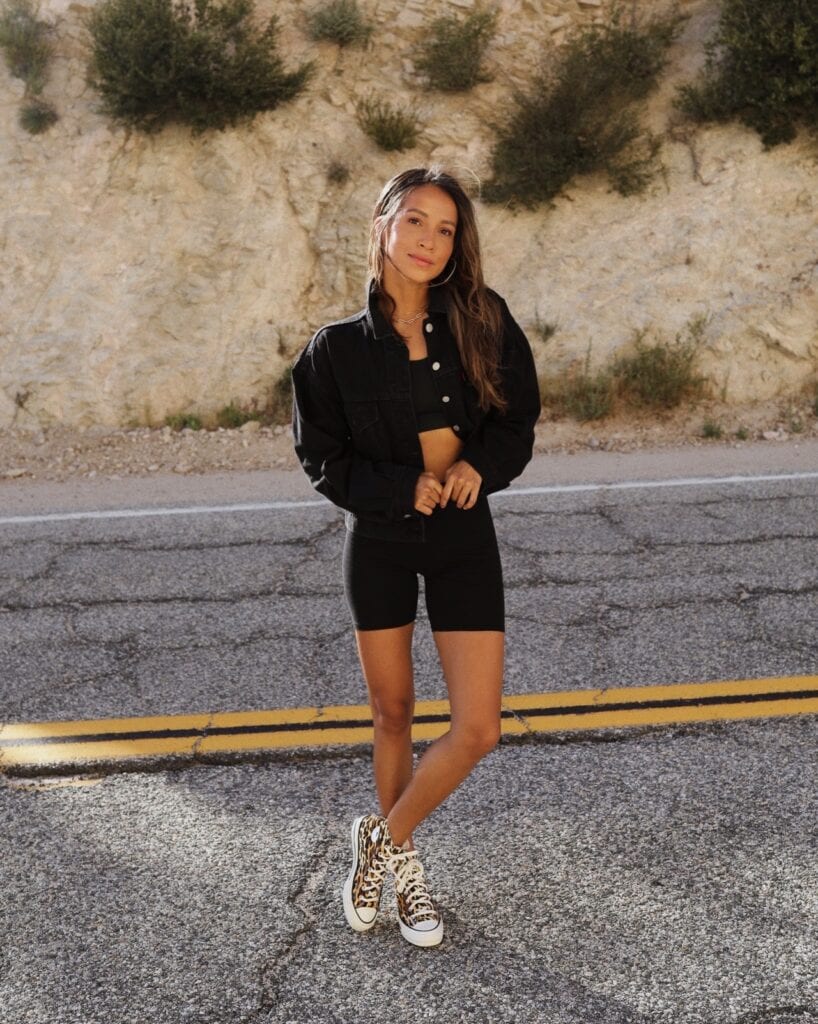 ↓ 40 – Plaid
This outfit is such a vibe, the ripped jeans are everything and it's paired with a button up and a simple tank top.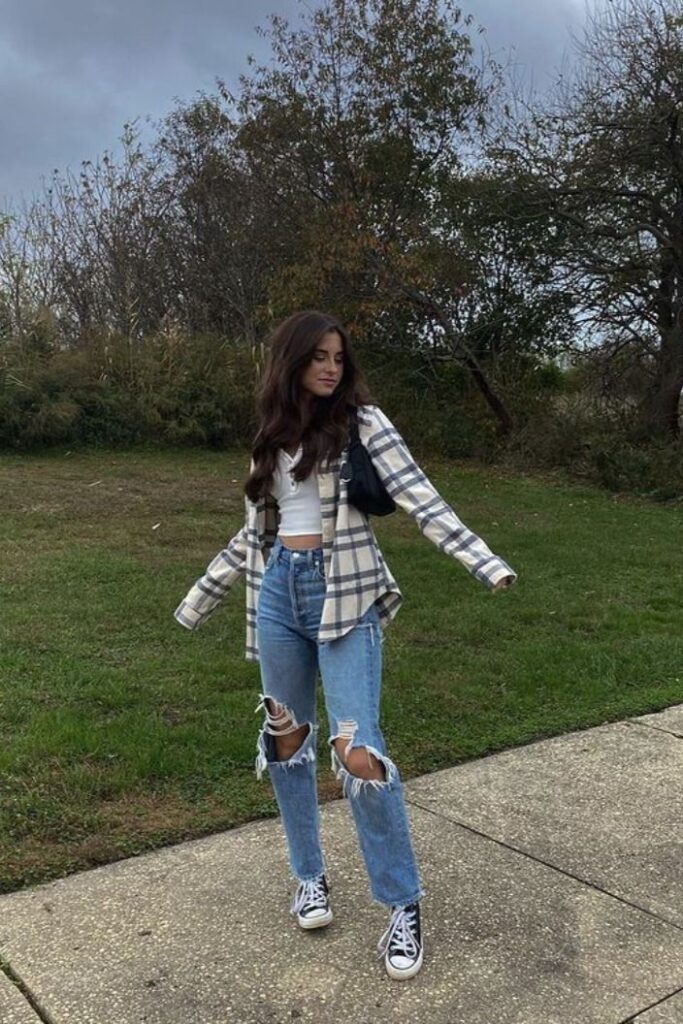 ↓ 39 – Explorer
Are you ready to explore and want to get into the proper camping gear? Here we have the perfect look. Some cargo shorts, a printed button-up and some sturdy shoes. Accessorize with a brown belt, a crossbody bag and a backpack for everything you could need for the trip.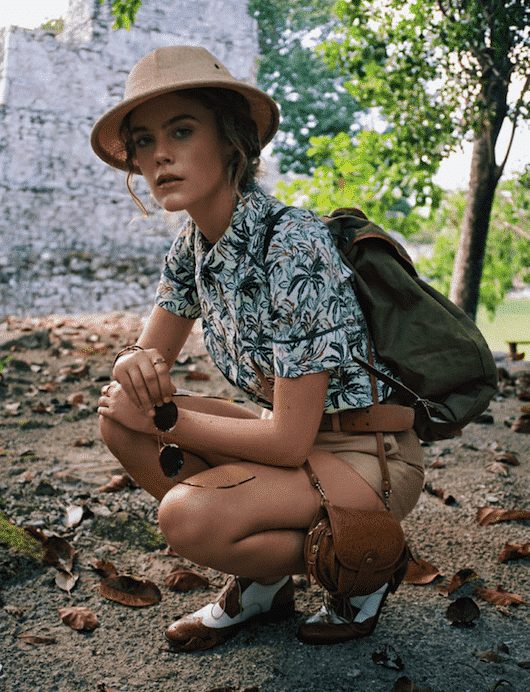 ↓ 38 – For Skinny Girls
Try pairing up baggy shorts with a top, here we have a colorful tank top and a little yellow jacket around the shoulders in case you need it.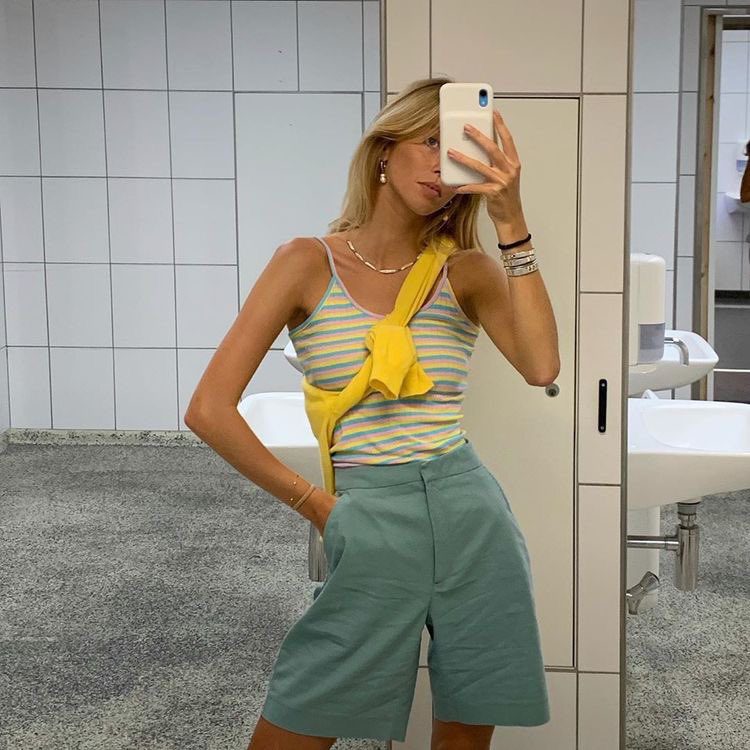 ↓ 37 – Athletic Camping Outfit
A matching set from Adidas looks pretty great too if you want that athletic look. Feels comfy and looks amazing and is perfect for the summers. Wear a black tank top under so if you feel too hot you can always take the outerwear off. You will feel at ease in this outfit throughout the day.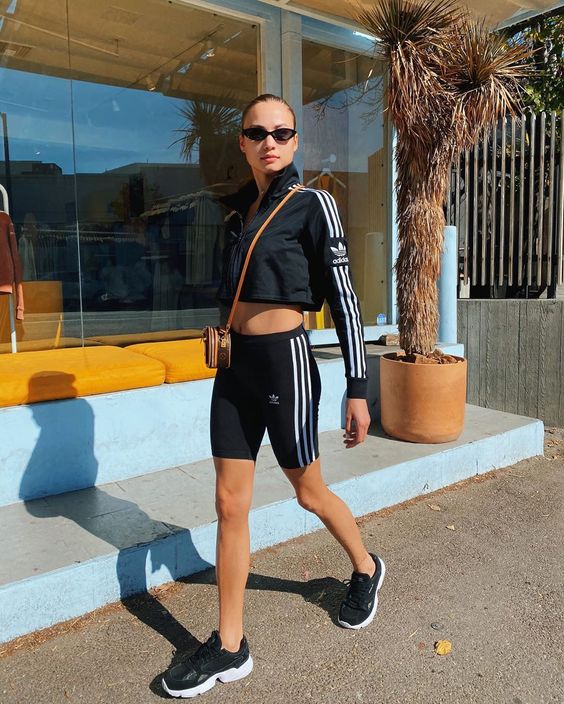 ↓ 36 – Effortlessly Sexy
Looking for an outfit that looks sexy while still looking appropriate for camping? A tight top such as the one here paired with shorts looks great, showing off your legs. A button-up shirt protects you from getting sunburnt and pair trainers under to enjoy all the activities while camping.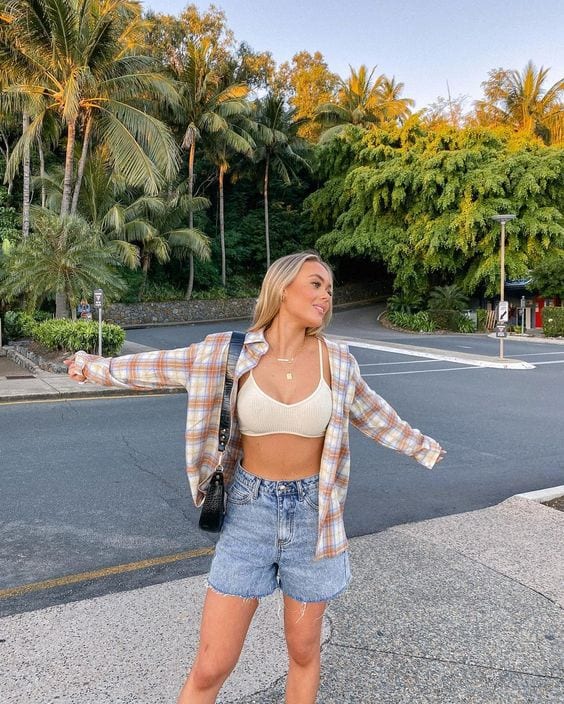 ↓ 35 – Sandals
Are you looking for a trendy outfit? Here we have a halter top, paired with grey pants and some cream-beige sandals. You can switch to sneakers for hiking activities but for the most part, this look is perfect if you are going to hang around near the camp.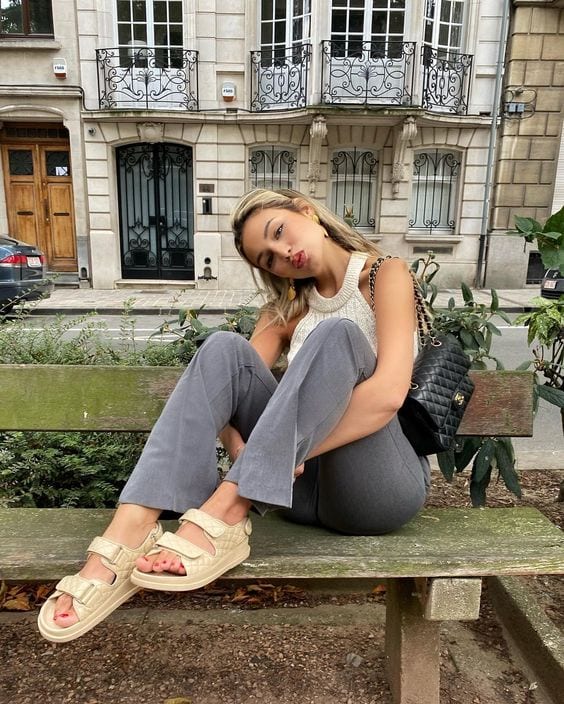 ↓ 34 – Easy Breezy
Your priority should be staying comfy, because it gets quite tiring despite being fun. Loose trousers and a cute but comfy tie dye shirt look perfect.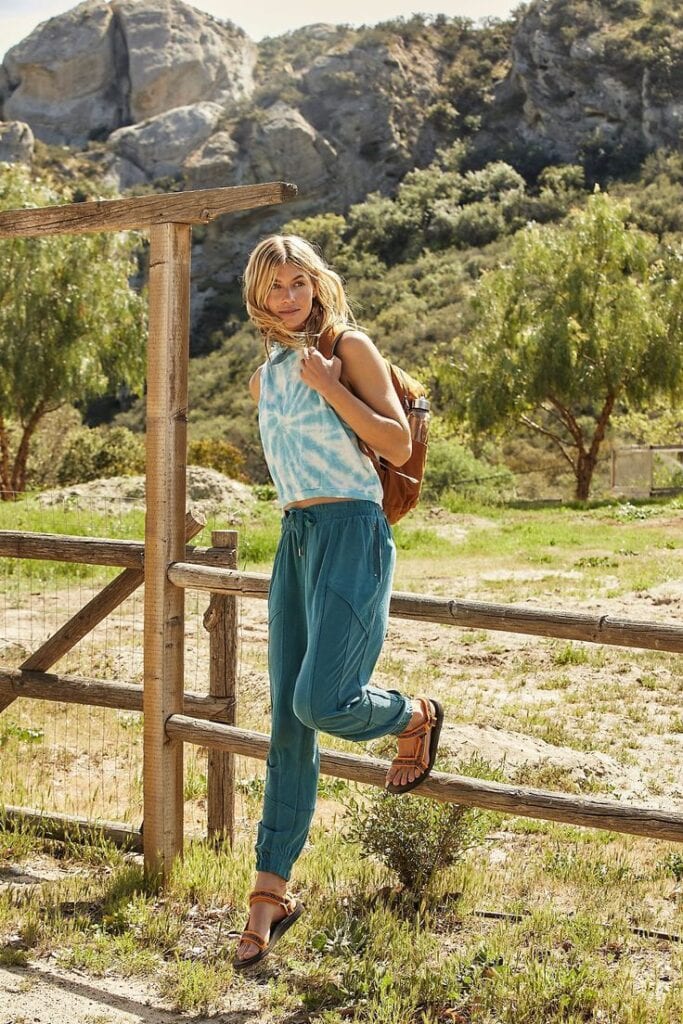 ↓ 33 – Layering
Layering is important for camping, and the weather is too unpredictable when you are outdoors. Despite the summers a light sweatshirt can be worn to protect yourself from bugs and bushes or the sun. Opt for bright colors to really get into the summer vibe. If you feel too hot take the sweatshirt off and you will be good to go because you will be wearing a cropped top under it.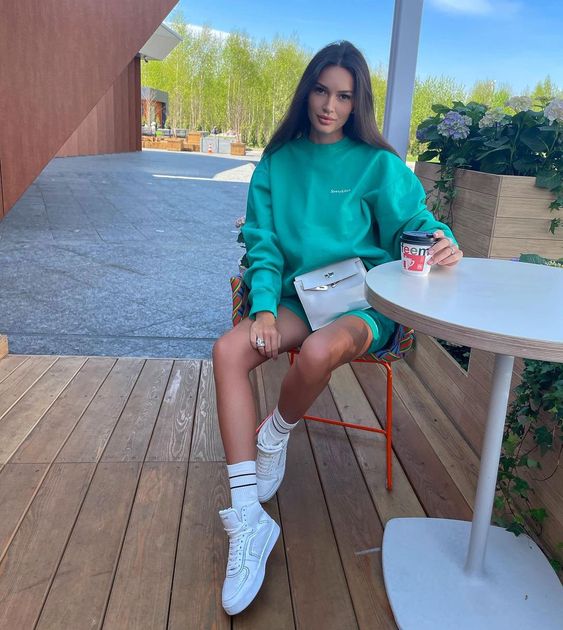 ↓ 32 – Relaxed Fit
Here we have sweatpants paired with a simple fitted top, perfect to relax in or wear to bed.
↓ 31 – Comfy Coord Set
A cute neutral-colored PJ set looks great for bedtime, as you look presentable while still feeling comfortable and relaxed in the night suit.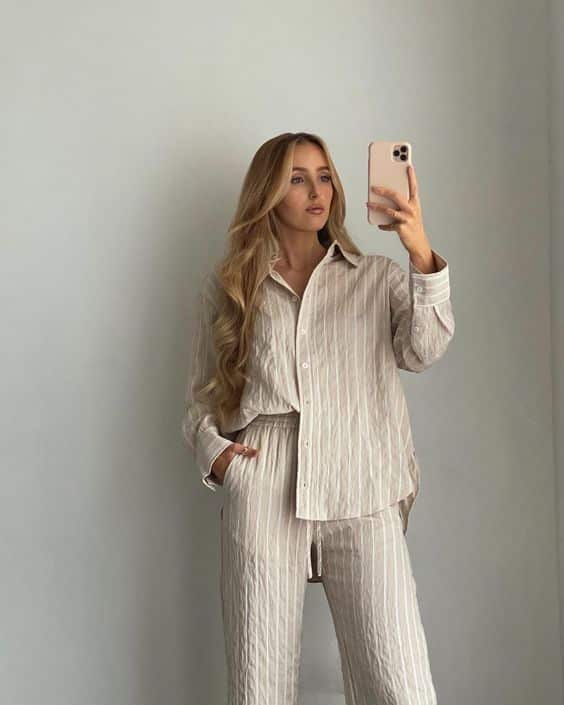 ↓ 30 – Teal Hues
Absolutely love the design on the collared button-up, it really gives off the summer vibes and adds color to your outfit. These button-ups come in almost every design and color, and you can take your pick and pair them up with some cute sneakers, a tank top, and boyfriend jeans.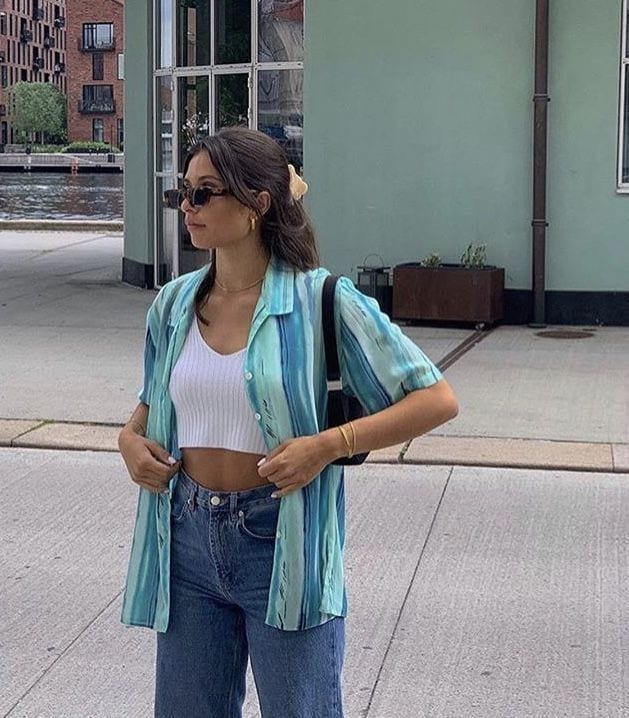 ↓ 29 – Gym Wear
Gym wear or activewear is a great option, it looks fashionable, is breathable, form-fitting and comes in a variety of colors and patterns for you to choose from.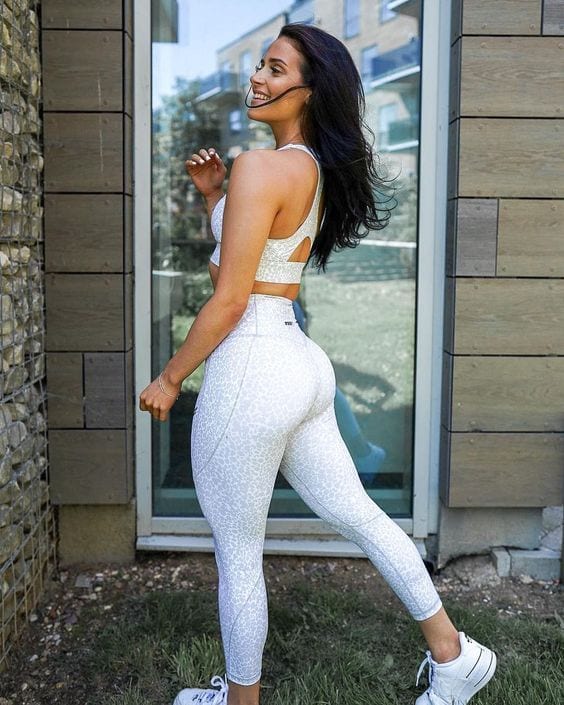 ↓ 28 – Simple & Cute
Here we have a simple green tank top tucked in and paired with a pair of shorts and some white shoes. These clothes do not take much space in your backpack or travel bag, and you will never feel hot in these outfits.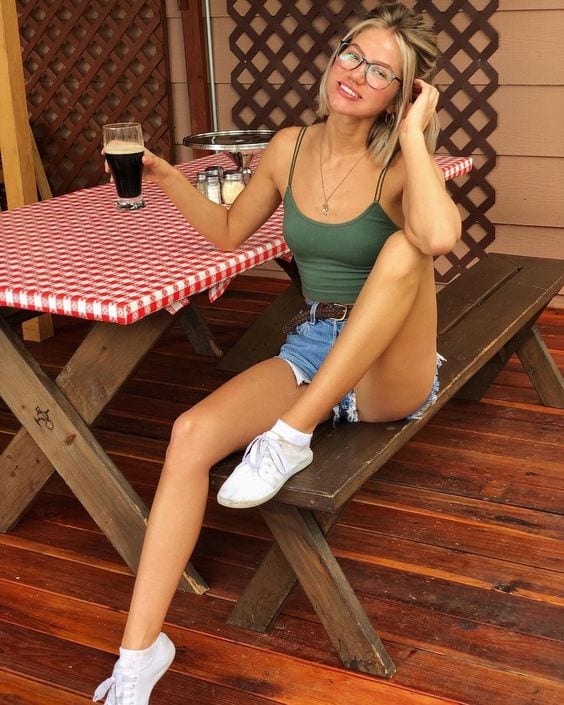 ↓ 27 – Kylie Jenner's Camping Look
Loving Kylie's outfit so much. It is simple and form-fitting and who does not like a black-on-black outfit. Her gym looks are so famous and this is one you should definitely recreate.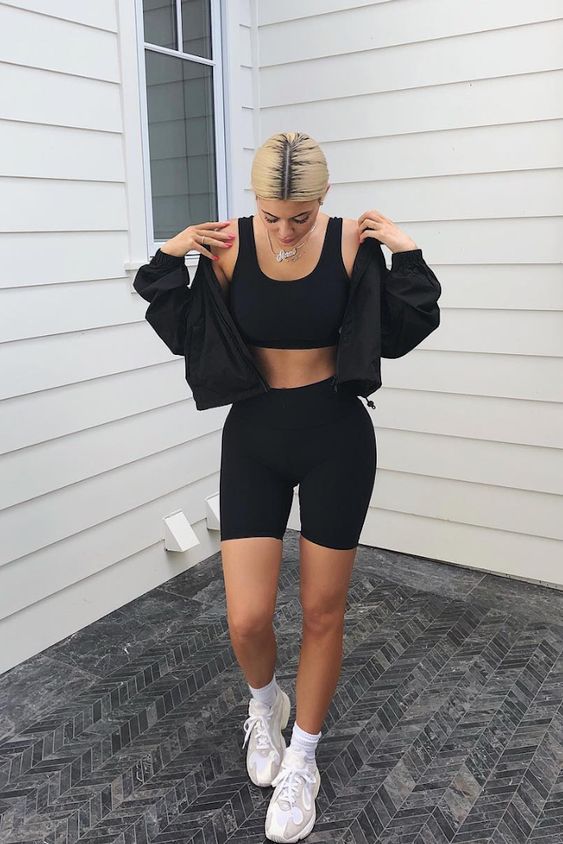 ↓ 26 – Pink
Hailey Bieber is a fashion icon. If you are looking for an all-pink outfit, a cute sweatshirt on top and some biker shorts. Pair sunglasses, trainers and a scrunchie with this outfit to complete the look.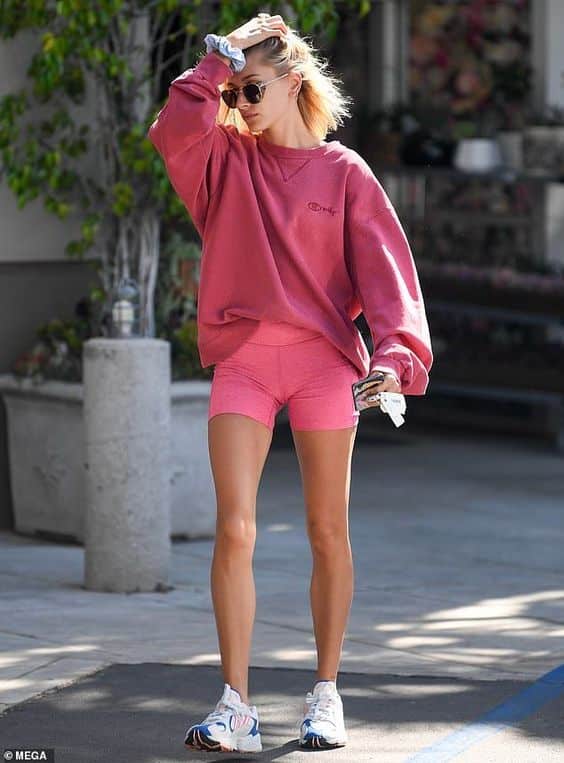 ↓ 25 – Sports Bra
Here we have a sports bra, and some gym tights paired with a black visor.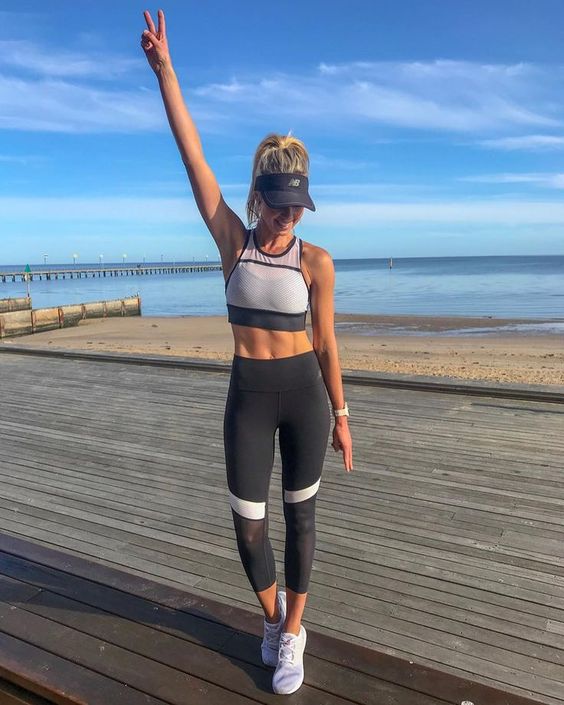 ↓ 24 – Accessorize It
Accessorizing makes any outfit look cute, and stylish. Here we have a basic outfit, but you can really add color and style and personalize the outfit according to your taste. Add a light cardigan around your shoulder, some layered jewelry, a pair of sunglasses and a cute backpack.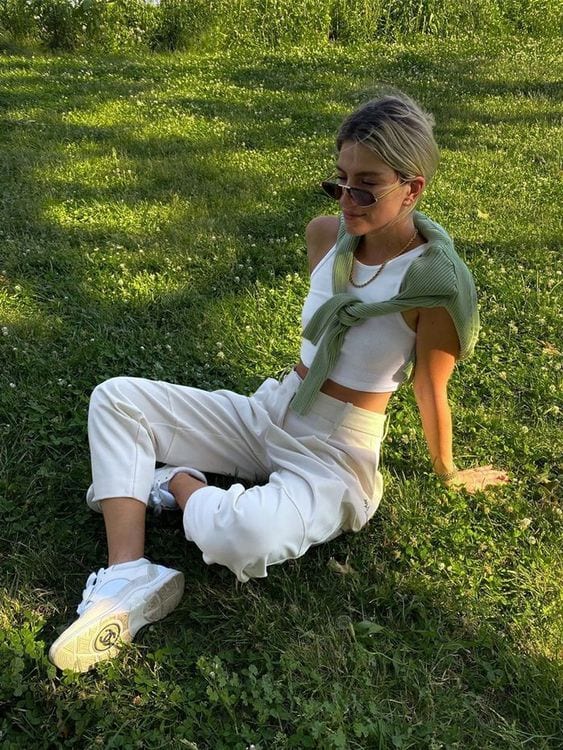 ↓ 23 – The One with a Bucket Hat
I think bucket hats are so cute and are a great addition to your plain outfit. This is a simple black gym outfit, but the bucket hat adds the trendiest touch to your outfit and serves a purpose and protects you from the heat.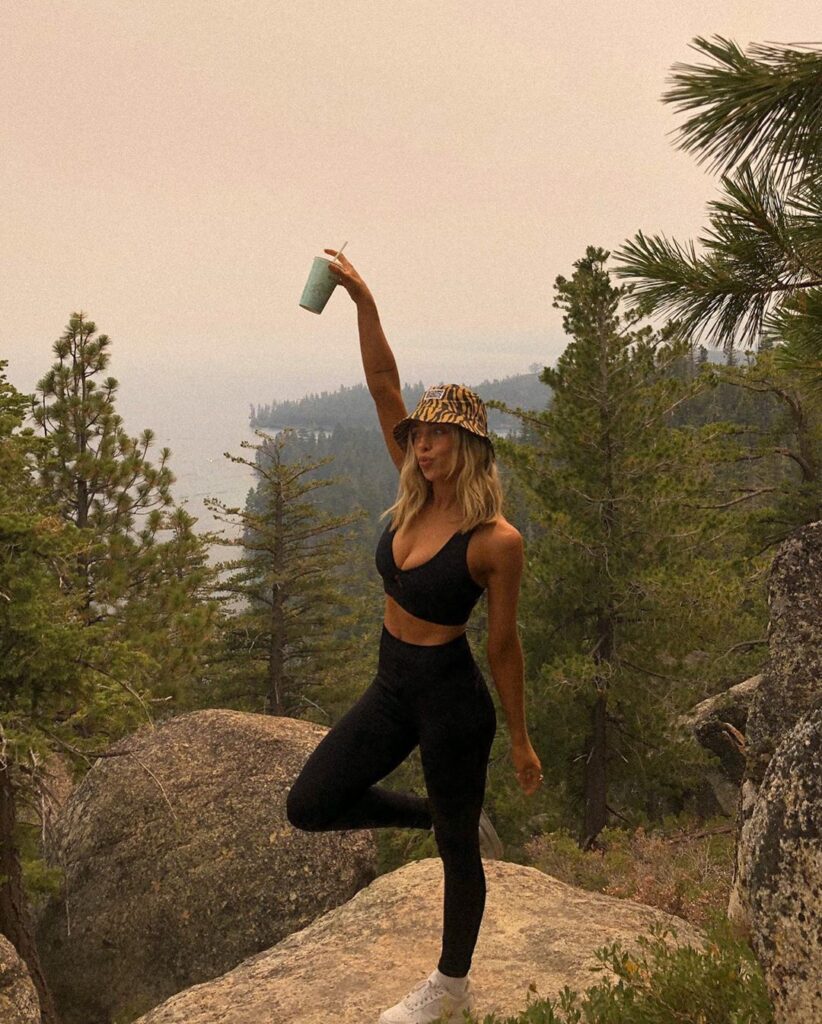 ↓ 22 – For Women over 50
Here is an outfit for our ladies! Blue capris, which are not as tight as they seem, cute and colorful, while being comfortable and wearable for the whole day. Pair those up with a solid-colored shirt and add a printed shrug on top to add color and a little something to your outfit. This look works for the barbeque you may have, or a short hike or a bonfire near your camp. Make sure you wear comfortable footwear and add a lot of extra sunscreen for protection.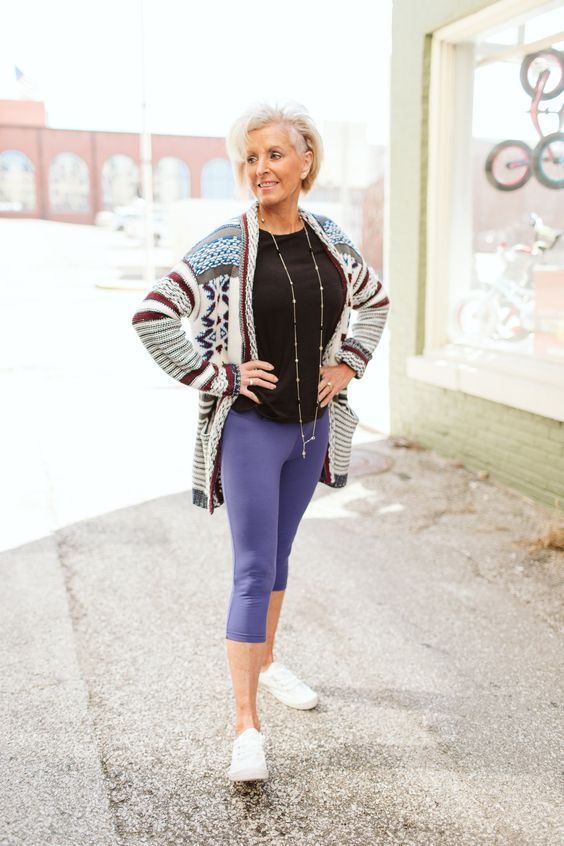 ↓ 21 – With Cargo Pants
A pair of tan cargo pants are so versatile and are a great option for camping as they are not too thick and look stylish. Pair them up with a tank top and some sneakers.
For Teenage Girls Only
↓ 20 – Bright Colors For The Outdoors!
Orange is a fun color and would look amazing in the outdoors. Teens girls love experimenting with different colors and new outfits so definitely give this one a try. You can wear a plain orange tank top with white jeans or shorts. A matching orange bandana or hat would complete your look. Don't forget to wear some fun jewelry to make this outfit even cuter! Here are some Chic Summer Outfits For Teen Girls that you can take inspiration from.
↓ 19 – Tie Dye For Fun!
Tie-dye shirts are a classic that everybody loves. You can never go wrong with a tie-dye shirt. Try wearing one with jean shorts or sweatpants. You can also pair them with a cap to look even cooler. T-shirts are comfortable to wear and make a cute outfit too. You should always pack T-shirts for camping because they always come in handy.
via
↓ 18 – Chill Outfit
If you are somebody that likes to chill in sweatpants all the time then this is the outfit for you. Sweatpants keep you comfortable at all times so you can never go wrong with them. Try wearing a plain half sleeves top with a pair of matching sweatpants and then you can wear shoes of your choice, according to what you'll be doing that day. If you'll be hiking you would wear hiking boots, if you're just staying in then stay in slippers or just comfortable sneakers.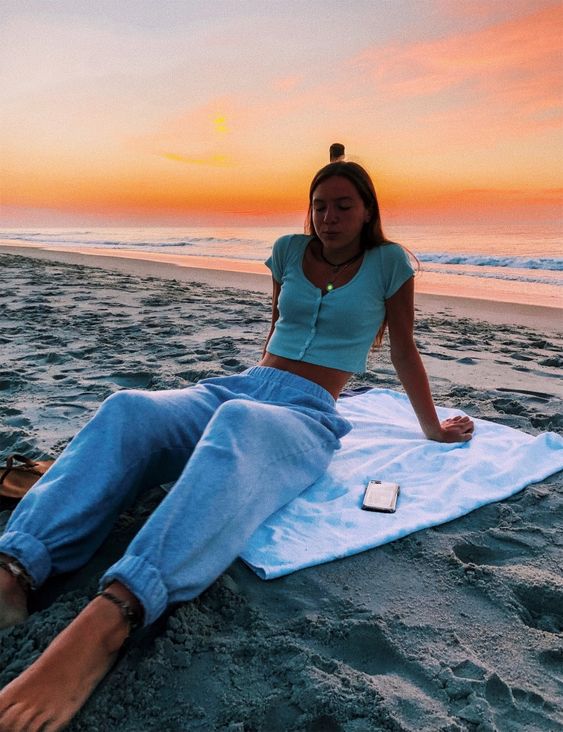 ↓ 17 – Dungaree Dress For Your Inner Child!
Dungaree dresses are fun and look super cute. Teens love to experiment so this is one outfit they would love. You can wear a dungaree dress with anything underneath it such as a t-shirt, a tank top, or even an oxford shirt. You can wear sneakers or boots under this outfit. A cap or sunhat would look nice and complete this outfit!
↓ 16 – Summer Dress
Teens can wear cool outfits to camping and rock them. We are sure if you're a teen reading this you would love to try this outfit out. This dress is stunning and paired with a mock neck full sleeves shirt under it, gives off a sporty chic vibe so if you're into that then you'll love this outfit. This look mixes sporty and fashion together. Pair this dress with some sneakers or boots and you'll have a perfect camping look.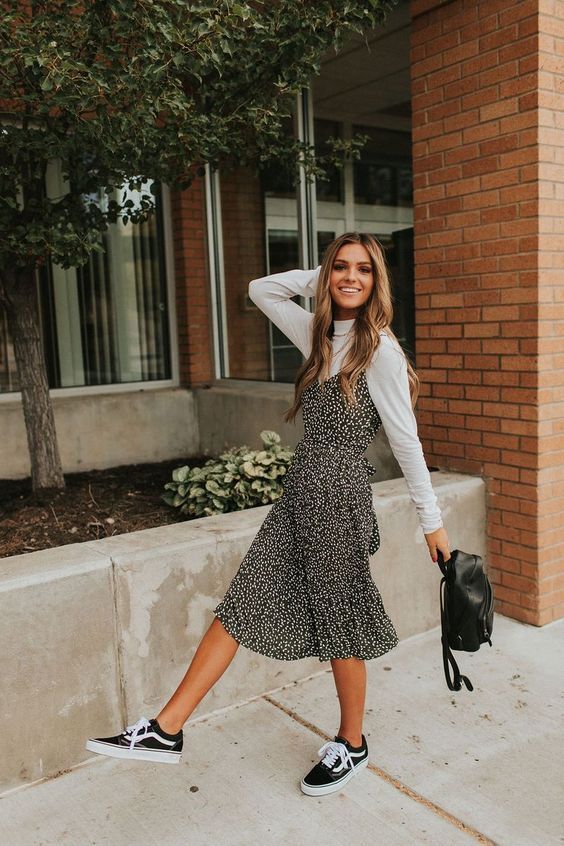 ↓ 15 – All White Angel!
Wearing white to a camping trip is a bit risky but if you can pull it off then it'll be the best. A plain white tank top paired with white jeans or white sweatpants would look really pretty. If you wear pearl necklaces with this white outfit then this look would be complete. Wear some funky sneakers with this outfit to bring some color to this look.
↓ 14 – Oversized Sweatshirts For Days!
Oversized sweatshirts are super comfortable and keep you warm too. You should pack tons of them for your camping trip. You can just wear an oversized sweatshirt with biker shorts and that will also be a complete outfit. This is a simple outfit for the days when you don't feel like getting ready. Pair this look with some sandals or boots. If you like this look, do go through these tips on styling Oversized Outfits.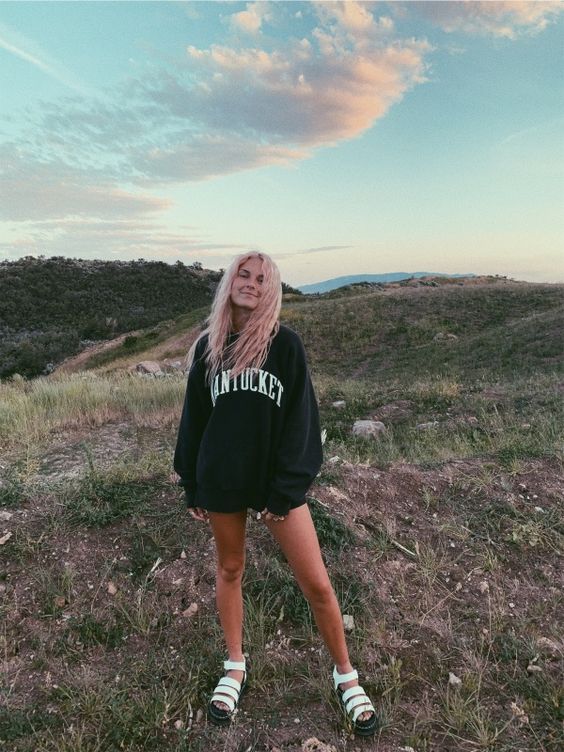 ↓ 13 – Simple Look
You can create an outfit with just a plain t-shirt and shorts. Some teens love to dress up and some prefer to keep their clothes simple and put more of their focus onto the environment they're in and enjoy it. So if you prefer to keep your outfits simpler then you should try this. Any plain t-shirt will look. Pair it with your most comfortable pair of shorts, a matching cap, and some sandals.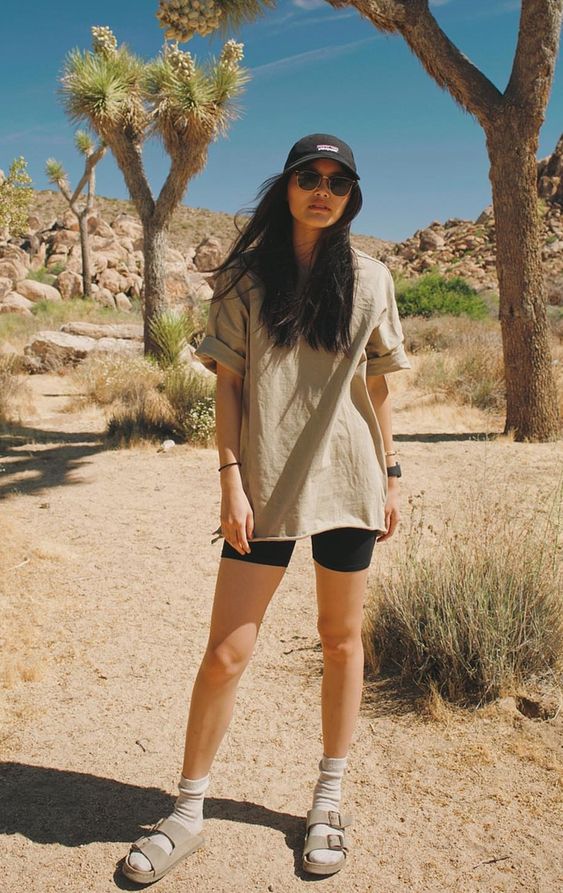 ↓ 12 – Perfect Camping Attire
An all-black outfit is always the best. You don't have to worry about it being stained and ruined. To keep things easy for yourself, wear a plain black t-shirt with black denim shorts. You can wear your favorite hiking boots or sneakers with this outfit and you will have a complete outfit for yourself.
↓ 11 – Graphic Tees
Graphic t-shirts are fun and stylish. You can wear them with just about anything. Pair one with shorts, jeans, or even sweatpants if you like. You can wear boots or sneakers with this outfit.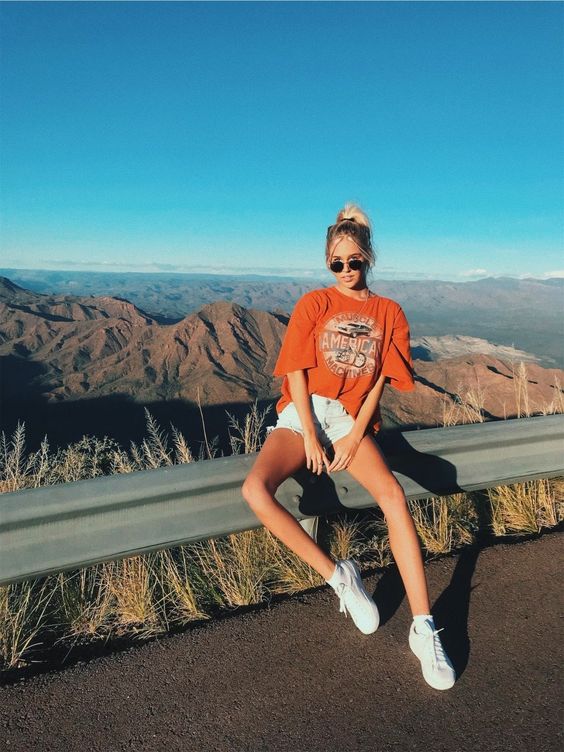 ↓ 10 – Sweaters With Skirts
Sweaters are the comfiest thing on earth. They keep you warm and cozy and come in millions of designs. You can easily pair a sweater with a cute skirt to make an easy outfit for yourself. You can wear this outfit with leggings as well to stay safe from insect bites. Pair it with your favorite hiking boots and you'll be good to go.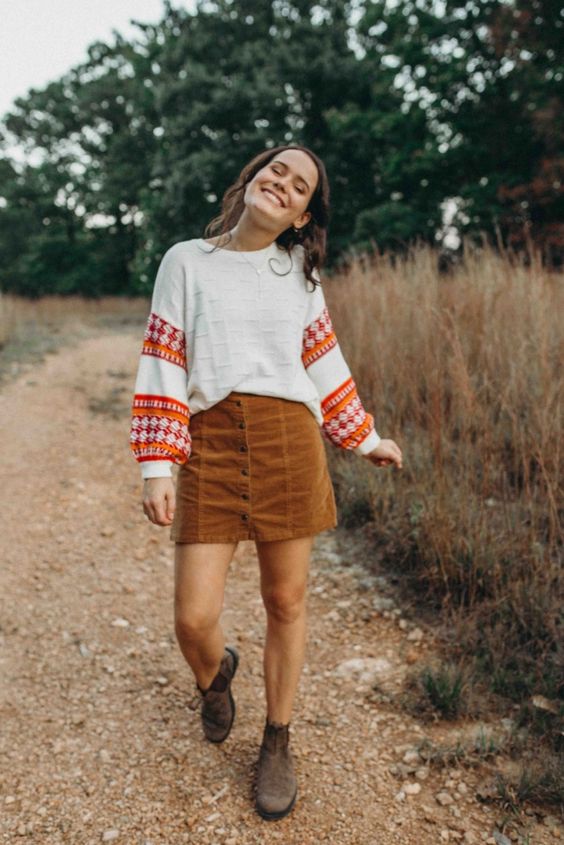 ↓ 9 – Polka Dots
Polka dots are a cute way to switch up your outfit. You can pair a casual t-shirt with a polka dot skirt to make your outfit look cuter. This outfit is super simple and easy to put together. It would be perfect for camping as it won't take long to put together either. You can wear it with sneakers, sandals, or boots. Pair this look with a baseball cap and it'll be the perfect mix of sporty and stylish.
↓ 8 – Stripes All Day Everyday!
Stripes are fun and colorful. They are an easy way to spice up your outfit. Try wearing this colorful striped crop top with a pair of denim jean shorts. You can wear your favorite pair of sneakers with this fit. Try wearing some cute jewelry to match your colorful top. Wear sunglasses to stay safe from the sun! here are some of my favorite Ways to Wear Striped Shirts.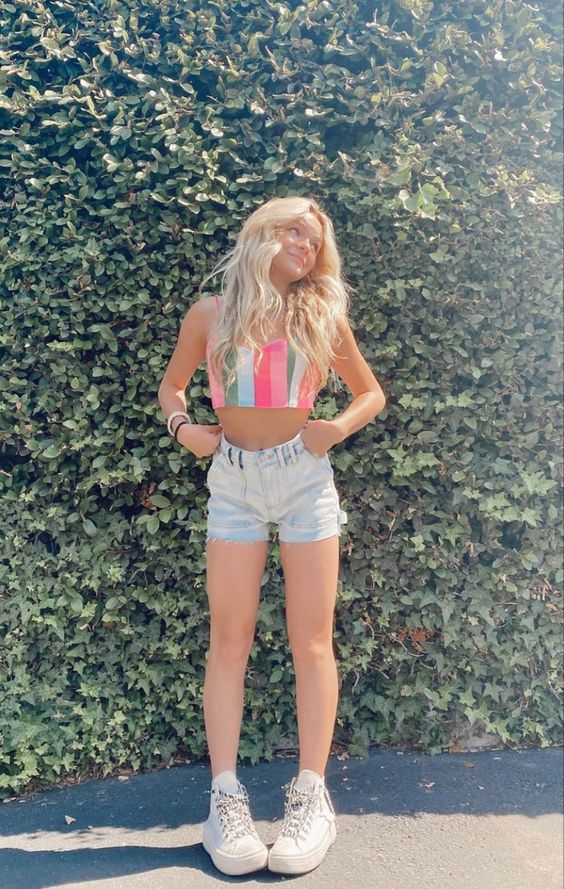 ↓ 7 – Yogi Fit!
This outfit looks super comfortable. Try wearing a tank top with some plain black sweat pants. Flannels are versatile pieces of clothing and look good with just about anything and everything. You can wear a flannel with this outfit and it can serve as a cover-up. Wear a cap to keep your hair out of the way and wear sandals or boots, whichever ones you like.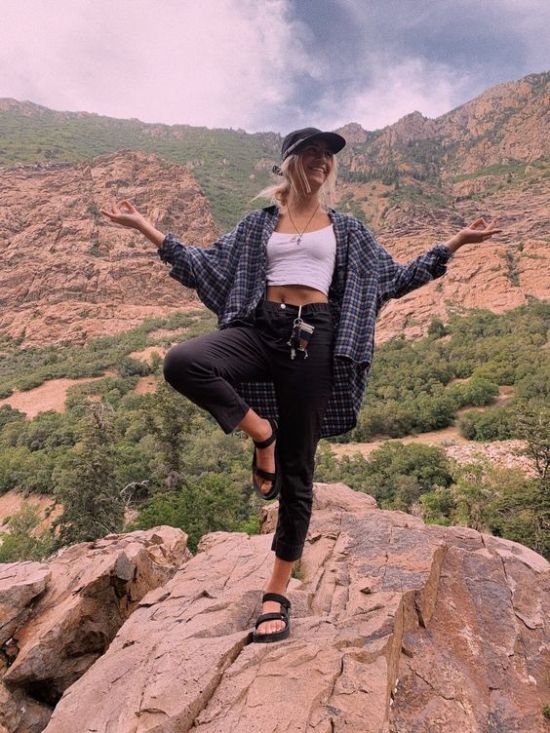 ↓ 6 – Plaid For Life!
Plaid shirts are so cool. Teens love to wear oversized plaid shirts or flannels. You should try wearing a plaid shirt with pants or sweatpants. These shirts are super cool and never fail to amaze. You will feel comfortable in them as well as chic.
↓ 5 – The Sophisticated Life!
If you like to dress a little more sophisticatedly then you might like this outfit. You can wear a plain white tank top with plain white pants or sweatpants. You can pair this fit with white sneakers. Take a sweater in a different color and tie it around your neck. Don't forget to wear your sunglasses and you will look amazing.
↓ 4 – Jeans Will Be Your Bestfriend!
Wear a crop top with a pair of blue denim jeans. This is a simple outfit that will take no time to put together. You can wear black boots with this look. A cute bucket hat would make this outfit chicer. Don't forget to carry your favorite handbag. Wear some hoop earrings to add some bling to this outfit!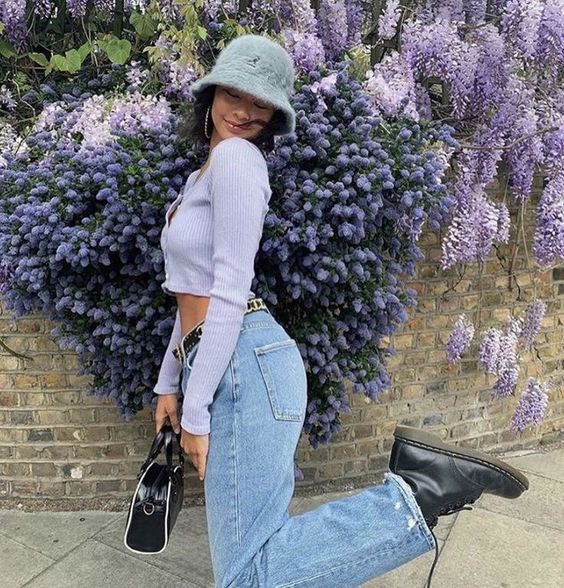 ↓ 3 – Grey Set
This grey set would be perfect for camping. This grey shirt and matching sweatpants look super cool and any teen would love this set. A flannel can be worn on top as a cover-up. This outfit is sporty and fun both at the same time. This look would be complete with a cap and some joggers.
↓ 2 – Brown Tones
This brown dungaree dress is super cool. You can pair it with a plain white shirt underneath or any other shirt you think looks good. You can pair a matching brown cap with this dress. Wear white sneakers with this outfit or hiking boots to complete this look. Here are some more fabulous Ways For Girls To Wear Dungarees.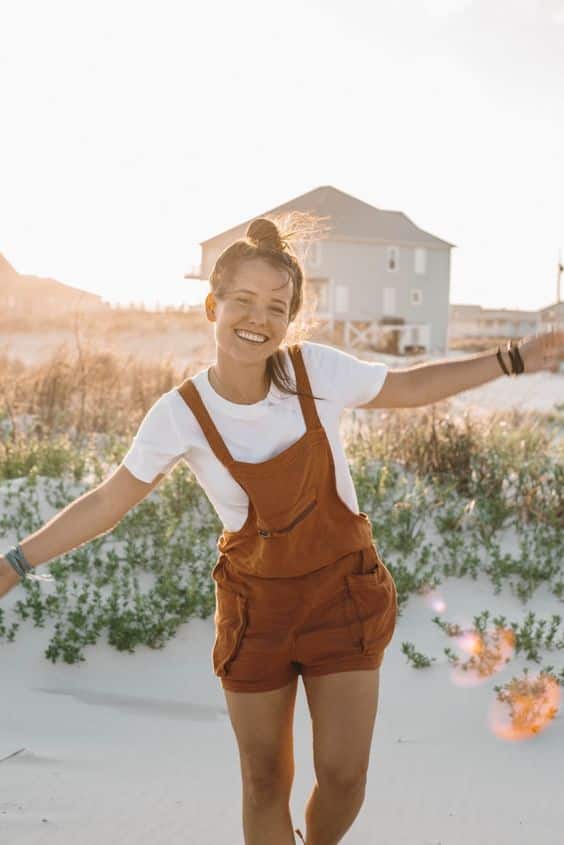 ↓ 1 – Oversized Fleece Shirts
It's always fun to wear oversized clothes. They are extremely comfortable and look cool most of the time. You can wear a plaid shirt with shorts underneath and some sneakers. Beanies are a super cute accessory and keep you warm. Wear some cool socks and wear your favorite sneakers with them. These shirts can also be worn to bed so they will serve as 2 outfits and you won't have to pack extra clothes.
Frequently Asked Questions
Q. What to pack for summer camp teenage girl?
A. There are a couple of things you need to make sure you keep. You will need to keep the most comfortable clothes but the ones that are also stylish. Keep matching sets mostly, sweatshirts, sweatpants, sweaters, socks, undergarments, and hats. Then you should pack a personal first aid kit that should have your menstrual products, personal hygiene products, and some medicines that you prefer to use. Don't forget to keep shoes that are comfortable. The rest is self-explanatory, keep your chargers, games, and anything else you want to keep.
Q. Where to Buy camping Clothes ?
–The Marc Jacobs Sweatpants
–Skims Cotton Lounge Bundle
–Revolve Beyond Yoga High Waisted Biker Short 
–Nike Air Zoom Pegasus
–Shein Solid Tanktops
Q. How to Wear a Camping Outfit with Sweatpants?
A. Sweatpants are not restricted to laze around the house. Being quite comfortable and wearable for long hours they are perfect for a camping look. They come in thin materials as well to keep you cool, and you can opt for a patterned one, or wear a matching two-piece set such as a tie-dye one or perhaps a brightly colored set. Pair sweatpants up with a cropped top, tank tops, and some cute trainers.
I am a university student from Pakistan. I love fashion and creating content. Hope you like my content as much as I like creating it for you.