Outdoor dining outfit Ideas: Every year, the outdoor dining season is the most anticipated. As a family-oriented person or just a loving partner in general, you will want to make the fastest reservation possible. The only question left to answer is what to wear? How should you match the ambiance of the restaurant? Always remember, preparation is key.
You must prepare with your all for this experience because chances are the weather may not be the same again for a good while. These aren't the only occasions you should wear your best for a day out with the girls at an outdoor café is just as important for you to make your best impression. Remember, there is no such thing as overdressed or underdressed!
What to Wear to a Outdoor Restaurant?
I have gathered the best looks according to each season's outdoor dining that you plan on, in a wide variety ranging from chic to very regal looks to help my girls with different aesthetics out. Before we get started, here are a bunch of do's and dont's for outdoor dining that you should keep in mind.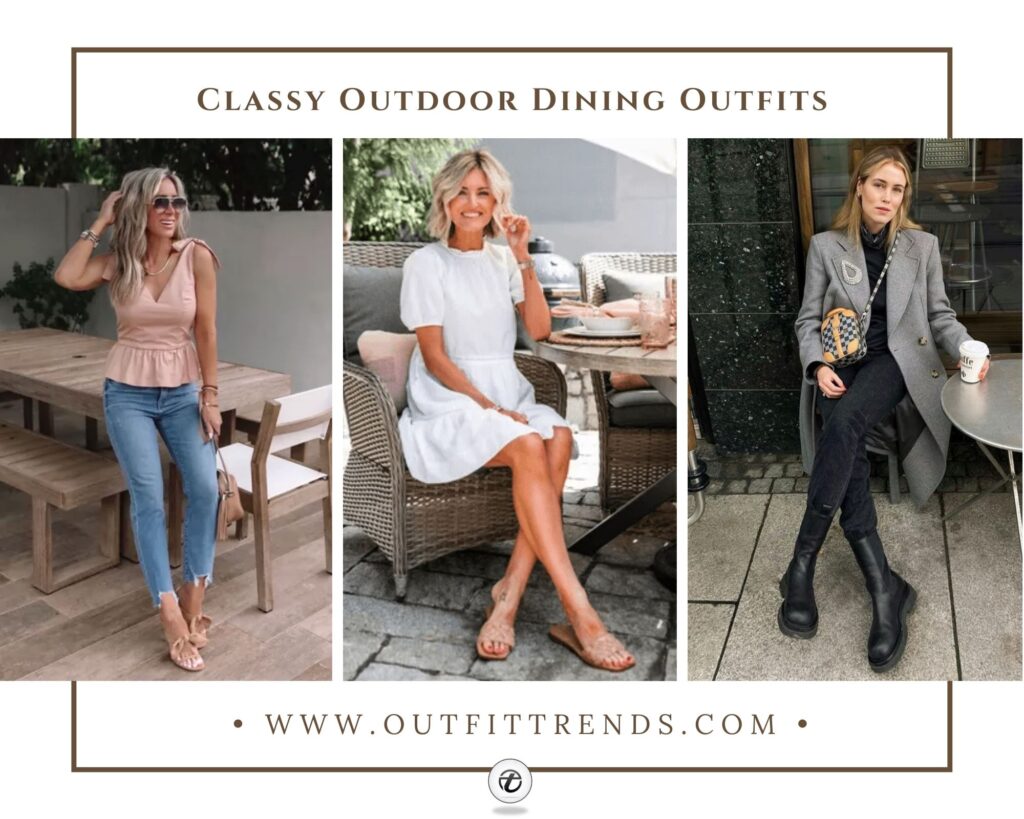 Do's and Dont's of Choosing Your Outfit
If the weather is breezy, make sure you match a jacket or coat with your outfit to bring along in case it gets cold

If the weather tends to get hotter at some point, make sure you wear something flowy in case you sweat, you do not want to feel sticky!

Beauty is pain but you don't necessarily have to go through the pain of sitting in an uncomfortable outfit on a dining chair so make sure your outfit is comfortable.
Wear dark colors outdoor dining at night.
Wear light colors at outdoor dining in the morning.
Infiltrate fish nets into your outfits for outdoor dining as they will

accompany

you in any season of the year!
If your reservation is booked for the daytime, do not forget to wear sunscreen! You have to go on plenty more outdoor dates before your skin gets wrinkly.
If you are planning to go out in the wintertime, it is always best to keep a moisturizer on you.
I'm going to guide you through a few looks as well as provide some links for the clothing items listed below, other than that enjoy!
1) Breezy Day
Is it almost autumn but you aren't in the fall spirit entirely? Let us just consider it a breezy day while the seasons change. Days like these are the perfect opportunities for outdoor dining as the weather isn't too extreme. Therefore, I'll suggest taking along a denim jacket to cover your arms for when the breeze hits. And to make a fashion statement, wear a bodysuit of your choice, preferably of a neutral shade to go along with your jean jacket.
2) Celebratory Dinner
A friend of yours got engaged? Or did you finally submit your thesis? If you are planning on a small celebratory dinner at an outdoor restaurant, this is the perfect pick for you. Slip-on a white knee-length dress, preferably a ruffled one to add a cute edge to your classy outfit, and pair it with some wedges to complete the look.
1
. Women's Plain Short Sleeve Floral Summer Dress $38.99
Outdoor Dining
3) Neon Lights
If you want to look your best, you must be prepared to test boundaries. Neon colors are extremely underrated because people are afraid to wear them. However, they may give you the ultimate look you have been searching for your whole life. Wear a matching neon blazer and pants over a white shirt any day that you decide to grab lunch outside, be it on your own. Colors like these make you feel confident- even if you are a messy eater and colours like these look best outdoor too!
4) Regal Black
Who doesn't love an all-black outfit? Some days, black is the only way to go. On those days, grab your black skinny jeans and a chic off-shoulder black blouse to go with, along with your favorite black shoes, and walk into the restaurant as you own it. This is the perfect look for a casual day out with your girls for outdoor dining. Whether day or night, this look will have you feeling sexy every hour of the day.
4) A Chilly Day Out
Dining out in winters is unmatched. On those chilly days, you want to make sure you look your best but do not freeze to death either, therefore I have the perfect outfit in mind for you. What is more classy than a plaid skirt? That's right, slip into a plaid skirt with some fishnets to give your legs some cover. Pair it with a fluffy warm sweater, preferably warm-toned as it goes along best with plaid designs. Wear a pair of warm boots to keep your feet warm, and ta-da! Not only will your food be warm but so will you.
5) Breakfast Date
Start your day fresh with some waffles and coffee from the corner cafe and a bit of love from your significant other along the way. For those of you that are tired of making breakfast every morning, or just need an opportunity to go out on a date, I have the perfect outfit in store for you. Mini-dresses are always going to be there for you on a cute sunny day. Tie a belt around your floral dress and give it a twist, next grab your sunglasses, now head out and greet the beautiful day ahead.
6) Sunset Themed
I mean, who does not like sunsets? This time when you head out for an early dinner or a late lunch, or anything in between, why don't you match the sunset? Trust me, you will make heads turn. Don't be eager to wear bright colors outside, especially orange because of how vibrant and lively it is. You can purchase a lovely orange dress from here. Pair it with some white strappy heels for a soft and elegant vibe.
7) Classy Girl
It is time to wear your big girl pants and start looking classy on casual dates too. You never know who you can leave an impression on. For outdoor dining in specific, always rely on nude and warm-toned items to remain classy. For this look, a beige blouse that stops above the navel will give you the perfect blend of class and chic. Pair it with some white pants, and you will feel find yourself comfy yet matching the ambiance of the restaurant at the same time.
8) The Sun Is Not Out Today
On days that the sun gives you a break, you will want to get your black tones out as fast as possible, in summers in specific. Wear an all-black outfit to a brunch with the girls. Exclusively for hijabis, you can pair your black outfit with a different colored hijab in case black is your go-to color, as you wouldn't want to overdo it either!
9) Color Splash
I know some girls, including myself who are afraid of wearing the colors they like because they may come off as too funky or bright. However. what better way is there to make a fashion statement if it isn't different than your usual normal, boring outfits. Outdoor dining has no dress code whatsoever so you might want to start by wearing bright colors on your dinner dates. Add a color splash with combos of red and yellow, purple and green, pink and blue, and so on. Below is an example of this idea with a sexy dark blue top and some metallic green pants.
10) Family's Day Out
A cozy dinner at your local cafe with your family sounds like the most comforting thing ever. Next time you book a date with them, make it a ritual to keep a matching theme and wear similar colors for a fun day out. Here are some more cute Outfits For Mums.
Another look for your trip with the kids could be to wear an outfit that will have you winning the stylish mommy award as well as seeming like you were not trying too hard to achieve this look. Just grab a plain blouse and pair it with a matching coat and skirt, preferably checkered as that design elevates an entire look from 0 to 10.
11) Work Dinner Outfit
Have you ever wondered what to wear to your promotion dinner? Can't bring together a sexy but formal outfit? Girl, that is exactly why I'm here. At work, there is always an image you have to keep up with, and this may even be the case in fashion. You have to keep up with the style people expect you to have. Now when it comes to a dinner party for your promotion.. that's tacky. I'm going to suggest you get your hands on a satin jumpsuit, you can go sleeveless or carry a blazer around in case it gets chilly outdoor.
12) Outdoor Date Outfit
Most couples have that one day marked on their calendar every month where they decide to go all out and have a fancy rooftop dinner somewhere in the city. On nights like these. you have to make sure you appeal to your man the most. The best fit would be a deep neck dress, with a slit in the legs. Dresses like these will make you feel like you are walking on a runway every step of the way. Make sure you add some minimalist jewelry to your look!
13) Hijab In The Heat
Summer is the most challenging period for girls who wear hijab, especially the ones who want to have fun. Outdoor dining in this heat will only be bearable in light clothes, with light shades of hijab. I'd suggest wearing a long open frock that will have plenty of space for air to hit your body but keep them covered at the same time. Match the dress with a warm-toned hijab to complete the look.
14) Outdoor Dining In The Backyard
This one is for my babes with families that throw BBQ parties in the backyard every other day, and there is in fact a strict rule of dressing up and treating it the same as going out to eat food. You will want to nail this one with a very comfy look that is laced with effort. Black and olive is a very top-tier combo, so if you have some olive pants lying around, pair them with a black blouse or vice versa and head out to that BBQ party!
15) Girls' Day Out
You have probably heard of all black and all white, but what about all blue? Mix up your outfits occasionally by pairing the same color entirely, it can really put the spotlight on you! This cheeky outfit consisting of a midi-length denim dress is the perfect pick for a luncheon with the girlies out in the countryside. Bucket hats are the new wave, so make sure to add a matching one to this all-blue look and you're ready to go! Don't forget a blue purse either.
16) Go Backless
It is time for a bold look. Backless dresses have been the most captivating in the history of dresses so far, so make sure you reserve them for a very special night. An anniversary dinner perhaps? If it's summertime, outdoor dining will have you feeling very refreshing sexy in this dress so I would recommend this on an occasion of that sort. Put your hair up and let your back be exposed in all its glory! Here's our complete guide on Best Bras To Wear With A Backless Dress For A Perfect Look.
17) Fancy Floral
Springtime is best represented by flowers, and in the fashion world by floral patterns. This spring when you head out for a cute lunch outside, make sure you pull on a fancy floral dress. Not only will you feel the spring spirit with all the flowers blooming outside- and on your dress, but you will also feel the ambiance at its best.
18) Beachy Dining
Do you live near the beach? It is time you wear something different to that outdoor restaurant on the beachside, especially if you plan on taking a little swim after eating. You can pair a beige colored button-down that can easily be slipped on and off, with an ankle-length funky wrap skirt. You will look fantastic for the food, and ready for the swim as well. Here are some more of our favorite Wrap Skirt Outfits.
19) An All White Dress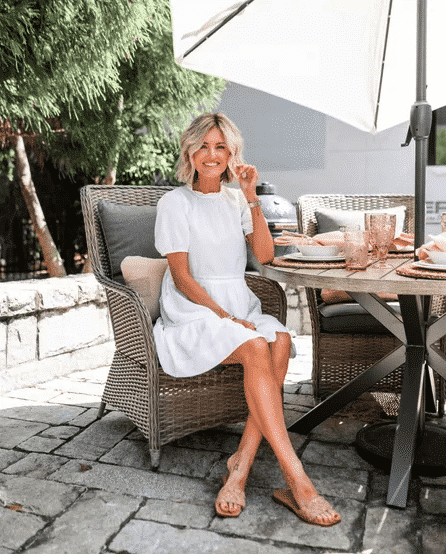 20) Peplum Top
FAQs
Q. How should I dress for outdoor dining in winter?
A. Add a turtleneck to your look, or opt for longer coats when coats are in the equation.
Q. What should a woman wear to a outdoor restaurant?
A. There is no specific dress code, your outfit can range from a knee-length dress to a suit, whatever you feel comfortable and fashionable in.
Q. Should you wear jeans to a fancy restaurant?
I would advise against doing so, especially not blue denim. Black might still be okay.
I love expressing myself through fashion and writing!