Outfits For Mums. As a mother, you all can relate to those mornings where you wake up, get your baby ready, send kids to school, and run to finish your chores. If you're fortunate enough, you might get a shower without those little people raiding the bathroom.
Amidst all this, it is easy to forget about yourself, and every mother can get to that point of 'I can't be bothered,' so, naturally, casual wear and no make up it is the ultimate option for most of the days, mainly in the mornings. Many of you must have had these mornings all too often, but trust us, they do get more comfortable with time. This post is a little compilation of outfits that Outfit Trends finds perfect for mothers this year. Not only are they quick and easy to put together, but they will make you look and feel a million dollars!
To the mums out there, you're doing a fantastic job, and you deserve to look good while you do it!
Latest Fashion Ideas for Mothers
When women become mothers, they neglect themselves a lot. All they care about is their new baby. With time, responsibilities keep on increasing, and they never find time for themselves. It is an unfair thing to do to yourself. You need to take out time and pamper yourself. You need to look good to feel good. Along with that, your kids also need a confident mommy, and your husband looks forward to having a glimpse of you all day long. So, dress up and style up each day for yourself and your family.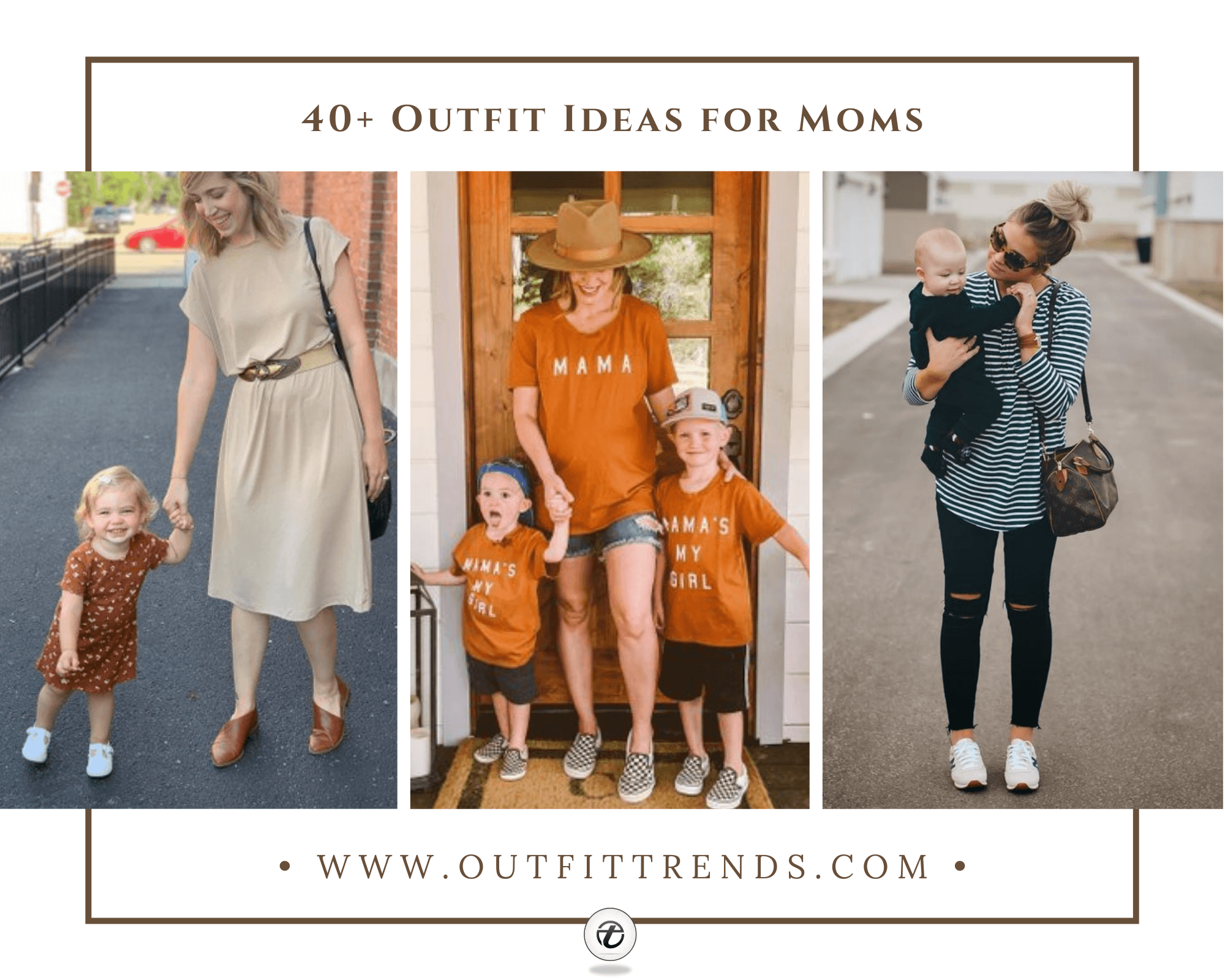 Here are a few easy and convenient styling tips for all mothers out there reading this:
If you are a new mum, embrace the changes in your body. Indeed, your body won't be like it was in your teen years, so take pride in it and style it accordingly.
Pay special attention to your inner wears. Wear well-fitted bras and throw out all loose and baggy ones.
Don't feel guilty about spending money on clothes or shoes at all. You deserve to look the best.
If you are a working mom, give yourself a seasonal wardrobe upgrade. Buy formal office wears, suits and dresses.
Dress according to the occasion.
Your essential everyday wardrobe should consist of pieces that are comfortable yet classy, like our collection of Stay At Home Outfits.
Always wear accessories to add more to your beauty. Wear a pearl necklace, small studs, or your wedding ring daily. It will make you look and feel more put together.
Cardigans, blazers, and scarves prove to be very beneficial for mothers. They are comfortable and easy to carry, especially if you have toddlers with you.
Shop large handbags in as many colors as you want. When you have kids around, you need to take care of their stuff, so it is better to do it in style.
Flats, boots, pumps are perfect fits for busy mothers. Heels might not be a good option for all events, and neither are trainers or joggers.
Have a look at the following images and create your own fabulous and fashionable mum look.
↓ 40 – Biker Short Outfits
Biker shorts are cute and comfortable and you can easily pair them with any of your tees for a casual look. If you want to spice things up, here are more Ideas on How to Wear Bike Shorts.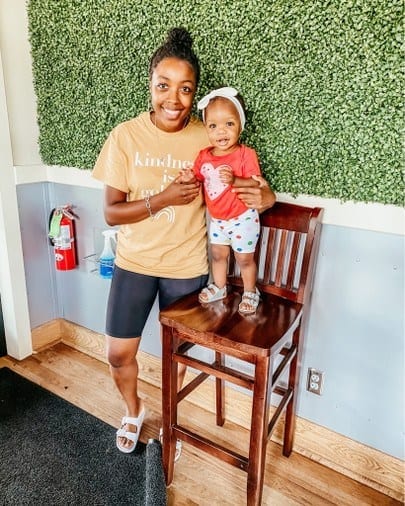 ↓ 39 – Classy Outfits
↓ 38 –  Birthday Outfit
↓ 37 – Matching Outfits With Children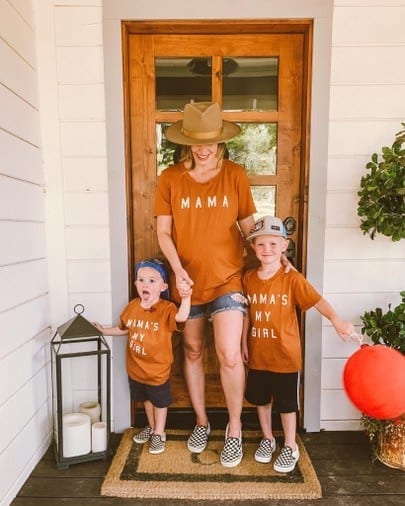 ↓ 36 – Pregnancy Outfit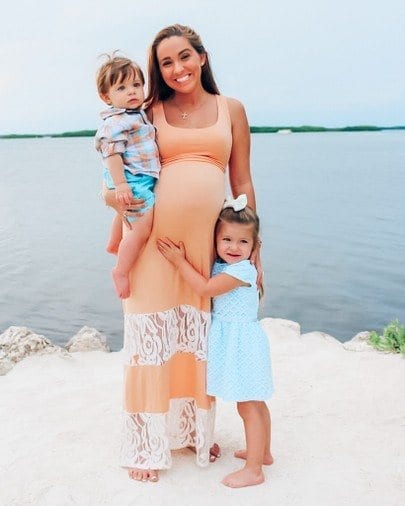 ↓ 35 – Stylish Mother Outfits
↓ 34 – Mom Jeans
↓ 33 – Mom Outfits For Graduation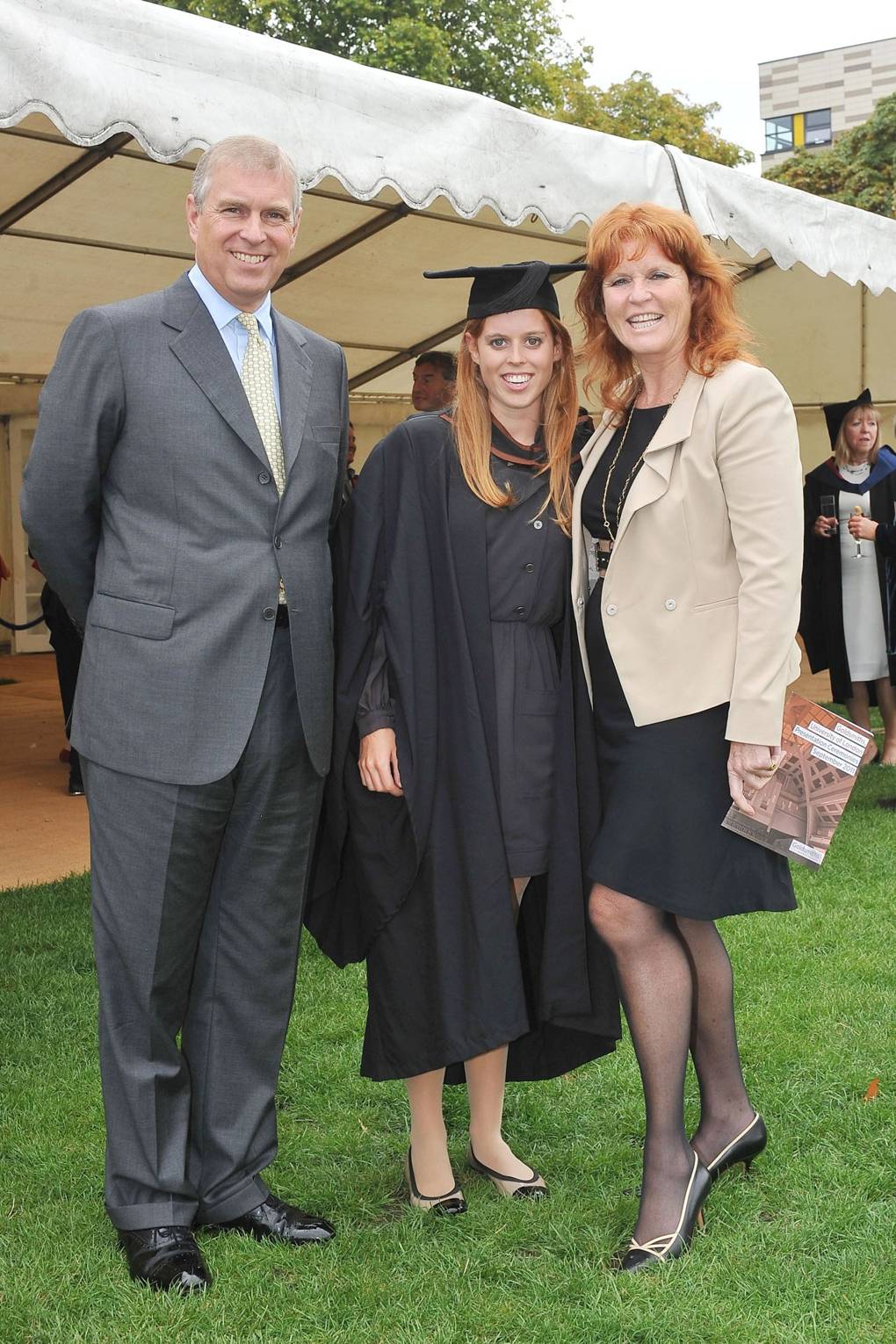 ↓ 32 – Mommy Daughter Church Outfits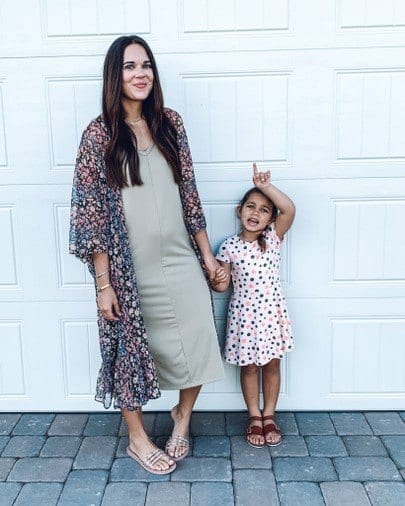 ↓ 31 – Beach Outfits for Mom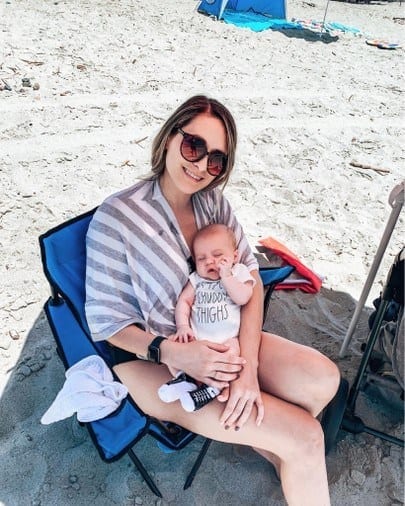 ↓ 30 – Mature Mom Outfits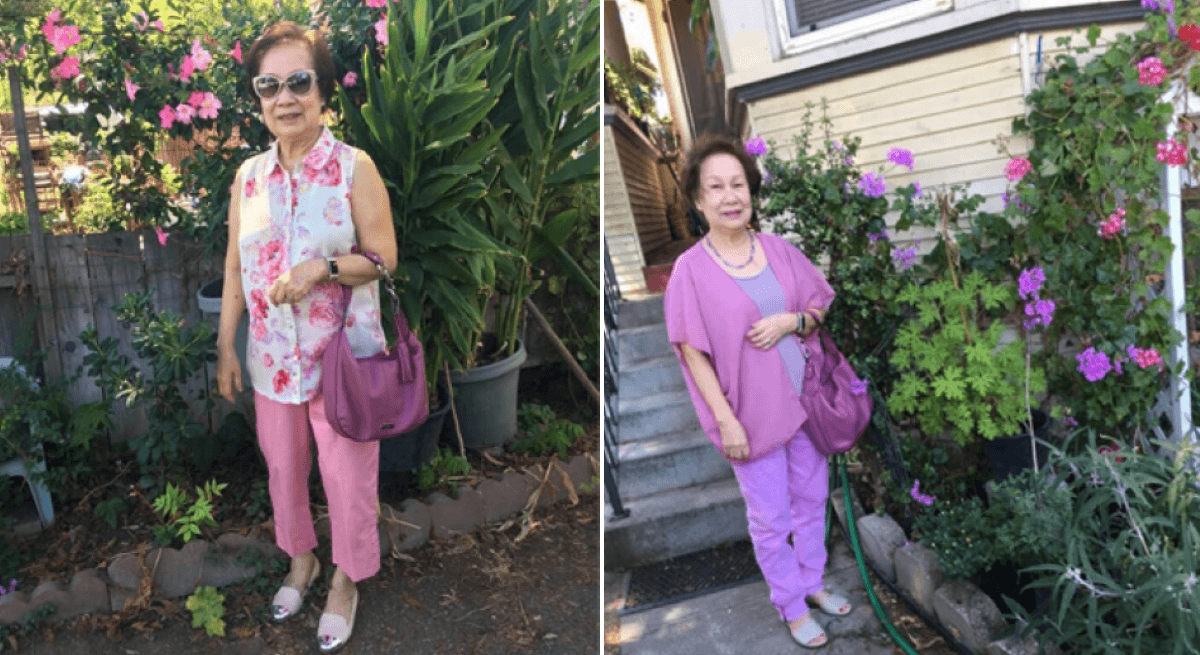 ↓ 29 – Cute Mom Outfits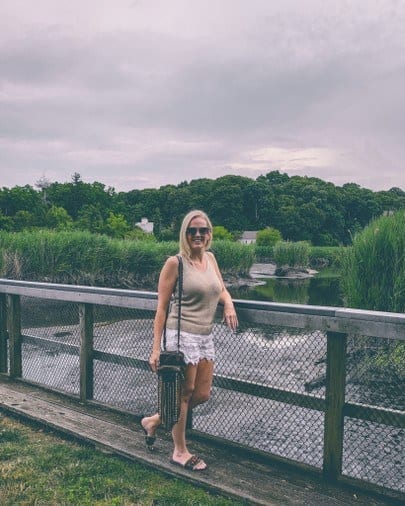 ↓ 28 – Cara Loren Casual Look
A striped baggy top with ripped skinny jeans and white trainers is a must-try outfit. Accessorize it with shades and a handbag.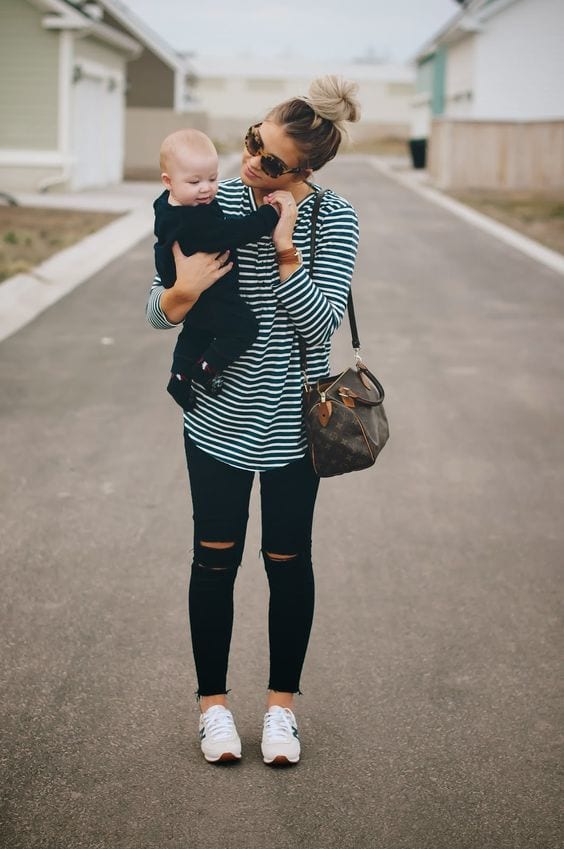 ↓ 27 – Polyvore Outfit
Check out this autumn combo for mums on the school run: scarf, jumper, cream jeans, and brown knee-high boots.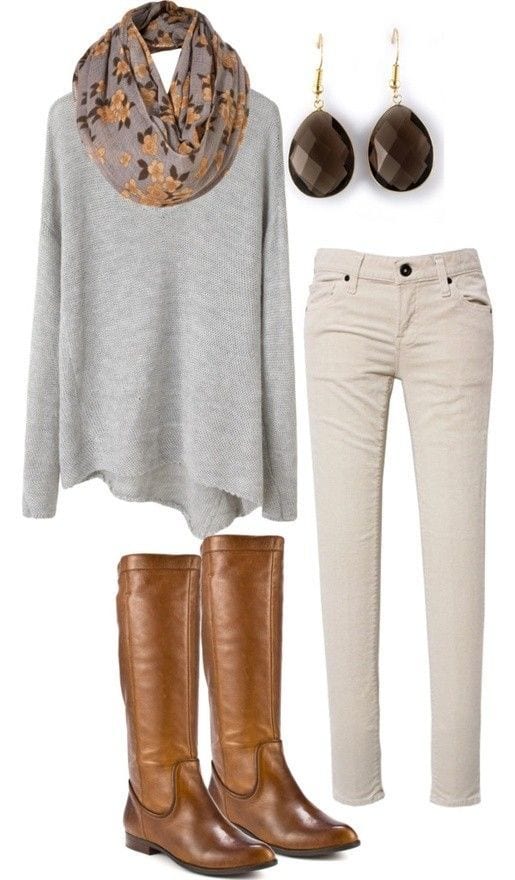 ↓ 26 – Spring Look
Stripey top with maxi skirt and sandals makes the cutest mom outfit.
↓ 25 – Leggings and Boots
Here is a beautiful look for practical mum—a pink jumper with blue leggings and brown leather heeled ankle boots. Accessorize with a chunky necklace and silver jewelry.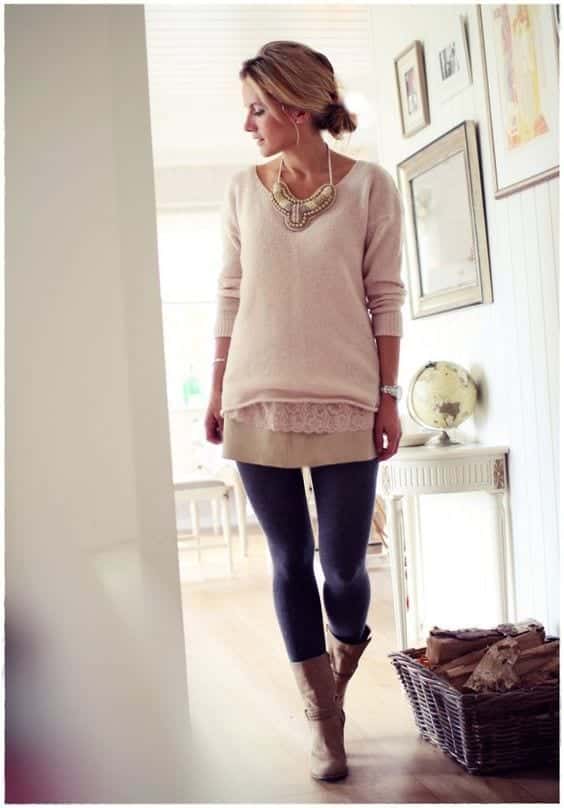 ↓ 24 – Pink outfit
A pink maxi dress is a perfect choice for mothers. Wear it with wedges and sunglasses for a stunning look.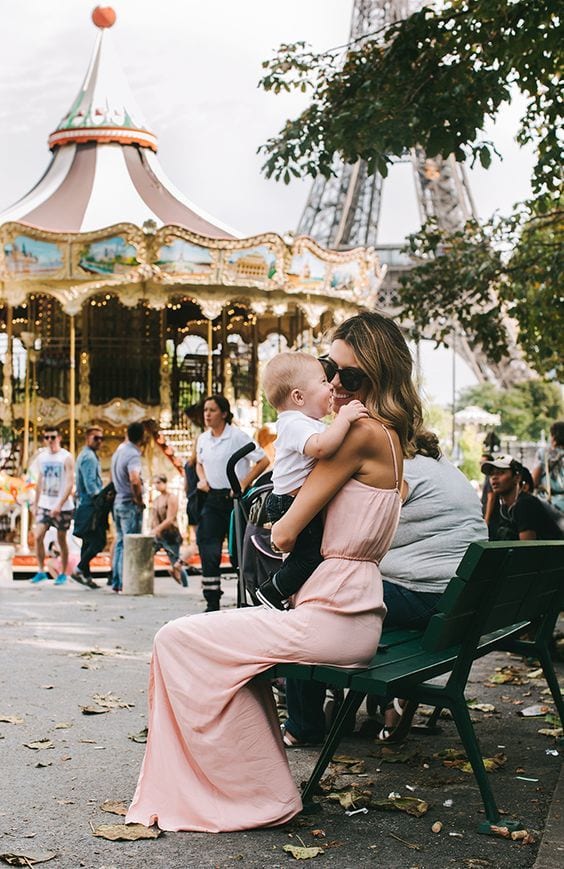 ↓ 23 – Striped Outfit
Here is a fantastic combo for mums for a stylish look. Shop outfits with stripes, black and white tones, and wear them with wedge heels.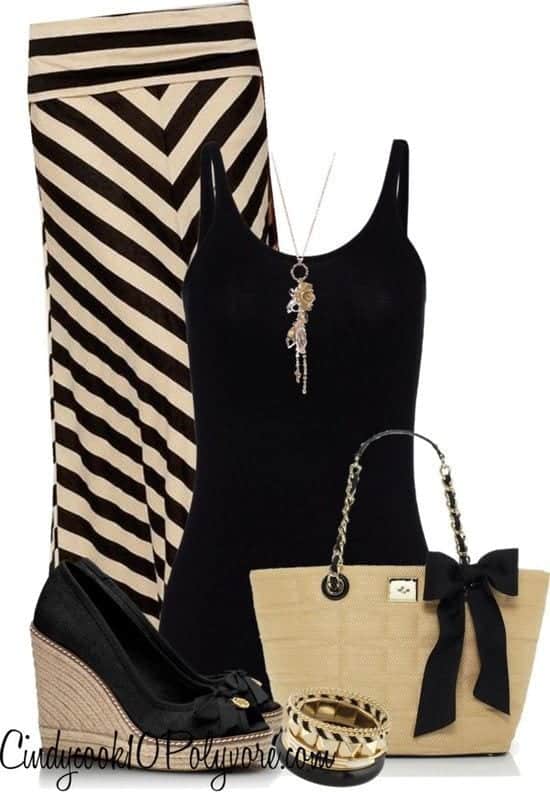 ↓ 22 – Victoria Beckham's Style
Victoria Beckham has a stylish mother looks mesmerizing in a black maxi dress with plain black flip-flops.
↓ 21 – For Young Mothers
Here is a great casual style for mothers. Floral sleeveless blouse with cropped skinnies and brown peep-toe heels.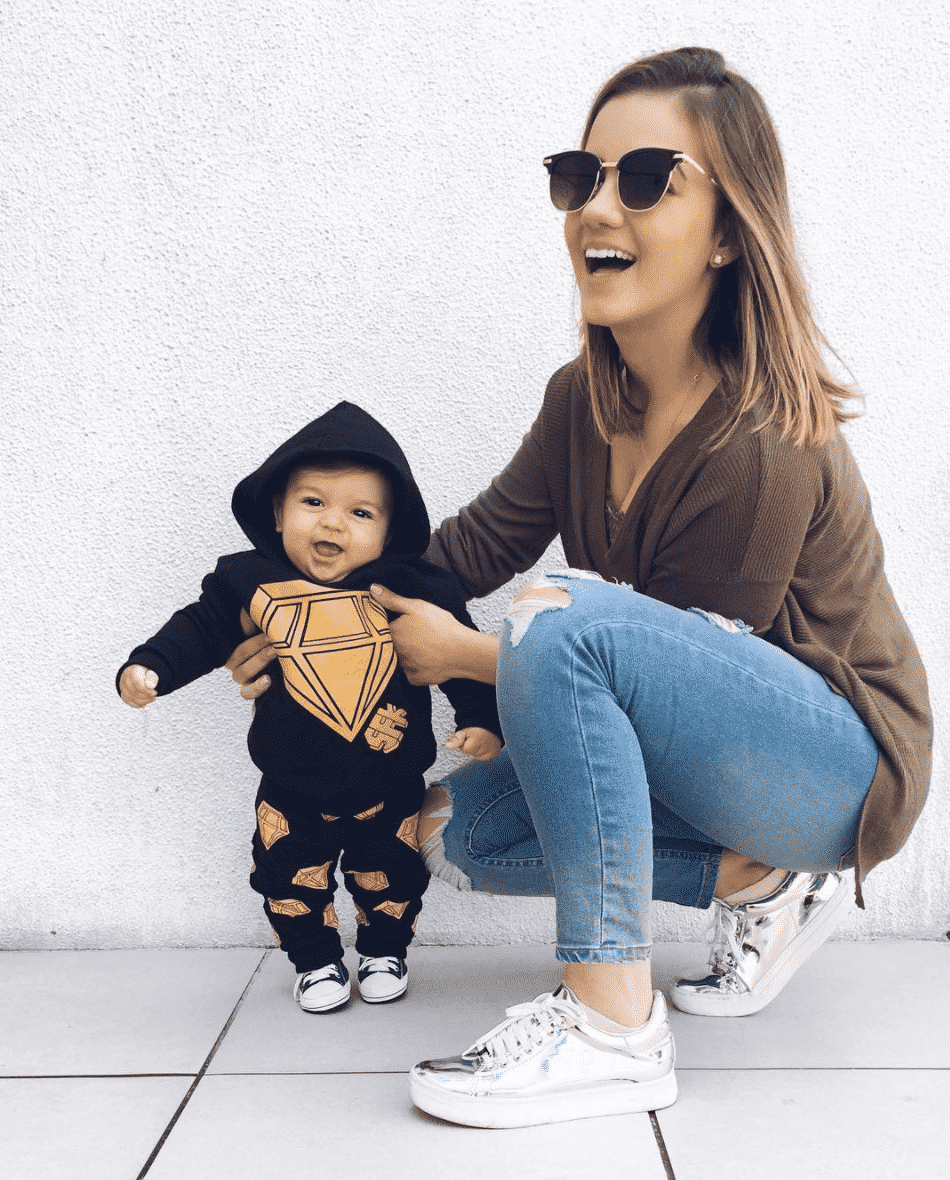 ↓ 20 – Gwyneth Paltrow Style
Gwyneth Paltrow rocks the calm mum's look. Plain blouse, jeans, and brown flats.
↓ 19 – Style Inspiration From Miranda Kerr
Miranda Kerr looks stunning in this white maxi dress with flip-flops and contrasting black handbag. A super comfortable and stylish style for mums.
↓ 18 – Leather Jackets
Check out this gorgeous city style for mums incorporating leather jacket, blue crops, and designer accessories. Here are some more ideas on Different Ways to Style a Leather Jacket.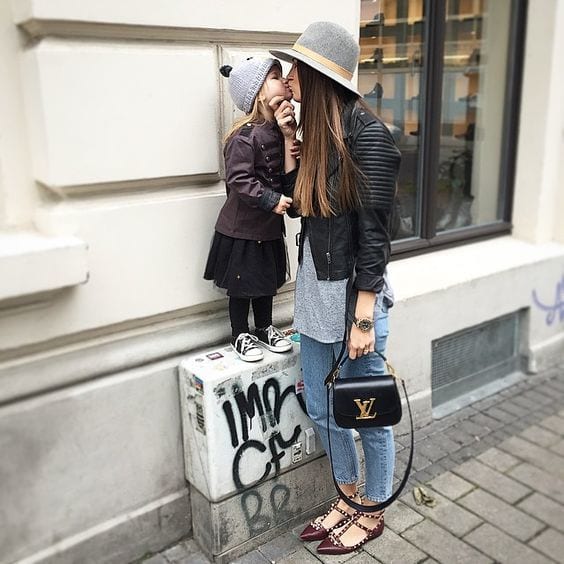 via
↓ 17 – Bussiness Style Outfit
This business mum looks impressive in a neon pink skirt and white blouse. She styled her outfit with shades and contrasting yellow heels.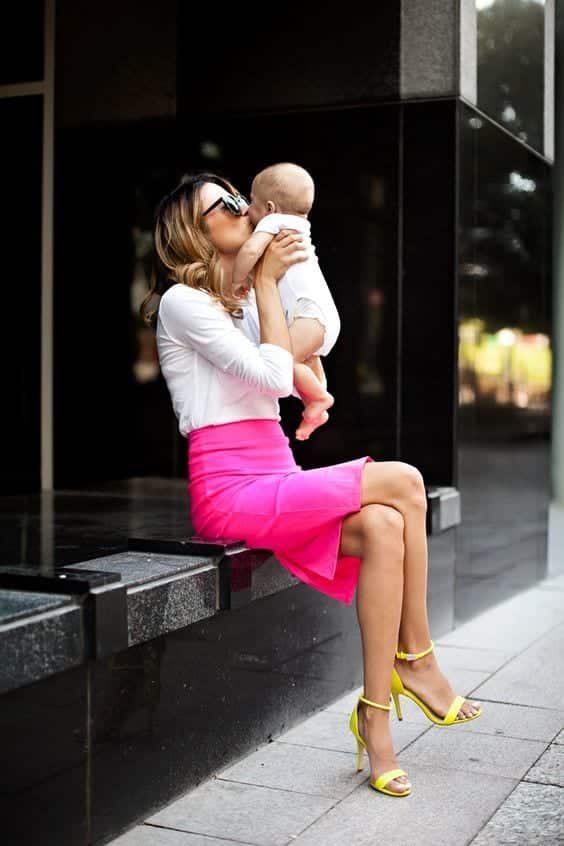 via
↓ 16 – Cool Mom Style
Try out this practical and straightforward look created with a cropped jumper and high waist skinny jeans. Accessorize with brown pumps and handbag.
↓ 15 – Mother Daughter Matching Outfits
Check out this cute matching mum and daughter outfits. Black and white polka dots always look sophisticated and attractive. If you like matching outfits, you have to check out these 110 Cutest Matching Mother Daughter Outfits On The Internet.
↓ 14 – Princess Style
Kate Middleton has one of the top spots in mum fashion. She always looks sophisticated, and all her styles are easy to recreate.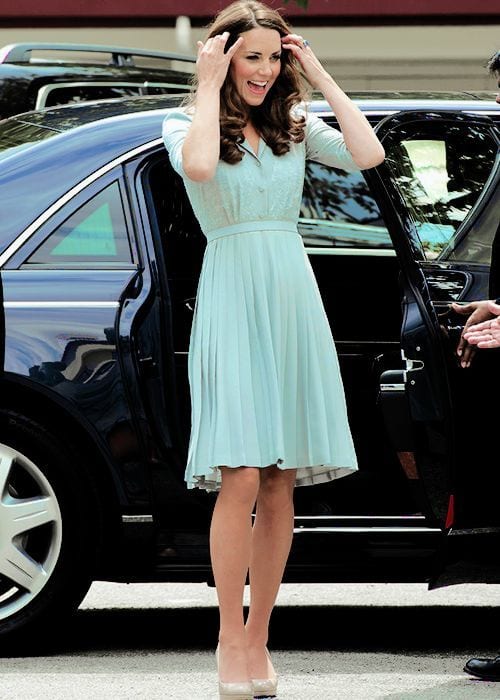 ↓ 13 – Winter Lookbook
Here is a great winter look for mums this year, which is both practical and stylish.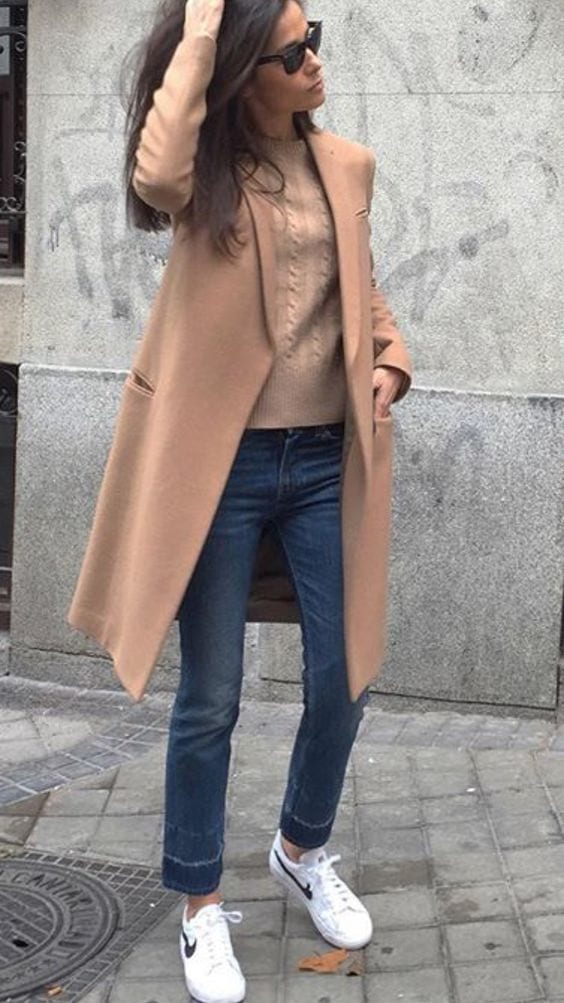 ↓ 12- Denim Jackets
Check out this simple style for plus size ladies this spring. Denim jacket and a simple white top with a black maxi skirt.
↓ 11 – How to Style Poncho
Here is an excellent look with a black cape for curvy ladies—gorgeous look and easy for mums to execute. Knee-high boots make legs appear longer!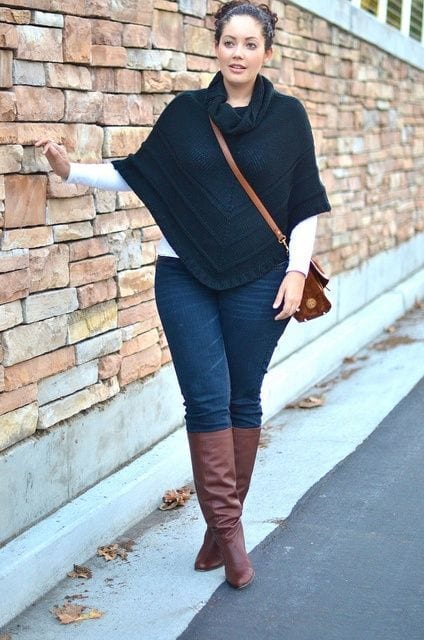 ↓ 10 – Sophisticated Attire
Here is a casual yet sophisticated combination for mums. Simple button-down collared shirts with black or blue pants are our personal favorites for mothers. They look decent and are easy to be styled. Moreover, they are ideal for any occasion, be it a lunch, dinner, casual hangout, or even a play at your children's school.
↓ 9 – Relaxed Summer Outfit
Here is an effortless mum's summer look created with stripes and bold red skinnies. Gorgeous and fun look.
↓ 8 – For Working Mothers
For the working mums out there, here is a stunning business style look with a tartan skirt and black boots. And if you're working from home, here are some Work From Home Outfits That Are Comfy & Chic.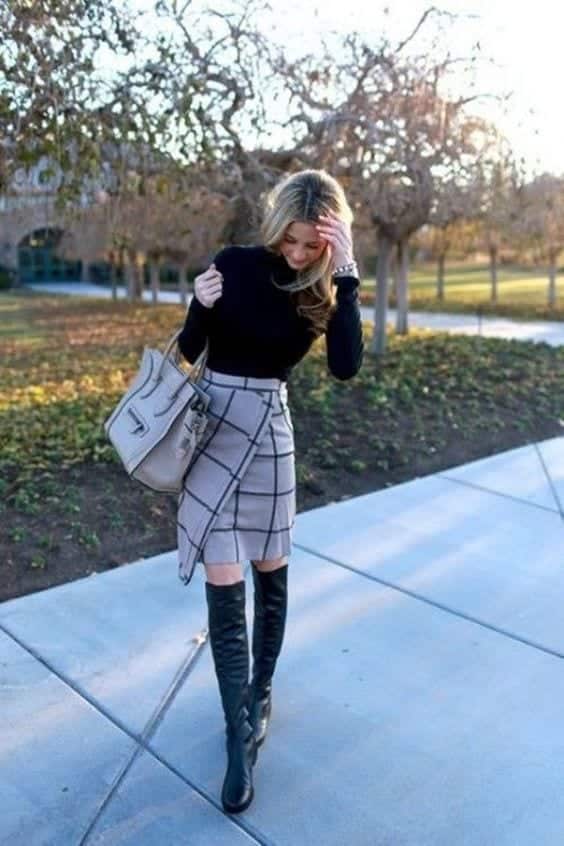 ↓ 7 – Check Printed Top
Here is a simple look which most mums will be familiar with. Check printed shirts and jeans. Such a great and easy way for mums everywhere to look fabulous yet still keep it real. You can try out different colors and different prints to create a similar look.
↓ 6 – Beach Style Combination For Mums This Year
The turquoise and denim color palette is another eye-pleasing color combination that any of you can try out. It is an aesthetic and refreshing combo for summer and spring. Accessorize this outfit with stone jewelry and enjoy yourself.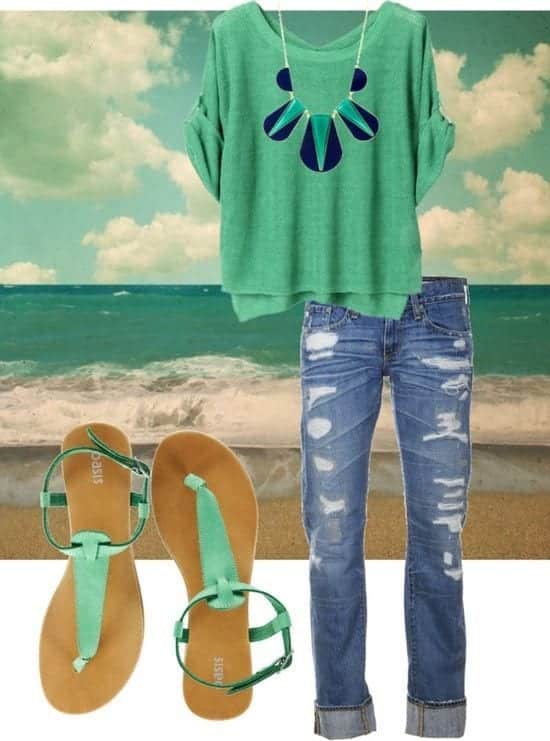 ↓ 5 – Kate Middleton Style
Again Kate Middleton shows us, mums, how simple garments can look stunning. The black suede boots make this outfit speak for itself.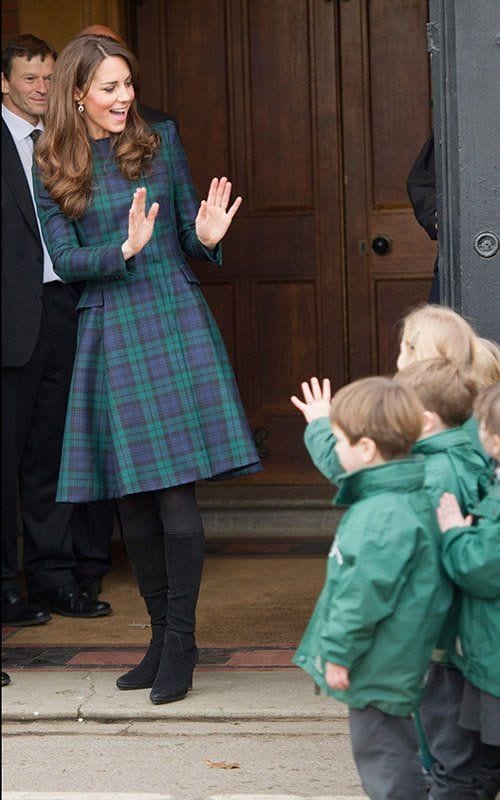 ↓ 4 – Celebrity Mom
Victoria Beckham keeps the mum look simple with a plain t-shirt, skinny jeans, and high heels to add a twist.
↓ 3 – For Curvy Women
Here is a simple combination for curvy ladies for summer with neutral tones. Try merging warm tones with cool tones for the perfect outcome.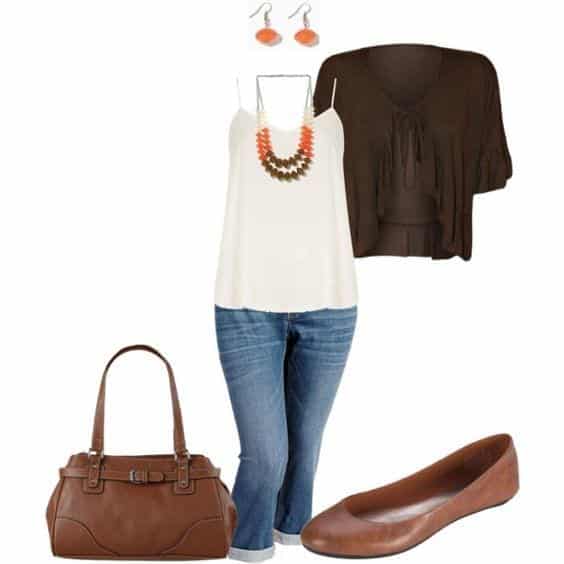 ↓ 2 – French Summer Style Look
A beautiful navy blue top with skinny denim trousers looks terrific when paired with denim boat shoes.
↓ 1 – Grunge Style Look
And last but not least, here is something for cool mothers!  Not all mums like jeans and dresses! So, always stick to your inner identity, and don't let motherhood steal the little things of joy that you have.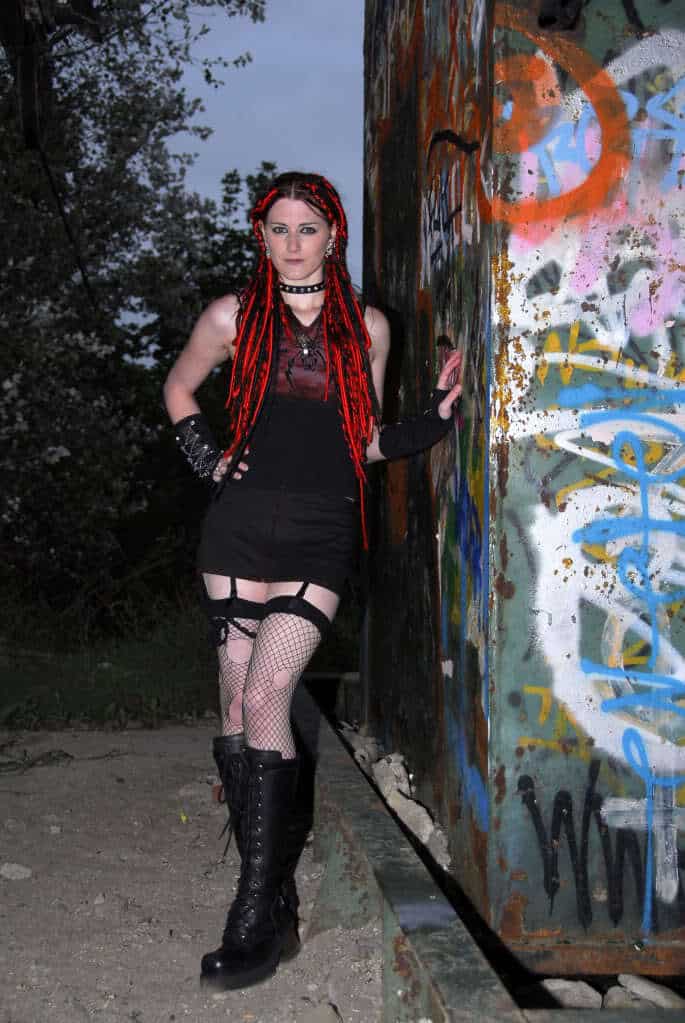 ↓ Wardrobe Essentials
Here are some more ideas for you, give it a read!
Outfits
From jeans and T-shirts, all the way to maxi dresses and wedge heels, the potential for mums out there is phenomenal. Don't forget that contrasting colors and sizes can work in your favor. An oversized top over skinny jeans can look amazing and do your figure a great favor. The oversized top is great for mums who are a little bit selfconscious about their bodies, while the skinny jeans will give a confidence boost. Maxi dresses are fabulous for every size and shape, and so are a fantastic choice for all mums, self-conscious or not. They are perfect for summer and spring wear, perfect for the city, and perfect for the beach; their versatility is astronomical!
Footwear
So what about footwear that is both easy and stylish? Well, as mothers, many of us opt for practical shoes which have a fashionable touch. If you're a fan of heels, then why not go for a pair of wedges? These are ideal for matching with maxi dresses or jeans so they can be used with most outfits. Flats can consist of ankle boots and high top trainers. Practical and straightforward, but give a more modern feel and will make your whole appearance look up-to-date.
Accessories
Even for casual outfits, a handbag, a chunky necklace, and even sunglasses can change the look of your ensemble and can make a simple style look a million dollars! Be daring with accessories, play with them; they are an essential part of all outfits and are an easy way for mums to look and feel better.
Frequently Asked Questions
Q.

What goes well with mom jeans?
A. Mom jeans are trending the most these days. They are comfortable as well as very classy. You can wear them with tee shirts and loafers, and you'll be all set. This is an outfit that you, as a young mother, can wear on any occasion. The best part of this outfit is that it's flexible and handy, with plenty of pockets. The jeans pockets can help you keep your phone and wallet in place if you plan on heading out.
Q.

How should stay at home moms dress up?
A. Stay-at-home moms need to dress up in a way that they stay comfortable yet exquisite and stylish. They should incorporate lively colors and patterns in their everyday wardrobe. Long tunics, loungewear, floral outfits, maxi dresses are some of the best picks. Moreover, they should also accessorize and dress up a bit even at home. Delicate jewelry like chains, studs, bracelets, or a ring looks elegant.
Q.

How should new mums dress up?
A. Dressing up as a new mum is not an easy job. You have to accept the changes in your body and wear clothes accordingly. Moreover, with a baby in your arms, you can not wear clothes that feature embellishments and details. So, it would be best if you bulked up your wardrobe with clothes that are lightweight and soft. Prefer wearing clothes that you are comfortable in. Maxi outfits, tunics, oversized tees, and hoodies with leggings are a good choice. Also, if you are a breastfeeding mom, prefer buying clothes with zips or buttons in the bust to take it off easily. And if you are a working mom, then get yourself edgy yet comfy formal wear like a suit, dress, high waist pants, and button-down shirts.
Q.

What color to wear on Mother's day?
A. A soft color like pink or beige is a perfect fit for mother's day. It symbolizes love and warmth. Hence wear an all pink maxi or pair up a pink top with white pants. Accessorize your outfit with pearl jewelry and polish off your like by grabbing a nice clutch and your favorite peep-toes or wedges. Don't forget to style your hair and put on your makeup. It's your day, momma! For more ideas, here are the Cutest Mother's Day Outfits.
Q.

How to dress for children's school?
A. Whether you plan to attend a parent-teacher meeting or enjoy your child's school pay- dress your best. Make sure not to dress too fancy or too simple. Wear a formal and elegant attire that has decent colors and prints. A midi dress, pants, and shirt, or maxi outfit is a good option. Don't go overboard with prints and patterns. Also, keep your makeup, hair, and accessories low key. Moreover, be careful with the cuts of your outfit.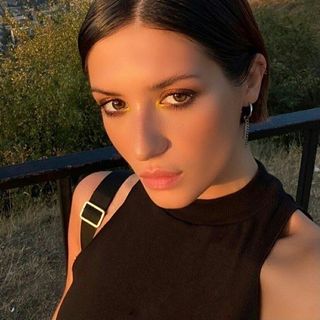 Avid reader and Fashionista. London Based freelance lifestyle editor